Don Pedro Brooklyn is reader-supported. When you buy through links on our site, we may earn an affiliate commission. Learn More
11 Modern Grey And Yellow Bedroom
If you are unsure which color combination to choose for your bedroom, you should consider grey and yellow. Yellow, although vibrant and bright on its own, can make the whole room cozy and dreamy, especially if you choose soft shades.
On the other hand, grey can be a dominant color, mostly there to dull the vibrancy of yellow, but also to inspire calmness and serene emotions, perfect to lull you to sleep. If this color combination seems like the right choice for you, we've made a list of grey and yellow bedroom ideas to help you out.
Toned Down Yellow Sets the Mood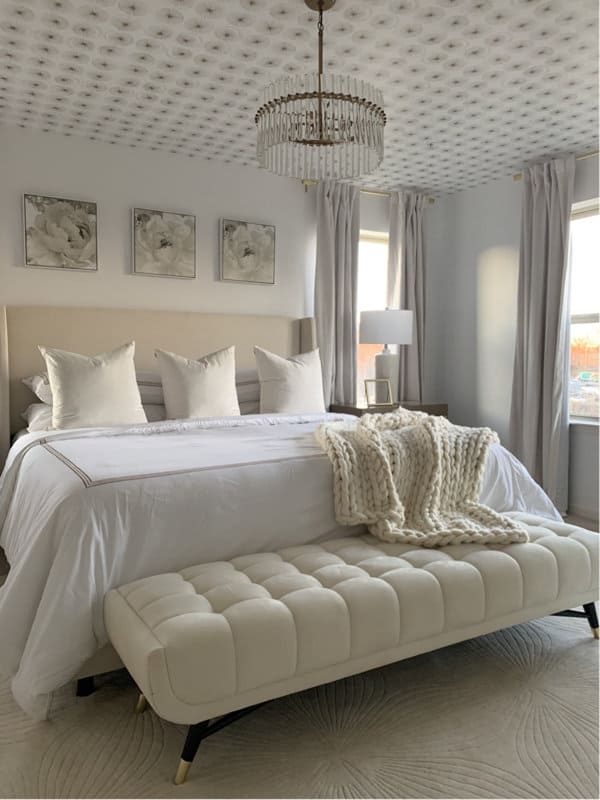 Considering that the yellow color sparks feelings of joy and vigor, you should be mindful when decorating your room. Try not to overdo it with yellow accents, a few pillows or a wall hanging is more than enough, or, even better, opt-out for softer shades.
Yellow is a versatile color, so don't be shy to look into all possible shades of yellow. Creamy and misty yellow go well in dominantly grey rooms, and yet, they won't be attention-grabbing nor will they disturb your sleep.
Yellow Accents Liven Up Your Space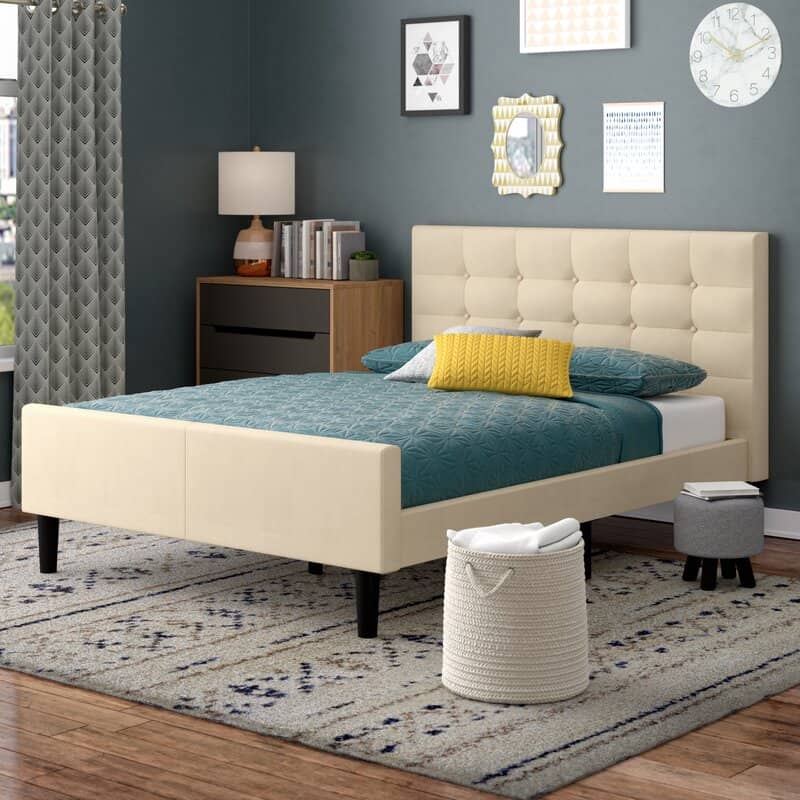 If you like brighter shades of yellow, but don't want it to interfere with your sleep, try adding one or two yellow accents. A small dijon or lemon-colored pillow on the bed will improve the overall ambiance of the space.
If the walls or other ornamentation in the bedroom is still primary grey, don't fret about yellow standing out. It will pleasantly melt into the grey background. And on the other hand, the yellow accents will instantly brighten up your mood when you wake up.
An Elegant Yellow Throw Is a Modern Touch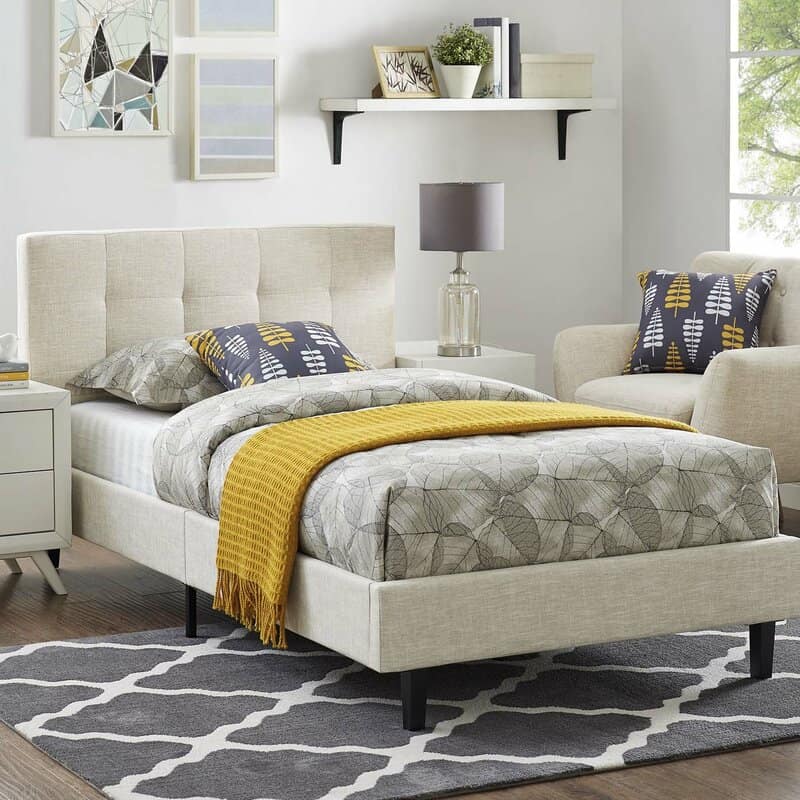 Throw blankets are welcome in any room, not only the bedroom. They offer comfort and warmth and are perfect for relaxing and snuggling. On the other hand, you can have them laid across the bed or over the back of a chair to achieve a casual, yet modern vibe.
Throws usually have a knitted surface, together with tassels and knots. This type of esthetic fits perfectly into any kind of bedroom, whatever the style might be. All in all, yellow throw blankets, no matter what shade, will fit nicely into your modern grey and yellow bedroom.
Yellow Patterns Are Pleasing to the Eye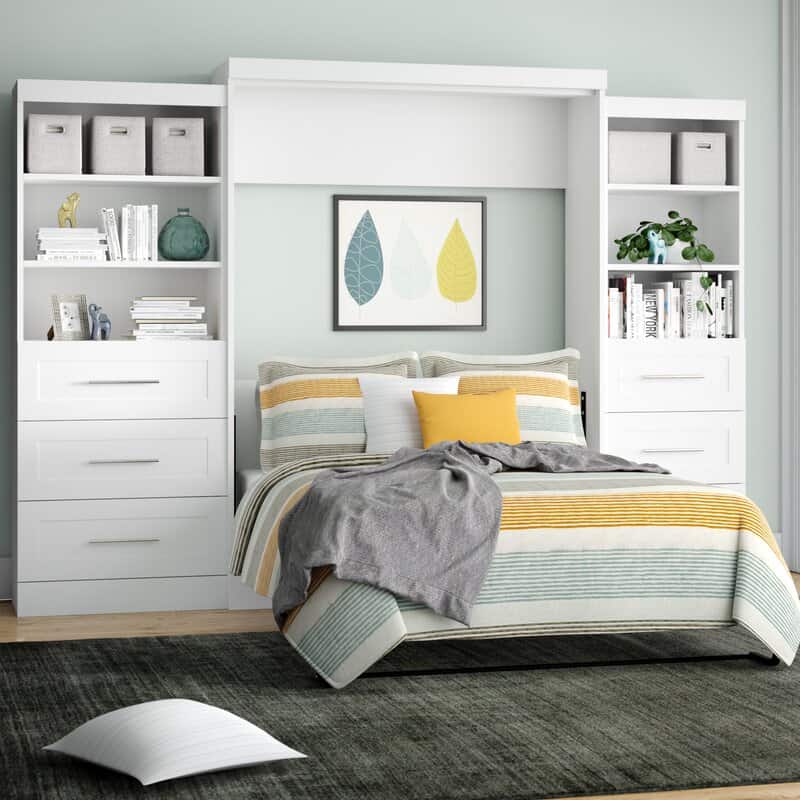 Another great way to spruce up your bedroom is by introducing yellow patterns. They can be made of straight or wavy lines, either way, they will make a focal point on the grey background.
You can find yellow patterned sheets, comforters, or pillow shams, making your ornamentation both functional and pleasing to the eye. Apart from beddings, you can find wall art and print art which will introduce textures into your bedroom.
Flare Up the Bedroom With a Golden Canopy Bed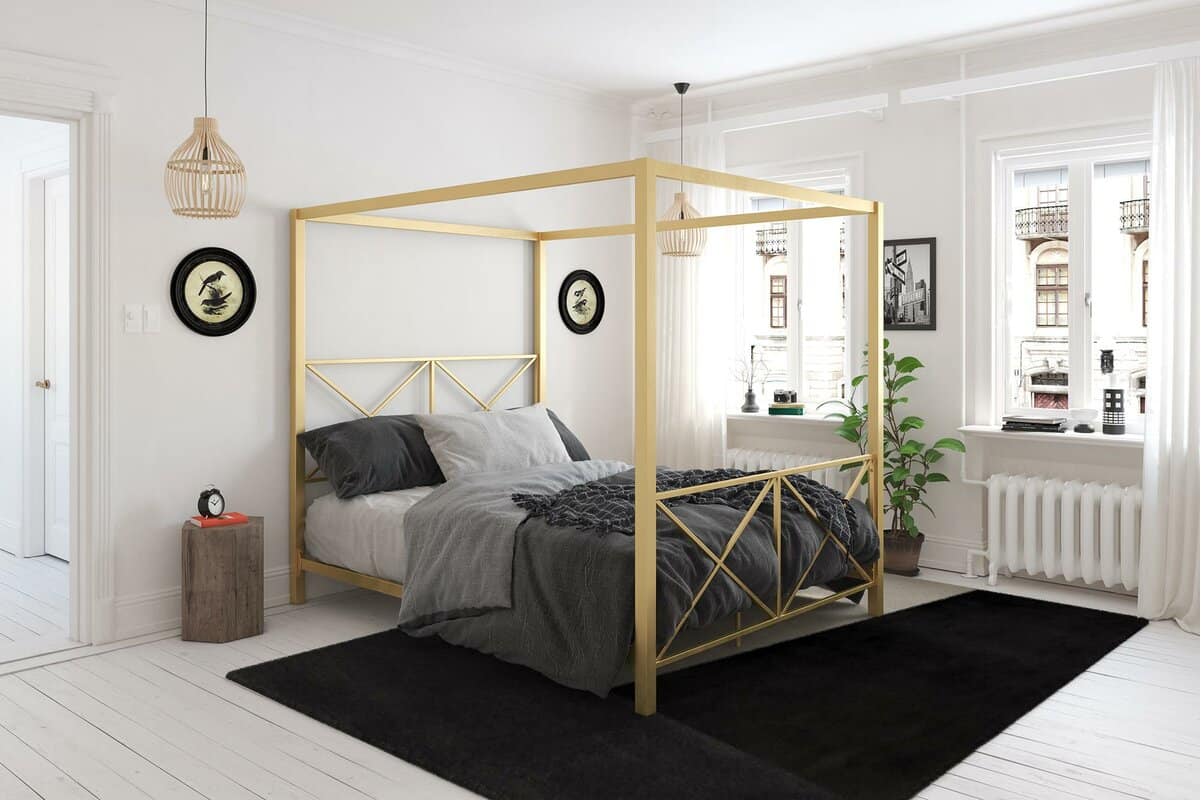 If you are having problems finding a suitable centerpiece for your bedroom, and if you have a high ceiling, that canopy bed is just the thing you need. A metal canopy bed, golden to complement the grey surroundings, will usher in some modern and dramatic vibes.
A golden canopy bed will draw the eyes of everyone around. Apart from creating a presence in your space, this metal arrangement is sturdy and tough which means that it will adorn your bedroom for a long while.
Go All In With a Yellow Comforter Set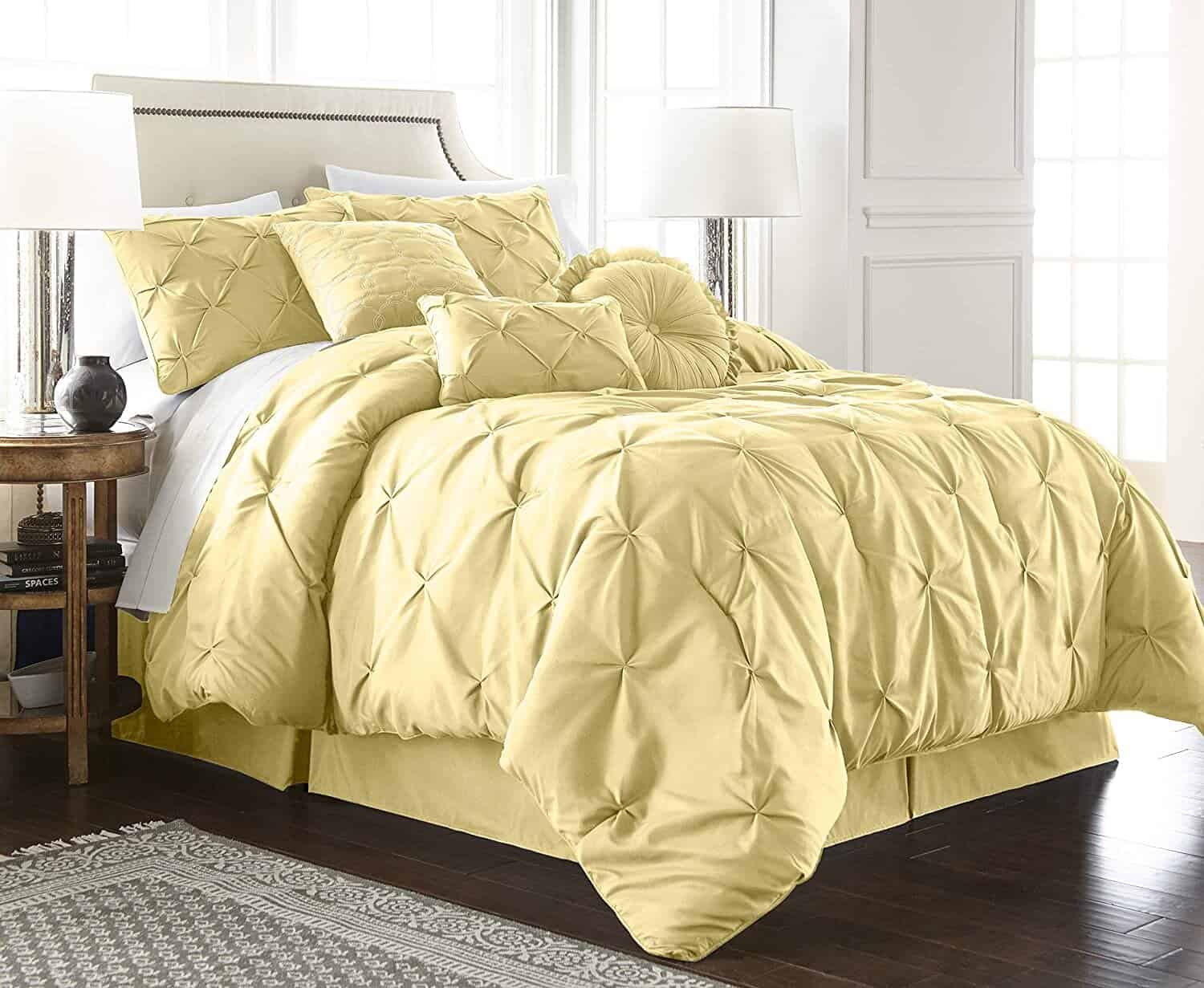 Another way to redo and liven up your bedroom is by giving an overhaul to your bed – in yellow, of course! Ditch the bland sheets and shams and try out these pleasant but eye-catching yellow comforters.
Make your sleep retreat a highlight in your bedroom. Thanks to the high-quality, but easily washable material, with these comforters, you will feel like sleeping in the sea of golden clouds.
Embrace the Yellow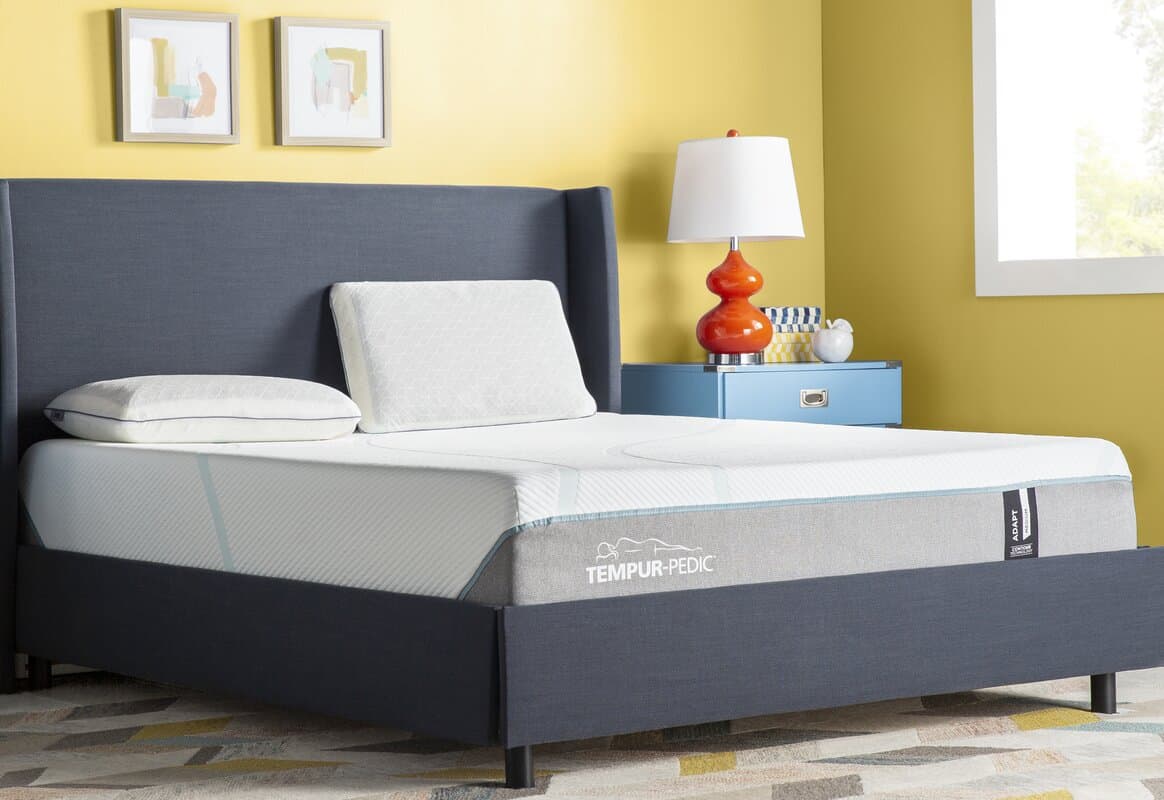 While having the grey color be a dominant factor in the bedroom is a common and a good choice, many people prefer to have them switched and fully enjoy the pleasures a yellow-bathed room can bring.
Yellow walls, possibly softer hues, will make a room feel alive and inspiring. Perfect for getting up well-rested and full of energy. Grey color ornaments and features will blend nicely into the yellow background, rewarding you with a chic, but modern look.
Go For a Yellow Floral Design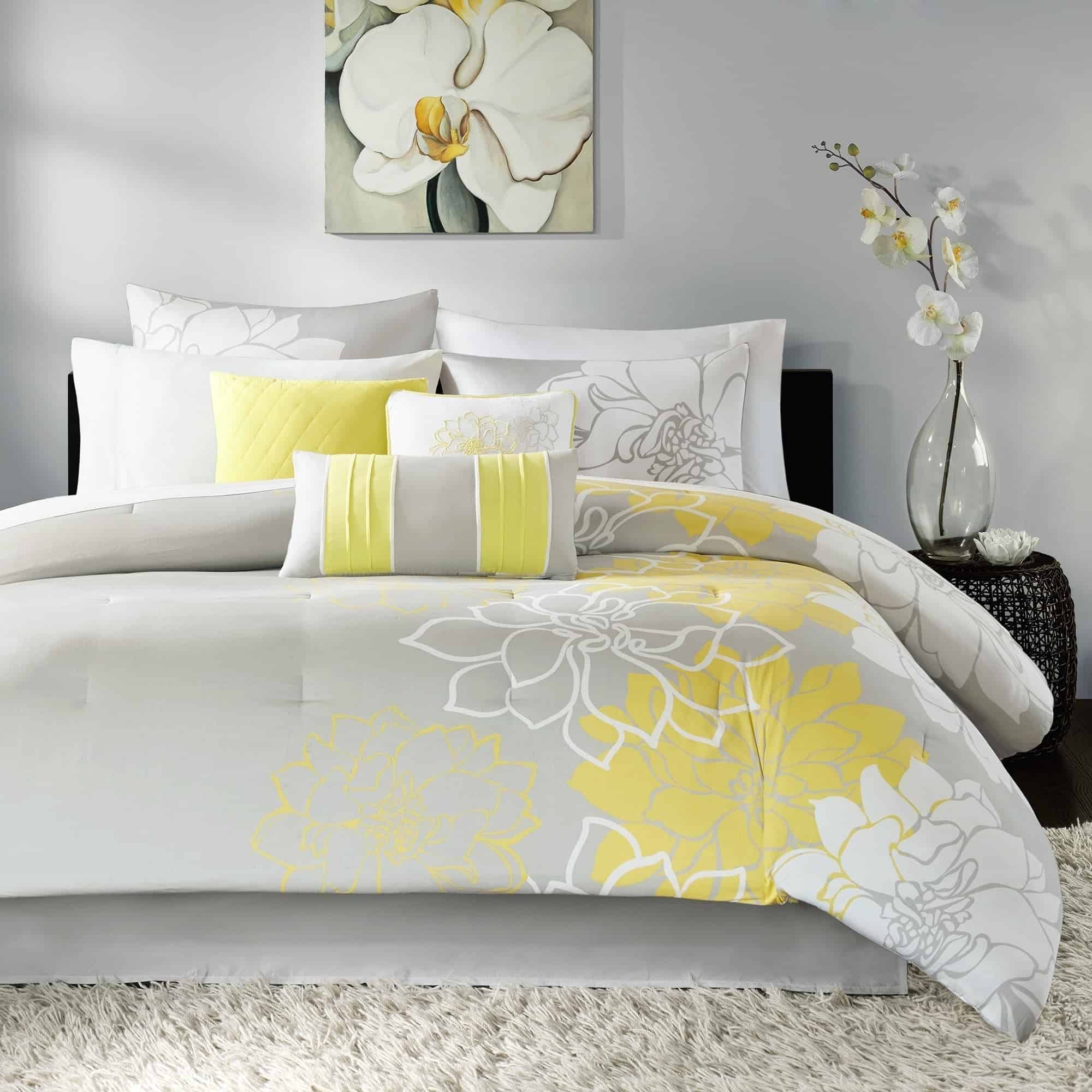 Give your bed the attention it deserves and give it a suitable comforter set. Your bedding will reflect the ambiance of the whole room. Choosing a certain motif or design will be a keynote in setting the overall style of your room.
Floral designs are always a win. Nothing brings the relaxed and serene vibes like elements of nature, and on the other hand, flowers are perfect for introducing all kinds of shades into your space.
Connect the Yellow Accents With a Rug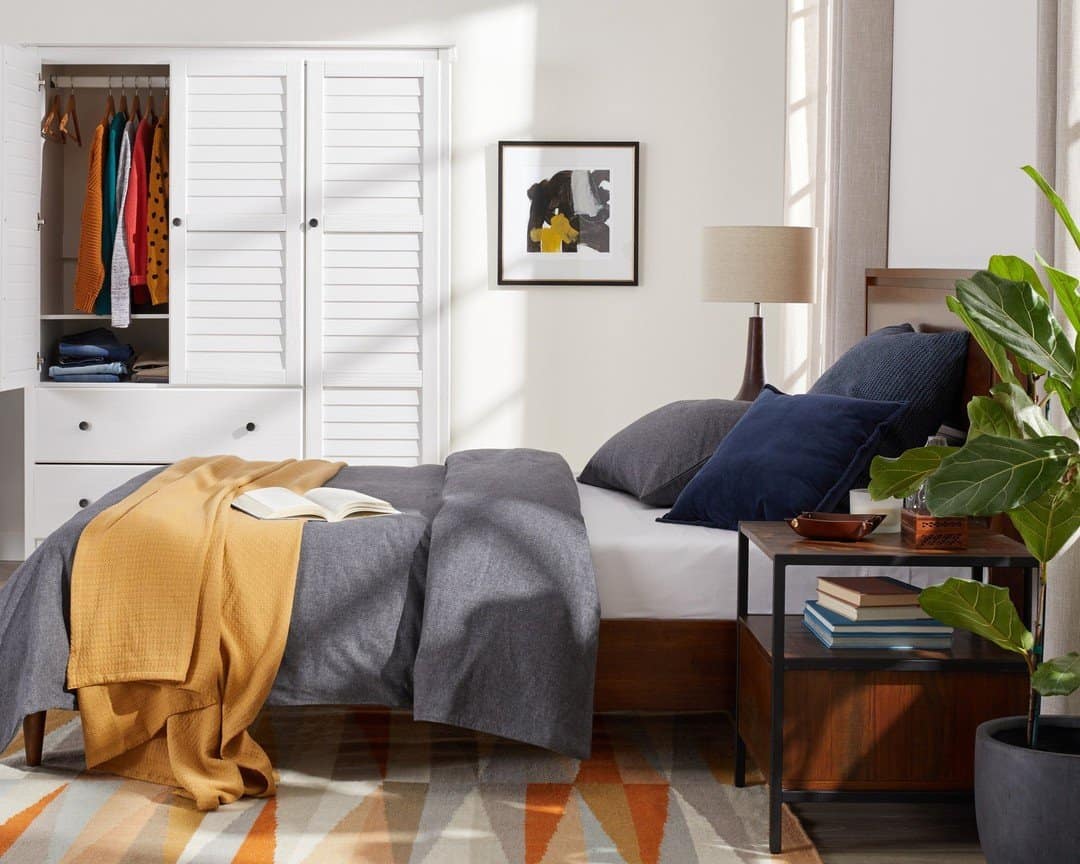 A perfect way to usher in harmony in your bedroom is by laying a colorful rug onto the floor, under the bed. In a grey-dominant bedroom, the rug will vertically connect other yellow accents, like pillows and wall art.
Apart from harmonizing with other yellow ornaments, a rug, by itself, can bring a lot to the table. A suitable rug can be a modern and trendy addition. Whether you prefer soft and monochromatic rugs or patterned and geometric ones, a good rug will put together the whole ambiance.
Add a Dash of Luxury With Golden Embroidery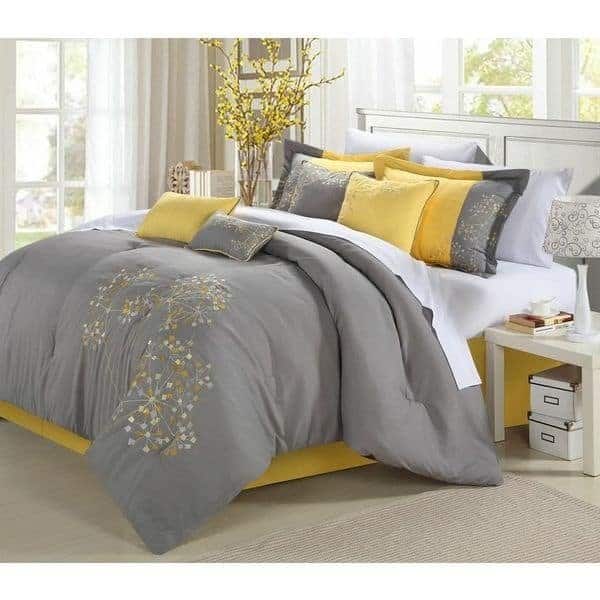 As we've said before, the bed is the most important part of your bedroom. So it's only logical that it should carry the weight of being a centerpiece of the room. This great grey and yellow comforter set will do the trick.
Apart from being a beautiful set, the golden embroidery on the grey background is what makes this bedding stand out among the rest. The comforter's contrasting, yet soothing palette will usher in elegant and graceful vibes.
Make Your Room More Attractive With Canvas Prints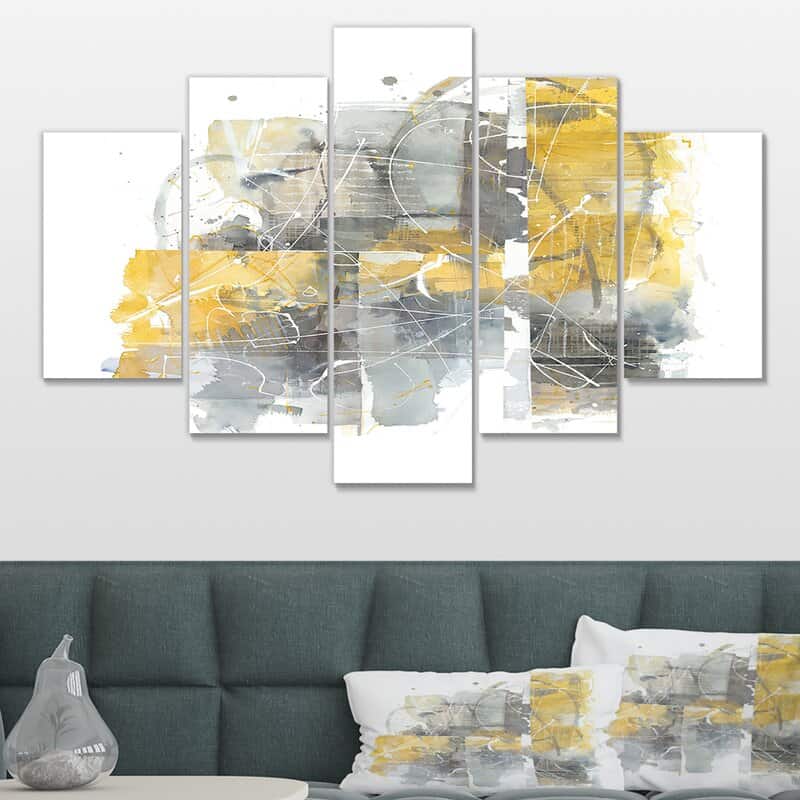 Create a gallery-art feel in your bedroom with this canvas print set. Preferably hung above the bed, these prints will make your bedroom smart and elegant, all the while being an eye-catching addition.
The stylish blend of colors, together with wavy lines, will fit into any modern grey and yellow bedroom. This canvas print set will create a horizontal presence, embellishing your space with some extra yellow motives.
Summary
The bedroom is possibly one of the most important rooms in your household. It's a place where you can unload and relax, hidden away and shielded from the stresses of modern life.
Exactly for that reason, everyone needs to have a bedroom which will reflect these feelings. A color combination of grey and yellow will marvelously do the trick, making your space warm and accepting, and yet visibly pleasing and interesting. We hope our list has been of help to you. Happy shopping!