Don Pedro Brooklyn is reader-supported. When you buy through links on our site, we may earn an affiliate commission. Learn More
Outdoor Jacuzzi Ideas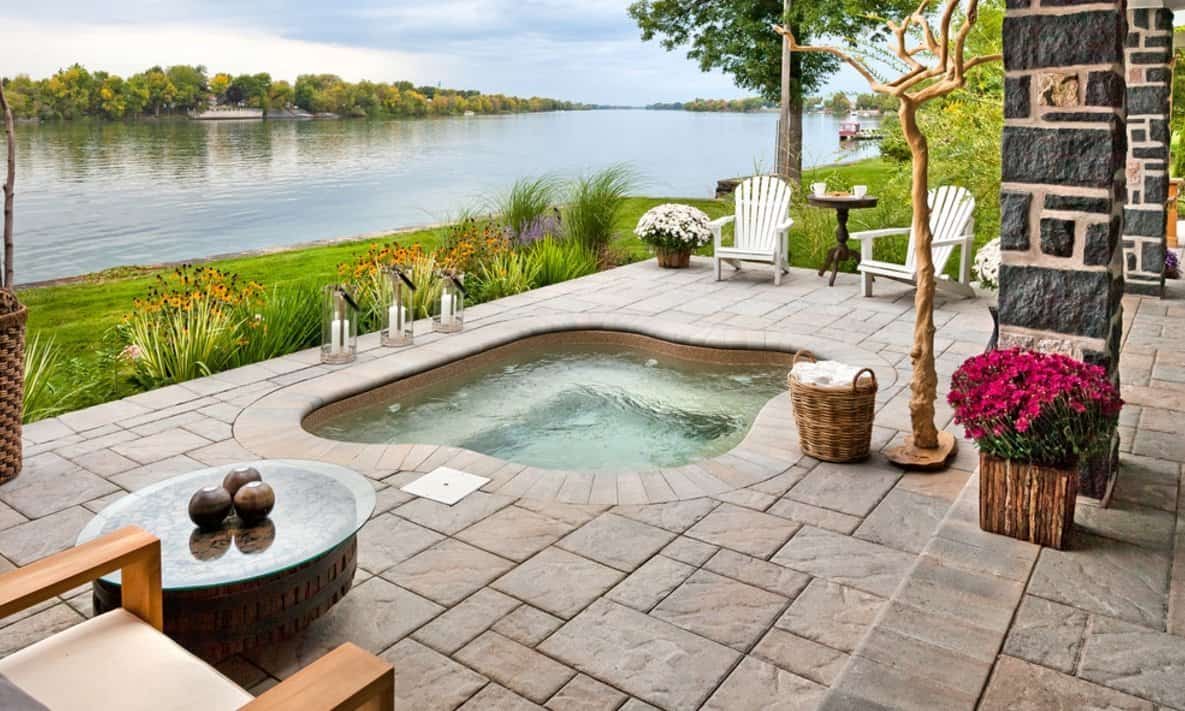 Inner peace is the foundation of an actual happy life. To grow and maintain the peace, you need to invest some efforts, such as doing meditation.
Meditation is a form of relaxing activity to release stress and pressure. This peaceful state is achievable by having an outdoor jacuzzi. Why are people loving an outdoor Jacuzzi so much?—You may ask.
The reason behind it is the view. Imagine you're relaxing in an outdoor Jacuzzi with an ocean view, the stress, pressure and burden will immediately leave your shoulders, won't they?
If you're interested in constructing an outdoor Jacuzzi, there are some things that you need to be aware of, such as the location and the common weather in your area.
It will be terrific to have an outdoor space with a view and an environment that can help you relax.
It seems difficult to plan an outdoor Jacuzzi on your own, so we have come up with a complete guide on how to make your outdoor Jacuzzi ideas perfect. Let's have a look!
Here's How to Find the Perfect Spot for An Outdoor Jacuzzi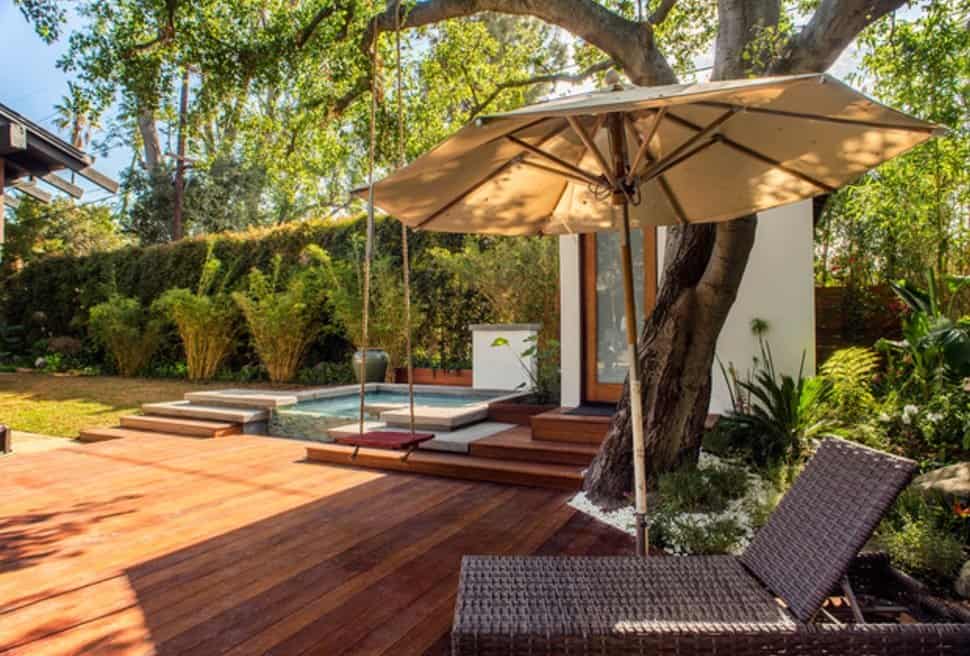 It is amazing to have a Jacuzzi, because you can relax anytime. Most people place their Jacuzzi inside of the house, but outside is a brilliant idea too.
However, some people have difficulty in finding the perfect spot for their outdoor Jacuzzi. Here, we have several ideas about outdoor Jacuzzi that might inspire you.
1. Outdoor Jacuzzi with Natural Wooden Decking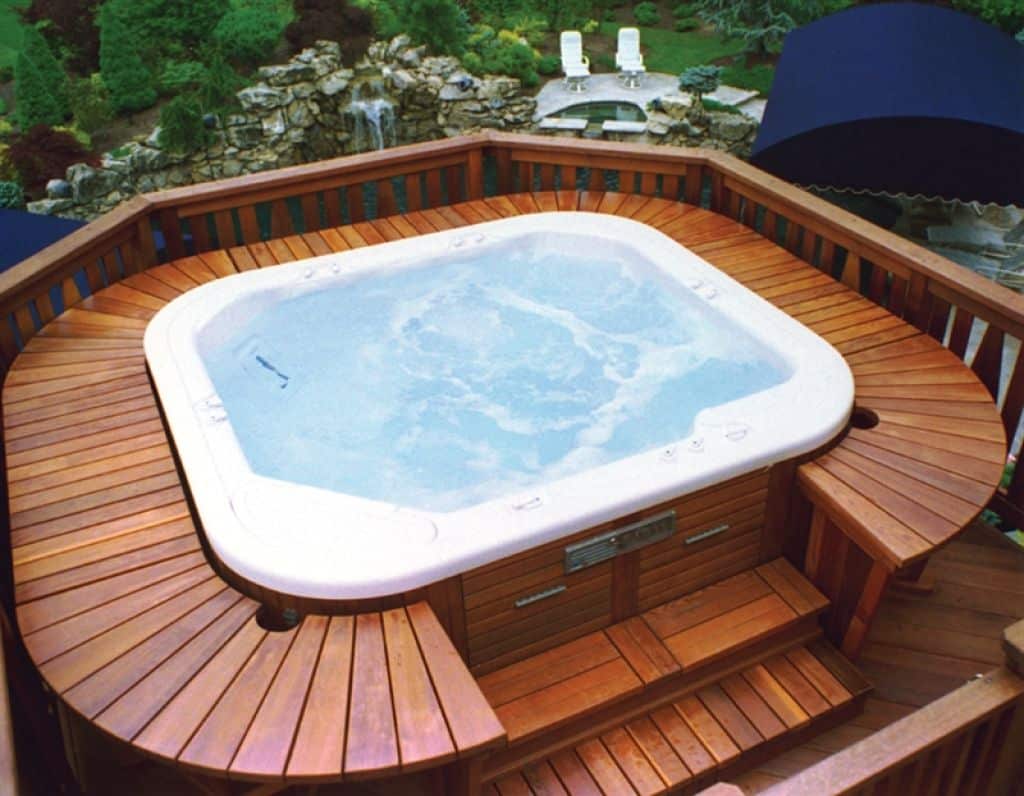 A decking for an outdoor Jacuzzi is a great idea. It provides an area for friends or family members to spend time together.
Moreover, the decking will expand the size of the overall space.
Other than providing an extra space for hang out, the deck also gives a nice additional touch to the design. The wooden decking will be more suitable for a cabin near a forest.
With a natural view, your Jacuzzi time will be more enjoyable, especially when you're accompanied by loved ones.
2. Outdoor Jacuzzi on Terrace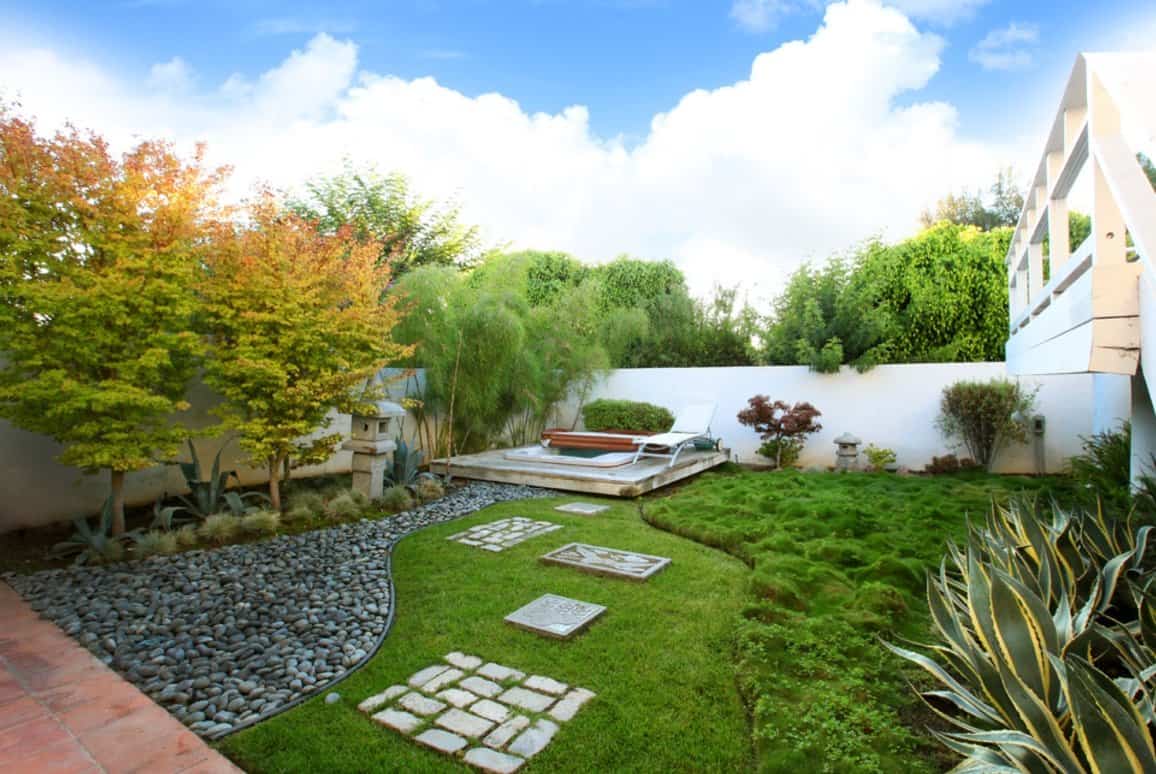 Not everyone likes a completely open outdoor space like the previous one. If you prefer to surround your terrace with wall fences, this idea may be right for you.
This is a large area of terrace. It has a lot of greens too. To add another element of peace, the Jacuzzi is installed on the corner of the terrace where tall trees are grown, providing enough shades.
3. Outdoor Jacuzzi with Roof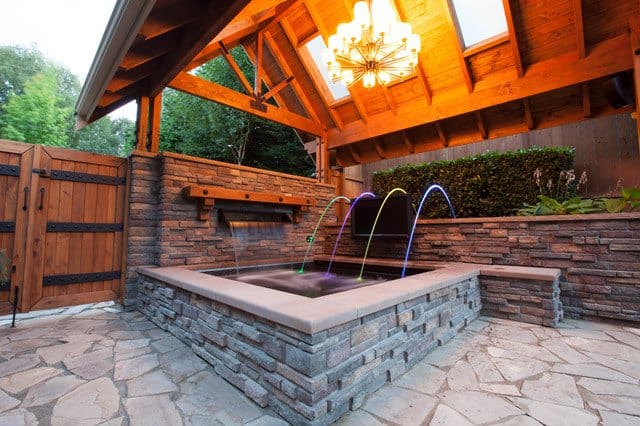 An outdoor Jacuzzi is a good plan for an open entertainment area. However, there's an alternative idea that allows you to keep the openness with a little sense of privacy.
In this idea, the Jacuzzi is made of natural stones, which is a unique character in itself.
Then, the tub is protected by a combination of stones and wooden fence. Above it, there's a roofing system that provides protection from the weather or simply gives a privacy for the owners who are enjoying their relaxing day.
4. Outdoor Jacuzzi on Gazebo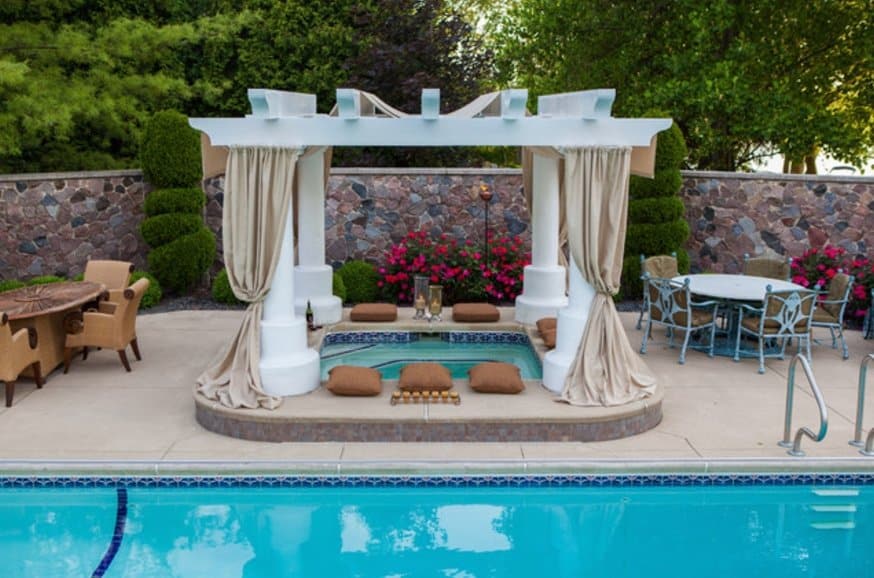 A unique house has a higher market value than a house with common concepts. If you're looking for something different, this idea shows you how to be different than your neighbor.
This time, we come up with an outdoor Jacuzzi that's covered by a Mediterranean style gazebo.
To balance the blue of the water, you need to use brighter colors, such as these white and pastel brown colors. The Jacuzzi looks like an oasis or a special paradise surrounded by these comfy pillows used for loved ones to hang out.
5. Outdoor Jacuzzi with Umbrella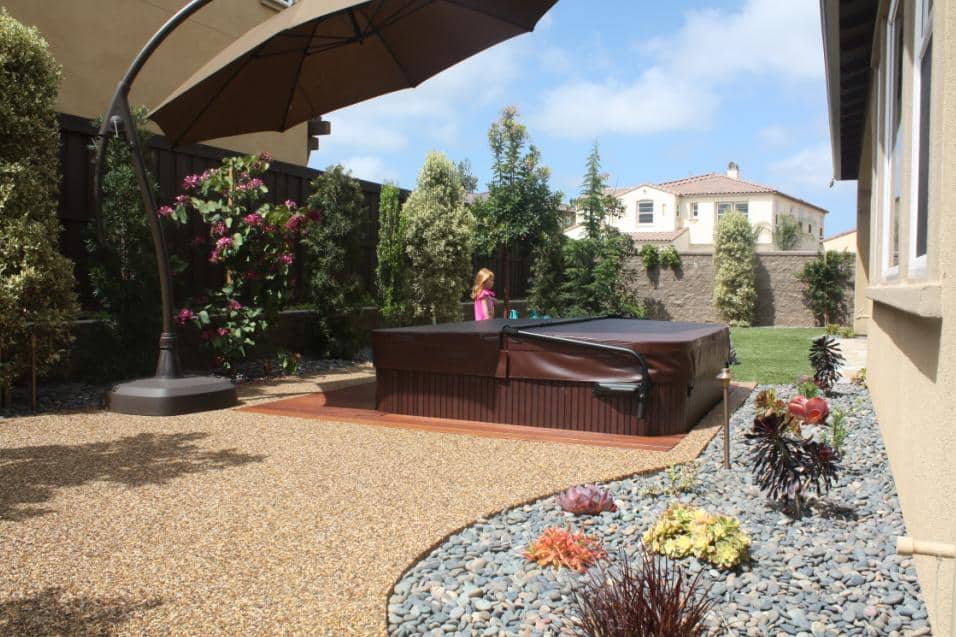 Different day; different weather. When the day is getting hot, you need a protection to prevent the UV light from getting under your skin.
Other than using a sunblock, you need to install a huge umbrella above the Jacuzzi. In this idea, the umbrella is attached to a steady pole that's located beside the Jacuzzi tub.
By utilizing this idea, your outdoor Jacuzzi will become more enjoyable. Even though it's a summer day, you won't be worried about the weather anymore.
6. Small Outdoor Jacuzzi for A Small Yard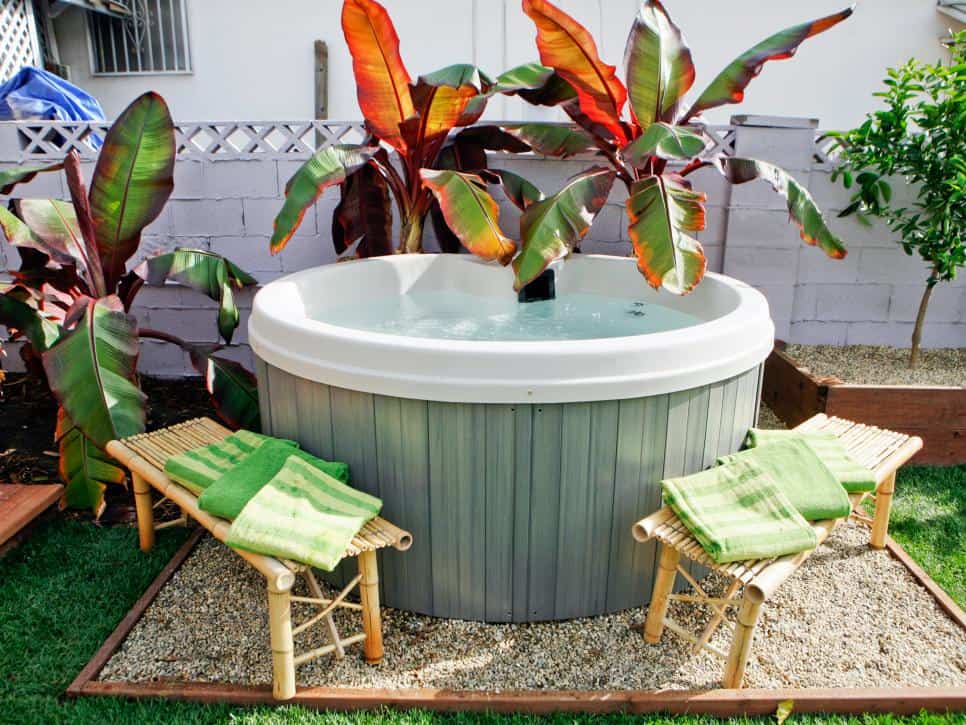 In people's mind, a Jacuzzi can only fit in a large space. In reality, a small space is enough to contain this relaxing equipment.
The alternative idea of such a small space is to utilize a small outdoor Jacuzzi. This small outdoor Jacuzzi is usually compatible for two or at most around four people.
To make it look more presentable, you can put unique bamboo lawn chairs near the Jacuzzi. In term of placement, choose a spot near plants or medium trees, so the Jacuzzi area has a touch of natural elements.
7. Outdoor Jacuzzi on The Garden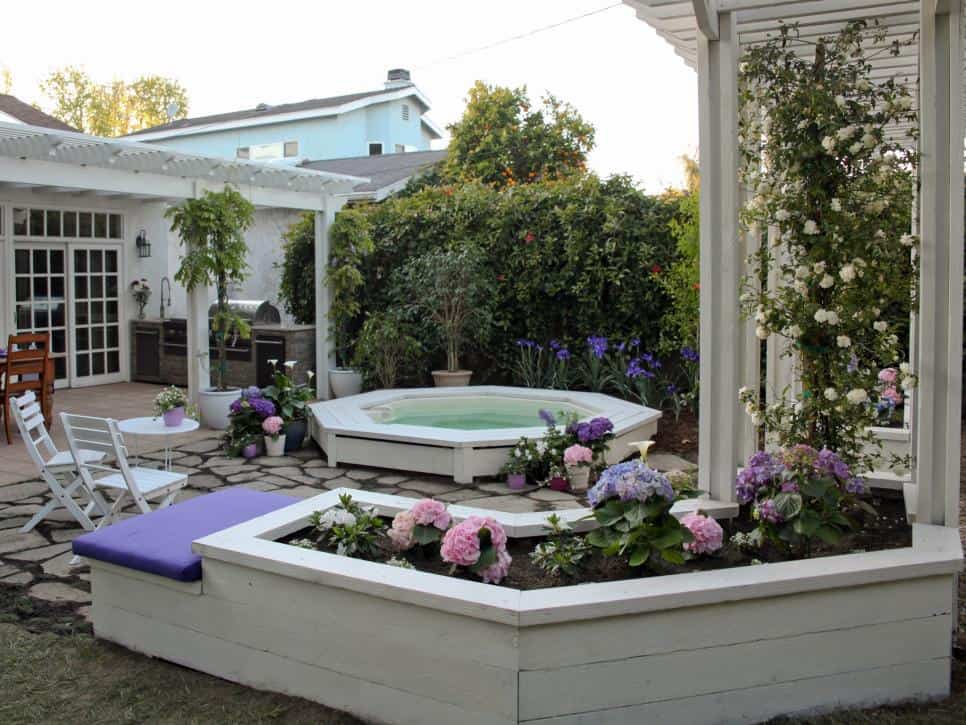 What if your backyard has already been used for gardening?
There's no way that you will throw away all of your flower collection. The simple solution is combining the garden with the idea of having a Jacuzzi outside of the house.
In fact, one of the most important things of an outdoor Jacuzzi is the view. Since your garden is already filled with beautiful and maintained flowers, those will make a perfect view and atmosphere for your outdoor Jacuzzi idea.
8. Outdoor Jacuzzi with Nature View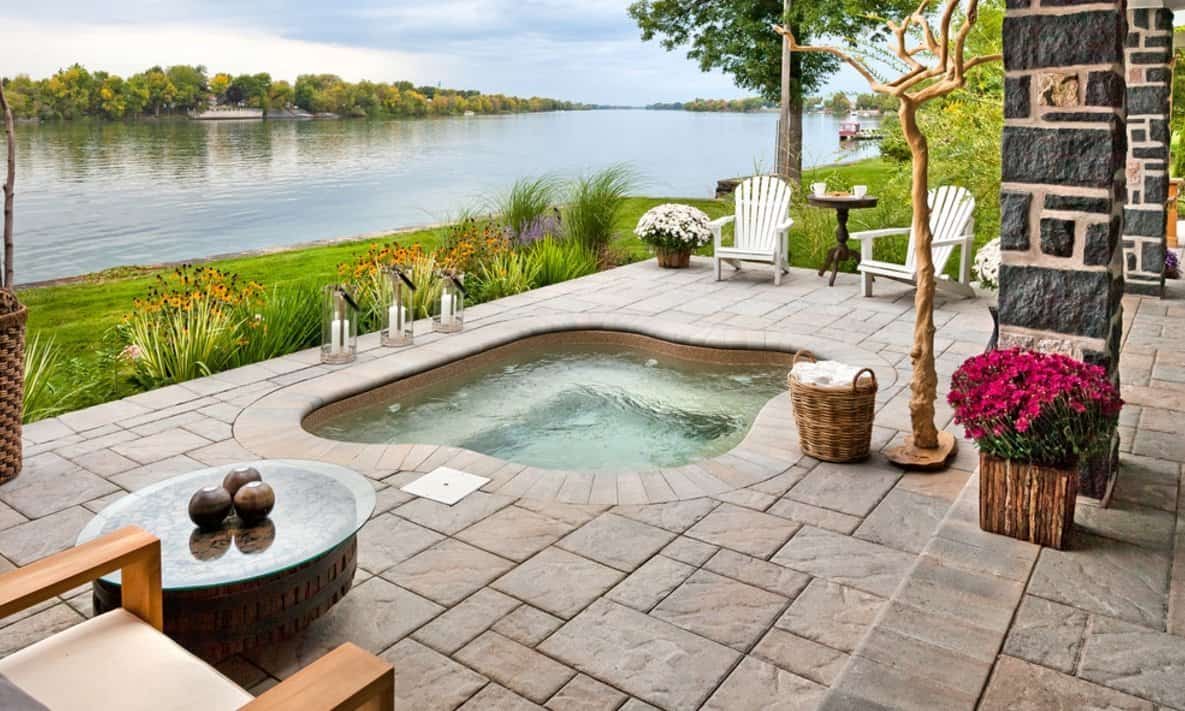 The common shapes of Jacuzzi are round and square, but it's not impossible to have a customize shape Jacuzzi. Especially for an outdoor Jacuzzi, you can't disregard the value of style. A customized outdoor Jacuzzi has a unique characteristic that gives the owner personal touch.
In this idea, the house is located by the lake. To take advantage of this glamorous view, the outdoor Jacuzzi is customized based on a shape of a lake.
Seeing that there are a lot of ideas to have a perfect outdoor Jacuzzi, you need to know about the pros and cons about having an entertainment area of stress relief.
Here is the list:
Outdoor Jacuzzi Pros and Cons Including Solutions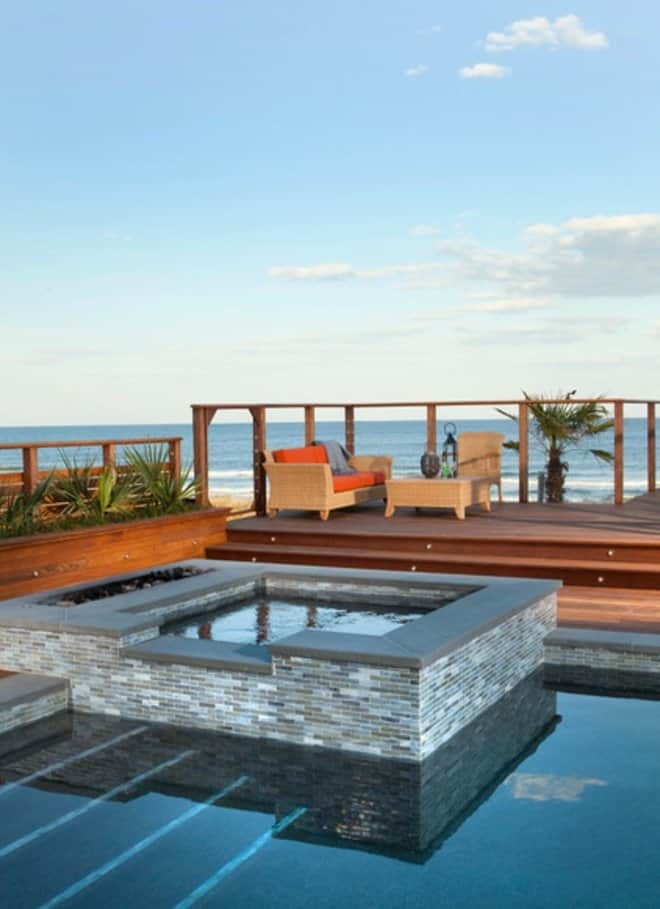 So far, you have seen a variety of designs, styles and ideas of outdoor Jacuzzi. Each design shows an amazing concept. However, the concepts usually come with certain pros and cons.
Before you continue reading the pros and cons of having an outdoor Jacuzzi, you need to understand that you have to put yourself first, like the amount of abundant joy coming from having an outdoor Jacuzzi with a view.
Normally, people argue about the price, but you should be the judge!
The Pros of Having Outdoor Jacuzzi
Before discussing about the cons, here are some pros of outdoor Jacuzzi:
1. Get Rid of Pain and Stress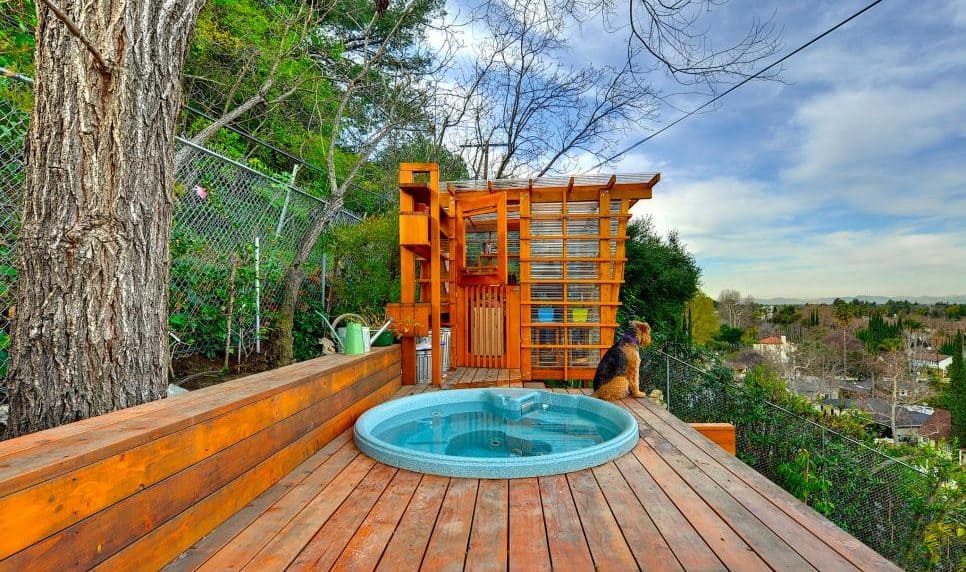 When it comes to relaxation, a Jacuzzi can help you achieve a state of peace. The warmth of the water helps you to reduce stress.
Plus, the view of your Jacuzzi area gives additional serene. Once you get in the Jacuzzi, you'll feel like you're entering another realm where burden and pressure don't exist.
In term of physical pain, such as discomfort or swelling, warm water in your Jacuzzi reduces the ache and the redness. Soak in the tub for 30 minutes will give you both pleasure and recovery.
2. It Speeds Up Your Recovery Even Faster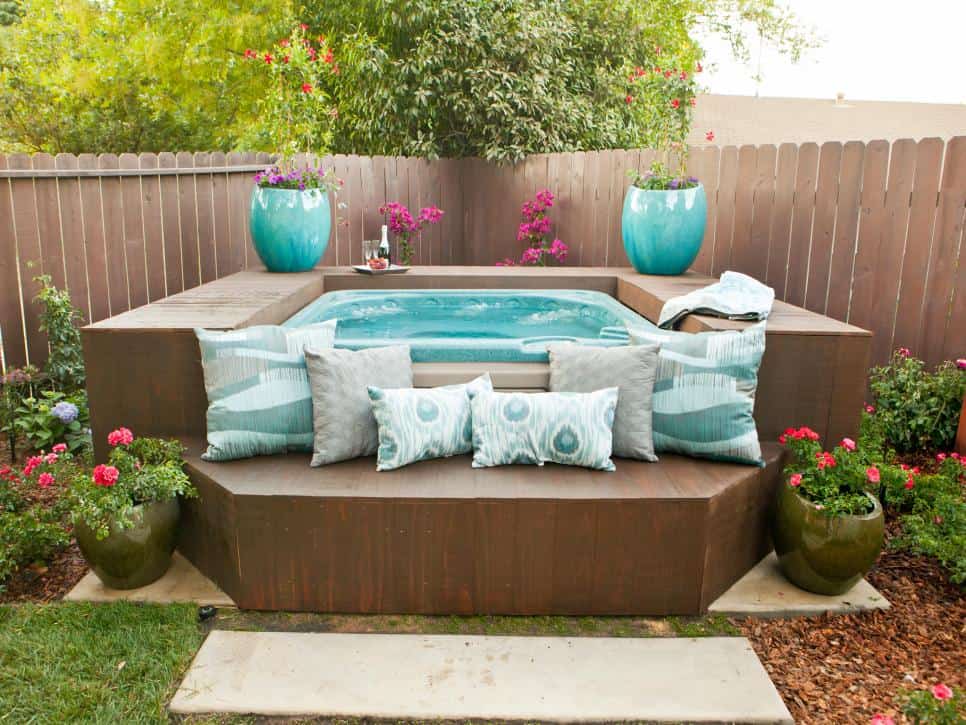 Working for long hours, exercising for a healthier body, unfortunately injured after doing sports can make you tired. In a worst case scenario, your body may experience aching or muscles tightening.
Such condition can be treated by simply having the time of your life in your outdoor Jacuzzi. A lot of people believe that it will accelerate the healing process.
The Cons of Having Outdoor Jacuzzi
Before heading to suggestion section, here are some cons about having an outdoor Jacuzzi:
1. Be Prepared of the Maintenance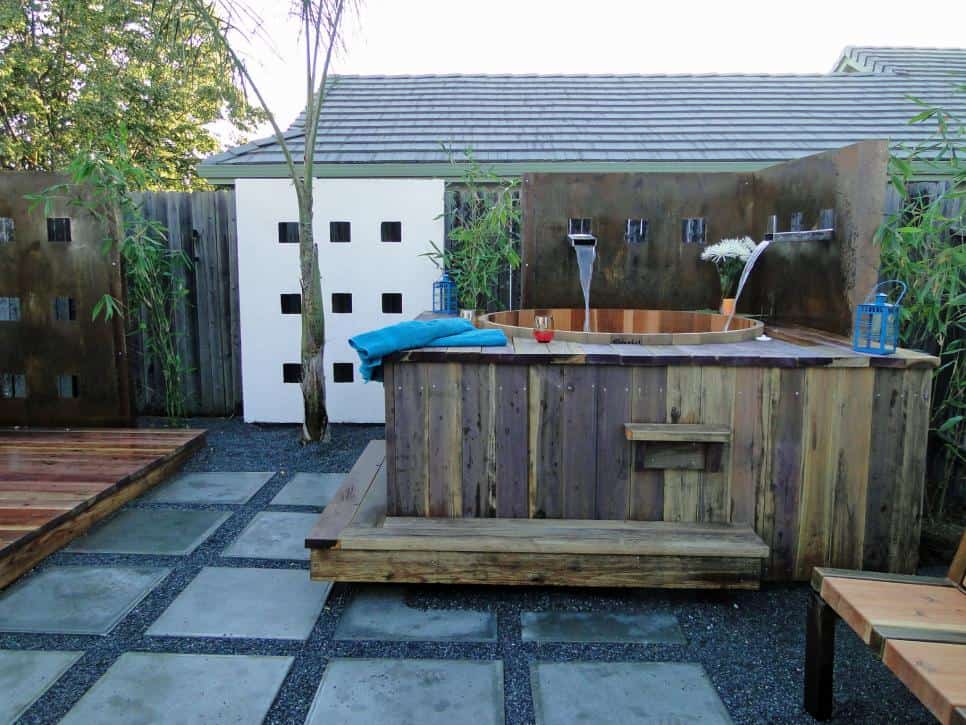 Having an outdoor Jacuzzi is all fun and games until it comes to maintenance. The maintenance process starts with knowing that hot temperature is a natural habitat of germs and bacteria.
That's why it requires regular maintenance to prevent infections of germs and bacteria.
Those tiny, dangerous creatures have lived in your hot tub for quite some time when you begin to smell a strange odor.
This should be a caution not to get into the tub when you have open injuries too. Otherwise, it will be badly infected.
Read Also:
2. Meditation That Comes with A price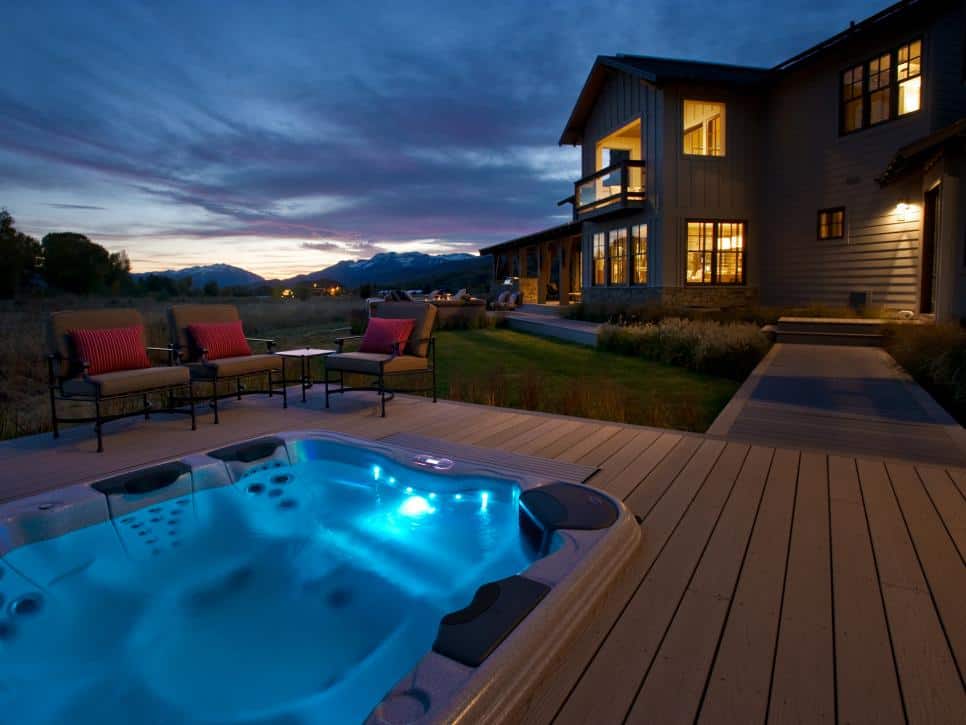 Having an outdoor Jacuzzi gives you many benefits, including social benefit of having an exclusive area for a party.
However, everything comes with a price. A Jacuzzi with a higher quality probably has an expensive price tag.
That's why if you haven't been able to afford one or if you're in a tight financial situation, you shouldn't force yourself into buying a Jacuzzi.
On the contrary, an outdoor Jacuzzi is a terrific investment both as an individual item or an additional value to the house, even though you'll still need an expert to set up the first installment or to fix up technical issues that might come up.
Be Aware of These Things in Your Outdoor Jacuzzi!
After knowing the pros and cons of having an outdoor Jacuzzi, you also need to know of two important details in using it. Here are they:
1. Be aware of the heat!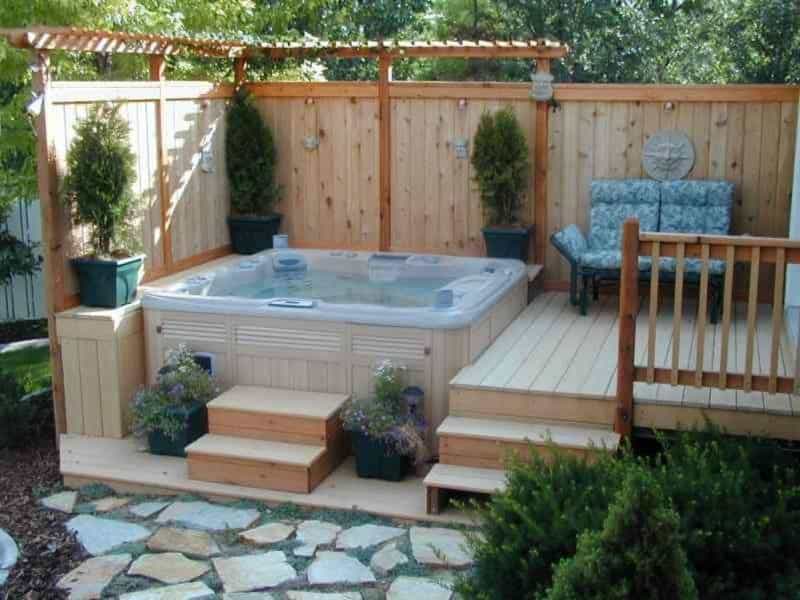 The hot temperature in a Jacuzzi gives us a health benefit, but it can also cause lightheaded and several mishaps. That's why we have to be extra careful. We can control the temperature based on our preference or on how much our body can endure.
An extreme exposure of heat can cause you to feel lightheaded and uneasy which later lead to possible mishaps and even more dangerous possibilities. Also, it has to be taken into account that each person responses in a different way toward different temperature.
4. Consult with Doctor about Your Personal Temperature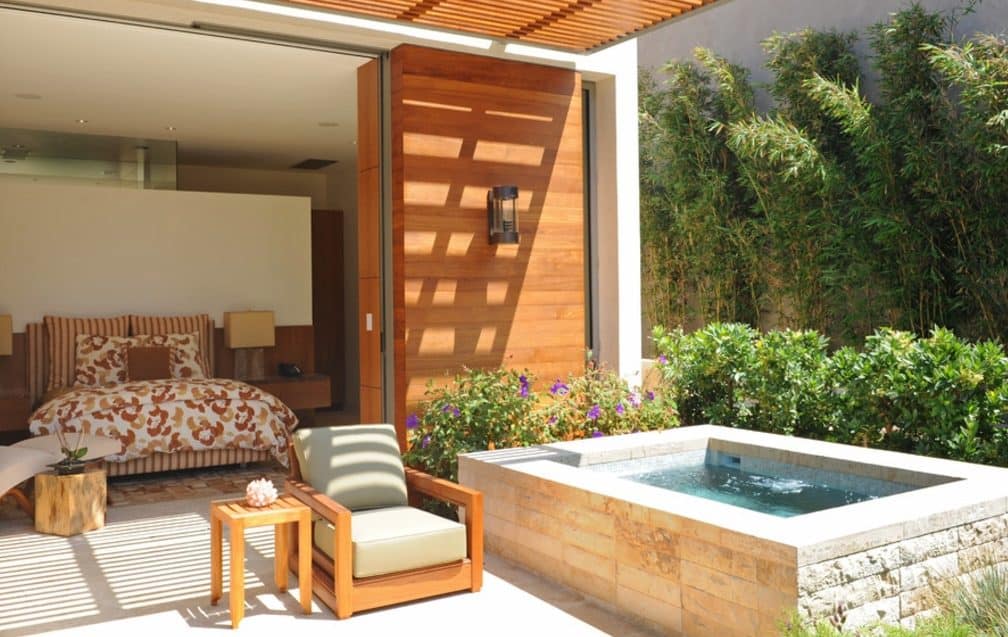 One of the health benefits of using Jacuzzi is it enhances your blood circulation. Is it always like that?
Well, many doctors will suggest you to have a pre-soaking consultation before your use, especially when you have an injury or several other physical problems.
It is always better to ask your doctor first and make sure that everything is okay rather than regretting it later on when everything is already too late.