Don Pedro Brooklyn is reader-supported. When you buy through links on our site, we may earn an affiliate commission. Learn More
Purple Bedroom Design Ideas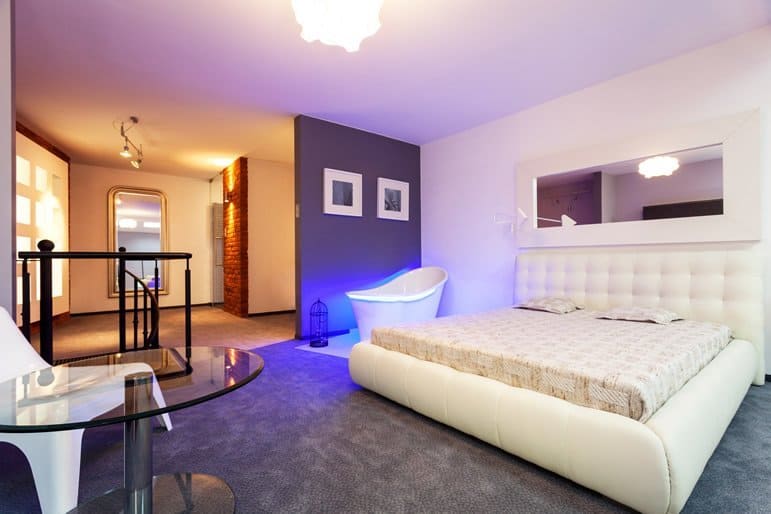 Purple is an attractive color, because it brings pleasure to the eyes. With purple, there are a lot of ideas that you can come up with, such as a simple bedroom with purple walls.
However, since purple has several different tones, you can also play with them.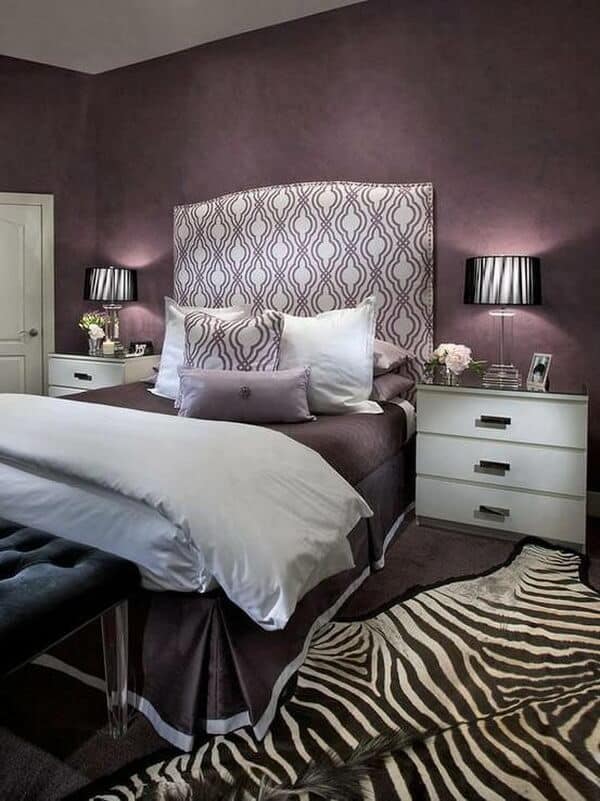 Purple is also known as a color that's strong and dramatizing. To ease your sight, another alternative is to mix purple with other colors, such as white, green or yellow.
Then, you can adjust the atmosphere by combining the mood—that comes from the color choice—and the furnishing choice.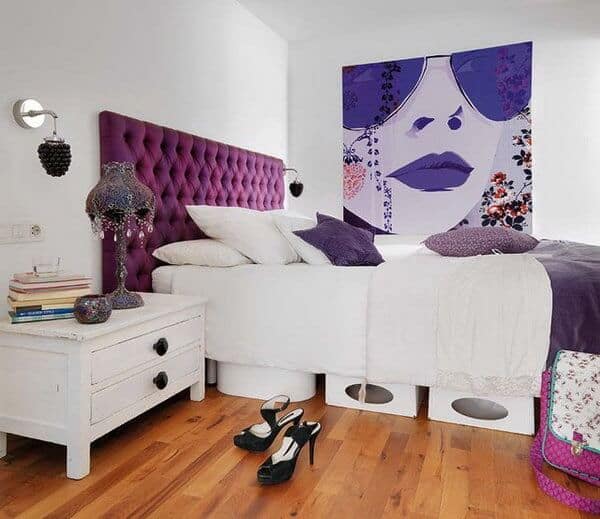 If not painting the entire walls with purple, at least, you give the room with pops of purple. That is actually enough to bring the dramatic effect into your bedroom.
So, to give you some pictures of how a purple bedroom looks like, we have provided you with many choices of purple bedroom design ideas. Let's have a look!
If You Are Beginner, Just Keep It Simple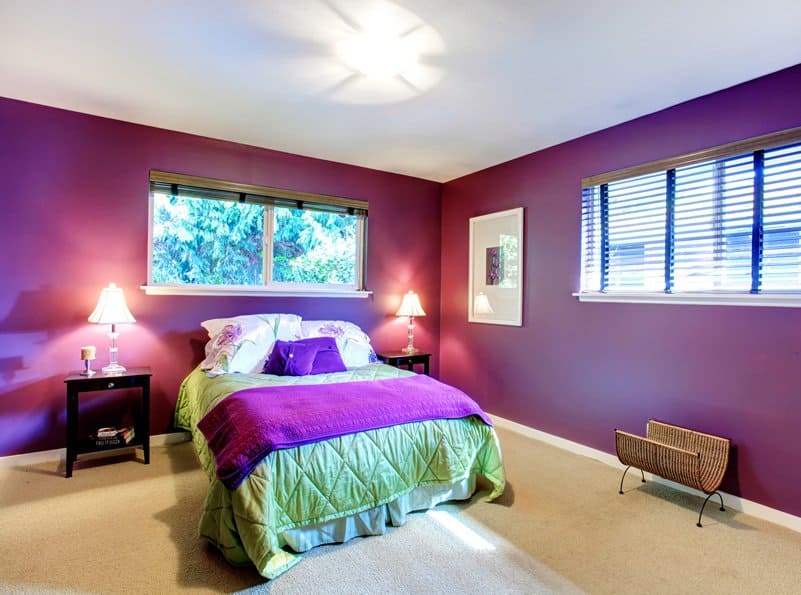 For beginners, it may be difficult to figure out which colors go splendidly with purple. Then, this is a purple bedroom design idea for you, if you are a beginner.
As you can see, purple is painted on the walls, but the ceiling is left in white and so does the bottom of the walls where white trims are placed.
Since the carpet and furniture are not purple, you need to have at least one element that can hold everything together.
Use A Little Bit Lilac Color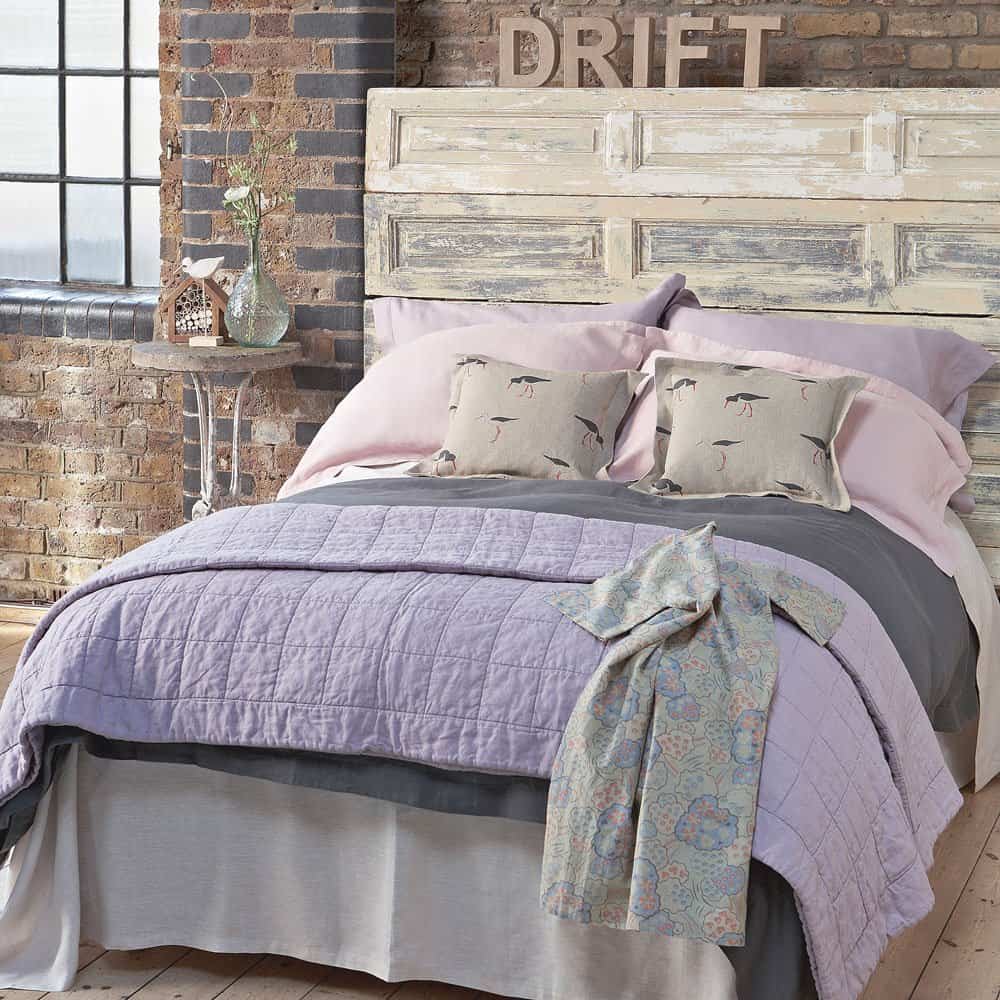 Sometimes, the original purple is too dramatic, so some people go with the softer purple instead. This one is an excellent example when you want to be surrounded by lighter colors, but you also eager to insert purple color still.
Combining purple and lilac is really a great idea. Here, you see that this idea choses lavender, which is a softer purple, to decorate the bed.
Then, if you want to keep it soft, choose lilac color to decorate the rest of the area.
To make the room more unique, you can use exposed bricks to decorate the walls.
Purple Bedroom Design for Teenage Girl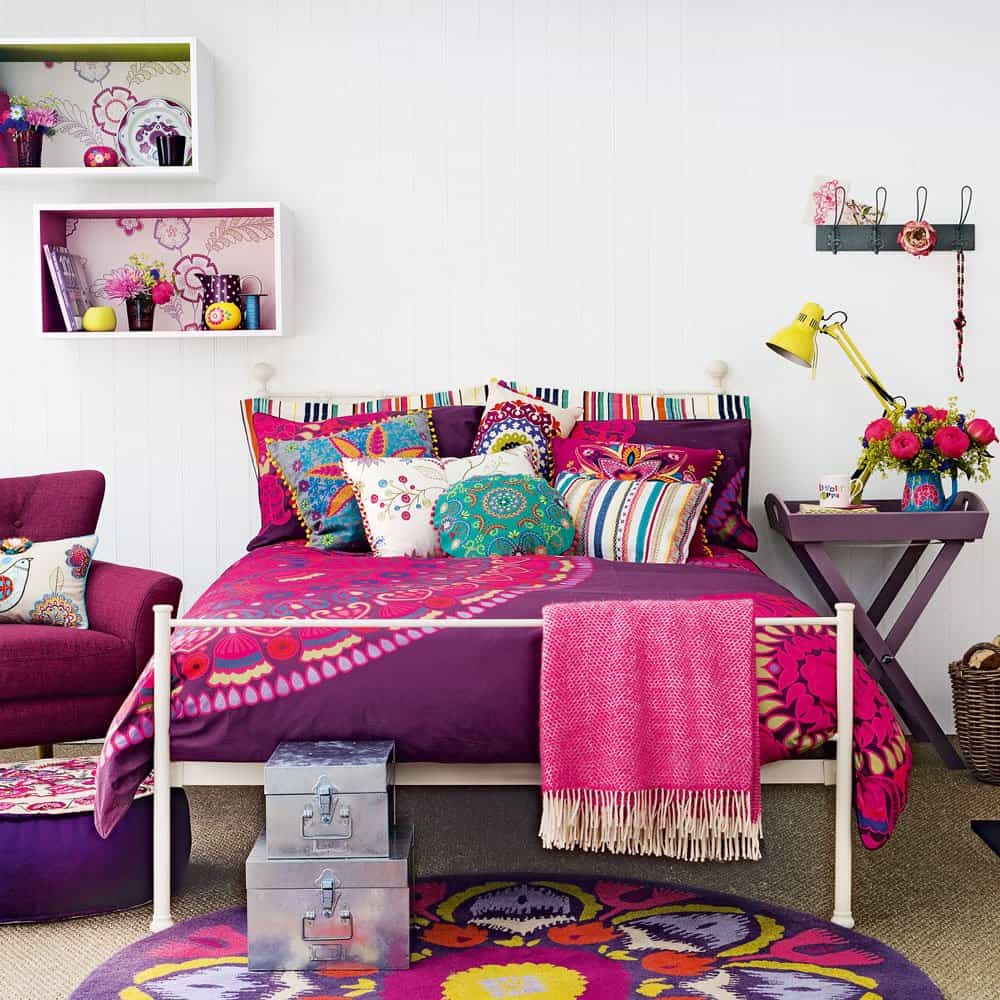 If you know your daughter very well, you must know that a teenage girl is full of spirit. That's why she wants a bedroom with vibrant color(s).
Purple is a great answer, because it offers a spirited mood. However, to add more youthful atmosphere, you can mix purple with another colors, such as yellow, blue, green, pink, and white.
Other than that, you can also use pattern to make the room more lively.
Purple Bedroom Design for Adults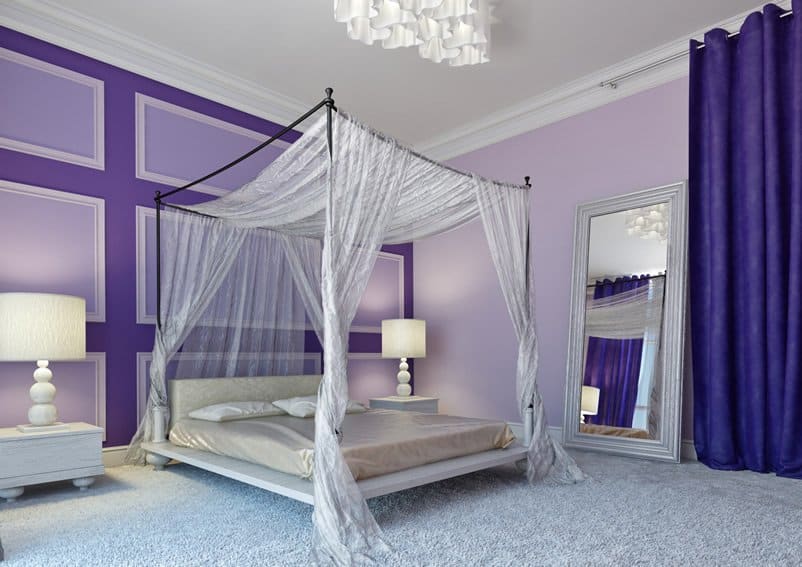 Before the 80s, purple is the least picked color. These days, we recognize it as one of the most popular choices in the color wheel, especially when it comes to romance.
That's why this idea is perfect for those of you who want to enhance the romance between you and your partner.
So, already the headwall catches our attention. The rectangle pattern is really a unique touch.
Then, the drapes are also in purple, which supports the level of purple-ness in the room. Although another color for the drapes is also fine.
To ease the depth of purple, you can choose white and brighter shade like gray to decorate the rest of the area.
Go Masculine With Purple? Why Not?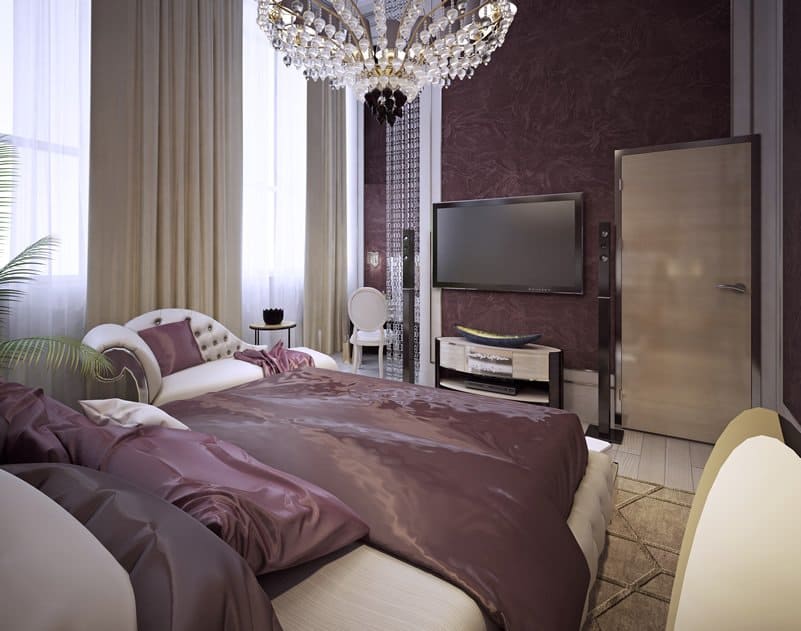 Some people won't believe it when we say purple bedroom is also suitable for men. All these years, the color has always been referred to as "girly" color.
This ISN'T a fact, because, in fact, we've proven that masculinity and purple can be in the same room together.
For men, let's go with a daring purple like violet tone. As you see, the bed and the wall behind the tv are painted in violet. Meanwhile, the drapes, door and tiles are rich in brown-ish shade.
Bold Shades Makes Strong Character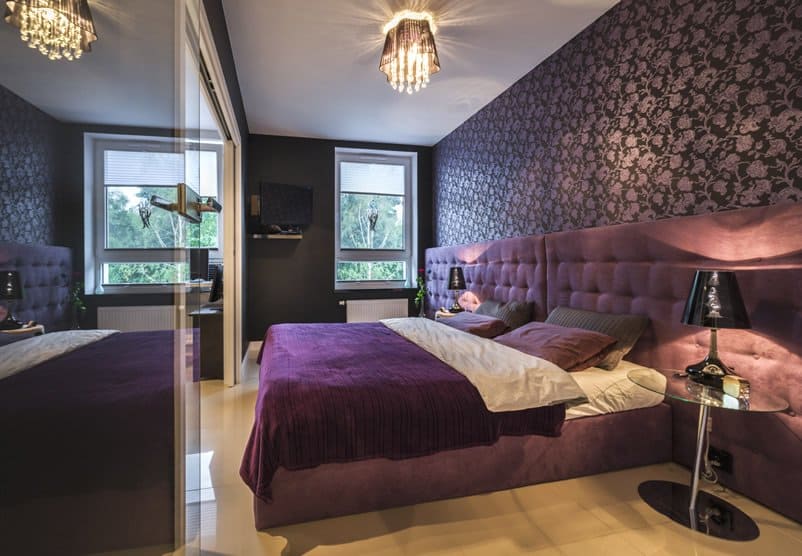 Some people want their bedroom to look soft and vulnerable, but we understand that you are unique and you crave for something that's stronger than that.
Here, we've provided a very dramatic purple bedroom design idea for the queens and kings out there.
First of all, the headwall is decorated with unique flower pattern. The flowers are colored in purple, while the background is black—same as the entire walls.
Then, purple continues to dominate the room by being applied on headboards, pillows, bed and blanket.
If you want to enhance the drama, you can install a dramatic chandelier too.
Get Warmer Feeling with Purple Bedroom Design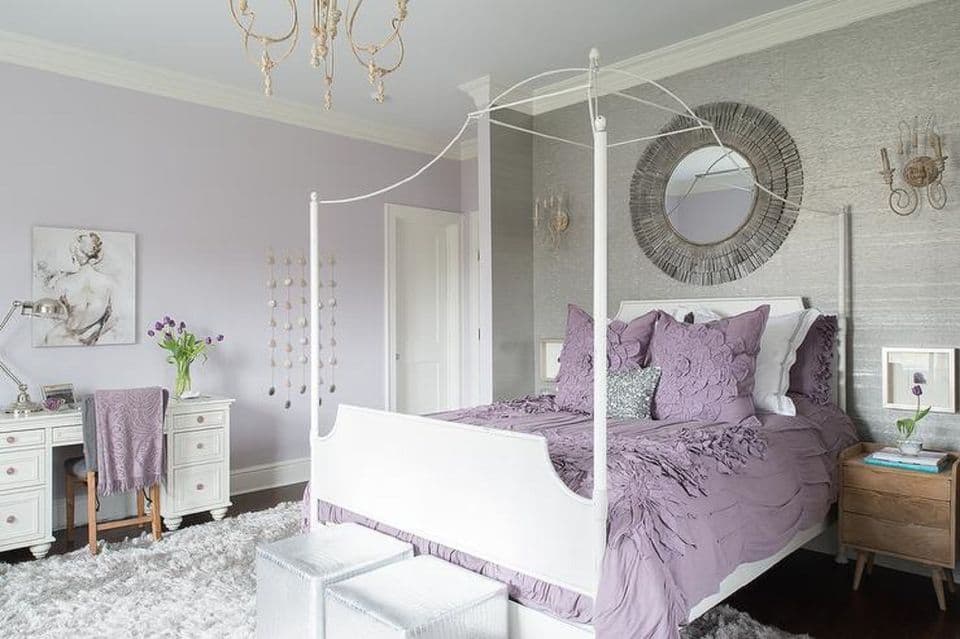 When drama is not on your list…
This idea is suitable for those who prefer warmth than heat from all the drama the previous idea has to offer.
The atmosphere created from this combination of color is quite natural, because the purple and other colors used in this room are coming from the brighter shade of the wheel (read: color wheel).
For example, the headwall that is decorated by a distinct mirror and two scones is painted in a lighter brown-ish color, while the carpet and the ceiling are left in versatile white. Then to accompany the violet color on the bed, you can also paint the other wall with violet.
Go For Two-Tone Color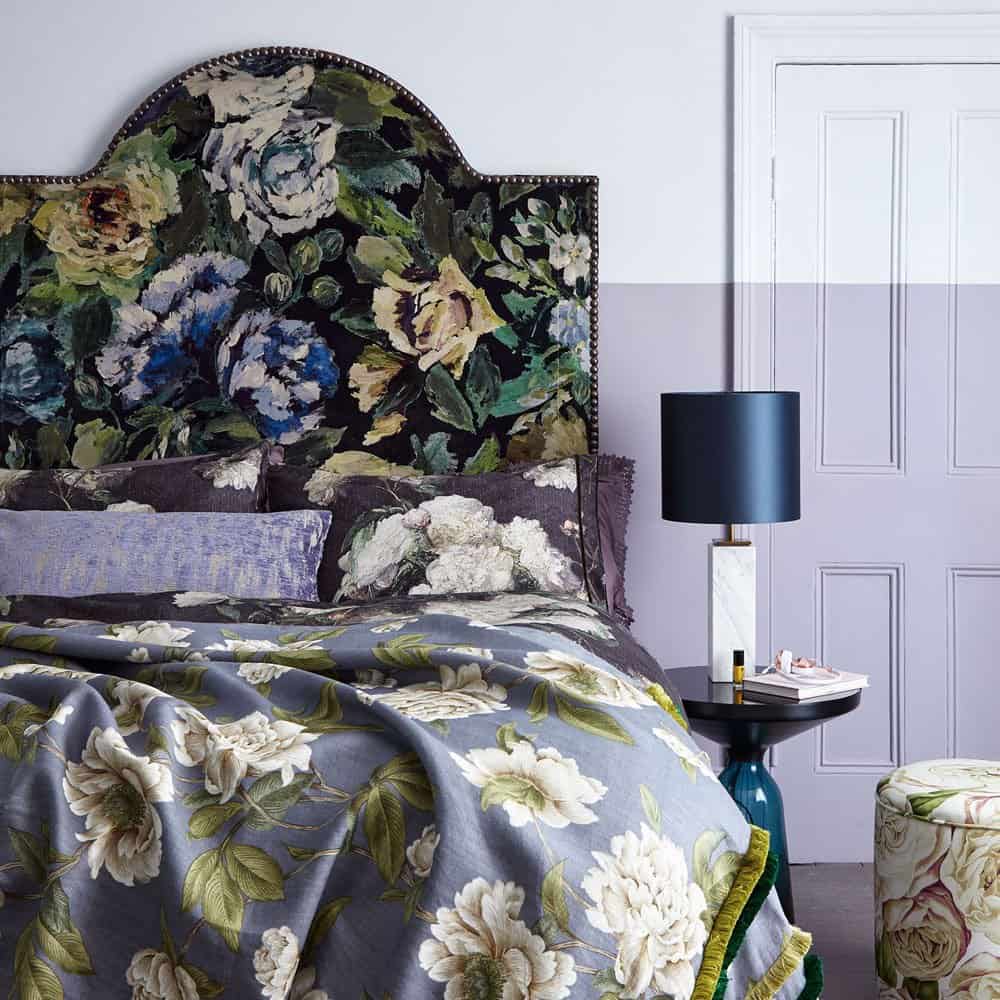 If combining purple and another color is not something that you're here for, then this may be the answer to your prayer.
Here, you use only purple, but different tones. As you can see on the headwall and the door at the back, the upper part is fading purple and the lower part is more of a violet-ish color.
This concept is then continued to the bedding. The blanket and pillows have two different tones of purple.
Purple All The Way!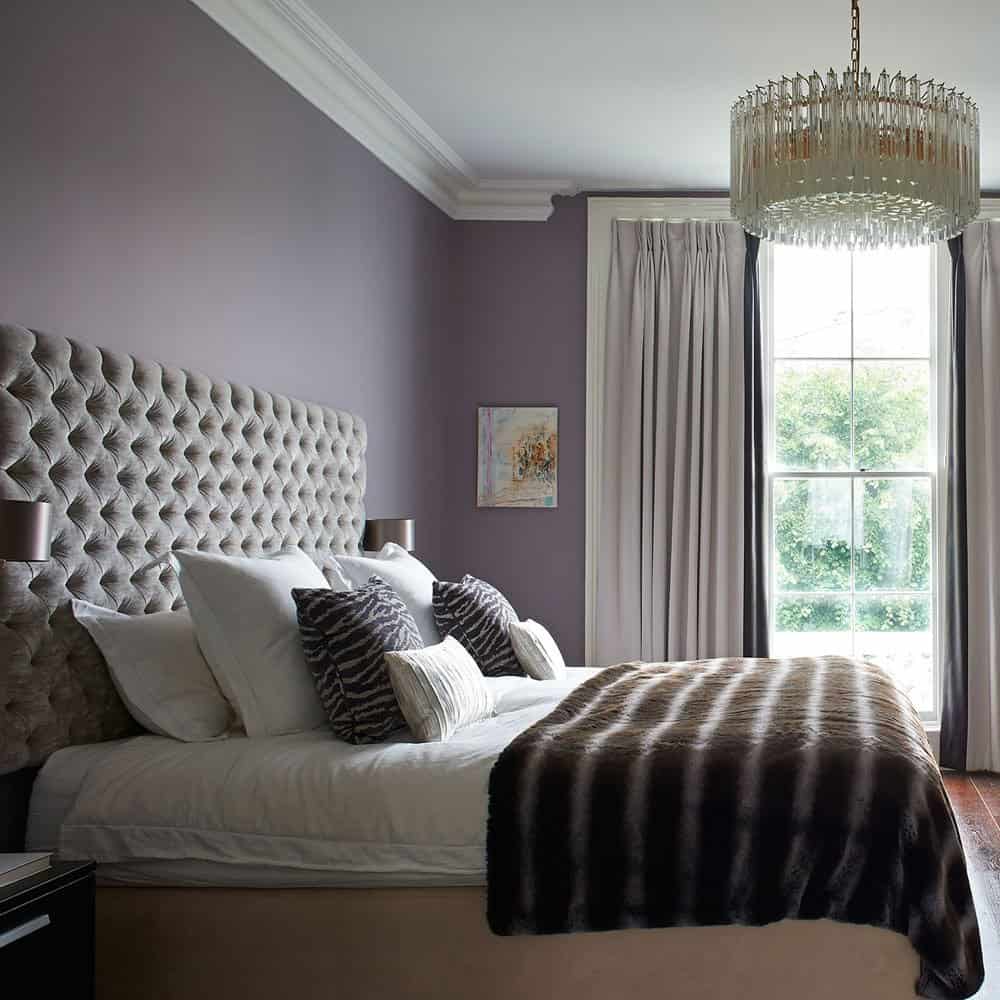 In this idea, you'll be introduced to a lot of different tones of purple, such as violet, aubergine or even pink.
However, if there's no one element that holds them together, too many tones of purple can cause a little bit of chaos to the eyes.
To avoid such thing, glue them with neutral color like gray, for example, here, you can use gray on the headwall.
Purple Accessories in a Purple Bedroom
For a purple bedroom theme, the bed is not the only thing that can be transformed into a purple-themed area, but the accessories around the bed can also be touched with purple.
In this design, purple dominated the flower pots. The pot is rather unique, because it emphasizes modernity, even almost futuristic.
Other than that, the headwall seems to be decorated with distinct patterns, and we know that such uniqueness will add more value to the room. To build the atmosphere, we suggest you to play with the lighting.
Princess Diary's Purple Bedroom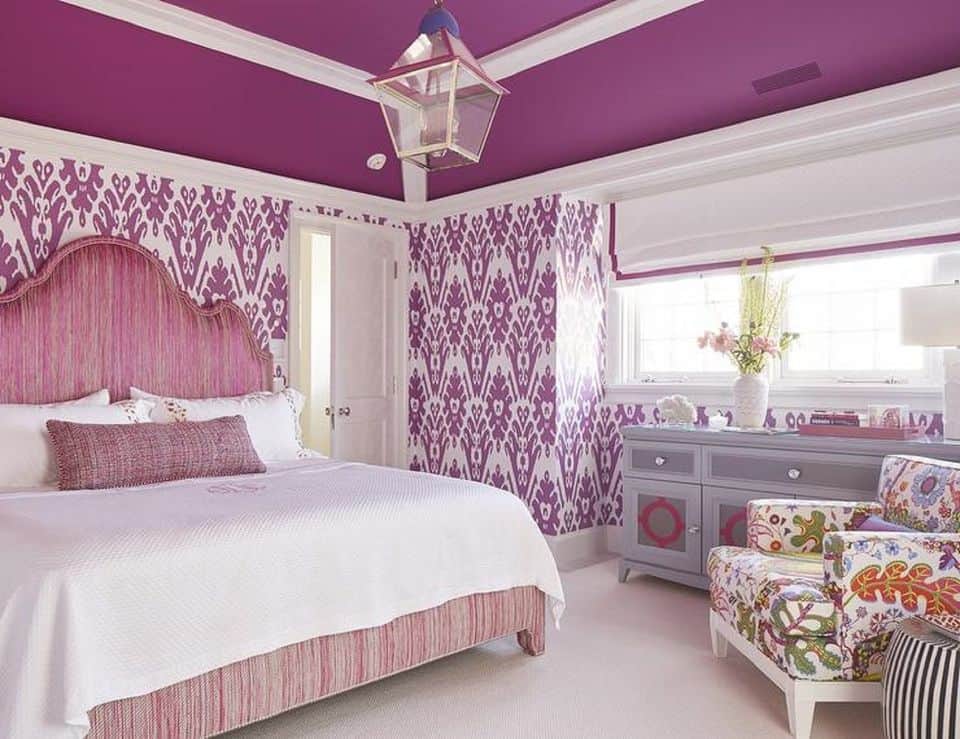 "I want to feel like a princess when I sleep!"
Ugh, okay, we totally understand you! This room provides you with dark purple ceiling with white trims.
Then, the box chandelier adds a sense of luxury to the room. To complete the style, use wallpaper that gives a strong statement.
Use Purple Color Bedroom Accessories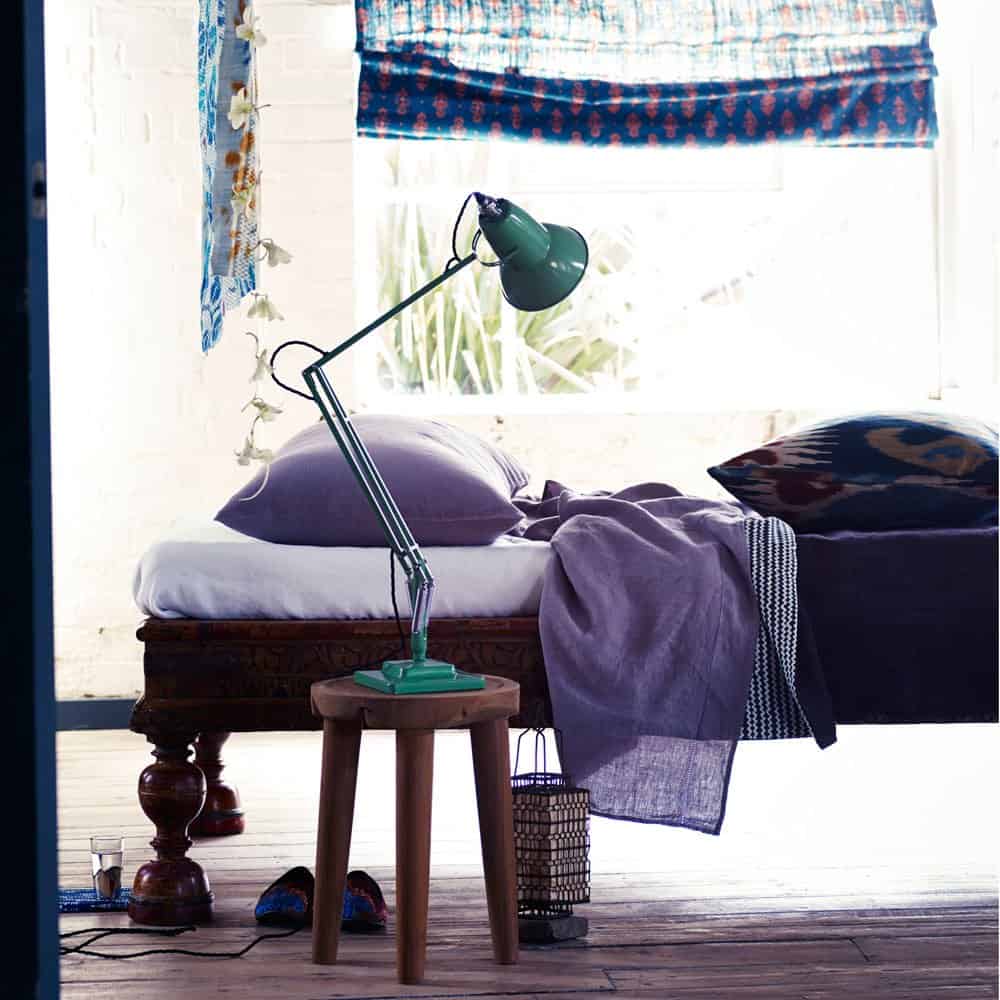 There are also people who prefer to have only some furniture and their bedroom is only filled with a bed and a nightstand.
This isn't a problem for a purple bedroom design idea, because you can still add purple to other elements, such as the accessories—lamp, flowery wallpaper, etc.
In this case, this image shows us that the pillow and the blanket are also covered in purple. If you want to make the purple pop, you're suggested to choose neutral color for the rest of the area.
Be Creative With Wallpaper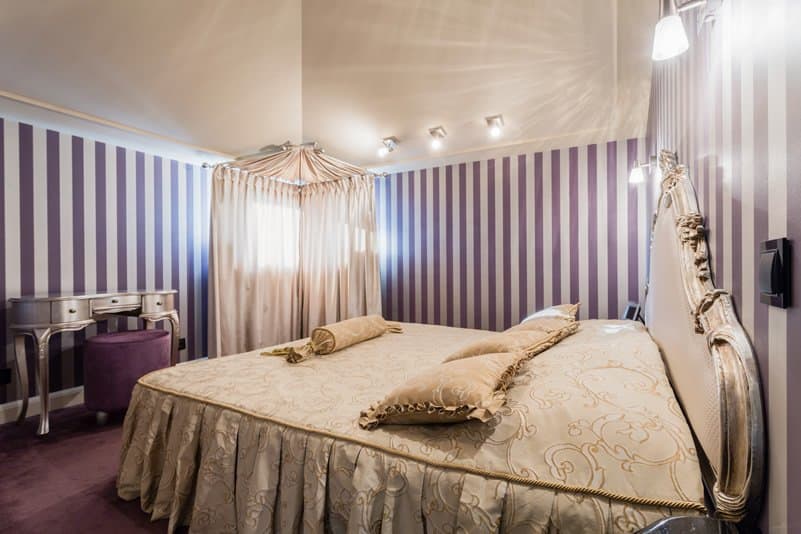 Creativity has no limit. Actually, you can do whatever you want with purple. You can paint every inch of the room with it if you want it.
For example, this room is filled with the combination of purple and white. While the upper wall is painted with white, the bottom part is decorated with purple vertical lines.
Then, the pattern is accompanied by purple carpet that covers the entire floor and purple vanity chair that looks super comfy.
Purple and Black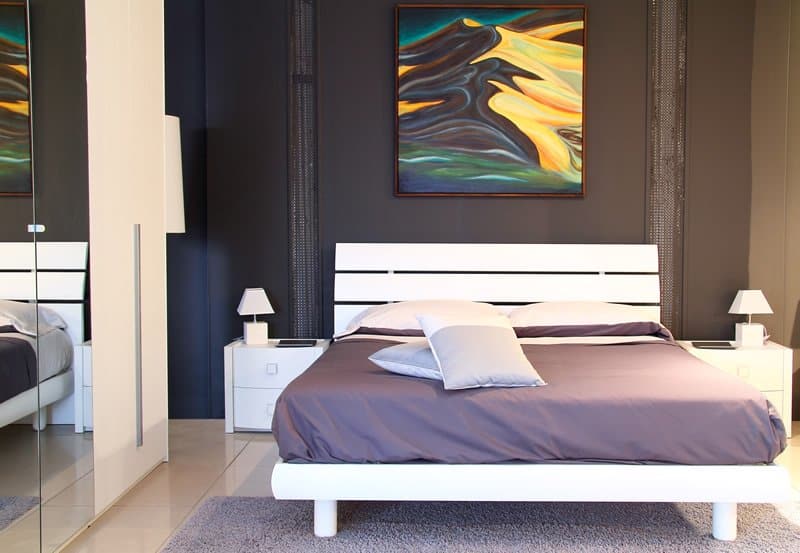 Other than white, purple is also great when it's combined with a darker color like black. This purple bedroom design idea proves it all.
The back wall is full black. Even so, it's not overpowering purple. You can see that purple still becomes the center of attention in here.
Even the magnificent painting at the back is not going ahead of the purple on the bed and the carpet.
Another element that helps the main color to pop up is the floor which adopts dark timber material.
Pink & Purple Isn't Bad At All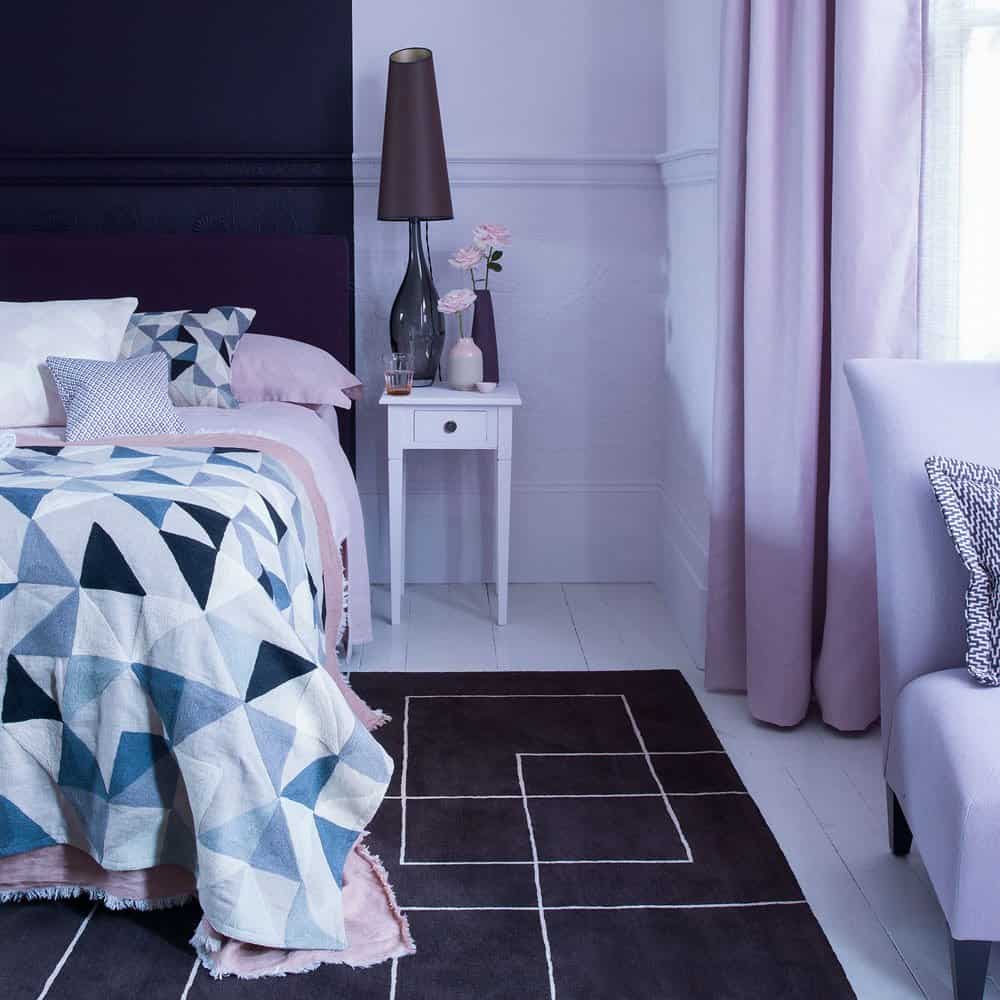 Looking at the color wheel, purple and pink are actually pretty close. That's why a lot of people choose pink to accompany purple.
To add more fun, you can play with various tones of pink and various tones of purple, and combine them in this one room.
Here, you can see that the drapes are purple, but the bed uses pink blanket and pillows. Other than that, you can also see a touch of pink on the vase and the plastic flower decoration. Moreover, you're highly suggested to choose white as the base.
Purple & Turquoise Color Fusion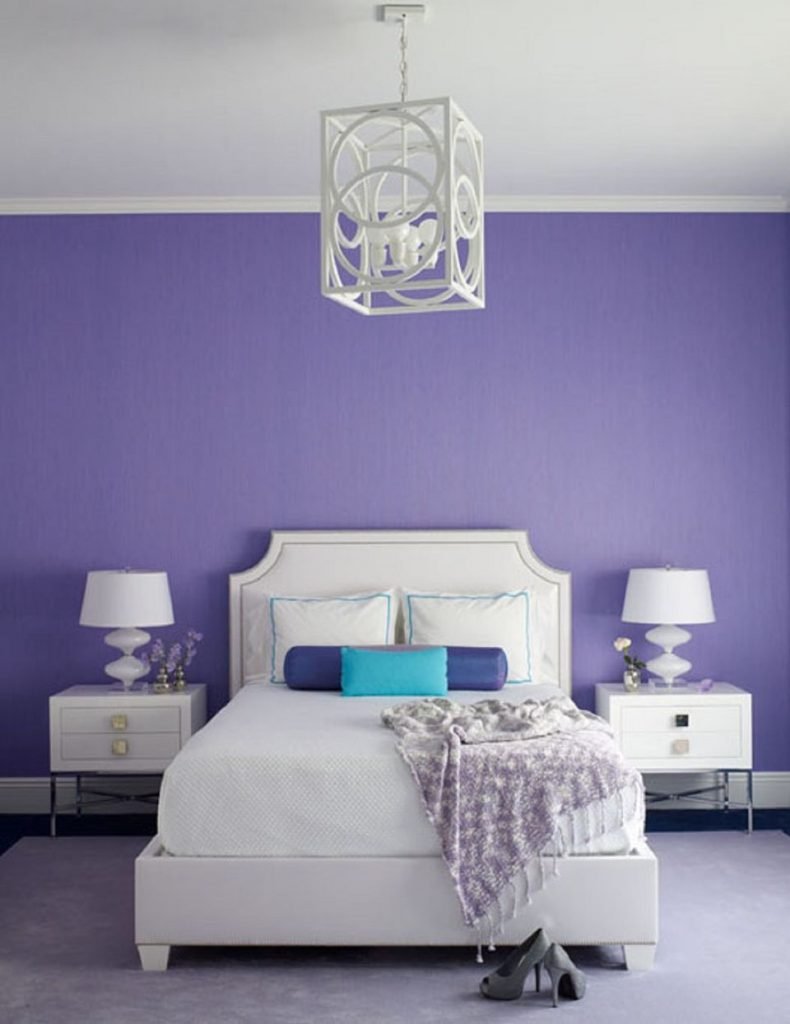 Do you want to experience a coastal vibe?
Well, this one allows you to feel like you're somewhere on the coast, enjoying the breeze from the beach.
Take a look at the headwall in the back!
The headwall is painted in a lighter shade of purple that matches with the carpet below the bedding.
To build the atmosphere, you can mix and match other elements, such as the pillows. You can DIY the cases with the same color as the headwall and a touch of turquoise.
Distinct Pattern in A Purple Bedroom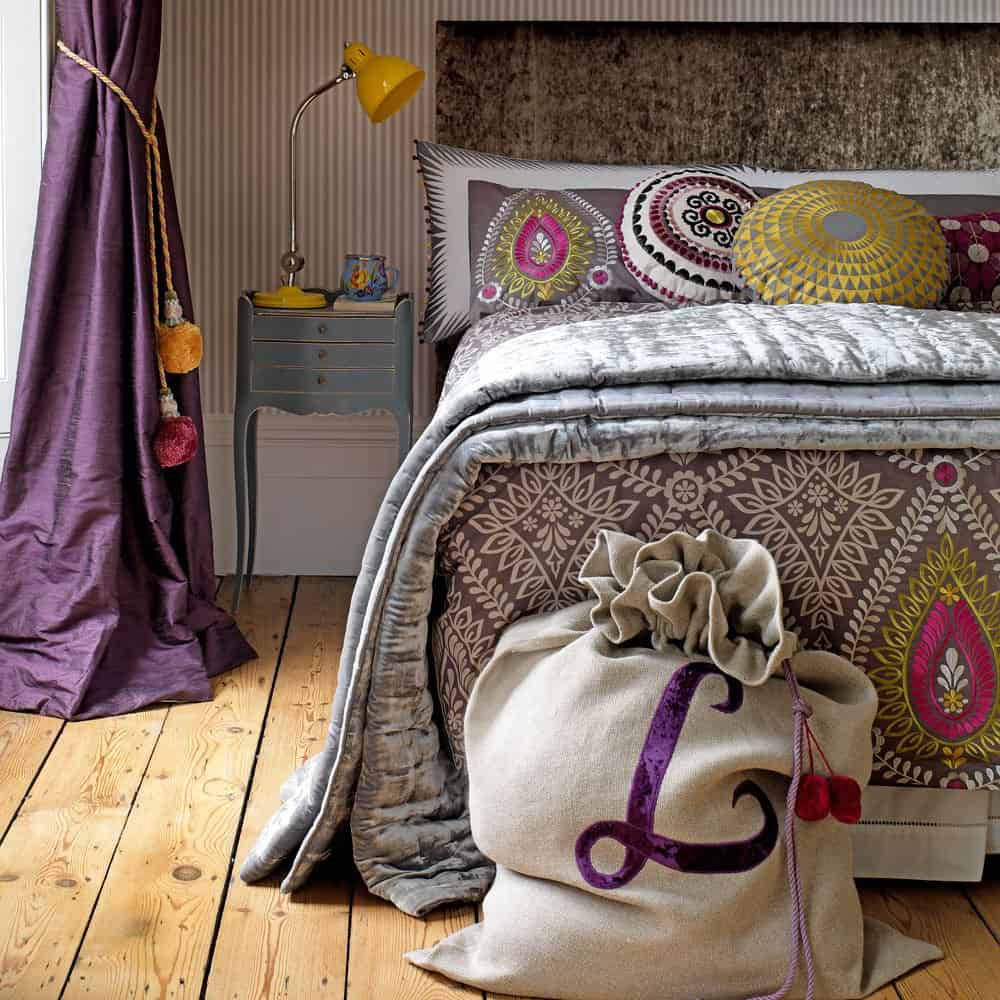 Here's a fun fact,
Purple is very close to Romanian culture. Purple was the color of initials that was written on the box of chocolate or expensive materials that are given as gifts.
That's why you can also combine purple with Romanian's traditional pattern.
Other than purple, other colors that were also used to symbolize luxurious things were brown, blue, green, and yellow.
Play With Patterns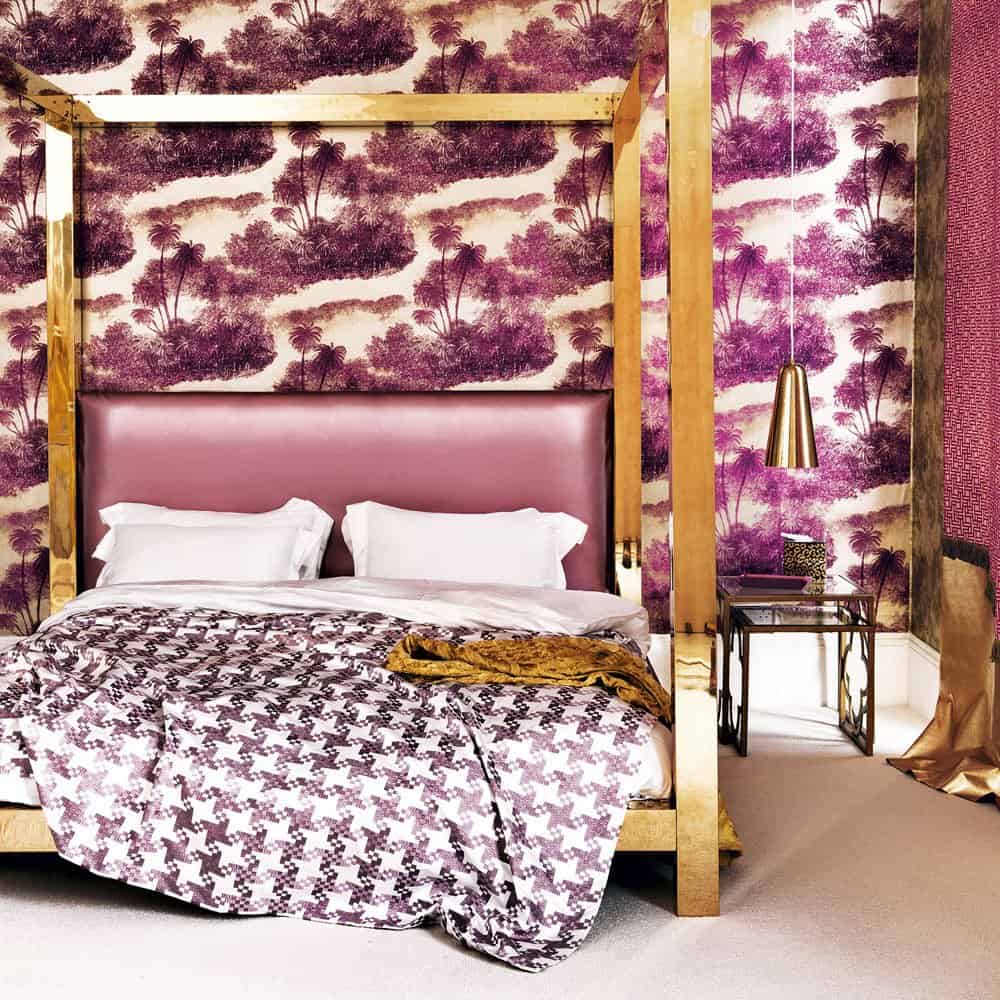 Sometimes, people are too afraid to play with pattern wallpaper, because sometimes it comes out too strong.
However, we want to remind you to stop being too scared to try something out of your comfort zone.
This one is an excellent example of how to make pattern wallpaper looks amazing in purple bedroom that is combining them with gold.
This combination makes the room looks exotic. Other than that, the room now looks expensive as well.
High-End Purple Bedroom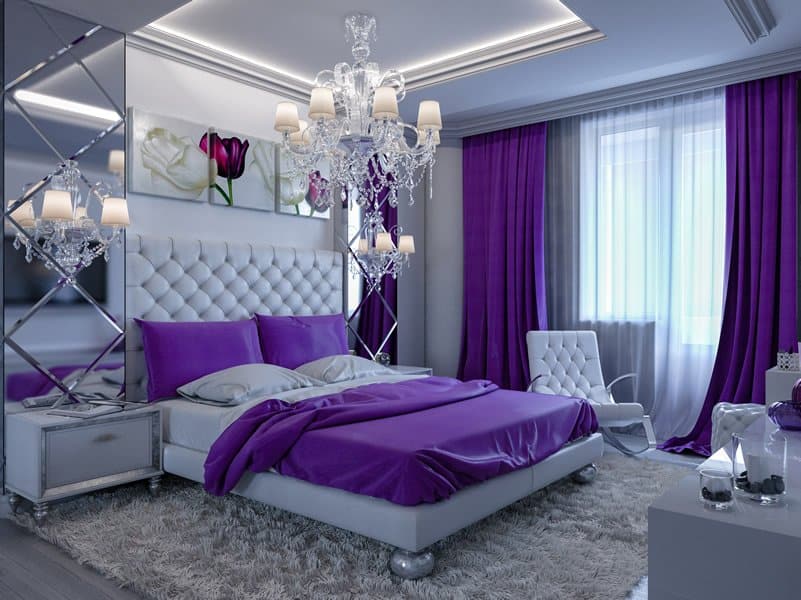 If we're not careful, our attempt to create a purple-themed bedroom will end up looking cheap and unattractive. If you want your purple bedroom looks expensive and luxurious, this is the only way to do it.
Utilize a luxurious chandelier and unique pattern mirror that goes from the highest part of your dresser to the bottom, which can also become your vanity mirror. A king size bed can also make the room looks majestic.
However, the most important thing is the purple. Here, purple is used for some elements of the bed and the drapes.
Even though purple isn't too dominating, this room is still perfect. The key is to choose bright colors, such as white and grey, to accompany purple.
Purple Bedroom for Valentine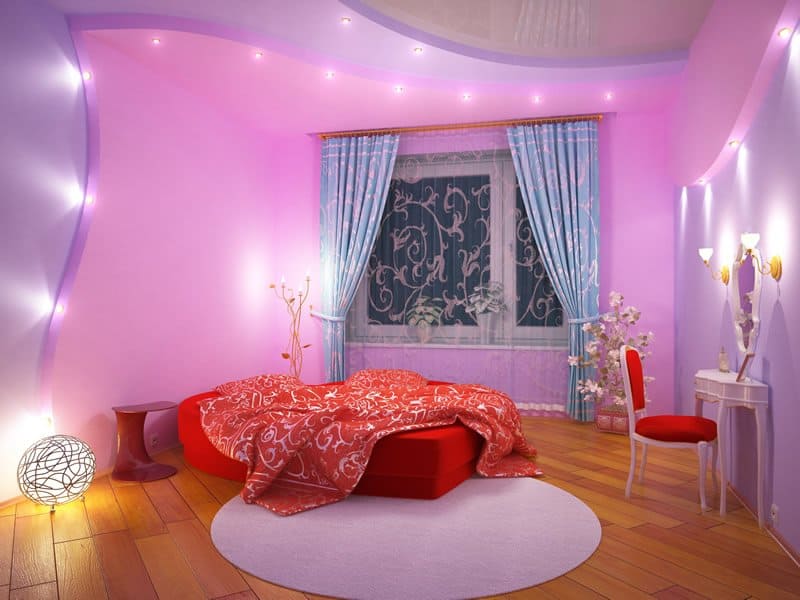 Valentine day is such an important day of the year. It is a special occasion where you can spend the entire day eating chocolate with your loved ones or with yourself.
Make the occasion even more special by transforming your dull bedroom into this exciting purple-themed valentine bedroom. Purple can be seen dominating the walls and the carpet.
Small Purple Bedroom Design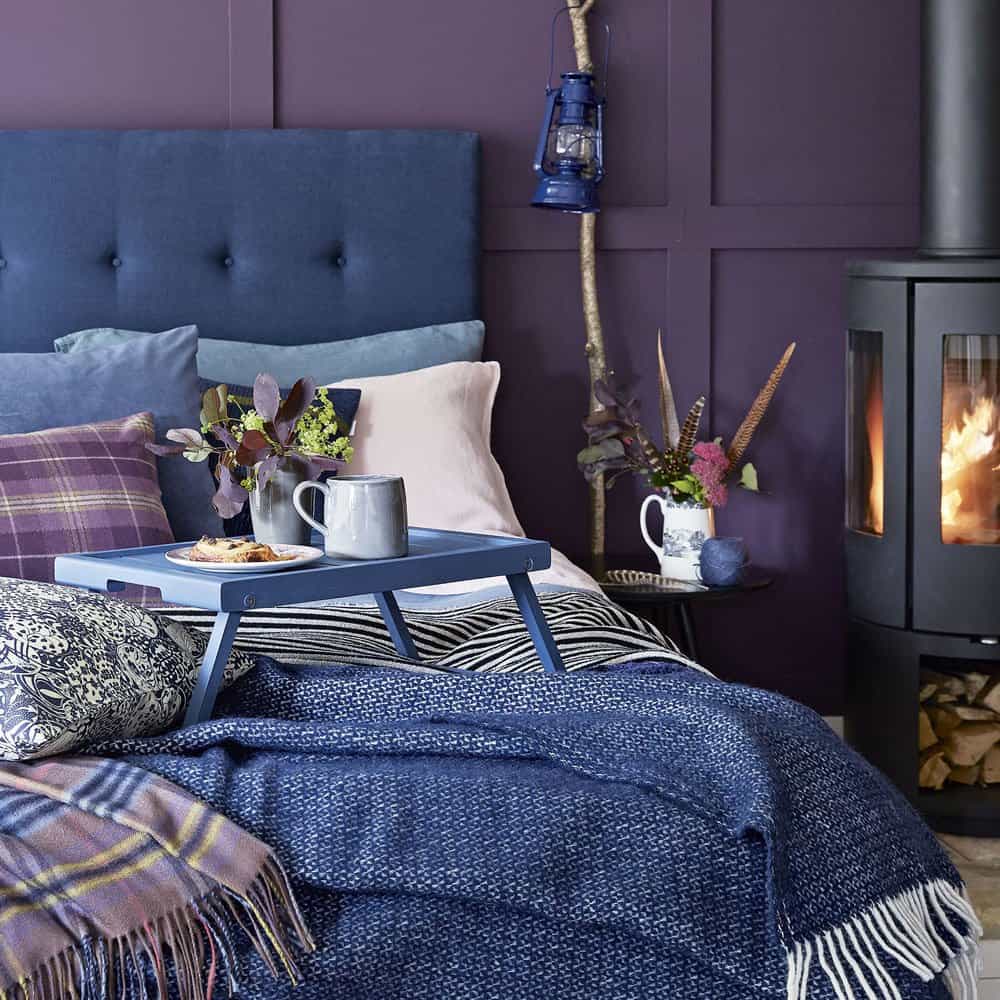 Small bedroom is not a problem as long as you find the right design. Commonly, a small bedroom is packed with a lot of things and this can include the fireplace.
Then, how to make a purple—small—bedroom appears not as small as its actual size?
Well, you have to pick purple from the brighter shade, such as shown from this design. Since there is a fireplace, you have to make the fireplace stands out among all the purple elements.
Perhaps, go with clean purple, which means that you don't utilize fabric or wallpaper that uses strong pattern.
Grandma's House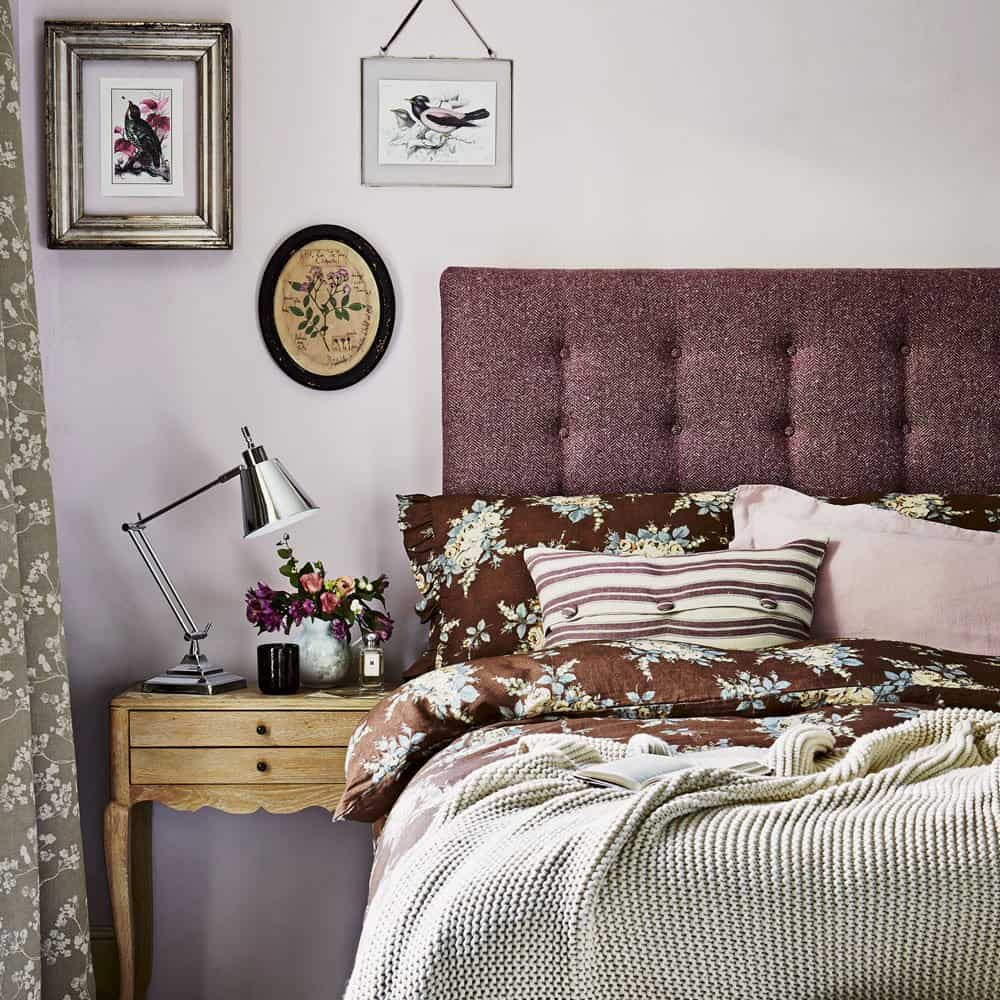 We all know that grandma is the perfect companion when we want to be given extra love. This purple bedroom design idea makes you feel homey, because it uses purple and several other colors from the softer shades of the wheel.
For example, the headwall is painted in a lighter purple that is the opposite of the darker purple used for the headboard.
To make the room even more relaxing and calming, you can choose nightstand with a natural color such as this natural wood plain nightstand.
It is also beautiful to decorate your bedroom with real flowers or plastic ones, and flowery pattern pillow cases.
Give Enough Contrast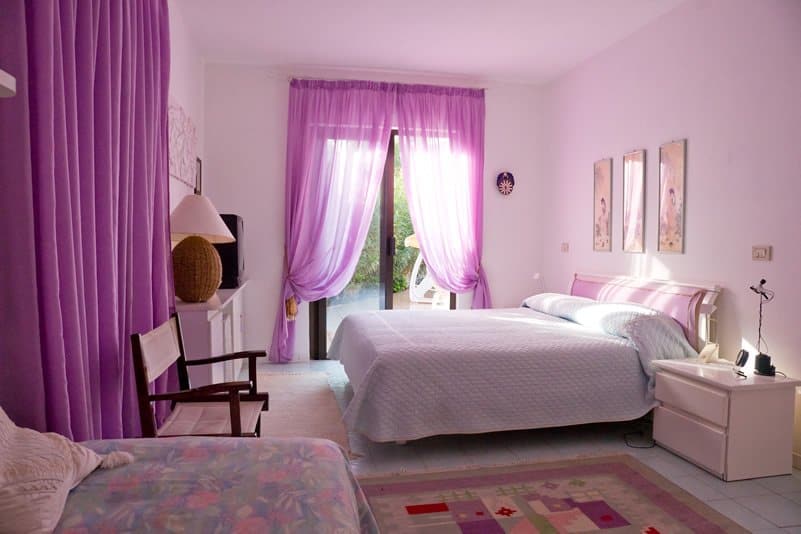 You have known that purple has several different tones. Other than combining purple with other colors from the wheel, you can combine the tones in purple together.
In this design, purple dominates several important element of the room, such as the drapes that builds the mood, especially when it is hit by the sun light. Then, purple can also be seen on the headboard and the carpet.
Add Beautiful Purple Flower Accent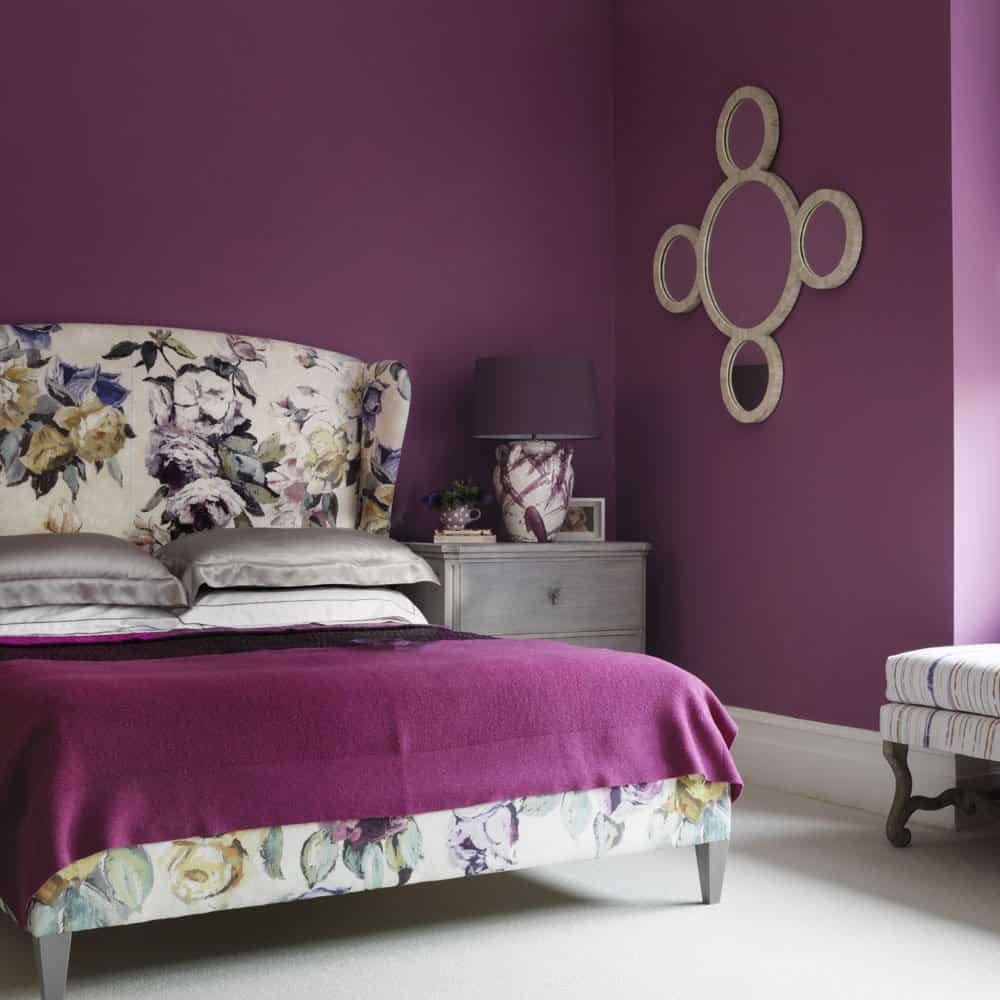 Flowers are still the most popular choice, because flowery pattern wallpaper or even the one that's printed on the bedding and headboard goes with purple color really well.
This is the example. As you can see, purple dominates the blanket and the entire walls.
To create a distinct character, you can place a flower accent on the wall that's actually mirrors. These mirrors help you to enhance the atmosphere created by purple color.
Experimenting with Purple Color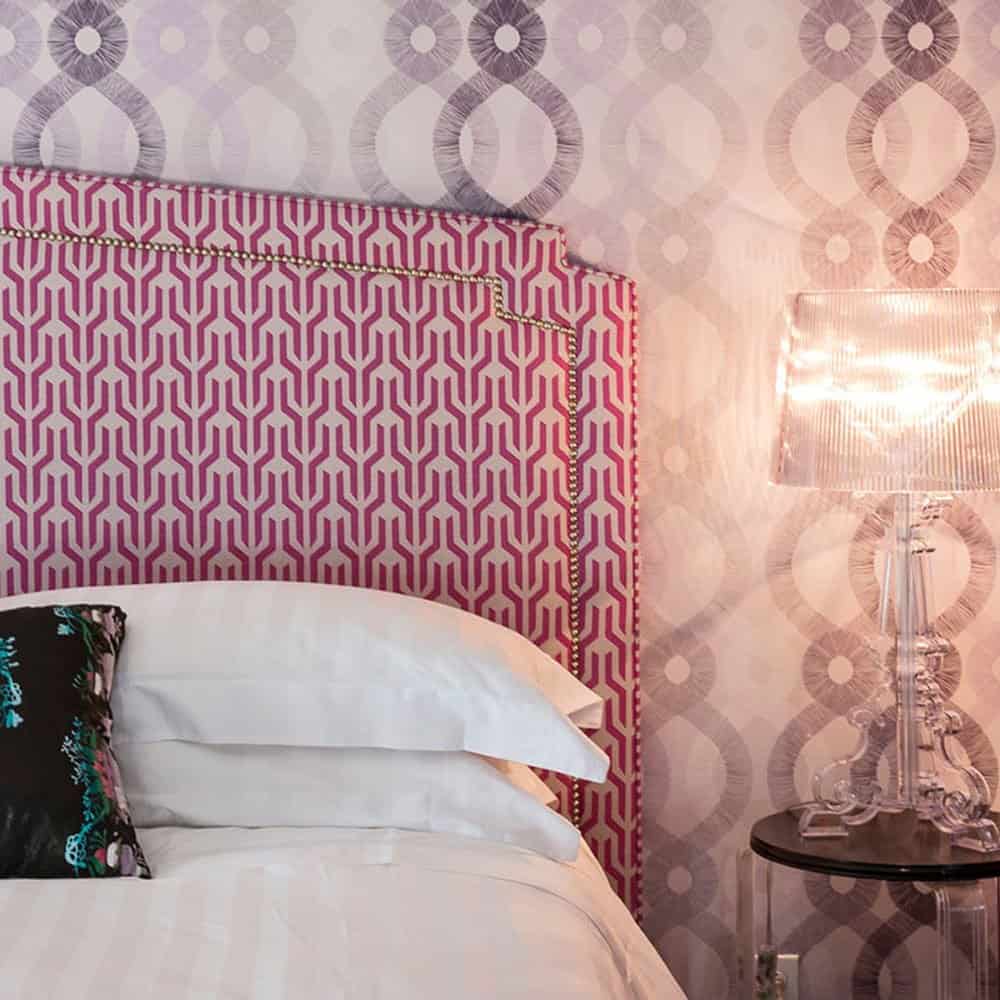 If you're bored of all the purple bedroom design ideas above, you can do the last alternative that is to do fun experiment.
If, usually, purple is applied plainly on the headboard and headwall, you have to change the game a bit that is by creating a unique and distinct pattern.
The pattern can be based on your idea and creativity, so you have a sense of proud when you're done.