Don Pedro Brooklyn is reader-supported. When you buy through links on our site, we may earn an affiliate commission. Learn More
Rustic Christmas Decor Ideas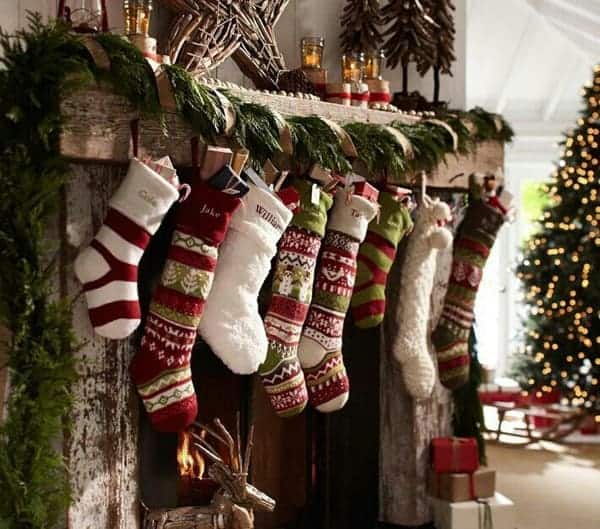 Rustic has a certain appeal to them that is difficult to explain. They're just beautiful in ways that modern homes sometimes lack.
In the same way, rustic decorations have a similar beauty that can not be explained by the average person.
Even though the rustic look is a great one year-round, Christmas is one of the best seasons for rustic decor to show off its best assets.
Decorations made of simpler materials and that either is or at least seem to be home-made really show off your love of the season and can make your home stand out among the other Christmas decorators in your neighborhood!
The best part of rustic Christmas decorations is its simplicity. There are not as many wires to run, no bright lights that keep you awake at night, and, best of all, it's easy to do!
So, here are some ideas to add rustic chic to your Christmas decorations this year.
A Festive Entrance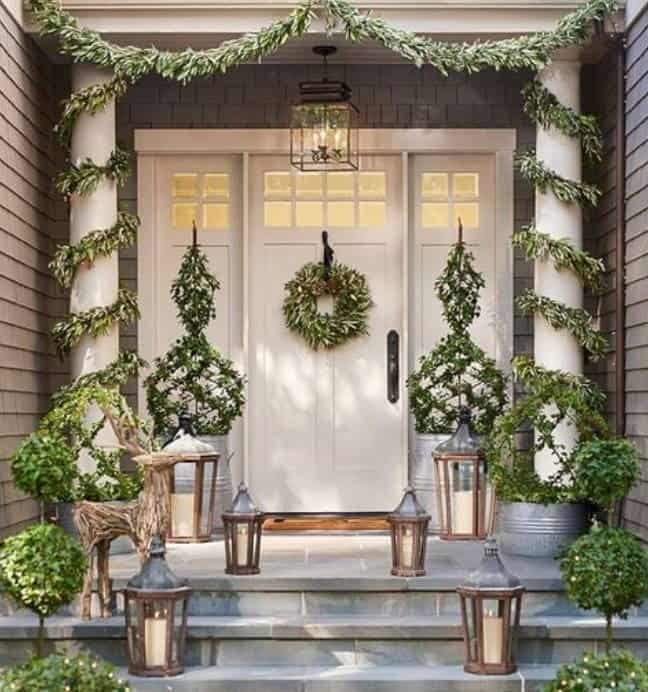 A great way to prepare for the season without untangling miles of lights.
Using wreaths and garland, lightly dusted to give an air of fallen snow, this is a perfect set-up for your entryway.
What gives you the rustic charm is the twig reindeer and the lanterns.
A Cozy Dining Room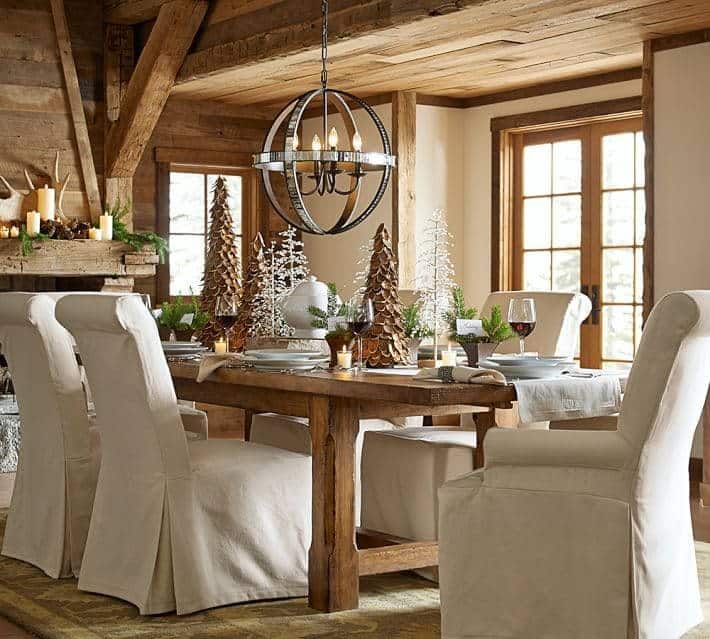 A lovely set-up for any time of the year, but works especially well for Christmas.
Some simple white-and-brown Christmas trees really draw the entire set up together, but I would argue that the natural lighting really drives home that rustic feel.
Natural lighting can be more beautiful than the best Christmas lights, so give it a try!
Side Table Setup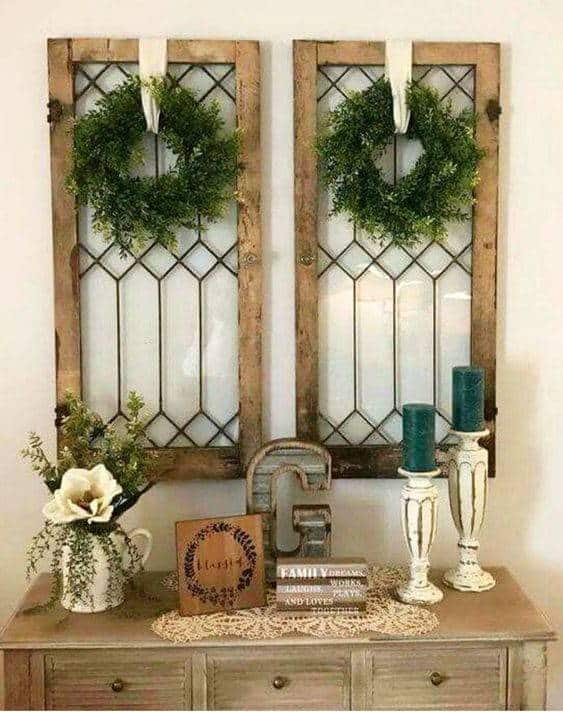 This is a charming set-up that can also be used year-round. The wreaths are a nice touch but notice the little signs. Easily changeable throughout the year to reflect the season.
The plant in the mug is another great touch that can also be changed for the season. Indeed an entirely universal decoration.
A Crate Christmas
This charming little set-up was made with a crate, a clipboard, and a few pine twigs with other items that would typically be seen as "junk."
The "Messy Little Christmas" written under the car is a perfect little joke for this DIY project. An ideal decoration project for yourself or your children!
Joy in A Can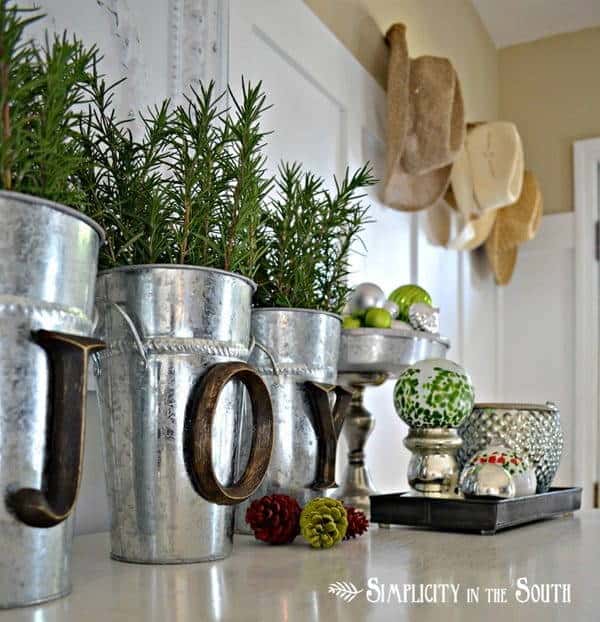 An effortless set-up but still rustic nonetheless that will fit in perfectly in your kitchen, dining room, mantle, or even your bathroom!
The weathered metal adds that touch of charm you want for your rustic Christmas.
Stocking Hung with Care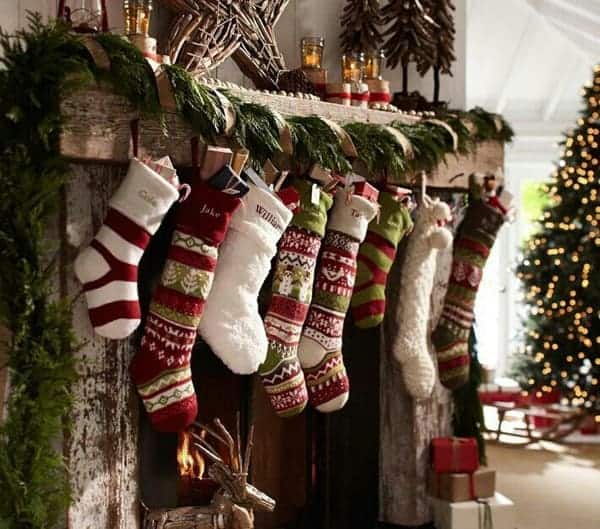 A lovely decoration idea, even if you don't have that rustic stone-built fireplace.
Hanging stockings over the fireplace is a near-universal standard for Christmas, and with a little garland added, you have a beautiful, rustic Christmas decoration.
NOEL Tree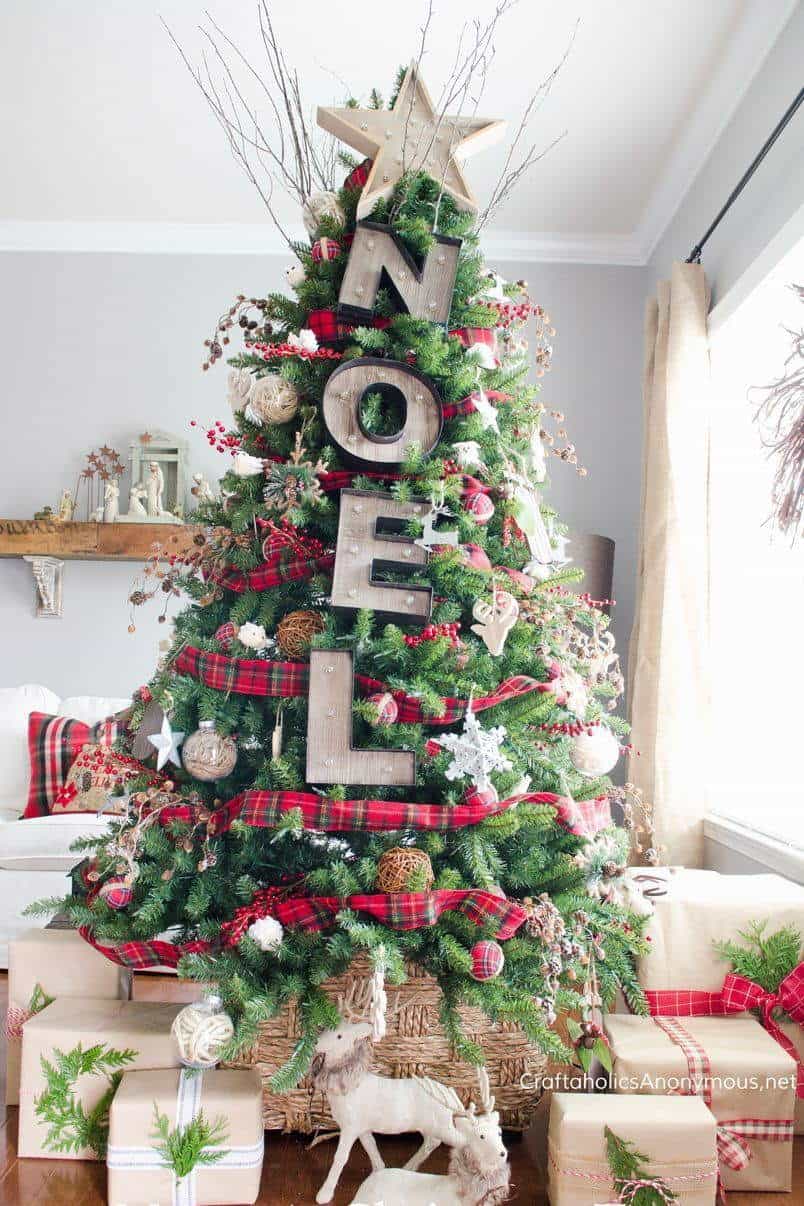 Christmas trees are always central for Christmas, and here we have a tree proudly announcing that it's Christmas. The checkered pattern clothes wrapped around the tree set that rustic tone.
Notice how NOEL is crafted in a brown hue. If you want that rustic feel, using muted colors works better than brighter colors.
Checkered Christmas Tree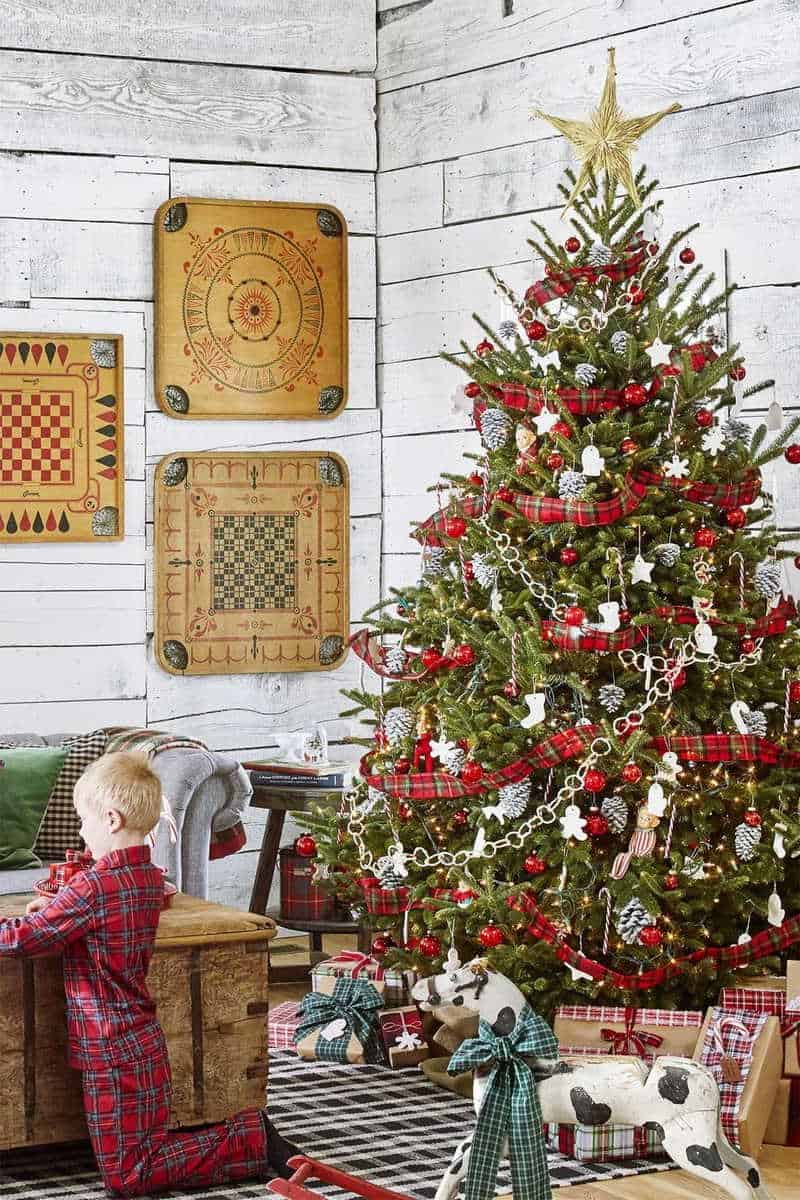 A great way to craft a rustic tree, while still keeping all your decorations, is to use checkered pattern clothes to wrap around your tree.
For whatever reason, checkered patterns always give a warm and homely feel. Try it yourself!
Reindeer Board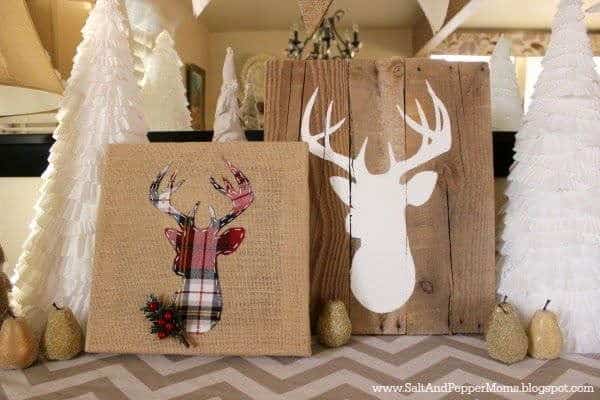 A perfect hang-up for both indoor and outdoor, these blocks of wood with the outline of a reindeer make charming decorations.
If you don't like the head-shot of the reindeer, try designing yours with the full outline of the deer. Or maybe eight little reindeer pulling Santa?
Gift Wrapped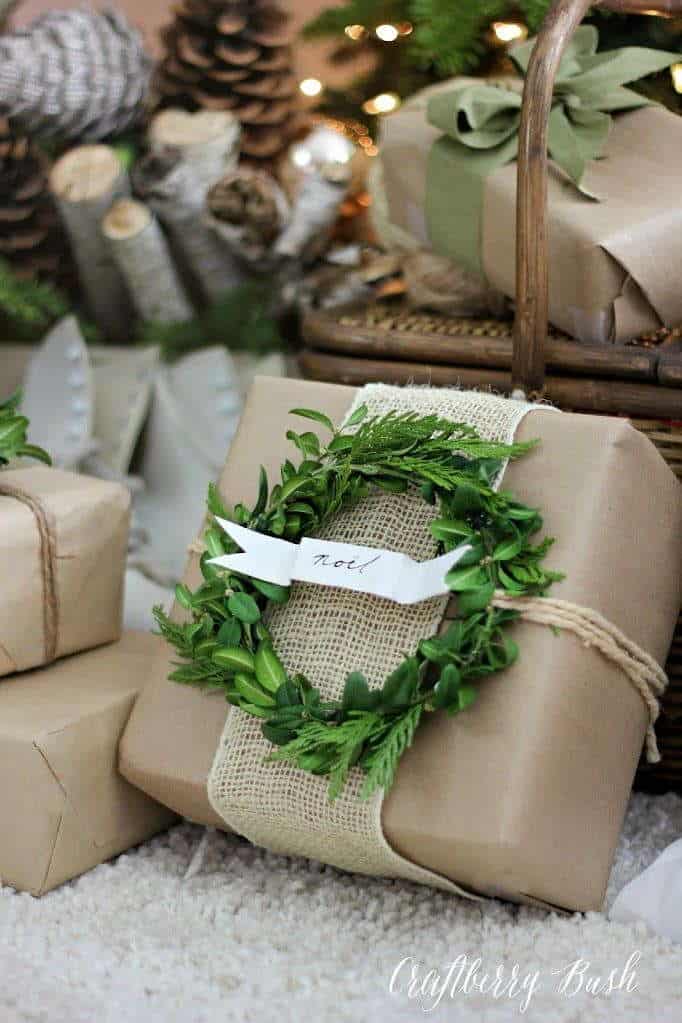 To add to your rustic Christmas, using standard brown paper with twine can look so much better than the overly colorful Christmas wrapping paper.
If you still want a more colorful Christmas, try muted green or red paper instead. Adding a tiny wreath as the finishing touch brings it all together.
Christmas Living Room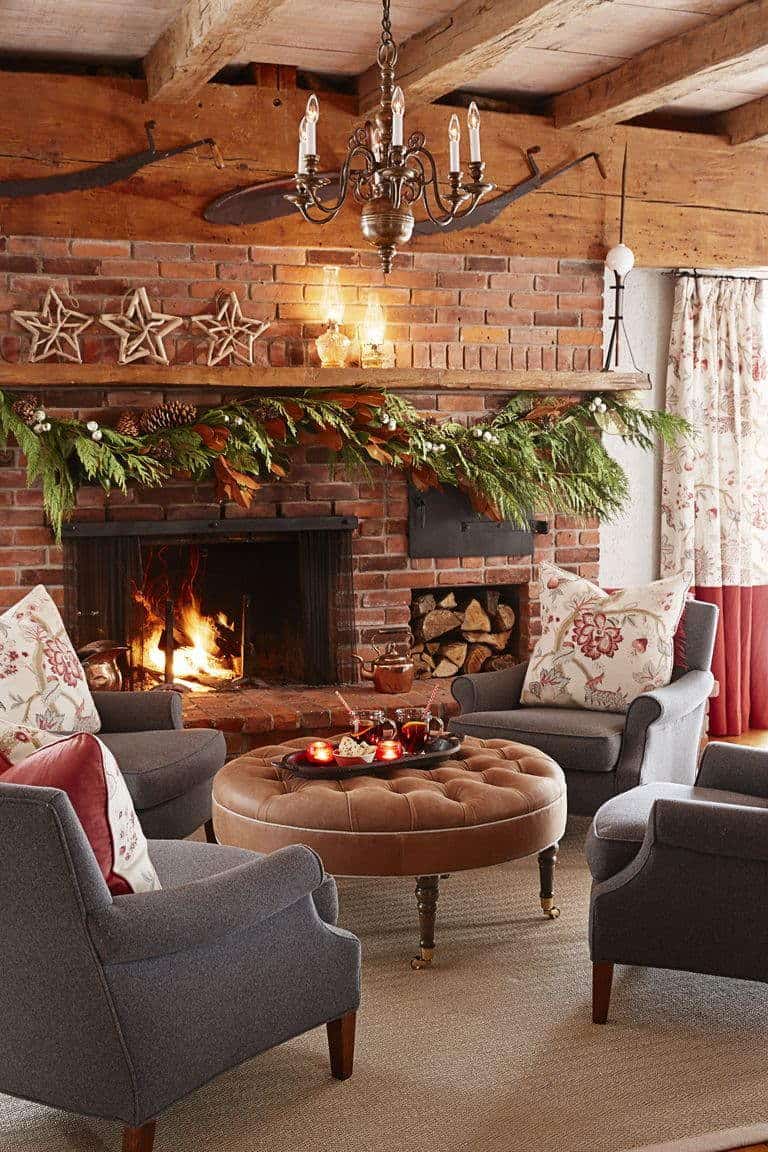 Hot cider with a roaring fire while in the company of friends and family. There truly is no greater feeling.
With garland hung over the fireplace, sometimes, the minimalist approach gives the best rustic charm.
A Snowy Entrance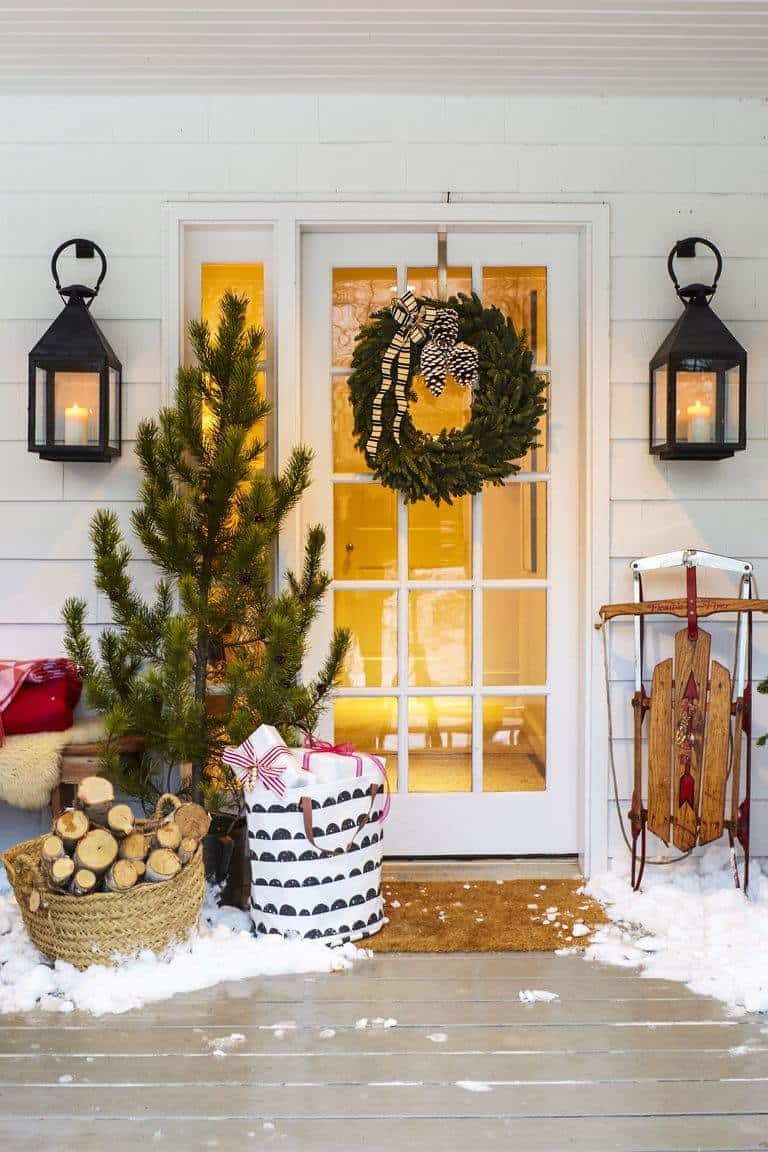 This charming entryway gives the feeling of children returning home after a fun day out in the snow.
The sled is a great touch, as is the smaller Christmas tree. Personally, the stacked logs are the best touch.
Christmas Morning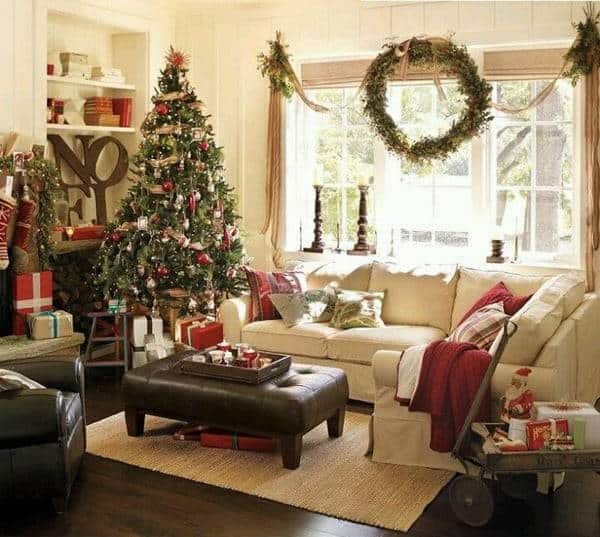 A perfect and charming Christmas morning setup. The hues of white, red, and green pull everything together.
The Christmas tree is decorated with care and love, while the little wagon with a metal Santa adds to the rustic feel, connecting the past with the present.
Log Trees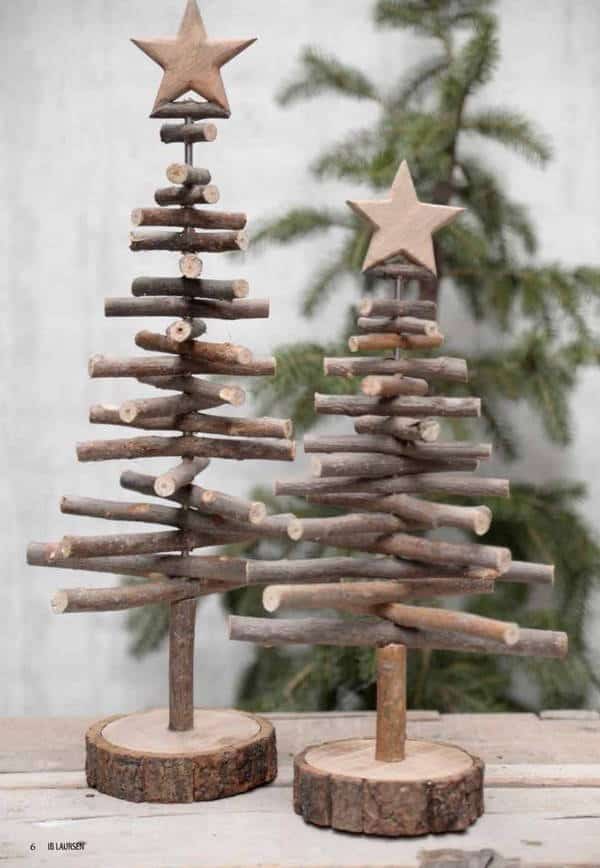 A charming, and fun, Christmas decoration. Using stacks of sticks and a wooden star, these little trees will fit perfectly in any room of your house while being subtle at the same time.
Gated Fireplace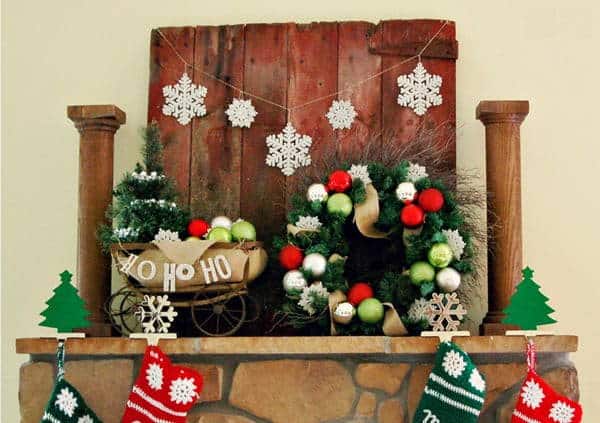 An old gate on a fireplace may not be what many people think of when they think of Christmas, but it adds a unique charm to the decorations.
With two wreaths by its side and paper snowflakes strung across, this is an eye-catching centerpiece for any rustic fireplace design.
Another Christmas Living Room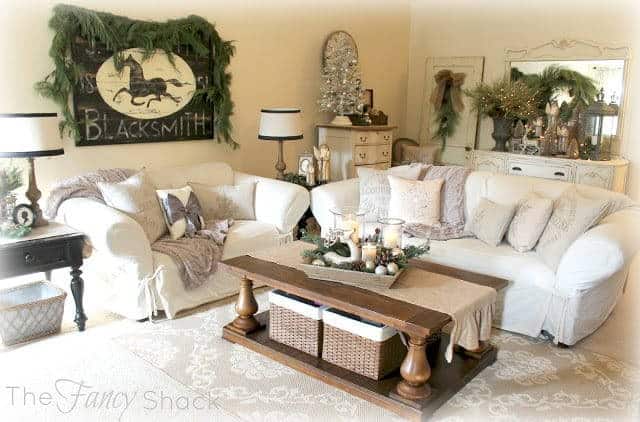 The white furniture mixed with the green garland and the white miniature Christmas tree in the back creates a rustic tone. The wooden furniture is a lovely touch as well.
Pine cones and Lights

A festive and lovely addition to any room, some twinkle lights, and pine cones with small branches add a rustic charm.
Find some aromatic branches and pine cones to have your decorations add some fragrance to the room.
Christmas Log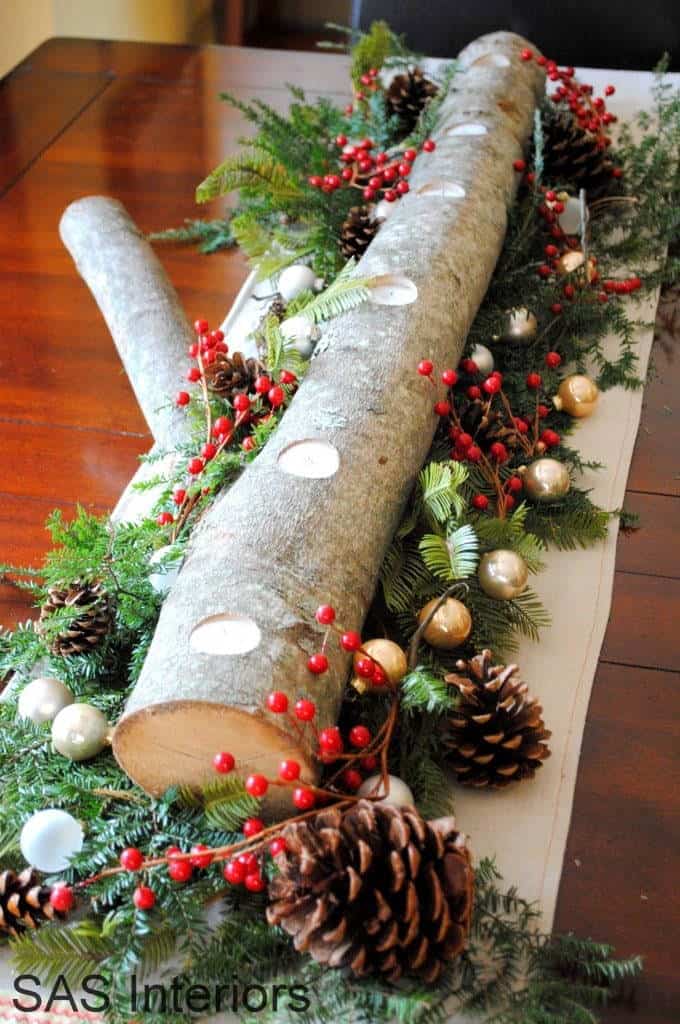 While not the most charming, at first, decoration having a log with garland and pine cones can add a rustic and festive feel to your living room or dining room.
If you hollow out some holes, you can house small candles or drinks. Festive indeed!
Old-Timey Dining Room
What really brings the rustic feel to this setup are the antique table and the chairs. With crystal goblets and a metal trowel with pine branches and candles, a Christmas Dinner here would be one to remember.
Wicker Christmas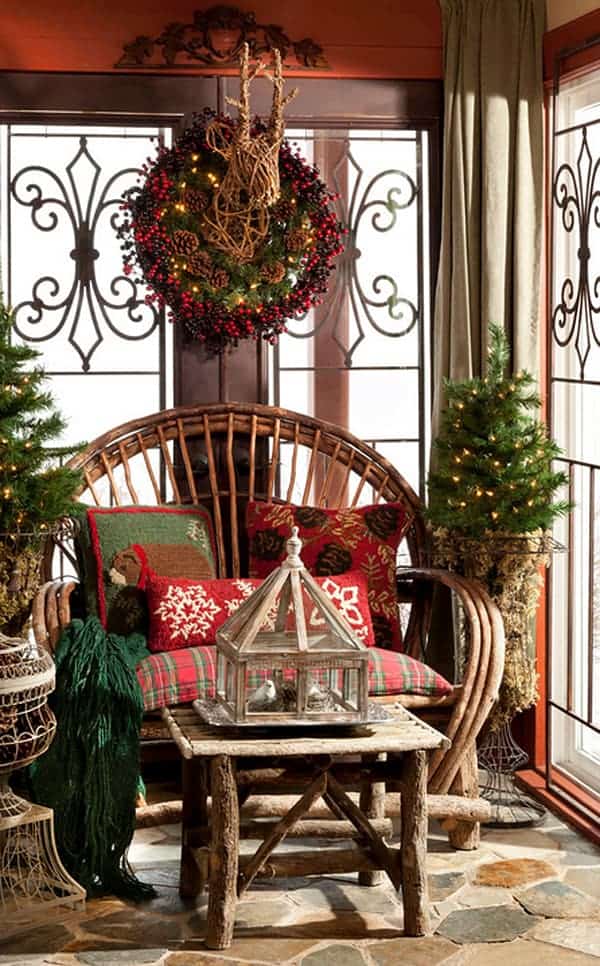 When you want a true rustic Christmas, accept no substitutes.
With furniture that looks handmade, this decor is perfect for slow winter mornings while you curl up with your favorite book and a cup of hot chocolate or eggnog, and the colorful but not too bright blankets and pillows.
Perfect for reading rooms or side rooms.
Out Christmas Shopping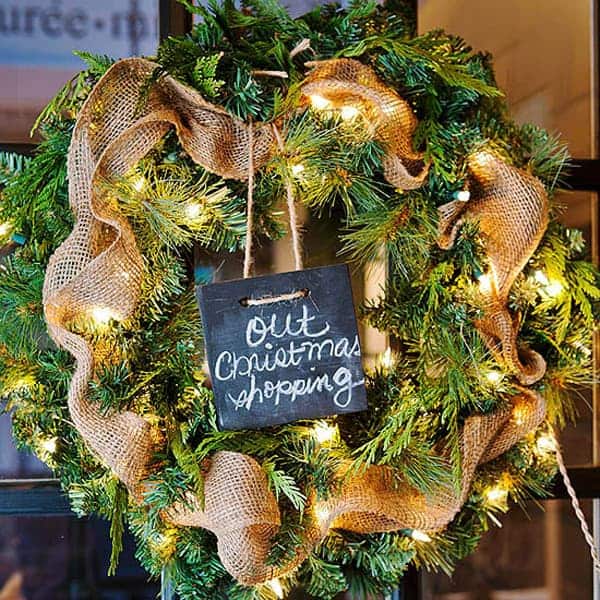 A charming and humorous wreath, the gold ribbon really adds to the rustic feel as does that sign with twine.
With this wreath, try changing the message every day until Christmas Eve when you can write "Waiting for Santa."
Christmas Cabin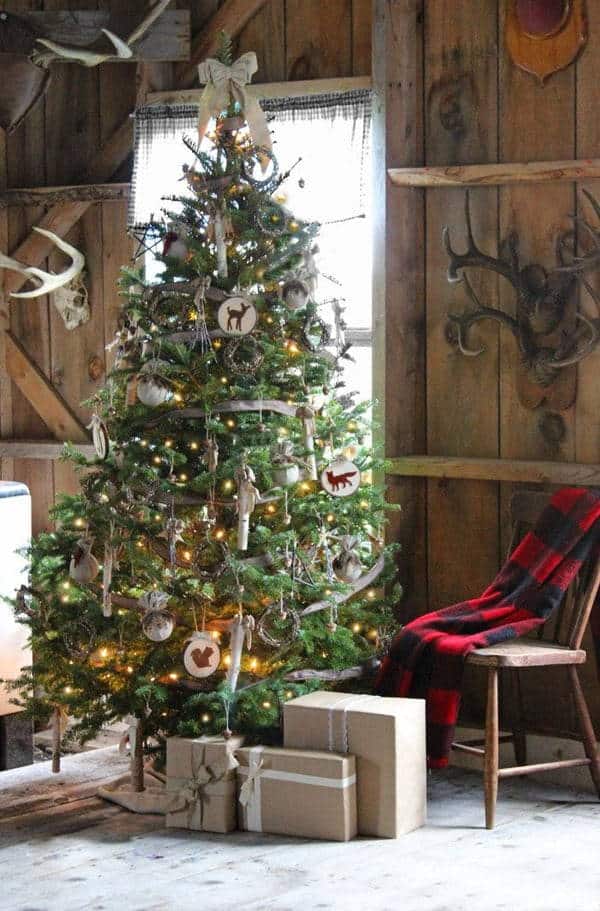 If you are lucky enough to own a cabin or at least rent one for Christmas, this decor is perfect for adding to the rustic decor.
The brown paper wrapped gifts, the lovely decorated tree, and of course, the lovely checkered pattern blanket to add that warm and cozy atmosphere. Even if you don't own a cabin, try these rustic styles to your home!
Wooden Christmas Trees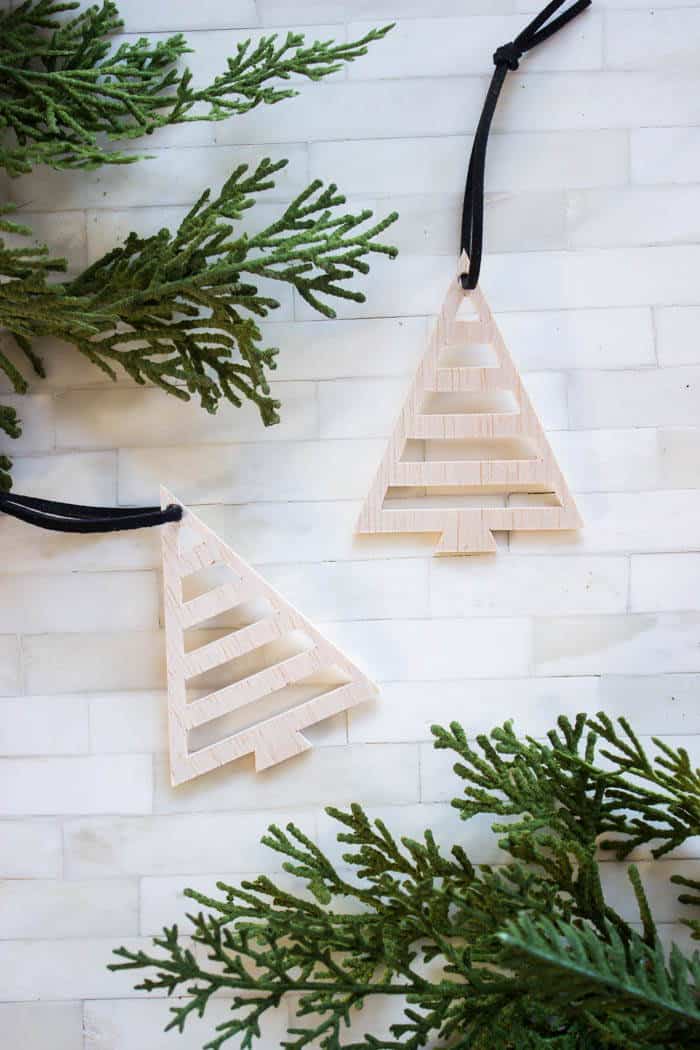 Another lovely decoration for many rooms in your house, these little wooden trees can add the rustic charm you've been looking for. Try to find wooden trees that are aromatic to provide that festive smell.
Snowflake Blocks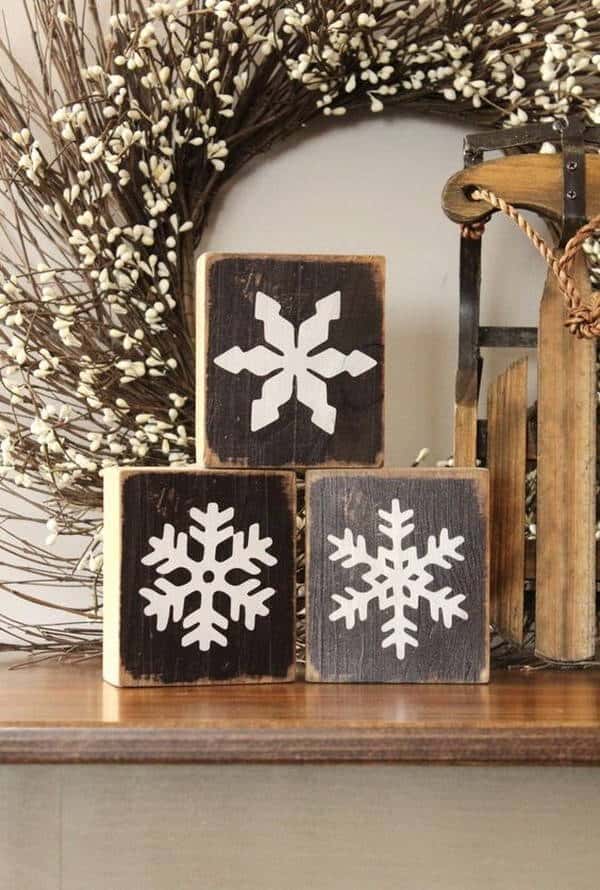 As charming as the standard "joy" blocks you'll find in most decor stores, these snowflake blocks add a touch of charm to both inside and outside.
Put them by your door or on a mantle. The weathered effect gives these blocks a genuine rustic charm, and without having to find old blocks too!
Deer Hangers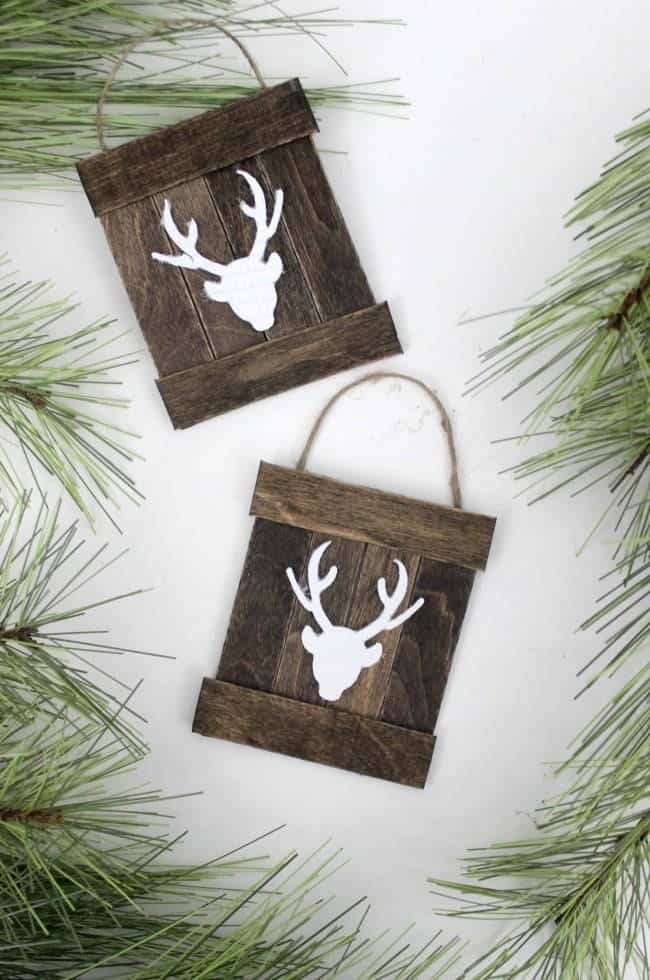 Much like the Christmas trees mentioned before, these little deer hangers are fantastic decorations to spruce up a room and add that rustic charm.
The weathered effect and the twine make these decorations look old, and this can bring together a room if you feel that your walls are too barren.
Classic Stockings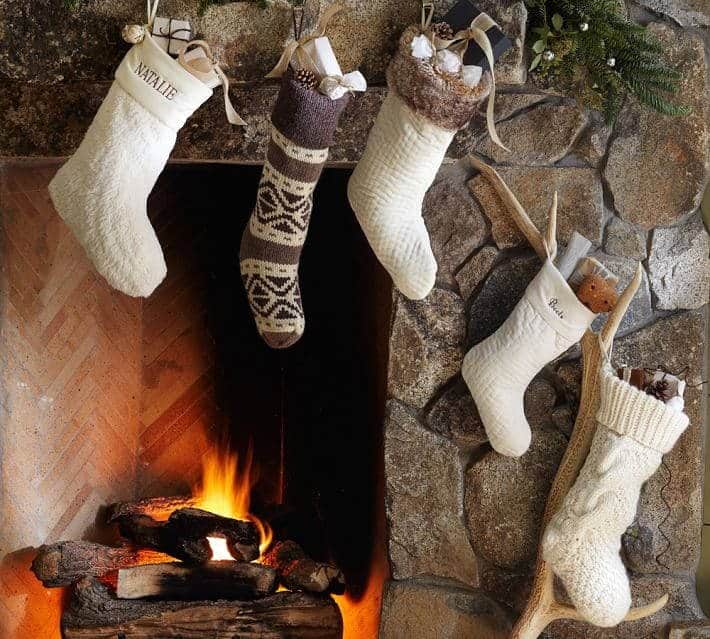 Stockings hanging by a roaring fire, a beloved staple of Christmas. Notice that these stockings are all mute color tones, white while one is a light brown.
Not too bright, just right for that rustic charm. Two of the socks are being held by an antler, a very clever and lovely way to add the final touches to this rustic set-up.
Blessed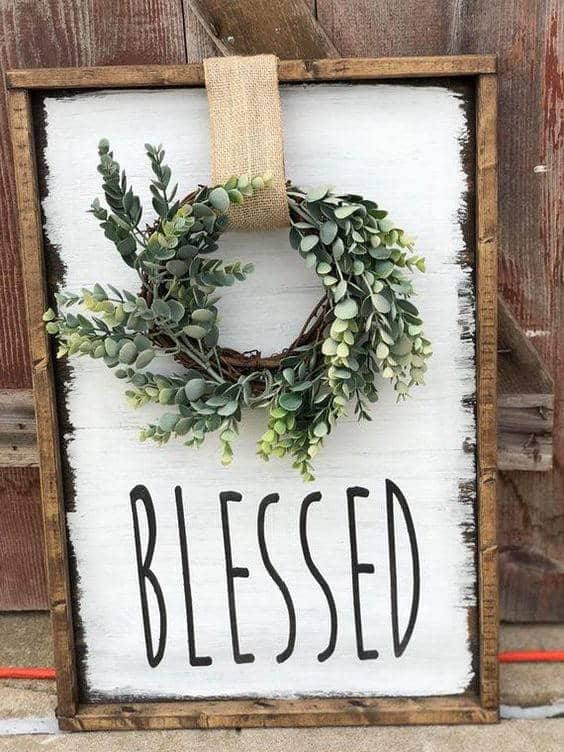 A really simple but lovely decoration, perfect for hanging on your front door or placing on your mantle.
The wreath isn't the typical pine wreath seen during Christmas, making this decoration a real eye-catcher.
Joy With a Wreath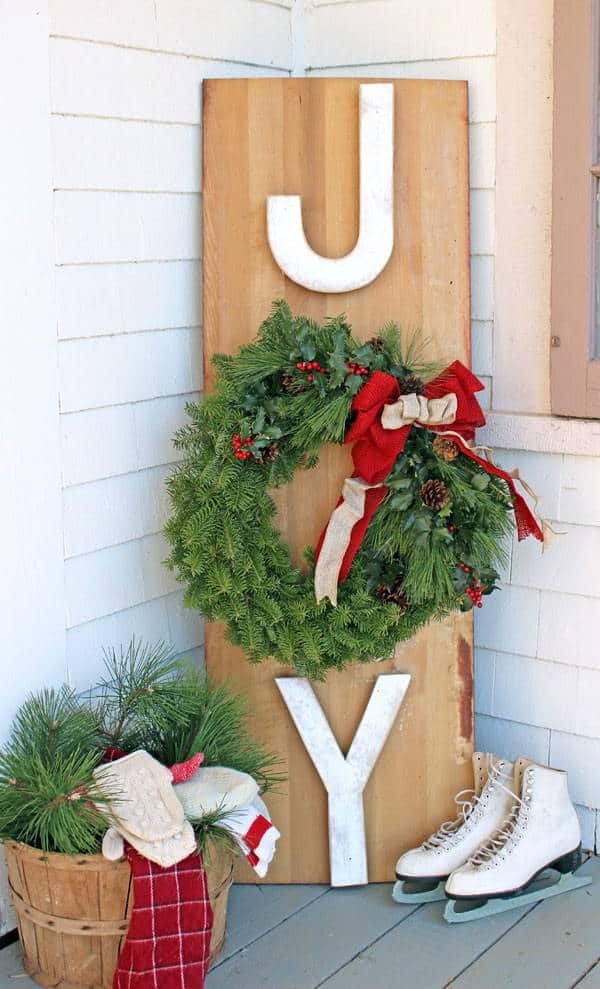 An amusing joy decoration, replacing the O with a wreath. The wooden board goes a long way to add in rustic charm like this decoration was made just today. The ice skates sitting next to it really adds to the mood as well.
Christmas Porch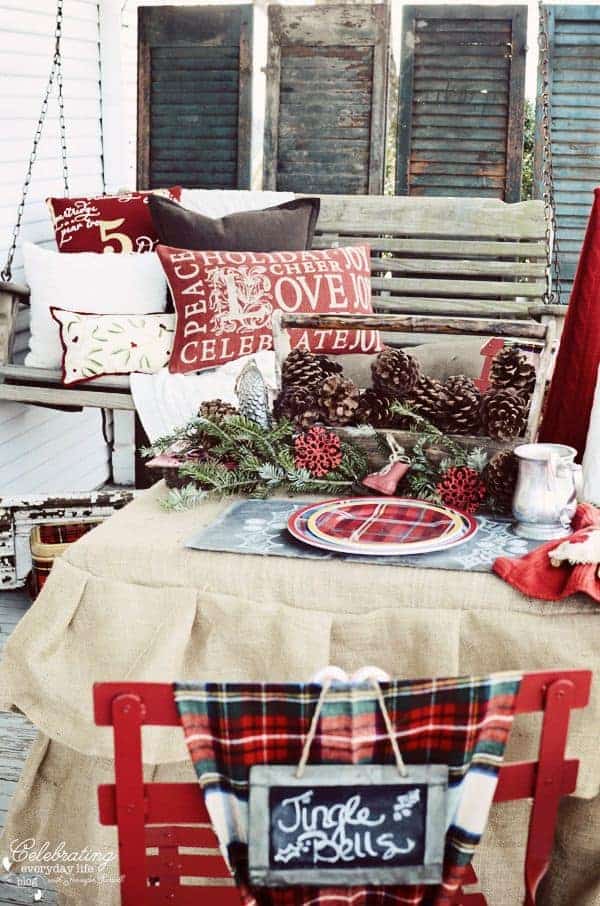 A perfect looking porch for a perfect Christmas morning. The simple table cloth mixed with the festive plates and decorative log works well, as does the weathered wooden panes in the back.
For a finishing touch, a small chalkboard with jingle bells is added to the back of the chair. This will look lovely on either a front or back porch.
Full Christmas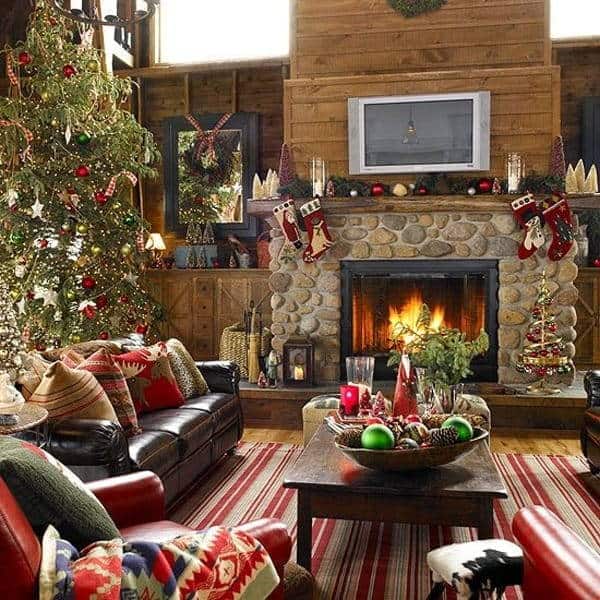 The perfect Christmas decor, all in one room. The magnificently decorated tree, the warm fire, Christmas blankets, and pillows are lounging on the comfortable chairs and sofa.
What makes this a rustic Christmas is the wooden wall and cabinets in the back, making this room decor perfect for any cabins or rooms with exposed wood.
Baby It's Cold Outside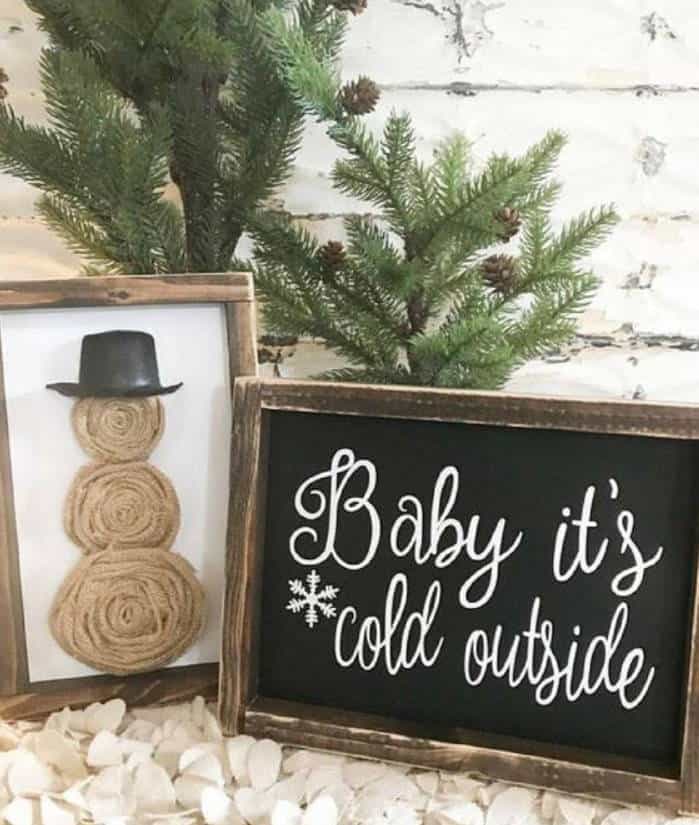 A charming little chalkboard with a twine snowman next to it. Perfect small decorations for your mantle or side tables.
You can also use a cotton snowman if you want a more snowy look, but the twine makes these decorations more rustic.