Don Pedro Brooklyn is reader-supported. When you buy through links on our site, we may earn an affiliate commission. Learn More
Scandinavian Interior Design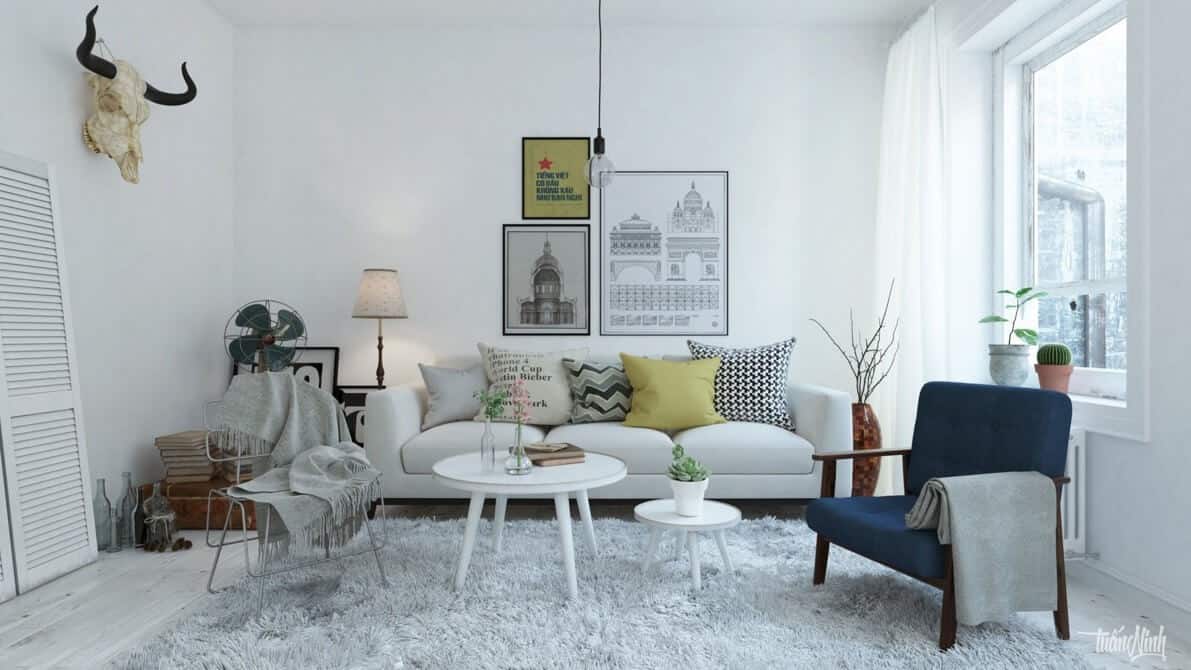 If you are moving to a new house or planning to redecorate your house to have a new house interior design, you might need a little guidance and reference to help you work on the style you desired.
Now, if you want to show the impression of art in such a minimalist housing, Scandinavian Interior Design is worth to try.
Combining the 1950's concept and modern style concept in house staging, the Scandinavian style brings elegant, industrial, rustic, and shabby chic touch in your interior design.
What is actually the Scandinavian style?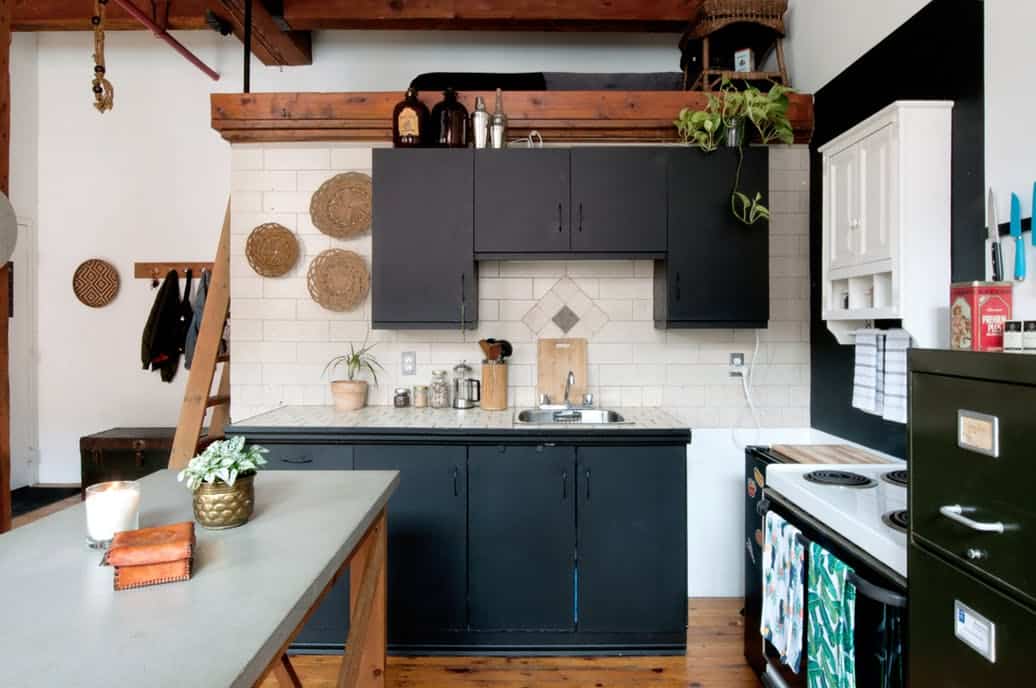 Scandinavian style is defined by its character in which it upholds the idea of functionalism, simplicity, and minimalism so it creates efficient stylish space in your house.
Since this is 1950's kind of style, it usually includes natural elements like leather, wood, or hemp for instance.
So, basically, Scandinavian interior design refers to the optimum use of the room and spaces, the basic application of natural color, and simple furnishings.
Scandinavian style is also influenced by the existence and the beauty of nature and its abstraction.
That usually affects the decoration and the shape of the room or furniture in the room. If you can see, the Scandinavian kind of style has minimalist decoration yet has a high value of art.
Although this style is popular in the 1950s or around, this style is still very popular in many housing designs until today.
As one of the most popular interior designs, Scandinavian interior design is able to attract many fans of interior design to build the house with the Scandinavian style.
Identical with soft pastel colors, light brown, white wall, palette in a neutral color, and also a brave color accent in many parts of the room, Scandinavian style is adored by them who like the aesthetic with not so much details and decorations needed.
Looking at its simplicity and flexibility in combining old style with modern furnishings in such a tidy and minimalist house, no wonder that Scandinavian interior design turned out very popular and invites the public eye when it comes to home decoration or house design ideas.
How to Do Scandinavian Interior Design
Now, what do you need to know about decorating your house with Scandinavian interior design?
You might want to continue reading on several tips on how to do Scandinavian interior design below.
1. The Choice of Main Color in The Room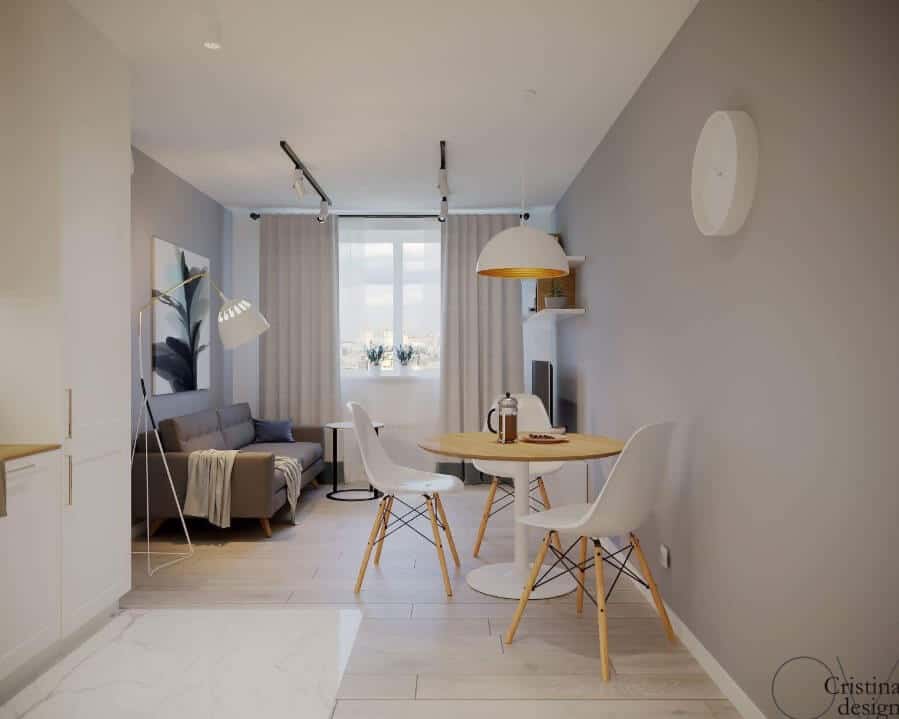 Scandinavian style is popular with its minimalist color palettes, cozy accents, and aesthetic modern furniture. The color of the design is commonly executed with natural light by the applied color.
Scandinavian interior design has its main color that dominates the whole room. They are white and grey, mostly light grey.
The colors applied in the wall or flooring are going to make the whole room looks brighter and cleaner.
When you want to choose the furniture, try to pick the one with a soft-colored palette to create natural Scandinavian elements in your room.
2. The Choice of Accent Color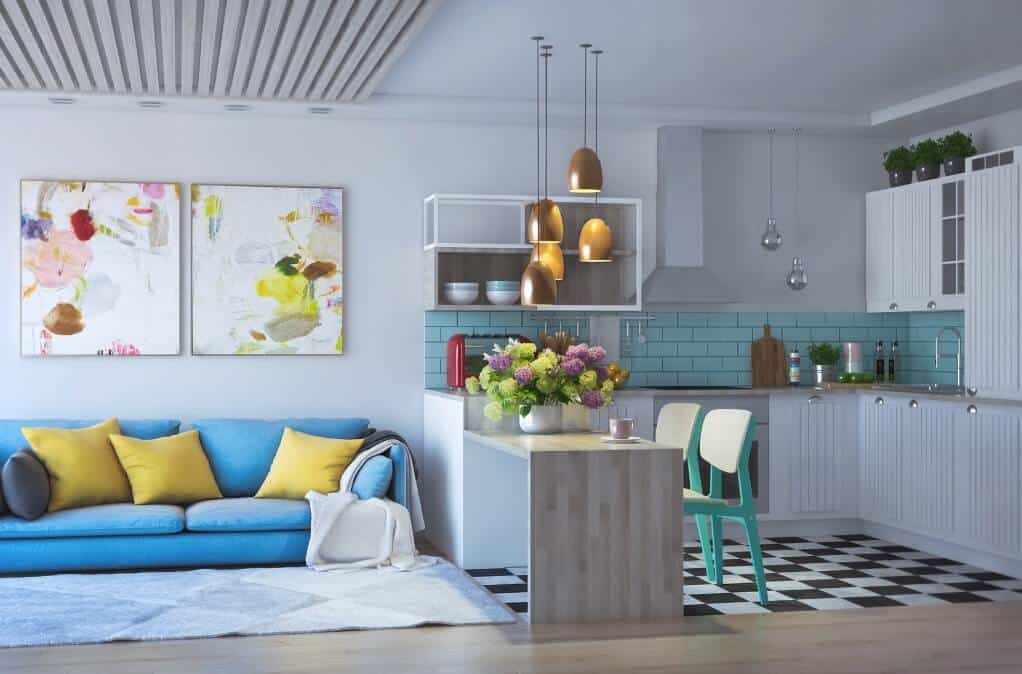 It does not mean that you need to use always white or light grey in Scandinavian interior design. You can use other colors to create contrast or room accent. Bold color is also not a problem.
However, you can use those other colors, not as the main color in the room. They can be applied in the furniture or any architectural details in the room to create contrast, which is also the hallmark of Scandinavian interior design.
You need to always remember that other colors outside of the main color are going to make a not dynamic look of Scandinavian interior design in your house.
3. The Choice for Furnishings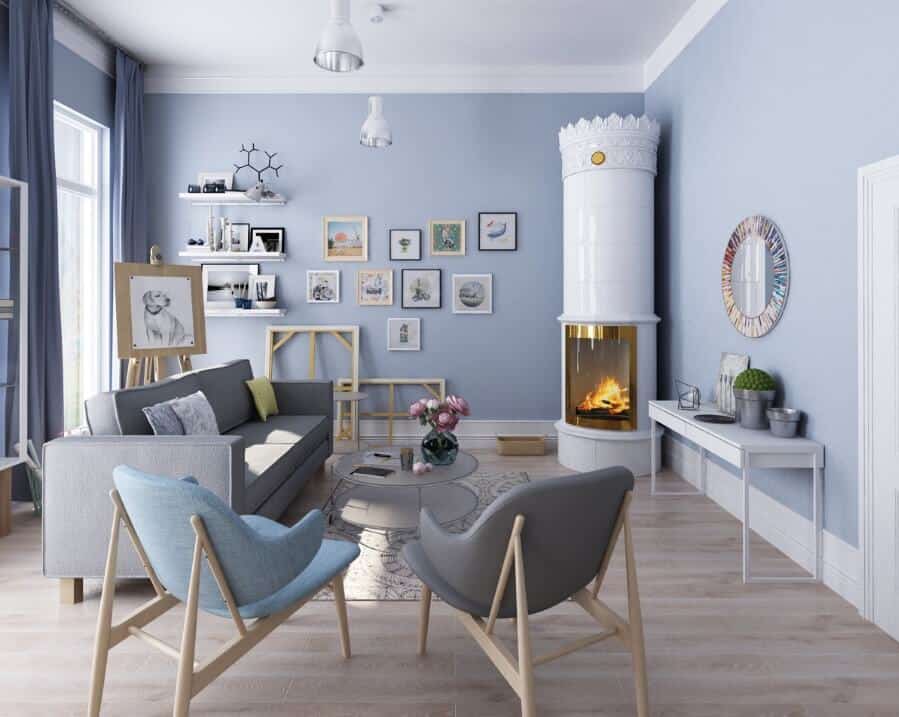 Scandinavian style is famous for its specialty in a minimalist yet very cozy impression that always manages to look very inviting.
Scandinavian interior design is identical to essential furniture without having to put many pieces of stuff, only the important and useful ones like an ottoman which can be used as a chair, table, or leaning the foot for instance.
Therefore, the Scandinavian kind of style is much recommended for houses that are not really spacious or big.
Besides, minimalist design and furniture are going to make you easier in cleaning the house afterward.
Moreover, you need to also know that Scandinavian is well-known for its fireplace in the room, but not in the center of the wall.
Therefore, it is also common that sofas are usually put diagonally in the center of the room with space for walking behind it, and there is an accent of chairs close to the fireplace in the corner.
4. Choose Furniture with Clean Lines
The primary theme of Scandinavian design is that the lines are clean and straight. This lends to the simplicity and the idea of function over form.
When you're choosing furniture, you can look for items that have a mid-century inspiration, such as a modern sofa with straight arms and tapered wood legs.
In general, simple profiles are integral to Scandinavian design and when choosing furniture, less is more is the philosophy you want to keep in mind.
Ornate furniture and curved lines are typically not something you will see in Scandinavian design.
5. Purposeful Placement
You'll notice in this type of design, everything has a purpose. There's nothing place in a room inspired by Scandinavian design that doesn't have a clear purpose. A few simple pieces bring a room together, and there isn't any visual clutter.
6. Lighting
Lighting is importance in Danish design. This probably goes back to a functional reason. For example, it's dark for much of the year in Scandinavian countries, so the need for warm, ambient lighting is very important from that functional standpoint.
Candlelight is popular in Scandinavian homes, but you can also opt for a layered lighting approach to create a sense of warmth.
This might include a sculptural light fixture over a seating area or dining table, floor lamps or table lamps. Task lighting is also popular in this design style.
7. Patterns
Just because the designs out of Scandinavia are simple, it doesn't mean they don't use patterns. In fact, quite the opposite is true. There are often bold, geometric patterns. Patterns may even be seen in unexpected places such as floors.
These patterns aren't particularly colorful, however. Most of the patterns that you'll find are black and white or gray and white contrasts.
8. Greenery
A Scandinavian design concept can't exist without the use of real greenery. There is the idea that there should be a connection between the indoors and the outdoors, and this can stem from the use of green plants.
Live potted plants can be placed throughout a home, and since window coverings are rarely used, the plants can thrive with natural light.
Aside from green plants, in general, the use of natural elements is important. You might just go outside and find something from your yard, or pick up a bouquet of fresh flowers every week.
Many designers feel that fresh flowers are essential in Scandinavian homes or homes inspired by this design style.
9. Combining Materials
One of the core components of Scandinavian design is the use of natural materials and also sustainable materials. Those are often contrasting materials.
For example, there might be light wood used in many places paired with metal finishes such as copper or brass.
Flooring is usually made from light hardwood. For example, it might be light natural wood or whitewashed wood.
10. Storage As Décor
Since everything should be functional, the idea of storage as décor is an important one in Scandinavian design.
For example, you might see a cloth rack in plain sight in a room, or you could see a shoe rack also used as a decorative item.
11. Warm Textiles
Some people misconstrue Scandinavian design as being cold, but it's definitely not. One of the ways it's warmed up is through the use of rich textiles and upholstery. A sense of warmth and coziness is extremely important to the aesthetic.
For example, thick, chunky-knit blankets or faux furs can be used to warm up a Scandinavian room.
Other natural textures such as linen and jute can be a way to add visual interest without making the space for cluttered or without losing the minimalist essence of Scandinavian design.
12 Scandinavian Interior Design Ideas
Here, we have collected 12 ideas of Scandinavian interior design to inspire you.
1. Artistic Lighting Scandinavian Design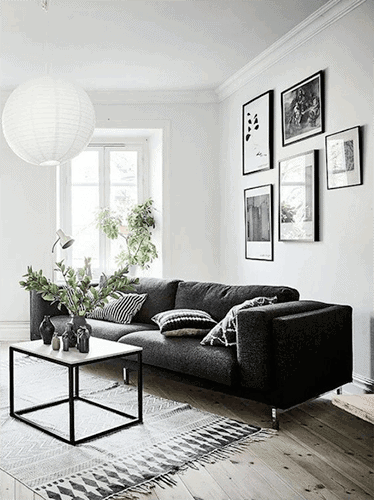 This room is very classically Scandinavian on how the layout is very cozy and it has natural elements like the plants, windows, and it has modern elements on the sofa and the paintings. Look at the main color of this Scandinavian room!
Pale white makes it a little bit looks like grey. You can even enhance the lighting of this room more by having more accent.
The lighting of Scandinavian interior design you are looking at this point refers to the condition of the winter season in Sweden in which Sun only shines for around 2 or 3 hours in that country.
Therefore Scandinavian decoration for houses in that country makes some accents like having imitation lighting from hanging lamps or candles.
You can also look for other references to have a hanging lamp in Scandinavian interior design. You can use this kind of hanging lamp to make an accent in your room to make your room does not look stiff and not inviting. The 1950's kind of hanging lamp is also not a problem for you.
2. Naturally Impressive Scandinavian Look with Wooden Element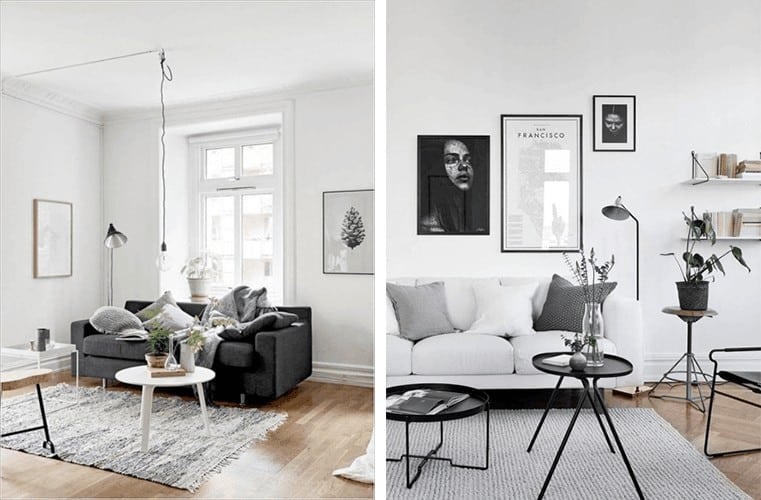 Yes, it is true that Scandinavian interior design looks luxurious.
However, this style still upholds the impression of naturalism inside the room. Even having natural value is one of the strongest characters of Scandinavian interior design to create a calm and cozy look to the room inside the house.
That natural value can be pursued by applying wooden motives in the flooring of the house.
You can choose a pale wooden pattern or a little bit dark one in order to make you able giving a homey and calm impression in your room. You do not have to worry about getting real wood or expensive classic reclaimed wood to begin with.
The floor does not have to be a real wooden material, though. You can still use a kind of Vinyl flooring with a wooden pattern. The installation of that kind of floor is easier and the treatment for Vinyl floor is easier in comparison to real wood material for your floor.
3. Neutral and Bold Scandinavian Dining Room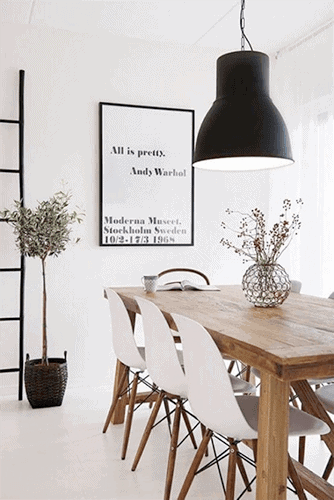 Let's try to create the look of Scandinavian interior design in the dining room. The characteristic of Scandinavian dining room interior design is on the choice of wall color.
In order to pop the impression of clean-cut out, a white pattern can be a solution.
However, it does not mean that you cannot apply other colors. You are still free to put black accent or monochrome spectrum in the room.
When it comes to the dishes or furniture, a Scandinavian dining room is commonly identical with Eames chair.
This kind of chair have skinny chair legs, pastel color options, and comes in a minimalist size for the room.
The additional thing of plants and paintings also can be used to be an artistic decoration in your dining room, as well as adding natural touch in Scandinavian dining room interior design.
4. DIY Scandinavian Bedroom Interior Design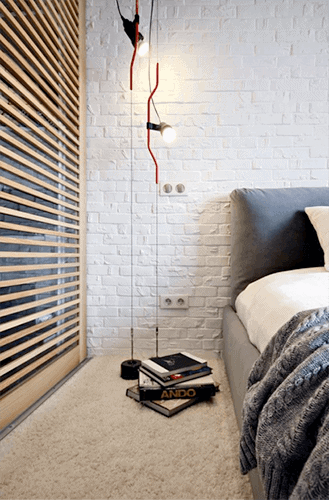 Now we are moving to the bedroom. Decorating your bedroom to have Scandinavian look is not hard to do.
You can just explore white color to be combined with various patterns or ornaments in the room like putting paintings with black frames on the wall, using brick patterns as wall look polished with white brush and the installation of terrarium in the side of the bedroom.
Besides, you can also explore your creativity to do DIY in making Scandinavian look in your bedroom interior design by putting an accent of grey color somehow in the headboard or bed elements.
To make it still looks bright, polish some parts with white color so the room is going to look elegant and aesthetic in Scandinavian look of the bedroom.
4. Tiles Accent for Scandinavian Bathroom Look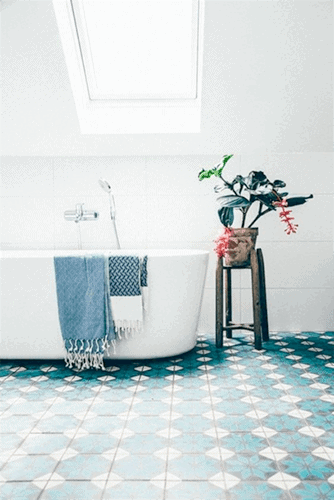 Neutral colors are always be a signature to make Scandinavian impression in the room, bathroom included. However, you do not have to always put white in your Scandinavian bathroom.
The additional accent in the room like blue color in the flooring tiles followed by white color is going to be a good accent and better, make the room look bright and clean.
For the furniture options in the bathroom, you can maybe try to use the one with wooden elements.
This furniture option is going to give dynamic, large, and soft nuances in the room. You can maybe choose wooden vanity or a simple plant stand as shown in the picture to still uphold the Scandinavian element in your bathroom.
If it is possible, you can also add a window for better air circulation in the bathroom.
5. Modern Scandinavian Kitchen Decor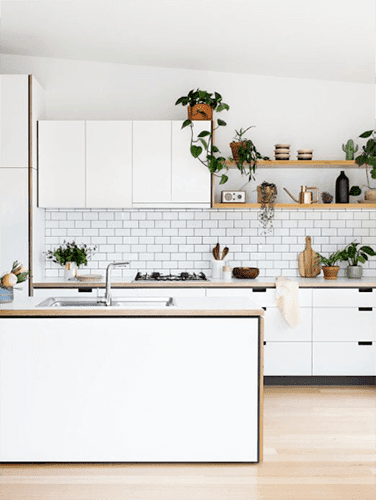 In this modern kitchen, the appearance of pantry and kitchen cabinets are the characteristics of Scandinavian kind of kitchen. For the color option in this room, it still refers to neutral color or natural ones like earthy color in the decoration.
The layout of kitchen space also does not have too many shapes. It may be considered stiff by some people, but these clean lines and the tidy impression is what people sometimes like about the Scandinavian style.
Scandinavian style for kitchen looks tidy, clean, and better if you can also mix the accent of neutral colors like white wall combined with wood patterned brown Vinyl flooring to mix pale colors into one soft color which represents the impression of warm and calm in Scandinavian characteristics.
6. Black Bold Accent in Scandinavian Interior Design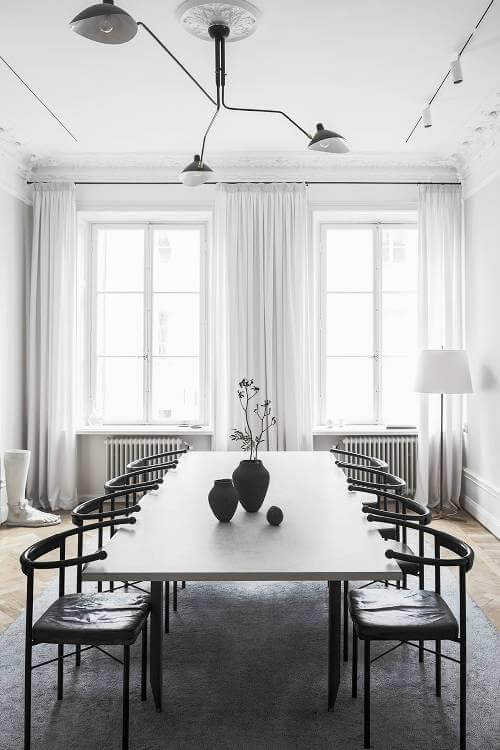 Having a contrast in a room is also important because it makes the room looks rich with the decoration and the color, even if this is the Scandinavian style we are talking with pale and neutral color as its signature.
Therefore high and clear contrasts are considered the hallmark of Scandinavian interior design. Just like what you can see in the all-white dining room in the picture for instance.
Black sculptural furniture in the room plays in creating a dramatic and impactful touch of Scandinavian kind of room. Modern furniture that is chosen also in contrast with the architectural details.
It actually proves how Scandinavian can actually go far to be explored by everyone. Its flexibility with modern style and its characteristics of cozy and neutral is very preferable for many people.
7. Grey Scandinavian Interior Design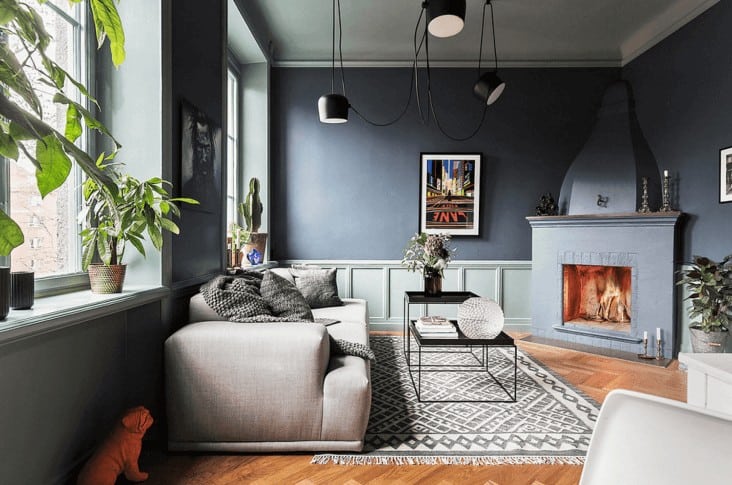 One of the main colors of Scandinavian style is grey. Although white is the most preferable one for this style, having grey color in your room as the main color for Scandinavian interior design is such a great idea!
It is never wrong to try gradation of grey color in which you can use darker grey for the wall color and you can go softer and lighter for the rug, sofa, or other supporting things in the room that might visually catch by the eye of the people who come and see the room.
As you can see, the layout of the Scandinavian room is never too complicated in its space, line, or link to each room.
Scandinavian kind of room is very simple, and mostly just one line room layout. The touch of wooden look of flooring and vase with plants in the corner of the room is also okay to get the value of nature as Scandinavian characteristics.
One thing that spot people's eyes must also be the fireplace in the corner of the room. The fireplace is one of the strongest signatures of Scandinavian interior design.
The architectural decoration of it may also be a very contributive factor of inspirational Scandinavian style in your house concept.
8. Brown Couch Room Accent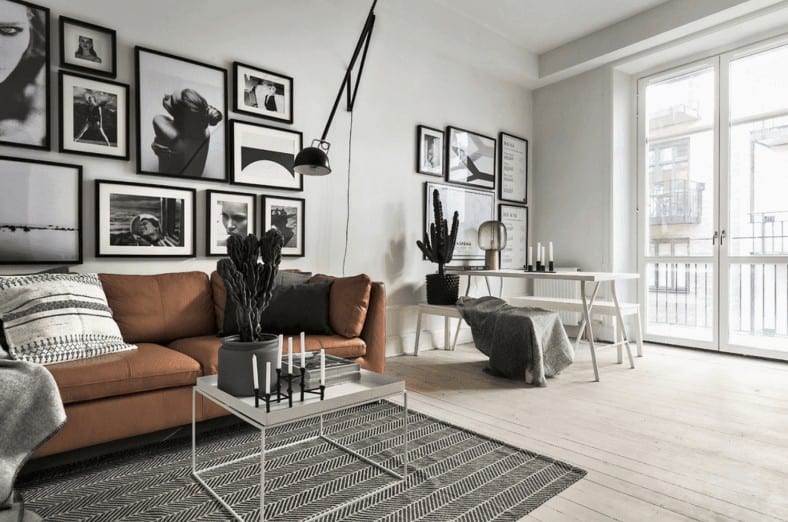 Do not ever let the idea of clean and white Scandinavian interior design limit your creativity in choosing furniture and color for your room.
In this all-white living room just like in the picture above, you can put a strong accent into the room by adding the brown color in the main furniture of the room which is the sofa or the couch!
The sofa can come in leathered material to support the naturalism of Scandinavian look to begin with. In order to make the atmosphere of the room looks 'alive', you can add one vase with a living plant in the corner or in the middle of the room.
You need to also know that brown or light brown can also be used as the color in Scandinavian interior design whether it is for the main color or for the accent just like in the picture.
However, what you need to highlight is that the brown color you use for the main color must be soft and pastel in order to keep the characteristic of Scandinavian style. So it is very okay for you to add other colors as an accent in your Scandinavian room.
9. Corner Scandinavian Work Space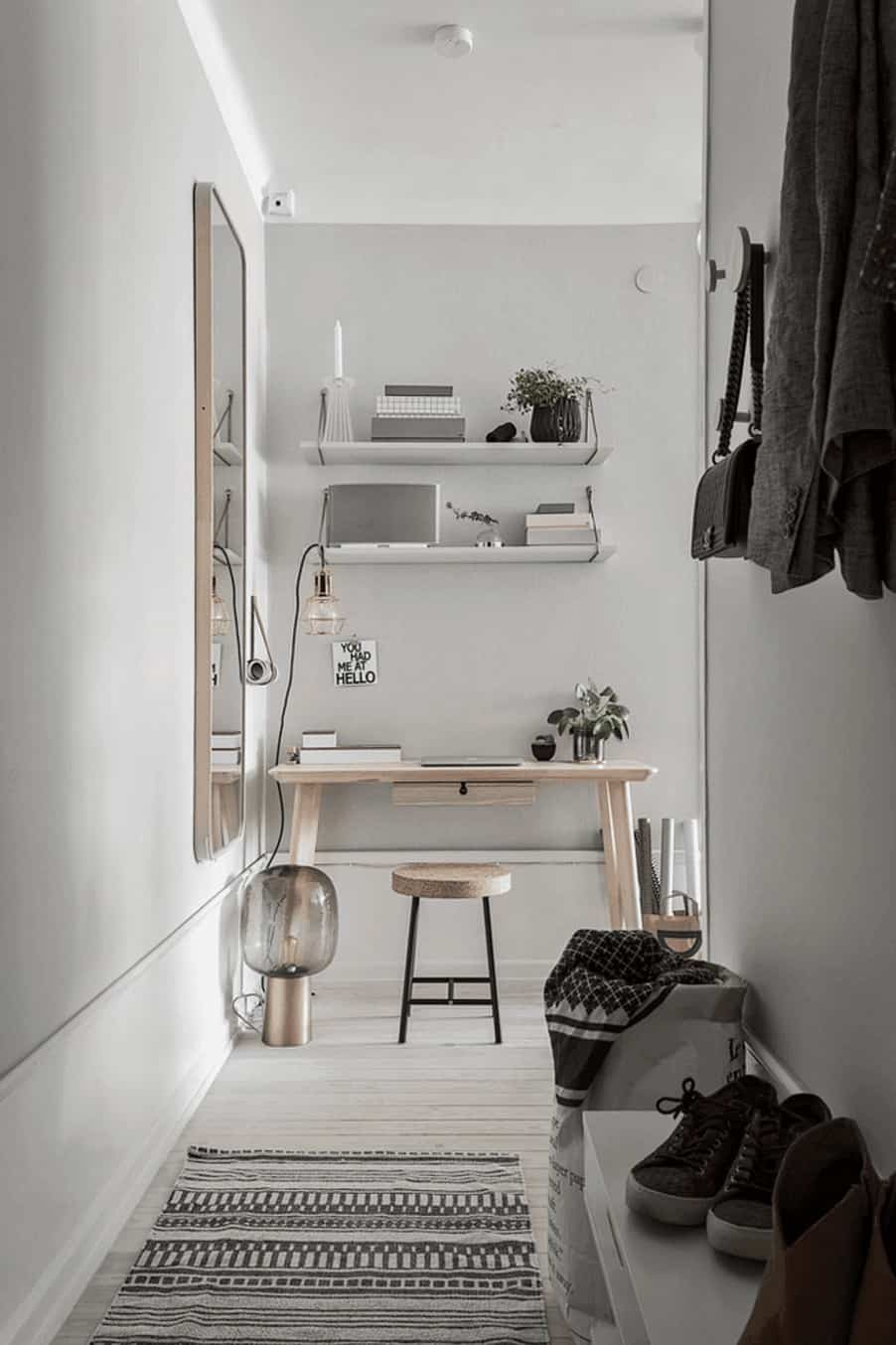 Do you have any corner or side of your house left empty yet quite spacious? Look at the design above!
You can use the unused corner or space in your house to be re-decorated into your new study corner, reading corner, working space, workroom, or just a dressing corner for you to put shoes, raincoat, bags, and books in that space outside your bedroom.
This corner can turn into such Scandinavian room if you decorate it naturally and follow the characteristic to create Scandinavian look.
You just have to put the typical main color as the wall color to begin with, since the color is going to be the same as the room linked to this corner. The color is going to determine the Scandinavian look.
Besides, you can also use a wooden table and chair in order to give an accent of pale brown color in this corner. Natural accents can be added by putting small plants in the table or shelf. Happy trying!
10. Scandinavian Children Bedroom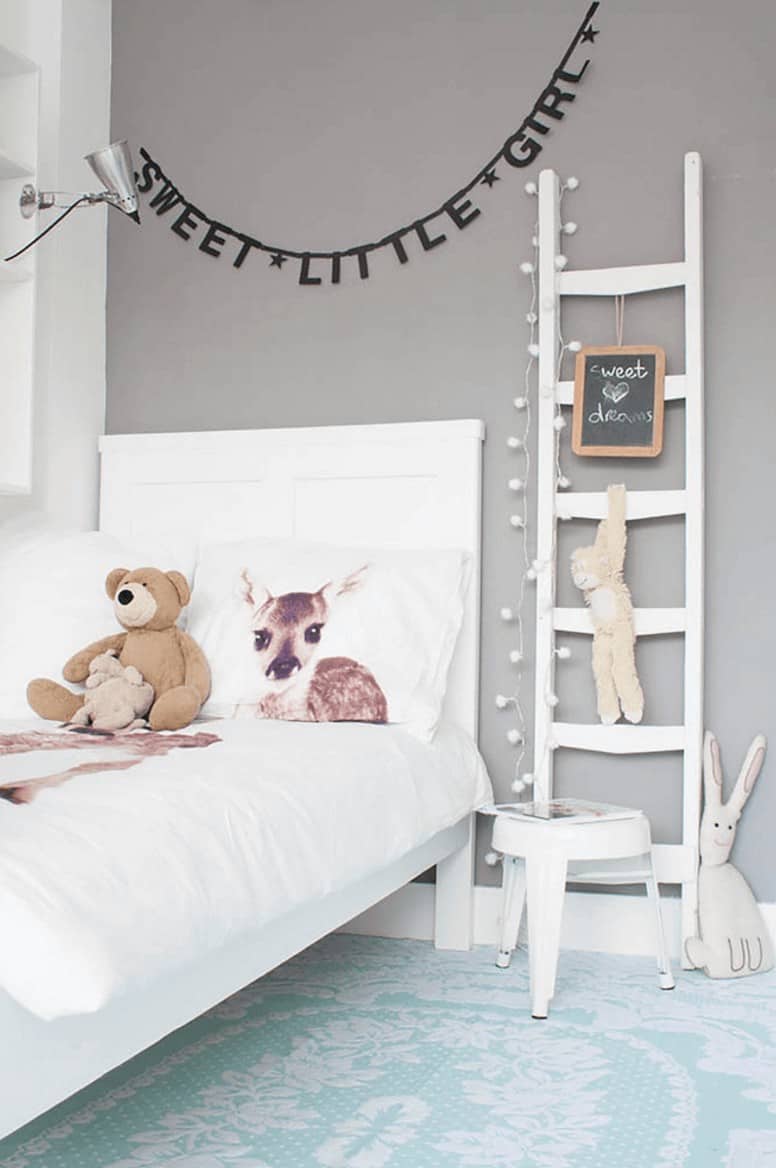 What comes to your mind when you want to decorate the children's bedroom?
I bet many of you are going to come up with the idea of colorful, full of toys, and childish decoration all over the room space.
However, this one may blow your mind. A Scandinavian look can also be used in the decoration for children's bedrooms.
The idea of cozy and calm is actually matching the atmosphere that our children need to be there in their bedroom, right? Therefore Scandinavian look can work.
You can put the Scandinavian interior design in the children's bedroom by having a typical color of this kind of look in the wall color.
However, to make it look better, you can add several accents like the terrarium or stairs on the wall to put things or hang things in the bedroom with the accent to animal dolls around that thing.
Another accent is in the patterned rug on the floor or you can use tiles patterned flooring to make the room still looks inviting for children to play and sleep in that room.
The animal image in the pillow and the dolls in the bed could also make a significant brown accent in the Scandinavian bedroom with pastel color for the dolls.
11. Wood and Metal Finish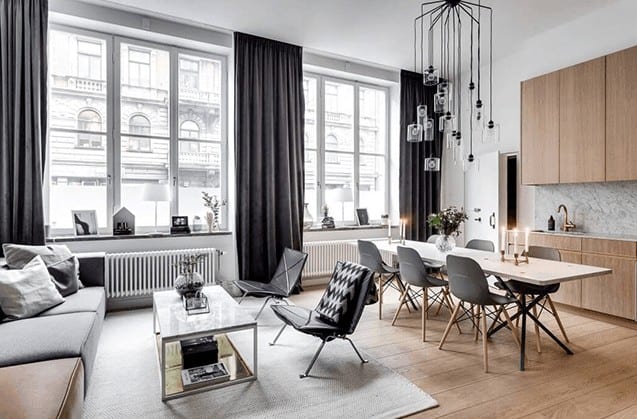 We know that Scandinavian kind of style use natural elements in its design concept to make it look more organic or such. It is not only in the flooring or wall, but it is also possible in furniture and fixtures.
Even it is common for a house with a Scandinavian style to have a wooden coffee table and chairs for its furniture. However, now the current trend in the Scandinavian décor style combines the use of wooden elements in the room and the use of metallic finishes.
Just like the picture above you can see how copper sconces and brass pendants are put and installed functionally in a wooden ceiling to add glimmer and shining impression to the entire space of the whole room.
The use of stainless chair leg or silver rug color in a reclaimed wooden flooring is also a good combination of wooden elements and metallic finishes in Scandinavian interior design.
12. Scandinavian Light Color Flooring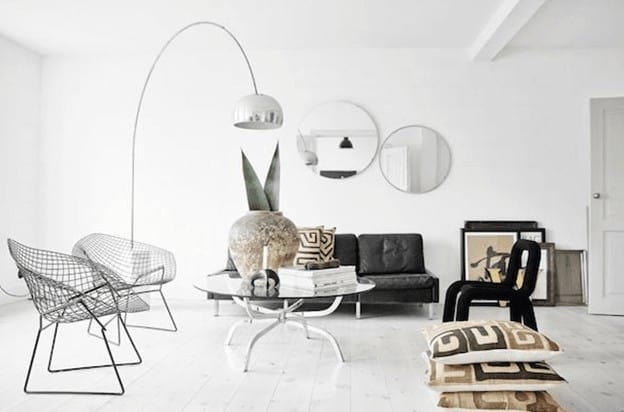 I think we both agree that we have seen most of Scandinavian floor is made of light hardwood material whether it is the natural color from the wood or it is painted in white or in other colors.
To create proper Scandinavian flooring, you do not have to always use pale brown wood color like pinewood one.
Laminate light flooring is also worth trying for your Scandinavian interior design. This kind of flooring can make your room look brighter and more spacious as well as showing the impression of welcoming, and clean atmosphere.
Even this kind of flooring can be applied in the bathroom with heating tiles underfoot in case you need those in the cold winter season. It surely is going to make your foot and body feel so much better.