Don Pedro Brooklyn is reader-supported. When you buy through links on our site, we may earn an affiliate commission. Learn More
What Is Shabby Chic Style?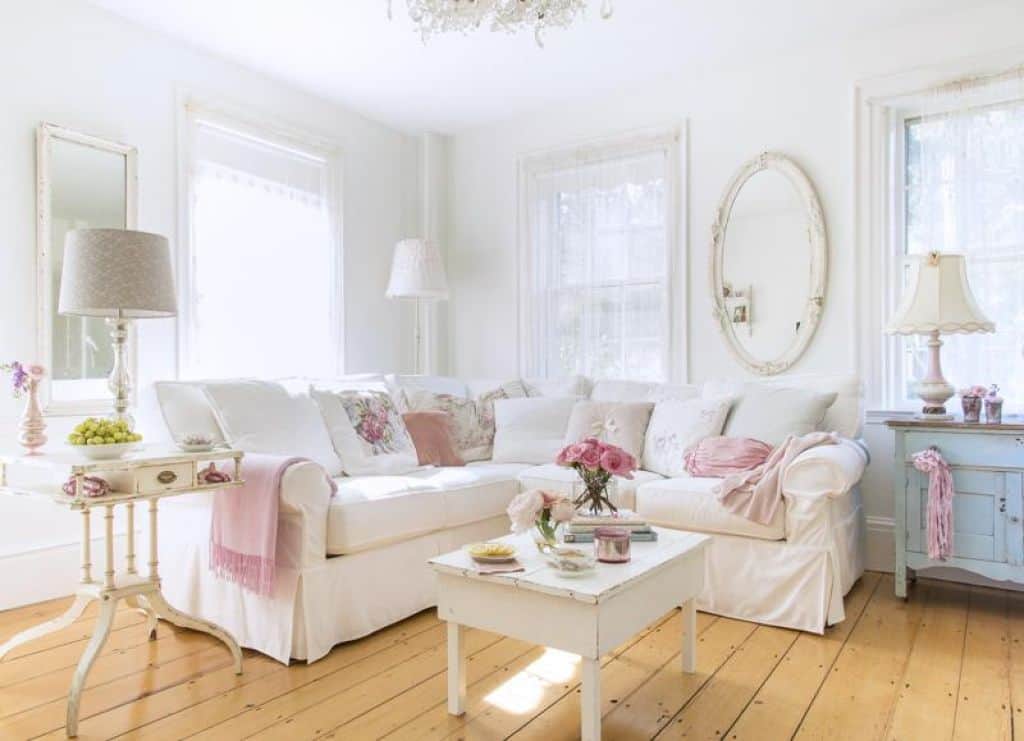 Some people admire an extravagant look of an interior, decorating it with excessive furniture, dense gold color, and more. Some are adoring a simple, minimalist look. A shabby chic style answers the latter.
This particular style has been recognized for over 20 years ago. Specifically, it combines some elements of style, like age-old furniture with its flaky paint, pastel colors softening the obsolete look and floral patterns to accentuate femininity.
That's why it isn't a major shock to see women are more into this style than men.
Other than knowing it as a shabby chic style, many also recognize it as a vintage or country chic. Looking at the word "vintage," you must be thinking about how affordable this style is going to be.
Well, guess what? You ARE correct!
We have compiled some characteristics of a shabby chic style and steps to make it real.
Here are they,
Essential Characteristics of Shabby Chic Style
Before you renovate your entire house or just a room to a shabby chic style, there are some key elements that you need to know about it.
Those elements include vintage furniture, pastel color, floral accents, lace, and white or other neutral colors. Let's talk about them intimately, shall we?
Vintage Furniture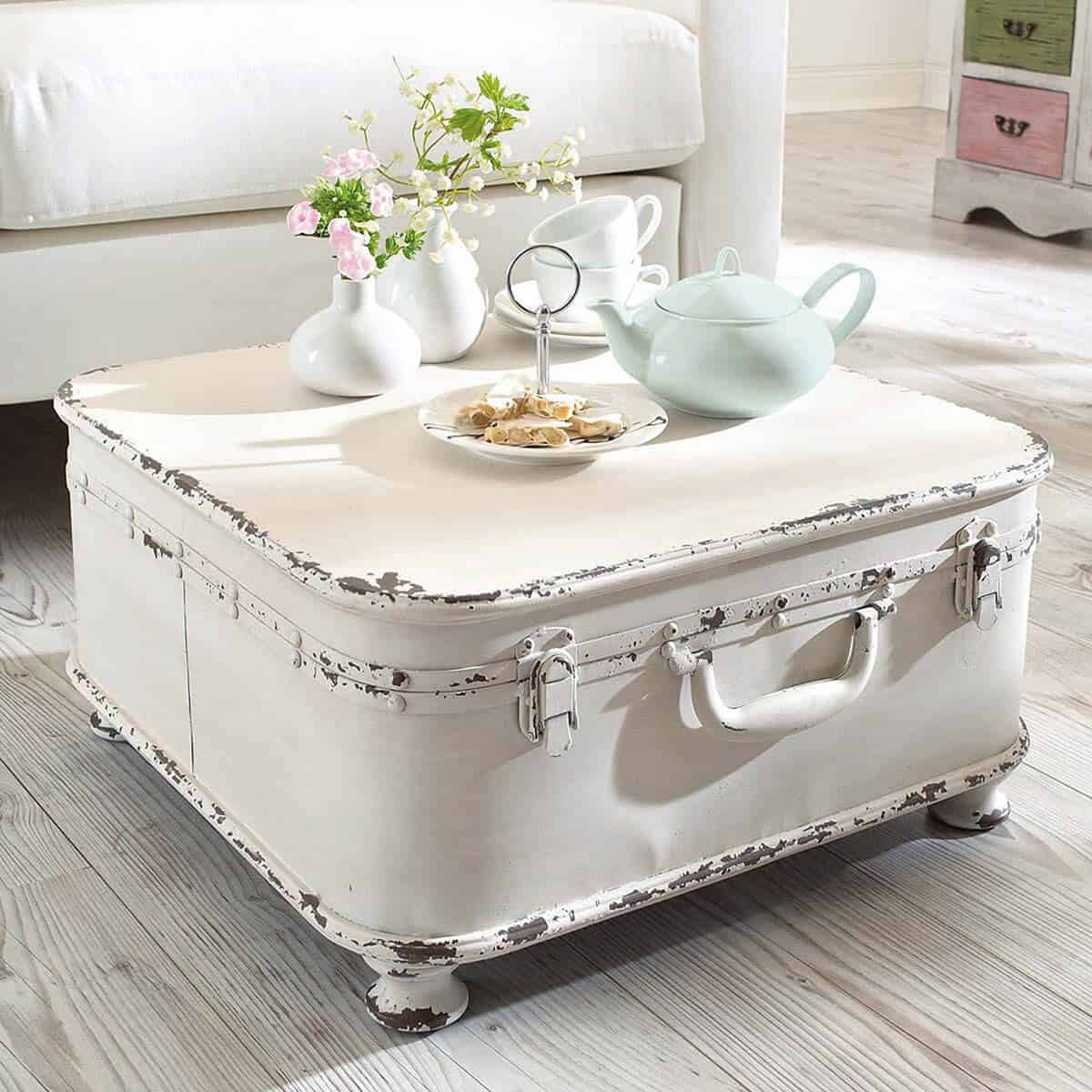 A house is just a massive vacant space without the furniture. Sometimes, the furniture even makes the area alive. In a shabby chic style, it is necessary to fill the space with vintage furniture.
Wait, why should we choose vintage furnishing?
Well, that's why the style is called "shabby" in the first place. It puts modesty in front.
Moreover, vintage furniture that you can get from an antique store or a garage sale won't cost you as much as the new builds.
The new builds may have a modern look, but that's not unique, while these age-old furniture will give your space a warm, shabby touch.
The vintage cabinets, couch, and everything will make the area looks as if it has been occupied for many years or even centuries, depends on how old the furniture is.
Pastel Color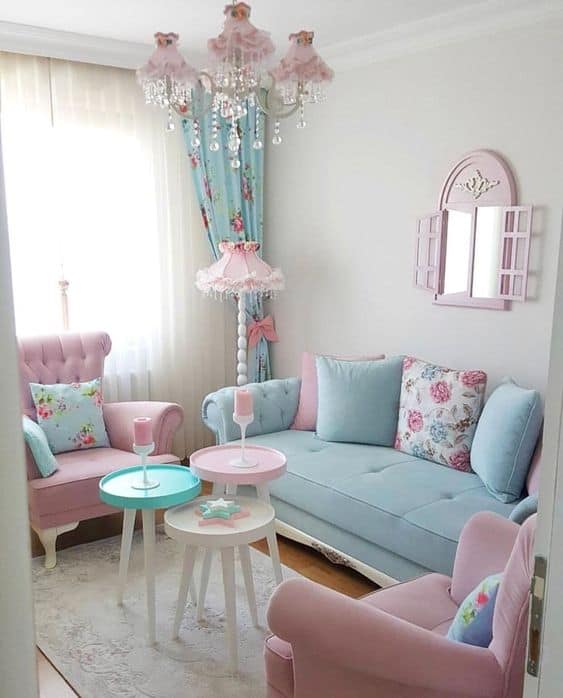 We all know vintage character may come with flaky paint or weathered wood due to the exposure it's been getting.
To reduce such look (if you're not a fan of too-shabby furniture), you can repaint it a little with pastel color.
The question gathers around the same corner as to why we should use pastel. Well, pastel color has that calming feel. It gives the impression of modesty, yet it still looks acceptable.
When choosing the color, you must take a look at the surrounding spots as well to know whether the furniture appears well-balanced with the selected color or not.
For example, a warm yellow tone is suitable for the wall behind an antique, brown oak cabinet.
In this case, white color is the most loved color for a shabby chic style, because white is neutral. It goes well with almost every color too.
It's like a blank canvas where you can draw, sketch, or paint any color you want on it. Don't you think it's so much fun? Well, the only way to figure out is to try it out!
Floral Accents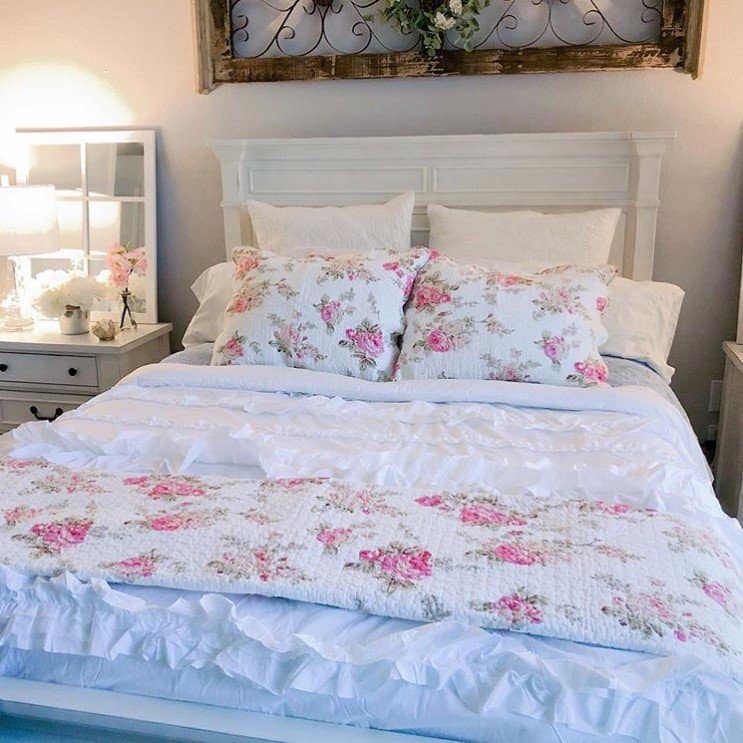 A shabby chic style is mostly related to femininity. That's why the floral accent is used at a significant time in a shabby chic styled room.
The floral accent appears commonly on couches or wallpaper.
Other than that, majorly, homeowners choose to use actual plants and flowers to adorn the room.
But, sometimes, people are way too lazy to maintain living things, then you can go for synthetic plants or flowers.
For inspiration, you can take a look at Instagram. There are many variations to style floral accents or decoration. You can even find from easy to hard mode shabby chic style floral decoration.
A shabby chic style is also closely related to farmhouse style. That's why the floral accents or decoration is incorporated heavily in this style.
Ah, those are the essential characteristics of a shabby chic style that you have to know. Now, let's move on to some steps to achieve the shabby chic style look!
7 Actions to Achieve Shabby Chic Style
Achieving a shabby chic style area requires you to be aware of these 7 easy steps. These are the steps,
#1 Go Easy on Colors, Use Neutral Colors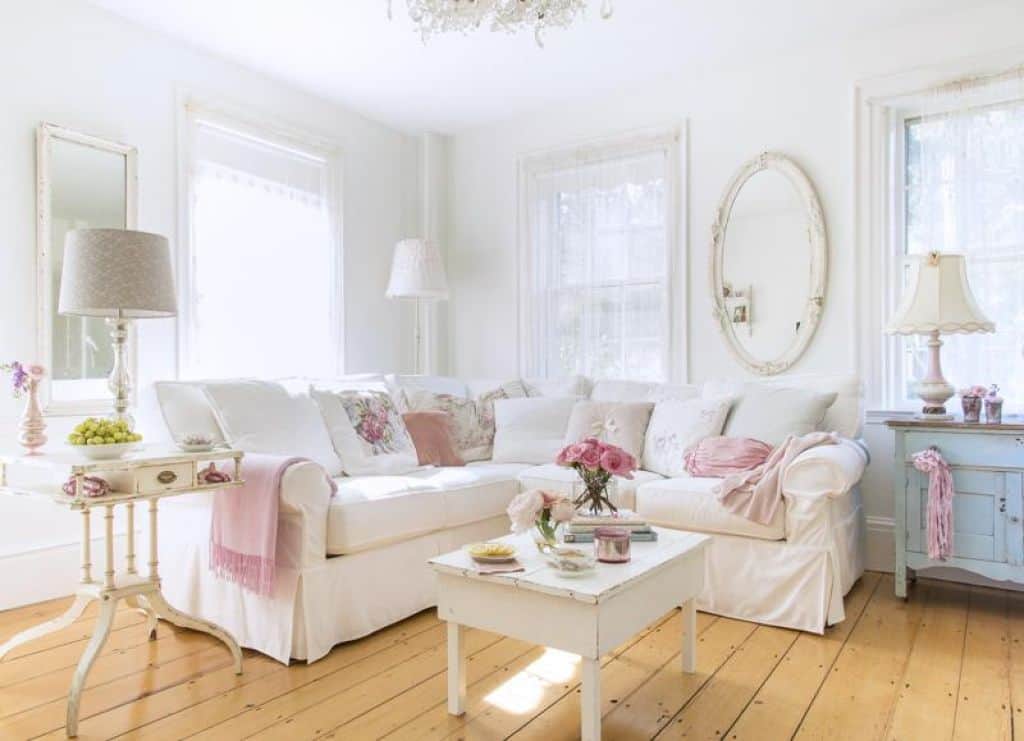 A shabby chic style is the polar opposite of the lavish style. Anything too luxurious is out of the table. That's why one of the steps that you need to be aware of is the color options.
The neutral background color is a color that doesn't outweigh the other elements of the room.
In simple words, it's dull so that it can go along really well with many different colors, such as white, grey, creme, etc.
But, the background here isn't always about the wall. It can refer to any surface in the room, for instance, talking about the rugs, bedsheets, pillowcases, etc.
Moreover, the antique furniture commonly comes in a dark brown color of the wood. It means that you need to balance the weight of the wood's dark brown with a calming color.
#2 Choose Vintage Furniture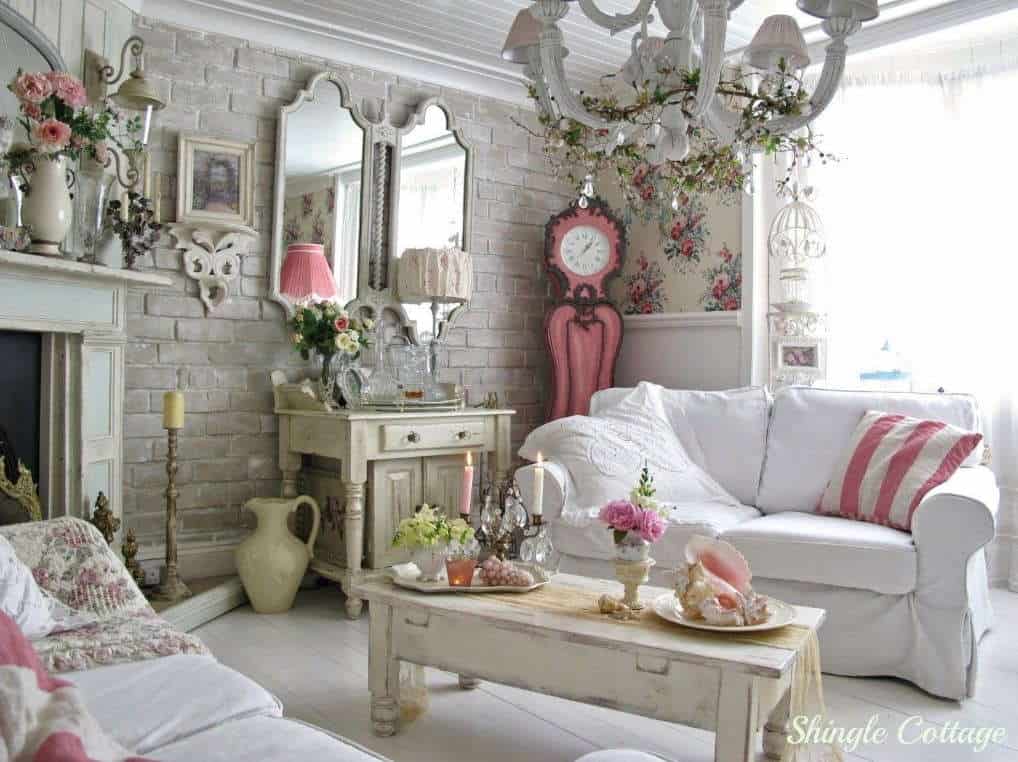 Having talked about the background color in a shabby chic style, we're moving to the furniture.
A room without the furniture would mean nothing; as plain as a taste of lousy cooking.
But, in completing a shabby chic house, you need to be aware of the furnishings' vintage look.
We've talked about how shabby chic style incorporates age-old furniture. This is due to its purpose, which is to radiate warmth and intimate closeness in the family.
To obtain vintage furniture, you can use many options, such as visiting garage sale or going into a vintage shop that sells antique stuff.
Either way, it helps you to save money.
But, if it's too difficult to find and you don't want the process of finding it to hamper your entire shabby chic plan, you can use another alternative, which is to recycle it by yourself.
But, wait, how do we do that?
Well, one of the many options is to repaint the furniture. Let's say you buy an old nightstand that's not quite old yet.
You can manipulate its look by making it look older, like painting it with a dark brown color and leaving some part to look as if it's flaky.
#3 Farmhouse Feel on Cushion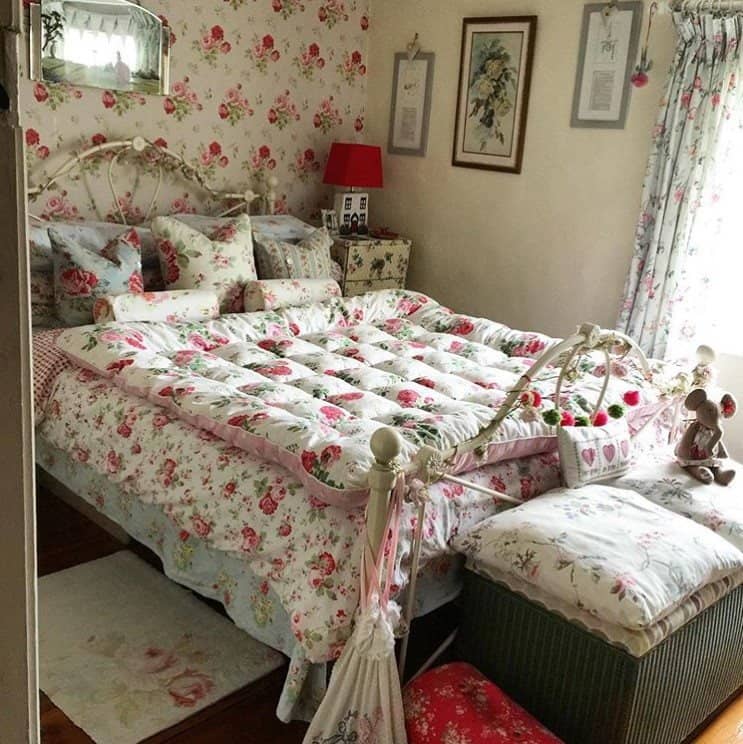 Cushion choices are a necessity in a shabby chic designed room. You must go with several options, such as cushion with subtle stripes or neutral shades.
This look can bring relaxation as well as rustic look to the entire room.
A rural or farmhouse look can be achieved by incorporating natural material. Let's say you're going with linen.
Linen is a soft natural fabric that shows a rather neutral hue. Combine the linen with the use of cotton on several other items.
Or, you can also combine it with oak furniture, for example, the frame of the couch is made of oak wood then the cushion is covered well by the linen or cotton with subtle stripes or just a neutral shade case.
Read also: Shabby chic bedroom ideas
#4 Floral Accents Background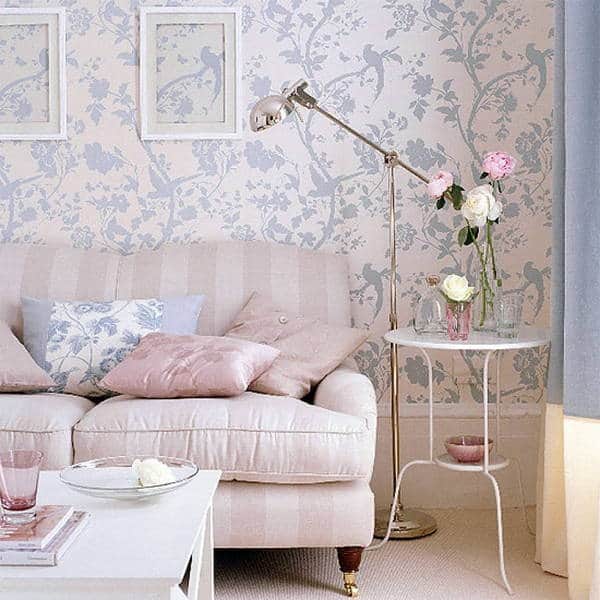 Especially when it comes to women's bedrooms in a shabby chic house, a floral print wallpaper on the wall will be a great idea.
Let's say you want to accentuate the romantic feel. You can decorate the headspace of your bed with a red rose print wallpaper. This will showcase your feminine side perfectly.
In extend, adorn the surrounding with furniture in a similar shade of color. Another way to incorporate the floral accent is from the cushion or rug patterns.
If you're genuinely going with this scenario, may as well go with a white background for the floral or a gentle cream. The bottom line is to align these mixtures of colors sufficiently.
#5 Bring Your Shabby Chic House to Another Level
Many other things that you can add to your shabby chic decoration. It includes an antique chandelier or even a vintage cutlery set.
Some homeowners choose to combine the shabby with modern-end, but it's better to take your shabby enthusiasm to a higher level by utilizing all antique and natural materials. Replacing your usual napkin with a linen one may be a good start.
Moreover, if you have little ones, include them is the shabby chic experience. Decorate their private rooms with anything antique and natural.
To conclude, a shabby chic house is keen on a feminine feel. It uses material with soft hues and basically requires you to be creative with furnishing and mix-matching colors and materials.
Since it uses vintage and antique furniture, it's related as well to a farmhouse, country feels. Now, what do you have in mind?