Don Pedro Brooklyn is reader-supported. When you buy through links on our site, we may earn an affiliate commission. Learn More
14 Shoe Storage Ideas for Small Spaces
Are you a shoe lover whose love for footwear is bigger than the space they live in? Or are you someone trying to fit all of their things in their new, significantly smaller apartment? In any case, you don't have it easy.
Storing shoes can be an issue, especially in smaller apartments. They can be bulky and take up a lot of space. But there's a solution for every problem. And we're offering you 14 of them! So without further ado, here are 14 shoe storage ideas for small spaces.
Consider a Multi-Purpose Rack To Save Space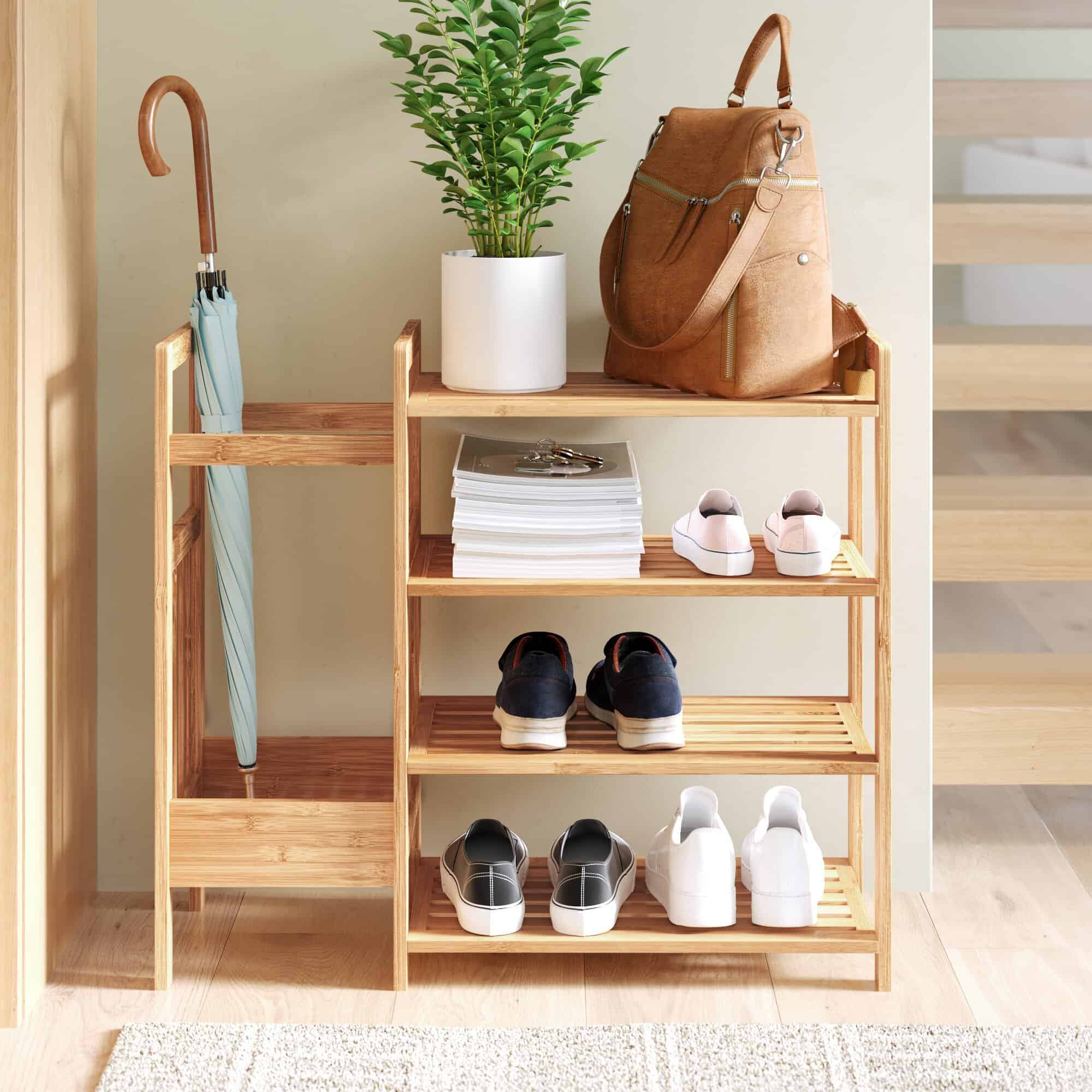 When you're lacking space, one of the best things to do is invest in multi-purpose storage. A hallway rack that holds many different things can be a game-changer. Such racks allow you to save up space that umbrellas, bags, and shoes usually take up.
If you live in a studio apartment, a multi-purpose rack such as this one can make a huge impact. It can create an illusion of a hallway, which is important when you're dealing with an open entryway. And not to mention it can hold eight pairs of shoes, as well as other trinkets. A stunning option!
A Shoe Storage Bench Is an Awesome Pick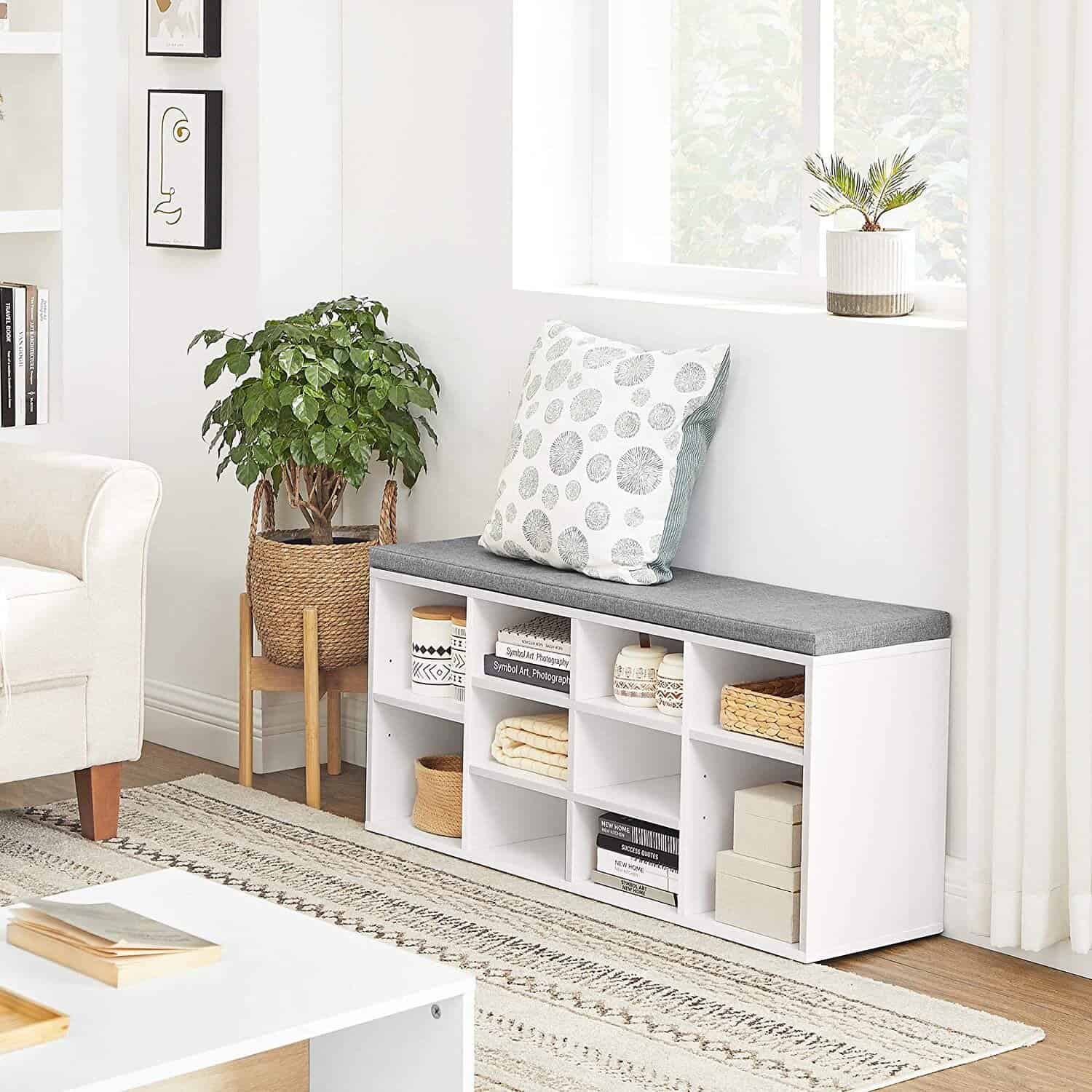 When you're considering buying shoe storage for small spaces don't forget to look into shoe storage benches. These benches are perfect for hallways, as a place to sit on while putting shoes on. But they're not exclusively confined to hallways.
If you're dealing with a small space, you can consider placing such benches in a sitting area. This one is available in three different options, which all allow quite a lot of versatility. Perfect for a small living room. And not to mention these benches can also store up to 10 pairs of shoes!
Trunk Benches Save So Much Space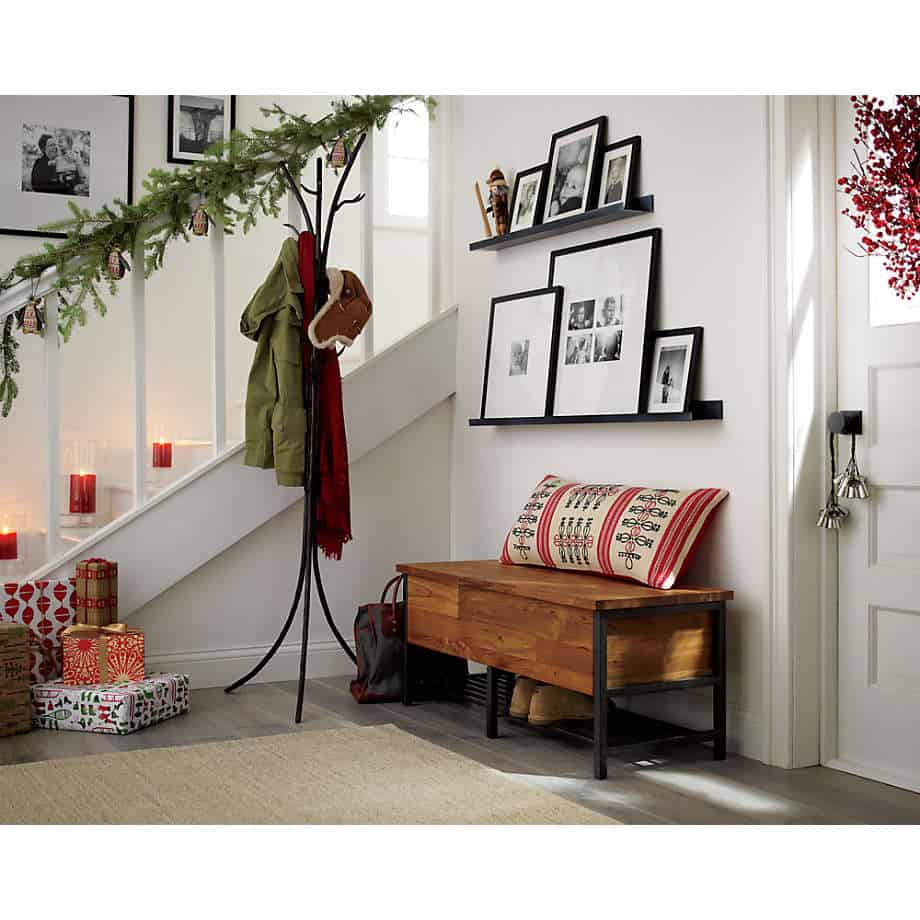 Trunk benches offer quite a lot. Their design is often very minimal and neutral, along with their color scheme, allowing them to fit into many different homes, no matter the style. But more importantly, they offer quite a lot of space.
They can fit in any room in the house and look quite charming while doing so. This particular trunk bench is pretty spacious, making room for all of your outdoor accessories, such as sports equipment, shoes, hats, and mittens. It also has a small shoe rack below, perfect for additional shoe storage.
Invest in a Storage Platform Bed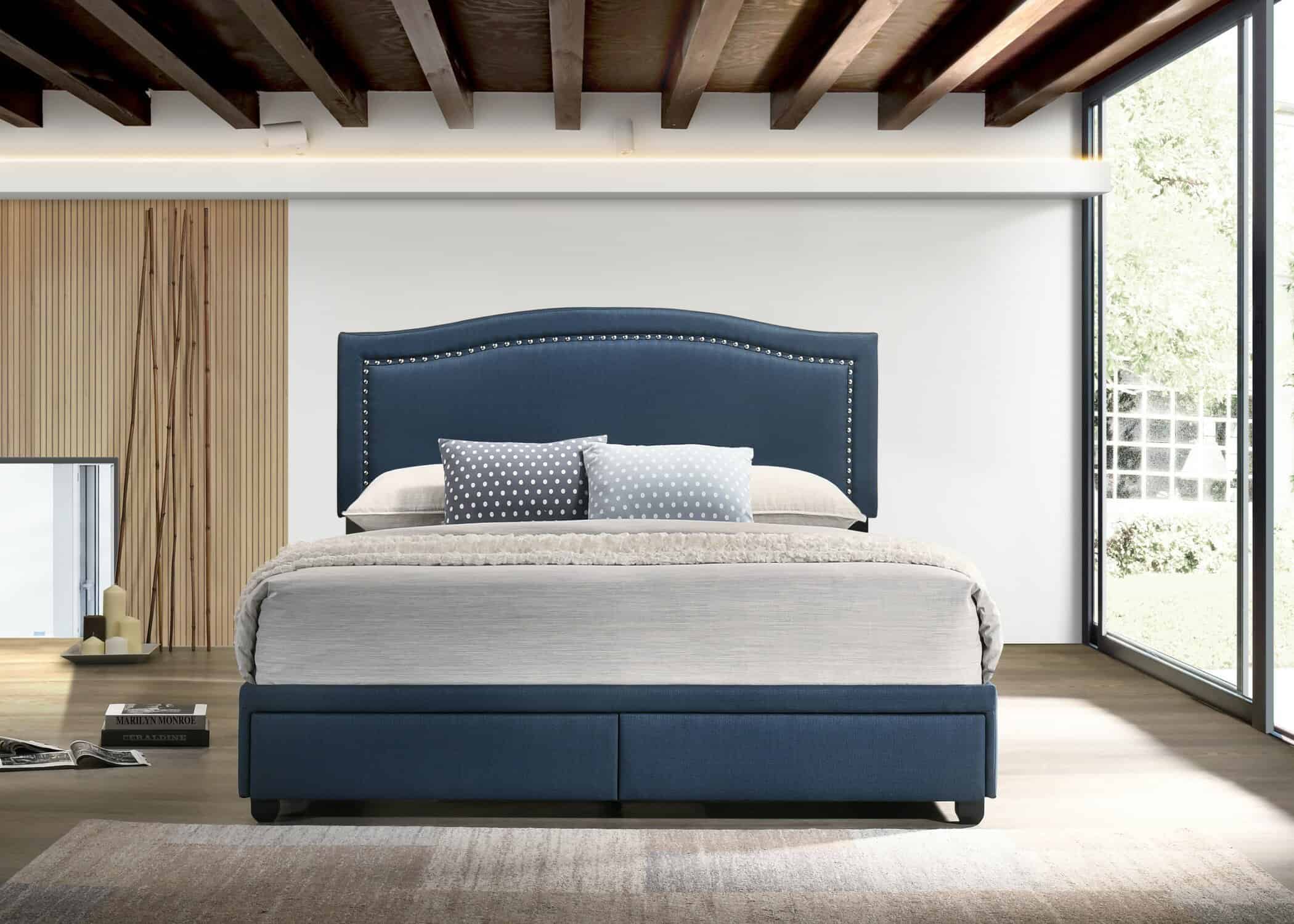 If you don't have much free space but have a bit of a higher budget, there are some amazing options for you out there. One of the most interesting space saving shoe storage options is a storage platform bed.
Although storing things inside of your bed might seem unconventional, it saves you a lot of space. And while opting in for a new bed isn't easy, it can make a huge difference. This is especially useful when you're living in a studio apartment, and are stuck with limited space.
This Storage Cabinet Looks Stunning While Being Practical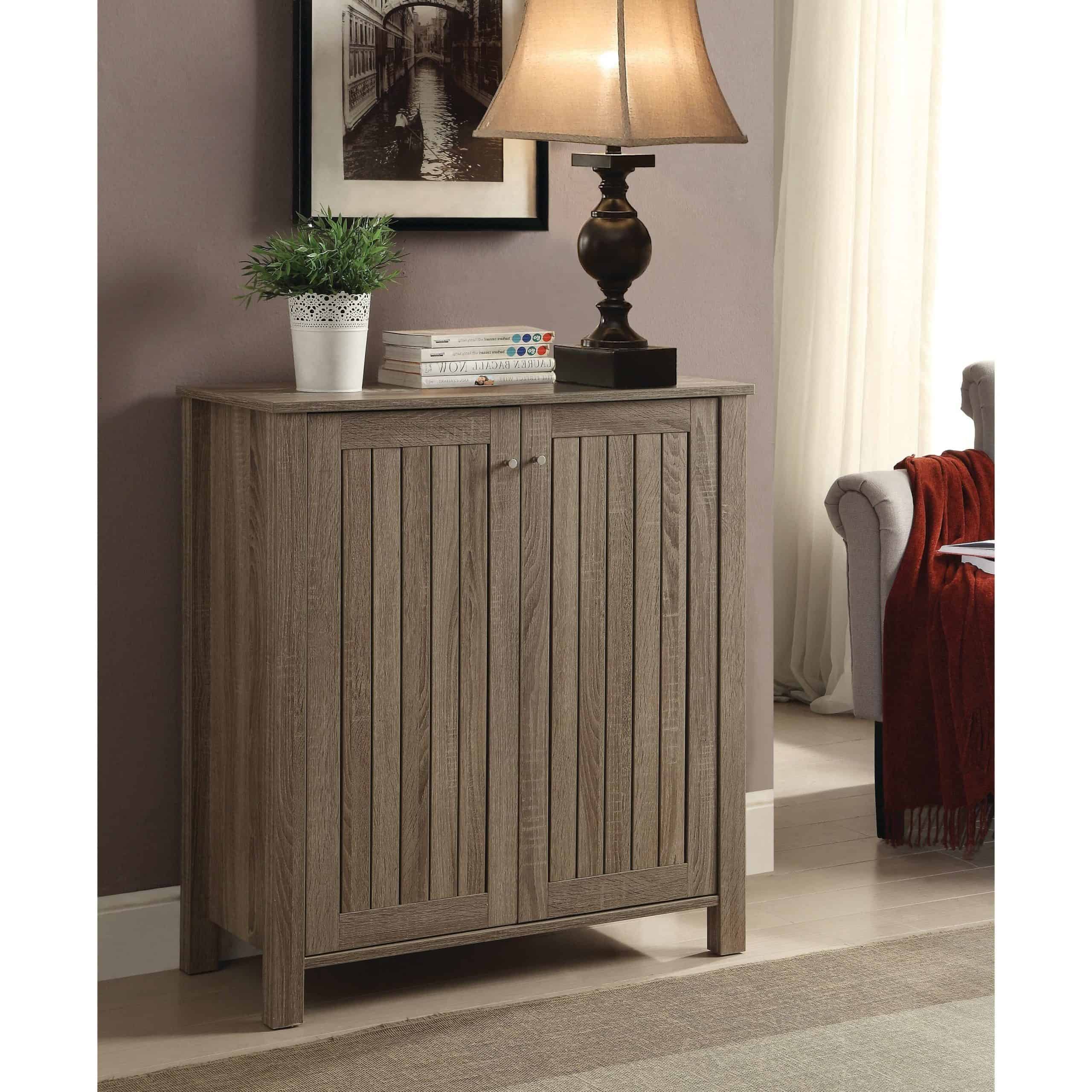 Storage cabinets are a classic choice for a reason. They're quite stylish, and can often fit quite a lot without taking up too much space. Storage cabinets are an ideal option for shoes, keeping them out of the way and creating a cleaner overall look.
If you want your space to look less cluttered, go for a storage cabinet! This one's perfect for that cozy farmhouse look, it will fit right in with the rest of the homey farmhouse furniture. So if you want to store your shoes in style, you won't go wrong with this cabinet.
Hall Stands Are a Super Practical Option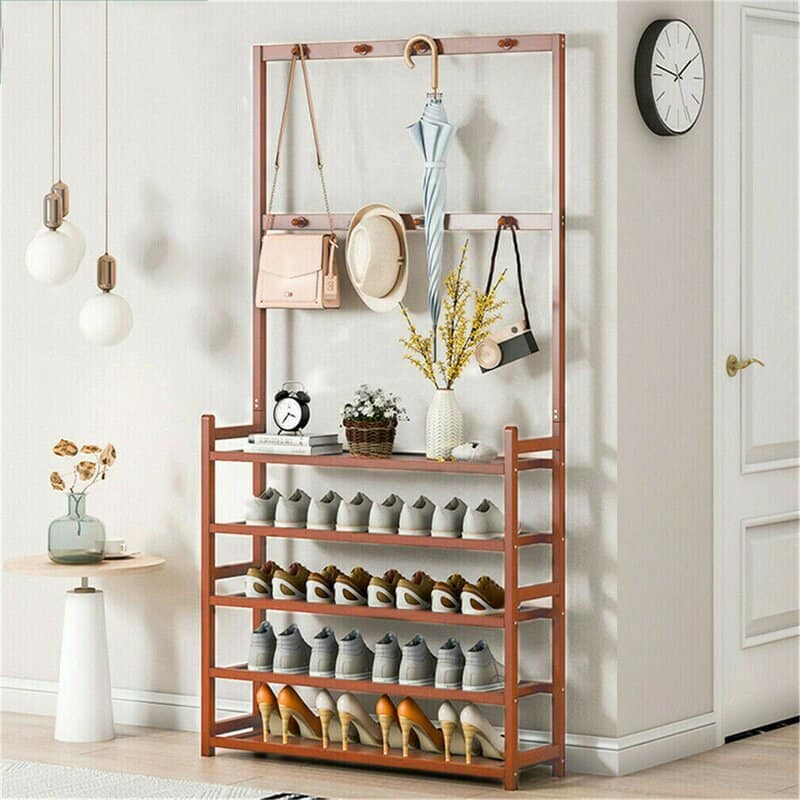 When you're low on space, one of the easiest ways to go around that is to go taller. And by that, we mean investing in taller furniture, so it takes up more vertical space. A hall stand is a great example of that.
This hall stand has a 5 tier shoe rack, which can hold quite a few pairs of shoes. But it also features 8 hooks, which lets you hang other items, like bags, umbrellas, or even jackets. A hall stand, such as this one, helps you organize things easily, removing clutter and freeing up a lot of your space.
This Compact Shoe Rack Can Fit Almost Anywhere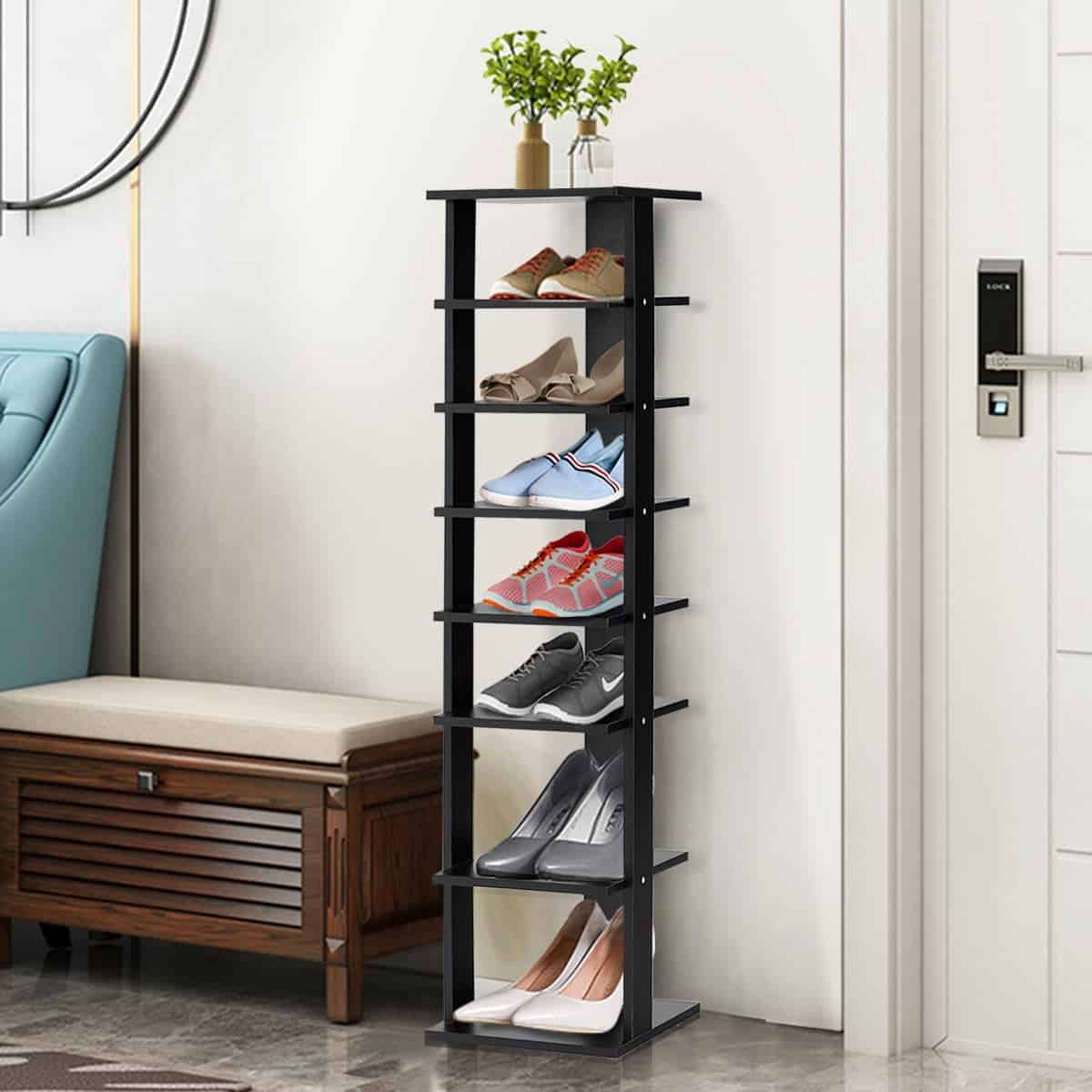 An important thing to look for when you're shopping for shoe racks is their ability to fit into different spaces. If you end up rearranging your furniture, you'd want your shoe rack to be able to follow. And that's why a compact shoe rack like this one is your winner.
This shoe rack features 7 tiers, allowing for up to 7 pairs of shoes. Its shape makes it easy to place practically anywhere, inside or even outside. It's also reasonably tall, but still pretty narrow making it a great shoe organizer for a small closet. A versatile pick for sure!
Over The Door Shoe Racks Are Perfect for Small Spaces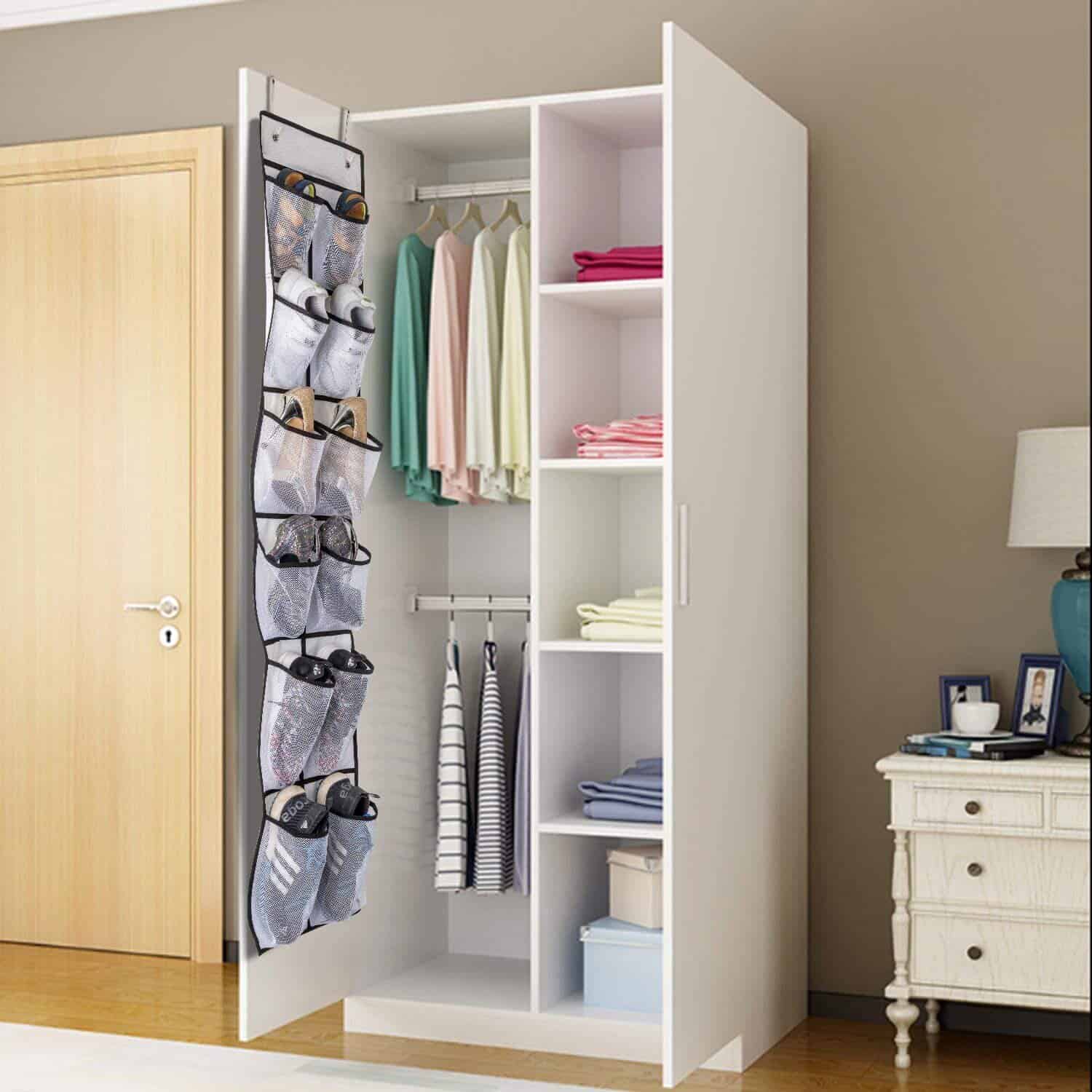 Sometimes, there just isn't enough space for all of your shoes. And there's especially no space for a big cabinet. But don't worry! There are shoe storage tricks that work with minimal space, in the tiniest of homes. And one of them is an over-the-door shoe rack.
These racks are simple and super practical. You can put them up on any door you'd like, even a closet door, and boom, your problem is solved. They hold up amazingly. And different sizes are available, so you can easily adjust them to your needs!
A Drawer Cabinet Works Wonders in Small Spaces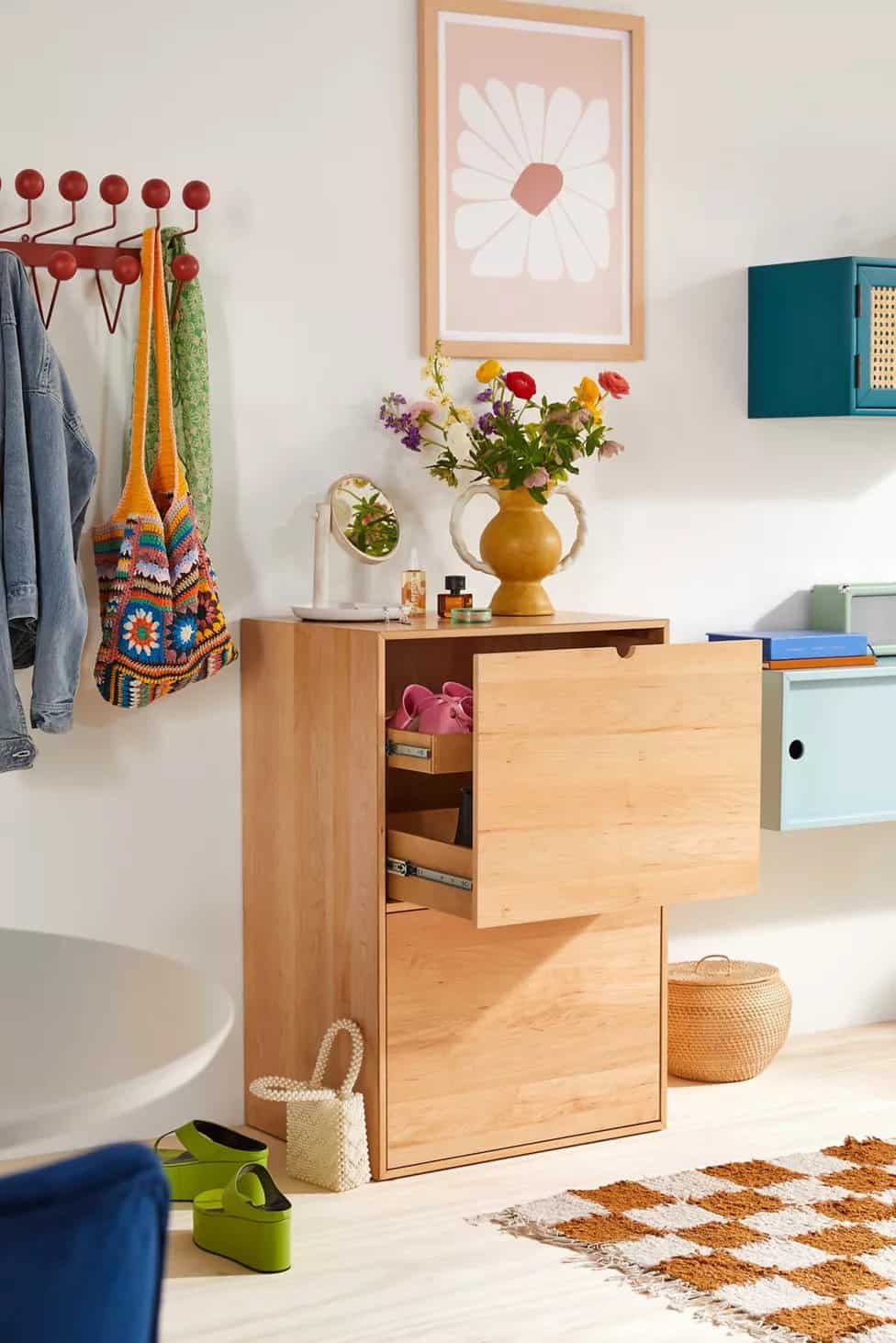 If you're a fan of cabinets, but feel like you're not getting enough space, a drawer cabinet might be the one for you. Going for a cabinet that has deep drawers is a pretty awesome shoe-storing option.
This cabinet, in particular, has four drawers. Hidden behind two doors, it allows for a cleaner, more minimalist look that fits different aesthetics. Storing up to 8 pairs of shoes, this drawer cabinet will fit in many homes, and it will do so while looking stunning!
A Storage Ottoman is the Perfect Hidden Storage Spot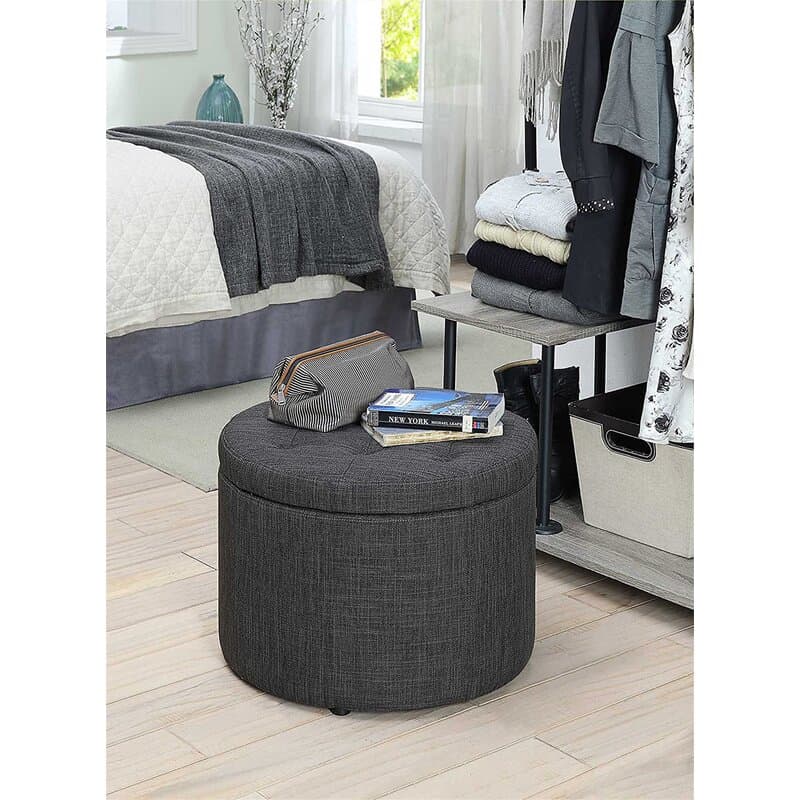 If you were wondering what would be the best shoe rack for small spaces, we're here to give you the answer! A storage ottoman is a favorite, and for a good reason. Ottomans have been around for a while. And you can use them as a stool, a footrest or even a coffee table.
But when your footrest doubles as a storage space? It can get better than that. Storage ottomans allow for a fashionable look, a comfy seat, and a way to store your shoes in their 12 compartments. And it's all hidden from plain sight, helping avoid a cluttered look.
Baskets Look Stylish While Storing All Your Shoes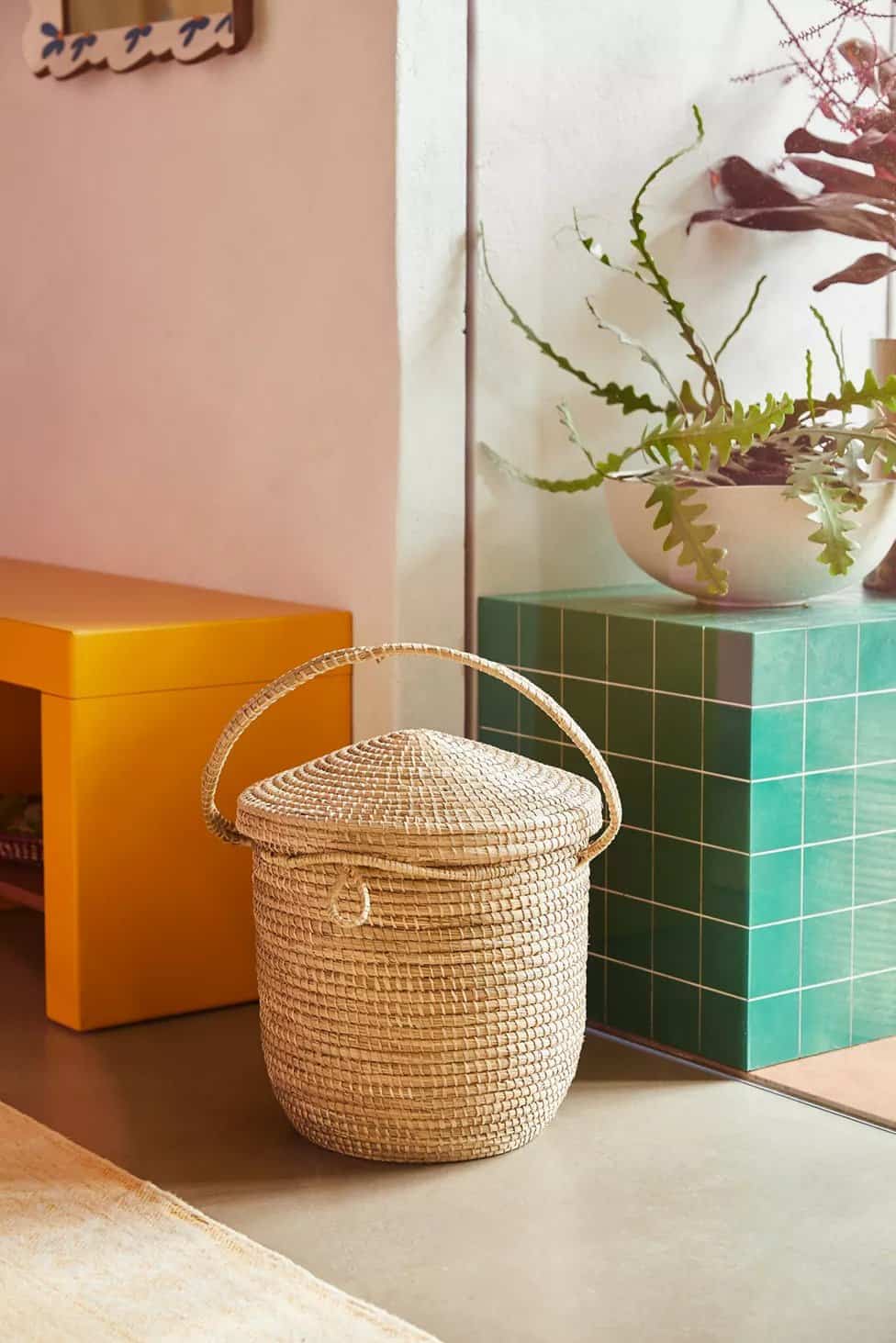 Baskets are another simple and easy way to store all the things you need. They're very versatile and can be stored inside of a closet, or even put up somewhere in the house as a piece of decor.
A seagrass basket such as this one makes lovely decor. Fitting for coastal homes especially, a basket like this one can make an impact, adding an artisan tone to your home. They don't take up much space, so you can combine different ones. Mix and match to create a dazzling look, while saving space!
A Revolving Shoe Rack Is a Lifesaver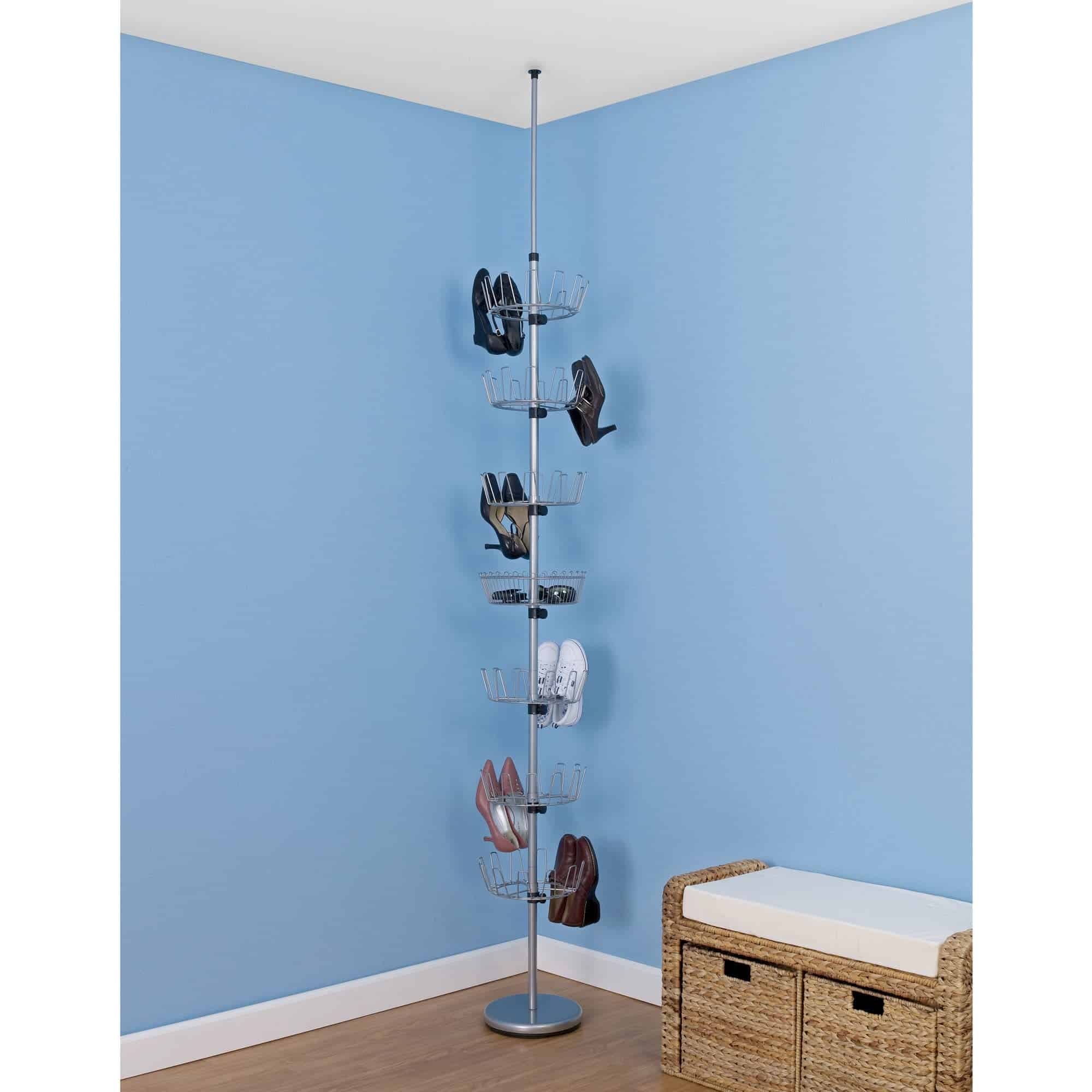 Being a shoe lover in a small home is possible. As we noted above, making use of vertical space can be the key. So when you're considering shoe racks for small spaces, don't forget tall revolving shoe racks, They're a gamechanger.
This rack in particular is a floor-to-ceiling one. Its simple design makes it fit into any living space. But more importantly, this rack can is a 6 tier one, and this tree can hold up to 36 pairs of shoes. Perfect for any shoe lover struggling with a lack of space!
Shoe Containers Are Great for Storing Shoes in Closets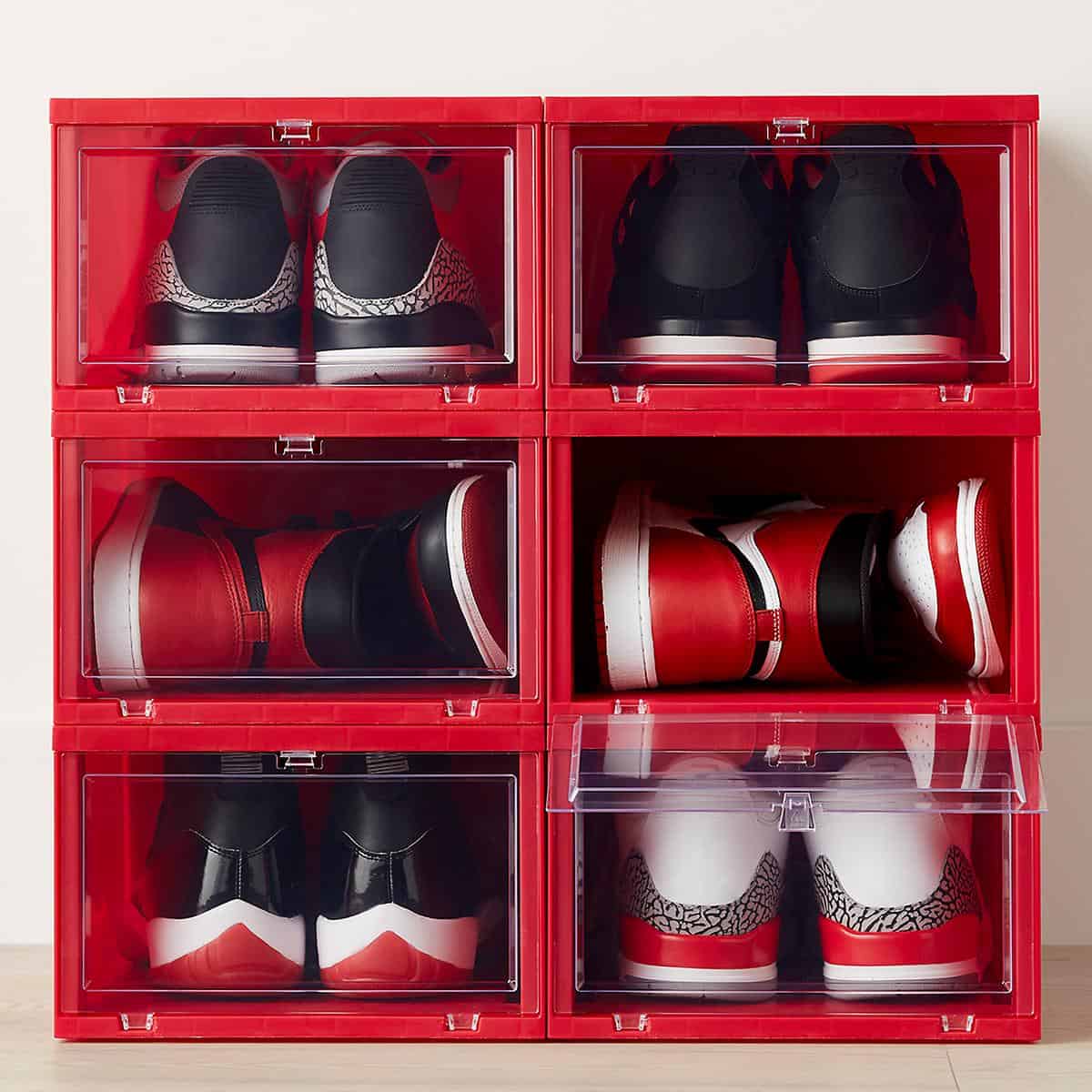 Dealing with a small closet can be quite a hassle. Especially when you have a lot of clothes and shoes to fit. But it doesn't have to be impossible. In all actuality being organized is the key. And what's a better way to organize your closet than with shoe containers?
Shoe containers are one of the best shoe storage ideas for small closets. There are many sizing options that can fit all types of closets. So you can easily find your perfect match. And with these containers in hand, you'll see how easy it is to organize and fit things into a closet, no matter the size!
Shoe Hangers Are a Brilliant Space Saving Option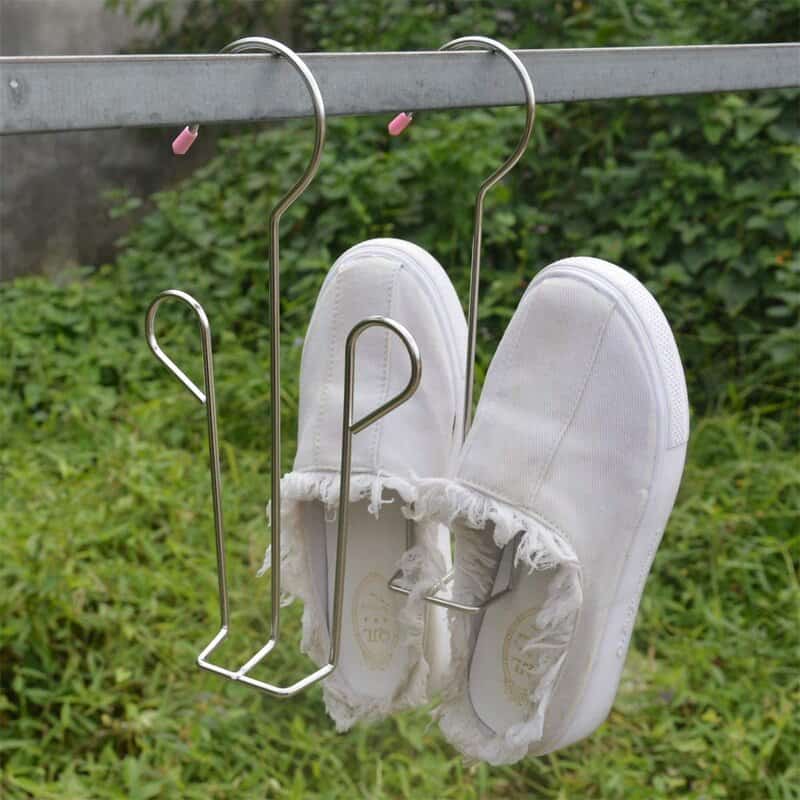 Another easy way to save space is to simply hang your shoes. Shoe hangers are perhaps an unconventional option. But it's quite a useful one. Shoe hangers are a simple but brilliant way to reduce the clutter that shoes often make, and simply save space.
But where do you hang your shoes? The possibilities are endless. You can easily hang them in your closet. But you can also get creative and put your shoes up, making them a part of your home decor. They will make a statement, that's for sure!
Summary
Shoes can create a lot of clutter. And a lot of space, especially if you own many pairs. So it can be a struggle, especially in small spaces where every square inch matters. But you can find some interesting solutions for small apartments in this article.
We gave you some of our favorite ideas. But it's up to you to figure out which one of these ideas works the best in your small space. There are many possibilities. And we wish you the best of luck in finding the right one. Happy shopping!