Don Pedro Brooklyn is reader-supported. When you buy through links on our site, we may earn an affiliate commission. Learn More
Small Kitchen Ideas
The kitchen is more than its primary function. It's the heart of every home where never-to-be-forgotten memories are made: the aroma of your parents' cooking that wakes you up in the morning, the laughter you share with family and friends, and many more…
Does it require a large kitchen to create such warm memories?
Not really!
A small kitchen provides a more organized space and intimate conditions.
Cleaning up a small kitchen is a cakewalk.
Moreover, renovating and maintaining a small space kitchen will be cheaper too.
You will figure out more reasons why a small kitchen is more efficient as you read through our compelling list of ideas!
Looking Warm and Cozy in White & Grey Hues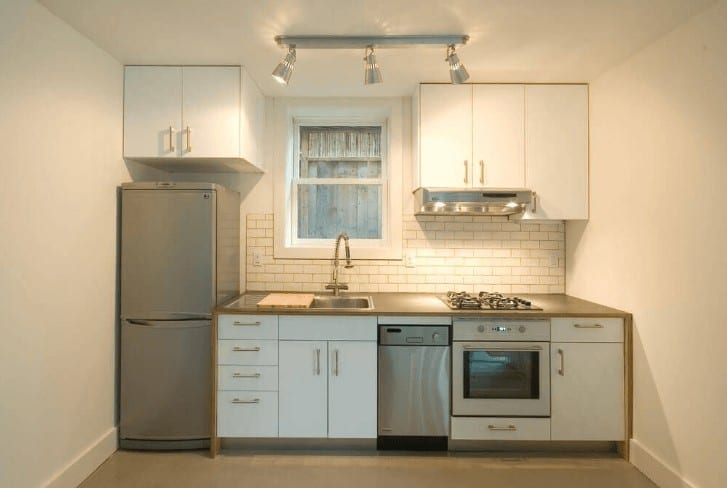 This small kitchen idea shows you how smart the lighting position and bright hues can alter the mood of the kitchen.
Notice how white paint coating makes the room airy. Even though the space is narrow, it doesn't make you feel boxed in at all.
Anyway, you can replace the cabinetry with exposed shelving if you want to achieve a more open feeling.
To give a bit of color, you can have a wooden countertop that matches the floor.
G-Shaped Small Kitchen for Extra Counter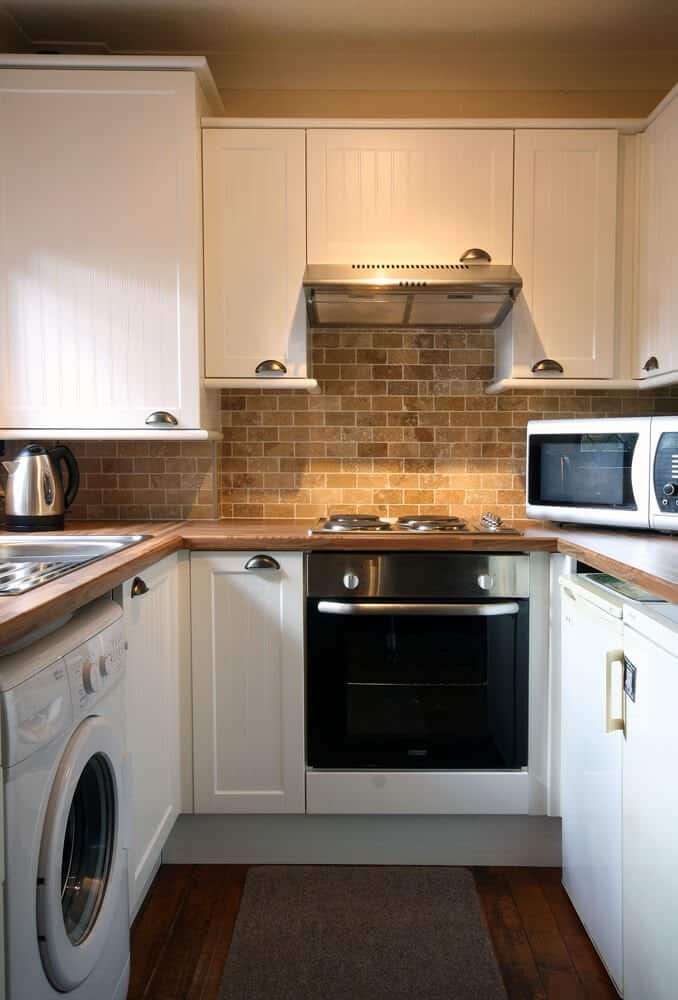 There are many shapes for a small kitchen, and one of them is this G-shape. This model allows you to have an extra counter to prep meals.
Moreover, this small kitchen idea divides the section into two, lower and upper.
The upper section, the cabinetry, is the storage section, while the lower one is meant for the working region, which includes an oven and a dishwashing machine.
White paint is involved in the appliances to brighten up the narrow space.
Black and White Kitchen with Pendant Lamps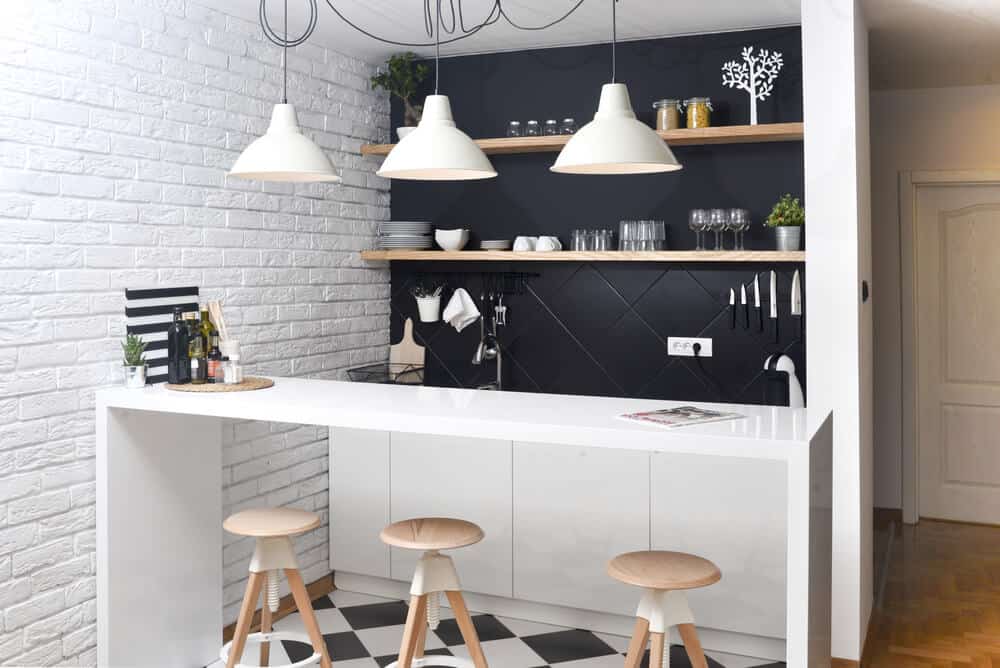 White, as a neutral color, is often used to widen a small space.
However, some people would think that all white is too dull and boring. To avoid such boredom, mix it with black. Black is then applied to the main wall, making it a charming wall accent idea.
The absence of storage won't be a problem, too, as long as you can handle it with open shelving. A kitchen is nothing without attractive lighting.
Here, pendant lamps are employed to enhance the overall look.
Bright Kitchen and a Strategic Organization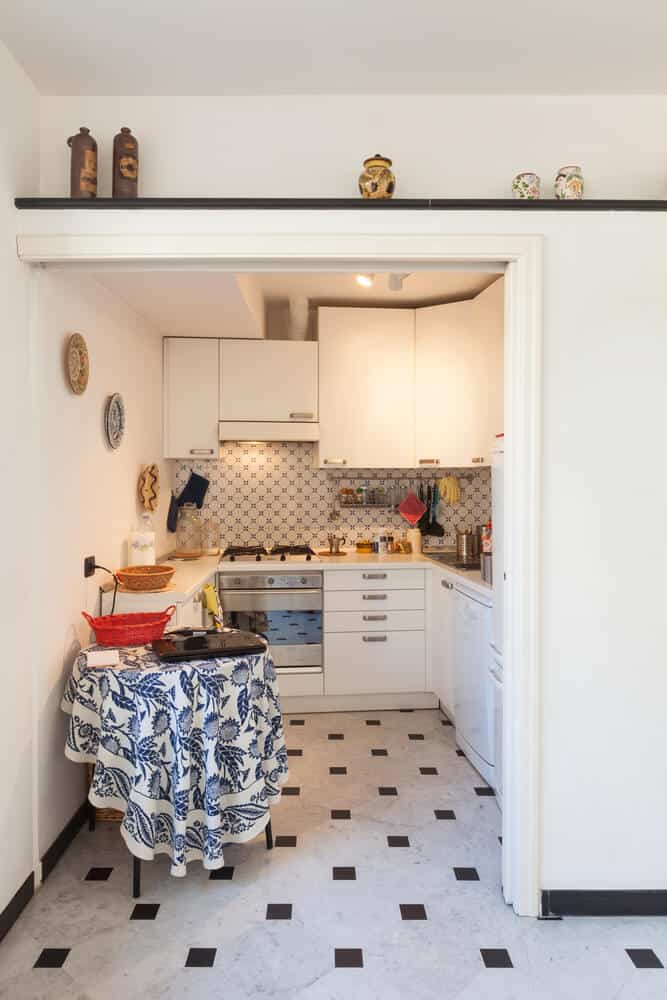 You know how the game is played. Whiter means brighter.
Therefore, keeping everything white means, you'll feel less cramped.
On white, you can add some pops of color to make the kitchen more lively. To avoid clutter, you need to be creative with the storage too.
This kitchen provides all size cabinetry, however, if it's still not enough. There is a large open shelf on the wall where you can put some bottles and jars.
Also, we can't leave out the backsplash pattern that catches attention even from afar.
Incorporate Greeneries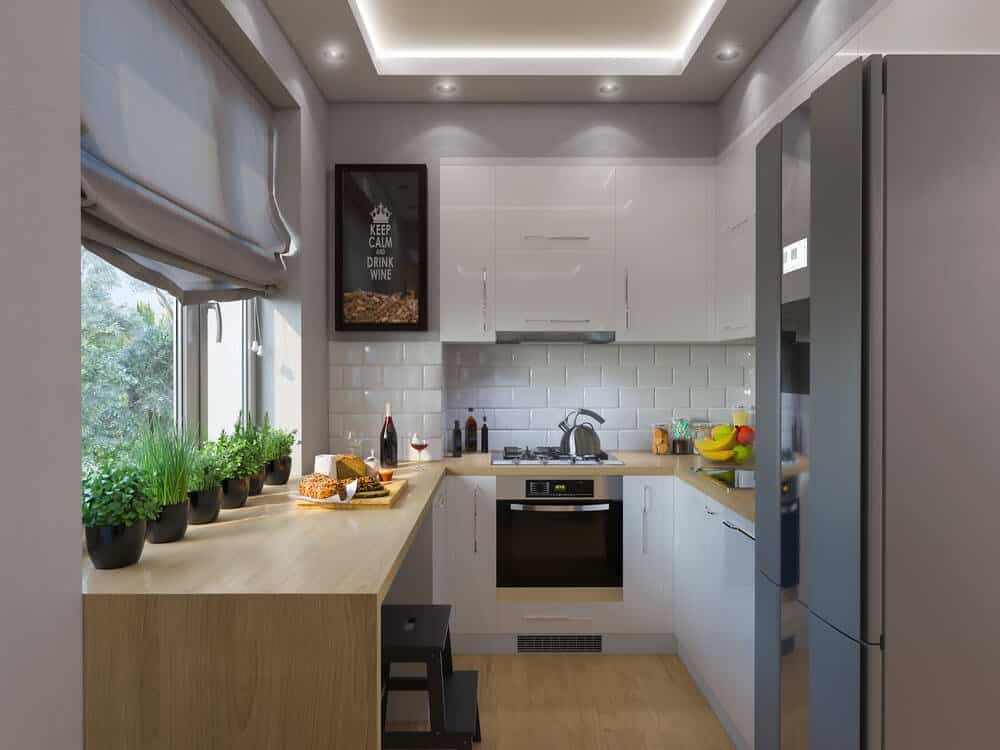 This modern small kitchen has a wall decoration that reminds you of drinking wine during a bad day. The art is positioned brilliantly on the top corner wall.
Beside it, the storage cabinet is installed well. Between the cabinet and the working region, the white backsplash tile is looking really good.
To balance white, you can choose stainless steel appliances to go with it.
When the meals are ready, and you need to calm yourself down, you can check the view out the window and the greeneries on the prep table.
L-shape Kitchen with Seatings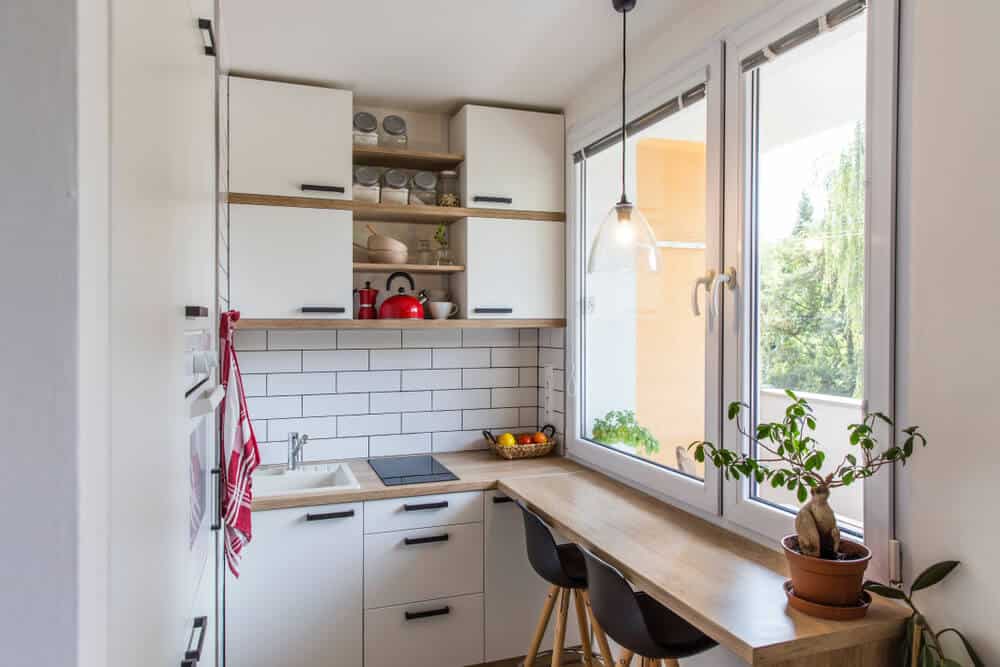 There are a lot of people who fancy an L-shape kitchen due to its flexibility.
It allows you to reach every part of the kitchen quickly.
When it comes to the tiny kitchen, storage often becomes the number one issue.
To tackle such a problem, you can add some extra shelves above the stove.
If closed cabinet feels too boxed in, replace it with open shelving.
The long top by the window is multifunctional. It can function as a prep station and also an eating area.
Modest Kitchen with Round Breakfast Table
This small kitchen has been designed to look airy and open.
Thanks to the bright white, clean lines and the simplicity of the design. The bright white is paired with grey backsplash tile and stainless steel appliances.
Not to forget the dark ebony wood countertop, which sticks out nicely.
Another feature that really catches the attention is the lamp mounted underneath the cabinet.
The round table is used for the eating area, which also functions as an island.
It is decorated with a pot full of the white rose to go along with style.
Warm Yellow Shade Cabinet in a One-wall Kitchen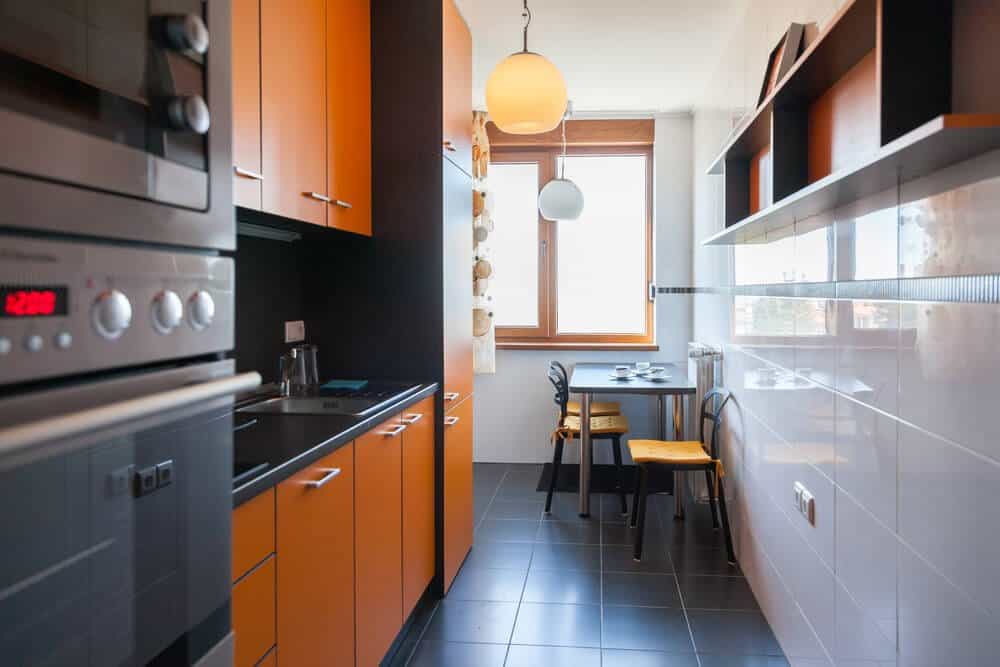 This small kitchen idea is keeping it simple and minimalist.
Employing a one-wall kitchen design, this kitchen is able to maintain its openness.
The appliances are made of stainless steel, which goes well together with the yellow shades cabinetry.
The warm tone radiated from it is extended to the extra open shelving mounted on the wall, the chairs, and the window frame.
To enhance that warm feeling, you can use a pendant lamp with a similar tone cover.
Being Minimalist in a Farmhouse Style Kitchen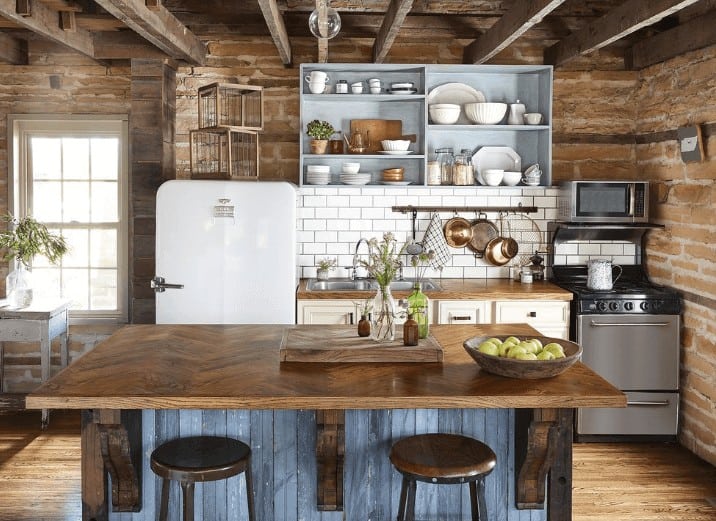 This is truly an inspiration for a small kitchen with a farmhouse style. The exposed brick wall gives a strong rustic feeling.
Accompanied by rustic beams and varnished tops, cooking will be a new experience here.
The space in this kitchen is used wisely; for example, the lack of cabinet inspires to create floating shelves for an open and modern look.
Moreover, the island is the perfect way to add extra surface.
Industrial Style in A Small Kitchen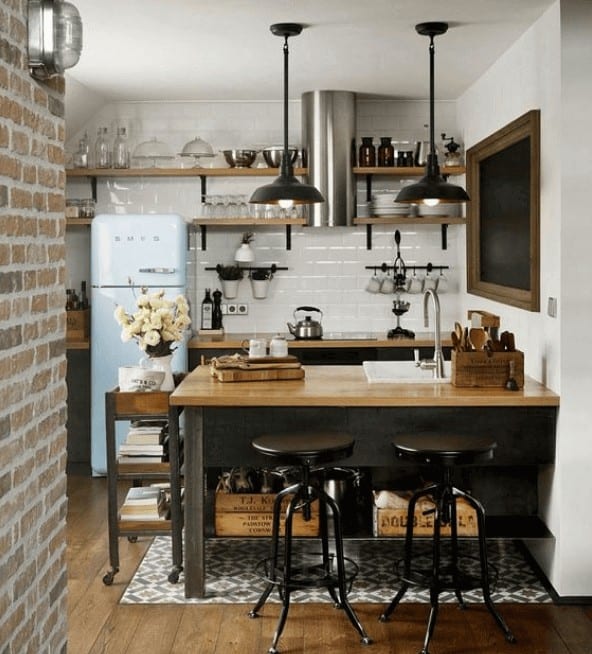 A small kitchen is a more organized space because we need to be smart and avoid clutter. To do so, you need to make the best use of space.
The white-coated wall is used to mount floating shelves and rods for hanging some cups and plants.
When it comes to light, this kitchen uses two industrial style pendant lamps hanging above the island.
As for extra storage, reclaimed crates are used for bottles while the portable open cabinet is used for books.
Galley Kitchen with Floating Shelves
A galley kitchen is an ideal concept for a smaller space. It allows you to have two parallel countertops.
In between, you are still able to walk around doing the business. The major problem of a small kitchen is usually about storage.
Floating shelves like this one offer an efficient solution, tackling two problems at once.
Now, the kitchen looks open and provides easy access to grab cooking tools.
Rustic Ceiling Accent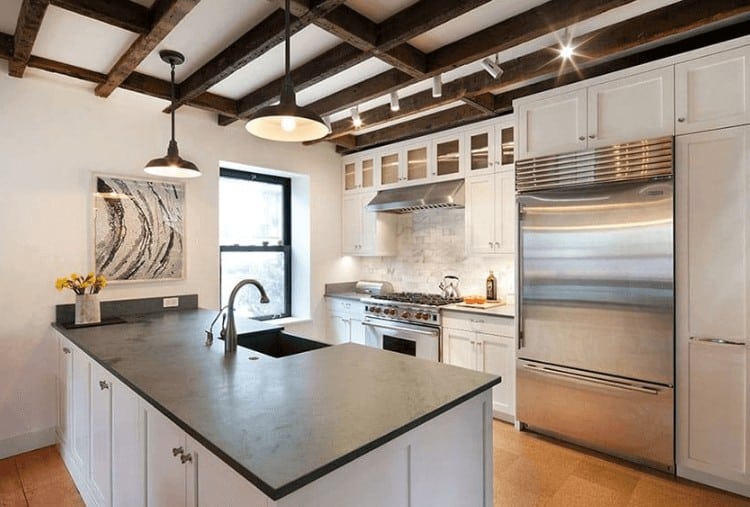 While the stainless steel appliances balance the white background really well, your attention goes directly to the rustic beams on the ceiling.
This is done to give an accent in the room, avoiding a boring plain white look. To go with a rustic style, you can use industrial pendant lamps.
Moreover, the super-wide island is utilizing a dark color countertop. It's a nice contrast against the white cabinet.
If you fancy wall art, you may hang a framed picture or painting. As a pop of color, a jar of vibrant flowers will save the day.
Modern Style Kitchen with Minimalist Island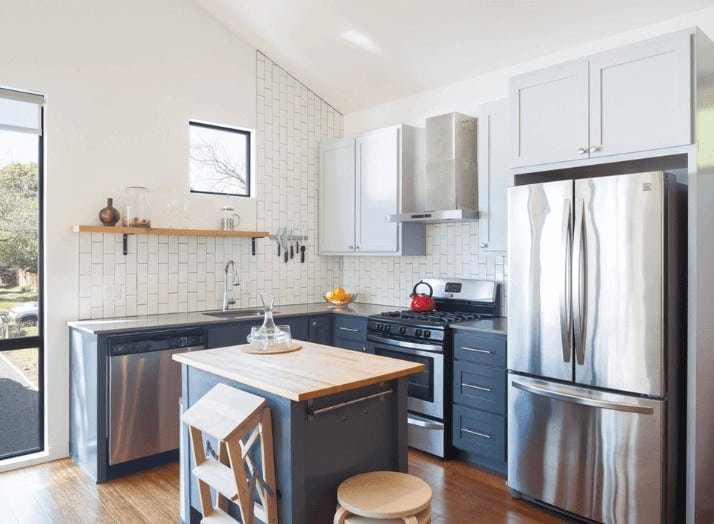 One of the key elements of a small kitchen is to keep it light and airy.
Many interior designers suggest a skylight or a splashback window invite natural light.
Other than that, it helps to create an illusion of space, making a small kitchen appears bigger.
Utilizing a bright white background, this kitchen incorporates blue as a pop of color.
It is applied to some appliances, including the minimalist island.
Build with a rod to hang extra cups and stool, and the island becomes multifunctional.
Organized Clutter on Floating Shelves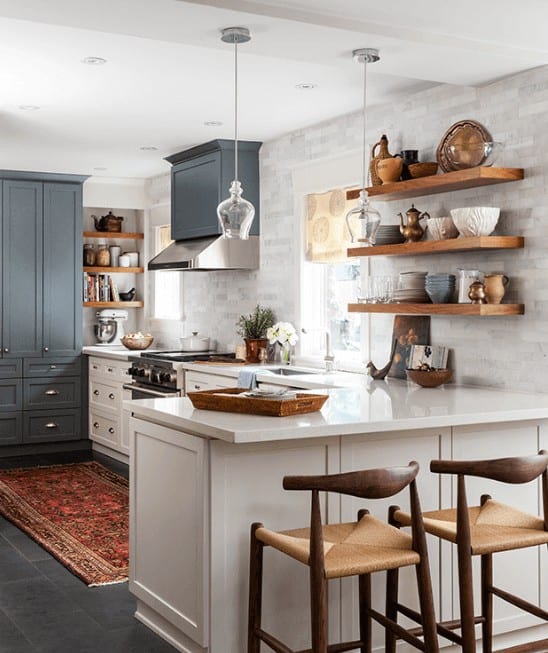 Open and floating shelves are not only about aesthetics. They are pleasant to look at, but they also have a huge impact on kitchen space, especially a smaller kitchen.
However, you need to be careful with the organization of kitchen tools. If they are not well placed, they will make more mess.
However, if you put them in perfect order, they enhance the beauty of your kitchen.
Here, the shelves are made of authentic wood. Against the white background, they give out a modern, urban feeling.
Incorporate Natural Material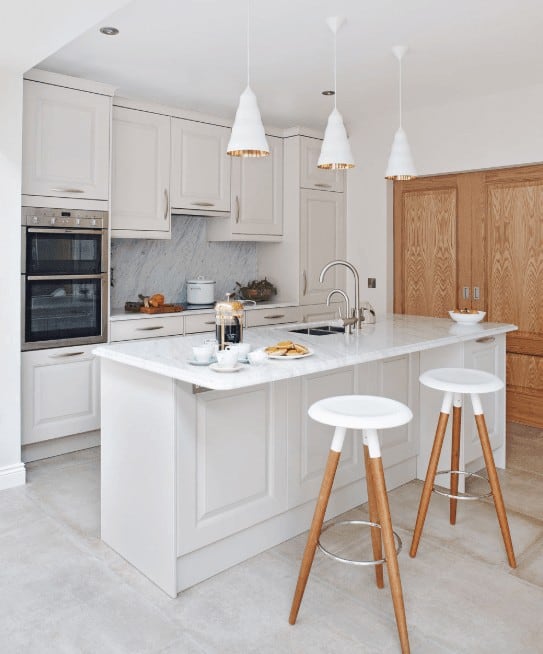 The kitchen may be small, but it shouldn't stop you from incorporating natural materials like wooden bar stool with a ring between its feet and the two-panel door at the back.
Leaving them in natural color is actually a perfect way to pop color on a white kitchen.
Notice the metal pendant light fixture hanging above the island.
Its industrial style is covered by a white coat, making it looks elegant.
Ditching White for a Different Character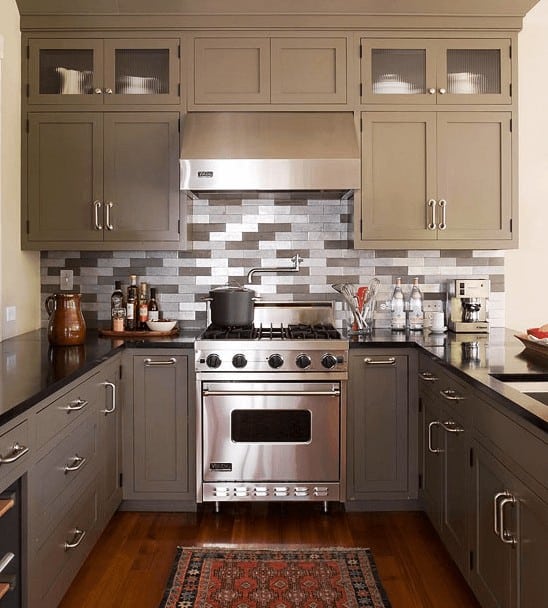 White has always been a go-to color for a small kitchen.
However, that doesn't mean that other colors can't join the game. Sometimes, it is good to be a bit playful.
This kitchen picks a few shades of grey to adorn the space.
The countertop has the darkest color of all, which actually makes it stand out.
Another eye-catching feature is the backsplash tile, which is a creative mixture of some different shades. It's a perfect example of tile details.
Thoughtful Decoration and Strategic Placement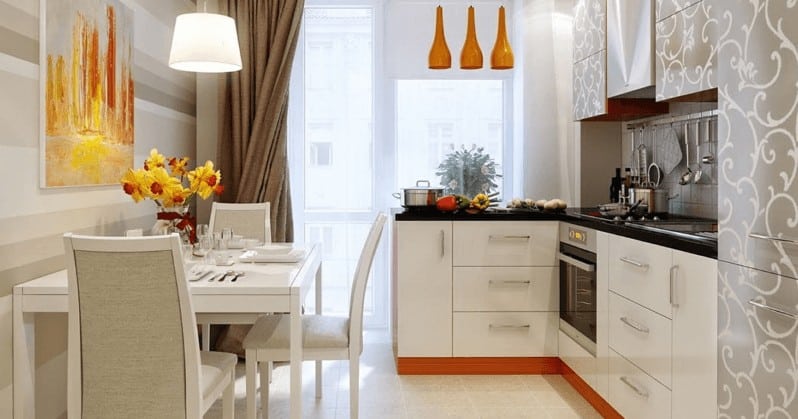 To avoid losing a lot of space to furniture and appliances, you need to decorate a small kitchen space thoughtfully.
Well-thought placement will prevent a boxed-in feeling. This kitchen shows you how to do it.
The eating area is tucked into one corner, giving you some considerable amount of space to move between the counter to the table. It also provides two light fixtures.
To light up the mood, some shades of yellow are added as a pop of color.
You can see it on the wall painting, flower decor, and the pendant lamps near the counter.
The unique feature is the pattern sticker applied onto the fridge and cabinetry.
Small Kitchen with Warm Natural Tones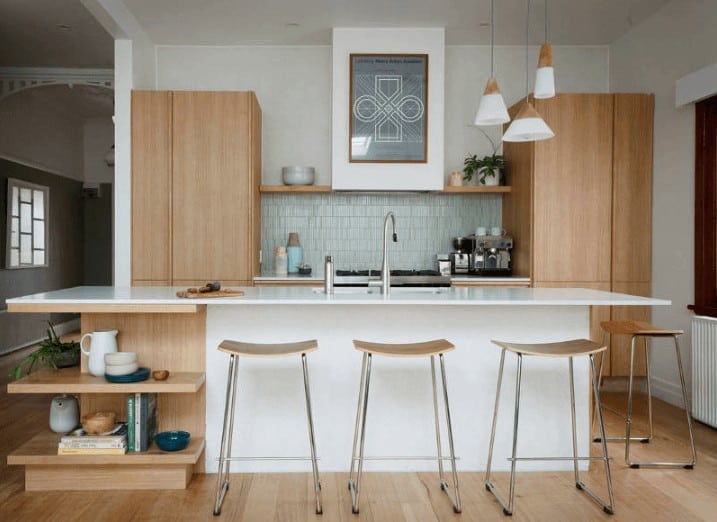 This small kitchen utilizes warm natural tones such as white and maple wood.
They are an excellent combination because both falls on a calming and relaxing type of tone.
White is applied onto the background wall, kitchen island, and countertop.
To balance the brightness, maple wood color is used on the floor, floating shelves, open shelving, and cabinetry.
As a centerpiece, add a wall art in the center of the kitchen.
Sufficient Food & Non-food Storage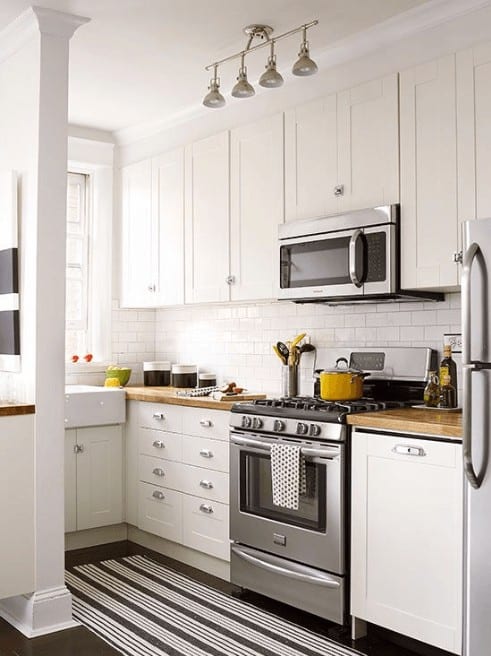 Clutter will be the biggest challenge in a small kitchen. That's why it's very important to manage the storage efficiently.
Storage is not only prepared for non-food materials such as cutlery and utensil but also food kept in containers or baskets.
This kitchen provides enough storage as there are quite a lot of cabinets and drawers available.
Moreover, to create an illusion of a longer kitchen, place a vertical line pattern carpet on the floor.
No More Lack of Counter Space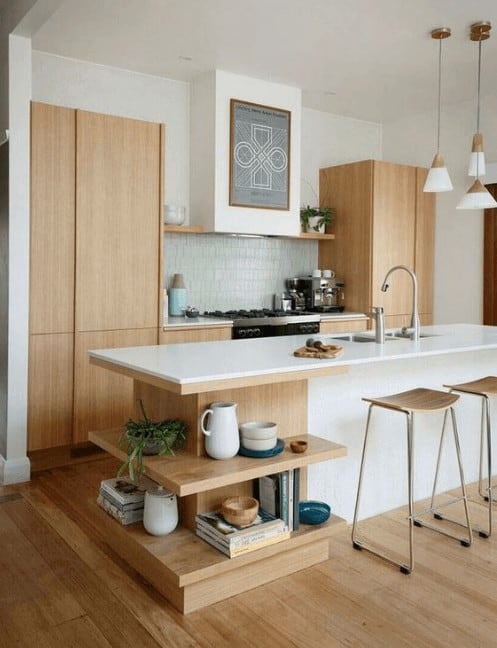 A common issue that often occurs in a small kitchen is the lack of counter space.
Some people will even transform the sink into a sliding cutting board.
Meanwhile, in this kitchen, the counter space is extended to the side for additional open shelving.
On the shelf, you can store kitchen decoration such as cooking books, small bowls, and a jar.
An All-White Small Kitchen
For a small kitchen, white has been a very popular pick due to its association with light, cleanliness, and perfection.
And in a small kitchen, those impressions are needed to make the kitchen looks wider and bigger.
To enhance the bright white style, don't forget about the lighting placement too.
What kind of statement that you want to bring to the table? Is it simplicity or glamour?
From there, you can then decide whether you want a dramatic chandelier or ceiling mounted light.
Captivating Skylight Window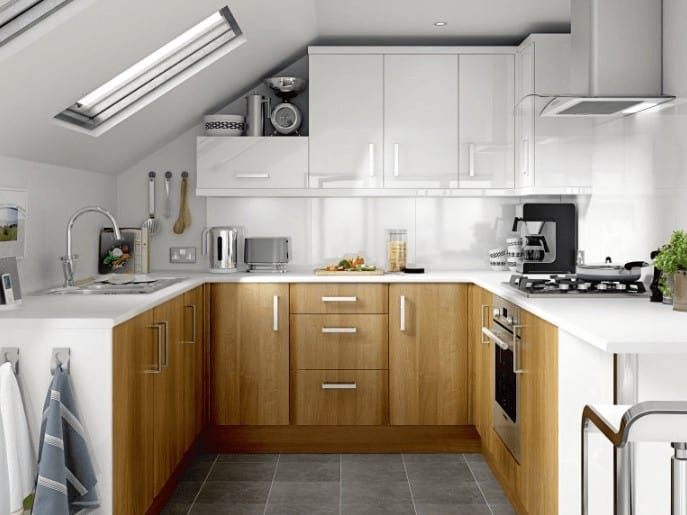 This small kitchen idea uses some skylight windows on the ceiling.
The sole function of the skylight is to bring natural light into your kitchen.
Other than that, it is actually a perfect way to bring fresh air inside too.
When the room doesn't provide space for traditional windows on the wall, a skylight is definitely a good alternative solution.
Shelf It Up!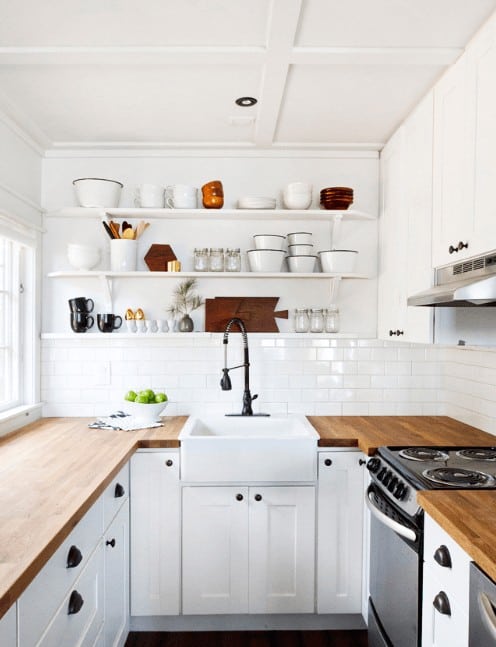 When you run out of storage to put the utensils and cutleries, you can always opt for these open, floating shelves.
Avoid cluttering by organizing them neatly, either by size or color.
Other than acting as wall decor and an eye-pleasing aesthetic, these shelves give reachable access for you to take what's needed.
If you wish to be more sustainable, you can use reclaimed wood panels and repaint them to look new.
Modern Small Kitchen with Shades of Grey Color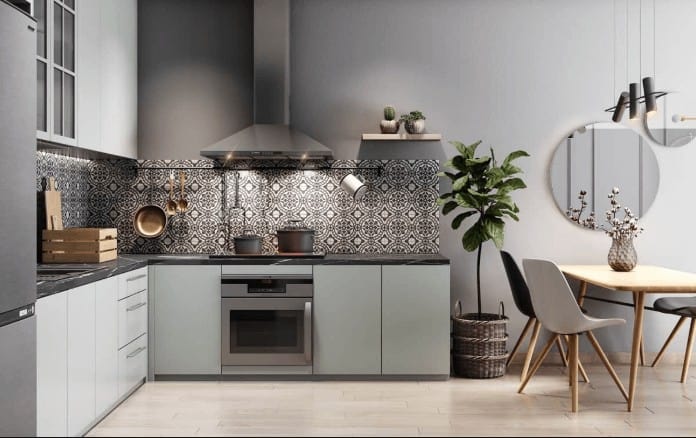 Make the most of your small kitchen area with clever ideas.
Instead of using white to highlight the cleanliness and purity, you can paint the entire kitchen with shades of grey.
Choosing grey means choosing a color that lies between white and black.
To be unique, you can utilize a Mediterranean style backsplash tile.
Its exceptional pattern will become the centerpiece of your kitchen.
Extending Cabinet to the Ceiling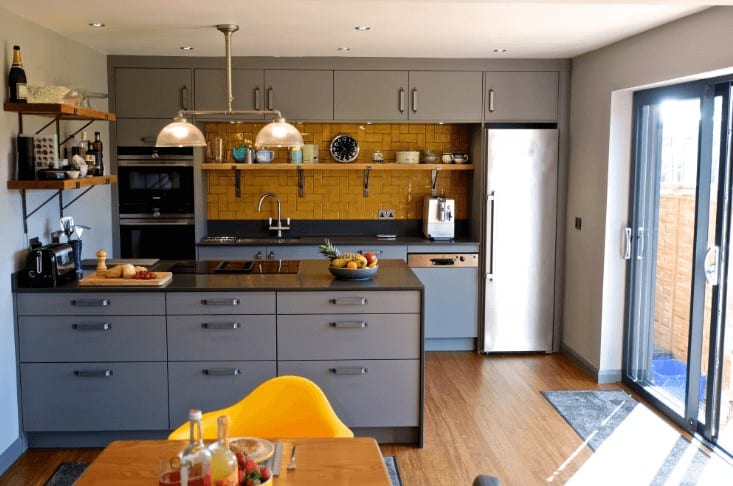 A small kitchen tells you not to waste space. Make sure that you are using all the available space and surface.
For example, when it comes to cabinetry, you can extend it all the way to the ceiling rather than leaving a gap that will be hard to clean.
Then, talking about the choice of color, a touch of vibrant color like yellow will make the kitchen more alive.
Moreover, the glass sliding door is a great pick considering it invites natural light.
L-Shape Kitchen in a Limited Space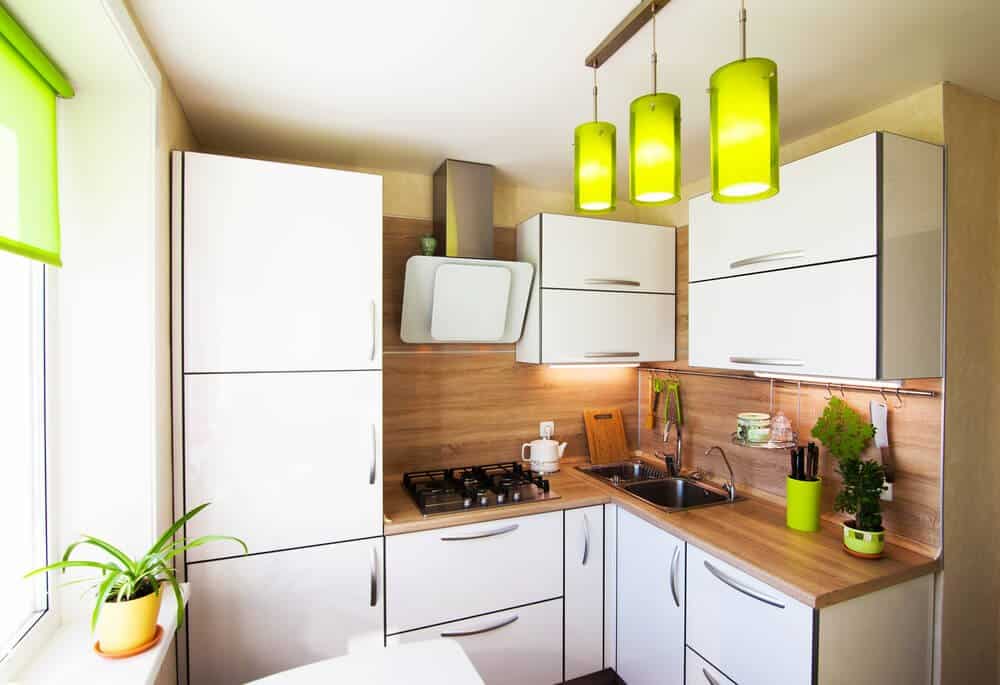 One of the obstacles a small kitchen faces is the light. Due to limited space, it tends to be dark and quickly gets dusty.
The designer has to be truly excellent in planning the layout.
This idea shows you how the window is directed to bring light to the working region where the stoves and the sink are.
If that is not enough, you can add mounted light under the upper cabinet for additional lighting.
Moreover, the L-shape also makes it easier for you to move around the kitchen.
Going Dark with Galley Style Kitchen
This galley style kitchen allows you to have all the needed appliances and storage in one straightway.
Starting from the window on the corner, which supplies the light and fresh breeze, you can reach for the ceiling height cabinet and the fridge.
Moving closer, you can see that the floating shelves are installed to avoid crampedness.
The open style shelves make the kitchen slightly more open.
In the end, a small kitchen shouldn't limit you from being creative and make the most of the space. From our list, which idea inspires you the most?