Don Pedro Brooklyn is reader-supported. When you buy through links on our site, we may earn an affiliate commission. Learn More
15 Cozy & Beautiful Rug Ideas for Basement Floors
Rugs are a great way to cover the cold basement floors. They add a soft and cozy base while making it easier to perfectly level the uneven surface. Even though choosing a rug for the basement floors seems quite easy – well, the fact is that there are a few considerations to take care of.
Basement floors are mostly exposed to moisture which gives them a reason to easily grow mold and mildew. Thus, material and fabric is the number one aspect to consider when picking a perfect rug for the basement floors. In alignment, easy maintenance and cleanability are important characteristics that a basement rug must possess. Hence, to help you pick that perfect piece of rug, here is a list of 15 ideas to have an eye on!
Gray Broken Lattice Area Rug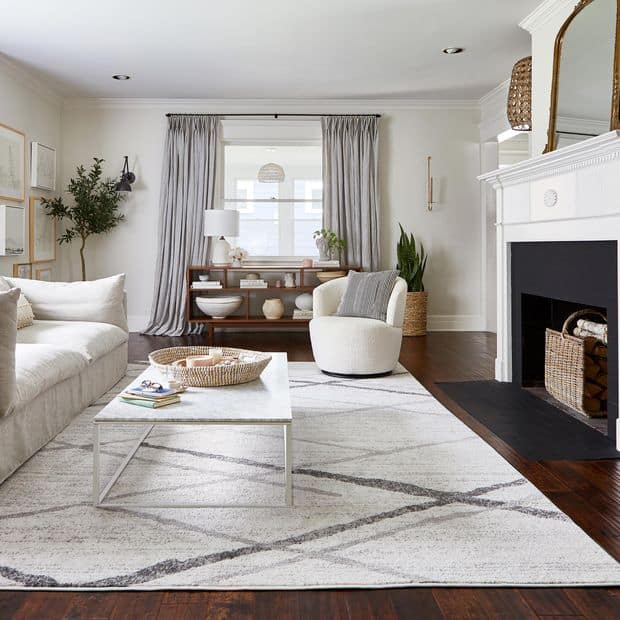 Made of 100% polypropylene, this machine-made rug tends to add a dash of contemporary look while elevating the appearance. This rug is a great option for high-traffic rooms such as living and dining rooms, hallways, and kitchens.
This gray rug is more 'breathable' and doesn't retain moisture that easily – hence, making a great statement on the basement floors. Lastly, this is a pet-friendly rug – so it's time to welcome your pets on board!
Outdoor Border Rug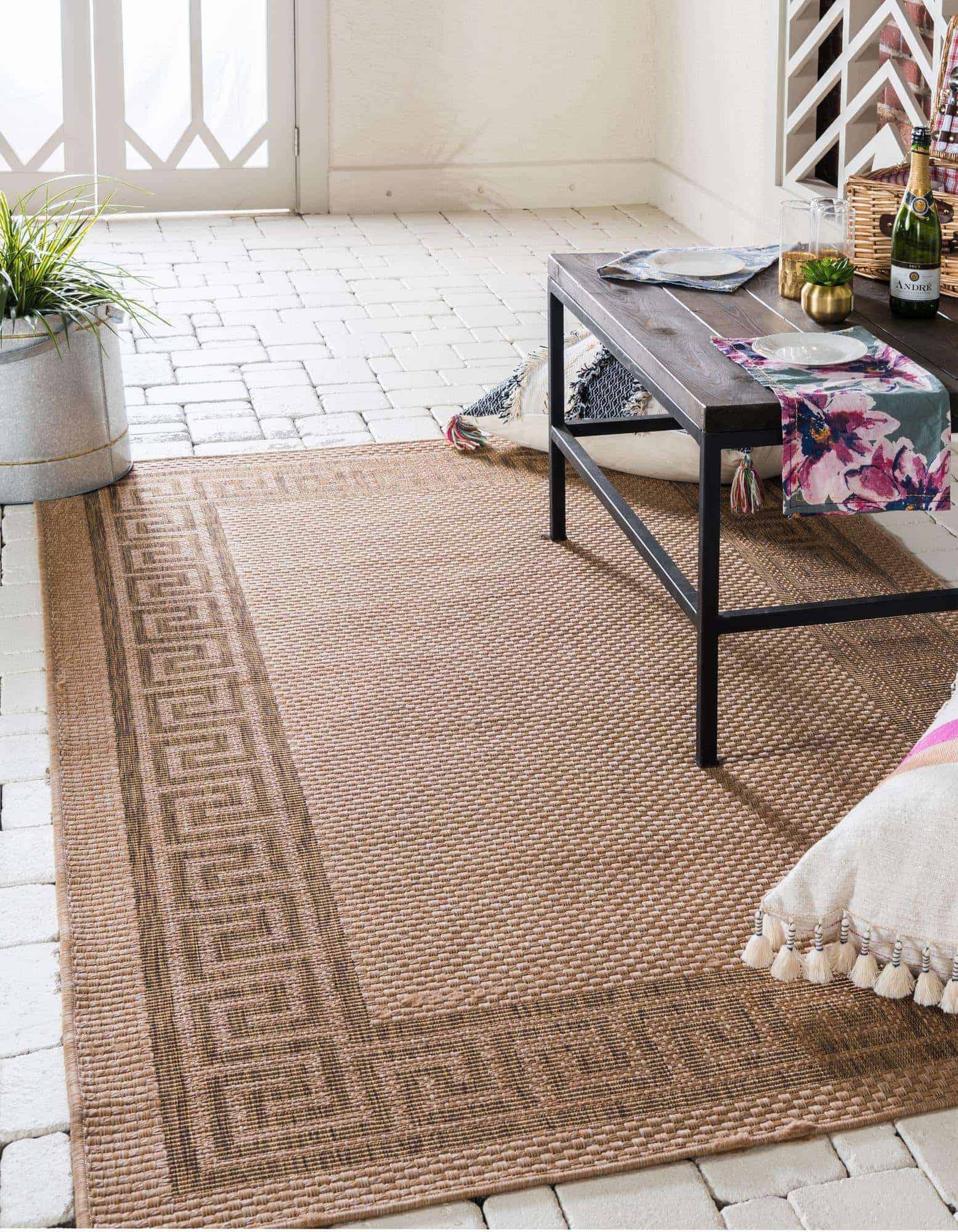 Don't hold back from incorporating an outdoor rug on your basement floors. These rugs are designed and constructed to retain moisture while avoiding the risk of growing mold or mildew. Thus, this polypropylene rug will help in coping up with the high damp atmosphere.
Furthermore, it has a pile height of one-sixth of an inch that readily helps in releasing moisture. Also, don't ignore the deep brown color of the rug that will also hide any food stains or dirt.
Neyland Area Rug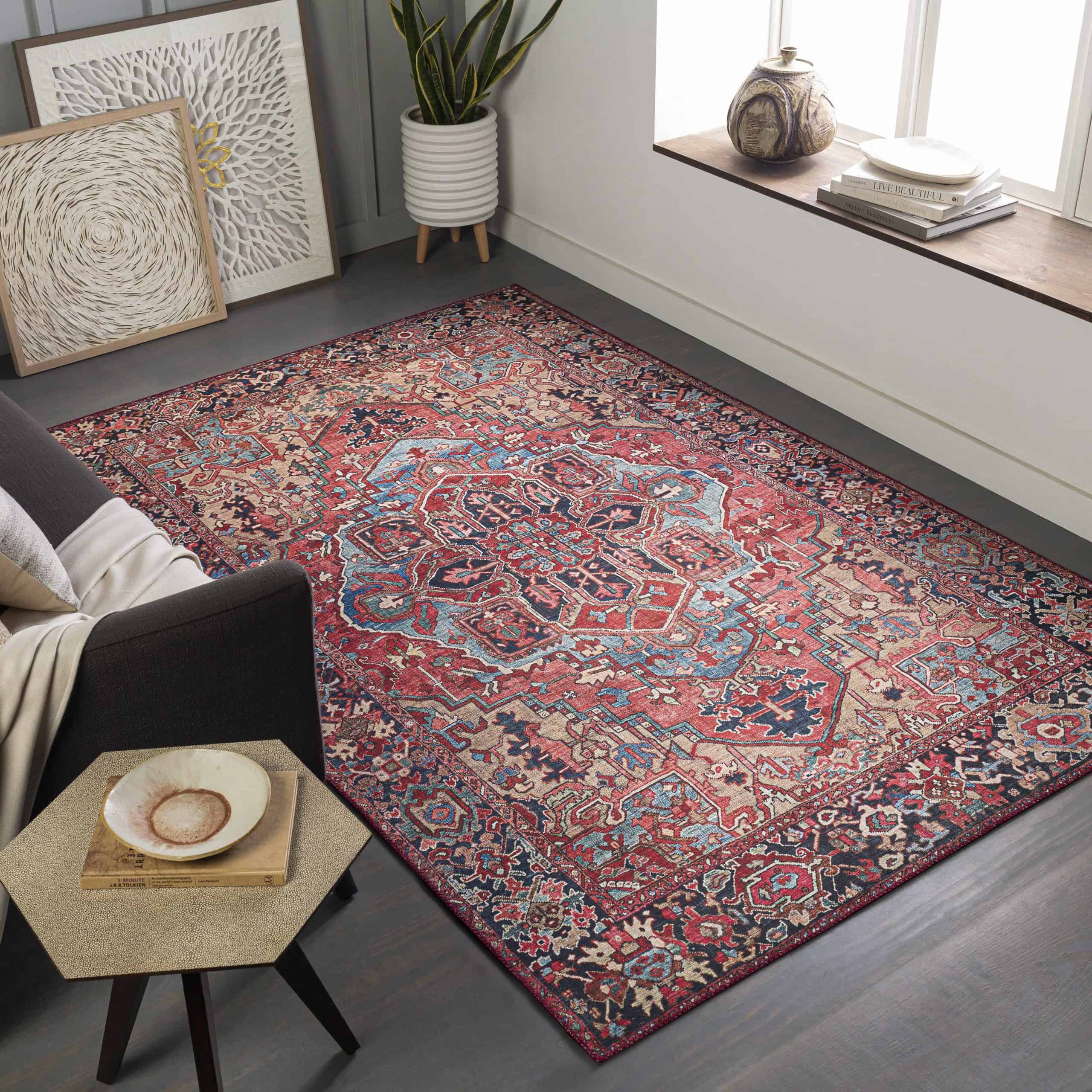 This is one of the best basement area rugs that you can have an eye on. Firstly, its appealing vintage looks tend to exhibit a homely vibe to your basement floor. And secondly, it has a no pile base to help easily release moisture.
Made of 100% polyester, this machine woven rug showcases a wide array of beautiful ivory, beige, dark blue, green, and red. Furthermore, if you have a Bohemian, Contemporary, or Traditional – having this rug is a plus point!
Charcoal Washable Rug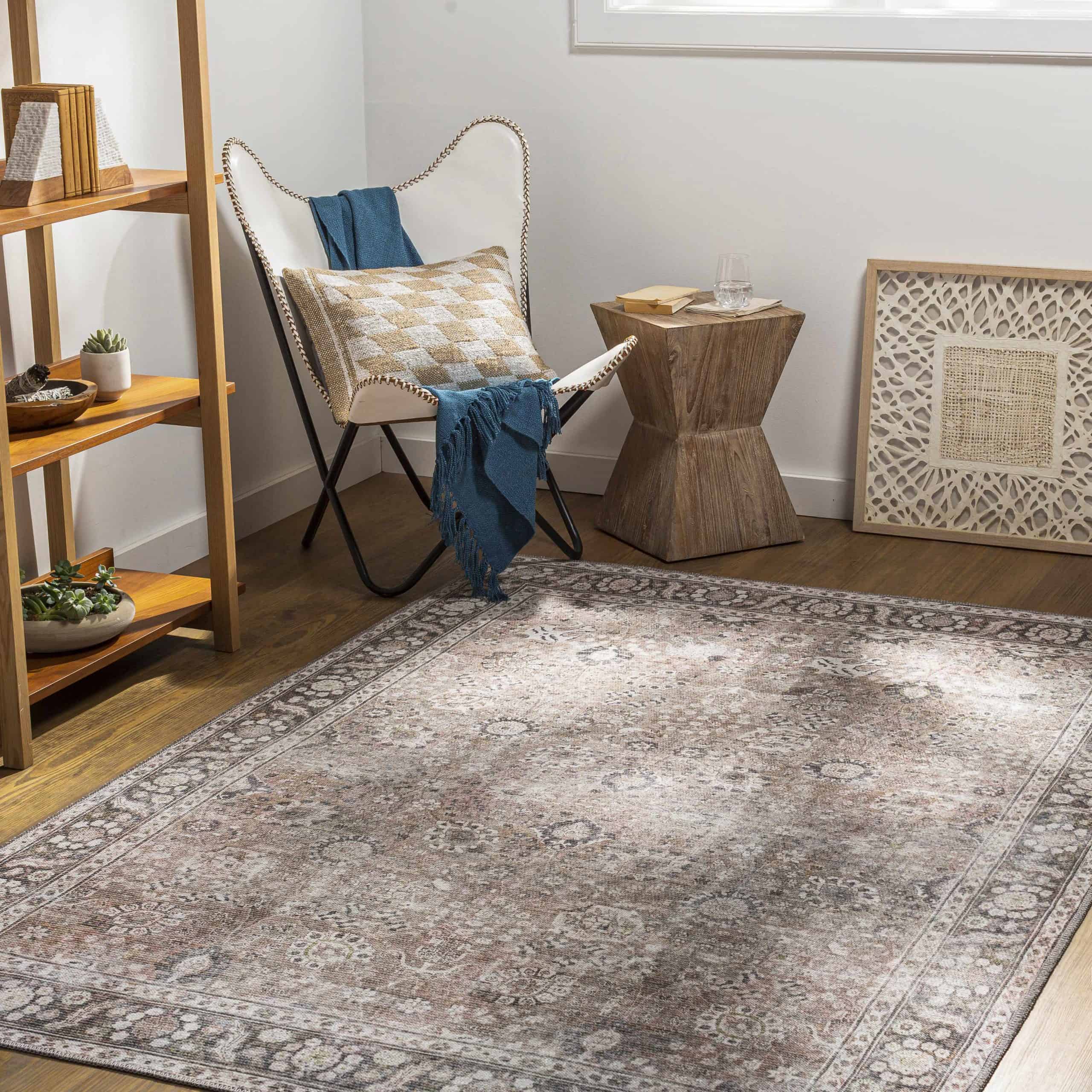 It's important to ensure that your basement rug is easy to maintain, easy to clean, and can be washed at home. And one such instance is this charcoal washable rug that doesn't attract moisture and mold – rather, restricts from attracting it.
This machine woven rug is made of 70% chenille-polyester and 30% cotton and can be used in high-traffic rooms. Moreover, the low pile height will further avoid the risk of dampness.
Outdoor Stripe Multicolor Rug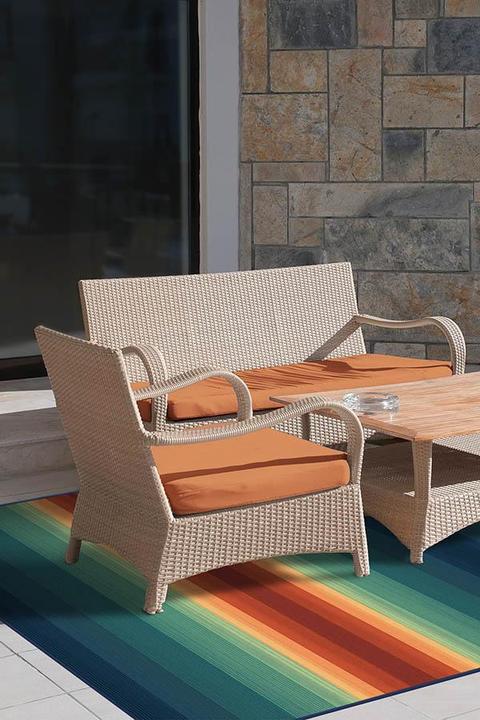 Featuring a wide array of festive shades like poppy red, pistachio green, sunburst yellow, ocean blue, and teal blue – this fun-loving rug is a great way to brighten and enlighten the mood of your dark and dingy basement.
This outdoor rug is machine washable and extremely durable. Moreover, this rug is built to resist stain, food, and water spills and doesn't easily fade. Lastly, it will also resist any sort of mold or mildew growth.
Blue Solid Braided Rug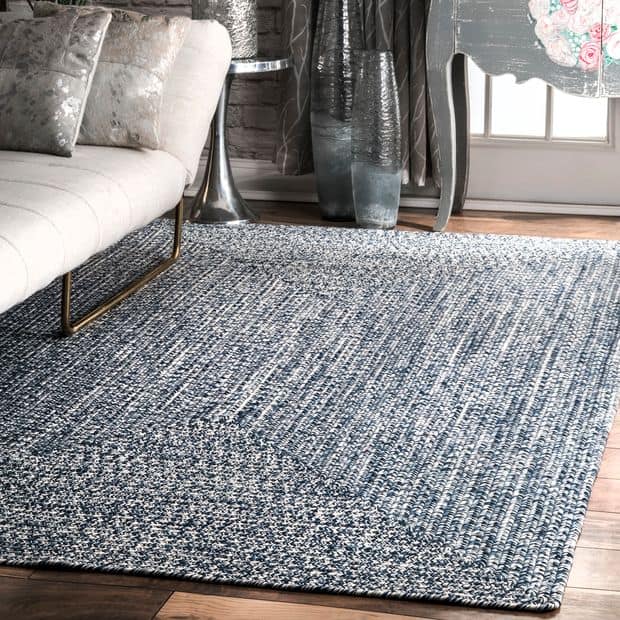 This is an outdoor rug braided from durable and strong materials to make a perfect statement on the basement floors. The 100% polypropylene material offers fade resistance as well as mold or mildew resistance.
Moreover, if you have pets and kids at home – this rug will totally play phenomenal! Yes, you can easily clean it and maintain it without much of a hassle.
Georgia Rug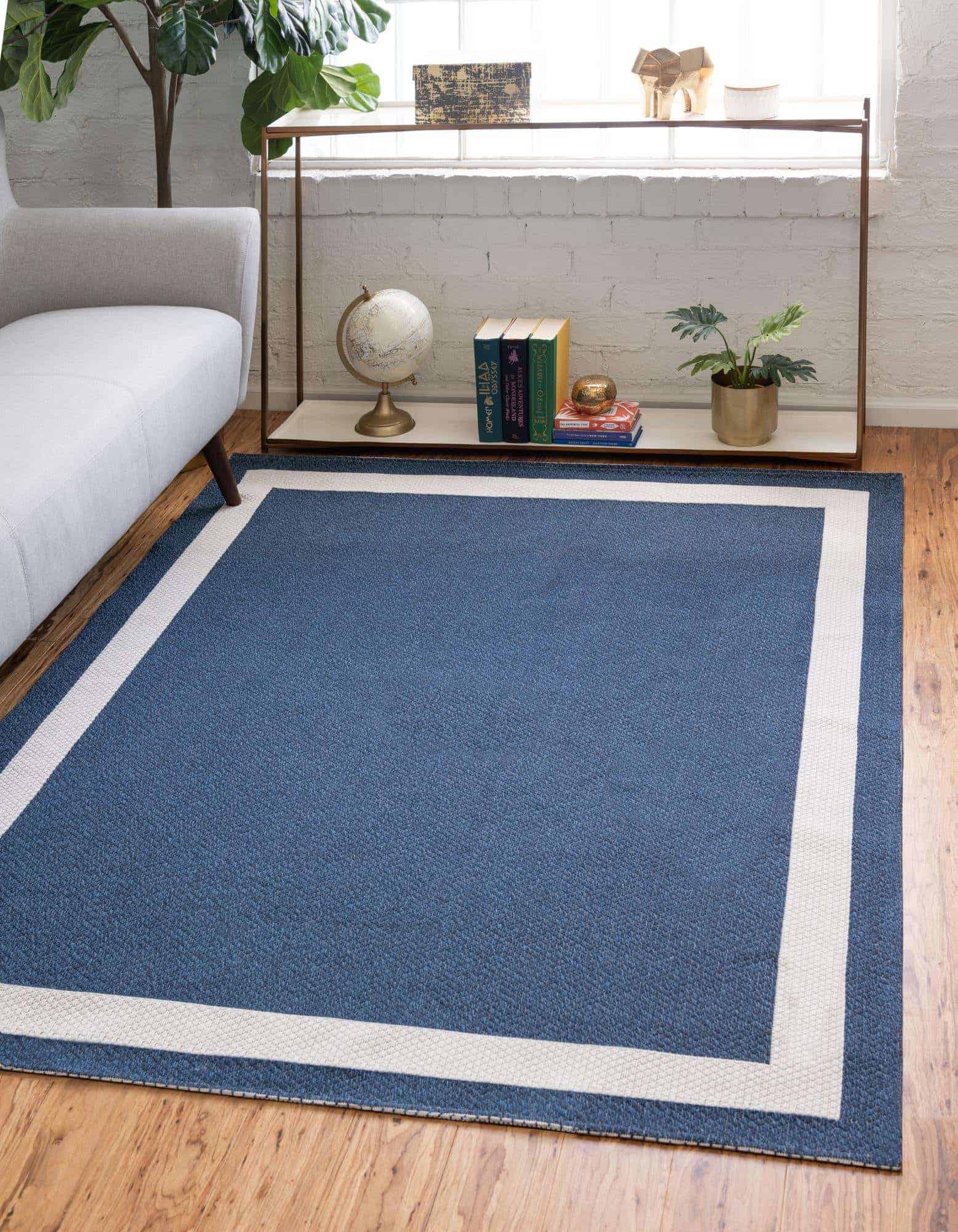 This navy blue rug is made of 100% recycled cotton – making a great material and fabric to be incorporated in the basement floors. It has a very low pile height of one-sixth of an inch that makes it a necessity in the high traffic and moisture vulnerable spaces in the home.
Additionally, this contemporary, coastal, and modern-style rug has a timeless appeal. And it will never go out of style!
Buffalo Plaid Black and White Rug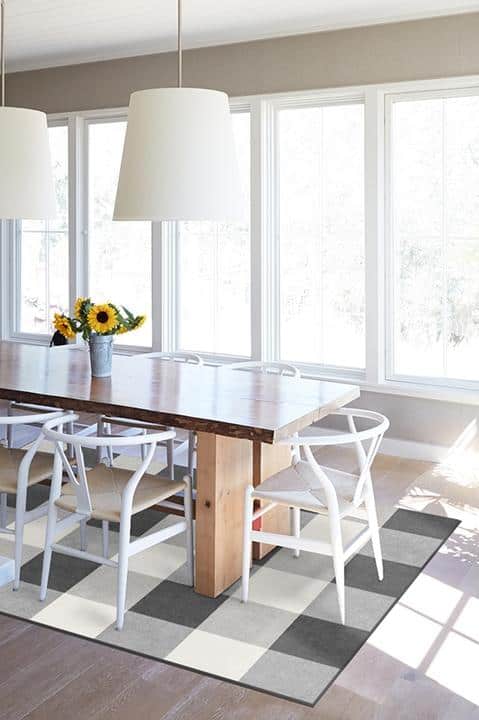 Amalgamating the rustic with Farmhouse, this checkered Buffalo Plaid rug makes an excellent choice for basement floors. It's made from polyester with a polyurethane water-resistant barrier to strongly retain unnecessary moisture in the surrounding.
This lightweight and low-pile rug are extremely durable, soft, and comfortable. Yes, you can walk barefoot and also easily clean with a vacuum or in a machine. Besides the basement, this rug is ideal for most other functions in your home – living room, dining room, hallway, kitchen, and bedroom.
Spilsby Area Rug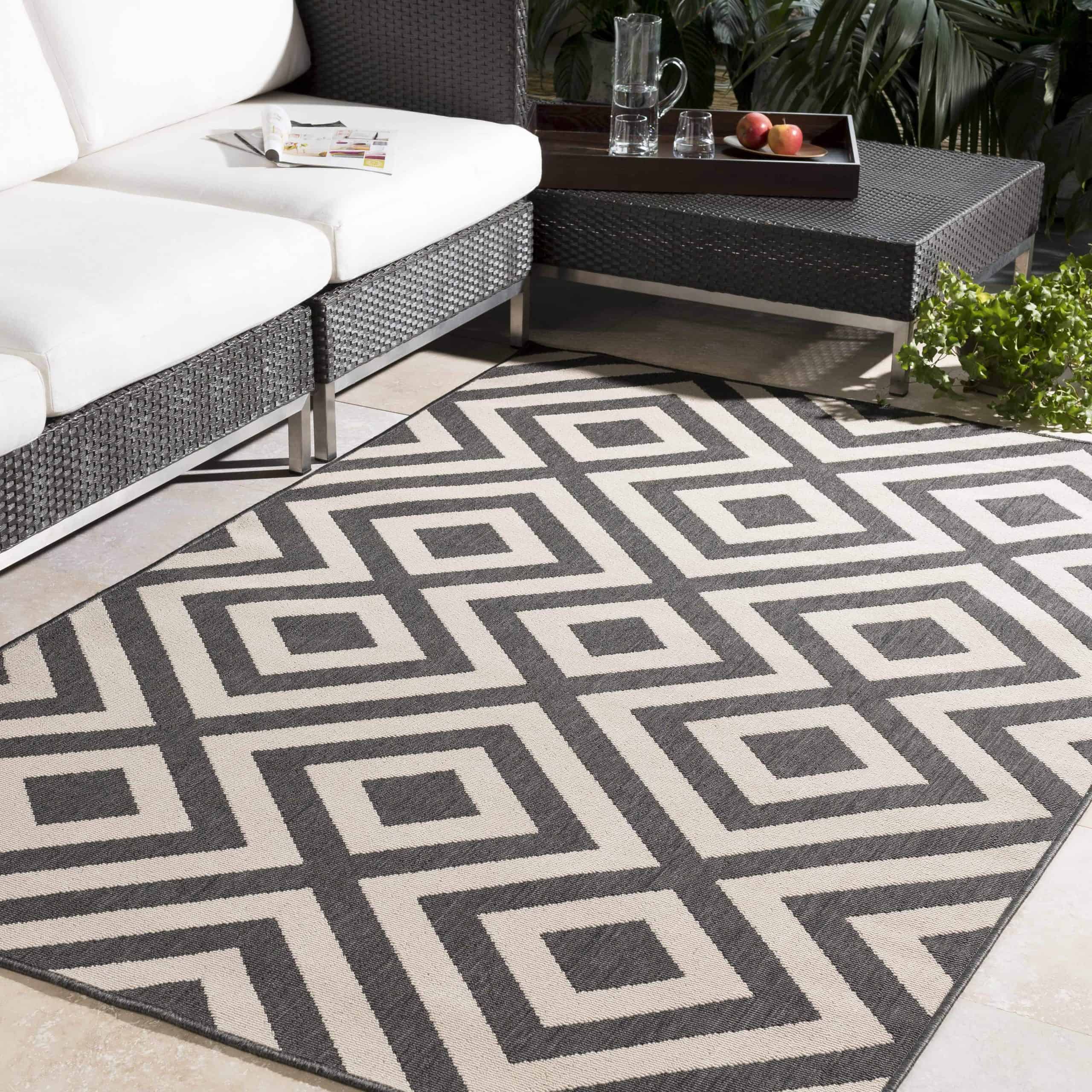 Made of 100% olefin, this synthetic rug is machine woven to offer an extremely durable and strong base. It has a very low pile height and can be used in very high traffic areas of your home such as the living and dining room, and hallways.
This high-quality rug has a contemporary look – thus, will never go out of style and trend! Lastly, this rug can be used for outdoor purposes as well.
Gray Distressed Area Rug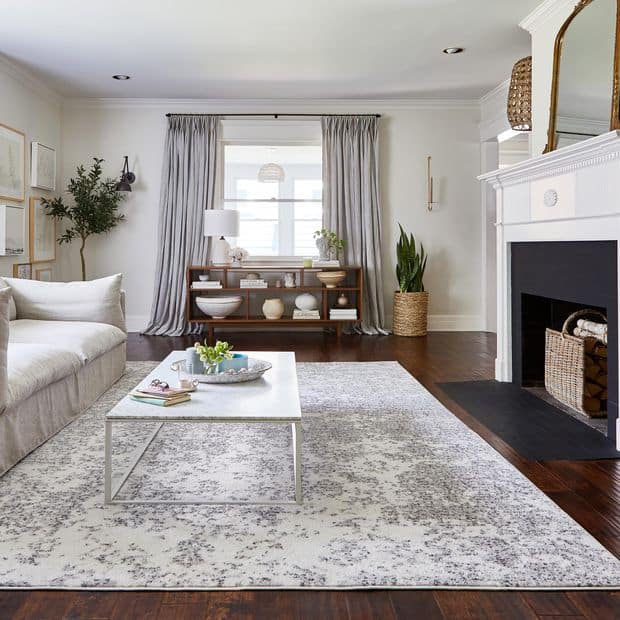 Introducing a calming touch to the basement, this distressed gray rug is machine-made with 100% polypropylene. With a medium-sized pile, this rug is bound to add a cozy, warm, and comfortable feel to your basement space.
Even though the rug has a significant pile height, it tends to retain moisture and avoid any risk of mold or mildew growth. Also, it's important to choose synthetic padding for the rugs or carpets.
Non-Slip Checkered Area Rug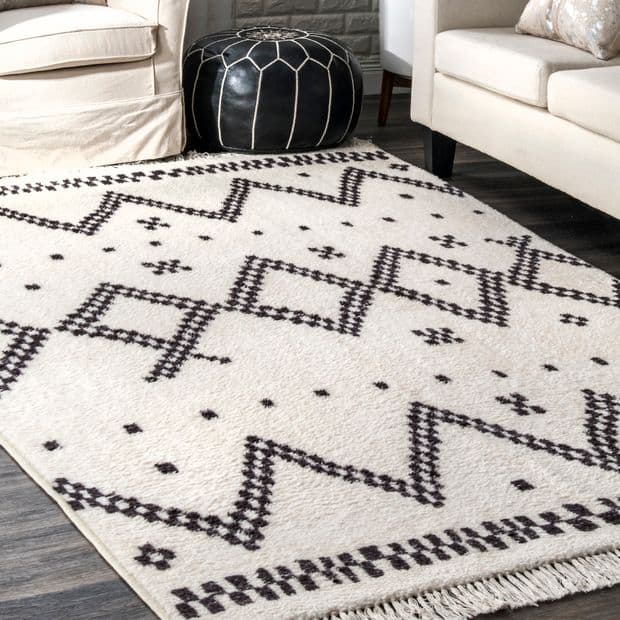 Constructed of 100% nylon, this off-white machine-made rug is absolutely tranquilizing and blissful. This rug is extremely durable, stain-resistant, fade-resistant, and mold-resistant – hence, proving to be an ideal option for dark and dingy basements.
Moreover, this rug features a strong non-slip backing to offer an extra reliable grip. So, don't give a second thought and let this high pile, cozy rug splash a whimsical vibe in your basement.
Damali Charcoal Rug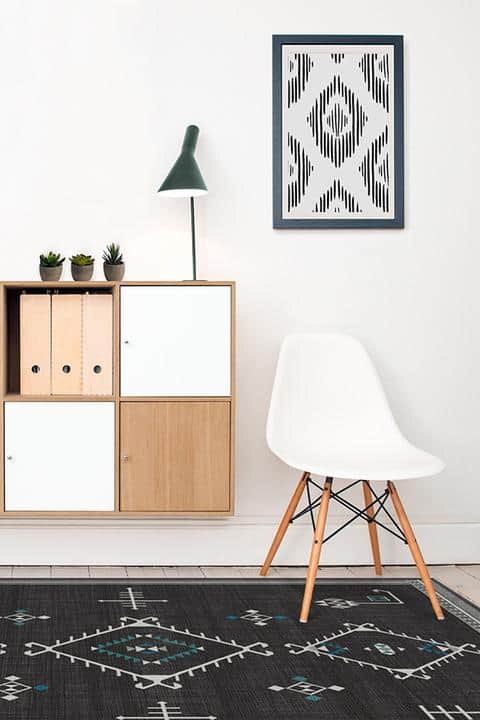 This large area rug for the basement showcases a beautiful traditional design with a notable trio of diamonds in strong hues. With a strong modern and minimalistic appeal, this dark-hued rug makes an efficient statement in the basement and similar spaces.
Yes, it tends to strongly retain moisture as it's made from polyester with a polyurethane water-resistant barrier. Its longevity and durability characteristics make this rug a must-have at home!
Creamy Shaggy Rug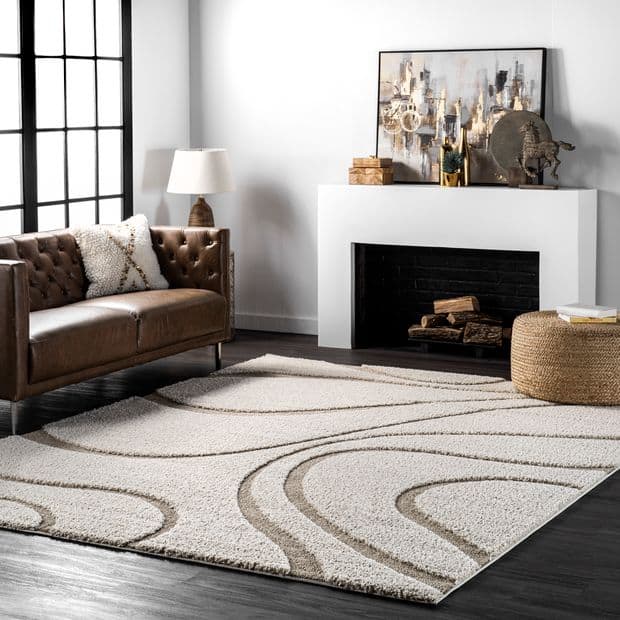 If you crave a cozy and warm appeal, it's important that you pick a shag rug made of 100% synthetics. It offers the best of both worlds – comfort, luxury, and resistance against the growth of mold and mildew.
You can consider walking barefoot on the rug even during cold and chilly months. Don't worry – this high pile rug will transform your home into a serene bliss.
Zarin Outdoor Rug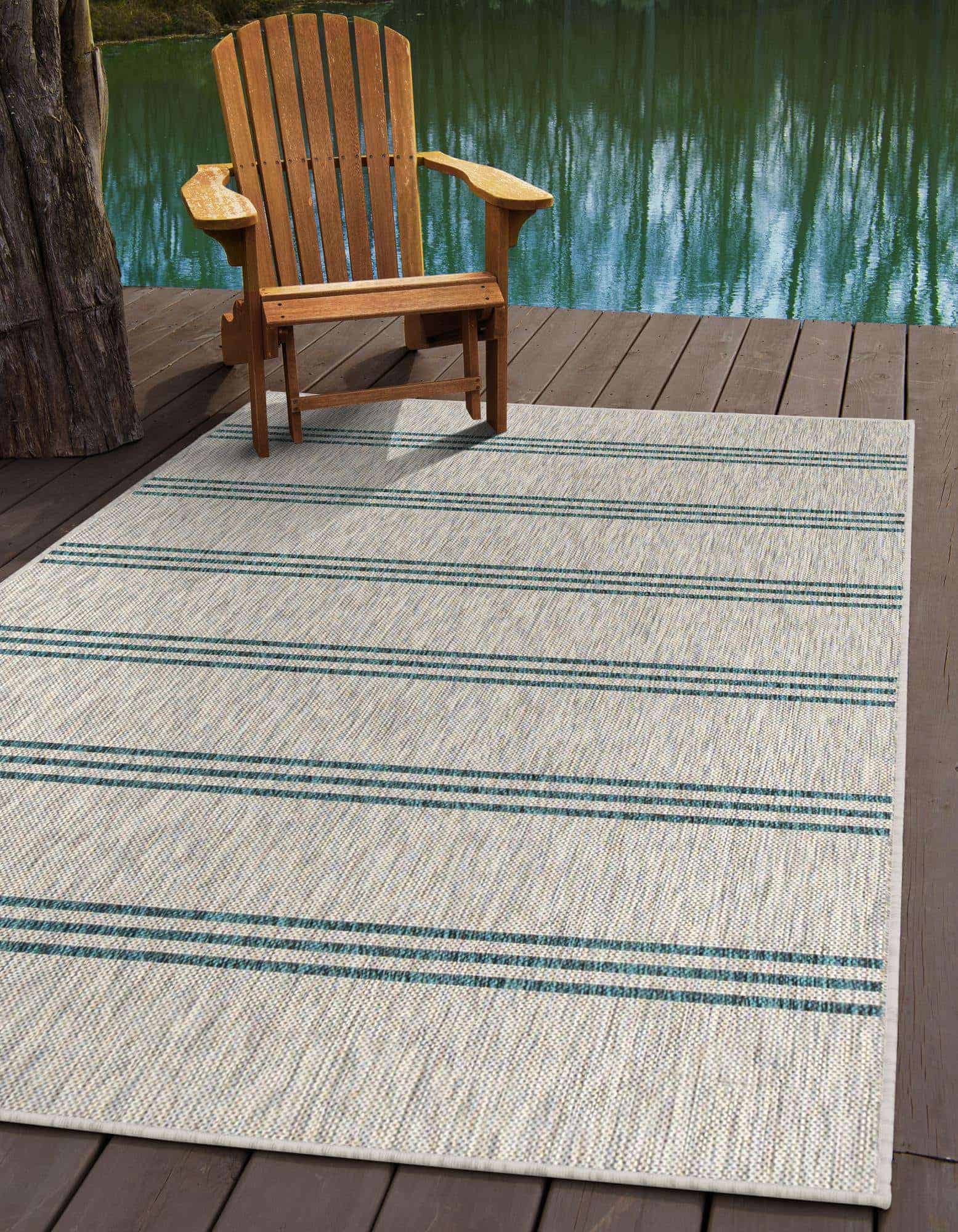 This striped outdoor rug proves to be a great substitution for your basements and other moisture-prone areas. Made of 100% polypropylene, this rug has a very low pile height to easily retain moisture and avoid any growth of mold in damp basement conditions.
This rug displays a classical design to act as one solution for all. Yes, whether it's the contemporary, coastal, or modern interior design style – this rug will absolutely play seamlessly!
Washable Contemporary Area Rug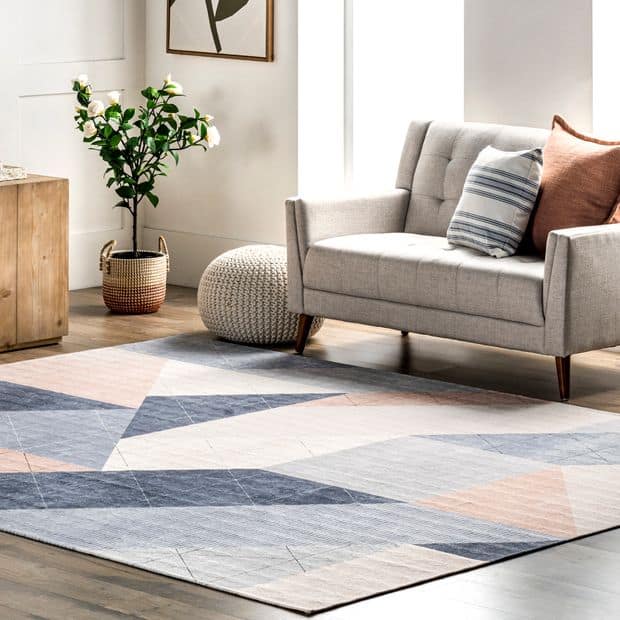 Can I say, this is absolutely one of the best basement rugs to have? Well, not only does it exhibit a classy and timeless appeal but also offers great durability, strength, longevity, and mold-resistance qualities.
Made from 84% polyester, 13% viscose, and 3% olefin – the rug is composed of durable fibers that give it a deep textural look. Moreover, it features a breathable porous base and can be easily washed at home.
Summing It Up
When choosing the best basement area rug, you must always look for synthetic fibers as they are breathable and can easily retain moisture. Materials like nylon, olefin, polypropylene, and polyester must be embraced. On the other hand, natural fabrics like jute, cotton, and seagrass must be ignored.
So, now that we have discussed a wide range of best basement rugs – are you excited to incorporate any?