Don Pedro Brooklyn is reader-supported. When you buy through links on our site, we may earn an affiliate commission. Learn More
17 Cozy Farmhouse Rug Ideas for 2023
Taking cues of warmth and comfort from Rustic, and crisp and clean lines from Minimalism, Farmhouse style is all about practicality, vintage, and everything charming. This style truly admires the mixing and matching of traditional and antique decor pieces that have been collected over the years and not a plethora of new and sleek Ikea furniture.
In addition to vintage furniture, signage boards, rustic clocks, and woven wicker baskets are the absolutely charming rugs that resemble a rustic retreat and a countryside feel. Yes! These farmhouse rugs will add a cozy factor to your space while uniting the entire perspective into one definite picture! So, have a look at these 17 rugs for farmhouse decor that will surely inject a barn-style feel!
Native Collage Area Rug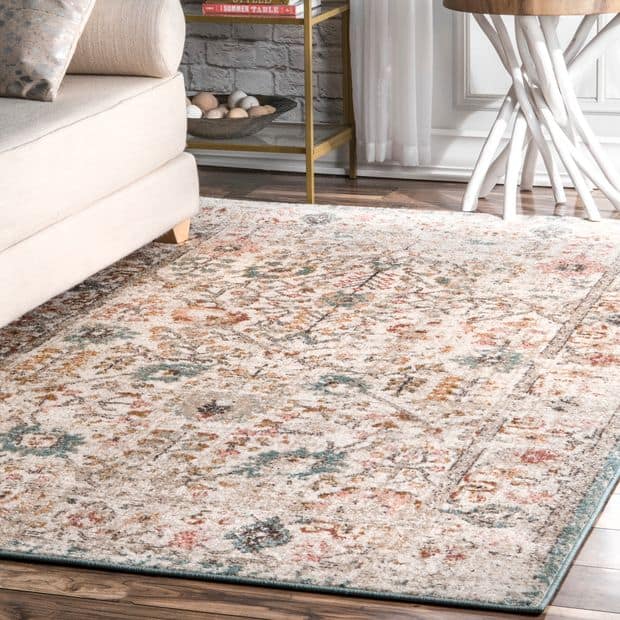 Before you choose a farmhouse rug for your home, ensure to avoid a bright, multi-colored one or something with pops of hues protruding out. Rather pick a vintage or a faded one that will flow smoothly in your home. After all, farmhouse style is all about that authentic countryside feel!
This vintage rug has the solution for your farmhouse setup! Featuring a faded colorful pattern, it is bound to transform your home into a perfect barn oasis.
Verena Sapphire Rug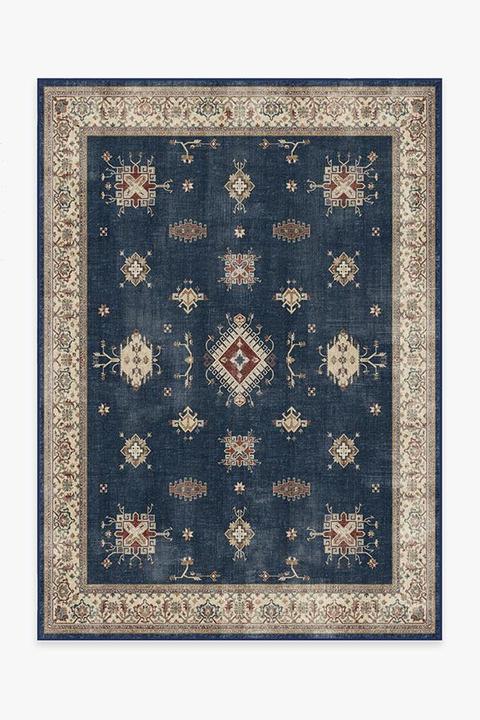 Isn't this vintage rug totally bliss? The bold blue hue and ivory border creates a stunning farmhouse appeal that balances with the existing warm color palette of your home. So, in case you want to blend traditional Persian with modern – this rug is a must-try!
Furthermore, this rug is quite easy to maintain and can be washed at home itself. With a low pile feature – you can use this rug in high traffic areas such as the hallways, living rooms and dining rooms.
Moroccan Shag Rug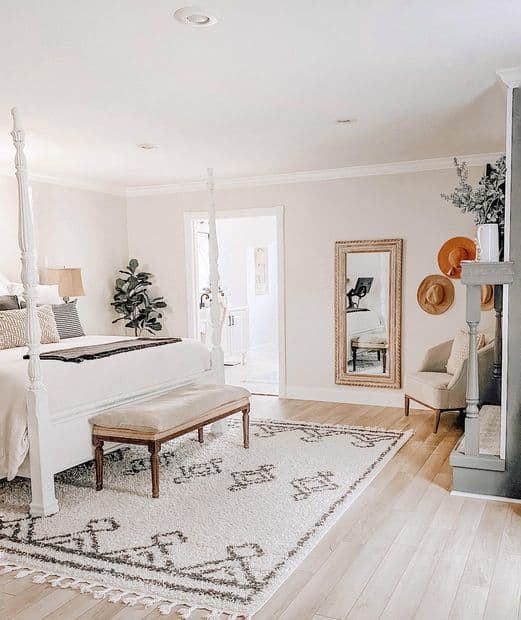 This soft, cozy, and comfortable shag farmhouse rug will transform your home into an absolutely blissful realm that is more inviting than ever. It exhibits a pure welcoming touch with a sense of warmth that will rather grab the attention of your guests and family!
It's not necessary that you always have to pick a faded option for a farmhouse backdrop. Sometimes, a neutral-toned shag rug with tasseled ends is what you need. Have a look at this versatile rug that is designed to offer a pet-friendly environment!
Round Woven Jute Rug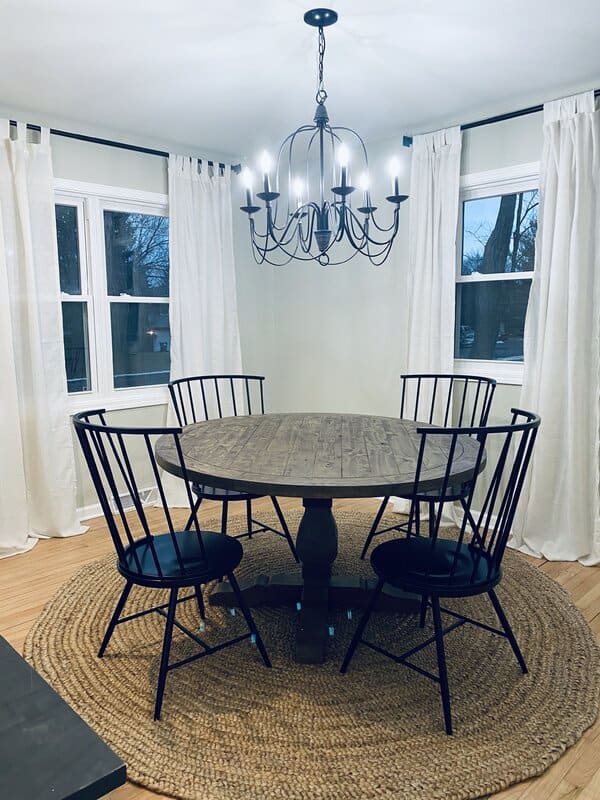 Undoubtedly, the jute and sisal rugs play timeless and versatile for a variety of interior design styles. One such classic example is the Modern Farmhouse style where this rug is bound to add a natural and organic vibe!
Don't forget – you're also helping the planet heal by introducing this environmentally friendly material that is durable, strong, and equally long-lasting! Although it is not as soft as shag or linen rugs – it's still good to go for making you feel comfortable even in the high traffic areas.
Gray Distressed Mist Area Rug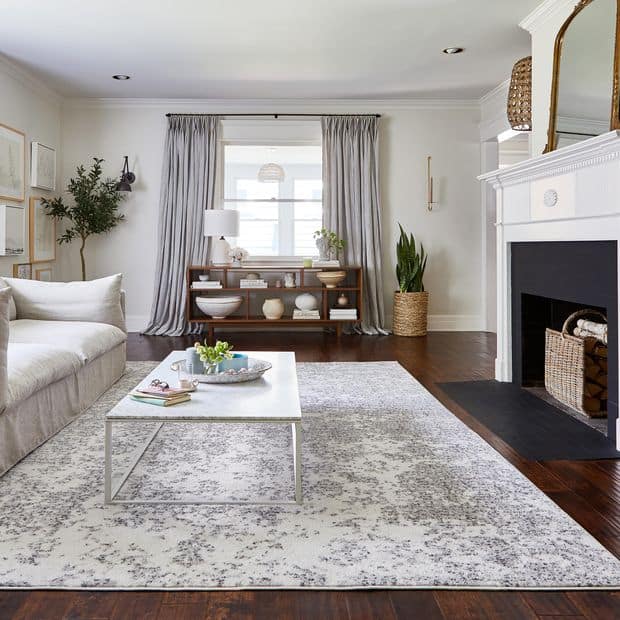 Bring a calm and tranquilizing setback to your home with this gray distressed mist area rug that truly ties your farmhouse neutral color scheme with rustic furniture. The vintage distressed texture and soothing gray color scheme adds depth and a dynamic character to the hardwood floors of your room.
Furthermore, this authentic soft rug is quite versatile and can be used in most subtle interior design styles. You can purchase this rug in various sizes and shapes to seamlessly fit in that room!
Melange Tiles Area Rug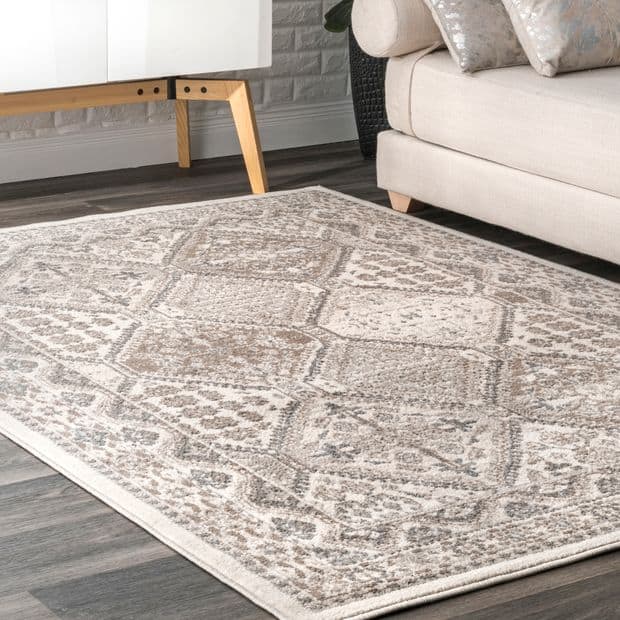 Another example of a great modern farmhouse rug includes the classical and timeless melange tiles area rug that beautifully blends the farmhouse vibe with neutral tones of beige to create a phenomenal experience. With intriguing patterns and textures, this rug will add a flair of style and warmth.
This carefully designed farmhouse rug has the appearance of an exquisite heirloom at a very affordable price. It also promises a soft texture underfoot that is quite suitable for busy and high-traffic areas.
Chindi Jute Rug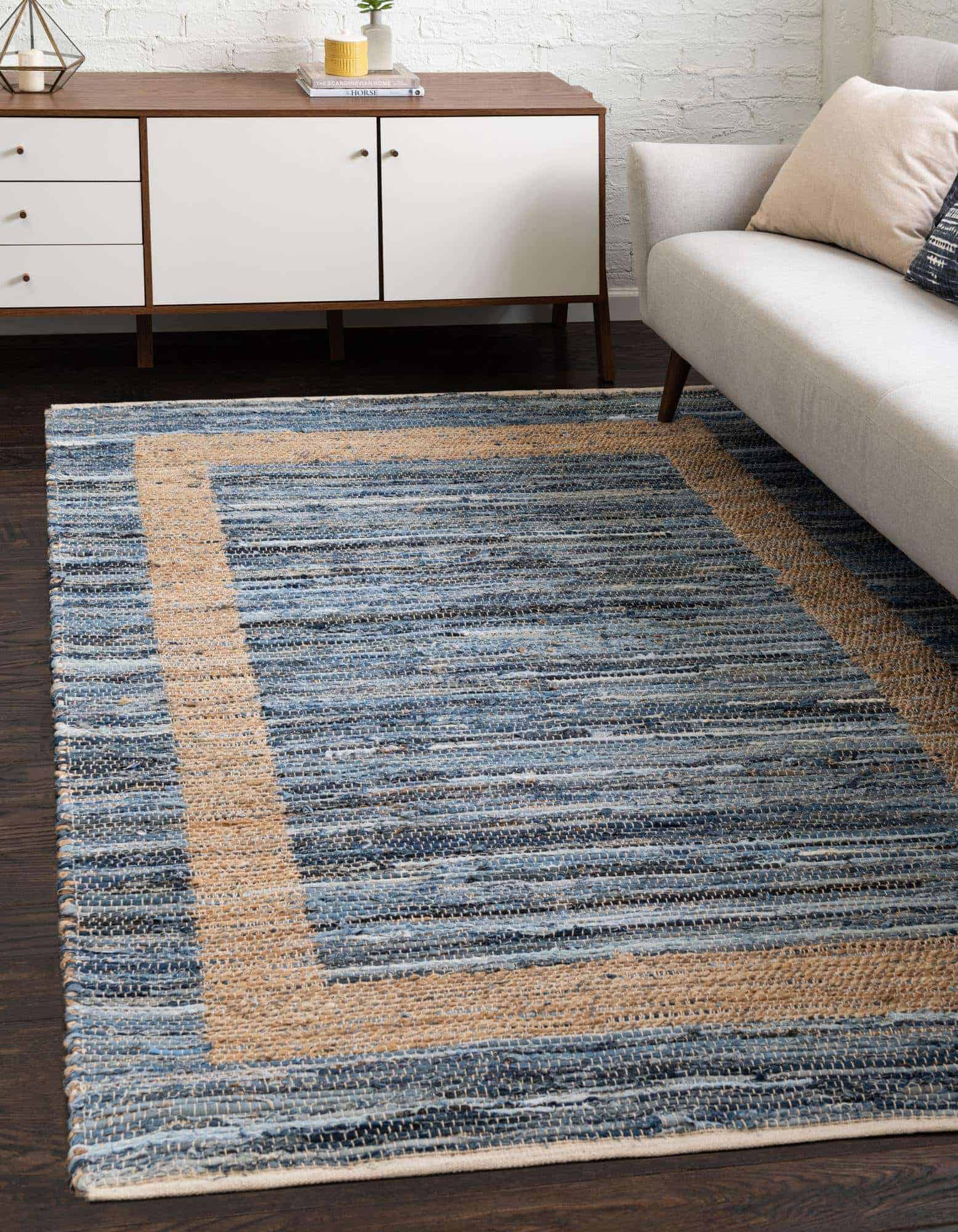 This handwoven jute rustic farmhouse rug feels soft and comfortable with its utmost exotic charm. Made of 40% jute and 60% denim cotton – you would be glad to know that this rug is quite easy to maintain and can be used in high-traffic areas such as the entryways and living rooms.
To complement the warmth of your farmhouse backdrop, this beautiful natural rug will add a perfect amount of texture to those hardwood floors or wall-to-wall carpeting.
Seagrass Herringbone Area Rug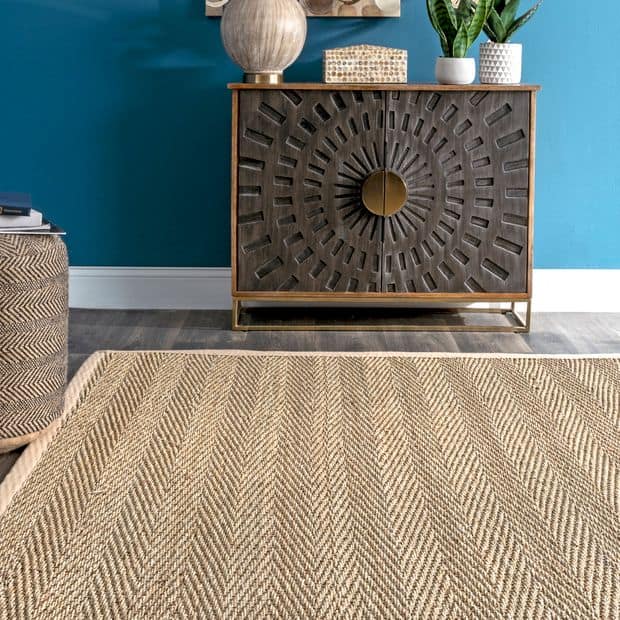 Encapsulate a sense of detail and texture in your home by embracing the fine craftsmanship of this seagrass herringbone area rug. Made from sustainable fibers, this farmhouse-style rug is bound to add a welcoming, homely, and cozy vibe.
Offering a wide array of design and placement possibilities, this sleek low pile rug is something you can never go wrong with! A perfect recommendation for high-traffic areas, there is no doubt this natural beauty fundamentally coordinates with your farmhouse backdrop!
Stone Wool Shag Rug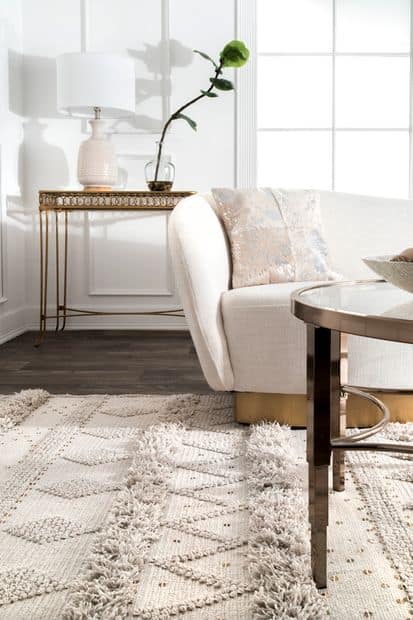 Brimming with intricate textural details, a blend of the high and low pile, tassels, and sequins – this farmhouse area rug brings a flair of warmth and comfort with an extreme funky setback to your authentic farmhouse furniture.
And you know the best part? Well, not just the living room and dining room but you can even incorporate this rug in the kids' rooms, nursery, and other bedrooms in your home with Eclectic, Bohemian, and sometimes Scandinavian touch.
Oregon Oriental Rug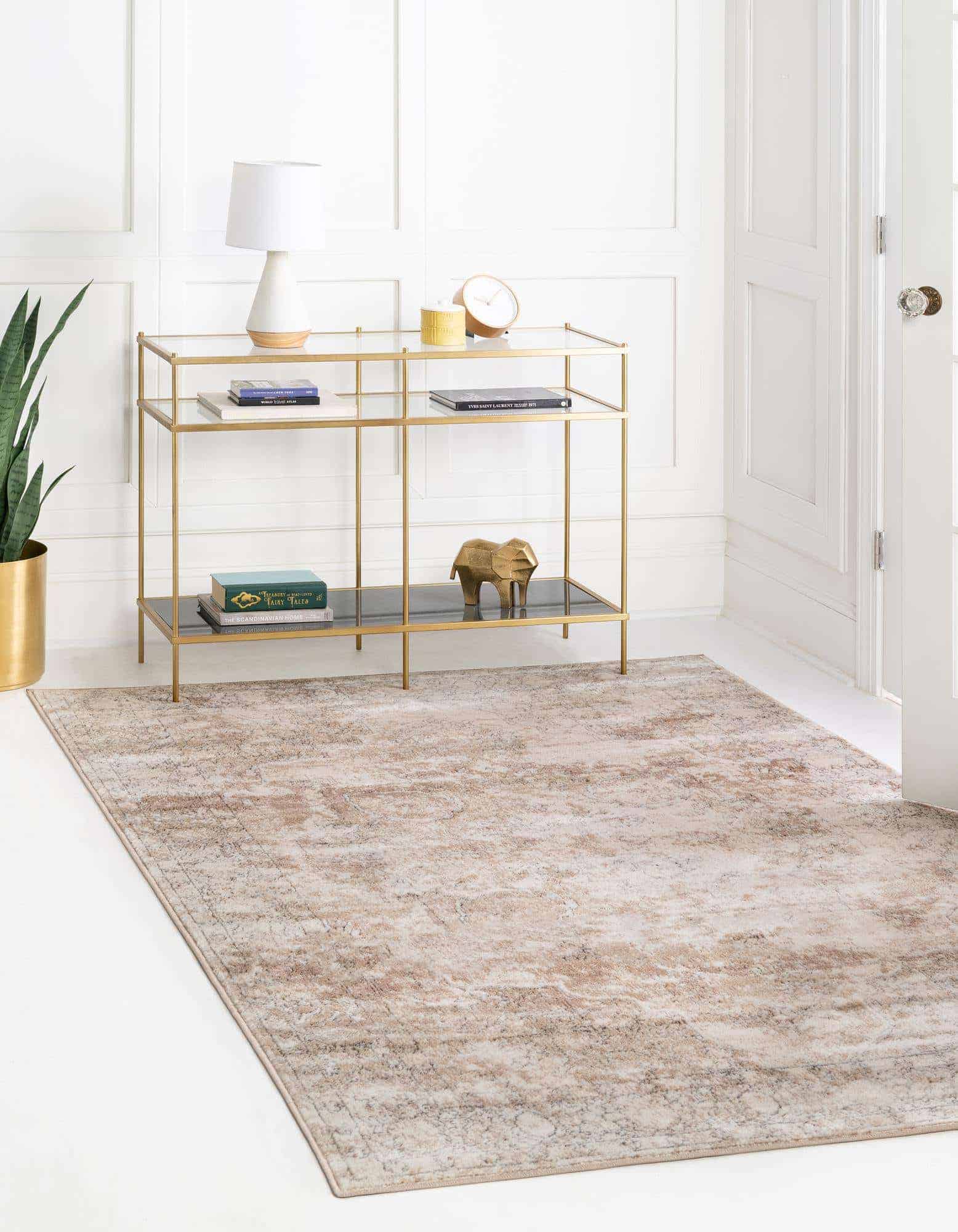 This unique oriental rug comes with a baggage of possibilities. A playful composition of beige, brown, and ivory colors in this rug can beautifully pair opposite your hardwood floors and rustic, vintage furniture.
These warmer tones have the potential to further complement your exposed brick or wooden textures. Also note that the rug has a low pile to offer you easy maintenance, easy cleanability, and an opportunity to be used in high-traffic areas.
Outdoor Lama Black Rug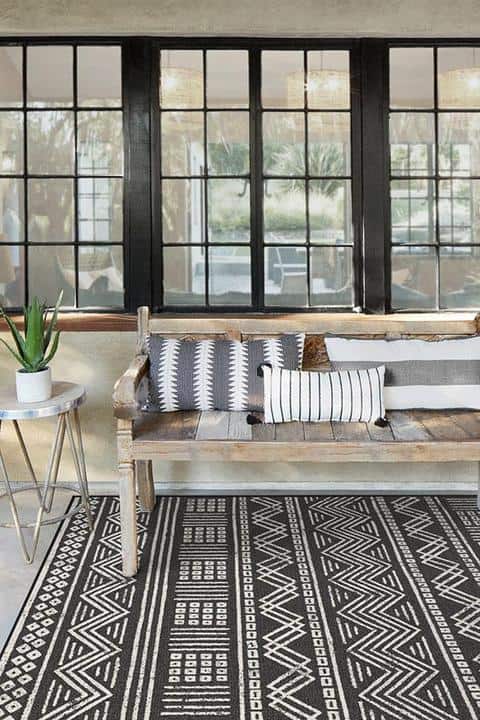 Don't limit yourself to only beige, gray, and ivory when you can also use something as bold and dramatic as black! It is true that a farmhouse-style rug is lighter, airier, and brighter – but for larger spaces, this black rug would totally complement the perspective and scale of your space.
This print is so unique that it will stand out with your lighter-toned couch and rustic furniture stand. Also, you can use it for high-traffic areas as it won't easily collect dirt and dust!
Brighella Round Rug
Add a perfect finishing touch to your farmhouse interiors with this beautifully crafted vintage rug that defines the personality of your decor. With a notable medallion and an antique border, there's no doubt you should place this rug in your common spaces.
Offering a sense of balance with neutral tones and focal imprint accent – there's something quite magical about this rug. Regardless of its utmost beauty – this low pile rug can also be used in high traffic areas while providing total comfort and warmth!
Classical Gray Rug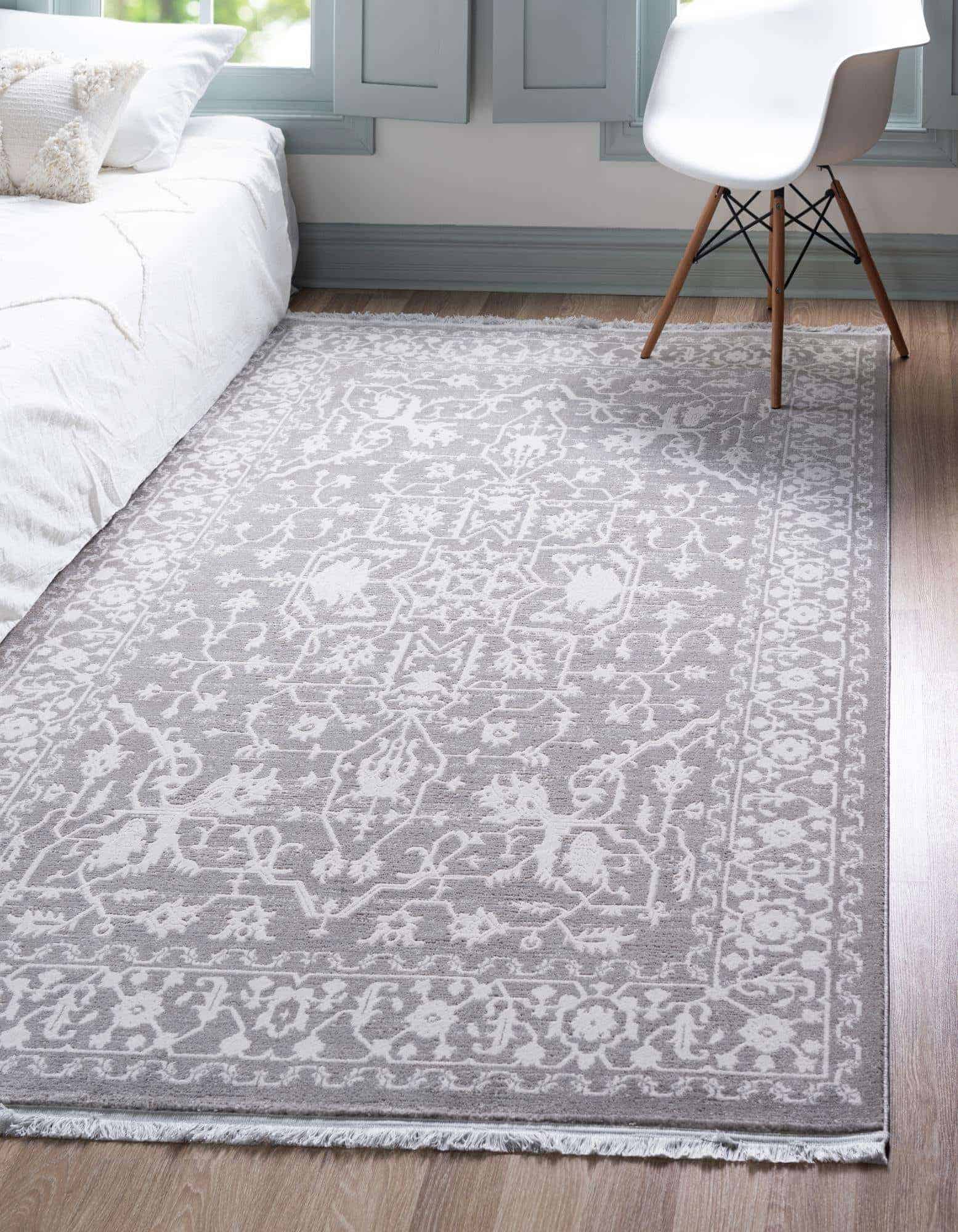 If you are looking for a classical modern rug, then this is the right option for you! Amalgamating the traditional motifs with modern gray and white hues – this rug absolutely plays flawlessly! Moreover, it is truly a conversational piece of decor that proves versatility over and over again – whether in the modern or traditional setback.
Diving further into the details, this rug will never disappoint you as it's quite durable, strong, and long-lasting. And since it is equipped with a low pile height – without any stress, you can place them in high-traffic areas.
Carved Trellis Area Rug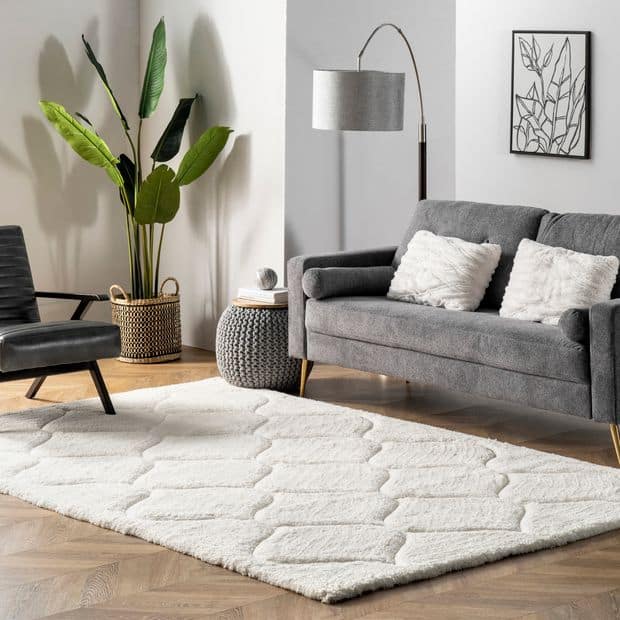 The ultra-soft and fluffy – trellis patterned rug for your farmhouse decor will bring warm and cozy vibes to your space. It perfectly complements the warm color palette and rustic furniture – therefore, leaving ample room for added texture and dimension.
This handwoven rug has a one-of-a-kind texture and extreme durability to bring a sense of joy and liveliness to every space. Moreover, it's not an overly dramatic rug so you can subtly let it play in the background!
Chevron Indoor/Outdoor Rug
The high-quality polypropylene indoor/outdoor rug is a great addition to your farmhouse interiors. It's wonderfully thick and soft – and that's why you must use it in your living rooms and bedrooms to further make them cozy and soothing.
The intriguing patterns on this rug truly play with the atmosphere in creating a barn-style vibe in the home. Furthermore, the neutral tones will help make your space feel light and airy!
Farmhouse Braided Rug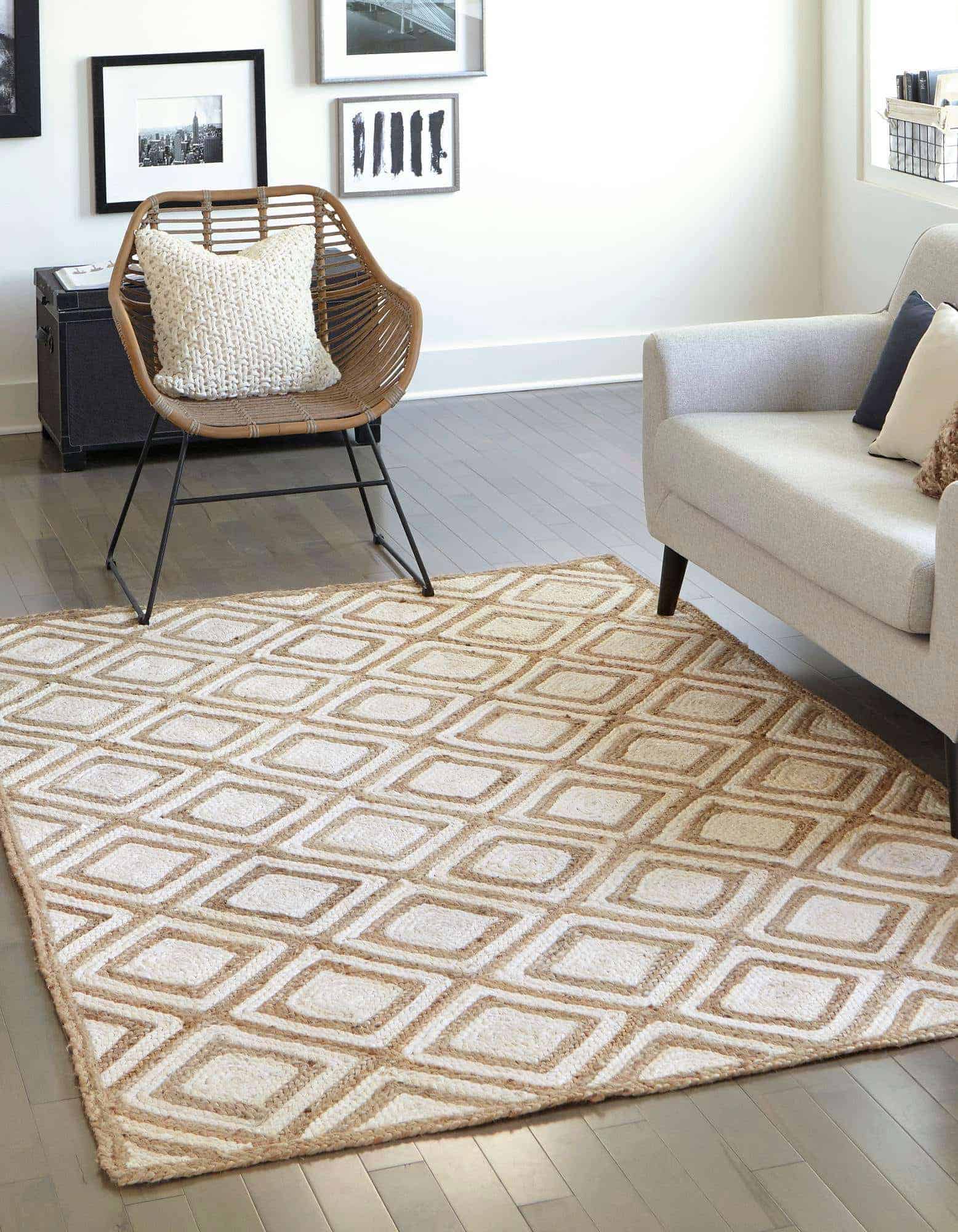 Introduce the outdoors inside by incorporating a jute braided textured rug that is equally sustainable and easy to maintain. It's simply so natural and beautiful that it will undoubtedly add an earthy appeal to your homes at all times.
Whether you have a modern approach or rustic farmhouse – place this fade and stain-resistant rug right at the focal spaces to feel ultimately delightful and refreshing! Also, don't forget the warm-toned hue of the patterns will seamlessly work with your welcoming interior palette.
Flokati Area Rug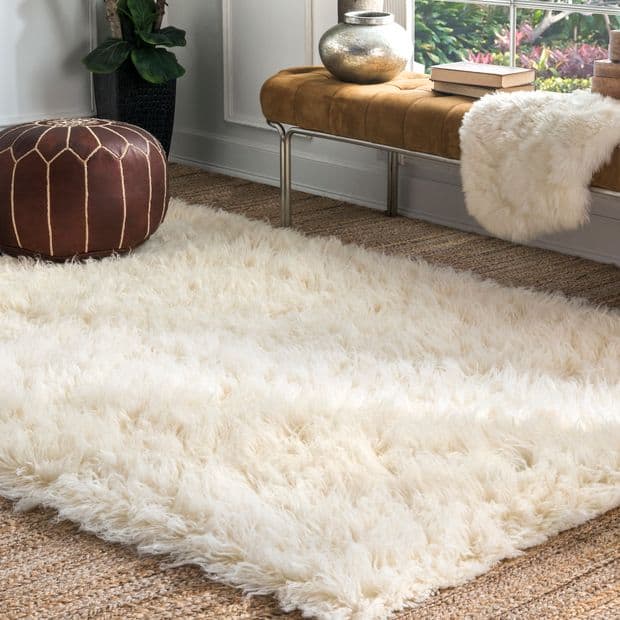 Lastly, let's think of something warmer and cozier! Yes, this extra cozy and extra fluffy area rug exhibits a pure luxurious and chic vibe. The versatility of this rug allows it to be used almost everywhere – with almost any interior design style! And that's the true beauty of it.
This rich and inviting shaggy pile plays a great backdrop to farmhouse settings! It perfectly adds that depth and dimension without compromising on aesthetics. You can further play with this rug by laying it out on a jute or sisal rug to add an extra level of comfort!
Summing it Up
Whenever you're picking a farmhouse-style rug, remember to always choose subtle and muted tones. Something bright and jazzy would totally contradict your style and make your space look messed up! So, excited to lay out that authentic farmhouse rug? Let me know your thoughts in the comments below!