Don Pedro Brooklyn is reader-supported. When you buy through links on our site, we may earn an affiliate commission. Learn More
13 Creative Couch Alternative Ideas
Large couches have been the default mode of indoor seating for far too long. Now, it's time to change things up and look for eye-catching couch alternatives to decorate our interior spaces with!
Many people are switching out their couches for alternative living room seating options, such as Ottoman poufs and hanging chairs. Large couches are also quite expensive, prompting the masses to search for affordable sofa alternatives.
So, if you're looking for ways to decorate your bedroom or living room without a sofa, look no further. Below is a list of excellent, affordable couch alternatives for small spaces and large rooms alike!
Opt for Ottoman Poufs as Alternatives to Couches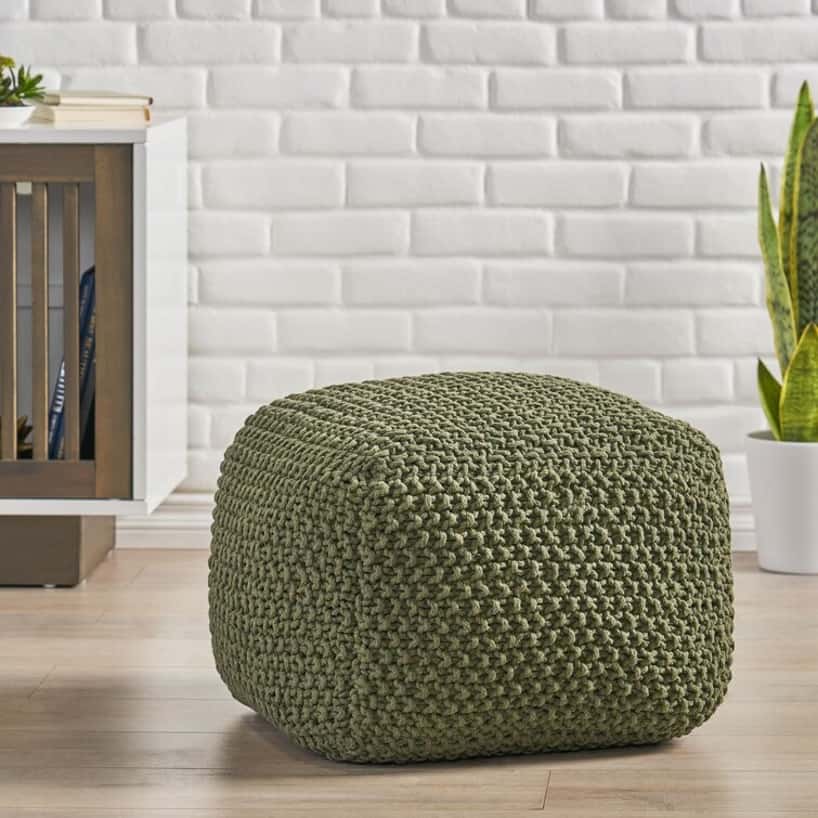 Thanks to their compact size, Ottoman poufs are ideal for small spaces that can't afford to accommodate a massive sofa set. So, if you're looking for a cozy, petite seat, consider investing in a pair of knitted Ottoman pouf cubes!
In addition to saving up on space, these seats are significantly more affordable than couches. This makes them perfect for those who are on a tight budget, including college students and teenagers who prefer fun, lightweight furniture.
Consider a Rattan Flower Chair (Or Two!)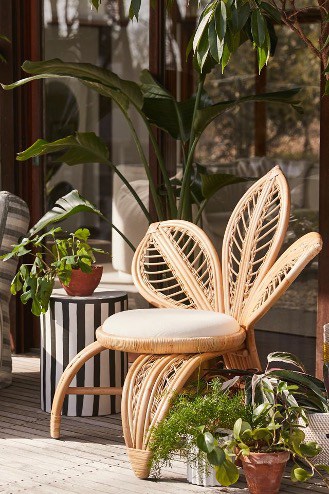 Rattan seats are a great way to introduce an organic, farmhouse theme to your indoor space.
The seat pictured above features a unique flower-shaped design that distinguishes it from more mundane chairs.
This same design is what makes this chair ideal for botanical-themed spaces, as well as for farmhouse interiors.
Style tip: Match this seat with some indoor plants, or place it near a sunlit windowsill to bring out the best in this rattan chair.
Go For a Rattan Cup Seat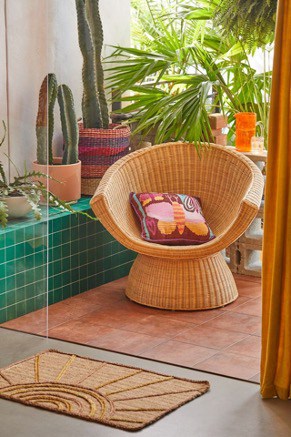 If you're not keen on the botanical-style flower chair above, don't worry! This cup seat is an excellent alternative that features a tight rattan weave, making it perfect for bohemian farmhouse spaces.
Thanks to their rounded-back design, cup seats offer exceptional comfort without compromising on style. This particular seat will fit right in with a farmhouse-themed lounge thanks to its use of rattan, which is an organic material.
Style tip: To make this seat even cozier, pair it with a soft, woven cushion.
Install a Hanging Chair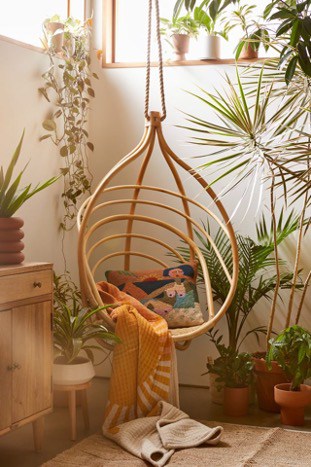 If you're keen on trying something unconventional and exciting, why not opt for a hanging swing chair? The one pictured above features an eye-catching egg-shaped design with a rounded back, making it more comfortable than straight-backed seats.
Be sure to pair this wooden seat with a cozy throw blanket and fluffy cushion, though. If not, the seat's wooden frame may start to feel uncomfortable if you spend too long pressed up against it.
Decorate with a Faux Fur Floor Pillow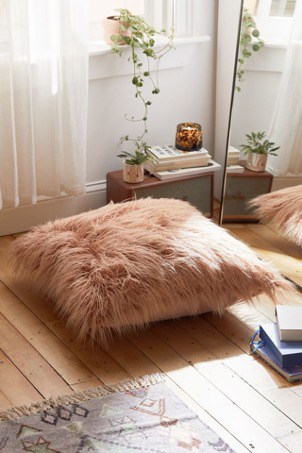 If you're tired of conventional standing seats, why not mix things up with a furry floor cushion instead?
Thanks to their lightweight design, you can easily shift these cushions from one place to another anytime you like! Also, if you're short on floor space, feel free to stash these pillows in your storage closet when not in use.
Features like this are what make floor cushions ideal for small apartments that frequently undergo decorative remodeling.
Consider a Faux Sheepskin Lounge Chair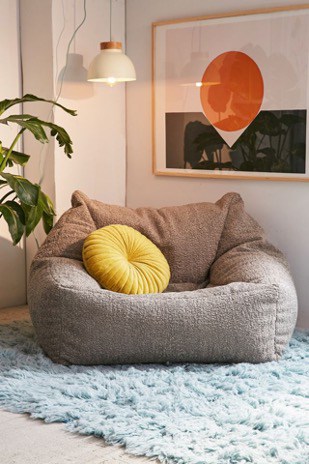 If you're looking for a massive, comfortable floor seat to cuddle against after a long day, look no further! When it comes to coziness, few seats can compete with an oversized faux sheepskin lounge chair.
The seat pictured here features a contemporary grey design with an eye-catching sheepskin texture. If you're going for a minimalist look, use this seat as is. But if you'd like to add a pop of color, why not throw in a bright, yellow cushion, too?
Push Up a Faux Leather Ottoman Against the Wall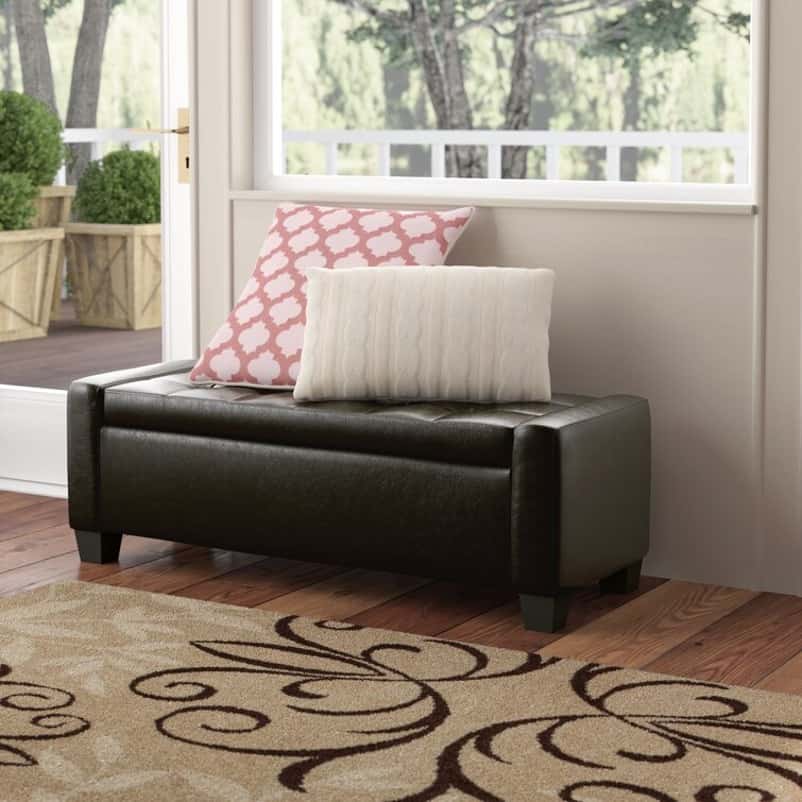 Faux leather is an eye-catching, animal-friendly material that's often seen in contemporary spaces. Though it isn't used extensively in modern furniture, faux leather is a great way to add a stylish flair to an otherwise dull space.
So, if you'd like to experiment with materials and drift away from traditional couch upholstery, consider this faux leather Ottoman. In addition to featuring a sleek, sophisticated design, this seat contains under-the-seat storage, too! It is both stylish and practical; what's not to love?
Give Into Your Cravings with a Pizza Bean Bag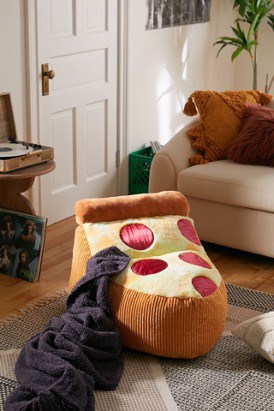 Doesn't this delicious-looking seat make your mouth water? This pizza-themed bean bag is a great way to liven up an otherwise drab room. Though it may not fit in with any major theme (like mid-century modern, for example), it's definitely a unique find!
This seat's beanbag filling and soft outer covering make it remarkably comfortable. It is also large enough to accommodate an adult person with ease. So, don't worry about not having enough space to sit – this pizza beanbag's got you covered!
Get Comfy with a Chaise Lounge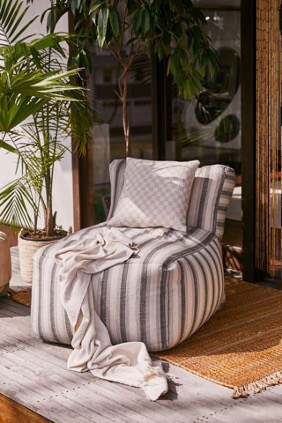 This chaise lounge features zebra-themed stripes that help it fit in with the modern minimalist theme. Lacking loud colors, this seat can easily blend in with any environment. It also features a soft filling that makes this seat cozier than most.
So, don't hesitate to snuggle up against this seat after a long day. Its gentle, comfortable design makes it the perfect place to relax and re-energize.
Cozy Up with a Love Seat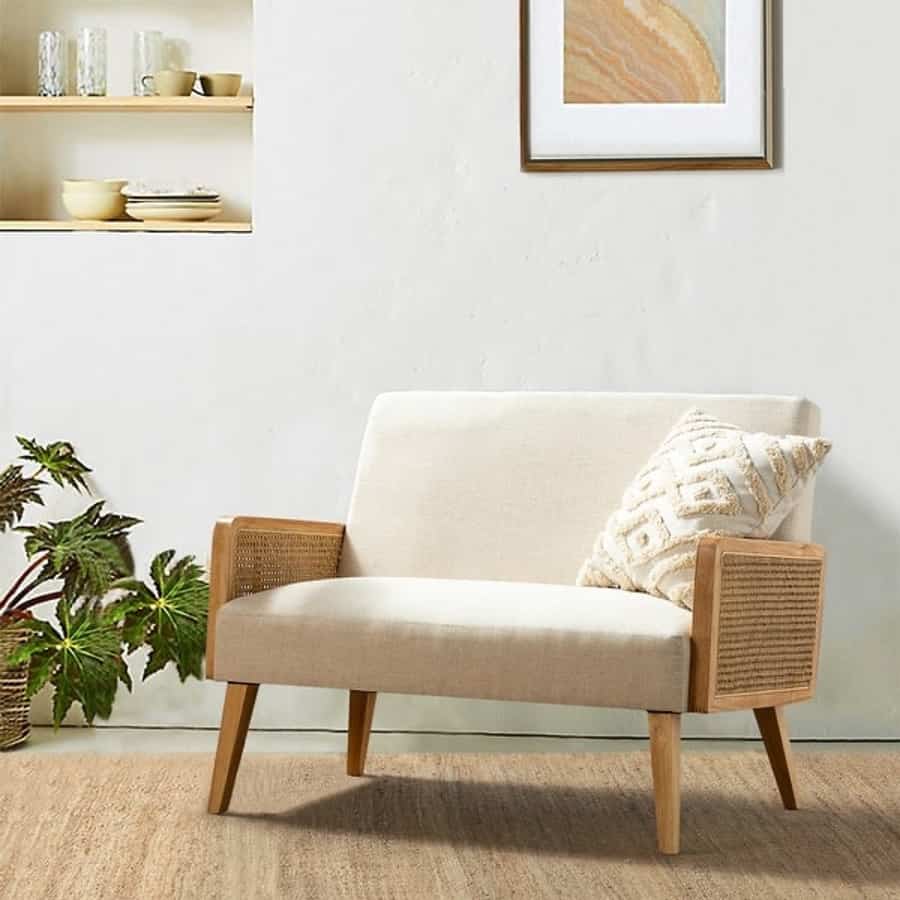 Love seats are ideal for smaller rooms that are short on floor space. They are also more affordable than large couches yet provide enough space for two people to sit comfortably.
For additional seating room, you can always add a matching ottoman pouf or floor cushion to the mix.
The seat pictured above features a compact design that's both practical and stylish. Its white cover and rattan armrests make it perfect for modern farmhouse-themed spaces.
Champion Luxury with a Velvet Twin Daybed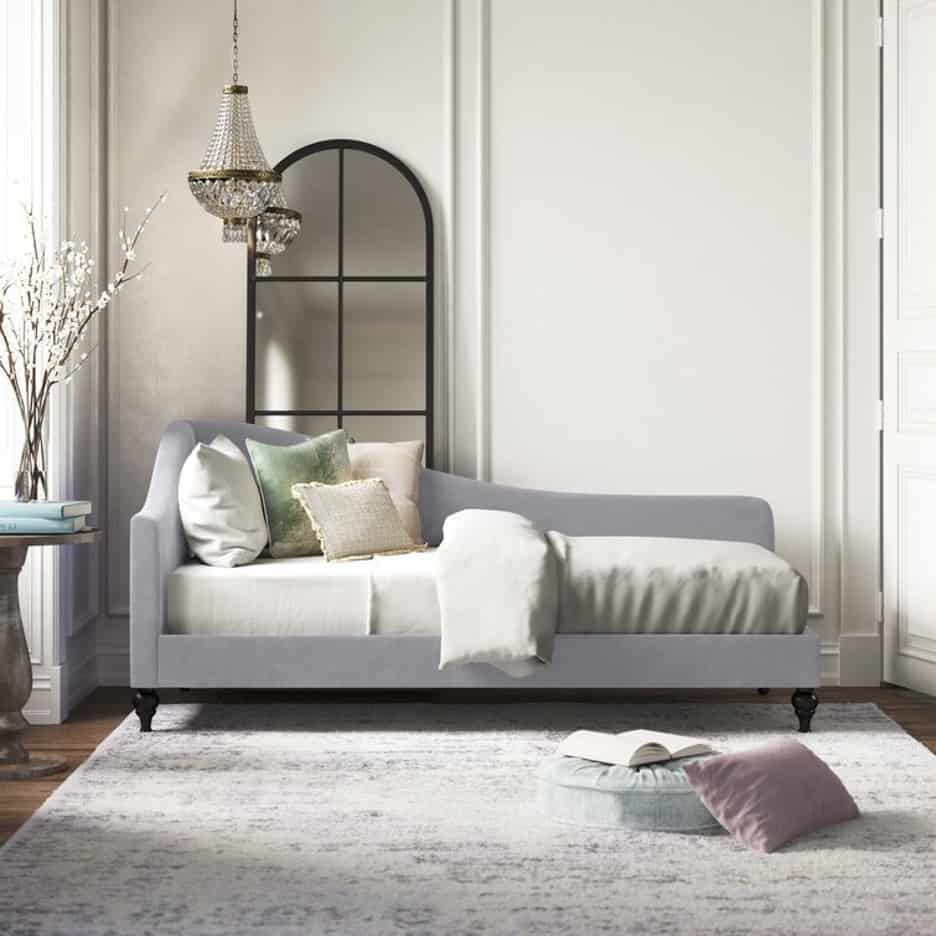 Add a touch of luxury with this grand, velvet twin daybed!
This seat features a massive mattress that's perfect for multiple people to sit on or for an adult to sleep upon. Its velvet finish adds elegance to the seat's appearance, while the cool grey color scheme furnishes it with unmistakable modern charm.
So, if you're looking for a stylish seat that can accommodate many people and double up as a bed, look no farther!
Install an Armless Futon (Sleeper)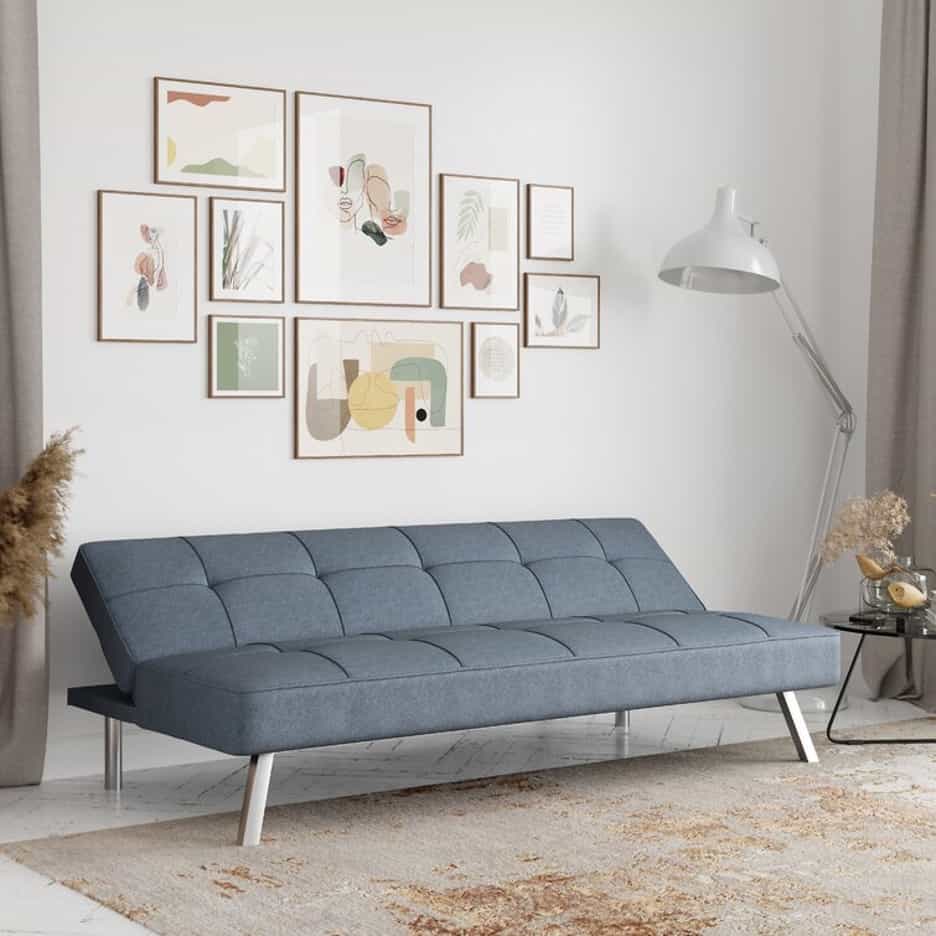 Like most futons, the one pictured here doubles up as a makeshift bed (sleeper) at night. When not in use for sleep, you can push up the futon's posterior half to create a temporary 'sofa back.'
This particular futon features an armless design, which is typical of most contemporary seats.
Modern furniture pieces are all about neutral tones and minimalist features. Luckily, this seat bears all of these characteristics, making it a perfect match for contemporary spaces.
Opt for an Indoor Oak Bench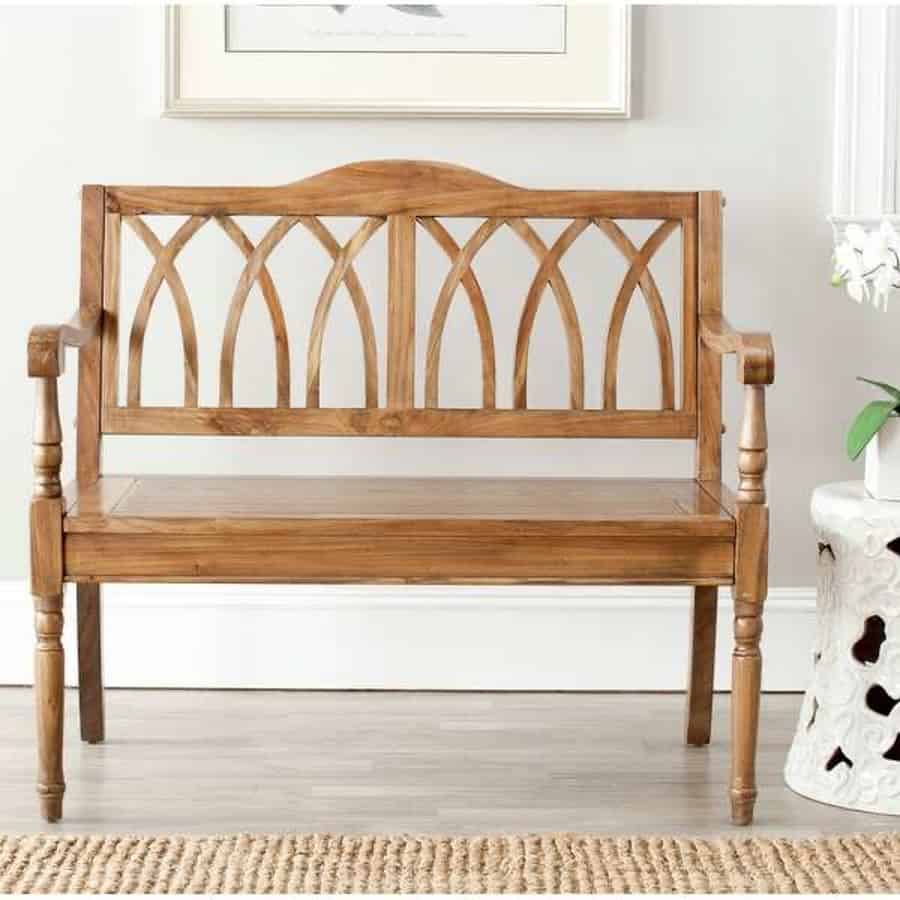 Despite most commonly being seen outdoors, there's no rule that says you can't include a bench within your home space, too!
This particular seat features a polished oak wood finish that fits in remarkably well with the traditional farmhouse theme. Its clean-cut edges and cut-out back design make it a suitable match for modern homes, too.
So, if you'd like to experiment with a unique seating style for your modern farmhouse home, do consider this oakwood bench.
Final Thoughts
Now that you've gone over this list of brilliant couch alternatives feel free to pick one (or more) that best match your taste!
Remember, you can always pair one seating style with another to enhance the room's look. For example, why not pair a futon with an Ottoman pouf for enhanced comfort?
Remember to keep your room's theme in mind, too. Avoid pieces that contradict the main theme, or else your interior space will look unbecoming and odd.