Don Pedro Brooklyn is reader-supported. When you buy through links on our site, we may earn an affiliate commission. Learn More
51 DIY Christmas Gift Ideas That Your Friends & Family Will Love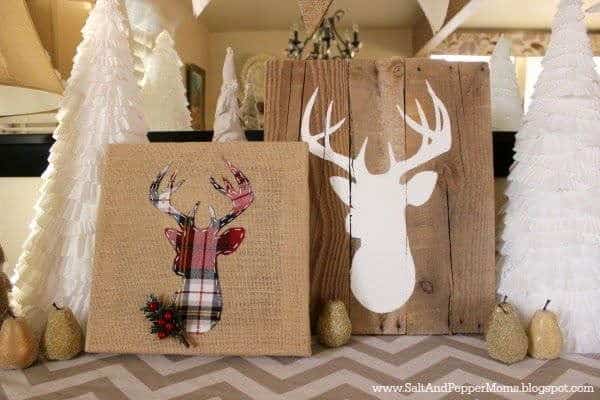 Christmas is a special moment where your loved ones and you spend time together to celebrate the season of Joy.
This joyous moment is also filled with the enthusiasm of exchanging gifts. The options are buying or making gifts from scratch.
Buying the gift won't cause you many problems except money spent during purchase.
On the other hand, making your own gift leaves a personal touch and increases recipients' chances to appreciate more!
Welcome to our list of the most popular do-it-yourself Christmas gifts!
Marble Vase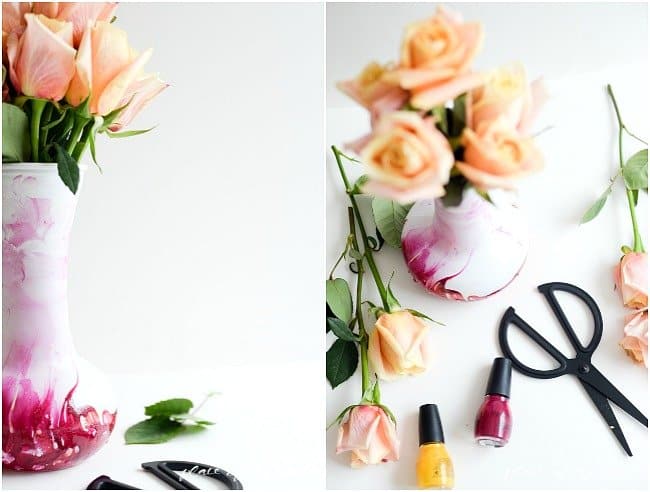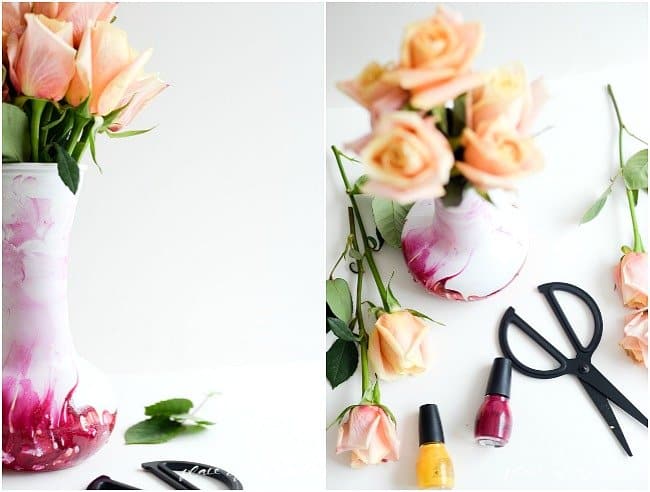 Do you want to make a huge hostess DIY Christmas gift?
This marble vase can prove to be one of the best options. A beautifully decorated marble vase would be the most rightful DIY Christmas gift for friends.
How to make it?
You have first to place a small pillar vessel inside a huge vase. Next, start filling the gaps between them with some pretty red and white marbles. Finally, you have to contrast this colorful set-up with a bunch of pretty anemones, garden roses, etc.
DIY Fleece Blanket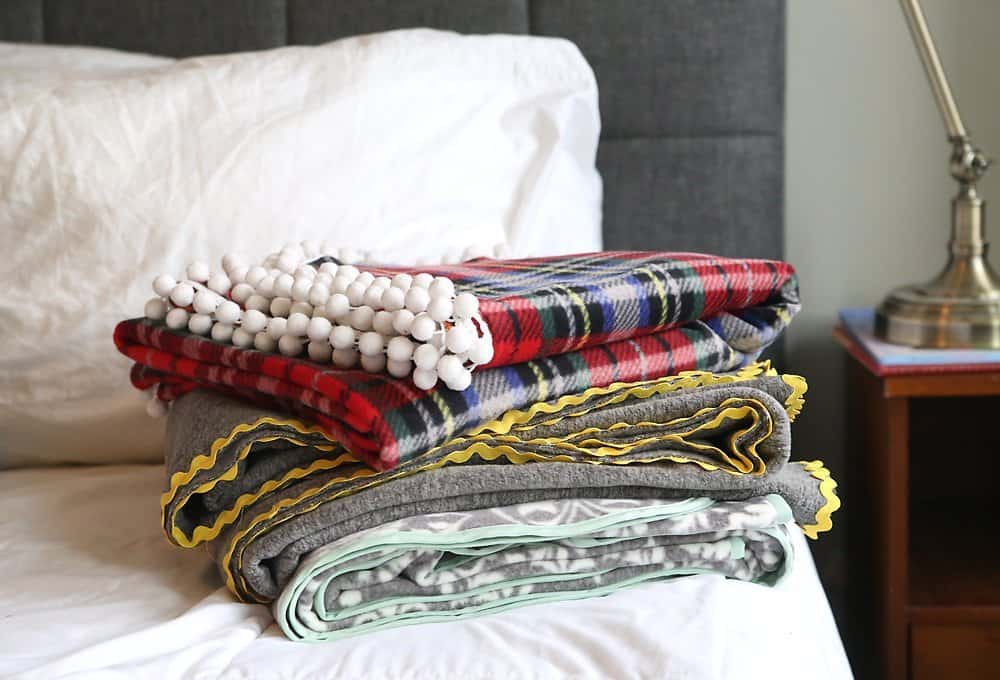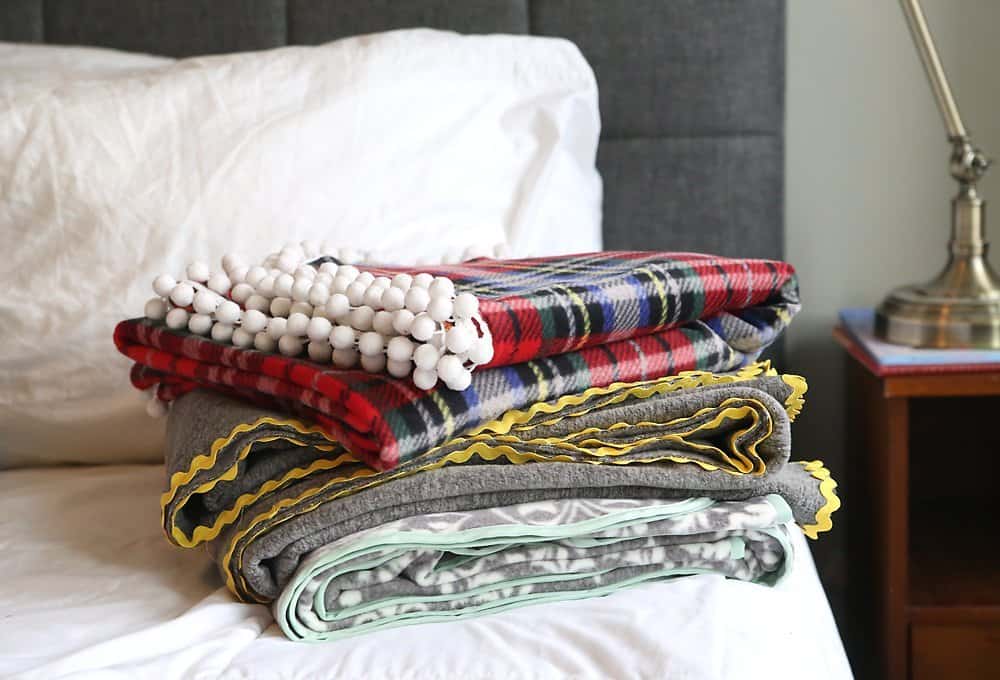 Want to gift your loved one a warm sleep this Christmas?
Go for making a comfortable fleece blanket. Start making it soon, and the person whom you will give this present will definitely love it. In fact, it can be one of the best DIY Christmas gifts for kids.
How to make it?
Firstly, start with cutting the selvage edges of both ends of your fabric. You need to ensure that you are making the cuts as straight as possible.
Further, just fold your fabric and make sure that the two edges are cut straight.
Finally, you can fold the fleece in fourths while matching the corners. Just keep in mind that you can trace a curve onto a corner and, at last, cut a curved edge on all four corners.
That's it!
Peppermint Blondies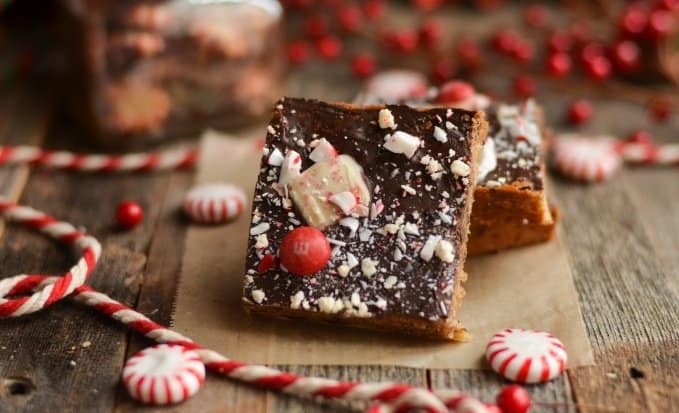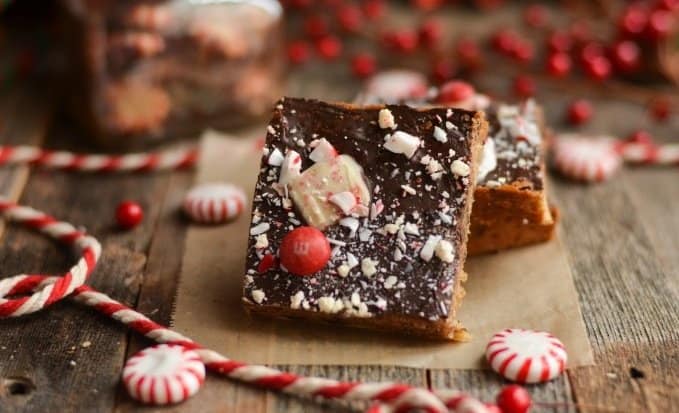 Staying with your friends or relatives this Christmas?
You can definitely make any hostess elated with this best DIY Christmas gift for friends. It is one of the best handmade gift ideas for Christmas.
Any hostess will find it pleasant enough to open his/her door for you while receiving a pretty box full of peppermint blondies.
How to make it?
The recipe for this mouthwatering Christmas gift for kids and even everyone else in the family is very simple. Preheat an oven to 325 degrees F and butter a 13-by-9 inch baking pan. Make sure to line it with parchment paper.
Now, whisk butter granulated sugar, eggs, brown sugar, 1 tbsp vanilla, and peppermint extract in a bowl until completely combined. Further, whisk a few other ingredients like flour, baking powder, and salt in a separate bowl.
Finally, stir the flour mixture and butter mixture together vigorously until combined. Now, stir in the chocolate and spread the batter in the prepared pan. Bake until they are golden brown for 30 to 35 minutes. Lift the blondies from parchment paper and cut them into 18 squares.
You need to line a kraft paper box with striped wax tissue paper and place the blondies within it. Close it and wrap the exterior with decorative paper to give the final touch to this DIY Christmas gift for friends.
Flavoured Salt Gift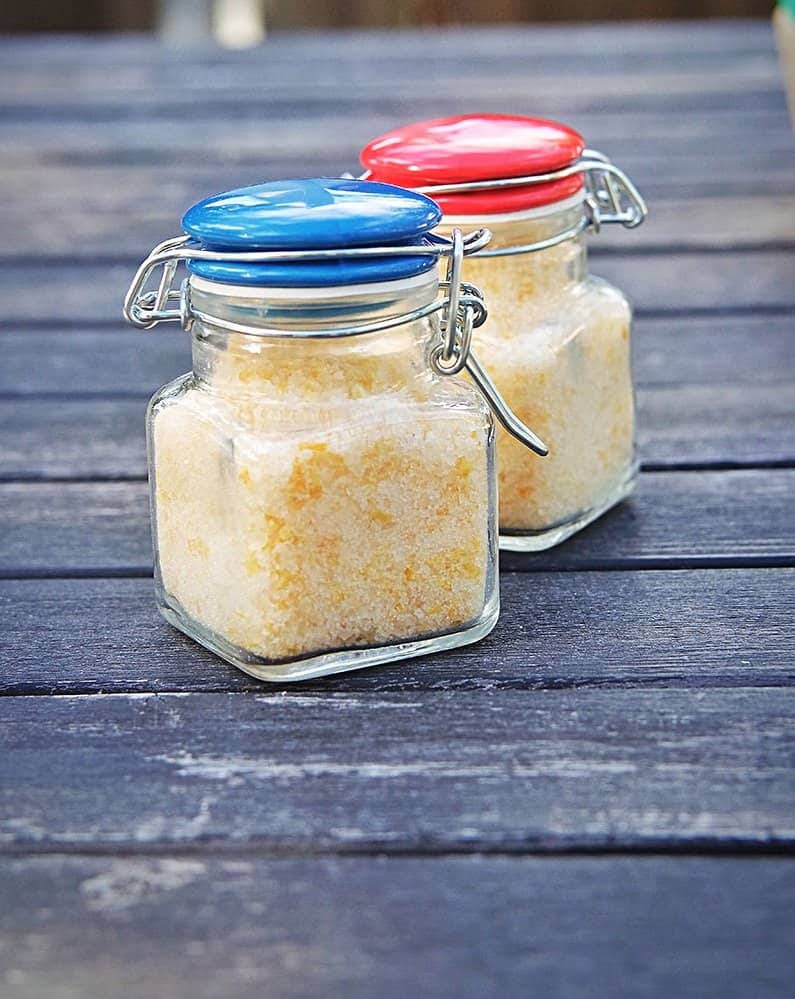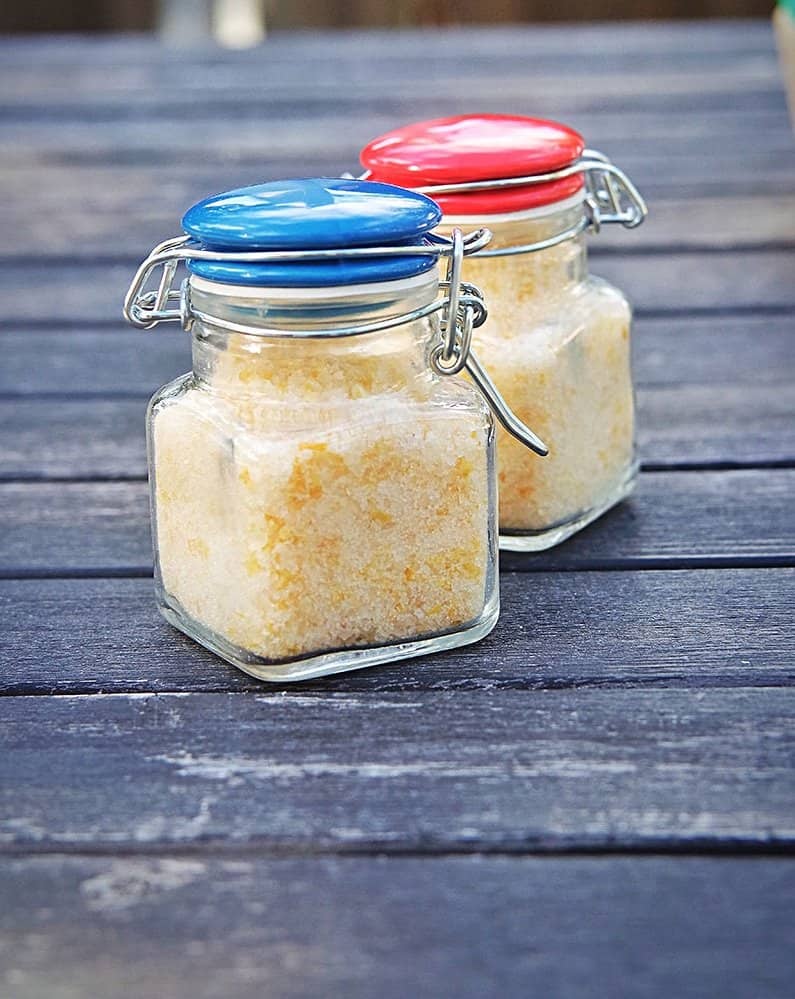 When it comes to a DIY Christmas gift for him or her, try a flavored salt gift. It is certainly one of the most delightful ones.
If that special someone in your life is a pretty savory person, then you can make an assortment of salts as a striking food gift.
All that you need to do is just bottle in the jars, stick on the cute labels on them, and finally place them in a metal box with some shredded newspaper to be used for padding.
What are the directions?
First of all, divide the finished salt among four two-ounce jars and tighten the lids to seal.
Now, when it comes to packaging, fill around 4 tins with shredded paper in each tin and nestle six jars of different flavored salts within it.
You can go for all of the porcini salt, ancho salt, celery salt, lime-ginger salt, and curry salt.
Cutting Board Spice Rack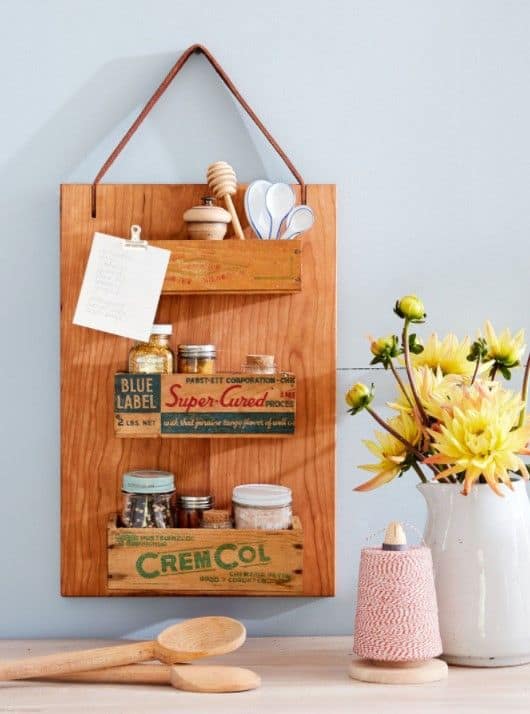 You can repurpose an old cutting board here and make one of the best Christmas gifts for your mom.
Do the refurbishment here by using screws to attach small wooden cheese boxes to a rectangular cutting board.
Finally, fix a leather strap with it for hanging. Isn't it one of the easiest handmade gift ideas to make a Christmas gift?
Snow Globe Cookie Jar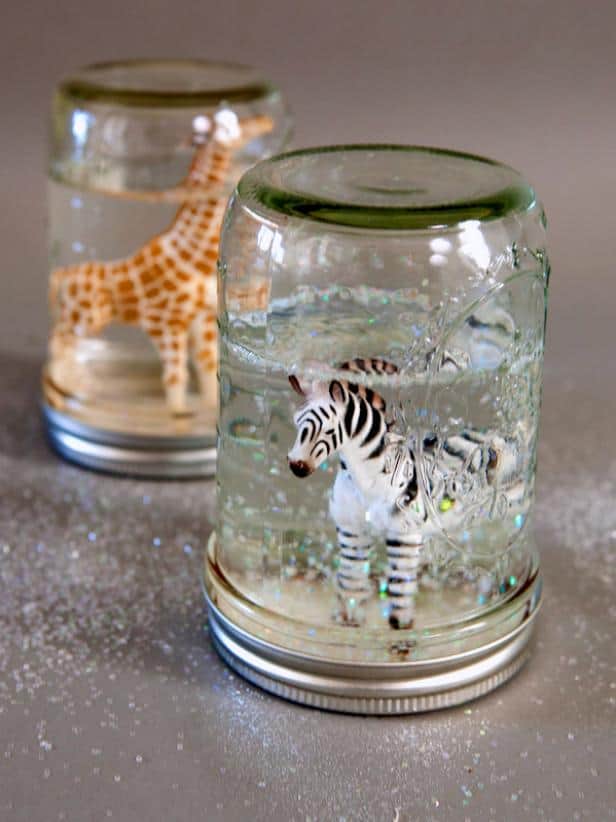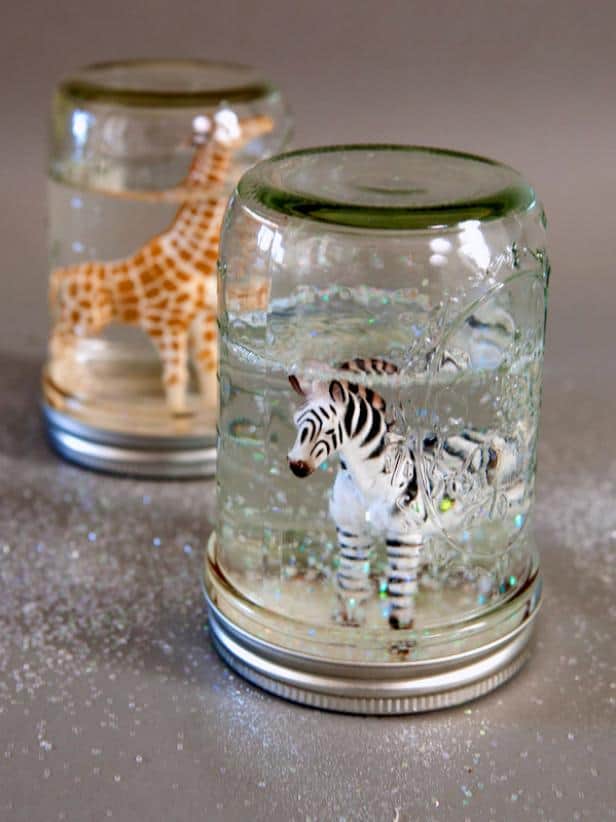 It can be one of the best Christmas gifts for her if your girl is a creative person. The artistic look of this gift will definitely leave an amazing impact on her.
How to make it?
The process is pretty easy. Use a fine-tipped brush to paint some white tiny dots on the outer surface of a 1.6-quart Hermetic Storage Jar.
Now, let the bottom of the jar be filled up with snowball cookies. Further, place some small trinkets made of plastic inside to create a vignette that is totally snow-globe-inspired.
Finally, give the ultimate touch to it while tying a gift tag to the jar with ribbon.
Read also:
DIY Wooden Picture Frame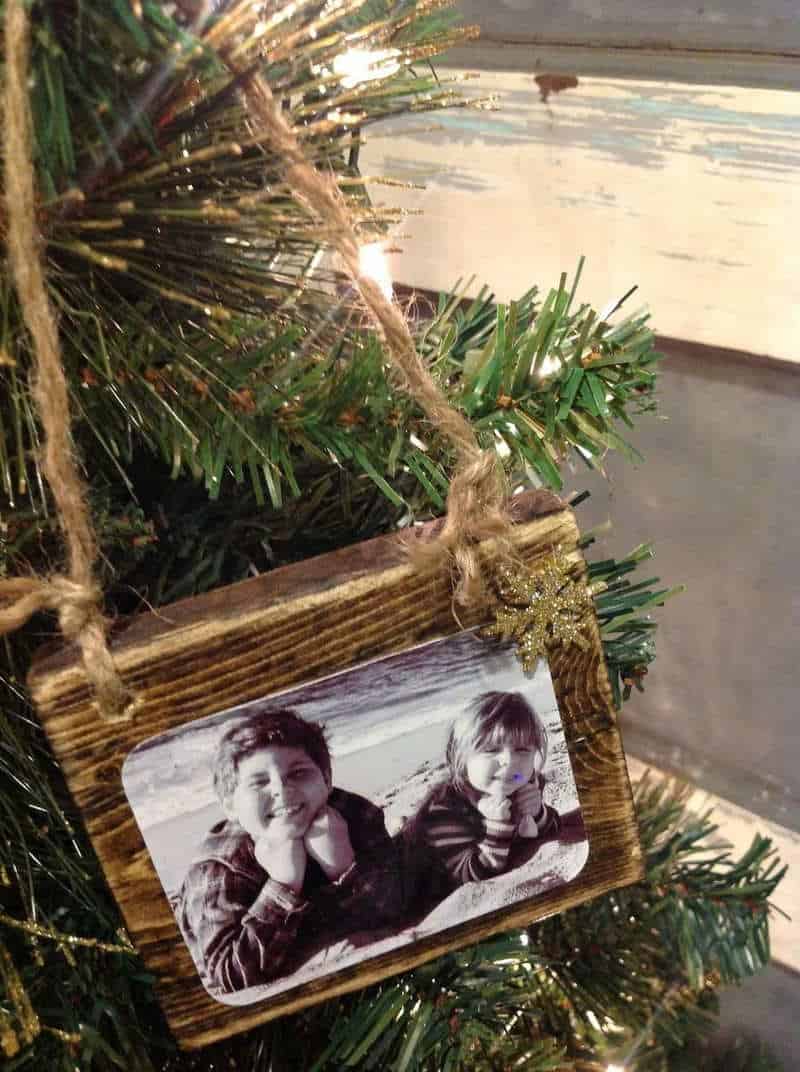 Add a twist to the usual picture frame gift with this simple handmade wooden frame.
Cut a block of wood and shape it into a square, picture-fit size, drill two holes at the top edge for the natural jute rope to go through.
Either carve the middle for the image or simply stick the picture to the surface, and voila! It's unique and one of a kind!
Homemade Christmas Cookies in A Box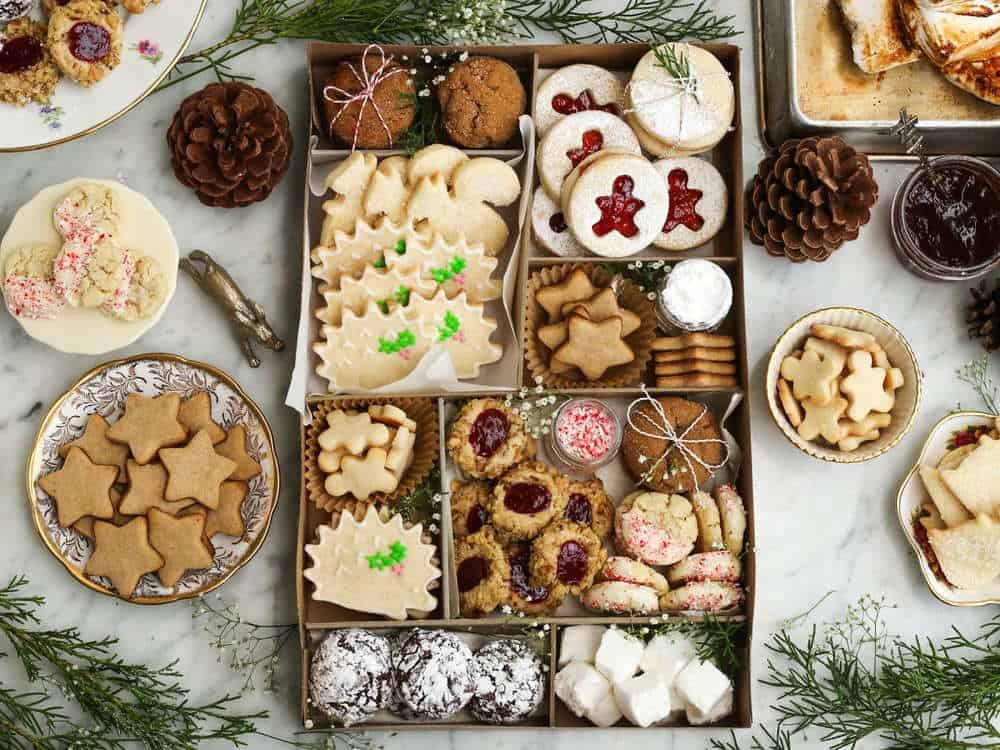 Think homemade cookie is a stale-style for Christmas gift? We object!
Cookies are made with love, patience, and pure intention to bring joy to your loved ones' house. It's a warm, well-thought gift to cheer them up in winter cold.
DIY Round Picture Frame Ornament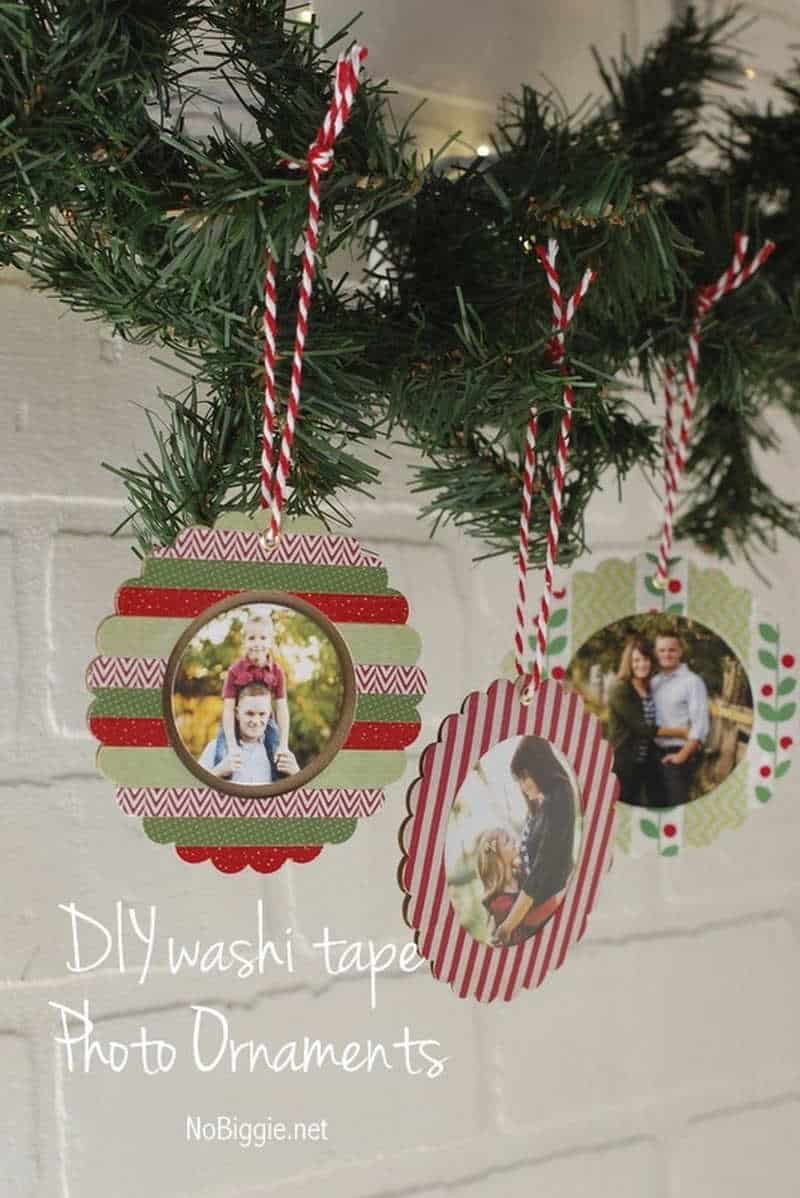 Christmas is a season of gathering with your family, especially your parents and relatives. Making a round picture frame made of cardboard is one way to appreciate the moment.
Shape the board as you'd prefer, then cover the surface using washi tape. Place the picture exactly in the middle. Then, hang it with Christmas-themed strings.
DIY Festive Cut-out Patterns Pillow Cover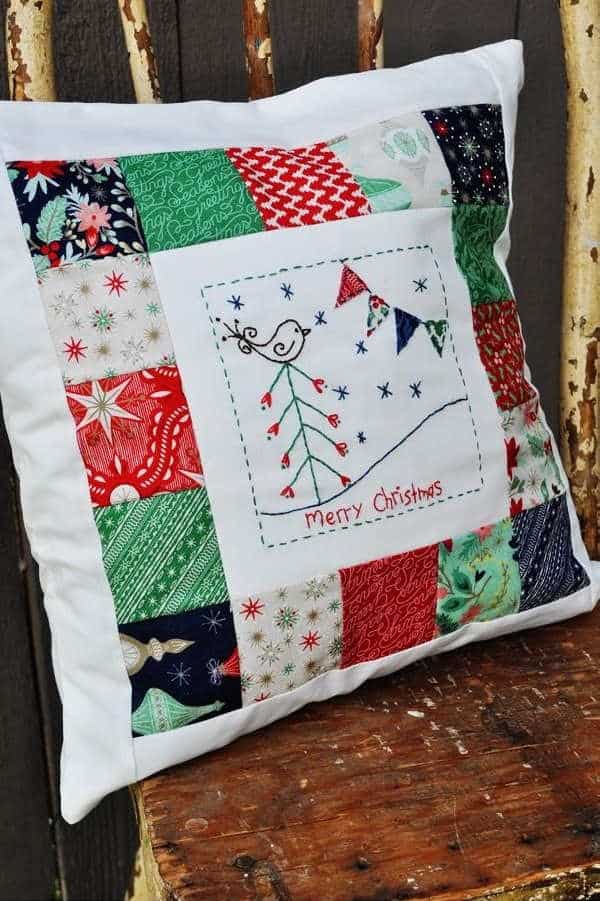 If you like crafty, buy a plain pillow cover and decorate it with festive cut-outs. Cut some Christmas-themed fabrics into square shapes and sew them around the edges.
To emphasize the festivity and your personal touch, add a cross-stitch in the middle that shows you make it from your heart.
Christmas Sheep Card Holder Made of Cotton Buds

Need a last-minute easy DIY Christmas gift? Grab some cotton buds and cut them, leaving only the bud part. Using white paper, cut some shapes to become a cute little sheep later.
Then, cut two sticks into four parts for the legs. Glue the buds on the paper as the sheep's fur. Give a little red ribbon on the sheep's head for a festive theme.
DIY Christmas Reindeer Jar Gift
Think about giving something for decoration that can be functional too? Well, this versatile reindeer jar is the one to go.
Print out the reindeer figure and stick it to the glass. Clean the jar and color it using spray paint (or any other method best for you).
Take out the print out, and it should leave a mark showed by the picture above. The jar can be used as a flowerpot or anything that the recipient wishes for.
A Foot Care Gift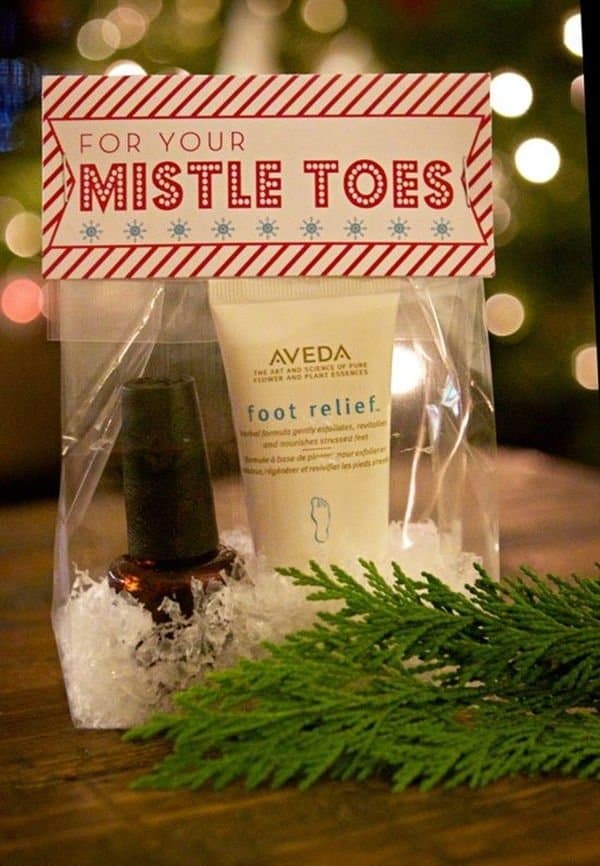 Nothing can beat a well-thought Christmas gift like this one! Know that your friend is having a problem with their feet?
Help them to beautify their and toes with this well-planned gift!
Candle Jar Christmas Gift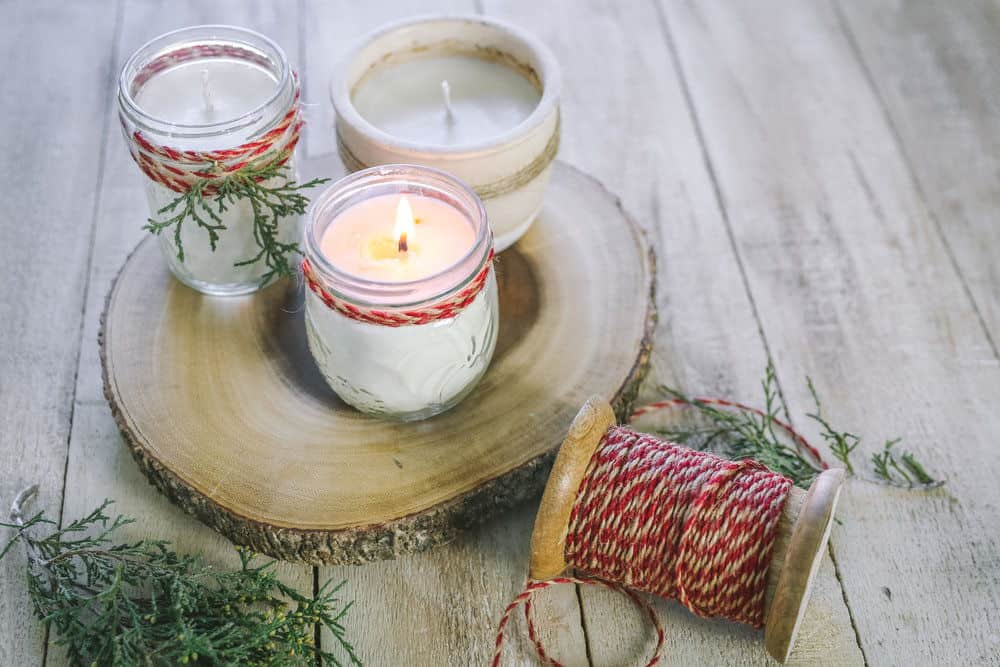 It's not only a season of joy, but it's also a season of winter cold air. Let your gift be the warmth for your friends.
This candle jar is a gorgeous Christmas decoration, either. Round a Christmas themed string on the neck of the jar and wrap it up nicely!
Easy to Make Festive Jar for Christmas Gift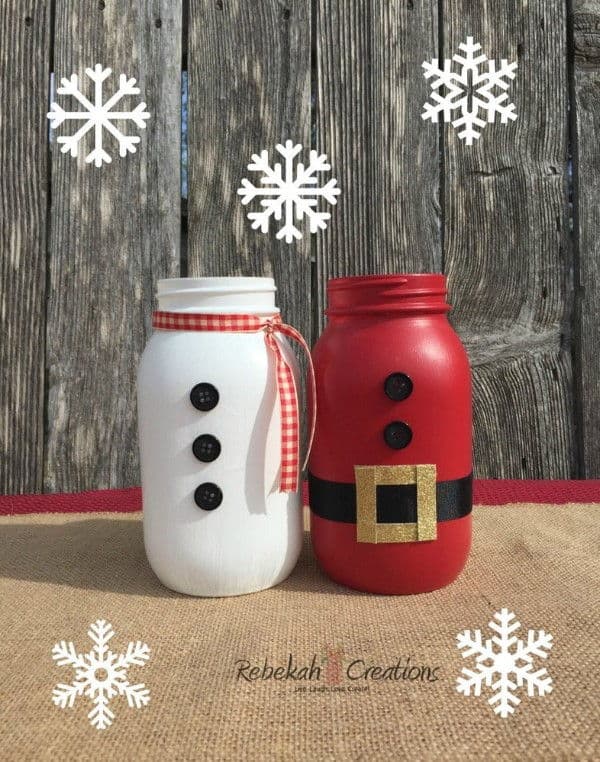 These festive jars are made by spraying them with vibrant Christmas colors (blood red and pristine white). Then, the jars are decorated with some buttons.
The white jar is made to look like a snowman, while the red one is Santa's Christmas fairy. The jars are functional. Leaving the recipients with many options of what they can do with them!
Repainted Vintage Frame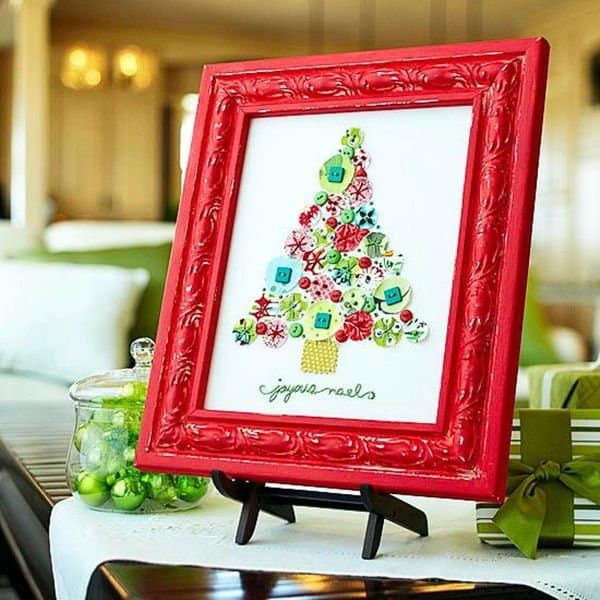 Vintage stuff can worth a million if you transform it into a creative, eye-pleasing decoration, especially during Christmas, where everyone looks for the best.
Repaint the vintage frame with Xmas' signature color–red. Then, use the frame for a Xmas tree made of small colorful buttons.
It may take you more than one hour to assemble the tree, but the effort you put into it will be paid back by the happiness your loved ones showed when they receive the gift.
Hand Painted Coffee Cup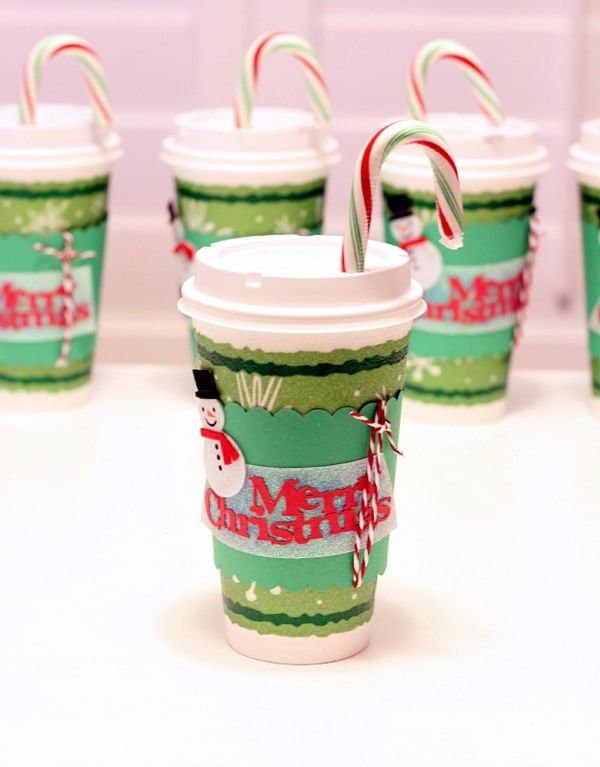 Are you crafty? Like to be creative with paint? We all know that coffee in the adult world is compulsory.
Make your best buddies' reusable coffee cups festive by painting them with Christmas themed colors and images. Now their morning coffees won't taste too bitter anymore.
DIY Scented Mason Jar Candle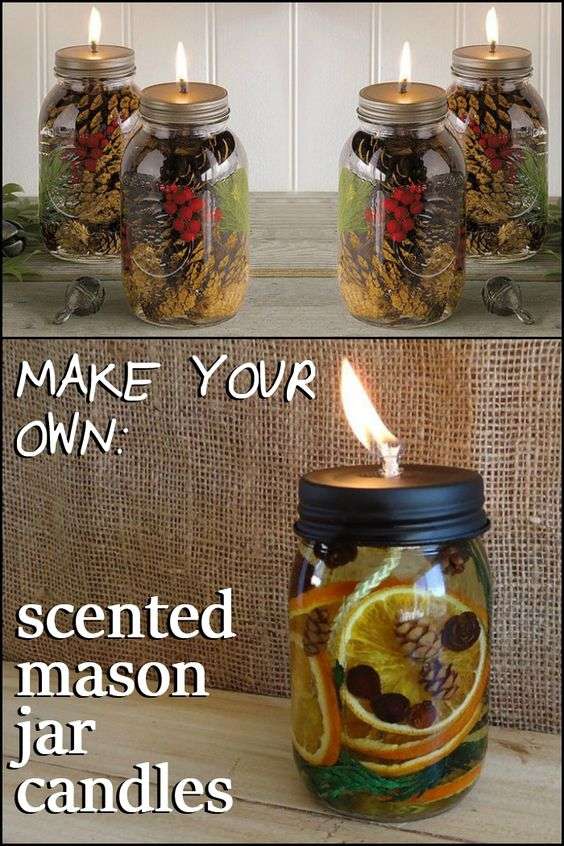 A scented candle can set a mood. A different scent for a different mood.
You can create these scented mason jar candles by mixing some organic fruits or herbs. Make sure you equip yourself with the knowledge about scents first before experimenting.
Funny Christmas Gift for Siblings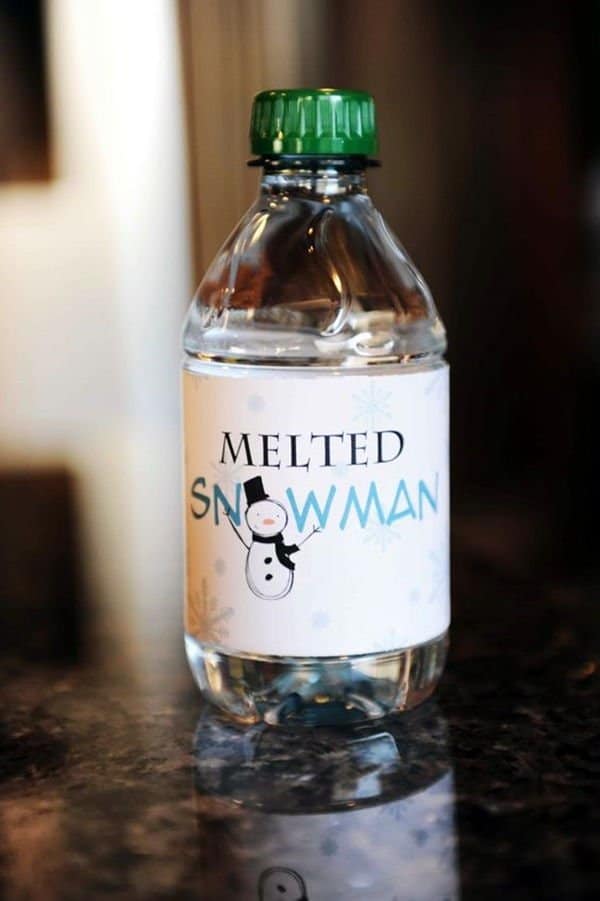 Besides giving your loved one's stuff, they've always wanted, twist it a little bit with a surprising joke.
Fill up a bottle with clear water and label it as a melted snowman! Before handing it to them, wrap it in a nice Christmas gift box for extra fun!
DIY Christmas Wreath from Toilet Paper Rolls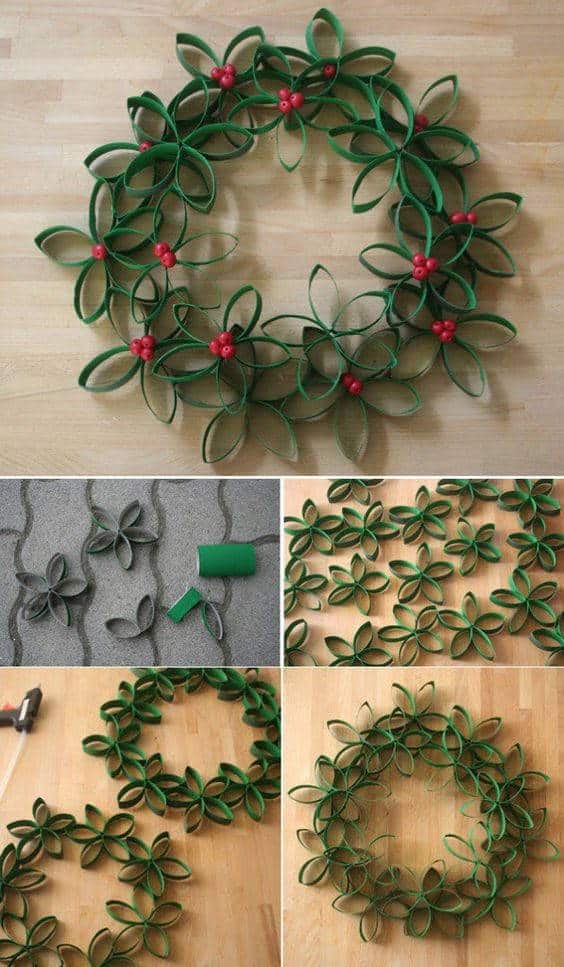 Having way too many toilet paper rolls? Don't throw them away!
Be creative and transform them into this cute Christmas wreath (at least you can use them for your own house).
Simply cut the rolls into many pieces and assemble them until you make the wreath. Give it a touch of red using red beads.
Baby Breath in A Mason Jar for Christmas Gift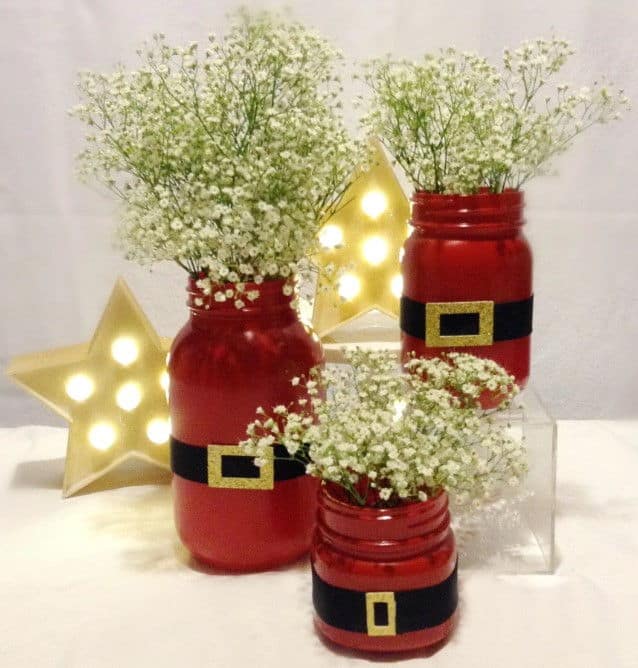 Spray paint your mason jars with bold red. Then, make the belt using paper or board. After the jars look like Santa's fairies, fill in the jars with baby breath.
Its white color brings a nice contrast. But the jars can be filled with any flower as preferred.
Santa's Sweater Tote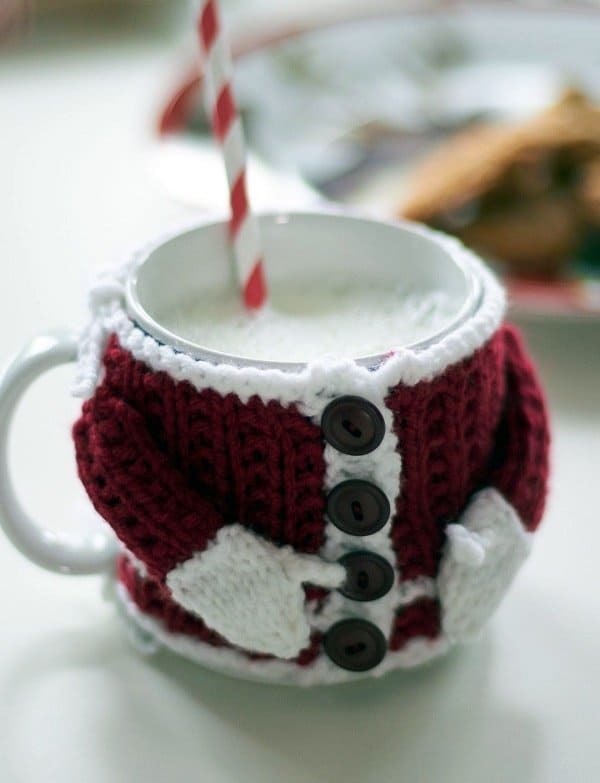 Handy with a needle and a thread? Don't let the skill go to waste this Christmas time! In this cold season, drinking hot beverages is inevitable.
Making a sweater tote for glasses is a sweet, kind, and thoughtful action. Anything in Christmas spirit, such as this Santa's cloth sweater tote!
Chocolate Balls Reindeer Jar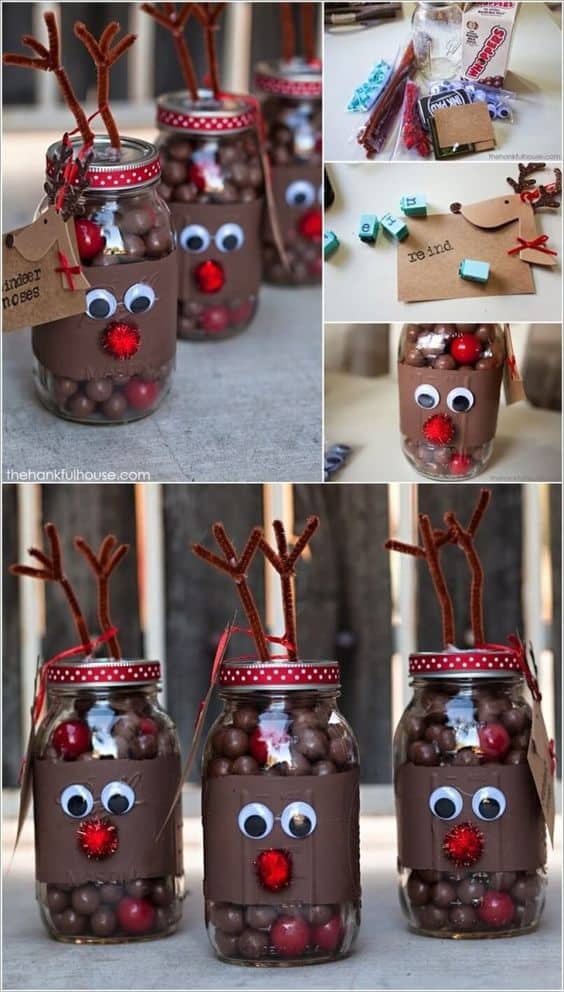 Reindeer design must be trendy during this season. That's why it is an amazing idea to make something with a reindeer pattern.
Snacks also must be provided in houses to welcome guests. Why don't you make a snack jar with a bit of a Christmas touch to it?
Decorate the jar with wire wrapped in red thread to create the reindeer's horns. Then, using polka dot washi tape, decorate the edges of the lid.
For the face, use a brown painted board cut out and some plastic eyeballs. Don't forget the red nose; otherwise, it's not gonna be Christmas!
Unique Christmas Scented Candle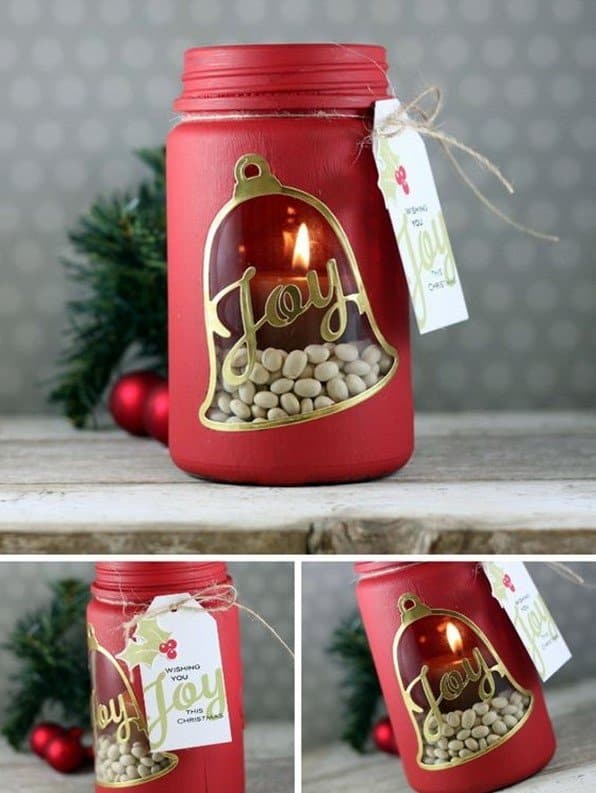 Candles are so popular during the Christmas season! To make this unique Christmas candle, follow this step:
Create one that radiates the spirit. Buy a huge jar and stick a cut out before you spray paint it with bold red color.
Fill in the jar with some pebbles (marbles or anything you'd prefer).
On top of those, place a scented candle carefully and let it lays on top.
Now, it looks amazingly ready for the Christmas celebration!
DIY Christmas Luminaries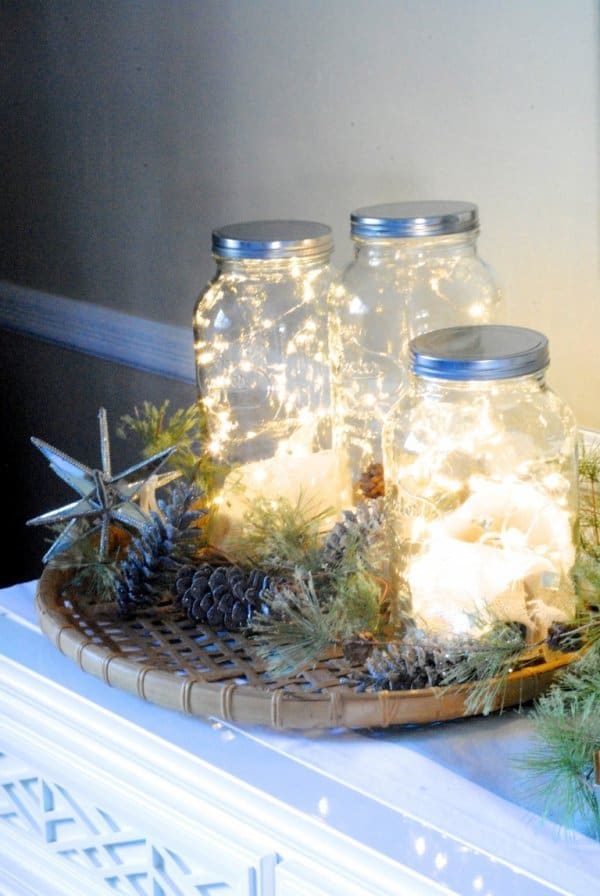 Other than candles, another creative and unique idea for Christmas gift is this luminary. This is easy to make.
All you need, firstly, is some jars. Fill in the jars with some earthy material or linen fabric for the base.
Then, put the Tumblr light into the jar. Make sure the lights come with a battery box, or otherwise, you have to drill a hole for the wire to go through to be connected to the socket.
Snow Globe in A Jar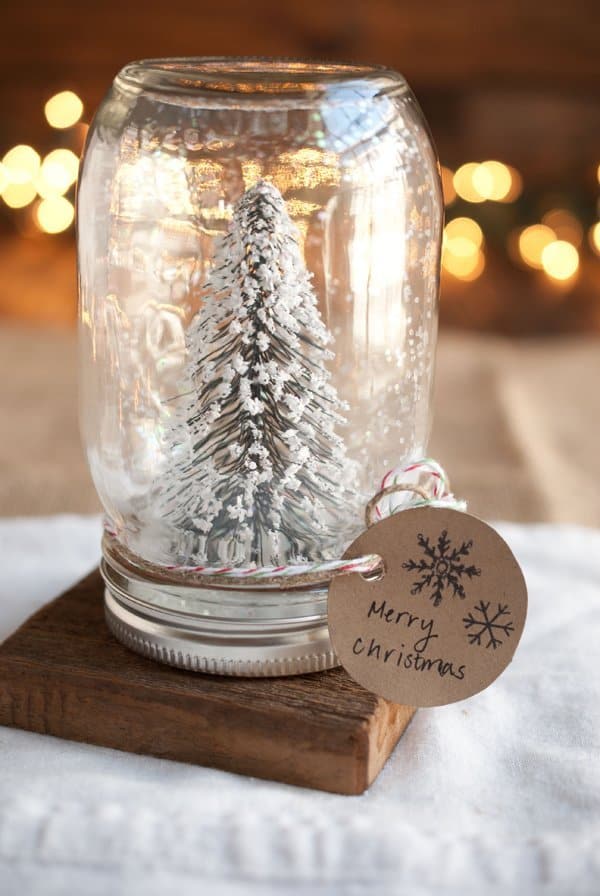 What will be the best way to capture winter memory?
Yes, a snow globe! Usually, it comes in a globe, but this time it's gonna be a bit different. An upside-down mason jar replaces the globe.
This gift looks so unique, creative, and especially earthy with a square wooden stage at the bottom.
Festive Flower Pot Gift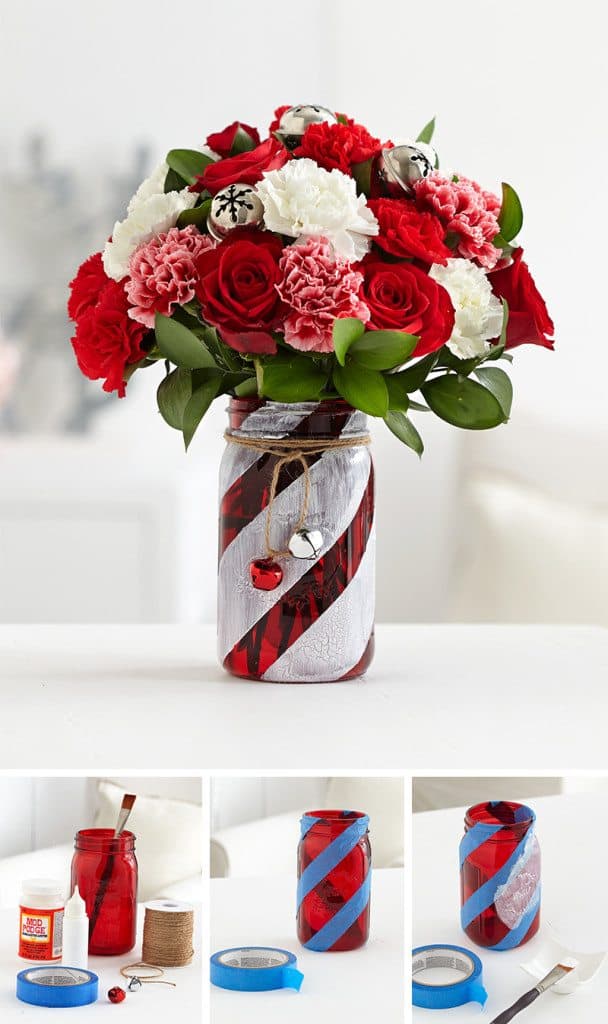 Floral decoration will beautify the living room for the annual family Christmas gathering. To make it unique, make your own flower pot.
Take a jar and repaint it with a bold red color. Using washi tape, make a pattern as you'd prefer.
Then, paint the exposed area with white color. Take off the tape and give a little ornament like bells or string around the neck.
This festive flower pot is ready to make your Christmas celebration even more joyous!
Snow Globe Candles in A Jar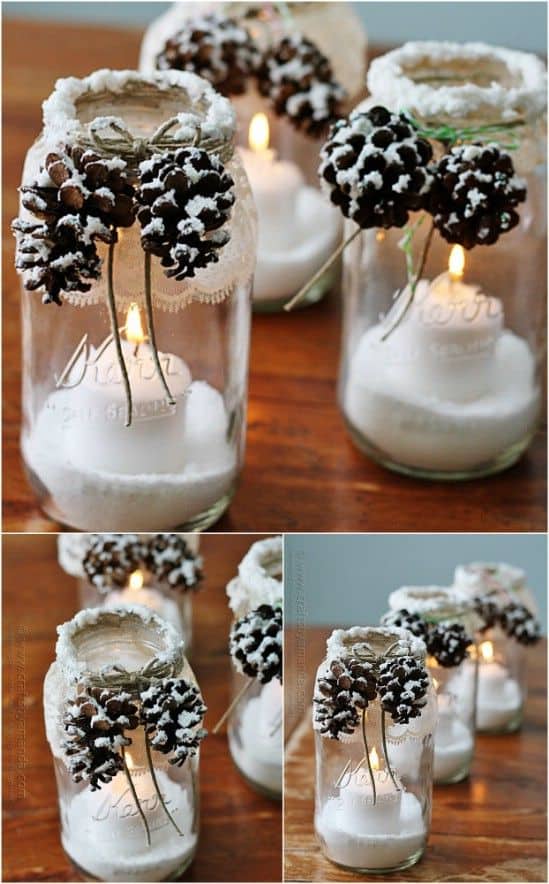 Combining snow globe and candle in a jar may be one of the best ideas for this Christmas.
It represents the winter season and the warmth the season creates for family, relatives, friends, or loved ones since they will gather, enjoying Christmas together!
DIY Christmas Gift Coffee Cup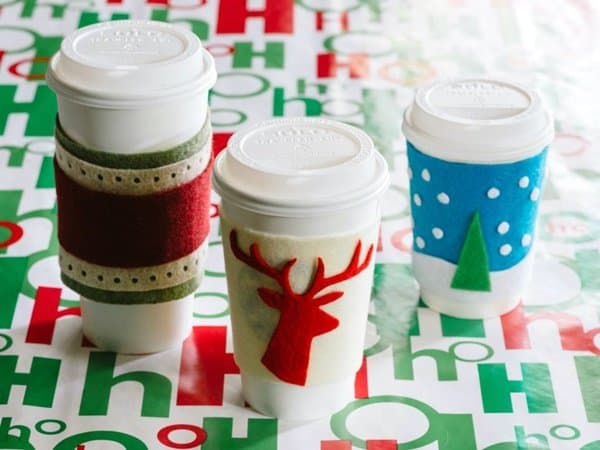 Coffee has become crucial for some people (and that may include your friends, too).
What would be the best Christmas gift other than a DIY coffee cup for celebrating this Christmas season?
Prepare the usual coffee cups and set them aside for a while. Then, create patterns using basic cotton fabrics.
Here, there are three patterns: Christmas tree with a snowy background, reindeer, and what appears to be Santa's signature colors.
Repurposed Wine Bottles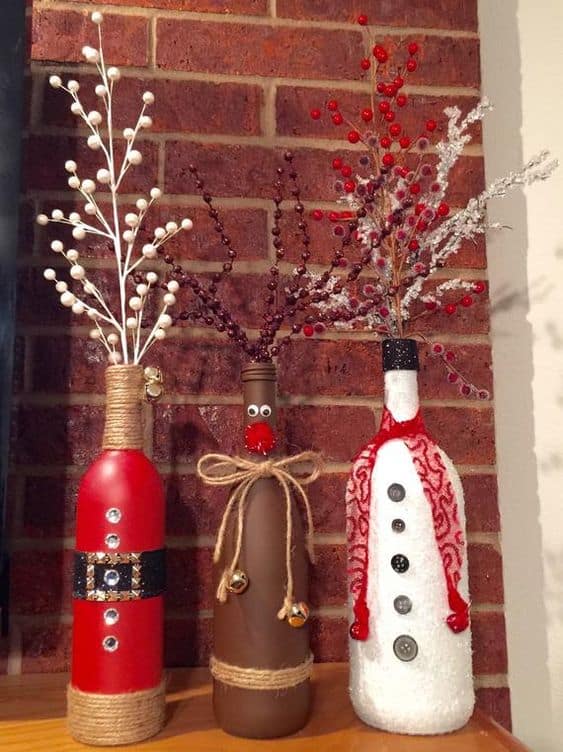 Have some wine bottles lying around your house? Take them and transform them into these amazing Christmas gifts!
Be as creative as possible with colors, beads, strings, and ornaments! Now, they are gorgeous decoration gifts for your loved ones.
Recycled Plastic Spoons Christmas Tree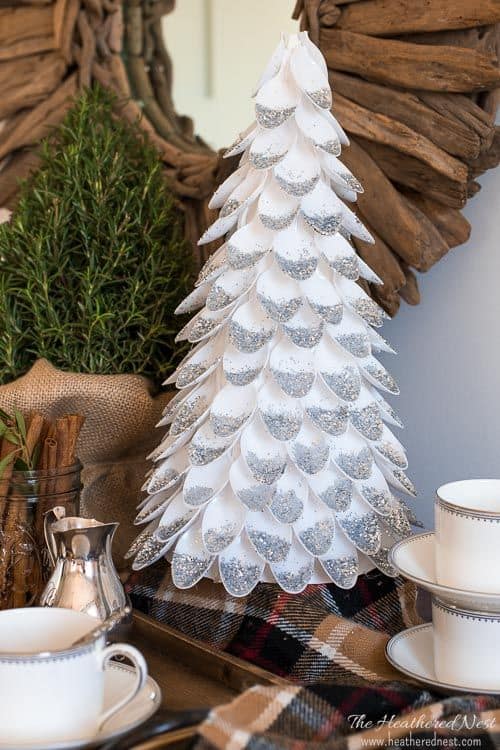 In this season, a Christmas tree is a must, no matter how small they are. Rather than throwing away plastic spoons and ruining the environment, transform them into a Christmas gift.
Cut the spoon, and glue silver glitters on its end. Assemble them until they make a tree. You can also display it on your own table.
Reindeer Painting Gift with Wooden Frame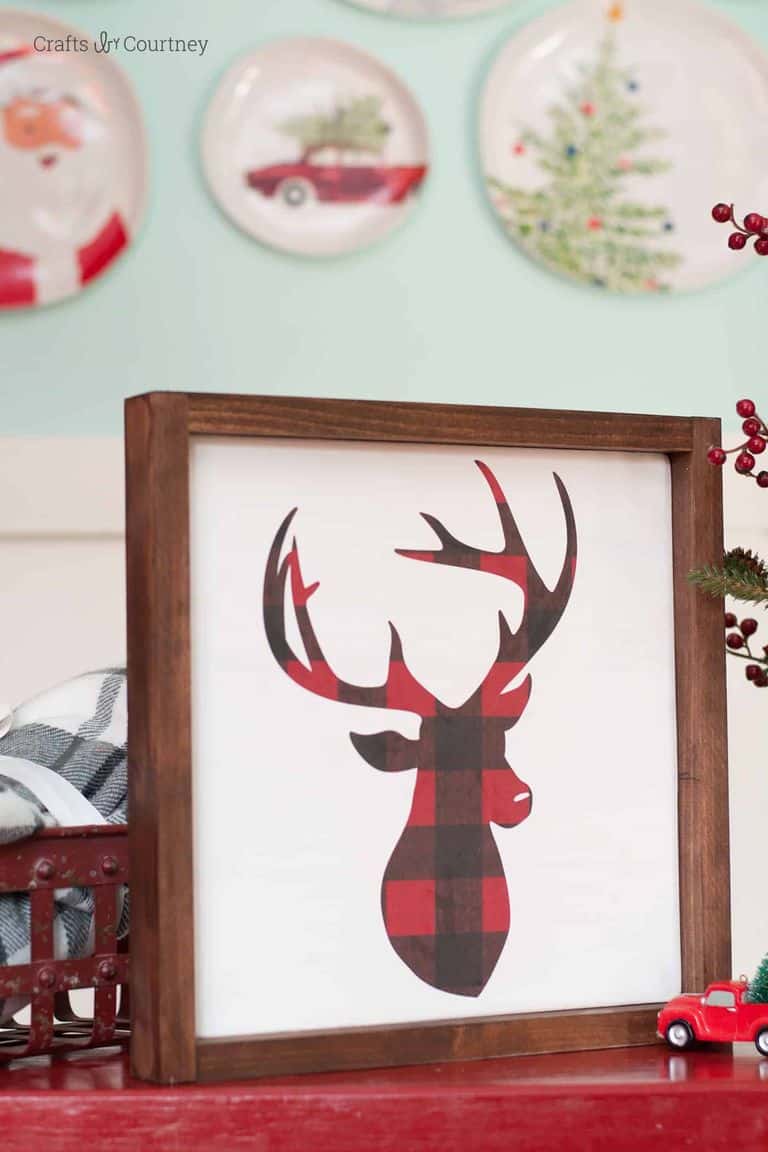 Decorate the house with this festive painting. Using wood as the frame also increases its earthy feeling.
Moreover, the reindeer painting painted in a checkered pattern adds to its uniqueness. Now, this painting is ready to decorate the wall every Christmas!
Luminous Bubble Jar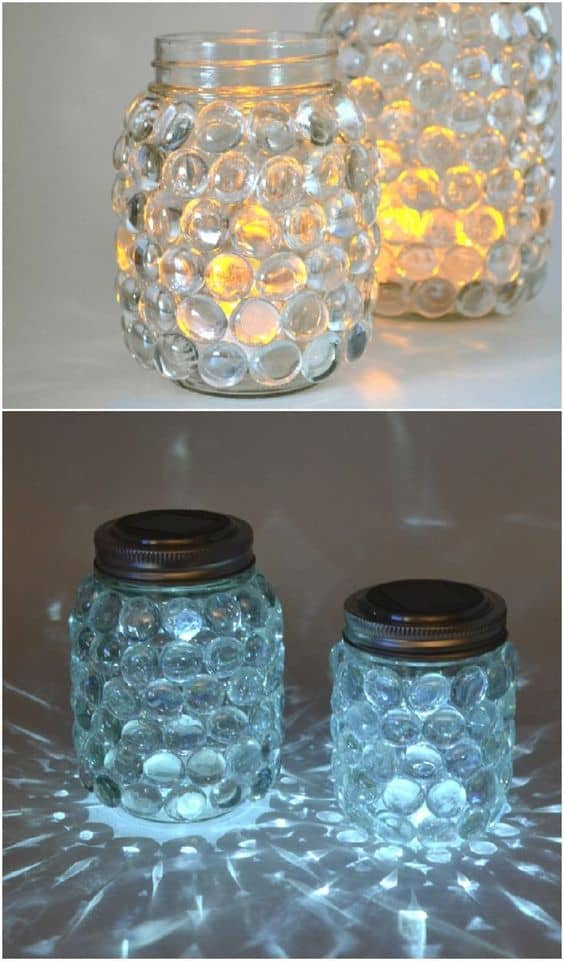 There are so many things that you can do with jars. Besides transforming them into flower pots or simply decorations, you can change them into these amazing luminous bubble jars.
There's no specific way to do this, just make sure you have the jars and then put the lights in them. These luminous jars will accompany your sleeping time from now on.
Beads Tote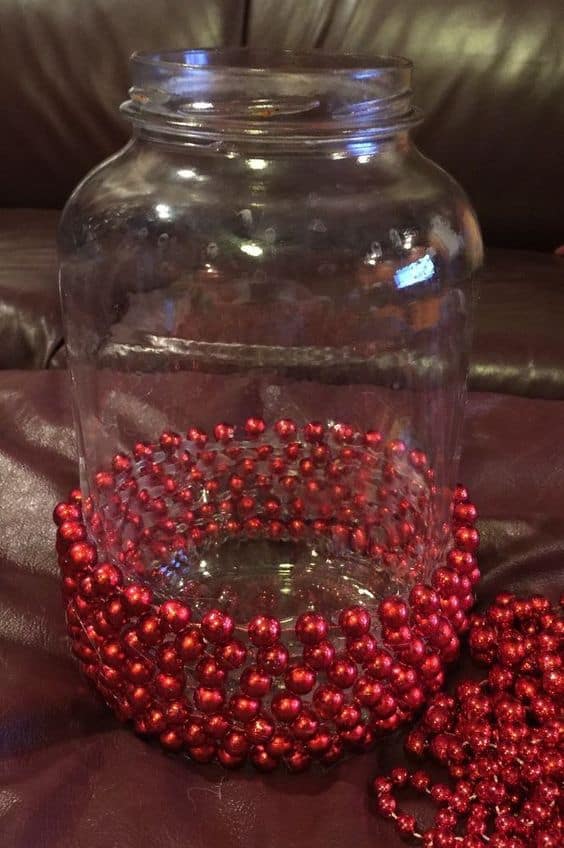 Previously, we encounter a festive sweater tote. Now, you are offered a beads tote. The beads are strung together nicely.
Then, simply round the beads around the jar all the way to the top. It is recommended that you do this to your cookie jars.
Recycled Old Can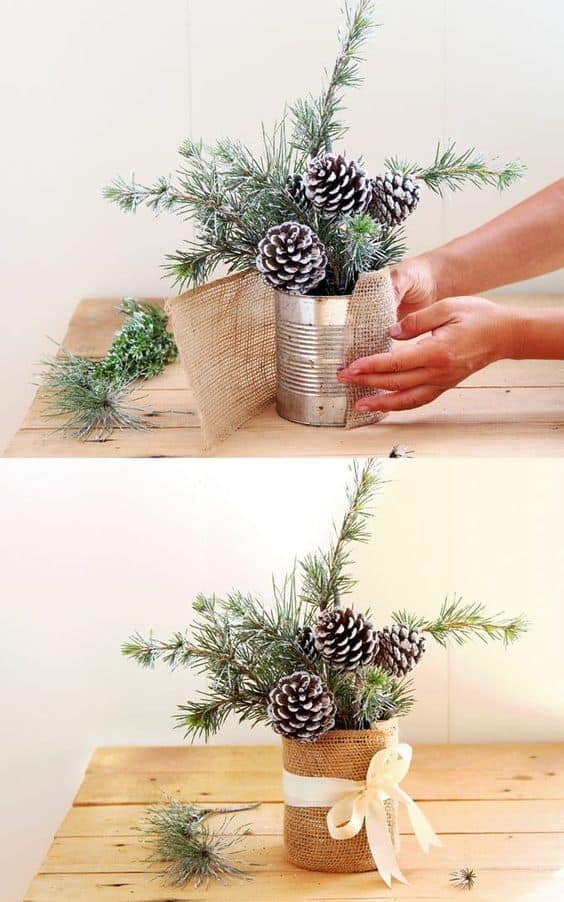 Even an old can that's almost rusty can be transformed into this beautiful pot. Simply cover the can with any preferred material.
Then, tie the can using a ribbon to give it a little feminine touch.
Fill in the can with your favorite flowers and place it in a place seen by everyone. Its earthy and natural feelings radiate throughout the space.
Wooden Coaster Christmas Gift Idea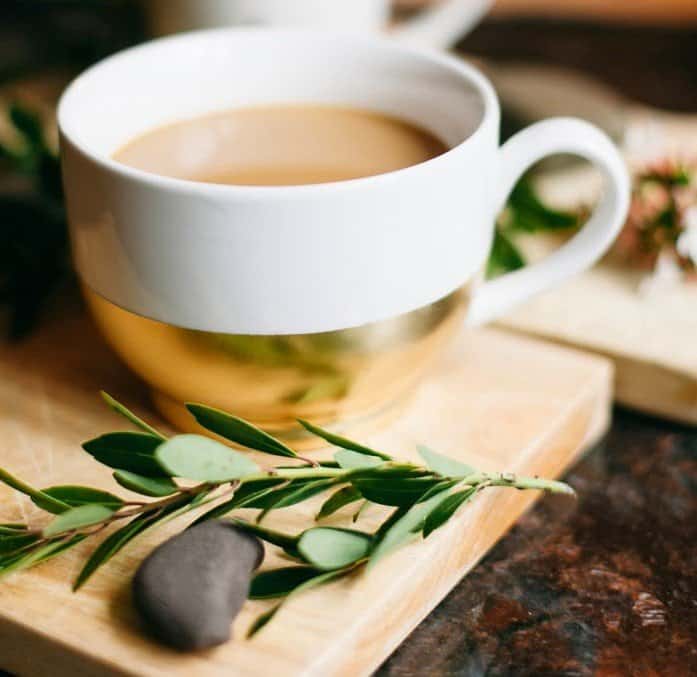 Drinking hot chocolate requires a coaster. Give your loved ones a personalized coaster made of wood to increase the natural atmosphere. Besides, the wooden coaster will bring warmth too.
Christmas Bulbs Easy DIY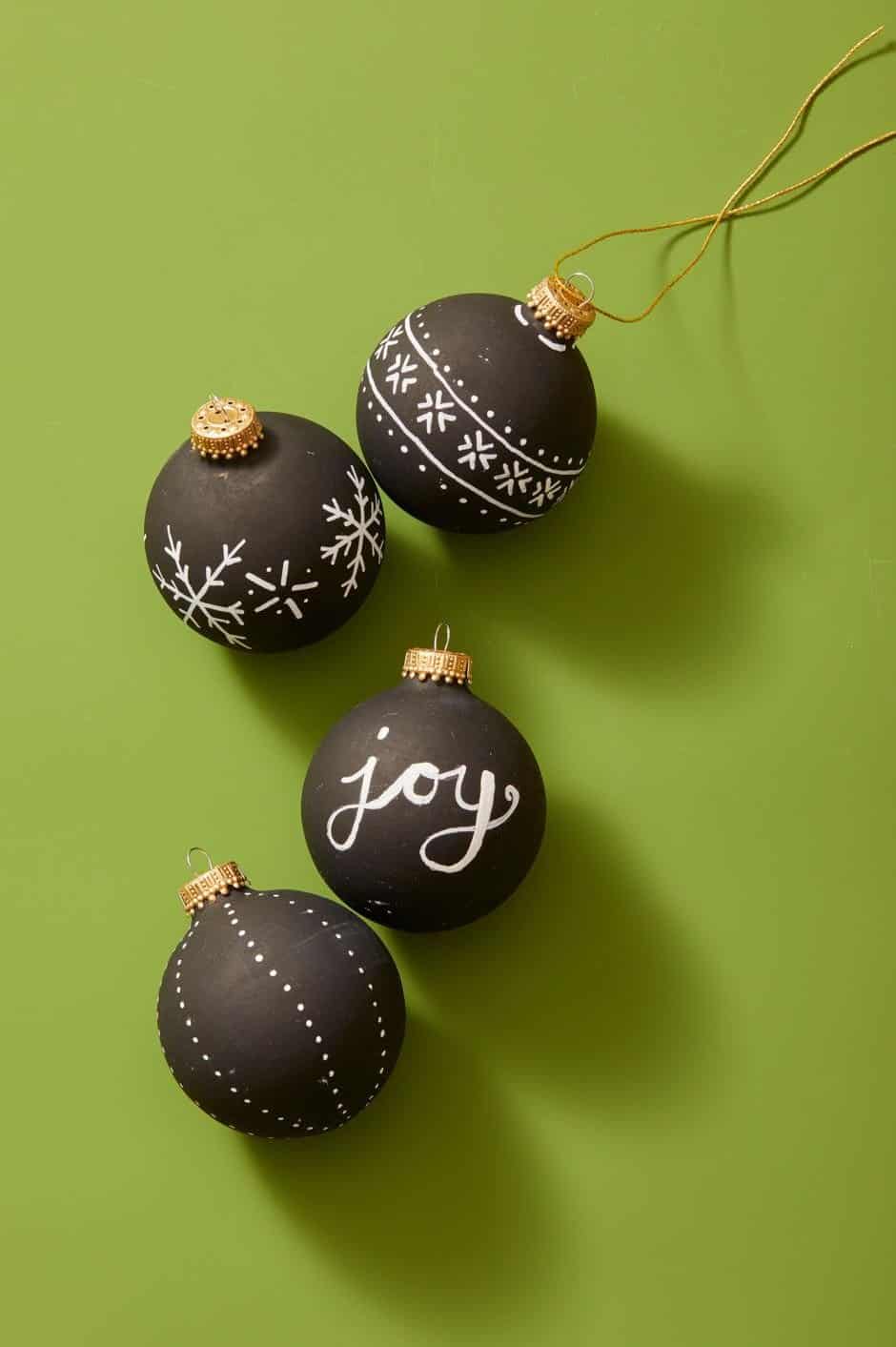 Adorn your family's Christmas tree with these cute chocolate-colored Christmas bulbs.
Simply buy ordinary bulbs and paint them with the preferred color.
Decorate the sides with unique patterns, snowflakes, Christmas related words, like joy. Use a string to attach it to the tree!
Mistletoe on A Jar Christmas Candle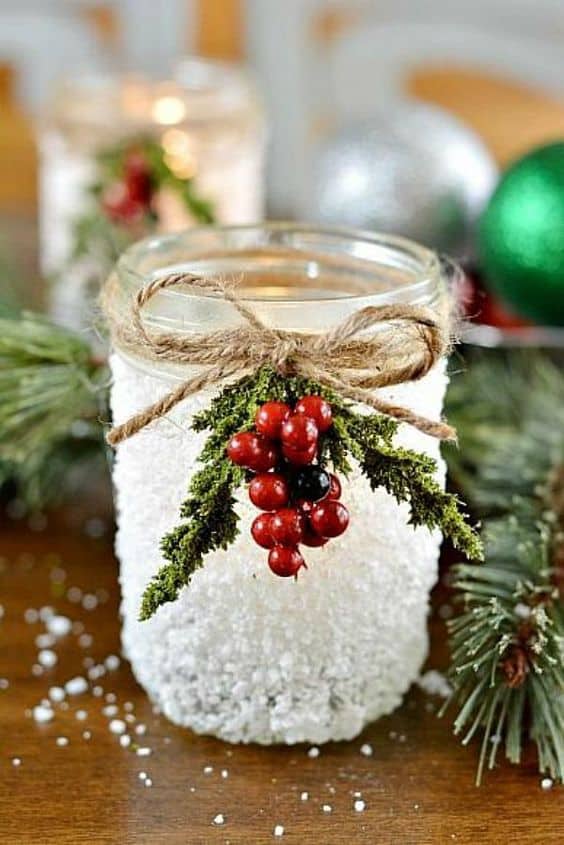 There are many variations of homemade Christmas candles. This one incorporates mistletoe.
The jar, its outer area, is covered with white foam, which makes the inside not visible (well, it's just a candy).
Tie the neck using the string rope. Using beads and fake leaves, recreate a miniature of mistletoe in the middle.
Earthy Herbs Candle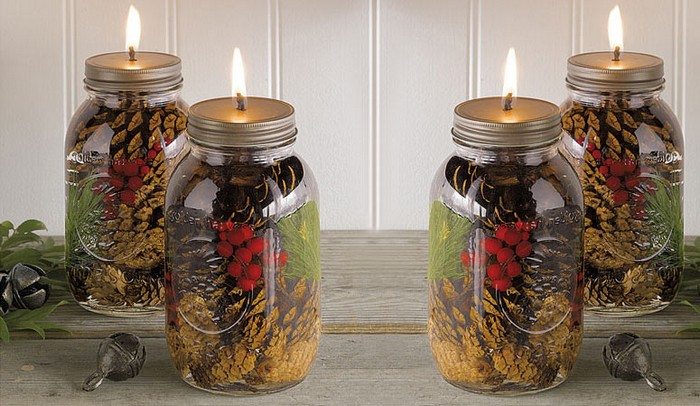 As a popular type of gift, a scented herb candle is a thoughtful gift for a friend who loves organic products.
To make this, collect the herbs and plants. Soak them with oil. Don't forget to create a hole on the lid where the candle can go through.
Imagine the smell. It brings relaxation, and it reduces the bad smell in the room.
Lotus Flower as Candle Holder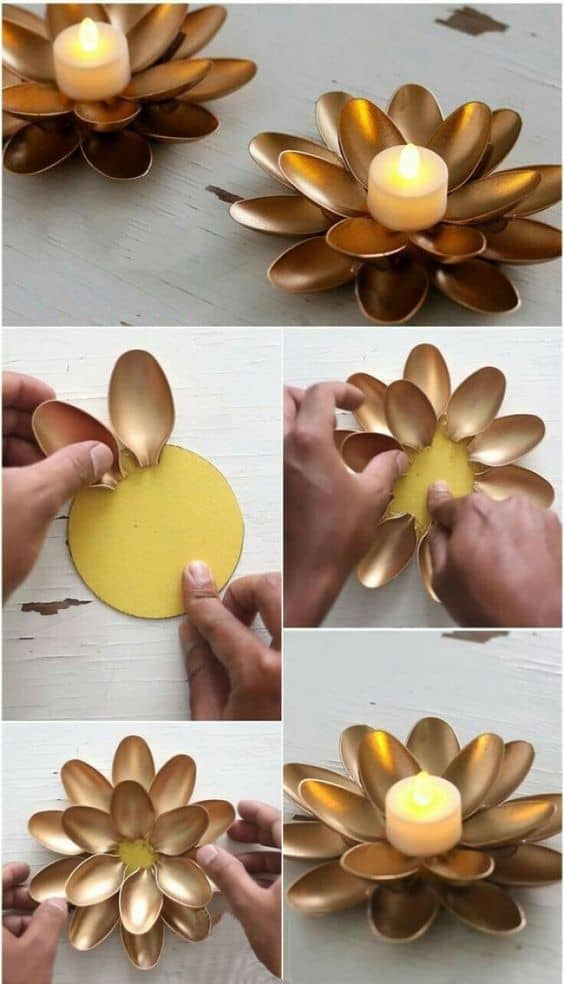 Another creation of a plastic spoon is this beautiful lotus flower, candle holder.
This is gonna be a gorgeous Christmas gift because it's unique and one of a kind. Here's how to make it:
Cut the bowl part of the spoons.
Make a perfectly round shape out of cardboard.
Start gluing the bowl from the outer line of the board to the inside.
Make a two-storey bowl of spoons like the picture above and leave the middle part empty for the candle.
Now, this looks amazing!
Mason Jar Candle Christmas Gift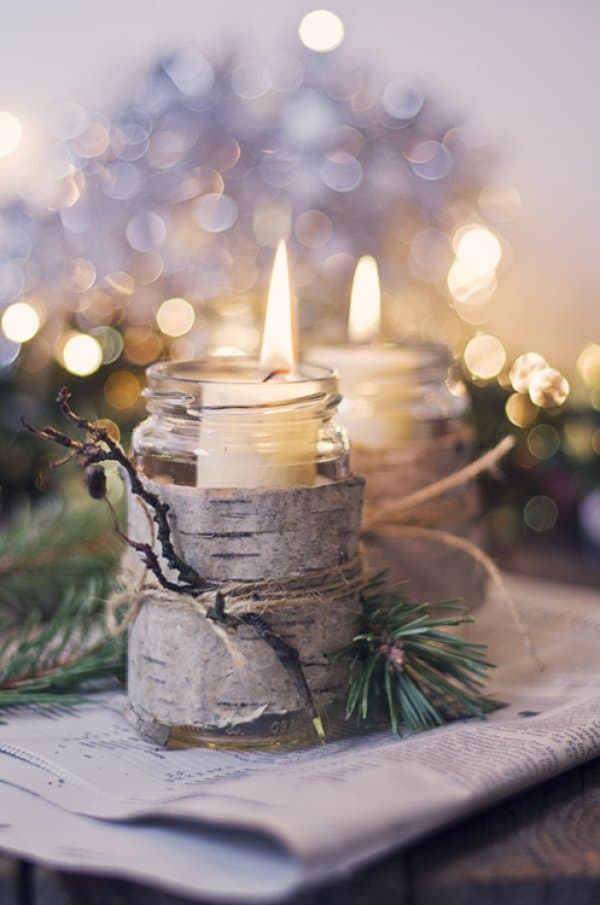 Bring the light and warmth to your loved ones' houses with this amazing candle in a jar gift.
A jar, formerly a cookie jar, covers the outer part with any preferred fabric to confine the heat while the candle is being used.
Either glue or tie the fabric using a rope string. To add a natural feel to it, give some sticks and Christmas tree leaves.
Isn't this candle giving you a relaxing feeling?
DIY Christmas Ornament Gift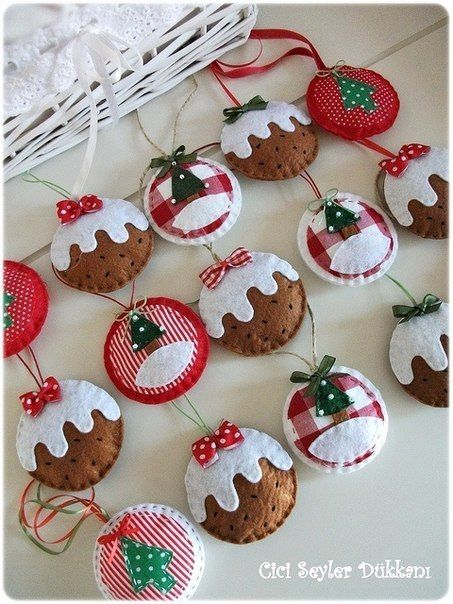 Your Christmas tree deserves these cute Christmas ornaments. These are also cute gifts for your friends.
Some are like gingerbread cookies, and some others are made with Christmas tree stitched on it. These ornaments will make your or your friends' Christmas tree even more lively!
Snow Penguin Candle Jar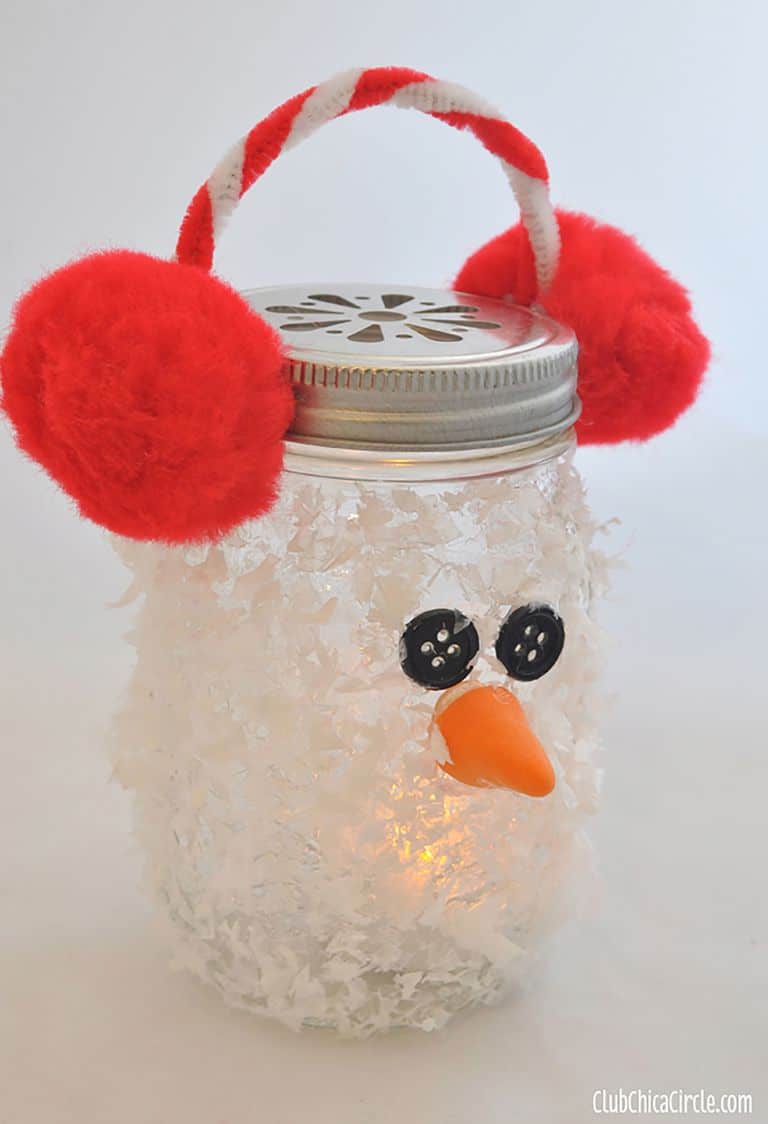 There are many ways to make a unique candle using a jar. This one is borrowing the shape of a penguin.
Using buttons for eyes, an orange pawn for the nose, and quite possibly pieces of white tissue glued to the glass, this snow penguin candle looks adorable!
Christmas Tree Ornament Made of Wood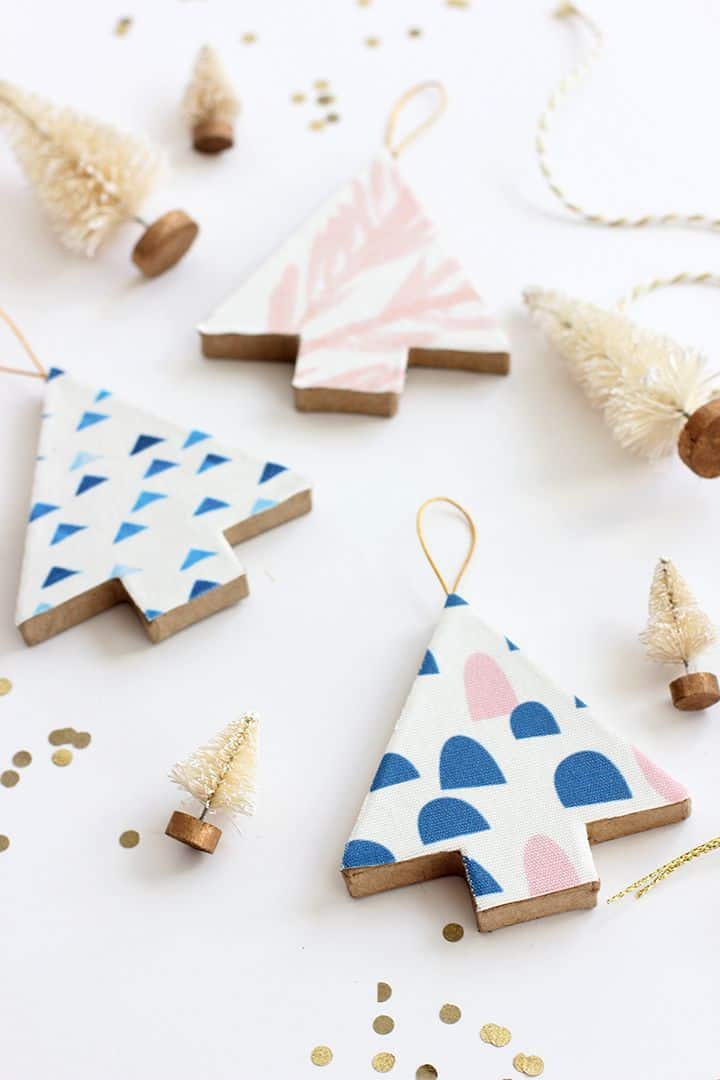 If Christmas' signature colors (red and white) bore you, you may try this new variation. Using wood as the basic material, this ornament will stay for a long time.
Shape the wood into a simple tree and cut the pattern fabric following the shape as well. Finally, attach the string at the top part. This model looks modern and youthful!
Simple White Candle Jars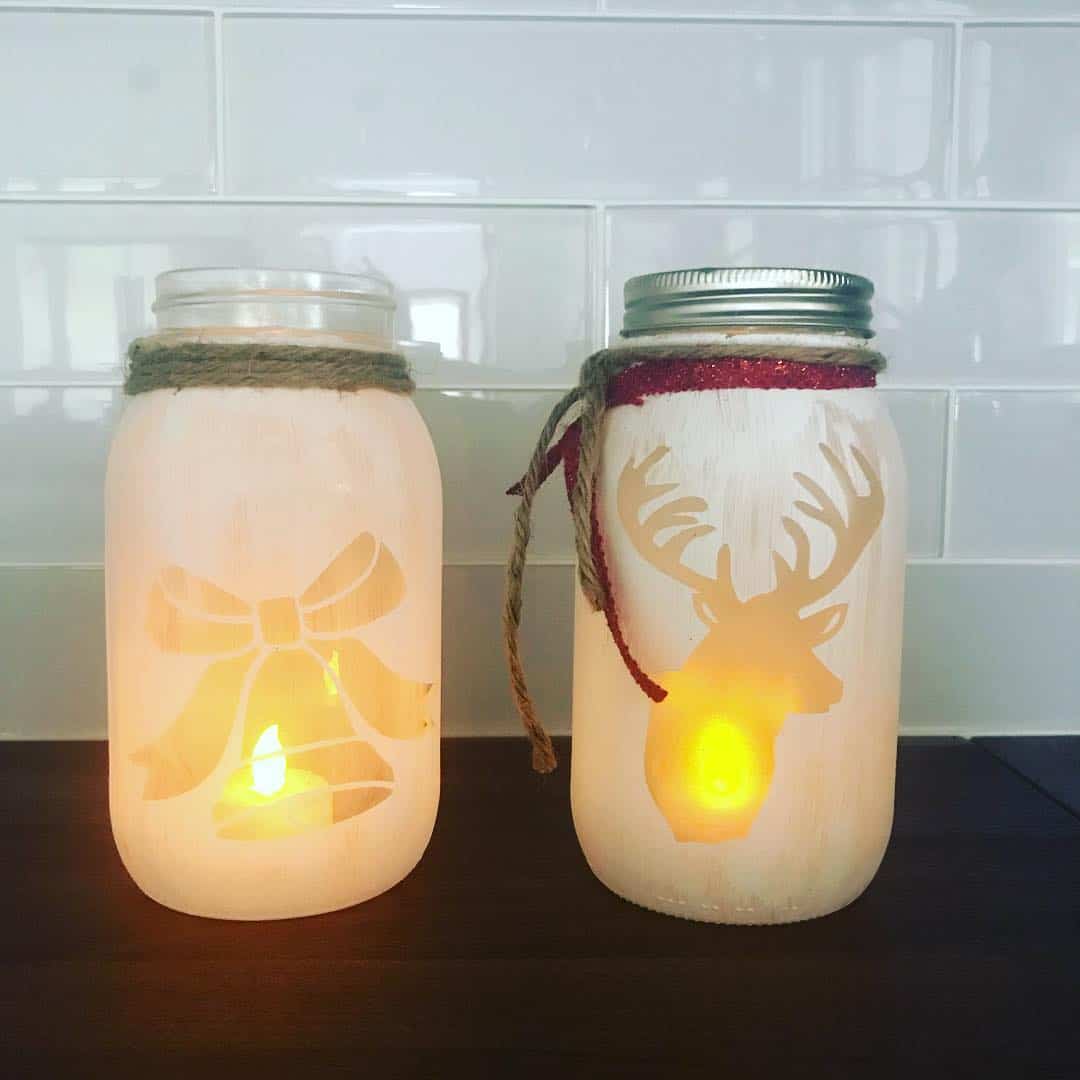 Are you a creative person and handy with artsy things? Take some jars and turn them into these simple yet interesting decorations.
First of all, print or cut out the reindeer and the bell pictures. Stick the pictures to the jar and start painting the jars with the desired color.
When the paint has dried, take off the stickers. Besides, you can tie the neck with colorful strings. This Christmas gift is simple, yet it's a very chic design.
A Plateful of Christmas Brownies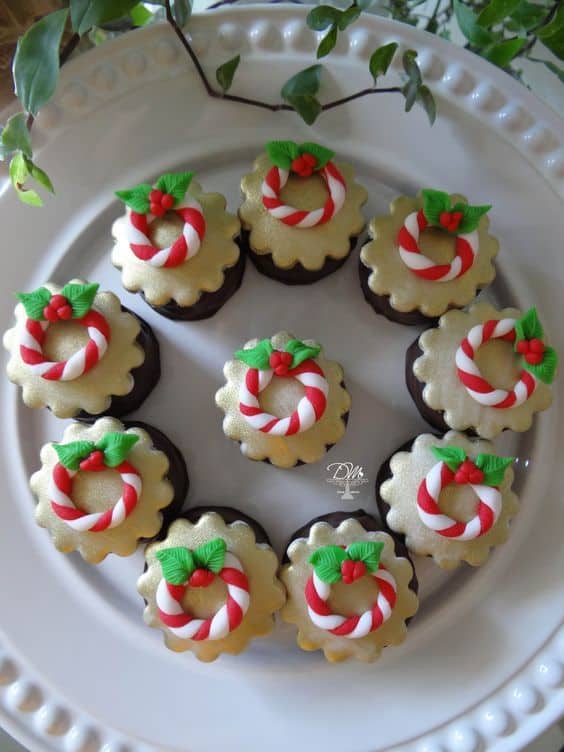 Sending a plateful of cookies to your neighbor will probably be a thoughtful Christmas gift idea.
You make the cookies. They contain love, caring, and joy too! Your neighbor must be pleased!
Christmas Tree in A Pot Gift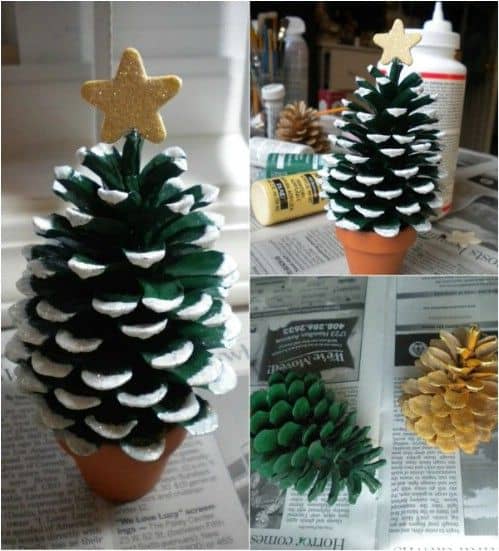 Spending some time making a Christmas gift for your loved ones is an act of caring. They will appreciate your effort too.
This cute Christmas tree in a pot is a well-thought Christmas gift for anyone. It can be placed on top of a table or simply put on the corner of your house.
Chocolate Cookies Christmas Gift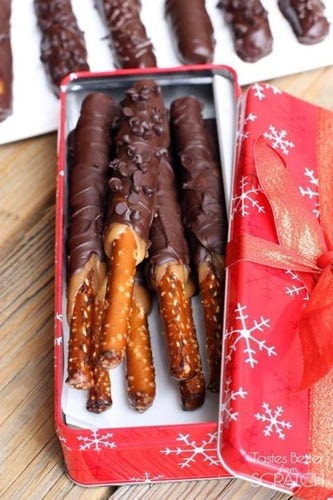 If you are handy with baking, making cookies for neighbors, relatives, families, and friends is the best way to show your love this Christmas.
Wrap up the cookies in a festive jar to live up with the Christmas vibe.
A Decorative White Jar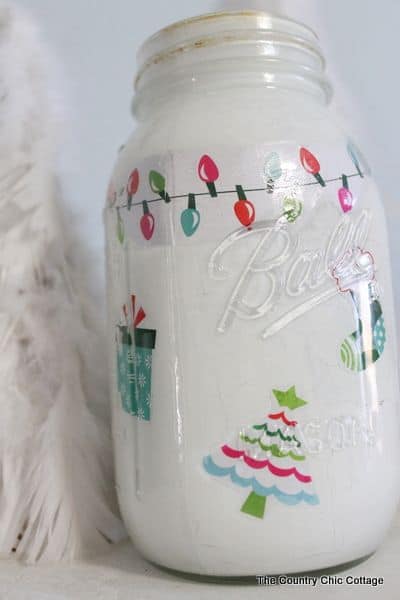 Previously, the candle jars are painted from the outside. This time, let's paint it from the inside with a milky white color.
Before painting it, glue the stickers first. The result is quite surprising. It looks good and neat since we can't see the paint.
Pinecones Cookies Gift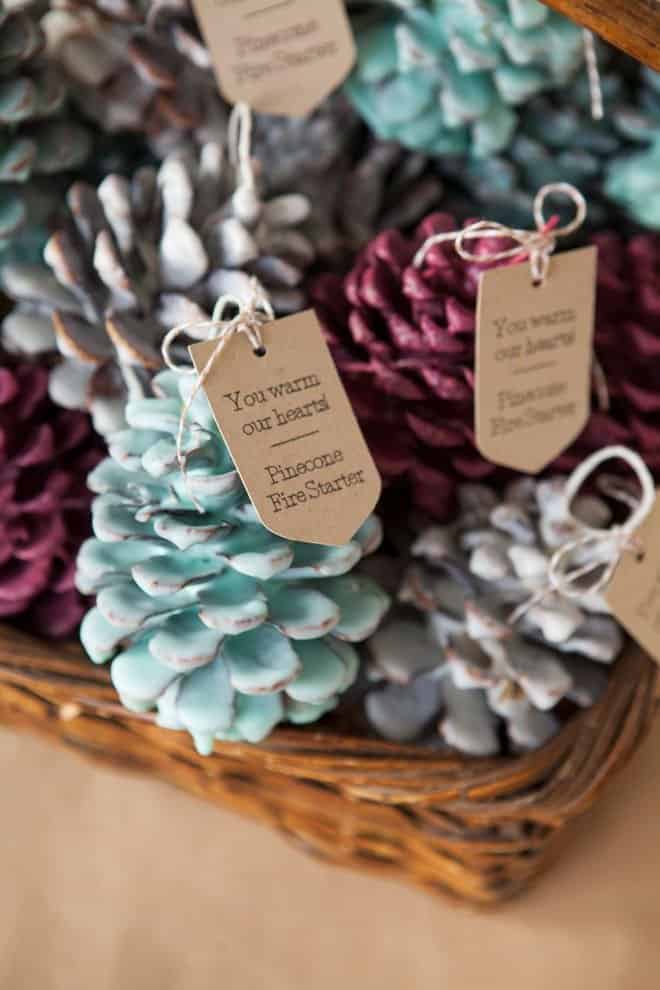 Making cookies is the sweetest gift you can do for Christmas. Let everyone taste your love through your cookies.
This one is made to resemble a pinecone. The colors are made variously to bring cheerfulness.
Now, take this basket full of joy for everyone!
Cute Penguin Doll Gift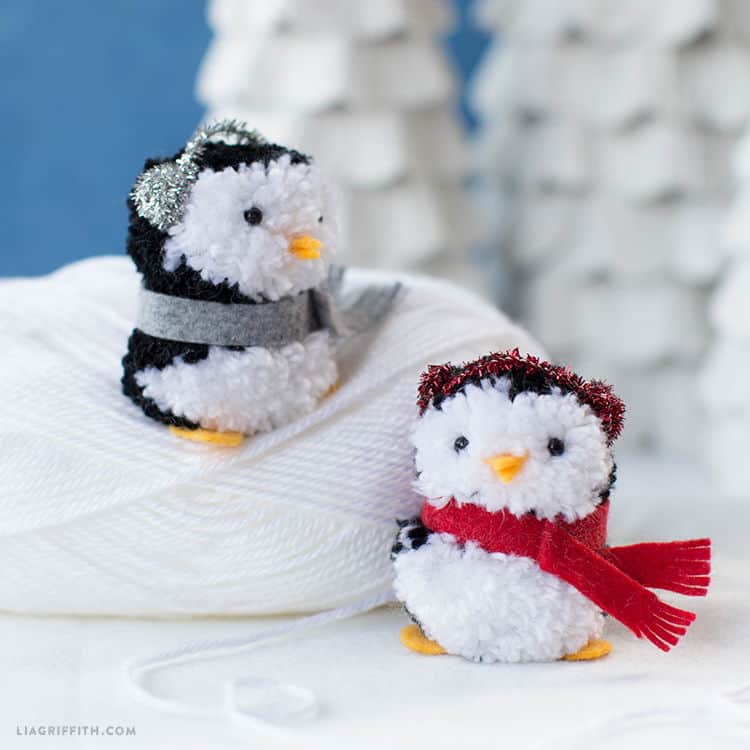 If you are crafty, making a doll like this is cute. It can be used for many purposes. It can be a keychain or just an additional ornament for Christmas decorations.
These cute little penguins will bring joy to the kids.
Perhaps, they want to bring these penguins home, and you should just let them because this is the moment of joy and togetherness.
---
Aren't these DIY Christmas gift ideas seem to be really awesome?
Don't wait anymore!
Start collecting the ingredients for the Christmas gift idea that has enticed you most.
Be creative as much as you can and let the biggest festivity of the year turn out to be even more fun and warm for you and your family and friends.
Wait! Are you having some more out of the box DIY Christmas gift ideas? Share them with us in the comment section below. As they say, the more, the better!
I wish you all a Merry Christmas in advance. Hope Santa brings a bagful of happiness to all of your lives this year.