Don Pedro Brooklyn is reader-supported. When you buy through links on our site, we may earn an affiliate commission. Learn More
21 Enchanting Farmhouse Bedroom Design Ideas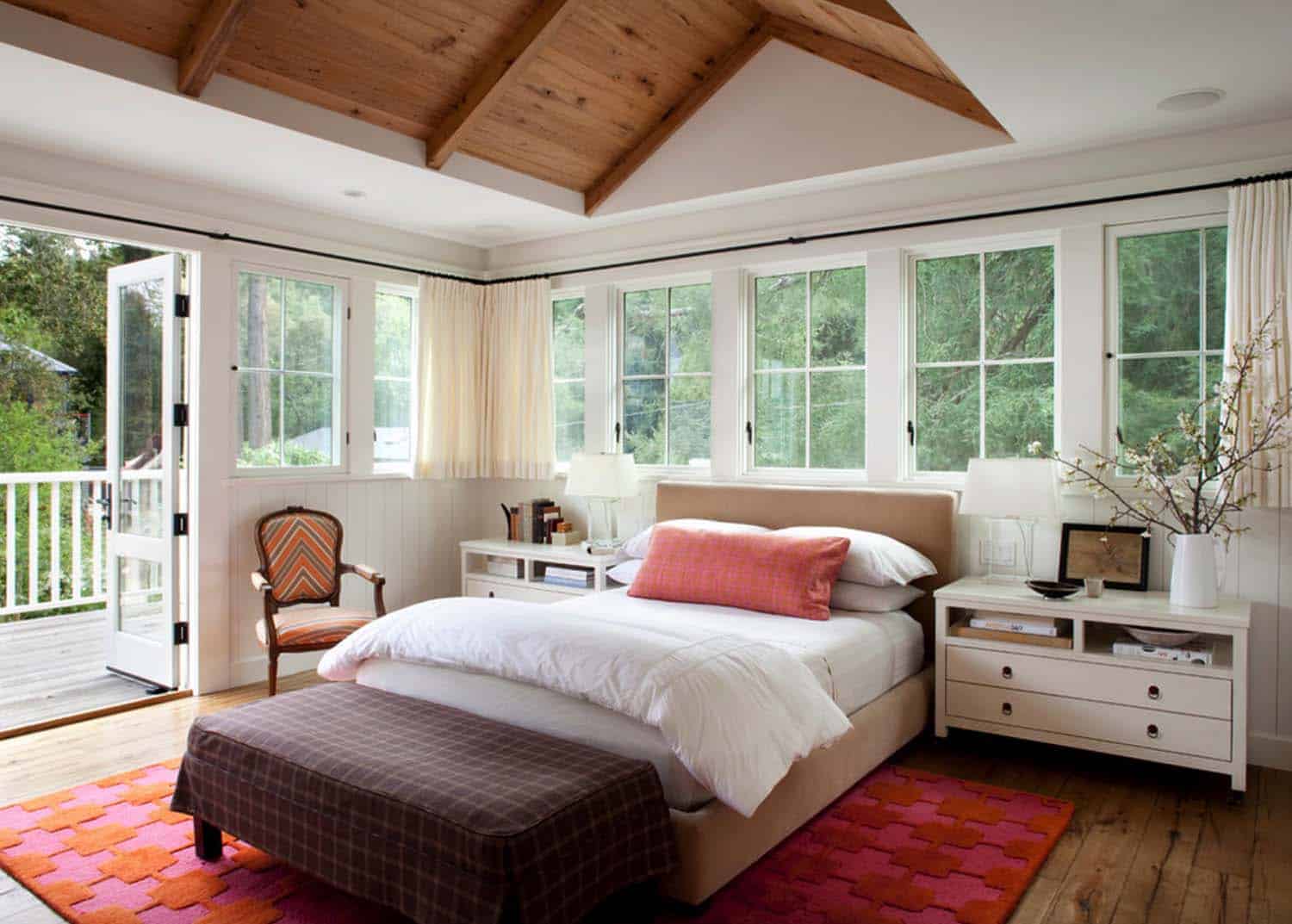 Every year, there's always a new, updated style in decorating a room. Decorating a space means transforming the out-dated, old-school area into a more modern one, which is more inviting and eye-pleasing.
These days, farmhouse decor is through the roof, especially the farmhouse bedroom ideas.
As a place for unwinding, the bedroom must be cozy, and farmhouse bedroom decor answered all the requests. This particular design plays with small details to put together the whole farmhouse or country feeling idea.
For example, a farmhouse bedroom should have antique or vintage pieces, such as a flower vase that was once a milk jug or a rustic, rickety ladder that's being re-functioned as a towel holder.
Here, over 20 farmhouse bedroom ideas can inspire you to transform the bedroom into a warm, welcoming country-style space.
Rustic Headboard with Dried Leaves Decor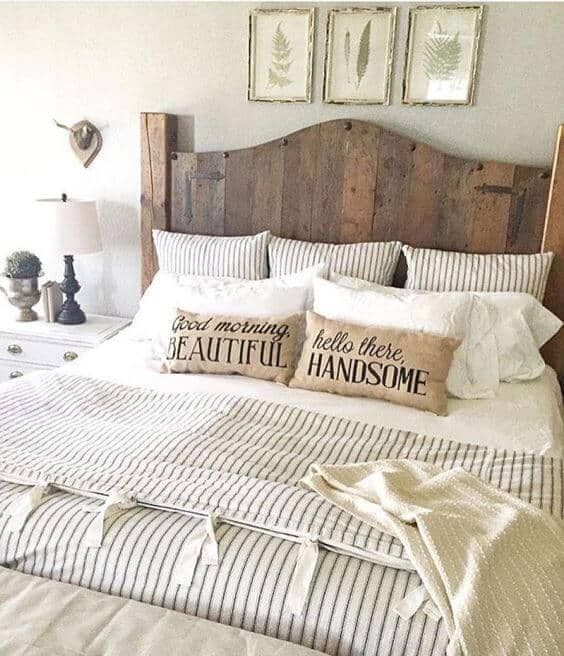 There are many ways to use the repurposed barn woods in a bedroom. One of them is to transform them into a nice, lovely headboard.
The headboard shows a strong deep brown color with dark stains here and there, marking its old age.
Such vintage value elevates the price of the area, too, because vintage and antique pieces are through the roof these days. Add some natural decor, such as the dried leaves on the frame on the wall.
Mid-Century Modern Bedroom with Farmhouse Decoration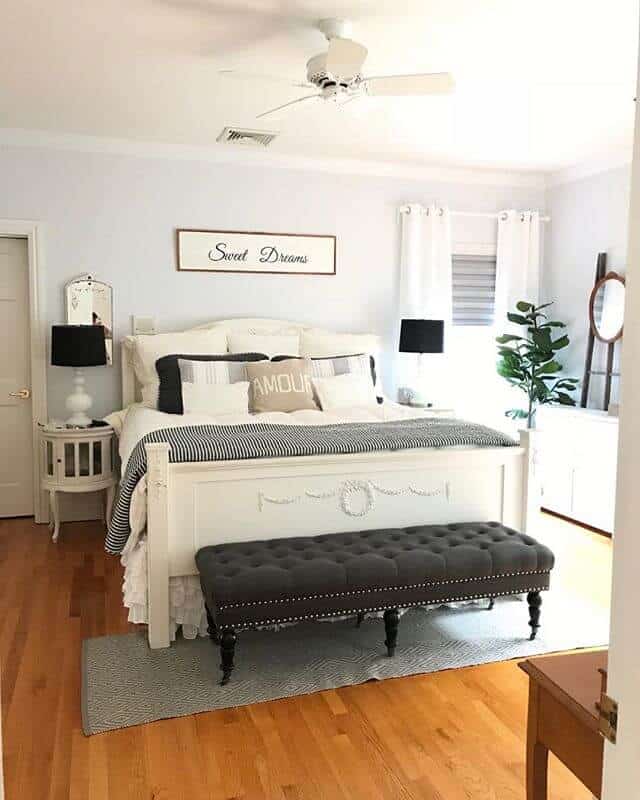 Decorate your mid-century modern bedroom with a touch of the countryside. A farmhouse design doesn't always have to dominate the entire space.
There's a 'sweet dream' sign above the headboard, which strengthens the simplicity in this picture. Another vintage piece is the foot-couch, which has an old-fashioned pattern.
Luxurious Farmhouse Bedroom with Antique Nightstands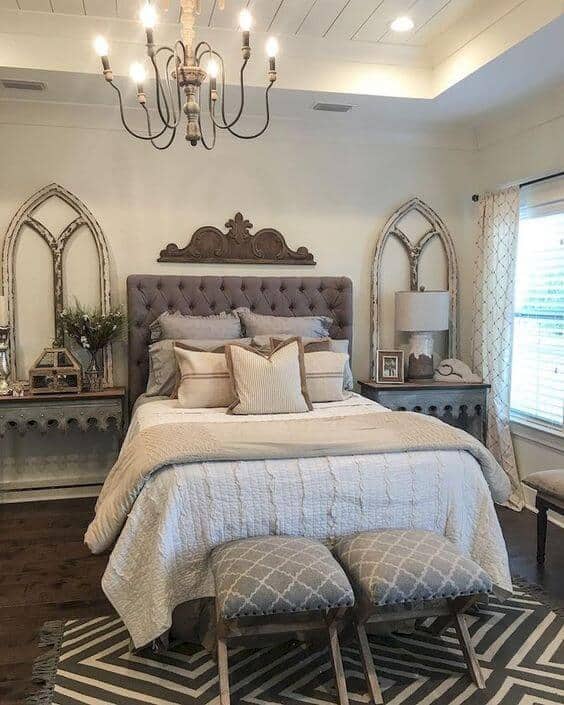 This bedroom radiates a true farmhouse, country chic feeling. It comes from the classy wooden vintage decoration above the headboard.
Additionally, the bed is accompanied, on both sides, by rustic nightstands, which seem to have peeling cathedral window panes.
To accentuate the farmhouse bedroom atmosphere, add vintage jewelry boxes and other rustic decorations.
A Farmhouse Bedroom Suite with High Ceiling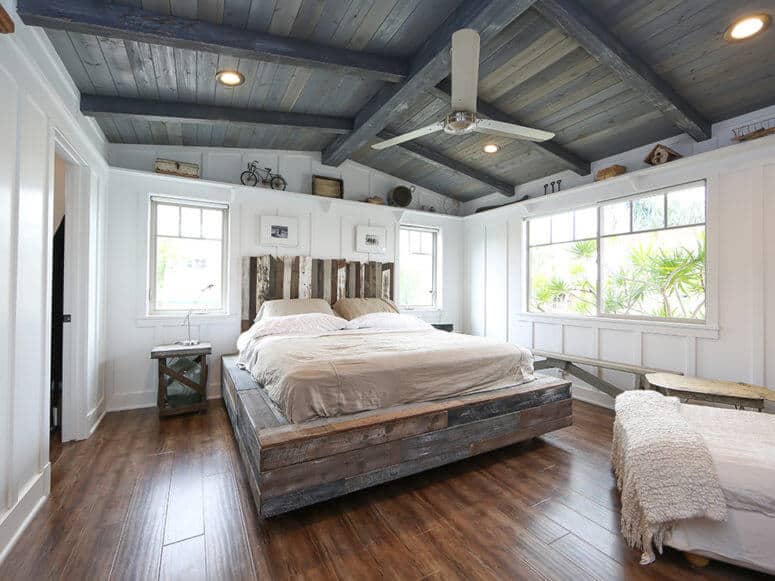 One of the most popular traits of a farmhouse bedroom idea is its wood beams ceiling.
Moreover, a high ceiling gives the room a larger feeling to have reclaimed barn woods as the beams make the room cozier.
Not only that, the bed uses repurposed barn woods into unique headboard and bedding.
Antique Window Frame as Bedhead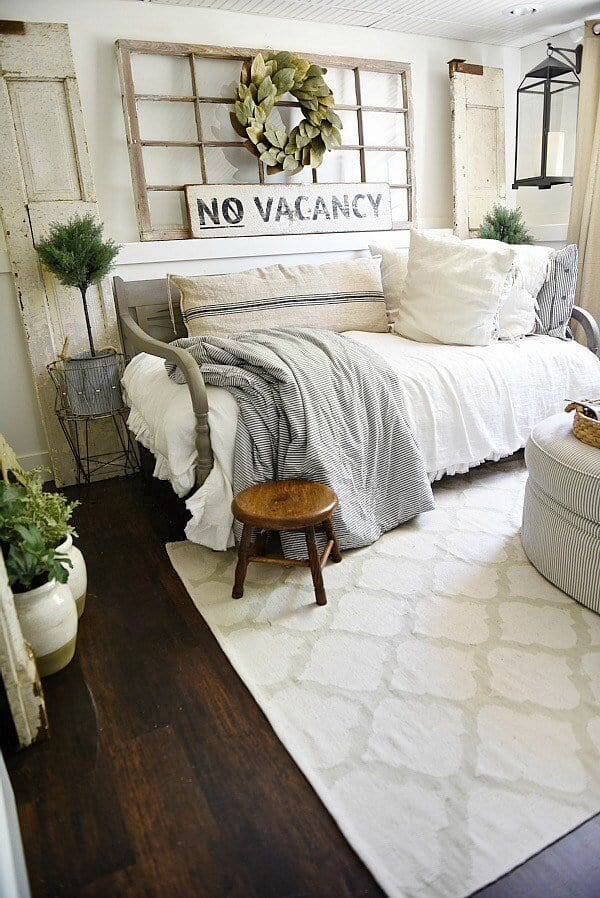 Rather than leaving your wall empty, decorate it with the perfect farmhouse decoration, such as this antique windowpane.
It has been very old that it becomes rusty and looks rickety. The paint is peeling, but that's where its precious value is located. Strengthen the vintage feeling by adding old door panes, too.
Repurposed Barn Door and A Chandelier Box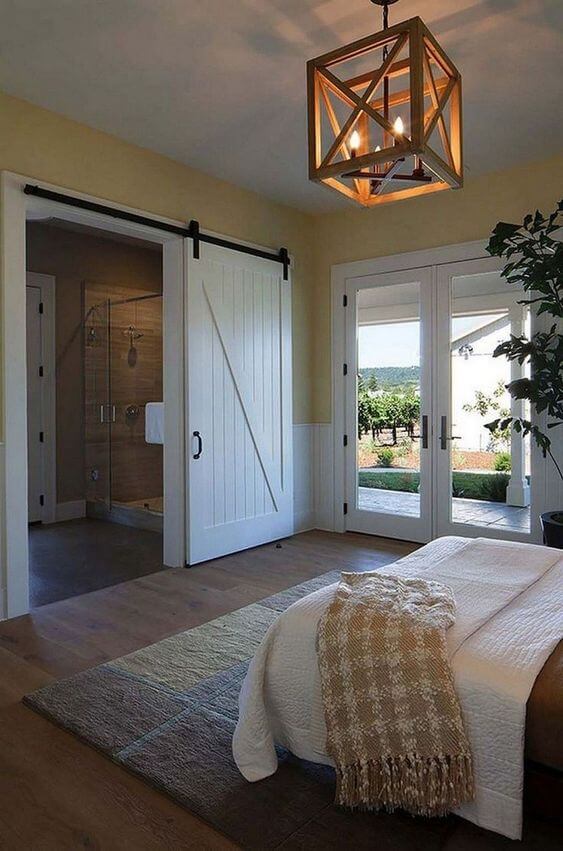 You can spot natural colors that make the room look soft. The wall is painted with yellow ochre, which then the lower half is covered with a white accent.
To invite the natural light and extend the view from the room, use a sliding glass door.
The sleeping area and the master bathroom are separated by repurposed barn doors that color the wall accent.
An All-white Newlywed Couple Farmhouse Bedroom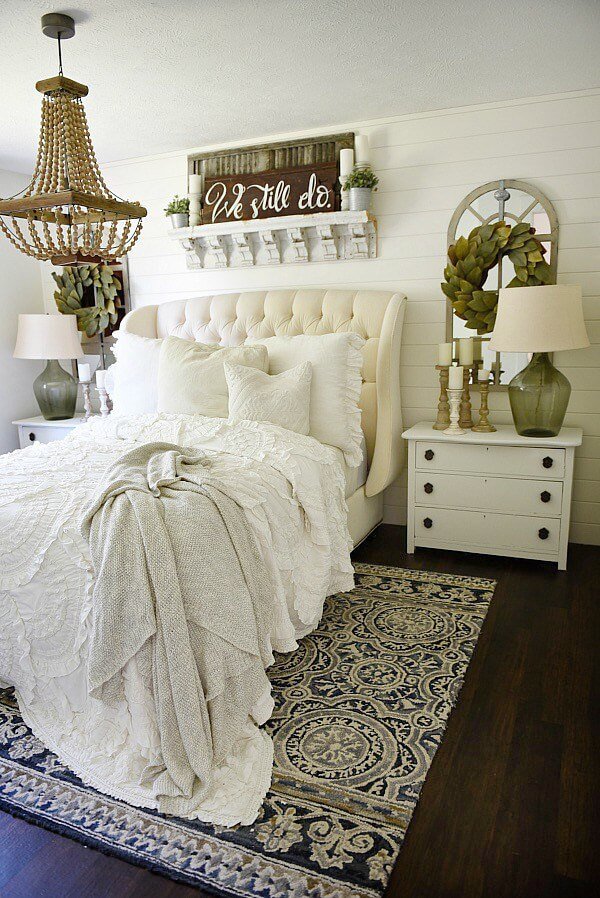 This idea is very suitable for a newlywed couple or a couple who wants to preserve the wedding atmosphere around them.
Then we still do sign is written on a piece of repurposed barn wood plank, which is placed in between the vintage candle pots and planter buckets.
Since the white is dominating the room, add a pop of green color to elevate the space's natural feeling.
Vintage Farmhouse Bedstead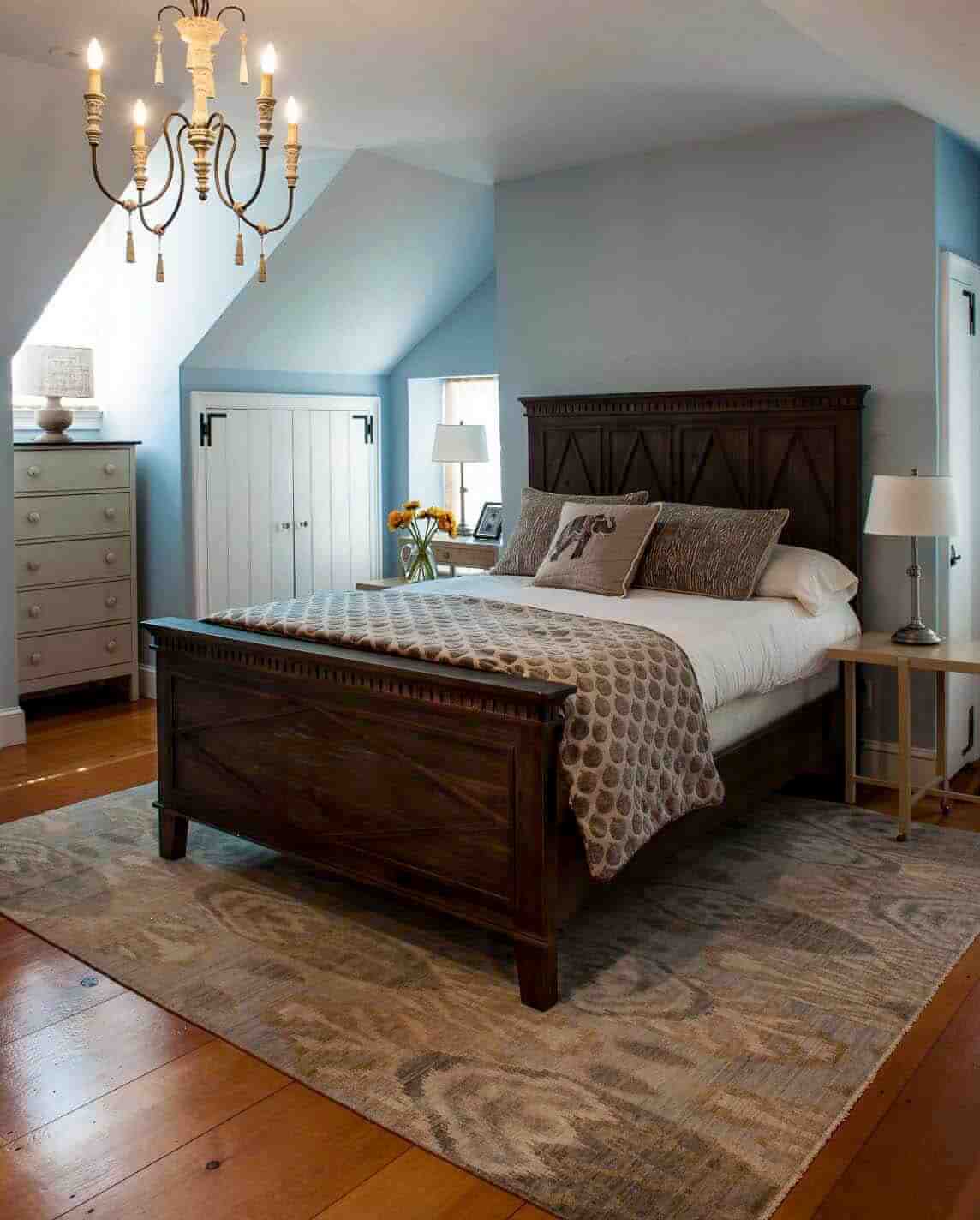 Farmhouse decor is popular for its vintage furniture. One of the most common pieces of furniture is usually bedding or bedstead. This bedroom has an old-fashioned, vintage bedstead.
It's made of durable woods, and it has a warm dark color. The details on its headboard are eye-catching and gorgeous.
Accompanied by a candlelight chandelier, this room is a true vintage farmhouse style.
A Country House Bedroom with Wooden Logs Nightstands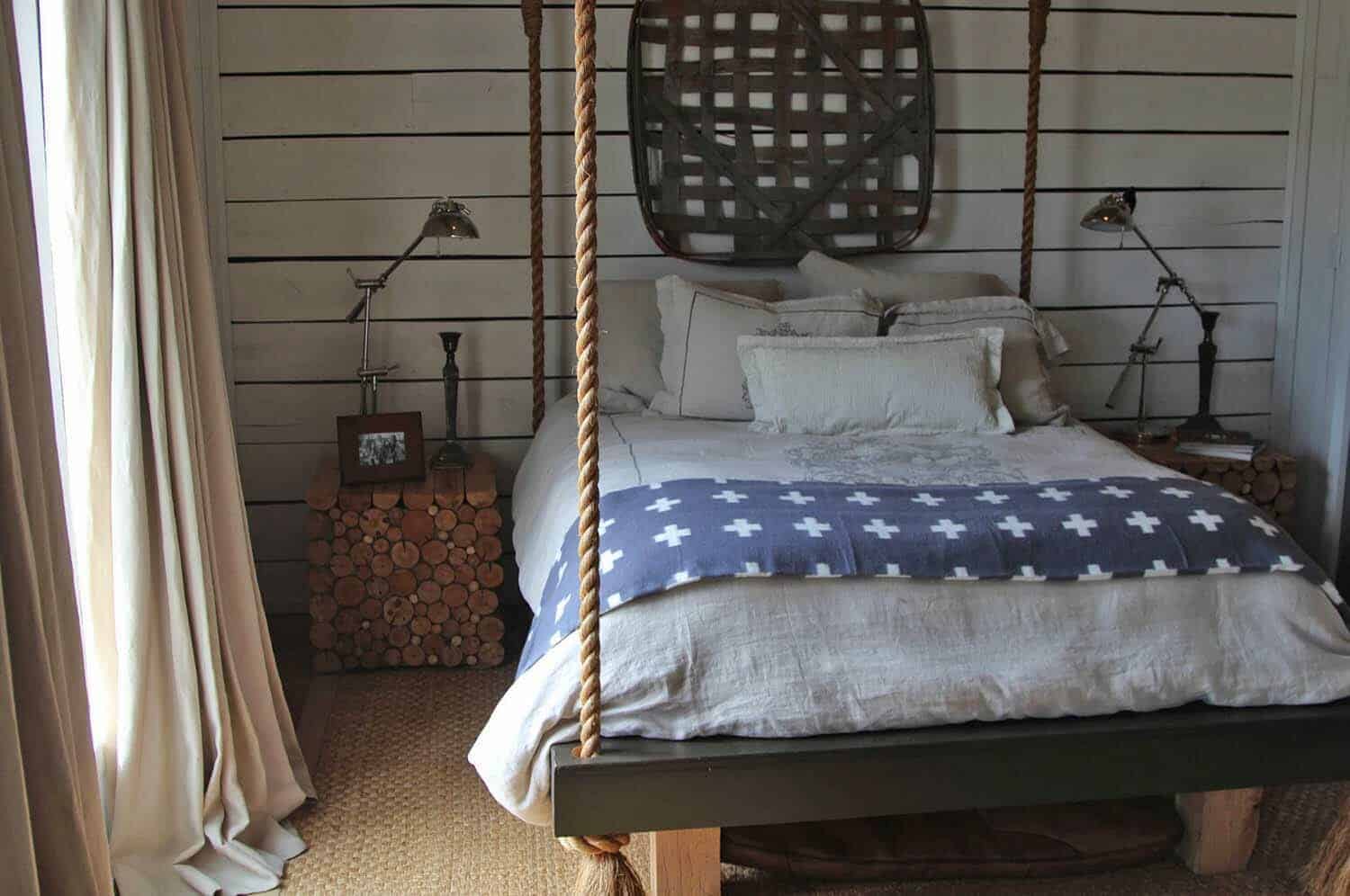 A small space shouldn't be a problem. A farmhouse or country house decor can still be involved in it.
For example, this homeowner creatively built a nightstand using wooden logs. Custom-made furniture is better because you can measure the available space before actually building the piece.
Moreover, the bedstead is also one of a kind. It looks like it's a giant swing, using rope from the ceiling merely as decoration.
In addition, there a recycled tire decoration above the bedhead to strengthen the farmhouse feel.
A Farmhouse Bedroom Condo with A View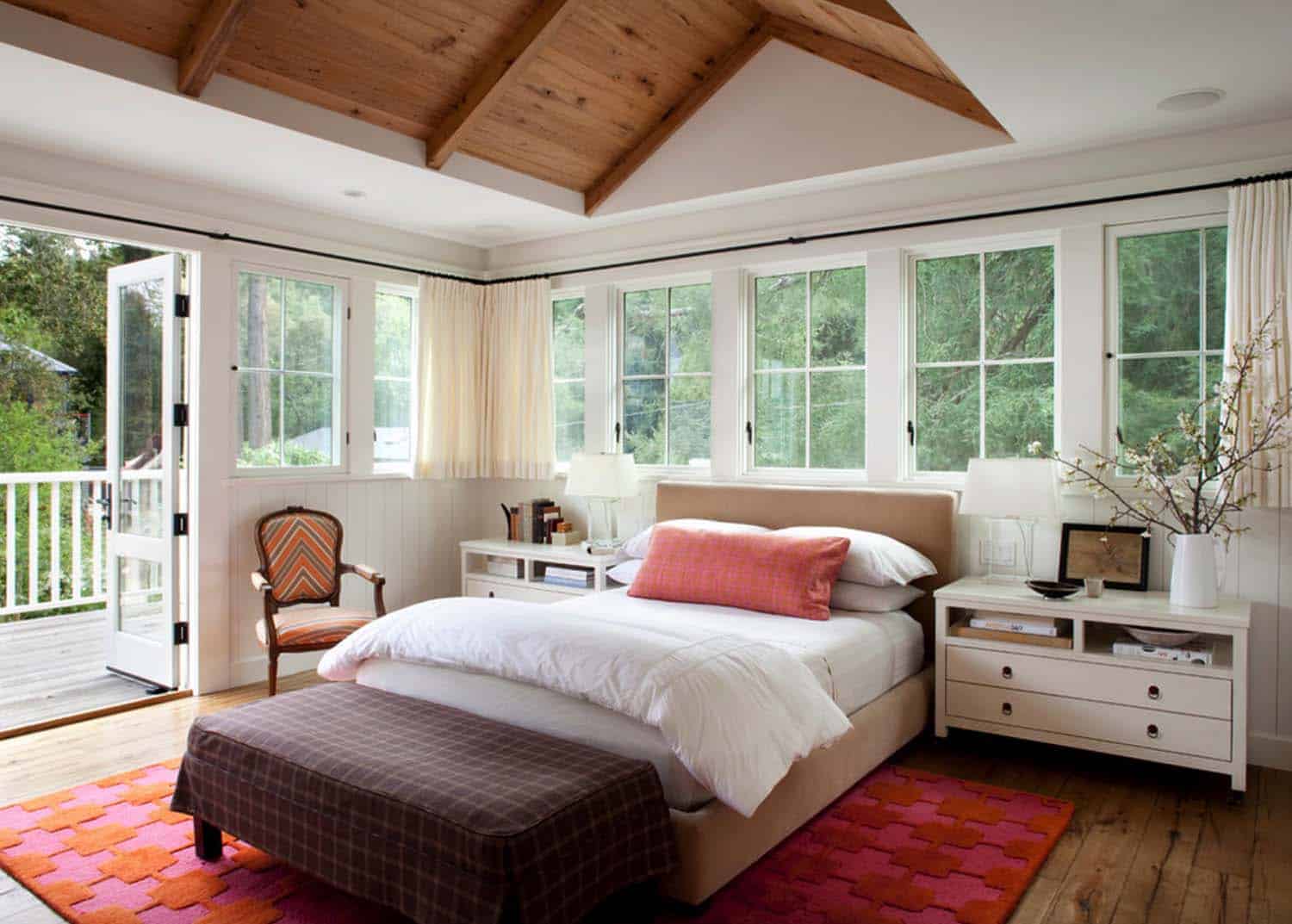 A guest room must offer comfort to the guest. This room chooses farmhouse decor to bring warmth, inviting, and welcoming vibes out of the box.
The vintage armchair is a nice touch, strengthening the presence of the wooden beams. When the eyes lie outside, there's a natural view that'll make the guest even more relax.
An Open Farmhouse Bedroom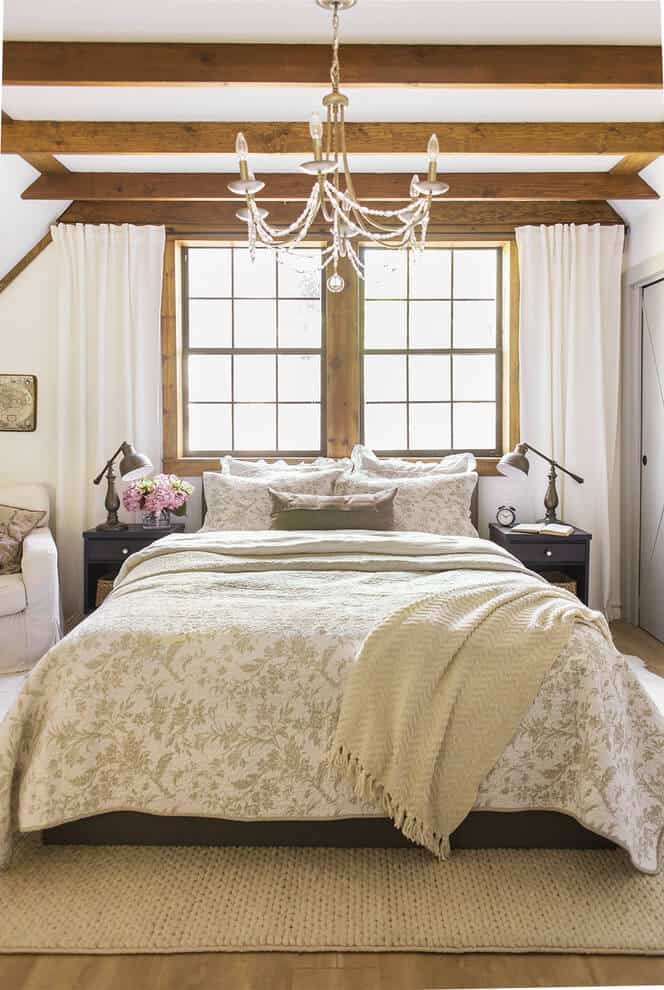 Usually, a large bedroom space has a high ceiling. This is an opportunity to be creative with the beams.
Instead of going vertically like how it's always is, you can install the beams horizontally as such.
Additionally, extend the atmosphere of natural wood to the window frames. As you notice, the bedroom is dominated by colors found in nature, white and brown. It's a smart decision to pick white for the bedding and curtain.
Recycled Window Frame into A Vintage Planter Frame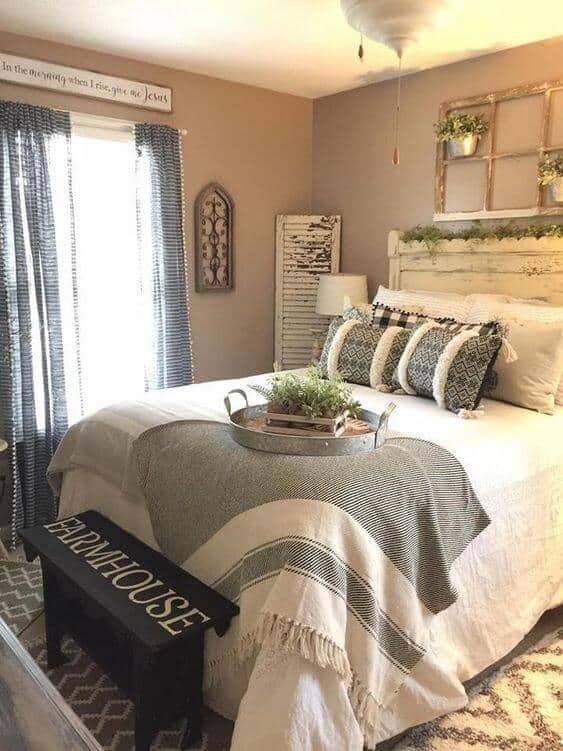 Commonly, an old window frame would be transformed into a photo gallery. Another creative idea is to turn it into a beautiful planter frame. You can use vines or a planter bucket.
Don't stop there. You can adorn the headboard piece with more plants for that nature vibe. To accentuate the farmhouse feel, add a rustic french door and a farmhouse sign.
Clean-cut Modern Farmhouse Bedroom Design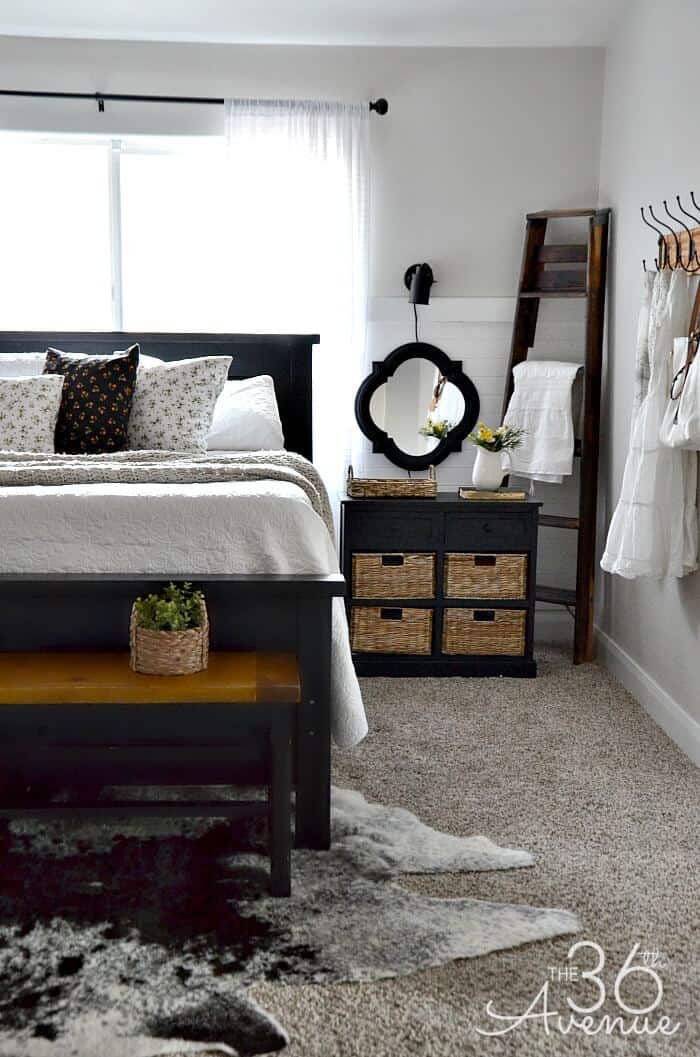 We've seen farmhouse bedrooms with a rustic country house quality, yet this one shows a different style. You can live in an urban area but still exhibits a farmhouse design.
The main key is to connect with material from nature, such as the faux leather rug on top of a brown larger rug, the rattan drawers that function as storage, the dark brown ladder function as a towel holder.
Barnwood Love Sign and Rustic Door to The Bedroom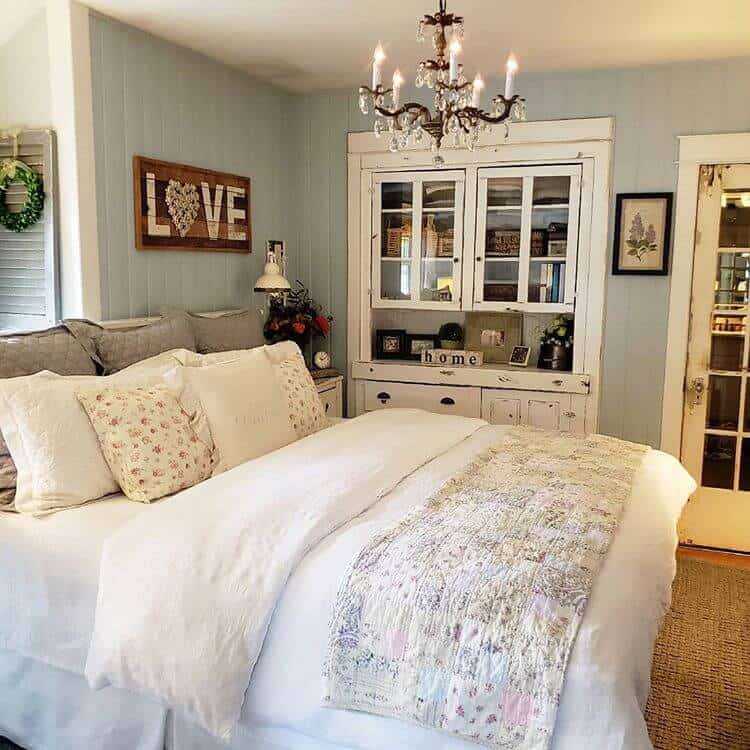 Looking for a bedroom suitable for any age?
Well, a barnwood love sign is definitely the answer. It fits anyone.
Moreover, the love sign is accompanied by the rug and the rustic door.
As seen, the door seems old. It has some peeled parts here and there. The color has faded, too. But that's the farmhouse bedroom value that we all have been looking for.
Country Style Bedroom with Floral Decoration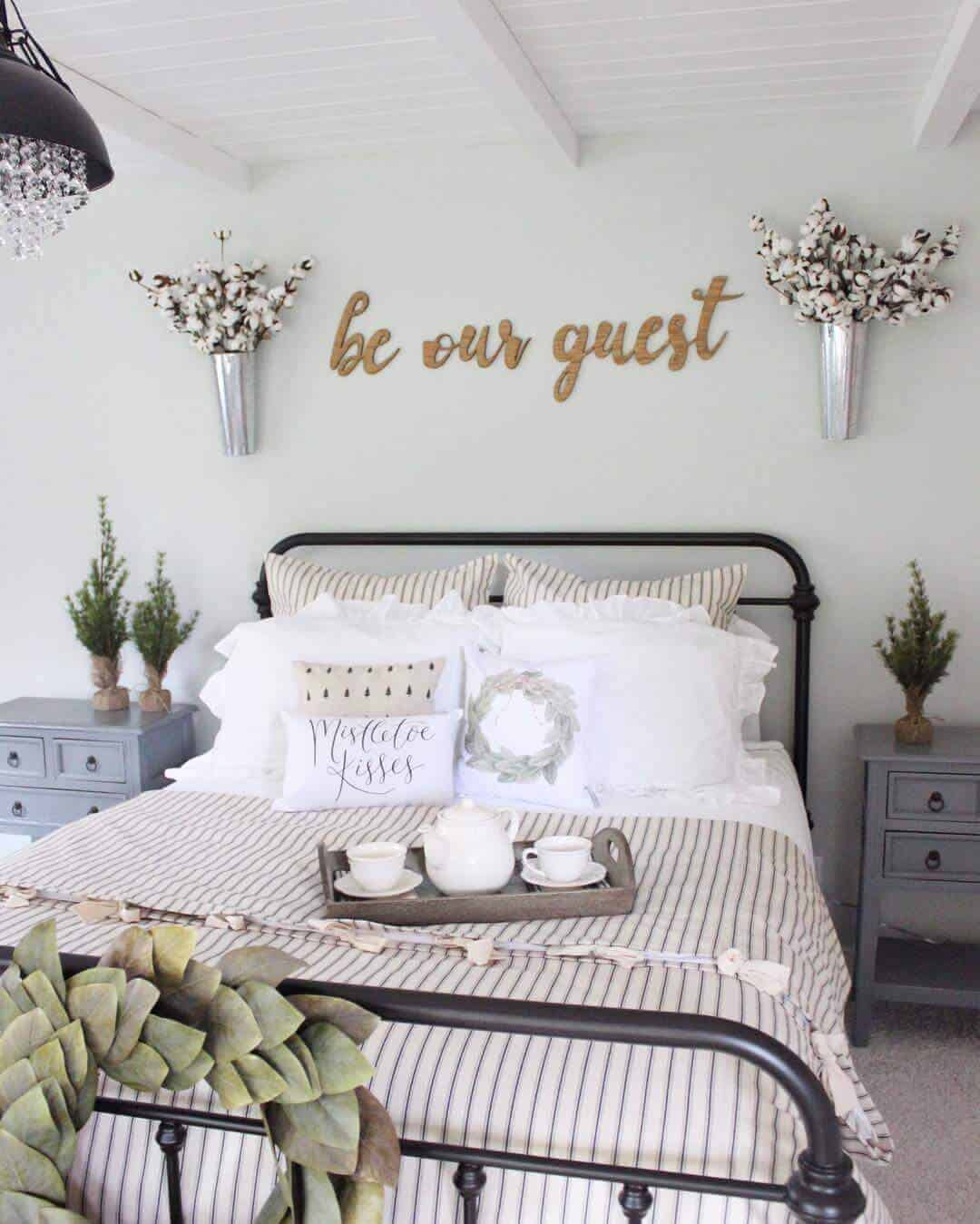 The plant is another element other than wood to bridge you and nature. Plant decoration gives a pop of refreshing green color to the bedroom.
If you're too scared of insects lingering on your real plants, use synthetic ones. They only require you to clean them once in a while. Natural decoration also can emphasize the simplicity of the room.
Repurposed Barnwood Headboard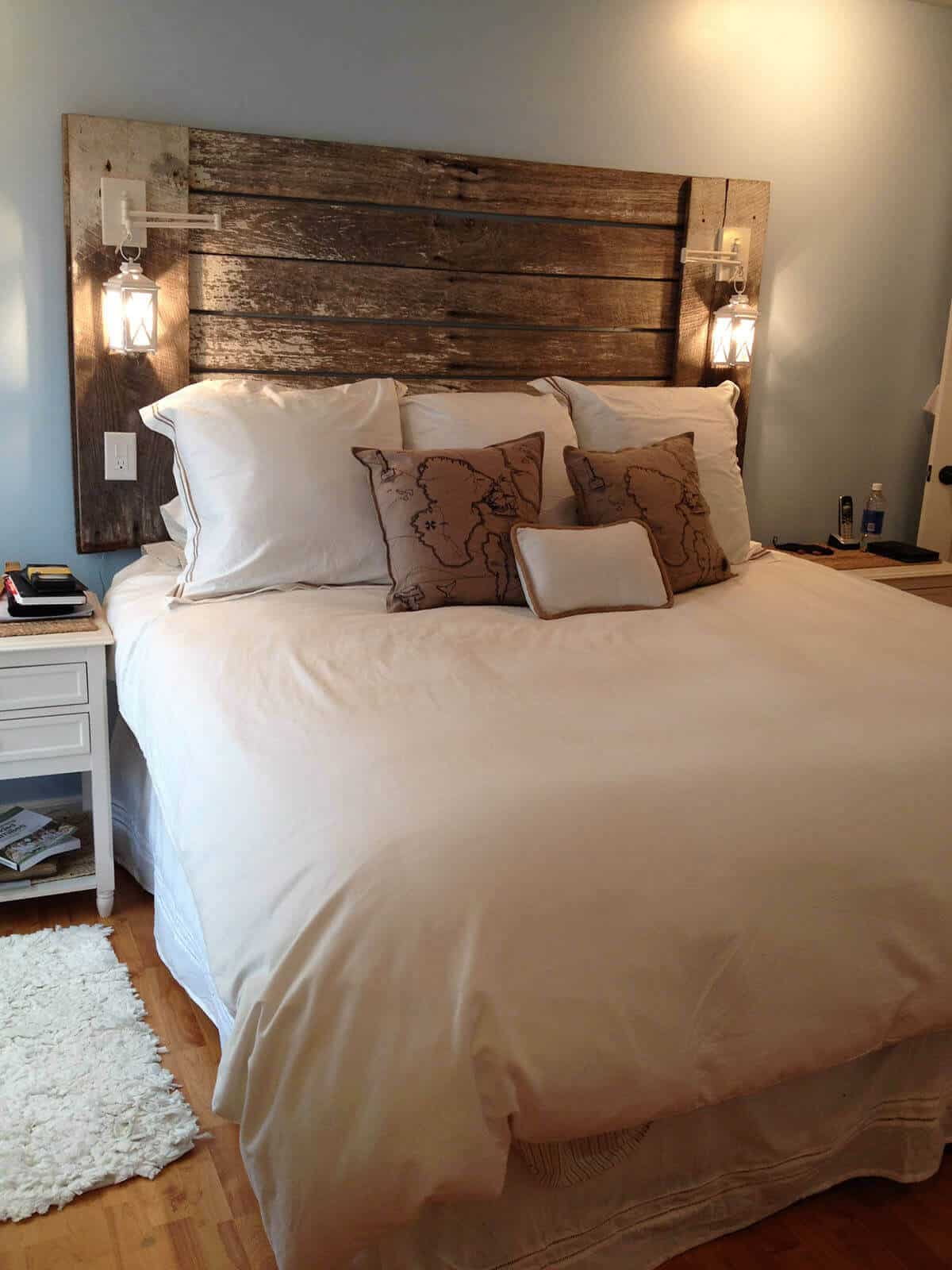 Many homeowners believe that the old barn woods' rustiness gives the room special warmth and a feeling of being welcomed warmly.
Especially, wood helps you to reconnect with nature. This headboard piece is made of repurposed barn woods, which might have been crates of a railway or something since they seem to have been exposed to a long time haul.
Reclaimed Barnwood Beam as A Strong Farmhouse Statement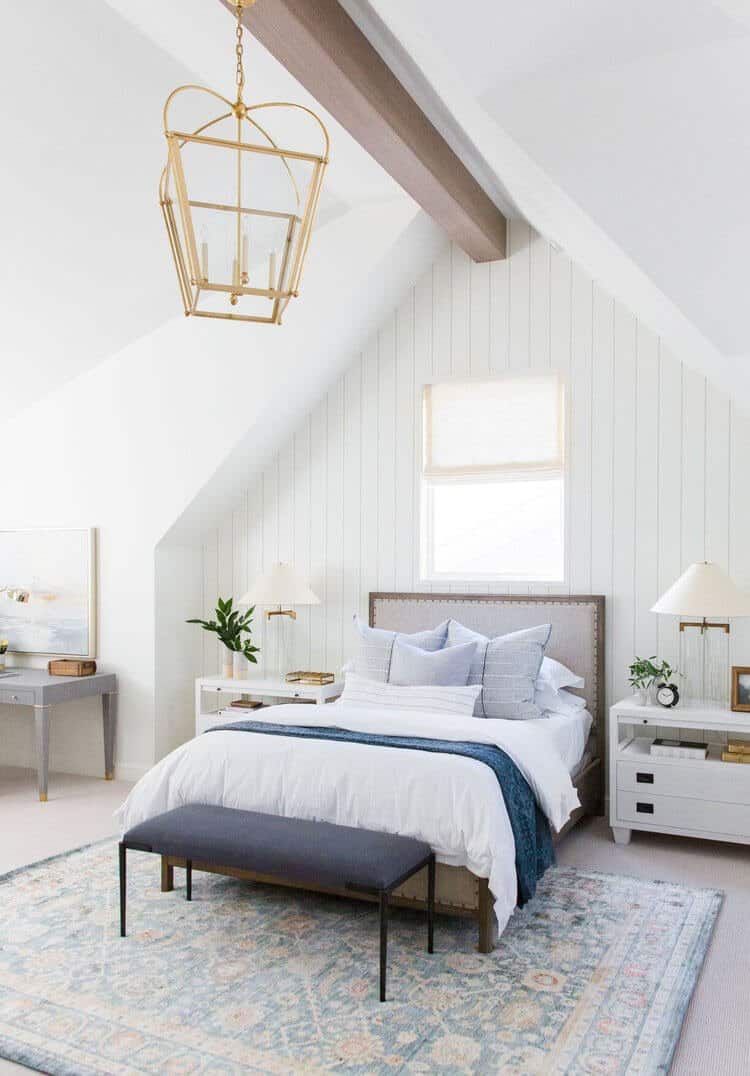 One of the traits of farmhouse decor is a sturdy wood beam. In the midst of a white ceiling, it stands out. To extend the country feel, choose a brass chandelier.
Another countryside touch is the fading rug under the bed. It has a vintage flowery pattern; however, its dominating blue color has faded–almost whiten.
Country Style Bedroom Idea with Rustic Headboard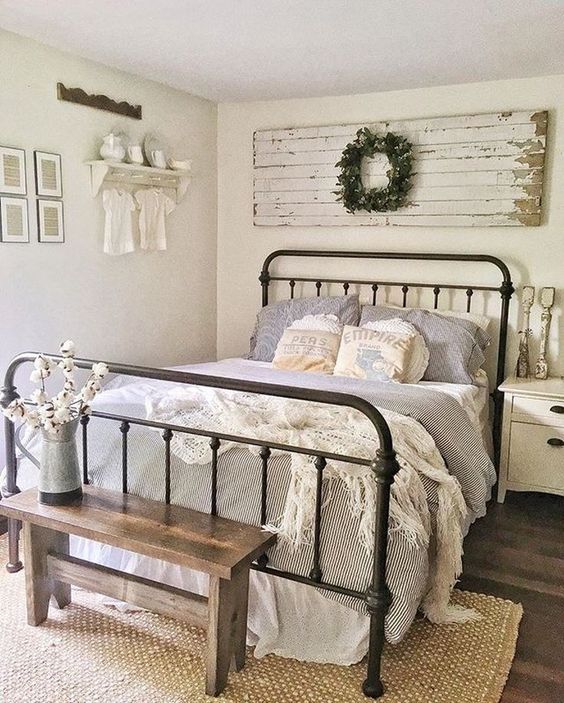 This room has thick countryside feeling in it.
The pipe bedstead makes you feel its old industrial sense, while the rustic barn woods that have been recycled to a headboard piece brings you a strong feeling of a country house in a small village.
Add other supporting farmhouse details, such as a bracket that doubled as a hanger too, candle-stand on the nightstand, which the painting seems to peel off.
Another farmhouse style ideas to try:
Repurposed Barn Wood Ceiling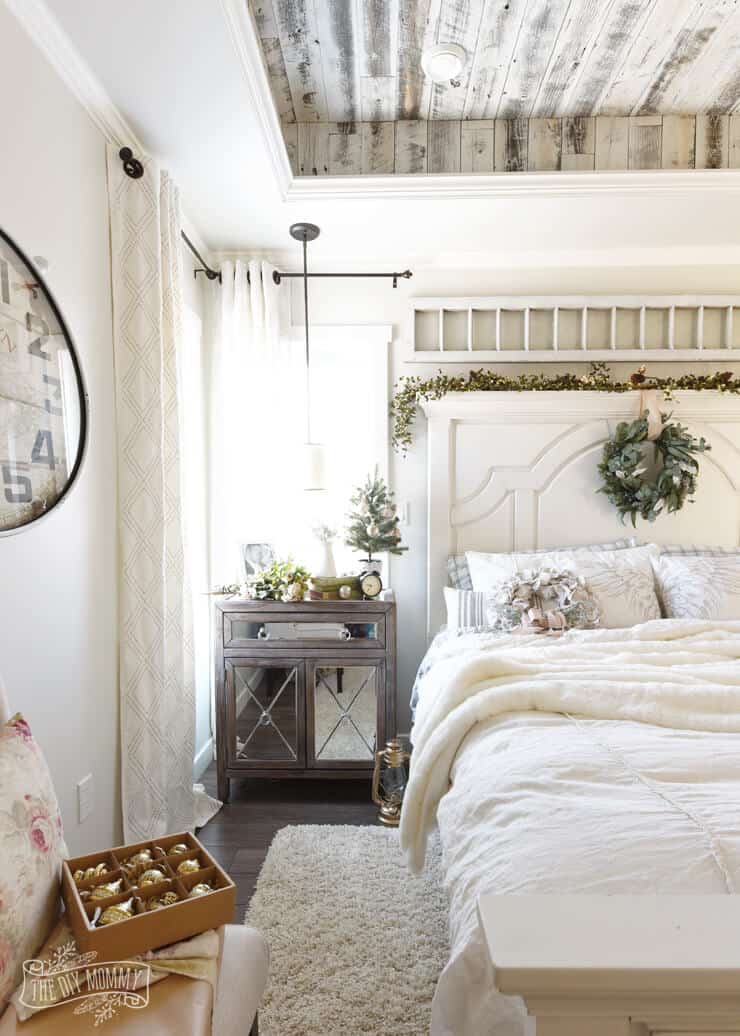 Repurposed barn wood is a valuable piece for a farmhouse bedroom. Its rustiness adds more charm to the area.
For example, the barn woods here are used as accents for the ceiling.
Moreover, there's an antique ladder as a farmhouse decoration piece above the headboard as well.
Royal Farmhouse Bedroom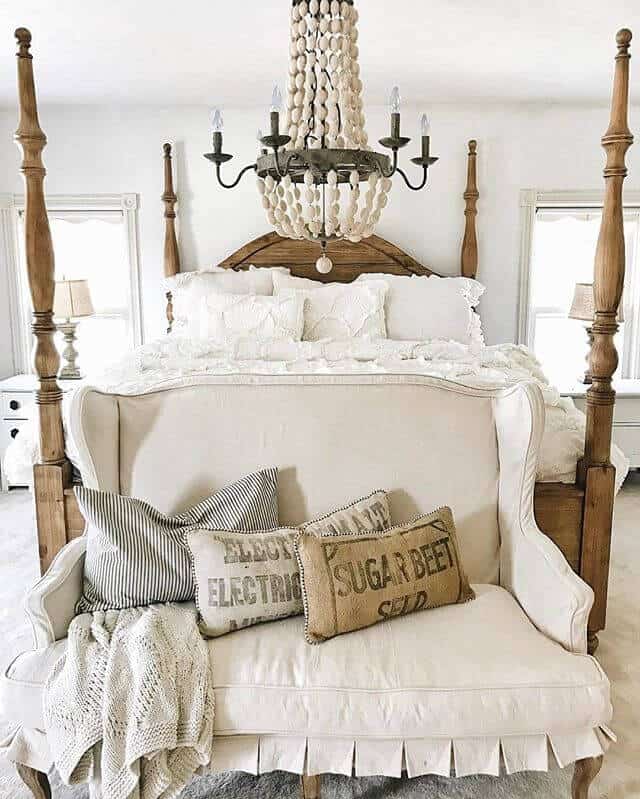 This is a royal farmhouse bedroom idea.
First of all, it's a large space for a bedroom so that you can go for larger size furniture. The bed itself is a king-size bed that is built upon an antique bedstead.
It can be seen it has a very old style bedstead because it has four pillars commonly used for the curtain.
Then, the chandelier itself is appeared to have a medieval style of candle holders.
Grey-themed Farmhouse Bedroom Idea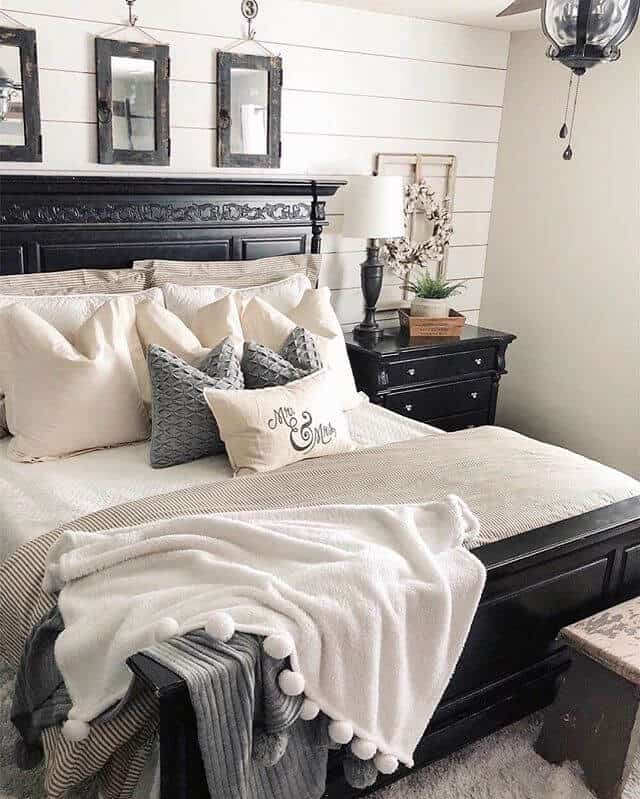 The use of white, grey and natural khaki color here is perfect. Those neutral colors give an opportunity for black to stand out, becoming the icon.
Directly, the gorgeous antique nightstand is on the spot. Accompanied by old, sturdy bedstead, rustic mirror frames above the headboard, and the industrial hanging lamp, the space is very well-put-together.