Unique traits of a farmhouse decoration are the retro and rustic looks. Those distinct characteristics attract interior design admirers.
In this modern era, having a space with a farmhouse decoration and style would be like leaving the hassle life behind, heading to a simpler and more relaxing situation.
Commonly, a farmhouse bathroom will use a lot of wood element of its furniture. These days, this particular style of bathroom uses a mixture of rustic element and modern look.
You can specifically achieve the desired vintage look with up-to-date practicalities.
Sometimes, it's confusing to mix and match two styles. Don't worry, here, we've have some inspiring farmhouse bathroom ideas that will amaze you.
Bright Farmhouse Bathroom with Mirror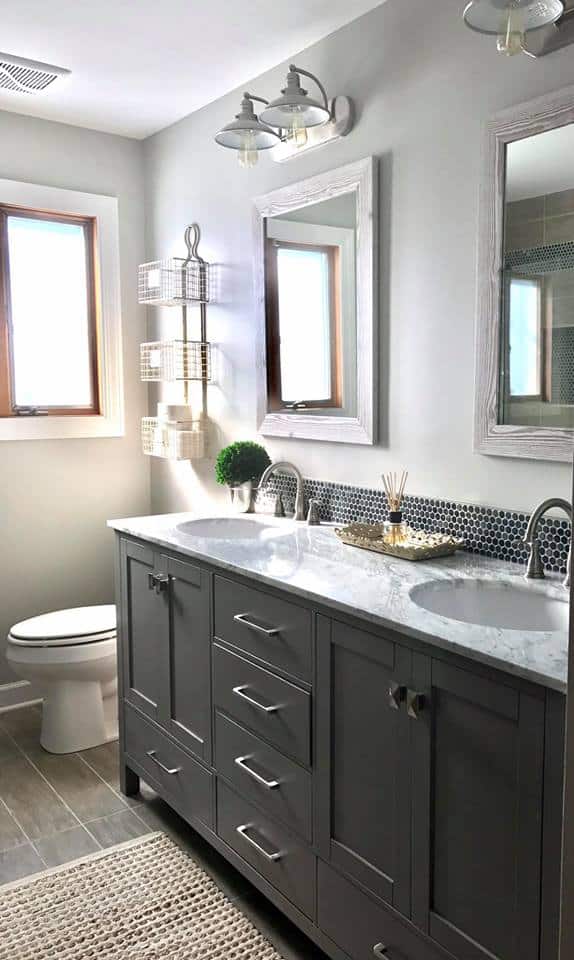 This farmhouse bathroom has a medium size. It exhibits a prominent use of white and grey colors, inviting natural light into the room.
The grey granite countertop works together with the vintage wood vanity. The mirrors are framed with recycled barn woods, which adds the value of farmhouse bathroom.
Rustic Ladder as Towel Hanger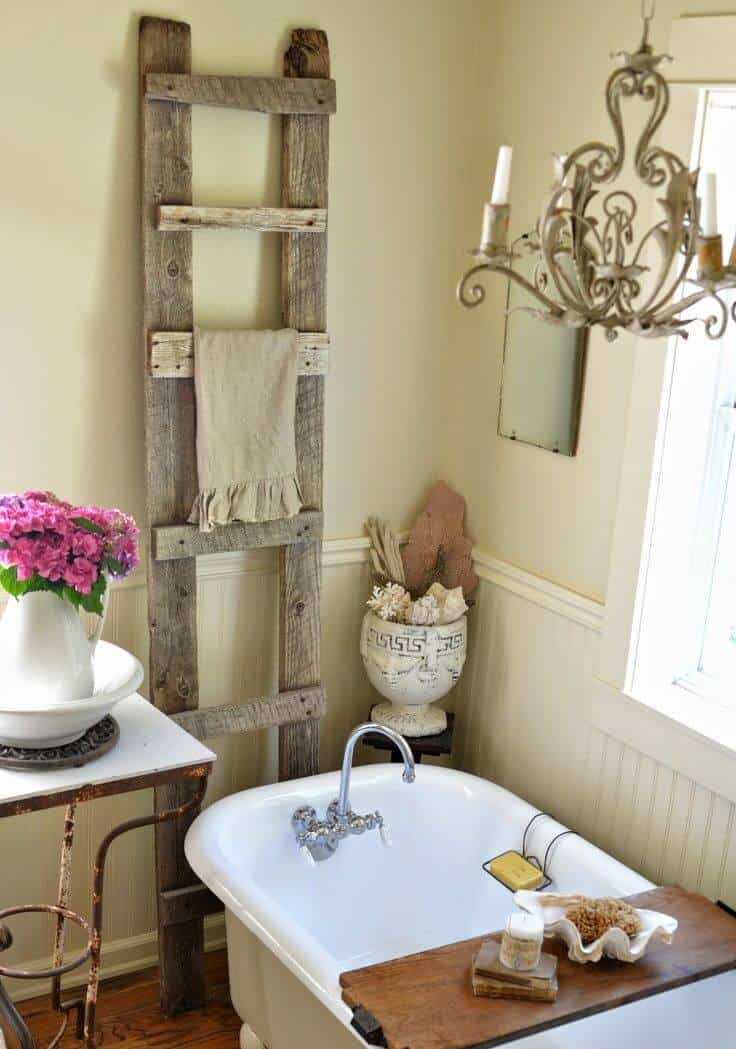 This bathroom obtains a charming personality with a rustic farmhouse ladder which is leaning against the wall.
The simple moveable elbow desk, wooden floor, the standing vase table, is a perfect compliment to this space. A vintage white chandelier finishes up the look.
Modern Farmhouse Bathroom with Stone Wall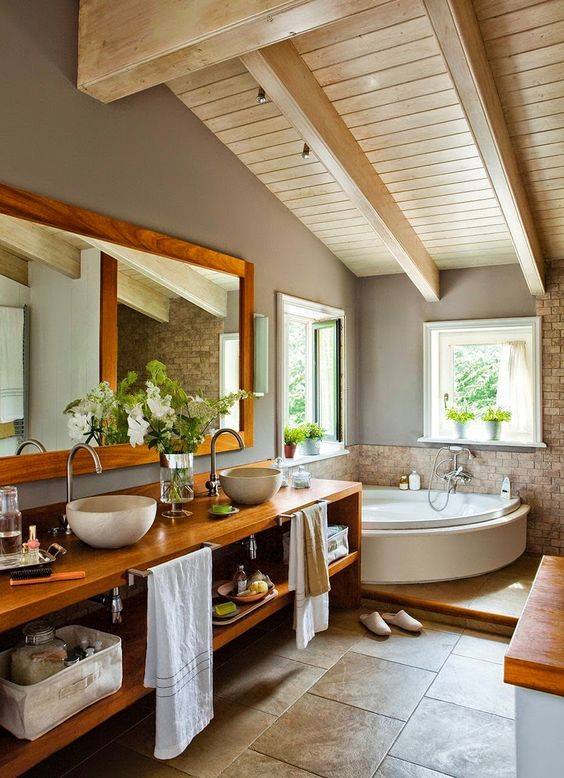 This farmhouse bathroom idea looks elegant. It features natural elements, such as the stone wall against the jacuzzi tub, the brown natural pattern tiles, the wooden vanity with open storage which material matches the one single mirror above it.
The existence of plants and clear vases also are natural touches.
All White Farmhouse Bathroom Idea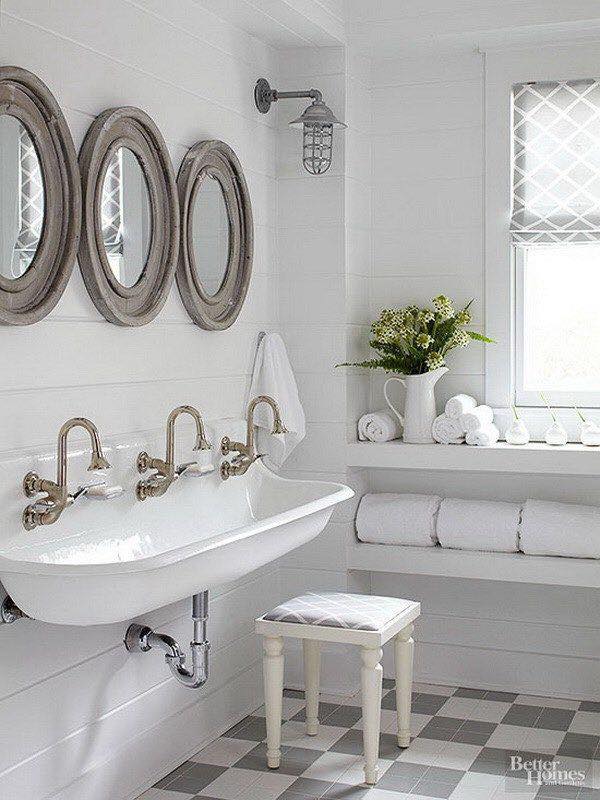 Sometimes, all you need for a farmhouse bathroom is a consistent theme. This bathroom creates a bright space due to the use of white color–walls, ceiling, sink, and open shelves.
Just add grey on some of the tiles, creating a pattern consists of neutral colors.
Rustic Farmhouse Bathroom Vanity with Double Sink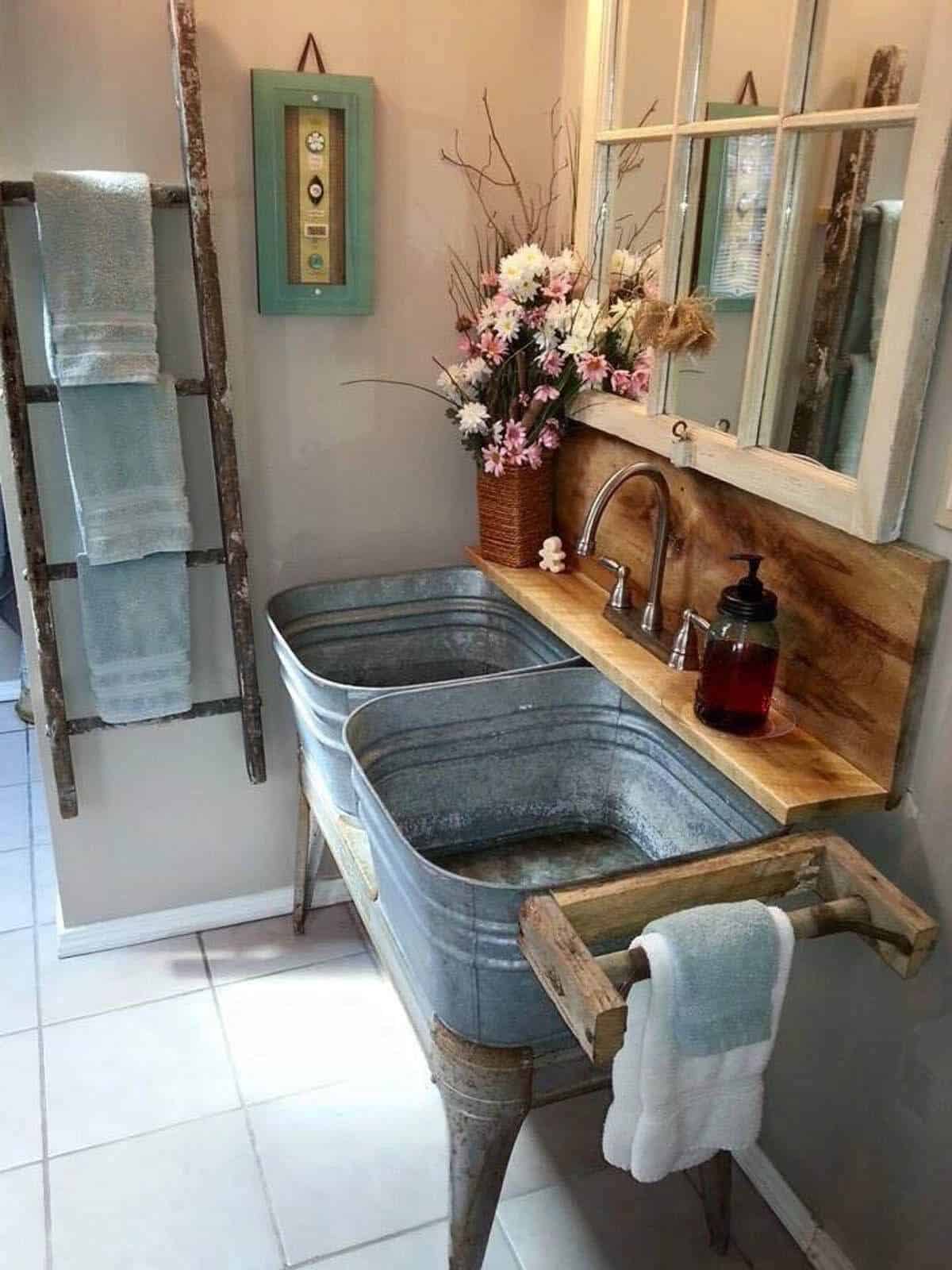 A farmhouse bathroom is usually white, however; this specific area is a pretty dusty pink color. Rustic ladder is hanged on the wall as a towel hanger.
The wash basins which are used barn buckets are the focus of the room. They definitely give country touches.
DIY Toothbrush Holder for A Farmhouse Bathroom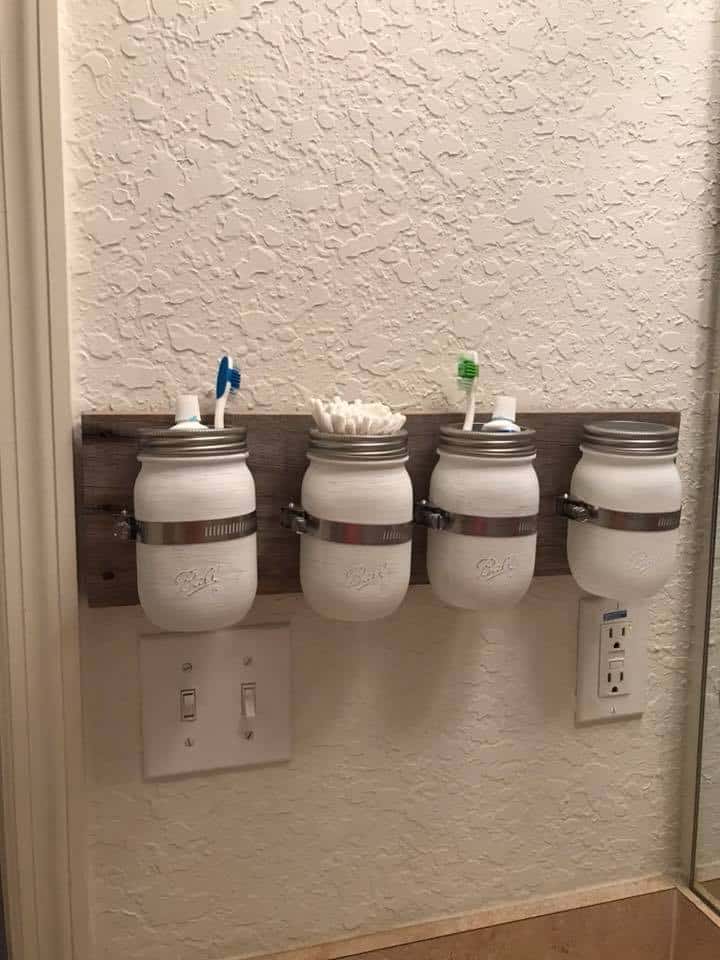 This bathroom features a DIY shelf of toothbrush holder jars. The jar is painted white to conceal the inside.
The jars are attached to a barn wood plank used as a surface for the jars' hooks. Install this piece on a safer surface.
Obviously, not near electrical sockets, because the water from toothbrush may be dripping.
Farmhouse Bathroom with Country Touches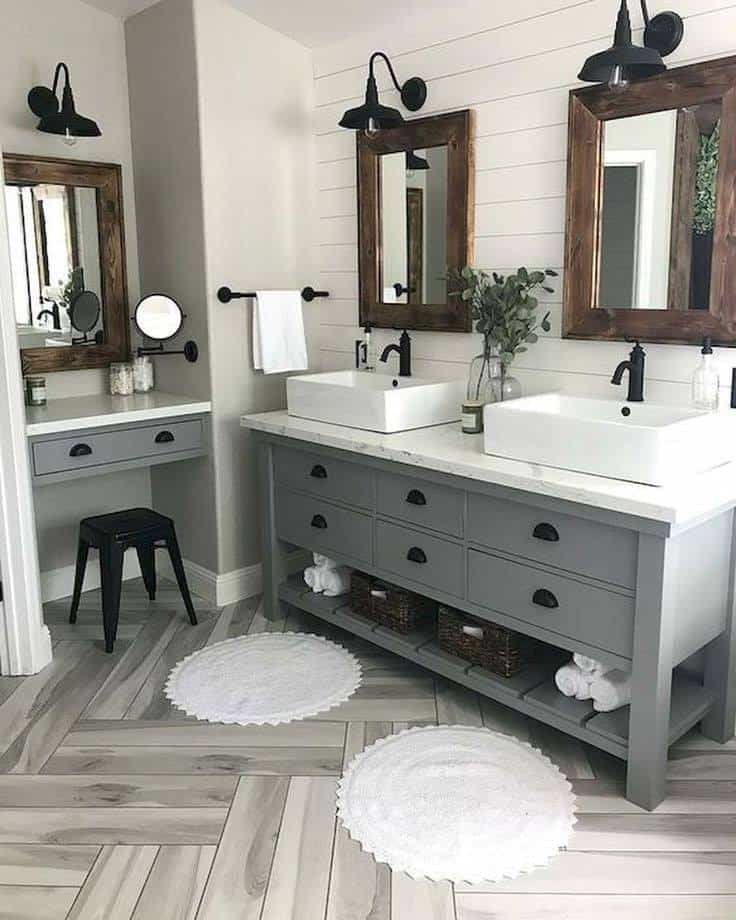 This inspiring farmhouse bathroom features unique elements of country style, such as the wood flooring which consisted of barn wood planks, drawers vanity with an open storage at the bottom, recycled wood frames on the mirrors and the industrial lamp above them.
From top-to-toe, the elements are giving some country feels.
A Small Farmhouse Bathroom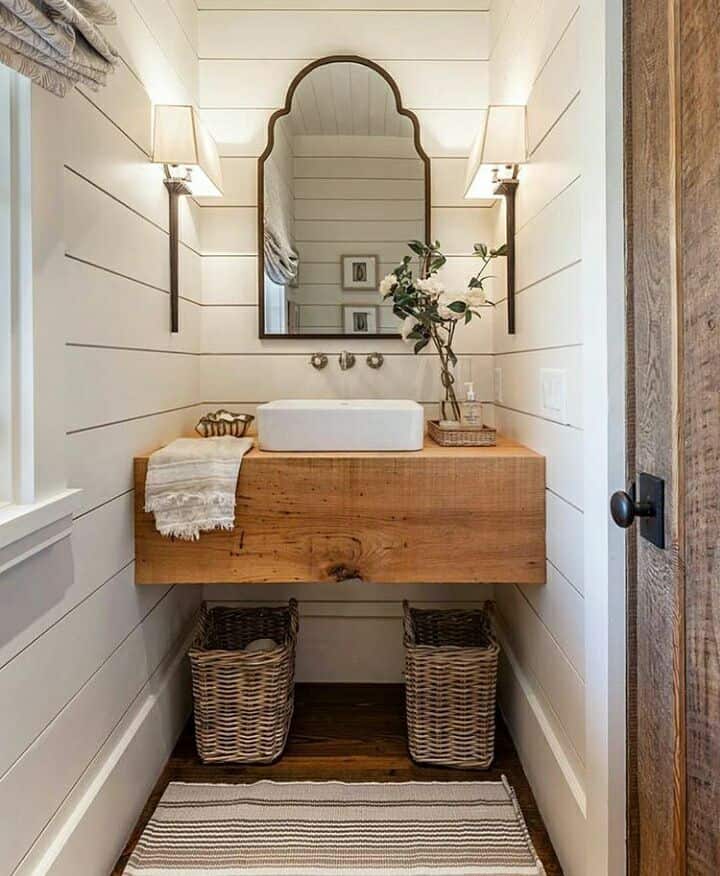 This tiny farmhouse bathroom features a floating vanity which is made of recycled barn wood that seems to have a rough surface.
Under the vanity, there are two wicker baskets used as storage. The wall is white to create an airy atmosphere.
White Farmhouse Bathroom Vanity with Double Sink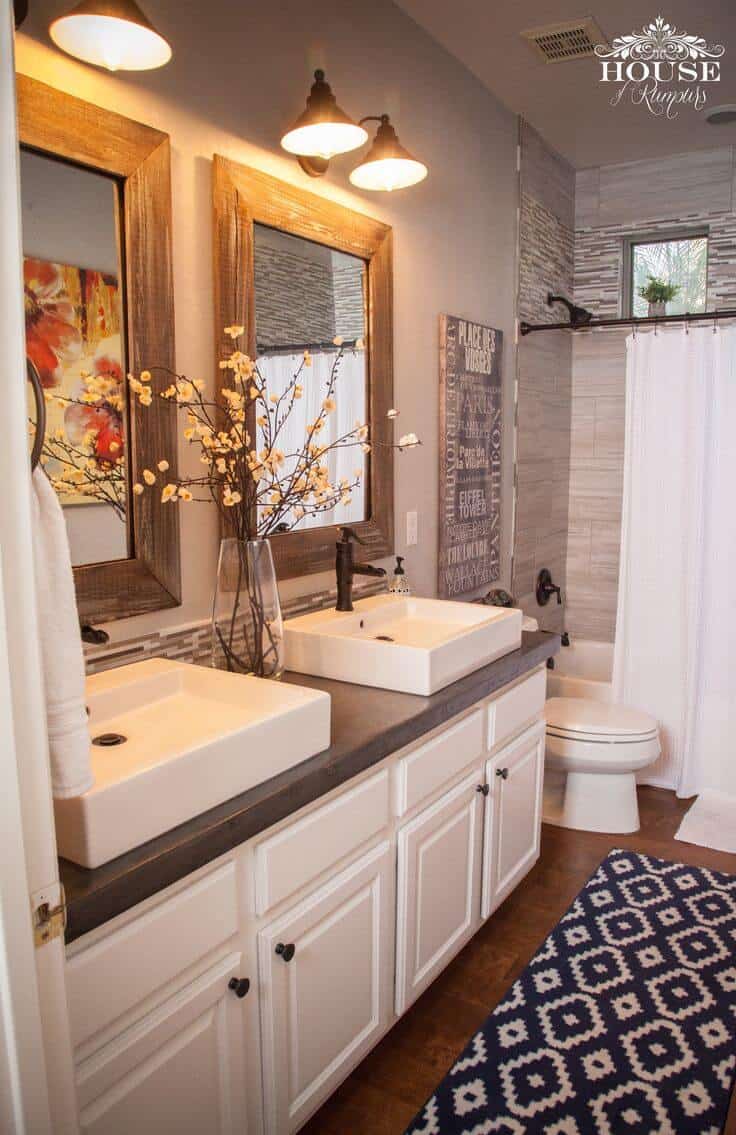 This inspiring farmhouse bathroom features square sinks with flat surface, rustic faucets, wooden frames (mirror) with rough surface and peeling paint.
The vanity also features two-head hanging lamp with a country look, dark wood countertop which matches with the floor, and a vintage vanity with simple cabinet doors and drawers.
Each element is chosen based on the country feeling it delivers.
Unique and Distinct Sliding Door Mirror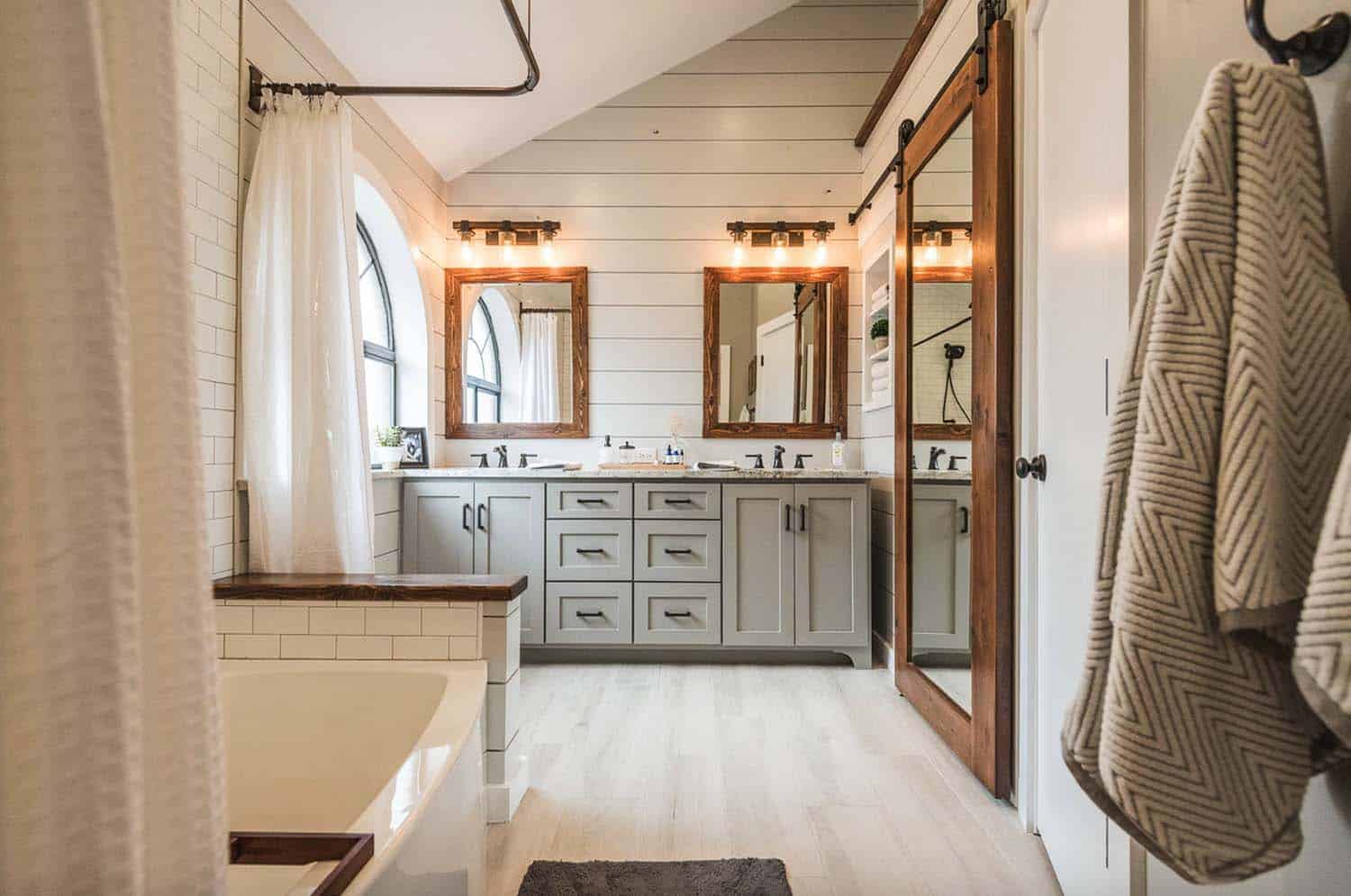 This farmhouse bathroom suite features a mixture of neutral and natural colors. The wall is dcerotared with white wood boards behind the vanity and white tiles over the bathtub.
There is also a large sliding barn door which is mounted on a track. Behind the door, there's a large mirror for a full-body look.
Vintage Barn Wood Country Style Vanity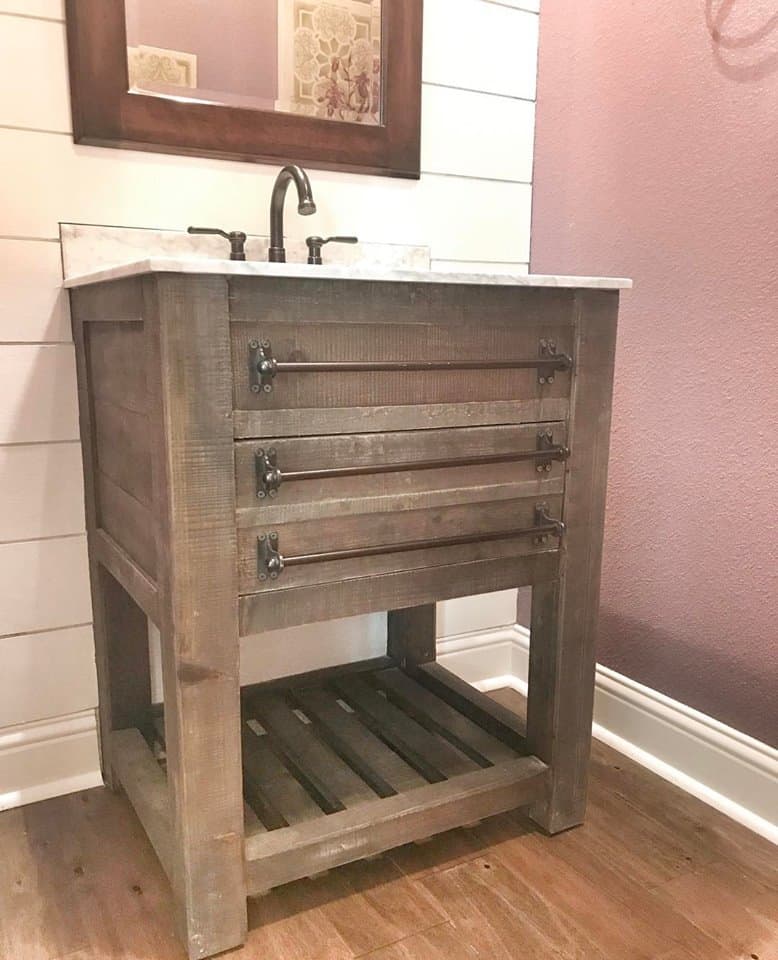 This farmhouse bathroom features an eye-catching element; a rustic vanity made of reclaimed barn wood with a country feeling.
The wood's surface looks rough; it's peeling and getting darker on several spots. An open storage is available at the bottom. The drawers also use industrial style iron bars.
A Farmhouse Style Bathroom in Coastal Blue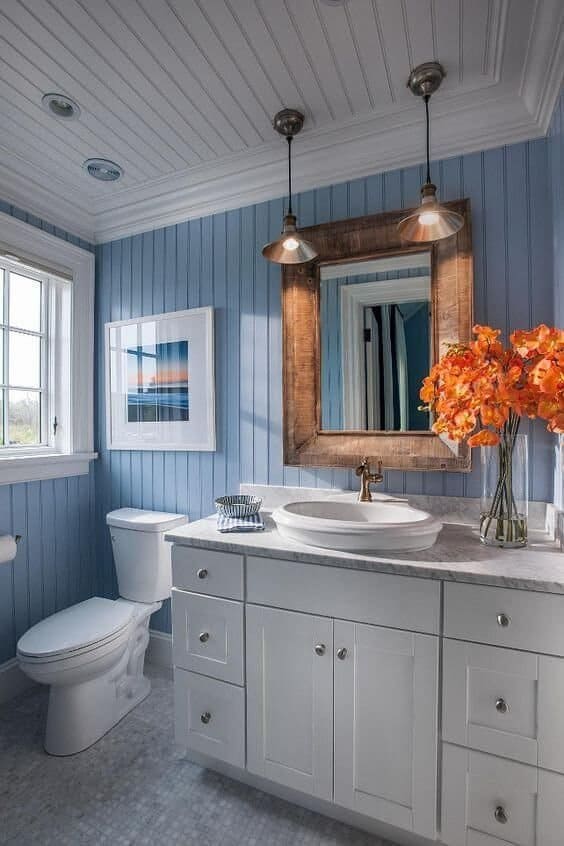 This farmhouse bathroom applies coastal blue to its wall. The blue works well with white which is applied to ceiling, window frame and bathroom hardware, including the single sink vanity. The vanity is shown to have a simple look. In addition, the tiles are captivating, too.
A Farmhouse Bathroom in the Attic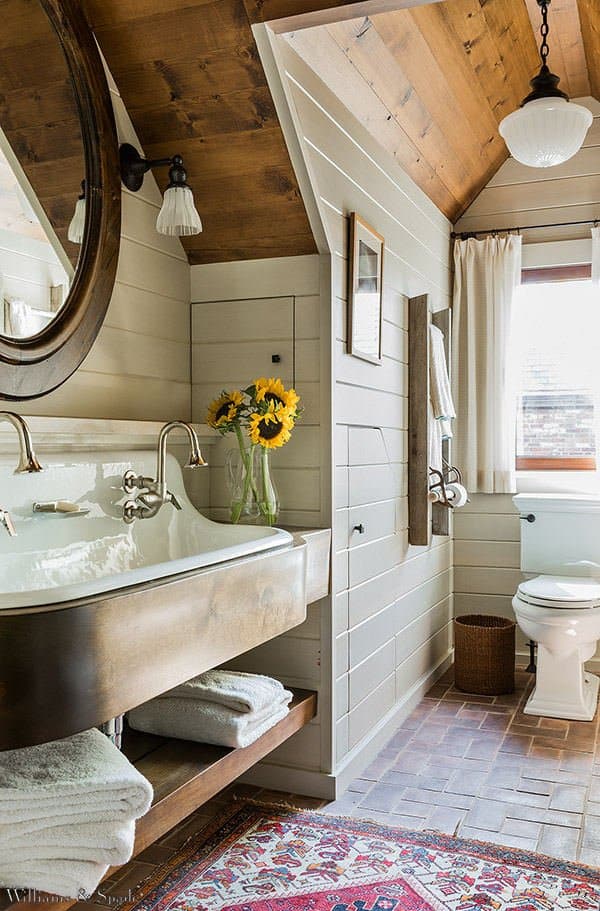 Despite of how limited the space in the attic is, a bathroom can still be adorned with a farmhouse style.
This interesting bathroom features stone tiles for flooring. The open shelf below the sink is made of reclaimed wood with a country feeling.
Farmhouse Bathroom's Decorative Elements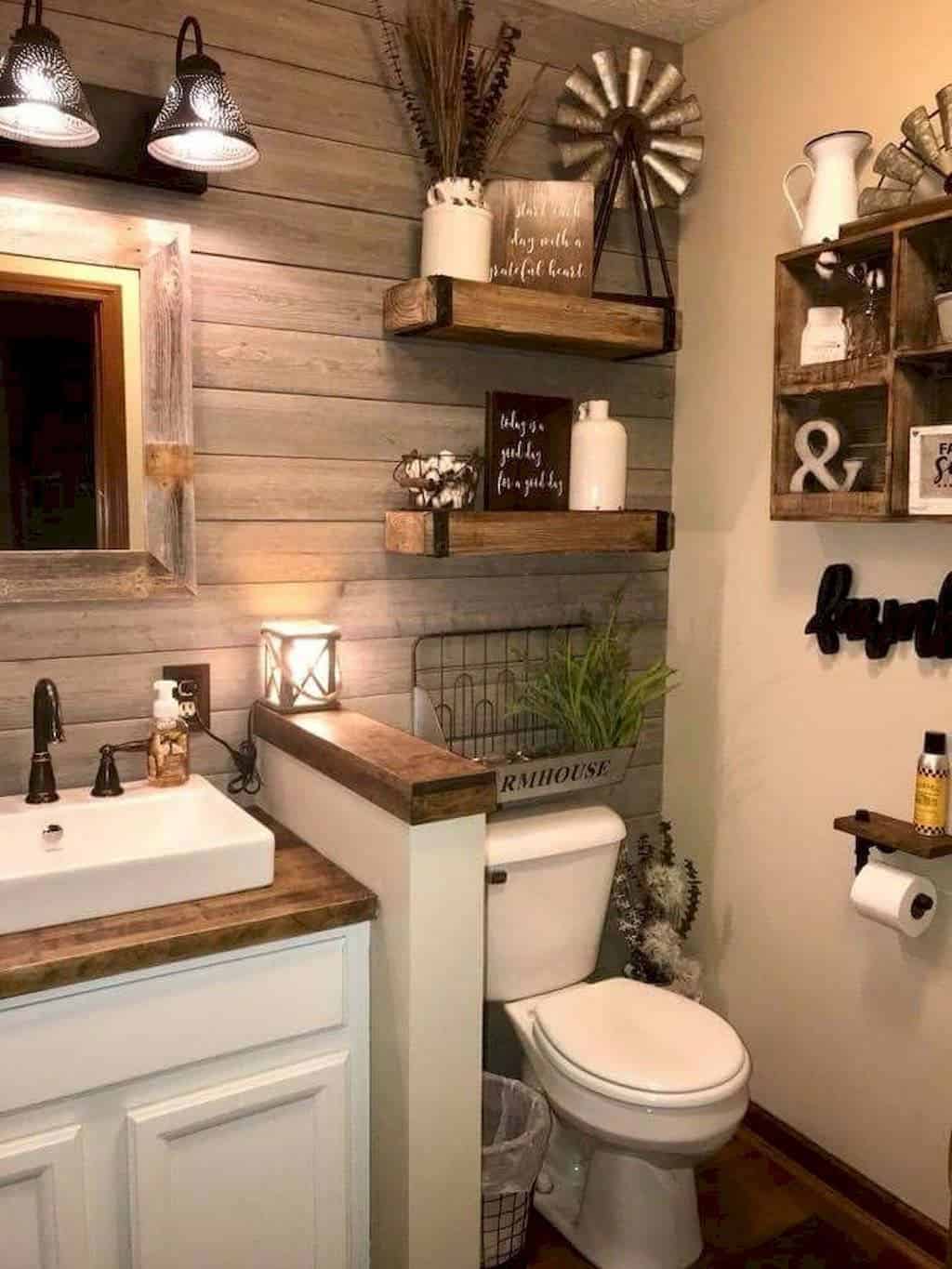 A farmhouse bathroom feeling doesn't always come from the furniture. It can come from the decoration, such as the rustic farmhouse sign, trivial industrial touches like the faucet and tissue paper holder, a single cabinet and several racks made of reclaimed barn wood.
Feminine Farmhouse Bathroom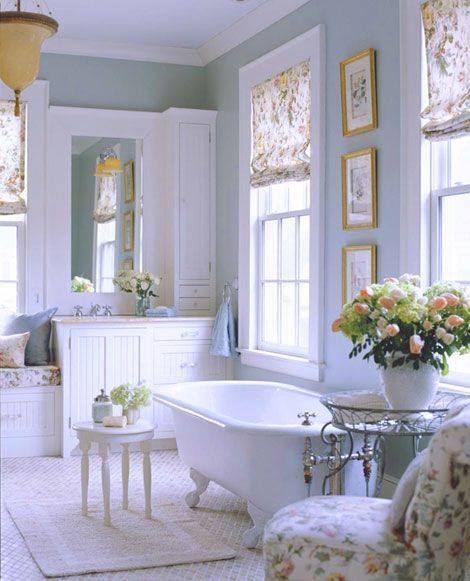 This feminine farmhouse bathroom shows a lot of flowery patterns. They are on the curtains, the sofa cover and pillow cases.
Moreover, white becomes the dominant color in this room. The appearances of flower pots here and there mark the mixture of farmhouse style which is thick of nature element and the girly touch.
Wall Ornaments in A Farmhouse Bathroom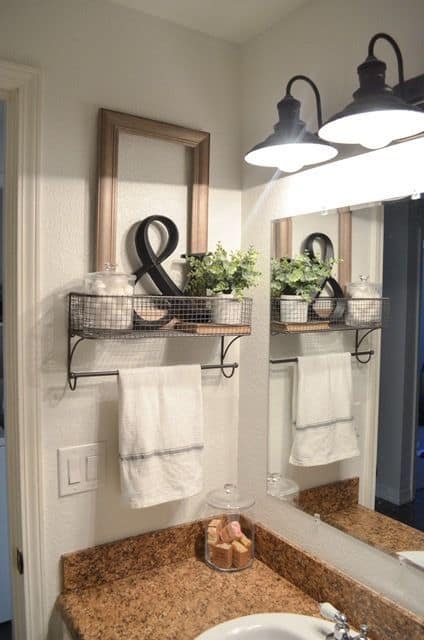 A limited space can't limit you from inserting a farmhouse style into the bathroom.
This area features a wall decoration which shows enough of farmhouse feeling. The industrial iron bar which hangs below the shelf becomes a towel hanger.
On the shelf, there is an element of nature, a flower, and some other decorations.
Modern Lavish Farmhouse Bathroom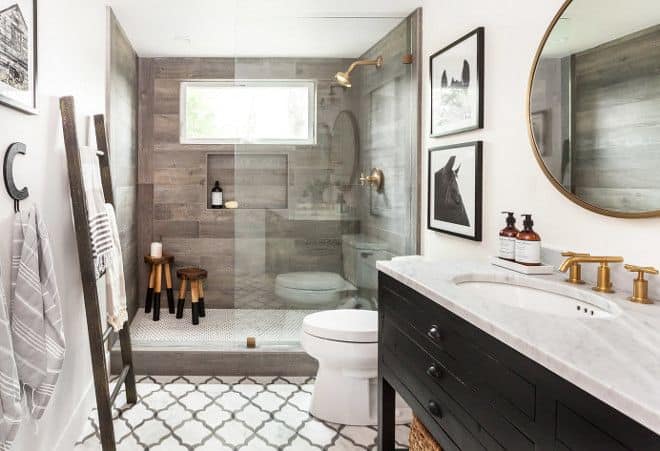 This bathroom appears lavish, due to the application of black, white and grey colors.
The shower room features stone walls which increases the natural sensation in the room. A rustic ladder is used for hanging the towel.
Meanwhile, the vanity uses granite white as the top. Gold faucets improves the quality of the room.
A Farmhouse Bathroom in a Small Space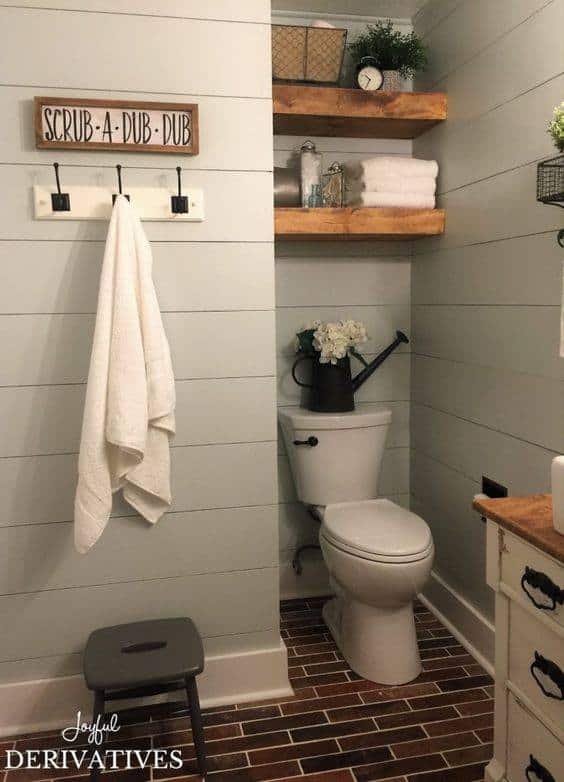 This brick-tiles farmhouse bathroom features functional shelves made of reclaimed barn wood.
They are thick in order to be able to hold the weight of all bathroom amenities. Other than it saves space, it looks simple and elegant, too.
Fading White Farmhouse Bathroom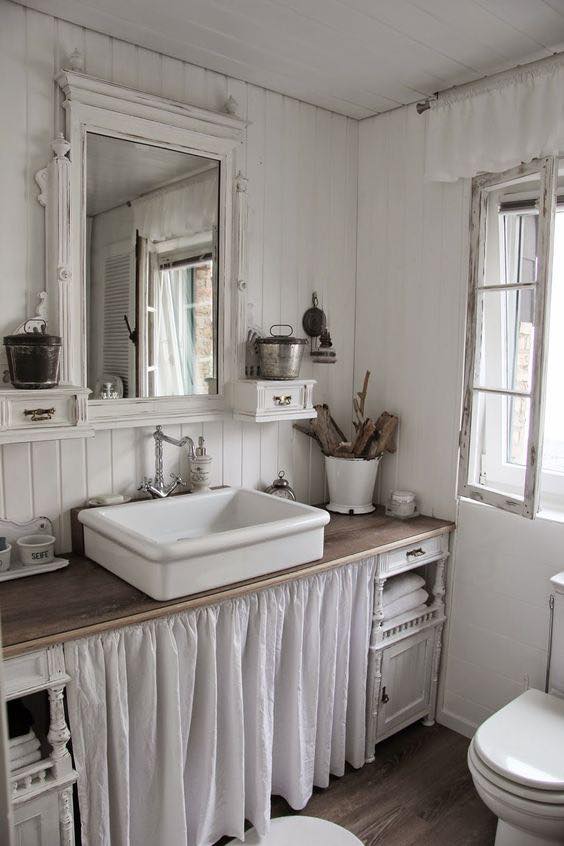 The key of having a farmhouse bathroom is to give it a country feeling where hardware seems to be passed down from previous generations. The style of the mirror and the vanity are vintage and classic.
Moreover, the paint is peeling. The rustic appearance is clearly visible. White is a great idea to give an airy atmosphere.
A Small Modern Farmhouse Bathroom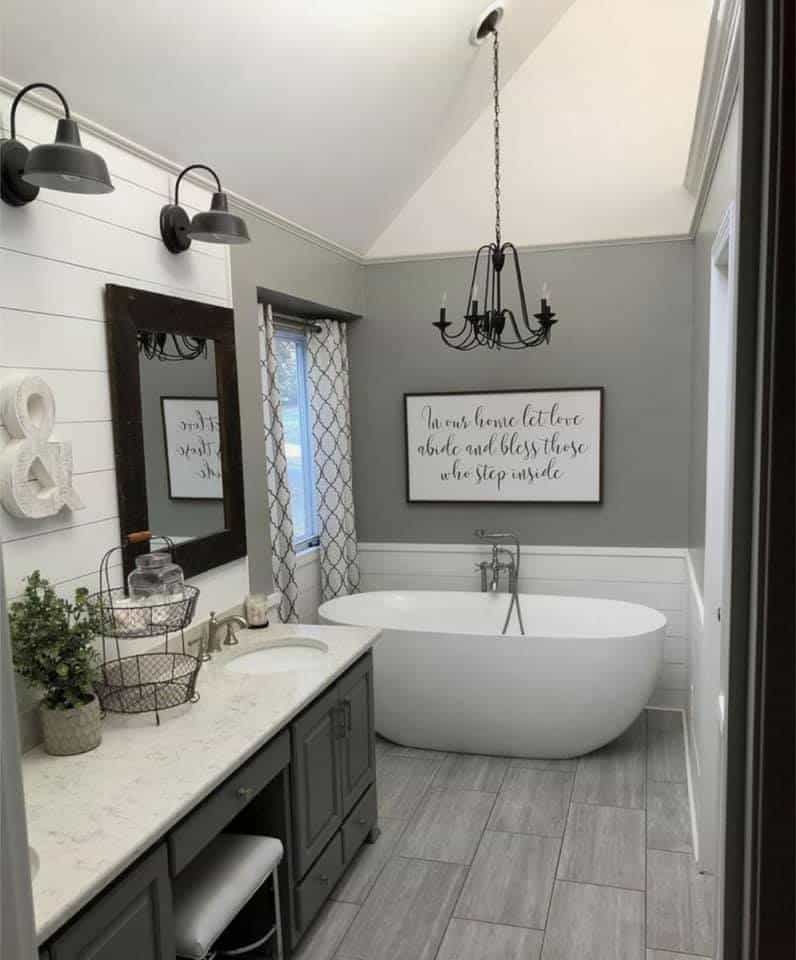 Elegance can be made in a small space. White dominates the bathroom to help it looks more open, airy and welcoming.
The bathtub is placed toward the window. The vanity has double sinks and granite countertop with beautiful pattern. Long drapes are used to make the ceiling looks higher.
Golden Lightings in A Farmhouse Bathroom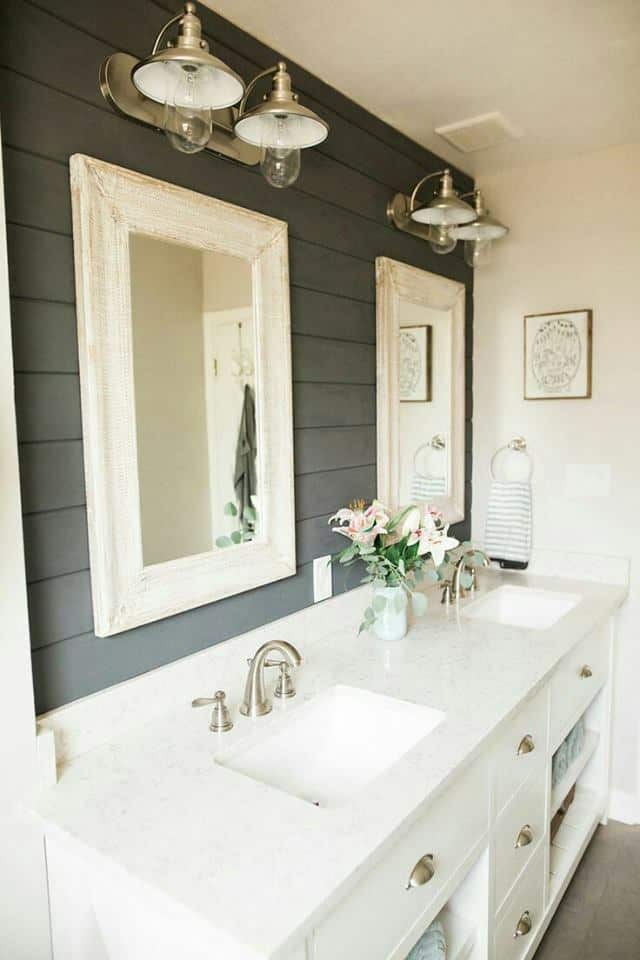 This beautiful bathroom features a wall made of wooden planks which have been repainted using grey color. White balances the grey and the other dark colors in this room.
To create a touch of elegance, there are some lighting fixtures affixed on the wall on top of the mirrors. They have golden frames.
Read Also:
Old Farmhouse Bathroom Design with Vintage Tiles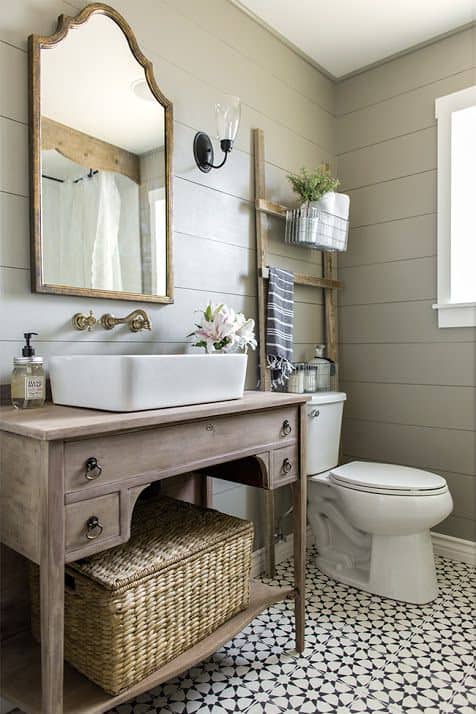 The tiles look like they come from the 70s or 80s. The pattern is striking, however; it looks perfect with the white toilet and square flat-surfaced sink. The vanite may be a DIY or else.
This one is made of a reclaimed barn wood with rustic and rough surface. Another extra point is the ladder behind the toilet.
Farmhouse Bathroom Vanity Made of Used Woods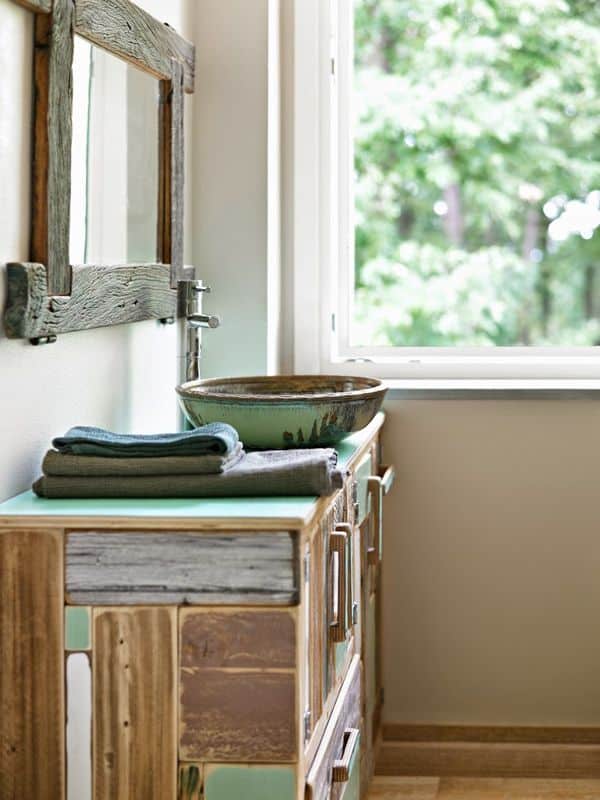 There's no better way than giving a hand to clean the environment. This farmhouse bathroom vanity chooses to assemble used cut-out wood and combine them into this amazing piece of art.
You can ignore the mixing of paints as they come from different colors or you can repaint them with one color. The unique vanity is supported by the mirror frame.