Don Pedro Brooklyn is reader-supported. When you buy through links on our site, we may earn an affiliate commission. Learn More
13 Ideas to Match the Backsplash with Granite Countertops
Granite is one of the most commonly used countertop materials in the kitchen. Due to the obvious reasons of durability, strength, and longevity – granite makes a great option. However, when renovating your kitchens, it becomes a challenge picking that perfect piece of backsplash.
Depending upon the size and scale, and style and vibe, there is a wide array of backsplash ideas for your kitchen. There's no one solution for all – since each granite piece is unique in its way. So, let's have a look at the overall best options to match your granite countertop.
Cement Patterned Backsplash Tile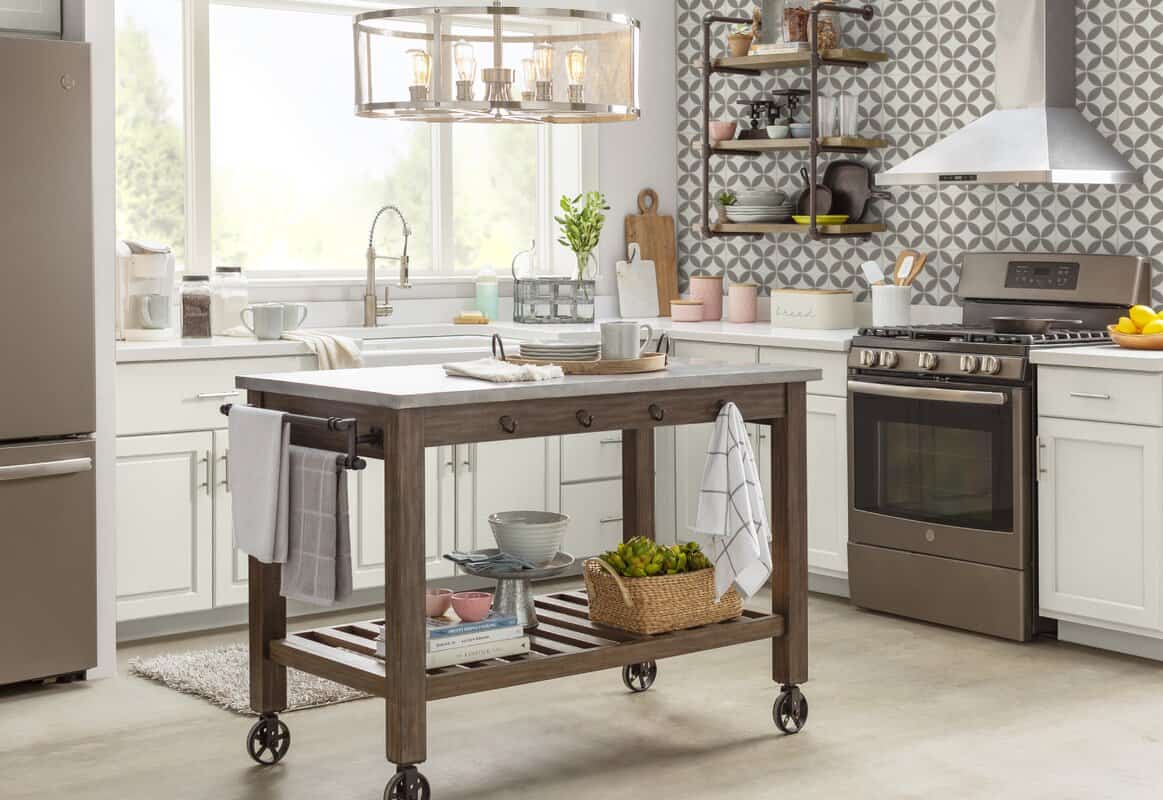 Add a sense of drama and character to your kitchen with this abstract and trendy backsplash tile on board. The warmer tones of your granite countertop will readily amalgamate with this pair to create an energetic and enthusiastic feel.
Moreover, this pattern is pretty good to go with your medium to larger-sized kitchens. So, whether you have contemporary, modern, industrial, rustic, Mid-Century, or Spanish Colonial style – these backsplash tiles make a great duo with your granite countertops.
Natural Pebble Ceramic Tile
Aspiring an elegant Italian look, this natural pebble ceramic tile pairs perfectly with your authentic granite countertops. It completes your color palette and exhibits a visual dimension to the walls – thus, bringing a soft and warm touch to the panorama.
Amalgamating the subtle brown with warm gray, this weathered-looking tile proves to be an extremely versatile and timeless option with all of the interior design styles.
Black and White Mosaic Tile
This glossy backsplash tile is bound to add a characteristic charm to the walls of your kitchen. And since the colors of black and white play timeless, they pair excellently with your deep granite countertops. Although you must be careful around using them as they can sometimes feel very loud!
Secondly, note that these tiles are peel and stick and can be easily installed by the homeowners themselves.
Polished Copper Backsplash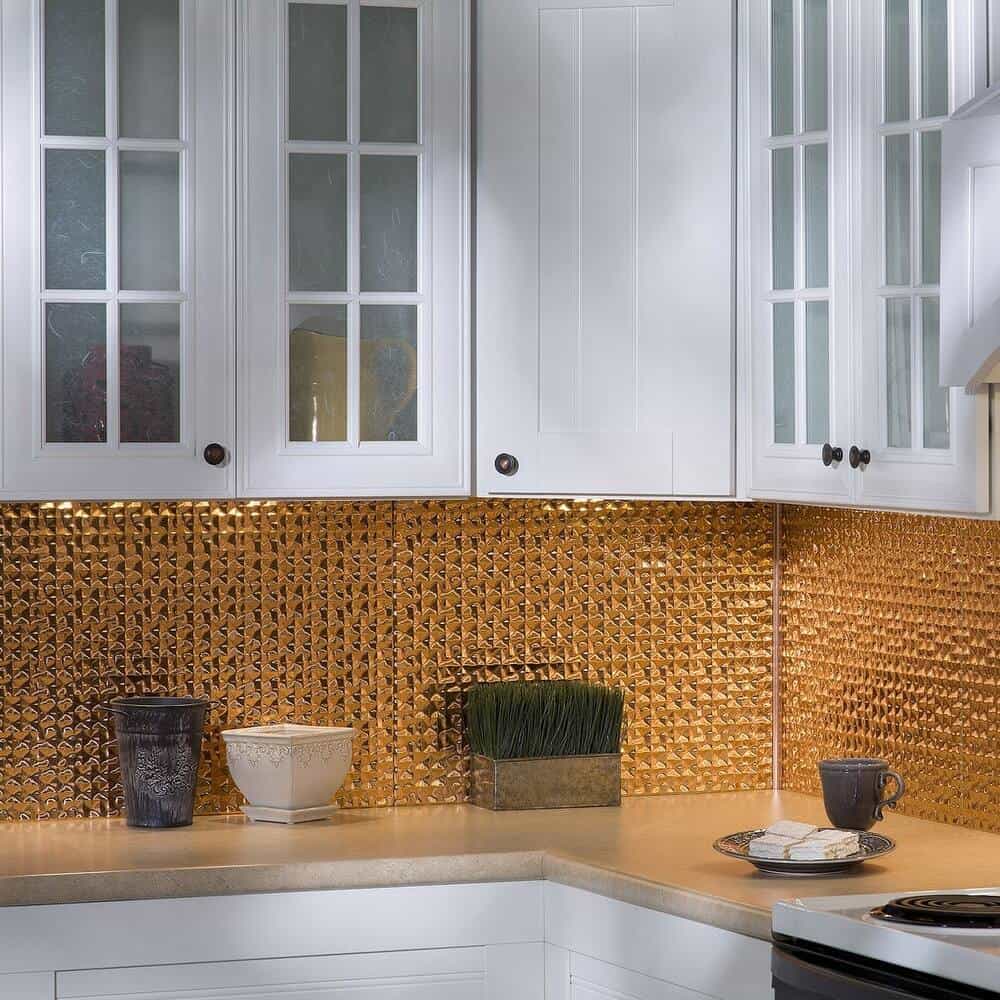 When choosing backsplash tiles, you must consider the color and style of the cabinets and the type of countertop, simultaneously. Even though you want your backsplash tile to seamlessly pair with the palette, sometimes, you can choose to go focal and bold.
And one such way to add an eclectic touch to your kitchens is by incorporating this polished copper metallic backsplash to create a 'wow' effect.
Unglazed Black Hexagon Tile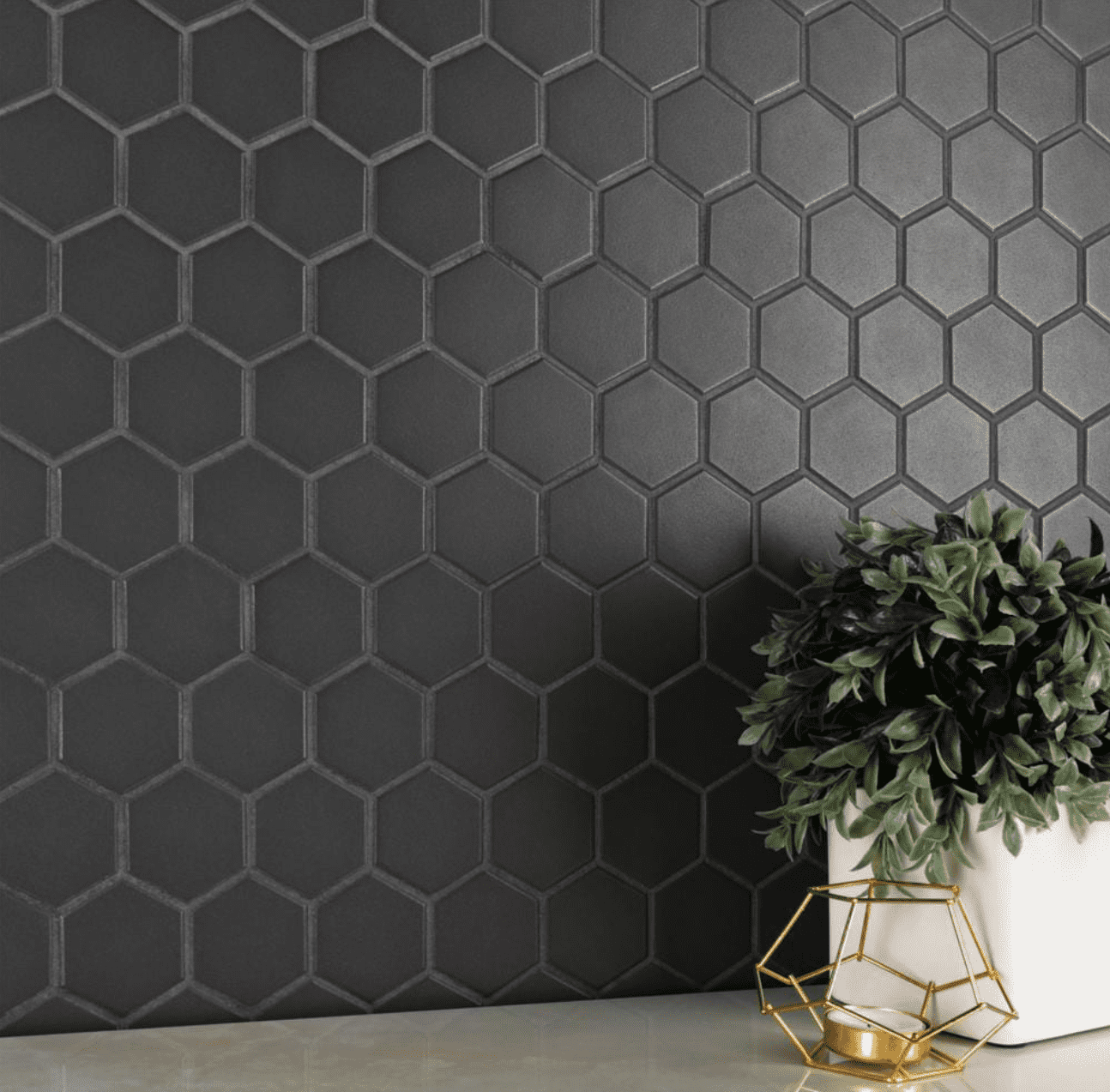 Deviate your kitchen into a modern and contemporary wonderland with this matte finish geometric tile that creates a seamless minimalistic look. To complement the warm or cool-toned granite, this black tile plays phenomenally and is quite subtle.
This is also a great recommendation for black and white monochromatic kitchens that embrace the various shades, tints, and tones of gray. And since black is an easy-to-maintain hue, it makes a great option to hide food spills and dirt.
White Subway Glossy Tile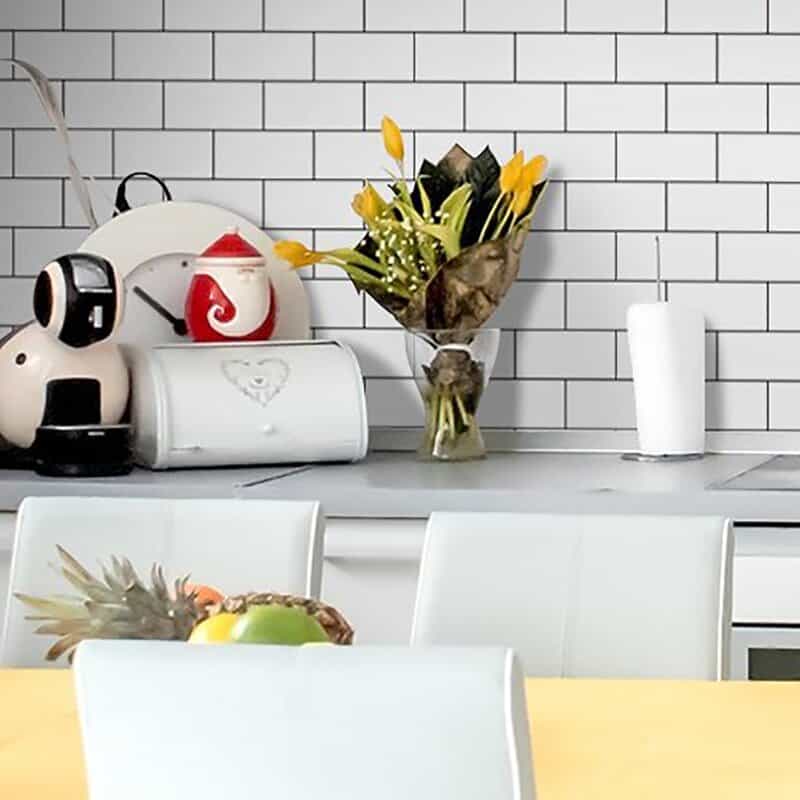 The water-resistant and stain-resistant white subway glossy tile is a versatile option to have in your kitchen. With an impervious surface, this tile doesn't absorb any food spills and dirt – thus, a great kitchen investment offering an easy-to-maintain characteristic.
Lastly, this is a great way to make your kitchen feel lively and bright. And at the same time, making your kitchen look wider than it actually is!
Patterned Porcelain Wall Tile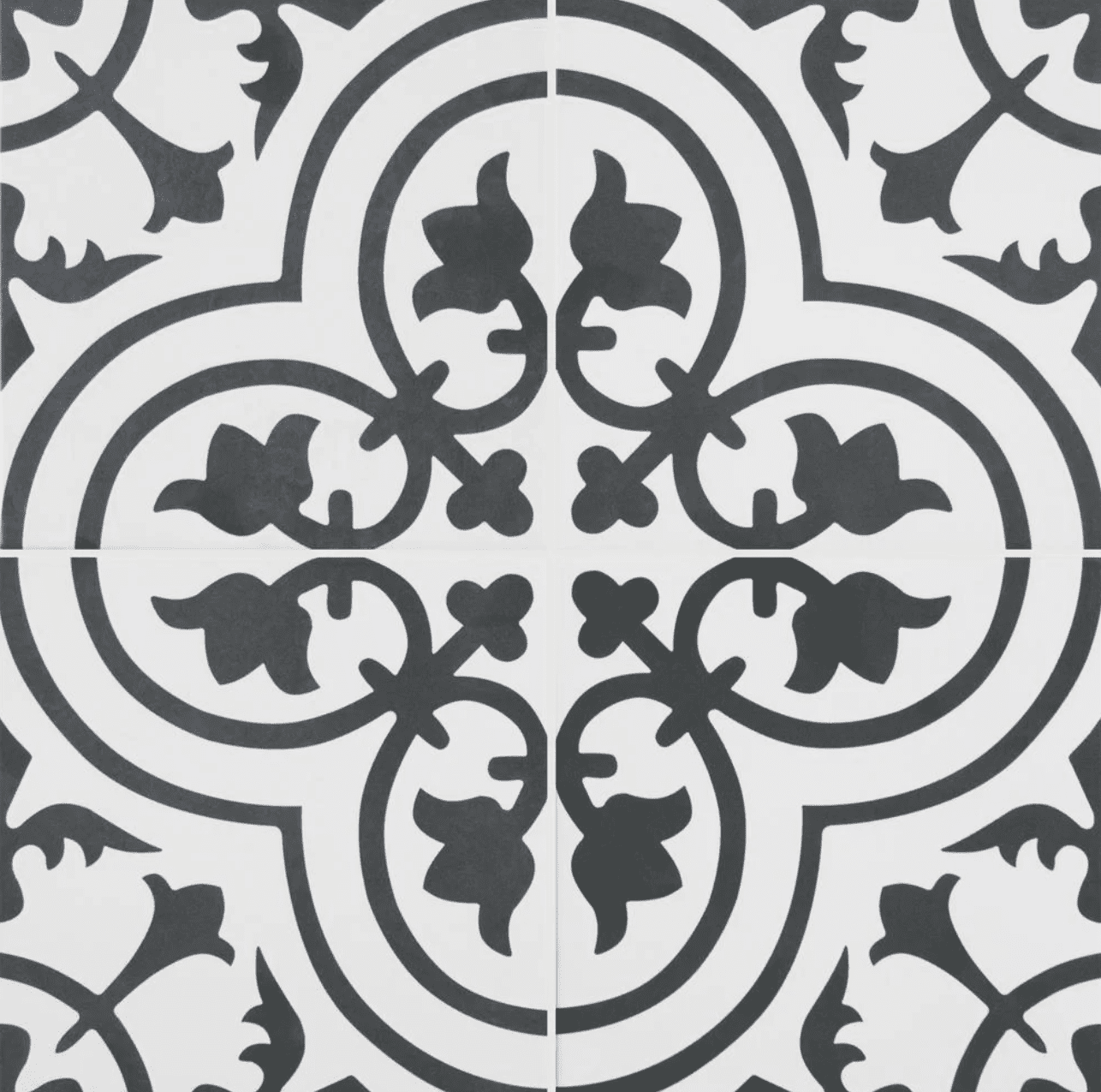 Quite chic and quirky, these Moroccan-inspired backsplash wall tiles have an intriguing pattern to seamlessly complete your granite countertops. This combination will tend to make your tile protrude out more, but with a tinge of style!
Moreover, when choosing a hue for your cabinetry systems, ensure to either pick black, white, gray, or blue to create a flabbergasting experience. This pattern will also add depth and visual interest to the walls.
Natural Stone Herringbone Mosaic Wall Tile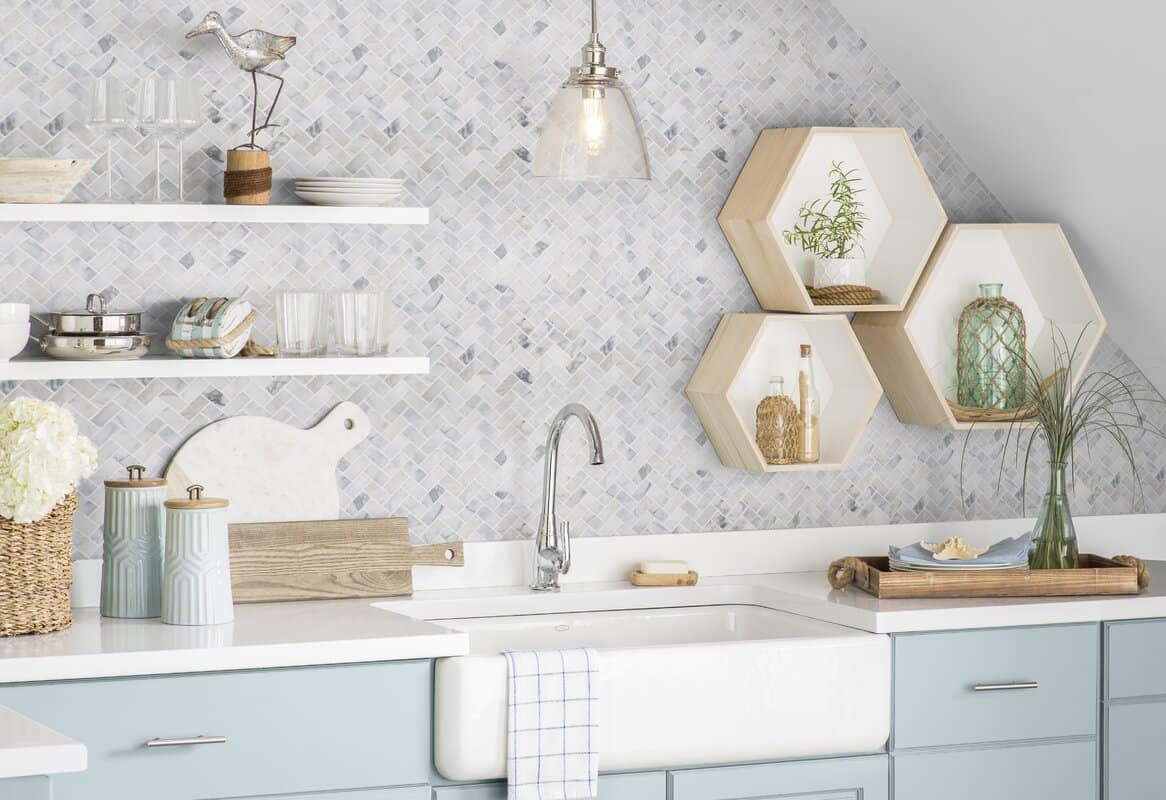 It's time to uplift the aura and presence of your kitchen with this lively and exotic natural stone backsplash wall tile. Exhibiting a sense and feel of marble, this tile truly pairs well with your granite countertops to extraordinarily offer luxe and sophisticated experience.
And not to forget the interesting hues and patterns that these marble tiles showcase. The chevron and herringbone pattern tends to create a sense of harmony and balance.
Multi-Colored Geometric Ceramic Tile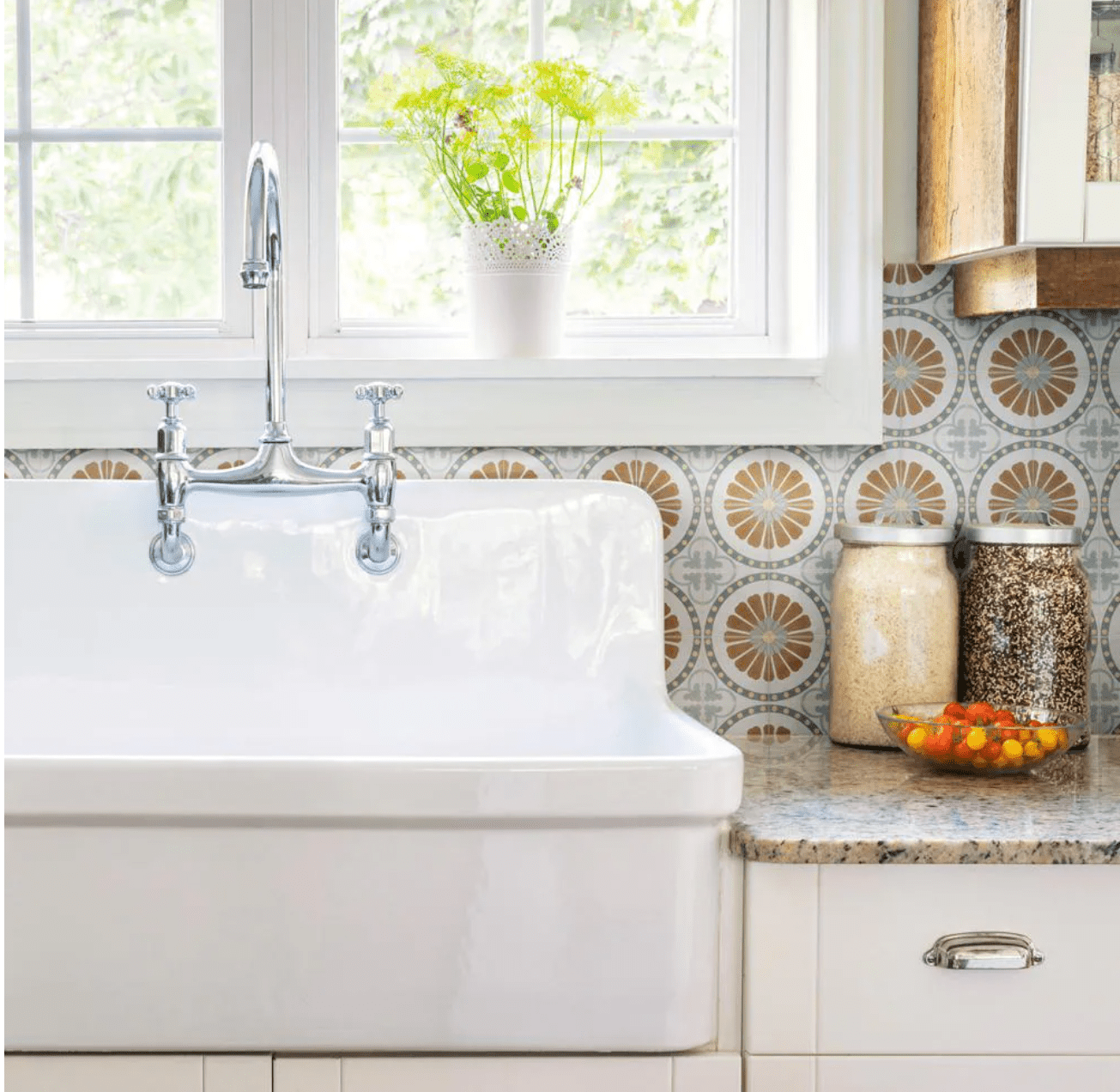 What a bliss this multi-colored geometric tile is, right? Well, it absolutely complements your granite countertops as the little speckles on the marble tend to complete the palette! Featuring the various shades of mint green, blue, burnt orange, and pale yellow – this Moroccan-inspired tile has the ultimate answer to your kitchen!
Apart from the kitchen backsplash, you can incorporate this tile in the shower areas, patios, entryways, and also around the fireplace.
Pebble Textured Backsplash Tile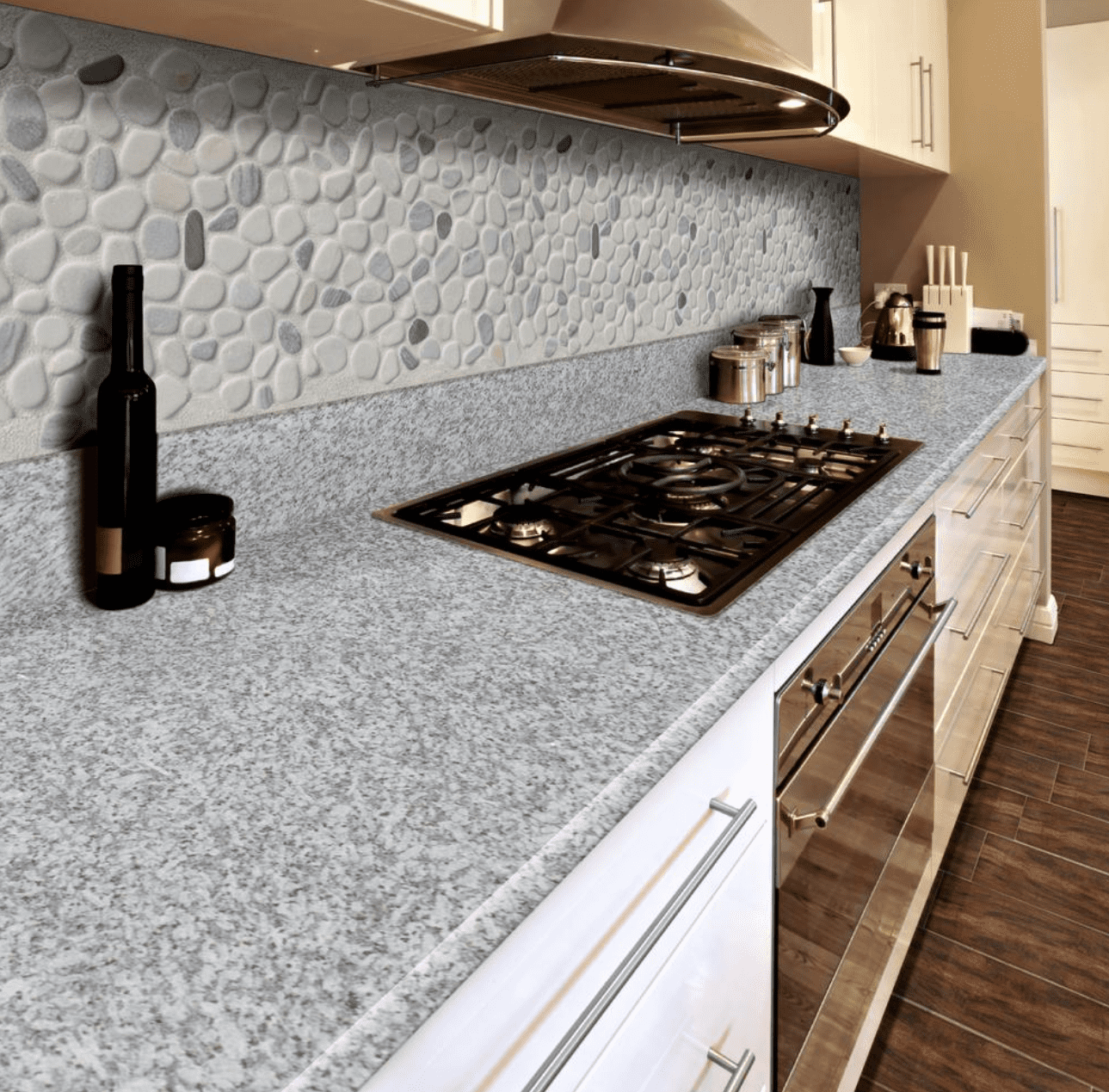 Imbibing a sense of biophilia, this nature-inspired backsplash tile tends to introduce an organic vibe in your kitchen. This soothing backsplash for granite countertop adds a busy statement and meanwhile grabbing the attention of your guests.
Due to the lack of uniformity of the pebbles, this tile will undoubtedly add a sense of hierarchy while blending tiles with your granite countertop.
Yellow Patterned Backsplash Wall Tile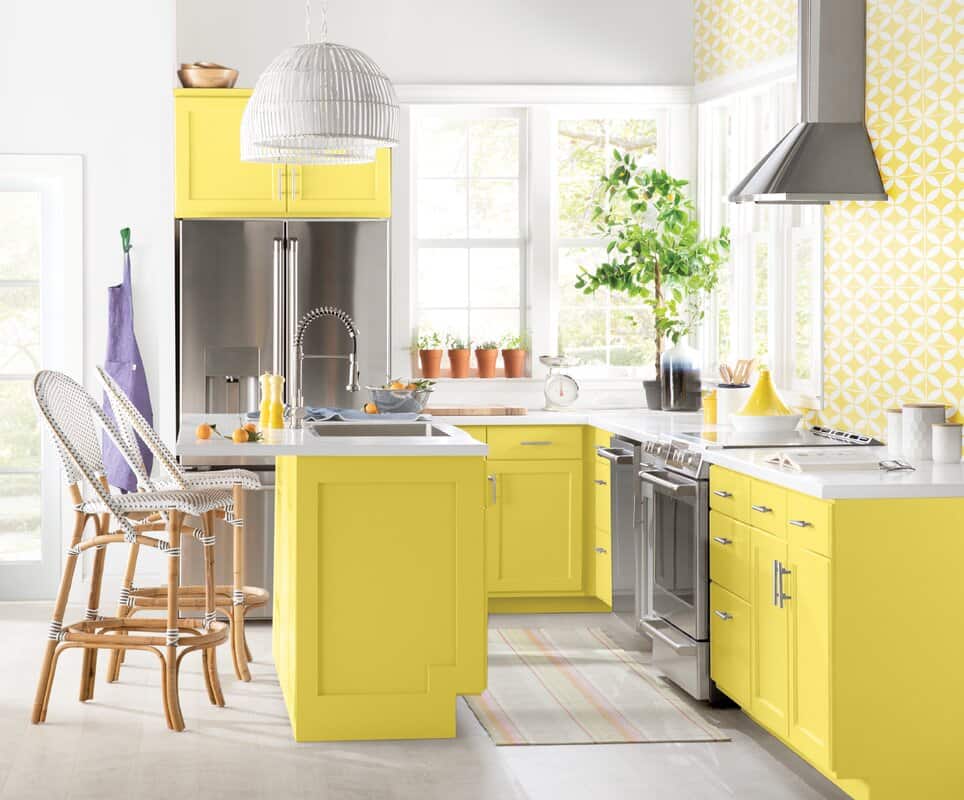 Let's ignore the gray, black, and white to infuse the color of friendship – yes, yellow it is! So, you don't have to be doubtful when choosing bright yellows, blues, or even greens as they equally create a sense of contrast and visual interest in your kitchen.
It is quite a possibility that it directly doesn't compliment your granite countertops – so, in such a case, you must incorporate tinges of yellow elsewhere to create a cohesive palette.
Night Sky Interlocking Tile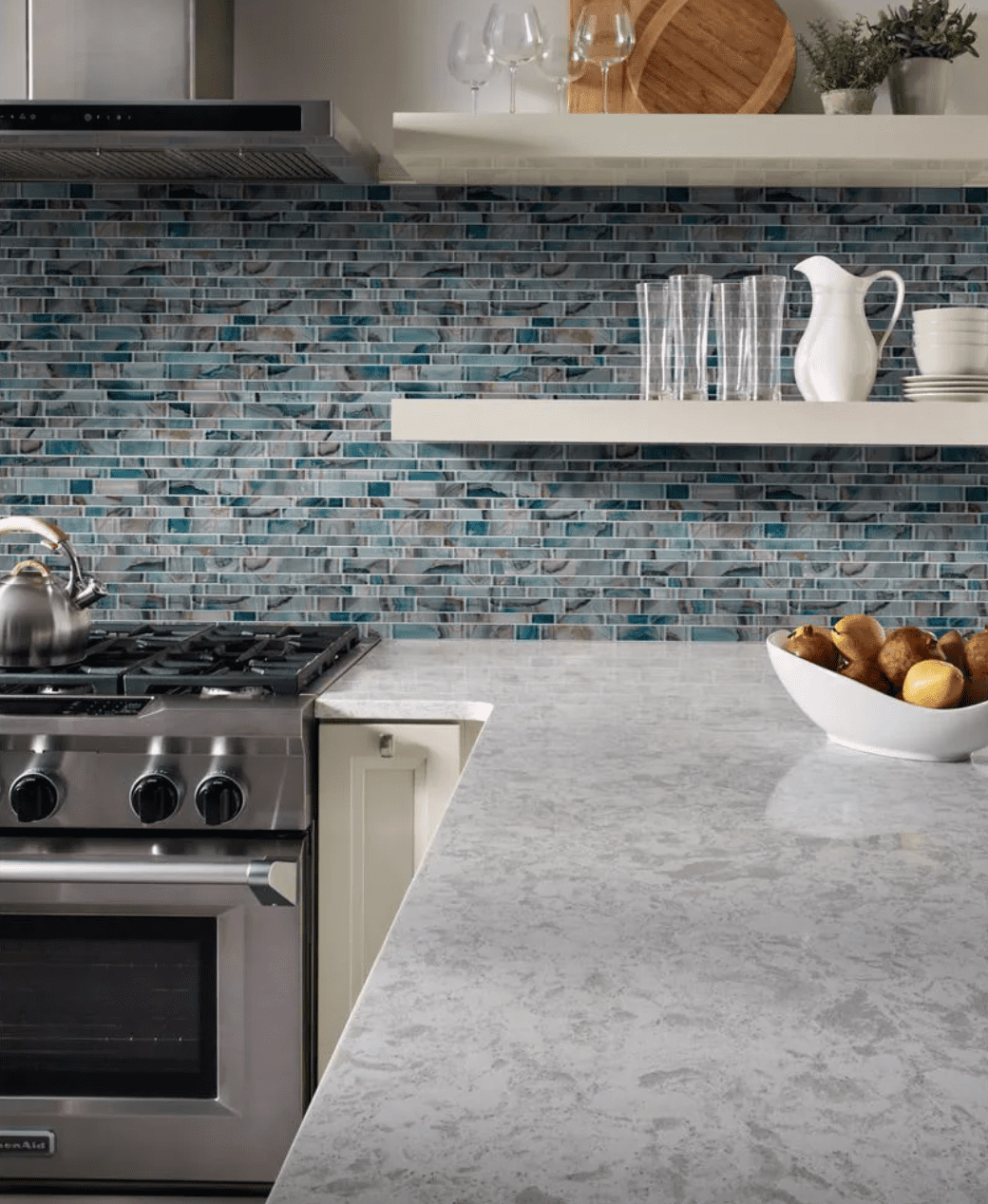 Your cool-toned gray granite would absolutely adore this interesting blue and teal backsplash interlocking tile. This is another mesmerizing way to introduce a timeless and chic character to the kitchens. However, it is not such a great option for your brown or beige-base countertops.
On the other hand, this is a great option for coastal, contemporary, and modern-styled kitchens. Lastly, with a pure gloss texture, this backsplash tile makes a great element for busy and high-traffic kitchens.
Rustic Stone Backsplash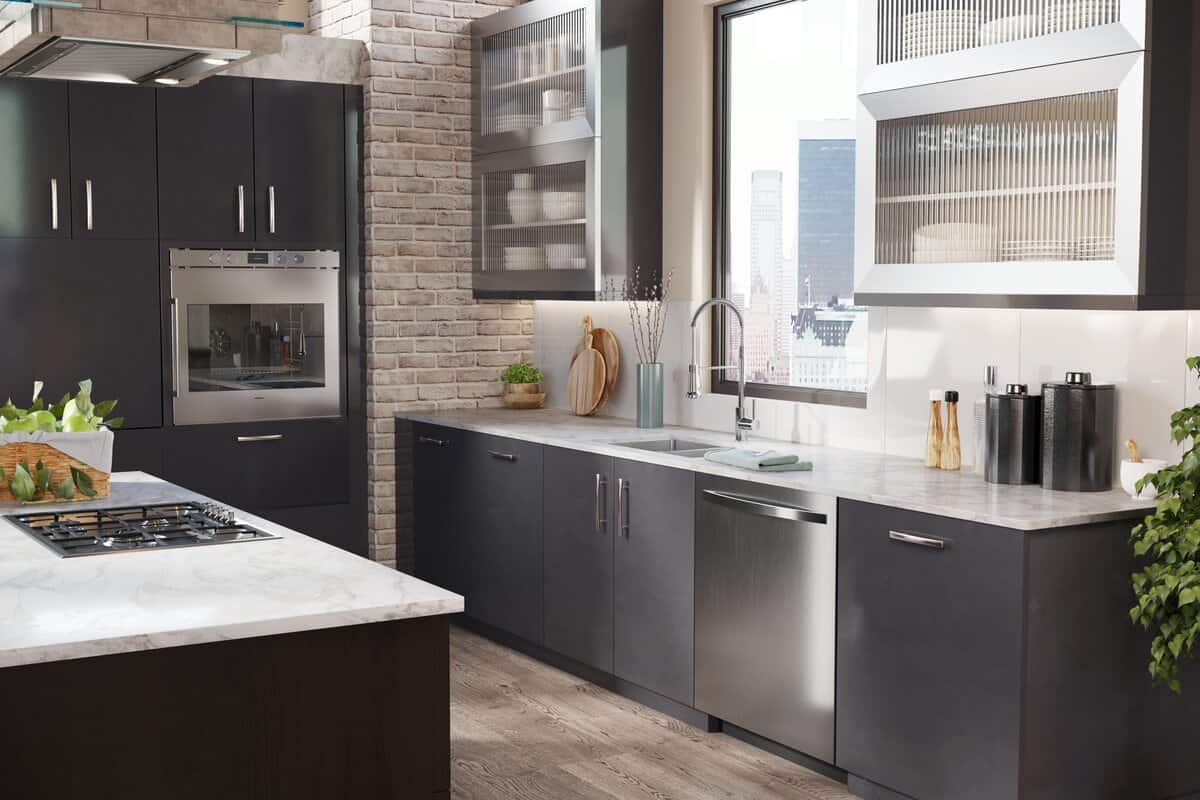 Do you love the feel of rustic or industrial kitchens? Well, this textured stacked stone tile is the one for you and your granite countertops. Apart from exhibiting your walls a three-dimensional character, this tile further creates a modern and minimalistic vibe that you must embrace!
With a noteworthy earthy texture, this tile will transform your kitchen into an absolute natural haven. Don't worry – it wouldn't look too bold and you can incorporate it in the smaller-sized kitchens as well.
Summing It Up
There is no limitation when it comes to choosing a backsplash tile for granite countertops. Well, you can be as creative and wild as you want! From taking cues from exciting hues to introducing textures and patterns – let your backsplash speak the true style of your kitchen!