Don Pedro Brooklyn is reader-supported. When you buy through links on our site, we may earn an affiliate commission. Learn More
Kids Bedroom Ideas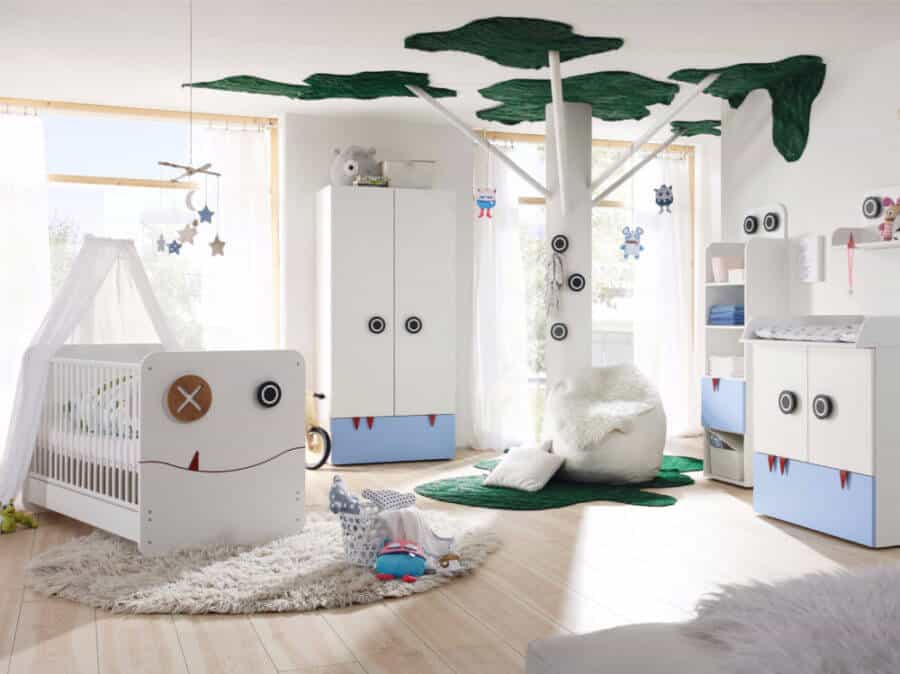 Designing a playful kids bedroom seems a little bit difficult for some parents. In fact, understanding the kids' characters is the main key in designing their bedrooms.
Besides that, to match the room style with the whole style of the house is another big homework to do considering the style and interest as well as the affordability of the furniture might be additional issues.
But don't worry. In this article, we will show you some of the best kids bedroom ideas that will give your beloved children a comfortable sleeping environment.
Moreover, these playful kids bedroom will be a perfect room to start their day once they open their eyes!
Playful Girl Bedroom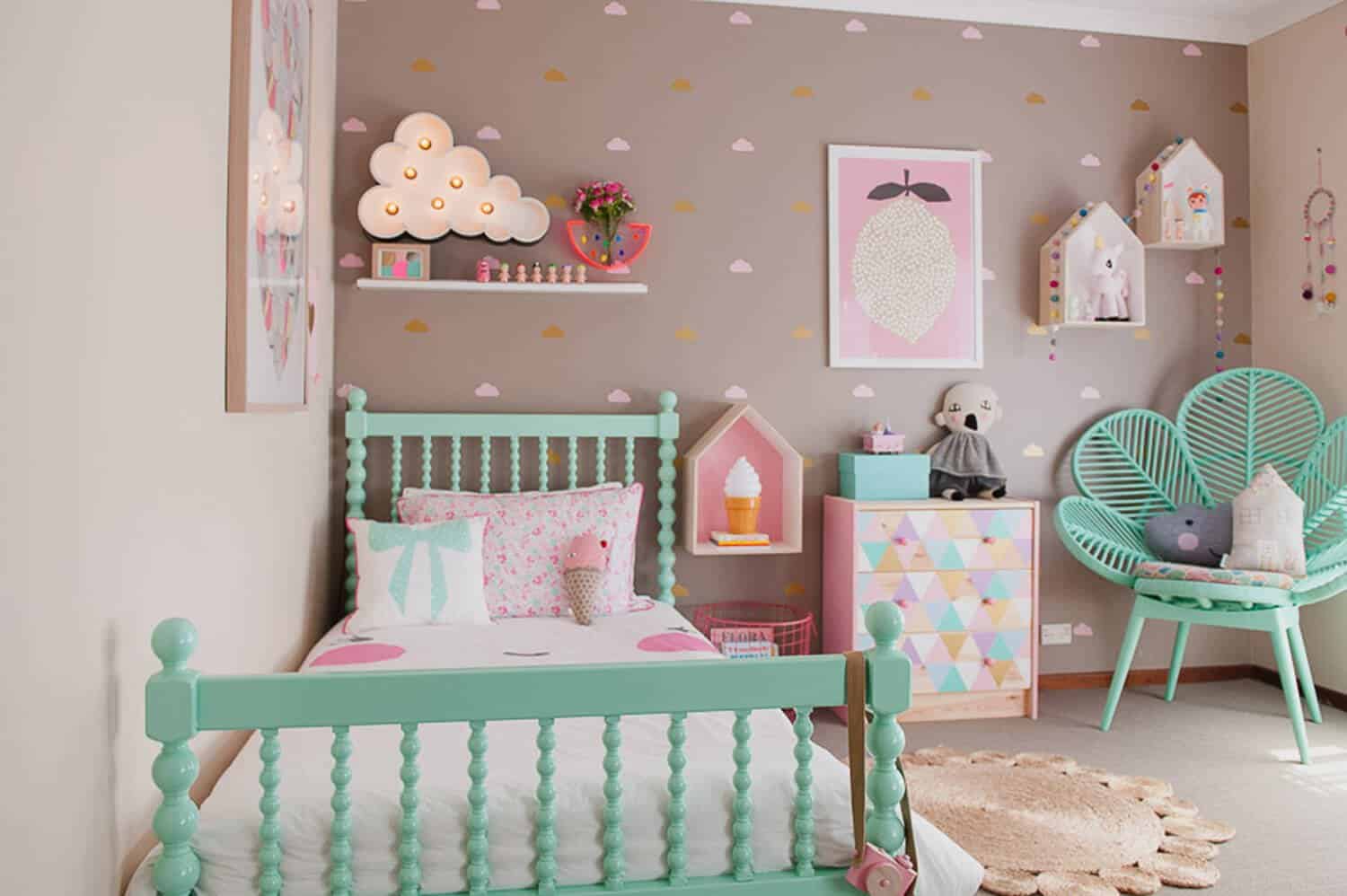 This idea is aimed for your girl who likes colorful things and adorable decoration that could be realized in a form of wallpaper, mat, or other wall accessories. This will suit their interest and the style.
IKEA Kura Bed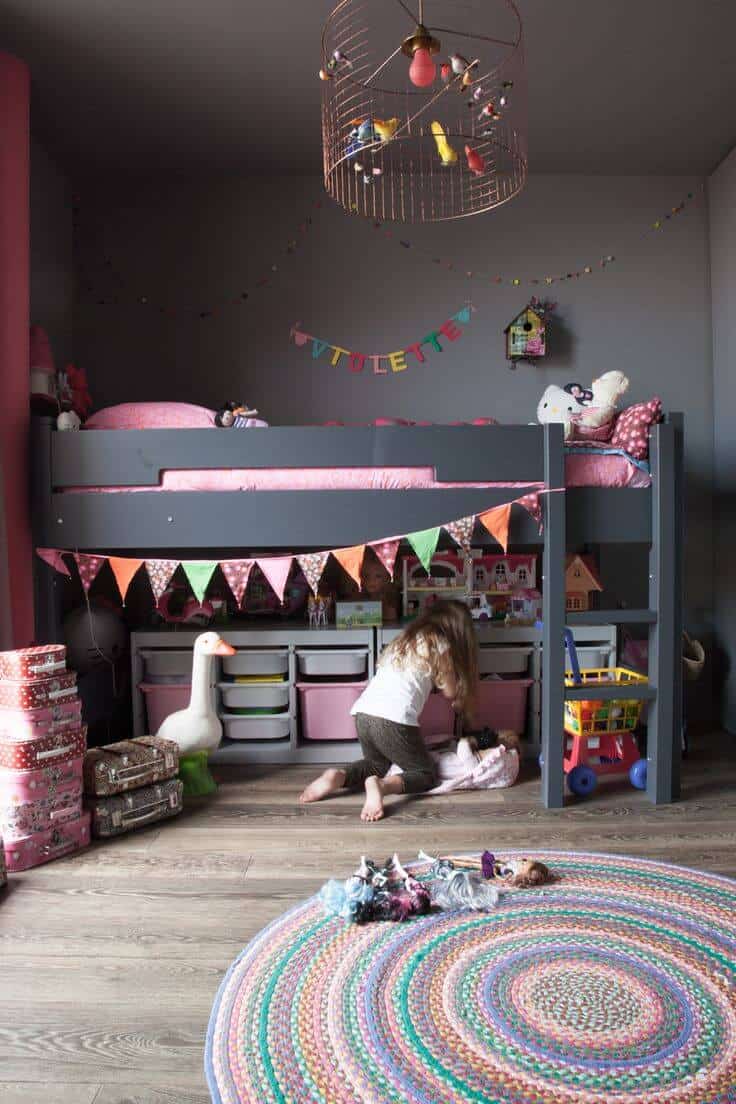 This Kura Bed from IKEA is very recommended for the parents whose children have many things for them to play such as doll, toy, or just any fun stuff they want to keep.
IKEA Kura Bed have a space in a form of big drawer or just a space beneath or above the children's bed.
All children's stuff can be put right there after they finish playing. Besides giving space to put toys, parents can also teach the children in their bedroom to put the things in the place where they are supposed to be.
Mickey Mouse Wall Art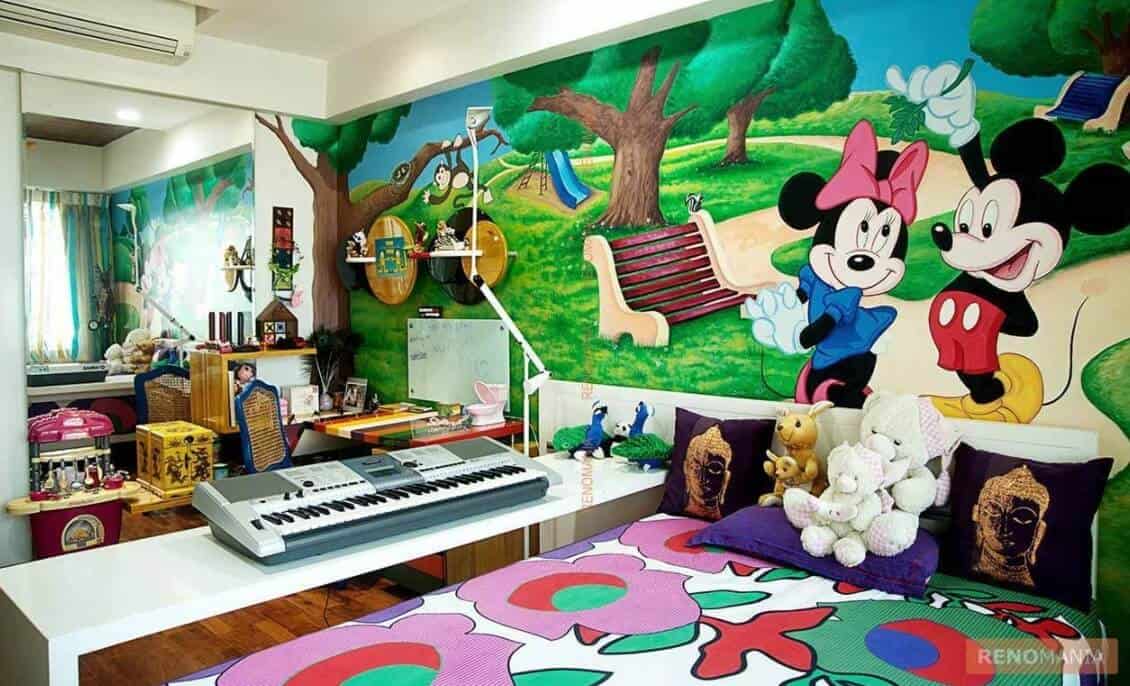 All children like imagination. Mickey Mouse is one of the most popular Disney character for children. Having this character as the theme in your children's bedroom in a form of wall art is going to make the bedroom looks so fun and comfortable.
The wall art is going to make the room looks like a playground in which this is good for the children to have good impression on their bedroom.
Other characters like Thomas the train, Disney Princess, or superheroes are also possible to be the theme of wall art. It is all depending on children's interest.
Shared Room with Pastel Colors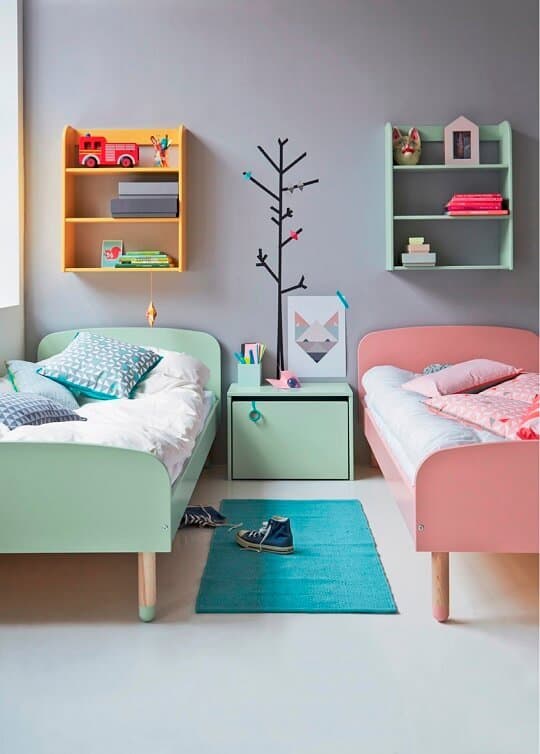 Do you have more than one child with the same gender?
Well, then, having shared room for them is good to strengthen their bond because we never know what they are talking at night after you, parents, turn the light off.
Putting their interest together might be a big homework, but creating a simple and neutral color for them is the trick.
Having a pastel color with simple decoration is one of the inspiration for shared room in order for them to have neutral color and the nuance or warm and calmness in their bedroom.
Playful Nursery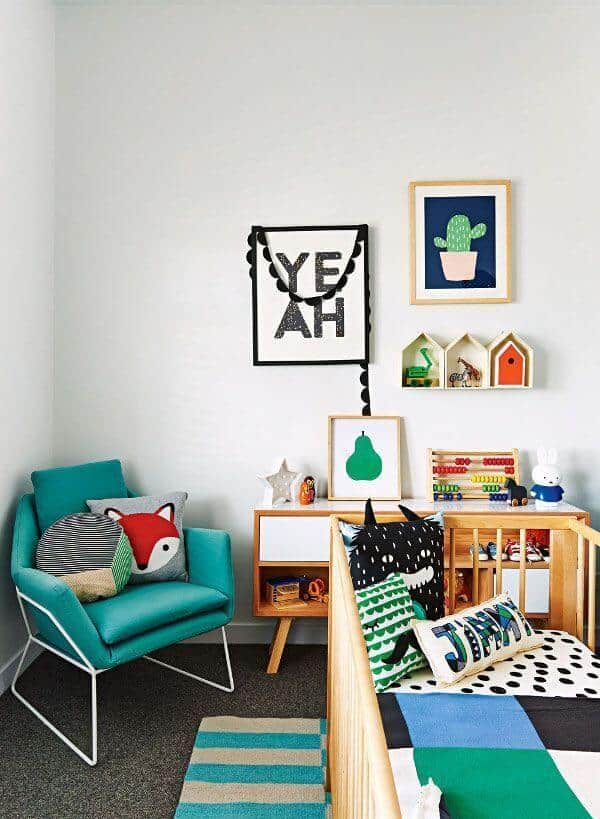 It is now becoming the trend where babies can got their own room. However, this room must have well access with the parents' room for the matter of security just in case.
Playful nursery room just like the photo shows you is very good for the baby or toddler.
The style of the bed and the chair for the one who nurture the baby is going to feel comfortable. The additional things like mat and paintings is going to make the room even better.
Cooking Games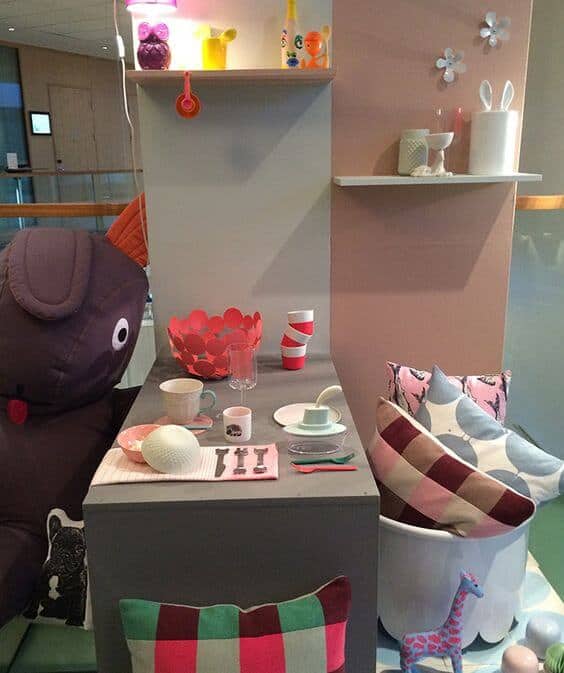 Another interest and hobby that is liked by many kids is cooking. It is not just girls, but little boys also like to play cooking games with their toy.
Having this simple and safe cooking tools for your children to play in their room is going to make them feel comfortable.
If you are confused about the decoration, just make it neutrally decorated but put this cooking game in the bedroom.
Playful Bunk Beds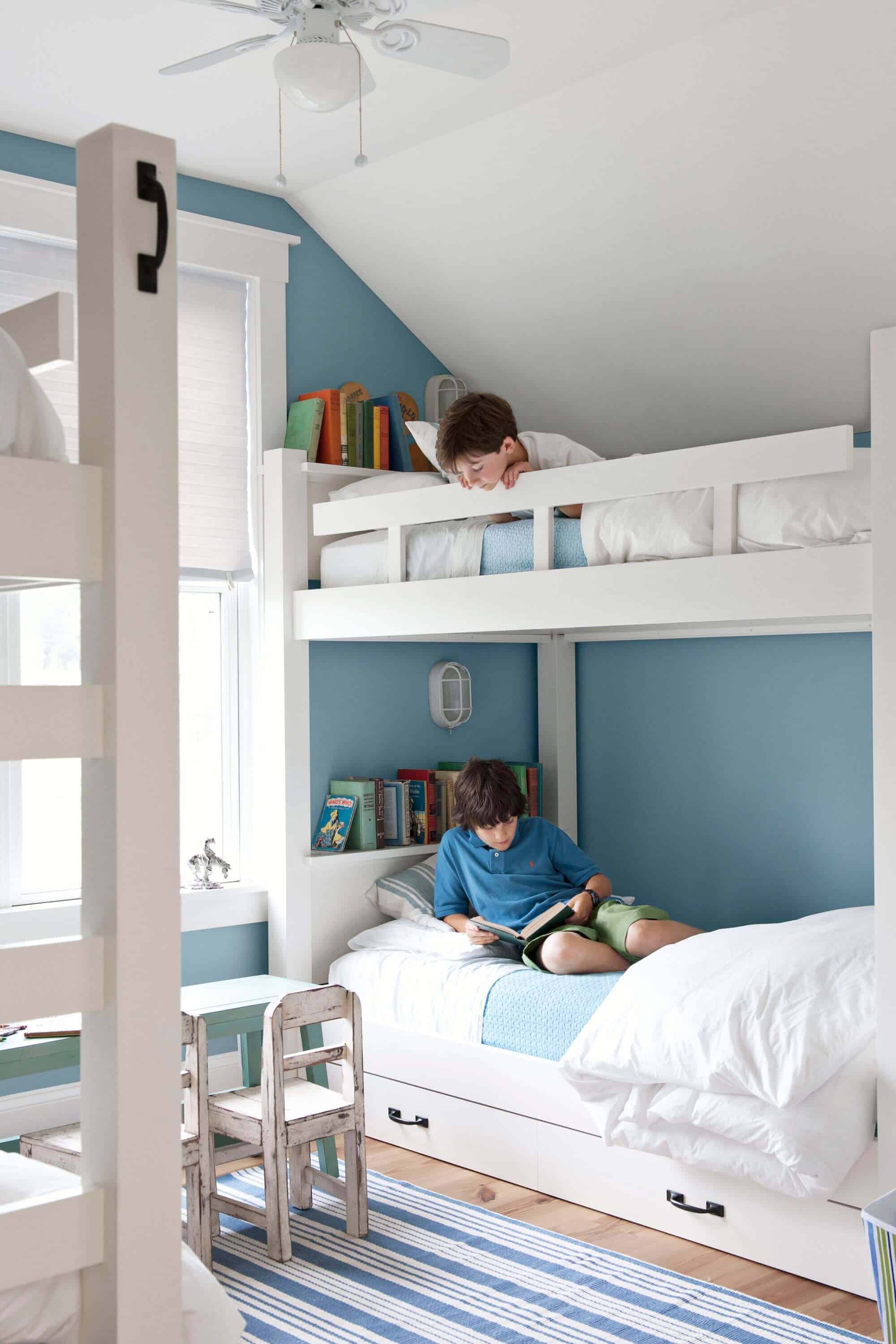 Bunk Bed can provide two bed in one room with one is in the top and another one is in the bottom. Both bed are connected by stairs.
Bunk bed is also recommended since this can save the room space as well as making your children sleeping in one room which is good for their bonding.
Bunk bed can also be decorated in accordance to the children's interest and it is also able to occupy the floor space. You can try this idea, too.
Bed Canopy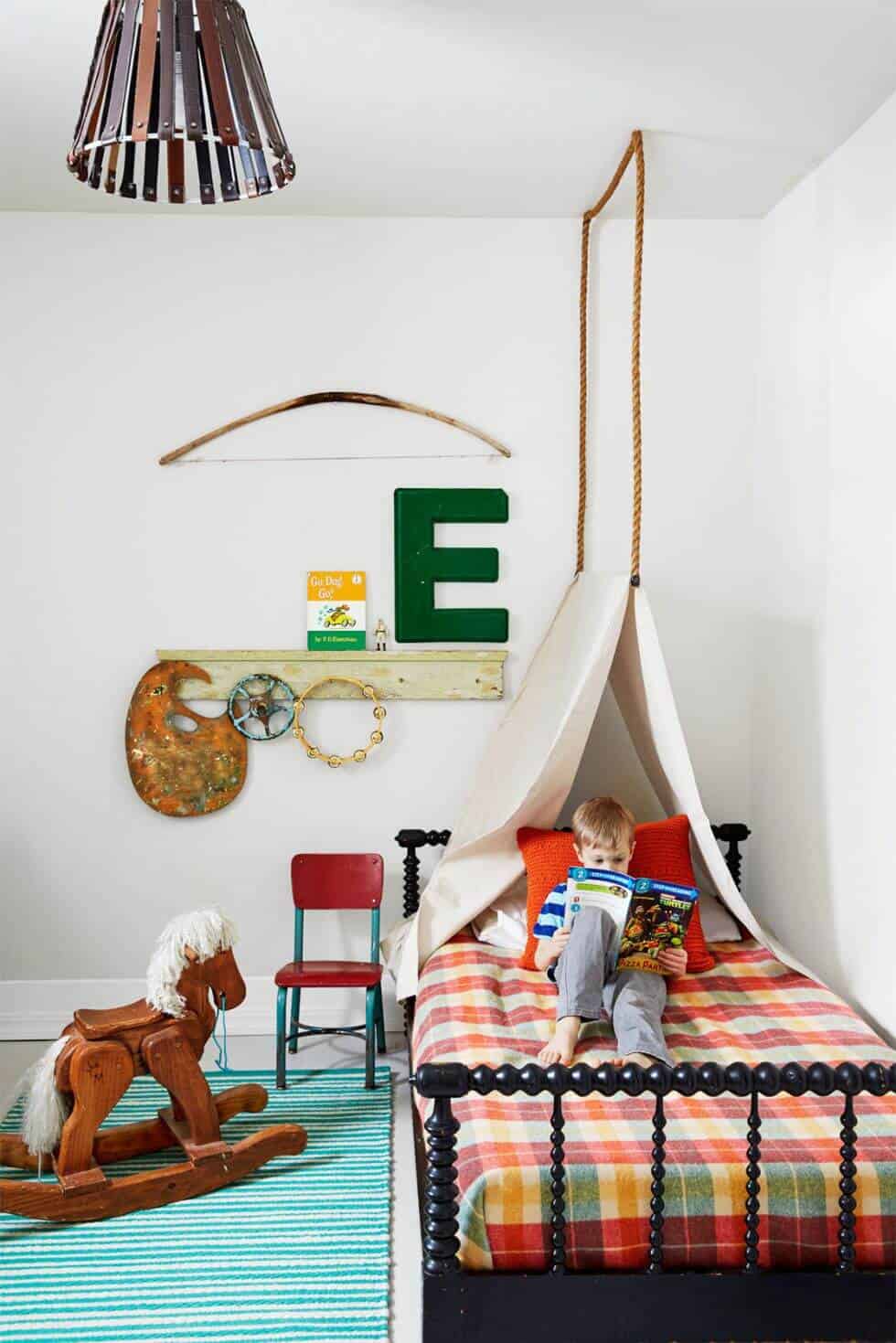 Bed comes in many styles. Having bed with canopy allows children to have space under their bed.
However, this is also preferable for many families when they want to choose the bed style for their kids.
Grown Up Kids Bedroom Ideas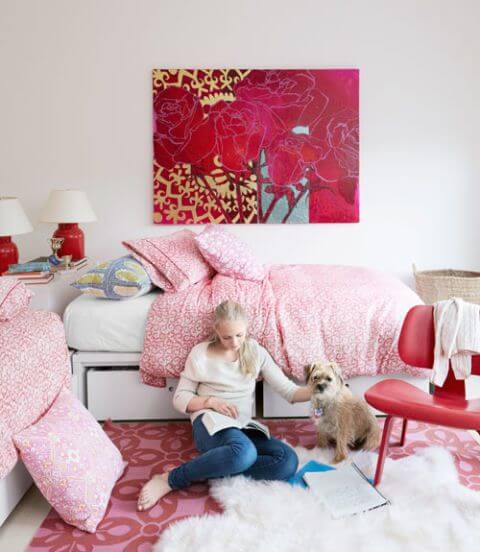 When your kid has grown up, having the style of simple bed like the picture shows you is a good idea.
Without giving so much accessories, the simple room with reasonable space is enough for the grown up kids.
Gardening Enthusiast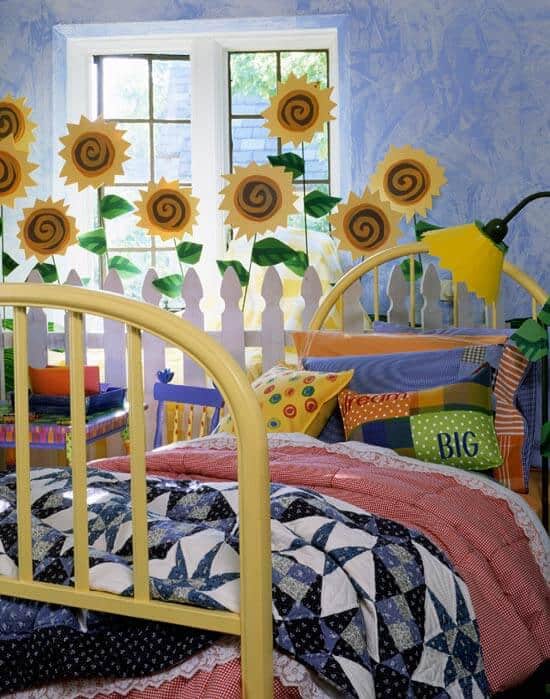 The natural theme like flowers and trees is also one of the most preferable style for parents to decorate their children's bedroom.
This gives children knowledge and this looks beautiful as if the bedroom is full of blooming flower or shady tree.
LEGO Themed Room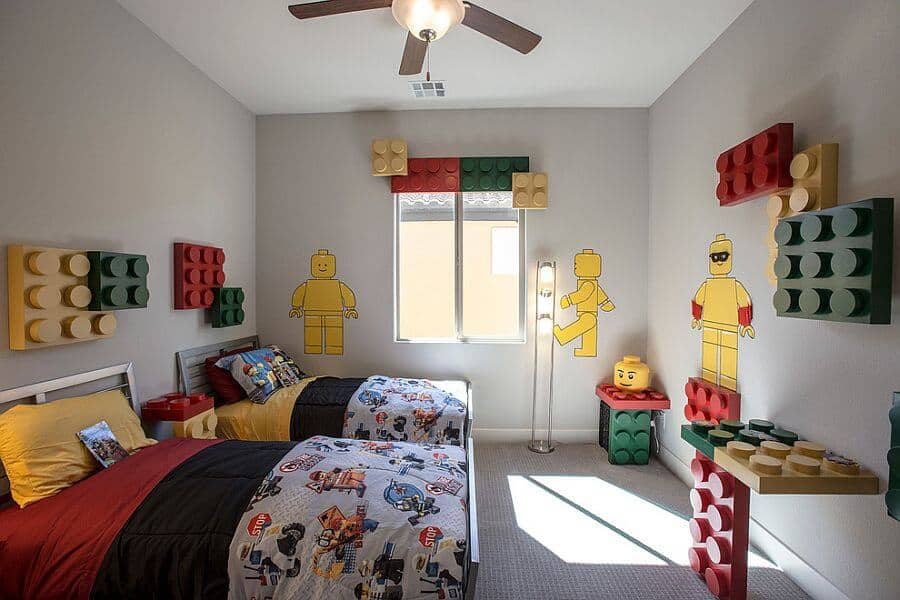 LEGO is one of the oldest kids' toy and it is still famous until today, even it already had the movie.
Having this toy as a theme is going to be just cool and great!
The various color of LEGO and its typical character can make the room does not look boring.
Reading Corner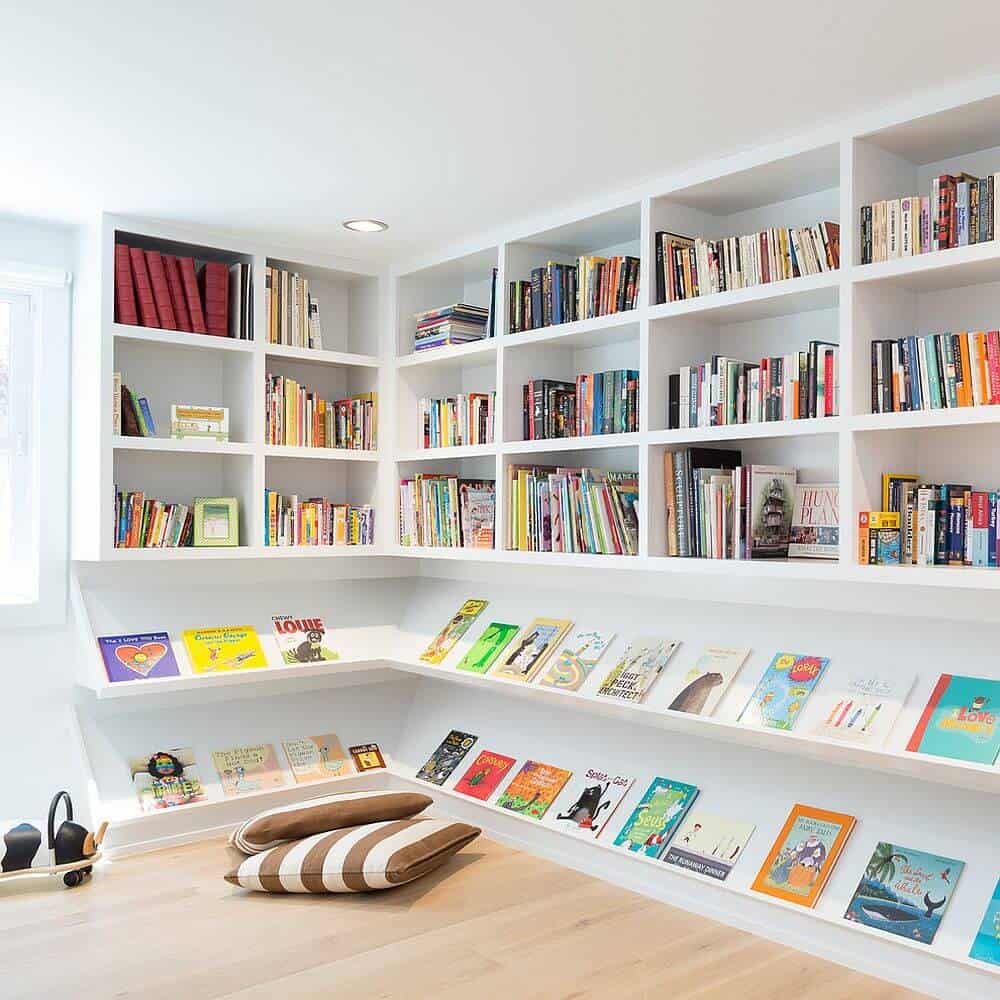 This spot is much recommended especially for the children who grown up already. This spot is very calm and this makes the children have interest to read in which we know reading is very good for children.
Putting this decoration and concept with matching style and color of the room in your children's bedroom is very useful for them.
Indoor Teepee Tent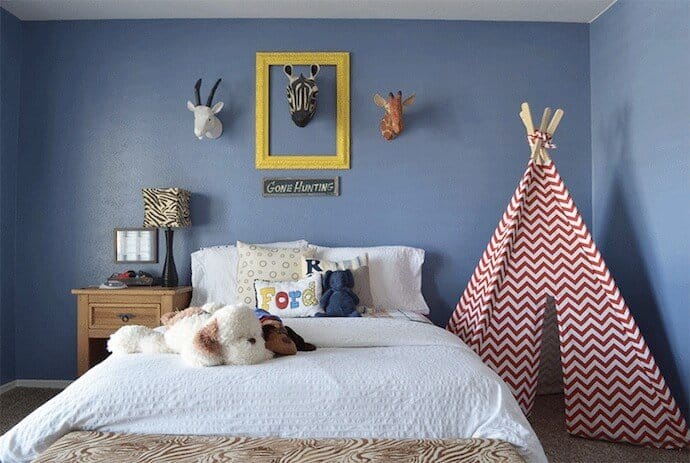 Children likes to have their personal space or spot, like to be alone or to just having their time. This indoor Indian tent style can also be one of your inspirations in choosing main or big decoration in your children's room.
The Explorer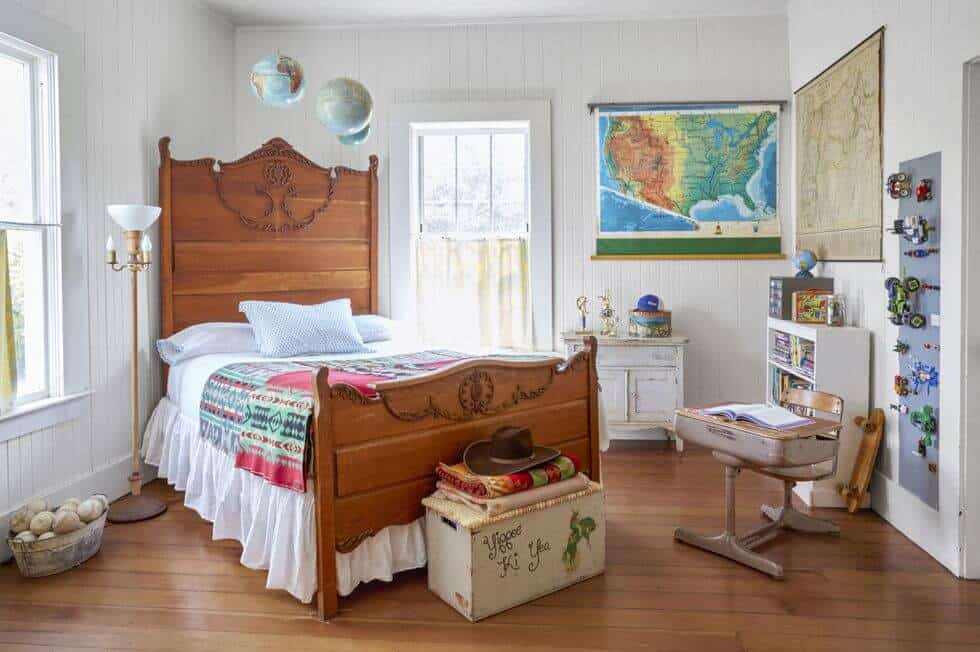 It is very good to teach your children something through decoration in their bedroom, because they are going to see that every single time they start their day and end their day.
This style is recommended for traveler parents who wants their children to know more about exploring this world.
Having maps, or any other landscape of the country around the world as the accessories in their bedroom can be used as the theme of your children's bedroom.
Pink Color Scheme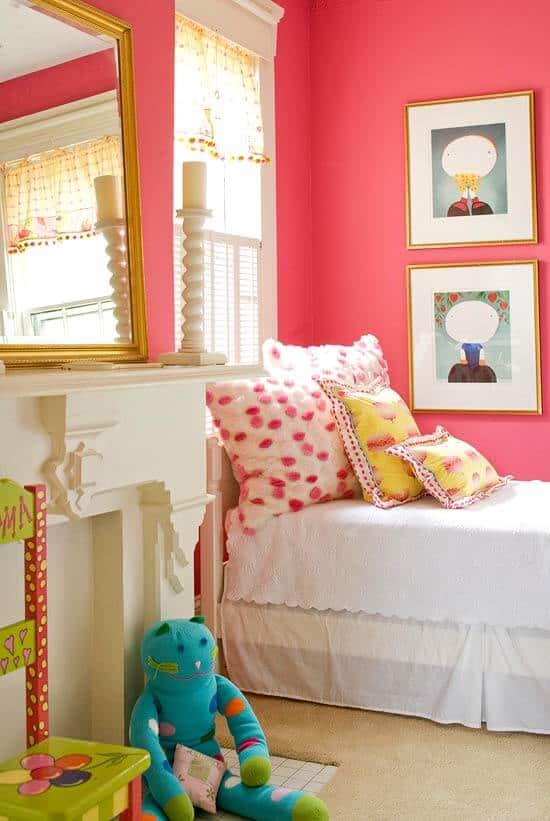 Girls are going to like this style. Most of girls like the pink color. Having this pink color scheme as the inspiration of kids' bedroom is going to be your very alternative.
African Jungle Style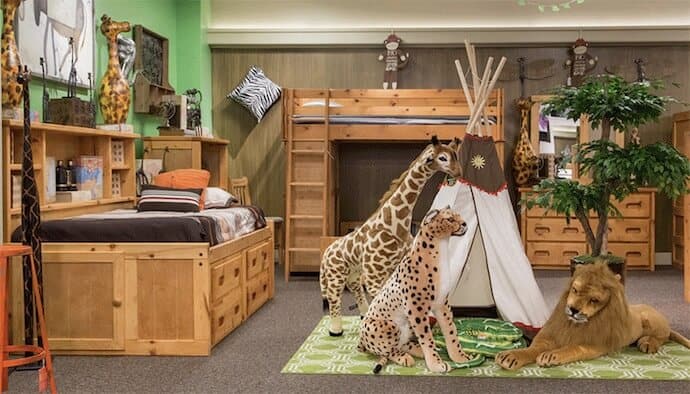 It is always fun thing for children to see and to get to know animals. Putting many animal stuffs like dolls or pictures with wooden materials for the bed and its frame is also a good recommendation for parents to not make children's bedroom feels boring.
Animal Lovers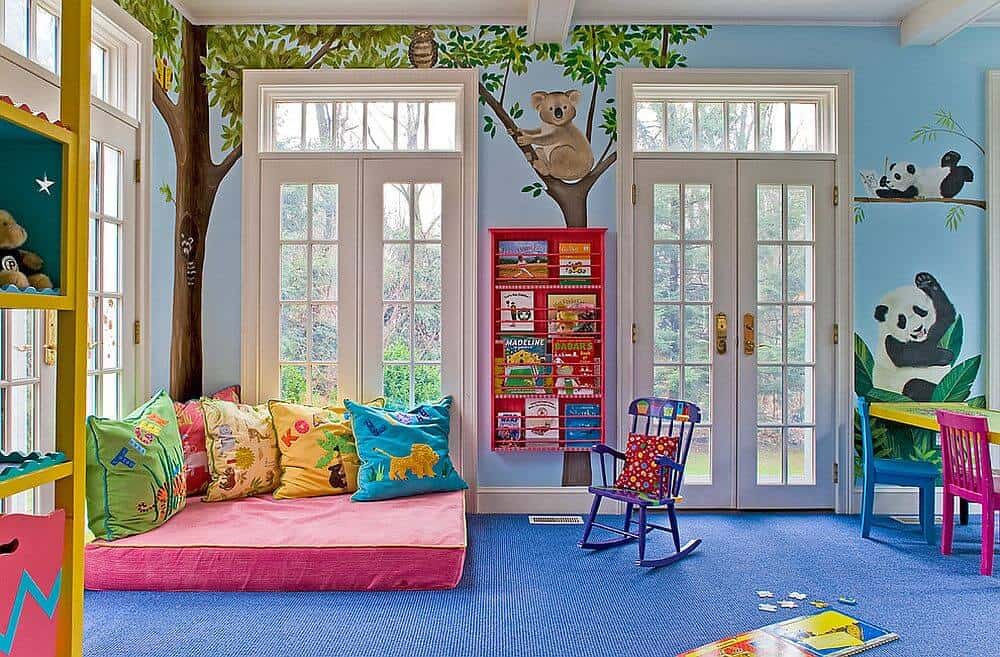 Here is another alternatives for the parents to put the atmosphere or theme of animal in their children's bedroom.
Putting animal stuff in the bedroom can be done in accordance to their age as well. The decoration also may be vary, like wallpaper, magazine spot, dolls, or even animal toys.
Under Bed Storage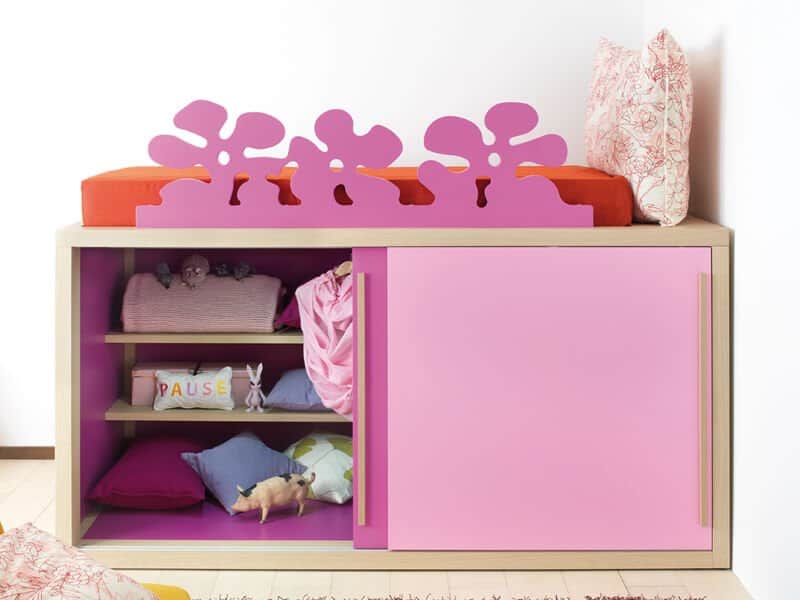 Just like Kura Bed from IKEA, this is another style of the bed which has a space under the bed to keep and save things.
The drawer under the bed is going to be the place to safe the books, or toys, or things in the bedroom. It is going to save the room space since the drawer and cupboard is placed under the bed. The bedroom for your playful children is going to look less messy.
Artistic Kids Bedroom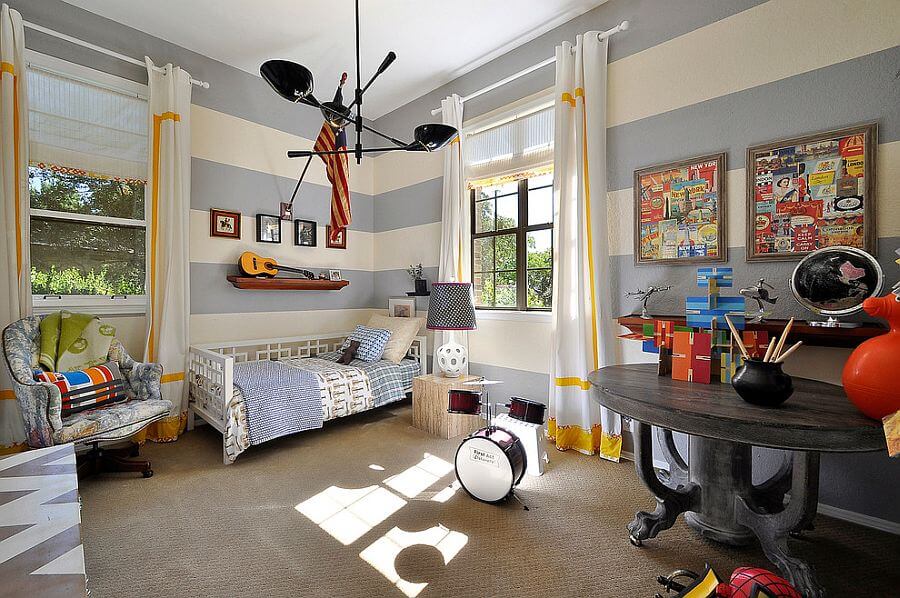 It is never wrong for you to put artistic installation in your children's bedroom. Putting many art stuff like music instrument, or artistic paintings.
This is going to a little bit lead your children's interest. The theme is simple and quiet affordable to be the inspiration of playful children's bedroom.
Sporty Bedroom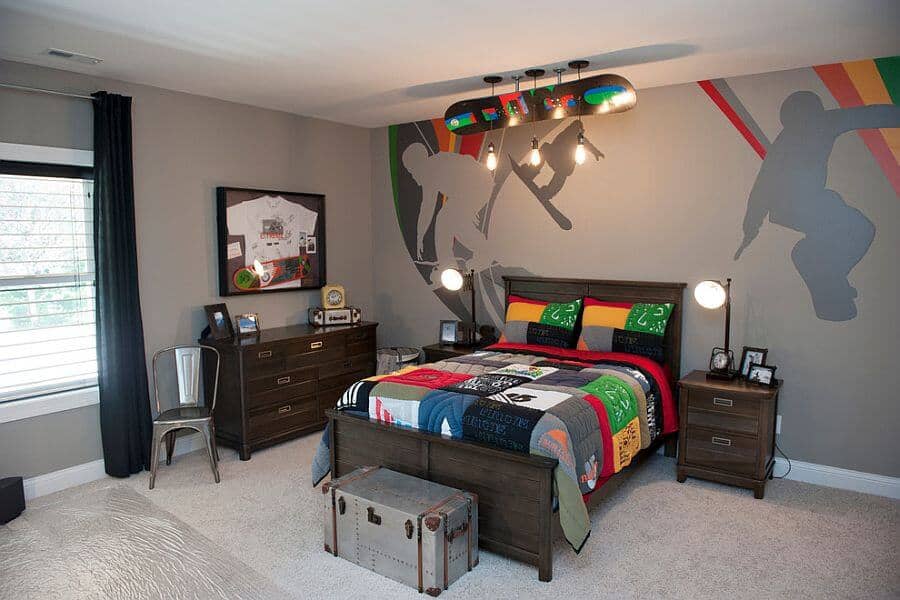 Sport is a perfect theme for boys' bedroom. The picture shows sporty wallpaper and the combination of neutral color in a bedroom.
The choice of wall color and the bed cover is also good for the boy to sleep in such environment. This theme is perfect for the parents who want to set their boy's bedroom.
Space Themed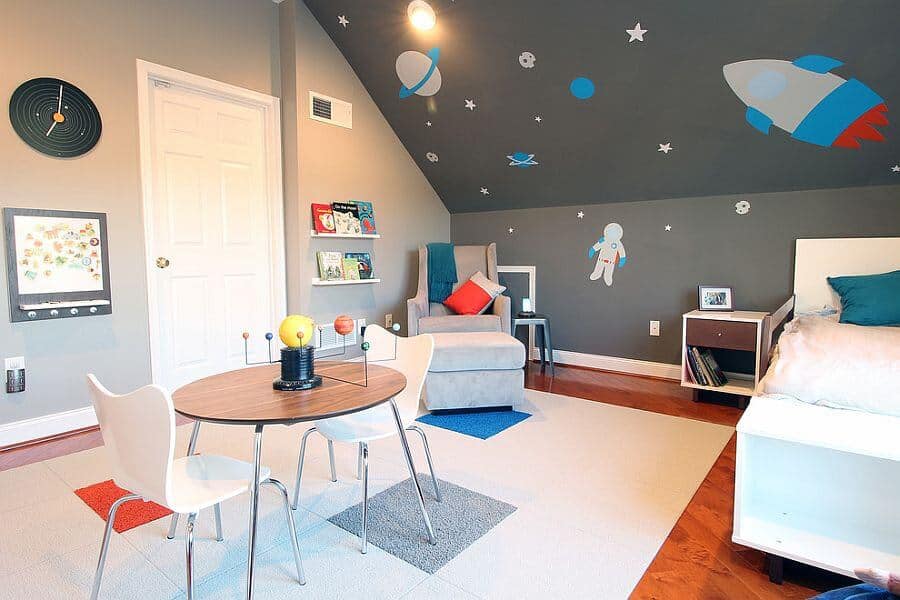 Looking at the ceiling of the room but feels like looking at the sky in the night is a great concept for children's bedroom.
Putting stars in the ceilings and other cosmic accessories with glow in the dark effect for some of them is a unique concept for your children to sleep in such environment.
For more amazing space themed bedroom ideas, visit 50+ Space Themed Bedroom Ideas for Kids
Fun and Functional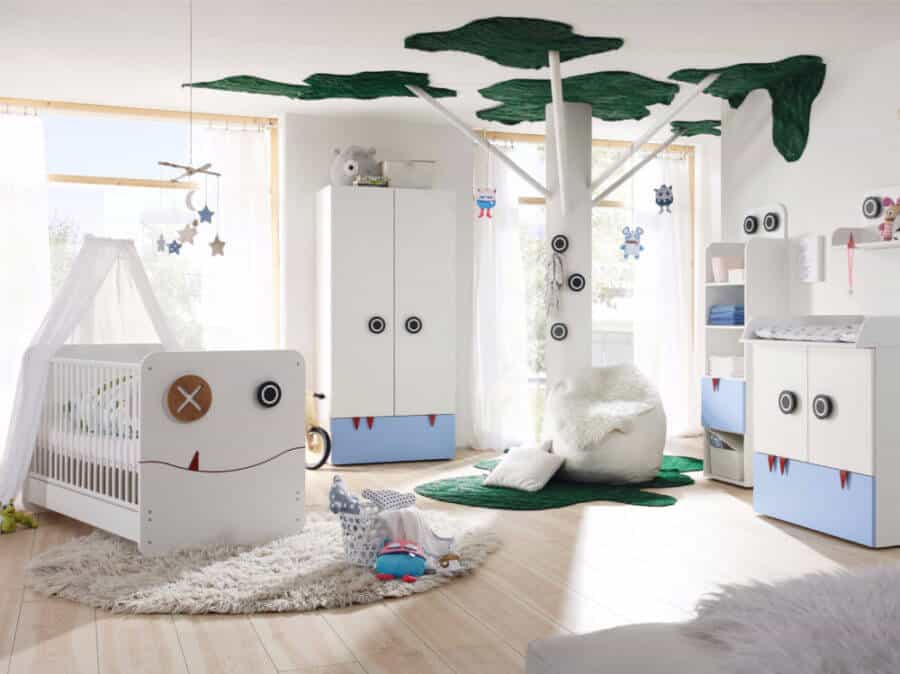 The theme or concept for children's bedroom can be both playful and functional.
The room can be the place for the children to sleep, rest, play and this can be also useful or functional such as studying or the place for parents to do nursery in that room.
IKEA Kallax Cube Storage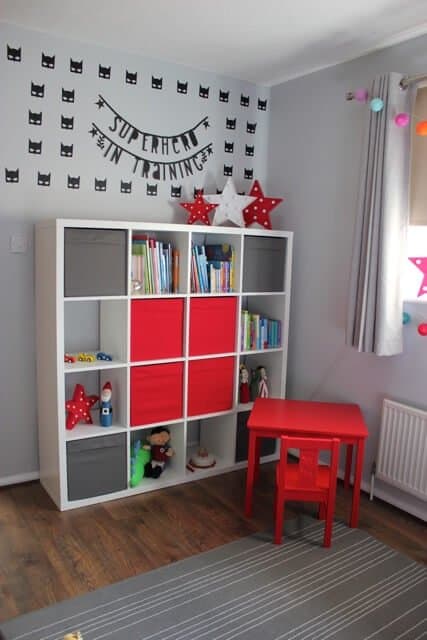 IKEA Kallax Cube Storage is one of the furniture that you can add in your playful children's bedroom. This storage comes in a cube shape and this is useful to keep and save stuff in the bedroom.
Children must eventually have books to read and toy to keep. This is going to be a perfect thing to safe the old and put the new. So children bedroom is going to be less messy.
Unisex Baby Nursery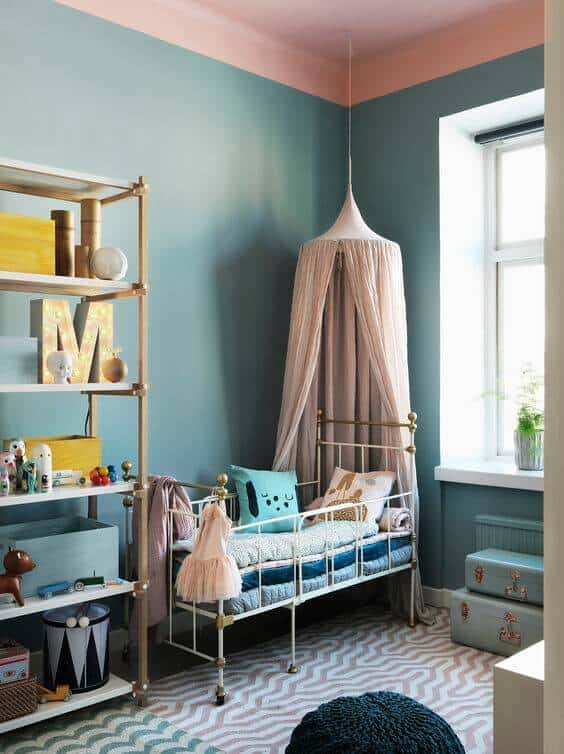 Nursery room is like pre-room for the children. Having unisex kind of the bedroom is also not a bad idea because it makes the room neutral and somehow looks fancy with the taste of unisex mixed.
This kind of decoration makes the parents also less confuse to put which accessories in the bedroom.
If you need more nursery design ideas, please kindly read our 33 Most Adorable Nursery Ideas for Baby Girls
Nautical Themed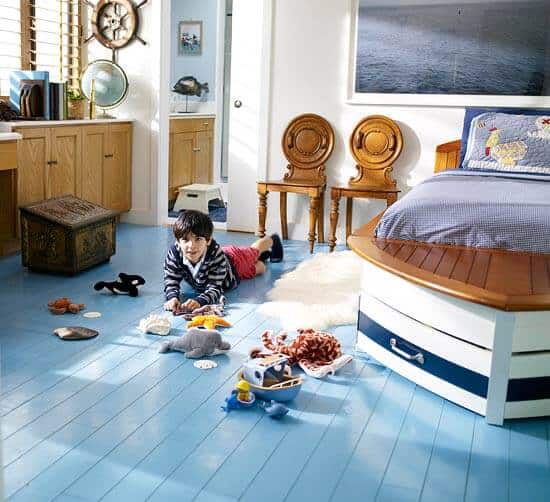 This is another anti-mainstream theme of playful children's bedroom. Having sailor theme is a good idea since you can put many accessories and also furniture to match this theme like ship accessories, globe, and other things just like the picture shows you.
Contemporary Furniture Art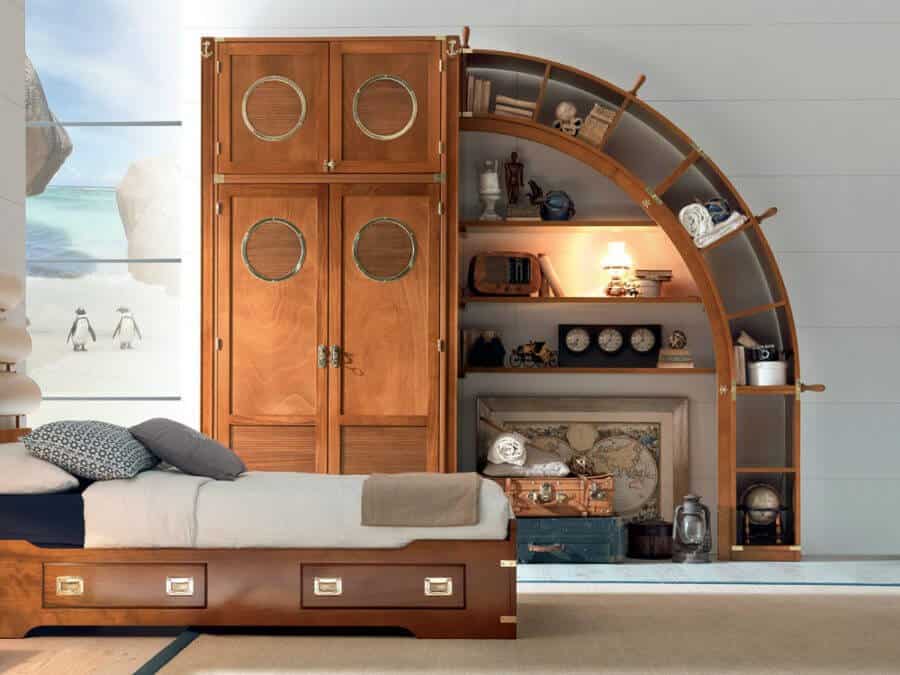 If you wish to have more modern and elegant style of children's bedroom, the concept of classic wardrobe and bed is going to be okay.
The additional things like proper lighting and window location is going to enhance this concept.
Creative Corner Bookself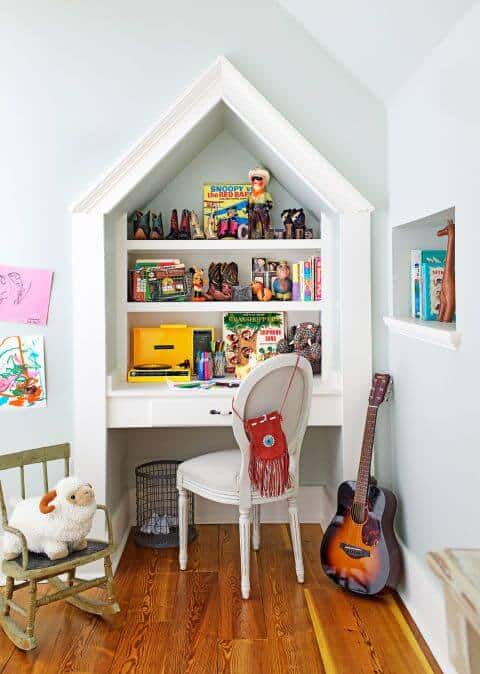 Children are not in the time to like make up, therefore creative corner bookshelf is good for them. It is good to have a reading corner with minimalist style of table to spend the day.
Creative corner like how it is shown in the picture can be your inspiration of your children's bedroom in any style or decoration based on your interest and your children's of course.