Don Pedro Brooklyn is reader-supported. When you buy through links on our site, we may earn an affiliate commission. Learn More
25 Modern Coastal Living Room Ideas
What do you miss the most about summers? Is it the breezy vibe on the golden sand by the beach or feeling refreshed sipping that cool margarita? Well, whether or not you reside by the beach or somewhere landlocked in the country, you can always feel connected to the sea. And do you know how is that possible?
Modern Coastal interior design style it is! Mimicking the cool blue waters of Santorini, this style is all about carving a relaxed and laid-back backdrop. And since this style embraces nautical coastal decor and a calm color palette, it exhibits a pure Caribbean vibe. So, it's time to spill some gorgeous Coastal beans with these 25 beautiful modern coastal living room designs.
Play Focal With Furniture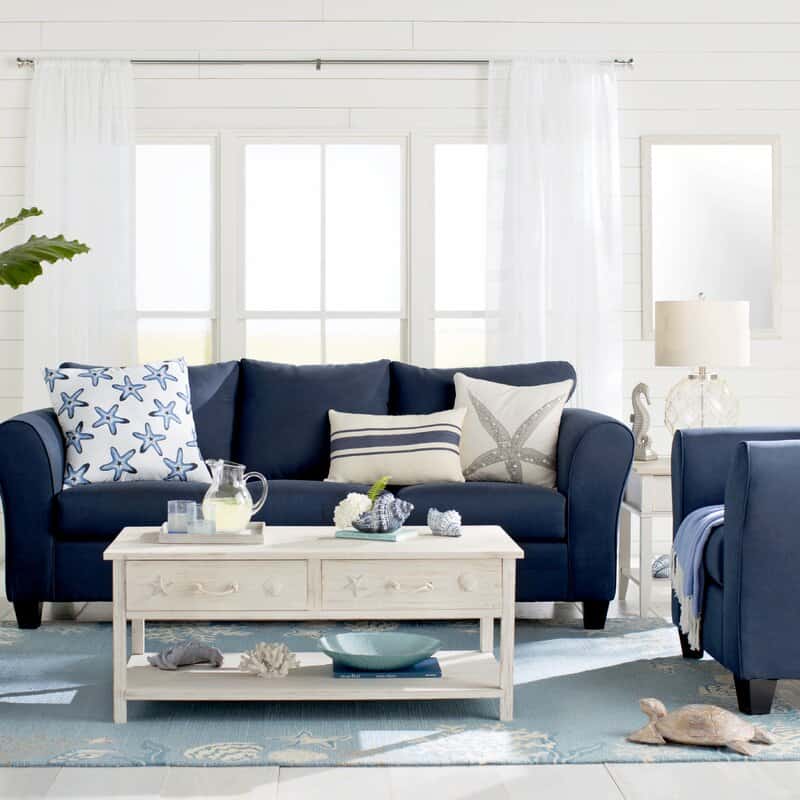 One of the best ways to incorporate a coastal vibe is by choosing a focal piece of furniture that sparks a tone of blue. Mainly, focus on the center couch along with accent chairs that majorly dominate your color palette. Simultaneously, ensure to add crisp and cool whites for the base on your walls and ceiling!
Secondly, don't forget to pay attention to that chic, starfish pillow cover that adds detail to your couch.
Blue and White Cotton Striped Pillow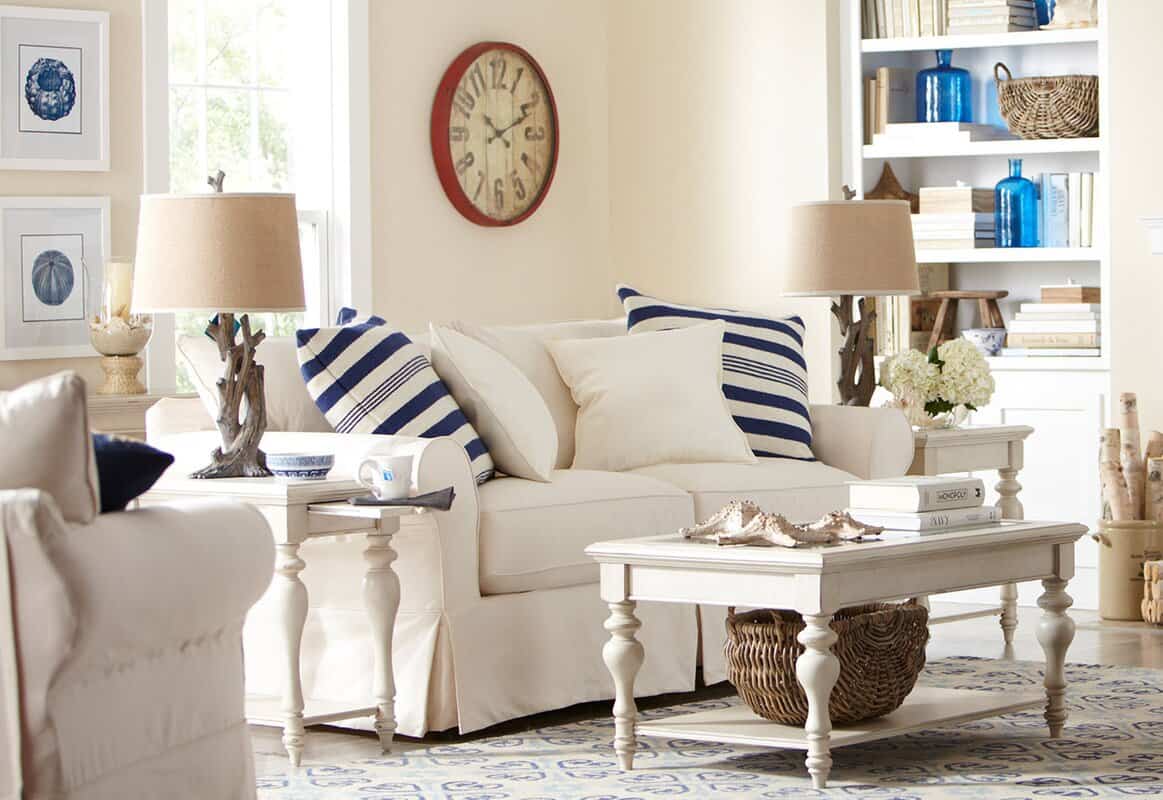 Let your light-filled modern coastal living room feel energetic and vibrant with these blue and white striped pillows on board. When observed through a bigger lens, these pillows tend to really stand out and make the living room feel gorgeous.
You can choose to pair it with other white or cream-toned throw pillows that make a subtle background. Lastly, when designing your blue coastal living room, don't forget to add tinges of blue details elsewhere. For instance, the blue glass table vase plays phenomenally!
Contradict With Monochromatic Blues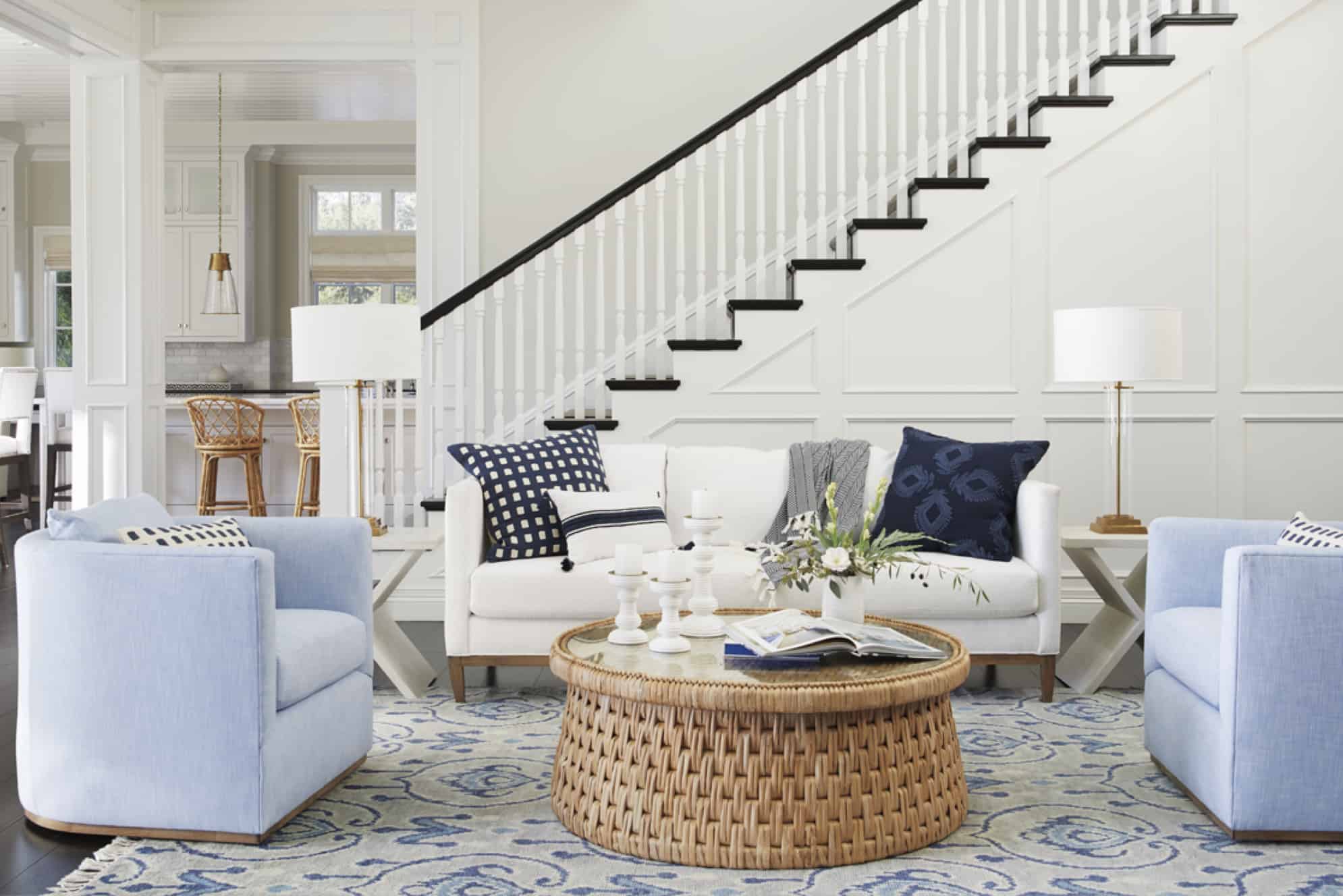 Just like the variance of blue shades in the deep seas of the Pacific and shallow waters of the Bahamas, you can let your coastal-inspired living room speak a thousand words. Majorly playing monochromatic – from lighter blues to darker and bolder blues, you can stagger these tones on the furniture, pillows, and rug.
Moreover, play with patterns and add an ample touch of whites to truly love those blues!
Decorative Ladder For Coastal Style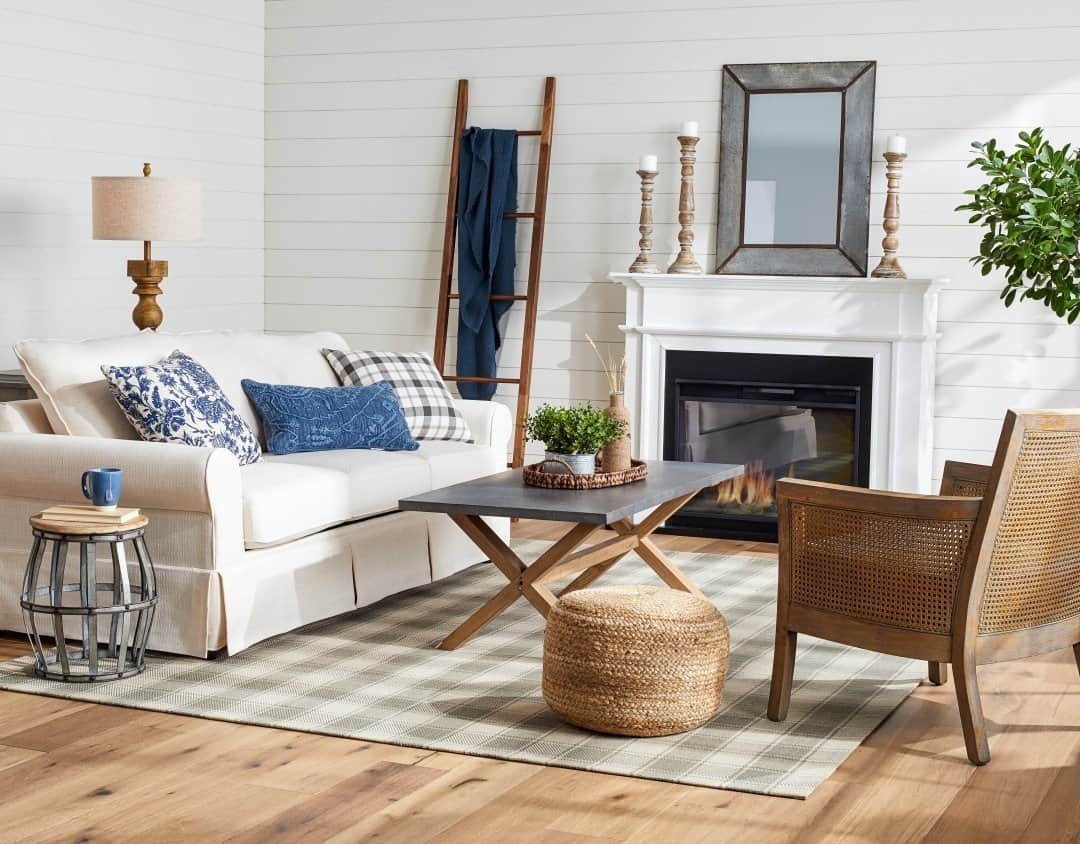 It's time to have an eye for details. Apart from your focal furniture, throw pillows, and rugs – another great way to imbibe a coastal vibe is this authentic piece of a decorative ladder. So, rather than placing a frame of artwork, you can style this piece of decor against a pure white backdrop.
Not only will this ladder play focal but also induce a coastal feel in the living room. Lastly, hang a piece of plant or throw a blanket for a classic appeal.
Style With Rope Chandelier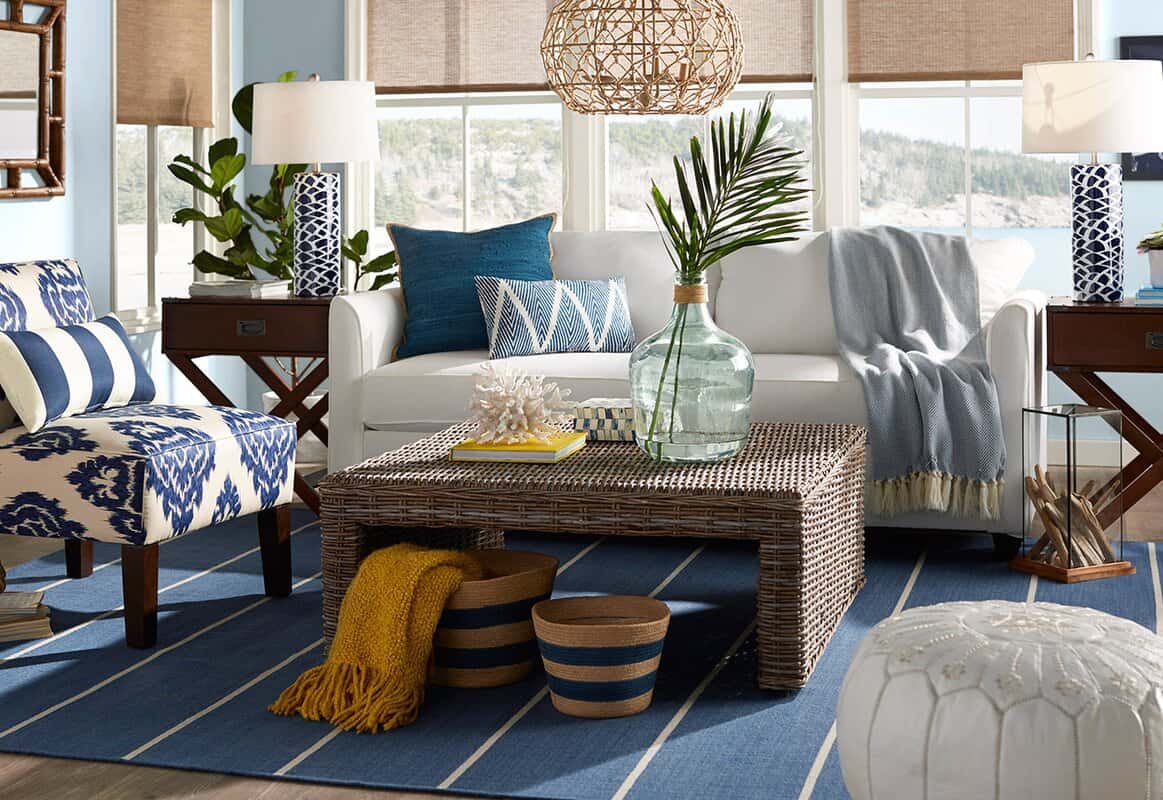 Modern coastal living room loves the feel of breezy vibes and natural materials. So, whether it is the furniture or the lighting fixture itself – look for as many opportunities to incorporate ropes as possible.
Similarly, this candle-style pendant light plays flawlessly here. It adds to the existing coastal vibe and pairs beautifully with the table lamp and various patterned pillows. During nighttime, the shadows created are totally extraordinary!
Add a Statement With Floral Pillows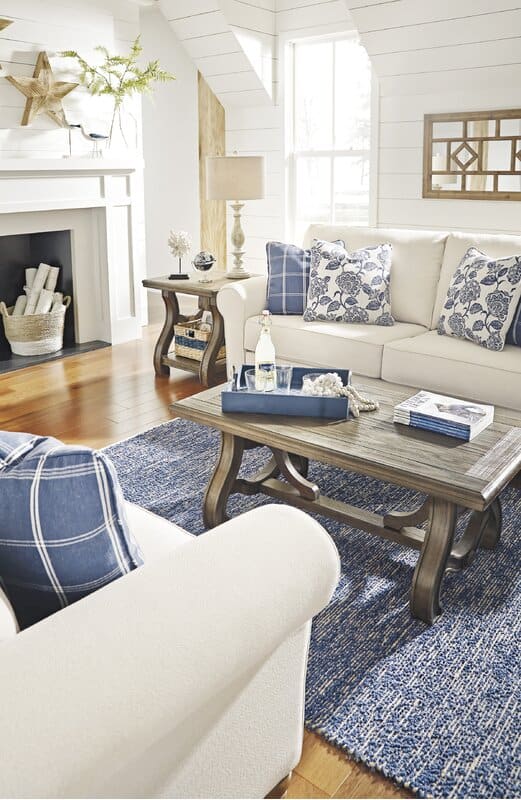 Add a feminine and fragile touch in your elegant coastal living room with a mix and match of blue floral and chequered patterned pillows. Place them against your white or cream-toned couch and let them brilliantly stand out!
Moreover, to further feel airy, breezy, and ocean-like, add a large blue area rug to complement the existing palette. And secondly, don't forget to add distressed wooden end tables and coffee tables to your coastal setup.
Rattan Chairs Say It All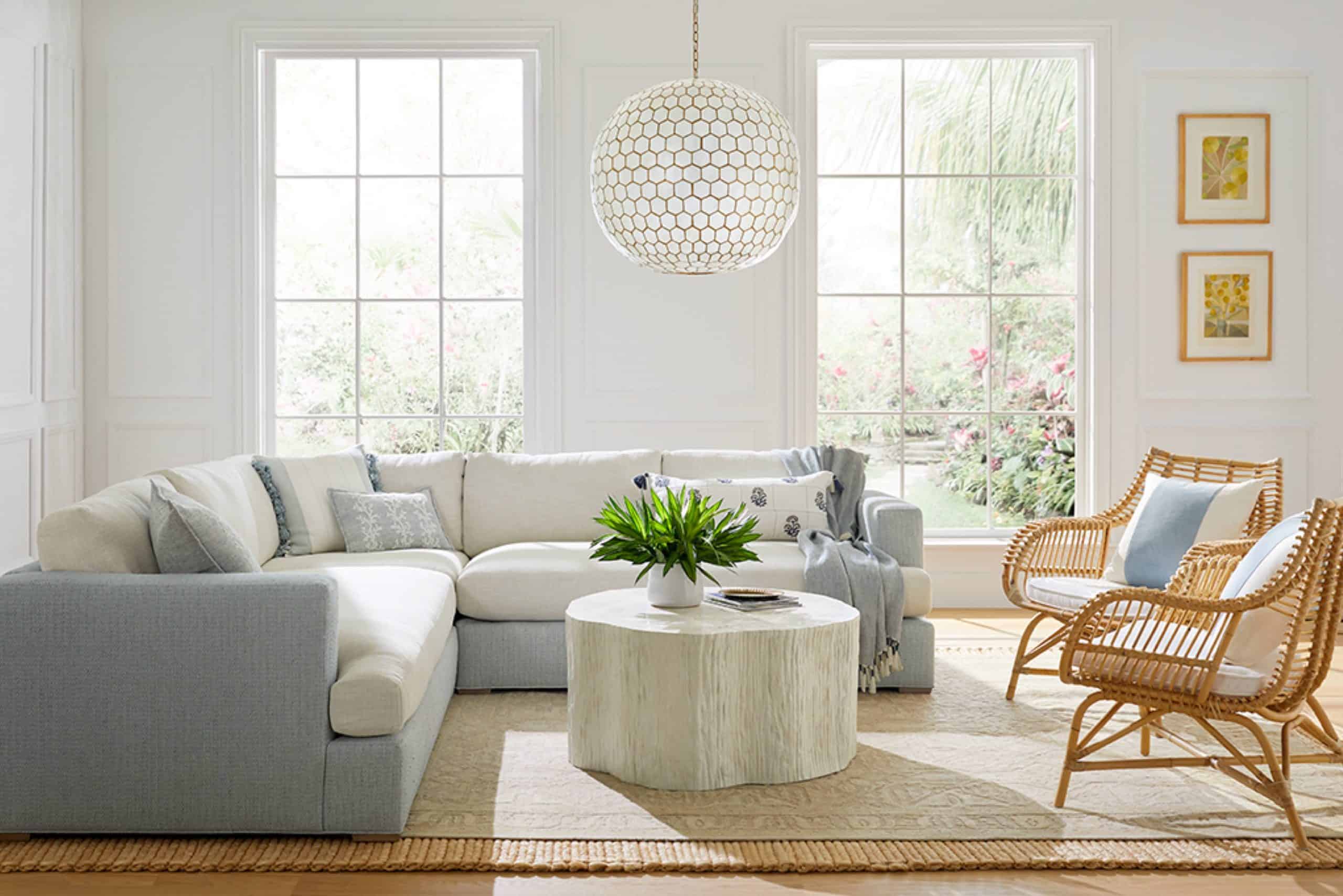 Quite distinctive, exotic, and modern, this beach living room furniture is all set to transform your space into coastal bliss. And apart from fabrics and their hues, the next major decor consideration is the materials.
Coastal interior design style admires the use of natural materials like seagrass, rattan, jute, and sisal. Just like this iconic piece of rattan chair that makes a great statement in the coastal setup! Moreover, they can be used outdoors as well.
Coastal Living Room Gallery Wall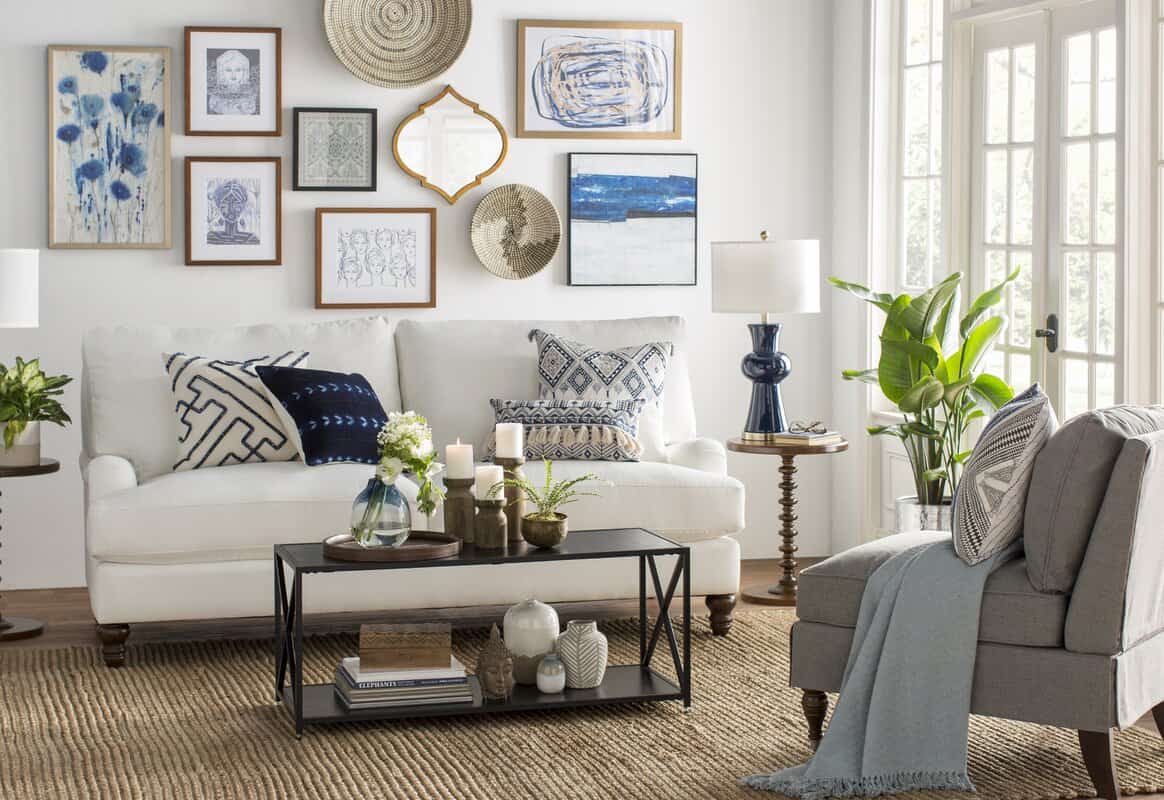 Undoubtedly, there are numerous ways to spark that coastal touch in your living room. One such classic instance is the gallery wall. So, make use of the vertical dimension of your room and add a couple of blue artworks and wooden wall decor that compliments your style.
The piece of wall decor in this modern coastal living room creates an excellent focal point and adds to the tiny details of the room.
Choose a Coastal Airy Palette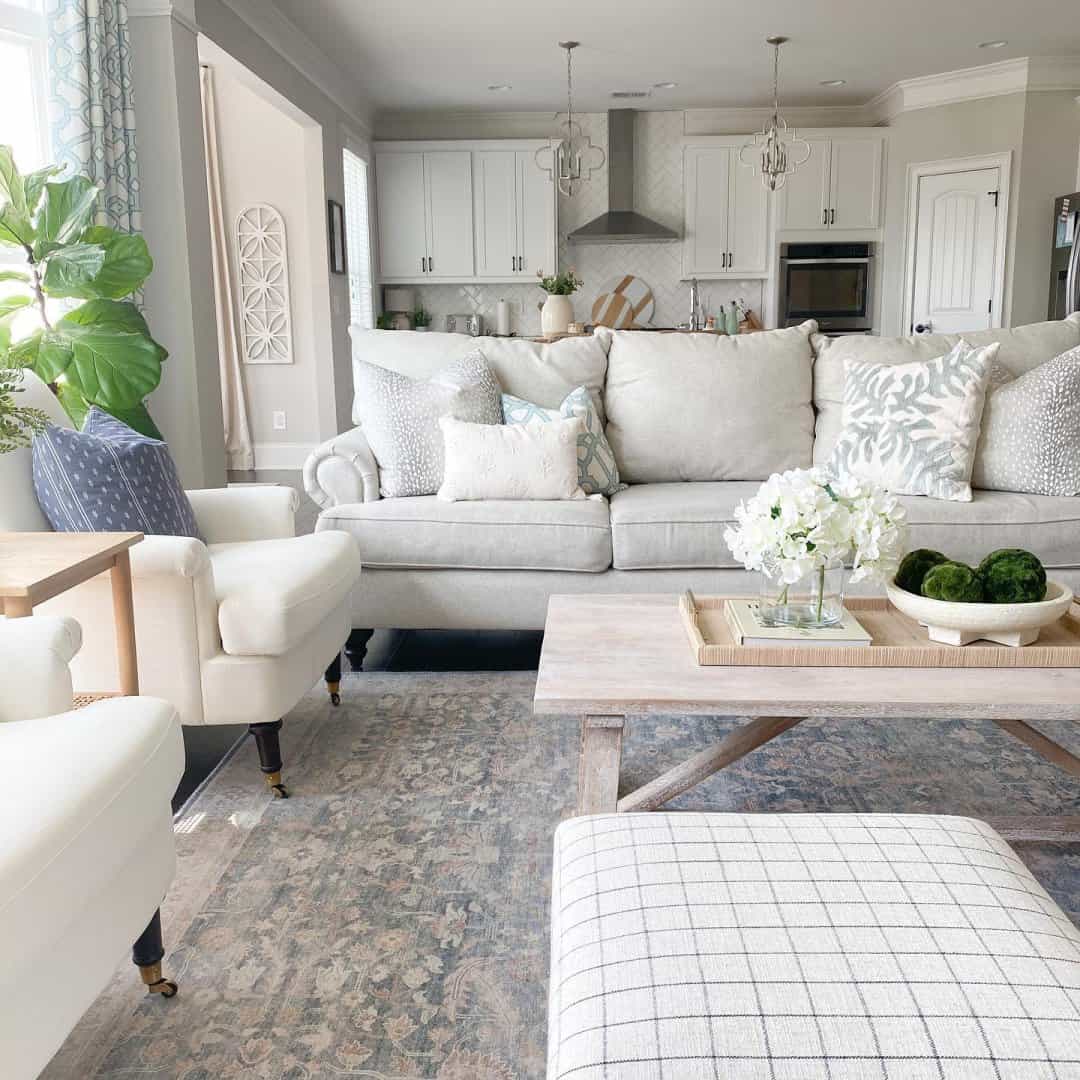 Too much blue in your coastal living room sets can occasionally become intimidating. The idea is to create a breezy and airy palette – and that's why you can also only play with tones of beiges and natural materials. However, for a little touch of interest, add a little blue on the throw pillow indeed.
This beautiful living room tends to exhibit a modern look and at the same time, offering an authentic seaside vibe!
Blue Accent Wall With Swivel Chairs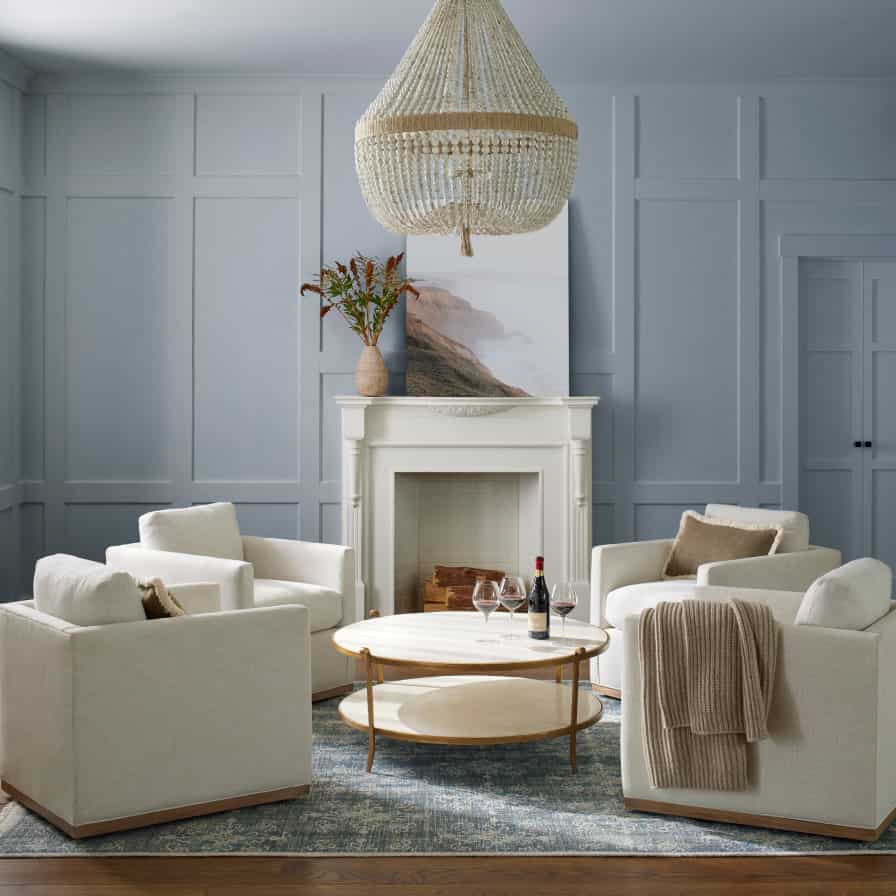 Let's think outside the box and rather splash creativity on the walls instead. Choose a calming and soothing blue paint color for your accent wall and other walls and add a set of off-white furniture sets.
The pair of comfortable swivel chairs add a perfect luxe touch to the living room. And not to forget, the beaded boho-style chandelier is a cherry on the top!
Blue and Teal are Cousins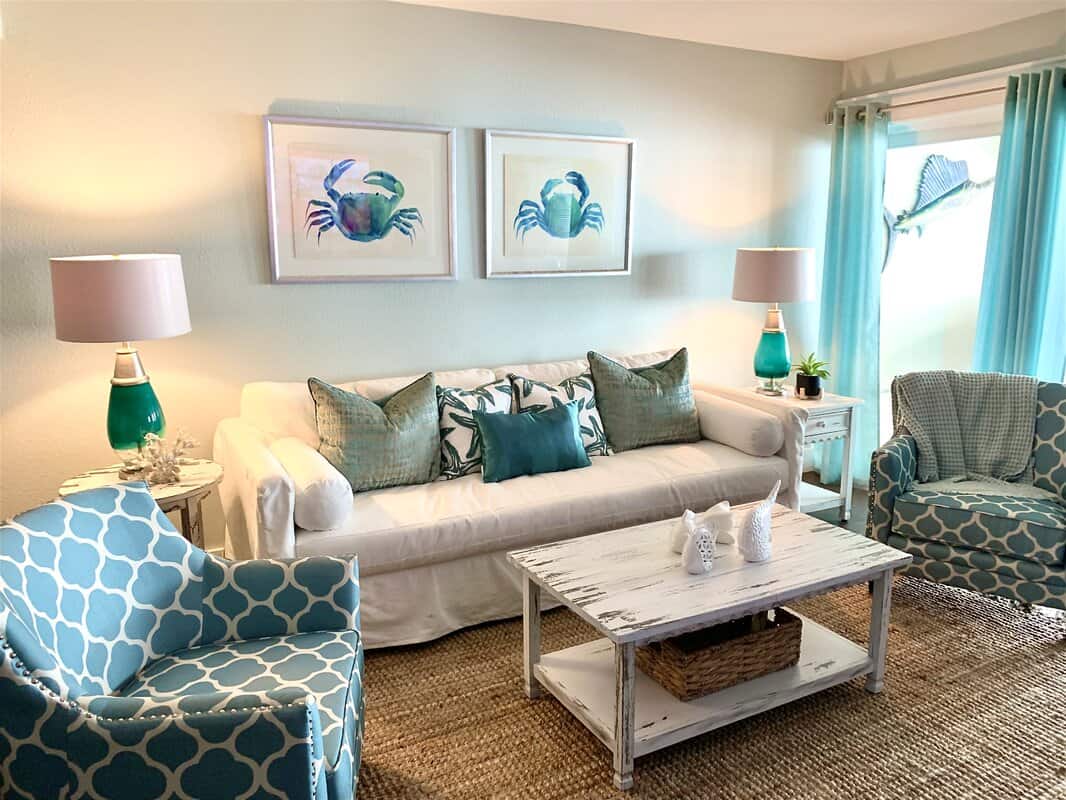 When you're bored of Monday blues, get your hands on teal instead. Choosing a monochromatic theme for the living room is a fabulous concept. Live this lively hue over and over again – on the throw pillows, table lamps, curtains, rug, and artwork.
This blue-green tone will equally stimulate a coastal vibe. Moreover, you always have the opportunity to add details like distressed furniture, woven baskets, and crab picture frame sets.
Navy Blue Starfish Rug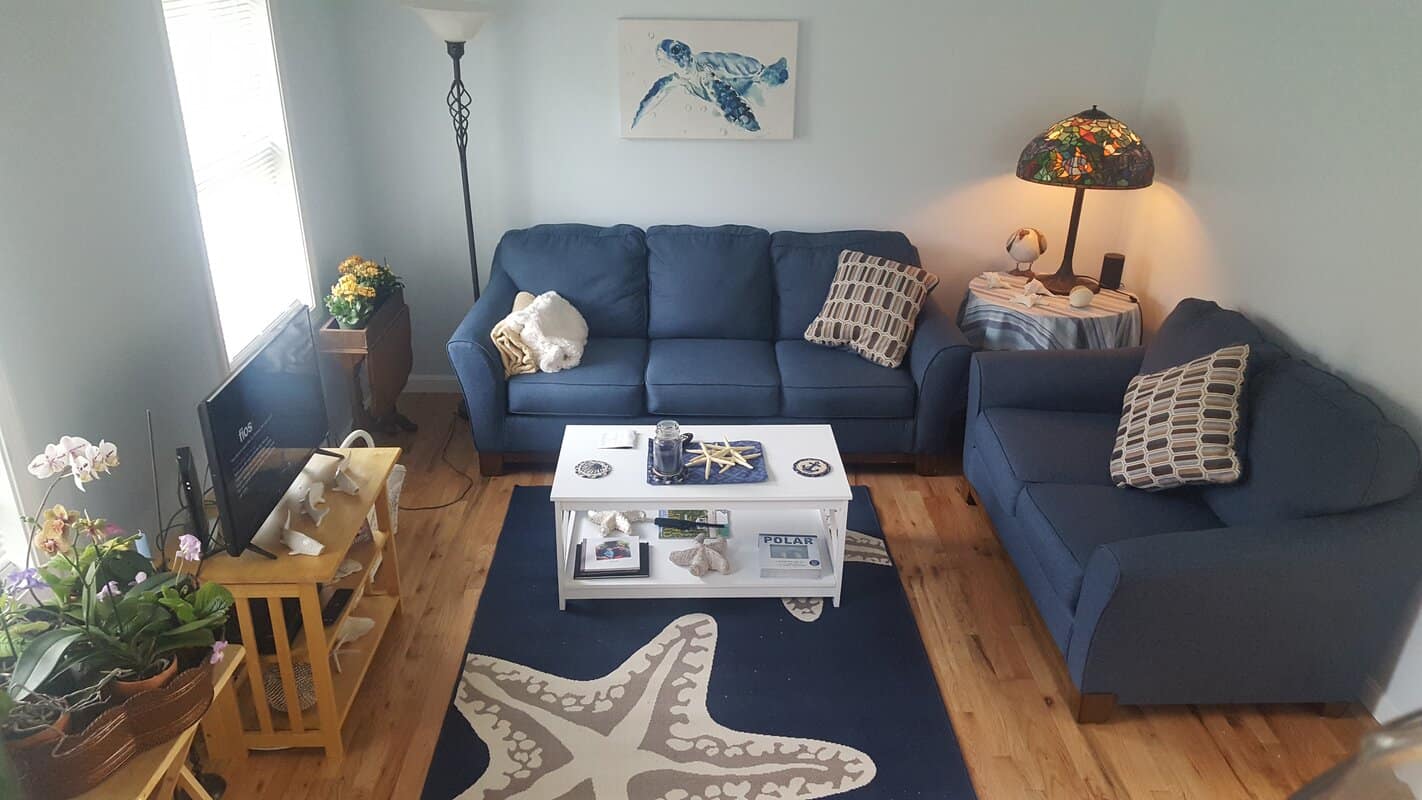 To add an extra level of character and drama to your space, incorporate this navy blue starfish rug. Unlike the other blues in the space, this particular decorative feature adds a sense of joy and a homely feel.
Moreover, you can always pair this rug with other decor items such as shells, fancy coasters, and macrame wall hangings and planters.
Cheerful Slipper Chair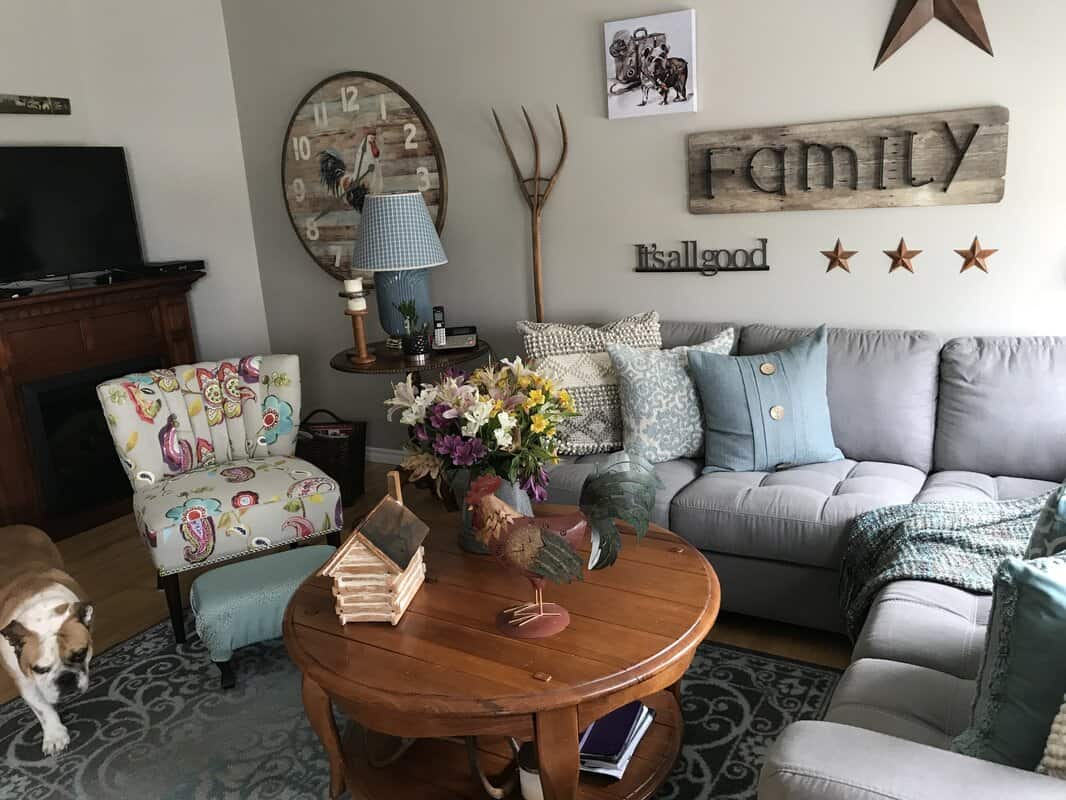 How eclectic and coastal is this modern coastal living room, right? Plus, this pretty focal slipper chair is absolutely delightful. This is something you would want to come back to – on a lazy Sunday morning!
Making a soothing focal statement in amalgamation with wall art and cotton throw pillows is something you must look forward to. And not to forget the heron statue that makes a great coffee table decor piece.
Coastal Cape Mirror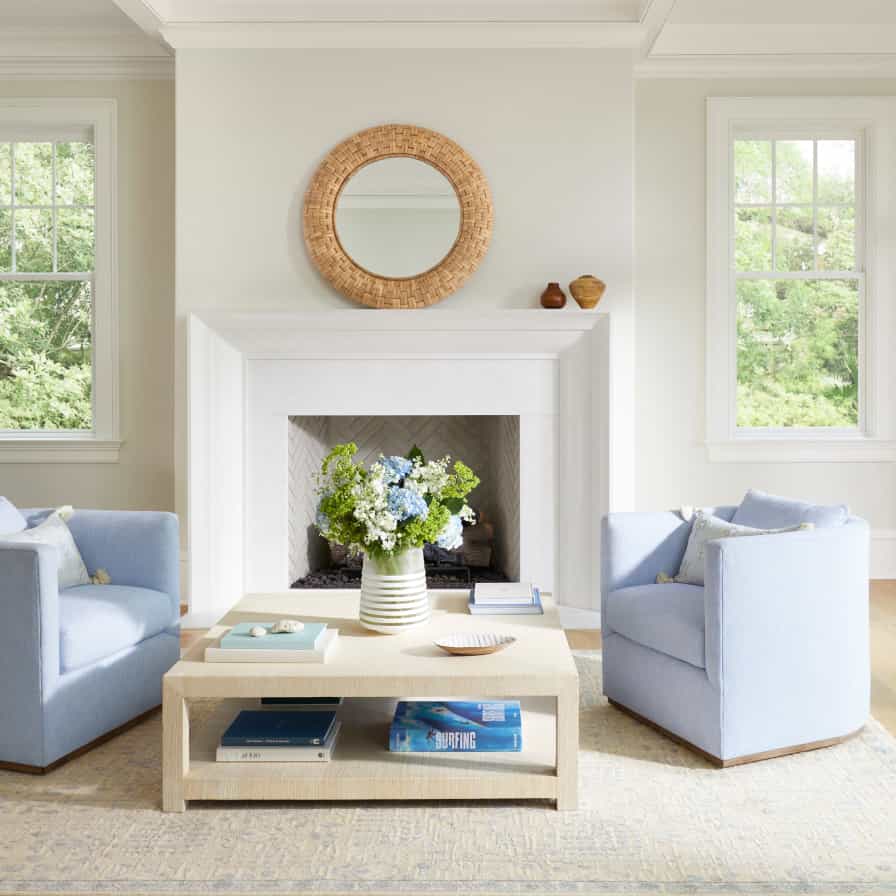 Incorporating a mirror is a great way to make your space feel larger and airier. And just in case if you have an equipped fireplace, you have a dedicated space for the mirror right away. Your coastal furniture would perfectly complement the mirror frames in rattan, bamboo, wicker, and cane.
Moreover, whether you plan to place it in the bedroom or bathroom – this mirror is a great way to bring texture and a coastal vibe.
Boho Coastal Living Room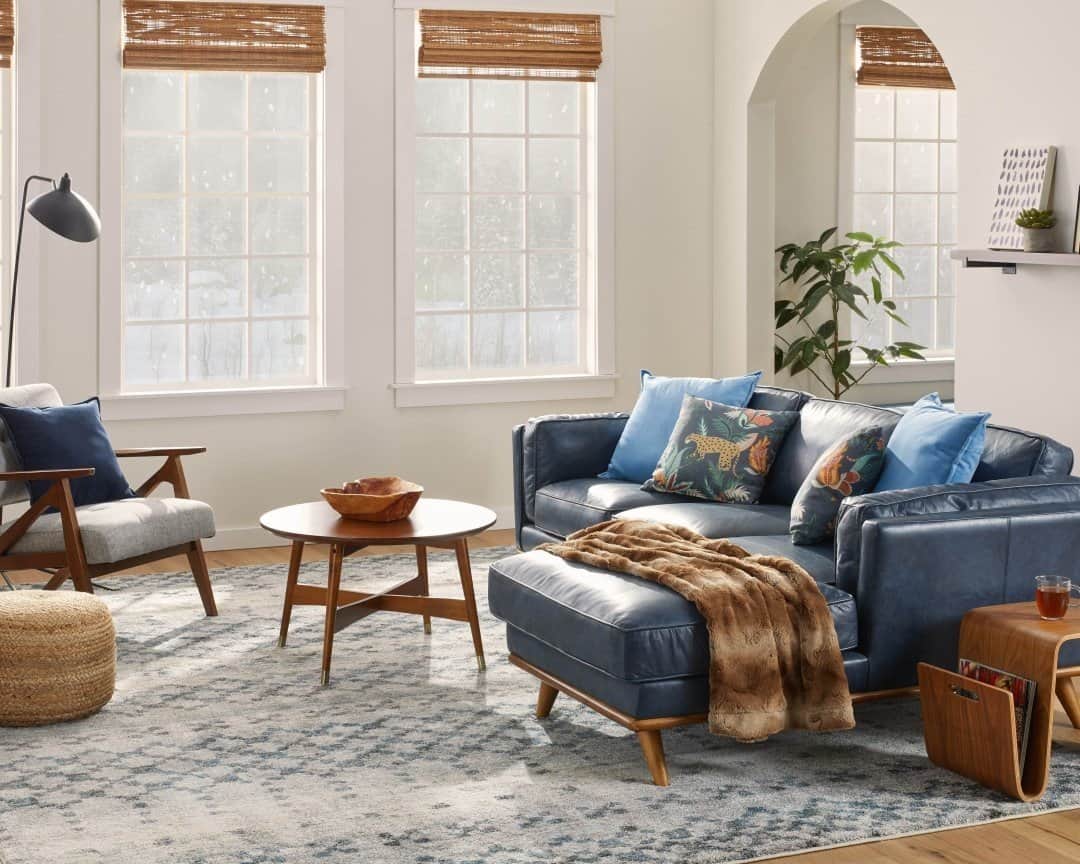 Bohemian and coastal interior design styles share the same roots. From a calm and relaxed vibe to incorporating natural textures, this nautical living room furniture is rather bold and stunning.
To celebrate cohesiveness, add a large blue area rug and a couple of cozy throw pillows to go! In the case of window treatments, choose white sheer curtains or these rustic bamboo Roman shades for an authentic coastal feel.
Enjoy the Coastal Wildlife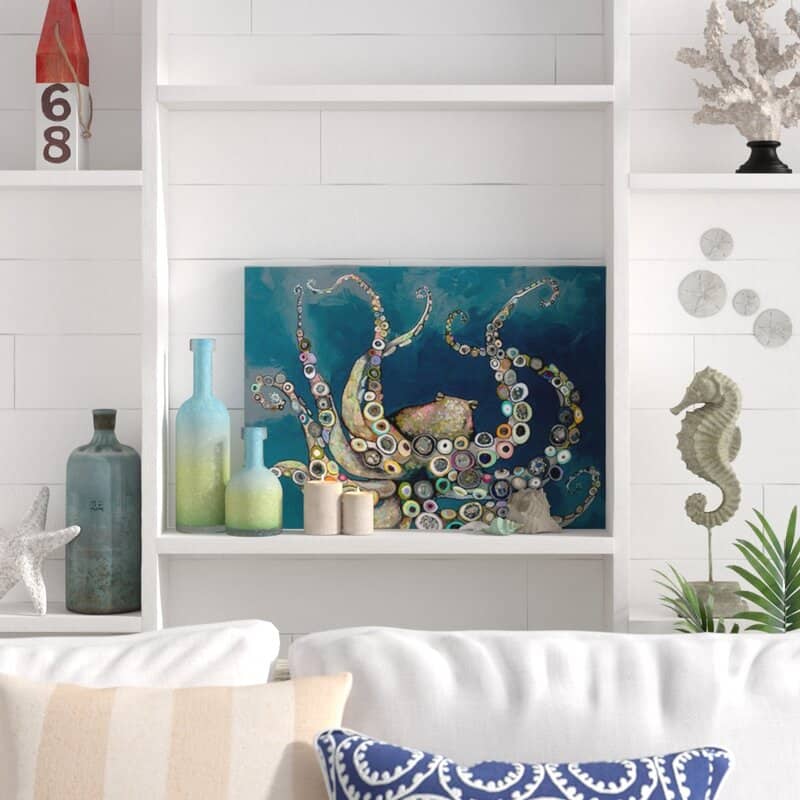 There are various ways to enjoy the coastal vibe in your living room. Apart from basic blues, beiges, and rattan – you can incorporate artworks that depict scenes of ocean life and wall decor that mimics the true wildlife itself.
For instance, this beautiful piece of octopus artwork and the dinsmore figurine exhibits an authentic coastal vibe. It brings you an inch closer to the beachy vibe you've been waiting for!
Shoreline Side Table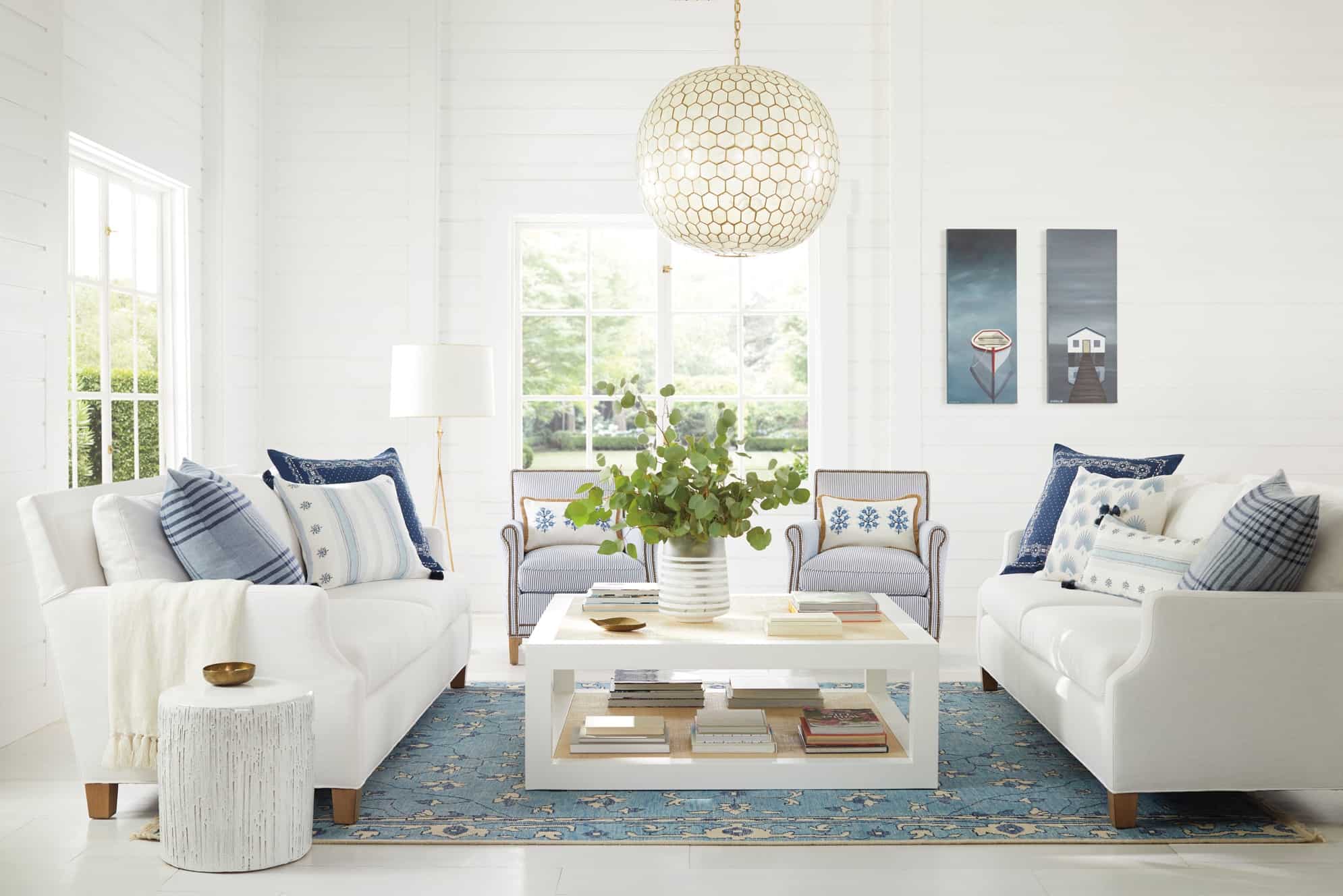 This is a perfect coastal living room setup! Right from splashing details on the area rug to a beautiful raffia tray and distressed ceramic side table – each and every inch of detail brings your space a dynamic, coastal vibe.
Secondly, you must always add a sense of depth and character to your throw pillows since they tend to play a major role. And that character can be categorized through patterns, textures, and imprints!
Play With an Accent Wall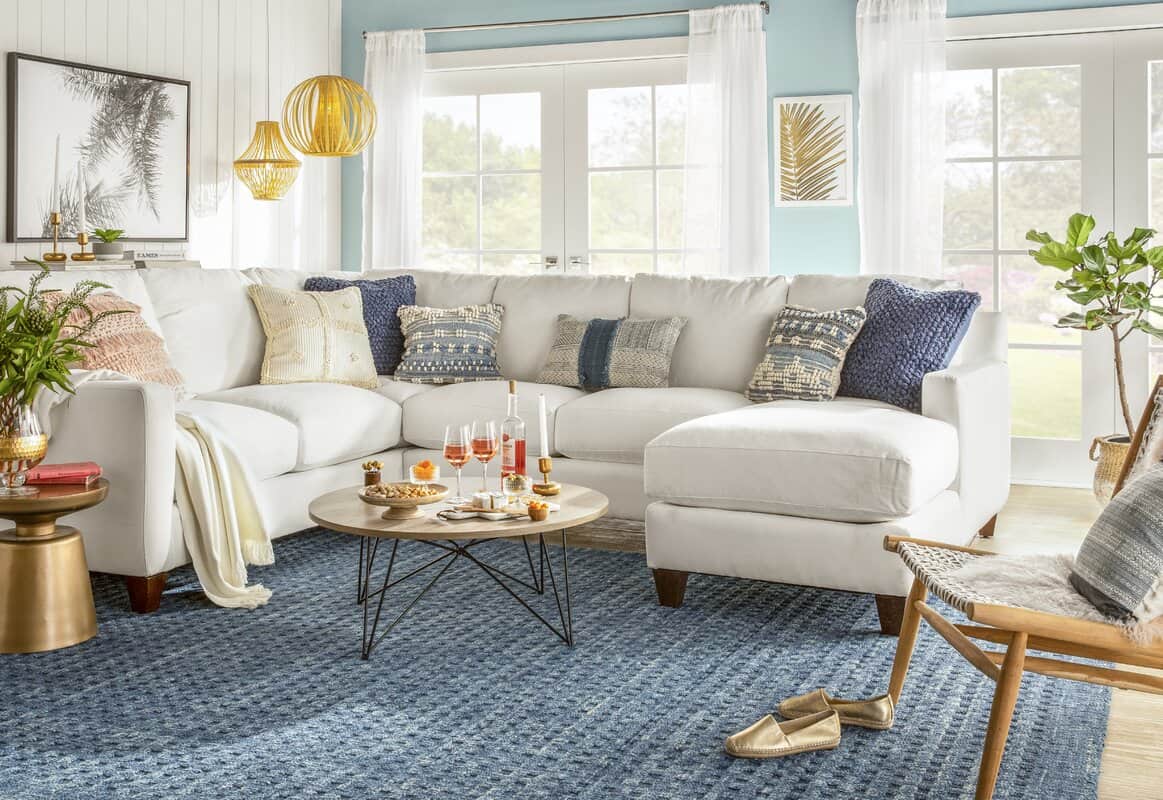 Shiplap are something you must look forward to. And if you have an accent wall to paint, why not in blue? Well, when thinking coastal design – ensure to think blue, wicker, and white! Totally because it mimics the hues of the sea and coast side.
Don't forget to pay attention to the cute little wicker pendants that will tend to grab the attention of your guests.
Mattituck Rattan Armchair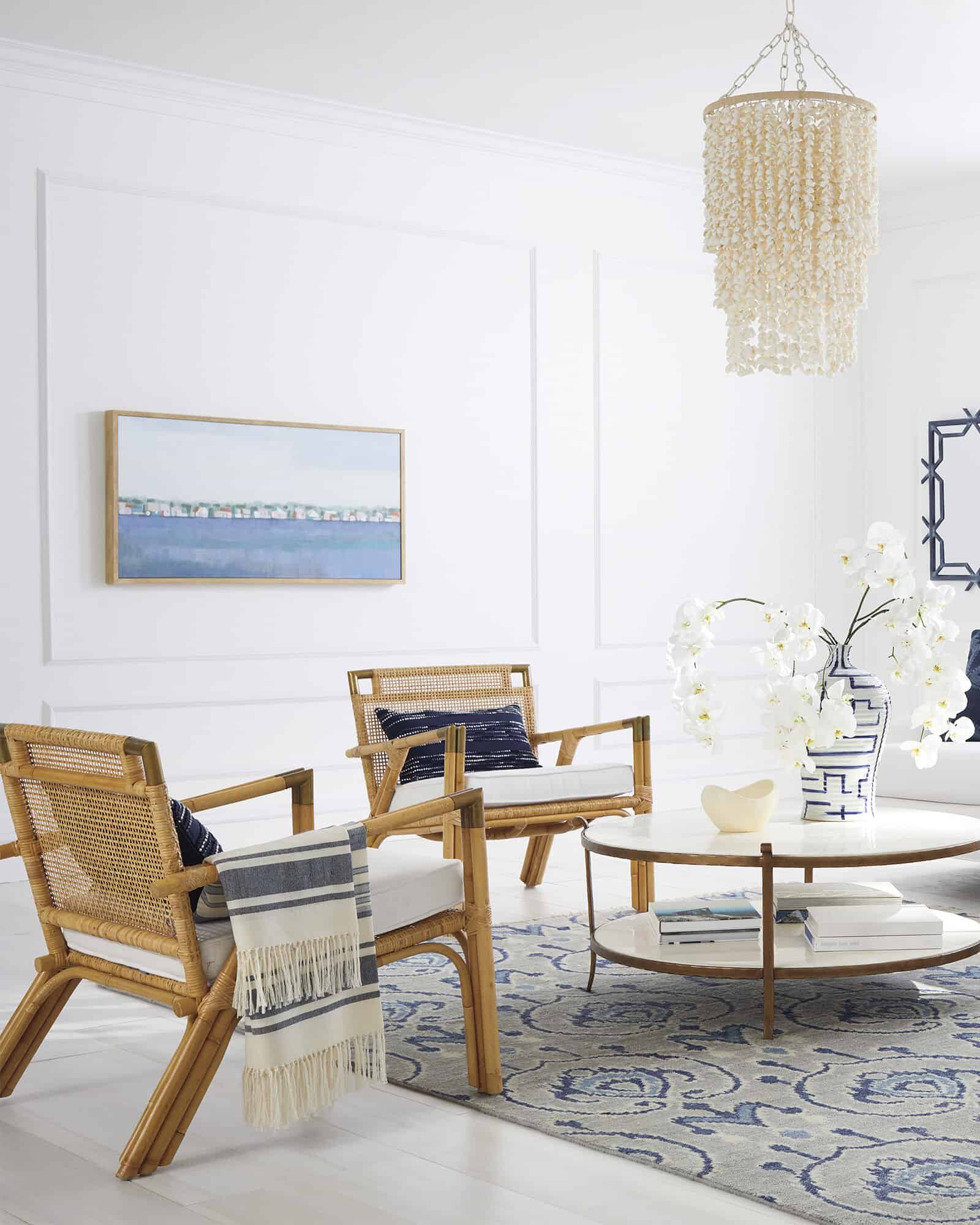 Let that breezy vibe cherish your home with these authentic rattan armchairs that feel equally composed and organic. They do add an air of refinement that makes a great statement in the smaller living rooms, patios, and balconies.
And if you simply love the simplicity and admire details in the most creative ways, this is an armchair to have in a coastal backdrop!
Wood-Frame Wall Decor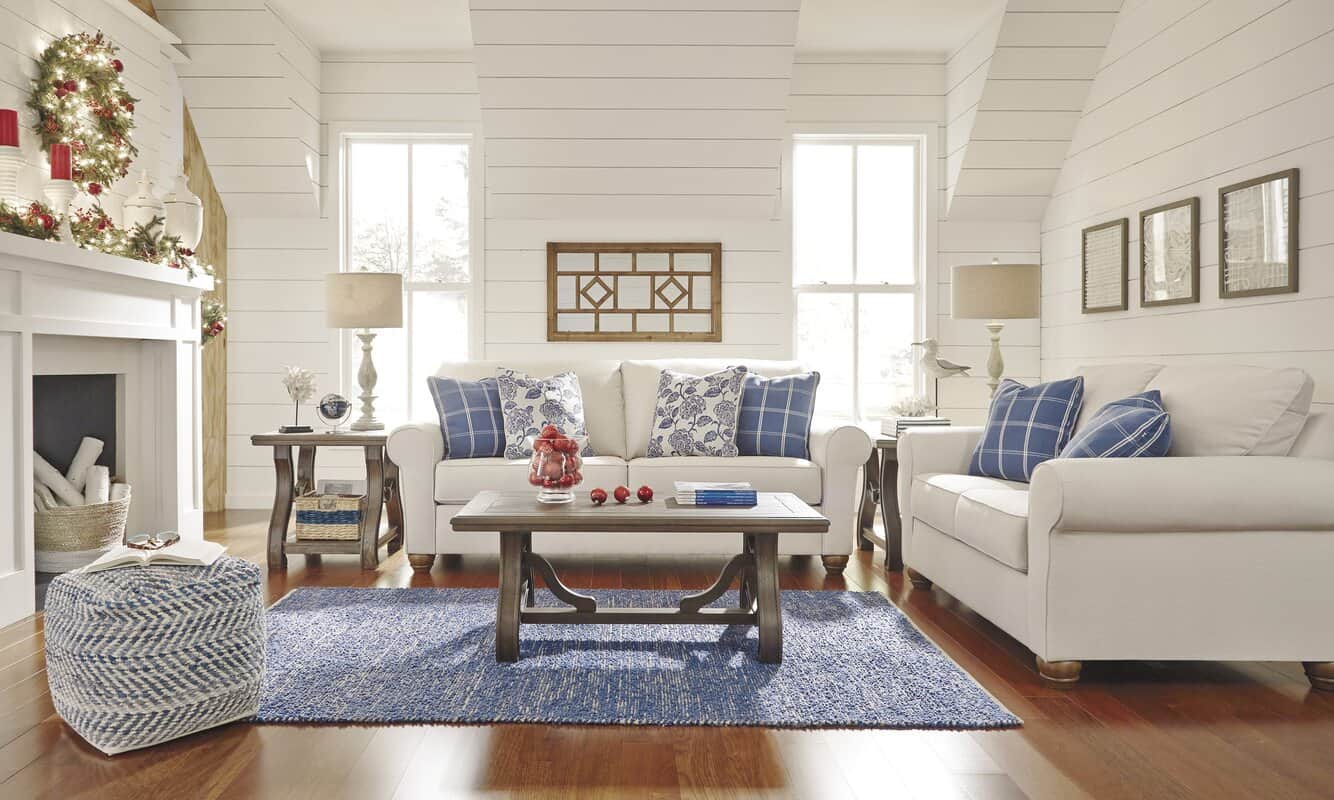 Add a dazzling yet natural vibe to your walls with this authentic piece of wall decor. Apart from scenic artworks and pictures of ocean wildlife, you have the option to decorate your walls with woven baskets and wooden framed wall decor pieces.
They tend to exhibit an airier vibe – and at the same time, add meaning to those bare white walls. And do you know how flexible it is? Well, you can always rotate it horizontally or vertically!
Folding Room Divider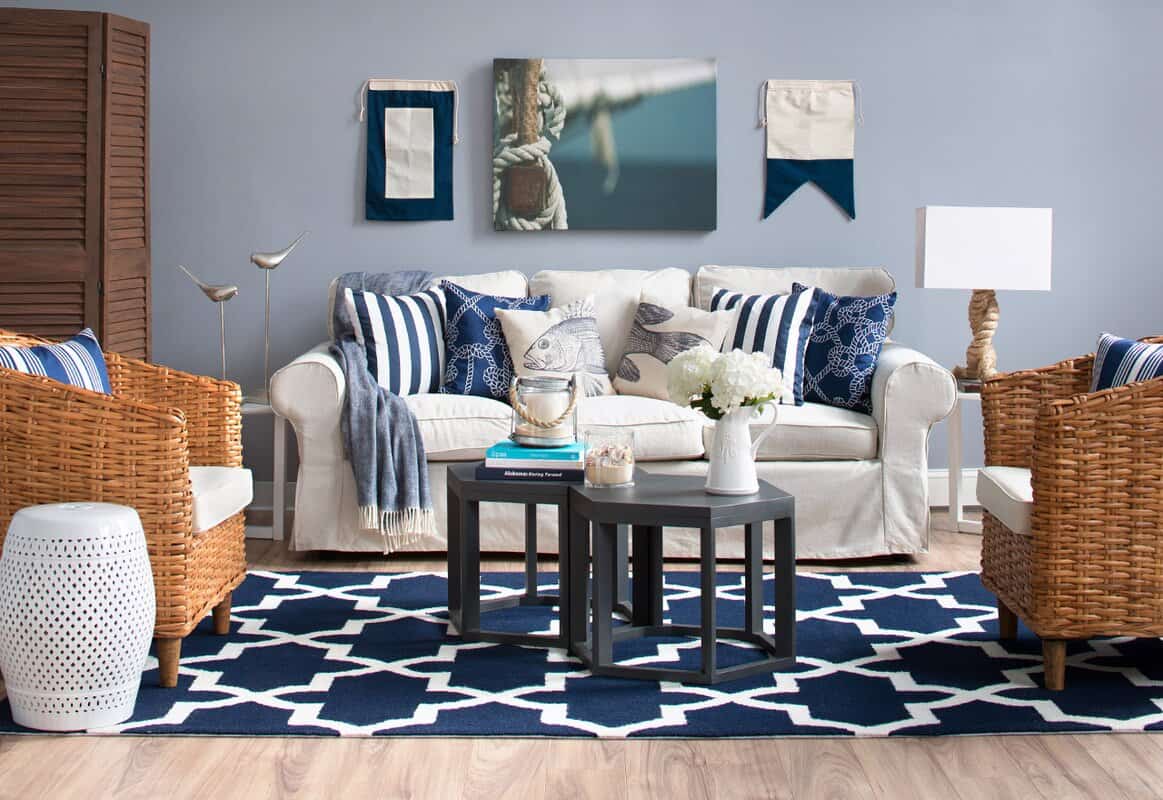 With a notable rustic appeal, this wood panel folding room divider is something to have against a blue and white coastal backdrop. It adds a vintage vibe with its distressed-looking panels that absolutely complement the style of design you're aiming to create.
So, rather than opting for glass or sleek metal as a room divider in your large living room, it is recommended to have this charming farmhouse-style decor element.
Braided Rug + Beaded Chandelier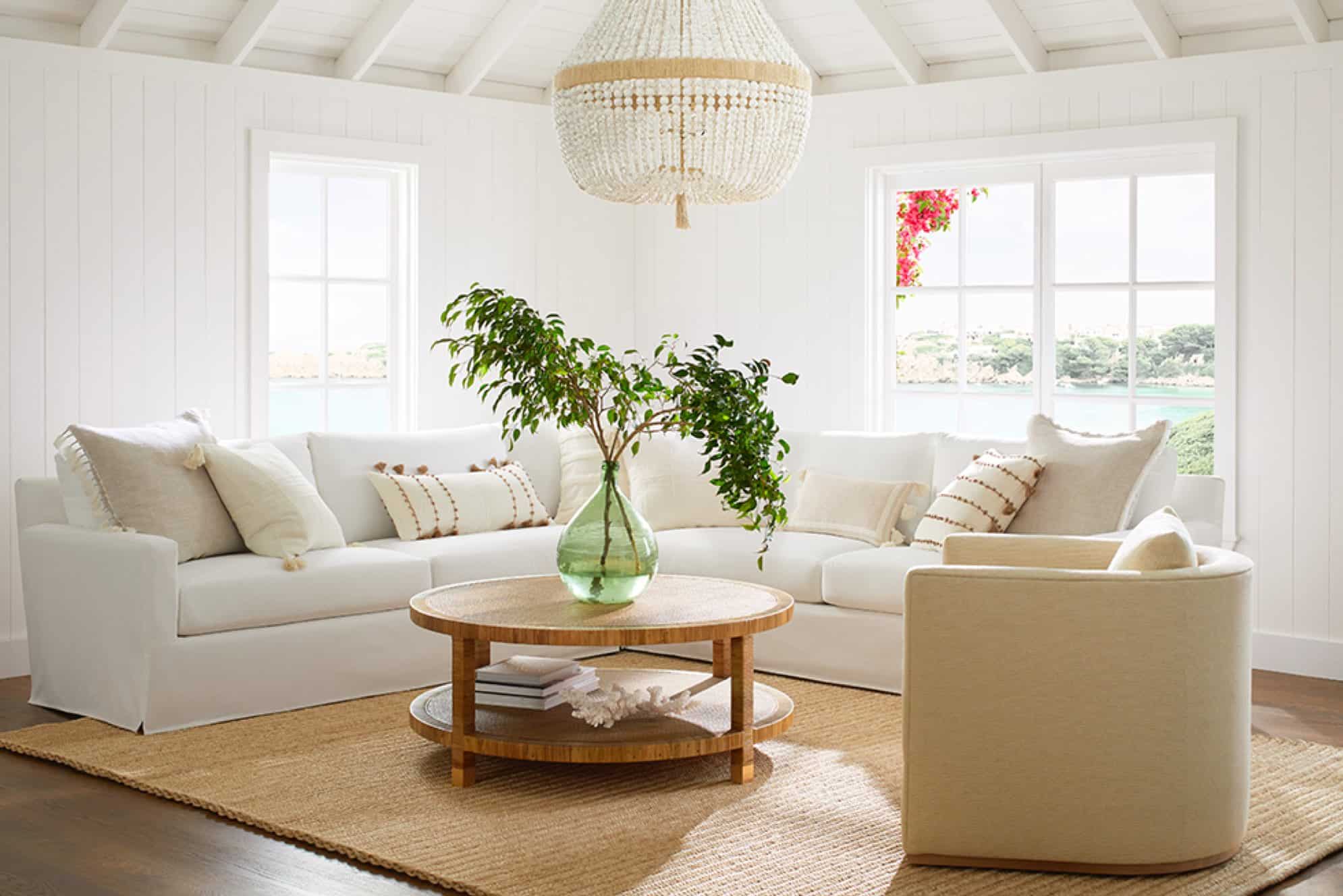 A combination of the braided handwoven rug and the gorgeous beaded chandelier is absolutely timeless and phenomenal. Embracing the rich textures, chunky weaves, and frayed tassels, this beautiful combination is the way to bohemian and modern coastal interior design styles.
This beach living room furniture is all about being airy, lively, homely, and relaxed. This pair also brings you an inch closer to sustainability and helping the planet heal!
Jute Poufs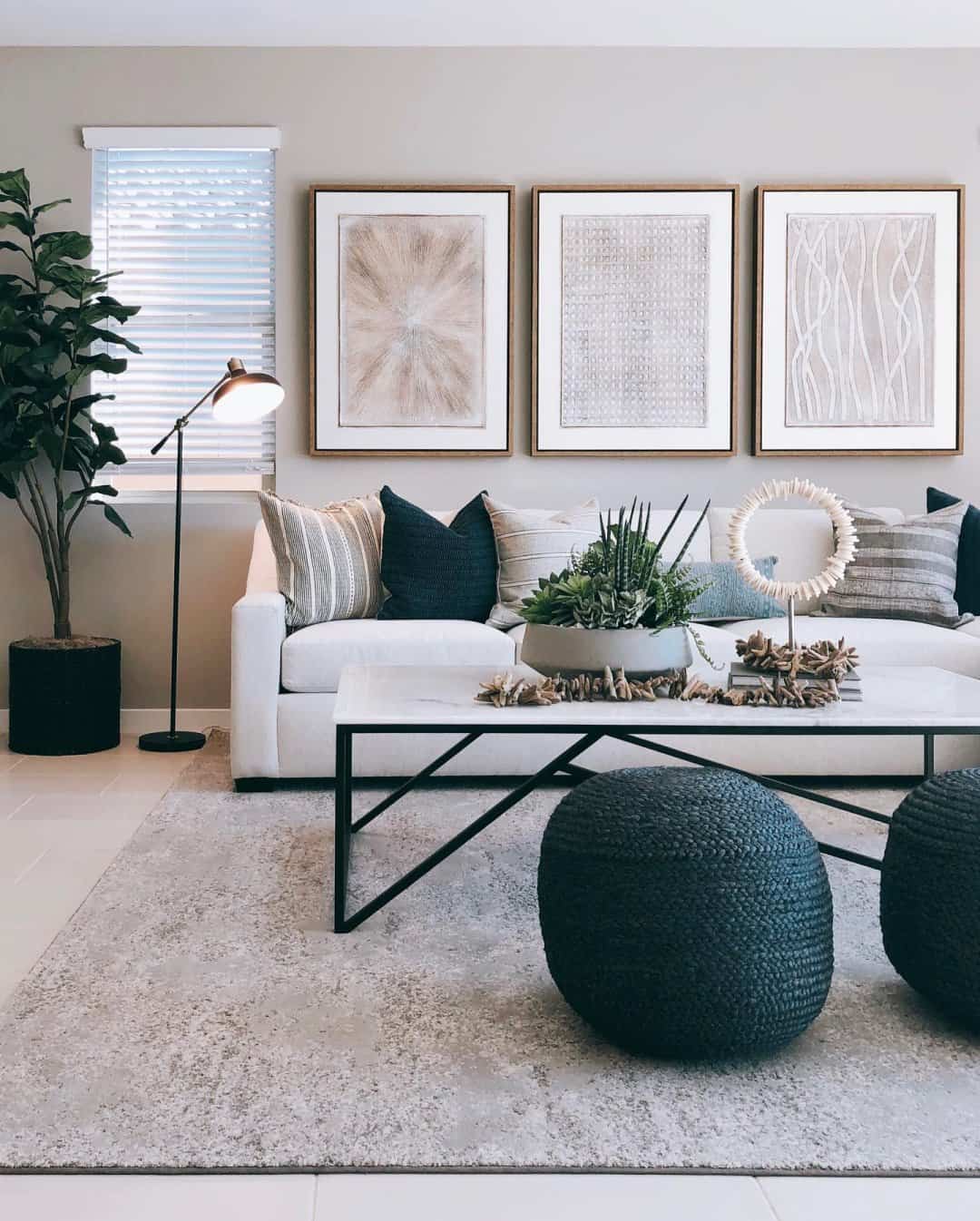 Here's the best way to play with textures, hues, and materials altogether! Since your coastal-inspired living room craves a comfortable, laid-back, and beachy vibe, you must make use of these jute poufs and stagger them around for an added touch of coziness and composure.
It is not necessary to always style them beside your couch as you can always play creative and place them either underneath the console tables or even by the entryways.
Coastal Living Room Loveseat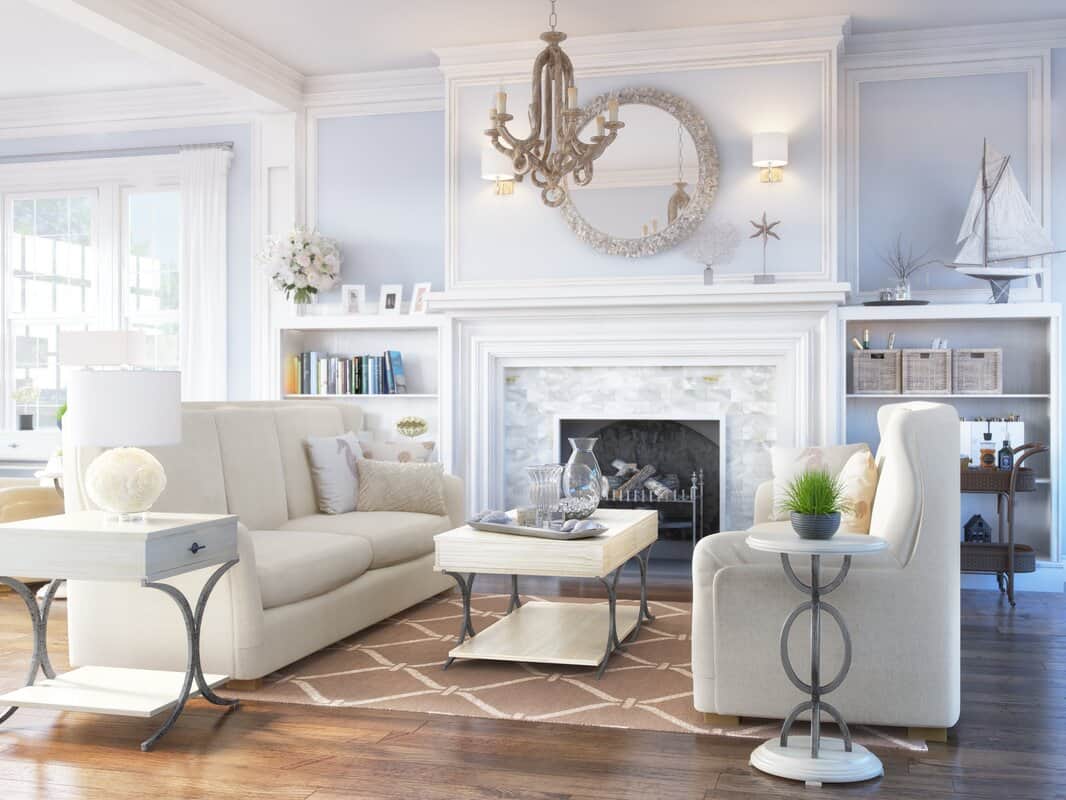 After you've exchanged glances from rattan accent chairs, jute poufs, and distressed side tables, it's time to get your hands-on that perfect piece of off-white couch or loveseat. Undoubtedly, this color must be your number one choice for a coastal living room set.
On the other hand, love the little beachy details on your furniture piece. The barrel-shaped legs and hand-driven nails make a perfect overall combination.
Play With Bamboo Poles on Coffee Table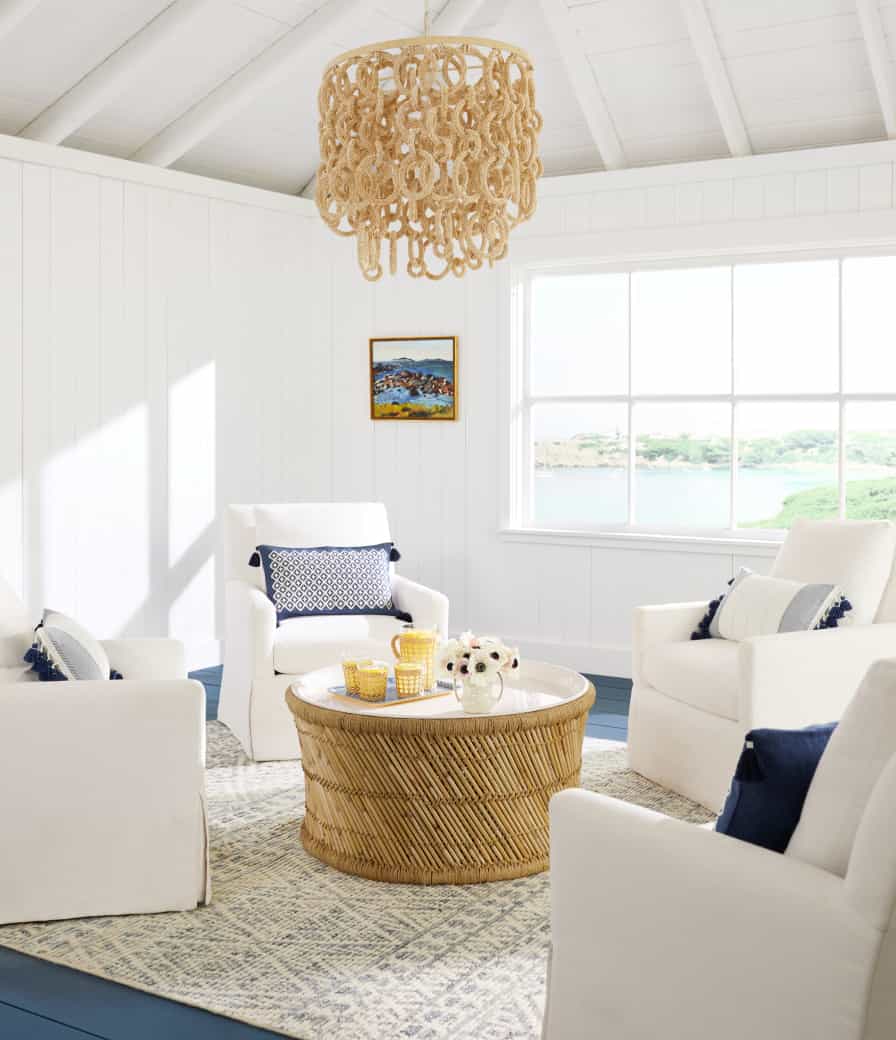 Amalgamating the aesthetics with sustainability and durability, this beautiful coastal setup displays the bespoke use of a coffee table that tends to steal the eye of one and all. A swirl of bamboo poles and hand-wrapped jute adds a natural and organic vibe to the room.
Moreover, since this coffee table is equipped with hidden storage – you have the opportunity to hide all the toys and throw blankets underneath.
Summing It Up
The modern coastal interior design style is all about embracing a natural, organic, comfortable, beachy-like, laid-back, and relaxed feel. Generally, those coastal areas are warmer and that's why there is a major focus on the cooler tones such as the blues and whites!
Enjoying airiness and liveliness, did you admire the above-mentioned 25 coastal living room ideas? Well, it's time to open your windows and let that breezy coastal vibe sink in!