Don Pedro Brooklyn is reader-supported. When you buy through links on our site, we may earn an affiliate commission. Learn More
15 Amazing Coastal Wall Decor Ideas to Inspire You
Coastal décor is all about working with organic materials, like untampered wood and cool colors, to create memorable ornaments. Most coastal wall décor ideas can be found sporting blue, white, and brown accents.
These colors work together to remind the viewer of the sea that lay not too far away. This makes them perfect for beach houses.
If you're looking for beach-themed wall décor, you're in the right place! Below is a collection of the most striking beach wall décor ideas out there:
Show Your Passion for Watersports with Oar Wall Décor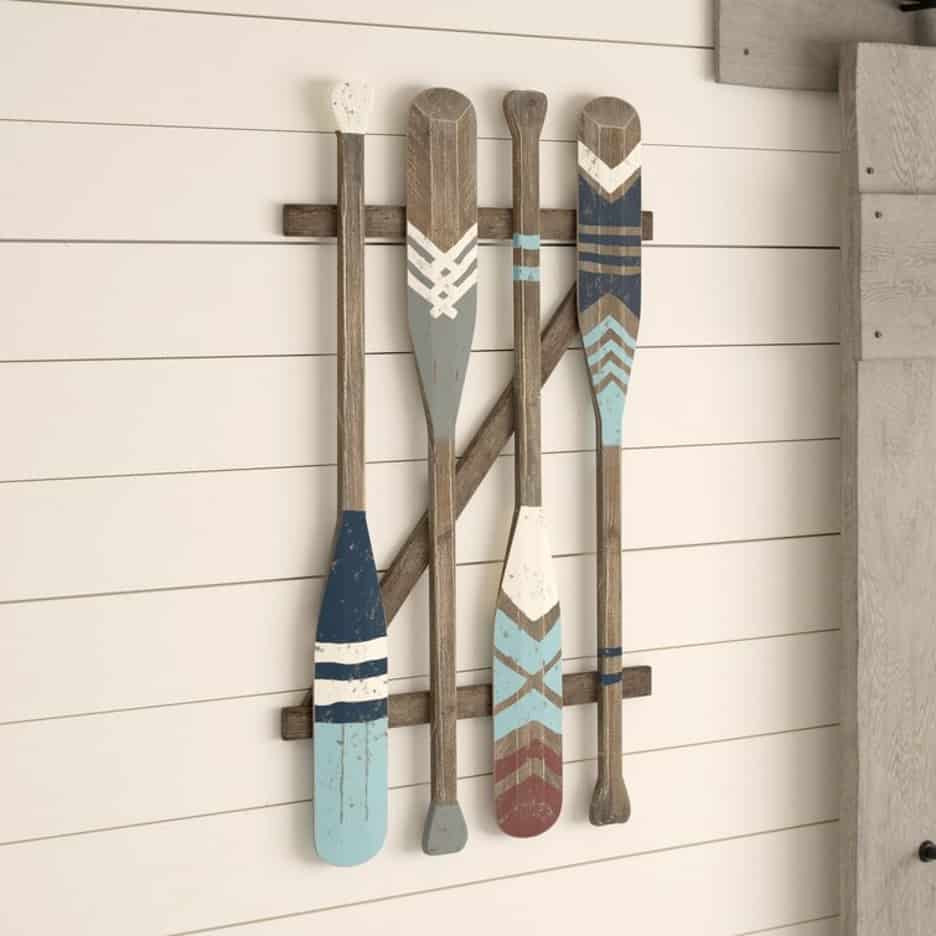 Wooden pieces are a popular material employed within beach house wall décor. This particular decoration piece is no exception to the rule. Made from distressed wood, this ornament was carved to resemble a set of visually appealing oars.
This decoration piece is perfect for rowing fans and those who like being out at sea whenever they can. You can easily hang it up with a few nails – there's no need to call in a carpenter for help.
Bring the Sea Home with This School of Fish Wall Motif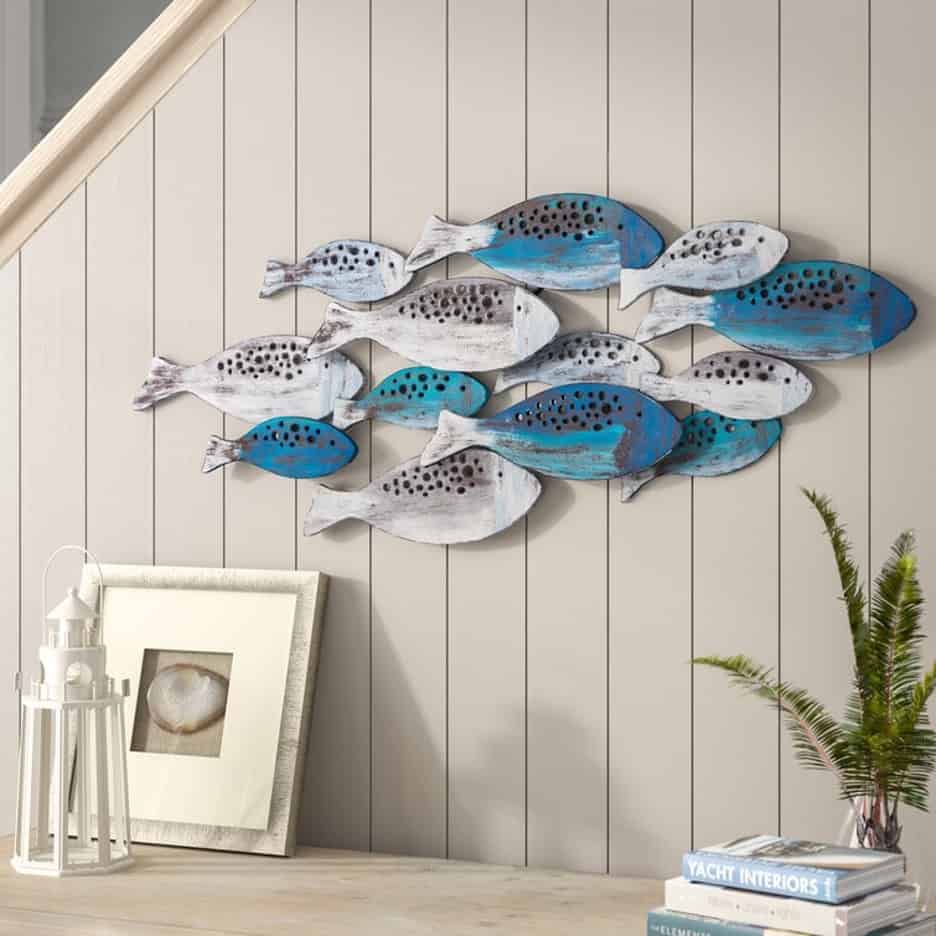 If you're a fan of the ocean's wildlife, you should definitely consider getting this fish-themed decoration piece.
This ornament contains a school of shiny fish with reflective surfaces. Painted with blue and lustrous silver, this decoration item would look great against white walls and other neutral colors.
Thanks to their authentic nautical design, the fish will look right at home in any coastal beach house. So, go ahead and shop this coastal art décor for your new oceanfront home right now!
Mount a Trio of Decorative Shell Ornaments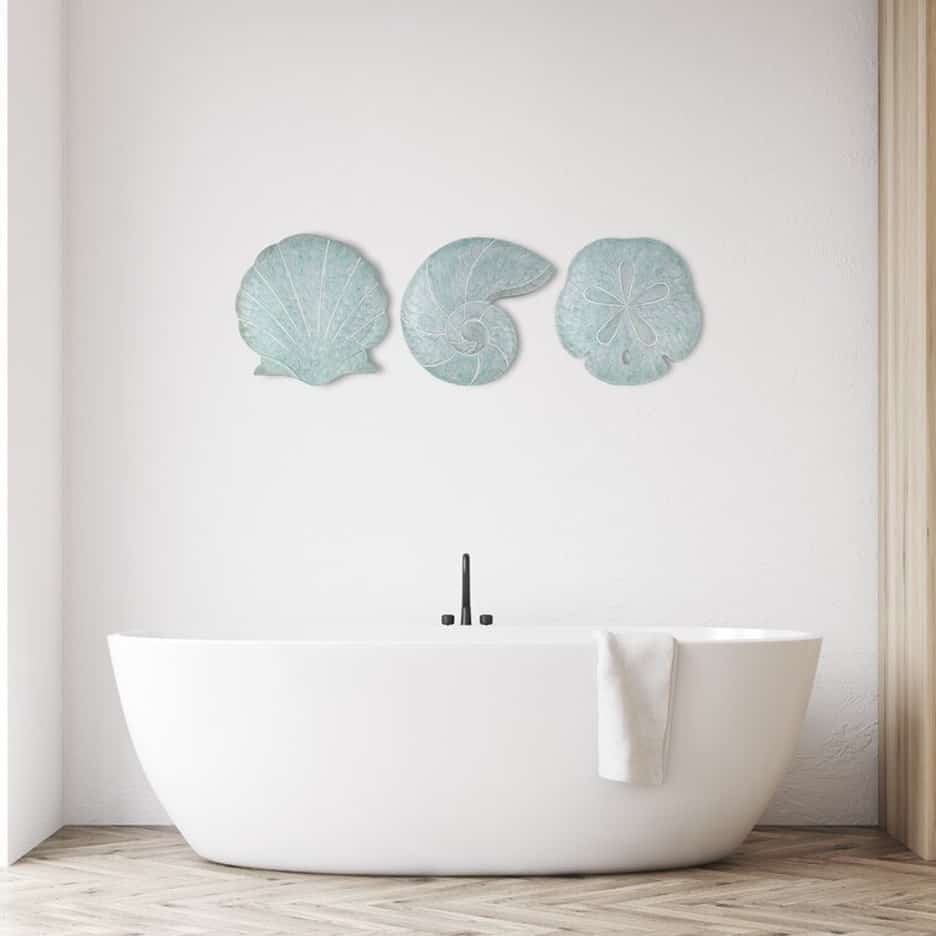 This decorative trio features a sandstone, scallop, and rounded shell.
These lovely blue ornaments mirror the color of the coastal waters, making them a must-have for all nautical homeowners.
Thanks to their soft, pale color pallet, you can easily pair these shells with a plain white wall. As seen in the picture above, these two make for an excellent combination!
Opt for Contemporary Fish Wall Décor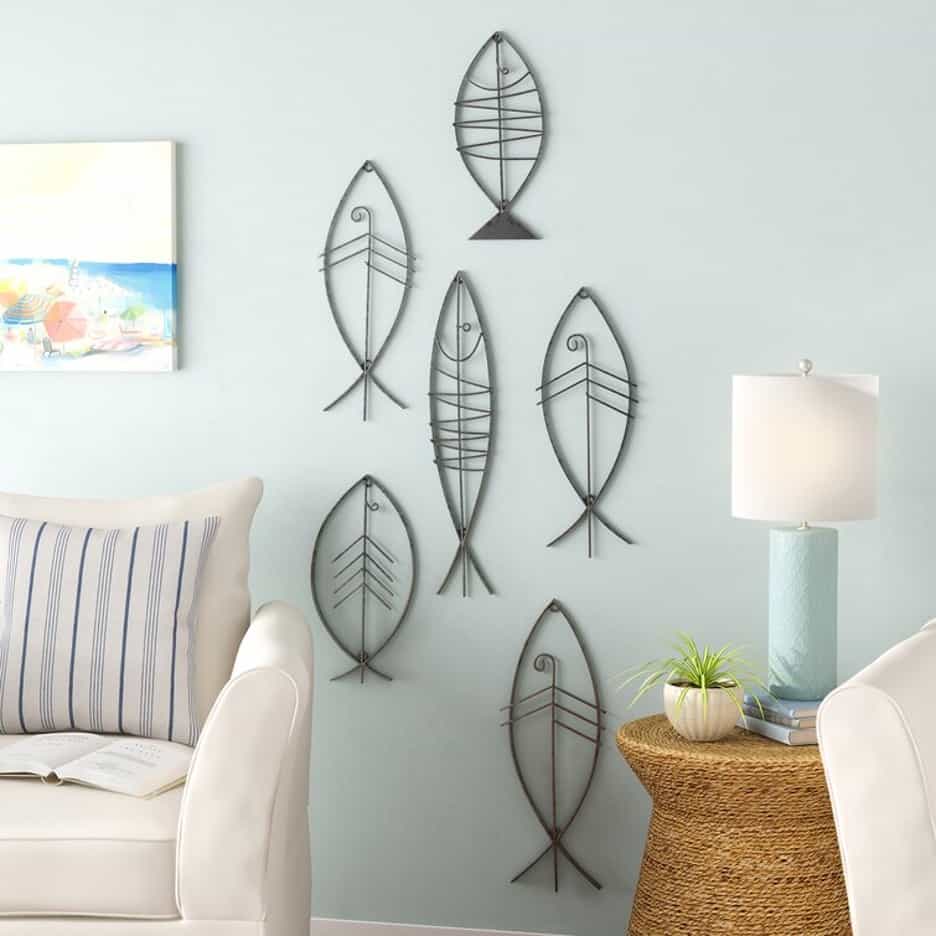 If you're over traditional blue decor, consider these black motifs instead!
This eye-catching set of assorted metal fish is perfect for any contemporary coastal home. Thanks to their modern minimalist look, these fish will look excellent when hung upon solid-colored walls. You can also pair them with a textured wall to add a stylish flair to the look.
You don't need to worry about the metal rusting, either. These fish are made from rust-proof metal that fairs remarkably well in the humid coastal atmosphere.
Hang Up a Wooden Beach Painting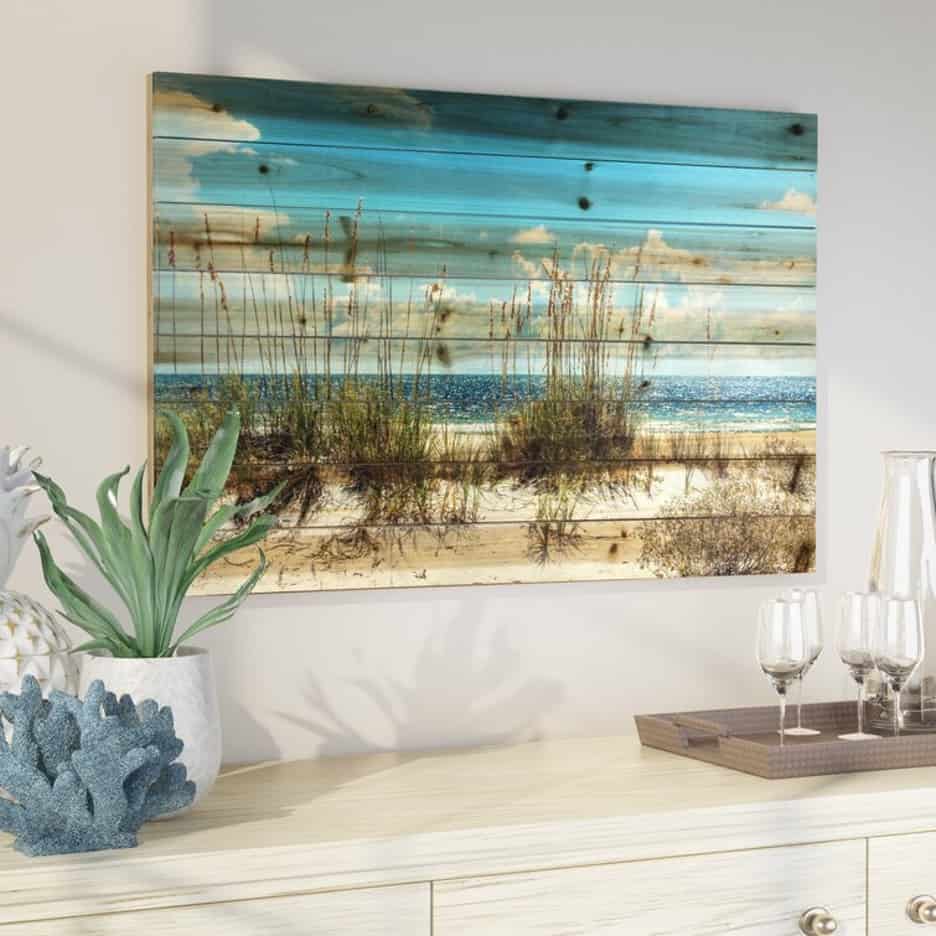 This pretty painting was made of pure wood, which helps it stay true to the coastal theme. Remember, coastal décor is all about using natural elements, including wood, to enrich your interior space.
In addition to the wooden canvas, this coastal art gallery décor reflects the beauty of the beach itself. This makes it the perfect piece for any beach house. What better way to show off your nautical décor than by tying it together with a picture of the cool waves?
Bring Your Wall to Life with Wooden Blue Mermaid Ocean Wall Décor…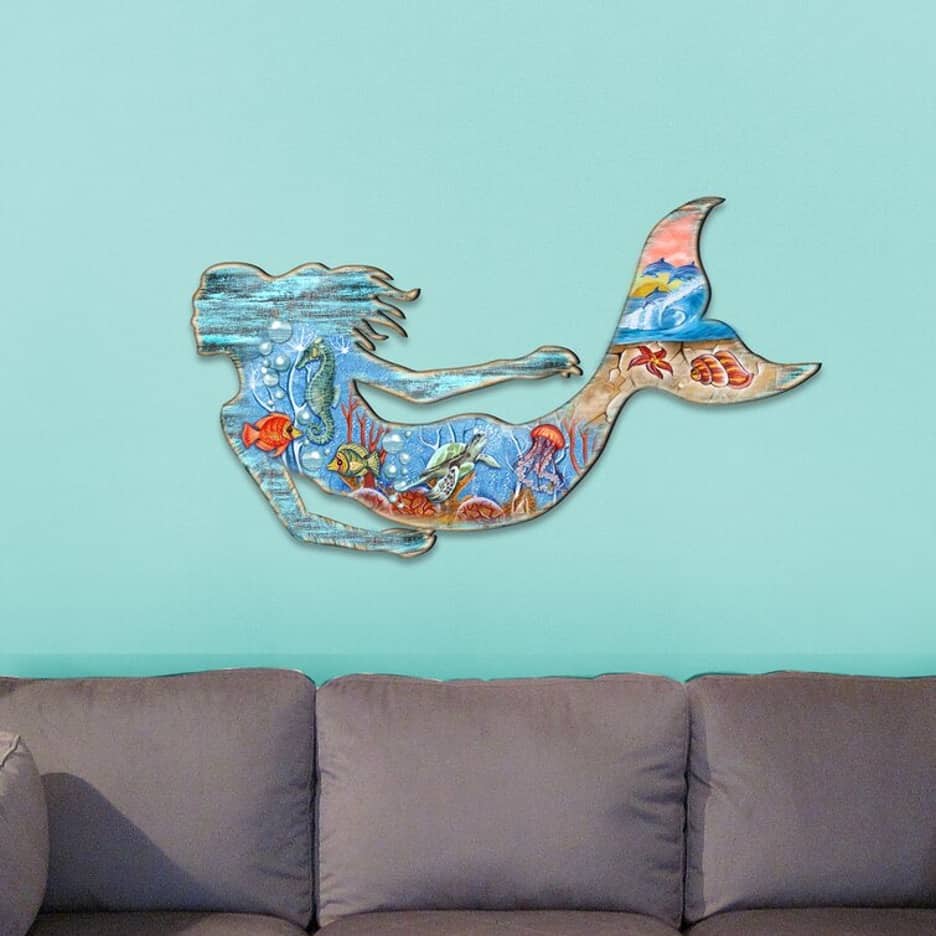 This gorgeous mermaid bears the entire ocean within her body. Few pieces are equipped to offer similar depth and poetic command like this one!
So, if you're looking for an eye-catching, show-stopping art piece, look no further. This pretty blue mermaid is the answer to all your decorative wishes.
This piece stays true to the coastal theme with its blue and brown color scheme with a sturdy wooden base. It also pays tribute to oceanic life, making it ideal for coastal homes.
…Or Opt for a Rustic Looking Mermaid, Instead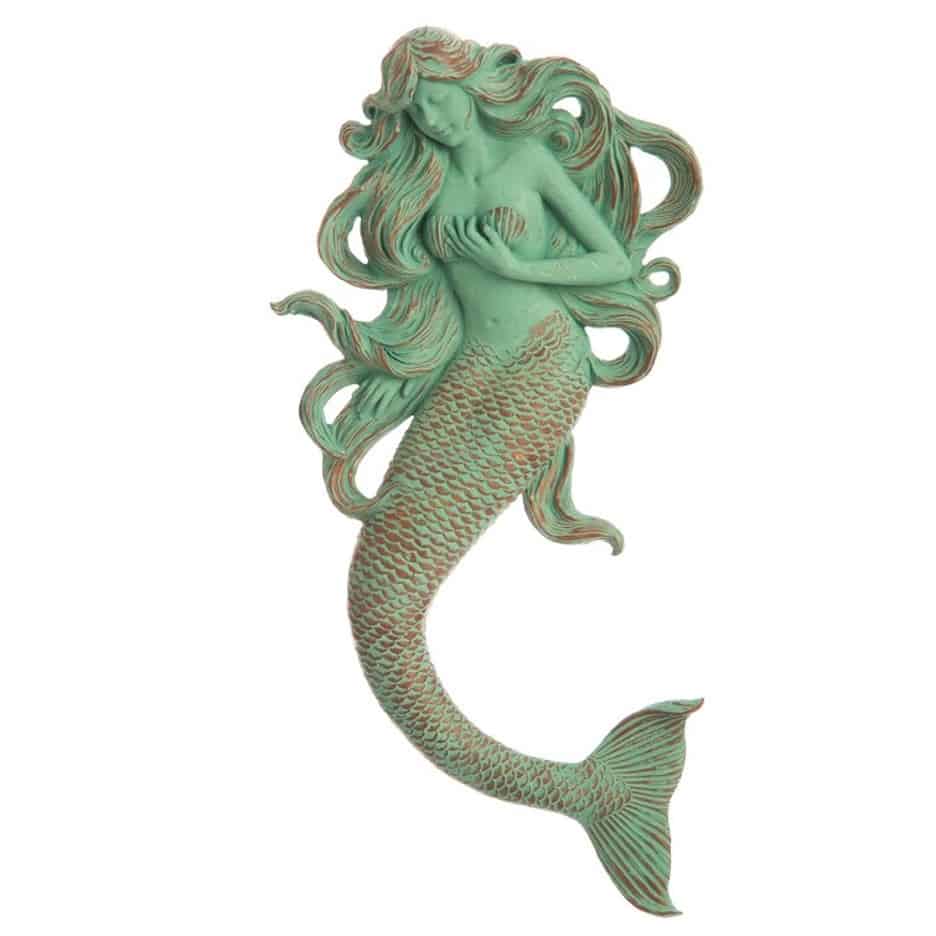 If you're looking for wall art that bears a distressed, rustic charm, consider this alternative green mermaid instead. Complete with lustrous, bronzed scales and flowing beach hair, this ornament perfectly aligns with the coastal design style.
Its pretty green appearance offers a welcome break from the typical blue-with-brown color scheme we're used to seeing in coastal décor. The green base color will also help this piece stand out amongst a sea of coastal ornaments. Hence, it is the perfect centerpiece for any wall.
Decorate with a Nautical Wooden Ship Wheel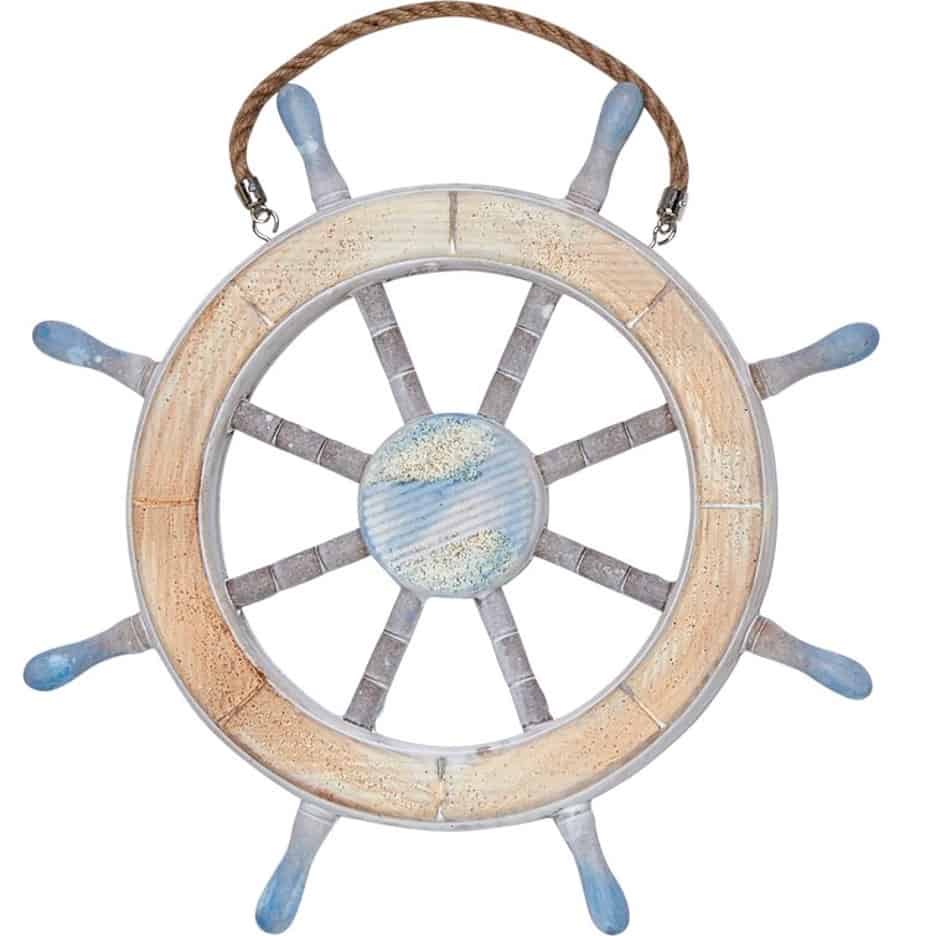 This wooden ship's wheel is a great way to pay tribute to coastal decorative culture. A ship's wheels are a popular element of coastal design. You'll find them hidden within all kinds of nautical decorative pieces, as well as both vintage and contemporary coastal furniture.
So, if you're looking for a way to bring the sea home, this is a great option that's definitely worth considering. Its neutral, cool color scheme will help it seamlessly blend into your beach home's bare walls.
Pay Ode to the Ocean with This Capiz Shell Starfish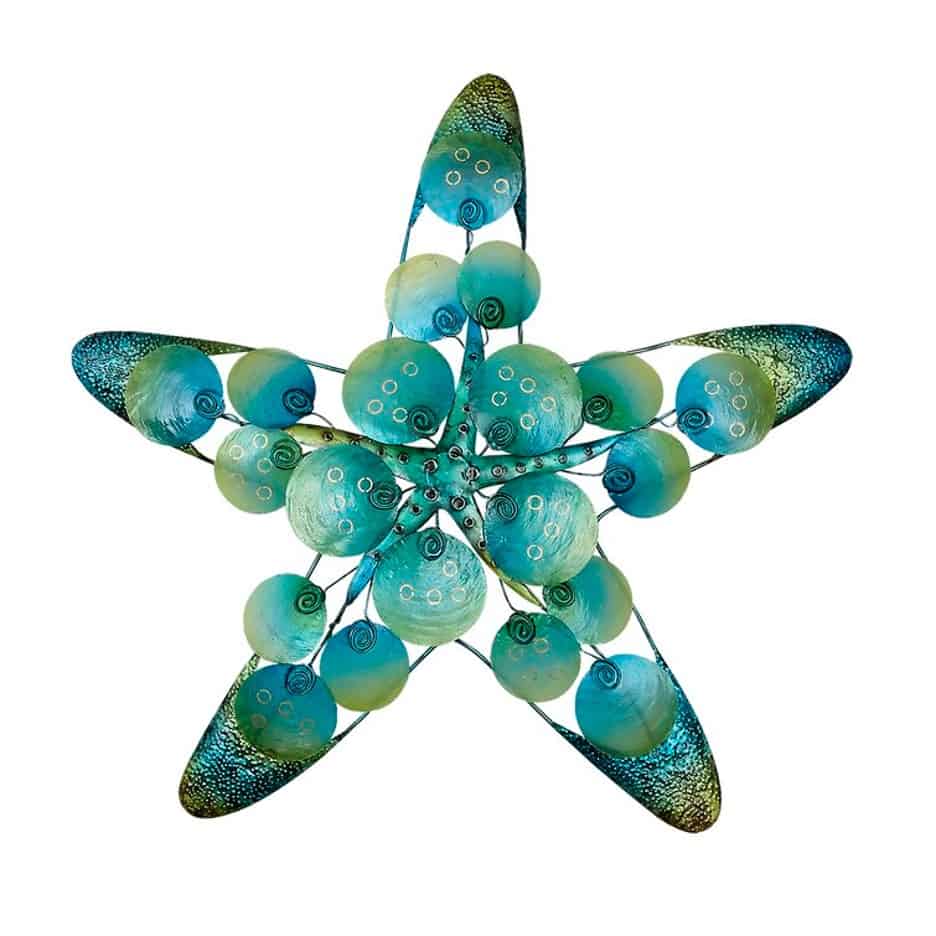 This unique decorative ornament is fashioned from authentic Capiz shells. These shells have been made to resemble a brilliant blue color that's complete with green embellishments.
There aren't many ornaments that can compete with this one, particularly due to its use of real shells. And what better way is there to capture the coastal theme than decorating with actual ornaments from the ocean itself?
So, hang up this pretty Capiz shell starfish to immediately upgrade your beach house's coastal aesthetic!
Hang Up a Round Window Sea Wall Mirror…
This lovely round mirror features a cool blue base that's been enhanced with some distressed brown marks. As a result, the final product looks like something straight out of a vintage coastal magazine.
It was also designed to resemble the windows within older cruise ships and retro beach houses.
This mirror serves two purposes.
You can use it as a decoration piece and as a way to double-check your makeup in the morning! This graceful combination of functionality and style makes it the perfect wall art piece for any coastal home.
…Or Opt for a Submarine Window Mirror, Instead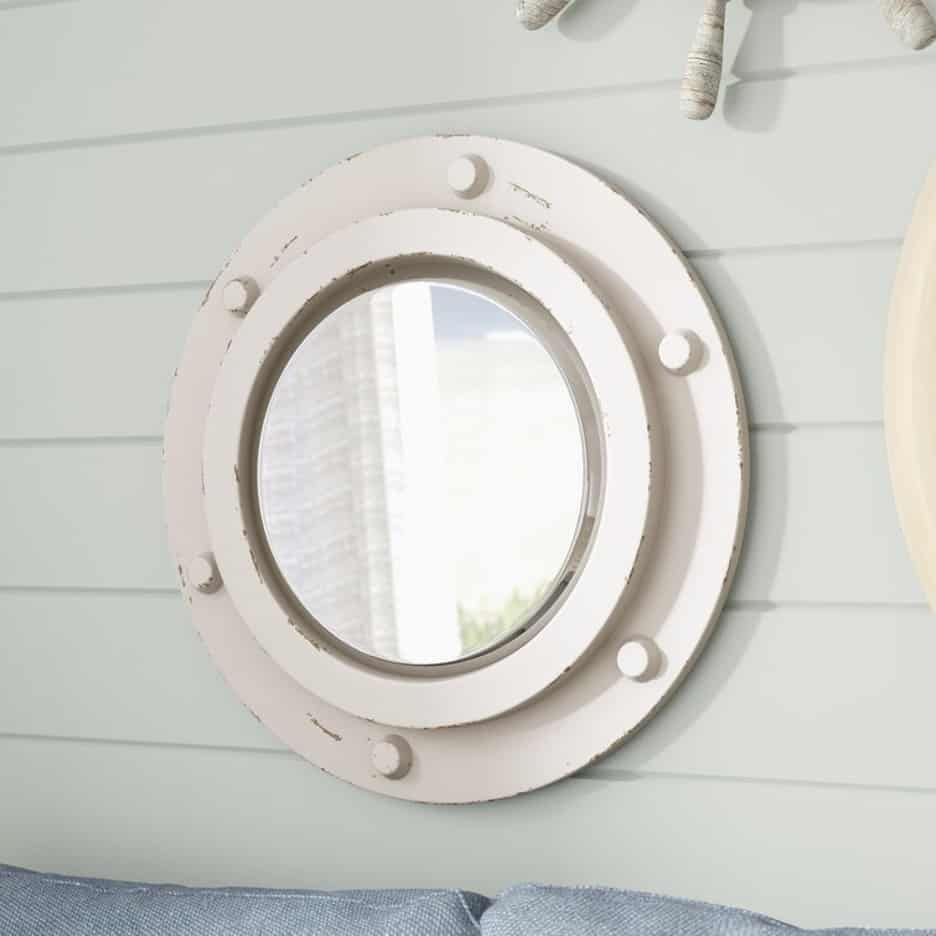 You can also consider installing this white, distressed mirror instead. It's shaped like a submarine's window, which helps the mirror stay true to the idea of authentic coastal design.
Thanks to its all-over white appearance, this mirror can easily mix with any backdrop. Be it a brightly colored wall, or one with lots of patterns, this mirror will comfortably make a home anywhere!
Let Everyone Know Where You Live with a Beach House Sign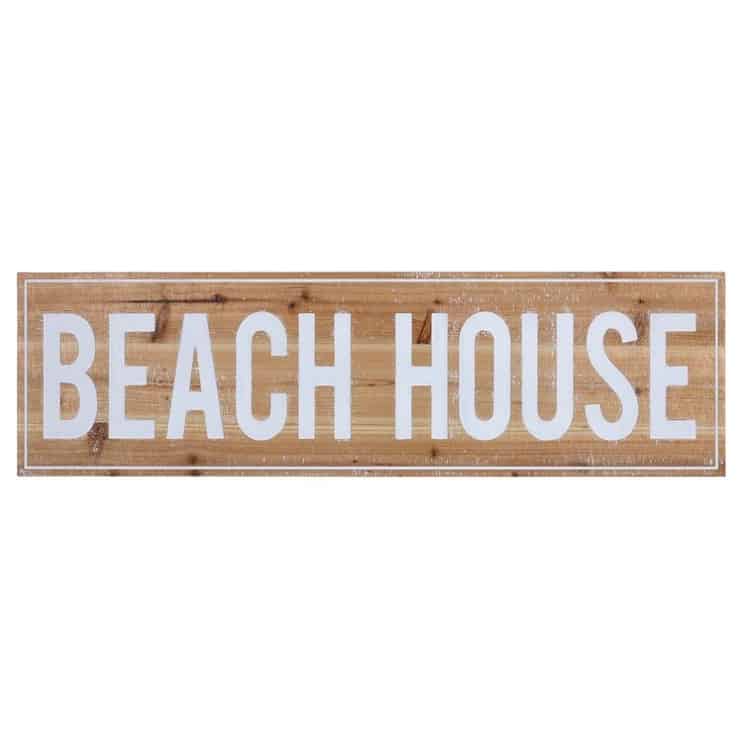 This sign states the obvious, making it the perfect way to let visitors know exactly where they're standing!
Featuring a light-colored wooden background, this signboard pays ode to traditional coastal design using typical materials and neutral tones.
You can easily mount it on an indoor wall or even outside. This versatility makes it the perfect ornament every coastal homeowner should have within their inventory!
Hang Up a Photograph of Portugal's Blue Waters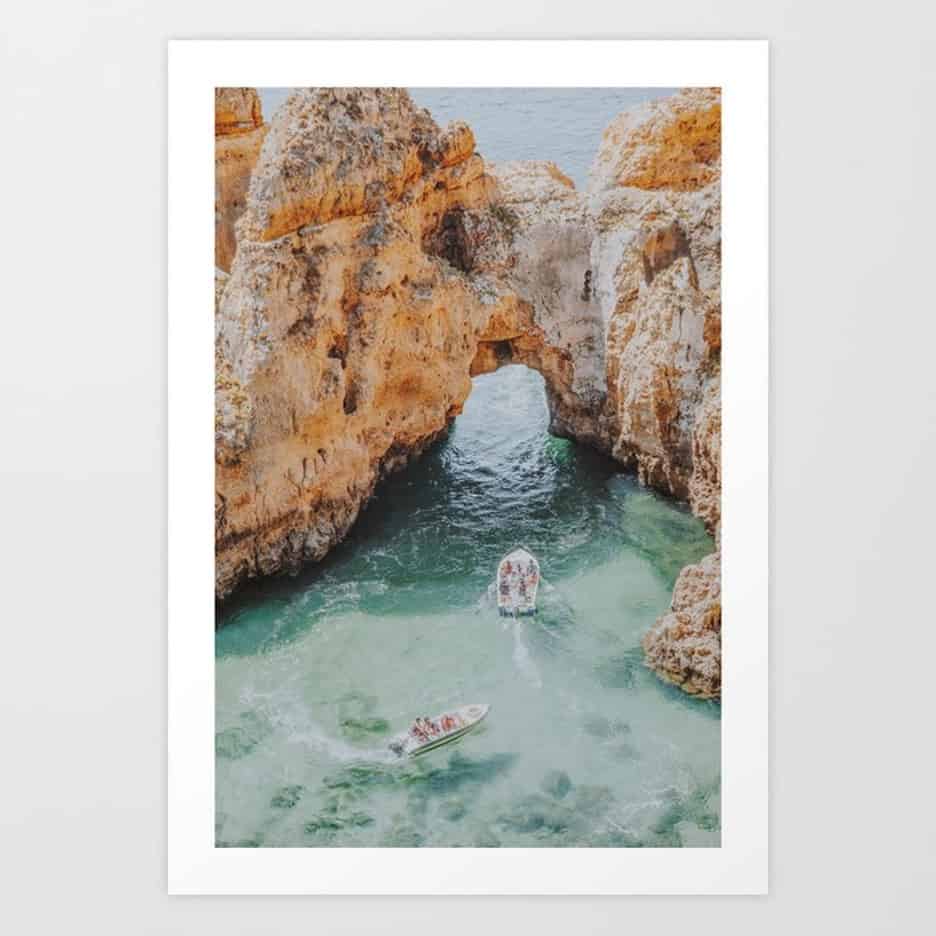 This beach wall art is the perfect way to capture a piece of the sea and bring it home.
Pictured here is a snapshot of the breathtaking blue waters of Portugal.
If you've ever visited the country, you'll know just how beautiful their coastline is. But don't worry if you haven't been there yet – hang up this picture to bring the Portuguese waters home to you!
Style Tip: If you prefer realism over pop art, try finding more photographs like this one and framing them across your walls.
Reminiscence About the Waves with This Surfing Art Print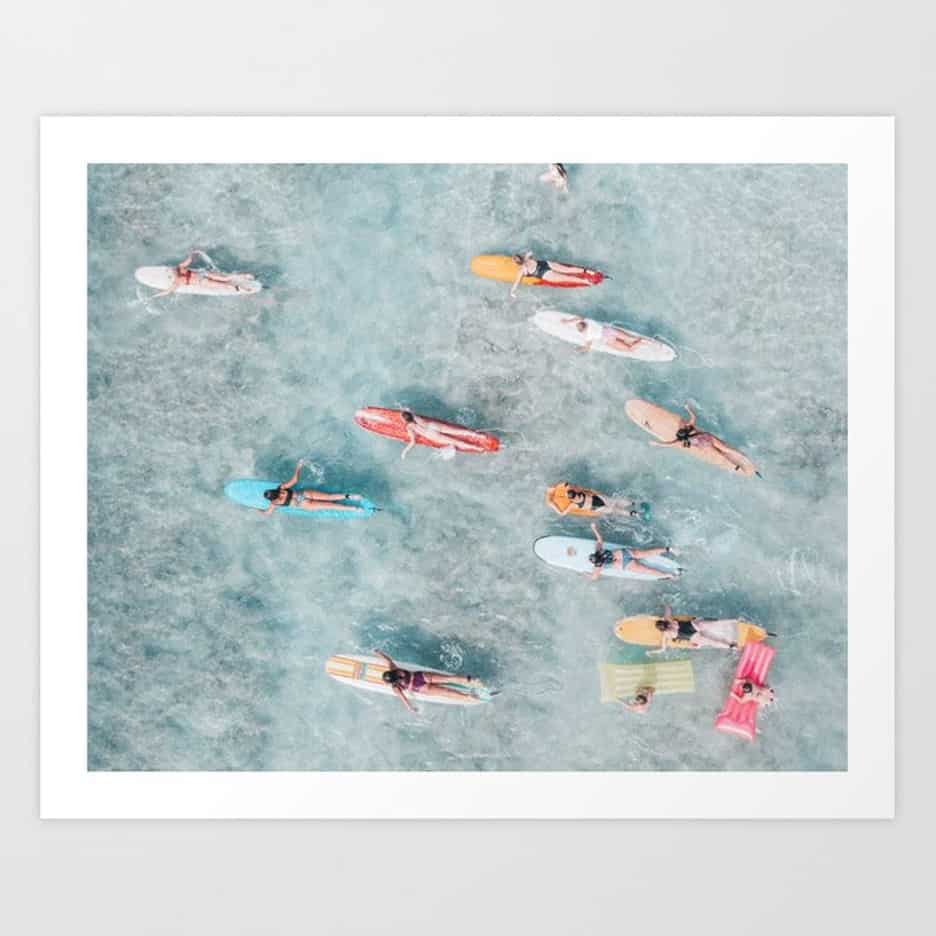 Are you fond of surfing? Does seeing a large wave send adrenaline excitedly pumping through your veins? If yes, then this adventurous art print is perfect for you!
Pictured within this print is a collection of young, eager surfers making their way towards the deeper side of the sea. How exciting!
Style Tip: Place this print within a distressed wooden frame before hanging it up. This will help enhance this print's coastal design aesthetic and make it stand out amongst other photographs.
Decorate with a Print Celebrating Capri's Beautiful Shore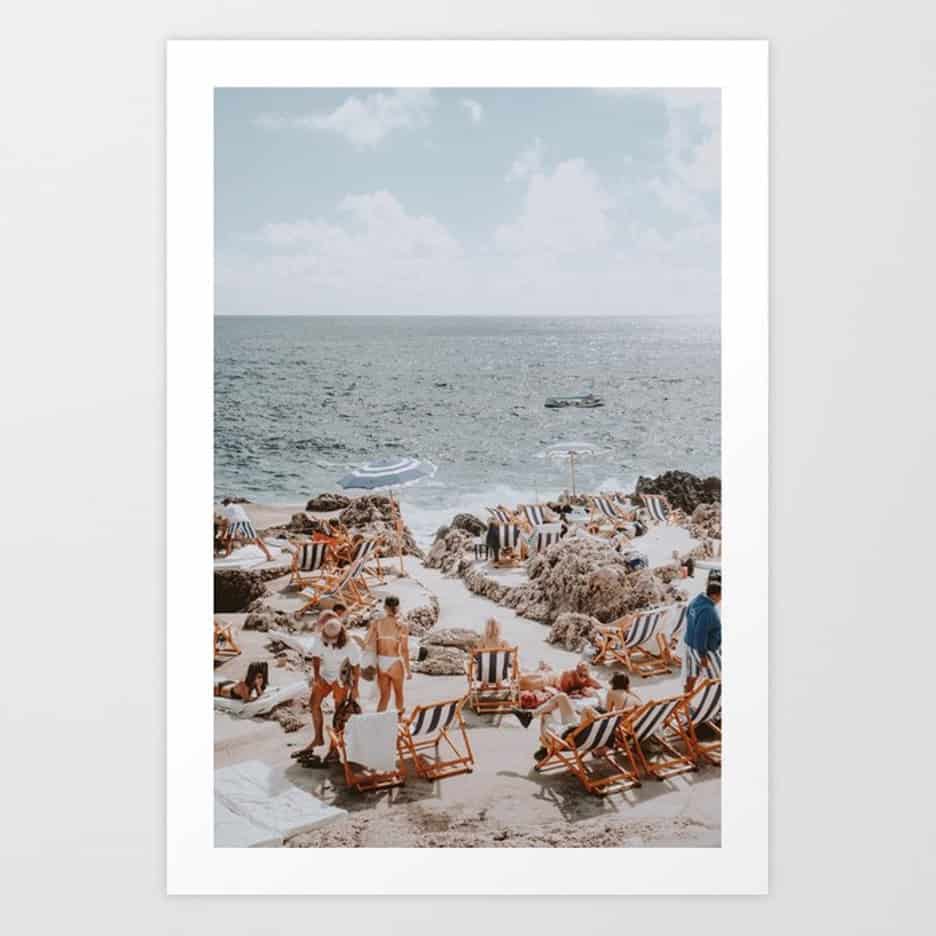 Few beaches come close to matching the gracious beauty of Capri's magnificent coastal scene.
Complete with a detailed view of the sea and sand, this art print captures the true essence of coastal wall décor.
Its color scheme has been edited to match those of pictures taken during the late 20th century. Hence, this print is ideal for vintage-style coastal homes that value muted hues and tones over bright ones.
Final Thoughts
Hopefully, this list should have given you some insight into the kind of coastal-themed décor you should be looking for.
Remember, coastal design values cool-toned colors, wooden elements, and metallic, green, or brown embellishments. Keep this in mind when shopping for coastal wall décor. Avoid pieces with unrelated colors, like pink or orange, or your décor may not look up to the mark!