Don Pedro Brooklyn is reader-supported. When you buy through links on our site, we may earn an affiliate commission. Learn More
17 Rustic Living Room Wall Decor Ideas
Thanks to its unique take on traditional furniture, rustic design has become a staple in the world of modern interior décor. What makes rustic décor so admirable is its ability to take mundane objects and transform them into eye-catching, stylish statement pieces.
Many homeowners like to revamp their old furniture by adding rustic elements, like chalk paint or vintage-style cloth flowers. Though this process can be enormously entertaining, it isn't ideal for those in a rush.
So, if you're someone who adores rustic décor but doesn't have the time for DIY projects, don't worry. Below is a collection of excellent pieces to consider as rustic wall décor for the living room:
Tell the time with an Oversized Windmill Metal Clock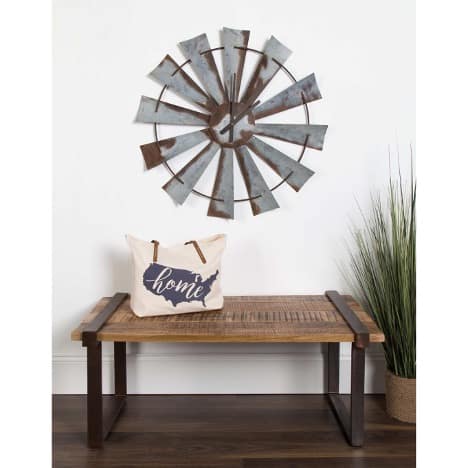 What better way to tell the time than with a giant, rustic-style clock crafted to resemble a metal windmill?
Rustic décor goes hand in hand with farmhouse-themed design. Windmills are a staple in farmhouse culture, making this clock a perfect fit for your rustic-themed living room.
The clock's oversized style allows it to make a bold statement regardless of whether or not other wall décor items surround it. Plus, its neutral color scheme prevents it from clashing with other decoration pieces or rustic furniture within the area.
Opt for a Large, Wooden Wall Clock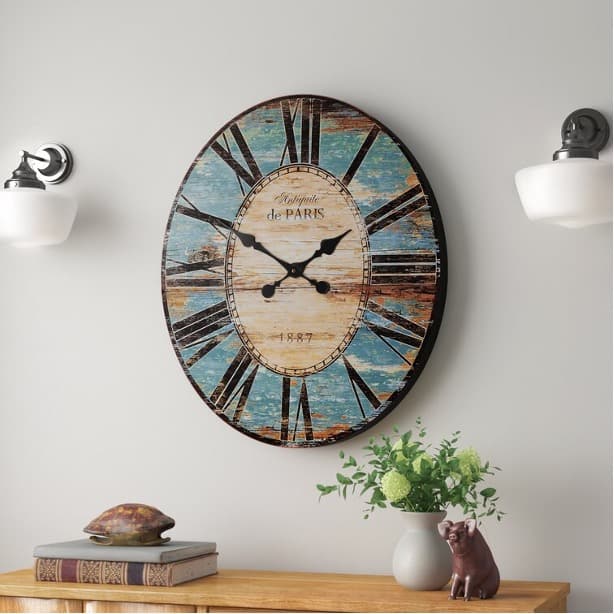 This vintage clock contains a solid wood frame, allowing it to fit with rustic décor guidelines. Remember, rustic design welcomes wooden elements with open arms, making this clock perfect for your new living room.
This clock features a faded, chalky backdrop and flaunts an eye-catching blue and brown color scheme. The blue, in particular, offers a welcome break from more traditional rustic-themed colors (like black or dark brown.)
Light It Up with a Wood-Armed Sconce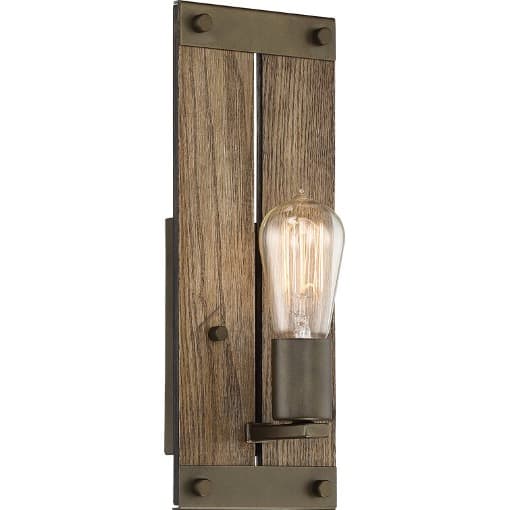 No interior space is complete without excellent indoor lighting. So, if you're in search of rustic sconces for your living room, consider installing these bronzed wood-armed lights.
These lights contain a unique aged bronze finish and a bare tungsten bulb. There is no outer covering, hence fully exposing the bulb to onlookers. Though unconventional, this arrangement only adds to the sconce's charm and makes it a perfect fit for rustic homes.
Opt for a Barnyard, Flush-Mounted Sconce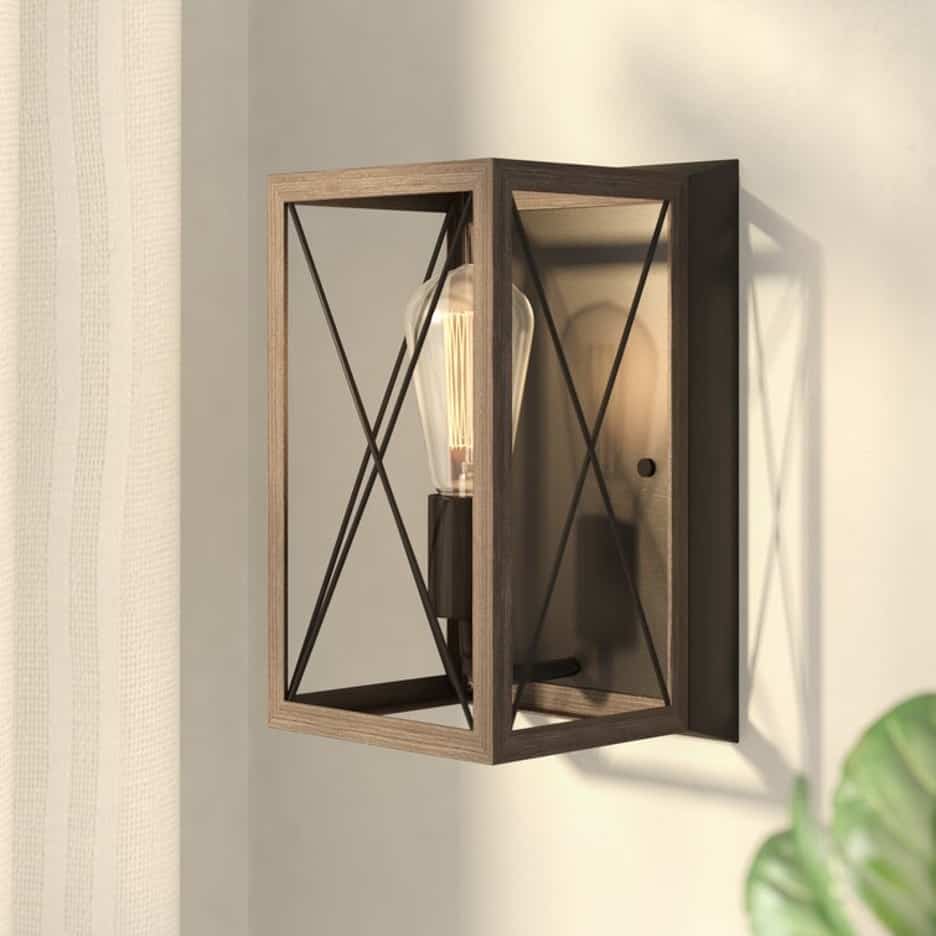 If entirely bare lights aren't your thing, consider this boxed sconce instead. Though surrounded by a decorative, barndoor-style box, the lamp's light bulb is fully visible. This adds to its rustic charm and pays homage to vintage sconces that often lack an opaque outer covering.
Additionally, this sconce comes re-wired with a unique light-dimming option. This function empowers homeowners to customize their indoor space's light setting as per their liking – a feature most sconces don't offer.
Combine Vintage and Rustic Design with this Bronze Hanging Light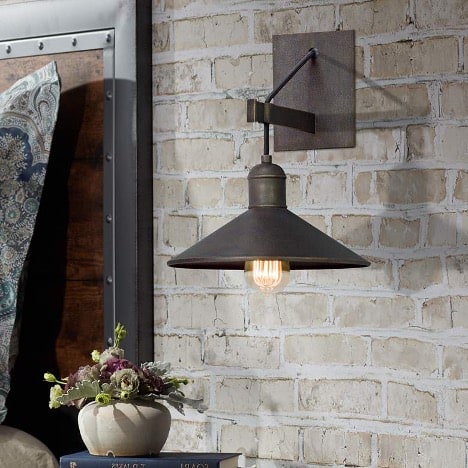 Here's a third lighting option for your rustic living room; this sconce boasts an appealing lampshade-style design with a partially-visible tungsten bulb. This unique layout pays homage to vintage lamps from the 20th century. Plus, the use of bronze and a bare bulb lends an undeniable rustic appeal to the sconce.
This sconce can create a spotlight effect and provide excellent illumination to items positioned directly under it, thanks to its lampshade structure. This makes it ideal for hanging above wall art that requires constant electrical illumination.
Decorate with a Wooden Art Piece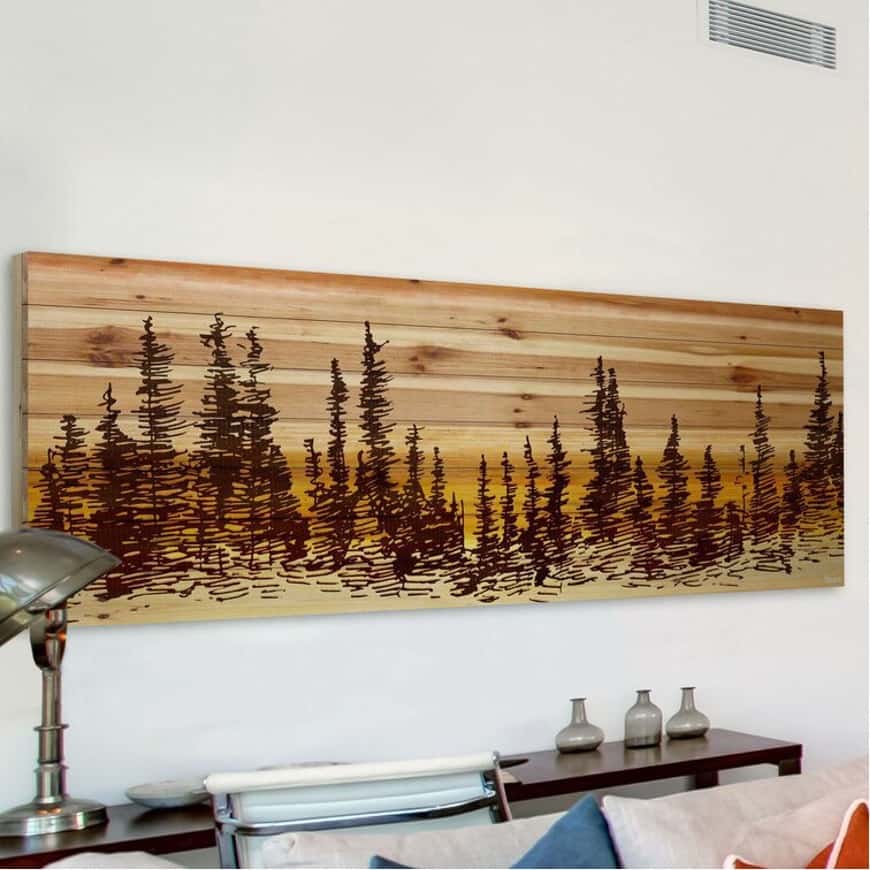 Rustic design champions organic materials like cork and wood. Luckily, the frame pictured above is made from 100% solid wood, making it an excellent option for rustic living rooms.
Furthermore, this art piece is available in 3 sizes. So, feel free to select a frame size according to your aesthetic goals. For example, larger frame sizes are ideal for when you're trying to make a bold, rustic-style statement within your living room. But if you'd rather incorporate this frame as a subtle backdrop piece, consider purchasing its smallest option.
Display Your Love for Animals with a Wood-Framed Deer Canvas Print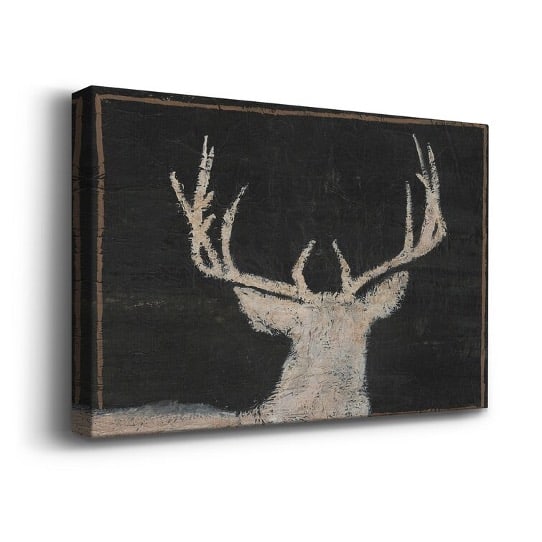 This print features a rustic, chalky finish that gives it a lovely bohemian charm. So, if you're looking for art pieces that combine boho and rustic design, consider investing in this unique canvas!
Furthermore, this print consists of high-grade, cotton canvas mounted upon a solid wood frame. Remember, organic materials like cotton and wood are favorites in the world of rustic design.
So, if you're looking to improve your living room's rustic appeal, opt for décor featuring such materials.
Expand Your Storage Space with a Decorative Wooden Cupboard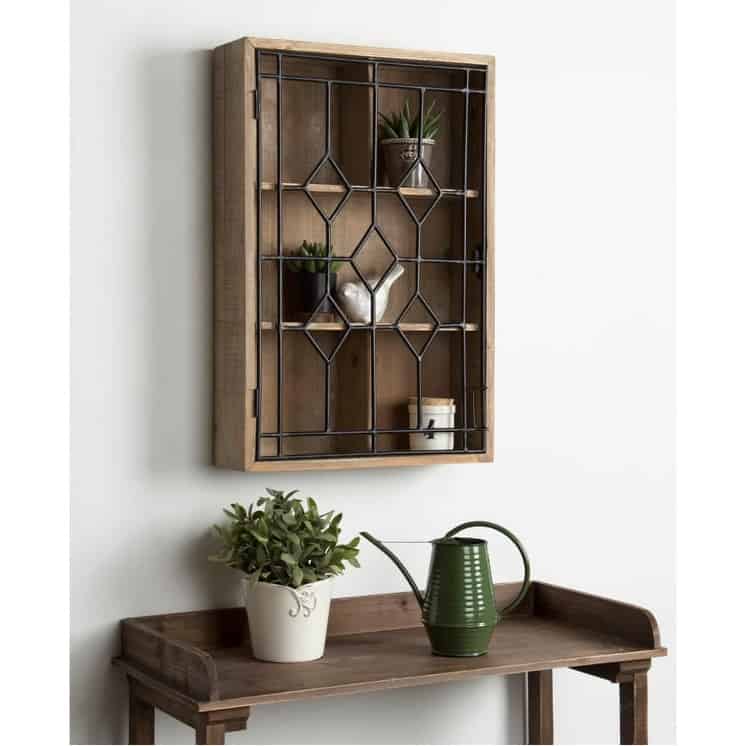 This stylish cabinet flaunts an eye-catching rustic design consisting of a decorative iron door and a smooth wooden cubby. In addition, it is equipped with three spacious shelves, making it the perfect place to store additional rustic décor within.
Thanks to its spacious interior, this product can help provide your living room with additional storage space. The cabinet's ergonomic door allows for easy access to stored products, making this cabinet an excellent place to stow everyday items, like TV remotes.
Improve Living Room Functionality with an Attractive Rustic Chalkboard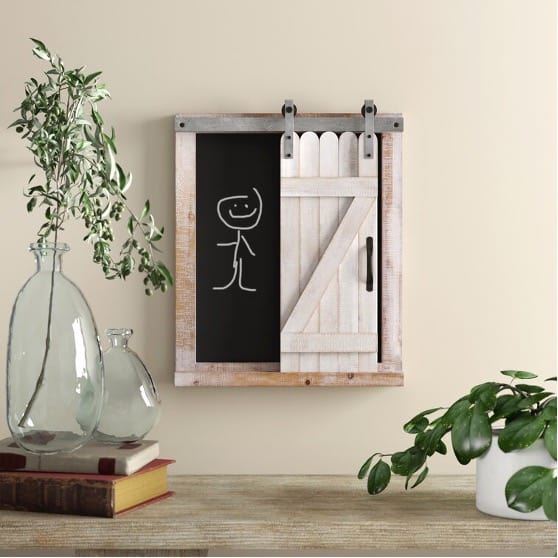 Although chalkboards are typically seen within kitchens and playrooms, there's no rule saying you can't install one in your living room, too!
The board pictured above resembles a sliding barnyard door. Farmhouse-style aesthetics (barn doors included) are popular amongst rustic decoration pieces. So, if you want to improve your living room's rustic style, do consider installing this board.
Style tip: If you live with kids (or are an artist at heart, yourself), go ahead and install this chalkboard as a place to doodle during moments of boredom.
Mount a Pair of Galvanized Iron Wall Planters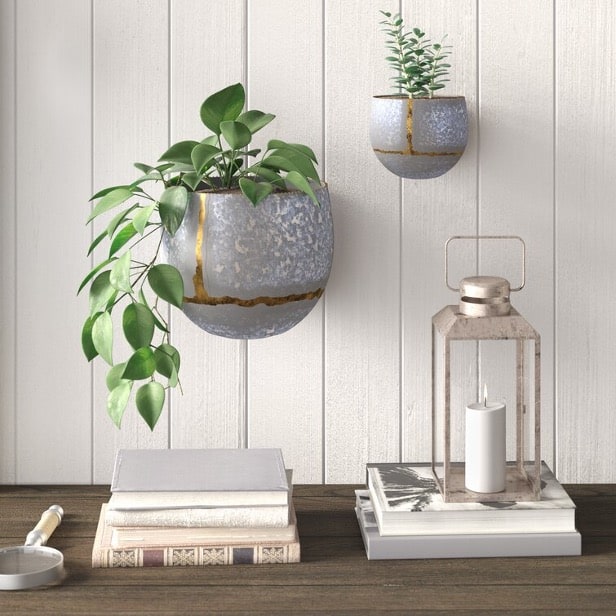 These attractive planters have a rustic appeal with an industrial twist. They are made from pure galvanized iron and contain eye-catching streaks of golden paint that helps them stand out in a crowd.
Remember, rustic design is all about employing organic elements within your home space. On that note, what better way to introduce nature to your home than by setting up tiny potted plants?
You can use these planters to mount your favorite plants onto your living room wall. We've included a popular plant example below…
Add an Organic Edge with Pretty Plants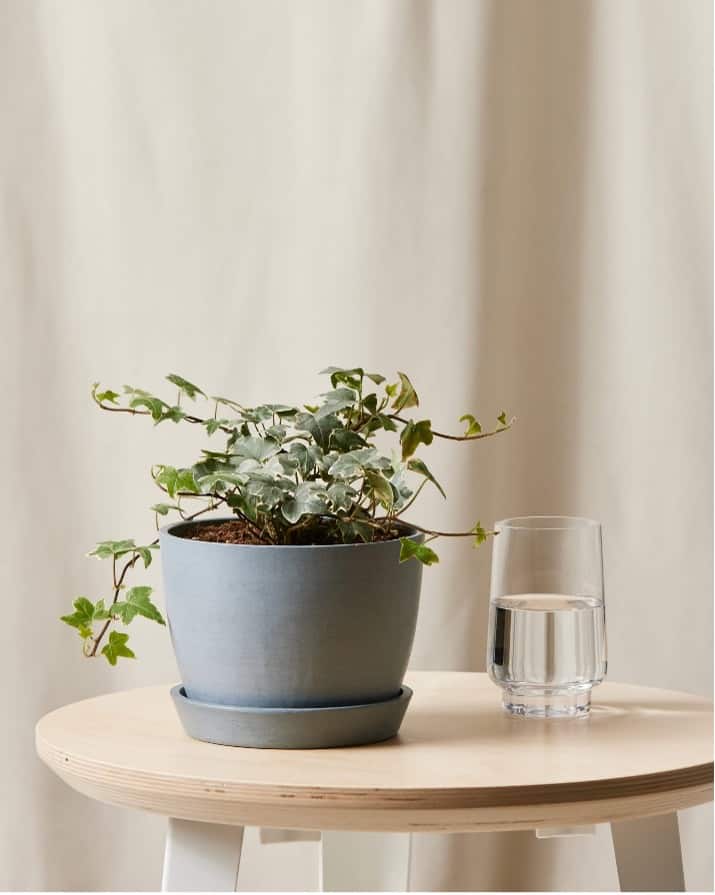 English Ivy is the perfect plant for indoor use. It can handle both indirect bright light and low light conditions, making it a versatile, low-maintenance option for your living room.
Unlike most indoor plants, English Ivy is a creeper, meaning it can quickly grow out of its pot and lengthen into attractive, dangling vines. As a result, it is the perfect option for wall-mounted plant fittings.
So, if you're a fan of plant cascades, don't miss out on the English Ivy. Not only will it improve your living room's overall aesthetic, but it'll also help add to the area's rustic appeal.
Mount a Motivational Wooden Poster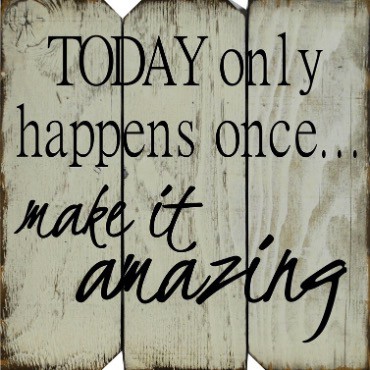 If you're trying to create a positive environment within your living room, you should consider mounting some rustic motivational posters. The one pictured above is an excellent example. It reads: "Today only happens once…make it amazing." What better way to encourage yourself to live life to the fullest than by regularly reading such inspirational quotes?
This frame flaunts an instantly recognizable rustic design characterized by its fading edges and wooden board background. So, don't hesitate to use it to improve your living room's rustic appearance.
Go All-Out with a Rustic Ladder Bookcase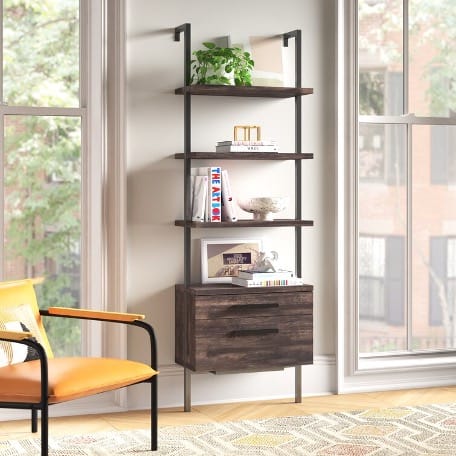 This particular bookcase is excellent for interior spaces with pre-existing dark wood furniture. Thanks to its chocolatey color scheme, this rustic ladder shelf set will easily blend in with your other rustic decorations and any dark-colored walls.
Plus, it contains multiple shelves where you can comfortably store rustic-themed decorations. For example, if you'd like to incorporate small plants within your interior space, you can simply place them upon these shelves.
Plants can help cultivate a serene environment and improve overall air quality within closed spaces, making them a must-have for your rustic living room.
Decorate Your Walls with Wall-Mounted Flowers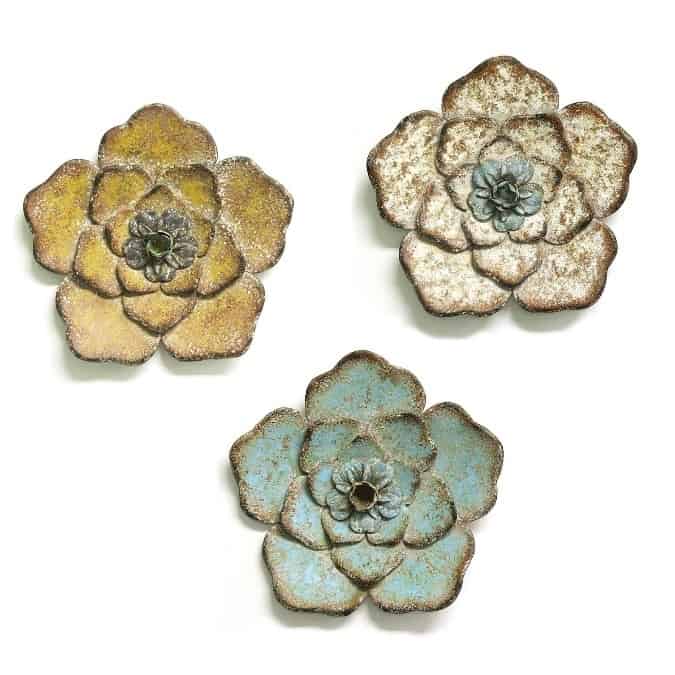 If real plants aren't your thing, don't worry. You can use these stunning metal flowers to decorate with instead!
This set of 3 wall-mountable flowers contain popular rustic-inspired colors, including faded robin's blue, whitewash white, and haystack yellow. This makes them an excellent fit for rustic living rooms. Each flower is handmade and painted to perfection.
So, if you're looking for quality decoration pieces possessing skilled craftsmanship, these flowers are the way to go!
Introduce a Rustic Barnhouse Door Mirror Set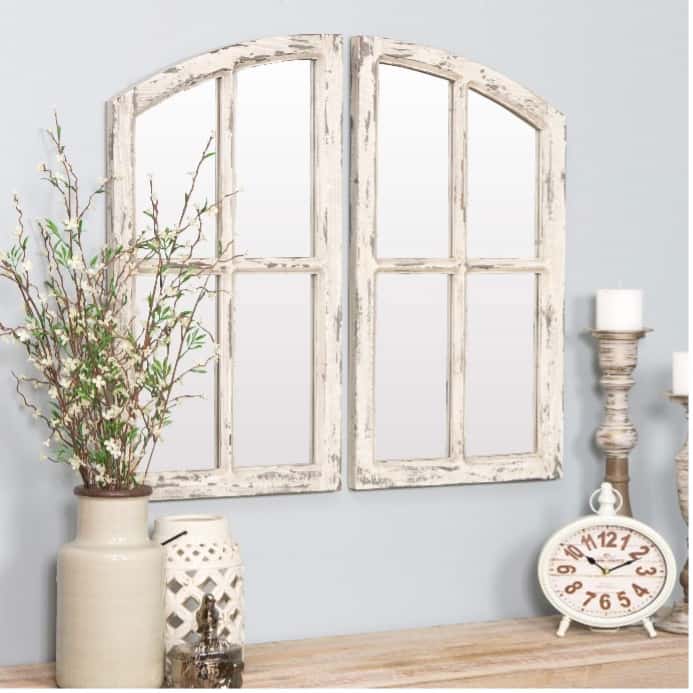 Pictured above is a set of two complementary rustic mirrors complete with a chalky whitewash that improves its visual aesthetic. These mirrors are shaped as barn house doors to pay ode to rustic farmhouse-style design.
On the downside, despite their lovely appearance, these barndoor borders make it difficult to see large images within the mirror in one go. Hence, this mirror set isn't suited for bedrooms or bathroom vanities. It is, however, perfect for living rooms and can serve as the perfect wall decoration for your new rustic indoor space!
Invest in a Rounded Wooden Mirror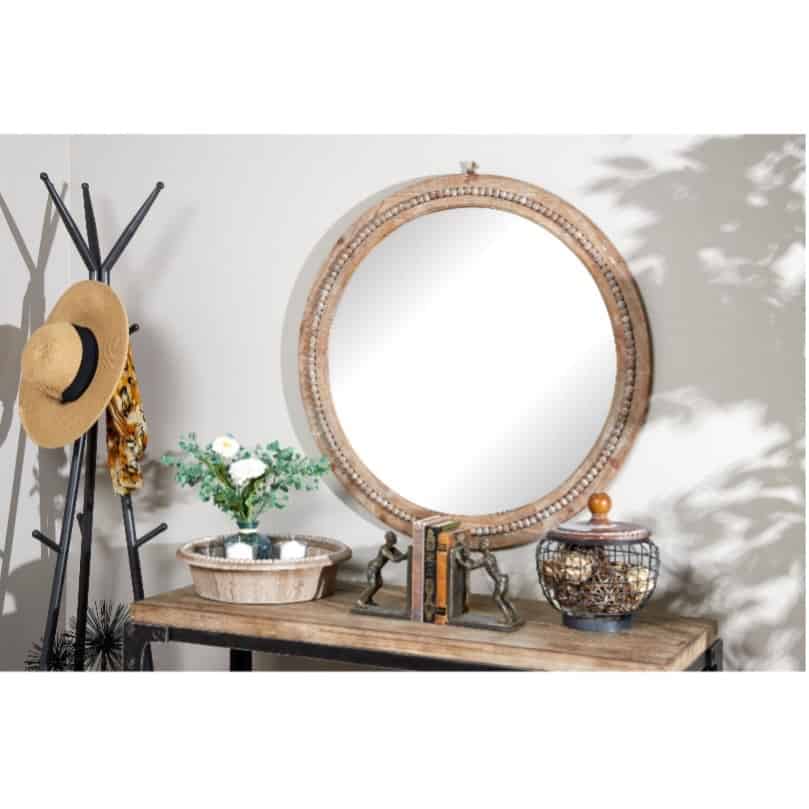 Interior designers often mount mirrors within small spaces to create the illusion of expanded space. So, if your home includes a relatively small living room, consider installing a large wall mirror to improve its aesthetics.
This mirror is fashioned from natural, light brown wood, giving it a cozy, rustic look. It also has a lovely whitewash finish that adds dimension to the wood. The frame is lined with wooden beads, giving it a relaxed vibe that borders on bohemian. All in all, this is the perfect option for living rooms aiming for a calm, rustic vibe.
Give Your Walls a Rustic Makeover with Weathered Wood Wallpaper!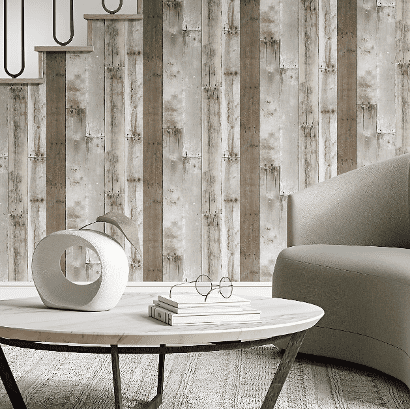 If you're aiming to give your living room a complete makeover, why not start by redoing its walls?
Wallpaper is an excellent way to uplift any tired-looking old walls instantly. Of course, paint is always an option, too. But if you're working towards an authentic rustic vibe, it's better to opt for wood-like wallpaper instead.
Doing so will allow you to replicate the inside of a barn, which is a popular source of rustic design inspiration for many.
Final Thoughts
Rustic décor certainly has a unique brand of undeniable charm! It's hard to beat an aesthetic that champions lively plants and wonderful-looking whitewashed wooden surfaces!
Hopefully, this article will grant you valuable insight into your upcoming rustic wall decoration attempt. When selecting rustic wall art for your living room, pay close attention to its color and dimensions. For example, you must avoid large rustic wall décor for a living room that's relatively small. Opt instead for smaller statement pieces to create an appealing visual.
Suppose you're into modern rustic wall décor ideas, for example. In that case, you can opt for a stylish sconce to add a contemporary flair to the room. Remember, it's how much attention you give to dressing your wall that makes all the difference!