Don Pedro Brooklyn is reader-supported. When you buy through links on our site, we may earn an affiliate commission. Learn More
12 Modern Black and Grey Living Room Ideas
Black and grey are a match made in heaven. Especially for modern homes and apartments, as they can create a dark but put-together look. These two colors are a perfect choice for minimalist homes. But even if you're not so much into the minimal look, there's probably something for you as well.
If you're a lover of this black and grey aesthetic but aren't sure where to start when decorating, you came to the right place. Here are some of our top modern black and grey living room ideas.
Pair a Black Couch With a Dark Grey Brick Wall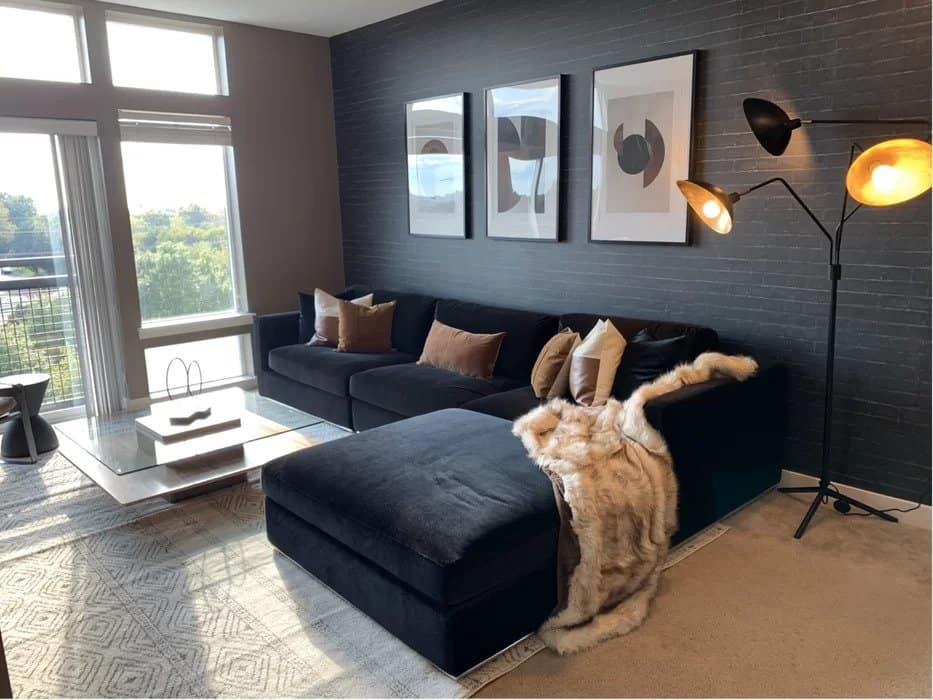 A black couch is a statement on its own. Choosing black for a focal piece of furniture, such as a couch will instantly add that dramatic look to your home. If you want to balance it out, but still keep the dark theme, adding some dark grey is the answer.
An exciting way to add some dark grey to your living room is to put up wallpaper. A brick look is a popular one, and it adds that modern edge many crave for their living rooms. Wallpaper is that one thing that simply elevates the entire room in a matter of seconds. A great option!
A Simple Couch and a Grey Rug Can Be All You Need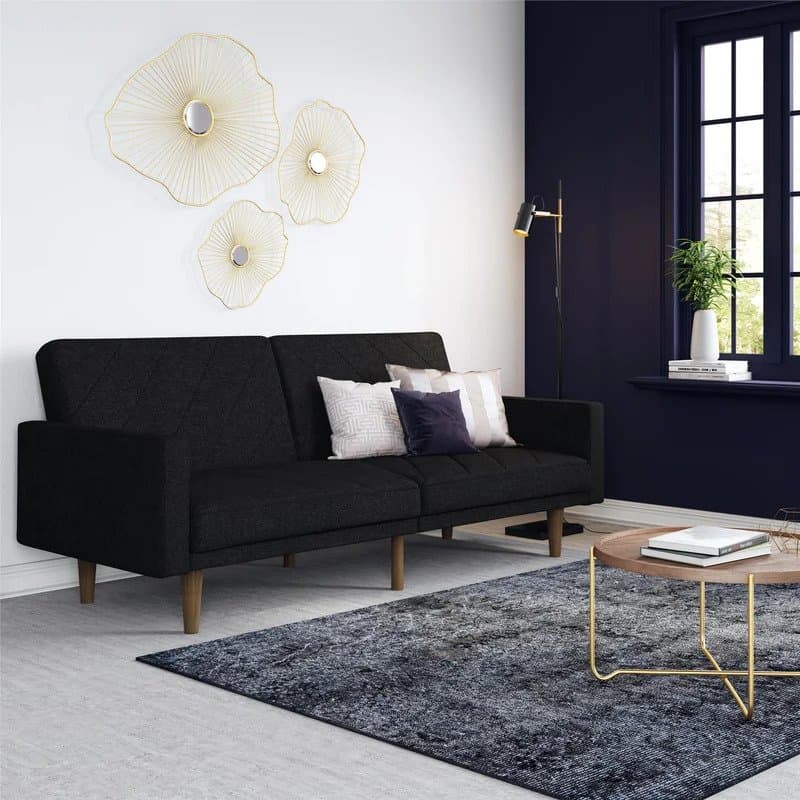 If you want this aesthetic but are on a budget, there are multiple solutions! You don't need too much furniture to create this look you might desire. Sometimes all you need can be a simple black couch and a grey rug to pair it with.
A couch like this one, with its bold lines, and a bit of that modern retro that it brings is a great contender for this. Paired with an area rug in a lighter color, you have yourself a subdued yet efficient look!
Combine Different Shades of Grey With a Dominant Black Piece of Furniture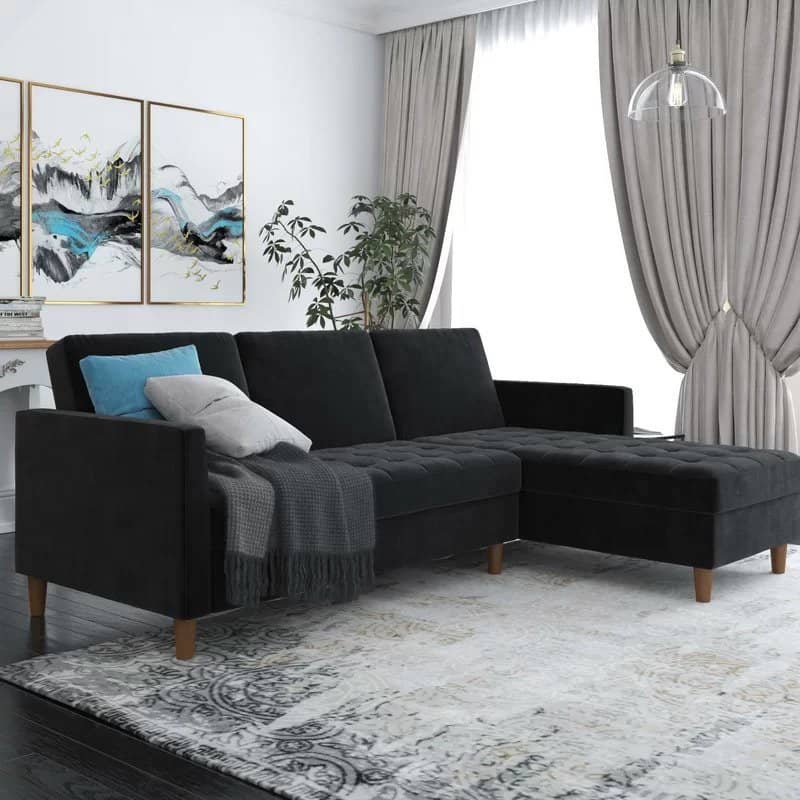 When considering black and grey living room ideas, know that you don't need to stick to one shade. Grey is such a stunning neutral color, and all its shades work wonderfully together.
Of course, it's important to note that you should keep the same undertone, as mixing warm and cool greys can look a bit messy. But opting in for light gray curtains, a slightly darker carpet, and a domineering black couch is a ravishing combo that shouldn't be overlooked!
Opt-In for a Black Accent for a Brighter Version of This Look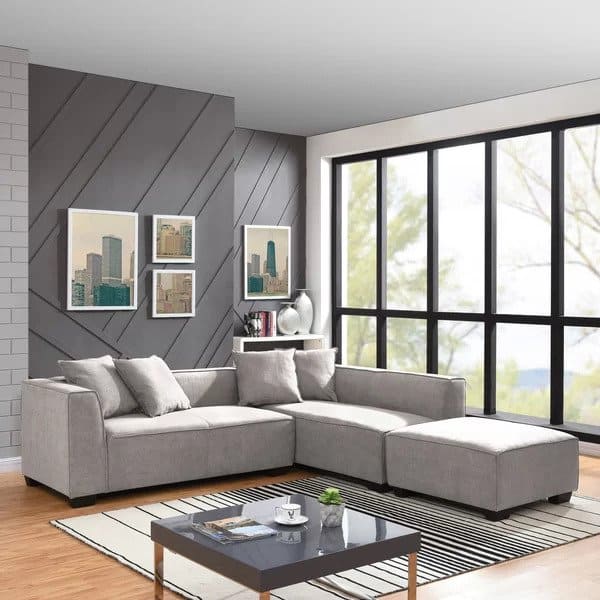 Perhaps you want a brighter living room, or you don't want to fully switch into that dark, dramatic atmosphere that this color combo brings. But you still want this look? Don't worry, you can incorporate elements of it to create a lighter version that's still incredibly chic.
Here you should consider creating a predominantly grey room. Look for a grey couch and a grey rug, and even add some grey to your walls! Of course, no need to limit yourself to a single shade. And for the finishing touch, a black accent table, a lamp, and some misc decor can do all the magic, creating a cohesive breathtaking look.
A Pop of Color Often Completes the Look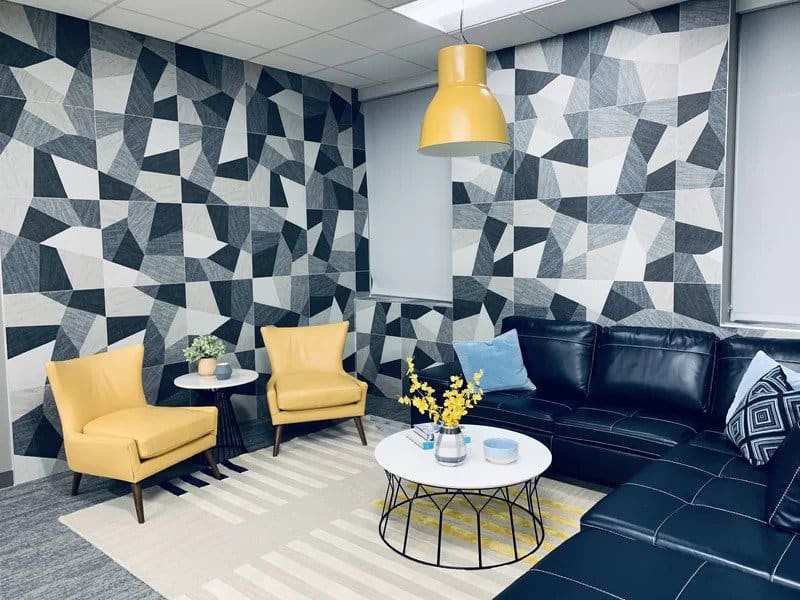 One of the best parts about black and grey living rooms is that their monochrome look looks marvelous on its own. But if you dare to add something extra, you'll be in for a big surprise! A pop of color does wonders to enrich such a living room, adding some extra flair and excitement.

You don't need to be an expert in color theory to figure out which color would work the best. That's the best part! Since you're dealing with neutral colors pretty much any color will do.
Black and Grey Are Perfect for That Sleek Modern Look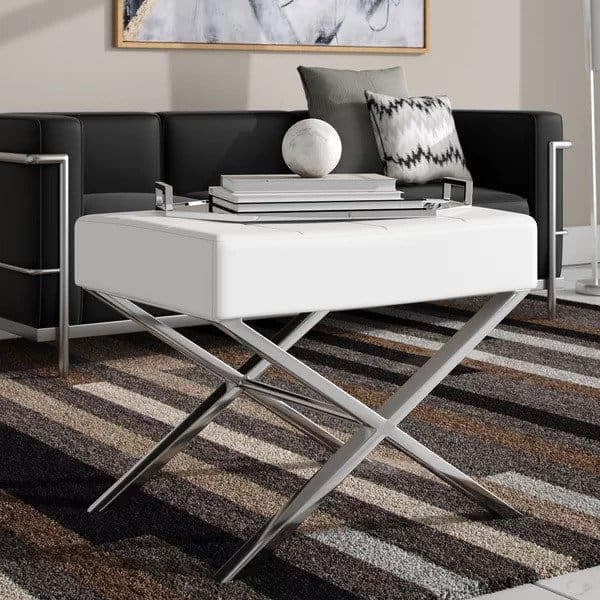 Since you're considering this color choice, we can guess you probably want to go in a modern direction, regarding your design style. It's simple. Sleek modern furniture looks gorgeous in these colors.
It's important to note that materials matter as well! Glass, steel, and concrete are some of the staples of the modern look. And in turn, they'd look especially gorgeous with a subdued leather couch in black, or against a grey wallpaper.
Consider a Gradient Look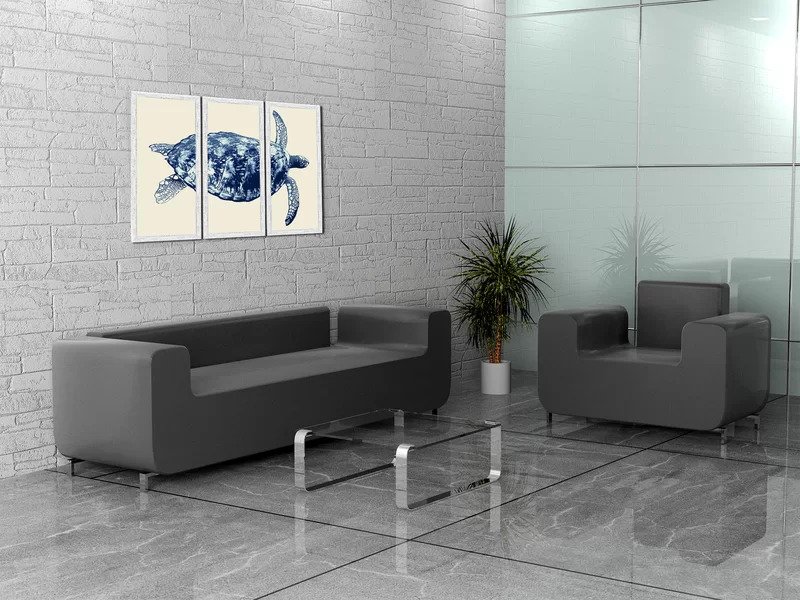 Some people think that limiting your color palette to black and grey is boring and uninspiring. But we strongly disagree. You can do many things with these two colors, and their glorious shades, and creating a gradient look is one of them.
A gradient look from the outward works the best. Starting with pewter walls, you go on to a slightly darker shade for flooring. Then you choose your main furniture, such as your couch in an iron shade. And finally, black accents. It's a chic cohesive look that was way too much fun to create.
Add Some White Accents to Make Your Living Room Pop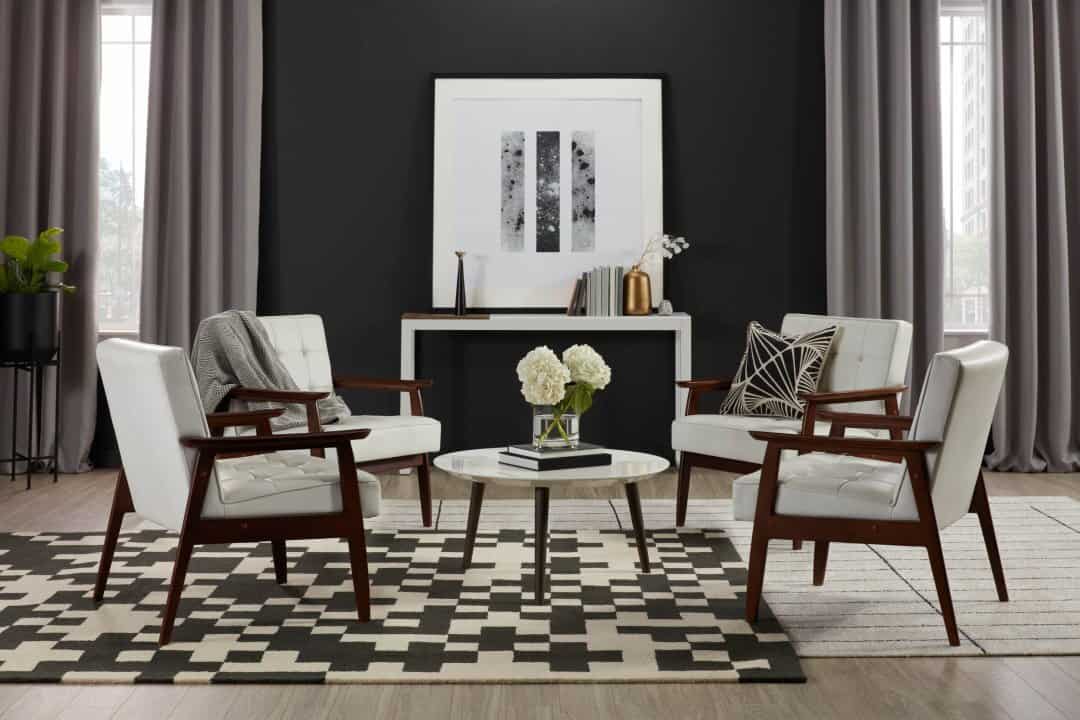 Black and grey are a fantastic combo, as we said many times before. But when you add some white into the mix, that's when a lot of fun happens. By using white details, you can create visually stunning contrasts that will elevate your living room in a matter of minutes.
This is a great hack for black walls. Black walls are gorgeous, yet dramatic and domineering. And sometimes you can't completely tone them down with greys. So adding a white accent, in a form of a chair, a painting, or something similar will add a new exciting dimension that's worth giving a shot.
Go For a Futuristic Vibe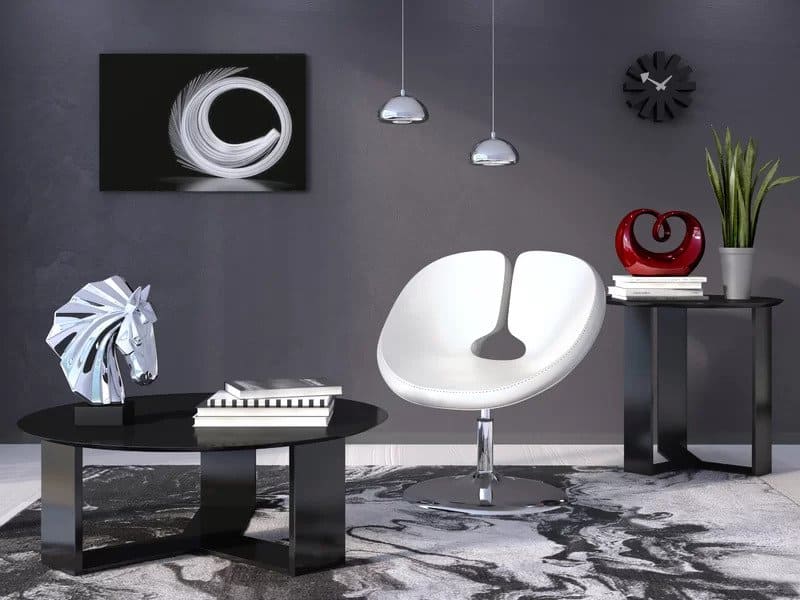 Are you the type of person who wants to decorate outside the box? But you still love the modern influence on home decor? Black and grey are perfect for you. These two colors are ideal for creating such a style, as their neutrality and elegance allow you to go as wild as you please while keeping everything under control.
Here black and grey are dominant colors, with the walls and a lot of the furniture, with a couple of exciting pops of color in terms of white and red. It's a room that keeps its modern roots, but picking an eccentric piece such as this chair can make all the difference.
Black Works Beautifully Even in The Brightest of Rooms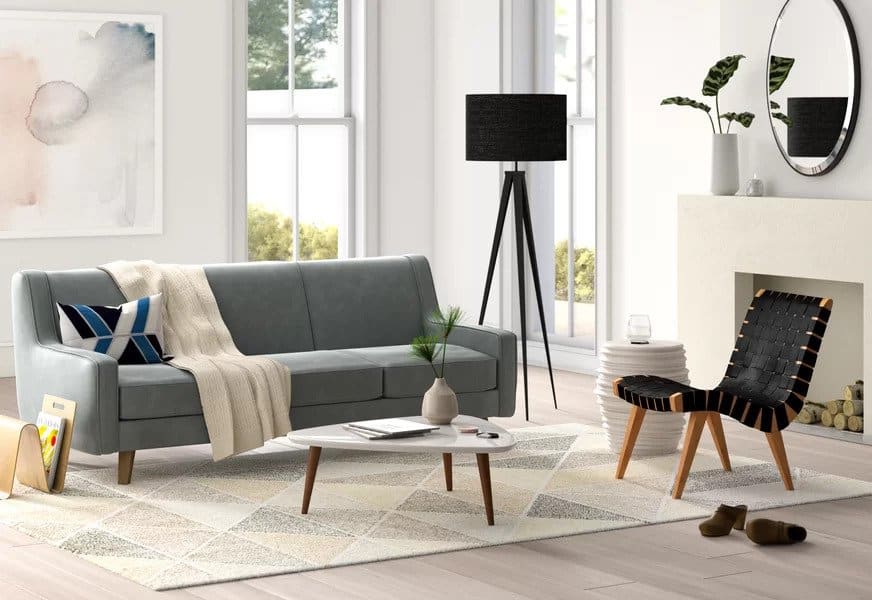 It's a myth that a black and grey living room needs to be dark. Combining very light silver tones with the imposing black might seem daunting. But they still pair up beautifully. So if you have a naturally bright room you wouldn't want to darken up too much, yet still love the look this one is for you.
Choosing lighter walls and floors in these soft grey colors, sometimes bordering on white is great for a sunny room. But don't forget your black details. Here an accent chair, a mirror, and a floor lamp, all in black, carry the room, adding that stunning edge to it.
Dark Grey and Black Combo Can Create That Industrial Look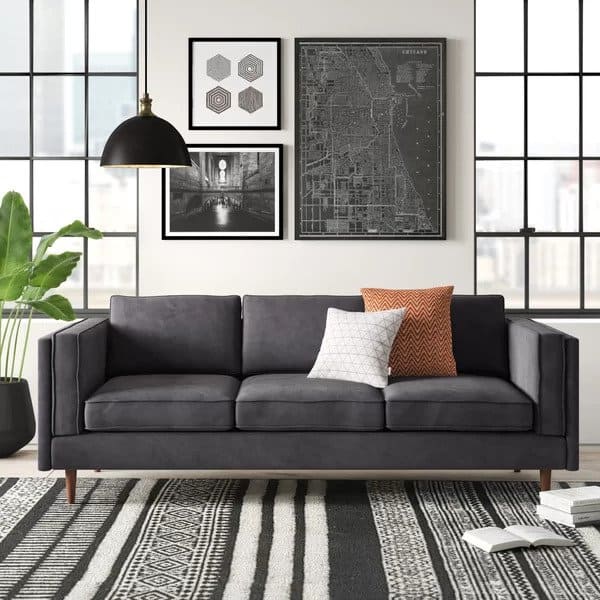 Another amazing thing about this color combination is that it allows you to experiment with style. For example, if you're into modern black and grey living room ideas, but you want to add a twist of industrial you absolutely can! And it won't look off in any way.
The industrial style is famous for its metals, while the modern look is famous for its sleek designs. And black and grey are powerful color choices for both of those. They can be easily used to create cohesion between elements of different styles. And voila, you got yourself a unique new living room.
An Accent Wall Is All You Need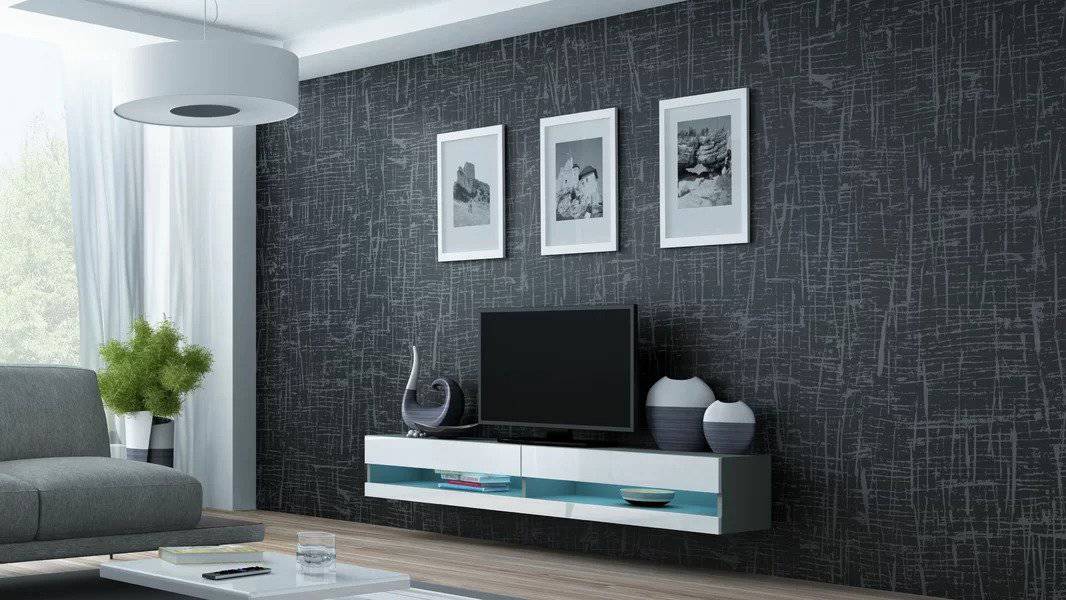 Sometimes you might feel like your living room is lacking, even if you have all the right furniture. The easiest way to add some flair to it, especially with this modern black and grey look is to create an accent wall.
This is a phenomenal example of an accent wall in a modern living room. The charcoal wallpaper with a scratched look looks edgy and chic, in all the best ways. It darkens the room, creating that glorious yet mysterious look a lot of people desire.
Summary
Black and grey are a fantastic duo. This color combination might seem like it's limiting at first. But it allows you to create a ton of different looks and aesthetics, while also retaining that chic look it always brings.
It's a color combination we wholeheartedly recommend! And we hope we inspired you with some of our favorite looks. Don't be afraid to experiment with shades and hues, and try out different looks until your find your winning black and grey combo. Best of luck!