Don Pedro Brooklyn is reader-supported. When you buy through links on our site, we may earn an affiliate commission. Learn More
What Color Rug Goes With a Red Couch – 15 Ideas
Choosing a rug can be one of the most challenging as well as fun tasks to do. Not only does it refine the overall panorama of your living room but also splashes a tint of color to play an accent. Mostly, if you're working with an existing living room setup, it is even easier to pick a dominant rug color.
However, unlike the neutral-toned couches, a red couch is not something easy to deal with. This bright and saturated tone has the tendency to pair with the most quirky hues. Don't believe it? Well, here is a list of the 15 best rugs that go with a red couch.
Multi-hued Geometric Patterned Area Rug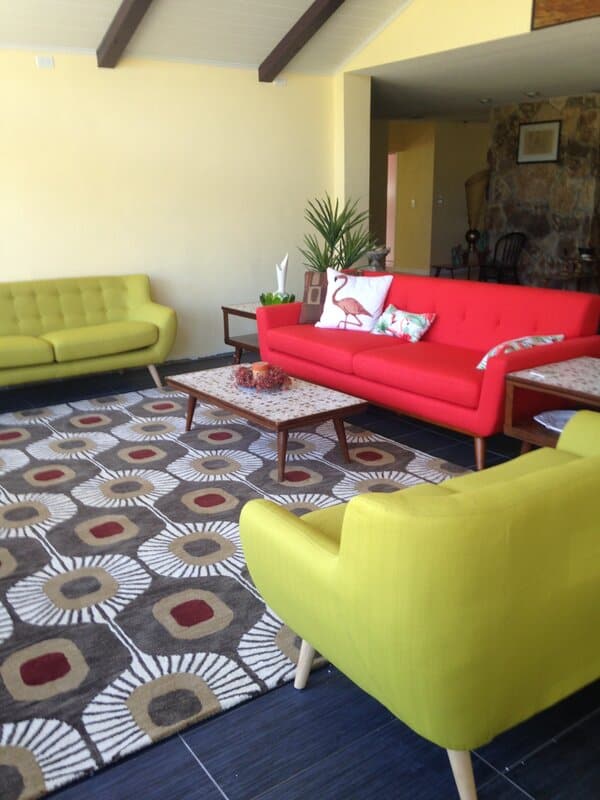 There are various faces of reds – from muted and subtle pastels to bright and saturated mahogany and vermilion. And with a wide array of these tones and shades, a given is a multi-hued geometric patterned rug that will never disappoint your red couch.
This gorgeous area rug is bound to introduce a sense of visual interest and depth to your living room. Moreover, the funky patterns and bold hues will play seamlessly underneath your bright and brilliant red couch.
Antique Oriental Area Rug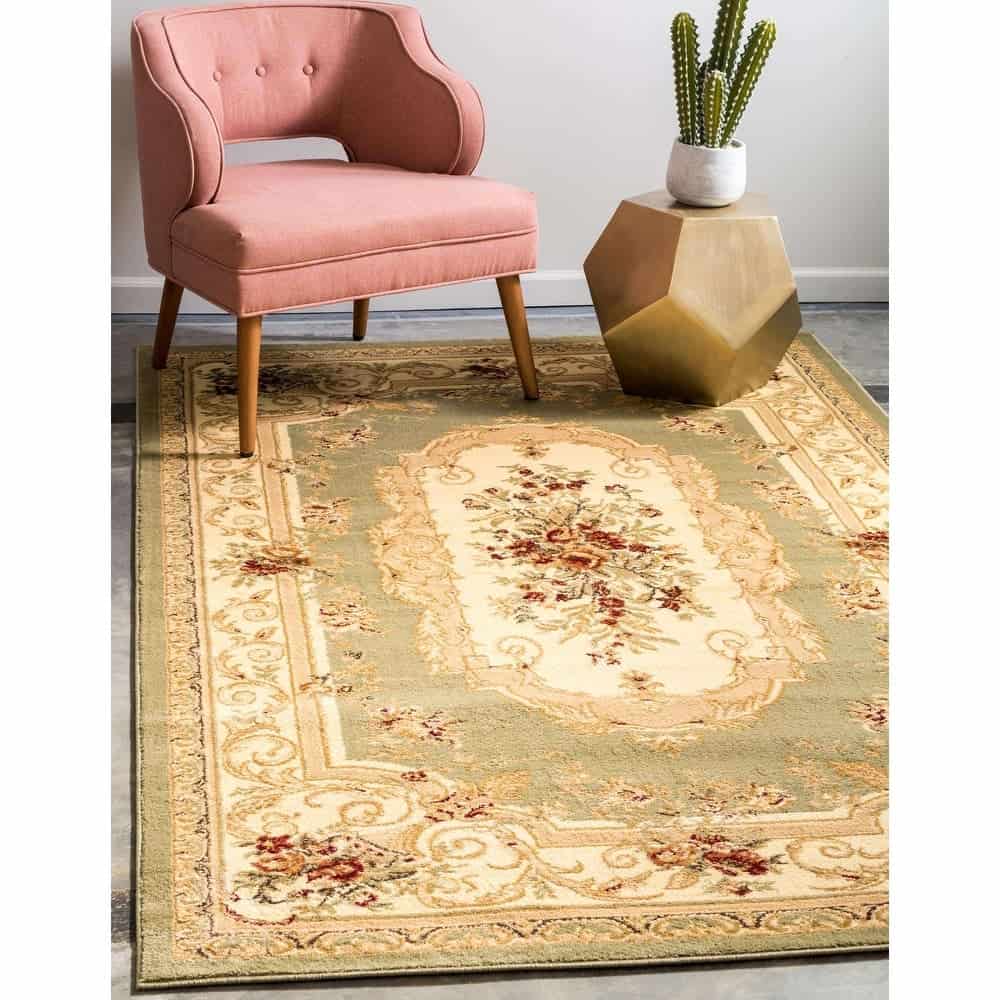 Bring a touch of French style to your living room by incorporating this antique Versailles Collection area rug. With a blend of green, brown, ivory, orange, and red – this area rug proves a great addition to the living room with a focal red couch. To further create a noteworthy palette, try adding throw pillows in tones of sage greens and ivory.
Rest assured, this area rug is a great investment and can be easily maintained and cleaned at home. And just in case you have kids and pets at home – using this rug will offer you tremendous benefits!
Animal Print Sheepskin Rug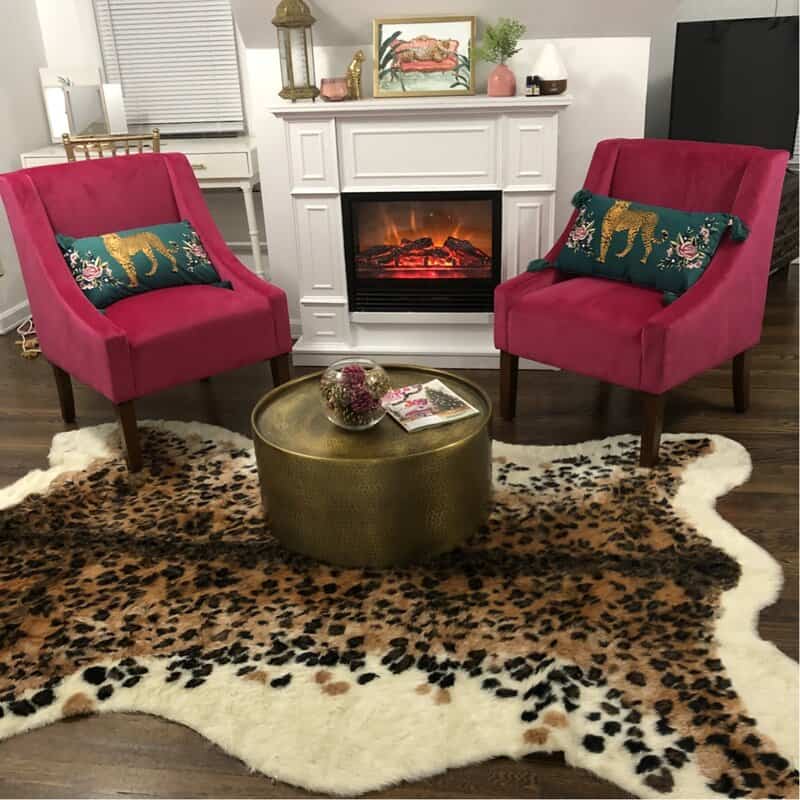 Chic, Glam, and trendy – this animal print sheepskin rug is a definite solution for your red couch. And especially for interior design styles such as Eclectic, Hollywood Regency, and Grandmillenial – it is quite eye-catchy and good to go!
There is something else as well that makes this combination so groovy! Do you know what that is? Well, you can also simply overload your space with ample other contrasting tones such as teal and mustards to play a Maximalist role!
Criss-Cross Shag Area Rug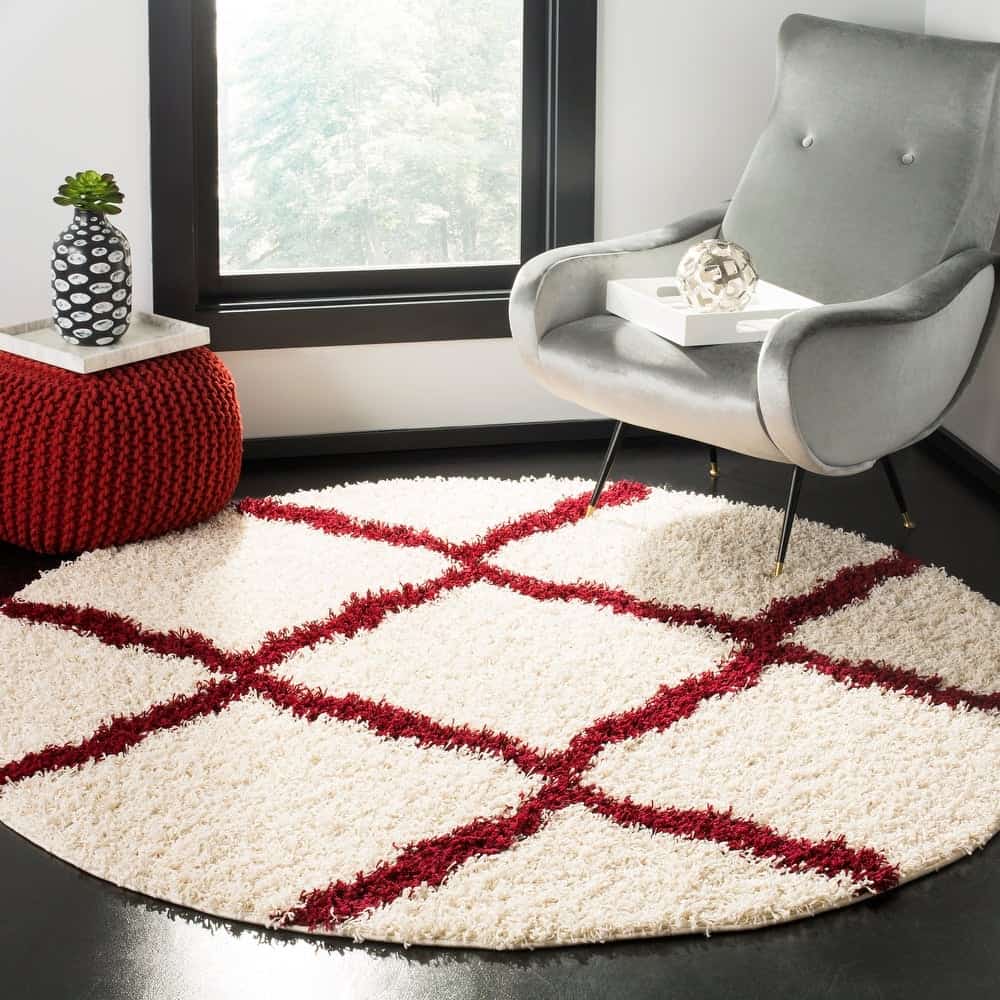 Create luxe, romantic, and a cozy appeal by adding this shag area rug that defines utmost comfort, sophistication, and warmth. With the criss-cross red-toned pattern on a neutral base – you're basically neutralizing the over-enthusiasm created by this warm-toned paint color.
It is stylish and casual – thus, great for transitional, traditional, and in some cases, mid-century backdrops. Also, don't forget to add a couple of white and off-white throw cushions and blankets on your red couch.
Blue and White Chevron Rug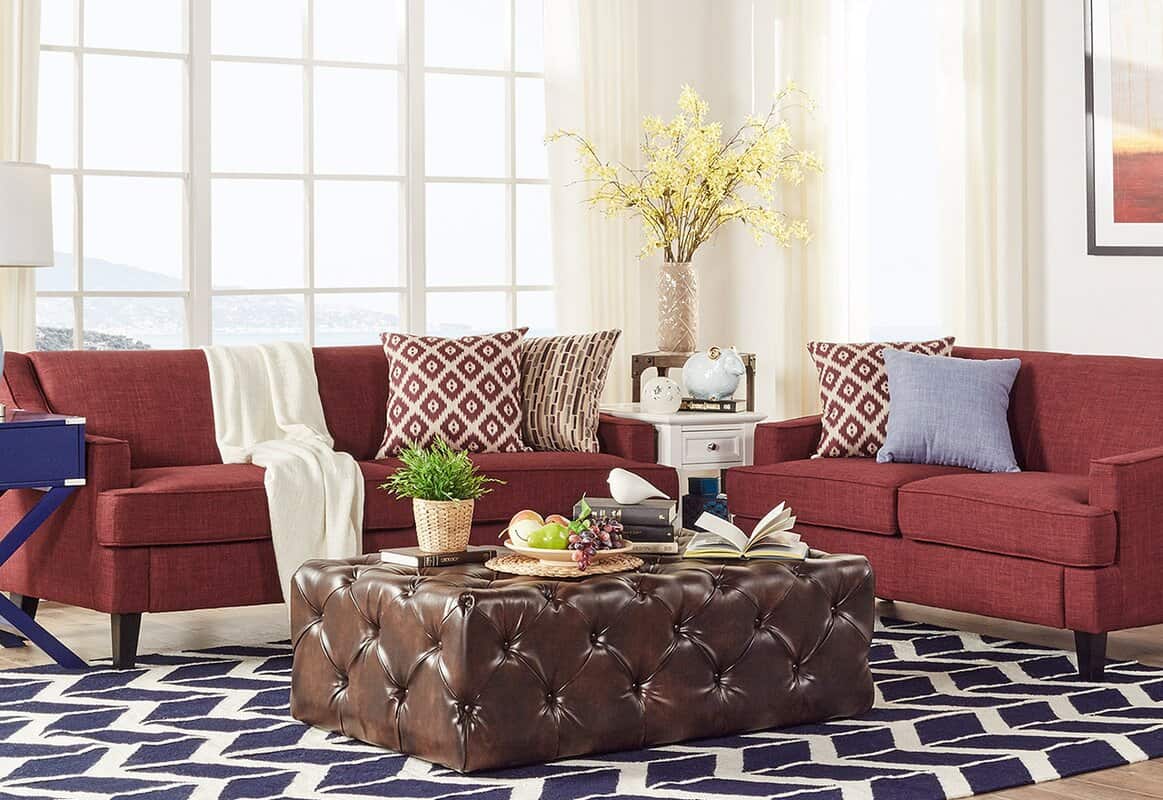 Red, blues, and whites make a great match! Opposing the hot reds with cool blues is a great way to introduce contrast and depth in your living room. Furthermore, even the whites play a vital role as they simply help the other two hues protrude and shine bright.
Using this magnanimous pair is even a better option in the traditional and eclectic setups. So, go ahead and have some fun pairing the opposites in your living room.
Modern Geometric Burgundy Rug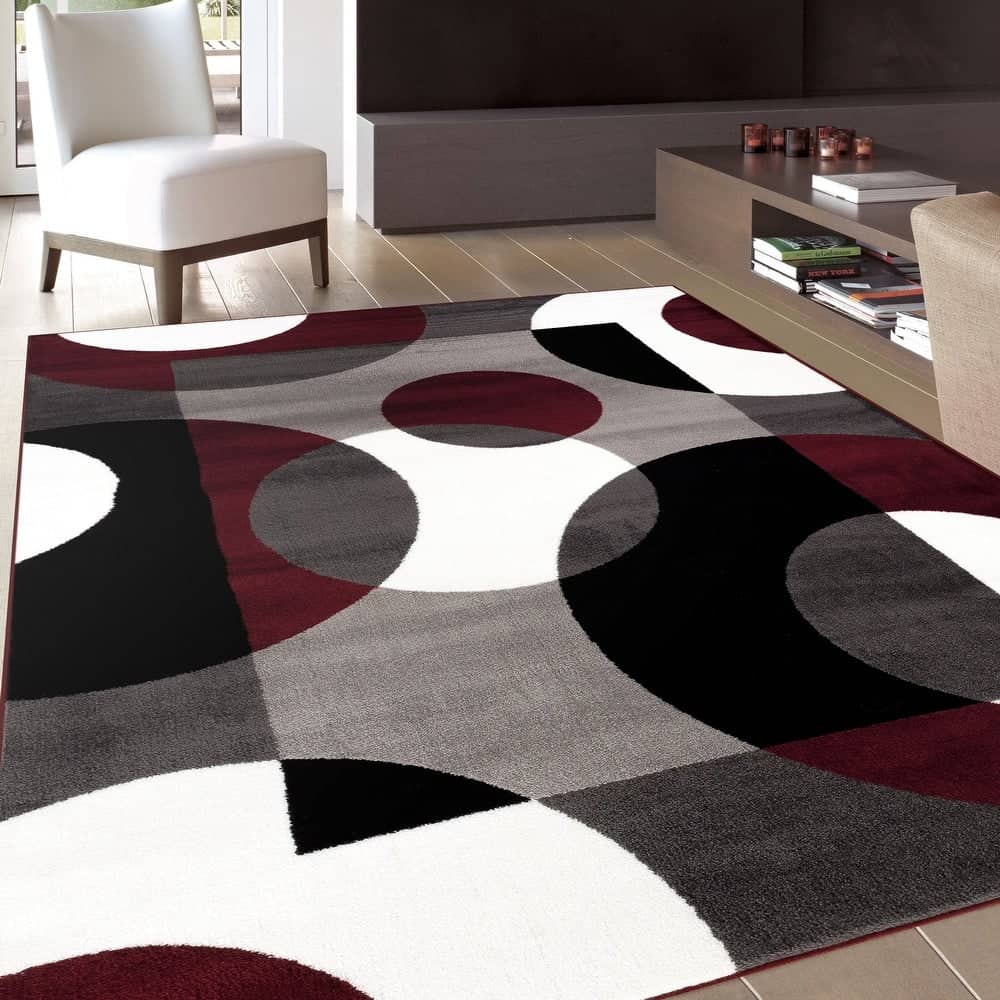 Surrender your living room with utmost vibrancy, vividness, and modern charm by introducing this burgundy geometric area rug. Especially suitable for the saturated and bold red tones, this match truly plays flawless and divine in any and every space!
Complementing the burgundy and red in your couch – grays, black, and white are further responsible for tuning the overall space. Also, if you want to create an illusion of a smaller space – this duo is a must to try!
Braided Boho Rug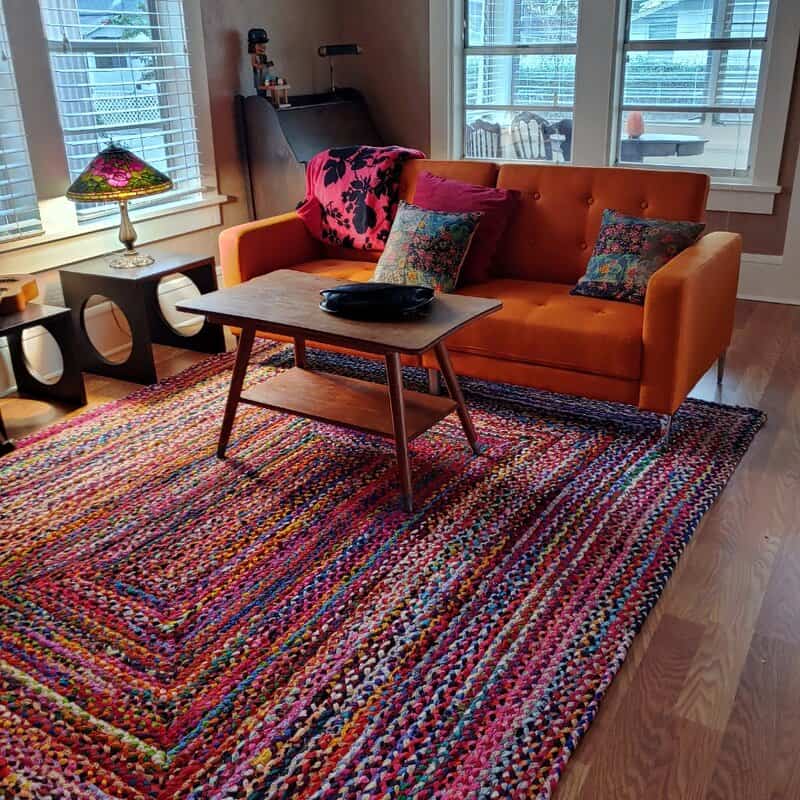 Even though the picture displays a slightly orangish-red couch, don't get confused! Trust me, your red couch will equally complement this eccentric bohemian braided rug.
However, the result can be quite overwhelming due to the presence of various warm hues – but you can always play creative and infuse cooler and lighter tones to subdue the palette. Secondly, since it's a low pile rug, you can easily use it in high-traffic areas without having to worry about maintenance!
Tribal Moroccan Shag Rug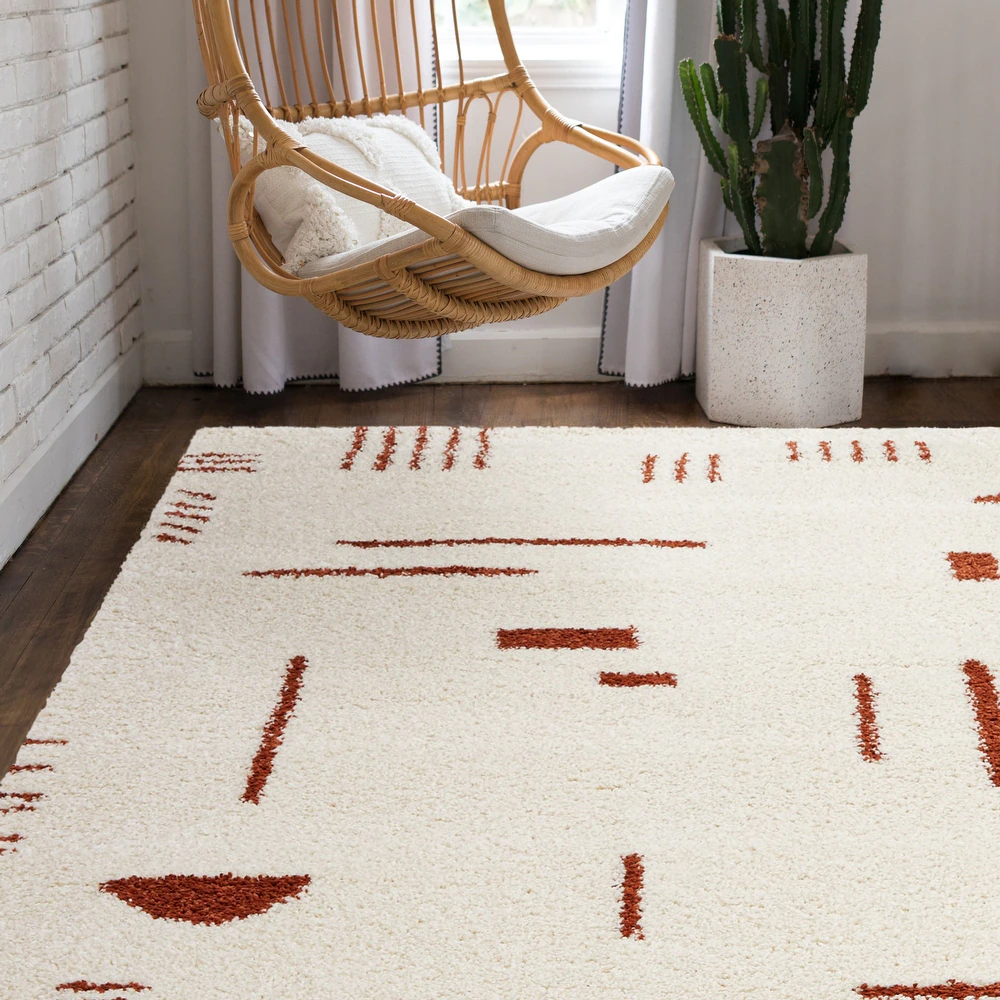 Sometimes, too much red can be overwhelming and uninviting. In that case, try incorporating an area rug that soothes the unwanted warmth and stimulates a calm effect, indeed. On the other hand, the intriguing patterns and geometry in this rug will create a perfect addition to the red couch.
This rug shares synonyms with comfort and coziness. The high pile and rich plush will exhibit a warm touch underneath your foot – thus, great for cold climates.
Woolen Ivory Rug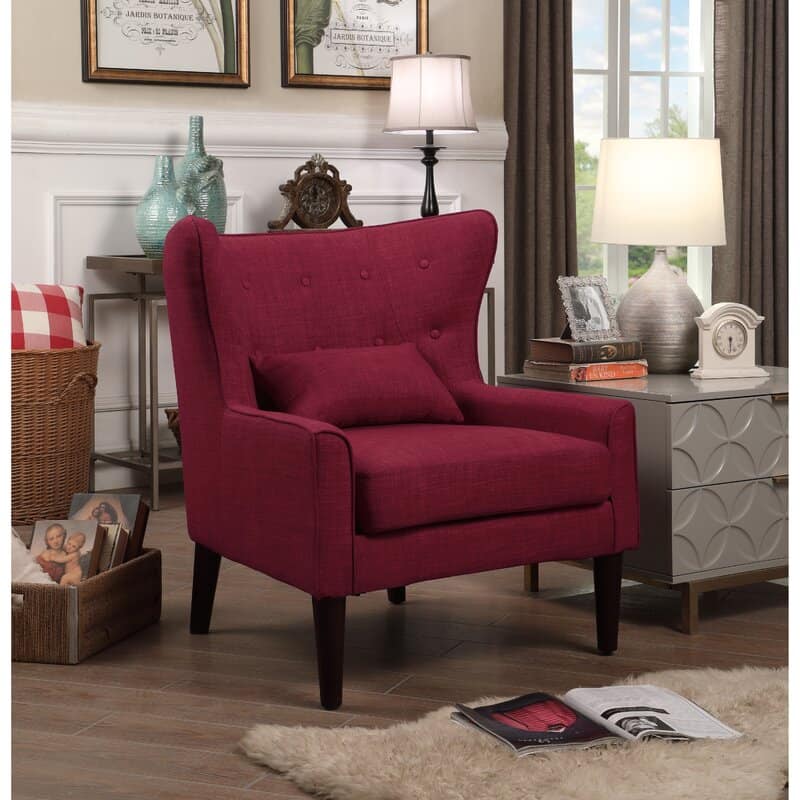 Create a soothing and calming effect in contrast with the hot red couch by introducing a simple woolen ivory rug. This is one of the most flexible and timeless ways to pair a couch that has such an eye-catchy and warm embedded hue.
Furthermore, this off-white shag rug will make your space look larger, cozier, and also welcoming! It can also be otherwise used in nursery, bedroom, and family rooms!
Gray Modern Abstract Rug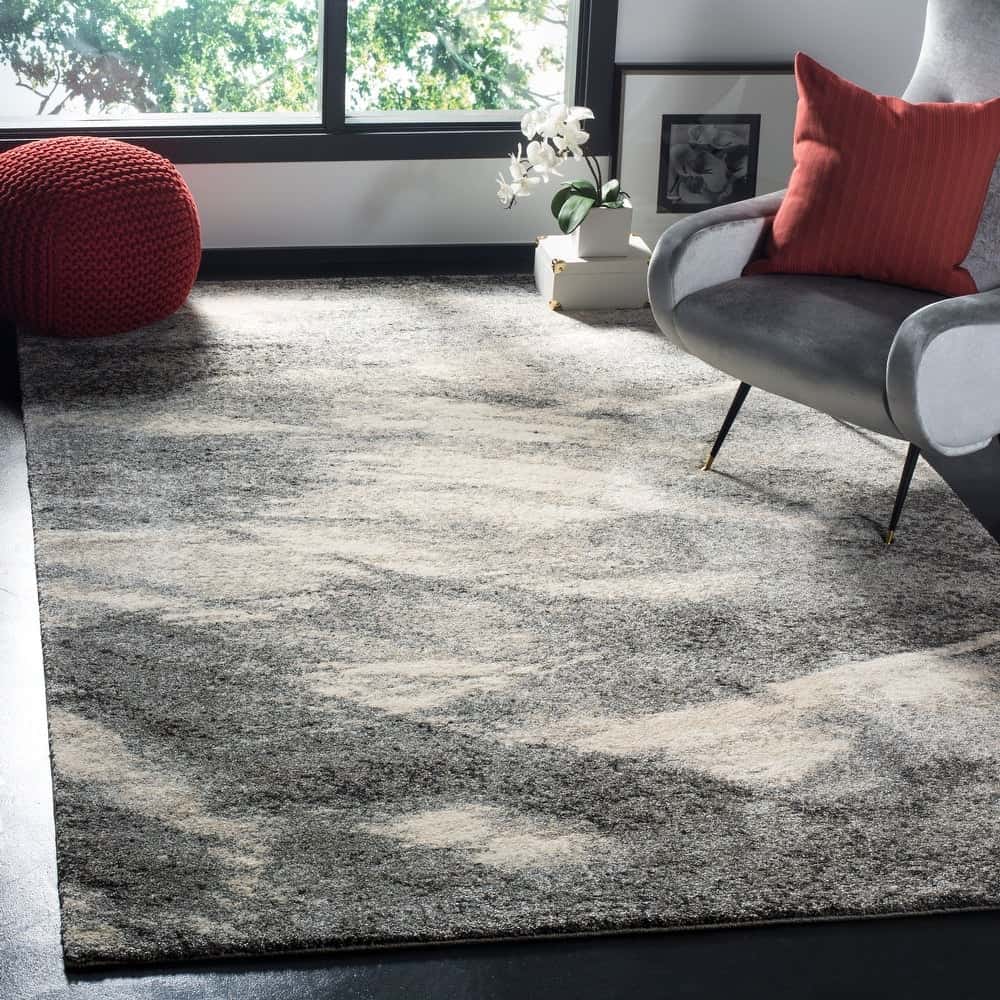 A gray rug will seamlessly work with your red couch. Well, it can play terrific both ways – firstly, as a subdued backdrop and secondly as not being able to steal the focal point. Whether you're opting for an analogous or a complementary color scheme with red – gray has the potential to do wonders in every picture!
With a tinge of light gray and off-whites, this area rug will foster harmony and a sense of balance in your room.
Peach Medallion Rug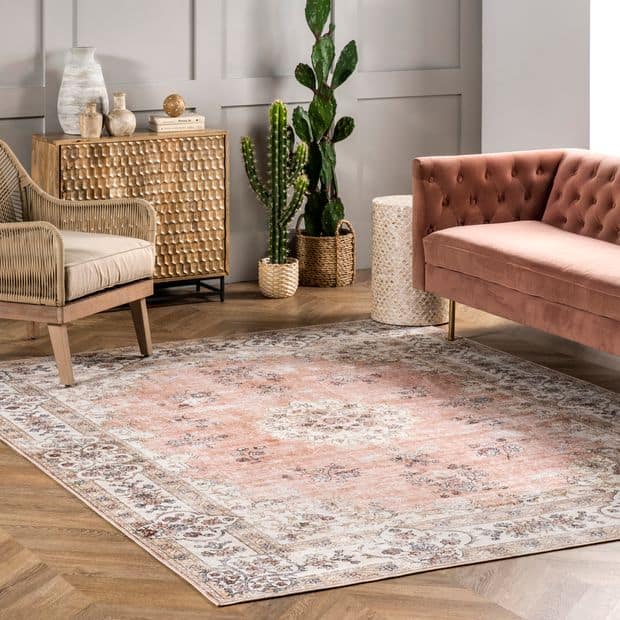 Peach and pinks are the farthest cousins of red. They have a muted and subtle tone that exhibits utmost tranquilizing and soothing vibes in a room. Likewise, regardless of the shades of red – this peach medallion rug will play flawless and fabulous in all the conditions.
It gives a perfect Persian cultural feel to a space. Defining the vintage era, you must use this area rug for Shabby Chic, Farmhouse, and Traditional interior design styles.
Natural Jute Area Rug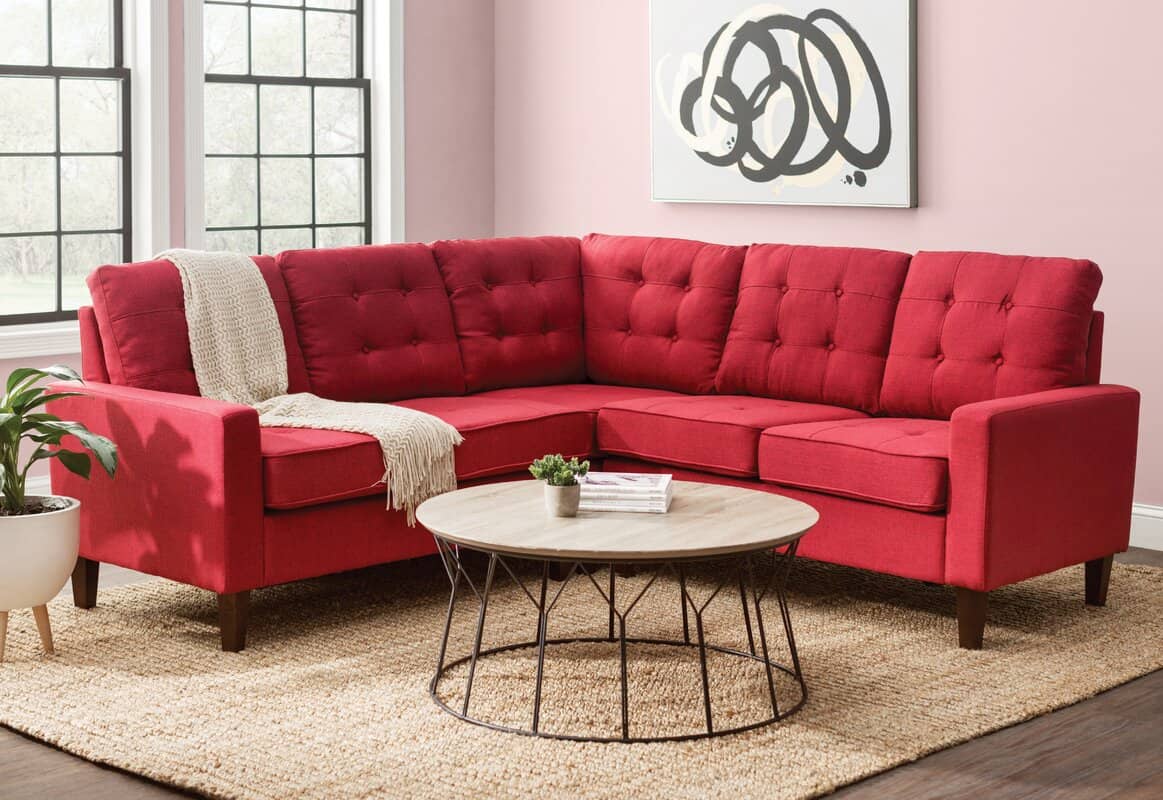 Jute and sisal natural rugs play one solution for all. So, whether it is your burgundy couch or blush, vermilion, crimson and maroon – placing a natural jute area rug will complement your style and theme.
Another great advantage offered by this rug is absolute flexibility and easy maintenance in terms of use. Due to a low pile, you can absolutely incorporate them in the high traffic areas.
Striped Tufted Rug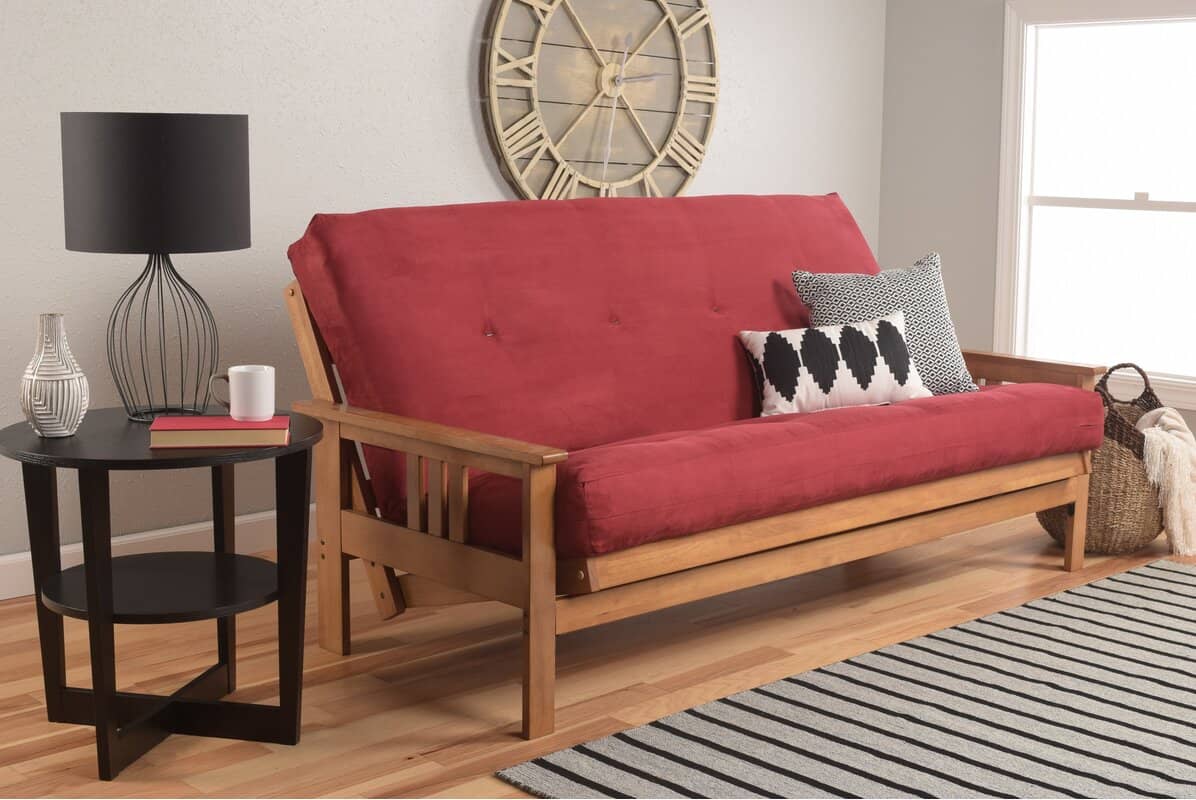 There's a trick to incorporate stripes with a red couch – well, ensure to use a lot of it! Remember to also throw some of these patterns on the throw pillows and even your curtains and focal artwork!
The best colors for these stripes are monochromatic grays, black, and white! This way, your space will always feel timeless and refined.
Style with Light Green and Sage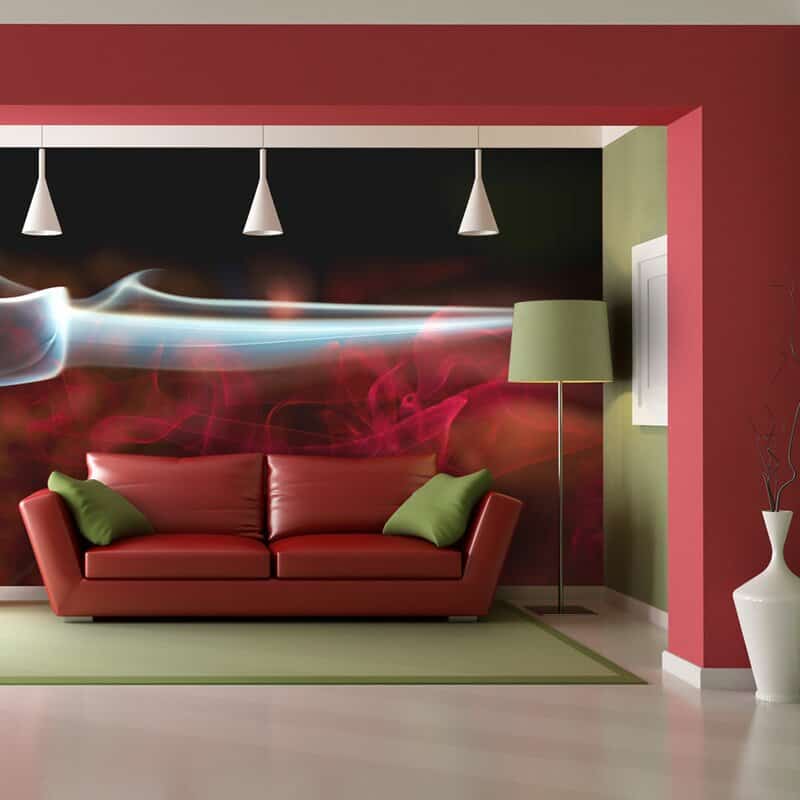 Who says reds and greens don't get along? Well, they absolutely can – as far as you creatively play with their tones, tints, and shades! In particular, you can try blending reds with various tones of sage greens and grays to create a 'wow' effect!
This green rug has a border to further demarcate your living room space!
Multicolored Oriental Area Rug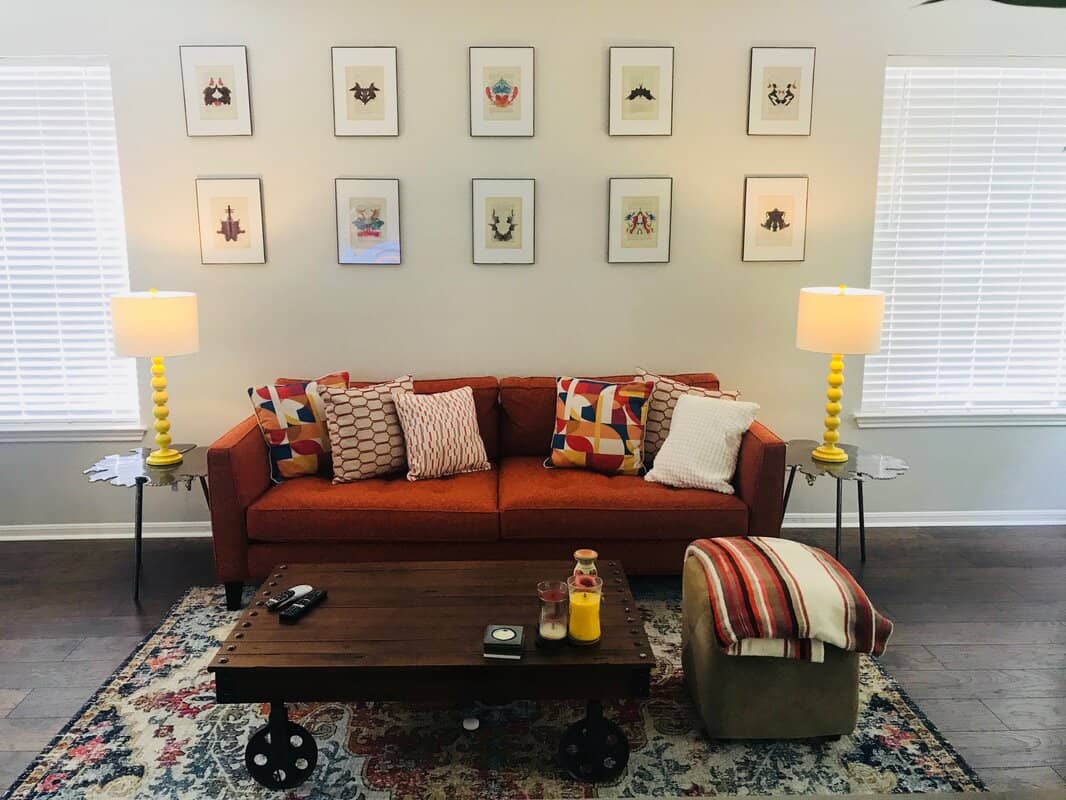 Lastly, don't hold back from using a multicolored oriental rug that adds a character while sparking a sense of joy and heritage in your space. This is also a great way to infuse interesting colors, patterns, harmony, and symmetry!
Summing it Up
So, are you now wondering how easy it is to choose area rugs for your red couch? Well, you must adorn simplicity by pairing your red couch best with woven natural rugs, gray rugs, and monochromatic black and white rugs!
However, for an artistic touch – go ahead and incorporate slight tones of red in your rug! This will blend your entire room into one picture!