Don Pedro Brooklyn is reader-supported. When you buy through links on our site, we may earn an affiliate commission. Learn More
15 Beautiful Farmhouse Backsplash Ideas
A farmhouse kitchen will predominantly be ruled by a warm color palette, rustic floating shelves, fancy dinnerware, reclaimed wood, and fresh greenery. Even though it's all about the authentic ranch charm, farmhouse style still craves that welcoming and relaxed feel. So, when infusing the rustic style and vibe, there's no better way to begin than carefully picking a backsplash.
There are endless backsplash ideas to pair that shiplap with – from rustic and reclaimed wood-looking tile to clean matte herringbone patterns. Don't worry – we have got you covered! Let's have a look at these fabulous 15 farmhouse backsplash ideas to help you design that perfect dreamy kitchen.
Ceramic Subway Tile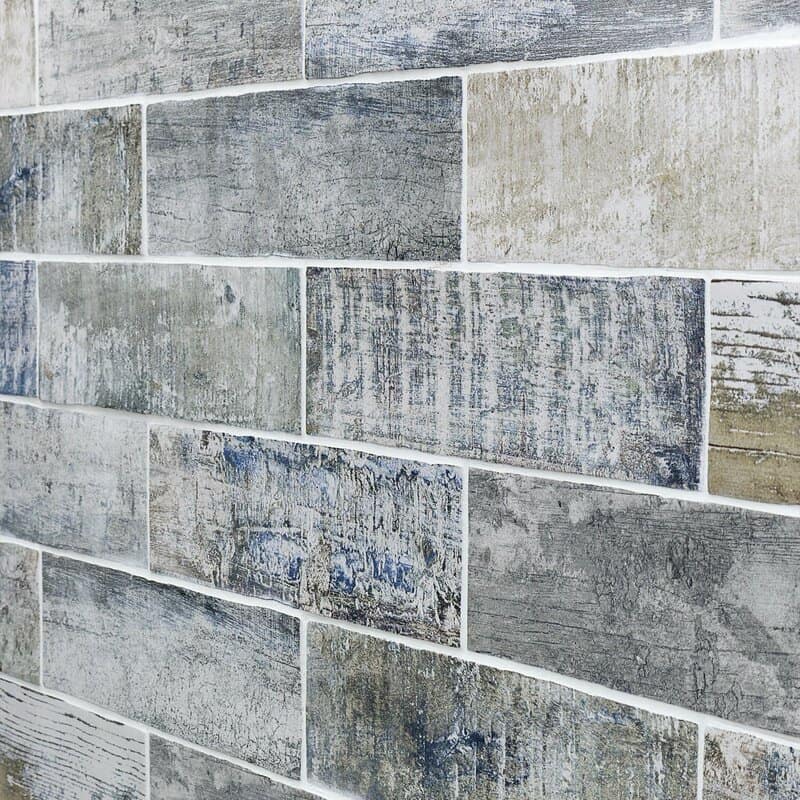 Amalgamating the Rustic with traditional and modern, this ceramic tile can play a great element as your backsplash. With deeply hidden blue and brown hues, the tile even tends to add that visual character and color to the farmhouse kitchen.
Moreover, be rest assured that you need not worry about dirt collecting or food spills. This tile is totally stain-resistant and quite easy to maintain!
Geometric Patterned Backsplash Tile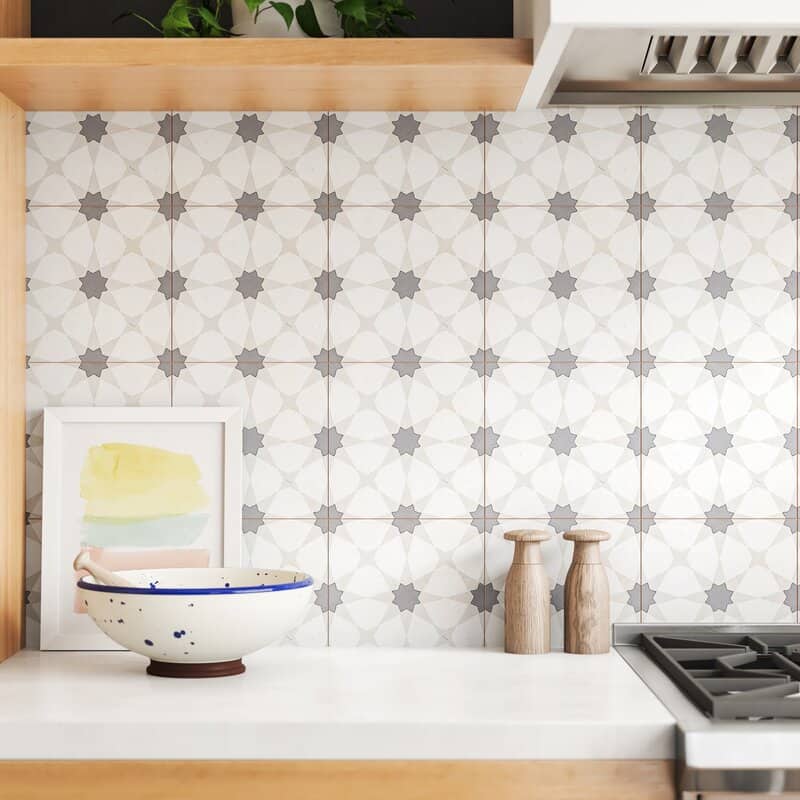 It's time to pair the barn doors and antique lighting with this geometric patterned backsplash tile. Even though it doesn't feel too rustic and industrial, the tile when observed through a bigger picture will feel quite in-place and cohesive.
This backsplash tile is a great investment since it's quite durable, maintainable, and easy to clean. If you're looking for a tile to add interest and detail to your space without overwhelming it, your search is over!
Stone Mosaic Wall Tile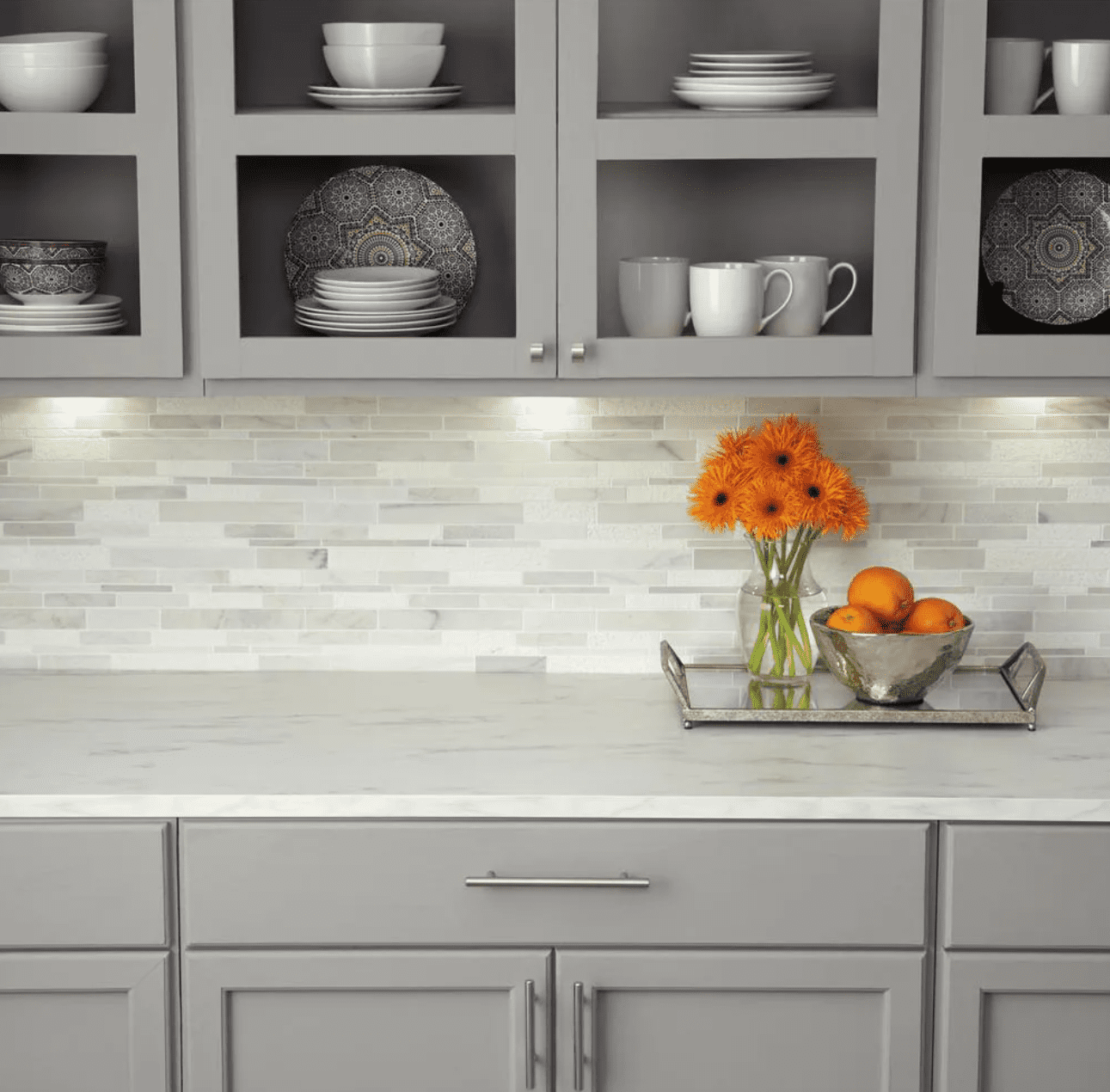 This unglazed natural stone finish has a low sheen and gloss to absolutely complement your farmhouse style backdrop. It's classy, timeless, and extremely durable – and you would never have to worry about the tile going out of style.
This tile has a hidden gray undertone to help create a lively ambiance in your farmhouse kitchen. And since it's an antonym of modern and minimalist – you must not give it a second thought!
Crisp and Clean White Kitchen
A white kitchen is the ultimate symbol of a timeless farmhouse backdrop. And it is even better when you pair that clean combination with wooden textures on floating shelves, hardwood floors, and exposed beams.
In addition to this sophisticated and elegant background is the white granite countertop, brushed brass or gold fixtures, and white cabinetry systems. These white tiles are classic, classy, and extremely durable – and you can easily detect any collected dirt or food splash.
Natural Stone Herringbone Tile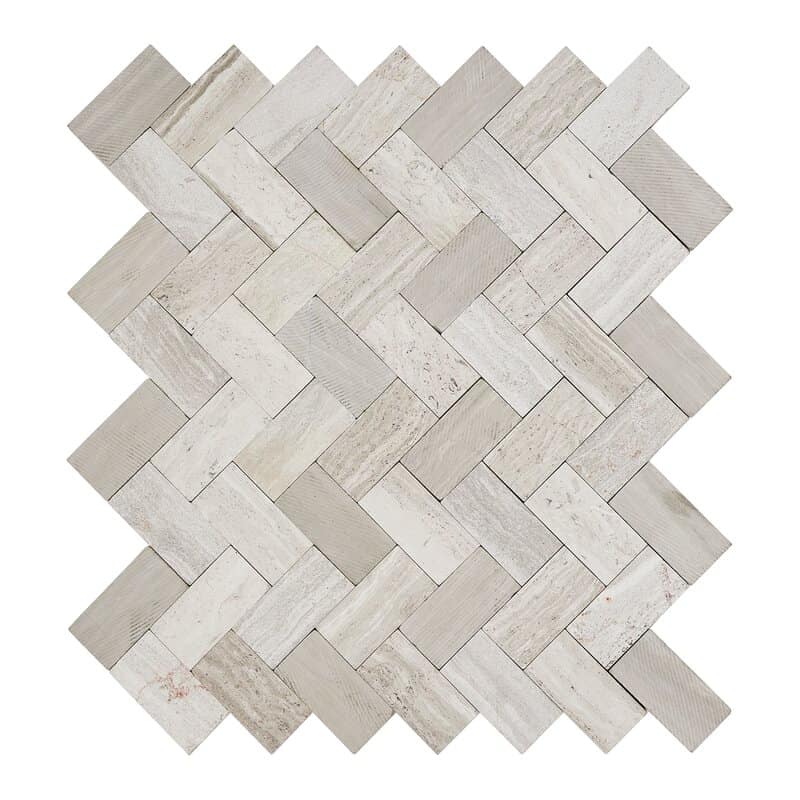 Simpler stone-looking tiles in interesting patterns are something your farmhouse kitchen will embrace. And when it's herringbone, there's no second thought. So, incorporate this pattern and hue and pair it with warm-toned cabinets and countertops to reveal a countryside feel.
Not only will this pattern infuse a sense of interest and detail but also make your farmhouse kitchen look absolutely fabulous! If not this contrast, you also have the opportunity to choose clean and super whites on the herringbone.
Chevron Marble Tile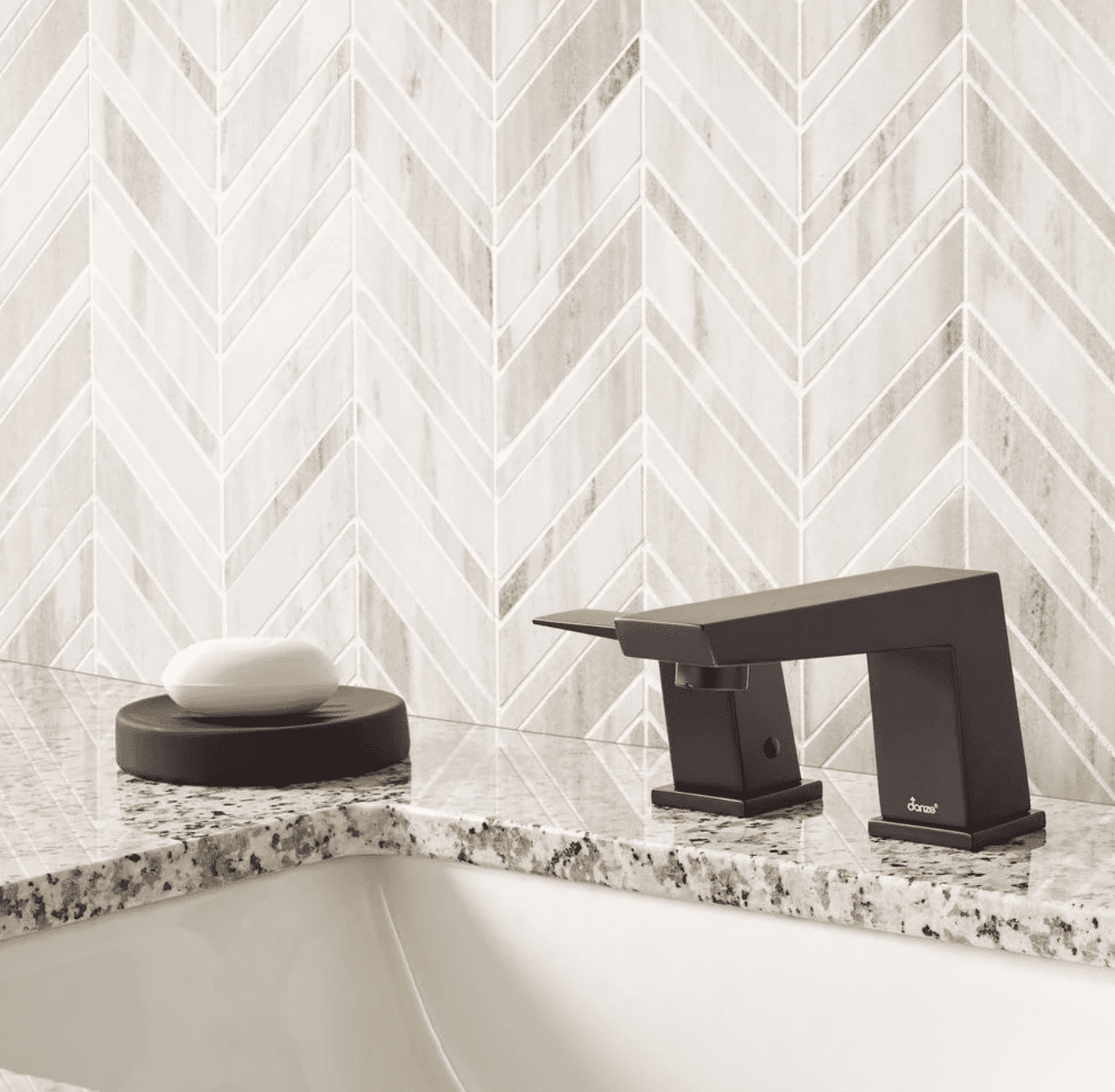 If you are not mesmerized by the herringbone pattern, you have the option to choose a chevron that's equally intriguing and eye-catching. The farmhouse style adores the feel of vintage and countryside, and this rustic tile will equally live up to it.
With this notable tile pattern, you can add splashes of white and warm whites, along with nickel or brass to further complete your palette.
Ceramic Wood Look Tile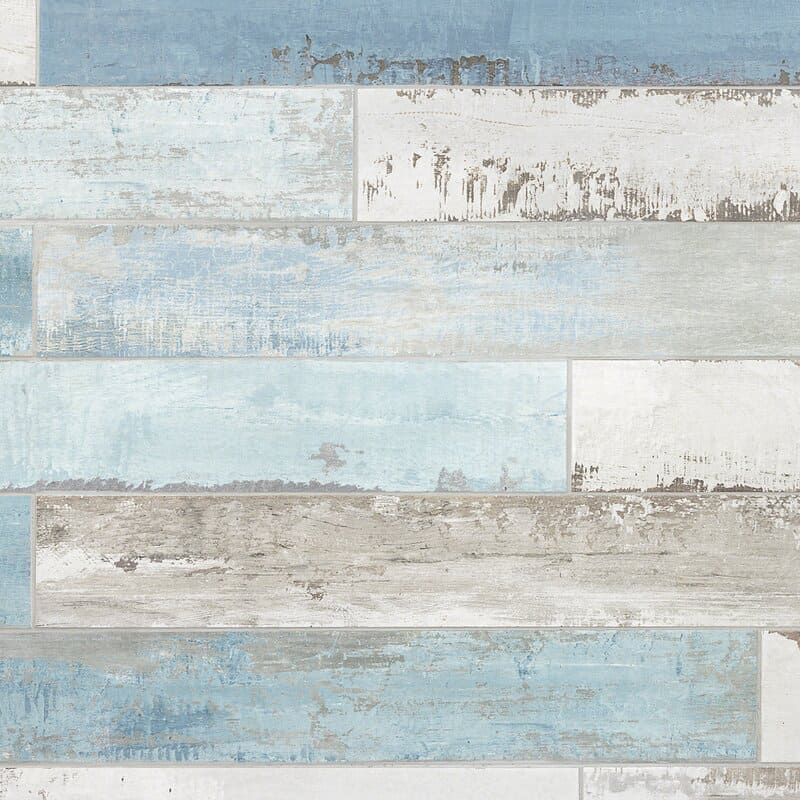 If you love the feel of deep crystal blues and a perfect countryside feel, this wood-looking tile is something to look forward to. With a rustic, matte finish – this tile will evoke a sense of weathered and distressed appeal.
This modern farmhouse backsplash will transform your kitchen into absolute bliss. Plus, if you want to have a beachy vibe, this vintage tile is your solution!
Brick Crema Farmhouse Backsplash Tile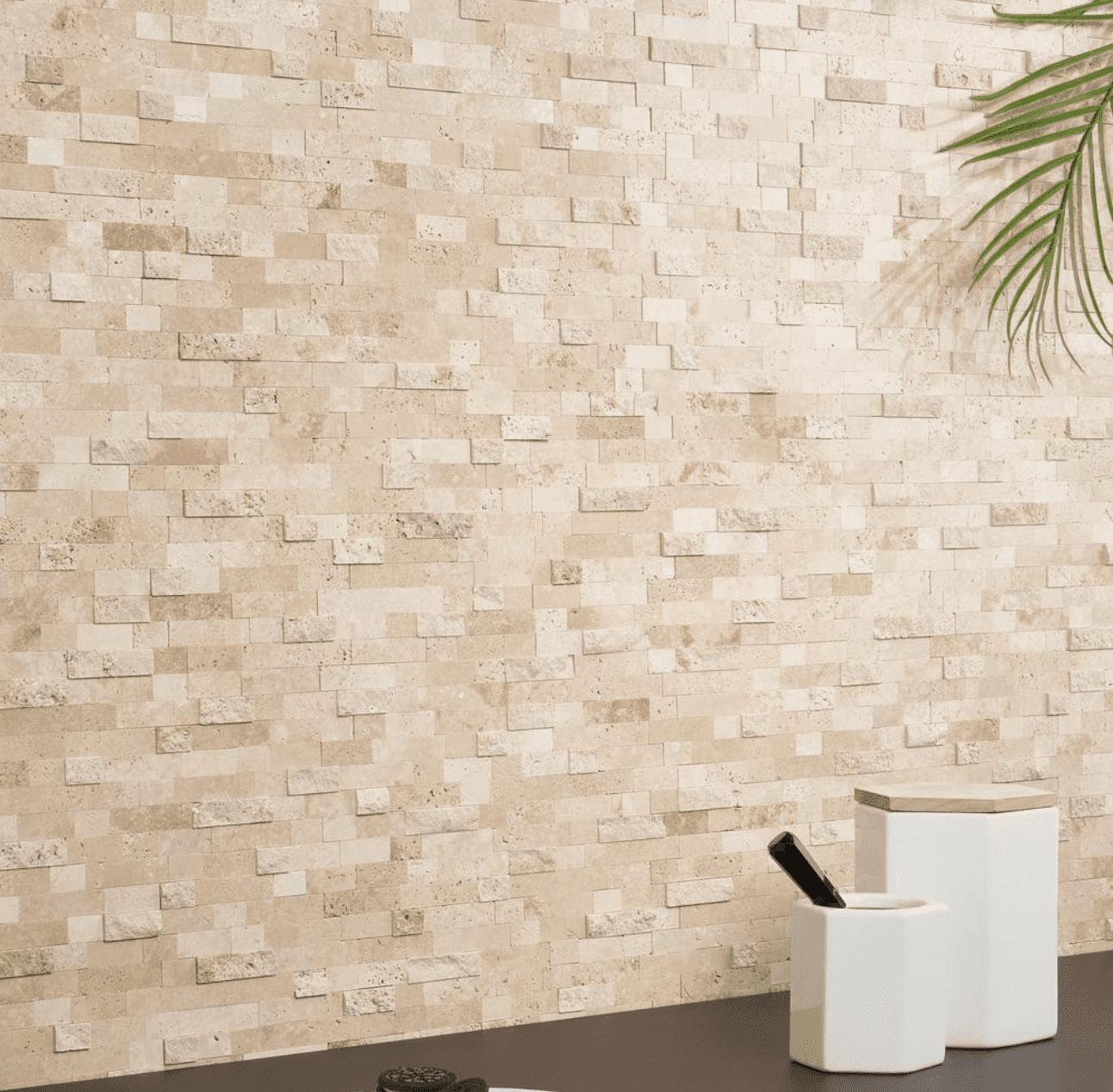 This neutral beige backsplash looks phenomenal with white, brown, or wooden cabinets. They offer a three-dimensional appearance that makes a dashing statement in your modern farmhouse kitchens.
Moreover, it's best to pair them with glass jars, vintage signboards, and rustic warm and wooden textures. Lastly, don't hold back from wicker and cane accents on the lighting fixtures and other decorative accents.
Frosted Quartz Stone Backsplash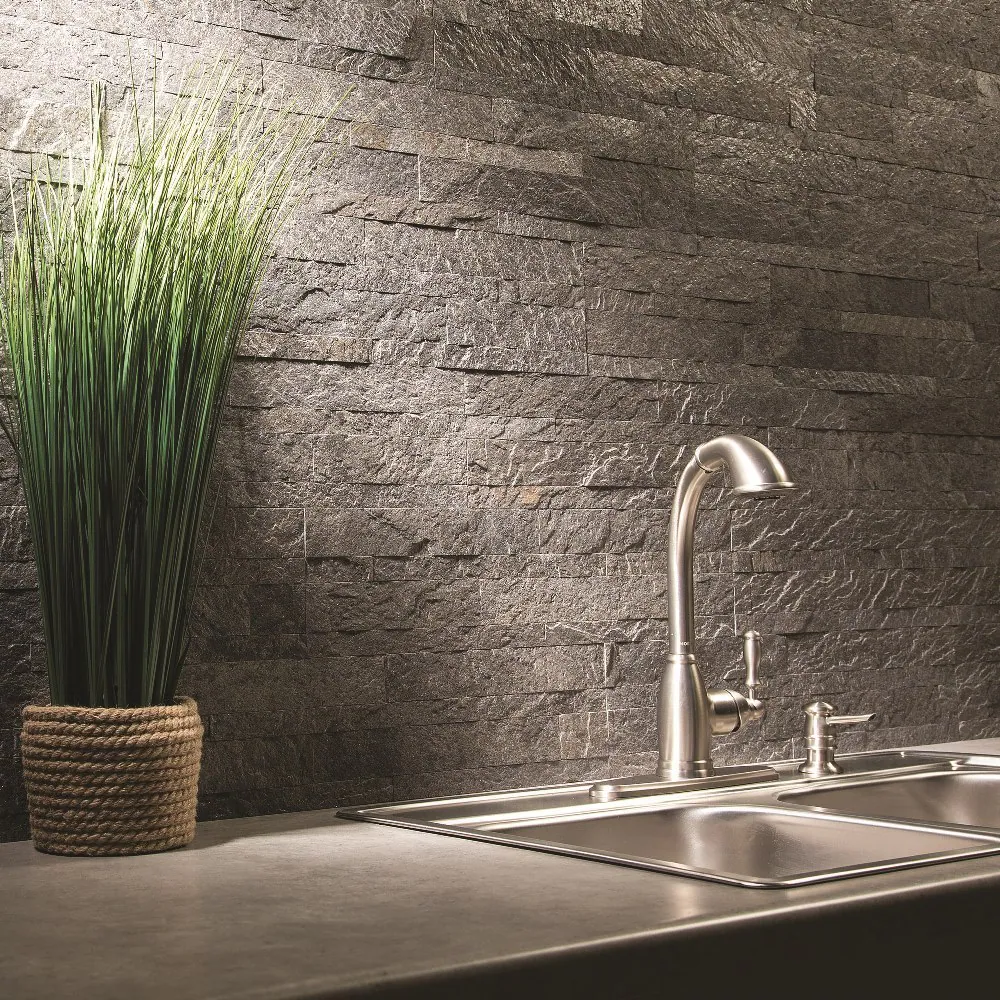 It's time to get the real look of stone without really creating the mess – with this authentic vintage-style backsplash. This low-maintenance product exhibits a true farmhouse look to make your kitchen look chic and quite savvy!
Moreover, keep in mind that this piece of tile could be too bold for your space. Hence, pair it with a lighter-toned countertop, floors, and cabinets to create a sense of balance.
White Mesh-Mounted Tile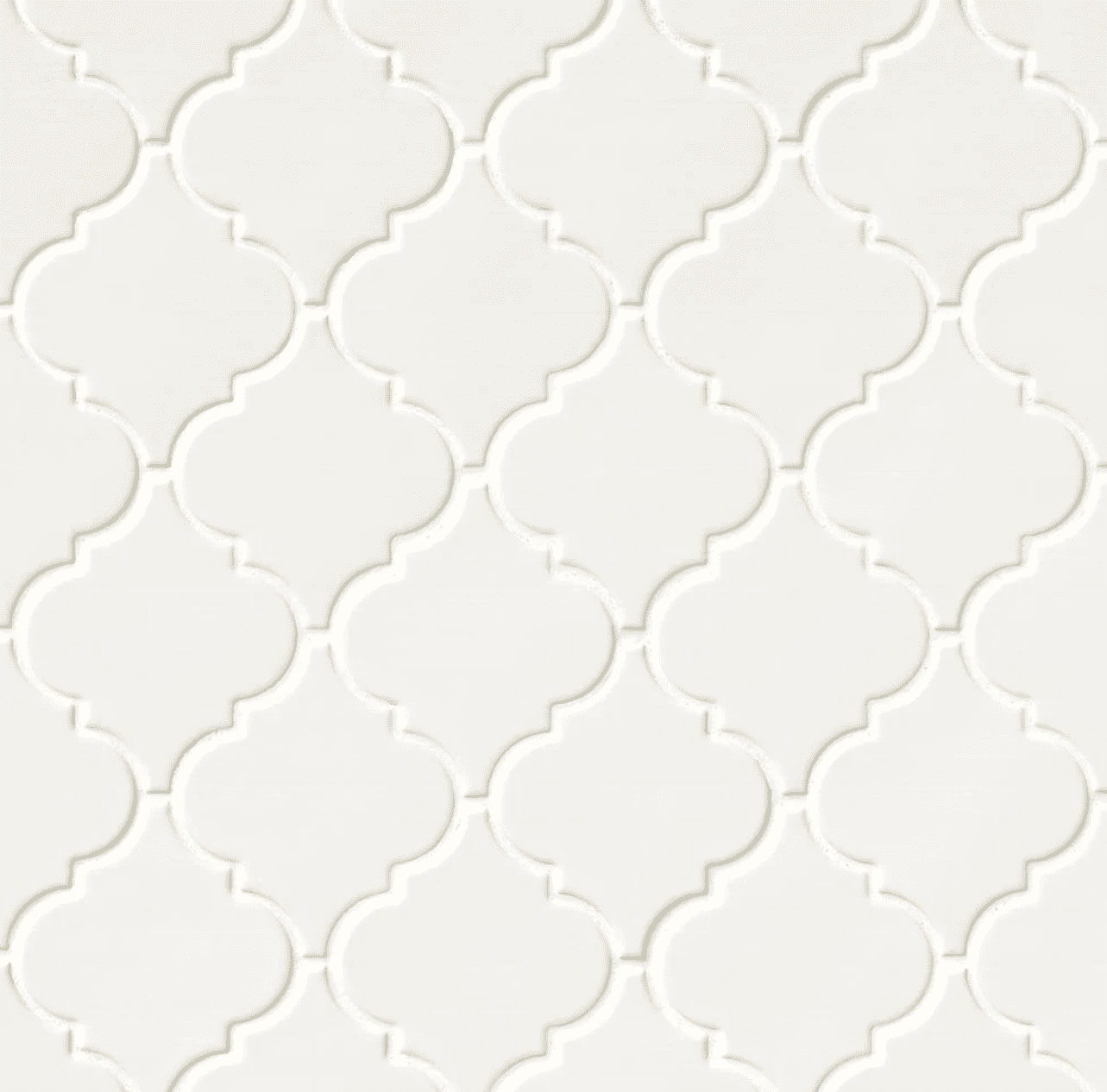 If you embrace simplicity and still want a touch of visual interest in your kitchen – this white patterned tile could be your answer. Even though this tile exhibits a slight sheen, it makes a great contrast to your adjacent distressed and rustic finishes.
With a little absorptive value, it is almost very easy to clean and wipe the food stains and splashes. Moreover, it's a great value for money (if you're on a budget)!
Sicile Gray Backsplash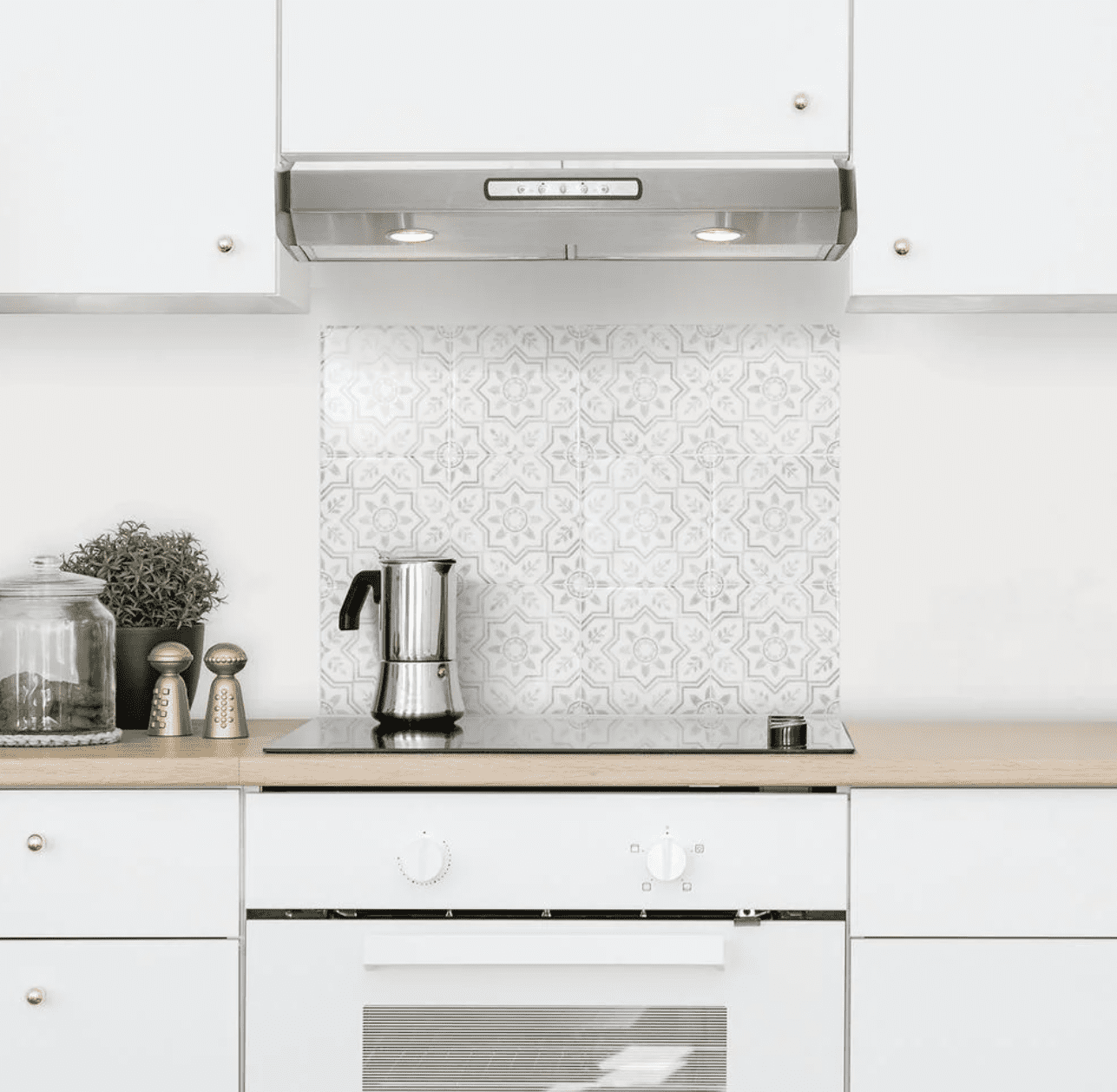 A focal backsplash with this pattern has the power to transform your kitchen into a country-side bliss. A little refresh here and there will definitely take it a much longer way. And especially if you have antique vases and ceramic platters to style, this tile is pretty much good to go.
The embedded neutral tone creates a sobre effect – thus, helping your countertop and cabinets shine out bright!
Rustic Stone Farmhouse Backsplash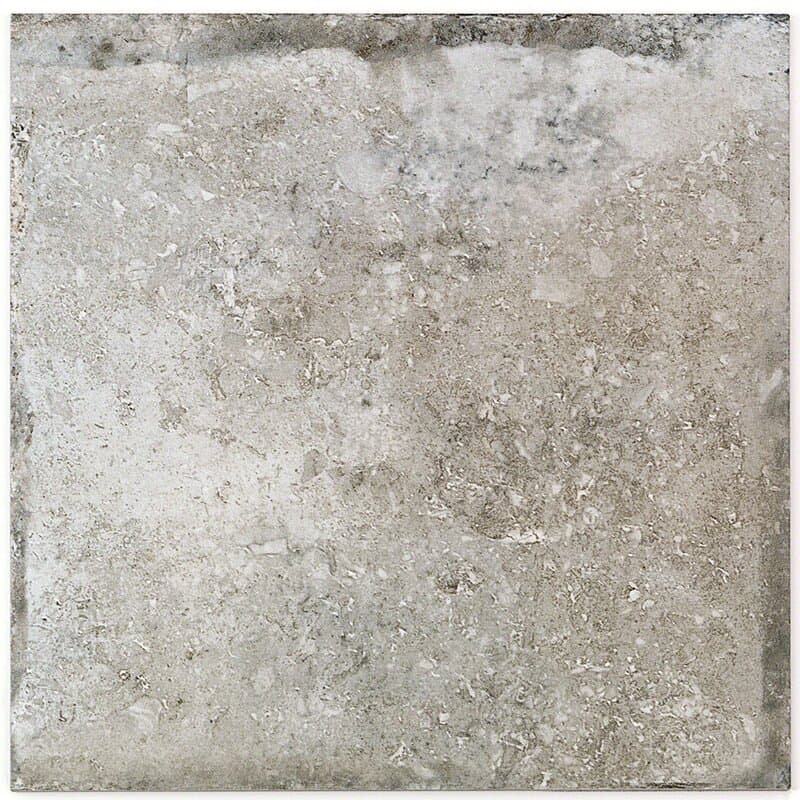 Think about antonyms of glam, sheen, and glossy when picking backsplash tiles for a farmhouse kitchen. Yes, since it admires a raw and distressed feel of the materials – it's important to specify something likewise.
From a wide array of tiles discussed earlier, this is one of the most authentic and rustic! Although, you must keep in mind that cleaning and maintenance can sometimes become an issue.
Elongated Porcelain Tile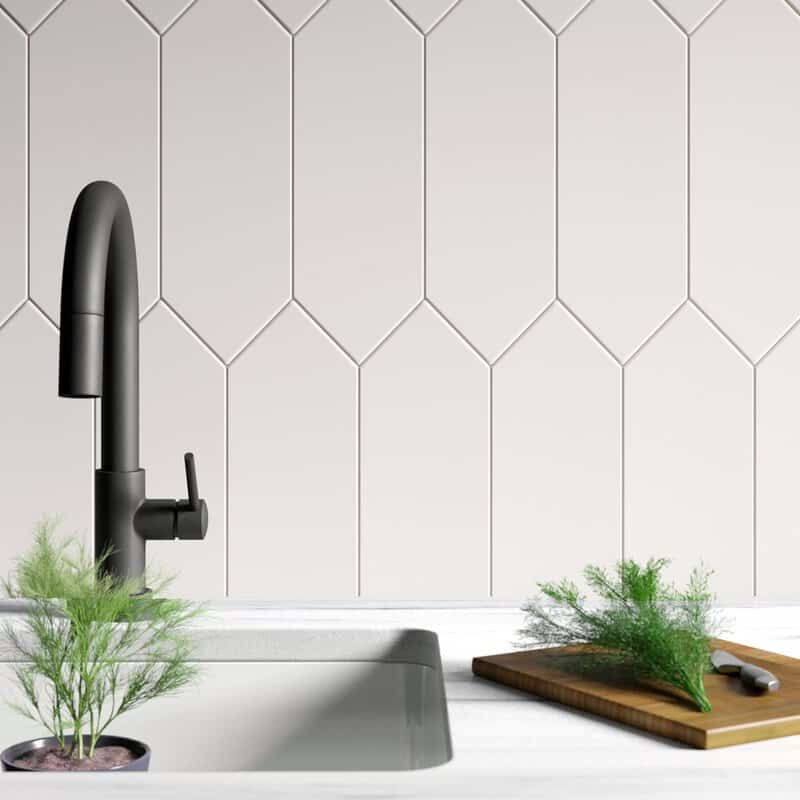 Little details can add charm to your kitchen – and when it's about farmhouse decor, you simply can't hold back from this elongated hexagon backsplash tile. Apart from imparting a sense of distinctiveness, this tile acts as a major source of attention and aesthetics.
You can further pair it with rustic whitewashed cabinets and warmer-toned countertops to feel the true style of your farmhouse kitchen.
Rustic Farmhouse Backsplash Tile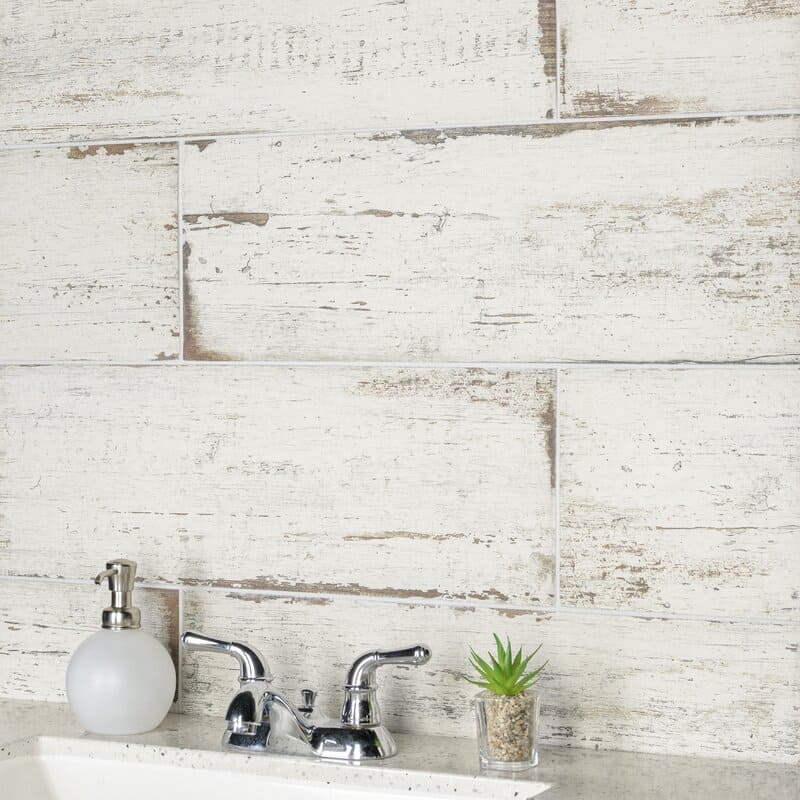 You can simply not ignore this backsplash tile when picking alternatives for your farmhouse kitchen. Yes! This tile has a notable distressed and rustic look – and when you pair it with wooden shelves and barn-style windows and doors – the result is even more spectacular.
This tile is impervious and wouldn't absorb any liquids and food splash! Amazing, right? You're getting the best of both worlds!
Granada Wall Backsplash Tile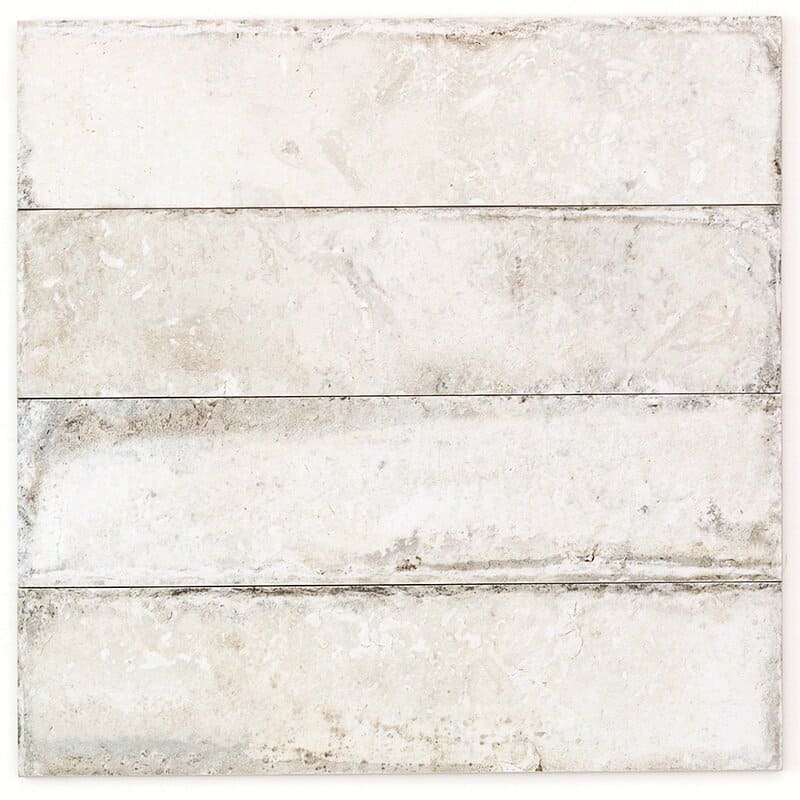 Sharing synonyms with the countryside, rustic, and farmhouse – this vintage-style backsplash tile defines utmost simplicity and authenticity. These elongated rectangular tiles mimic the appearance of shiplap to give your kitchen walls a perfect farmhouse makeover.
With a warm-tone base, this backsplash plays phenomenally with your warm and cozy farmhouse kitchens. So, don't hold back and get this tile on board to let your kitchen speak your style!
Summing It Up
Choosing a farmhouse country kitchen backsplash isn't too challenging. You must remember to think vintage, barn-style, rustic, and authentic when looking to pair one. Meanwhile, avoiding too much gloss and sheen is what you must follow!
So, is it easier to pick a farmhouse backsplash tile for your kitchen? Or maybe your bathroom shower area? Well, do let me know your thoughts in the comments below!