Don Pedro Brooklyn is reader-supported. When you buy through links on our site, we may earn an affiliate commission. Learn More
White Kitchen Designs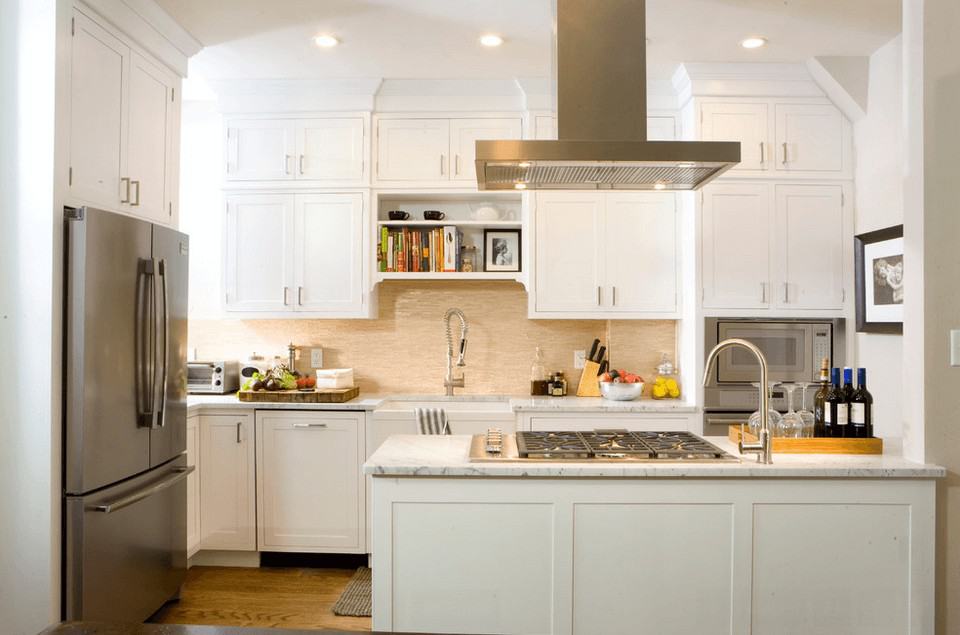 White has always been every homeowners' favorite of colors. The reason behind that is simple; it doesn't only make the space looks neat but also elegance at the same time.
Those two opposite elements are hardly mingling, but somehow white can pull it off.
White is often used for the living room, which in western countries is usually connected to the kitchen and dining area, making a big open space at once.
To be more specific, a kitchen that is painted in white gives a luxurious European feeling. In white, the kitchen looks more appealing.
To reassure you, here are 30 ideas of the white kitchen designs that might amaze you.
Off White Kitchen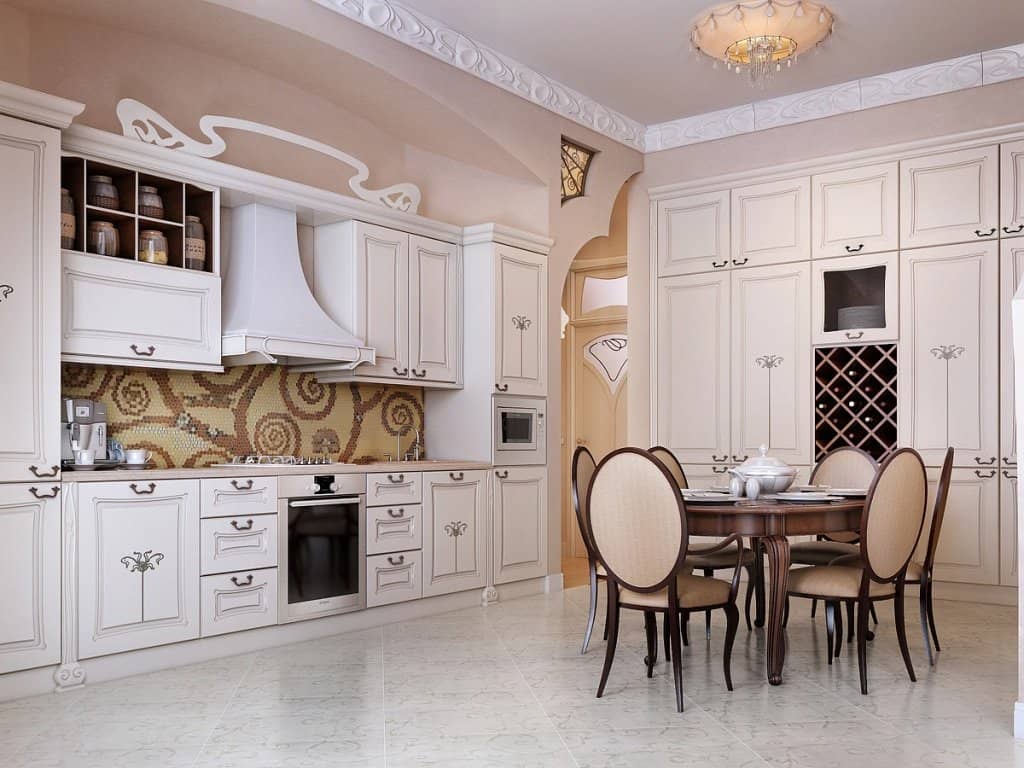 Do you notice the size of the space?
Yes, the kitchen itself is already larger than the typical kitchen areas, but the balance between the wall paint and the white cabinet brings out the openness to a new level.
The white gives the space a classic look. Plus, the high ceiling helps the white to emphasize the enormous size of the room.
Open Shelving Cabinet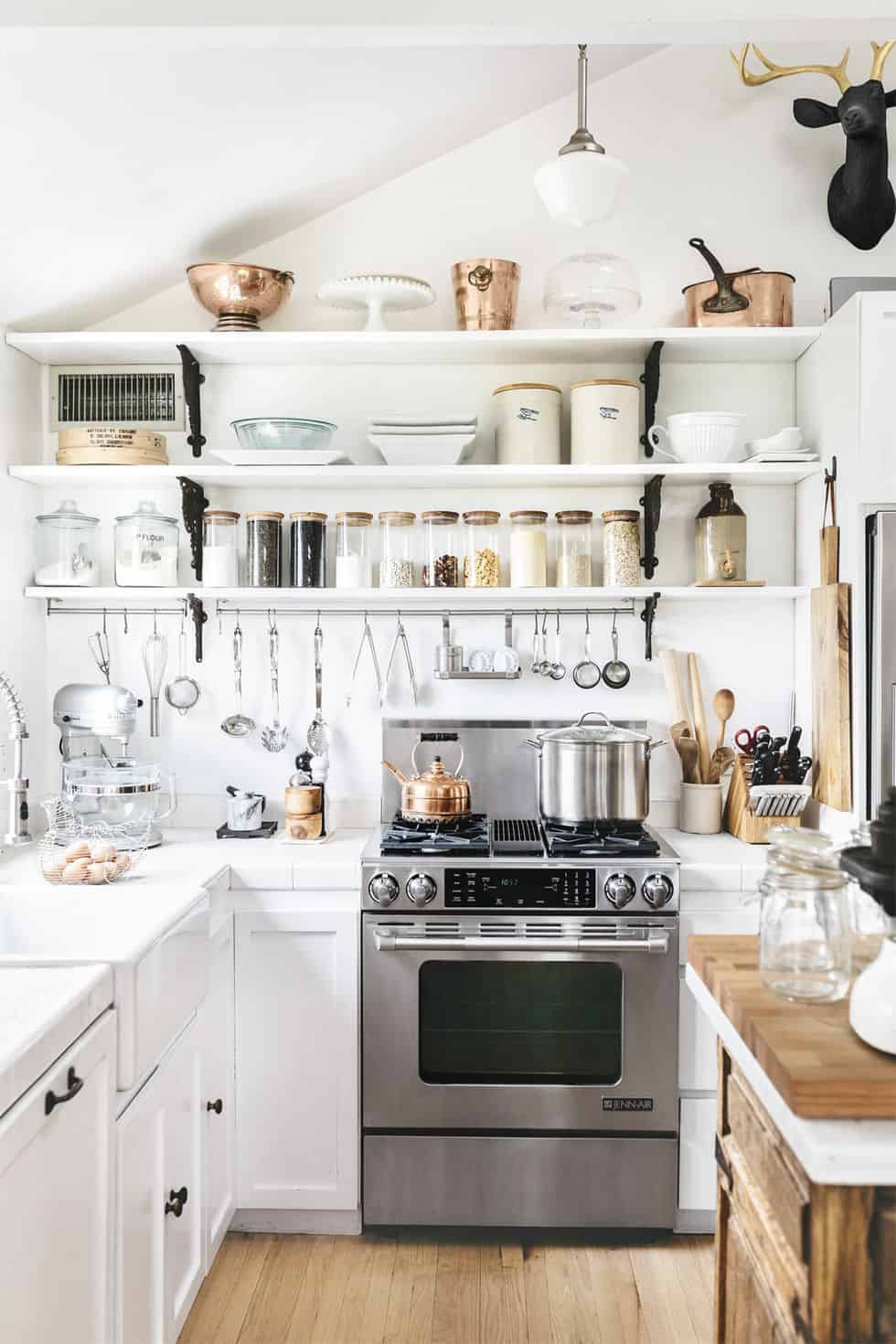 You must be aware that white is the most popular option for housing paint, especially the kitchen area. The kitchen is where you will spend the majority of time cutting off ingredients, washing the dishes, or baking some cakes.
You won't feel comfortable if the space isn't large enough. You need to move the storage to these white wood planks cabinets on the wall surface. The purity of white makes the appliances stand out.
Mixed Materials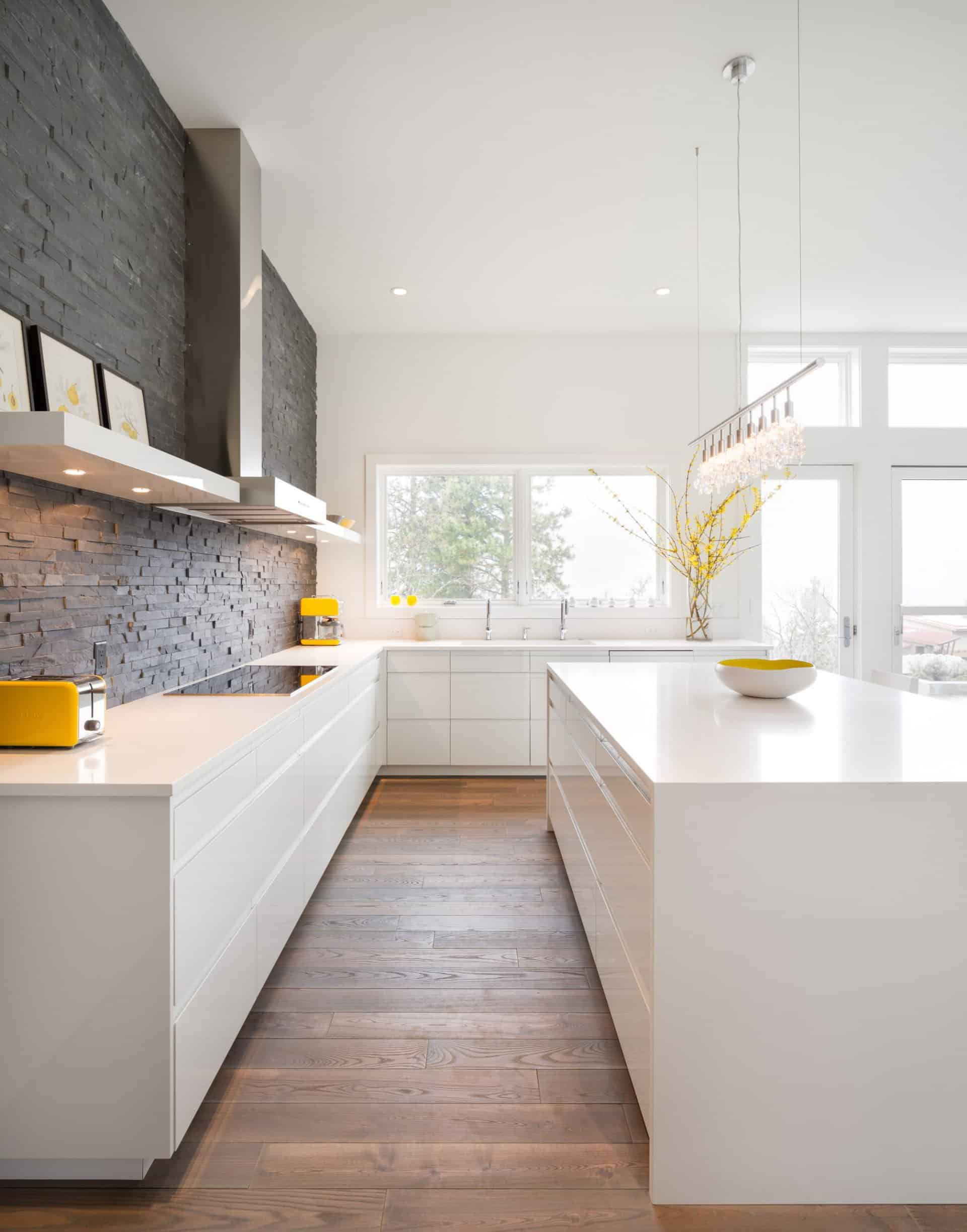 Modern style kitchen is often marked with a simple design, while white is the perfect color to have that timeless look.
Combining both elements, you will end up with an excellent kitchen interior design. Besides, white absorbs more light than darker colors.
When you have large windows like these, white should be the most appropriate match simply because the light perceived through the windows will make the room feels bigger and brighter.
White Kitchen Cabinets with Dark Flooring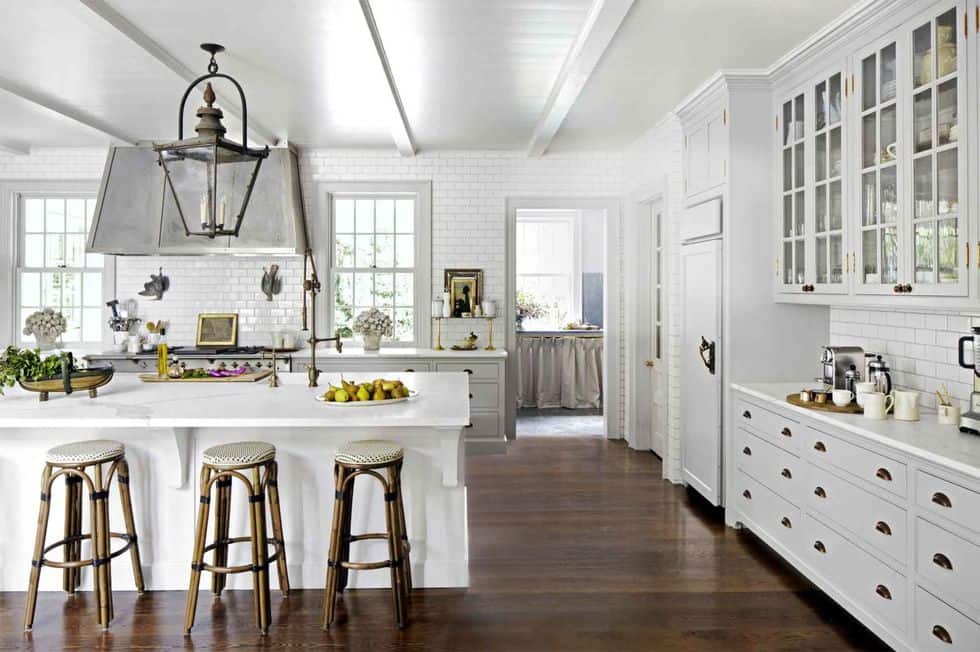 An all-white kitchen may be too bright for your taste and eyes. To give your eyes ease, add contrast to space.
You can change a couple of things, but the flooring and some decorations may be the correct option.
Dark wood used in flooring gives a clear contrast to the white theme in the kitchen. To accompany the dark wood, you can pick chairs with a similar accent.
Patterned Tiles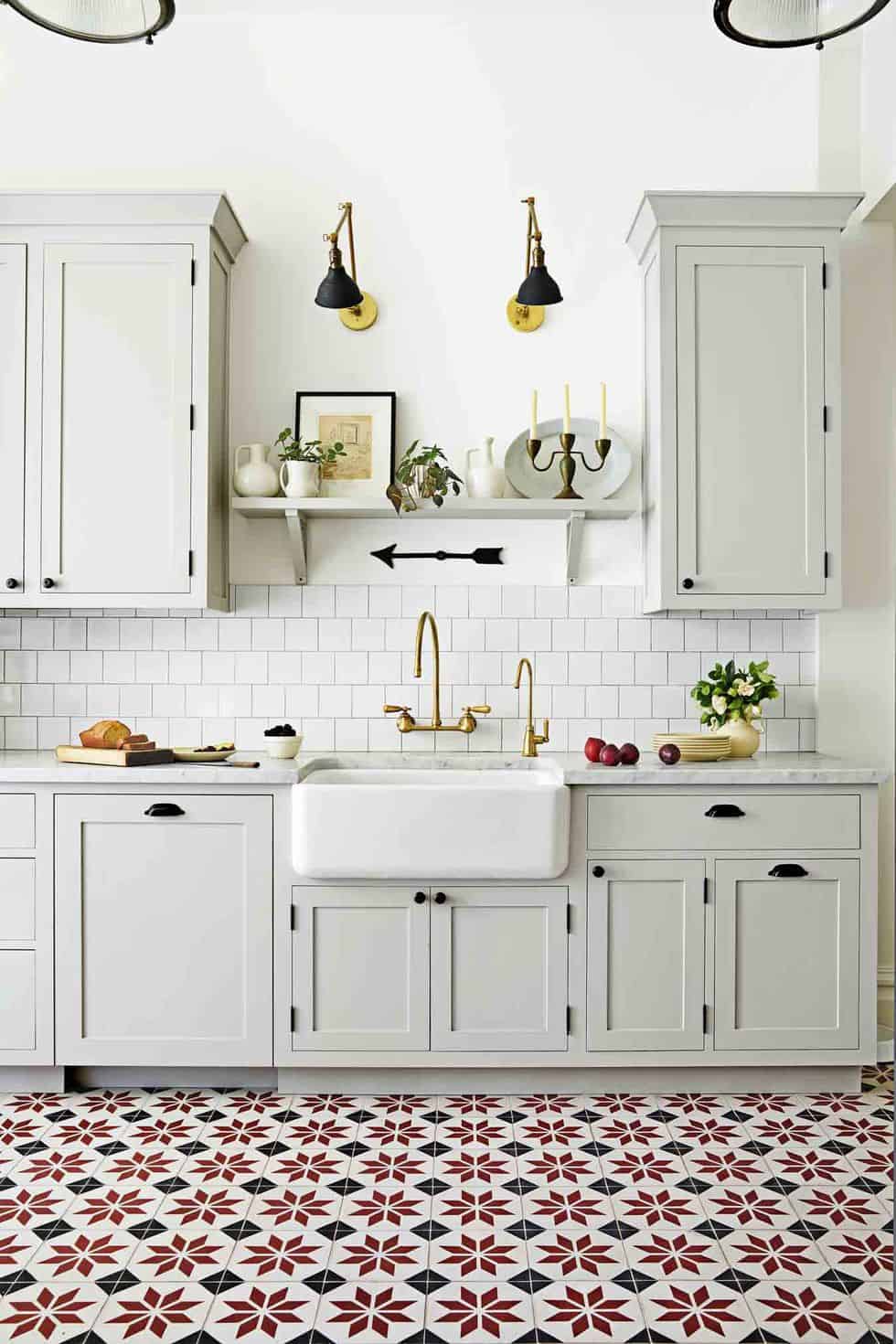 A white kitchen is known as the most popular option when homeowners choose to remodel their old, dated kitchen. It is because white is pure and neutral.
But an all-white kitchen may bore you or the guests that come.
To give a strong character to the white kitchen, installing patterned tiles like these work well.
They become the center of attention, but they don't completely steal the beautiful white backsplash's dance floor.
Gorgeous White Kitchen Cabinets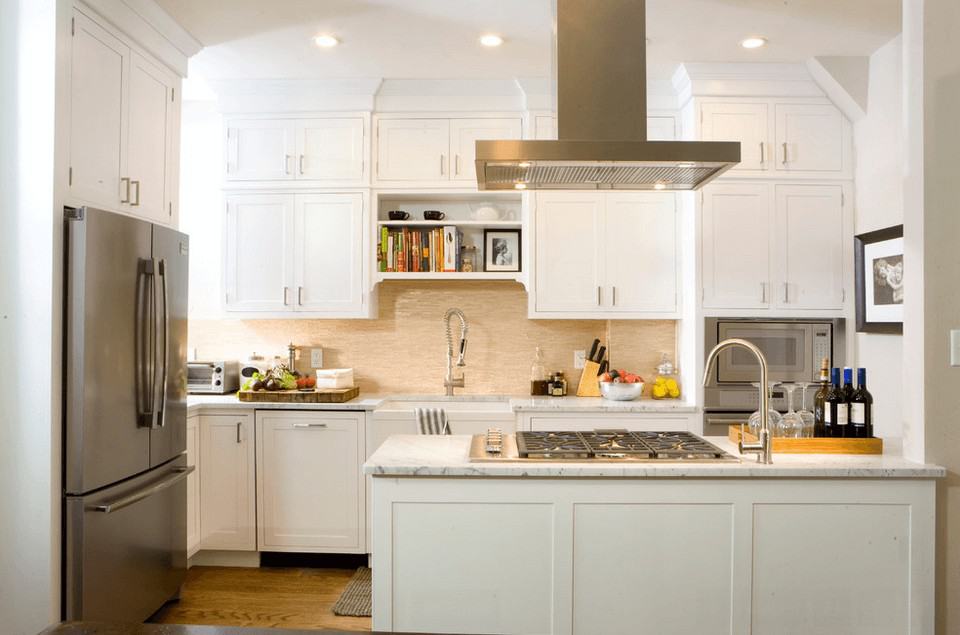 A small space isn't a limit for a beautiful, open kitchen.
You will have enough room for storage and appliances; for example, if you install more cabinets on the wall surface that the top touches the ceiling.
To have that open feeling, use white for the cabinets. Even more, you can complete the design with a white glass countertop.
Black and White Kitchen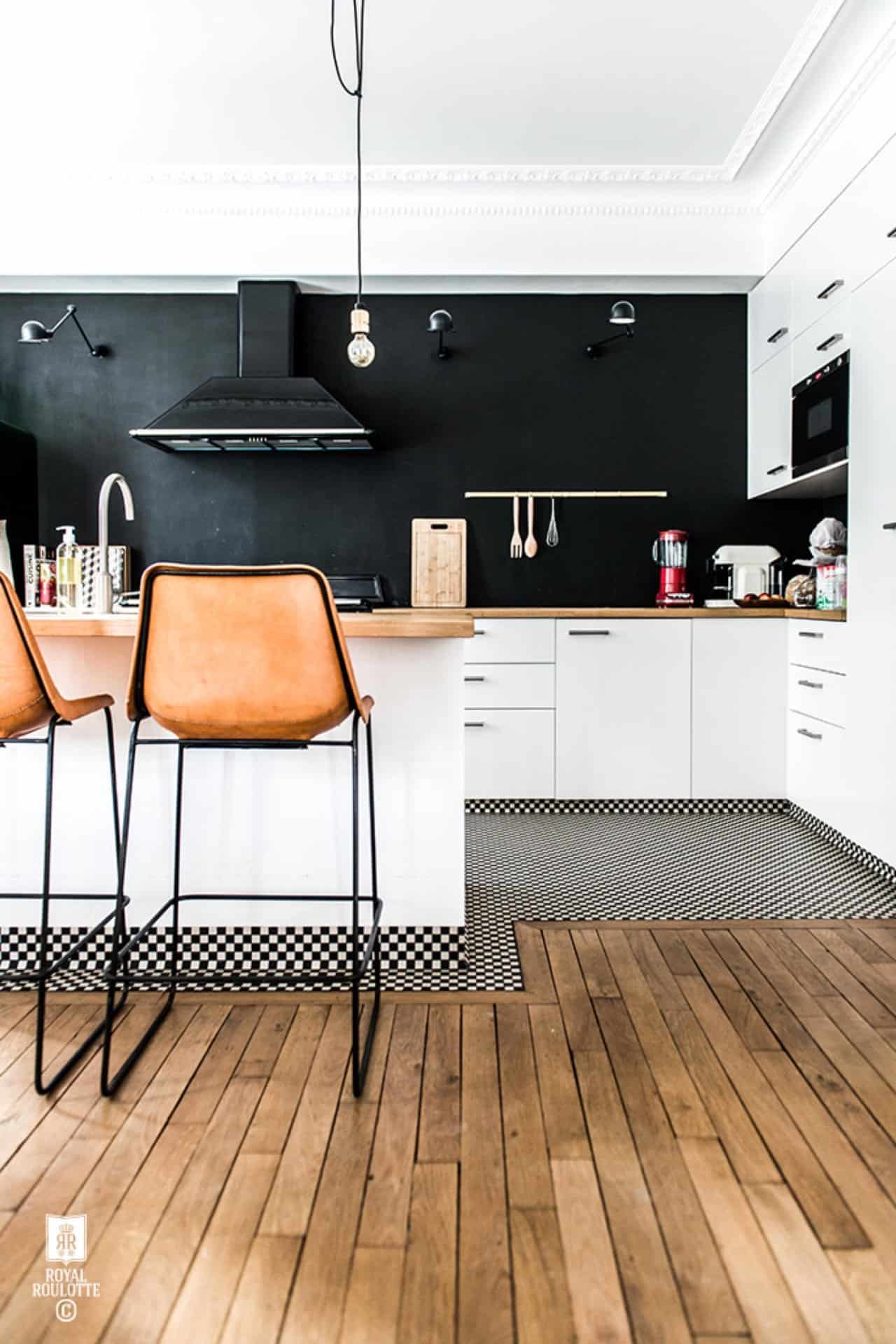 White is such a pure color that to contrast it, you need a bold, darker shade, such as black. Black color in this idea doesn't overpower the white.
With the right measurement, they balance each other.
The wood color countertop completes this excellent contrast. Now, every time you enter the kitchen, your eyes will directly see the fantastic display of blackness over white.
Monochrome Kitchen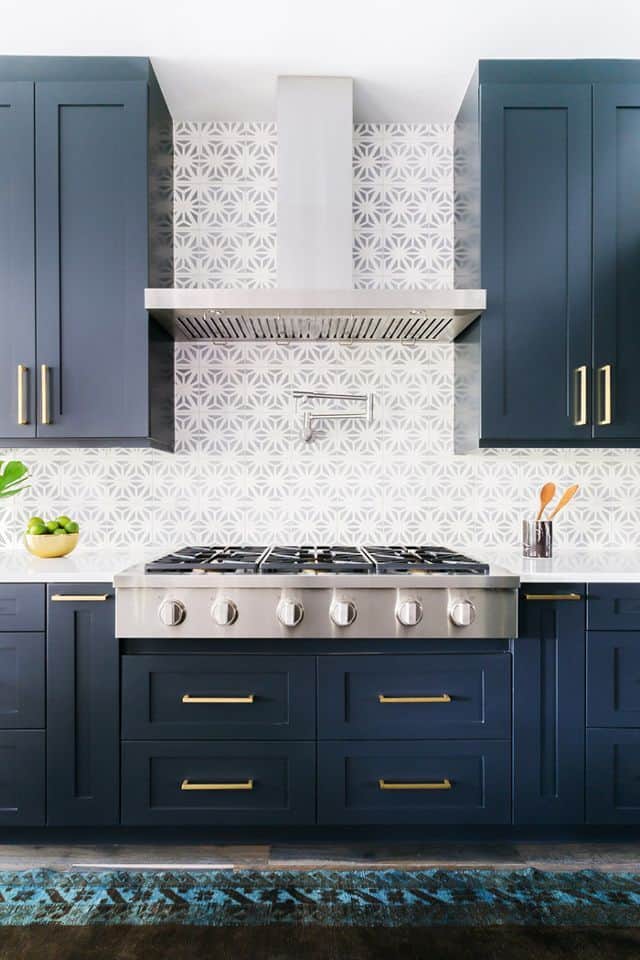 Black may be too dark to mix with white. Some homeowners are afraid that it may overpower white. In reality, black enhances the look of the kitchen.
It makes the kitchen appears strong and bold. There is a certain depth that captivates your eyes when you see the combination between these two colors.
Of course, you can't leave out the backsplash detail.
Complementary Colors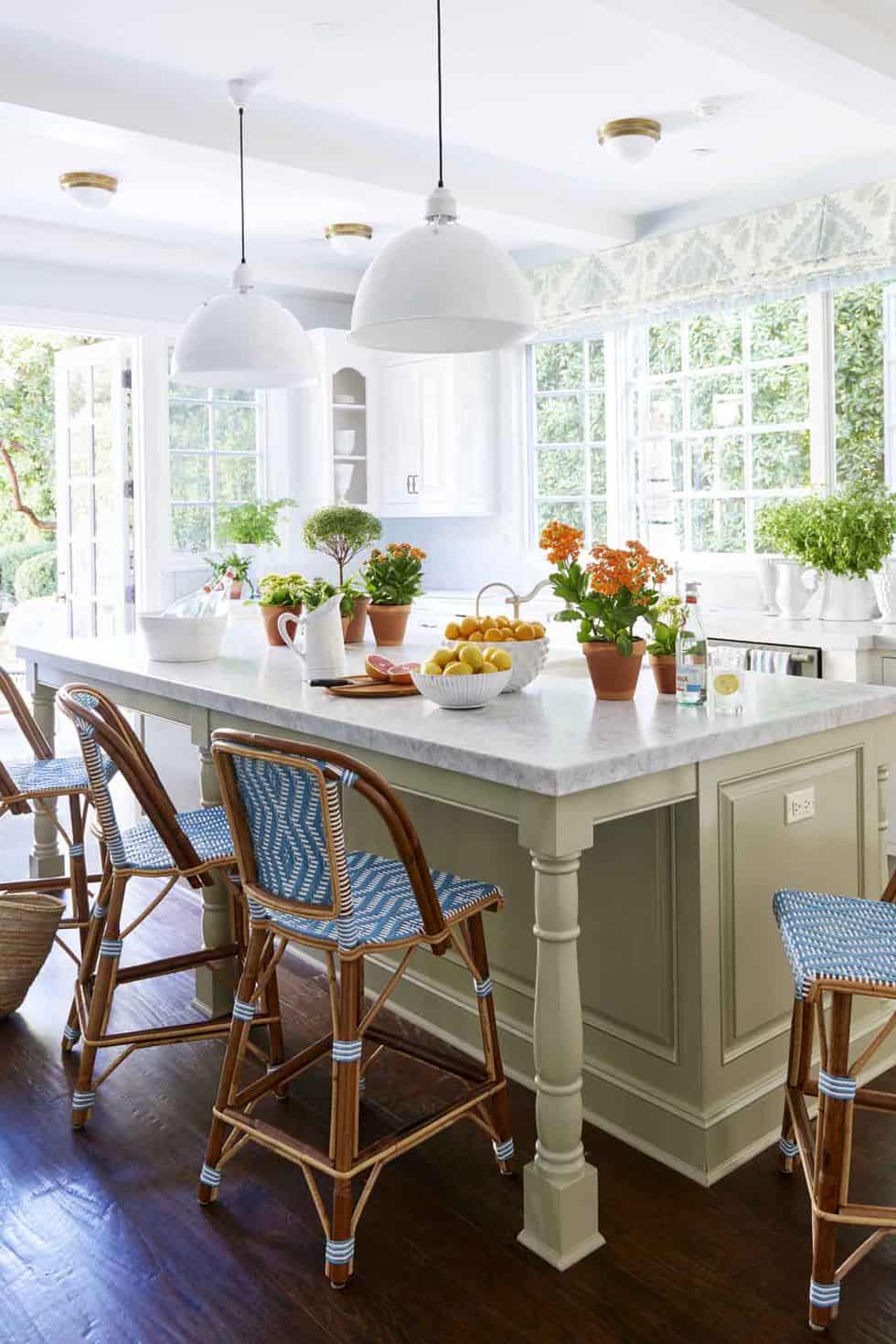 In the distance, the white French door is captivating. Complemented by large windows in white frames, the kitchen becomes very stylish and up-to-date.
Not only that, but the white also mingles with other natural colors, such as the refreshing green from the plants, the brown color from the chairs.
Catching Natural Lights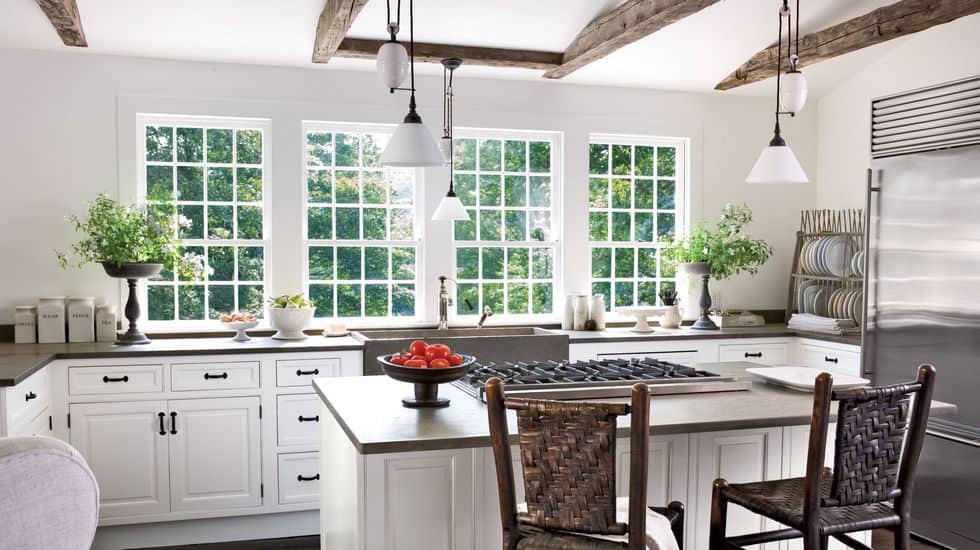 In western countries, kitchens must be built with an open concept. To create such feeling in a limited space is comfortable.
You just have to use white as the most significant color of the area because it makes the room bigger and, more importantly, brighter.
A brighter color absorbs light easily, that is why a lot of people chose white for this particular concept.
White Farmhouse Kitchen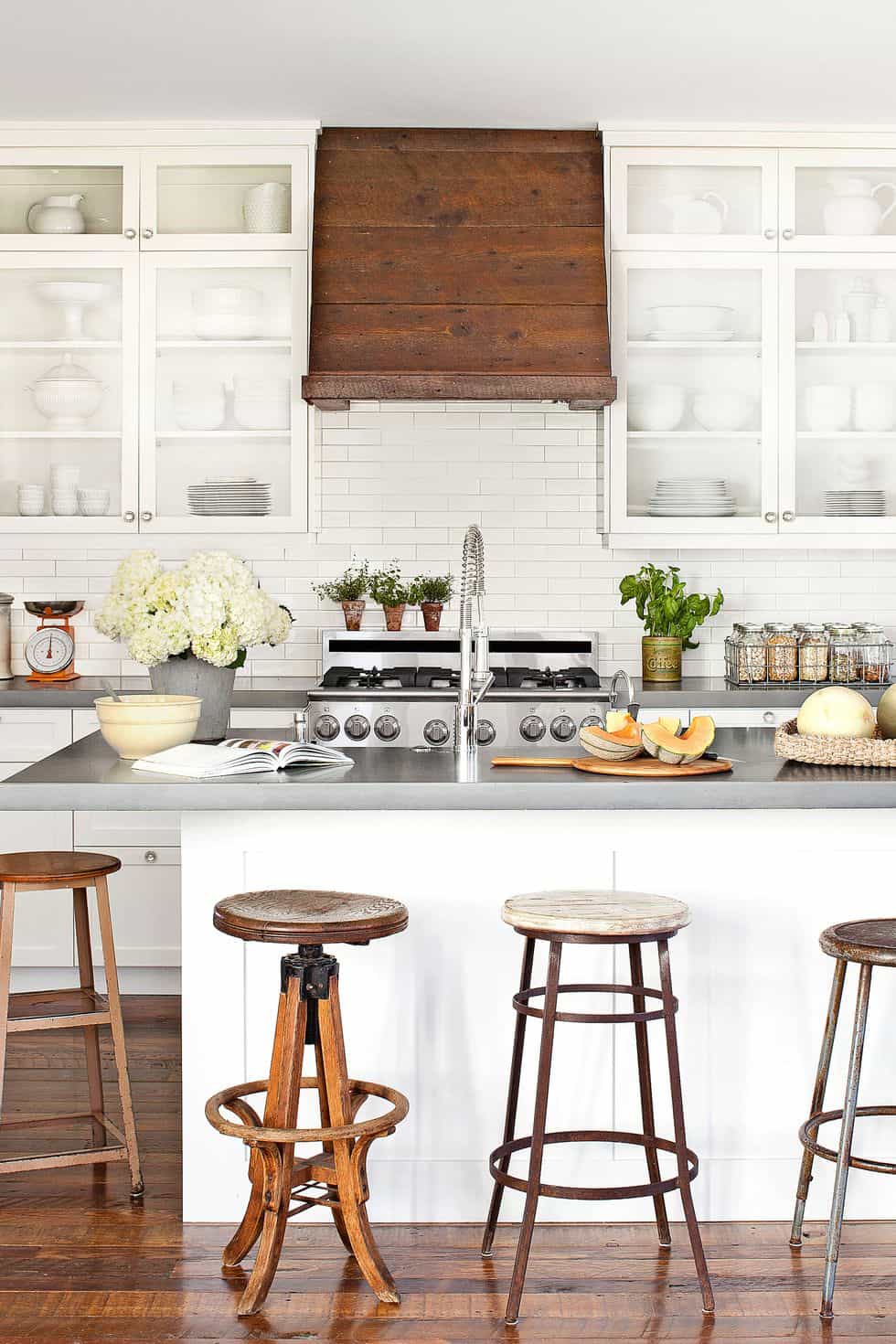 Farmhouse feeling often comes with rustic appliances and style, such as bare timber colored cabinets, but this idea offers homeowners a more creative design with white cabinets.
Other than giving the kitchen a simple yet stylish appearance, the white interior has a timeless look, which gives out a sleek and bright impression of a kitchen to everyone who walks into space.
Country Style Kitchen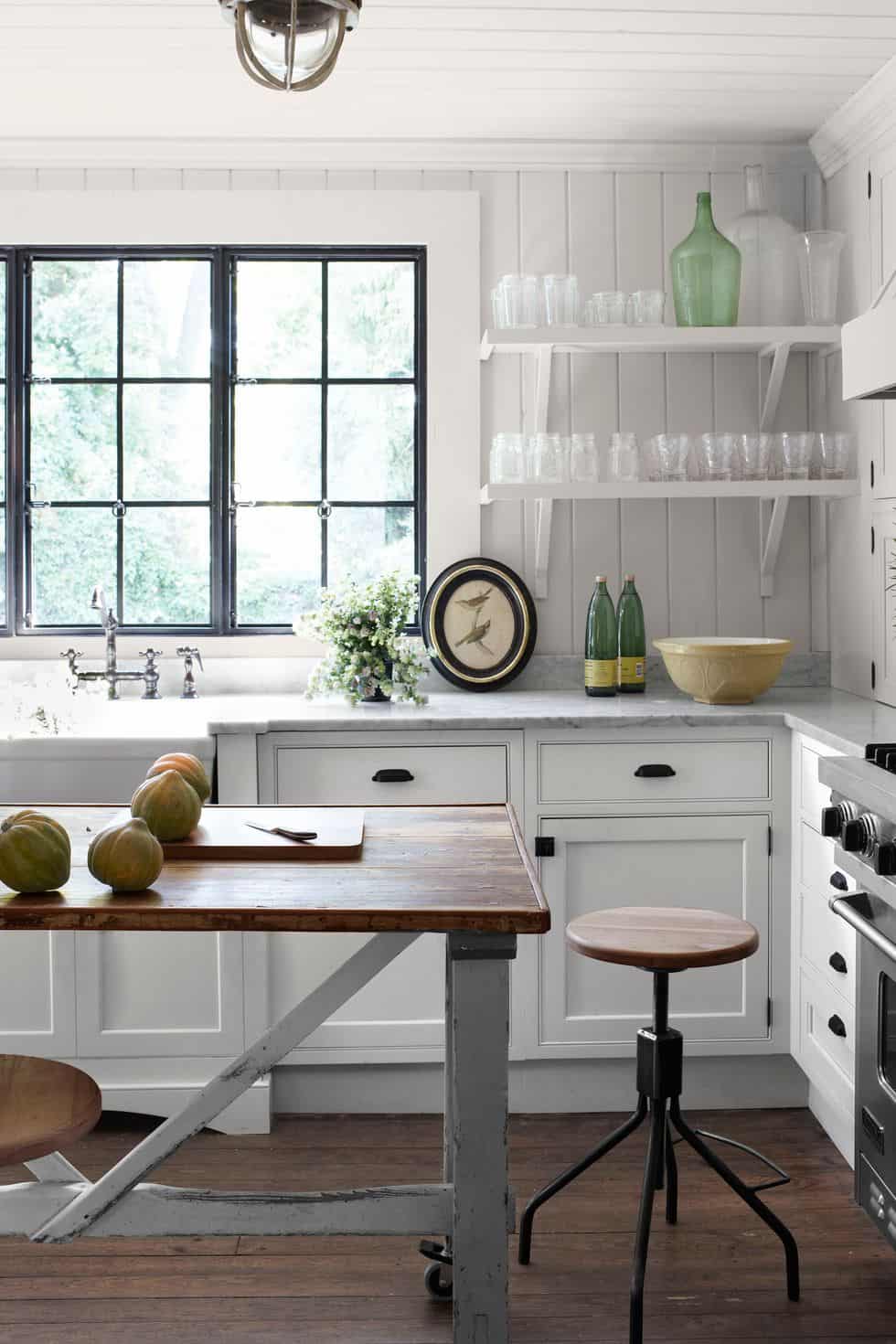 As soon as you walk into the room, you'll notice the 1800s Belgian butcher's table that has been upcycled into a gorgeous kitchen island.
The industrial chair beside it hasn't yet completed the overall country cottage feeling.
Later, when you see the white cabinets with simple wood plank racks on the wall surface, you realize that this is a modern-day kitchen with a warm country cottage feeling attached to it.
U-Shaped White Kitchen Cabinets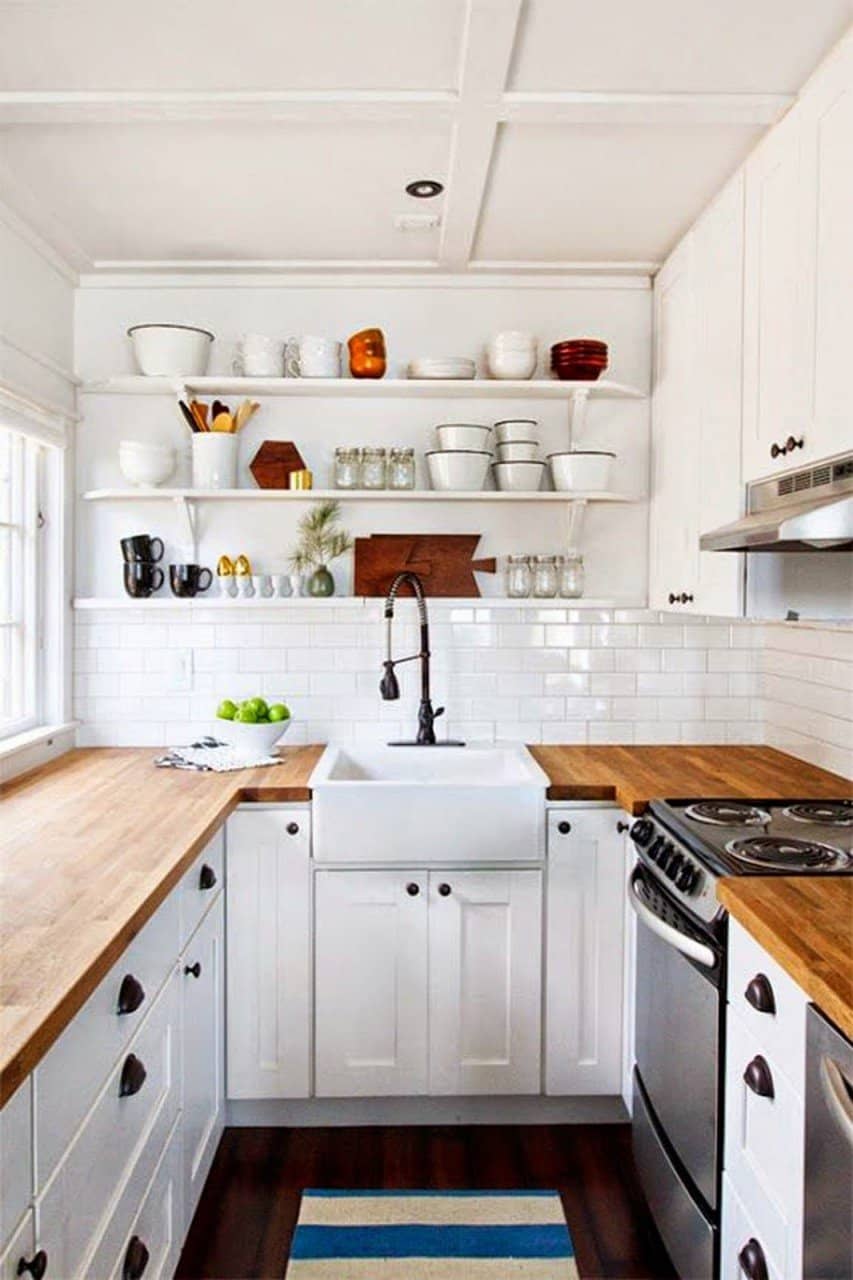 A small kitchen can be upsetting for some people because it limits their movement while doing the cooking. But that isn't the reason why you should whine about it, because there is another way to solve the problem.
Using white cabinets and white backsplash will change the atmosphere. The room doesn't have that claustrophobic feeling anymore. Plus, change the kitchen layout to a U-form so that you can fit as much storage as possible.
Casual Beauty Kitchen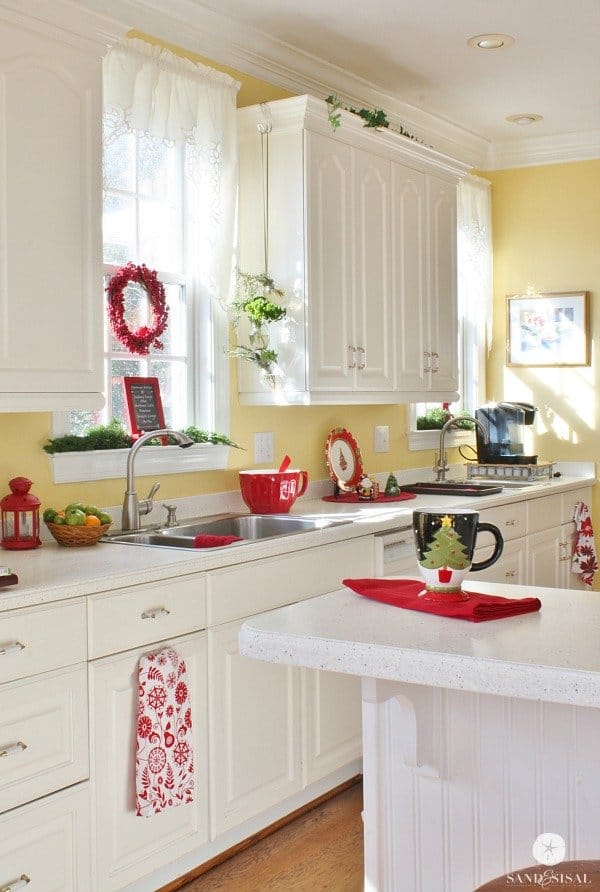 Black is undoubtedly the strongest contrast to white, but red is a strong competitor as well.
Its bold color makes it very noticeable against the white cabinets and white marble countertops. To ease red, homeowners chose to paint the walls with a more relaxing color, as seen.
White One Wall Kitchen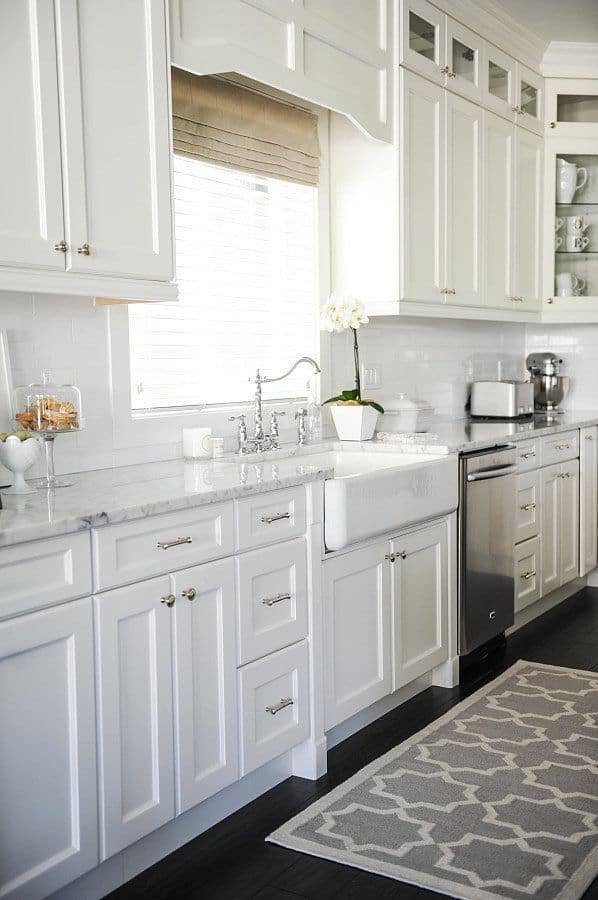 You have known that white symbolizes purity. Its purity becomes the significance of simplicity and elegance.
That is why the majority of houses in Western countries choose to apply white all over their kitchens.
But all-white kitchen sounds very basic, even though the white tiles for backsplash look intriguing, contrast should be added.
This time, dark wood flooring becomes the answer. Against white cabinets, it looks very bold, giving the space a new character.
Read more about one wall kitchen here: One Wall Kitchen Ideas.
Rustic White Kitchen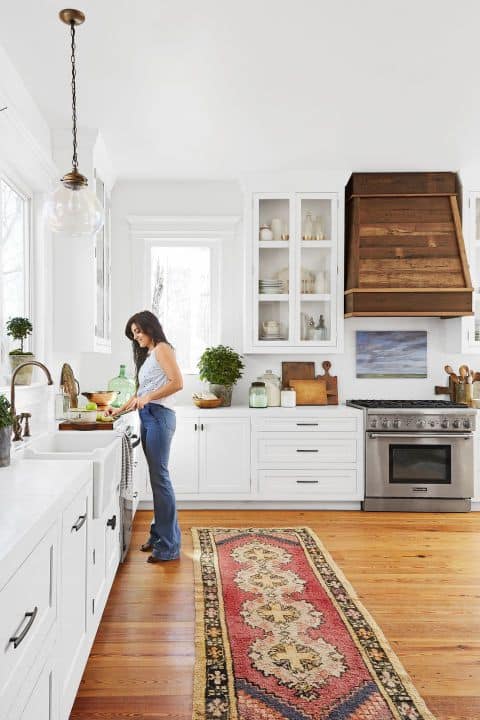 The large space may be the center of attention, but the bare timber vent catches the attention right away. The white and rustic kitchen style indeed is a perfect match.
The natural color of vent and flooring look soft and warm against the all-white background. Meanwhile, the white cabinets give out a simple, classic white look that won't go out of style.
China Wall White Cabinet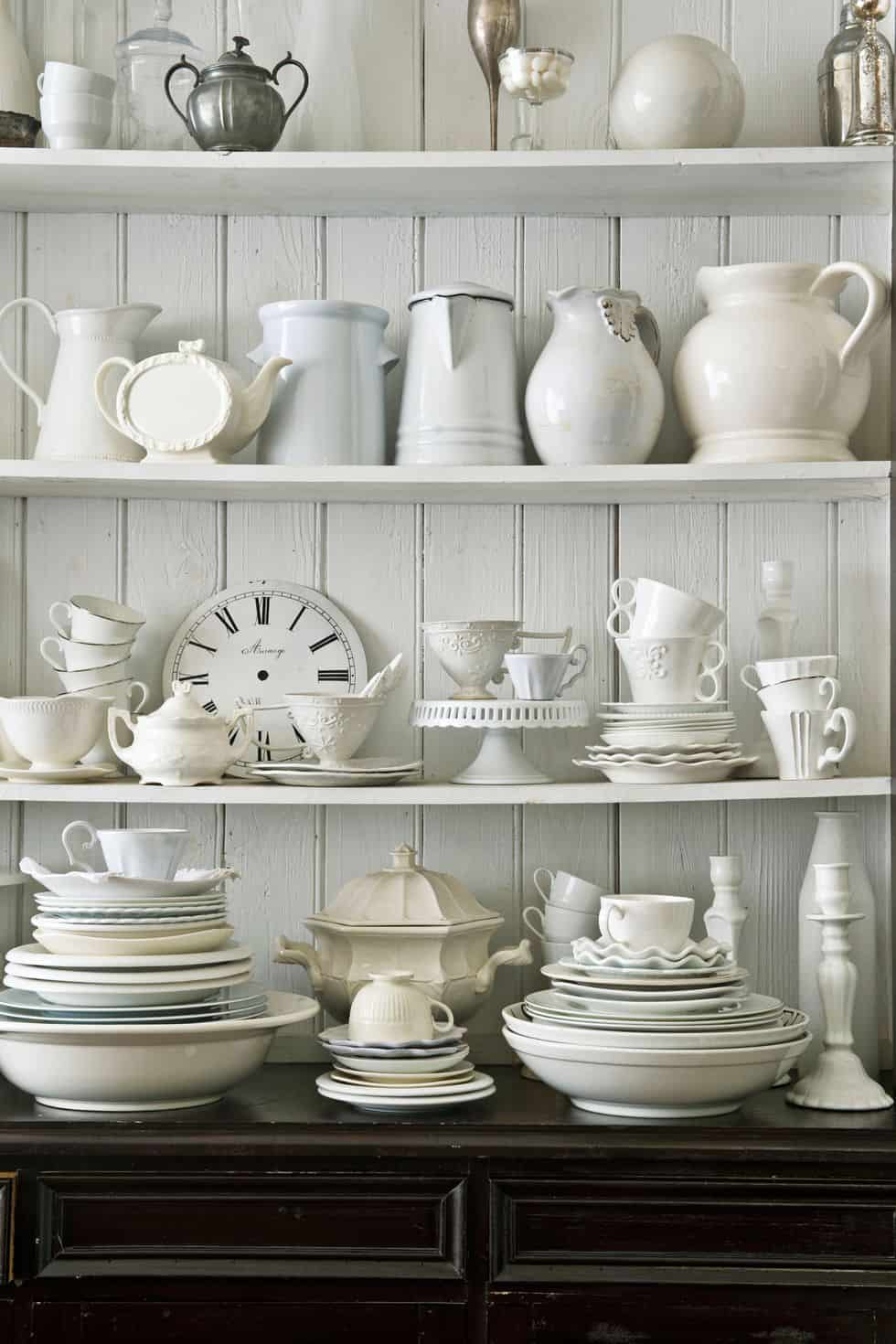 This particular style brings out a strong rustic feeling, which is emphasized through the stacks of several wood planks on the white beadboard.
Looking at it, it sends out a farmhouse feeling too. A darker shade cabinet supports the collection of vintage kitchen necessities.
White Kitchen Cabinets With Edgy Shade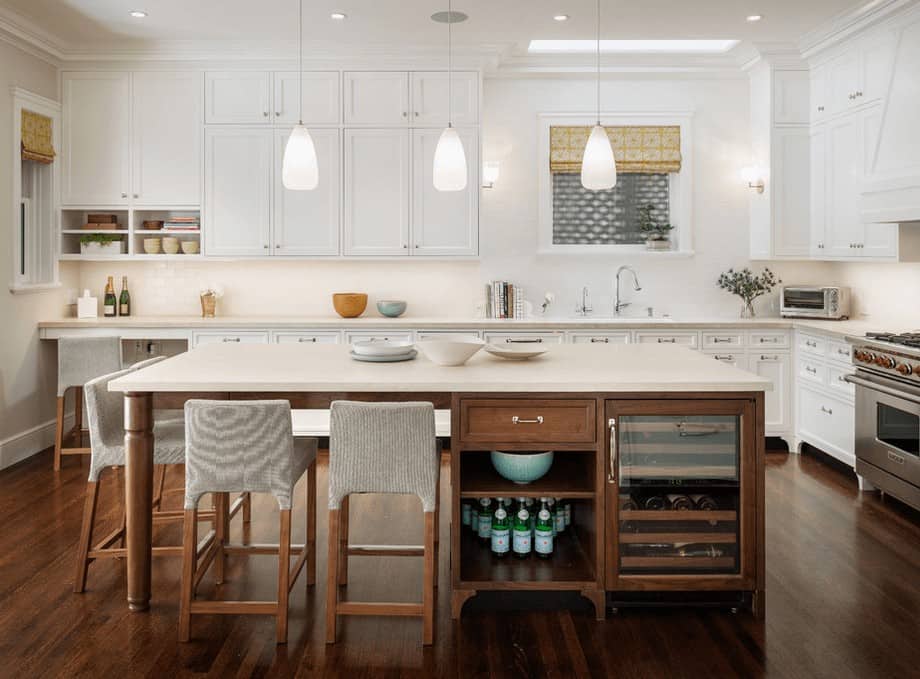 An all-white space creates those feelings of modern, bright, updated, and fresh. White color does serve it all.
More importantly, white color has been chosen by a lot of people because it is aesthetically pleasing to look.
To give a nice contrast against the all-white cabinets, homeowners often chose dark wood flooring. It appears strong and fantastic.
Moreover, the classic white marble countertops complete the overall interior design.
White Kitchen Cabinets with Granite Countertops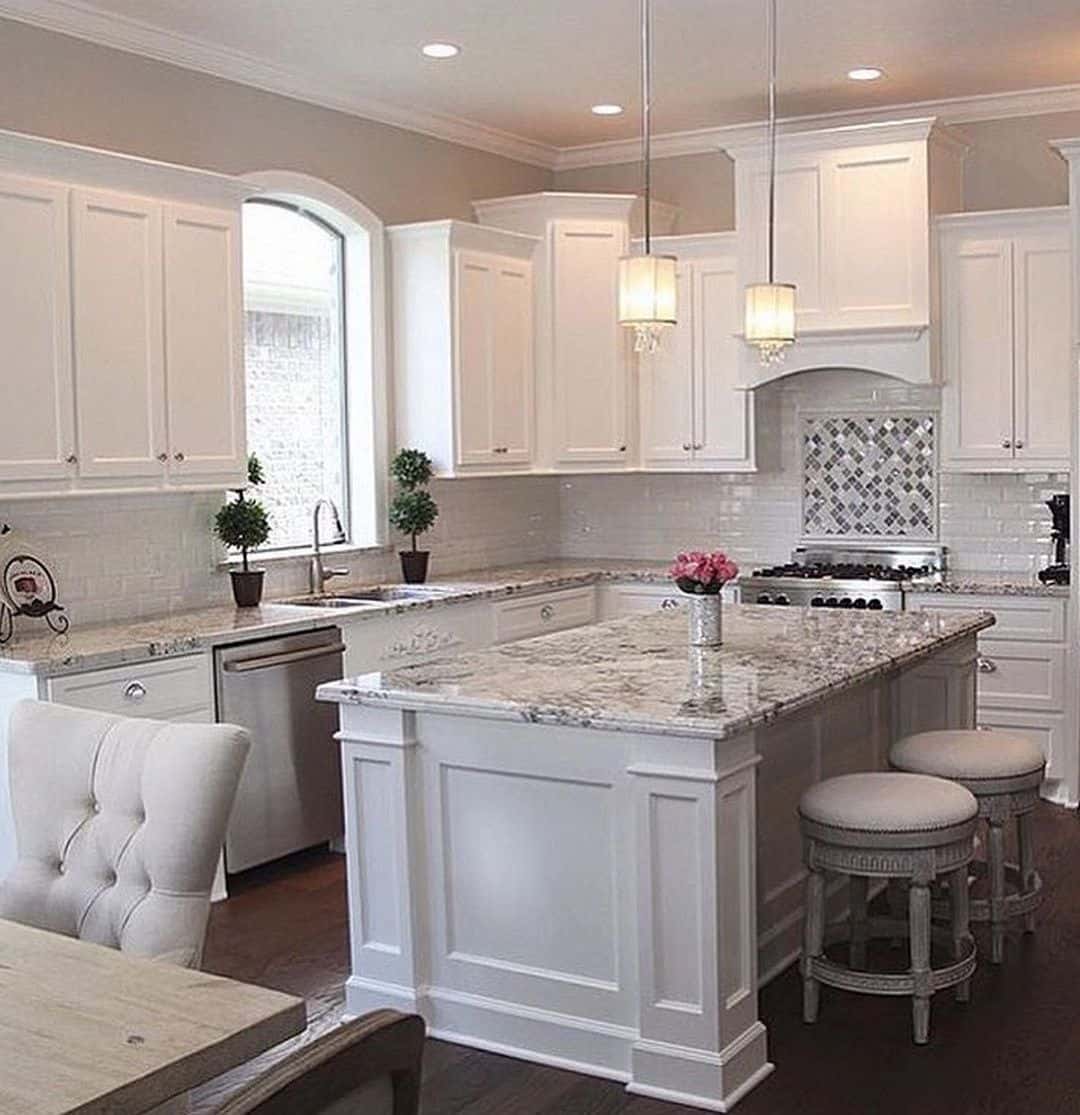 A kitchen remodel uses a lot of money. Homeowners don't want to spend a thousand dollars on something that they might regret.
That is why they always end up with a color that won't die out like white or any other brighter shade.
In this one, the modern white cabinets are accompanied by the other pure white element, granite countertops.
If you want to make your kitchen look like the above picture, find a replacement kitchen worktop, and you will be well on your way to your dream kitchen!
Victorian Style Kitchen in White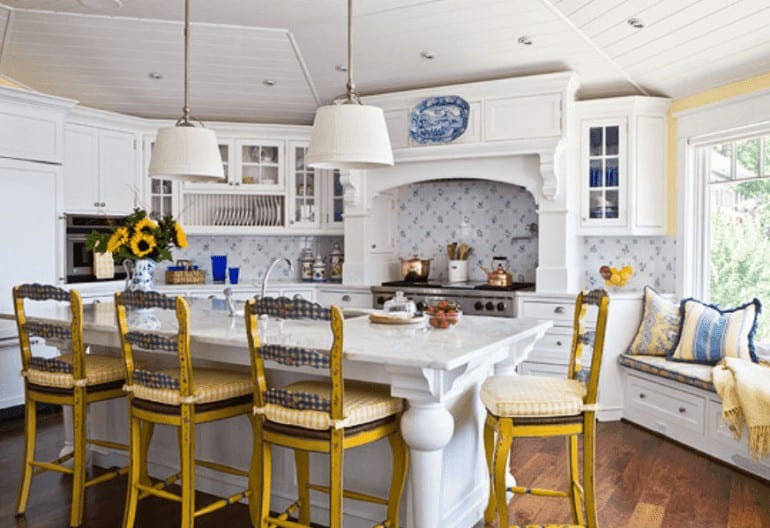 The most noticeable feature of this Victorian kitchen is the huge white island, which almost looks like a pool table.
Using the table for dinner as well as an island for cooking activity, homeowners have to use barstools to match with the height.
These French-style bar stools are painted in a rather calm and relaxing manner. The yellow and a slight blue can be seen in several other decorations too.
White Cabinet for Small Kitchen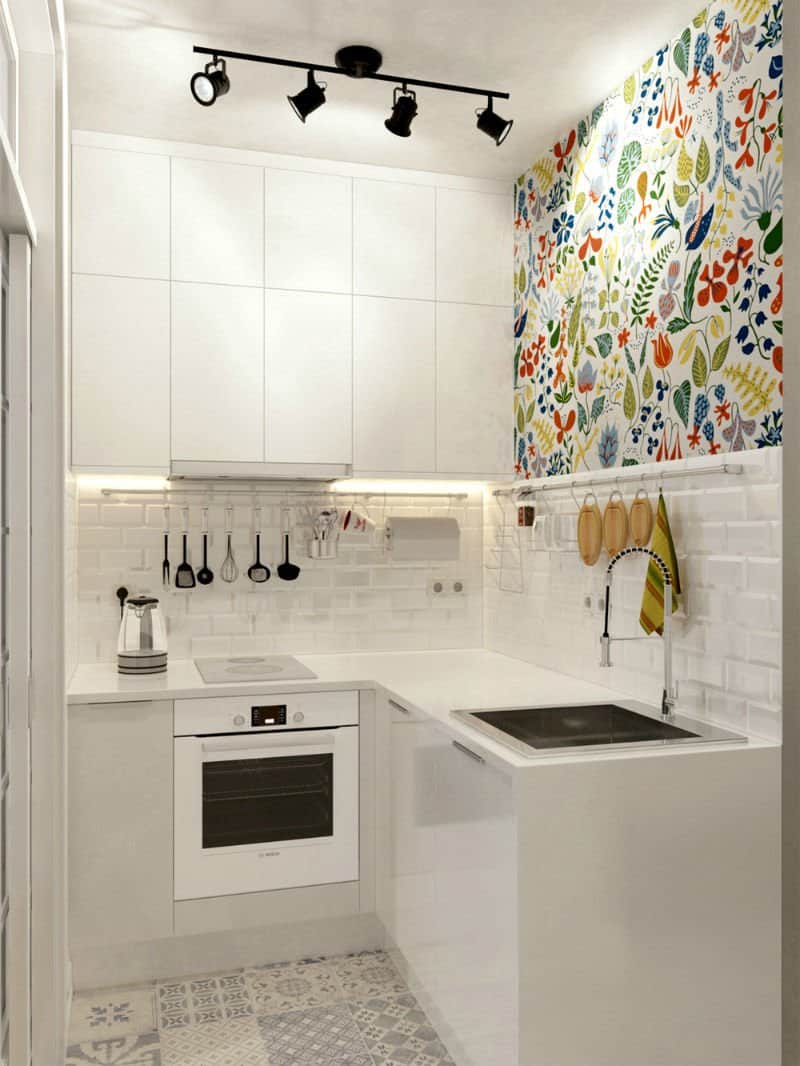 A small space often becomes a turn off for buyers, because they are afraid that the kitchen would feel claustrophobic that there wouldn't be enough room for active movement while doing the cooking.
In fact, it shouldn't be a turn off; it should turn on your creativity to use white to work magic.
Apply white color to the entire space, including the modern cabinets, backsplash, tiles, and appliances, adding a beautiful abstract painting with colorful paint splatters and a contemporary light fixture to raise the space's aesthetic value to the roof.
Industrial White Kitchen Cabinets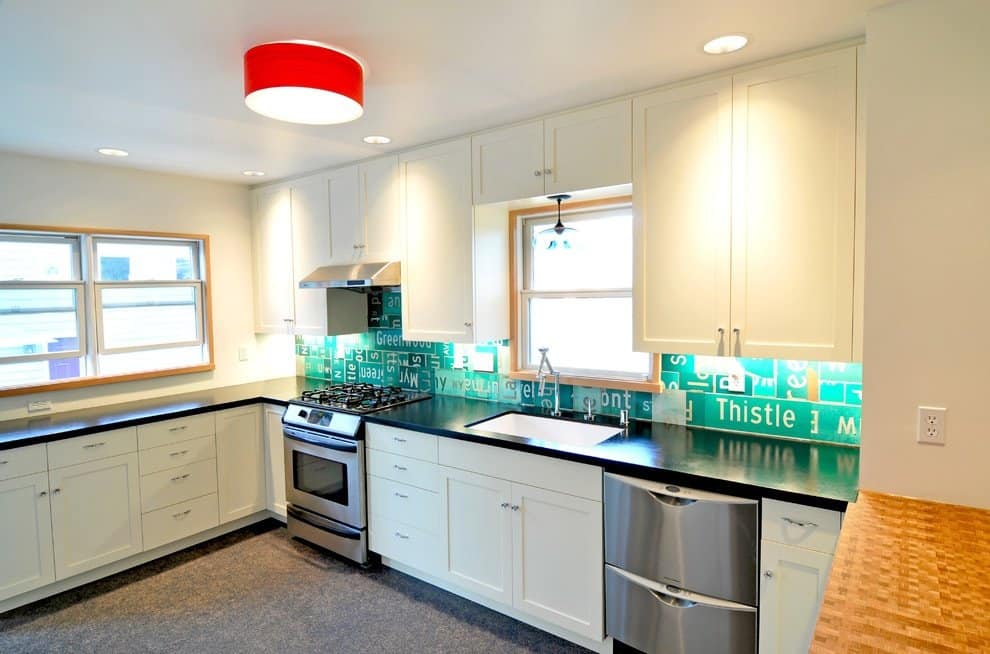 Sometimes, a simpler look is ten thousand times better. Some homeowners admire this simple kitchen design, where it is filled with white cabinets with a bold, dark countertop.
The white cabinets are accompanied by modern mounted light pendants and a round red light in the middle of the space, sending out a warm feeling throughout the entire area.
White Kitchen Island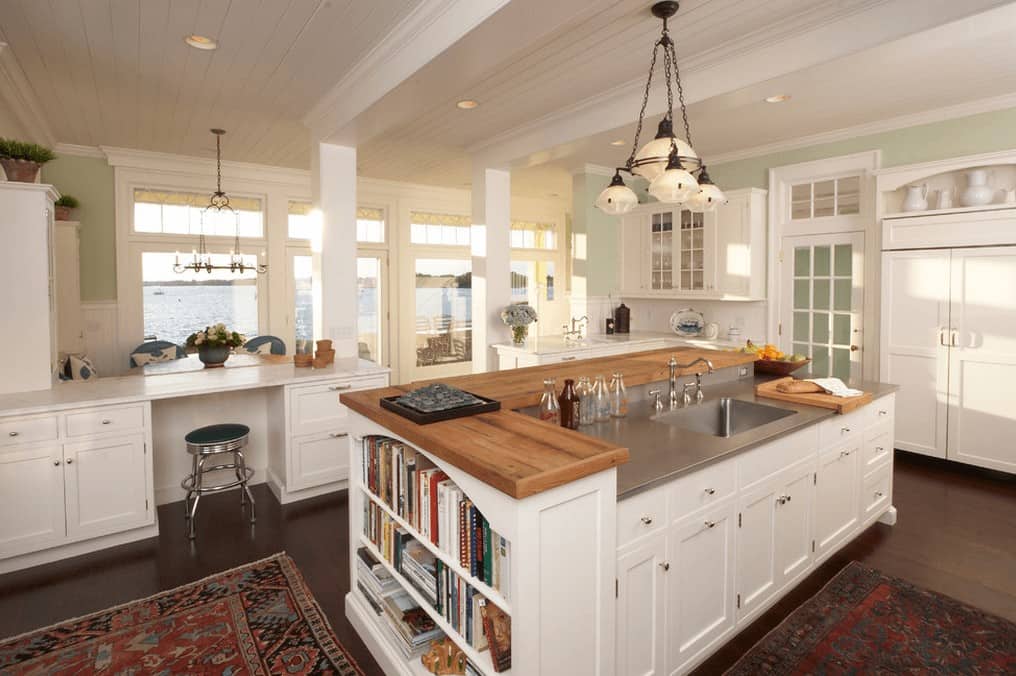 Without an island, a large kitchen will just be a dull, open kitchen. As you walk into the room, you will notice that the island is utilized not only for cooking needs but also for extra storage of books.
The white island is complemented with a beautiful wood plank countertop, which shines below a contemporary lighting fixture.
These combinations make it look like it is expensive. It does appear luxurious, but that is the result of white cabinets combined with proper lighting.
White Kitchen Island with Wood Countertop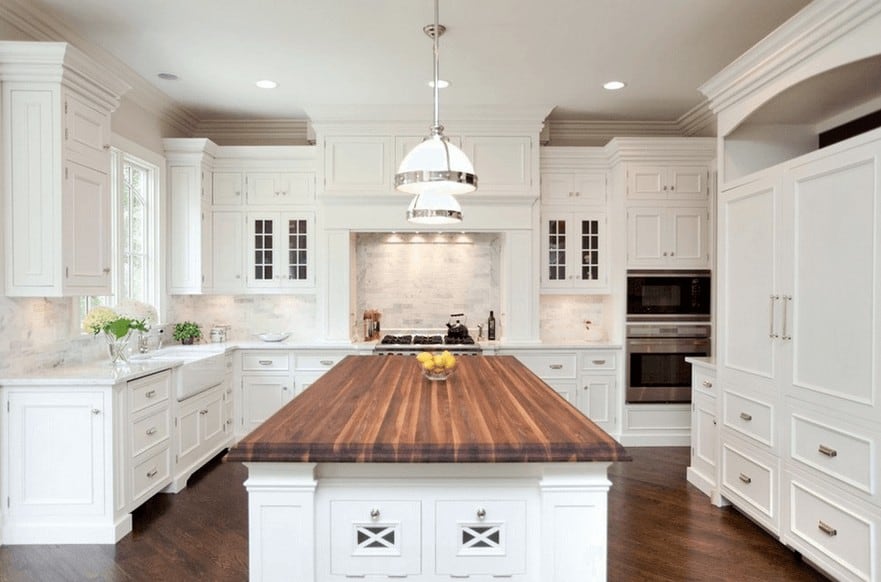 Inside of modern house design, there is always a white kitchen. White has long been chosen as many people's favorite to get that hygienic and clean look kitchen.
Take a look at how majestic this kitchen is!
The all-white cabinets are illuminated with mounted light pendants below the hanging cabinets, and the modern-day chandelier is hanging gracefully on the center of the space, decorating the wood countertop.
White Kitchen with Island and Seating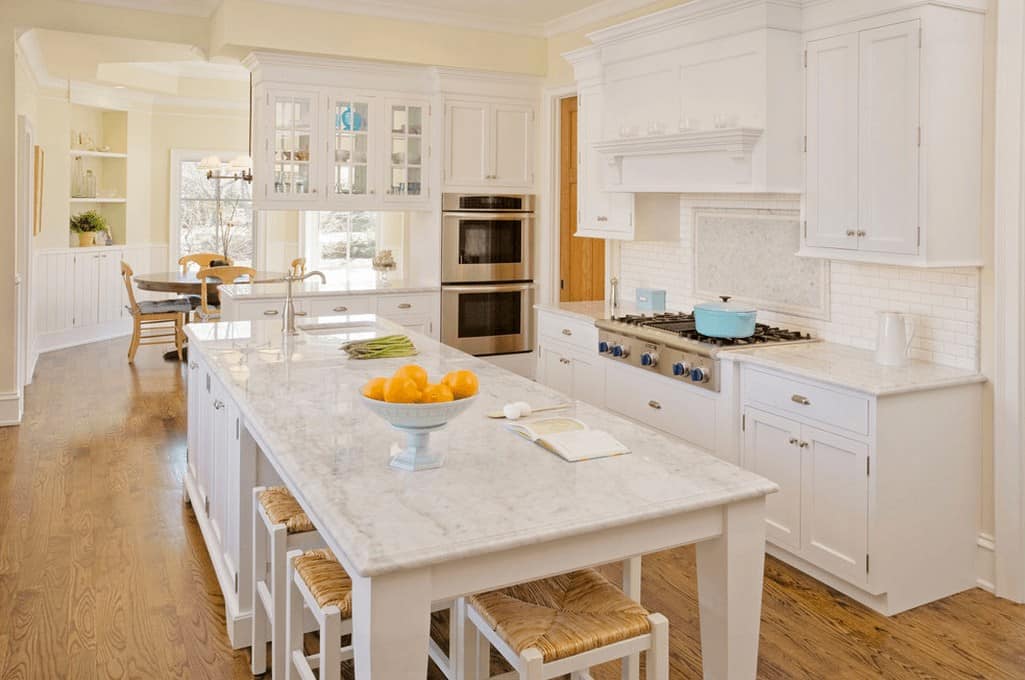 Commonly, an island is completed with a lot of extra storage and also an additional sink. But that isn't always the case.
Some kitchens don't have that kind of island. This island is an ordinary long table, which is also used as an eating area.
To synchronize the island with the entire white concept, it uses excellent granite countertop, achieving that timeless and modern looks all at once.
White Kitchen Cabinet with Black Island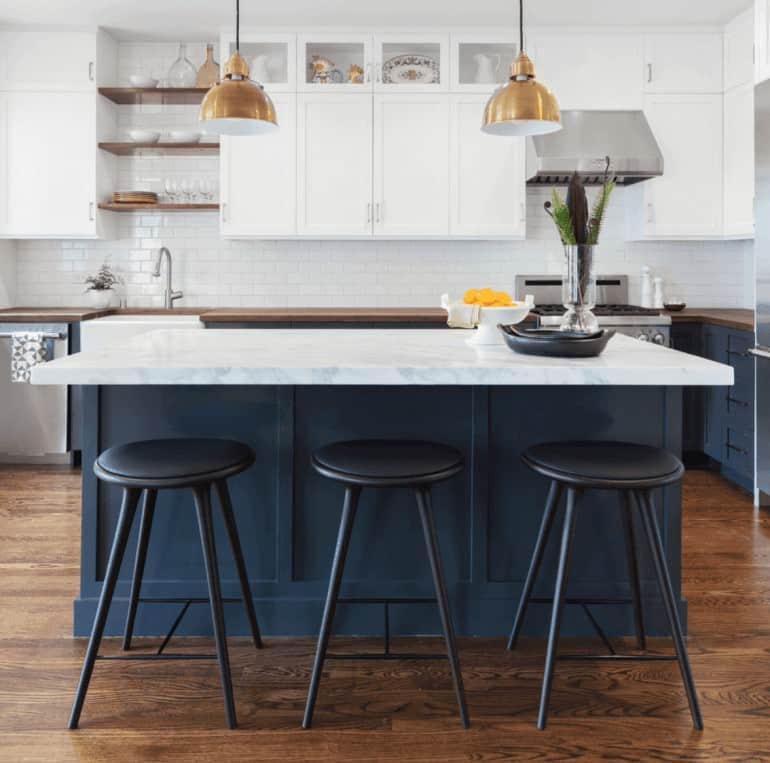 A white kitchen concept often includes the other brighter shades to balance the white, but some homeowners take a further step and make a bold decision by picking an even darker shade than white, black.
This black island with three black bar stools is a great idea to contrast the all-white cabinets in the background.
To accompany the island, homeowners chose to also use the same color on their ground cabinets, creating a simple, yet intriguing kitchen look.
---
Another kitchen style to try:
---
Cozy White Kitchen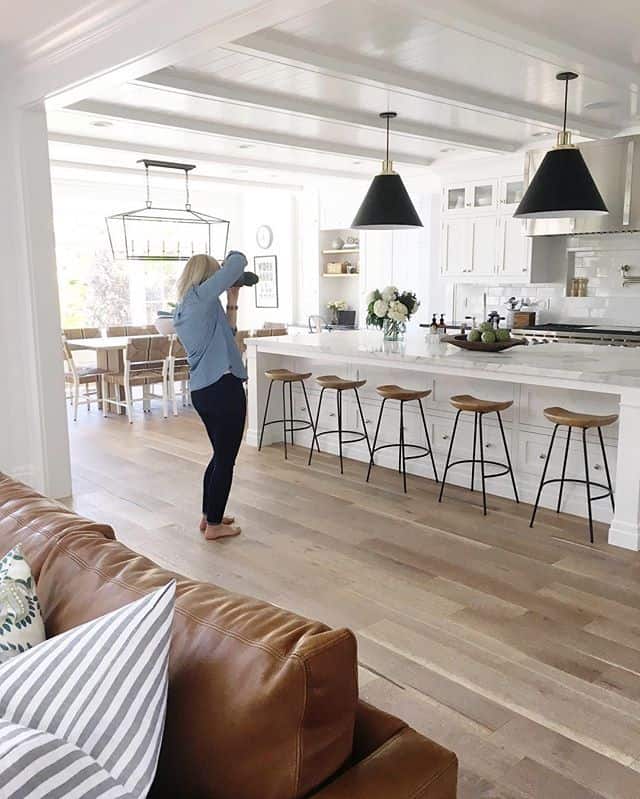 Utilizing a large spacious kitchen is only correct when you design an open layout which directly connected to the dining area and the living room.
As you see, the ceiling has several trims, which give the space a unique character.
Even more, there are two different kinds of contemporary mixed with industrial style lighting fixtures spread between two distinct areas.
Plus, the all-white cabinets do make the space even bigger.
Modern White Kitchen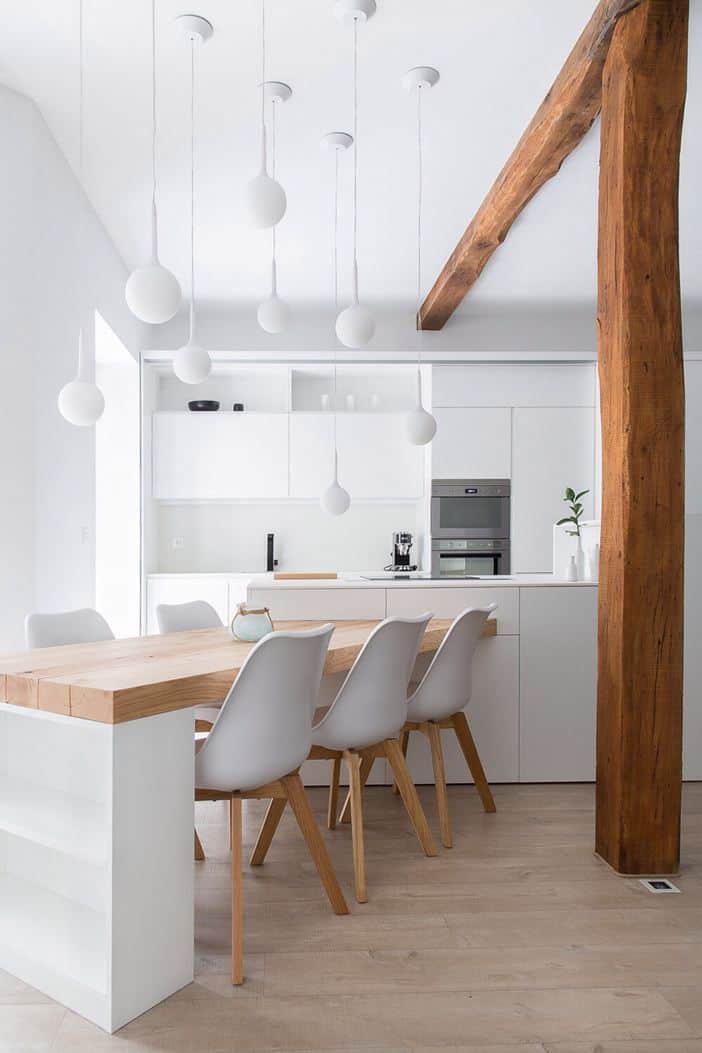 This kitchen has obtained its modern atmosphere from those hanging white, round pendants from the ceiling.
The cabinets, which are all painted in white, have that stylish and futuristic feeling too.
Mainly, this kitchen is unique and very distinguished. Take a look at the dining table position, which is uncommon.
There is solid wood trim on the ceiling directly connected to a pillar to complete this open space and its unique character, creating a strong country cottage feeling.
Brick White Kitchen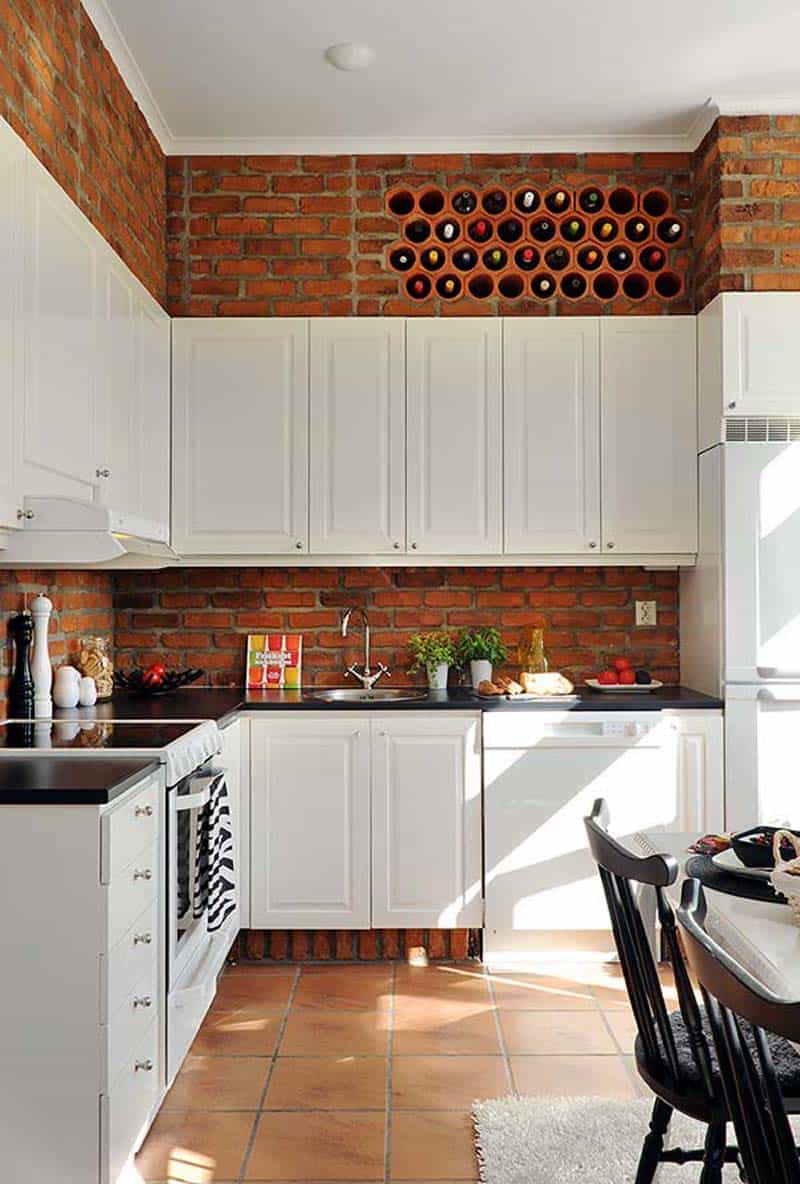 A farmhouse space often utilizes unfinished materials to create that traditional look.
This time, bricks are installed above the cabinet and again in between the hanging and the ground cabinets.
The natural red color from the bricks balances out the calm and relaxing vibes from the white cabinets.
Moreover, the black countertops make the whole area even more outstanding.
Minimalist White Kitchen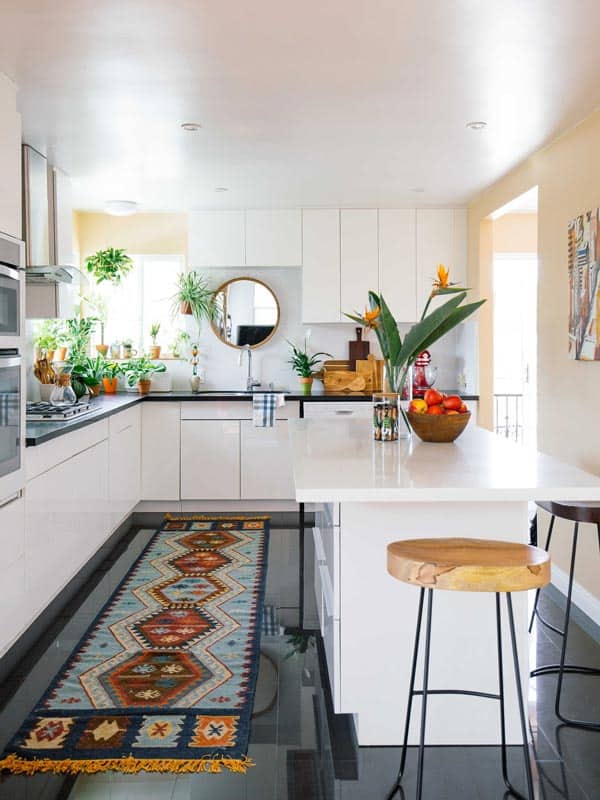 We know, your eyes are immediately drawn to the unique carpet down below.
It is indeed a nice touch to the entire space, but this white island with a white glass countertop is an excellent attention stealer.
It looks classic and extraordinary. Moreover, the bright and fresh feelings are obtained from these simple white cabinets, making the small kitchen space feels spacious, while the round mirror and plant decorations make the concept more appealing.