Don Pedro Brooklyn is reader-supported. When you buy through links on our site, we may earn an affiliate commission. Learn More
One Wall Kitchen Design Ideas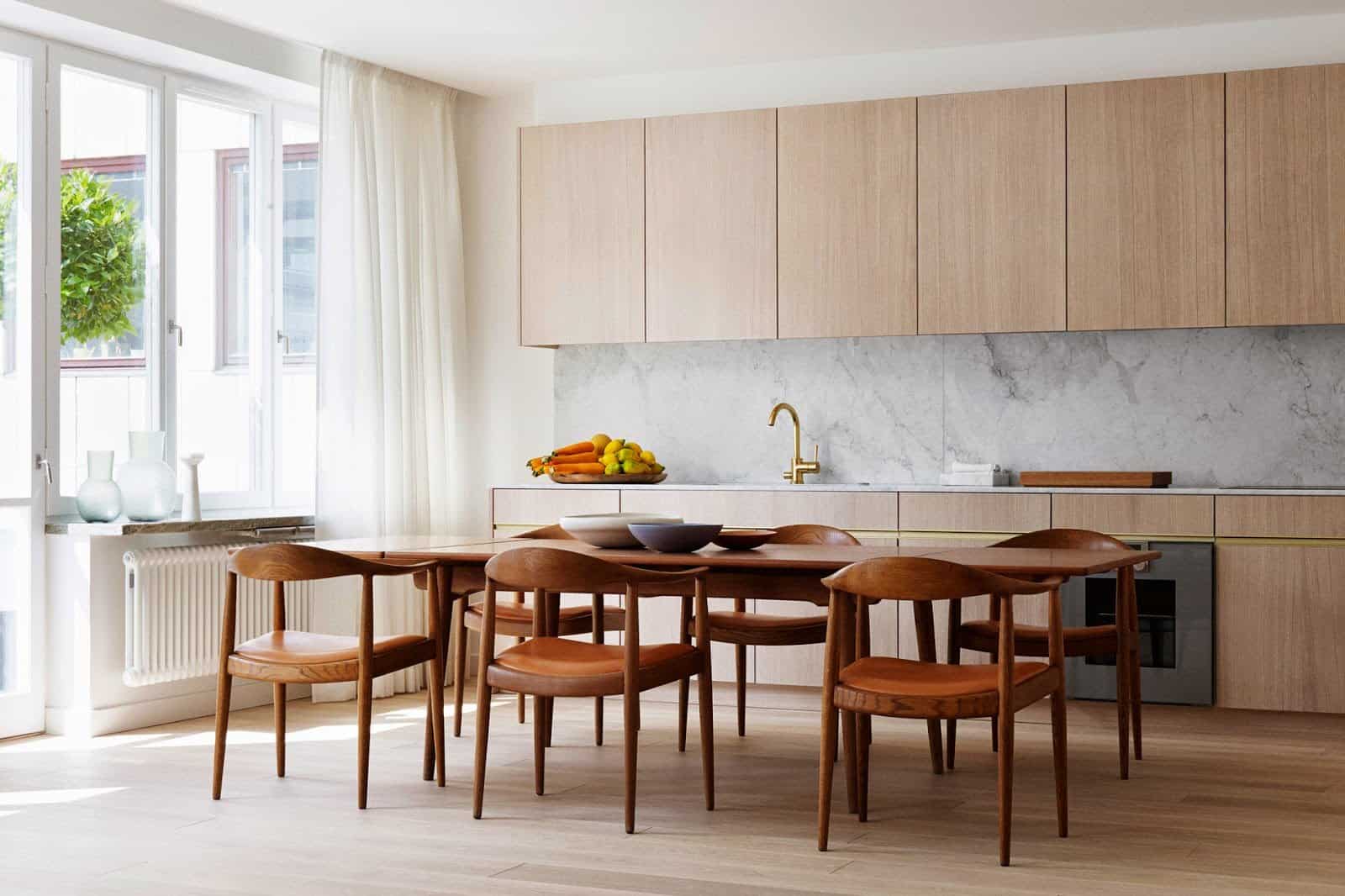 A one wall kitchen design isn't a new concept. Until recently, a lot of people are beginning to see that this kind of design hold a lot of potentials, for example, the kitchen only takes up a single wall.
Interestingly, it sticks to the wall, which benefits you in certain things, such as gives you more space and prevents you from breaking up an open floor-plan from the kitchen to the dining space and living room.
Seeing that this is a very strategic design, you may want to take a look at the best 24 ideas of one wall kitchen design we've prepared for you!
One Wall Kitchen with Vibrant Colors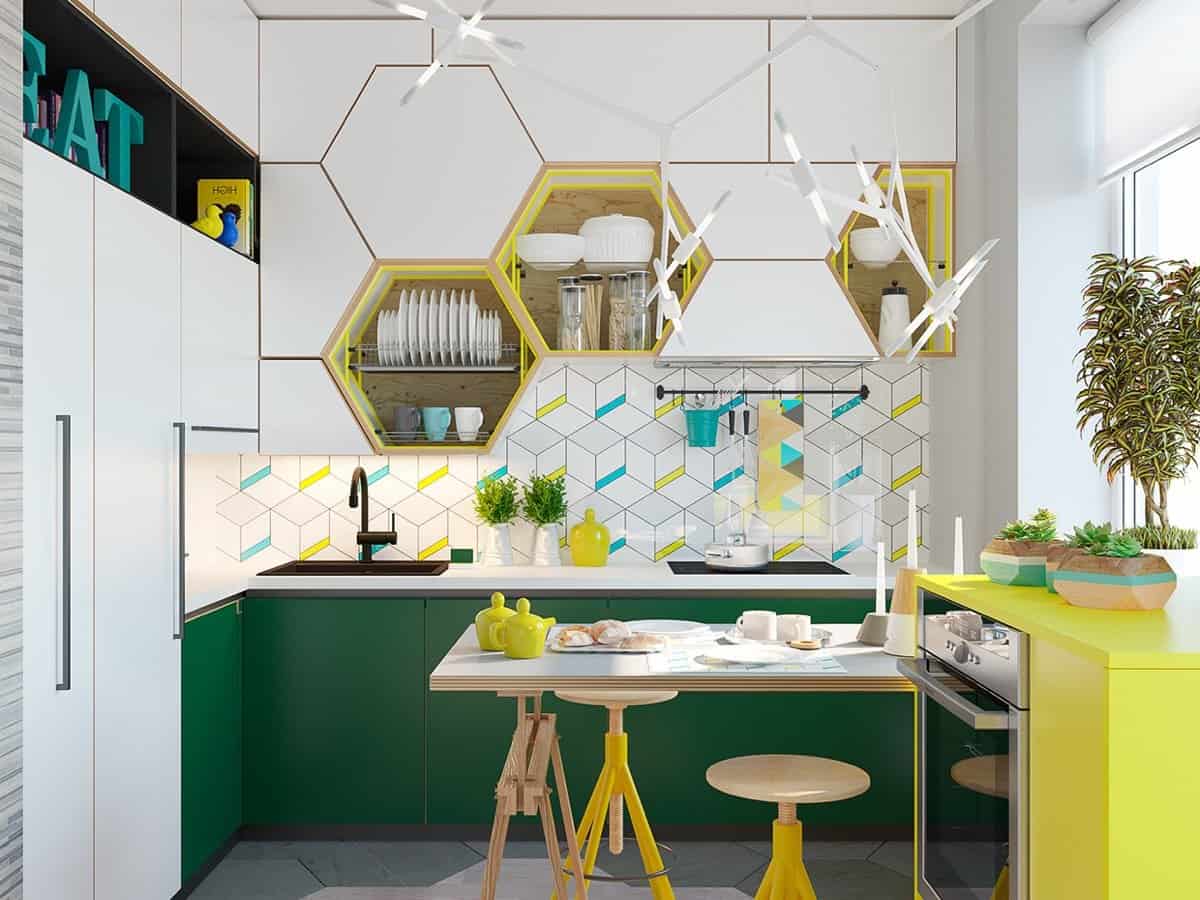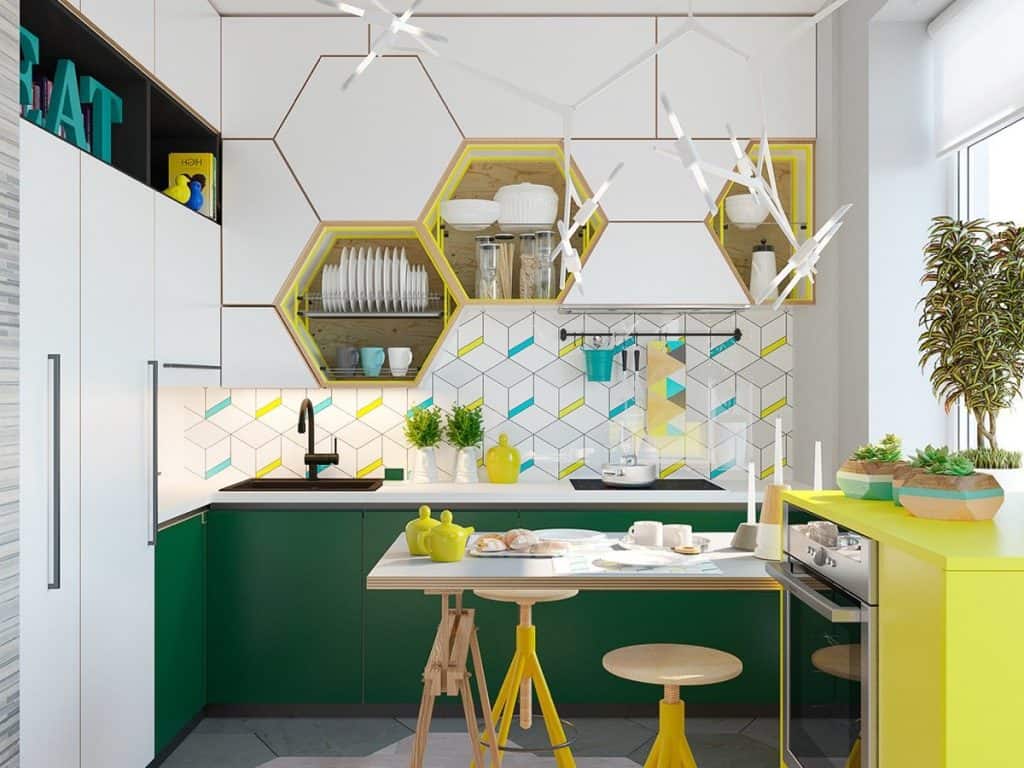 Vibrant colors are capable of giving us a warm feeling when we enter the room.
This is a great example of a proper usage of cheerful colors, such as the green cabinets and yellow kitchen island.
Supported by those colors, this one wall kitchen layout is a smart idea to make space for the small dining table.
Then, touches of white color on several spots bring openness for the area. You can enjoy your breakfast comfortably without breaking out the simplicity of the room.
An All-White One Wall Kitchen Cabinetry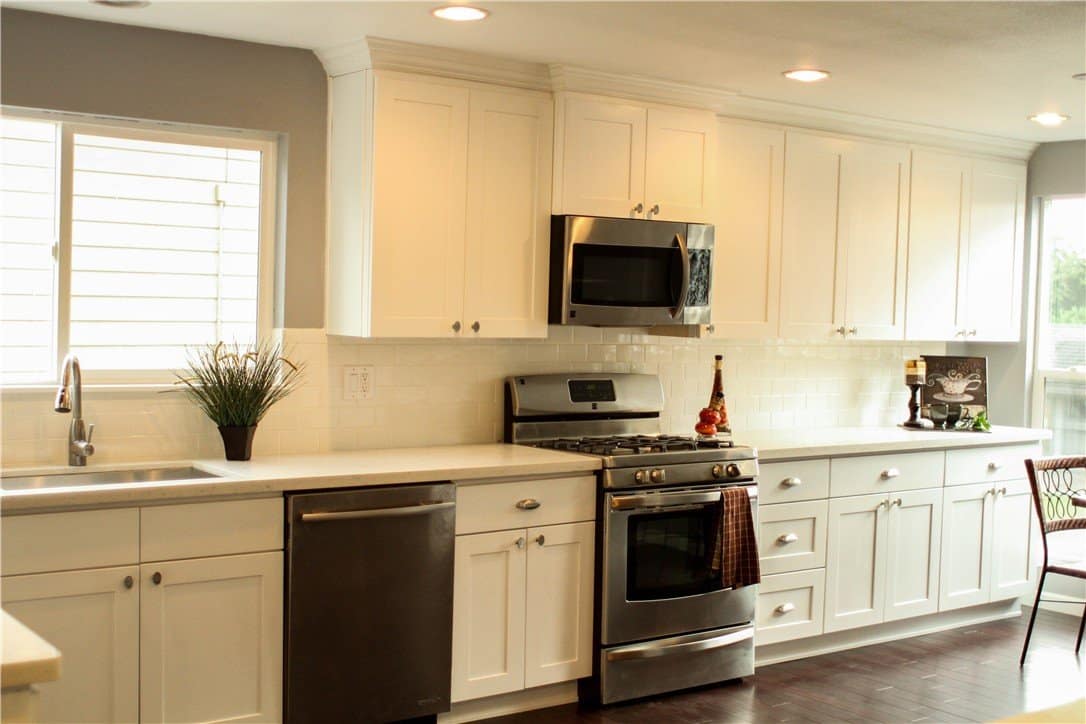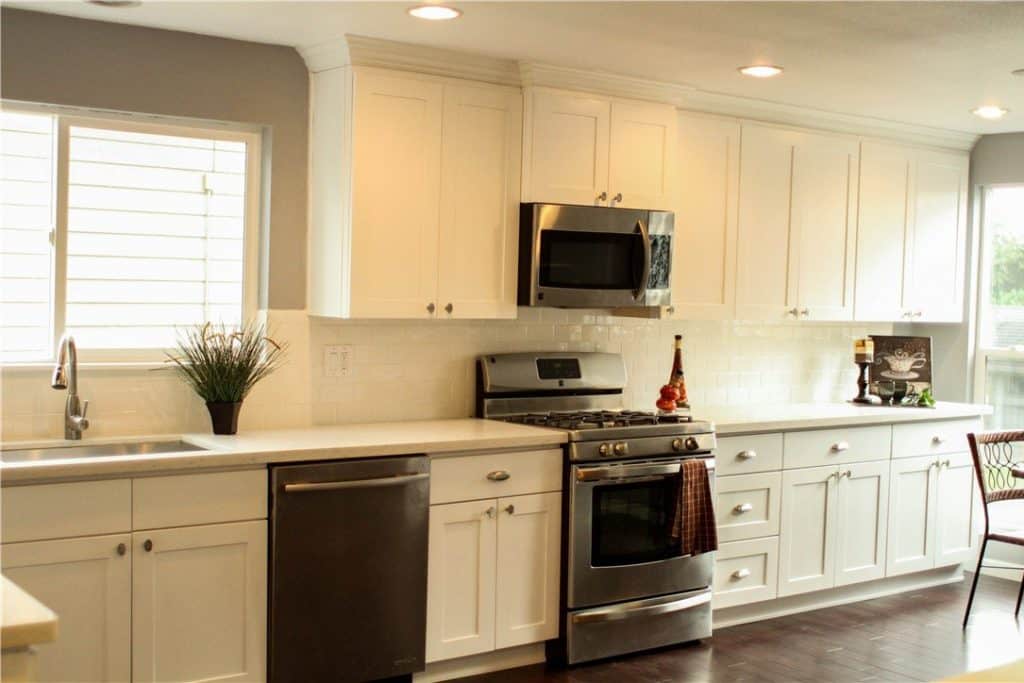 Openness of an area becomes an important aspect in a house. It prevents you from feeling claustrophobic.
Plus, in modern houses, the value increases as buyers see such potential. A single wall kitchen layout would help a lot.
Leaving the traditional L-shaped kitchen, this kitchen occupies a limited space, which opens the area to the dining table.
Then, the variety of white cabinets on the wall also contributes to the open concept you may be looking for.
One Wall Kitchen with Invisible Cabinets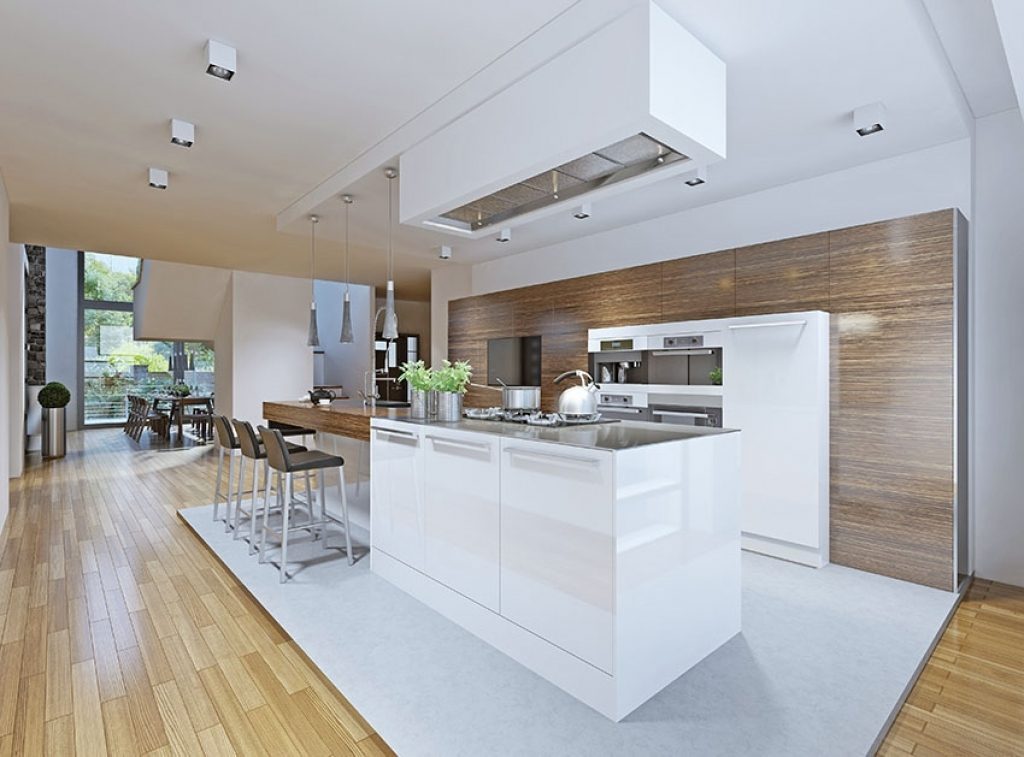 Each day, there's always a new design for a kitchen space. Whether it is rustic and traditional or modern and contemporary, each individual wants something different and uncommon.
This particular design displays a futuristic touch. Its clean-cut cabinetry is displayed with smooth surface.
Meanwhile, the overall kitchen area, including the breakfast counter, shows a clean-looking environment, which is the most essential aspect of a futuristic design.
Monochromatic-themed Single Wall Kitchen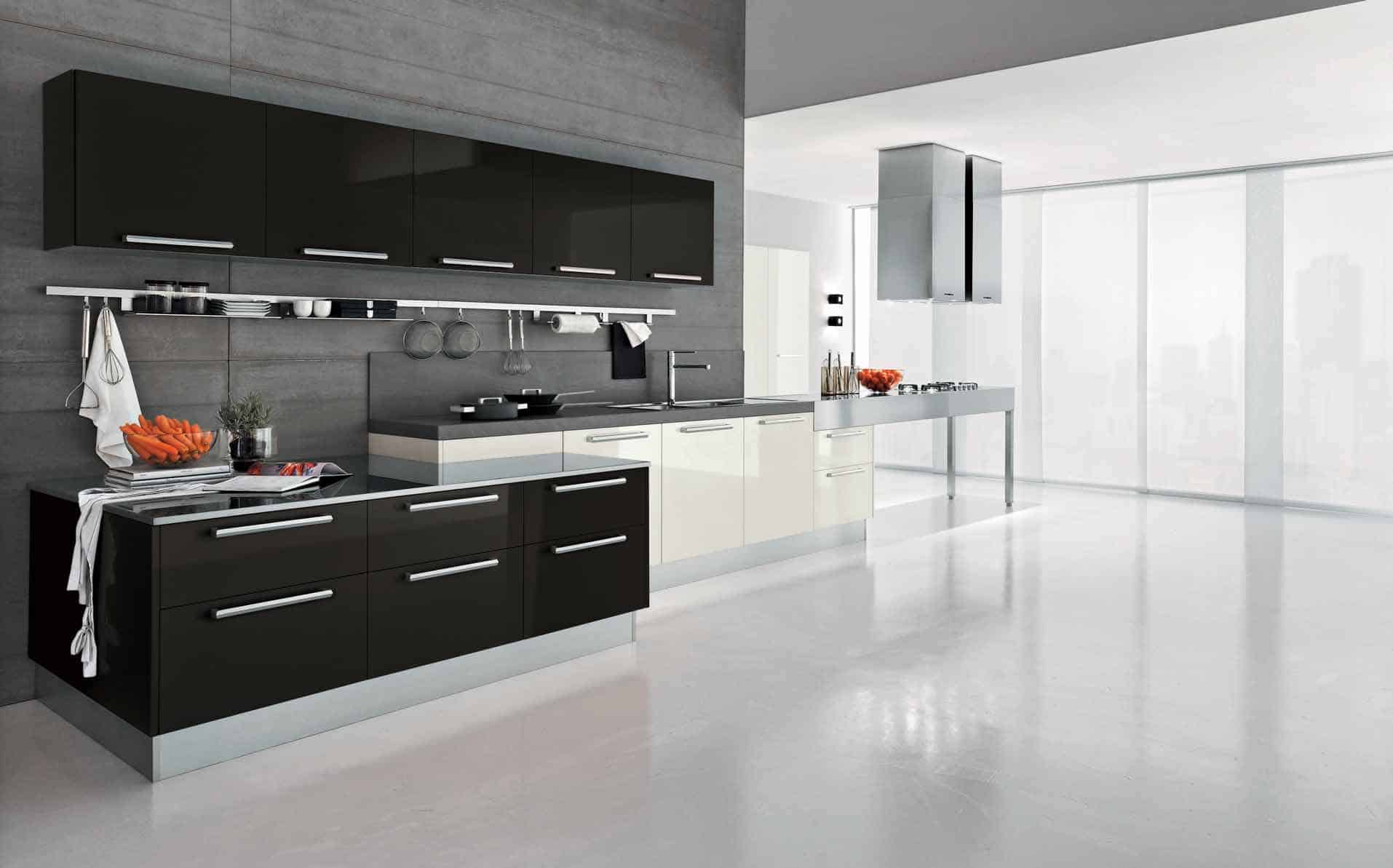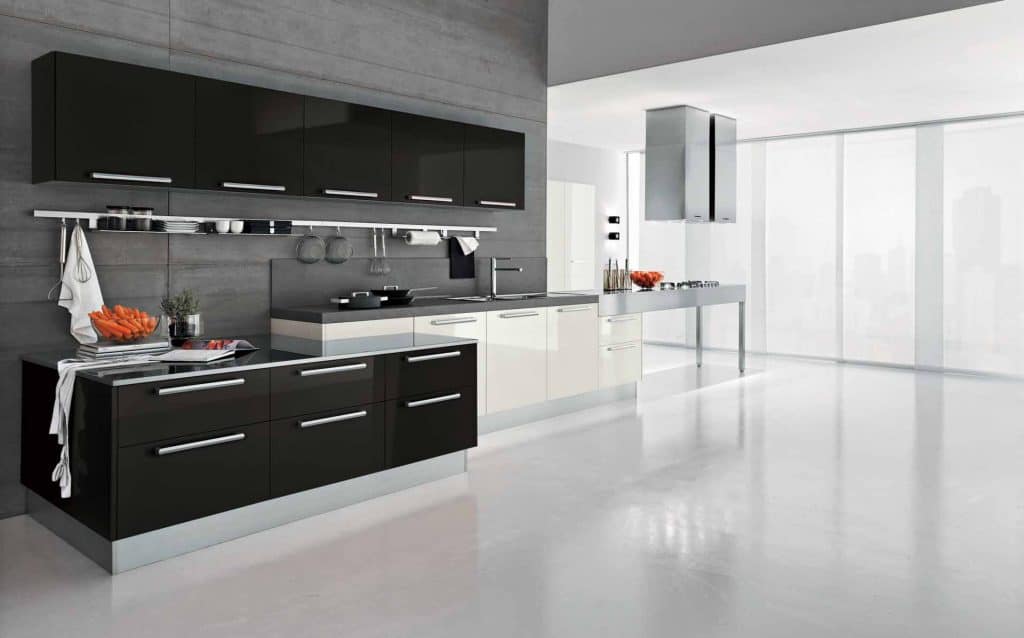 These days, it's not a secret that people love to have a clean-looking kitchen space.
The level of cleanliness may resemble the individual's hygiene and sense of modernity. This kitchen looks very modern and updated.
Colored in black and white, the cabinets and the drawers fit neatly into the neutral gray-colored background. In this layout, you can see how open the area is!
That is because the wall is painted with gray and the use of white tiles is extremely helpful.
Country Style One Wall Kitchen Idea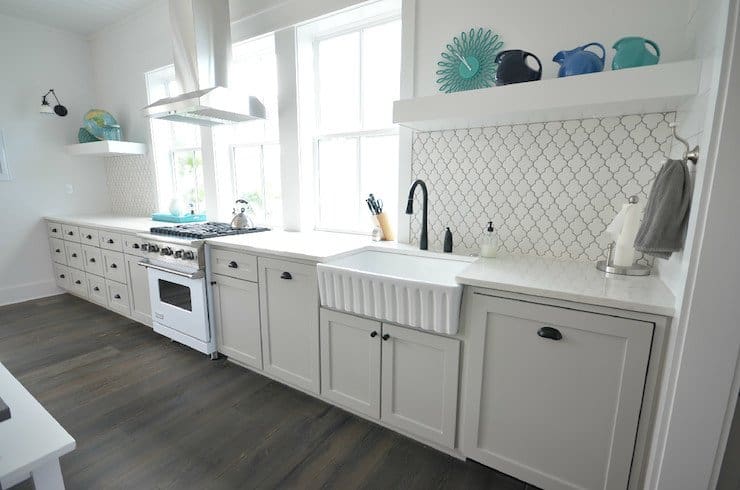 This country style kitchen utilizes a single wall kitchen idea to create this simple cooking space.
This one wall kitchen design doesn't have overhead cabinets, except the gravy rack on each corner, but that's a great idea considering the ceiling isn't high enough to create an open concept.
The white drawers and counter-height cabinets provide a clean-looking appearance against the dark wood floorings which supply depth and a little bit of heat in the area.
One Wall Kitchen with Rustic Touches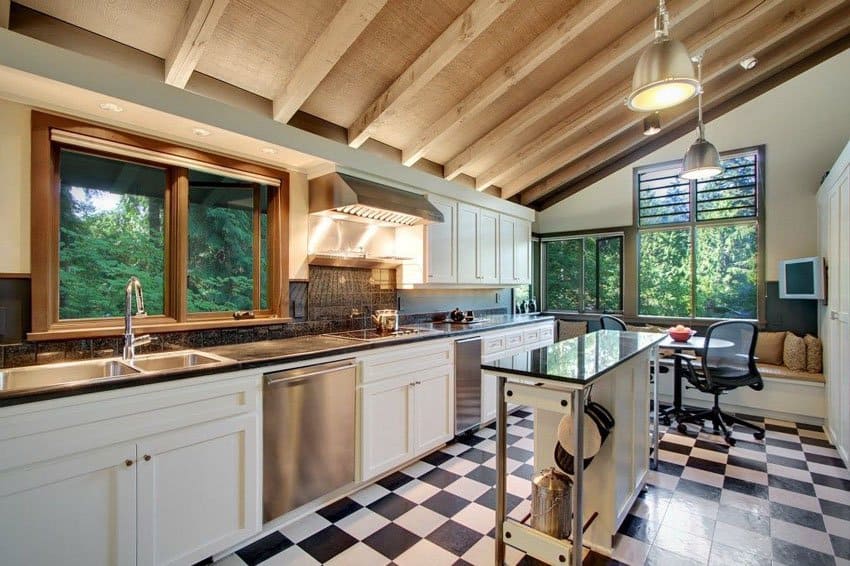 A one wall kitchen design isn't only suitable for a modern kitchen plan, but it also works in a modern-day cabin style kitchen.
First of all, the wood ceiling is exposed, which is a lovely touch for rustic theme. Then, the single line drawers and cabinets are topped with dark countertops.
Another noticeable feature of the kitchen is the narrow, portable kitchen island. Even though it's narrow, it's enough for cutting ingredients.
One Wall Kitchen with An Open Concept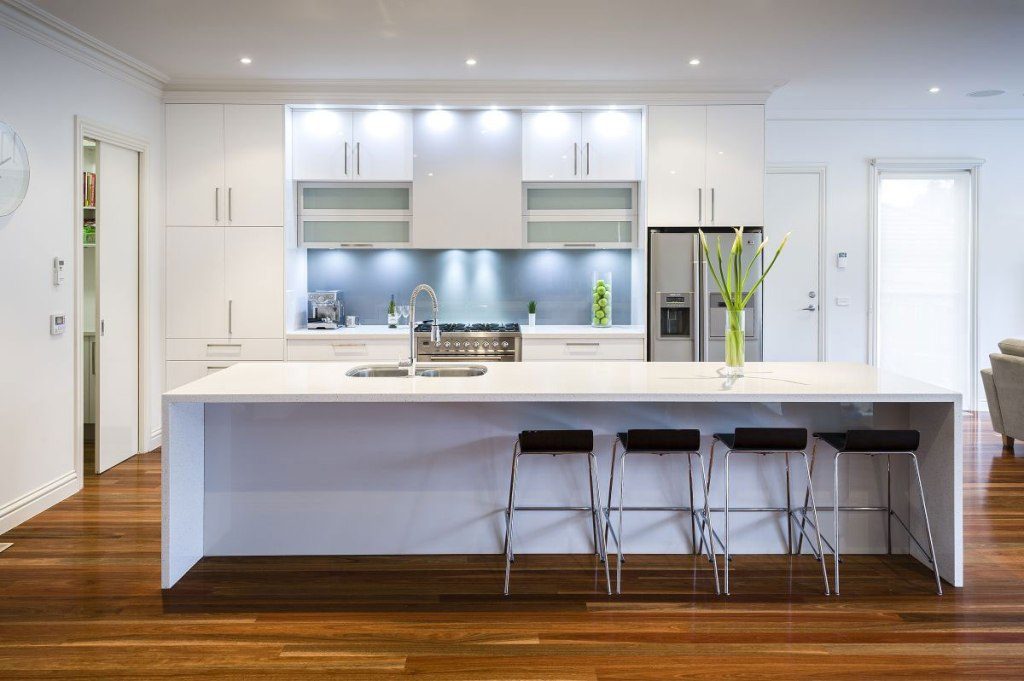 As you enter this kitchen, you'd see that the owner uses an all-white concept. White is used on almost every part of the kitchen, except flooring.
In this room, the high ceiling, walls, overhead cabinets, drawers, and breakfast counter are made in white, including the white quartz countertop, creating an open concept which makes the room larger.
To balance the brightness, the owner chose to include dark wood with different hues of brown.
One Wall Kitchen Design for Small Space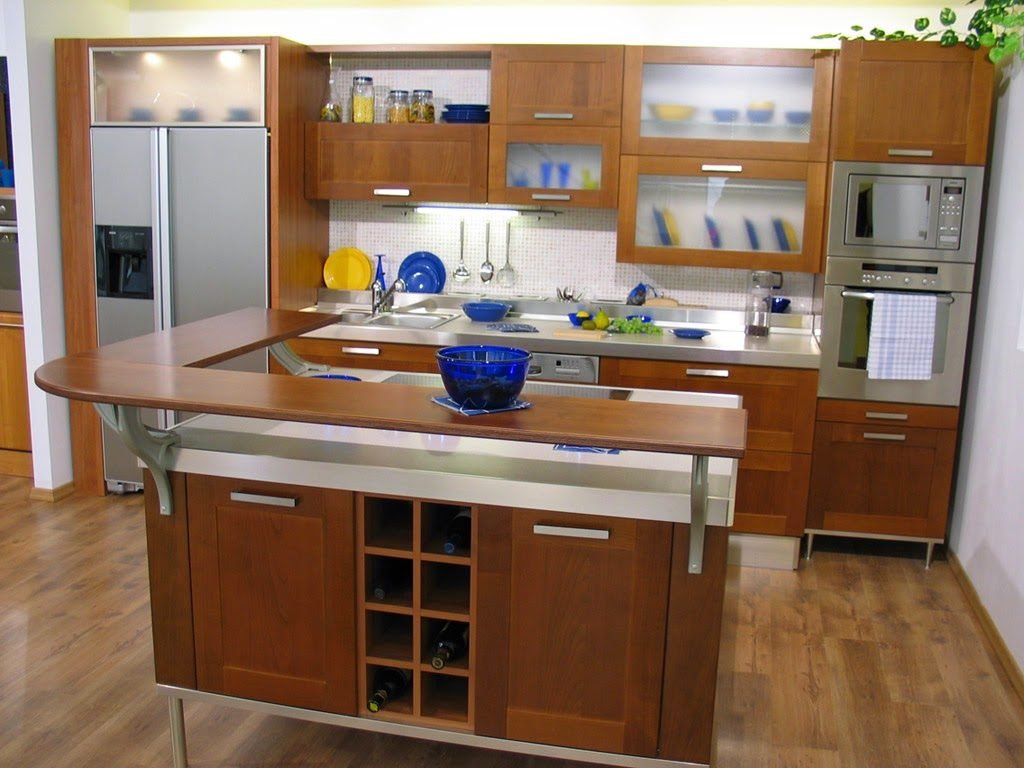 A small space is often a challenge for a kitchen, but a one wall kitchen design works just fine with a limited space because it hugs only one wall, which leaves space for a breakfast counter or a narrow bar.
Apart from the white background, you can use wood for cabinetry, perhaps, pine or oak wood that sparks a light caramel color, which is also applicable for counter top and flooring.
Rustic Kitchen with A One Wall Cabinetry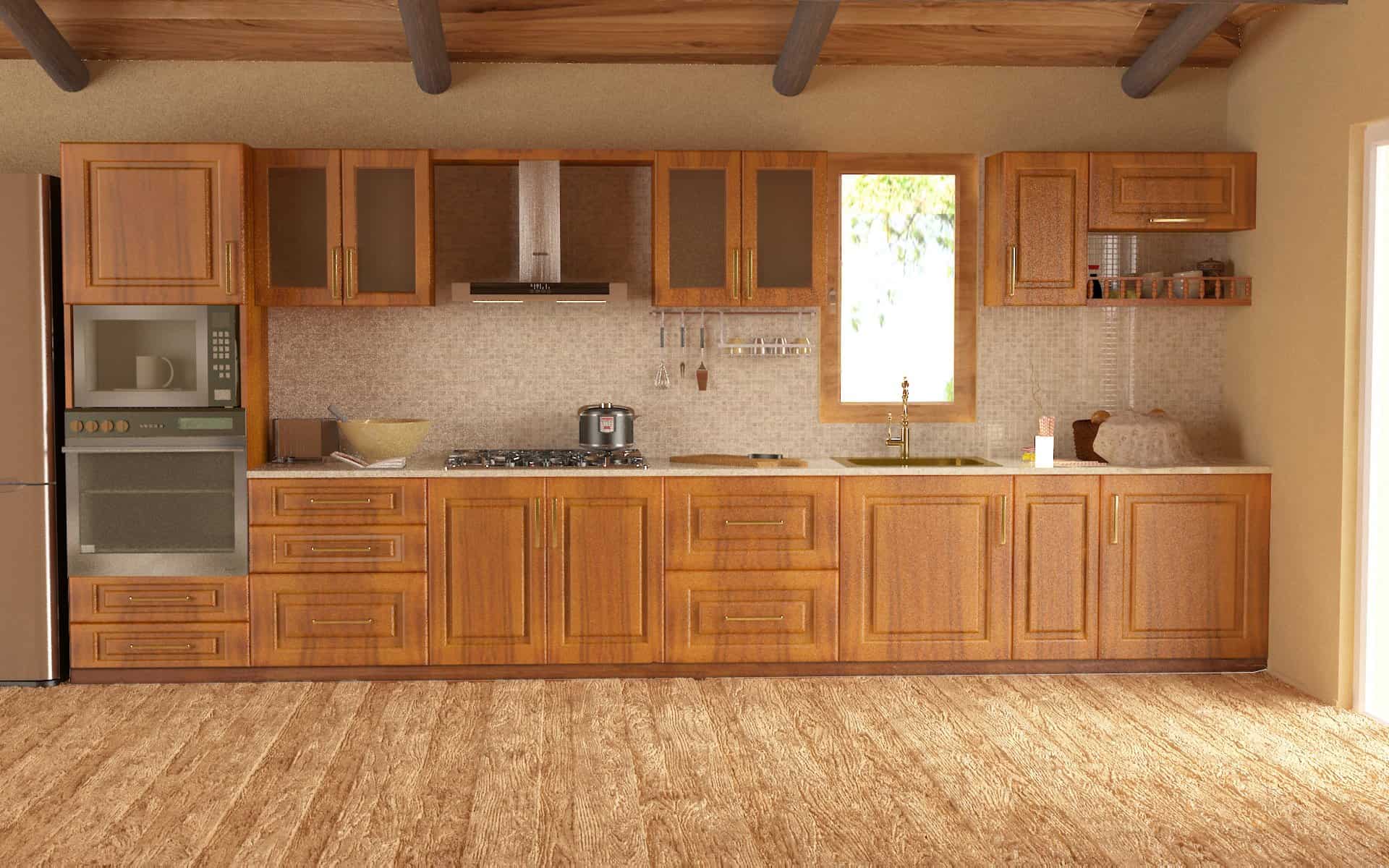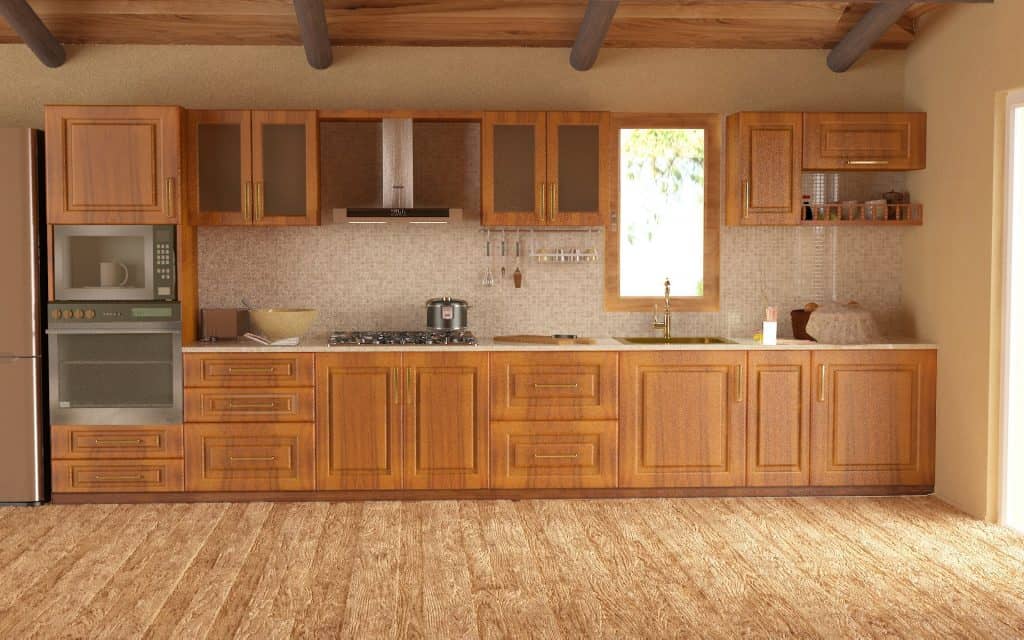 A kitchen with cabin style is also known as craftsman. It utilizes crafted wood for a lot of aspects in the room, such as the ceiling, overhead cabinets, cabinets, drawers, and flooring.
This kitchen has an exposed wood ceiling which is accompanied nicely with the rustic-looking hard wood flooring.
In between them, you'd see a single wall cabinetry that's divided into the overhead and the waist-height cabinets.
Overall, the warm caramel color from the wood sends out a warm, welcoming feeling to whomever enter the kitchen.
One Wall Kitchen Cabinet with Retro Style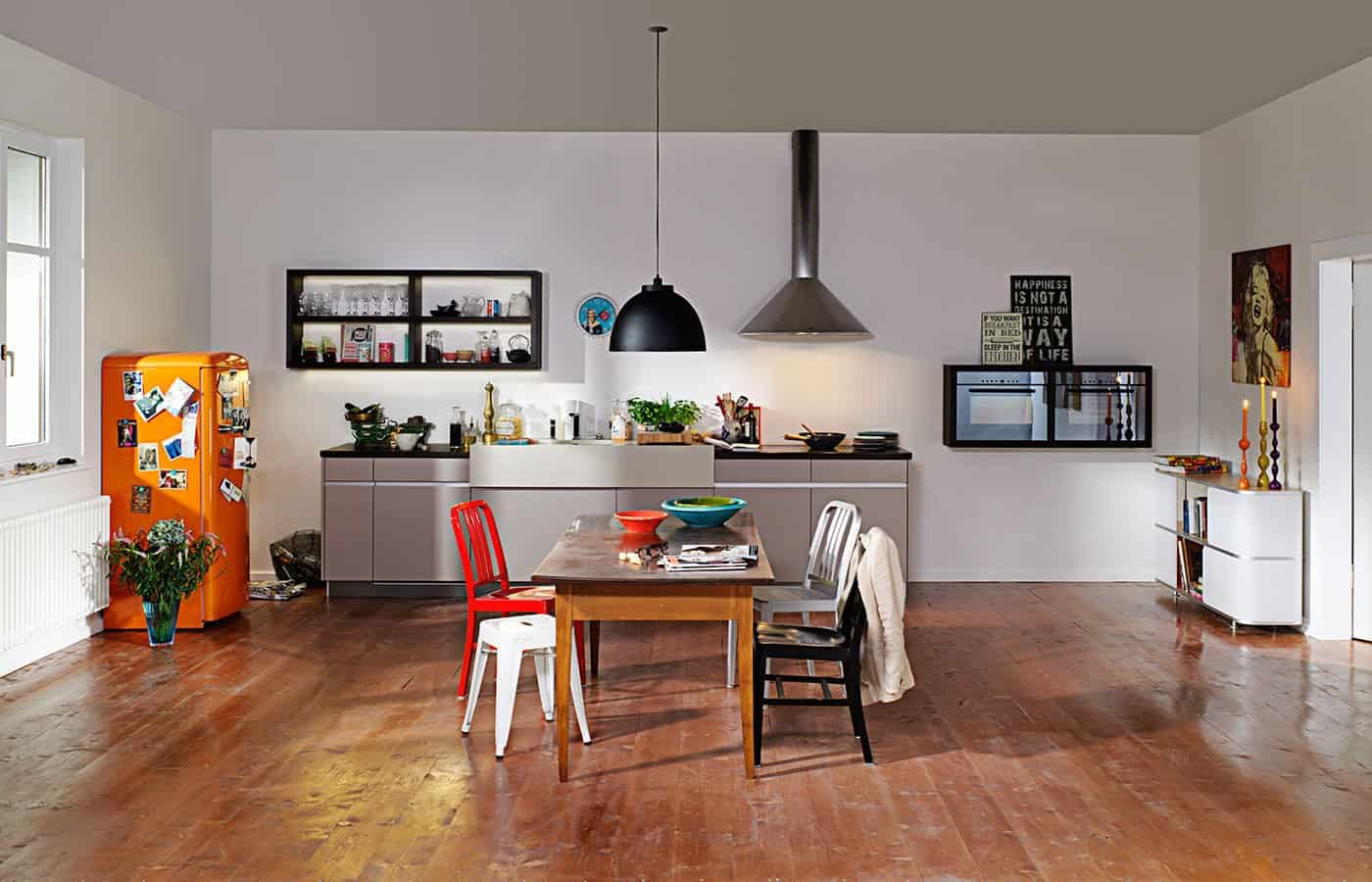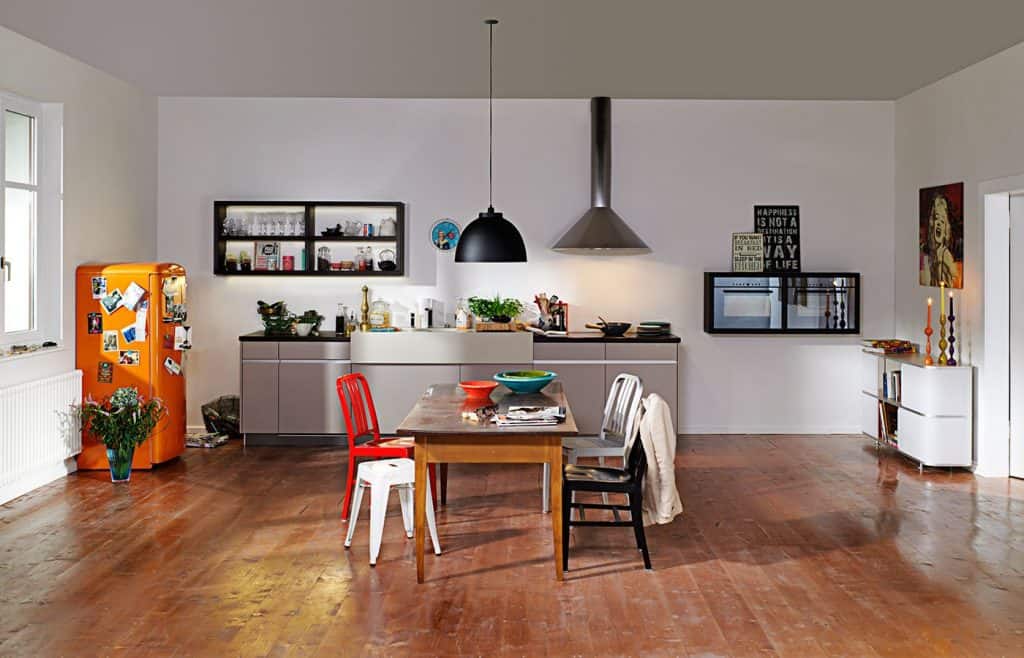 Isn't this an eye-pleasing interior design?
The layout of everything is right on its place. The single line kitchen counter at the back may seem simple, but it's enough for, at least, a stove and a single sink.
In order to store cooking spices, you can create a unique built-in storage on the wall.
Moreover, using this particular design, you can actually place the refrigerator anywhere you like.
However, it's recommended to install it near the counter and the dining table.
A Clean-Cut Mediterranean Kitchen Style On One Wall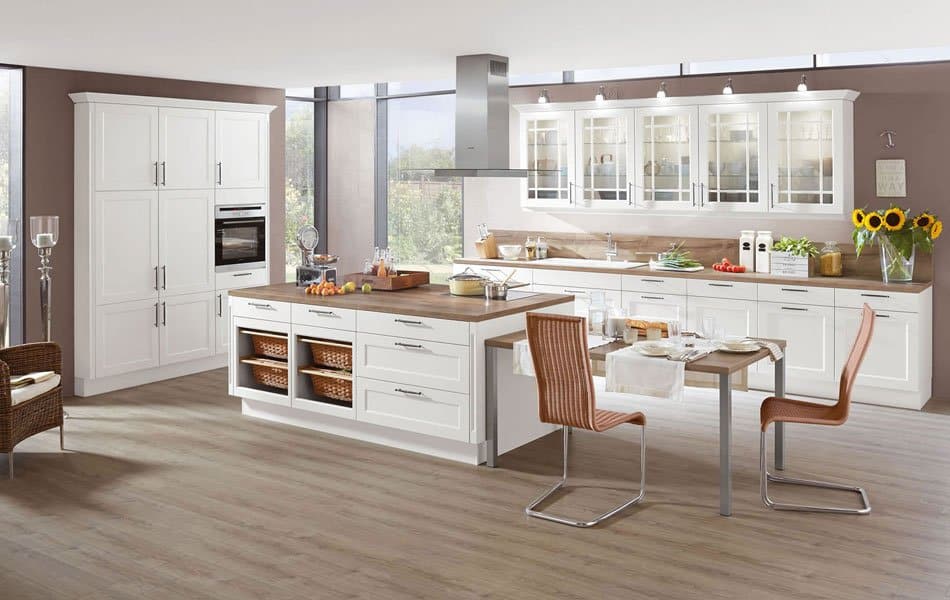 A spacious room is often accompanied with neutral colors in order to keep it open and airy. This kitchen utilizes a single wall kitchen by centering the cooking area on one kitchen at the back.
It's decorated with overhead white colored, see-through cabinets, while the counter is topped with hard wood countertop.
The mixture of white and brown in this kitchen is captivating, providing a warm and relaxing feeling to visitors.
Related: 
One Wall Kitchen with Marble Island Countertops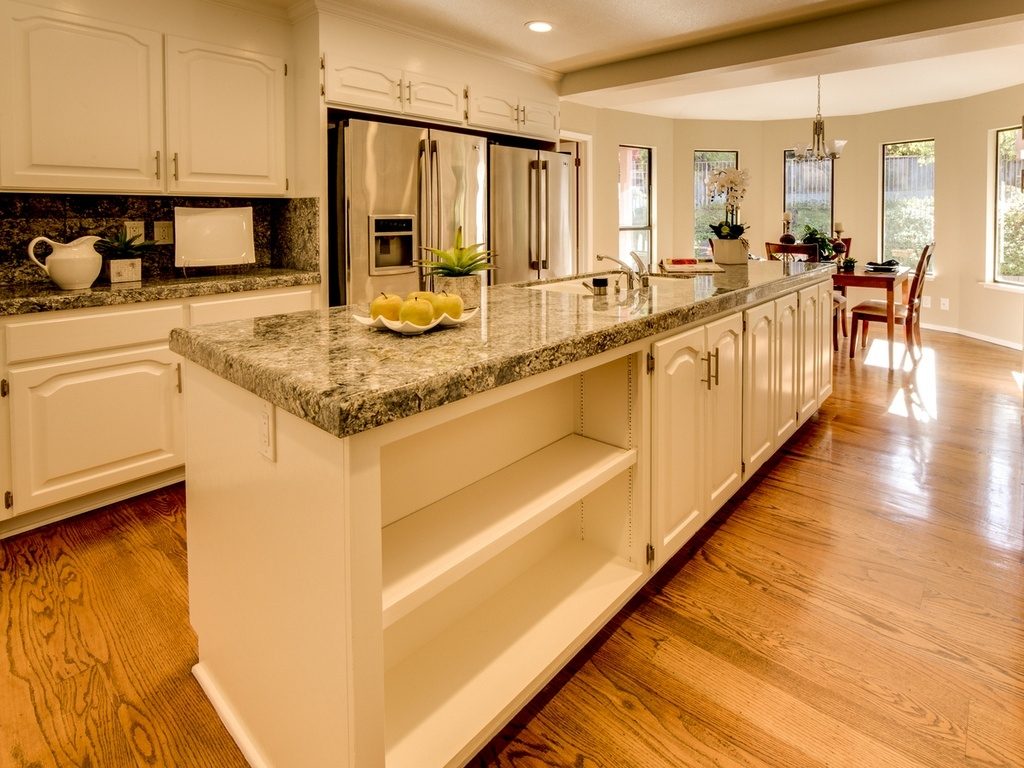 White is a neutral color, which has been chosen by a lot of people to color their interior spaces.
This time, you can see white everywhere except on the flooring. This is actually a smart choice, because now the room looks clean, airy and open.
Moreover, the owner uses marble countertops that blend really well against white background.
This kitchen also uses caramel brown wood board flooring, which gives a nice contrast to the whole area.
One Wall Kitchen with Dark Wood Flooring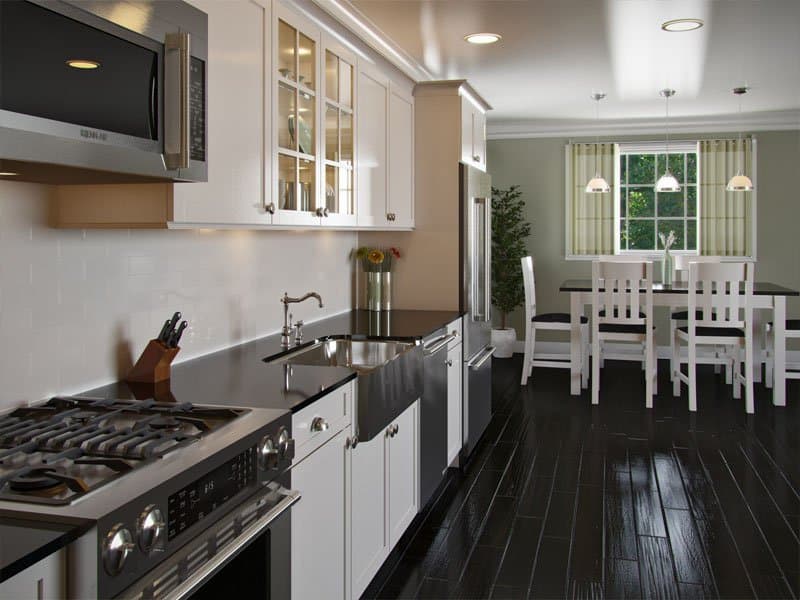 As you enter this kitchen, you'd notice that the space utilizes black and white colors.
In this example, you'd see that white is used for the ceiling, which makes it look higher.
Then, white is also used for dishwasher panel doors and the overhead cabinets.
It is an excellent decision to have dark wood flooring as a contrast against the white decorations, because it gives the entire space a depth.
One Wall Contemporary Kitchen with Portable Island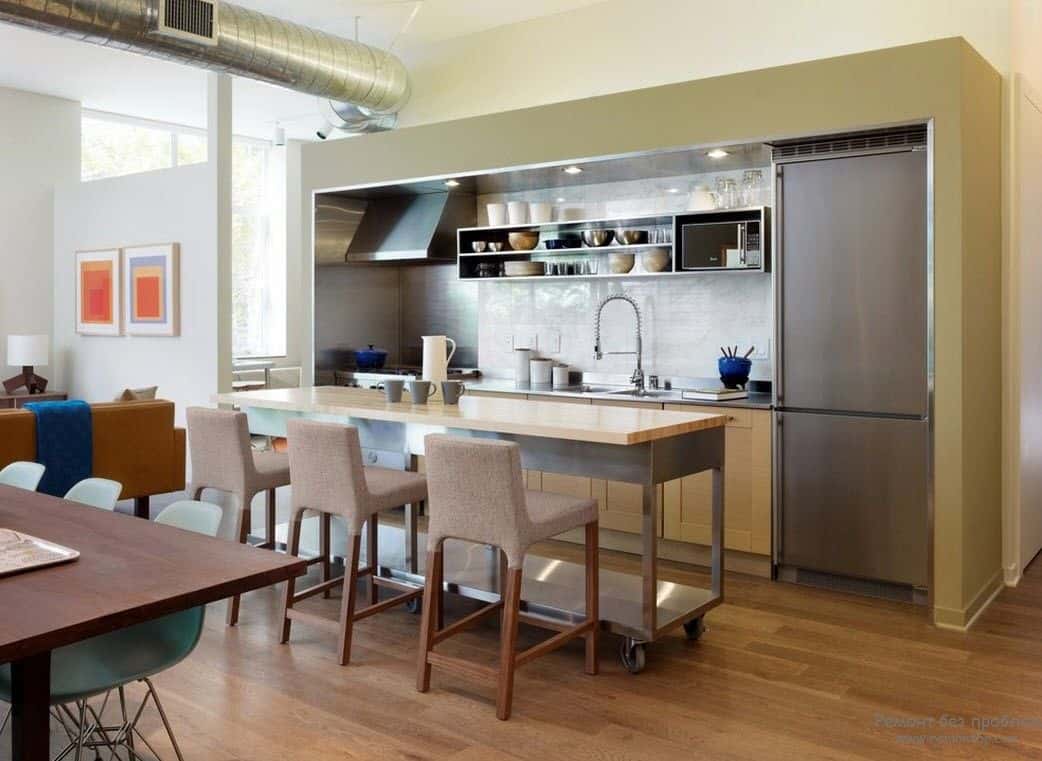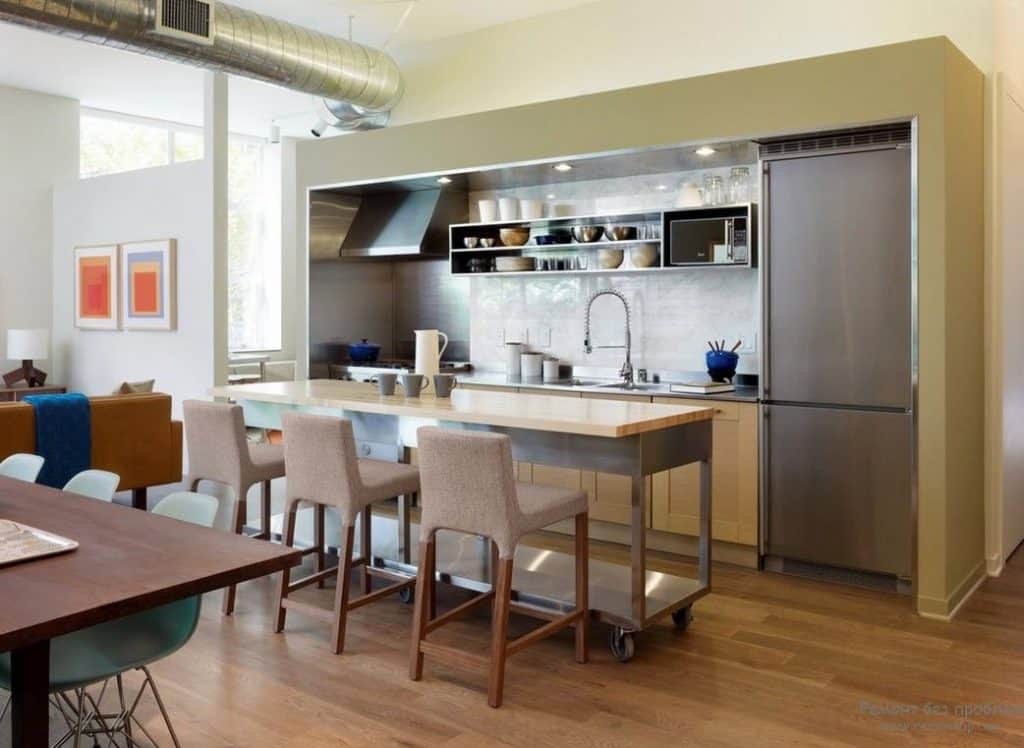 Do you know, the main purpose of a single wall kitchen design is to use a limited space for cooking activity, which includes hardware and appliances needed for kitchen, such as refrigerator, stove, vent, sink, cabinets, and racks for cutlery?
As seen in this kitchen, all of those hardware and appliances are stored nicely in an open green colored structure that frames the entire cooking area.
There's also a portable island, which serves at least two purposes, a cooking island and a breakfast bar.
Simple Yet Elegant One Wall Kitchen Design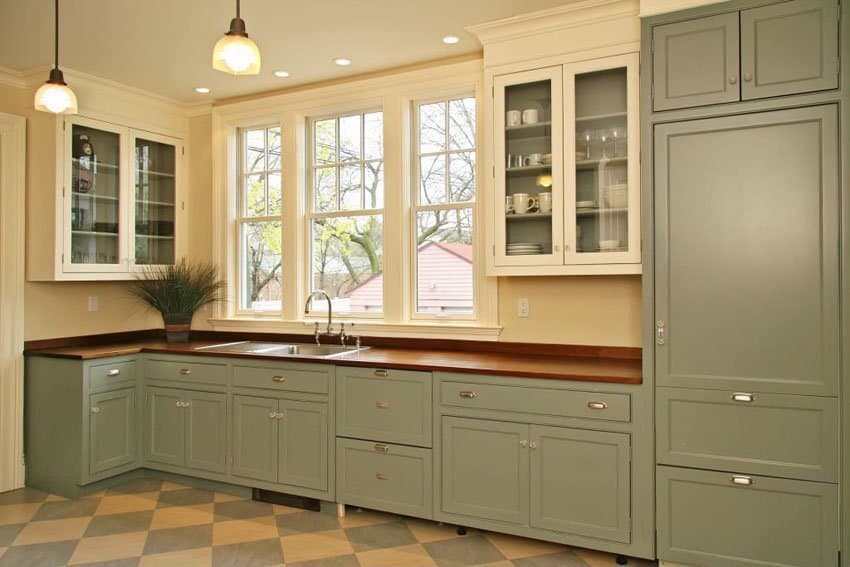 A lot of people believe that simplicity is the best policy, because the simpler the style; the more elegant it appears.
That saying applies to this kitchen as it shows a simple design, yet it looks modern and elegant.
First, tiles are shown to have a unique pattern; it's a pastel blue square on top of a creamy brown color.
Then, the wall and the overhead cabinets have similar color which brings warm and relaxing feeling.
Moreover, the existence of windows in between the cabinets provides a stunning view of the outdoor scenery.
One Wall Kitchen Idea with Exposed Brick Frame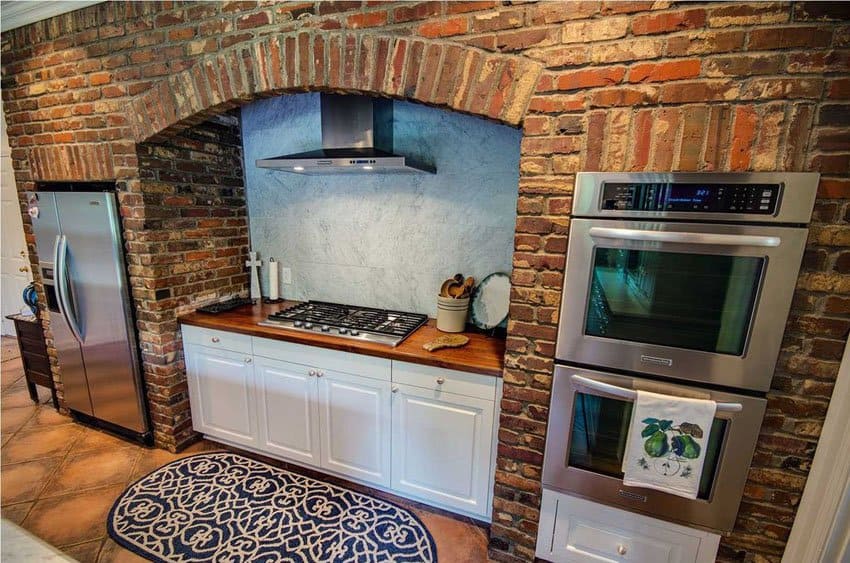 Escaping the ordinary, this kitchen utilizes uncommon one wall kitchen design using bricks.
As you may already know, bricks are usually used to give a room rustic atmosphere. Many interior designers would suggest exposing bricks on one wall to make it unique and different.
It's even more unique in this kitchen, because the bricks aren't used for walls, but they're used to frame kitchen hardware.
There are oven, refrigerator and the cabinets in the middle, separated by thin structures. How unique!
Bold Red One Wall Kitchen Design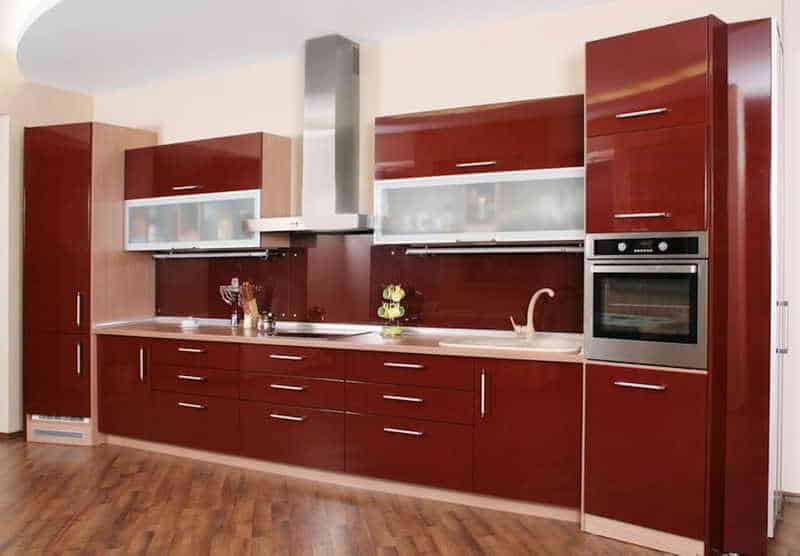 Red is a strong color. It is both bold and captivating. This one wall kitchen design is suitable for a spacious kitchen area, because it contains complete kitchen hardware.
At first glance, you may not see the refrigerator, but it's hidden under an overhead cabinet.
There are a lot of drawers and ceiling cabinets as well. Those are excellent options for extra storage.
Then, to balance the boldness, you can use a dark caramel wood for floorings, which give the entire room a warm, welcoming feeling.
One Wall Kitchen with Industrial Backsplash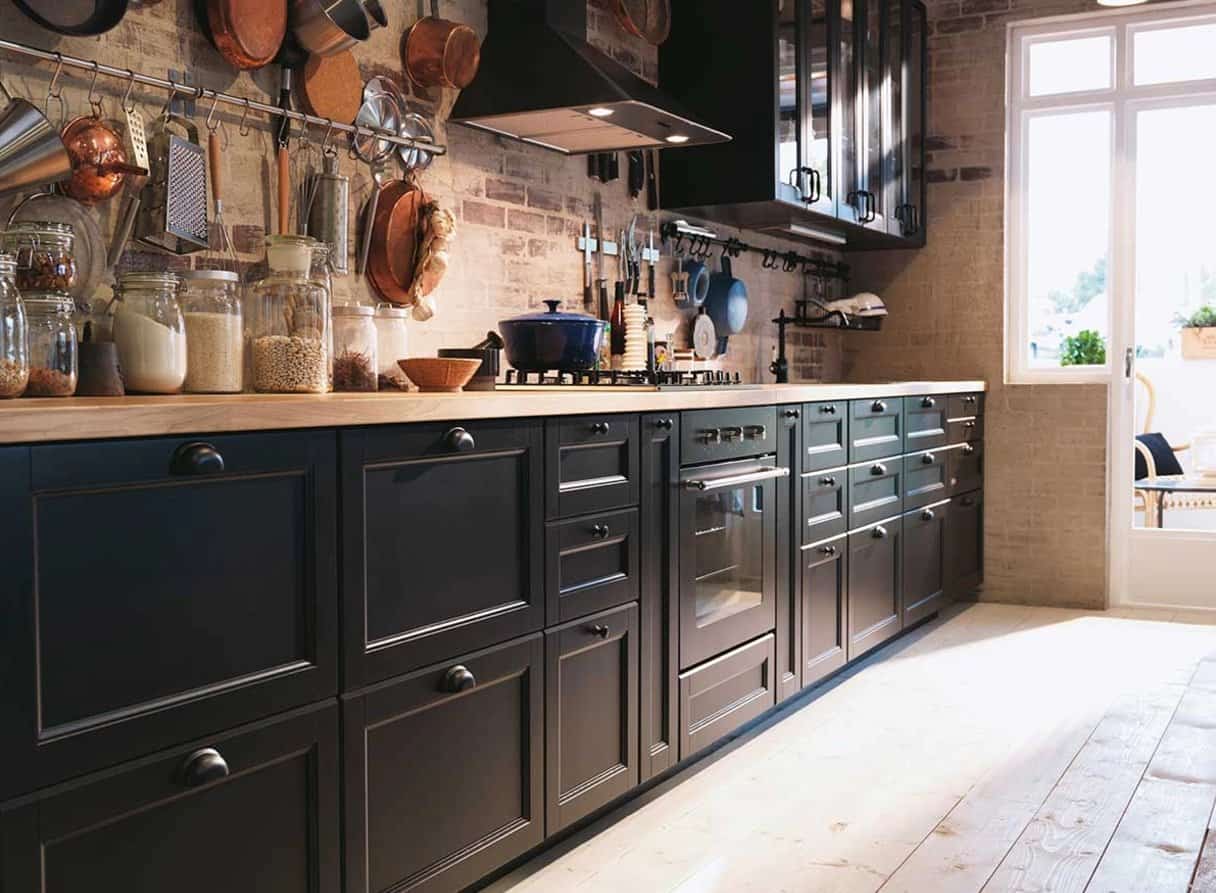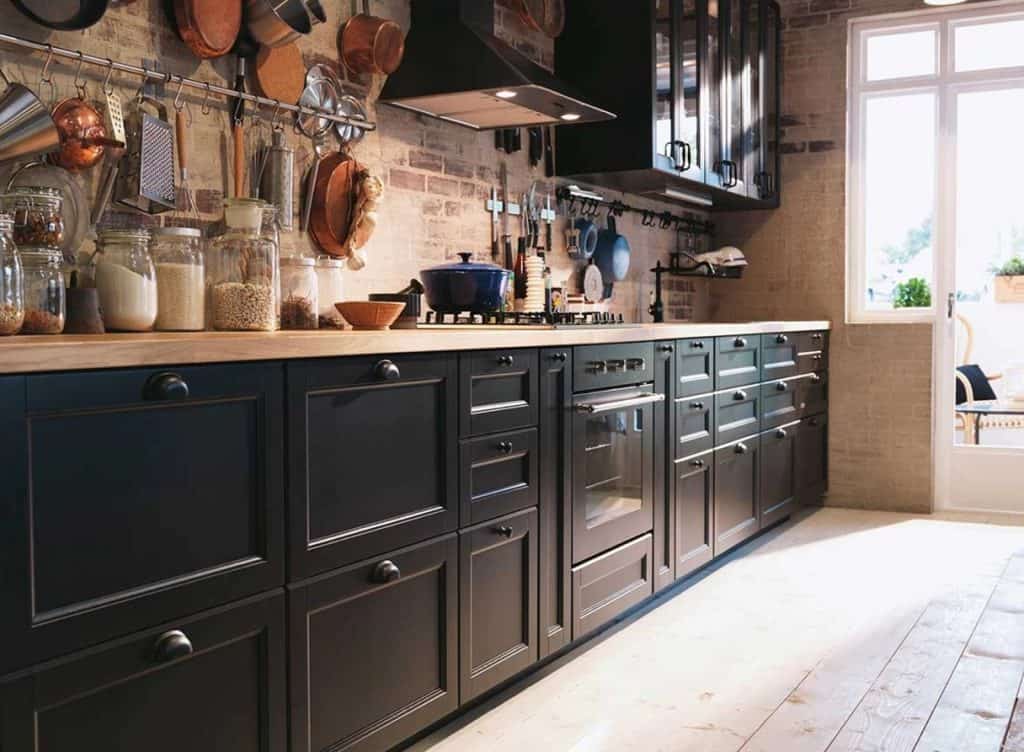 A kitchen counter cannot be separated from its backsplash. They're almost like a couple of sandals; you can't wear one without another.
This kitchen is a great example of a balance. The black color on the cabinets is overwhelming. It spreads out a modern feeling, especially when it's topped by a hard wood countertop.
To balance the updated style, rustic exposed bricks are installed on the wall, including the backsplash area, which make this kitchen excellent.
Luxurious One Wall Kitchen with Huge Kitchen Island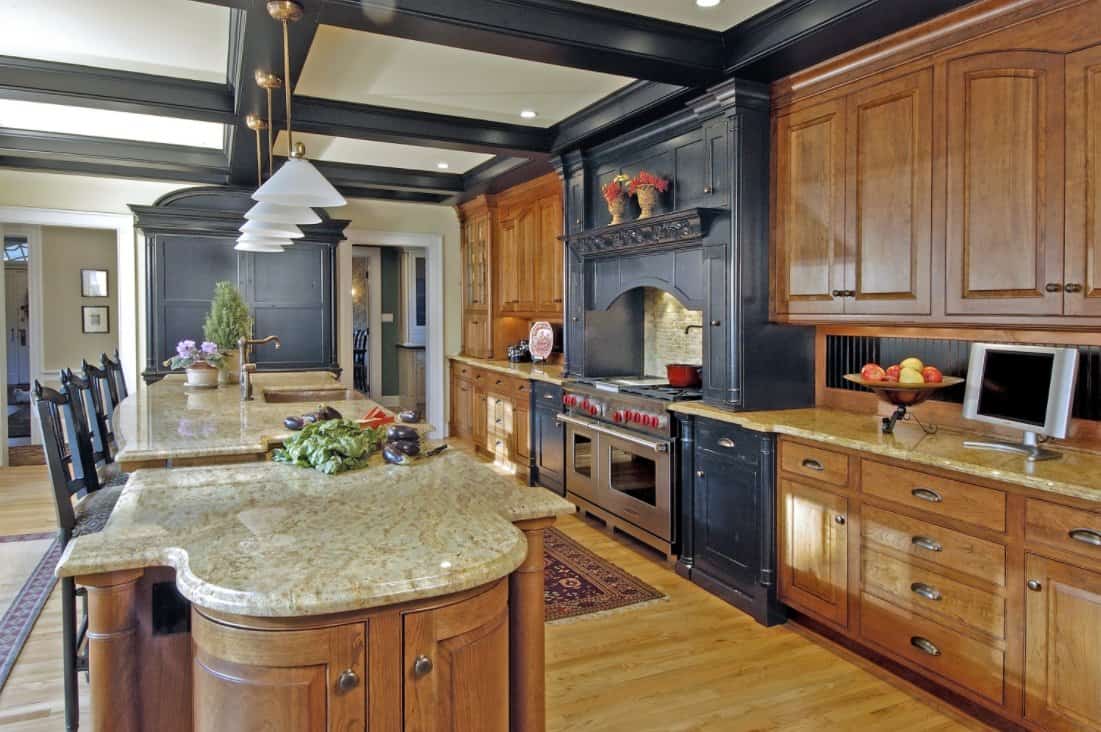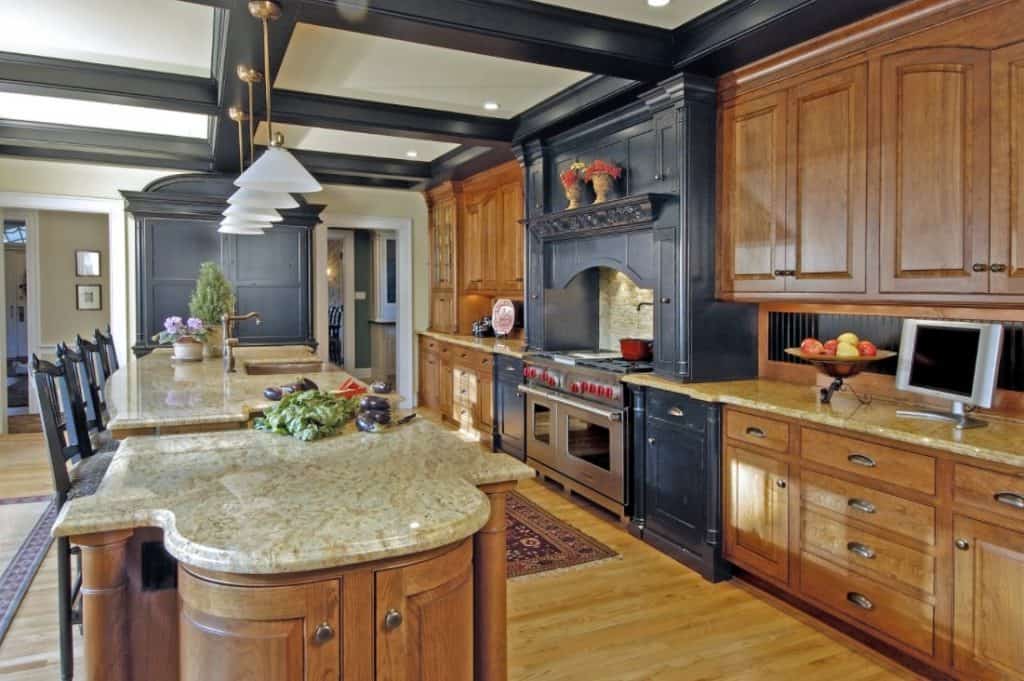 First of all, this kitchen is huge. Even on a single wall, it has a lot of space to store all the hardware and a countless number of cabinets.
As seen, this kitchen chooses to use a darker caramel color for the cabinets, except the unique interior touch in the middle that is made different.
On top of the oven and stove, the vent is framed with repainted wood, which makes it the center of the kitchen.
Other than that, this kitchen also has a huge island that can function as a bar as well.
All Stainless One Wall Kitchen Design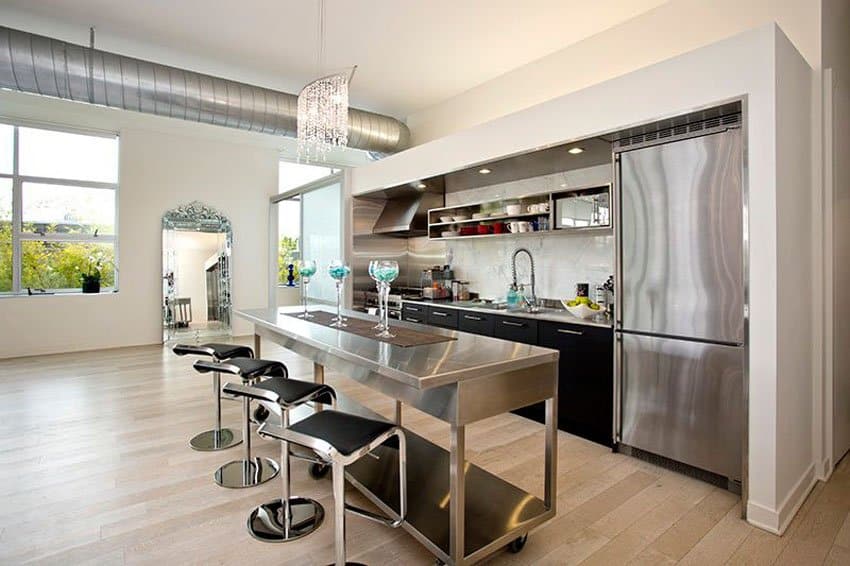 Who's kidding?
It's 2018 and a lot of people are beginning to adopt the modern, slightly futuristic, kitchen plan.
While you're wondering how it may look like, this one is the example of it. The clean-cut look is a result of white color used on the ceiling, walls and the box that frames the kitchen hardware.
Meanwhile, the stainless steel island and bar stools add more value to the futuristic theme in this kitchen.
To make it less stiff, you can use crafted wood flooring with a nice, vibrant color and mounted wall accent that triggers warmth.
Grey One Wall Kitchen Cabinets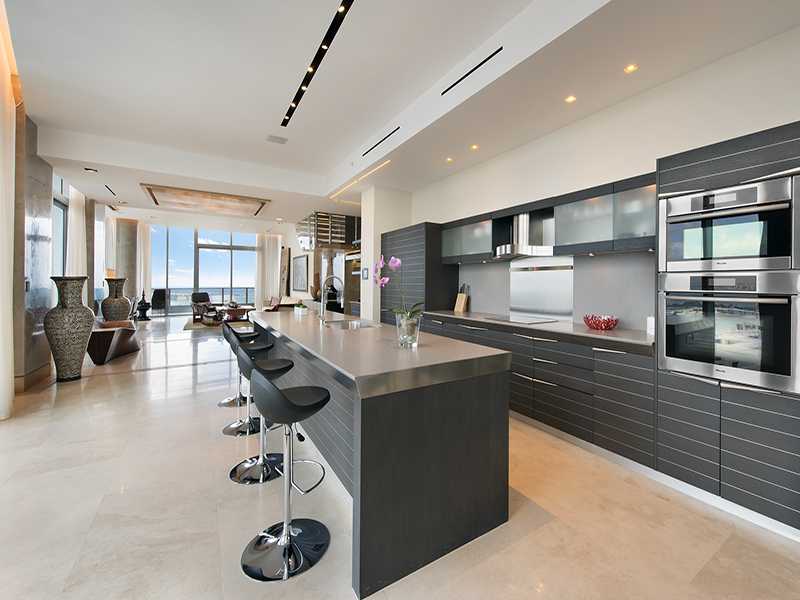 As you see, the entire space is open from the living room all the way to the kitchen, so the one wall kitchen layout works perfectly with the open floor plan.
From the living room's point of view, the kitchen is hidden behind the narrow separation that you can only spot the island bar.
As you walk nearer, the dark cabinets would soon catch your attention. The dark color sets the tone of the entire kitchen space, making it look modern and stylish.
Minimalist One Wall Kitchen Idea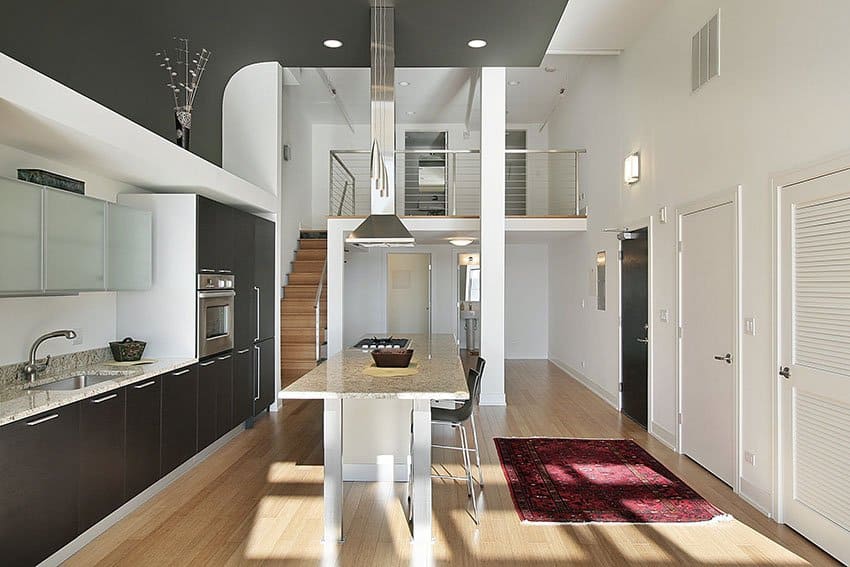 This is an example of common single-wall kitchen design. The paneled doors are topped by a speckled granite countertop that's well-balanced with the doors' dark color.
Moreover, the overhead cabinets have see-through glass door, which would display your collection of cutlery.
Then, there's also an island that doubles as a bar, either for breakfast or any meal during the day.
Trendy and Stylish One Wall Kitchen Design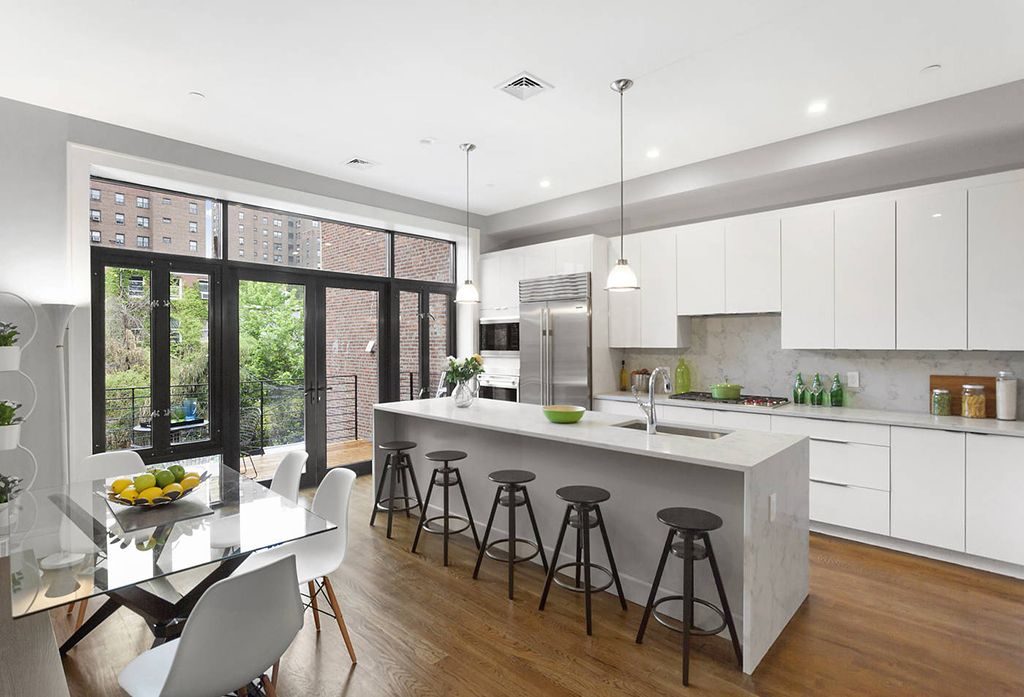 White is a neutral color that would give an area a modern look.
As seen, this modern kitchen gets its trendy and stylish appearance from its all-white theme. But it also acquires its updated look from the one wall kitchen design it applies. The simple design of a single wall kitchen is always fascinating.
It looks simple with the white overhead cabinets and counters, but a little help from the pendant lights and mounted ceiling lamps, the entire kitchen atmosphere changes into an elegant, updated kitchen area.
Contemporary One Wall Kitchen Design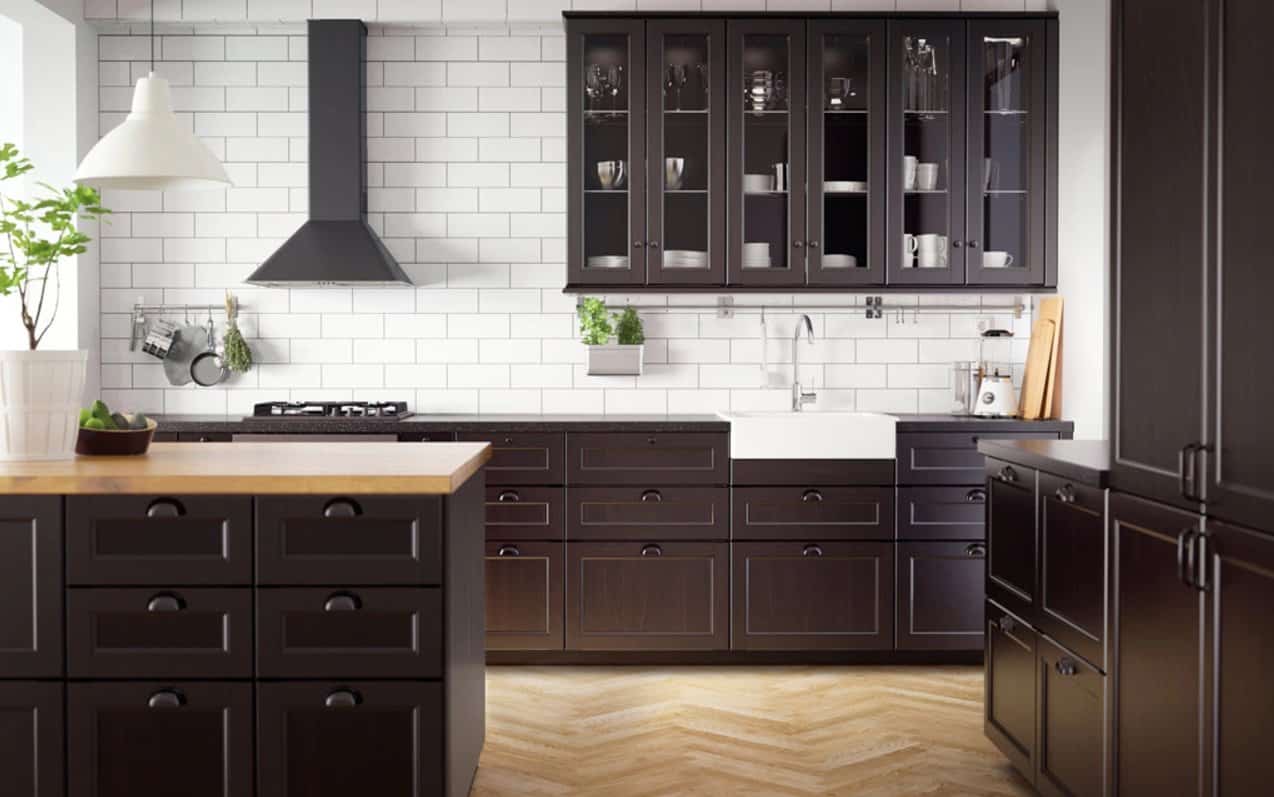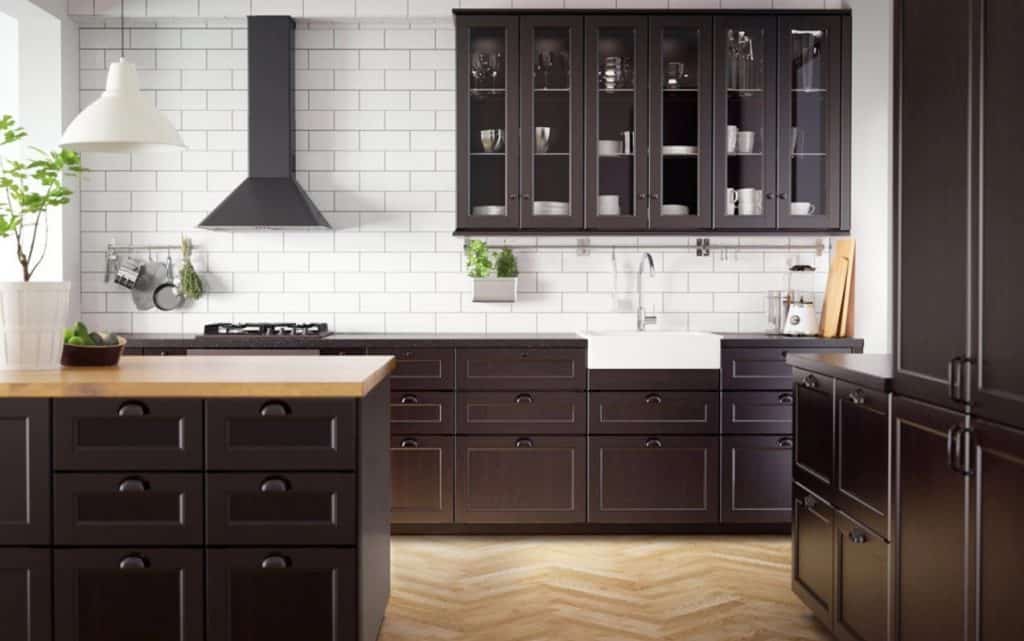 Often times, black is accompanied by white. This kitchen is an excellent example of the mixture.
With white backsplash tiles, the owner chose to utilize a strong colored overhead cabinets and waist-height drawers as such.
While the counter uses a dark top, the island at the front chooses to install a hard wood top to match with wood floorings.