Don Pedro Brooklyn is reader-supported. When you buy through links on our site, we may earn an affiliate commission. Learn More
20 Beautiful & Unique Wood Wall Art Ideas
Wood exhibits a rich and luxurious look – and especially if you introduce a plank or two on the walls, the result is even more stunning and eye-catchy. Whether it's the floors, cabinetry systems, or artwork and wall decor – wood proves its charm over and over again.
Wooden wall decor feels quite sophisticated, chic, creative, and natural. Moreover, its versatility makes it a great option in the Mid-Century, Contemporary, Japandi, Scandinavian, Shabby Chic, Coastal, and Modern Farmhouse setbacks. So, let's have a look at these fabulous 20 wood wall art ideas to create a stylish touch on the walls.
Geometric Wood Wall Art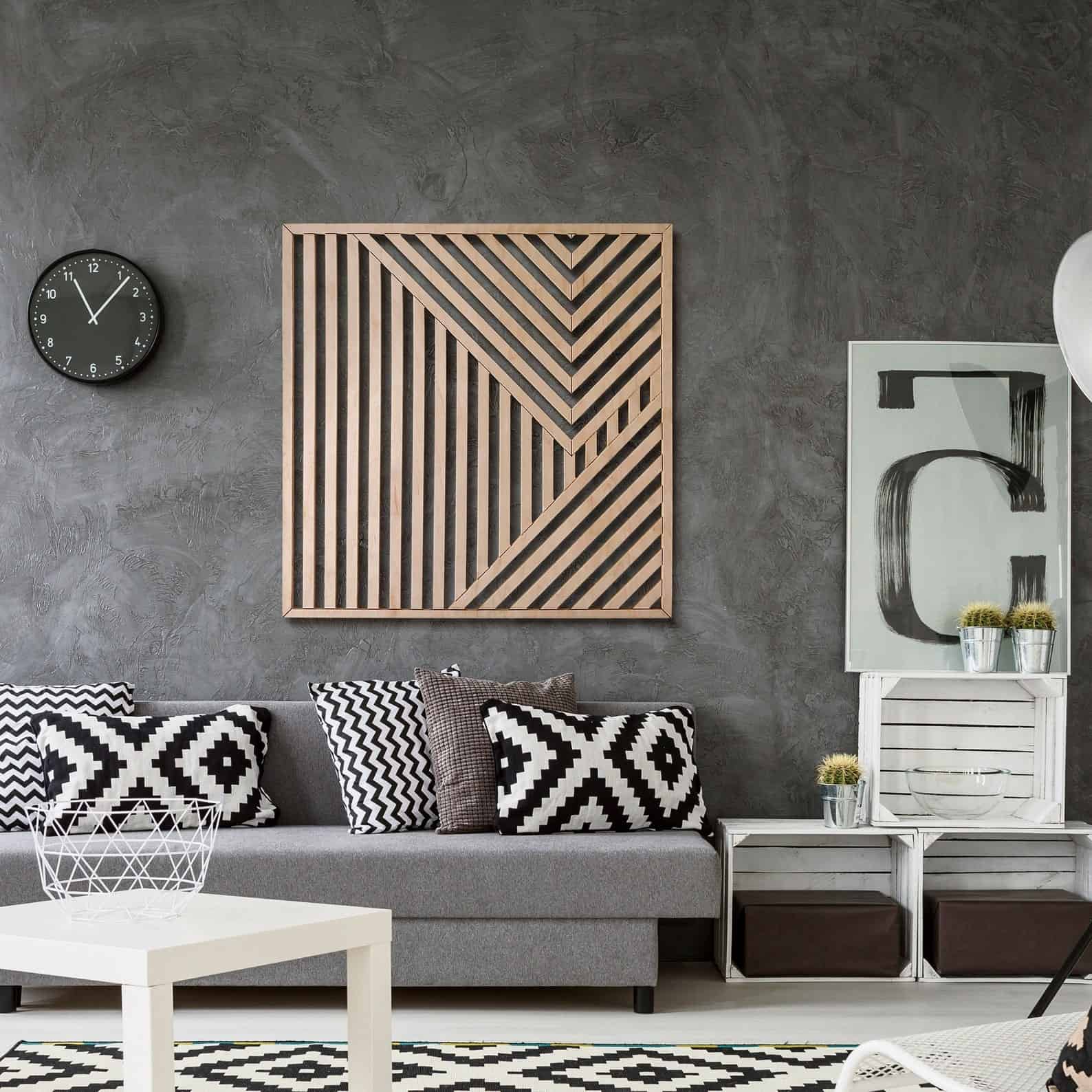 Adding a stunning abstract and modern appeal to the walls, this geometric wood wall art is a great way to introduce a sense of symmetry and balance. You can choose to style it on the focal wall behind the couch or over a focal piece of the console table.
This artwork is made of natural, carefully selected wood to introduce a sense of nature and organic vibes in the room.
Mid-Century Modern Wall Art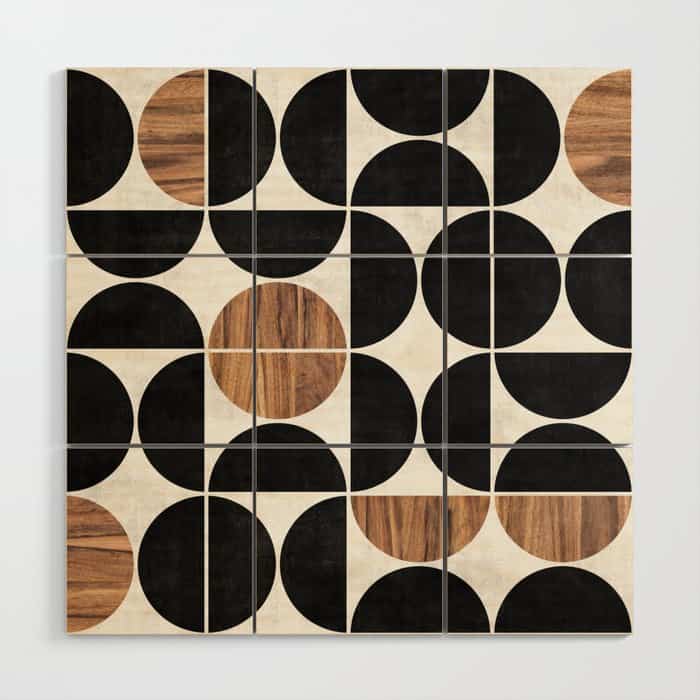 This mid-century modern wall art has the power to transform your room into playful bliss. The stunning shapes and forms add a sense of visual interest to the room while grabbing the attention of the viewer and acting as a pure focal.
And do you know the best part? Well, you can play around with the designs and mix and match the square pieces to create a unique form or pattern!
The Artful Shelf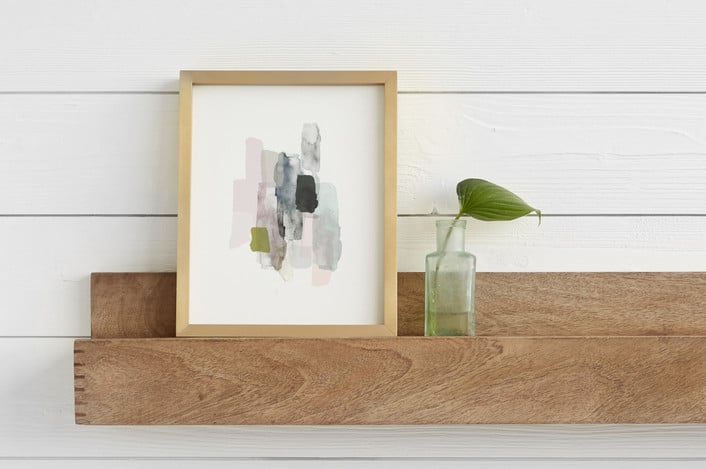 Who says that you only have the opportunity to style artwork on the walls? Let me introduce you to this wooden shelf that plays both – aesthetics and utility. This chic idea allows you to style your favorite pieces of artwork, novels, and indoor planters on the walls.
Depending upon the length of the wall and your design requirements, you can choose a size of your own – 2', 3', or 5'.
Floater Frame Print on Wood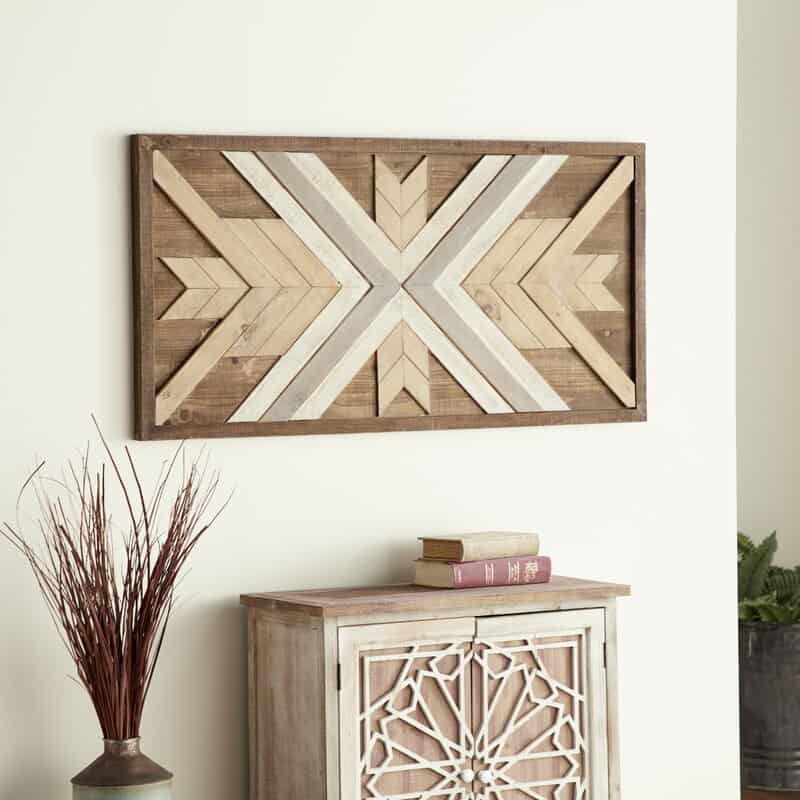 Adding a three-dimensional look to the walls, this wooden frame displays an amalgamation of soft white, gray, and brown hues to exhibit a rustic and Farmhouse appeal. Featuring natural fir wood, the chunks are cut into 'X' and chevron patterns that make a great accent in the hallways, living room, and kitchens.
Secondly, you can hang this notable piece of natural wood wall art on the focal walls that look empty and bland. (Negative spaces and corners included)
3D Wooden Multicolor World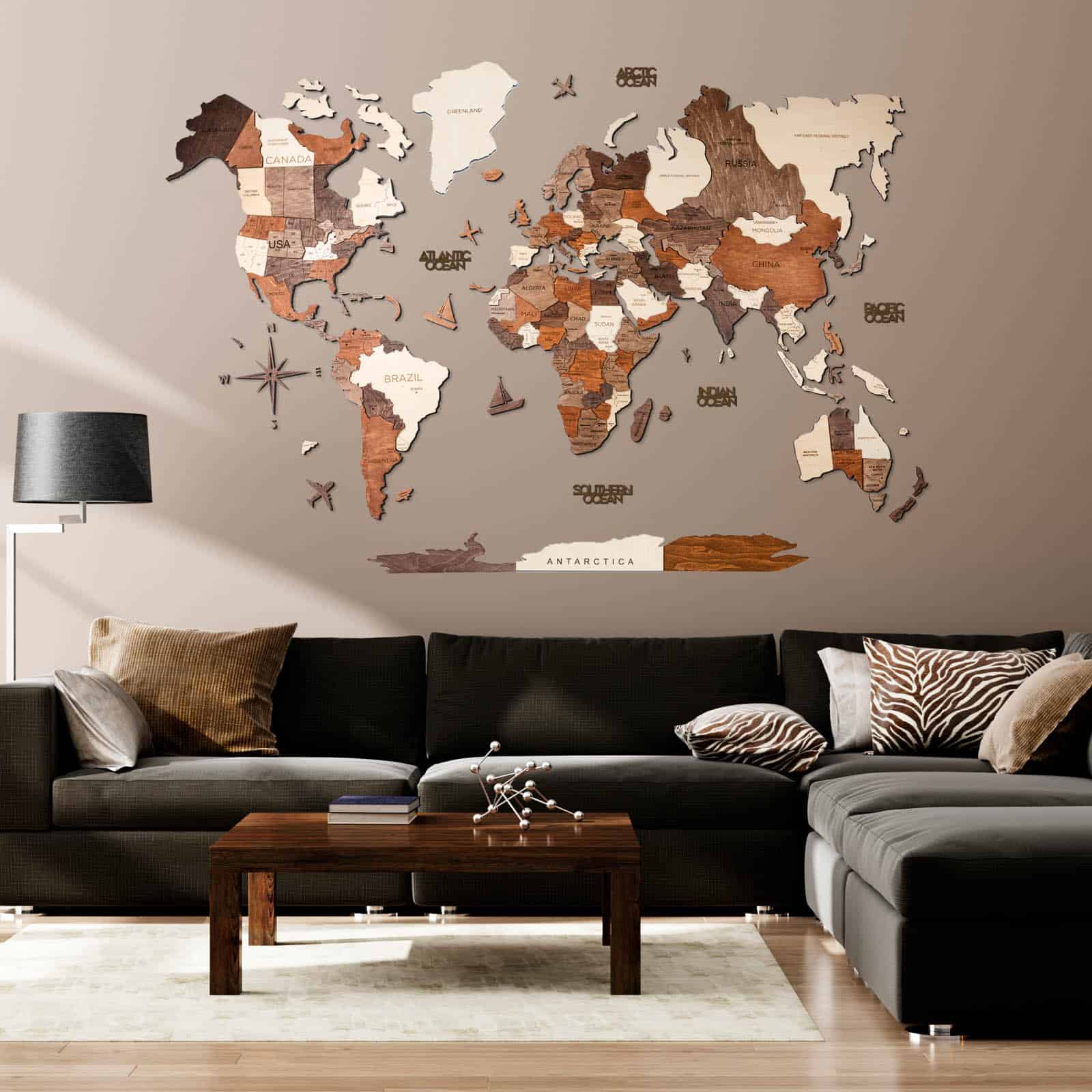 Are you a globetrotter? Do you love traveling and are addicted to it? Well, if yes, then your space should really speak your personality and style. Have this 3D multi-colored wooden world map on the wall and think about the next destination you're looking to visit.
This piece of unique wood wall art creates a centerpiece in the room while truly inspiring and motivating you at all times. It's made of high-quality birch plywood – hence, a true piece of investment!
World Landmark Wood Wall Art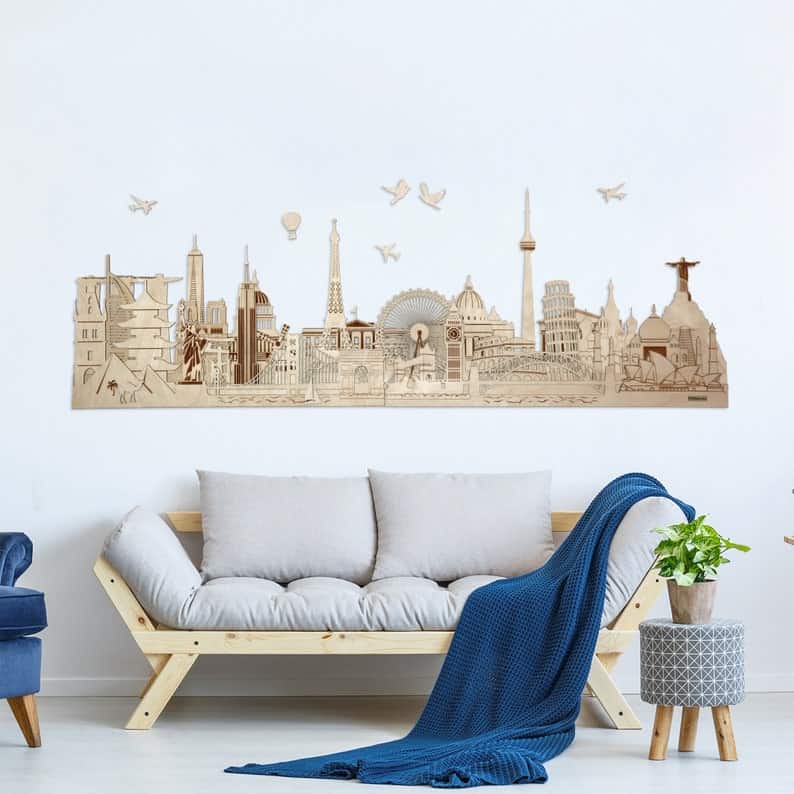 This is another piece of unique wood wall carving for a travel addict! Showcasing a wide range of city landmarks and a beautiful historical panorama, this piece of home decor is something to look forward to.
This product brings you an inch closer to sustainability as it's made of eco-friendly materials. This also makes a great statement in the backdrop of home offices! Moreover, it is also highly durable and strong.
Picture Frame Wood Wall Art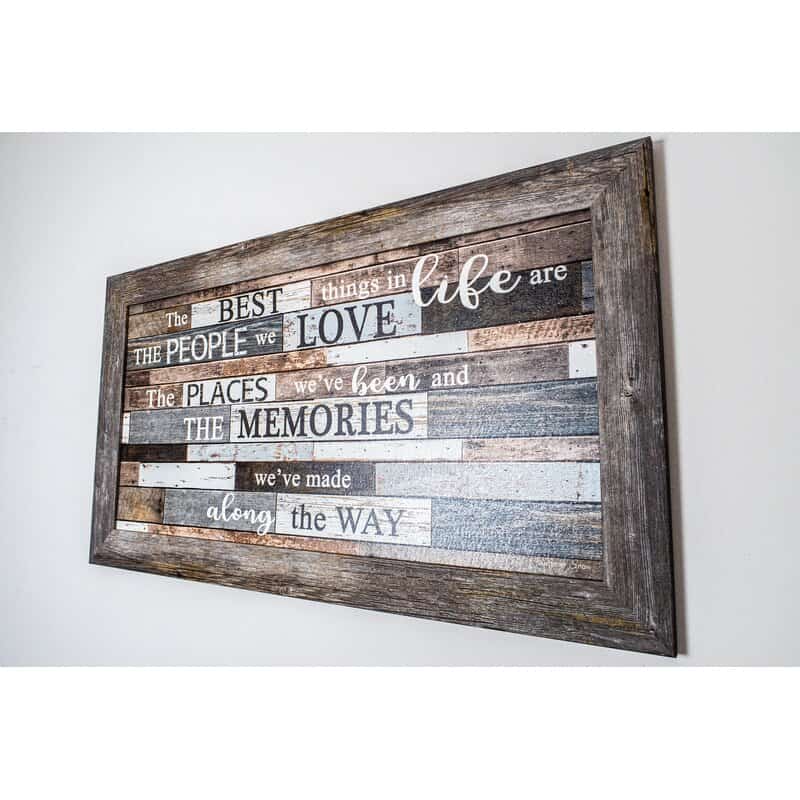 Rustic and industrial-like, this wooden picture frame displays a feel of a canvas that's authentic and quite unique. This piece of the frame is highly durable and strong – and can be used to hang on the wall using a sawtooth hanger.
This wood wall art is moisture resistant and can be used in your kitchens and bathrooms. Also, it can be easily cleaned using a damp cloth.
Scandinavian Sculptural Wall Art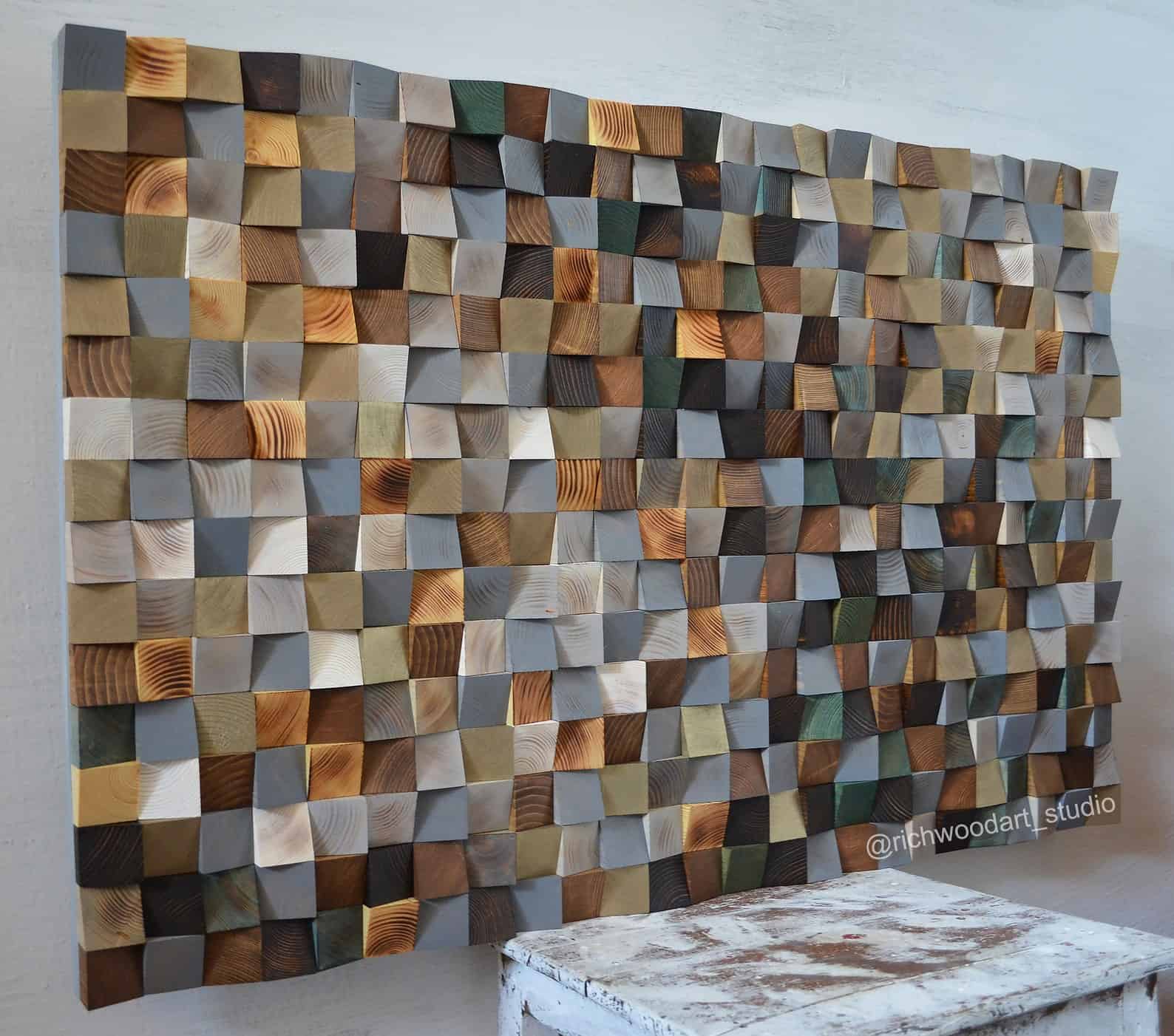 A perfect piece of wood wall art, this unique product is bound to bring a motivating and enchanting vibe to the room. It has the potential to create a focal point in the room while stealing the attention of all your guests.
Showcasing a wide array of hues and three-dimensional forms, this abstract beauty gives your home a perfect touch of authenticity and eccentricity. So, let this piece of art play a sole role on the wall!
Colorful Wood Wall Clock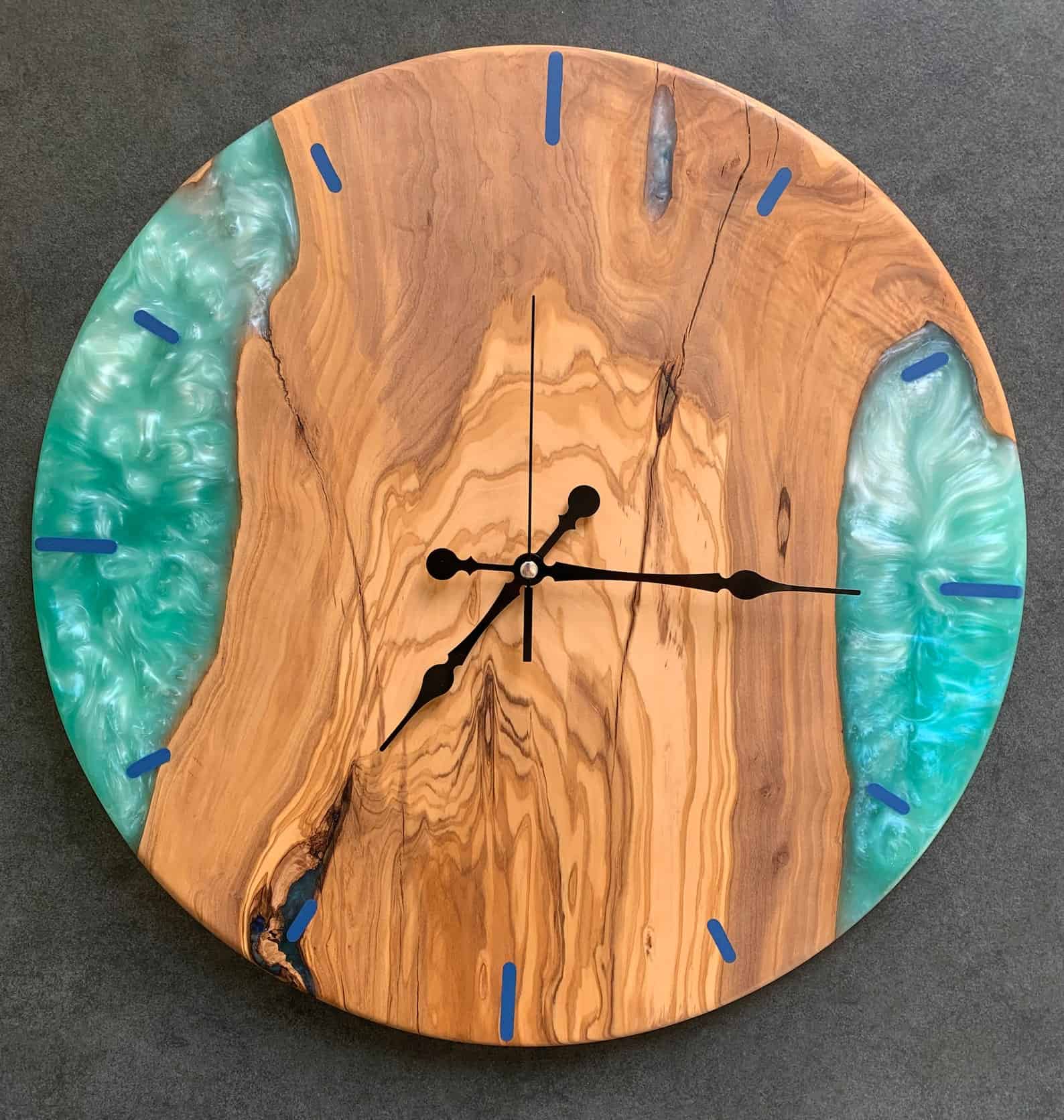 It's time to think outside the box and pick a wooden wall clock that adds a natural and organic vibe to the room. This one-of-a-kind decor element is a must-have in Eclectic, Scandinavian, Modern, Contemporary, and Bohemian interior design styles.
Not only does it add a dash of style to the walls but also helps you know the exact time of the day! Yes, it offers the best of both worlds.
Word Search Graphic Art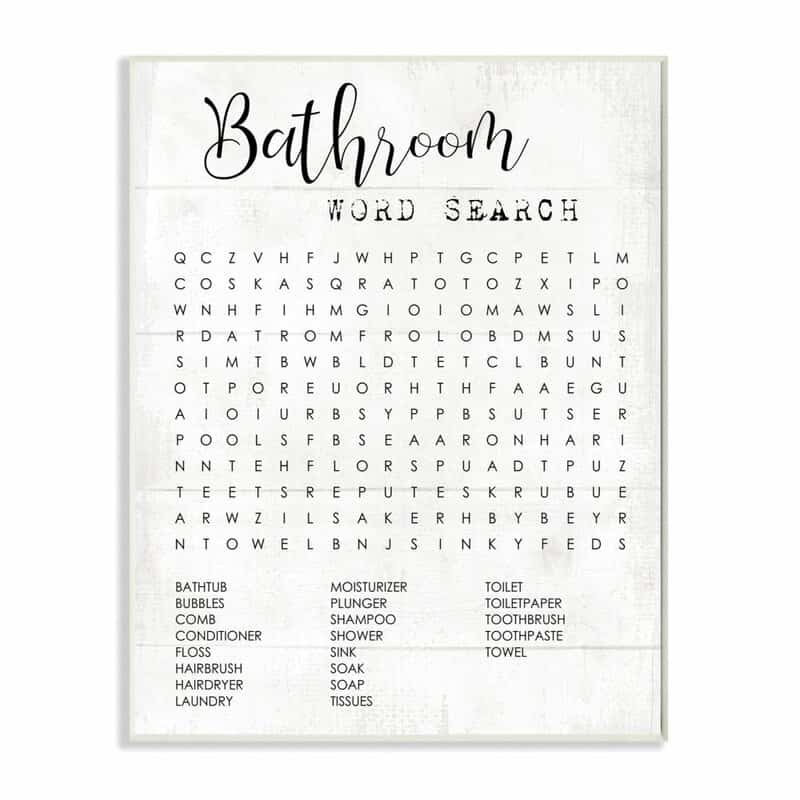 Let's get your brain into working! It's time to solve these puzzles in the bathroom and kill that time that is usually quite boring. The black and white word search helps add a playful and quirky vibe to your bathroom while making that space look more creative and welcoming.
It's generally quite easy to install! Just hang it on the wall and you're done.
Wooden USA Map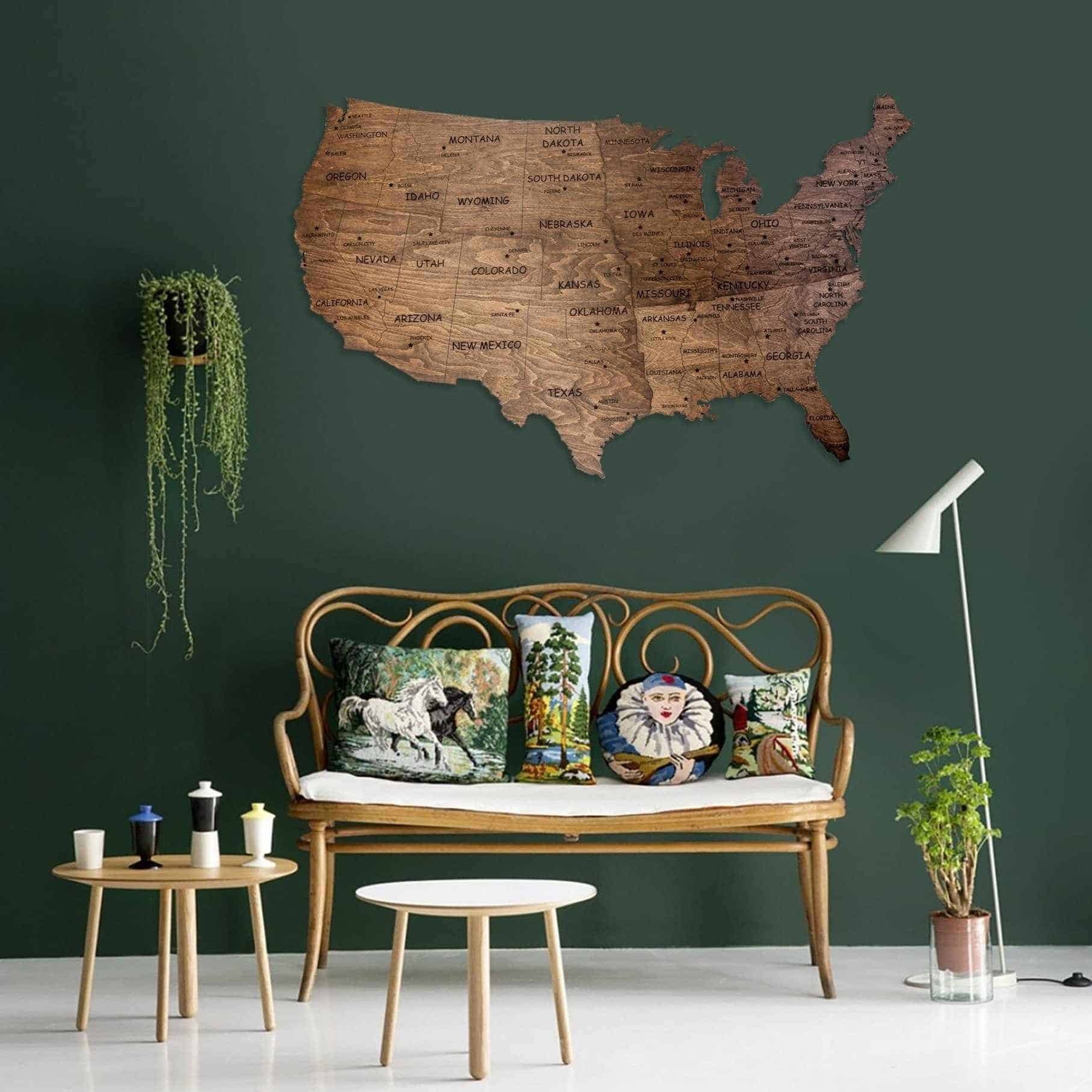 Made of birch plywood, this wooden USA map is absolutely sophisticated, classy, and also durable. If you're looking for creative ideas to make that wall stand out from the rest, hang this beautiful piece of art to define your true character.
Laser-cut to perfection, you can hang this map in either your living room or home office to craft a thoughtful backdrop.
Wood Wall Planter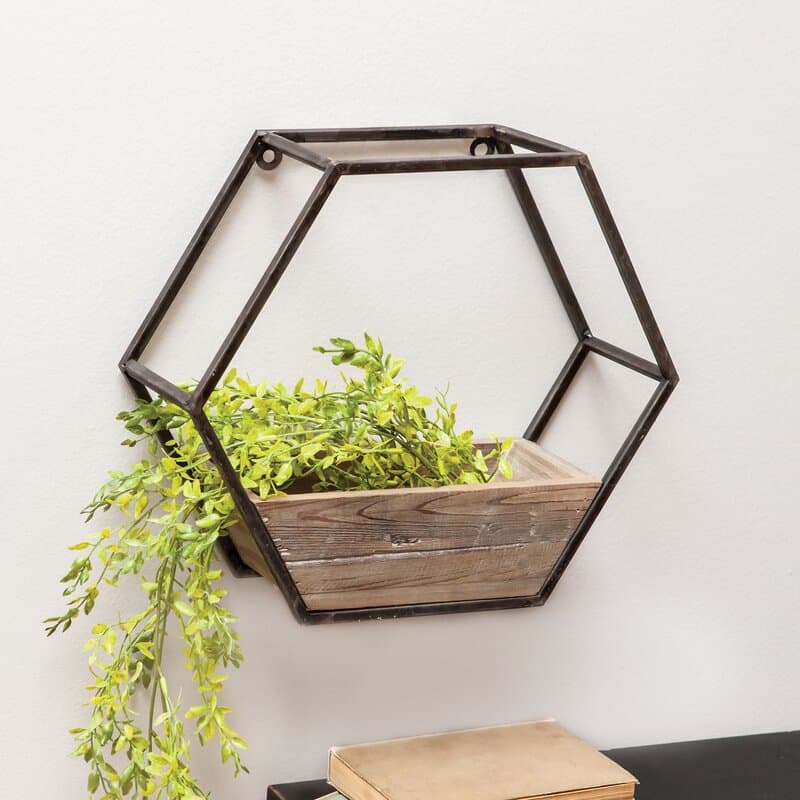 This wood and metal hexagonal planter is a great way to add lush greenery to the walls. The open-air frame tends to add an airy and spacious look – and at the same time, foster a bohemian and vintage look.
You can place a couple of these on the large, empty wall – creating an intriguing pattern. If not on the wall, you can place it on the tabletop and countertops to create a natural, luxe vibe.
Tree of Life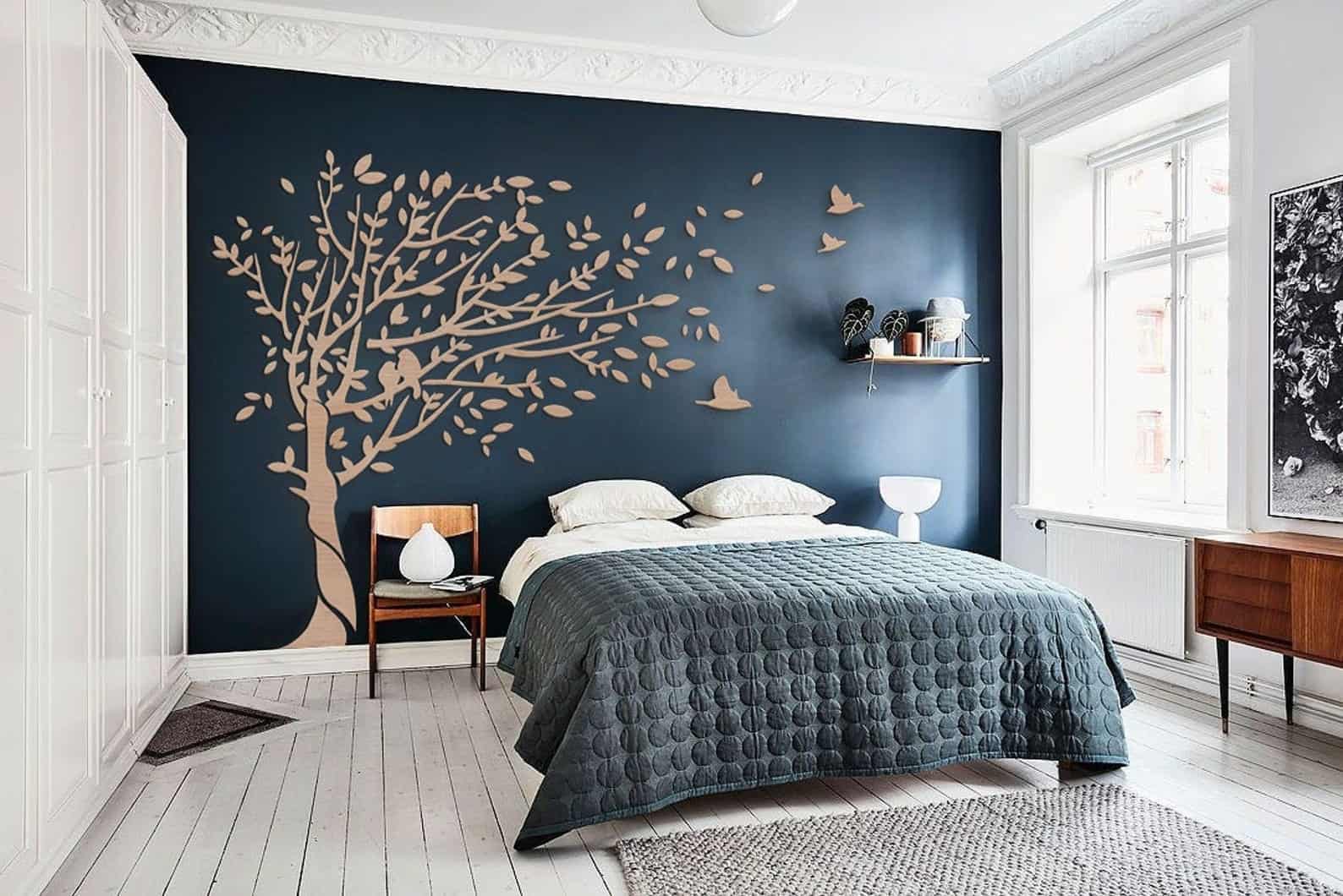 How unique and pleasant this tree of life is, right? It's ideal to have this beautiful piece of wood wall decor on the focal wall of your bedroom or the kid's play area. Just coat a bold paint color and let this tree of life spark bright.
It's a great way to imbibe a luxe, natural vibe. Moreover, you have the opportunity to choose from a wide array of stains and sizes!
Farmhouse Accent Mirror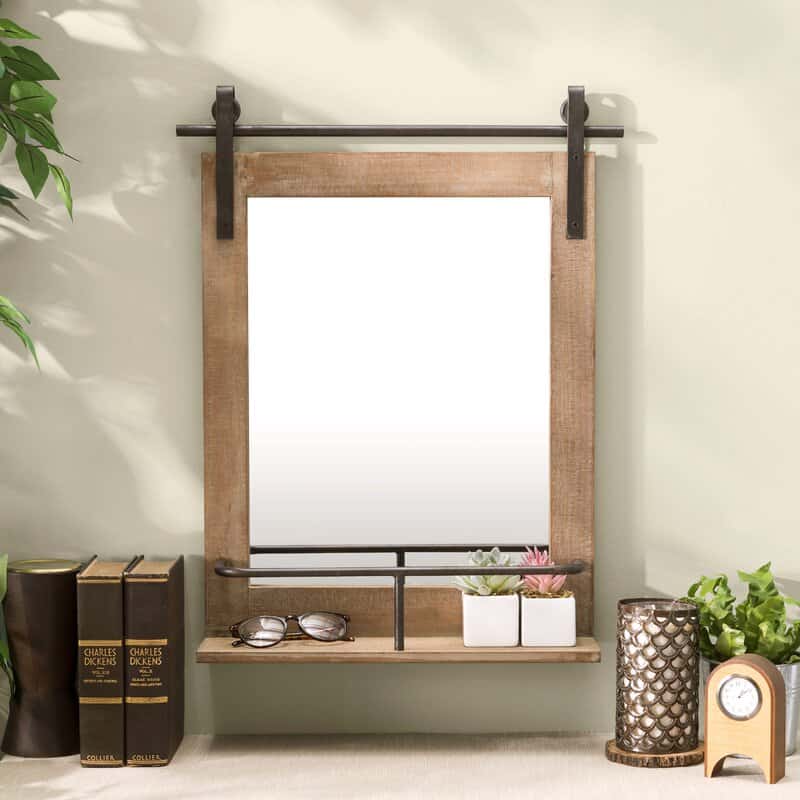 For a positive flow of feng shui in your home, it's important to choose ample and ample mirrors. But when you have rustic, industrial, or an authentic Farmhouse style – there's no way to hold back from this wooden wall decor.
Whether it's the bathroom or an empty wall in the common space – you can definitely get hold of this mirror to achieve an absolutely chic and eye-catchy appeal.
Wooden Canvas Print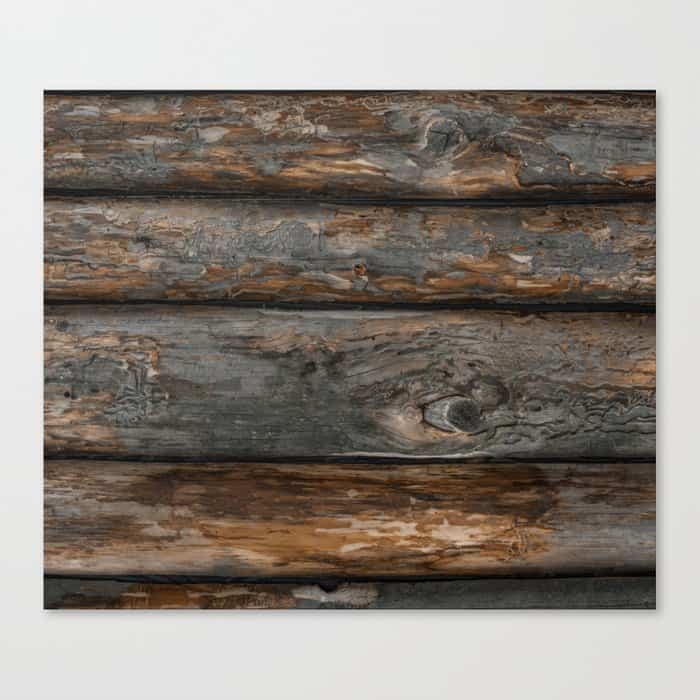 Let's bring the woods indoors by incorporating this rustic painted wood wall art that can be aligned with one and all interior design styles. It's bound to elevate the room and exhibit that organic vibe right indoors.
This piece of decor is frameless and versatile – hence, will also never go out of style. Also, it comes in a wide array of sizes to choose from!
Honeycomb Wood Wall Art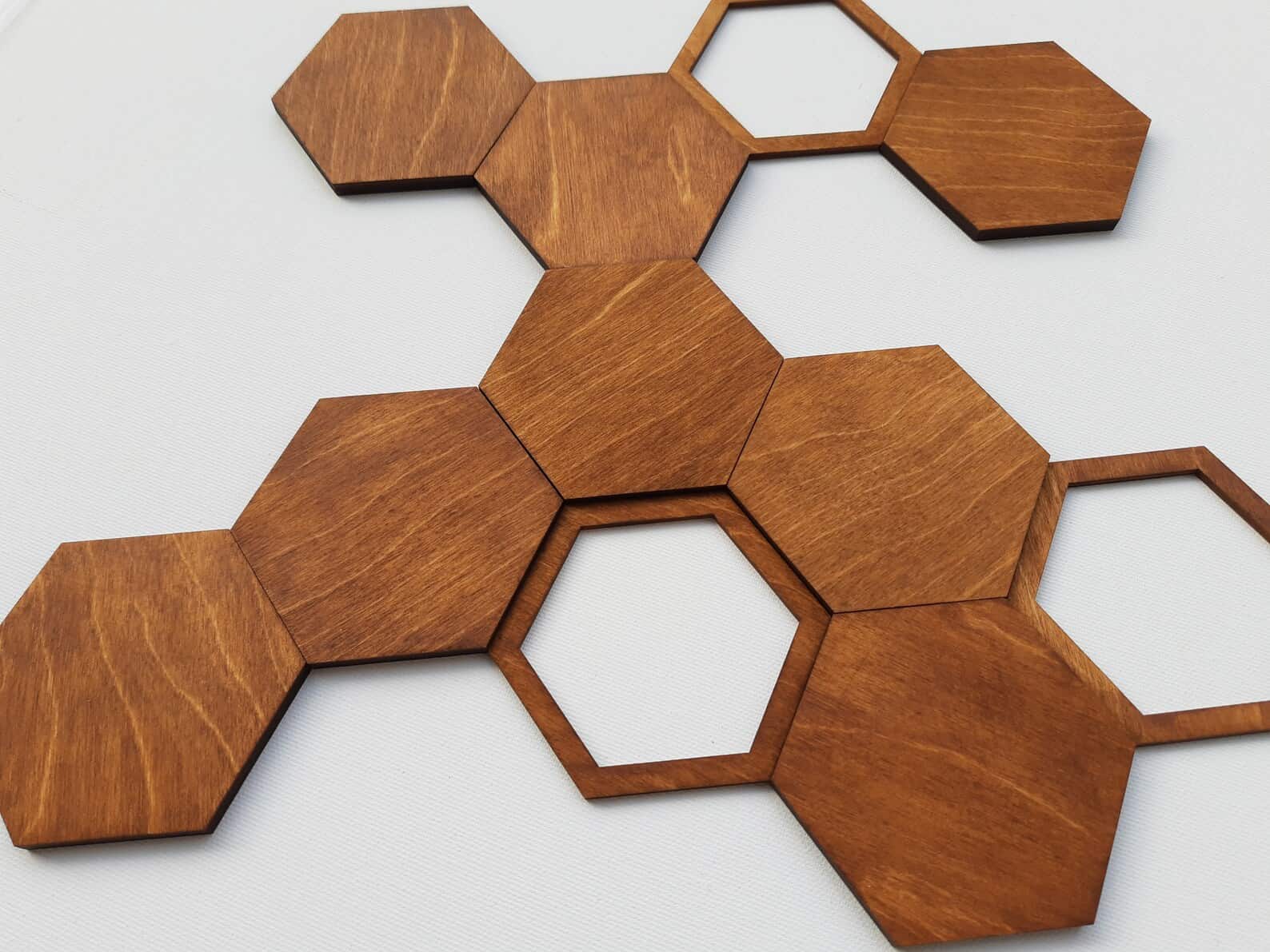 Looking for an alternative for wallpapers? Well, this honeycomb pattern on your wall is bound to add a cheerful and eclectic touch to your space. Made from high-quality birch plywood, the hexagons add a three-dimensional look to the walls.
Secondly, this geometric wall panel can be played quite creatively. You can mix and match them to create a totally distinctive appearance! Also, note that you can alter the arrangements every now and then to achieve a unique look.
Circular Wood Wall Hanging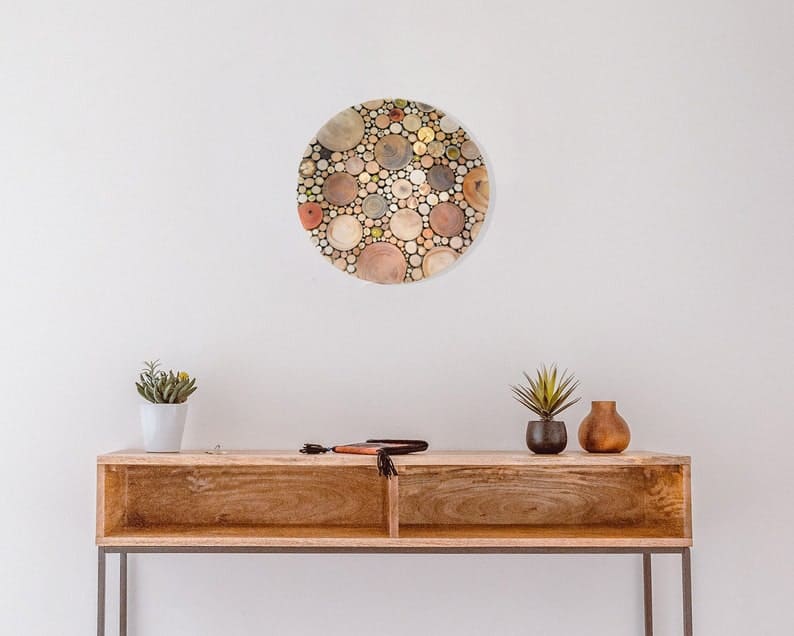 Don't you just want to keep gazing at this colorful wall decor piece? It makes a great statement in the bohemian, eclectic, and Scandinavian backdrops. This environmentally friendly product is a great home decor piece to have at home – as you're simply helping the planet heal.
Apart from wall decor, it can be used as coasters for cups, vases, and teapots. So, depending upon the size of your walls or tables – you can choose from a wide array of sizes!
Solid Wood Floating Shelf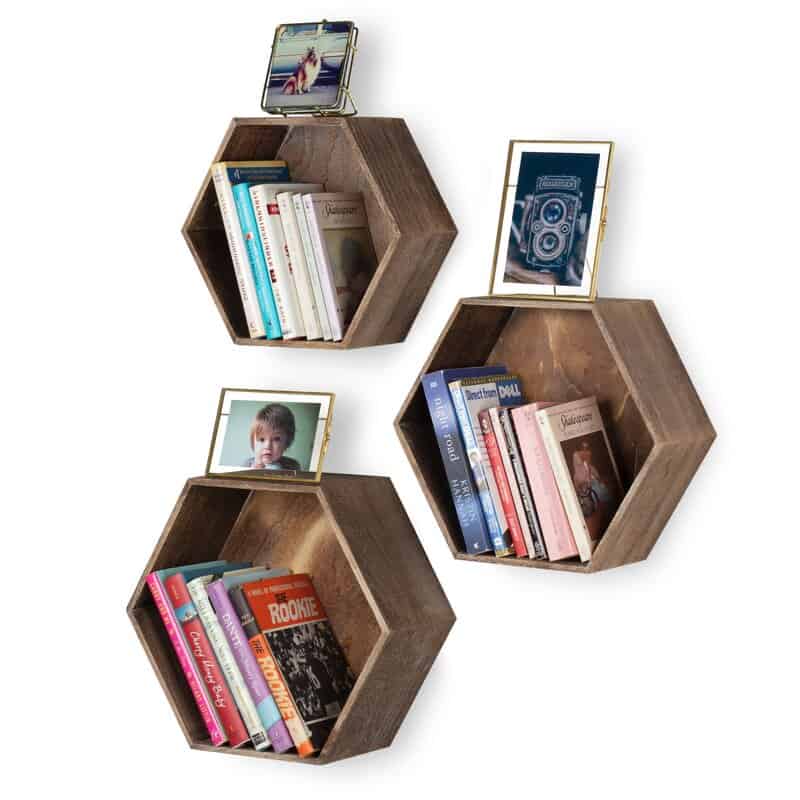 Let your unique wood wall art play a little function here. Yes! As a floating shelf that holds your favorite books, showpieces, and planters. You can place them in your home office or right above the console tables to utilize the vertical dimension of the walls.
Undeniably, this is a great way to add depth and character to the walls. Moreover, this chic, rustic design makes a great space-saving and storage solution in small apartments.
Coffee Wooden Art Ideas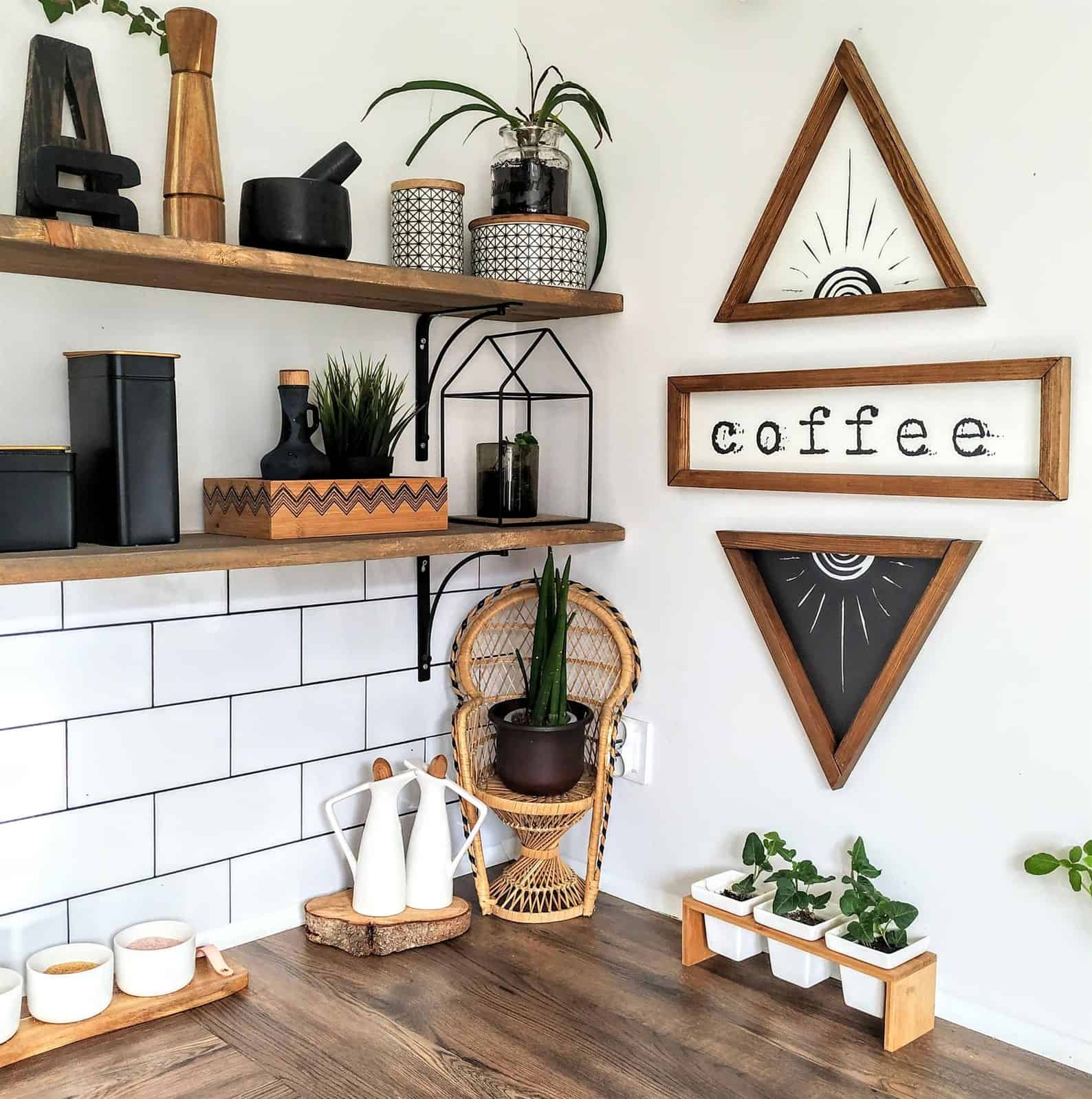 Introduce a vibrant vibe in that cute, little nook of your kitchen. Especially for farmhouse, bohemian, and vintage style kitchens, this coffee wooden art plays phenomenally. However, it's important to style the wooden frames appropriately for a cohesive look.
Furthermore, it's best to pair this combination with wooden floating shelves and subway-style backsplash tiles to create a wow effect.
Boho Wooden Wall Hanging
Do you have a free-spirited boho soul? Well, if yes – you must adore this piece of boho wall hanging that makes a dashing and fabulous statement on the wall. This piece has been beautifully crafted with unique shapes combined to form an utmost unique pattern.
Style it with a few indoor planters and let the magic spill positive vibes in your home!
Summing It Up
If generic artwork is old-school for you – it's time to get hands-on with these beautiful wooden wall decor ideas. They are rustic and extremely charming – and that's why you must not give a second thought. Just remember to embrace their beauty and let them spark a sense of detail in your home.