Don Pedro Brooklyn is reader-supported. When you buy through links on our site, we may earn an affiliate commission. Learn More
Bunk Bed Ideas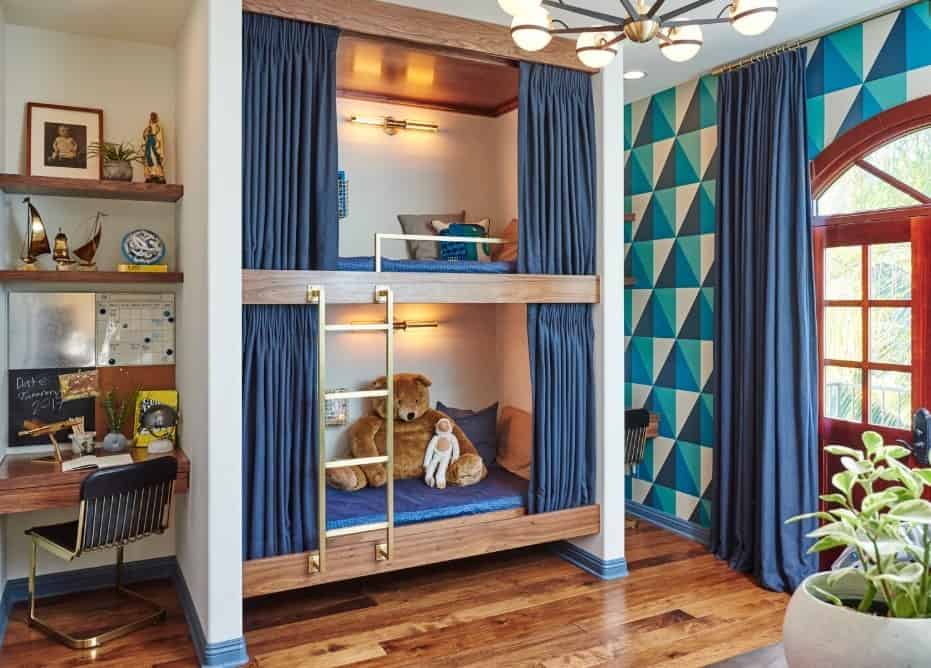 There are many reasons why you should go with bunk beds. Despite their functionality, bunk beds are an excellent way to save space in any sleeping quarters.
Whether you're looking for a standard bunk bed or the one that sleeps more than two persons, there are many bunk bed types and styles to choose from.
The challenge is finding (or building) a bunk bed that both looks nice and is well-constructed. But don't worry, we have put together 25 bunk bed ideas to overcome the challenge.
So, let's make the bedroom more fun and exciting with one of these bunk bed ideas!
Between A Reading Nook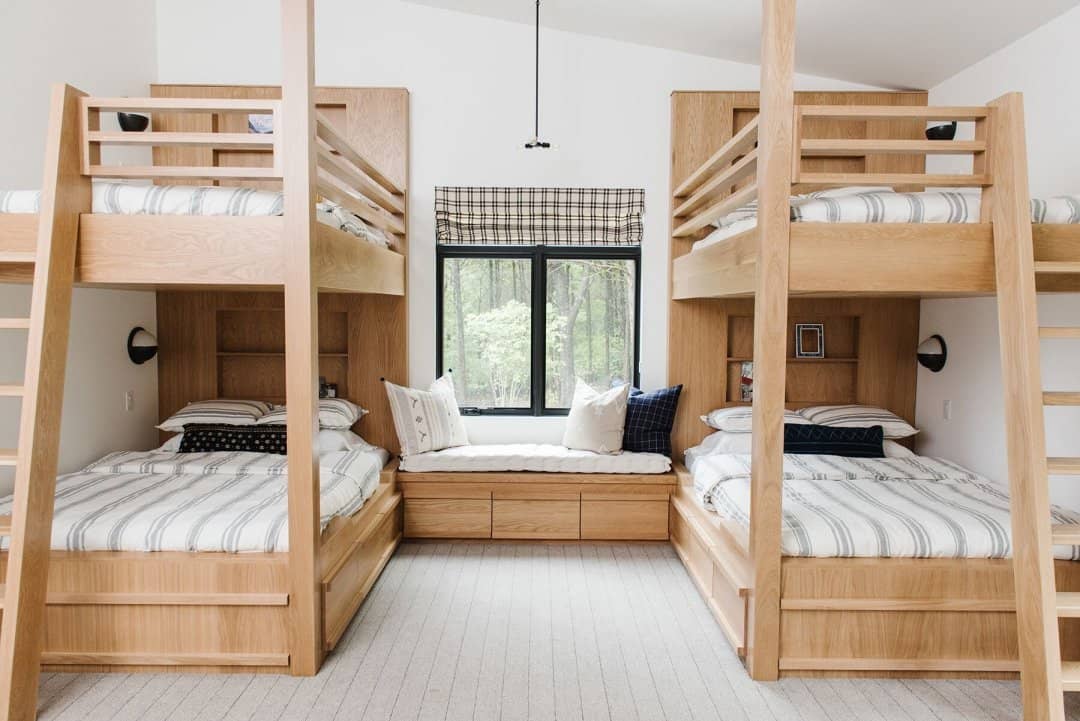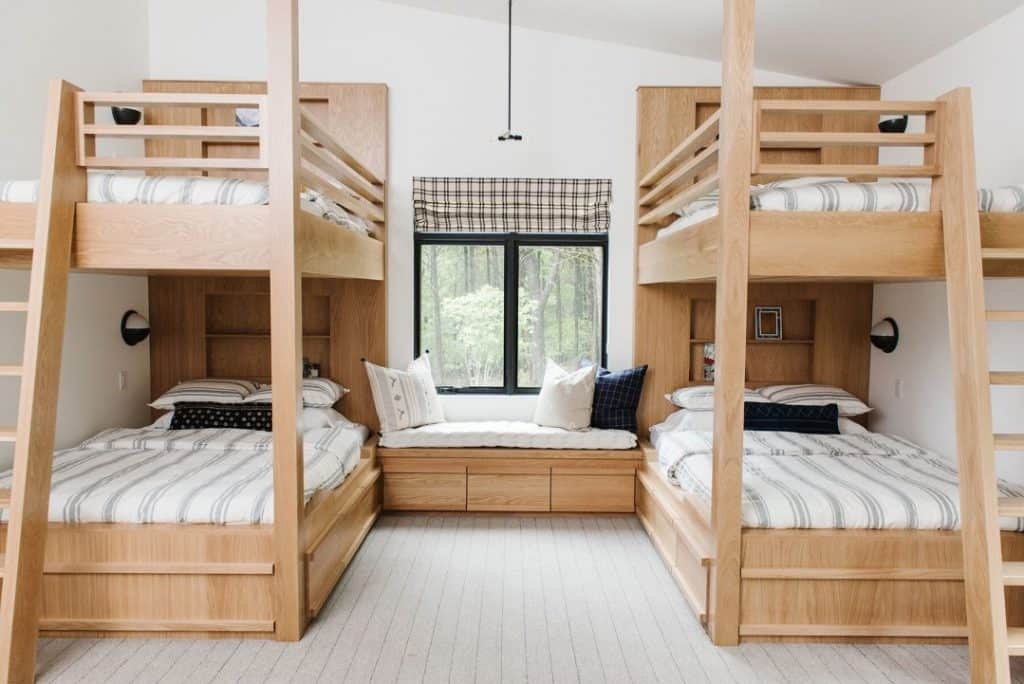 If you're a mother of quadruplets or if you have four kids, designing their bedroom is one huge task indeed.
If they don't want to share beds with their siblings but don't mind sharing room, installing a quad bunk bed is the perfect solution for you.
Furthermore, being in one bedroom will multiply their togetherness and keep them close to each other.
What's unique about this design is that each bed has a small bookshelf on the headboard, which they can use to give personalities to their own bed.
Moreover, the reading nook will also give more space to share stories and spend time together while being a house for three drawers.
One-wall Quad Bunk Bed
This Contemporary Waterfront House in Wayland is designed by Sherwood Custom Homes and it houses this quad bunk bed that is able to sleep four guests.
Being in a waterfront house, the designer implements nautical style for this room. And it is awesome!
Rather than being positioned beside each other like the previous one, this quad bunk bed is positioned opposite to each other.
Well, I can clearly say that this bunk bed is not suitable for small kids as they don't have safety rails.
But for older kids and adults, this bunk bed quad is really comfortable!
Each bed features small storage and is equipped with a wall lamp that can be turned on and off individually.
Eclectic Bunk Bed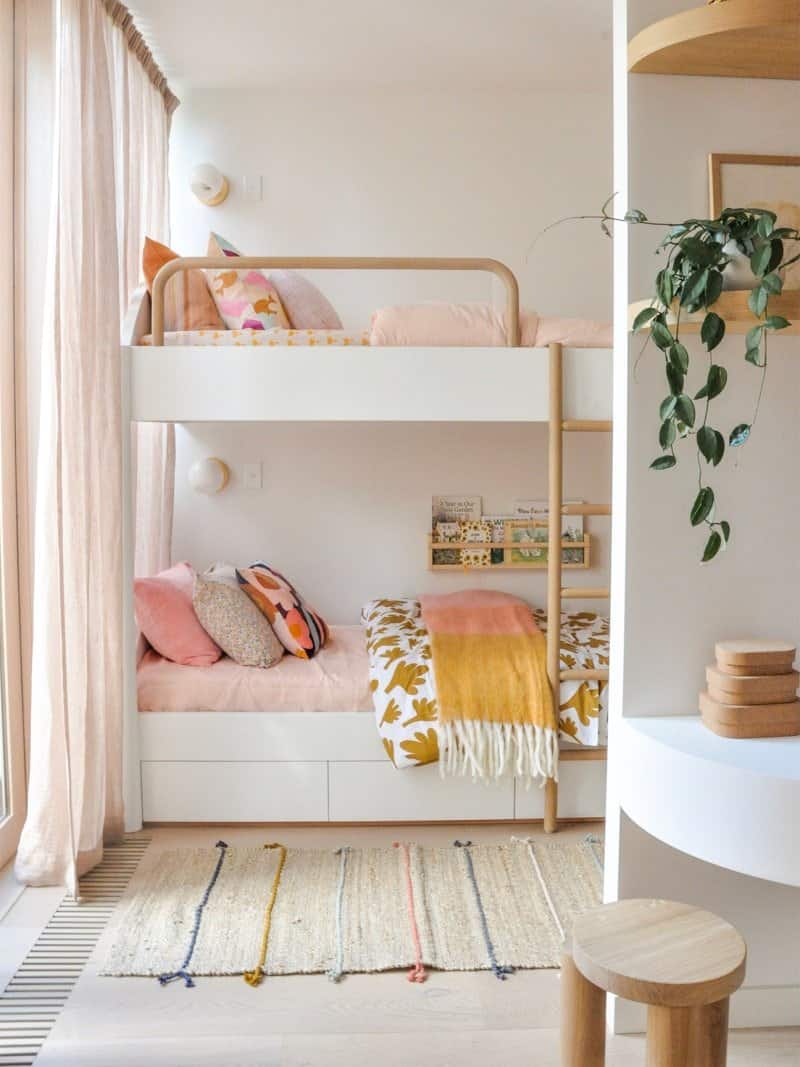 This super cute eclectic style bunk bed is custom-built by Joel Elliott Furniture and designed by Josh and Jenna.
I love how the designer uses round wood dowels for the ladder rungs and railing, making this bunk bed not only visually appealing but also feels safer for children.
That's a clever small detail.
If you're curious, Jenna uses the linen from Rachel Castle, curtain from DIY Blinds, and bookshelf from IKEA.
Have we told you that this is actually a triple bunk bed? Yes, there is one more section on the left side. Check out the original post here.
Modern Built-In Bunk Beds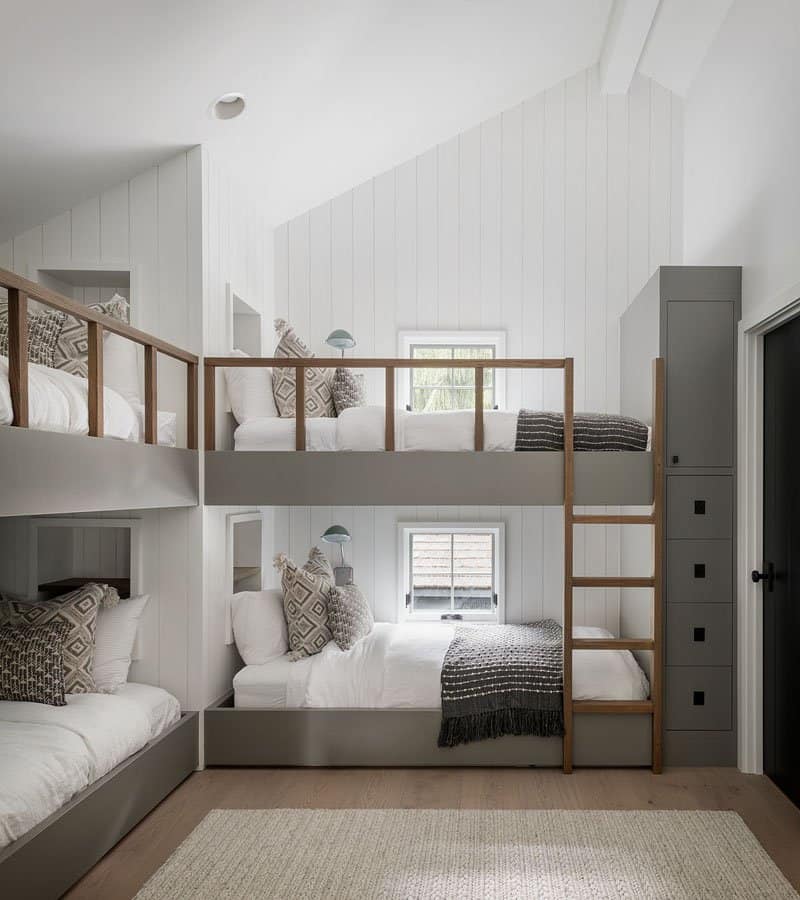 This L-shaped quad bunk bed is housed inside a modern farmhouse in Bainbridge Island, Washington.
The entire set is custom-made to match the size and the contour of the room.
As you can see, the sloped ceiling prevents the bunk bed to be not so tall. Nevertheless, the designer still made it to design the bunk bed to be comfortable to sleep on.
Each bed is equipped with a built-in bookshelf at the headboard. For convenience, the designer also places a drawer cabinet at the end of the bed as additional storage.
Bunk Beds for Boys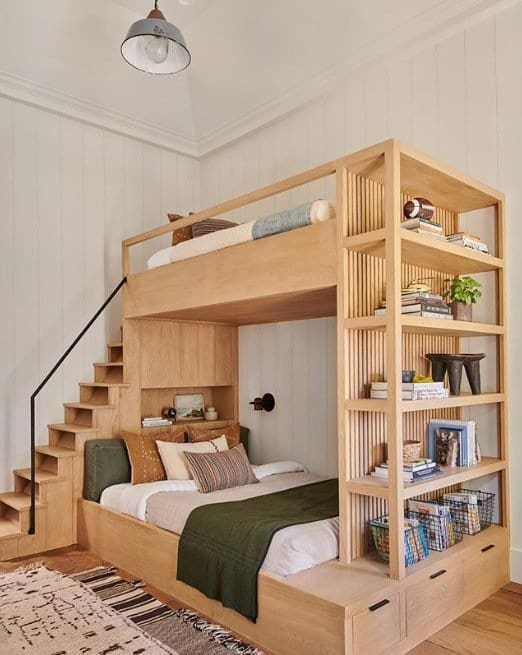 This bunk bed looks super cozy that it just makes me want to live in this room every time I see it!
Anyway, this is a custom-designed bunk bed by Amber Lewis from Amber Interiors for their client who they call Client Bu Round Two.
One of her main purpose of designing this bunk bed is that Amber wants to build a bunk bed that feels not too enclosed but still has some privacy.
As a result, instead of covering the end of the bed with a closed bookshelf, she went with a slatted wood panel to let the natural light and air coming through.
DIY Offset Built-In Bunk Beds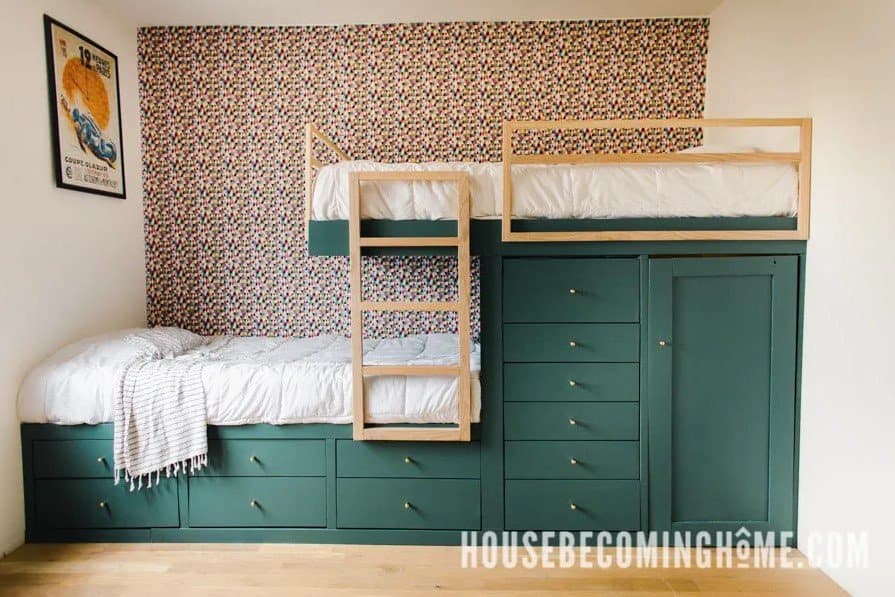 Yes, you read the heading right; this awesome bunk bed is a DIY project!
Angie and Jim from House Becoming Home shared their DIY project to make a bunk bed for their two kids.
As the room size is limited, they cudgel their brain to arrange the bedroom as effectively as possible. And the result is very astonishing!
The plan was to build a bunk bed with tens of built-in drawers and storage so the kids have more roomy space to play.
For more detailed instruction and materials used in this project, you can visit here.
Curved Covered Bunk Beds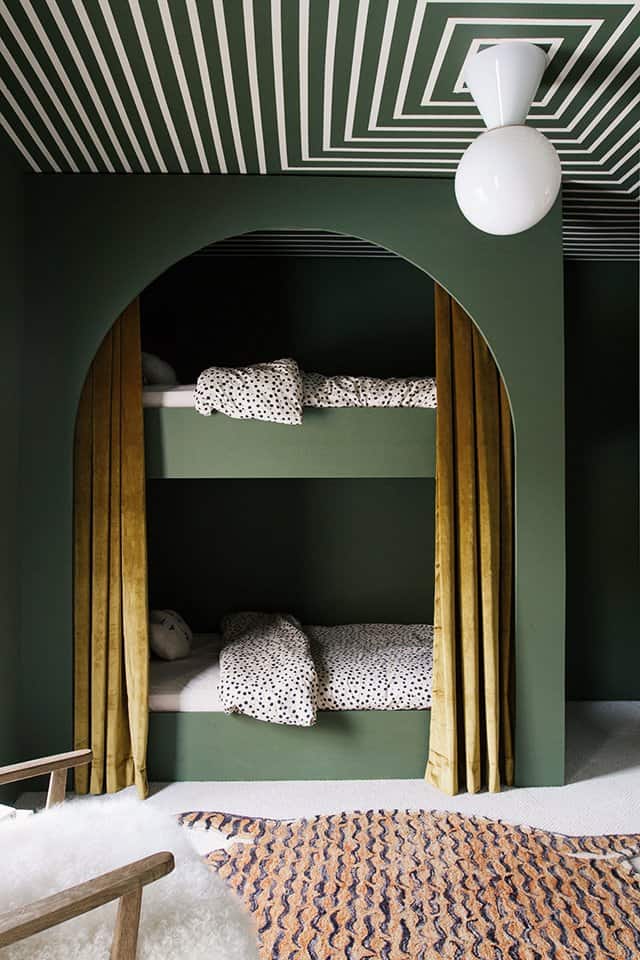 For designing a kid's room, you need to pay more attention to some additional features to make it more fun and exciting.
And here, Sarah did a very great job of tackling it.
When she built this bunk bed for her kids, she covered the bunks with a curved arch and curtain to make it feels like a playhouse or castle.
I will just admit it that I wouldn't mind being a kid again to be able to sleep in that bunk bed with my little brother.
If you're interested in building a bunk bed like this one, you can follow Sarah's guide on her blog.
Playhouse Bunk Beds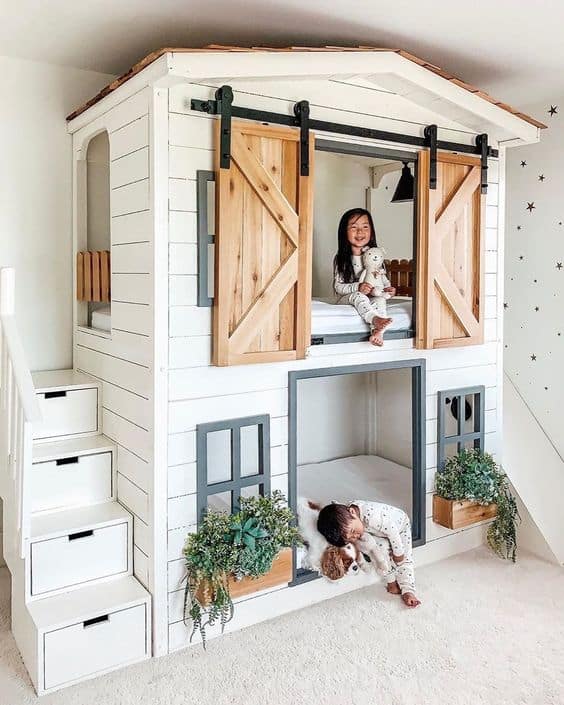 This is one of the dreamiest bunk beds for kids to be jealous on!
After Aenny Chung posted this farmhouse-style bunk bed on her Instagram account, the post went viral instantly.
Not only that this bunk bed made everyone green with envy, but also very functional and amusing.
The stairs also function as drawers to store the kids' toys and laundry, and if you notice, she also put a slide on the other side of the bed. That's a fun way to get down!
However, I think every time the sliding barn door opened up, a parent should be near because the kids might fall down. Unless they install an additional rail.
Quad Bunk Bed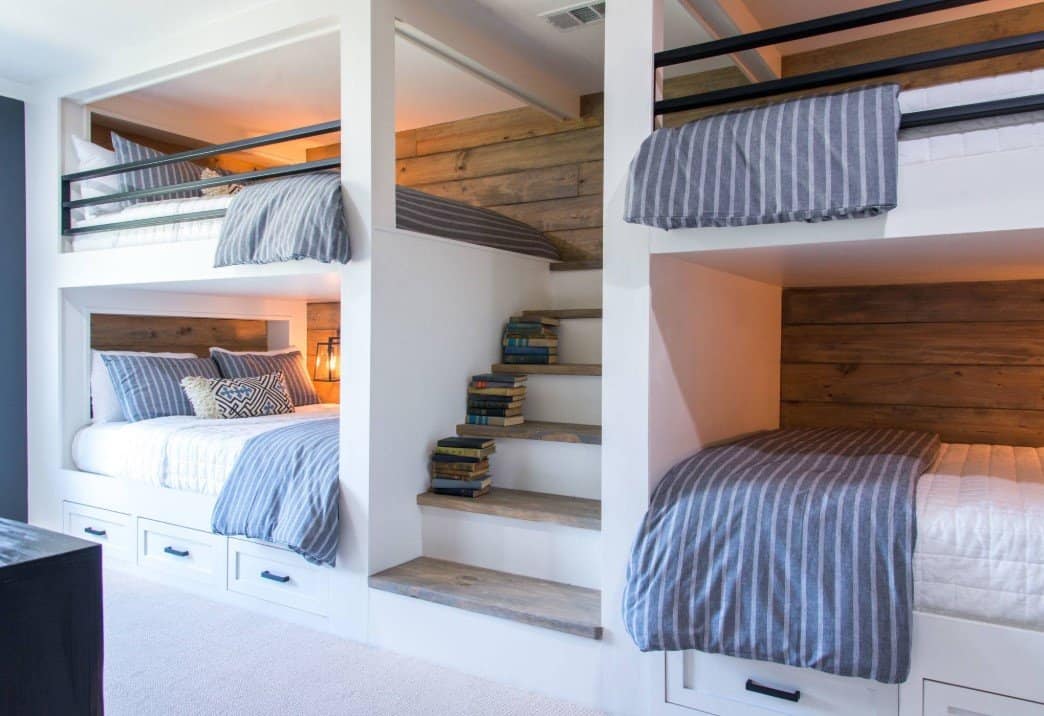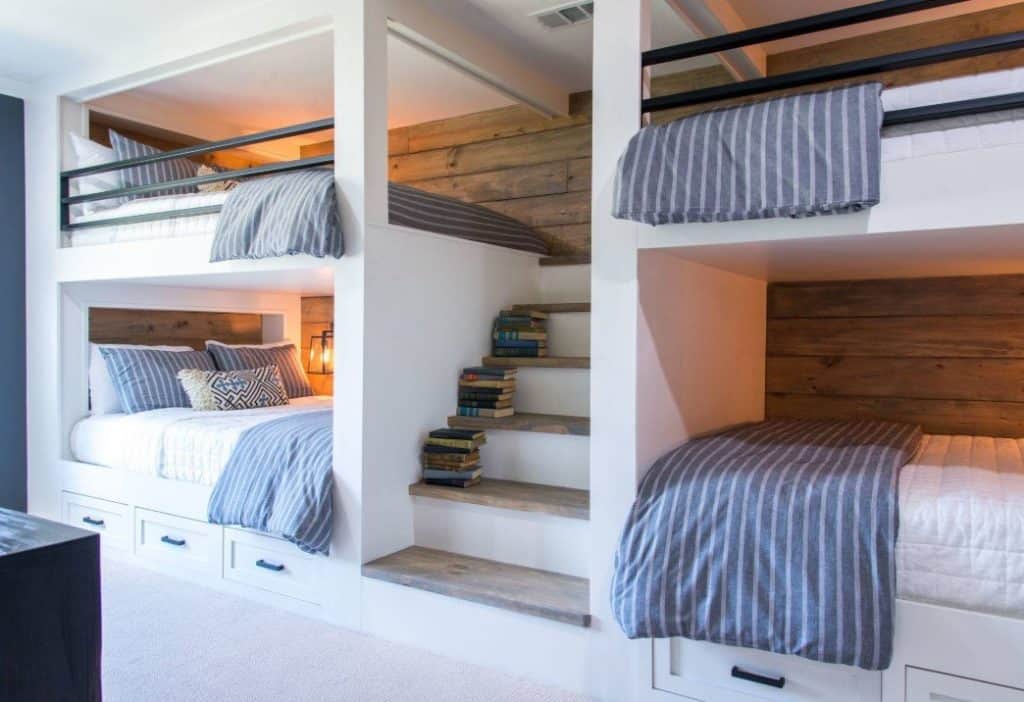 Joanna Gaines really knows what she does. According to her, she built this for her client's kids.
The top bunks are equipped with rails as safety support for kids. When not in use, this bunk room also functions as a guest room for extended family when they come to visit.
Fresh Color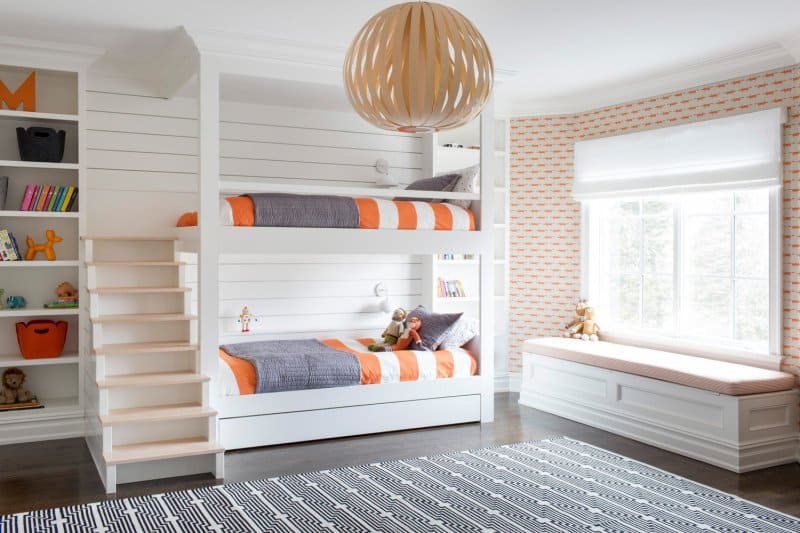 Choosing a color scheme is one of the essential things to consider when designing a kids' room.
From the picture above, we can see that the linen, the wallpaper, to the knick-knacks, are just a wonderful example of the consistency of using the white and orange color scheme.
Despite the fact that the ceiling is quite high, the usage of caged globe pendant light gives a balance to the square room.
Lakeside Bunk Room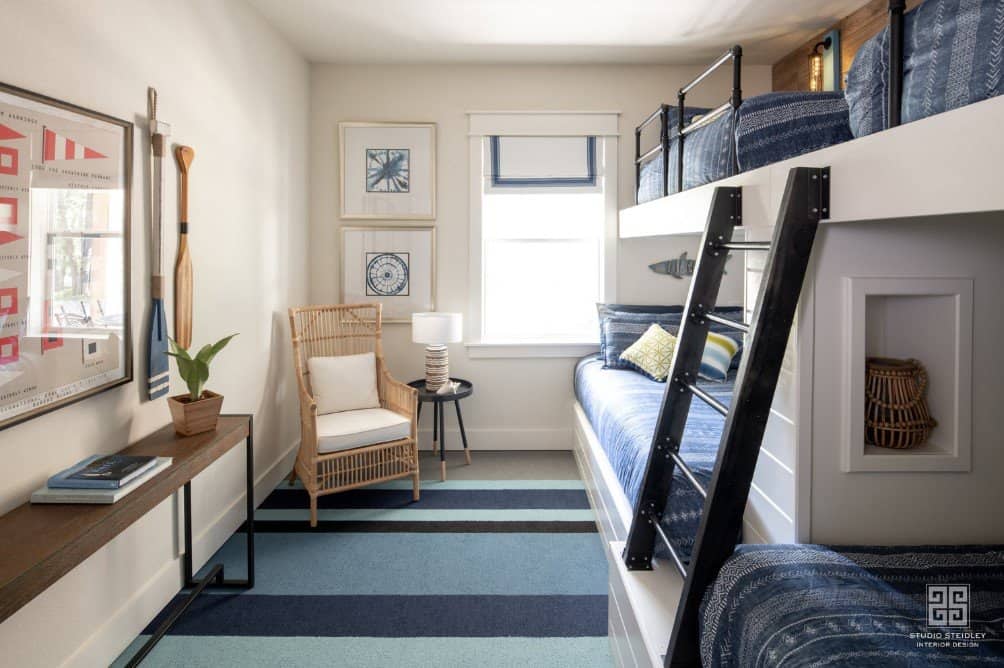 Designed by Studio Steidley, this bunk room is the perfect example of implementing a small room with a quad bunk bed.
With a room dimension of only 10 x 15 ft., the designer cleverly arranged everything.
The long bunk bed makes the rest of the room formed a hall.
And to bring this hall alive, they put a rattan chair with a small bedside table at the end of it.
Additionally, they also place a narrow table which also functions as an entryway table to display books and indoor plants.
Moreover, they hung three framed wall arts and two decorative oars on the wall to make a statement of the nautical theme.
Bunk Bed for Small Room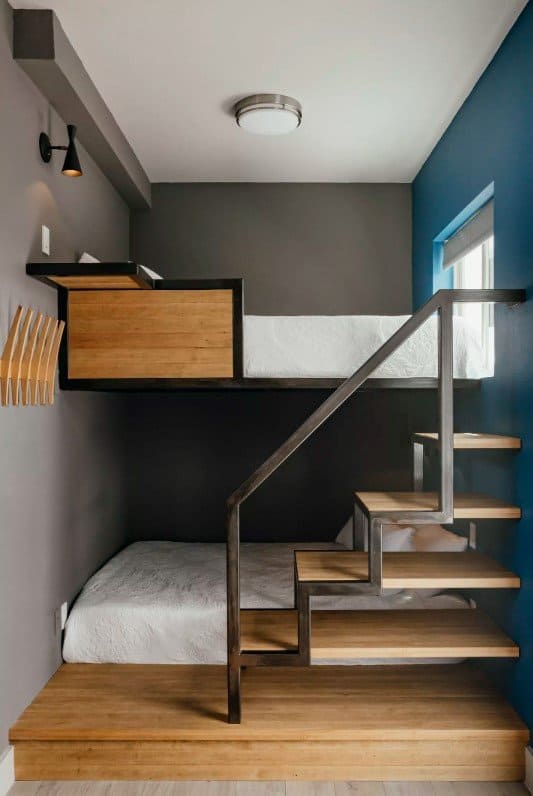 If you have a bedroom this small, what would you use to maximize the space?
Of course going with a loft bed or a bunk bed is the best option imaginable.
This built-in bunk bed is a feature of an Airbnb house that was designed by Ankor Studios.
At first, I think they would have a bigger space if they use a ladder instead of stairs. But then I realized that it's not only a stair; it's also a shelf—what a brilliant idea!
House within A House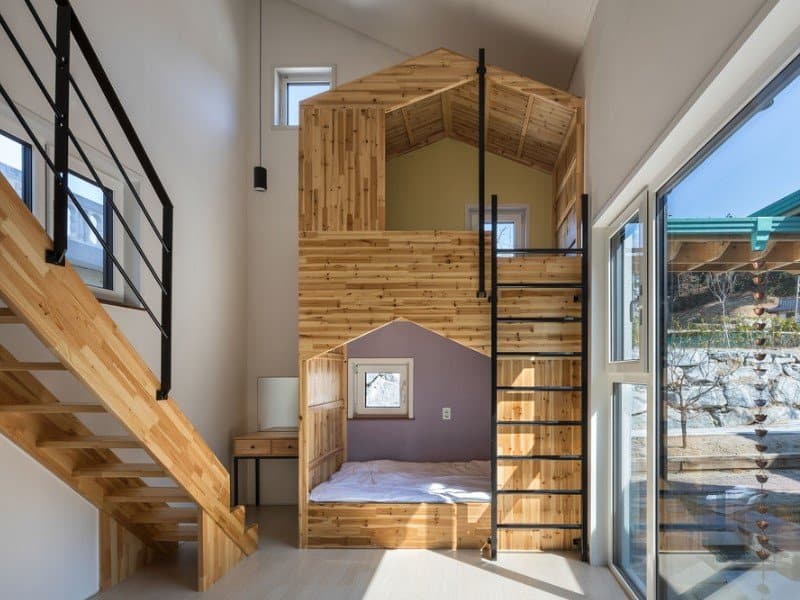 This is similar to the playhouse bunk bed, but for adults. You can see how tall it is that a man could stand up inside of it.
This bunk bed is intended to be the guest spaces in the house and office of Hae Must-Je in Korea.
The above part of the bunk bed has a hip roof, making this double-deck bed looks like a house within a house.
Not only it has a roof, more surprisingly, each section is also equipped with a window so the bunk wouldn't feel like a cave.
Enclosed Stairs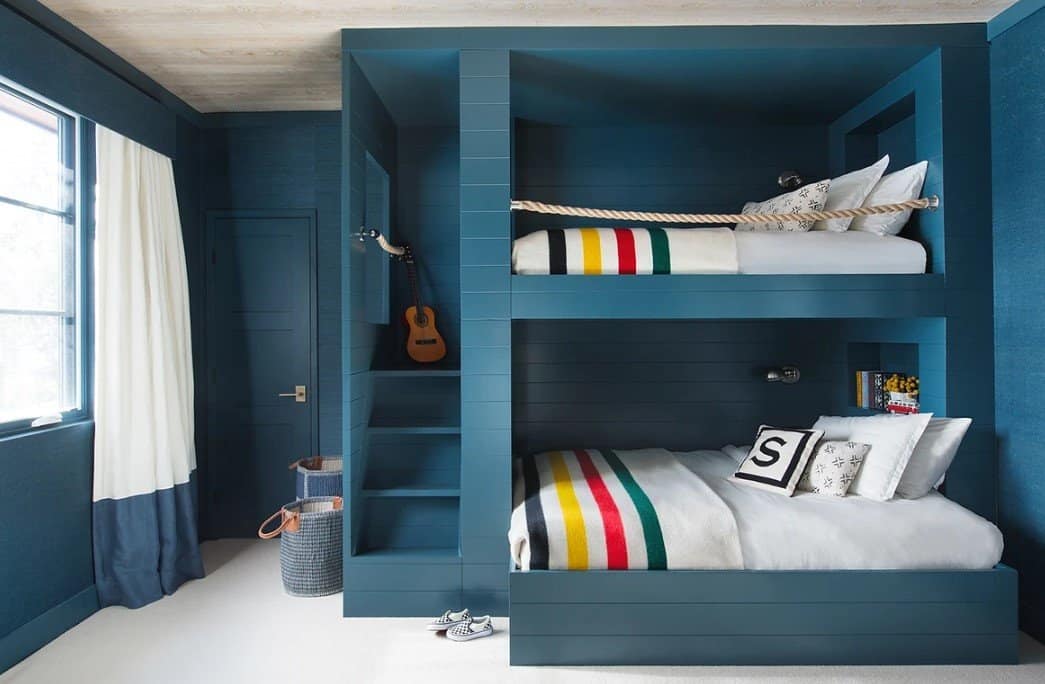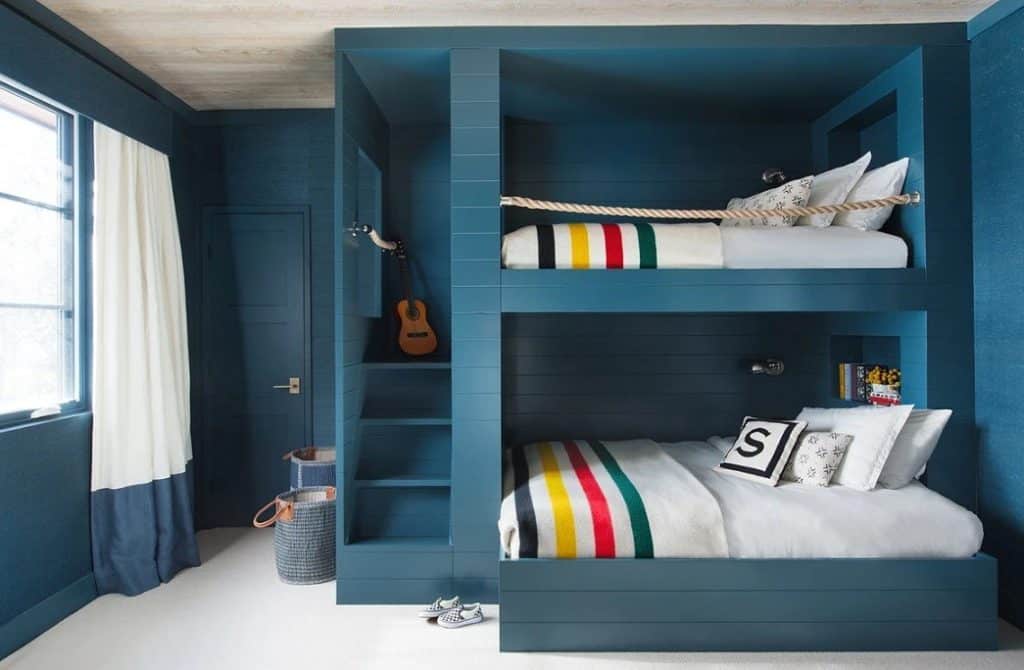 This bunk bed is the ultimate teenagers' bolt hole. I love how Studio Lifestyle designed this bunk room with a blue and white color scheme.
Additionally, the colorful stripes of Pendleton Glacier National Park blanket gives a little sweet touch to the whole room.
And instead of using a ladder like a regular bunk bed, this one is using an enclosed stairs to give more privacy and personal space.
Bunk Beds with Slides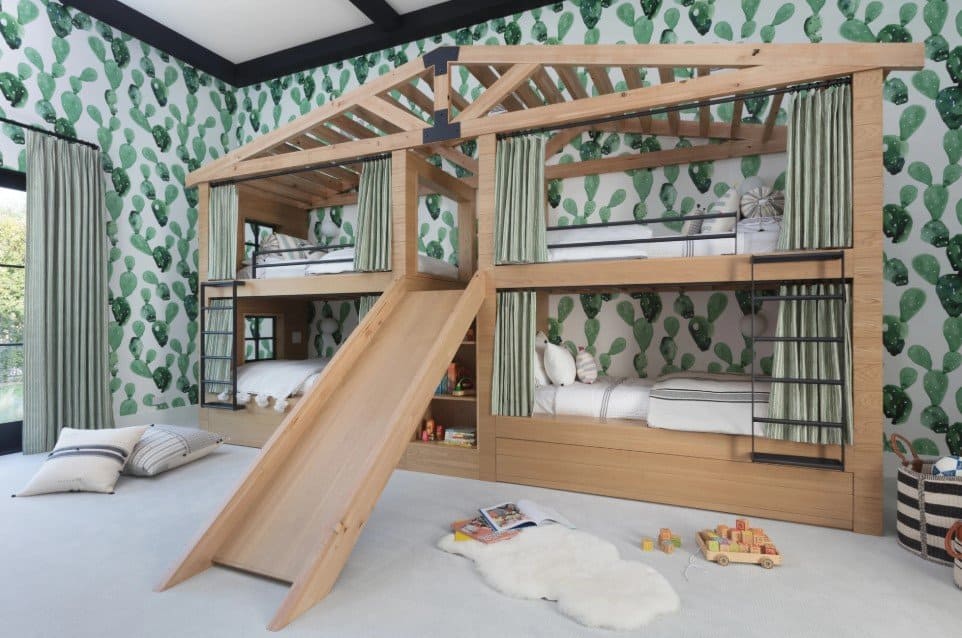 This is one of the coolest bunk bed I've ever seen. Unlike traditional quad bunk beds that only have stairs, this fort-like bunk bed comes with a roof, curtains, and slides.
Under the slides, the designer created a bookshelf which is also function as a toy storage.
I really love how the cactus wallpaper and the curtains' green color make harmony with the brown wood frame of the bunk bed.
Read also: Baby Girl Nursery Ideas
Adult-Size Bunk Bed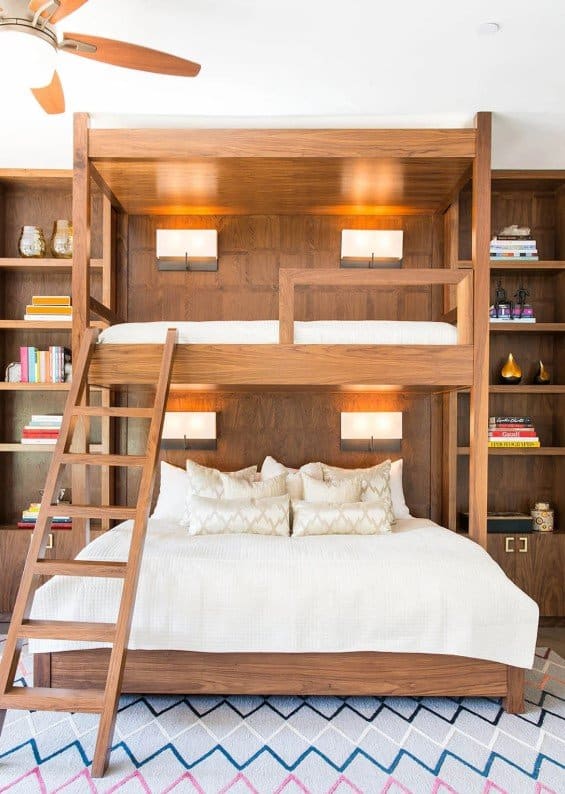 Bunk beds are not only for kids. Here's an example of an awesome adult-size bunk bed designed by Studio Life/Style.
Unlike a regular bunk bed that the ladder usually goes sideways, this one is designed to be facing the front.
The designer built this bunk bed to replace the previously installed king bed on the guest bedroom so that the room could occupy more guests and sleepovers.
When there's no guest coming over, the homeowner likes to spend his time reading books and taking naps in this bedroom.
Triple Bunk Bed with Trundle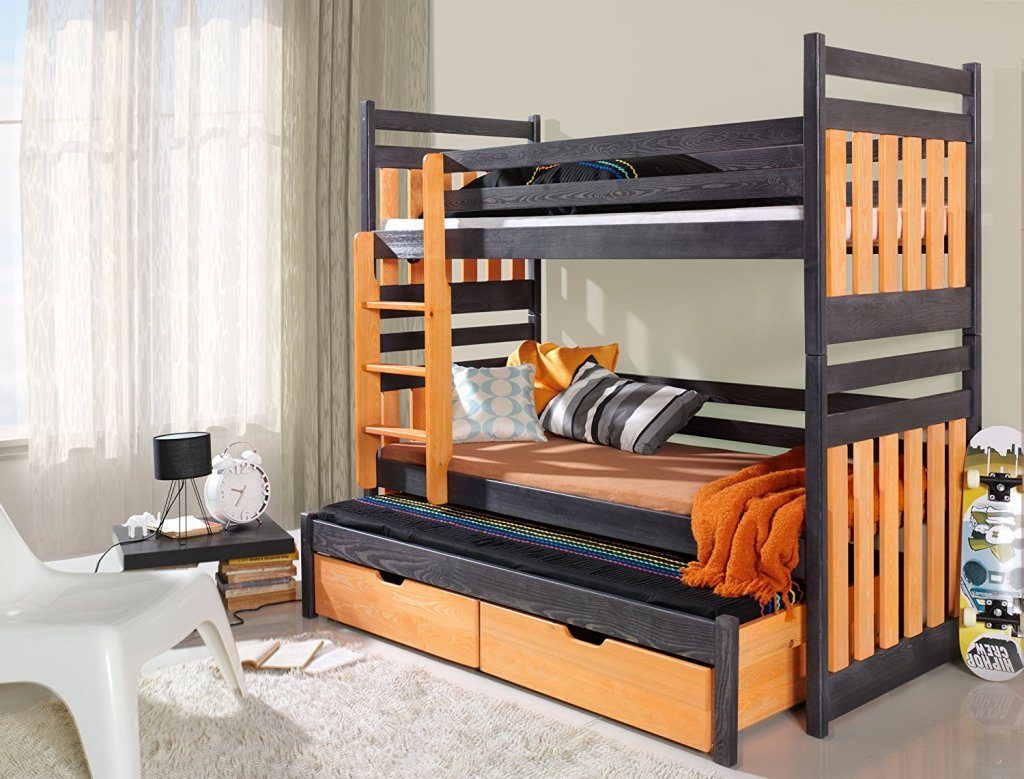 This bunk bed comes with two bunks with a trundle bed, making it an ultimate space-saving triple bunk bed for children.
The trundle has two big drawers for 'the black hole' to shove in toys, socks, bedding, and other things as the quick-fix for the messy room.
The bunk bed is made out of pinewood and comes with many different color options that you can choose.
This bunk bed is equipped with non-flammable mattresses, so you'll have an additional safety feature for your kids.
Nordic Style Triple Bunk Bed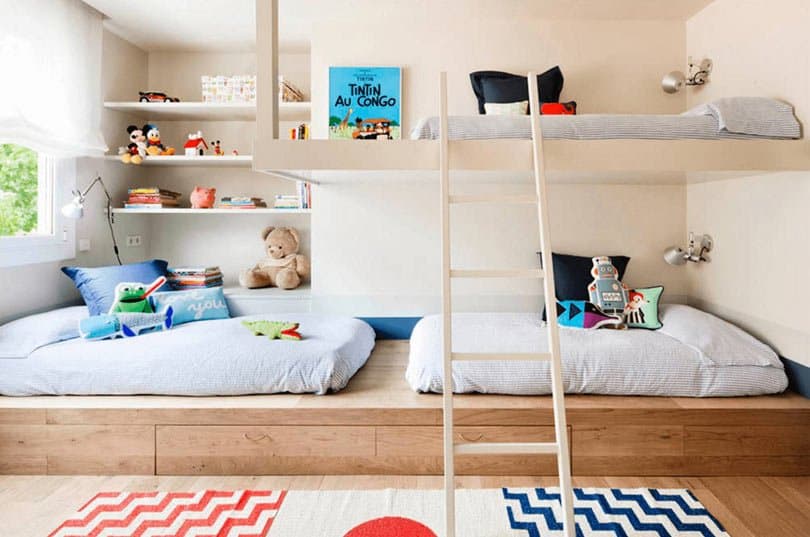 This triple bunk bed is designed by A! Emotional Living & Work for an apartment in Barcelona, Spain.
I love how they could bring such a fun experience to this small room.
To make this possible, they built a raised floor structure to place two beds on the surface and two drawers underneath.
This creates a gap between the bed and the front wall. The gap is quite narrow, but it could accommodate a small teepee tent, like so: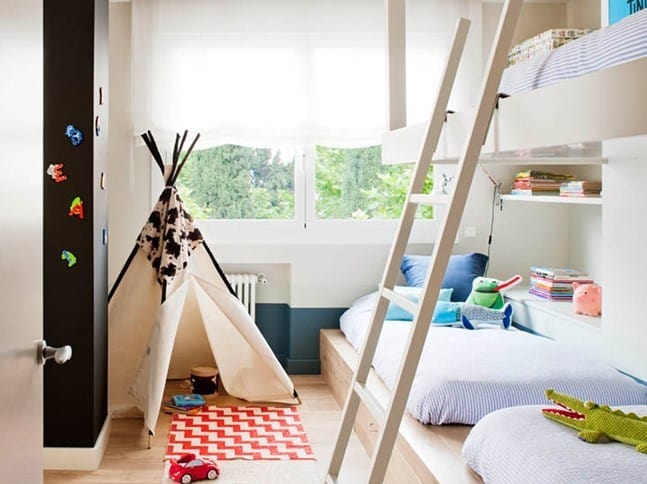 And for the third bed, the designer uses a suspended bunk bed attached to the ceiling, making the room more spacious and distraction-free.
How about the ladder?
Don't worry, it's portable.
Scandinavian Bunk Bed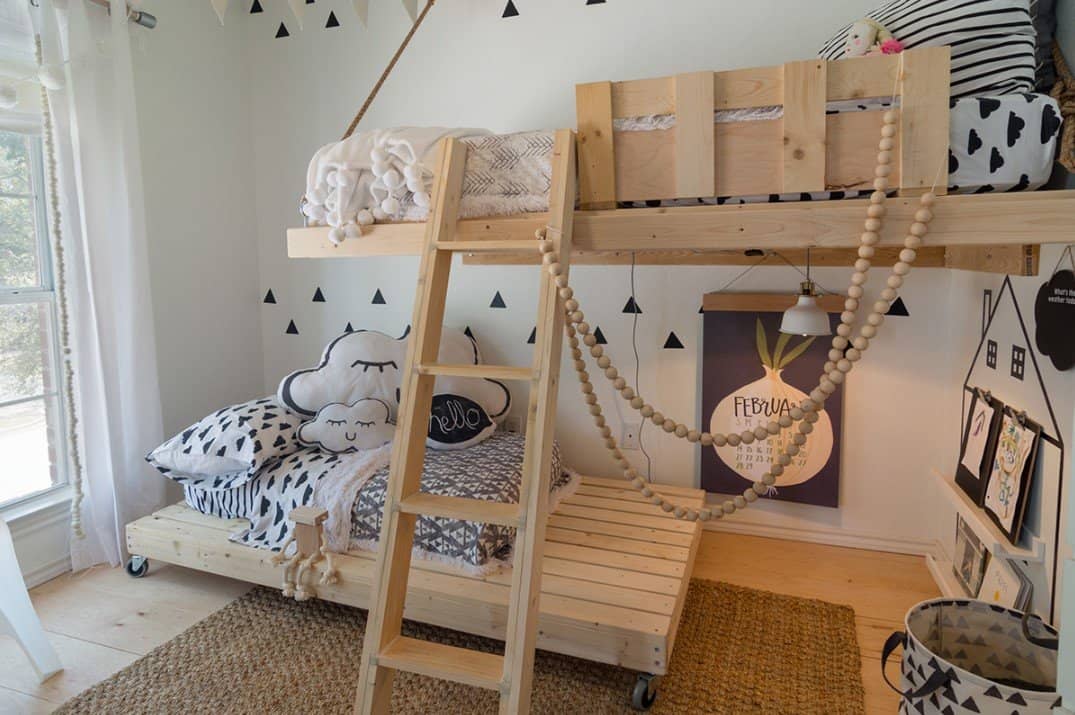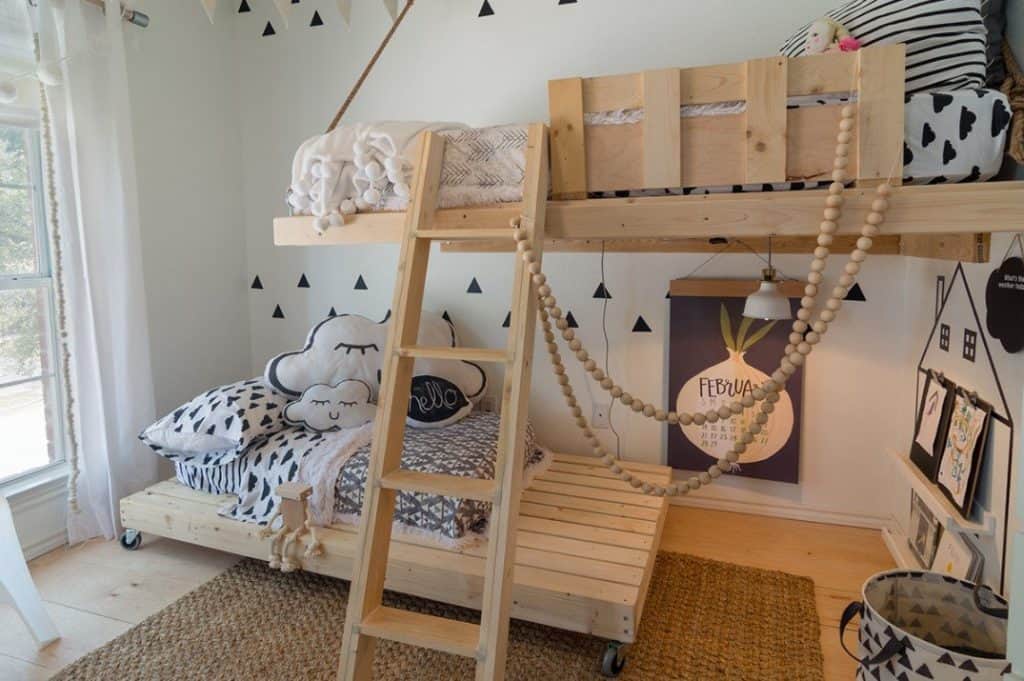 This treehouse-like, Scandinavian style bunk bed also features a suspended bunk, but it's attached to the studs of the wall instead of the ceiling.
After publishing the project on the internet, the designer got a lot of positive and negative feedback.
The positive feedback goes to the fun, cute, and lovely design, and the negatives are mostly about safety issues.
Some of the safety issues are the bottom bed with sharp edges, the hanging beads that would be hazardous for children, and the jute rug that people think is scratchy.
But here are some notes from the designer:
The hanging beads are just for photography purpose, it went down after the photoshoot.
The designer also has made sure that every corner in this room is rounded, she even sanded them herself.
And for the jute rug, it is not typically the rough jute rug that people think of. It actually feels soft and her children loved it.
Floating Bunk Beds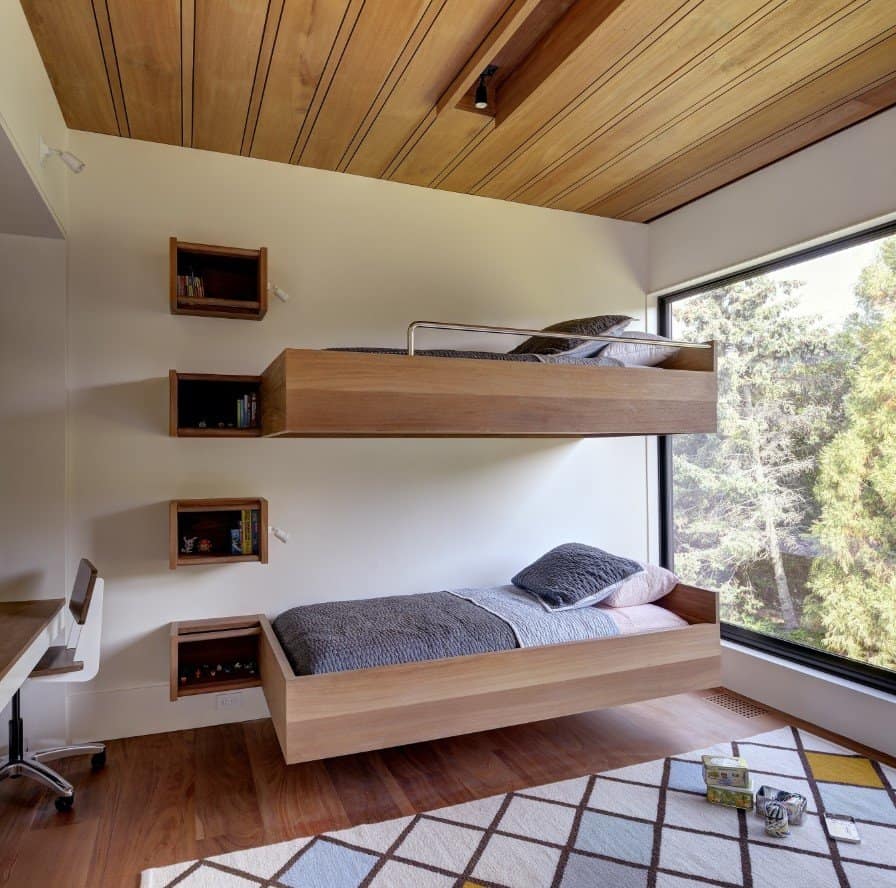 Bates Masi Architects is the architect firm that is in charge of designing this incredible bunk bed.
The wooden bed frame is attached strongly to the wall, making these bunk beds look like they are floating!
Located in a vacation home, the idea of combining a floating bunk bed with a floor-to-ceiling window is ingeniously inspiring.
Aside from the window gives an incredible view of nature, the floating bunk beds also bring such a refreshment to the brain.
Those little boxes are not only for storing things, but also double as a ladder.
What do you think about this design?
If you're inspired by this design and want to build one, please be sure to consult with your local contractor.
Rustic Cabin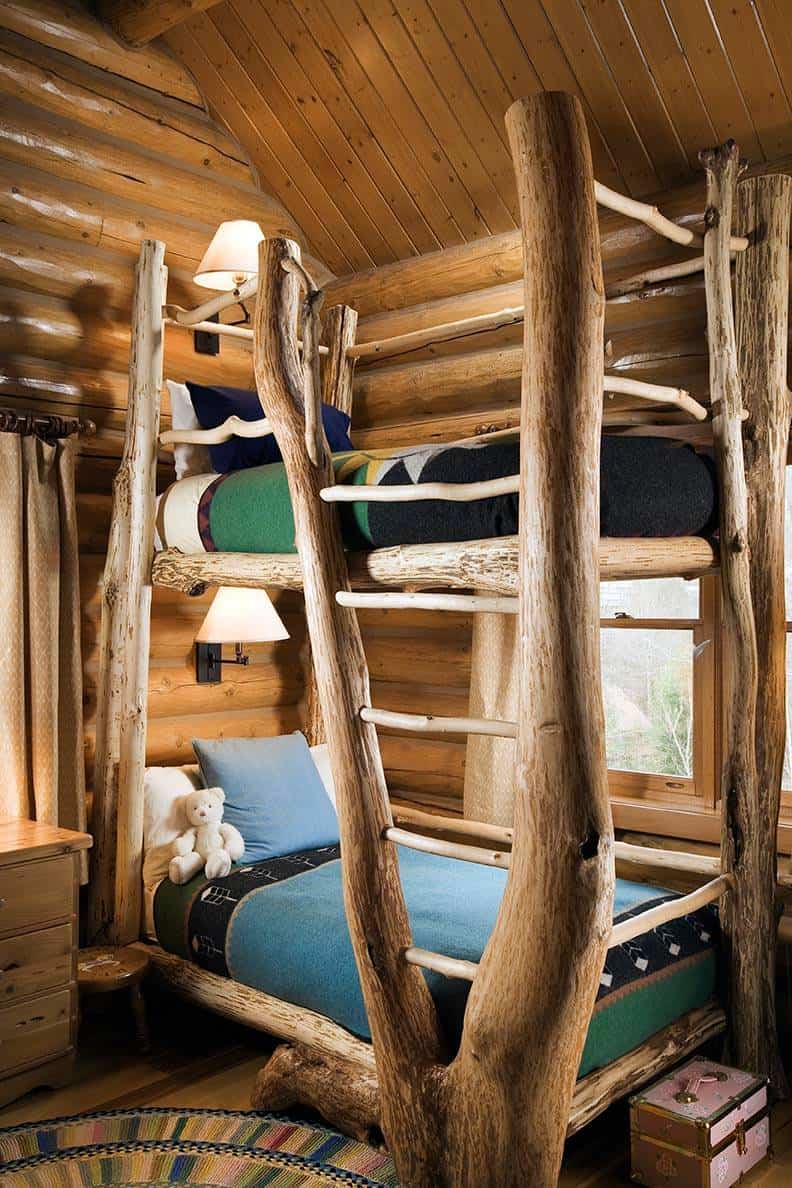 This rustic style bunk bed is designed by Rocky Mountain Direct, which is an experienced professional log home builder in Victor, Montana.
But you don't have to own a log home to bring the nature inside like this one.
The logwood bunk bed will add the outdoor vibe to the bedroom, making this room feel breezier and more adventurous too.
Navy & Brass Bunk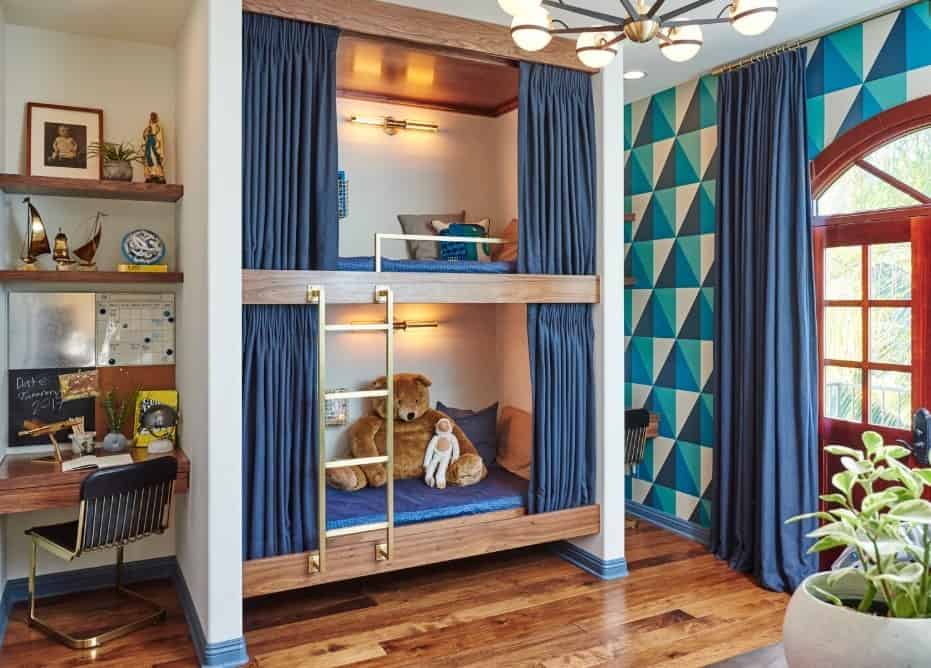 Bunk beds usually have less privacy, but here, Sarah Barnard creates an elegant bunk bed with closed ends and curtains, which give the kids additional privacy, and I love it!
Not only that, but she also creates a separate desk for each room member so they can study more conducively.
Besides all the excellent functionality, the overall color scheme in this room is really soothing and calming.
Unique Design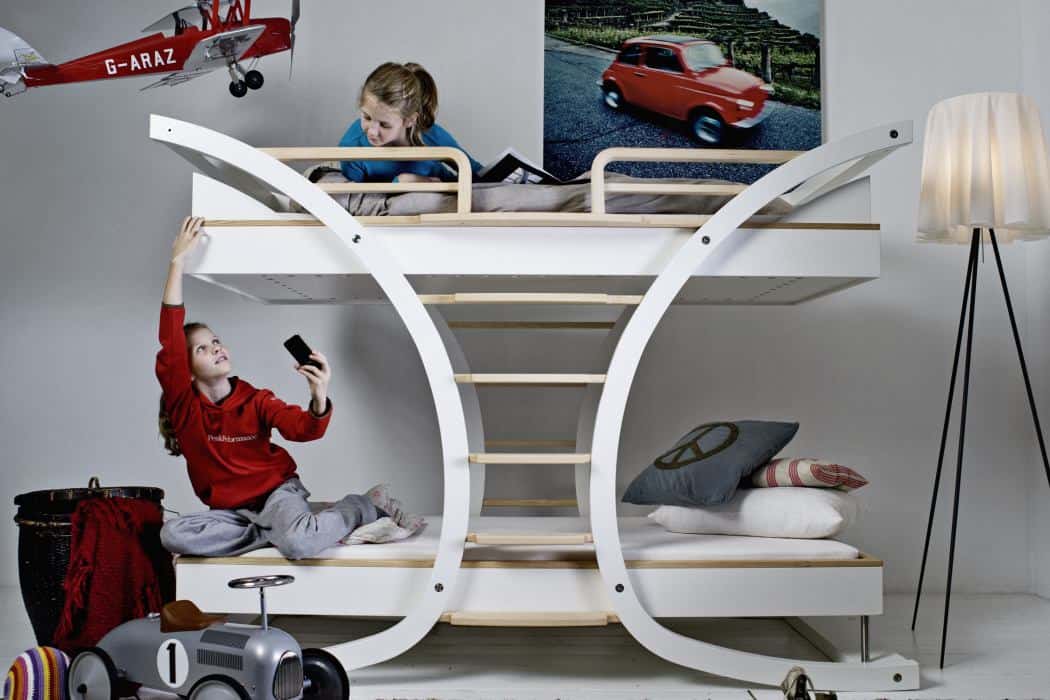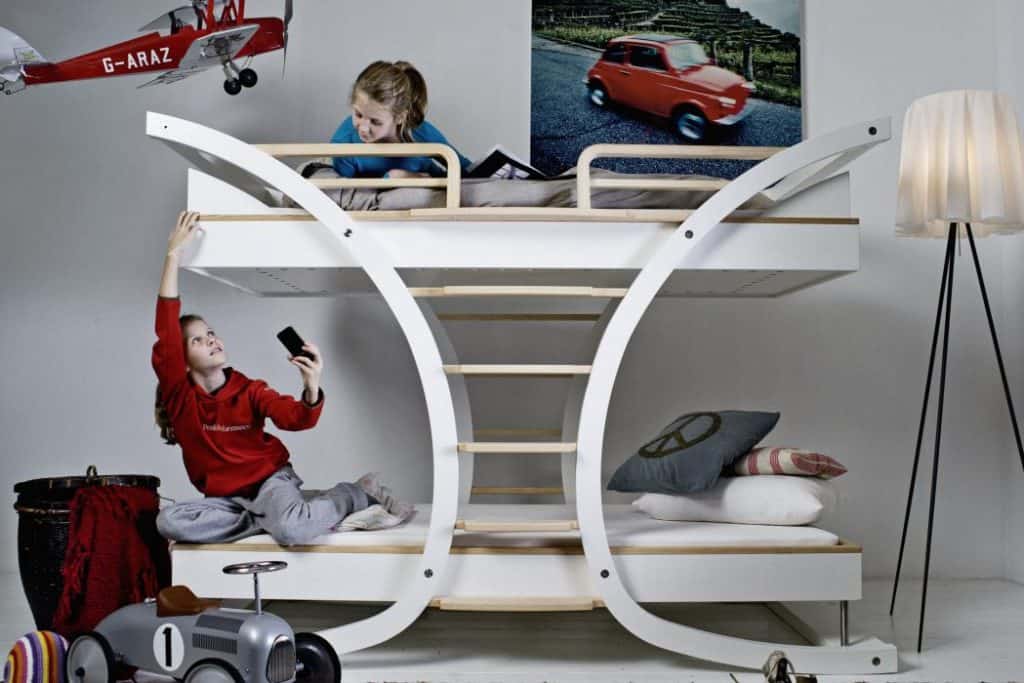 This bunk bed has a unique design. With arched legs that also double as a ladder, this bunk bed is one of a kind.
Wave 2, the name of this bunk bed, is exclusively designed by Gudiksen Design and named after its curved legs.
Upholstered Bunk Bed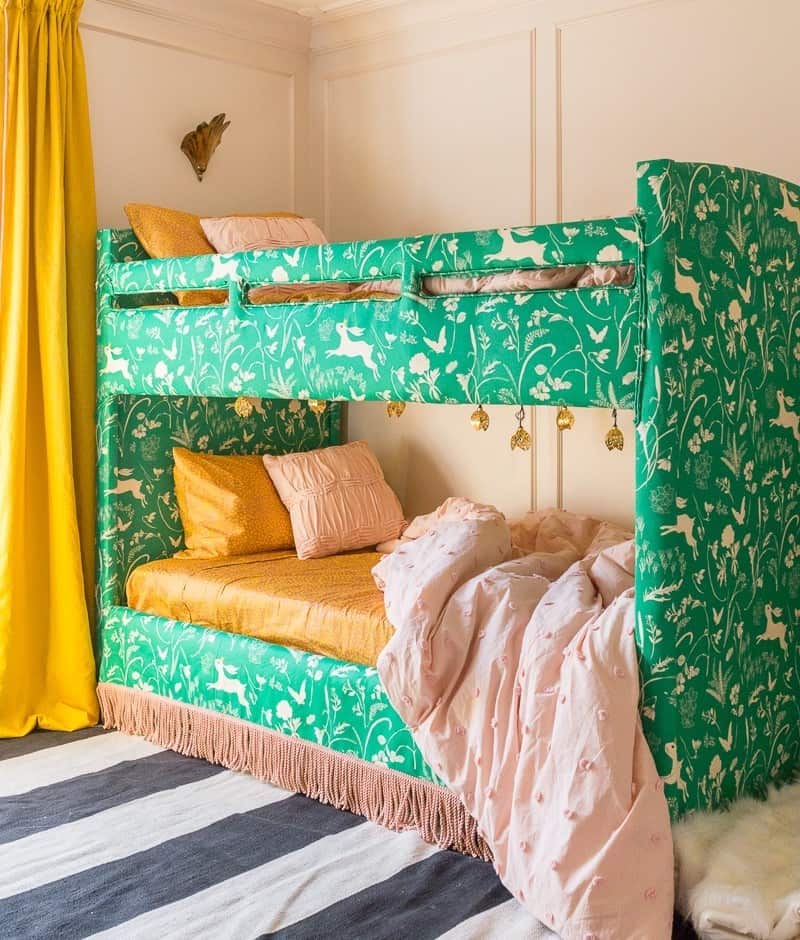 If you already have a wooden bunk bed but you want to give it a new look, you can try this amazing bunk bed upholstery by Jewel Marlowe.
Sometimes, you don't need to buy a brand new one. With a little touch of creativity, you can get a new look and save a lot of money at the same time.
If you're curious about how Jewel upholstered her bunk bed, you can follow the instructions in her blog.
Built-in Ladder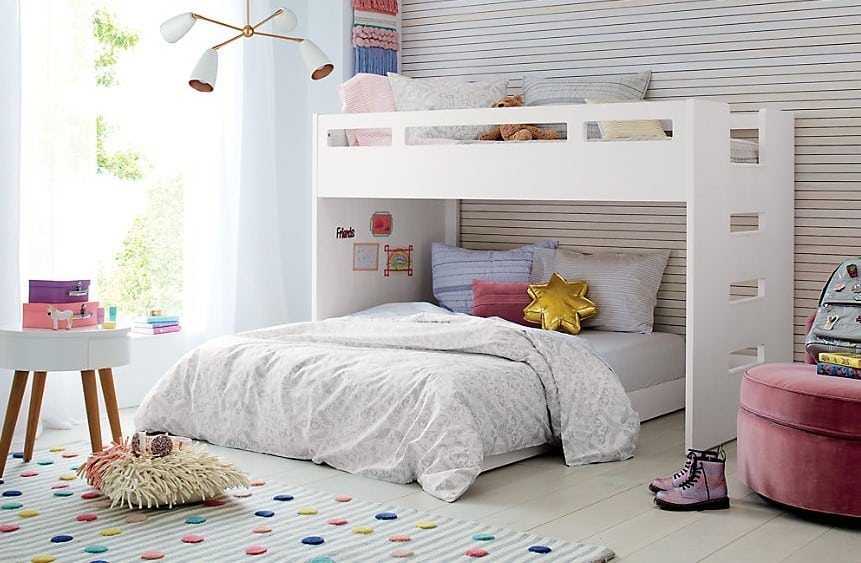 This bunk bed is different from traditional bunk bed because it has a built-in ladder that also functions as the legs.
Not only that, you also have the flexibility to freely move the bottom bunk.
It can be aligned in parallel to the upper bunk, or it can be positioned in a different spot, making the top bunk a loft bed.
Tips for Choosing Bunk Beds
The majority of us are in some way skeptic to the idea of purchasing bunk beds, and it makes good sense.
The very first association that pertains to your mind is metal military platforms, which is not a choice you would think about.
You are reluctant since you do not wish to see you kid having a hard time to obtain vertically from the upper bulk; however, good news for you, bunk beds altered a lot. In an excellent way!
Today's bunk beds with stairs are genuine style masterpieces-they been available in all sizes and shapes, with imaginative climbing up devices and wonderful functions.
The marketplace is loaded with fascinating services to please the requirements of every space and the required expectations of your growing toddles.
Designers work hard to comply with security requirements, and you can take safety measure for given when picking the finest bunk bed for your kid.
Here are some consideration to take before purchasing a bunk bed:
1. Safety Precautions
Safety is the most important aspect in choosing bunk beds.
Pick semi-high bunk beds that have strong rails to avoid the child from falling on the ground.
Bunk beds normally include such rails; however, you can set up among your very own to make sure you've not ignored a single security issue.
In case you're not exactly sure how this goes, check out some DIY pointers, or request for expert help.
2. Choose Strong Material
No matter its appearances, color, or size, all of us wish to purchase the most strong bunk bed we can discover.
This basically limitations the option to wood and metal beds (which readies due to the fact that they are available in all colors, patterns, or kids styles).
We would advise you to choose the wood choice, because metal is contemporary and commercial, however has its covert risks when it pertains to kids.
Often is to sharp, slippery, or cold, and you need to think about all this prior to you leap to the incredible cost these beds have. Wood beds are not that pricey after all, depending upon the product they were made from.
It is the supreme product option that never ever goes out of design, and if completed correctly, it can be the rustic pleasure of lots of generations to come. That's why moms and dads choose wood bunk beds to their metal equivalents.
3. Choose The Best Theme
One of the most stressful aspect of the 'search' would be to discover bulk beds for young child age kids, however the silver lining of this procedure is that it tightens option to the most safe and most strong beds (kids under the age of 6 need to not even sleep on the upper bunk).
An additional security tip when it pertains to young children is to utilize stair rather of ladders, due to the fact that they are much easier to climb up, and they generally have actually security rails connected to them.
Age matters likewise in regards to design; even though that would imply draining your pocket to react to your kids's demands.
Eight years of ages women will most likely request a My little pony-themed bed, and kids on comparable age will request for aircraft, however, each of them will choose not to oversleep those beds after a year or more.
That is the reason why you ought to discuss with your children and aim to encourage them to pick something more conventional that will just grow as they do.
4. Calculate The Room Size
You may be taking a look at the prettiest bulk bed ever, however except if you have sufficient area to support it; it deserves absolutely nothing to you.
Determining your space ahead of time will limit the option, and will supply accurate standards on exactly what to try to find.
The height of the bed matters the most: you have to make certain there will be minimumly two feet of extra area in between the bed mattress and the ceiling, otherwise the kid might get harmed while standing up.
When it concerns flooring area, twin bunk beds do not need to be bigger than basic twin beds, unless you've chosen to opt for a trundle or L shaped beds, or such that have unique functions, such as pull out drawers.
5. Choose The Right Bunk Bed Style
There are five designs to be thought about: twin on twin; complete twin; futon twin; desk twin; or rotates.
While deciding, you ought to discover both the practical and visual sides of the design.
6. Accessibility
When you're going through the last stages of your purchase, consider the methods which the bed could be accessed, and whether it would be simpler for your kid to steer ladders or stairs.
A thing you need to definitely prevent is small stairs, or such that are put out of view and express concealed stumbling threat for kids.
To select effectively, try and compare various alternatives, however preferably just those that have hand rails to keep.
If the bed does not have hand rails, it was most likely produced teens who do not have to appreciate balance any longer. It all depends on the age of your kid.
7. Functionality
Kid's spaces are typically too little for the stacks of individual valuables these little treasures have.
You have to be both useful and innovative to provide the space they desire, however, to consider performance too.
That's why you ought to think about multi-purpose bulk beds, with storage area or whole desks under the stairs, or to select loft beds for your one and just kid, understanding that he or she will accept absolutely nothing less than a bunk bed.
As we stated, you're the one in charge of alternative options that can take advantage of the non-reusable area: for example, if your kid prefers to have buddies over, include a trundle bed beneath his to be drawn in or out upon requirement.
Something that you must not forget to do is to seek advice from him/her: at the end of the day, they are the ones who understand the finest what kind of bed they wish to oversleep. Even we that are all grown have the tendency to be unpredictable on that issue!