Don Pedro Brooklyn is reader-supported. When you buy through links on our site, we may earn an affiliate commission. Learn More
DIY Make Up Storage Ideas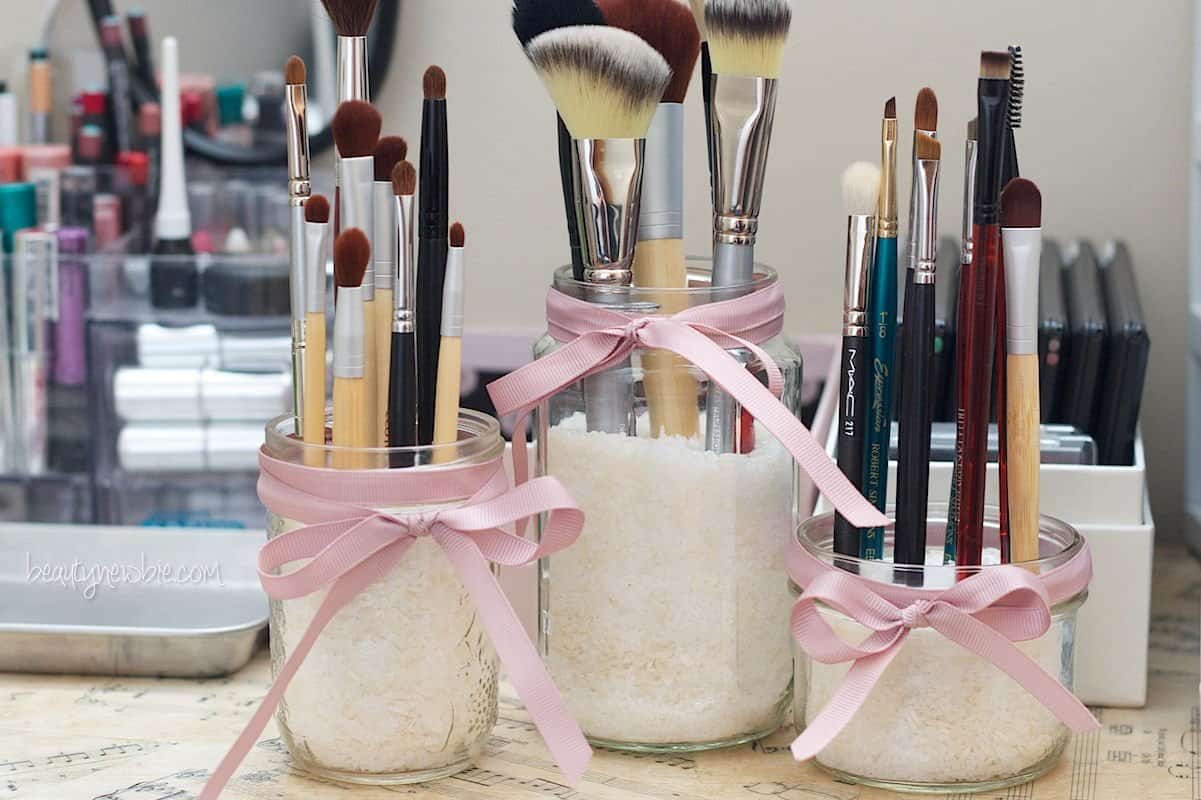 Isn't it frustrating when you can't find your favorite lipstick when you need it? Well, if that seems to be the problem, it's the sign that you need makeup storage ideas to make your own makeup organizer.
It is never a simple task to safely keep all your magic tools (read: makeup) in one place because you only use them a couple of times.
Spring may be over, but it won't hurt you to organize all your important day-to-day essentials.
These fashionable Do-It-Yourself ideas of makeup organizer and storage will help you to avoid being late for a meeting.
Shoe Hanging Makeup Organizer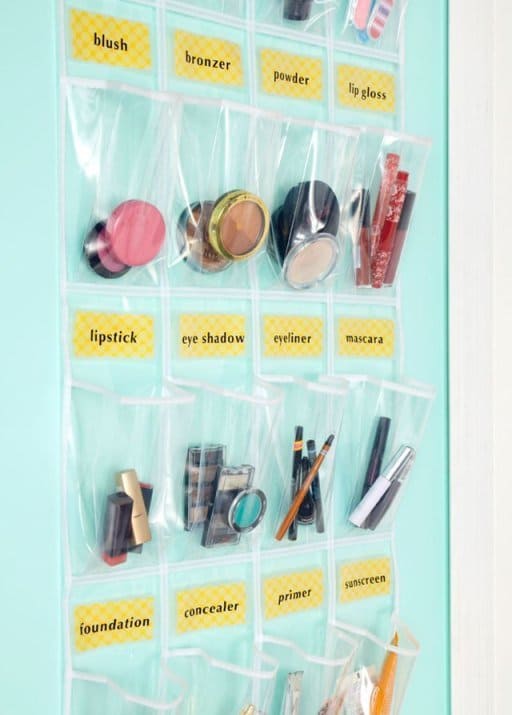 Makeup and beauty tools are not always placed in a nice countertop.
A low-cost shoe organizer, which is hanged at the back of your closet or bathroom door, can also be used to keep your entire make up essentials.
Even leave more spaces than you need!
DIY Makeup Storage from Old Plant Pots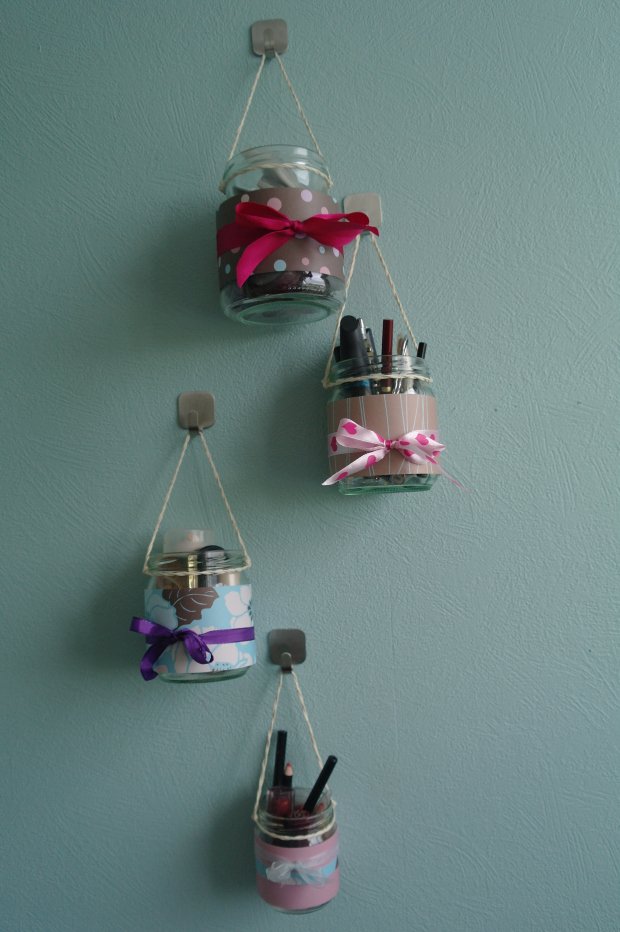 Taking care of plants can be a handful, but if you have adorable pots lying around because the plants have died, you should tidy it up using some ribbons and Washi tape.
Then, you can hang them all and voila! Now you have a hanging makeup brush holder!
Bookcase Makeup Organizer Ideas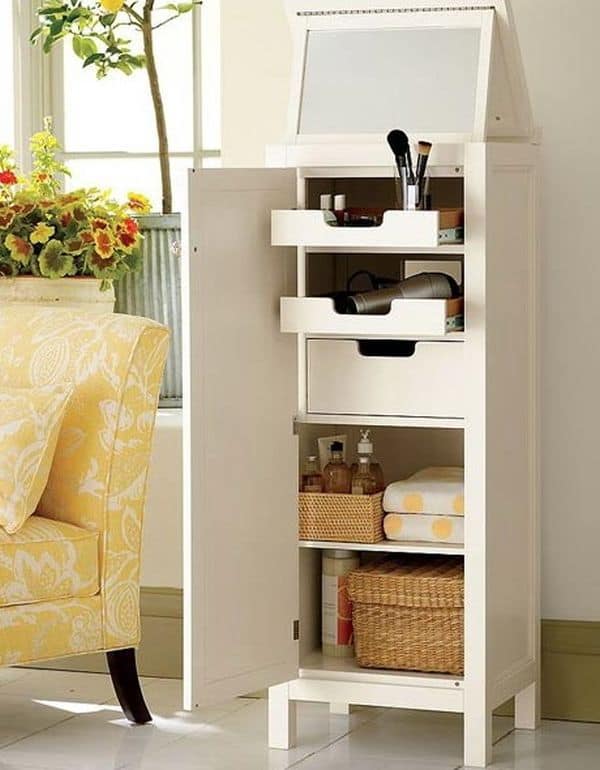 If you're lucky enough to be blessed with a spacious bedroom, you need to immediately find an old bookcase, some clear storage containers to build an impressive makeup closet.
You can find the materials on online platforms such as Craigslist, eBay, or Amazon at various prices.
DIY Makeup Storage from Old Candle Jar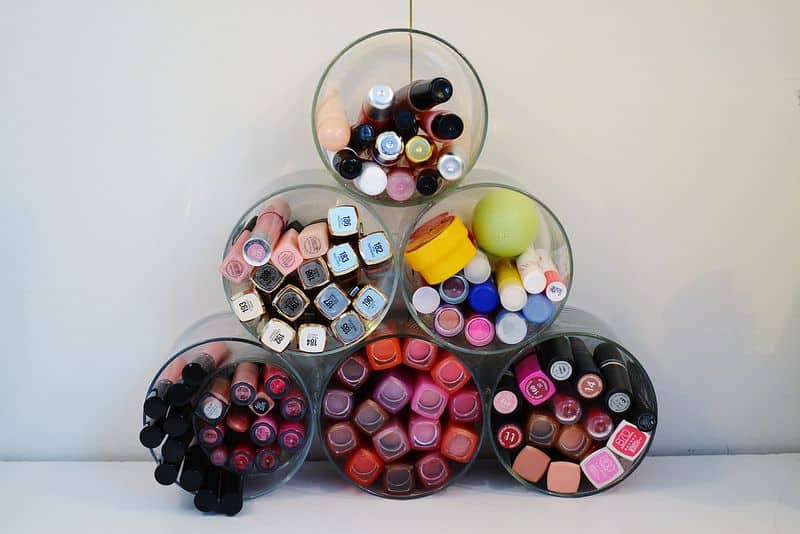 This innovative makeup storage idea helps you to save money and time. Moreover, it helps you to tidy up your room too.
You need to grab at least six old candle jars that have been cleaned properly and strong glue.
Then, stick the jars on top of one another until it can stand firmly without rolling around.
This is impressive, right?
Read more about DIY Jewelry Display Case Ideas
Old Dinnerware Makeup Organizer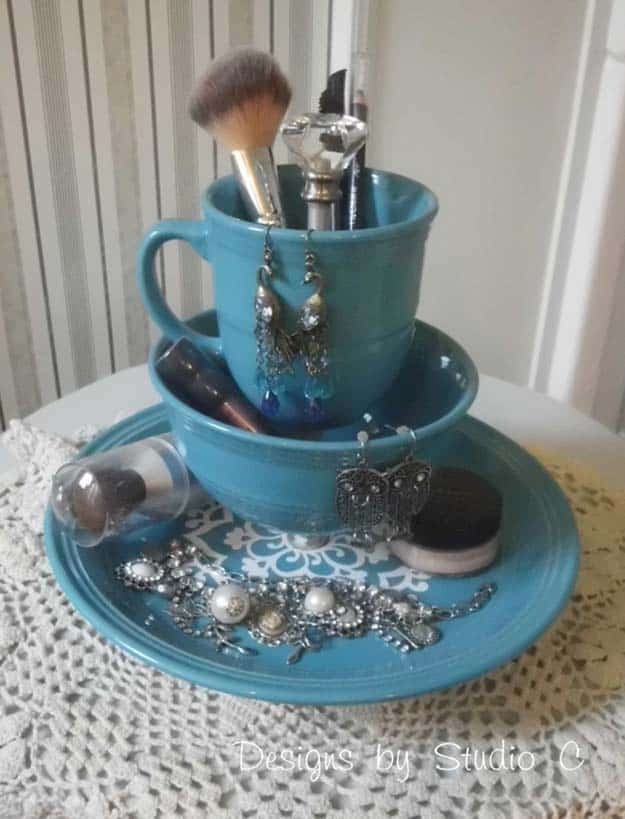 Have you ever bought or had classic plates and bowls?
You must agree that the vintage cutlery you bought is now used as displays rather than used for its function.
So, there's no better reason to not change the cutlery into an extremely valuable makeup and fashion jewelry holder!
Let's be sincere, the classic cutlery looks better for organizing makeup and jewelry rather than for serving foods!
Magnetic Board Makeup Storage Ideas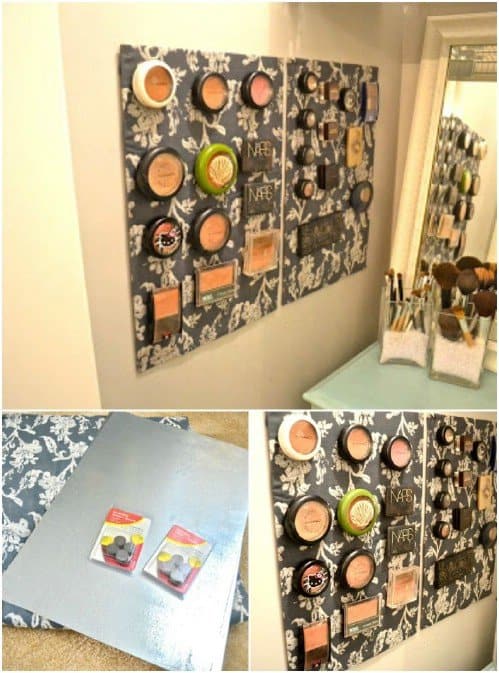 Make-up items are usually put on top of each other because you always in a rush when using them.
This will no longer be a problem, because of the magnetic board.
Yup! With a magnetic board, you can neatly order your make-up items, so you can quickly discover exactly what you're trying to find.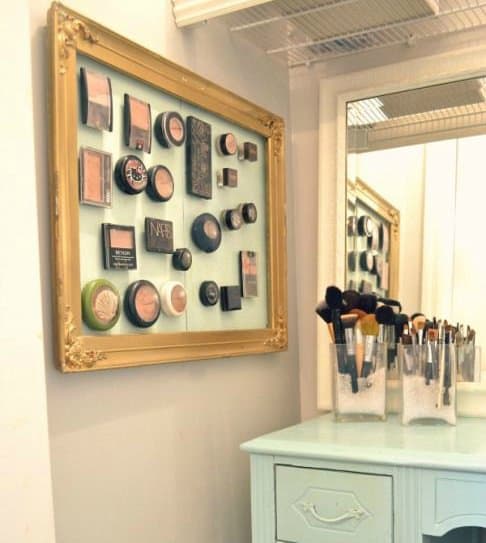 Moreover, if you combine the magnetic board with a beautiful patterned background and an artsy frame, your make-up organization becomes an amazing wall art in your room!
Organized Makeup Brush Display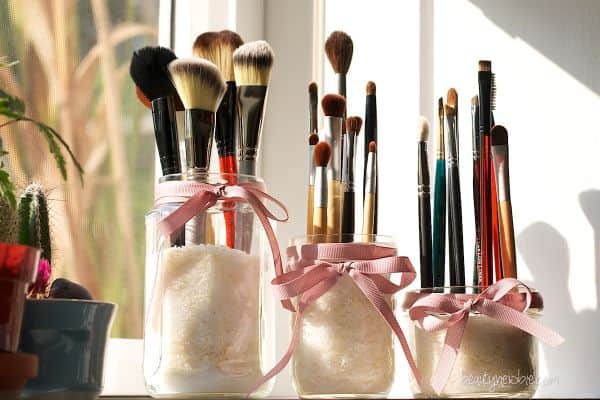 We fall in love with our favorite brushes and we want to see them neatly displayed in the most stylish way possible. Don't you agree?
The tools you need are three or more glass bowls, a lot of glossy ornamental stones and your favorite makeup brushes to create this stylish brush display bowls.
You can add cute ribbons to make them look even cuter.
Painted Mason Jar Makeup Storage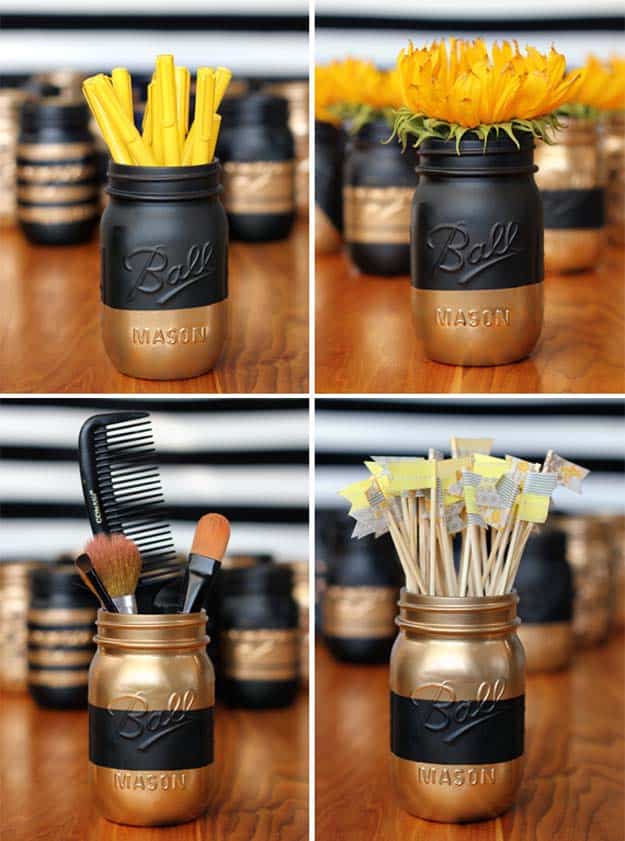 Mason jars show a simple and ordinary design, but this impressive make-up storage concept would turn it into an elegant jar that looks pricey and limited.
The process begins with a simple paint on the outside. Then, you can put almost anything that fits!
Cool Chalkboard Jewelry Organizer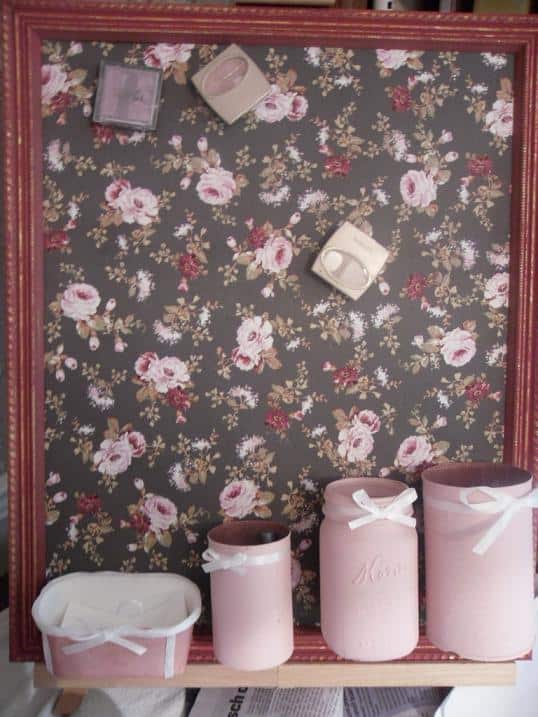 Beads and chains are tangled up very easily when they are placed in a cabinet drawer.
Don't you just hate it when it happens?
Well, you can avoid tragedy and save some space by crafting your unused jars for jewelry organizer. You can paint it with a pink color like these ones.
IKEA Star Makeup Vanity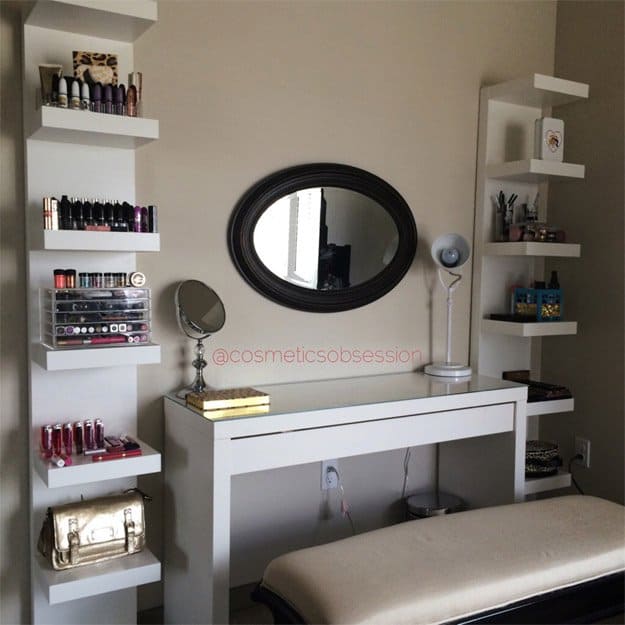 If you collect make-up essentials from a lot of different brands, small cabinet or small boxes would never going to suffice.
Rather than adding more boxes or cabinets, why don't you buy a star-like make-up vanity? You can buy all the parts from IKEA.
DIY Hanging Jar Makeup Organizer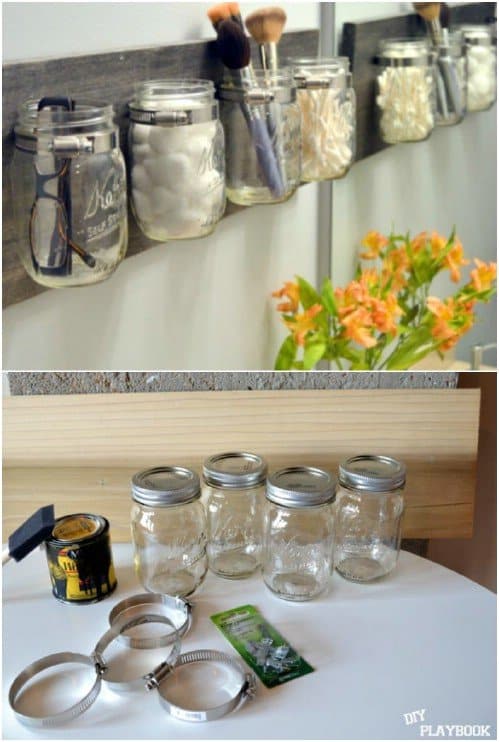 This do-it-yourself idea is designed to look simple, but elegant. The concept requires you to have some strings, containers, and ornamental material.
Using these materials, you can style your very own hanging vanity case as creative as possible.
DIY Flannel Makeup Box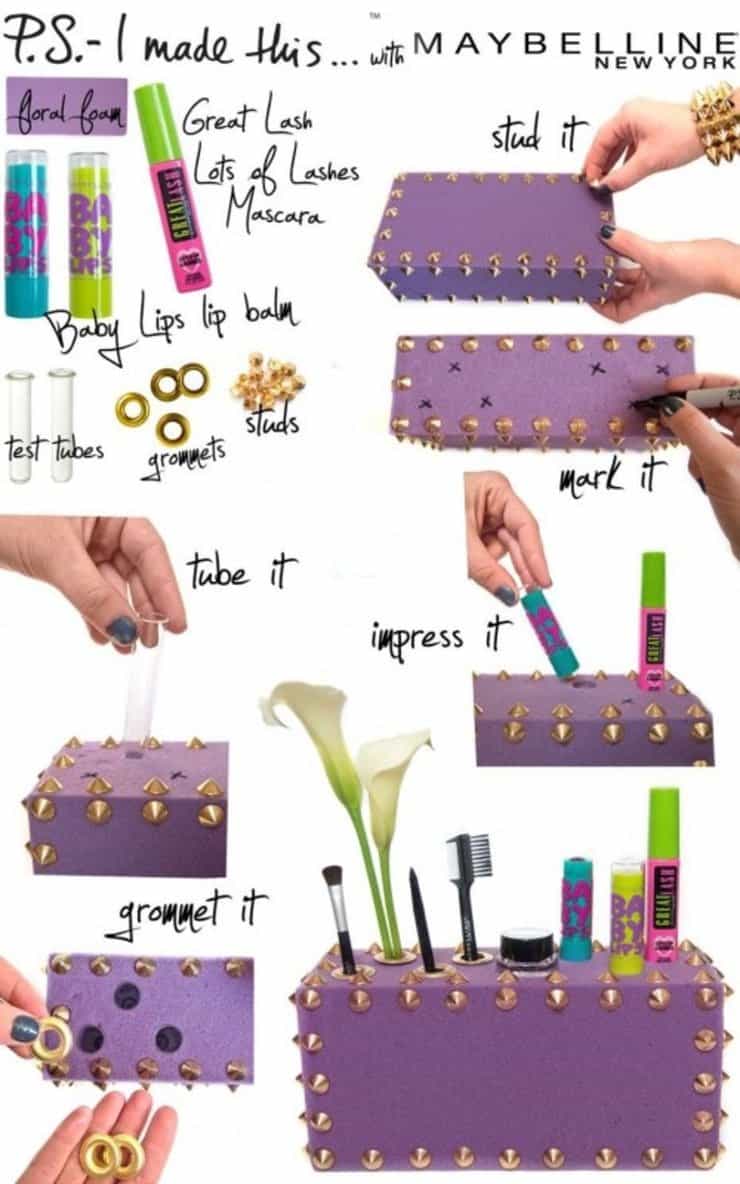 The materials needed for this project are vibrant foam, studs, glue, imagination, and creativity.
Glue the foam together until it creates a box-shaped foam. Add some studs to add a dare to the style!
Simplified Makeup Brush Storage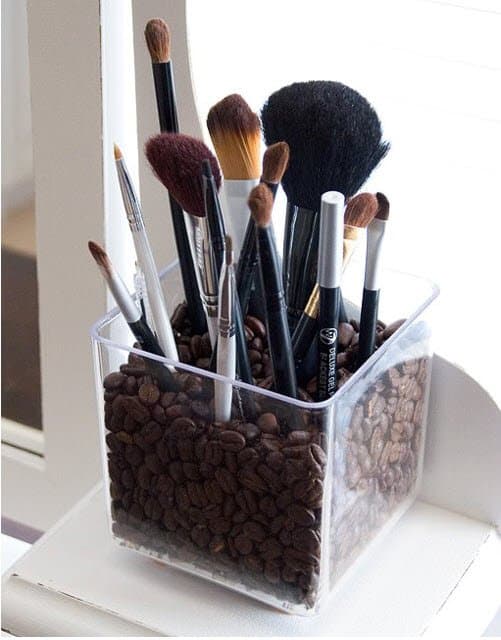 Do you have a lot of make-up brushes? Then, you know it is hard to keep them together because you often forget where you put them.
Use these basic, yet elegant storage bowls to manage your collection of brushes. Add some beans decoration to add a little depth to the style.
Glittery Makeup Brush Holder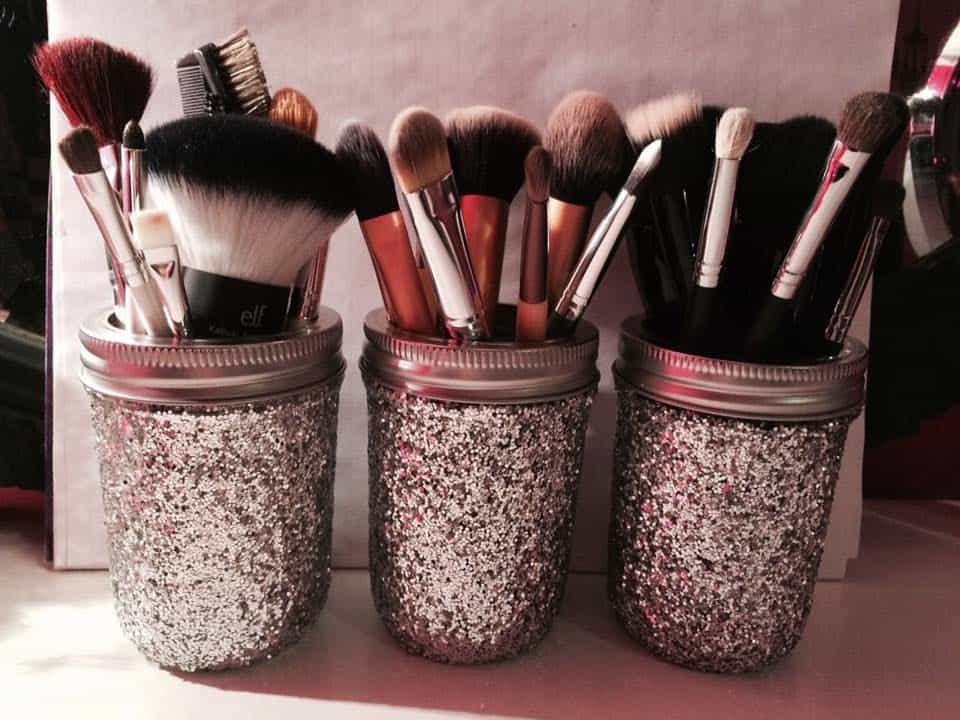 How incredible it is that you can magically turn inexpensive jars into stunning make-up brush holders.
It is simple, because you only need mod podge—a kind of glue, and glitters to shine them out.
Washi Tape Makeup Brush Holder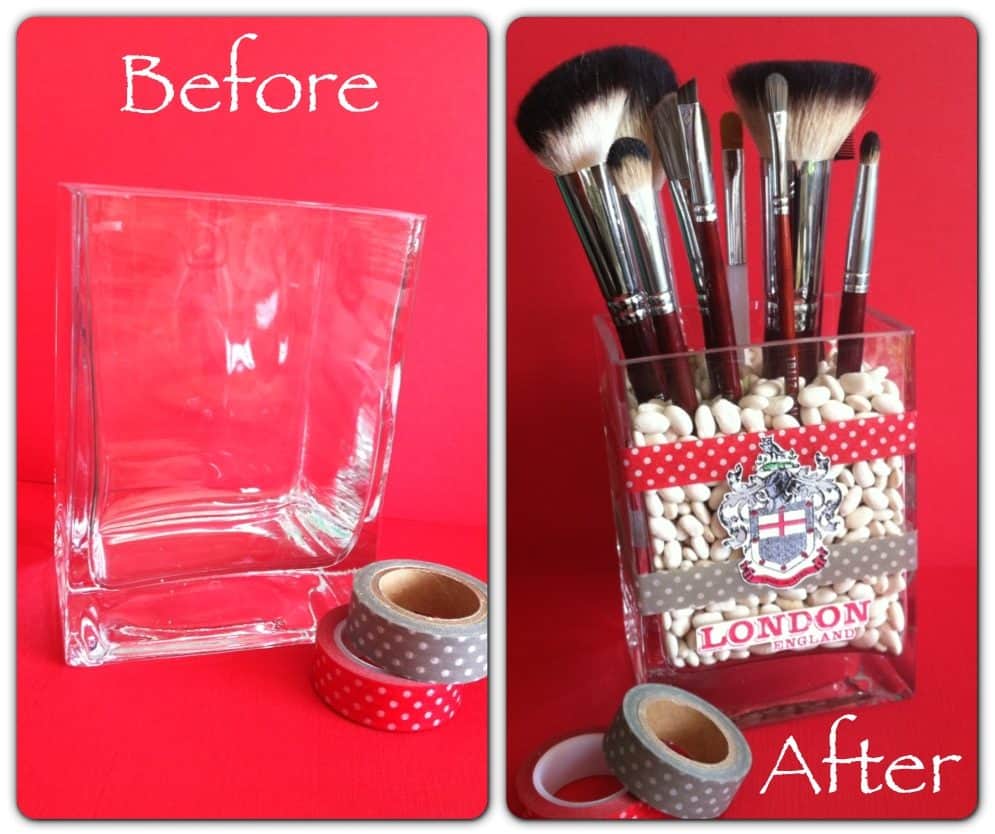 Do you have a lot of make-up brushes? Then, you know it is hard to keep them together because you often forget where you put them.
Use these basic, yet elegant storage bowls to manage your collection of brushes. Add some beans decoration to add a little depth to the style.
---
Other DIY ideas to try:
---
Makeup Vanity with Glass Countertop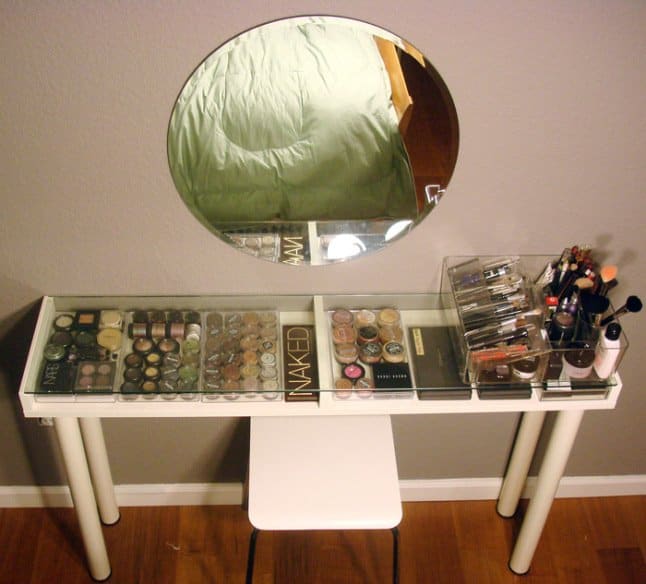 This customized make-up vanity is to die for!
But you can build this exact same idea with an old table and a see-through glass top. Don't forget to measure the size precisely to display your make-up collection.
DIY Make Up Storage from Plate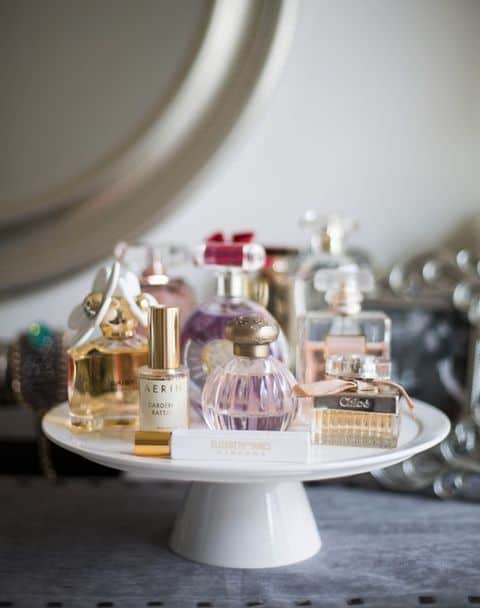 To have your make-up, perfume, and jewelry on display is an intriguing idea. If you'd love that, use a plate and a small bowl.
The bowl should be flipped at the bottom and the plate would be placed at the top. For decoration, use some scrapbook papers.
DIY Moving Rack Makeup Storage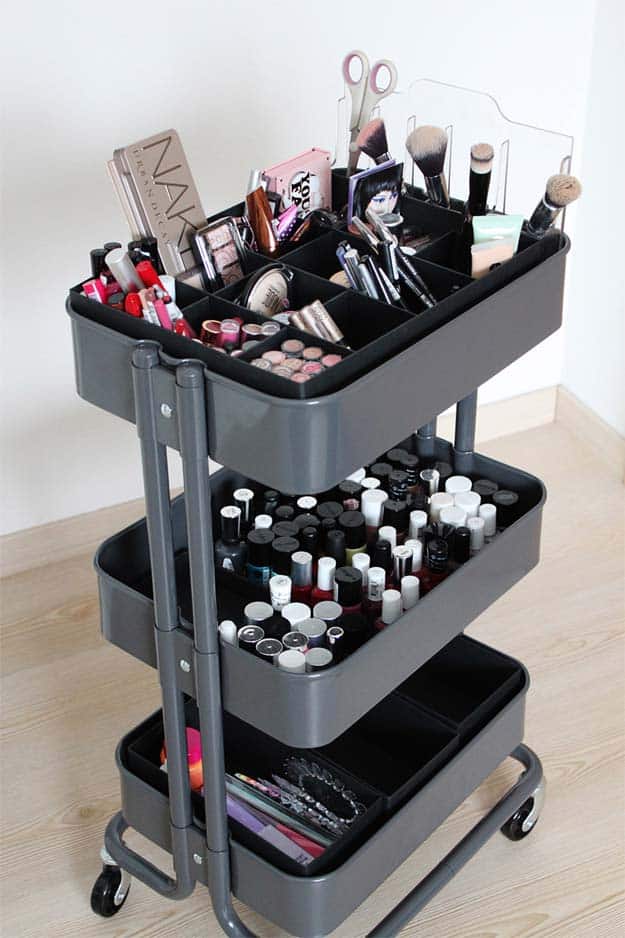 To add wheels to your make-up racks is a fantastic idea. It is very suitable for you who are very mobile. Even the moving rack can be moved to a corner when done.
For convenience, you can include a container on the side to store everything you'd need for dressing up!
DIY Makeup Box Drawer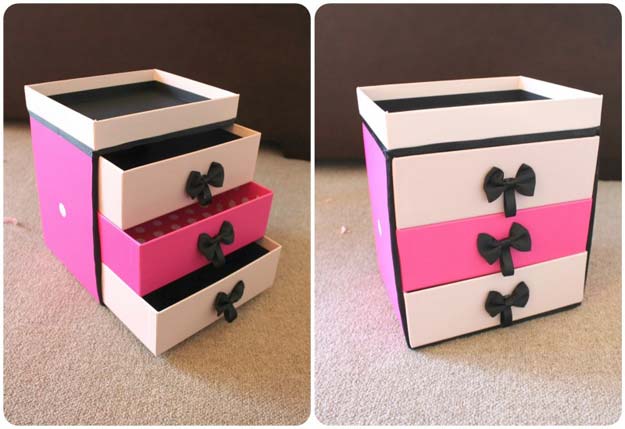 If you're the kind to keep your beauty containers, then you can build this cute little drawer system to keep all your makeup tools and item cool and neat.
It is made out of boxes, colored papers, and glue. A great way to keep all your make-up items neatly for daily make-up routine! Big thanks to creativity!
DIY Nail Polish Display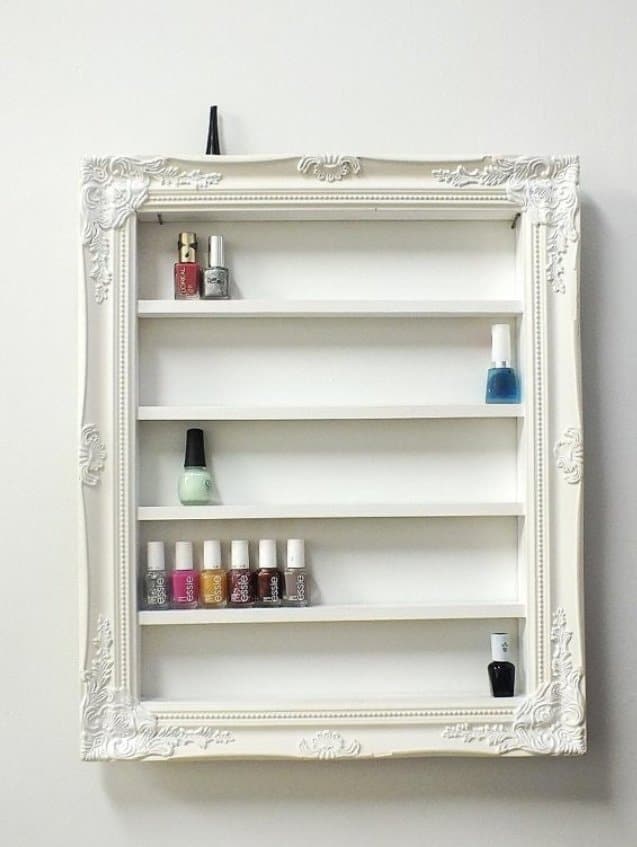 Nail polish can get easily mixed up or lost in a table full of make-up items. The best way to manage these items is to put them on display, so you can see the colors clearly.
So, reconstructing an old frame appears as one of the most efficient choices.
IKEA Nail Polish Rack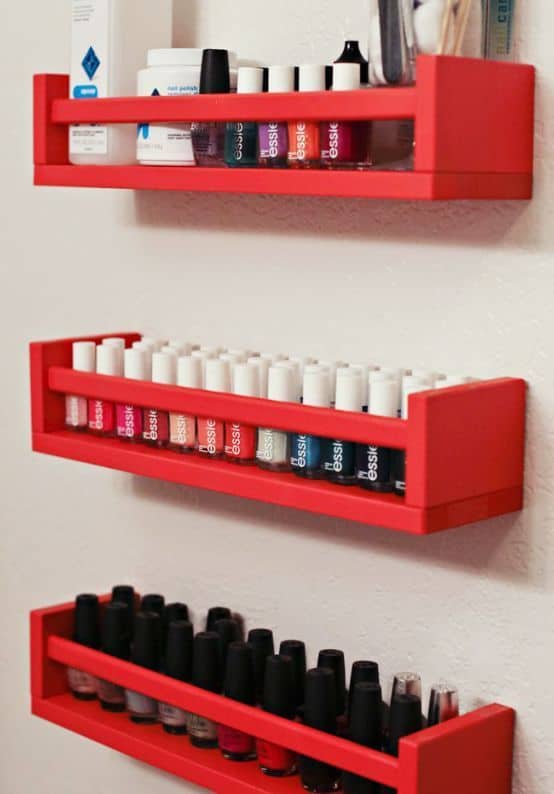 Your colorful nail polishes should be put on display, so you and your friends can see how beautiful they are.
As a matter of fact, IKEA offers you small racks that are suitable for keeping nail polishes.
Then, put up all of the racks on your walls. This way, you have both storages for nail polishes and vibrant wall art. How amazing is that?
Bead Organizer Makeup Storage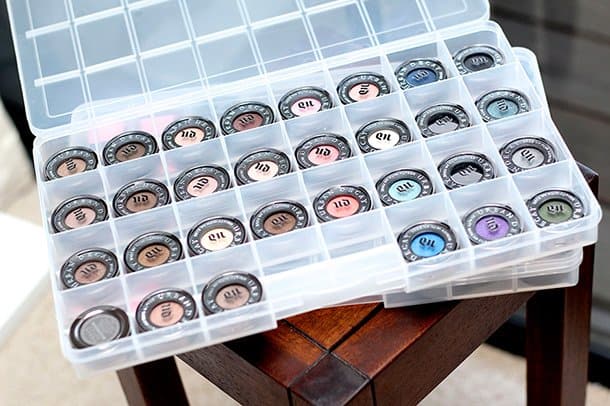 Have you ever collected beads?
If you have stopped collecting, instead of letting your old bead organizer gather dirt in your closet, use it to gather your eye shadows.
The outcome would be a clear, light-weight, and flattering eye shadow combination container.
Travel Brush Holder Storage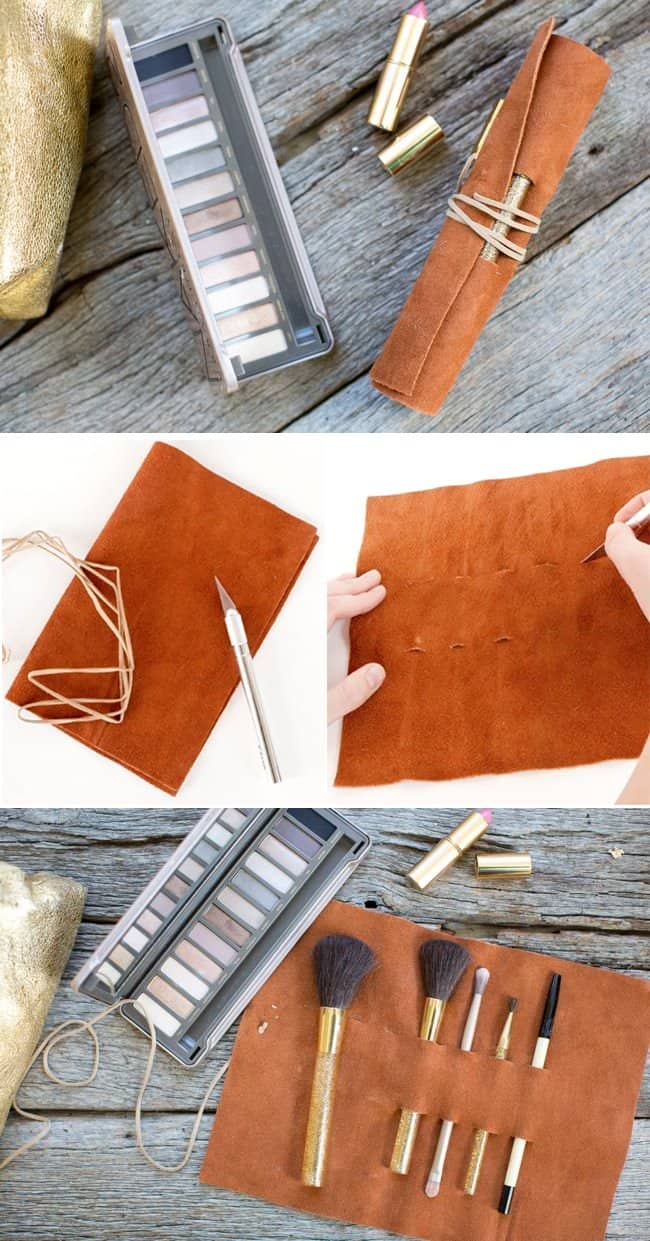 A traveling, make-up addict knows how hard it is to manage the brushes while traveling.
Worry no more, because you can make this DIY makeup storage which is suitable for traveling!
This make-up organizer is made of sewn flannels which make it convenient for traveling.
Moreover, an average sewing ability and some efficient time are already enough to make this innovative brushes holder.
Recycled Plastic Bottle Makeup Storage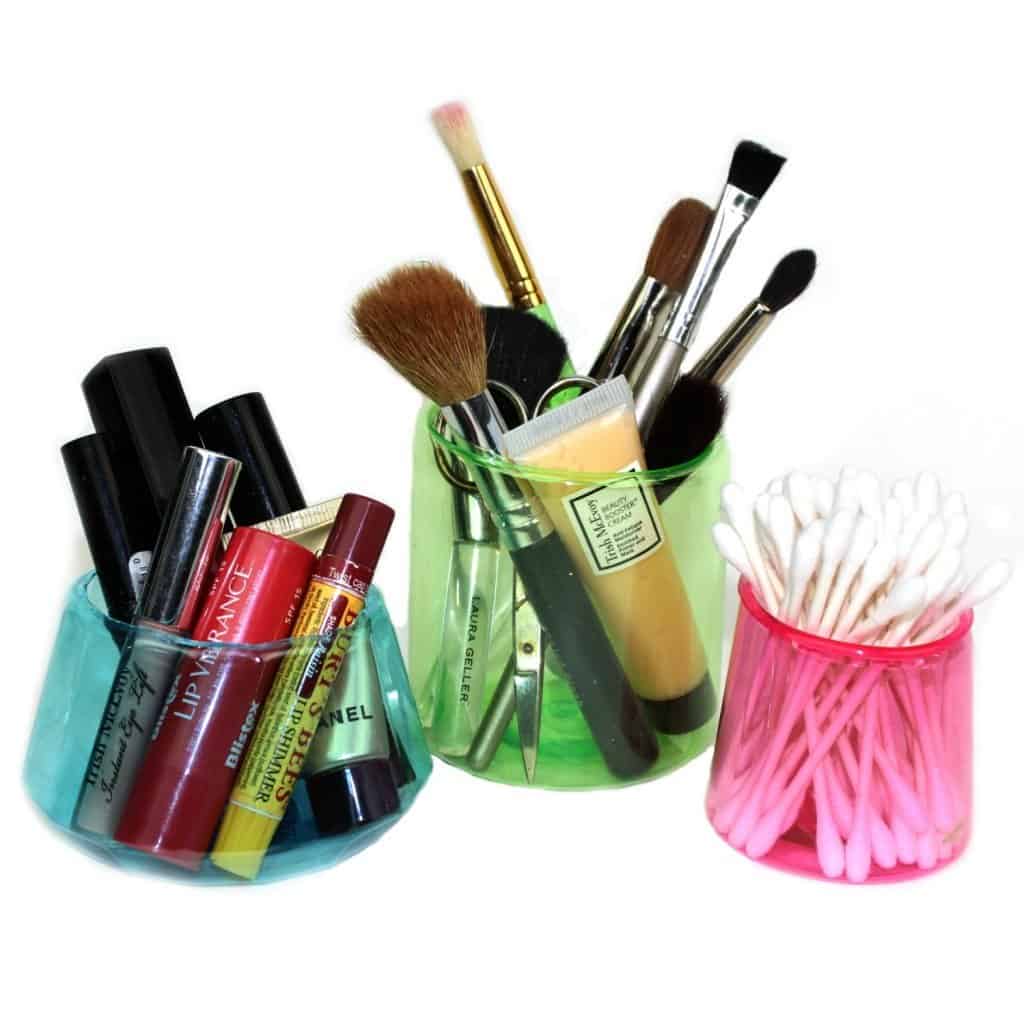 Do you know that recycled plastic bottles can be used as remarkable storage containers?
Take advantage of the bottles by cutting them open in your desired size.
To make the edges smoother, iron them gently.
Then, make them stand out by some decorative complimentary touches.
Rustic Tray Makeup Storage Ideas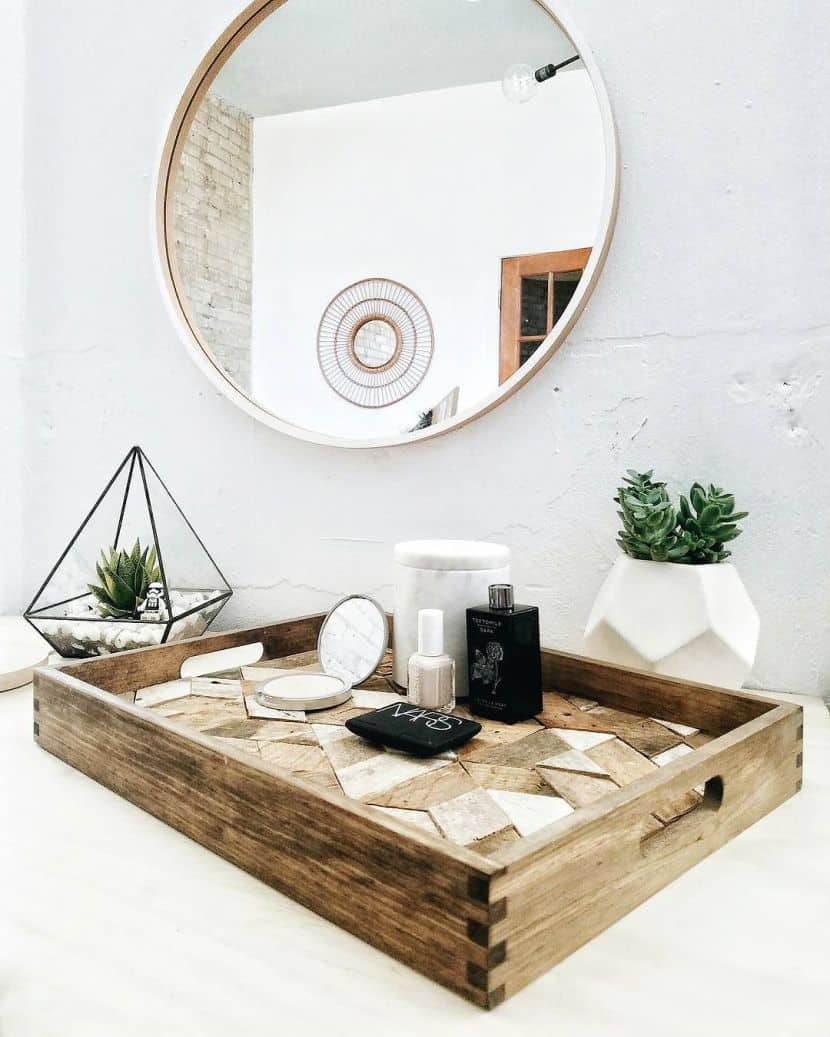 Do you feel bored with your current make-up storage?
Well, try this idea!
Use a natural wood tray to place all your make-up essentials. The rustic and vintage looks of the tray would give you a chic sensation.