Don Pedro Brooklyn is reader-supported. When you buy through links on our site, we may earn an affiliate commission. Learn More
Hello Kitty Bedroom Decor Ideas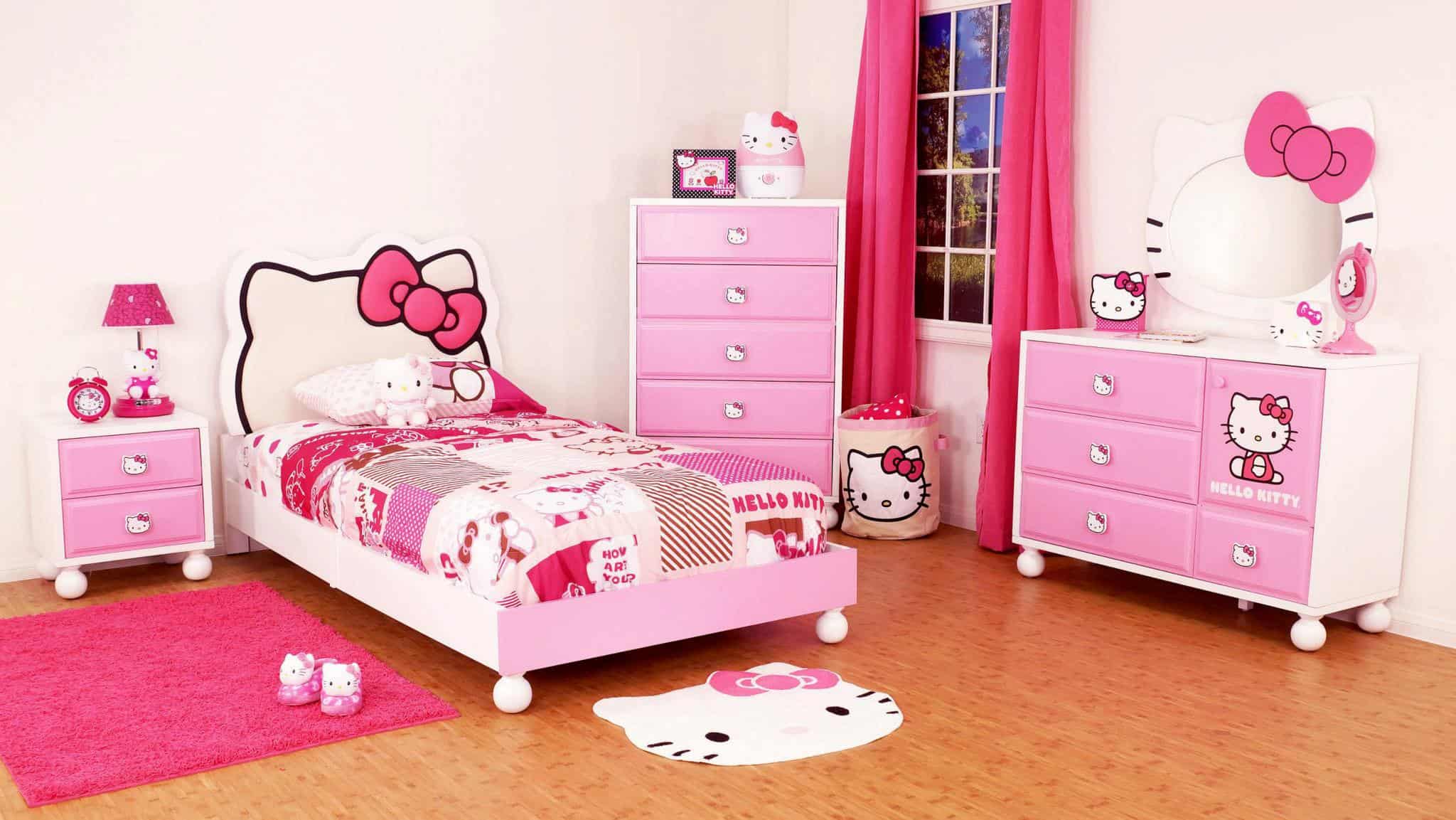 Hello Kitty is a beloved cartoon character who comes from Japan. She is famous for her pink color. In countries like Japan or Taiwan, we can easily find Hello Kitty decorations almost anywhere.
Even more, there are many stores specifically open for Hello Kitty merchandise, such as clothes, slippers, hats, and more.
Not only that, you can buy those souvenirs, but you can also find hotels with Hello Kitty decorations.
Feeling sad for leaving such an adorable hotel room, you can create your own Hello Kitty bedroom decoration with these top 25 ideas. Let's take a closer look at them right now!
Pink Hello Kitty Bedroom Concepts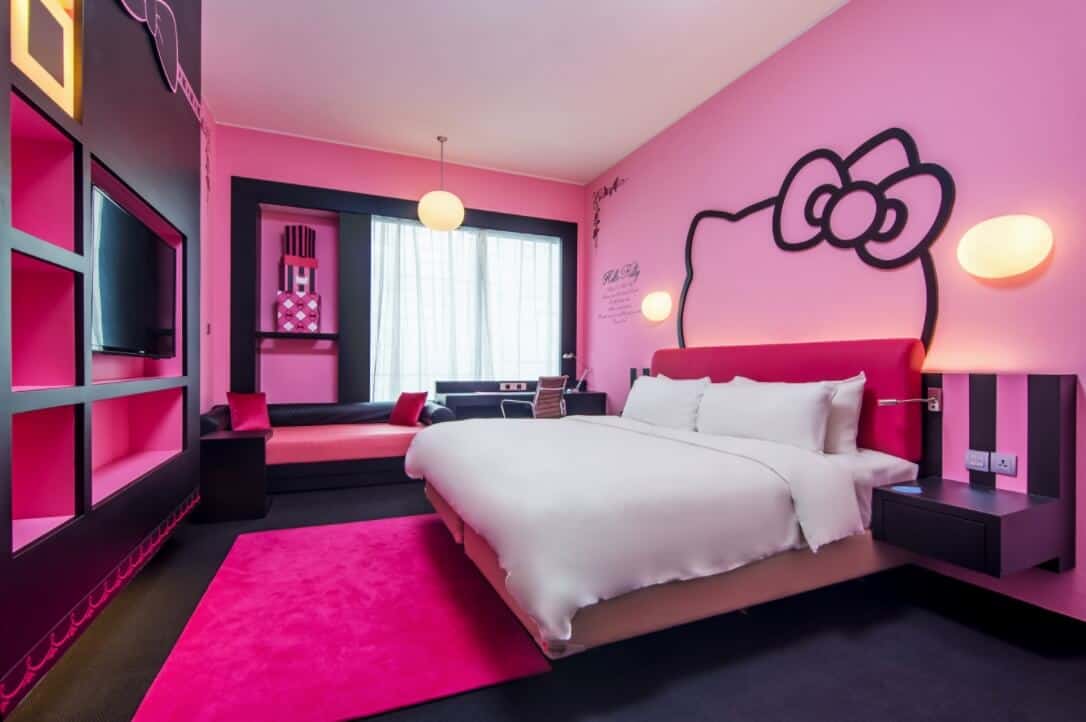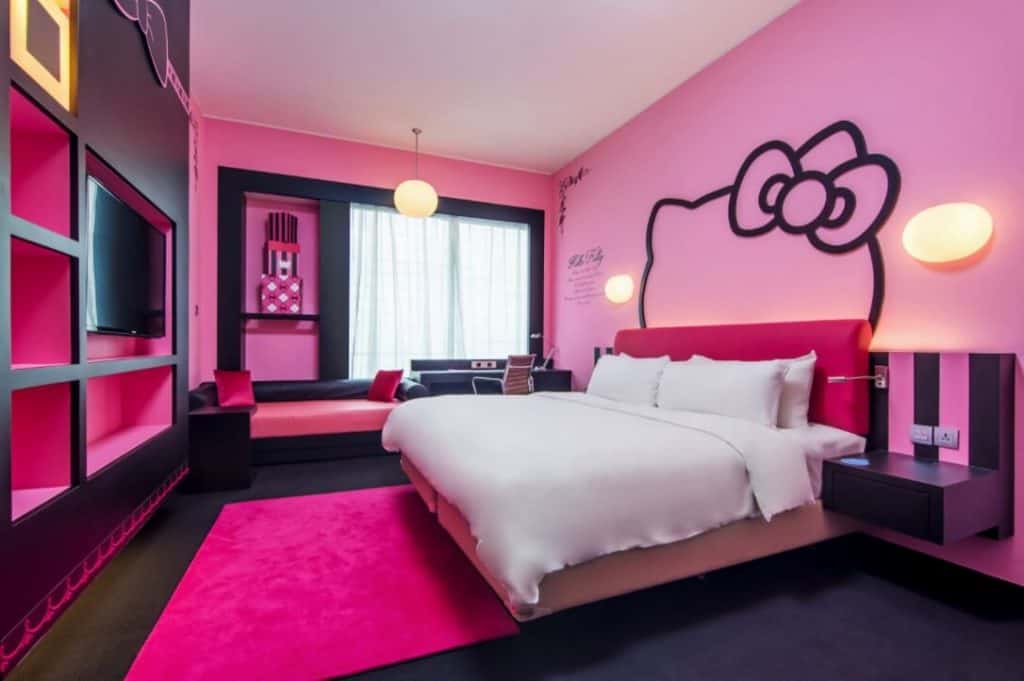 At a lot of time, pink is a symbol of femininity, even though fanaticism isn't limited by gender or sex of the child. Hello Kitty's signature color is pink, which is also the main idea of this bedroom, but you can combine the color with black.
Some people think these two colors can't be together, while the truth is they only need a correct measure to create such a beautiful contrast between black and pink.
Leave the larger area to pink, while black is painted on edges only, such as the edge of the cupboard, windows and bed stand.
For the flooring, you want the pink carpet to pop out, so you're suggested to paint the hardwood with black.
Adorable Hello Kitty Bedroom Decoration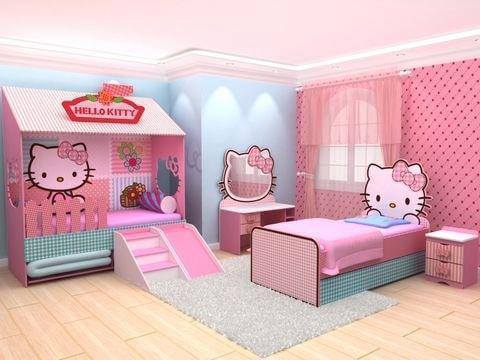 This idea offers you softer colors, which are blue and pink. Half of the wall is painted in pink with a little black dot, while the other half is decorated in soft blue, which complements the pink perfectly.
For a toddler, the combination of these colors creates an atmosphere that's more of her age.
Moreover, you can synchronize the colors of the bed, make-up stand, bed stand, and the playing-hut with the interior paint.
Related: 
Distinct Hello Kitty Bedroom Ideas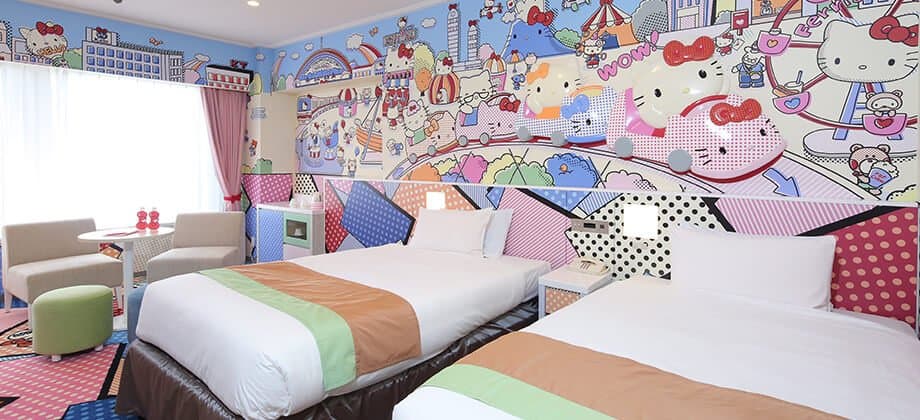 Commonly, a Hello Kitty-themed bedroom is painted in pink. However, this one is different than previous designs because it involves a mural of Hello Kitties having fun at a theme park.
Even though the room is missing Hello Kitty's signature color, it is still highly distinctive, creative, original, and unique.
Moreover, the mural is spread all over the room, creating a strong appearance of the beloved character.
Beautiful Hello Kitty Girls Bedroom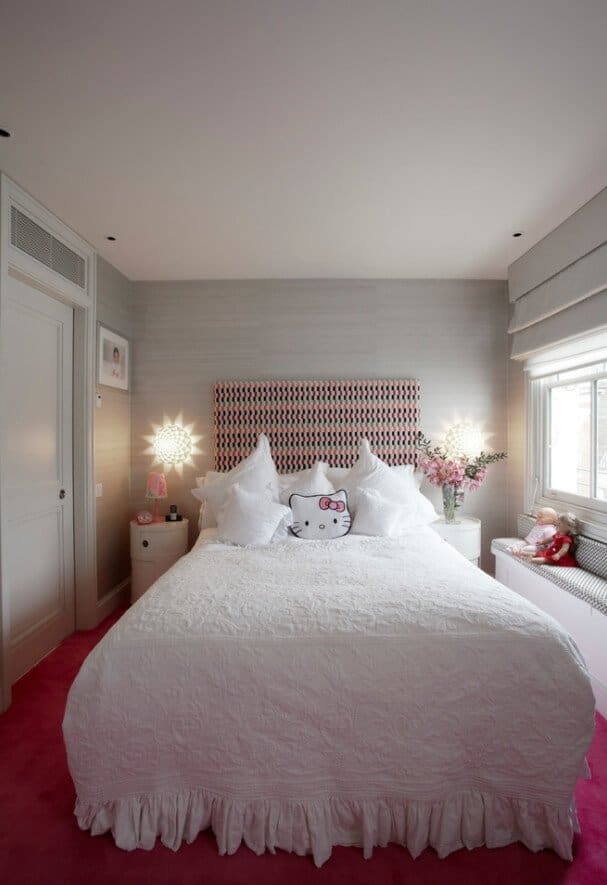 A Hello Kitty bedroom idea for children or toddlers is usually filled with bold colors, and excessive decoration of Hello Kitty characters on the wall or everywhere else.
If you are a grown-up, but you like Hello Kitty so much, this idea may be suitable for you. As seen, instead of Hello Kitty wall decoration, this room uses a light gray color and beautiful lamps in the shape of the sun.
Your Hello Kitty's admiration can be expressed through the pillows and the pink carpet. The carpet goes well with the whole design. Don't you think so?
Single Bed Hello Kitty Bedroom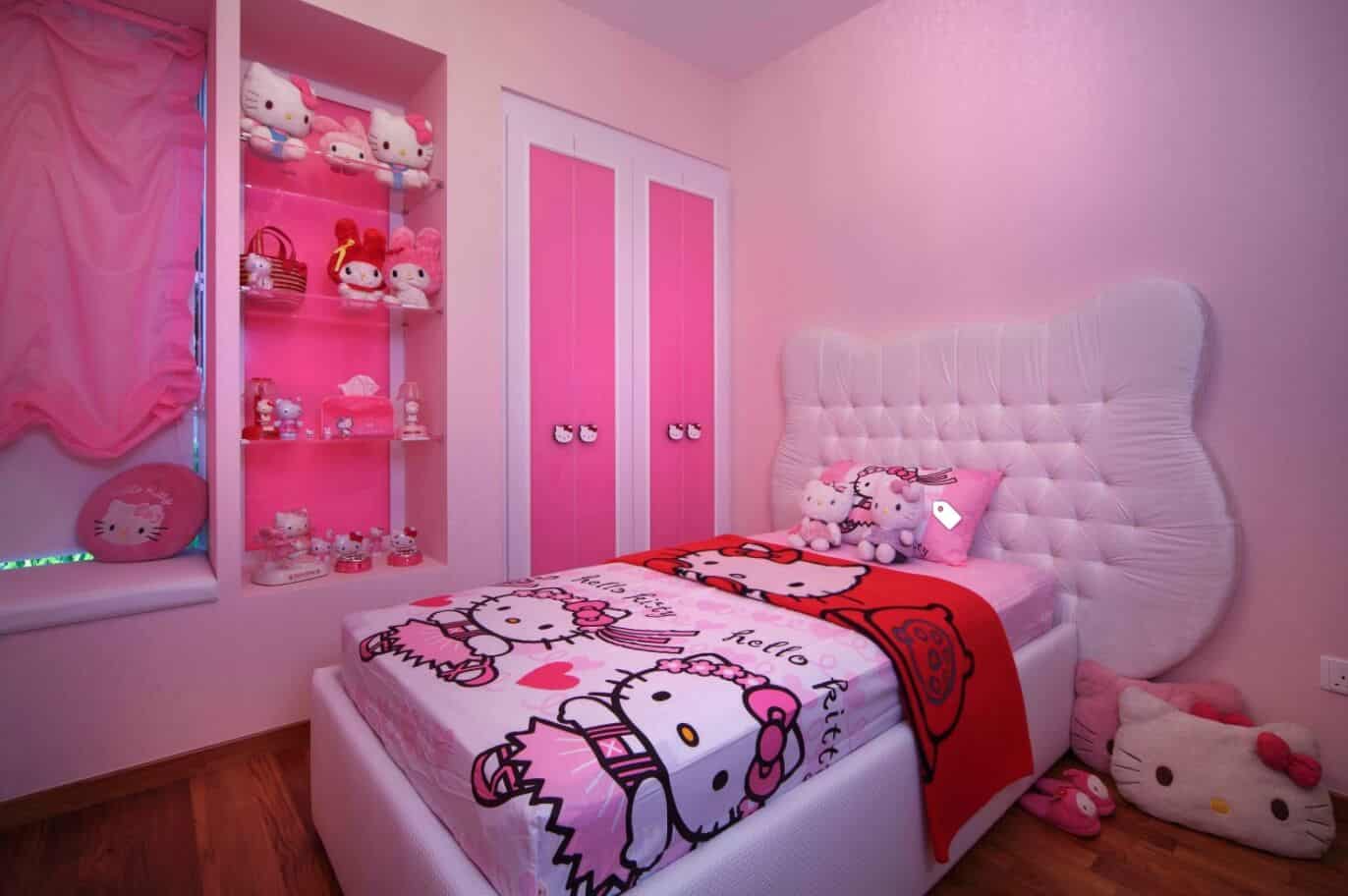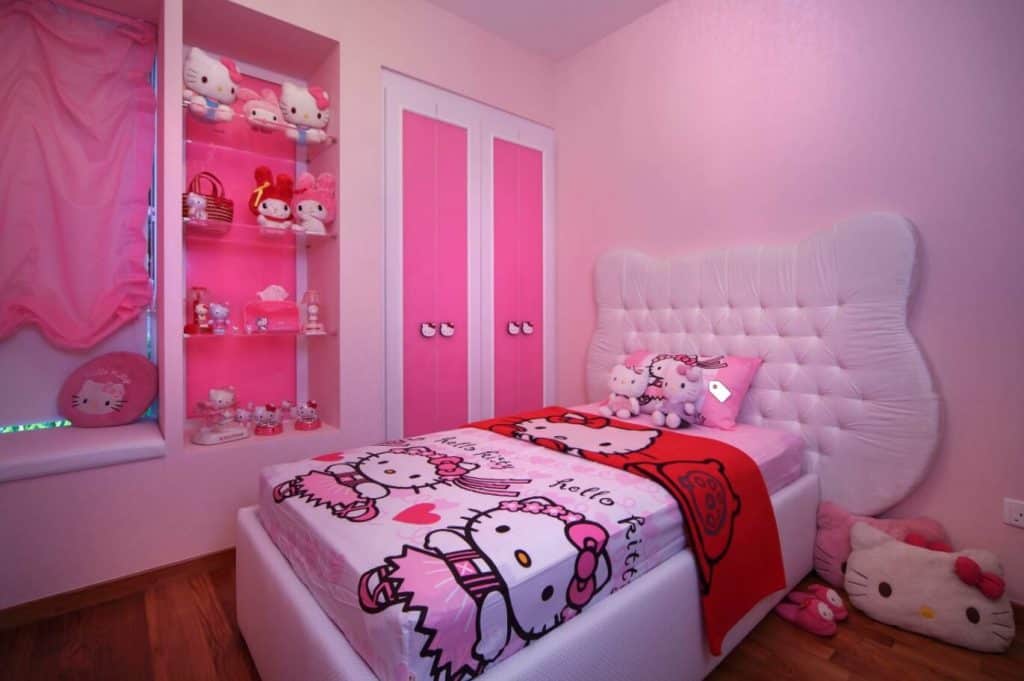 Your little girl loves to have her Hello Kitty headboard. She also puts her Hello Kitty heart on the bed linen, pillows, and blanket, but those aren't all!
The Hello Kitty display beside the built-in wardrobe is the actual centerpiece of the room. It shows a lot of different Hello Kitty ornaments, such as handbag and dolls.
Apart from the decorations, the pink chosen in this idea is the softer ones, rather than a bold pink, which is an excellent choice considering this must be built for children.
Adorable Hello Kitty Bedroom Decor Ideas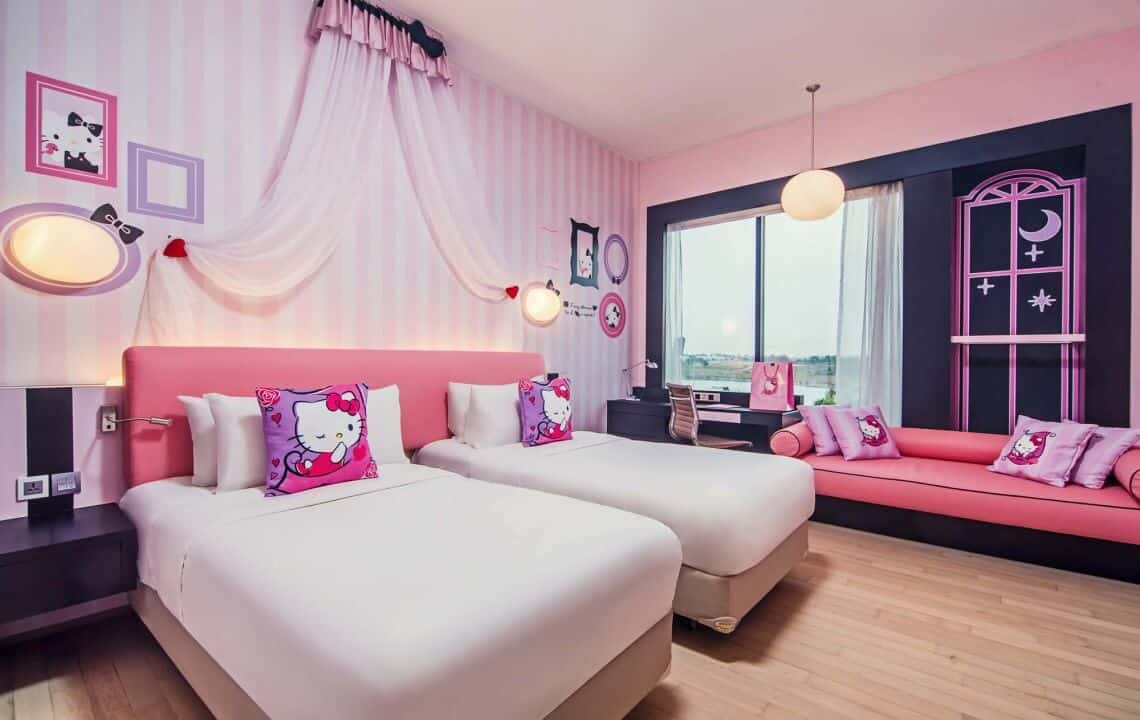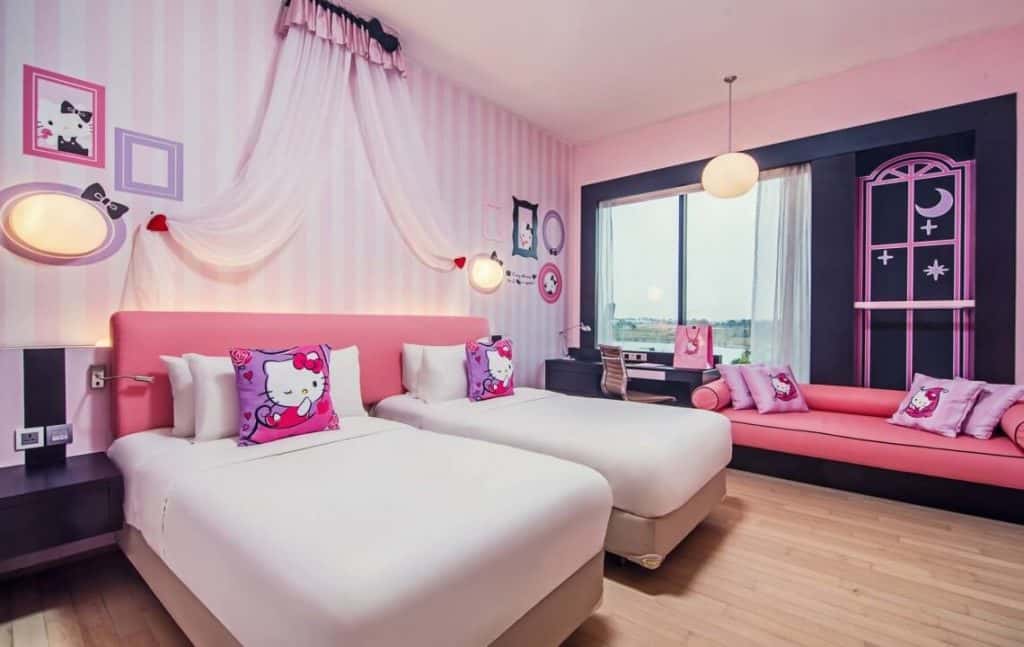 A design that's too simple may bore your girls. If that's the case, this may be the one for you.
As soon as you enter the room, the luxurious curtains catch your eyes. Complemented by the elegant lounge area beside the beds, the room becomes cozier.
Moreover, the contrast between black and pink creates an excellent mixture of girly and elegance. Don't forget about the Hello Kitty touch on the pillows and wall decorations too!
Hello Kitty Bed Linen Sets for Adorable Bedroom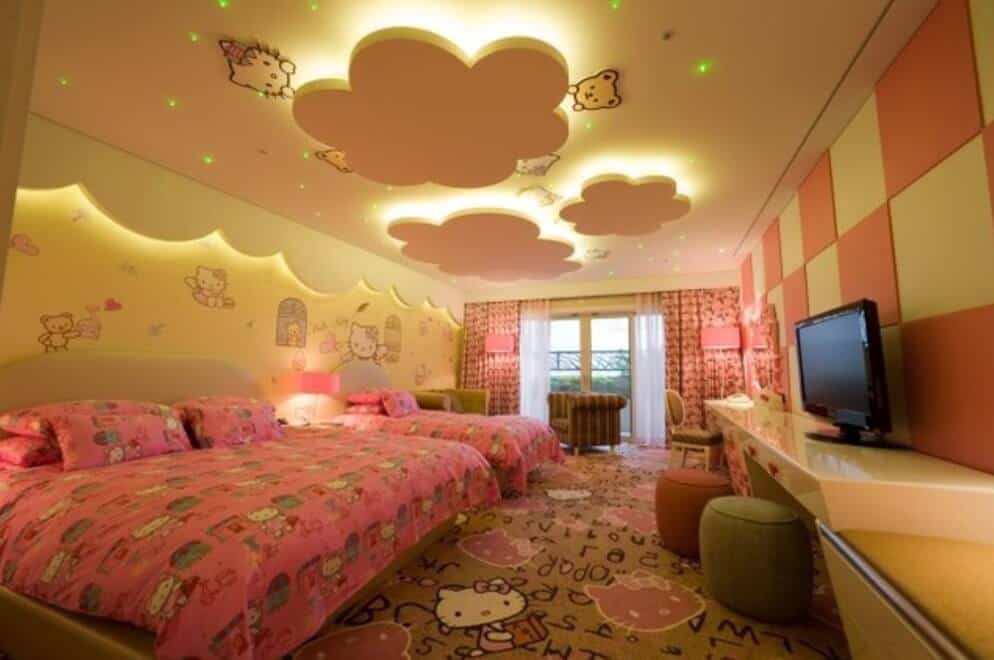 Hello Kitty and her lovable character are very admirable. Through this dreamy Hello Kitty bedroom decoration idea, you'll get an amazing view and atmosphere of Hello Kitty's cuteness.
As soon as you step into the room, the cloud-like lamps on the ceiling catch your attention. The luminescence is adorned by the little Hello Kitty ornaments and a lot of little stars around them.
Once you feel sleepy and throw yourself softly on to the bed, you'll notice the Hello Kitty animation design on the bedsheet, which will make your kids sleep more peacefully.
Cute Hello Kitty Bedroom for Teens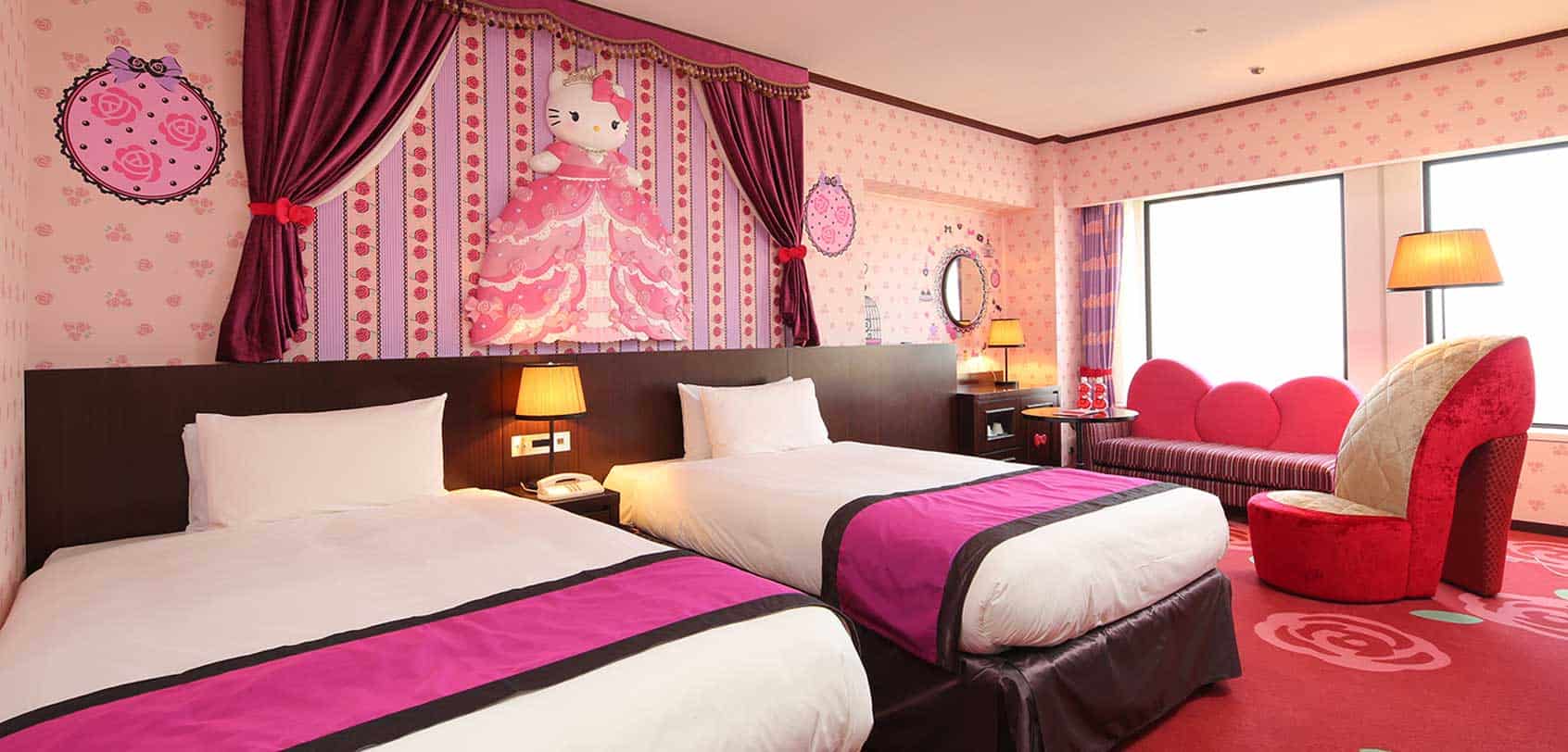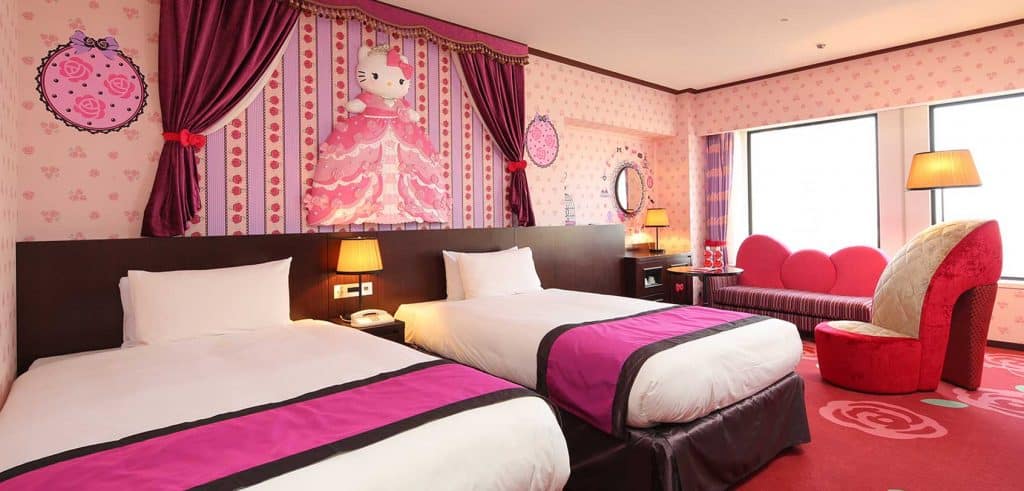 To sleep like a queen is every girl's dream. That is why this room is designed to let your daughter feels like she's relaxing in a luxurious castle room.
The first thing that you'd notice from the door is maybe the giant Hello Kitty headboard in between the bed.
Kitty is cutely seen wearing a ball gown behind the opened curtains. But that's not all! The queen is accompanied by a beautiful high heel-like sofa to relax before bed.
Hello Kitty Bunk Beds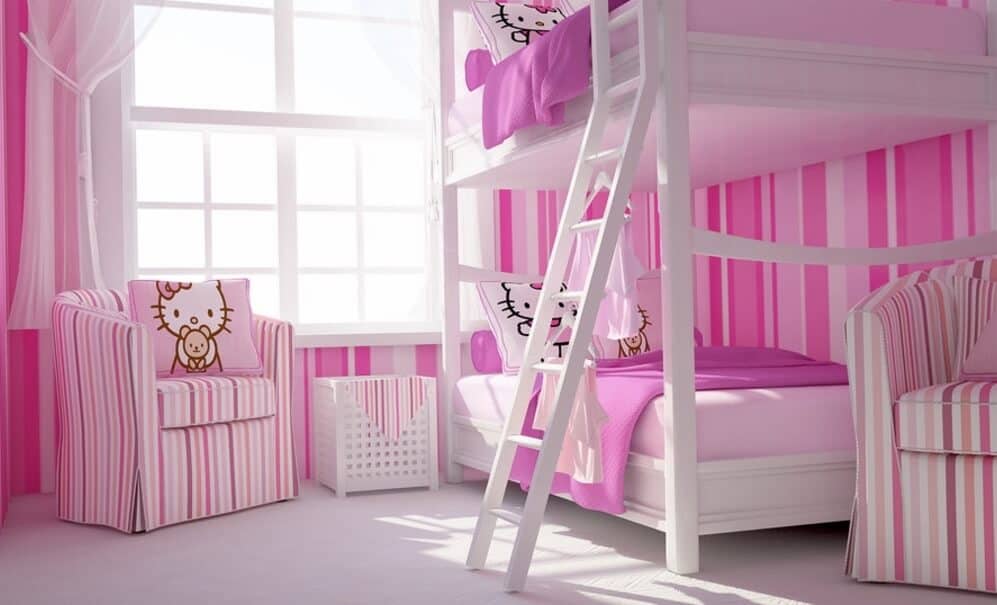 If you have a twin or daughters with close age, this Hello Kitty bunk beds idea is perfect or you. First of all, let's focus on the wall pattern. The pattern is consisting of vertical lines which appear to be different shades of pink put together side by side.
To make the room more in sync, you can have a sofa with similar patterns. Then, you can complete the decoration with Hello Kitty pillows.
That does it! Now, this room looks fantastic!
Hello Kitty Bedroom Furniture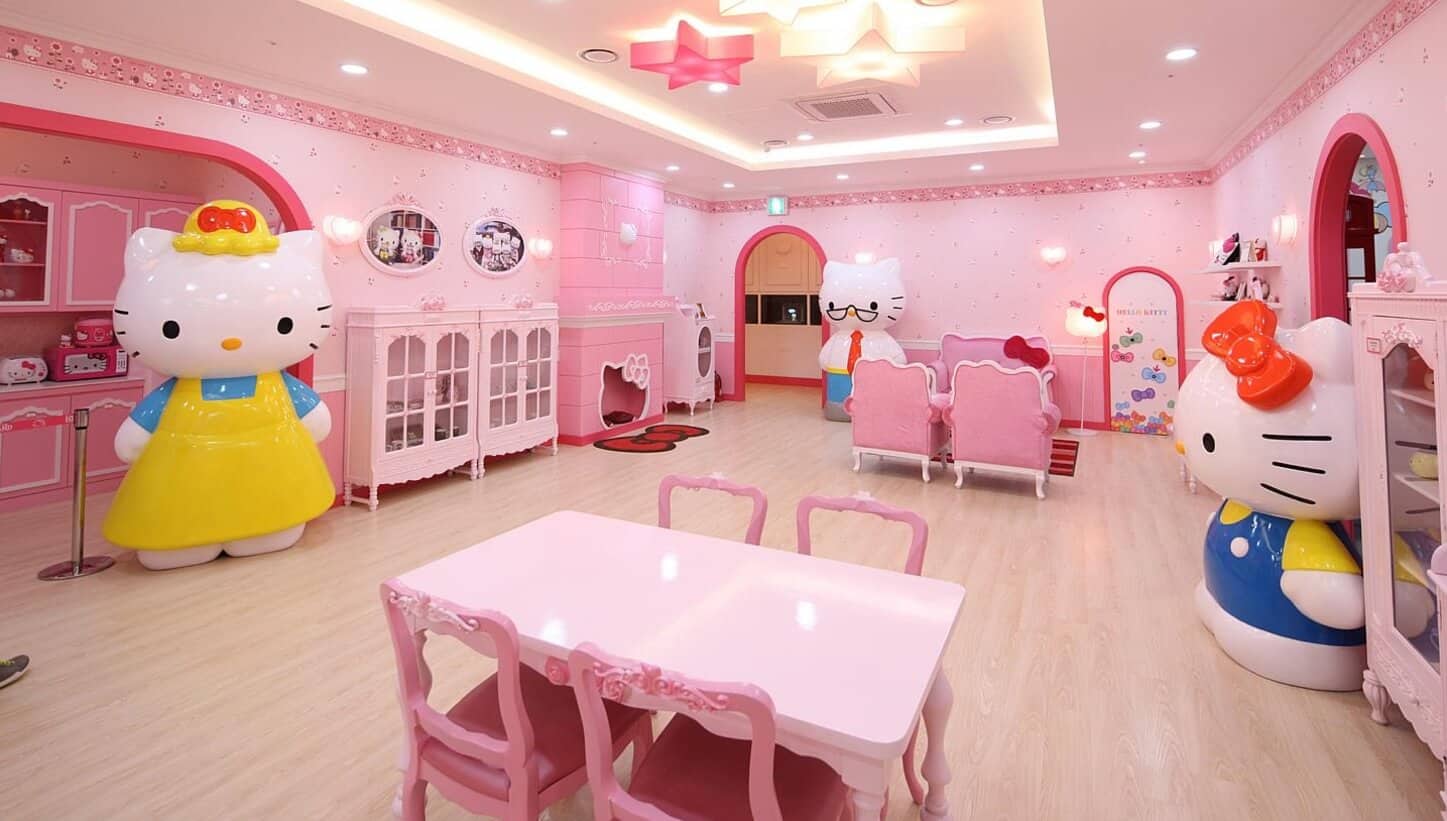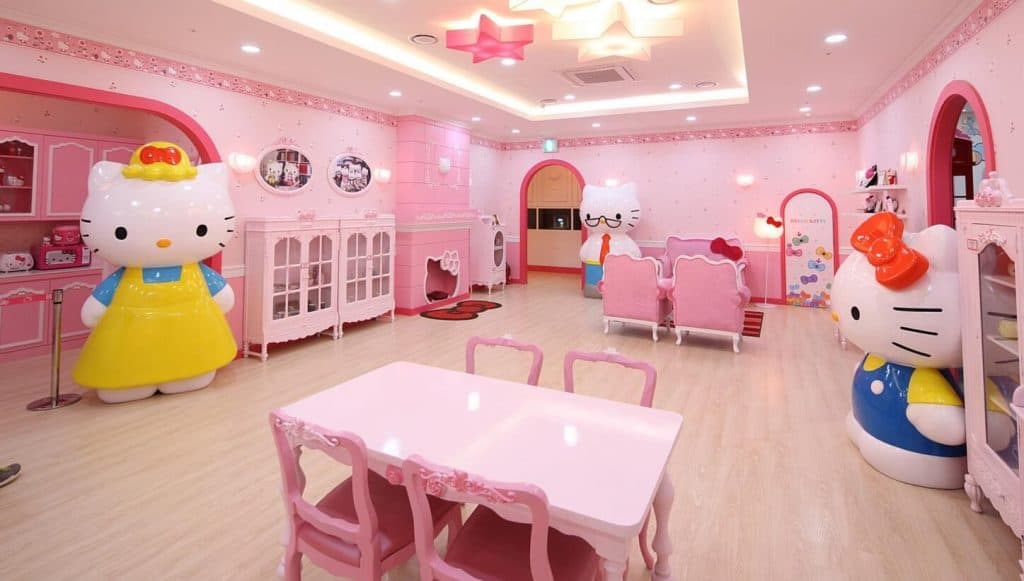 None of Hello Kitty fanatics would turn down a chance to live at a place like this one. The theme of this room is an all-pink interior.
Then, to make the dream comes true, on several corners, there are Hello Kitty real-life figures with different clothing. In the middle, there is a lot of seating to use. This idea is perfect for your kids to play around with their friends.
However, this room also appropriates for you to make it your private Hello Kitty room.
Hello Kitty Bedroom Decoration with Wall Accents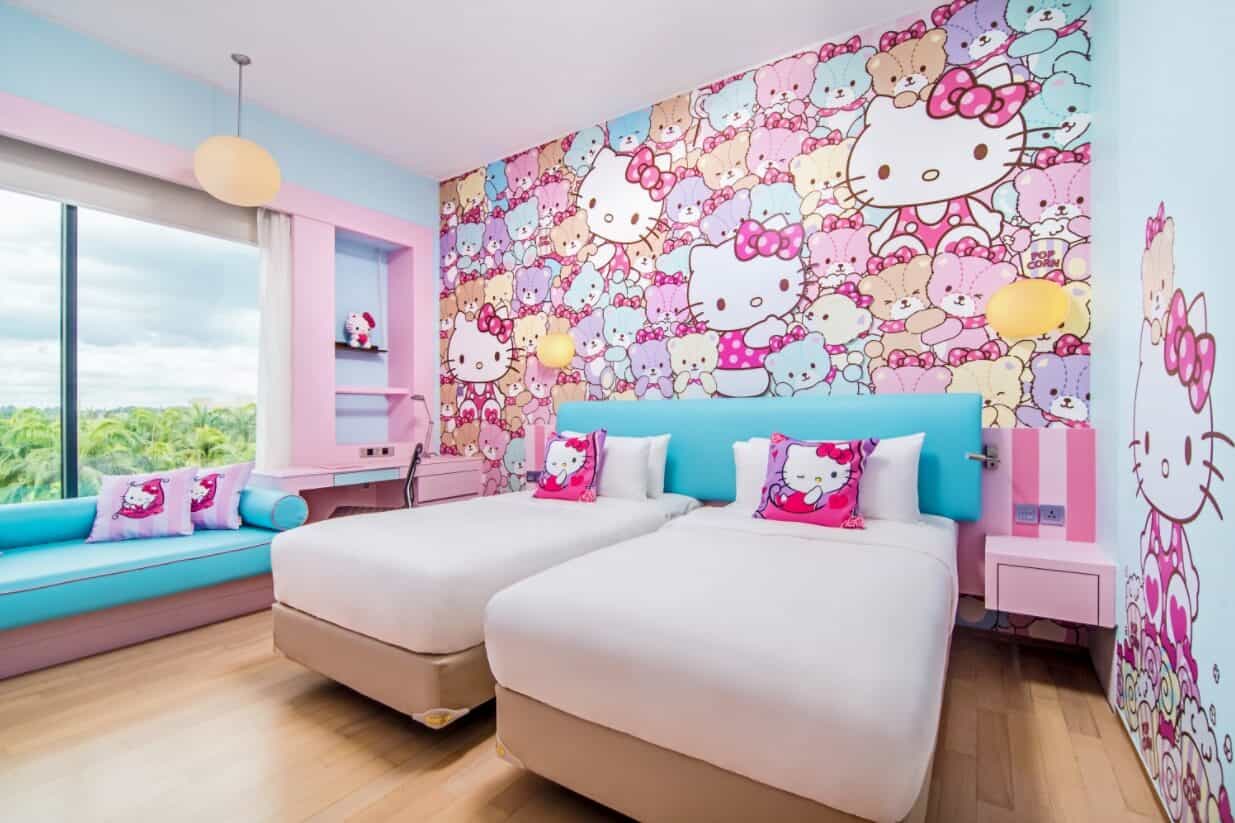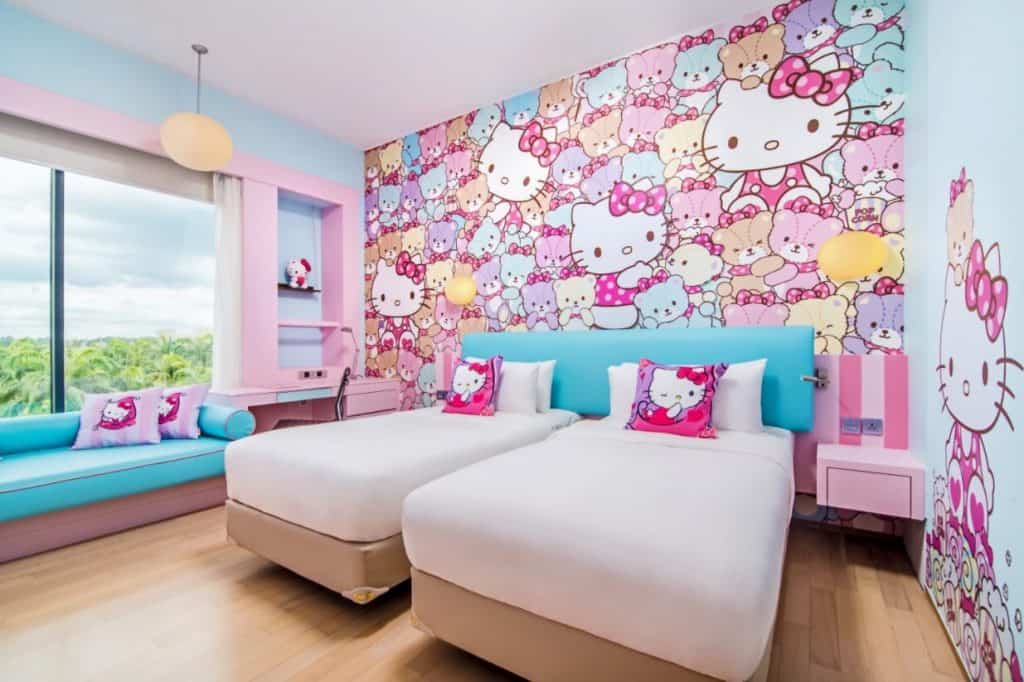 Sometimes, the scenery when you look out the window becomes the only attraction of a room, but the center of attention in this room is the Hello Kitty mural on the wall behind the headboards.
Yes, a wall can be decorated boldly like this one.
You can choose the central focus wherever you like, except this one chooses the middle wall so your kid won't be distracted too much while sleeping. The mural is created on a vibrant combination between soft pink and blue.
Cute Hello Kitty Bed for Girls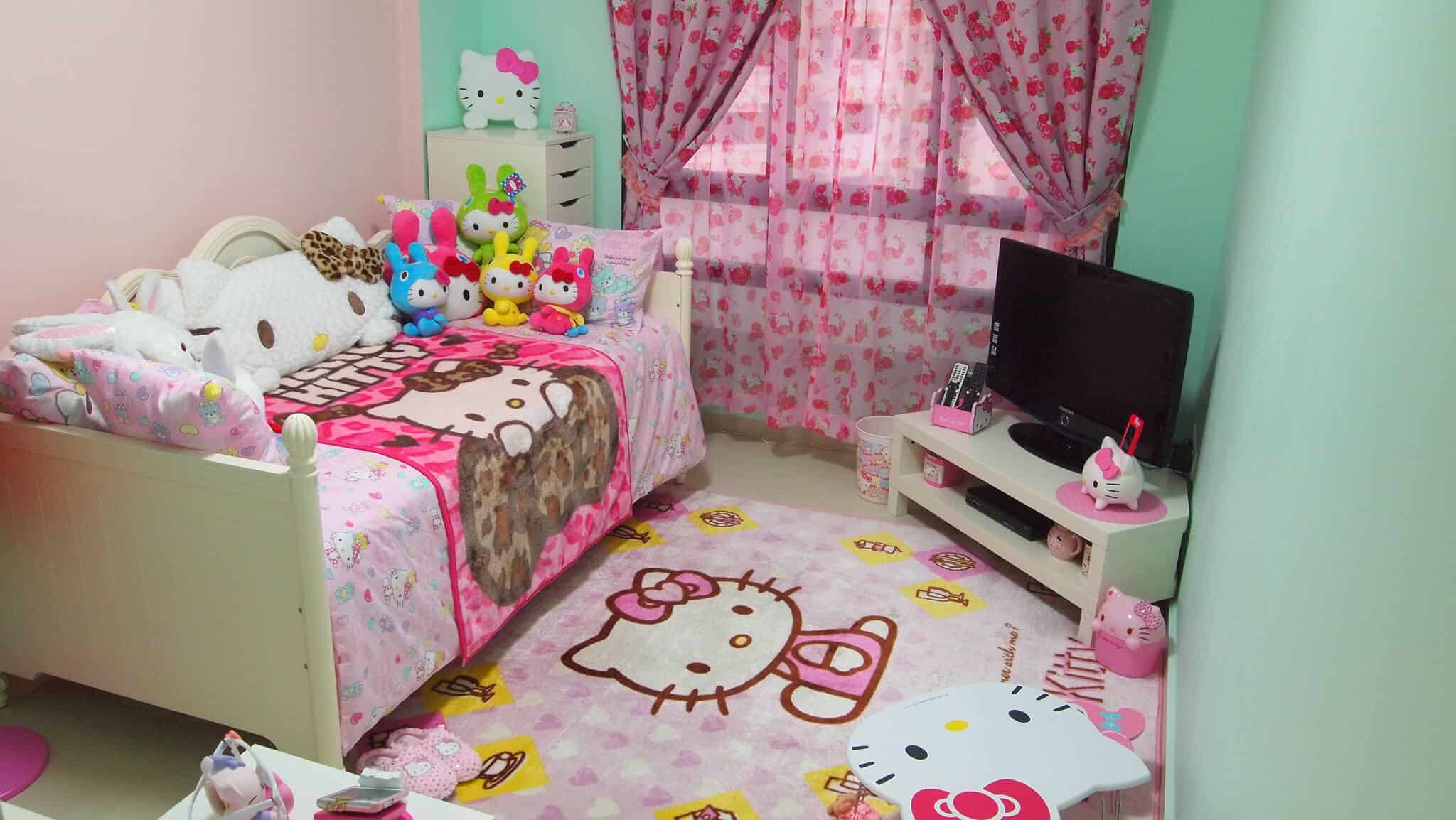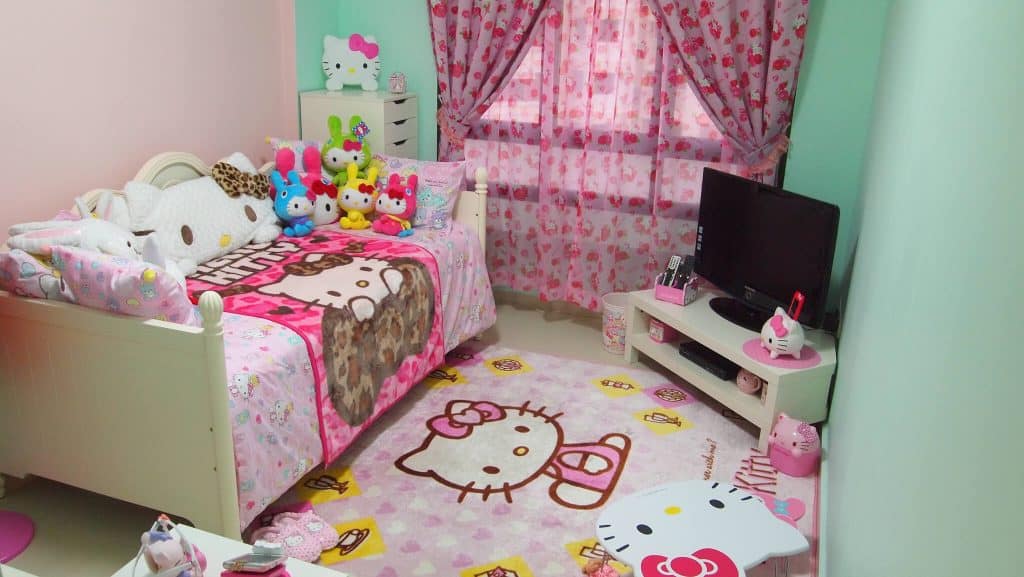 Often time, a small space limits us from thinking creatively; turning a small area into a habitable space becomes a daunting task.
Don't worry! This idea will help you to avoid such a problem. This small bedroom area is suitable for your little girl. You can use vibrant colors, such as pink and pastel green, to create a girly atmosphere.
Moreover, you can pop up the Hello Kitty decoration on several things, such as the carpet, drapes, bed sheets, pillows, and small dolls. In the end, the room looks simple, yet it's a very comfortable space.
Cute Girl's Bedroom with Hello Kitty Style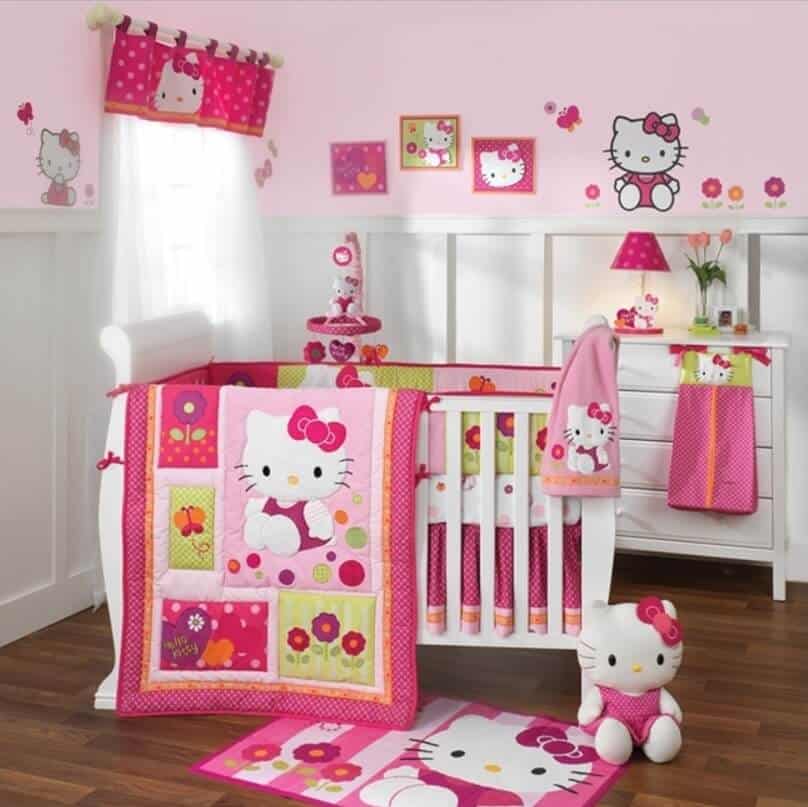 This room is perfect for a mother who has admiration for Hello Kitty and wants to pass it down to the baby girl. One of the many colors that can be combined perfectly with pink is white.
As a neutral color, white becomes a blank canvas. You can decorate it with Hello Kitty photographs.
Other than that, the white-painted nursery can also be decorated with Hello Kitty blankets and bed sets.
Charming Girl's bedroom with Hello Kitty Wall Decoration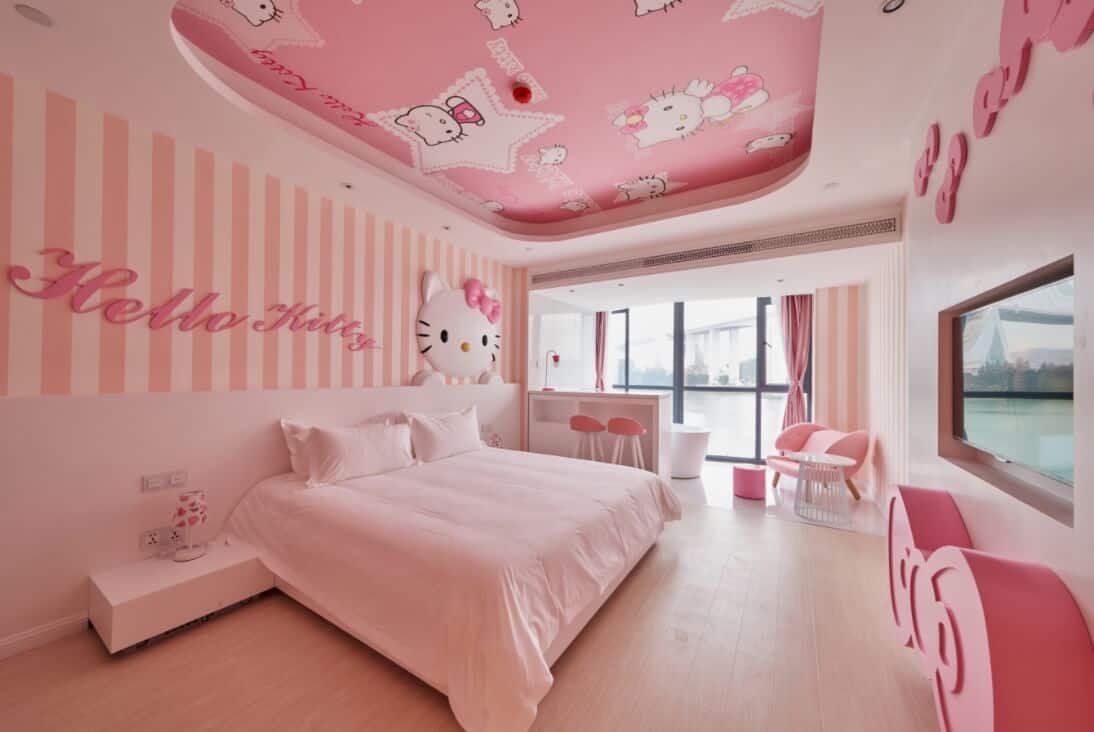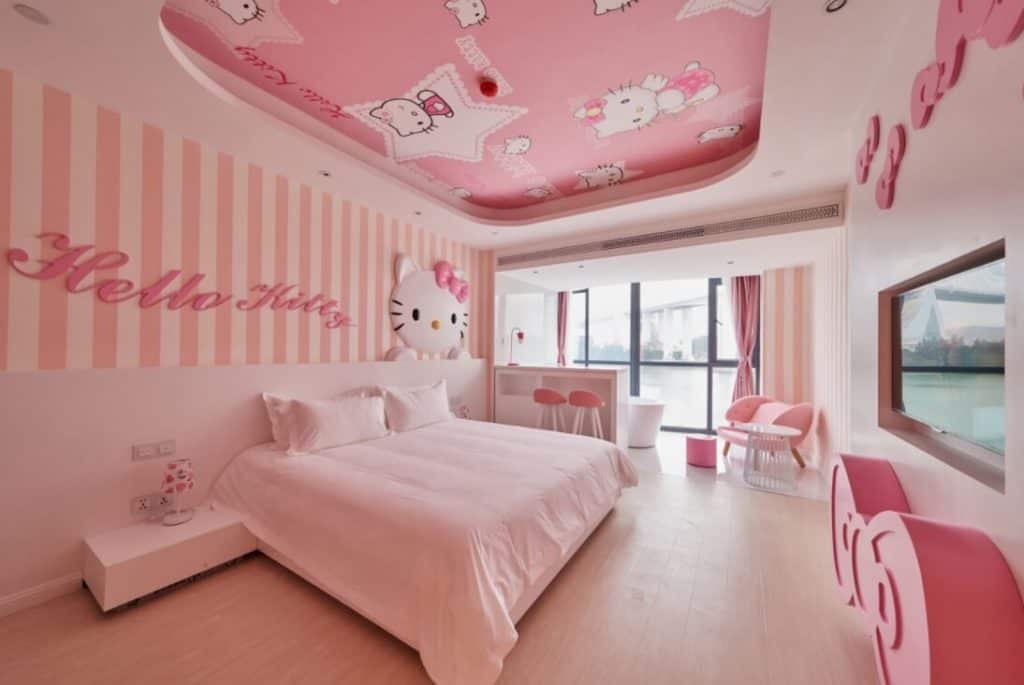 A spacious bedroom allows you to become as creative as possible. If you choose to go simple, this idea may be the one you've been looking for. Choose pastel pink color to give the room a girly, but relaxing vibe.
You may want to give a subtle contrast by combining two different shades of pink like this one.
As about the decoration, you can go natural by placing a Hello Kitty only on the headboard and the ceiling where the lamp is fixed.
Modern Hello Kitty Bedroom Design Concepts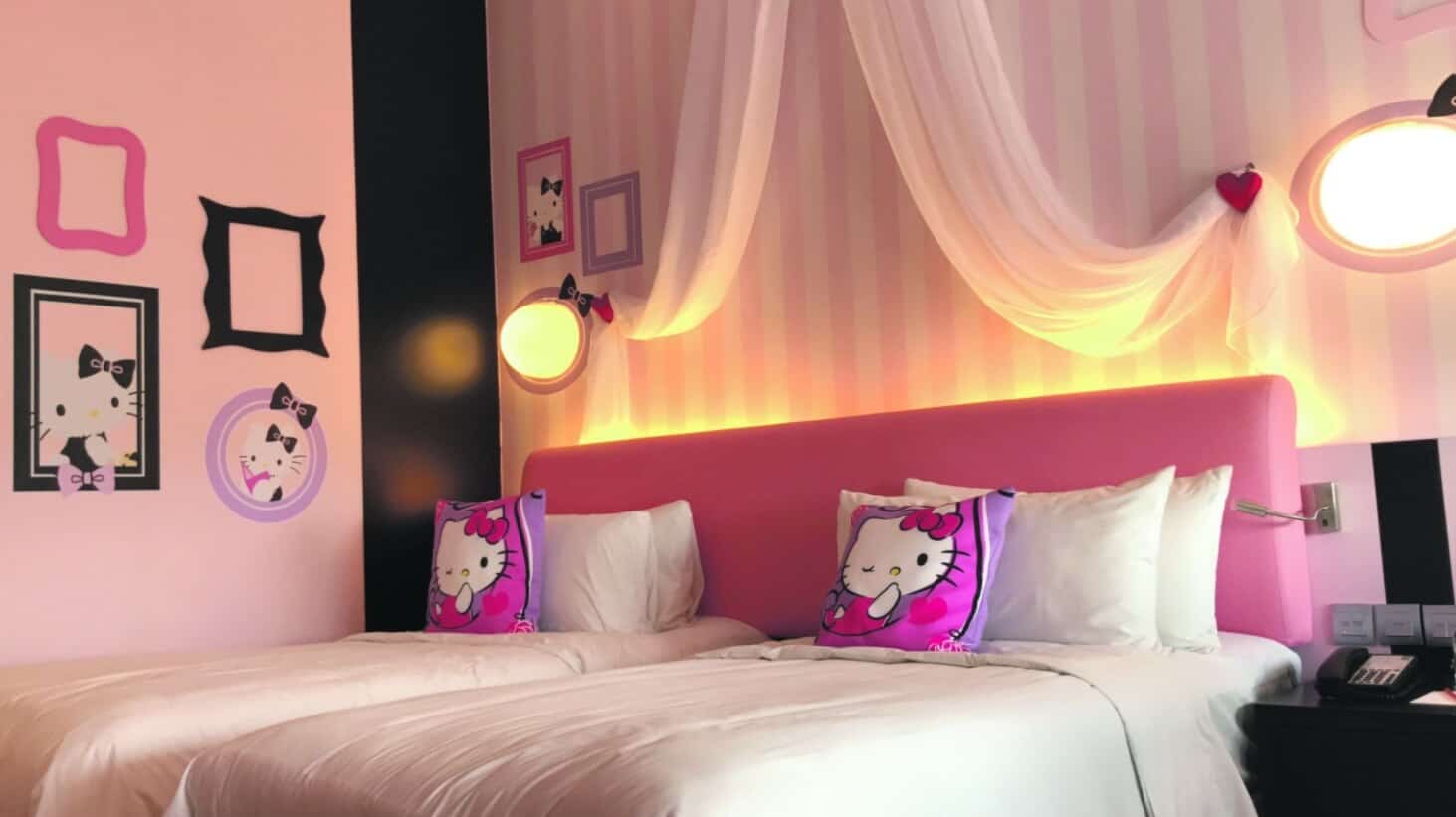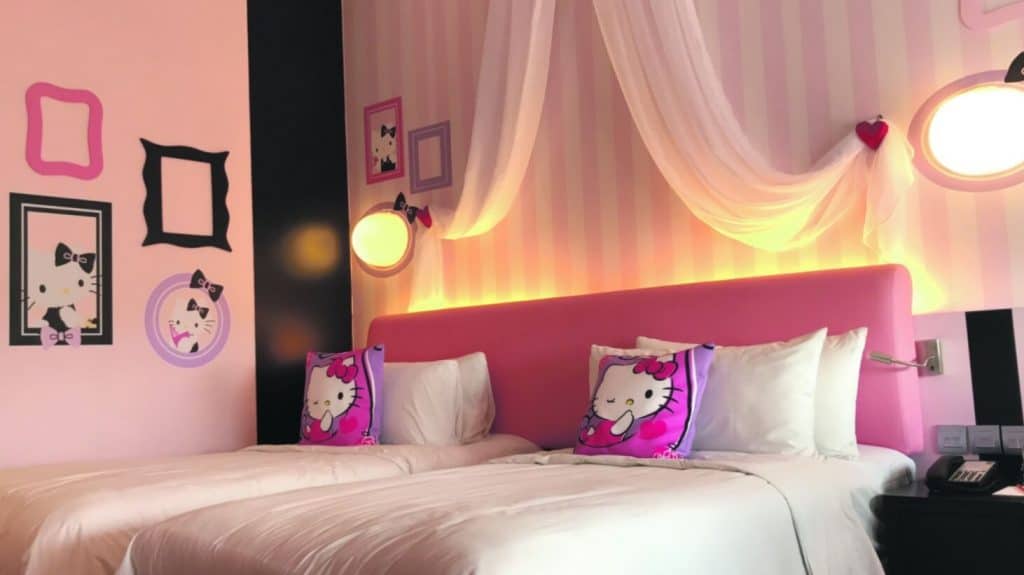 Wall accent is always a nice touch. In this idea, the accents are mounted near the curtain that gives a luxurious luminescence on the headboard. The wall itself is decorated with a beautiful pattern of vertical pink lines.
To emphasize the curtain and the pattern, you can paint the border with a darker color like black. Black will give a sharp contrast to the entire room.
Then, you can add more wall decoration with those two colors to synchronize with the whole design.
White and Light Purple Hello Kitty Bedroom Decor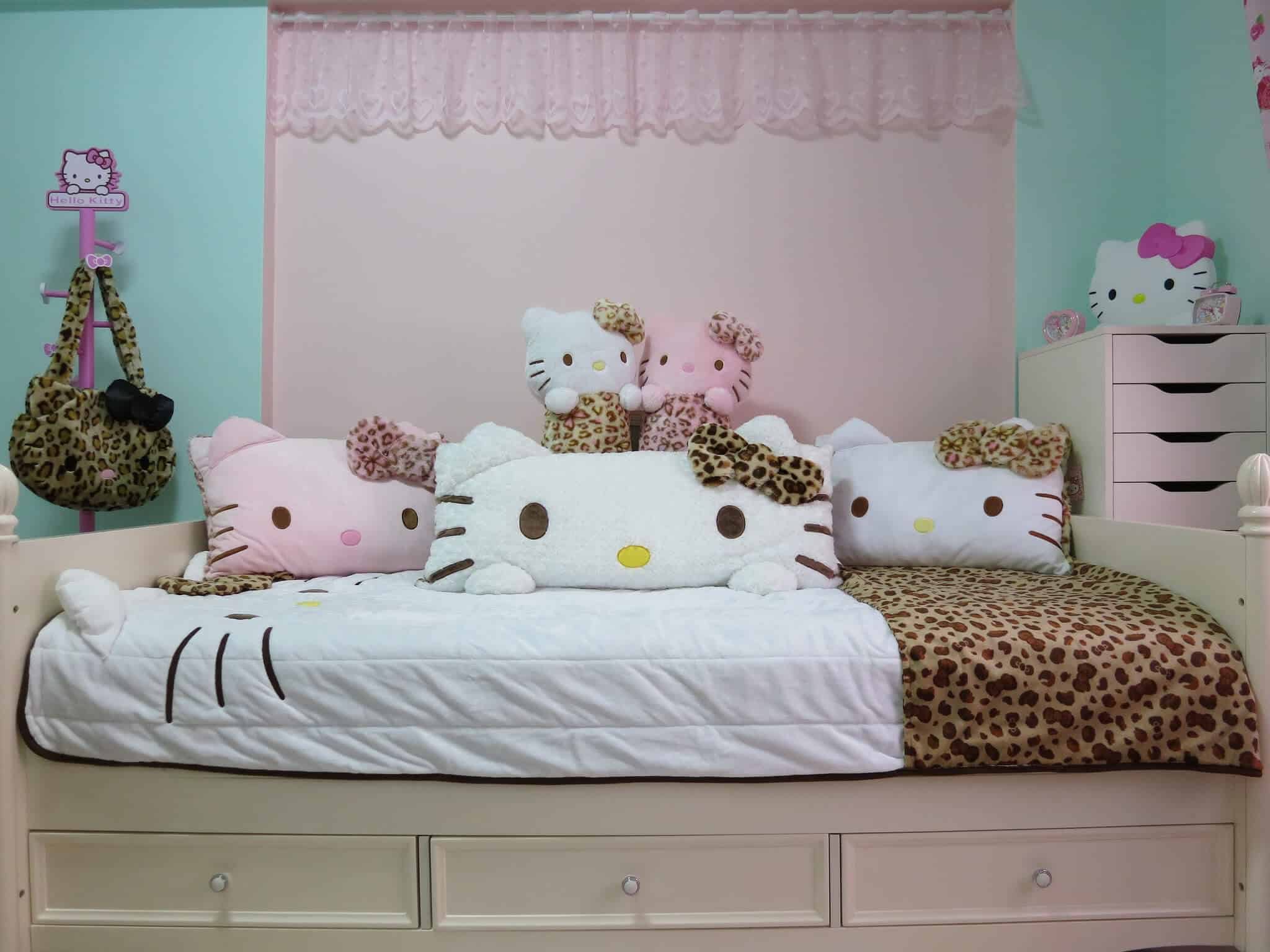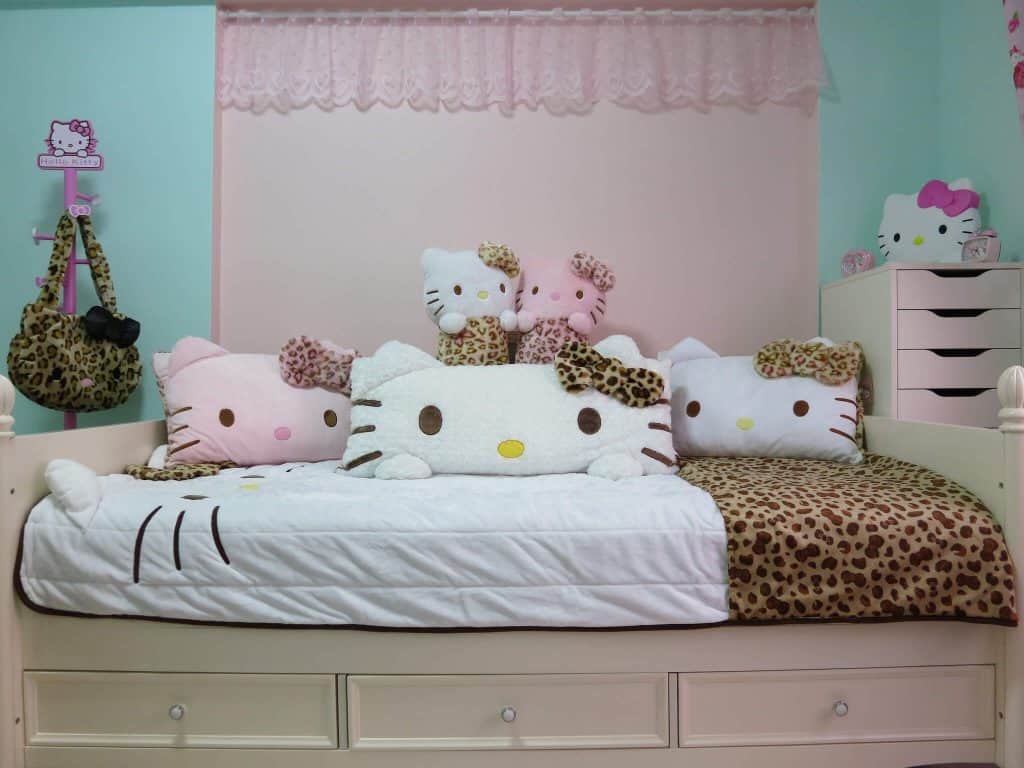 So far, have you found the one yet?
Well, if you haven't, we'd like to offer you this idea which may be suitable for teenage Hello Kitty fanatics. Combining pastel pink and light green colors, you need a bold pattern to pop up.
In this case, you can choose Hello Kitty with a tiger pattern. However, this type of design is a bit strong, so don't overpower Hello Kitty's signature colors by using the pattern on several things only, such as the sheet, some bags, pillows, and dolls.
Hello Kitty Wall Sticker for Bedroom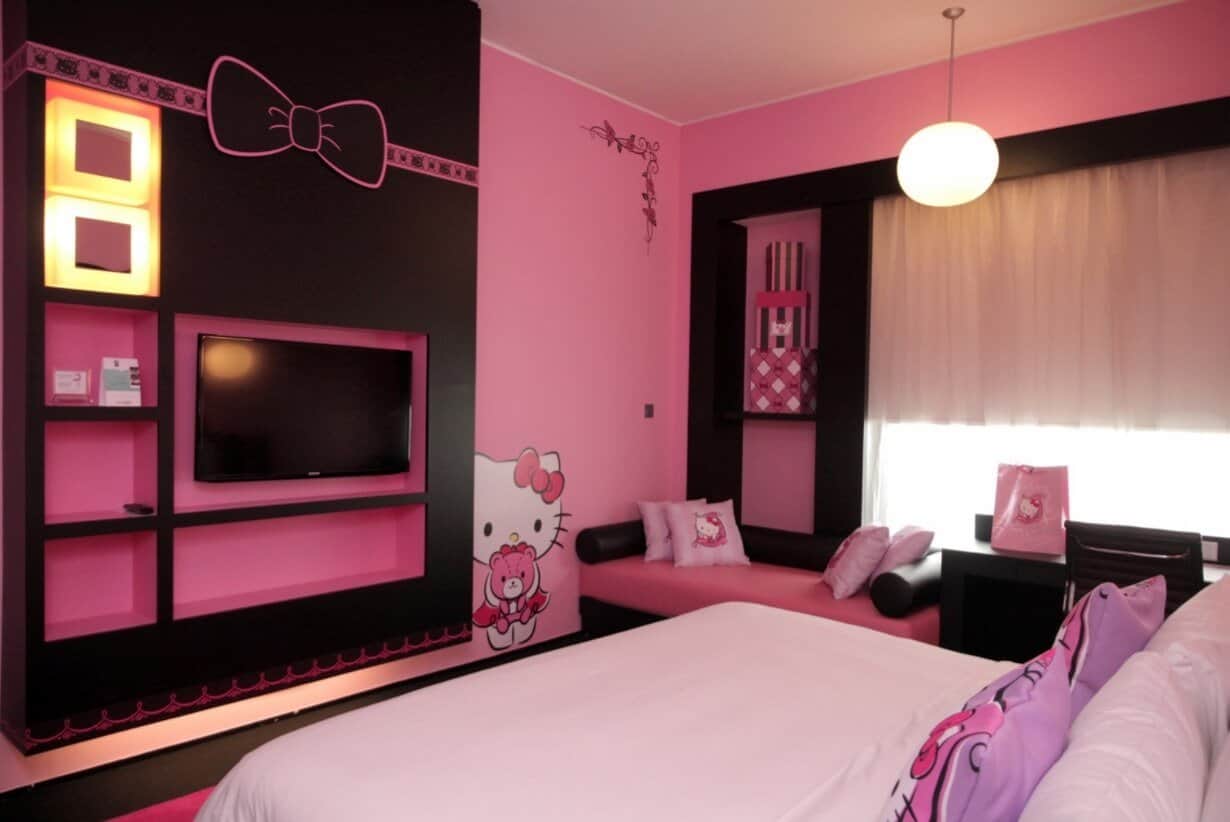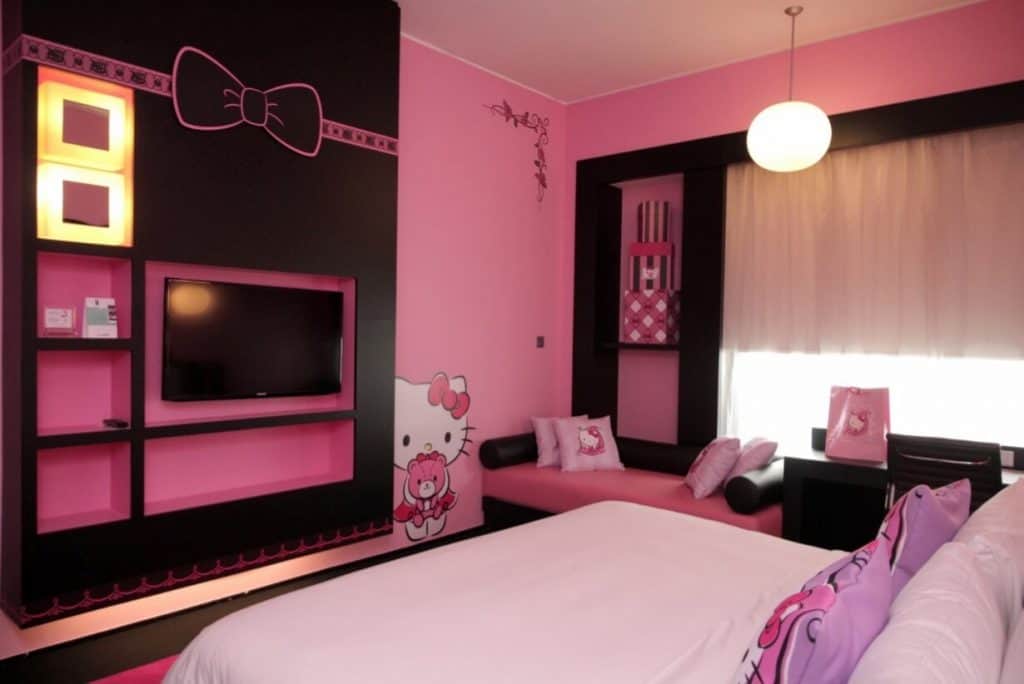 Have you ever thought about relaxing in a cozy Hello Kitty room?
Well, it's time to make it comes true! While relaxing, you must want to enjoy something, such as watching TV. This idea right here offers you a built-in wall cabinet where you can install the TV.
The cabinet is designed with a combination of black on the exterior, while the interior is painted with pink. On the outside, there is a sticker of Hello Kitty's ribbon to match with the entire room's design.
Girl's Bedroom with Hello Kitty Wallpaper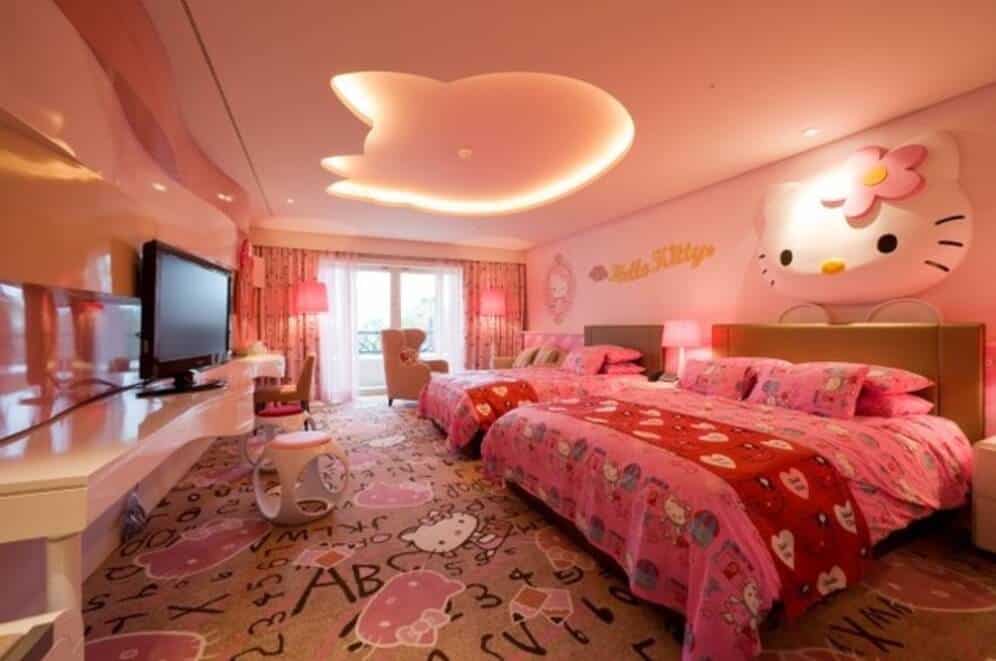 Hello Kitty is a cute feline. Everyone, especially women, adorns its lovable characteristic. Its cuteness is represented through pink color.
This room, for example, uses three different shades of pink. The wall uses soft, pastel pink, while the bed sheet is in a stronger tone.
Now, what is the first thing that you see in this room?
Right, the giant Hello Kitty figure above the headboard!
Not only that, but you can also spot a very noticeable carpet with Hello Kitty's head animations. Isn't it cool? This room will make you feel super comfortable!
Hello Kitty Themed Bedroom Ideas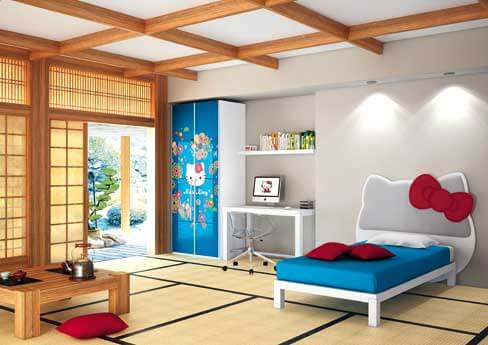 Do you know where Hello Kitty comes from? Yes, she comes from Japan!
If you want to get closer to her origin, you may want to try to have this type of bedroom. This room utilizes a very traditional Japanese bedroom, especially the sliding door, the coffee table, and the flooring.
So, where should you place the Hello Kitty decoration?
You can fix a bed with a Hello Kitty's head as a headboard. Other than that, this idea also offers you to show off Hello Kitty's cute face on the wardrobe's doors.
Enjoyable Hello Kitty Girl's Bedroom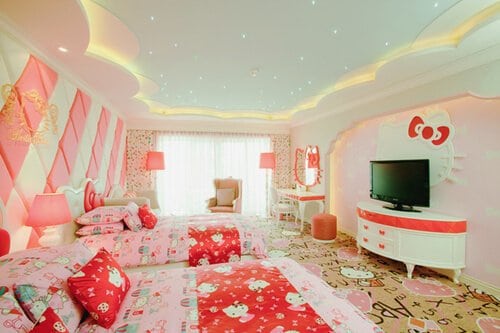 Do you know that colors can change the mood? Well, it is true. That is why this idea lets you use the shades of pink that'll bring enjoyment and laughter to whoever staying in here.
First of all, the wall behind the beds looks like a marshmallow! Looking at it, it makes you hungry, doesn't it?
Then, the ceiling is decorated beautifully too. There are several mounted lightings which transform the roof into a dreamy night sky.
Moreover, the pattern of the sheet is composed of Hello Kitty's cartoon animation, which makes you feel more comfortable and cozy!
Pink and White Hello Kitty Bedroom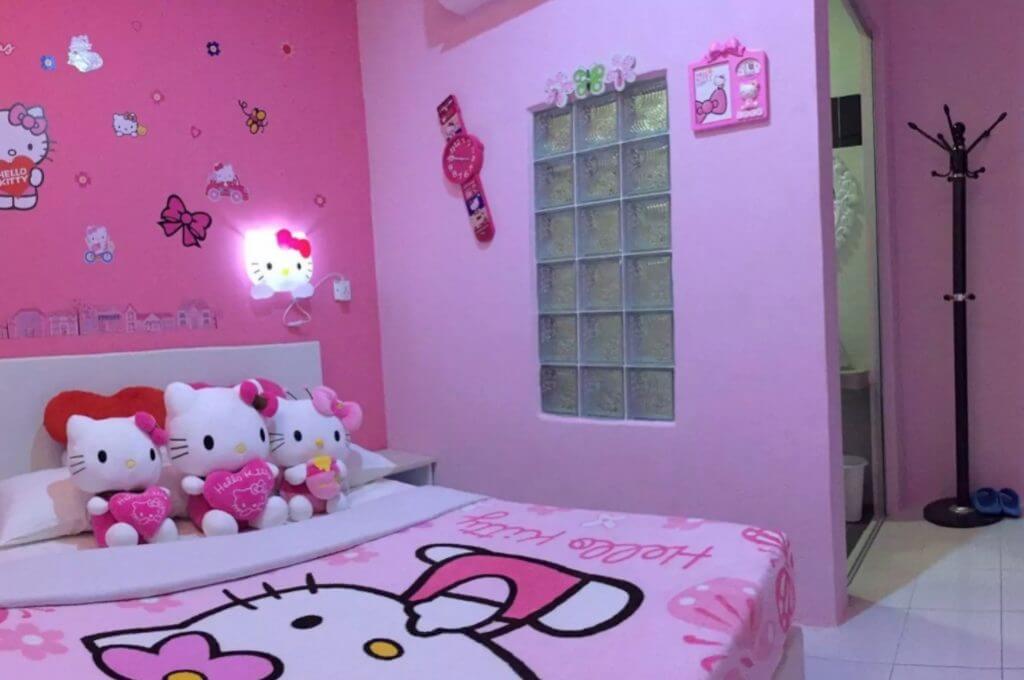 Believe it or not, some Hello Kitty bedroom designs often go overboard, even though it doesn't matter for Hello Kitty die-hards. If you choose to go simple, this one matches your preference.
As you see, the wall decoration is spread only on the main wall. There are stickers of Hello Kitty and her ribbon, complete with a cute Hello Kitty headlamp.
To emphasize your likeness toward Hello Kitty, you can embellish that on the bedsheet and some dolls like this one above!
Hello Kitty Bedroom Decoration for Grown-Up Girls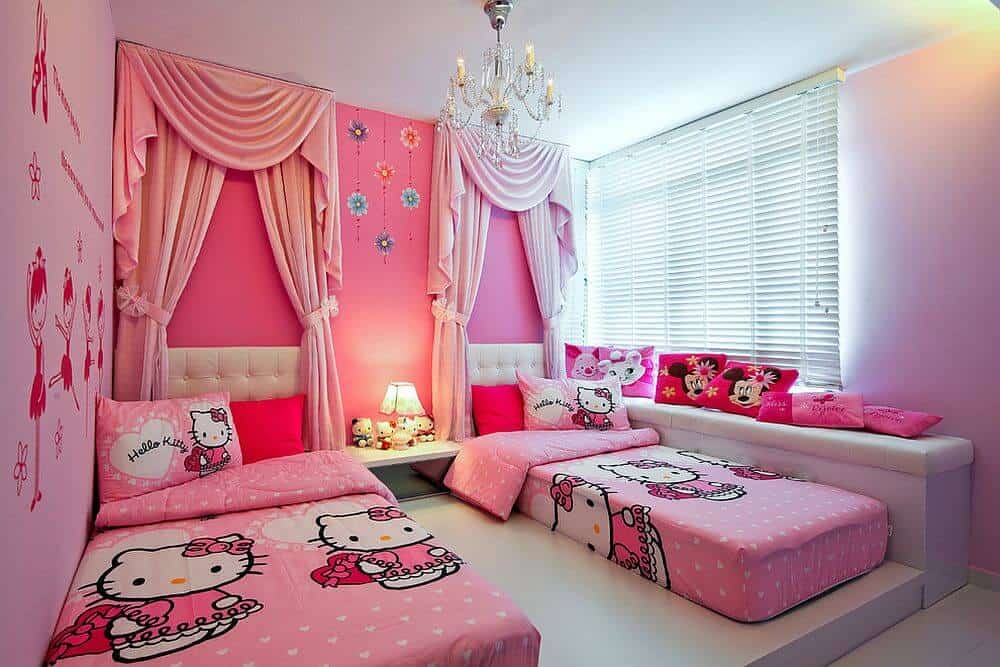 Building or remodeling a room into a Hello Kitty style bedroom is not immature. It's been an art of combining styles into the most perfect one.
The chandelier in this room looks majestic, especially from below. It illuminates the room nicely, making the room feels cozier.
Not only that, the chandelier looks elegant, the elegance also shows from the curtain above the headboards.
The curtains are folded into specific ways that they make the room feels like a room for princesses!
Hello Kitty Bedroom Decoration with Rounded Bed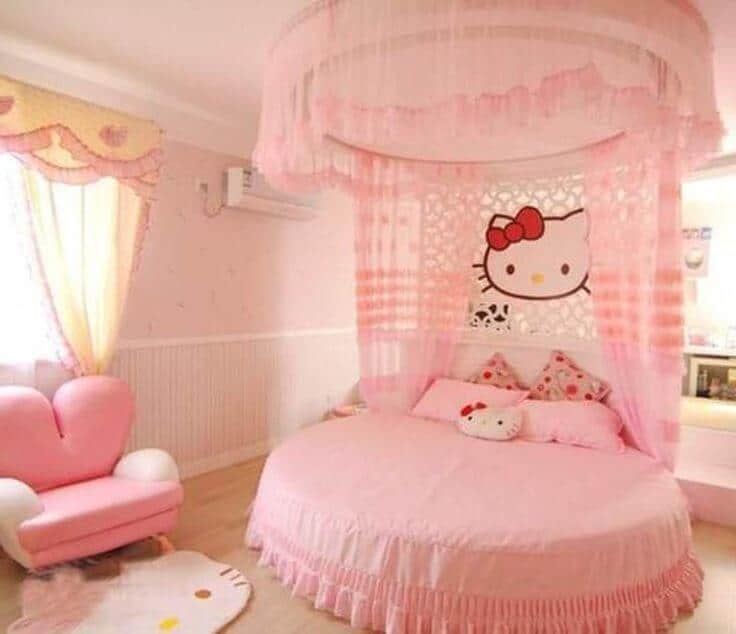 Rectangle-shaped beds are just too common, and it's's not a crime to try something different and out of the box. Maybe, you need to start using the rounded bed like this one.
It offers the same comfort, but it's's more sophisticated and stylish.
Even though this design involves a small number of Hello Kitty decorations, the cat's vibe is already strong enough from the pink duvet, pillows, carpet, and the heart-shaped armchair.
Hello Kitty Bedroom Decoration for Adult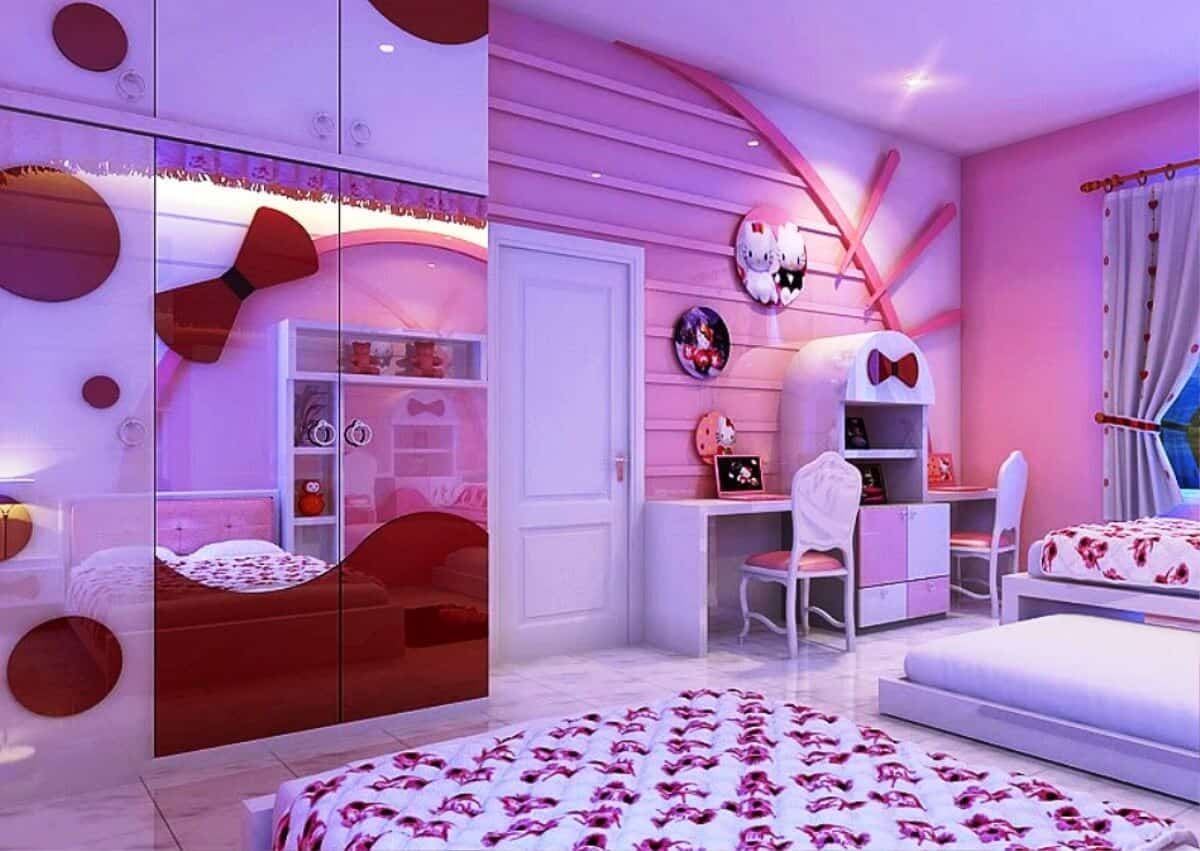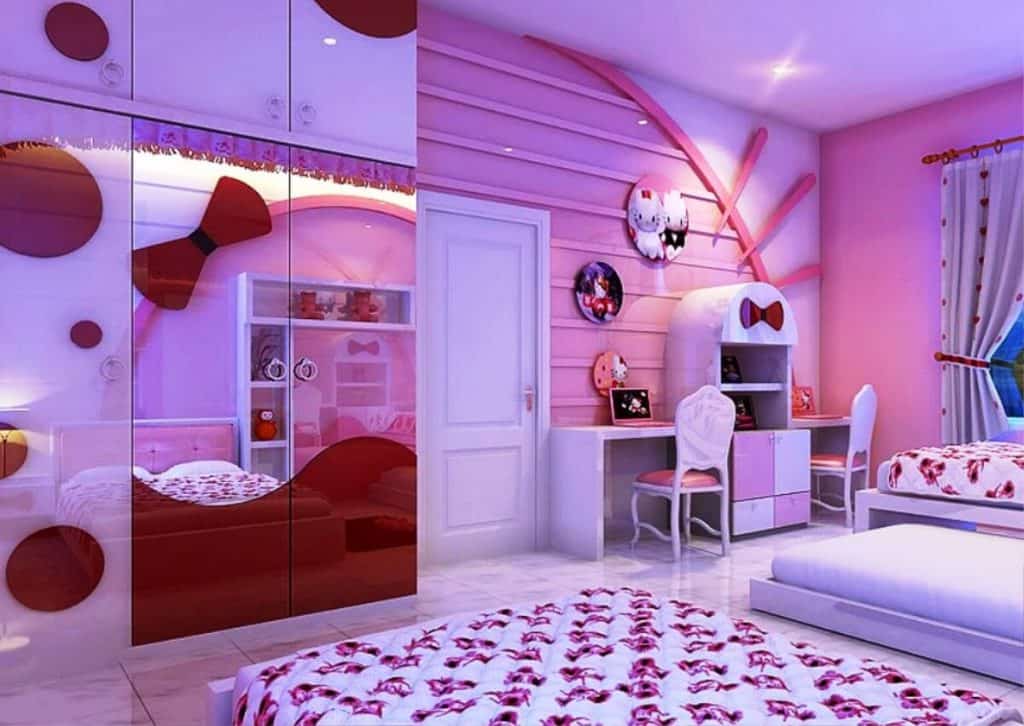 As an adult, you may want to soften your Hello Kitty bedroom. The only way to soften it is to have limited Hello Kitty decoration.
Then, you strengthen the other aspects. This example shows that a simple idea can still look impressive.
The Hello Kitty vibe in this room is seen from the color choice of the wall. It's been a soft pink with several touches of a darker shade of pink.
Creatively, you can create trims on the wall which resemble Hello Kitty's famous ribbon. Then, you can put a sticker with a similar pattern on the wardrobe doors. Isn't this amazing?
Hello Kitty Bedroom Decoration with Mirror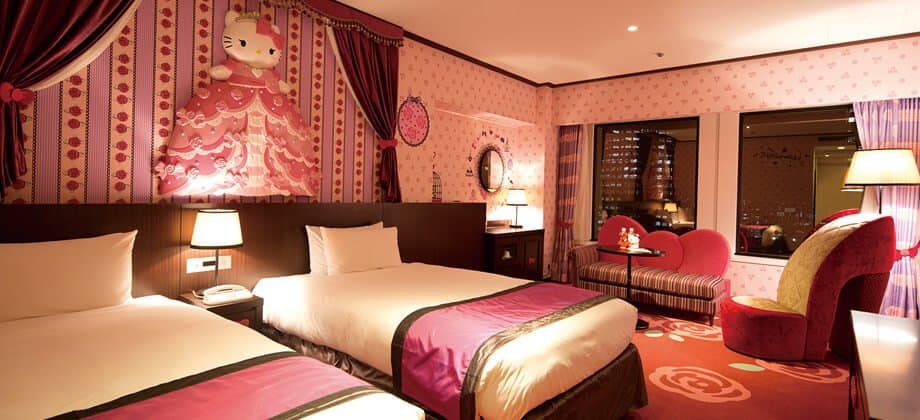 This Hello Kitty bedroom idea is suitable for your two daughters who are fanatics of Hello Kitty, but they also want to have a luxurious bedroom without appearing too immature.
The high heel-like soda on the corner is a bonus, while the actual centerpiece is the Hello Kitty queen figure above the beds.
She's watching over you while you're sleeping, so you won't have to worry about anything! If you're bothered, you can close the view by untying the curtains.