Don Pedro Brooklyn is reader-supported. When you buy through links on our site, we may earn an affiliate commission. Learn More
Rustic Countertops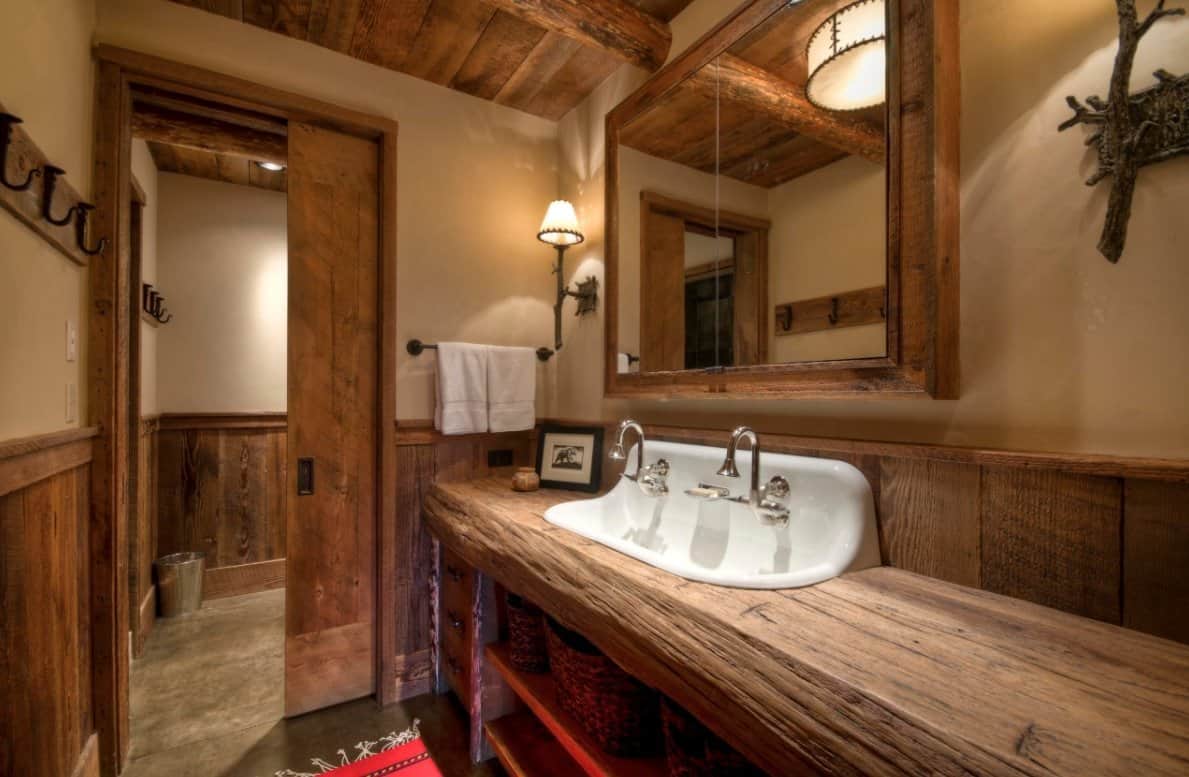 Rustic countertops are often chosen by those who long for that familiar comfort and warmth of staying in a cabin. What if we want to bring those feelings to our own house?
You don't need to transform your existing house into a fully furnished rustic cabin. What you need to is change some elements of the house, such as the countertops.
Today, we're going to talk about everything related to rustic countertops: styles, types of rustic materials used as countertops, types of woods, the pros, and the cons about rustic countertops.
Let's have a look!
Rustic Countertops Styles
There are three different styles of rustic countertops: raw wood edge, reclaimed wood, and butcher block. Here is the detail about each one of them:
1. Raw Wood Edge Rustic Countertops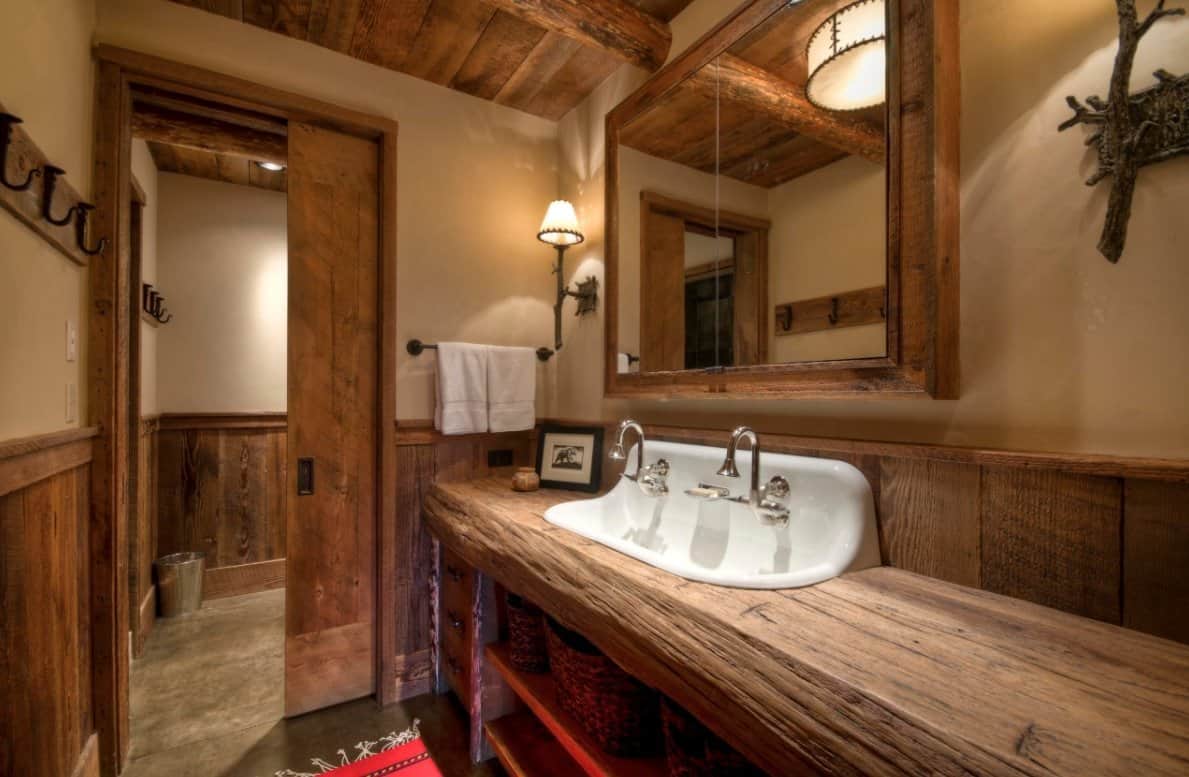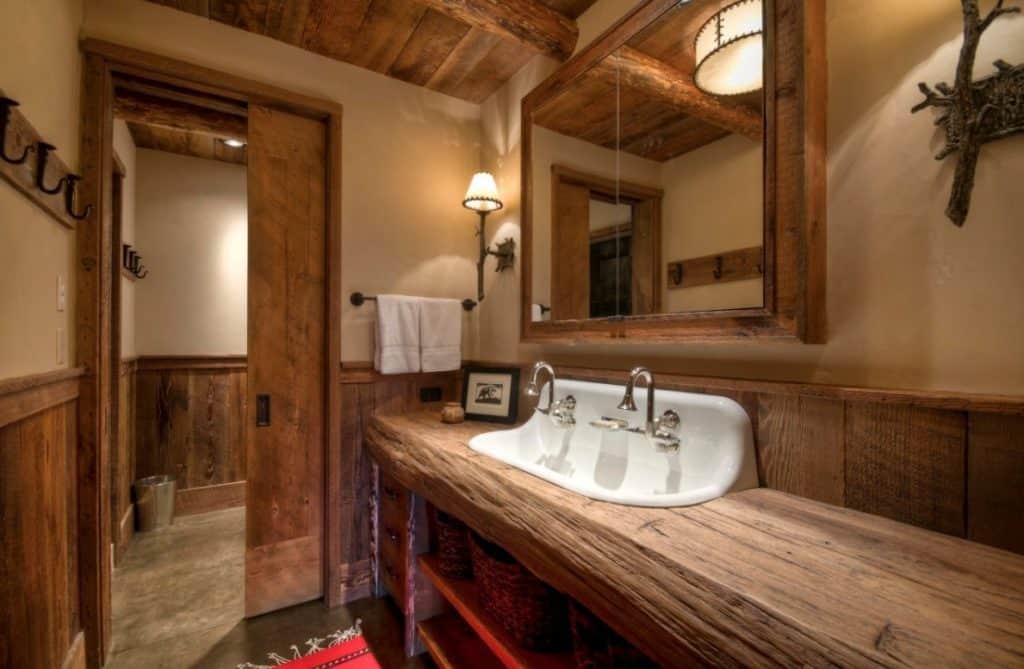 These days, a raw wood edge is sought after for decoration, especially by those who want to get closer to nature. However, the raw wood edge looks great too when used as countertop like this.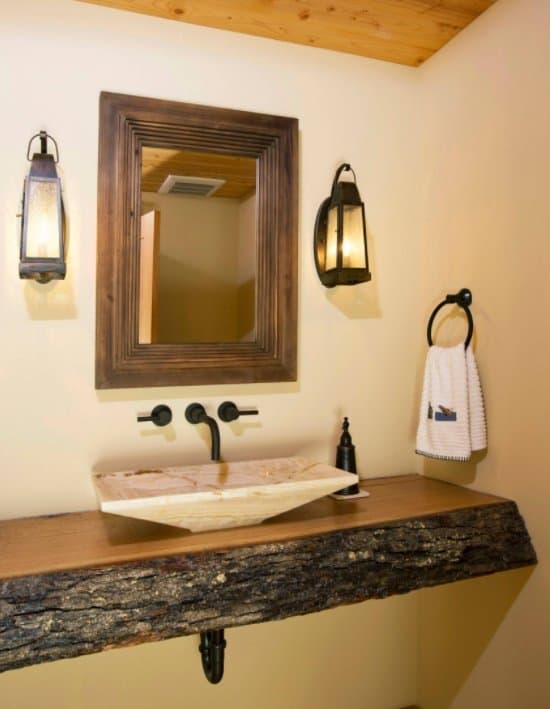 The design depends on your preference. If the previous one the raw wood edge is accompanied by similar materials for the entire room, this one introduces you to a simpler design or a minimalist style, we would say.
So far, we've learned that raw wood edge is perfect for bathroom countertops. Its appearance brings to mind the same feeling when we were in a health spa.
Unless you have woodwork skill, including the tools, we'd like to recommend you to ask a professional chainsaw man to cut the raw wood edge.
2. Reclaimed Wood Rustic Countertops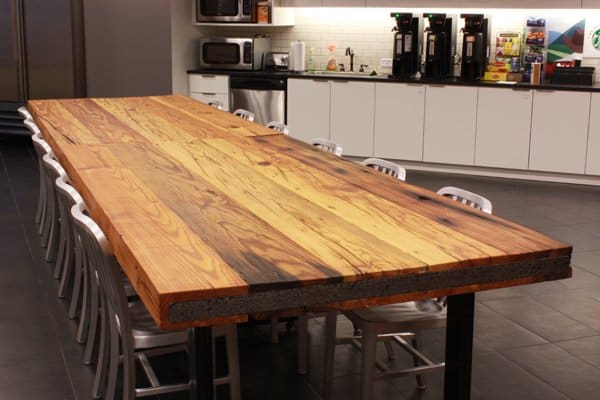 Rustic countertops are brilliant alternatives for a dining table too or breakfast table? You name it! Reclaimed wood looks as good as a raw wood edge.
Moreover, a block of reclaimed wood is an eco-friendly material.
When utilizing reclaimed wood, you're not only helping the environment but also helping yourself by buying an economical item.
Why is it economical? It's because you can find a plank of reclaimed wood from anywhere, even your own house.
Old kitchen area tops, old floors, doors or tables can be recycled into a brand new rustic countertop or rustic table like this.
We'd like to recommend you pallet wood. It looks amazing and durable.
3. Butcher Block Rustic Countertops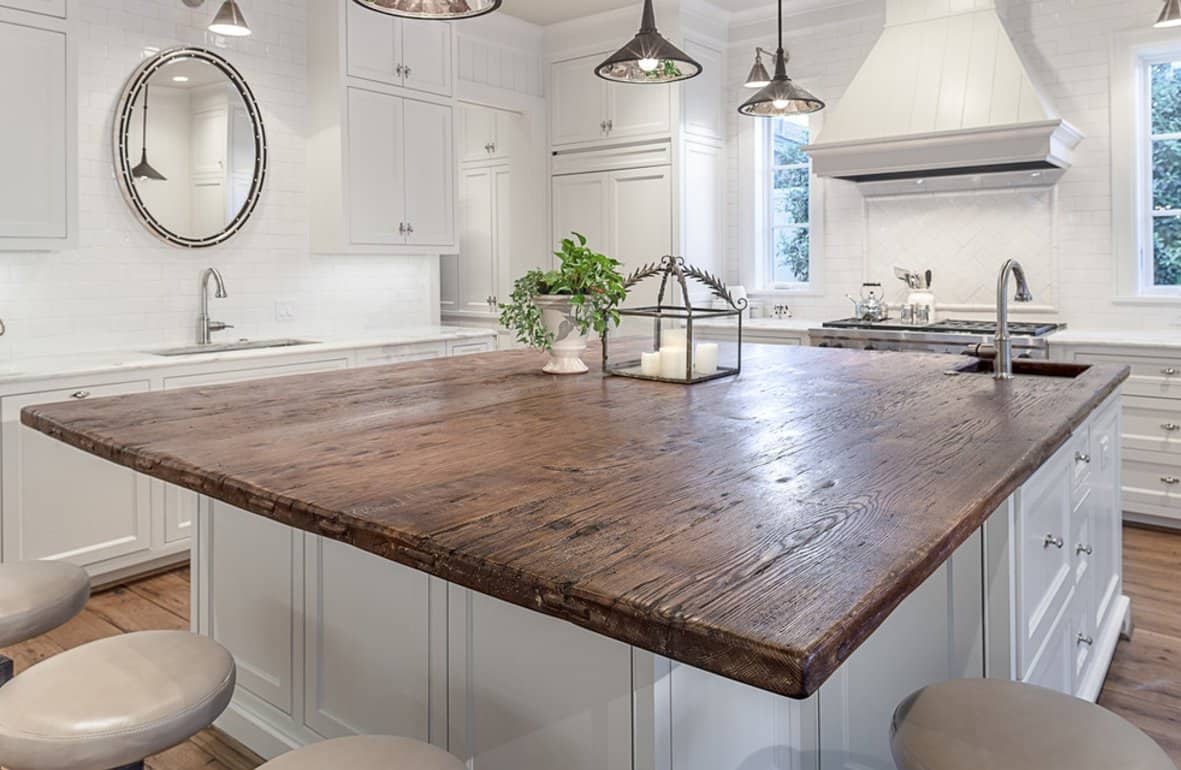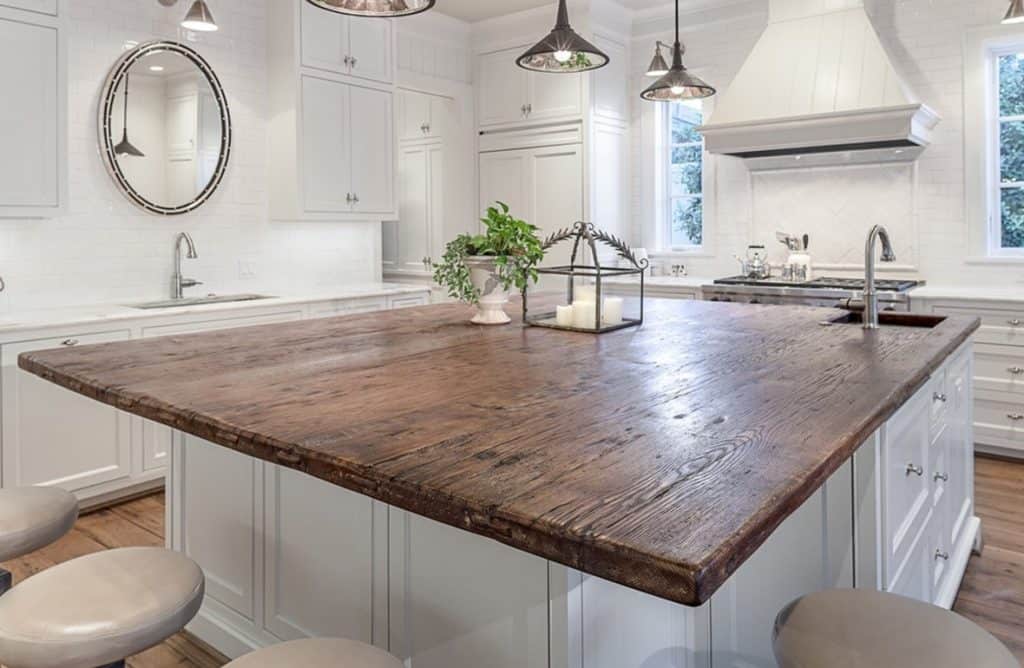 First of all, the all-white kitchen style helps to emphasize the rustiness of the wood. The idea comes from the original butcher table.
Well, you'll use it to butch vegetables and also meats as well on here. Besides, the size can be customized. It should depend on your actual or desired kitchen island.
You don't want to get behind the trend, are you?
Butcher block rustic countertops for Kitchen Island are currently on the rise. We should be real and say the truth that this look is amazing!
12 Types of Woods for Countertops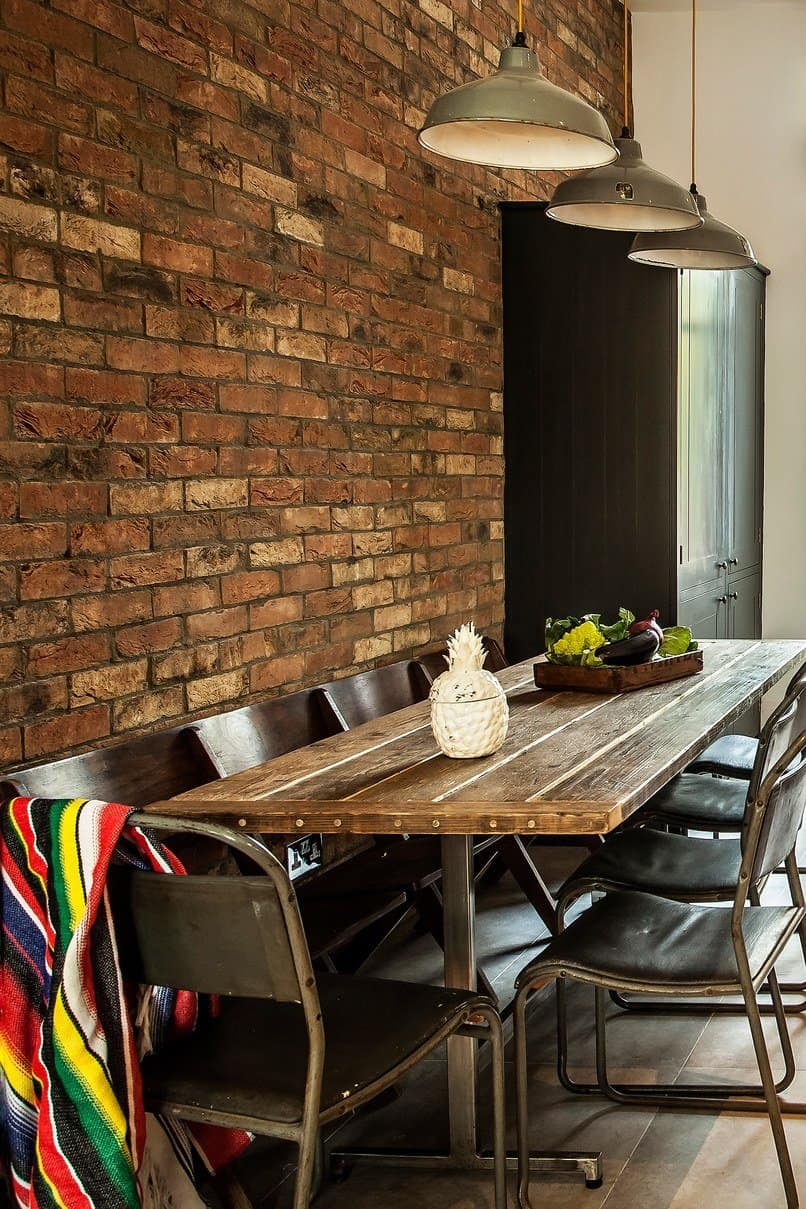 There are, at least, 12 different types of woods for making countertops. Each of these woods has its uniqueness—plus and minus aspects.
For example, bamboo and maple have become people's choice these days. Due to that fact alone, they have two specific characteristics famous around people: easy to obtain and durable.
Other than bamboo and maple, mesquite, black walnut, and cherry are also famous for rustic countertops.
In short, types of woods included in the softwood category are considered as the standard for rustic tops, according to FSC and LEED standards.
1. Cherry Wood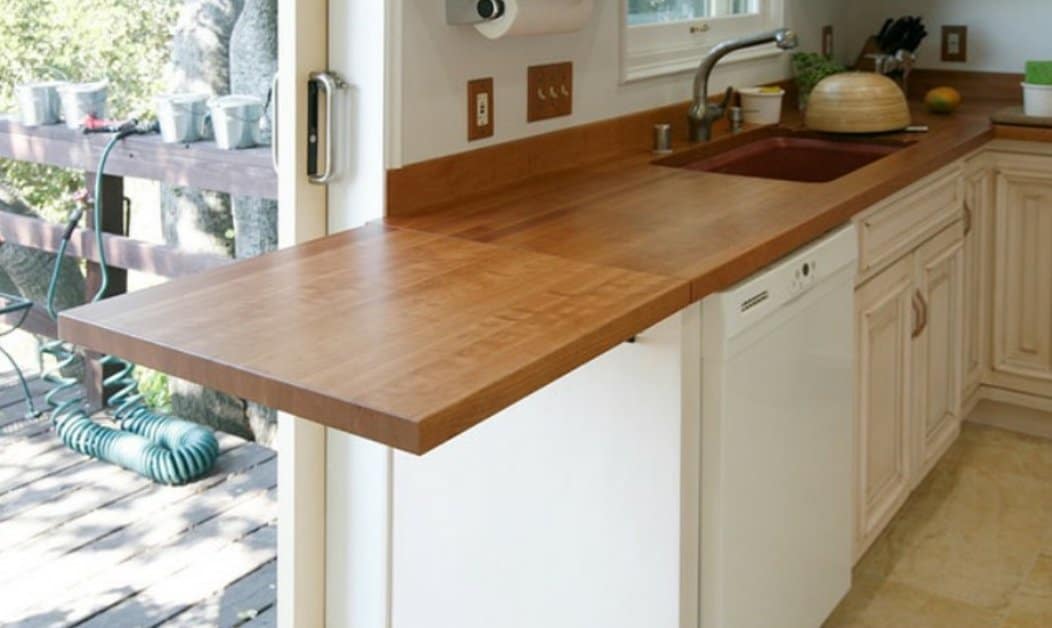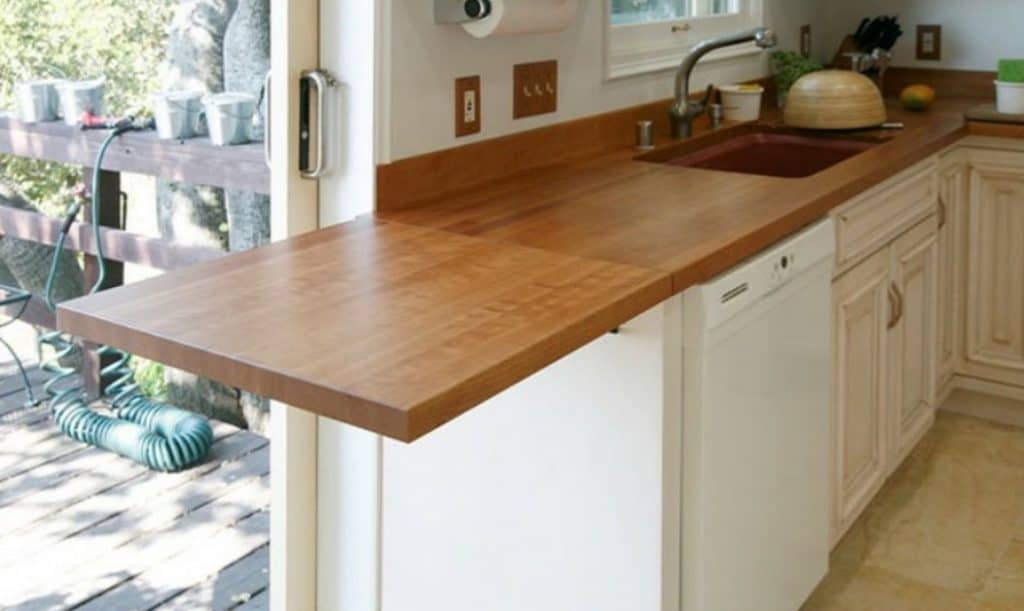 Cherry is one of Americans' favorite wood. "Why?" you asked. The most popular trait of cherry wood is it doesn't age.
As it gets older, its color which is a subtle red becomes deeper and even more dramatic. With such a trait, cherry wood is mostly used for countertops in the form of butcher blocks or piano.
2. Zebrawood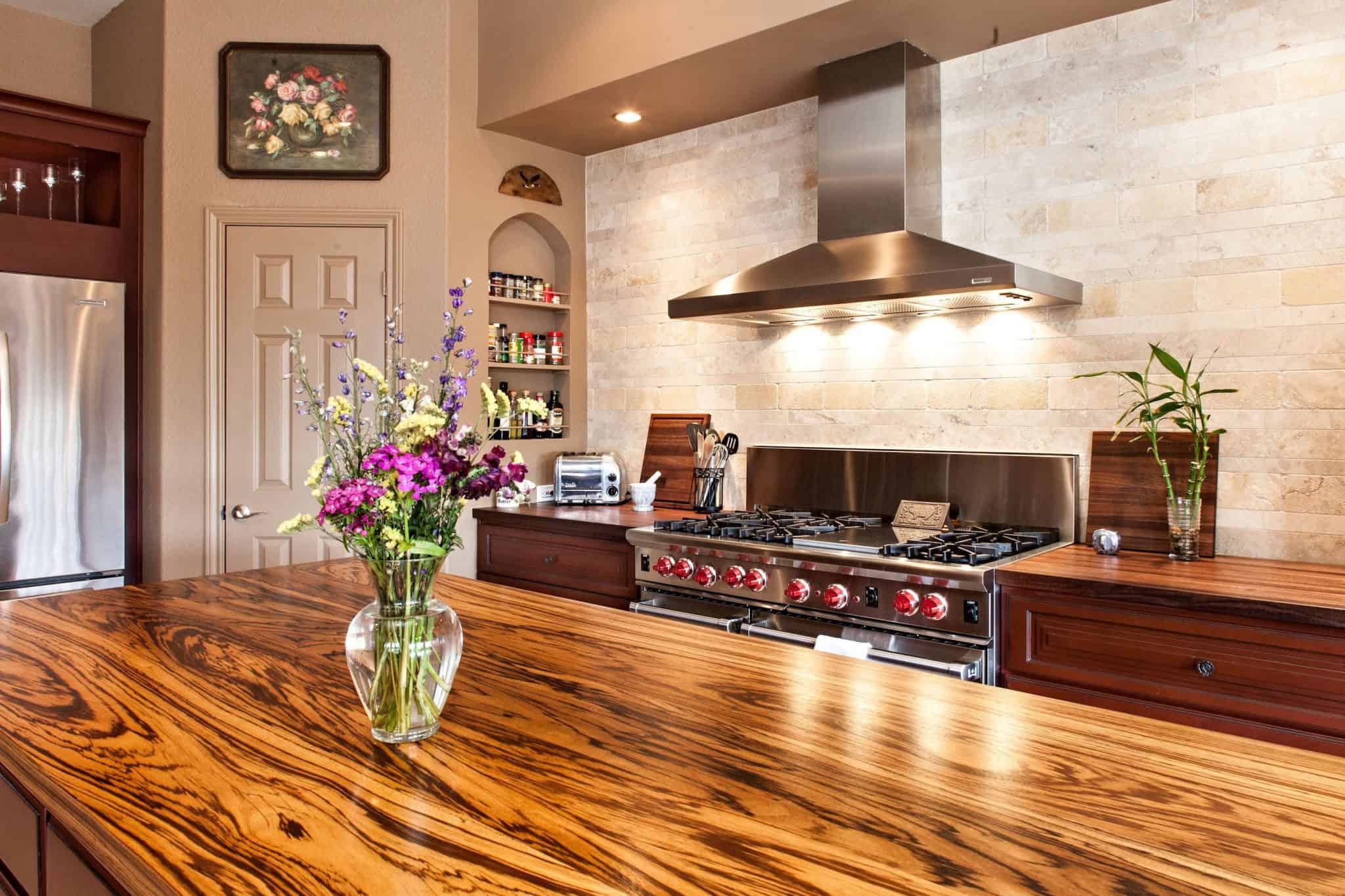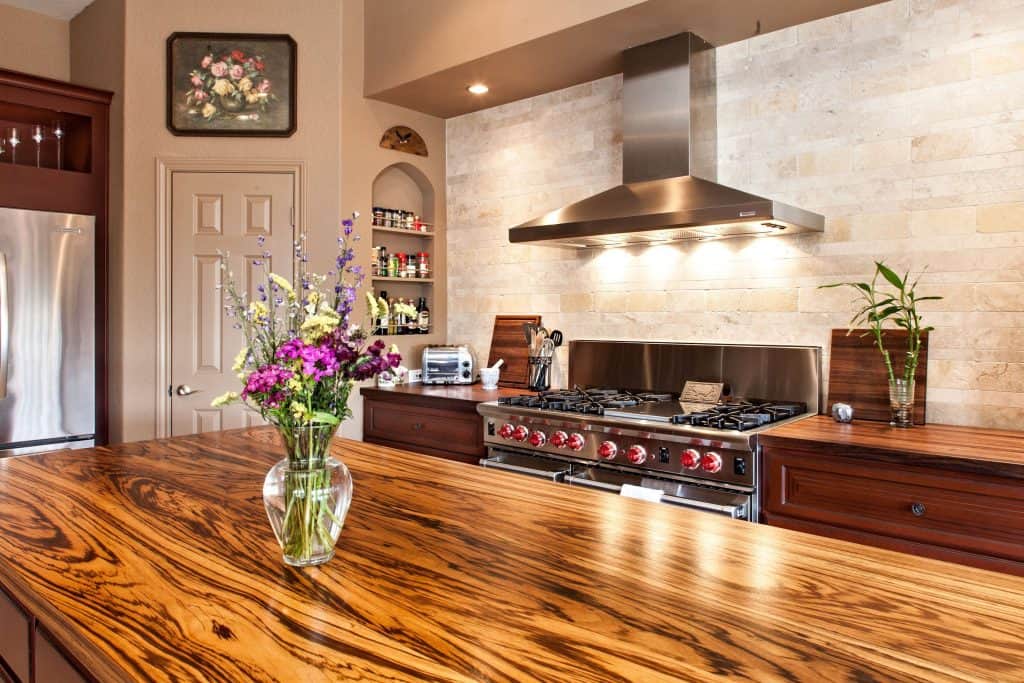 The zebrawood obtains its nickname from its distinct pattern—obviously, stripes that look like zebra.
This pattern offers you a distinct boldness that makes your kitchen stand out from common kitchen area designs.
Anyone who walks into your kitchen will be amazed by how gorgeous this pattern is!
3. Bamboo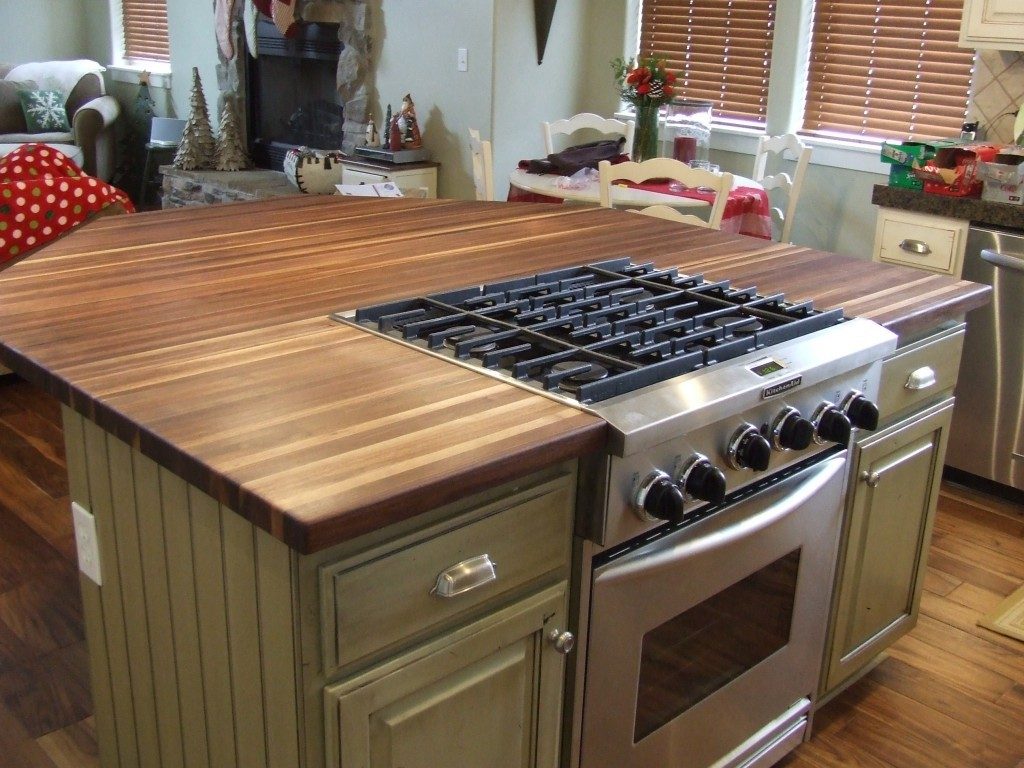 Bamboo is widely used for housing materials, especially in tropical countries like Southeast Asian countries. There, bamboo is believed for its strength.
Therefore, it is also usable for a countertop. Like this idea, the bamboo makes a wonderful rustic countertop. Other than that, it's a very environmentally friendly material.
4. Wormy Chestnut Wood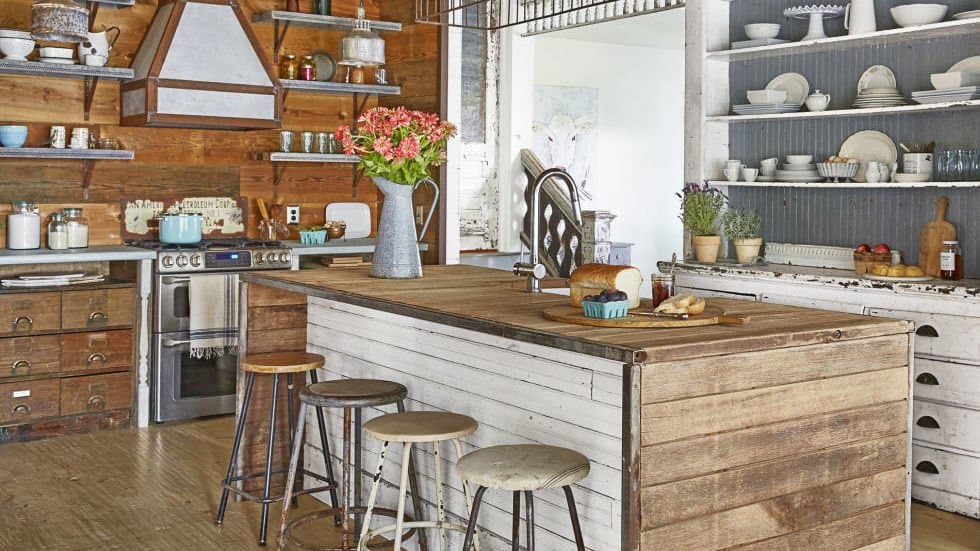 The key to master rustic appearance is the age of the wood itself. A recovered chestnut wood has a known beauty of rustic appearance that has been acknowledging nation-wide.
It has an admirable softness. Even in the style of butcher block, wormy chestnut wood looks so fine.
5. Maple Wood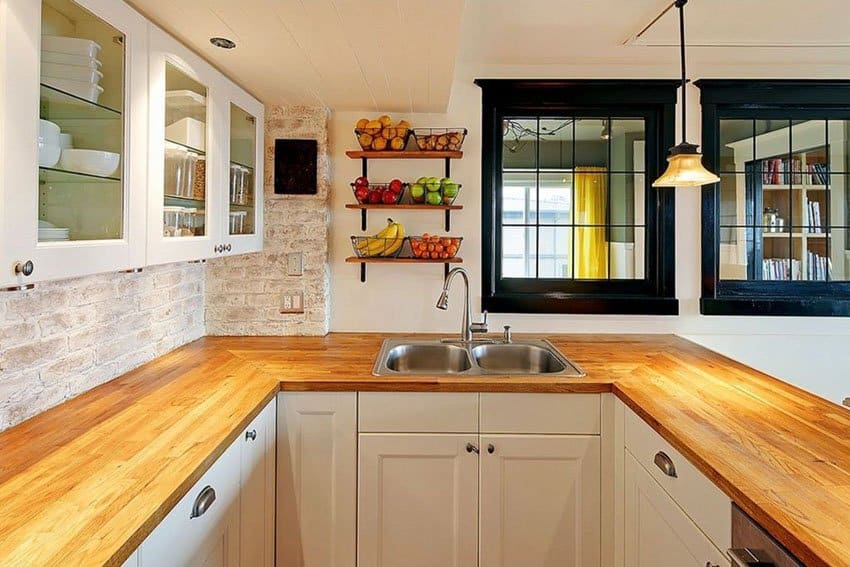 Maple wood is praised for its gorgeous-bright color. It is the perfect choice to lighten up the mood in the kitchen.
Moreover, maple wood has two more aspects distinguished it from others: resilience and resistance to abrasion.
When you create a butcher block countertop from maple wood, it looks extremely stunning!
6. Hickory Wood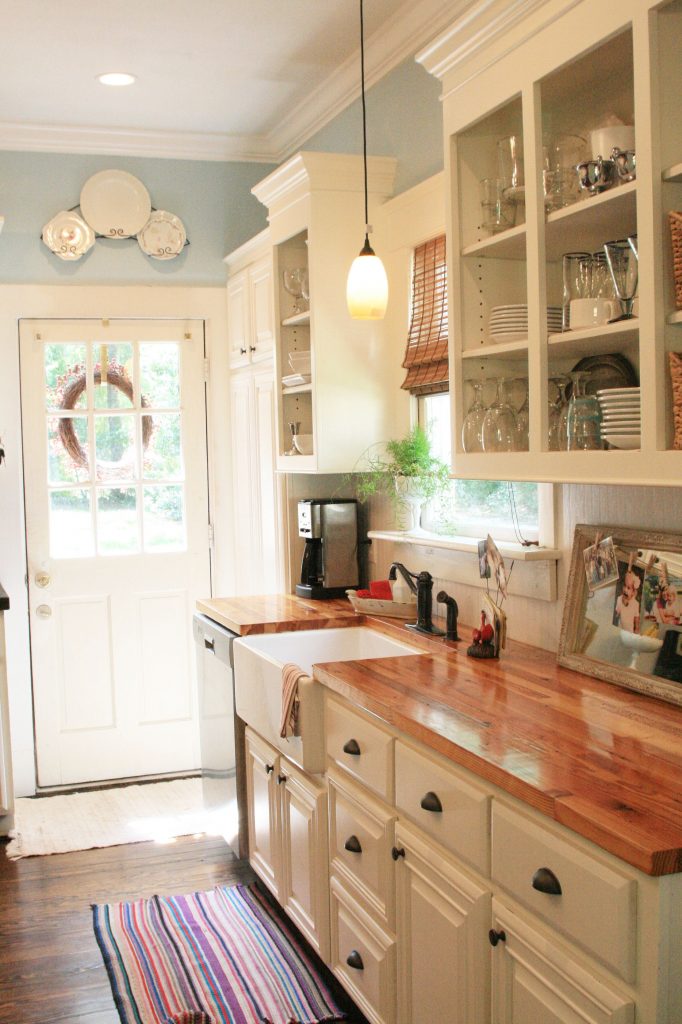 Until today, hickory wood is known as the most durable wood across America.
The wood has survived over 50 million years on American lands, which is a fact-driven by scientific truth.
The wood also has a wonderful color. It is perfect for rustic countertop material.
7. Mahogany Wood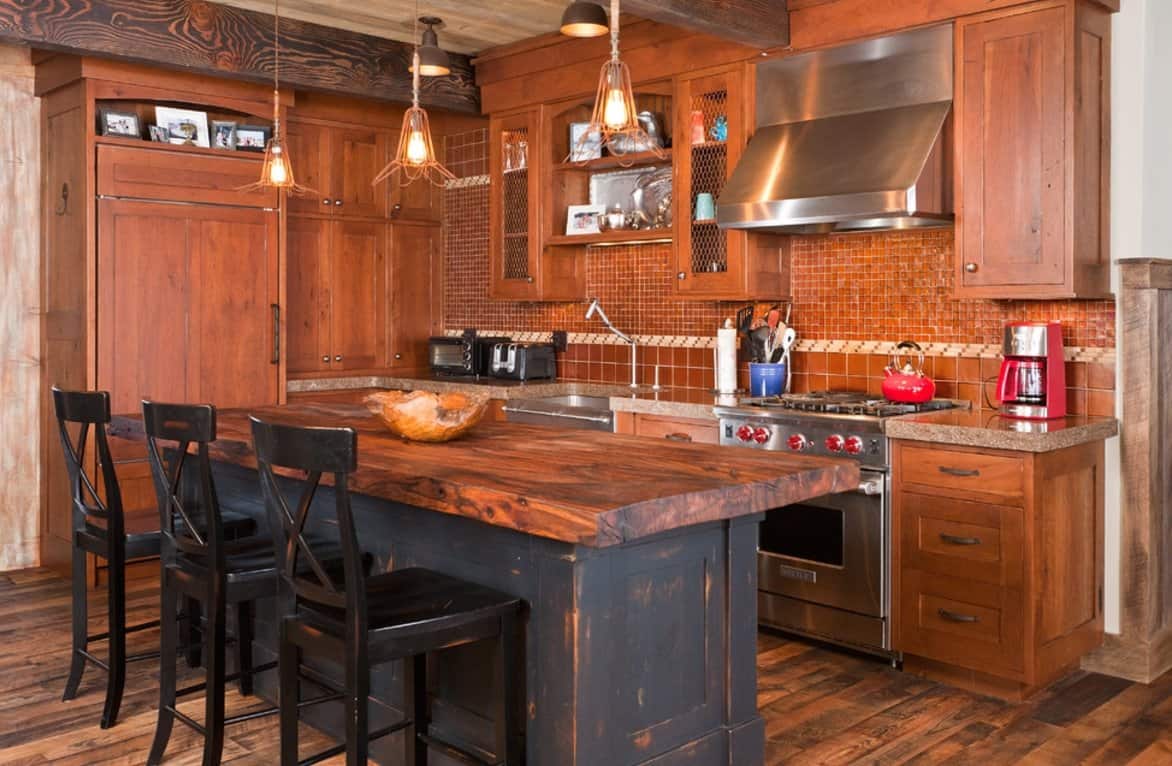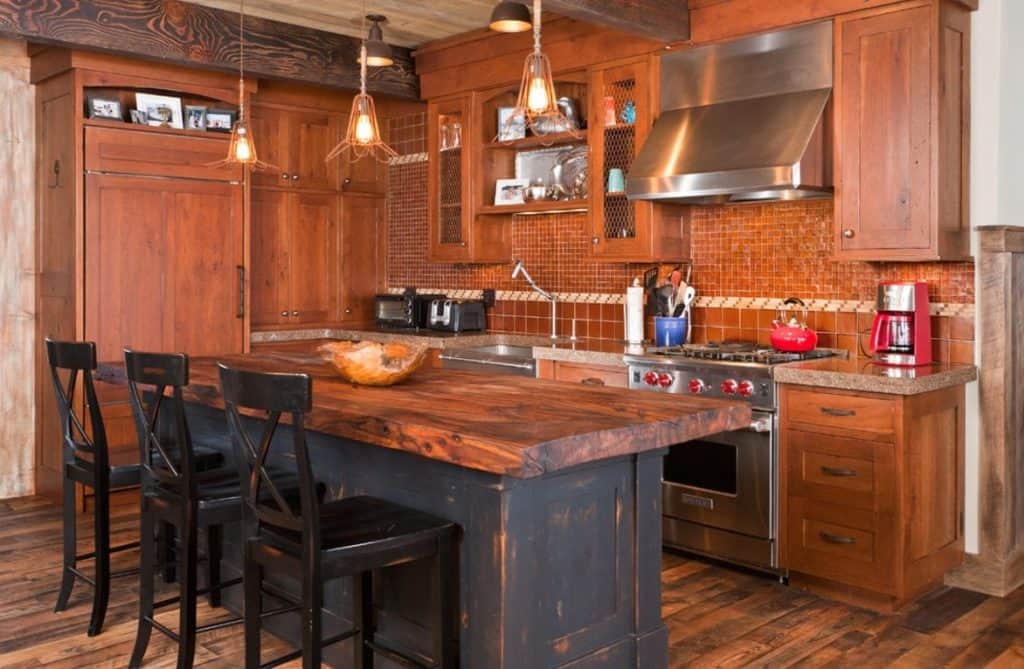 Among a lot of different types of woods, Mahogany stands on its private podium. It is commonly used for those who want to build a cabin-warmth atmosphere in their kitchen.
As you can tell, mahogany wood is an expensive wood, because it is categorized as softwood and it has a distinct brown-red color that's attractive to anyone's eyes.
8. Teak Wood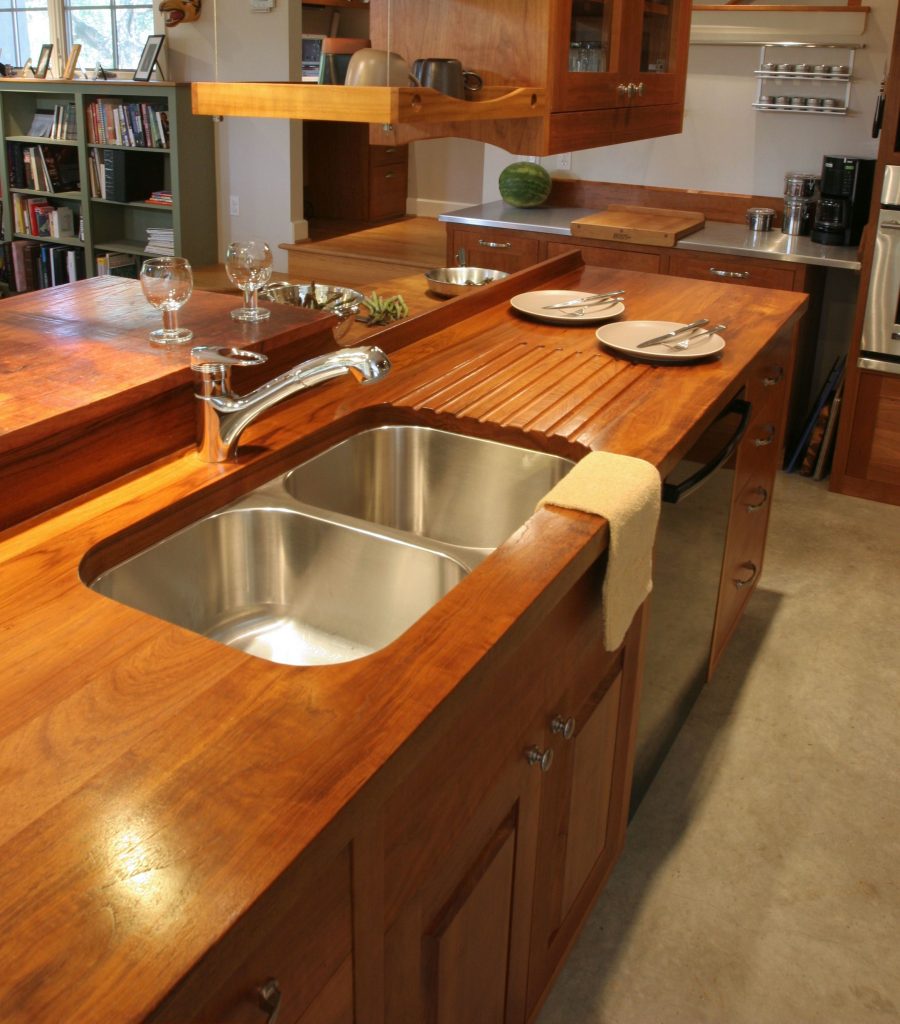 Teak originally comes from Mexico's pacific coast. It has two unique traits that draw people to like it, bold appearance and durability.
The boldness comes from its signature warm color, while durability comes from its ability to resist moist, making us whose spilling drinks has become a habit safe.
9. Black Walnut Wood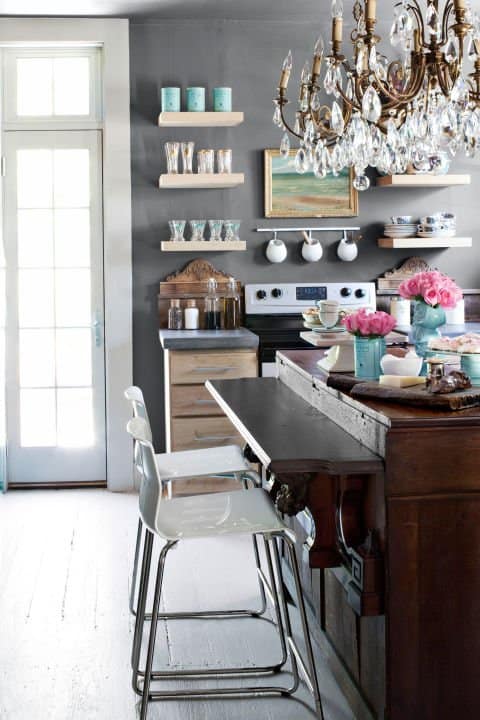 Black walnut wood is divided into two kinds; those are sapwood and heartwood.
Each of these kinds has different color, for example, the sapwood is more honey cream, while the heartwood is dark brown which is almost black—even bordering on purple.
Other than famous for its color, the black walnut woods are also known for its durability and unique pattern—gorgeous grain.
10. Wenge Wood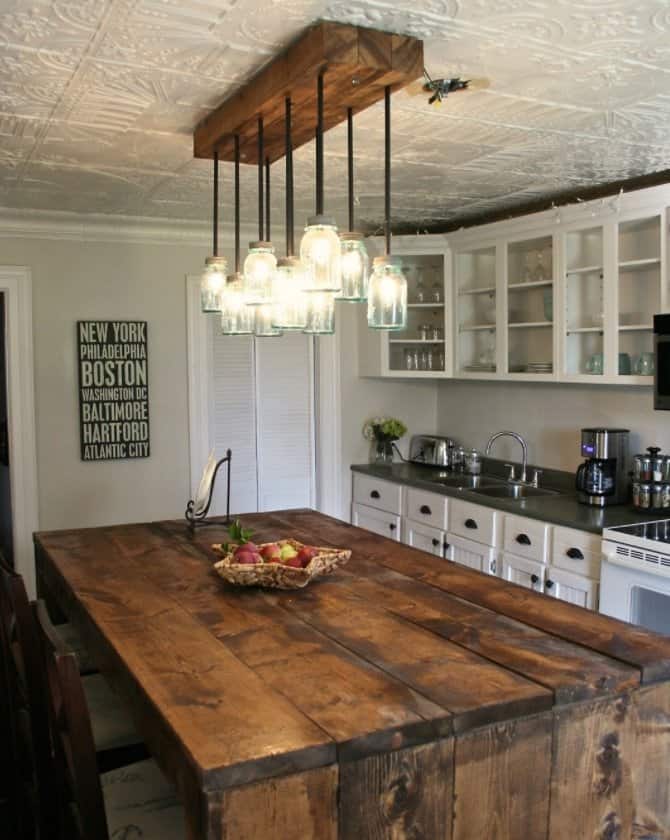 Wenge wood originally comes from African lands. There and here, the wood is so popular. The most noticeable aspect of the wood that catches your attention must be the color.
It has a dark brown color with black stains. It is perfect for rustic countertops because it has great durability and has been utilized for furnishings since years ago.
11. Beechwood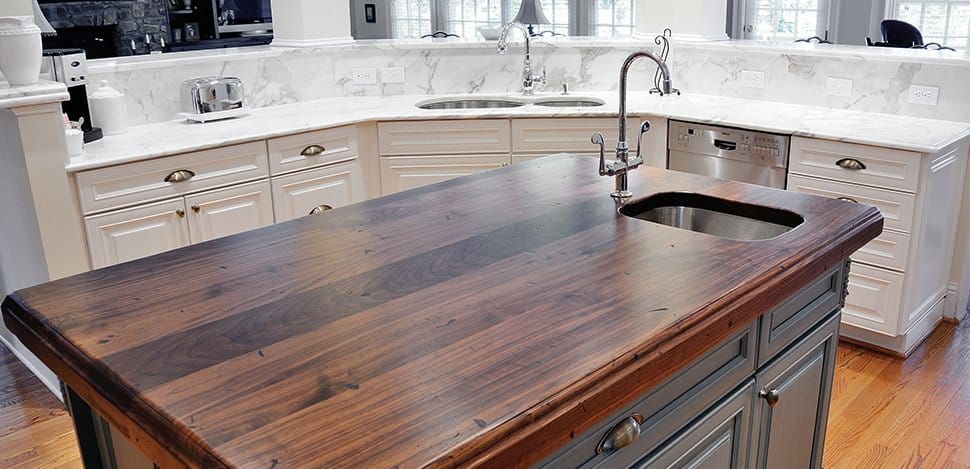 Beechwood wasn't a diva back then, because old chainsaw wasn't strong enough to cut it.
These days, with the advancement of technology, beechwood becomes one of the popular woods for rustic countertops.
It is heavy, but its heaviness marks a strong and durable entity. It looks awesome, but it is extremely affordable. Get that orange slash pink shade rustic countertop for your kitchen now!
12. Tiger Wood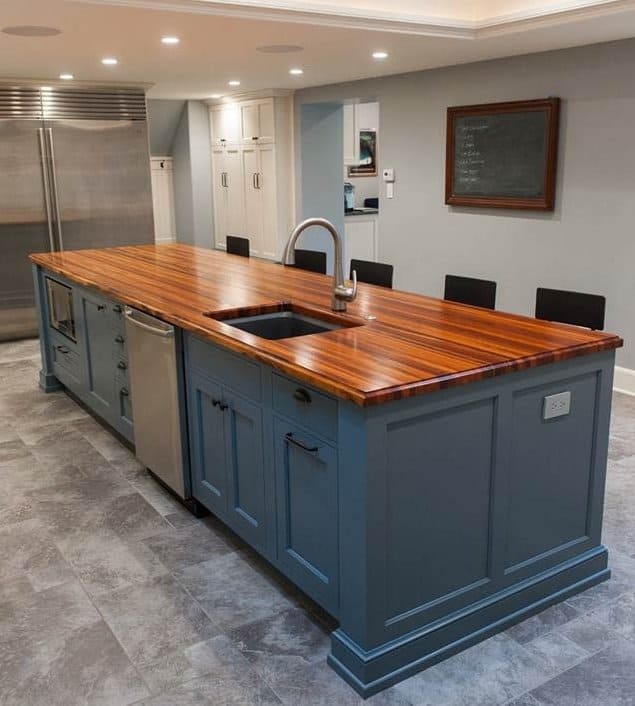 If you're looking for a wood harder than beech, tigerwood is your answer. On this list, tigerwood is by far the hardest and the strongest wood of all 12 of them.
Another distinct characteristic is its strong stripes. Therefore, not only that it is strong in term of durability, but it is also strong in term of a style declaration.
---
Love rustic style? We have more:
---
Must-Have Characteristics of Excellent Countertop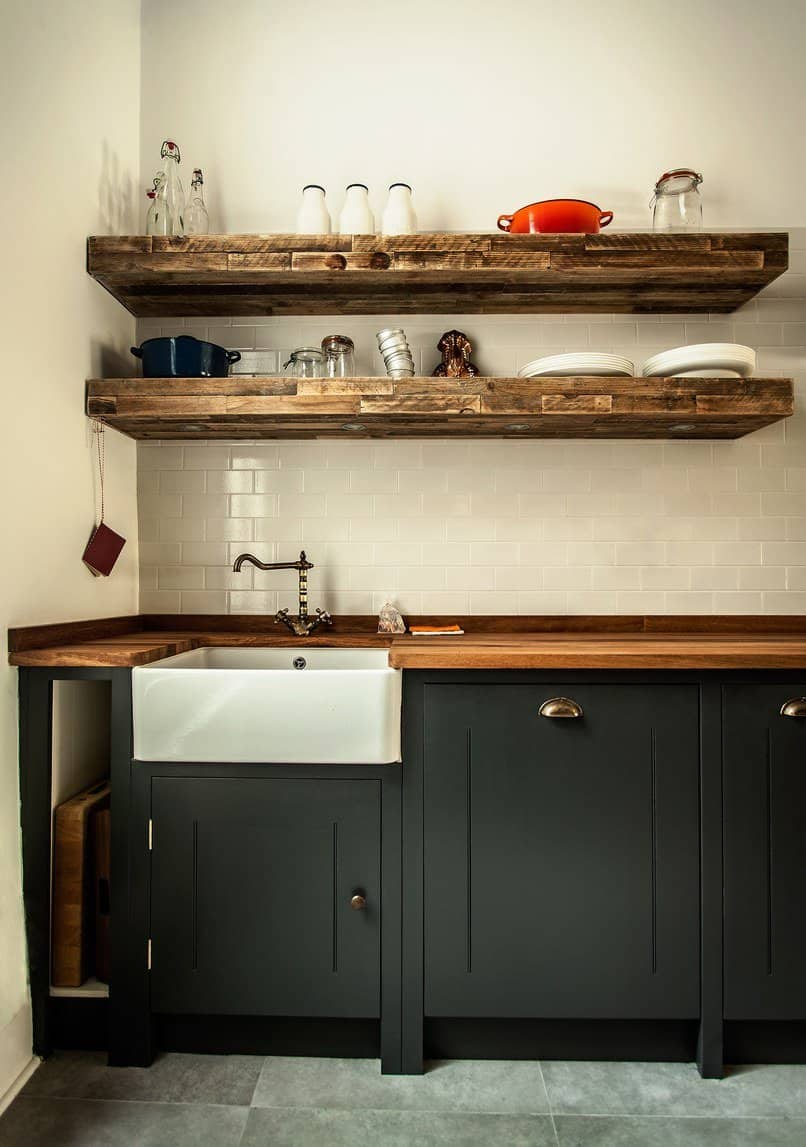 After looking through the list of types of woods usually used for rustic countertops material, you may be wondering about the characteristics of high-quality wood.
Let us break it down to you, there are shapes, types, colors, and surfaces.
Remember, a good countertop—which is made of the perfect wood—is warmer when touched.
Moreover, wood is easy to alter. It takes a short time to cut or set up wood countertops compared to stone or other strong surfaces.
Besides, when we talk about rustic, we talk about wood material and no other. Period.
Pros and Cons of Rustic Wood Countertops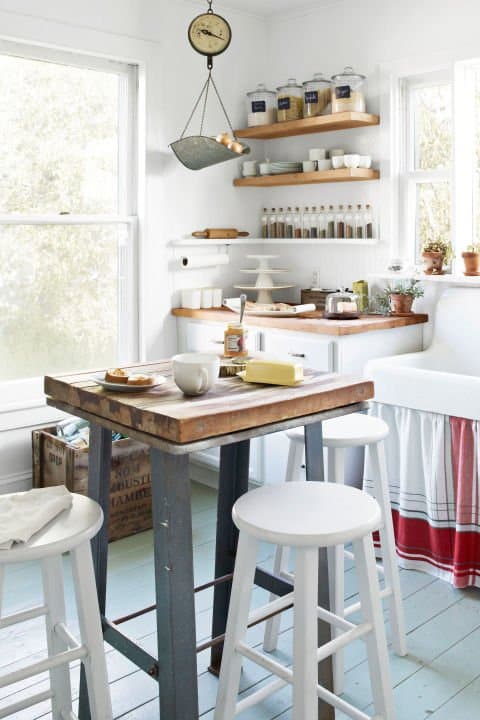 There are some advantages of using wood as countertops. They are:
Quiet: No clinking noises whatsoever when you eating or cutting food.
Safer: Since it has a softer surface, it is much safer for pans or glass.
Resistant: Wood is known as heat and citrus resistant.
Anti-bacteria: Once a wood countertop is sealed properly, it becomes a natural antibacterial device.
Stylish detail: Wood has more unique patterns
Comfy: It is a more comfortable material than any material other than wood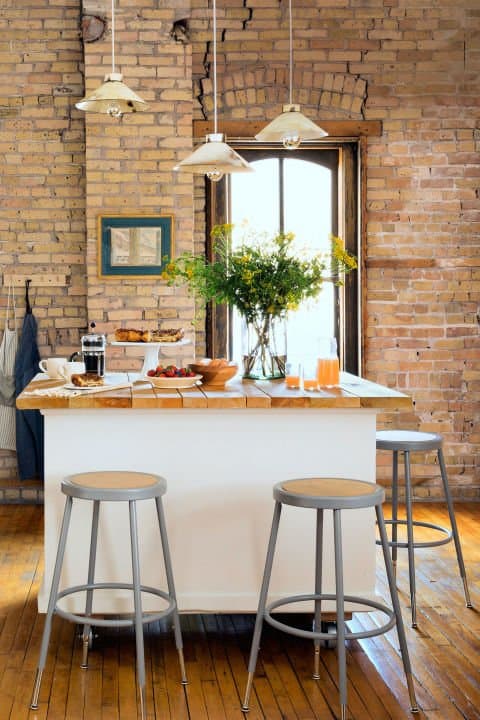 However, there are also some disadvantages—or cons—of using wood countertop. They are:
Maintenance. It requires high maintenance, such as regular oiling which takes 2 to 3 times a year.
Or even more, wood is considered as a "live surface" which means fungus may grow on/in it if not maintained properly, and it has to be kept from water spills.