Don Pedro Brooklyn is reader-supported. When you buy through links on our site, we may earn an affiliate commission. Learn More
Rustic Wedding Decor Ideas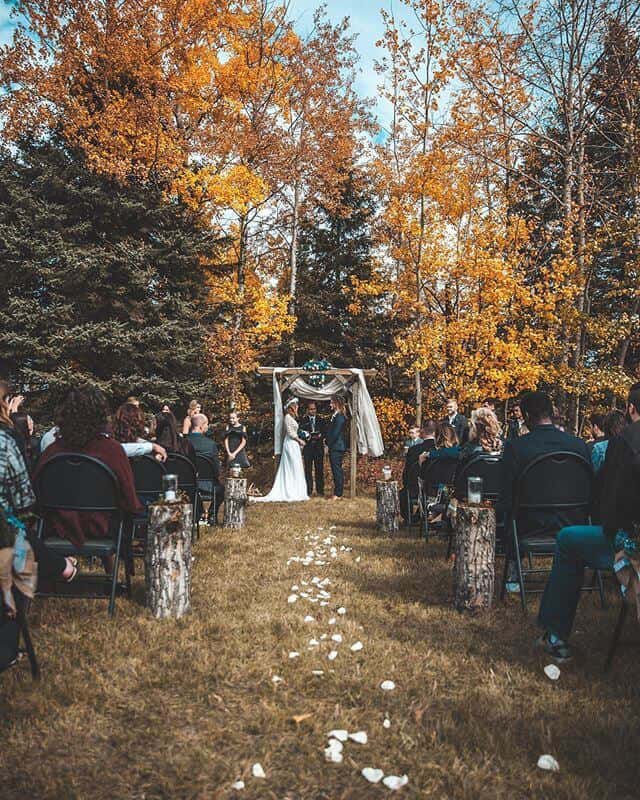 Wedding day is one of those sacred days occurs only–hopefully–once in a lifetime. Marrying the love of your life will be the happiest day ever. That's why you want to make sure that the surrounding also supports the excitement.
Going with a rustic theme for your wedding day may give you a room to become an economical bride/groom as well, taking advantage of old-fashioned, vintage stuff to decorate the wedding.
Here are some ideas of rustic wedding decoration that might inspire you.
Tied Knot Rustic Wedding Invitation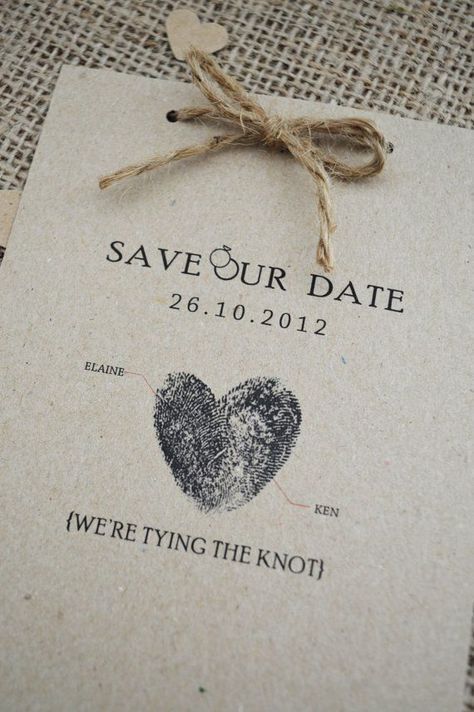 A wedding invitation is more than just a paper. It represents your wedding style.
Using a rustic design, try to use recycled paper with a thin barn rope. To make it look more old-fashioned and vintage, choose the type of the font wisely.
Rustic Wedding Decoration
Rustic Wedding Reception Decor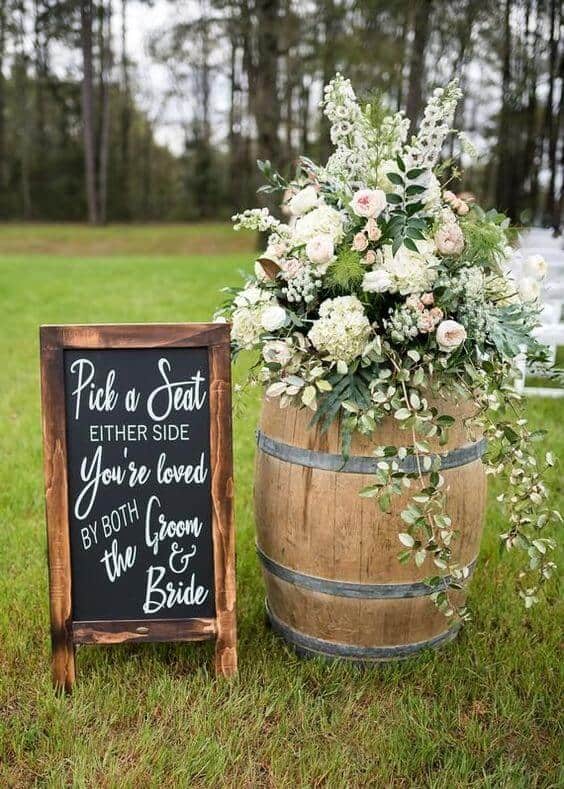 Moving on to on-the-spot decoration, use a chalkboard to greet the guests. Emphasize that rustic, country style feeling since the main gate.
The chalkboard sign contains a warm welcoming message.
Next to it, add a flower decoration, but using an old beer container. These are the perfect combination for a rustic wedding decoration.
Rustic Wedding Altar Outdoor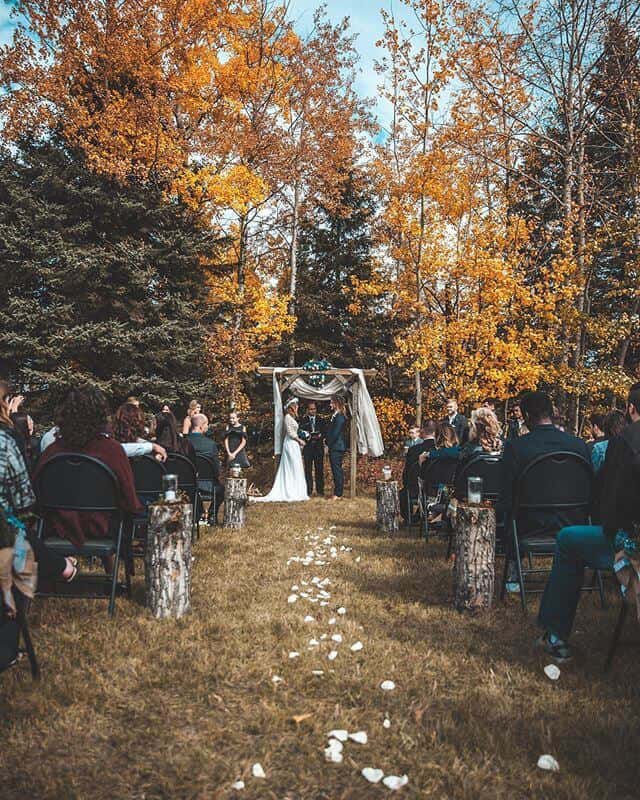 An indoor wedding may be too plain for you that you need to check out this outdoor wedding plan.
Going with a rustic style, celebrating the wedding outdoor means getting closer with nature. Use wooden blocks to create a modest altar.
Then, decorate the altar with broken white fabric and a flower bouquet. Similarly, use a tree log on each row as a boundary.
Rustic Door Wedding Decoration Photospot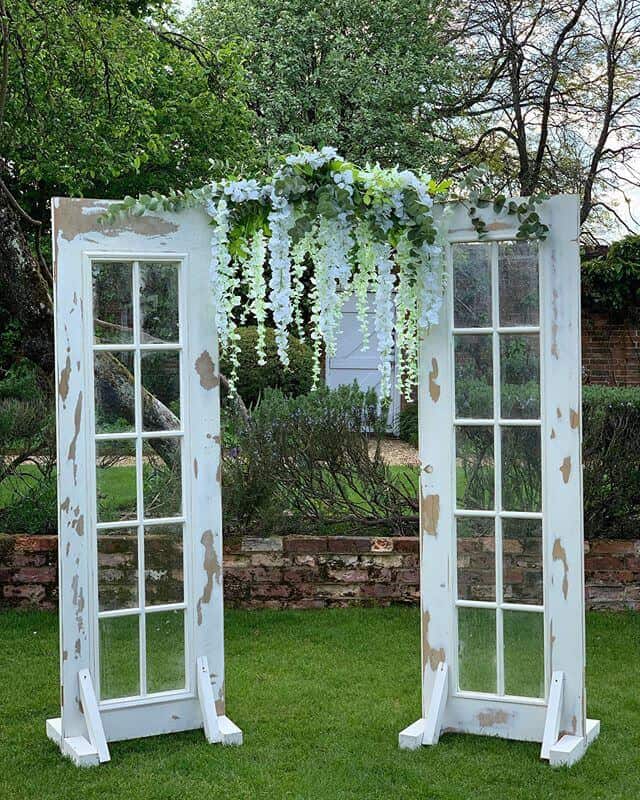 For your guests' convenience, a spot for taking a photo is necessary nowadays. This spot is unique because it's taking advantage of an old, rustic door. The paint is fading and peeling.
In between each door, there is a flower decoration for the top. This will be more exciting if you install a tumblr light on the flower.
Rustic Entrance from Barnwoods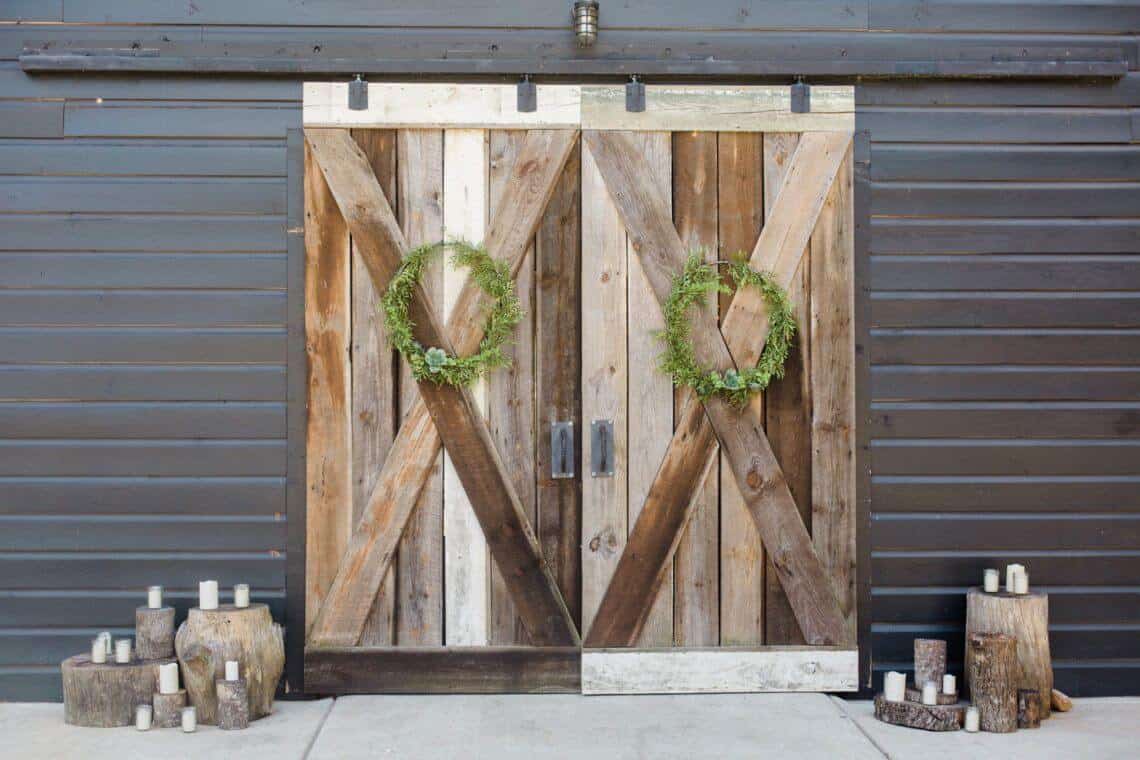 There are many ways to decorate the entrance. One with a simple chalkboard sign and another is using a full barn-entrance. This is using recycled barnwoods without additional painting. The surface is left rough and natural.
On it, a flower decoration is hanged. On the side, there are some small wood logs on which there are candles to be lit at night. Other than warm and welcoming, this rustic entrance is also romantic.
Cowboy Boots Wedding Bedroom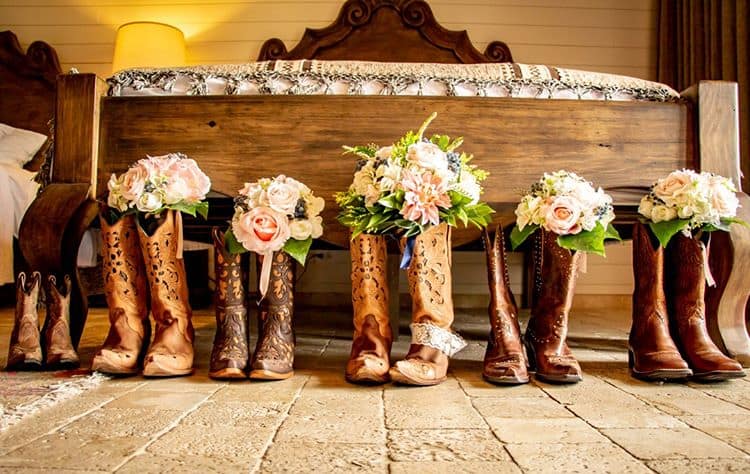 Moving on to the couple's bedroom, rustic decoration must be included, too. In this room, the style can be seen in almost every element. The floor is hard concrete. That alone is a thick country feeling piece.
Moreover, the wall which is composed of wood plank accents is illuminated by the modest vintage table lamp.
By the end of the old style bedstead, there are some cowboy boots with flowers fillings to accentuate the country living.
Long Barnwood Table with Purple Ambience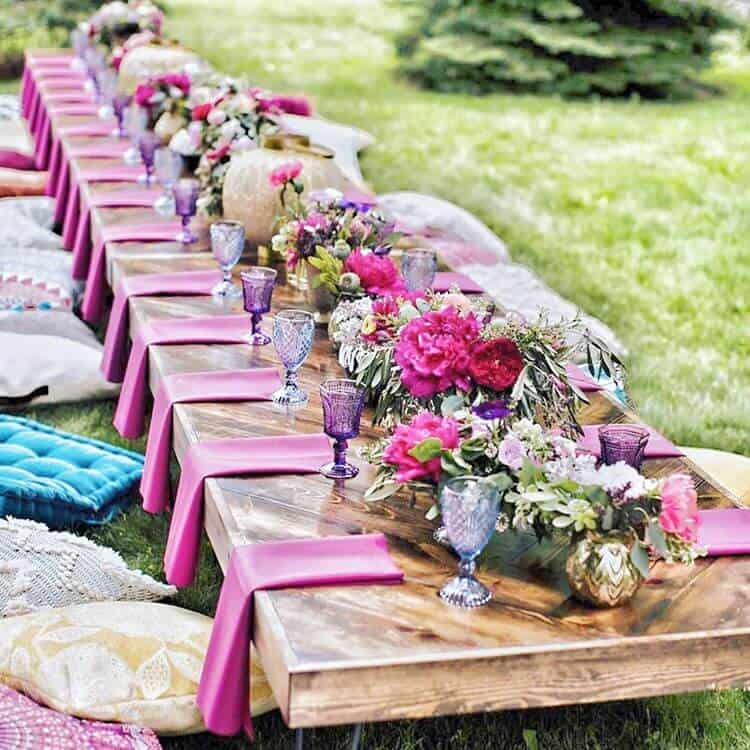 Small tables that separate the family seems like a second option. This recycled long wooden table can be a number one solution to gather the family in one specific spot.
Without using chairs, the plan can hold still by utilizing small pillows as seating cushion. Additionally, use your favorite color, like purple, to make it feel familiar, closer and nicer.
Rustic Dinner Table Idea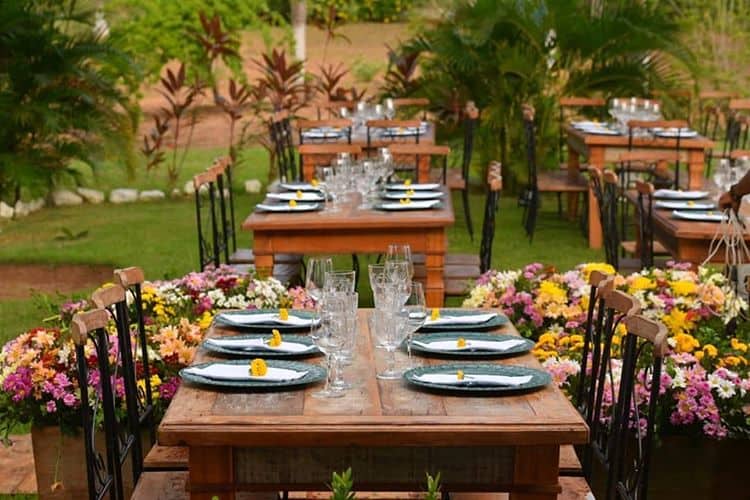 We all agree that rustic wood table makes the atmosphere warmer. The dinner may feel intimate, too.
As seen, this is an outdoor gala dinner. Each table is reserved for at least 6 people. The chair itself is unique.
To balance the wood, decorate the surrounding with colorful flowers. That surely will elevate the guests' mood.
DIY Log Slices Centerpiece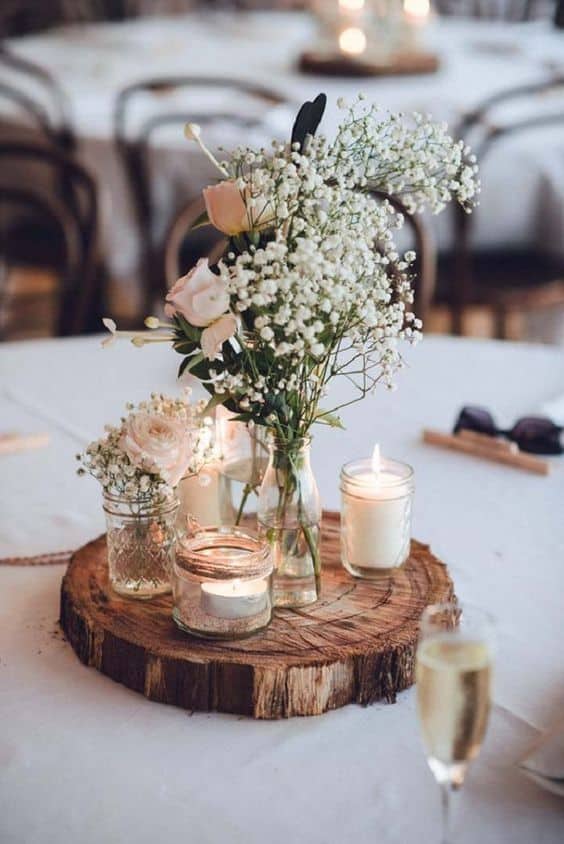 Becoming economical means being more creative. Cut a wooden log into several coaster pieces. It can be a glass coaster or trivial decoration, such as fragrant candles and pretty roses.
As a centerpiece, it has to be an eye-catching piece. That's why you can place it on top of a white tablecloth.
Roses Bouquet Centerpiece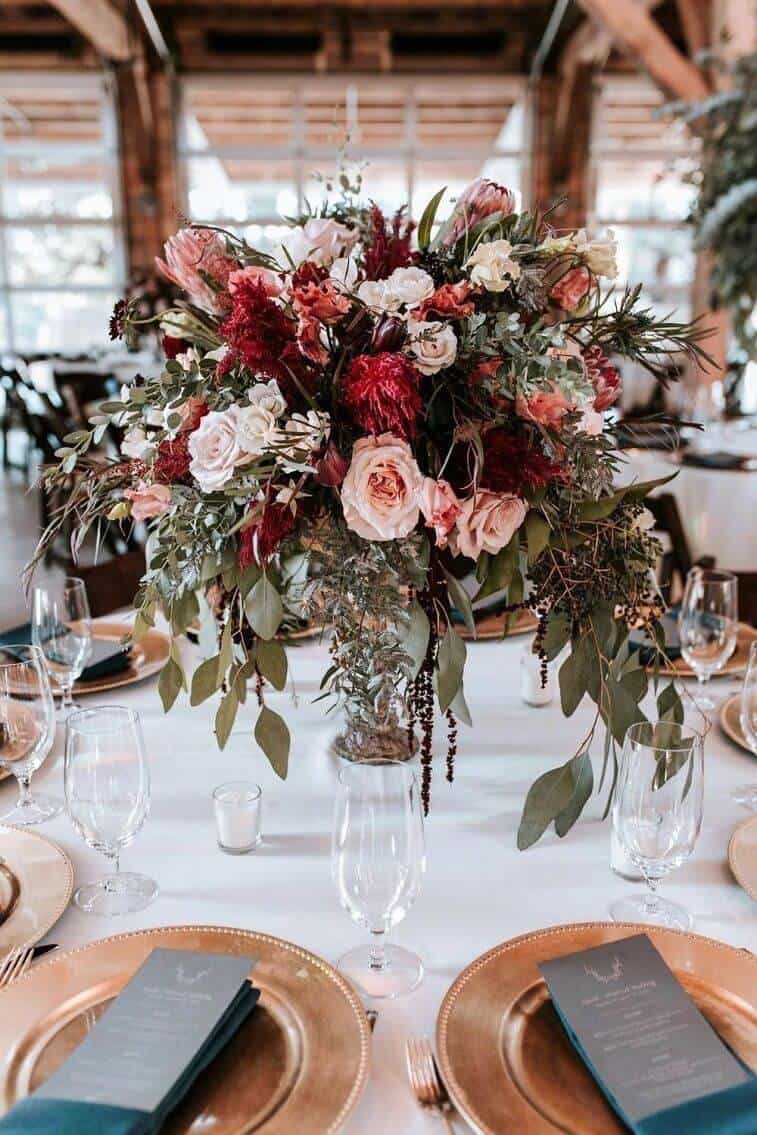 You may wonder, what's the connection between flower and rustic design? Rustic design is simply about being as natural as possible.
Classic brown plate is used to complement the roses bouquet centerpiece. The roses themselves are accompanied with rough leaves, making them look more natural.
Dresscode
The Groom's Best Men's Dresscode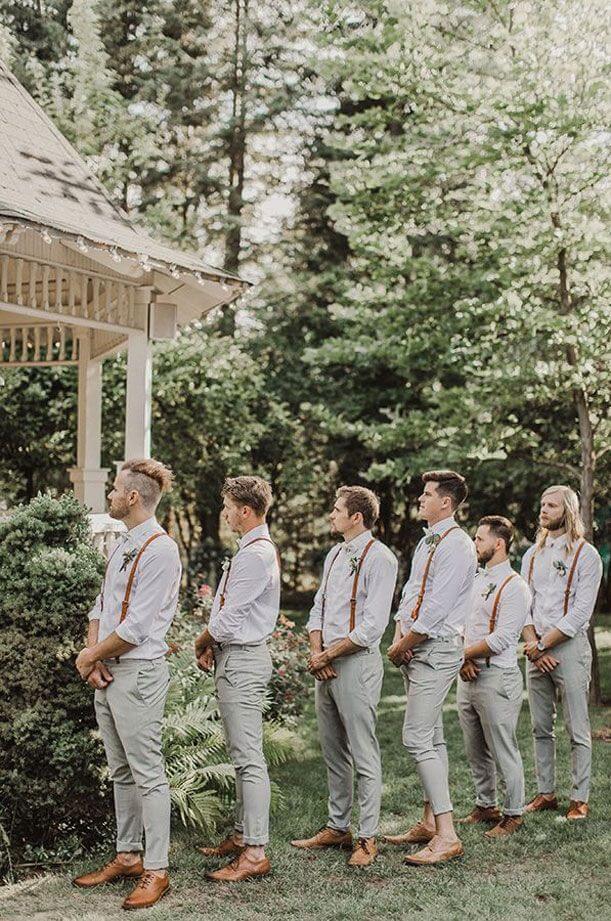 Dresscode is important, too. The best men are wearing a plain white button up shirt with a bow tie.
While the pants are slightly grey, the brown faux leather shoes are matching the latched. As a touch of a rustic style, a small flower decoration is slipped into the pocket.
Best Men and Bridesmaids Dresscode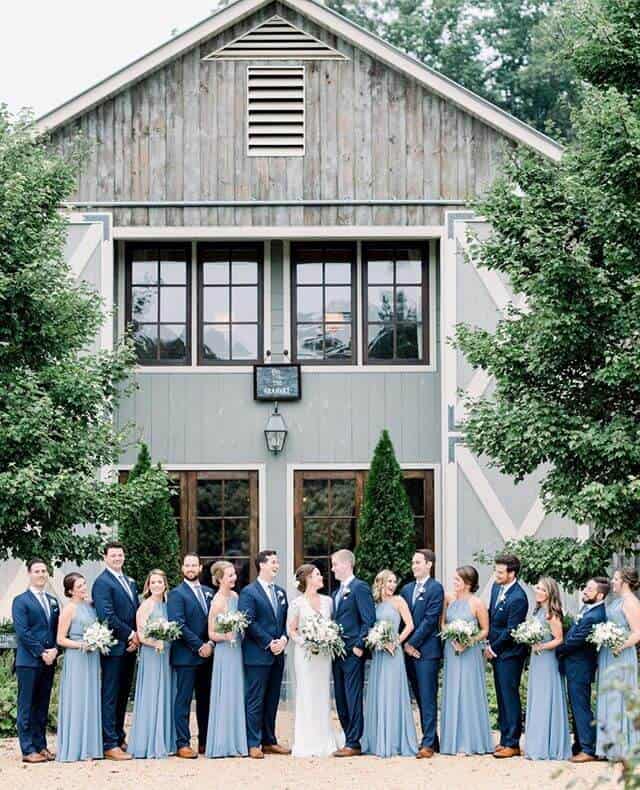 The dresscode terms are not only for the best men or the bridesmaid. At times, they need to match each other.
At many times, this becomes a moment of playing the cupid. Sometimes the bride and the groom try to match their single friends.
The bridesmaids and the best men are looking great with navy blue suits and brown leather shoes, while the ladies are elegant in pastel blue gowns.
Rustic Bouquet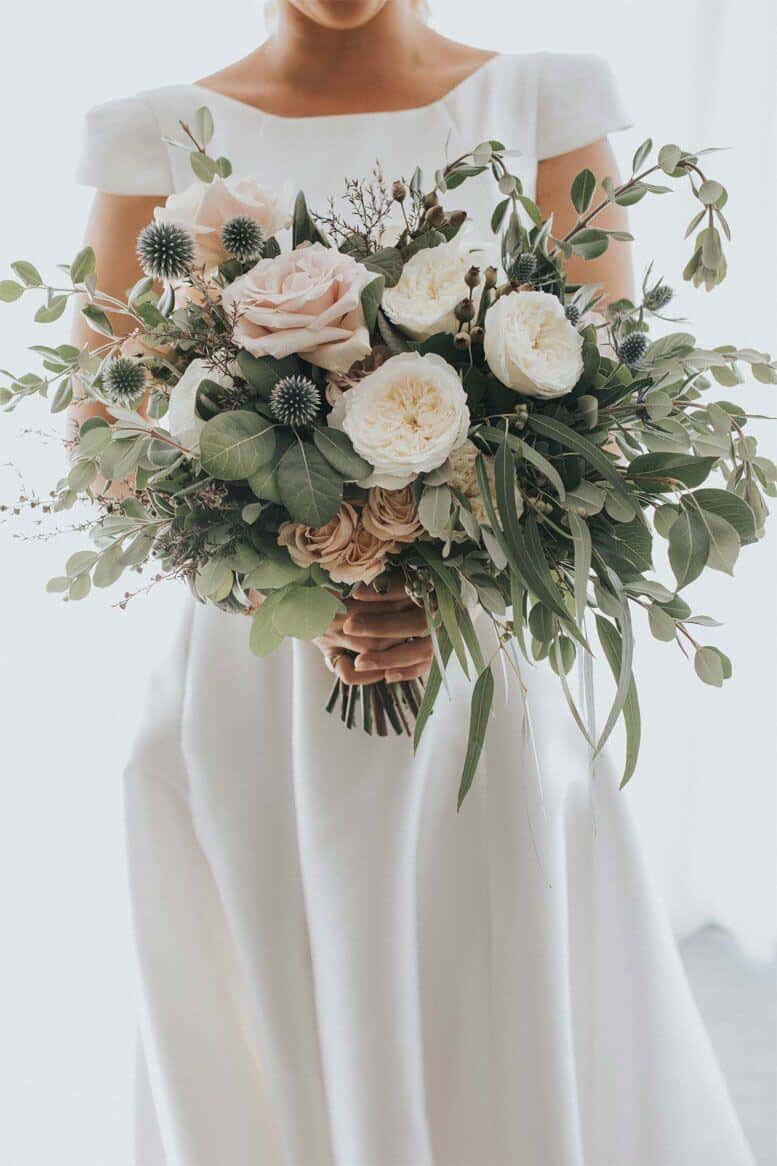 Some ladies prefer their bouquet luxurious, while others want to go back to nature.
Rustic style learns from nature; going as modest as possible, because simplicity is the key importance of this style.
This flower bouquet is consisted of white and pink roses. It looks pretty, yet mesmerizing at the same time.
Rustic Wedding Venue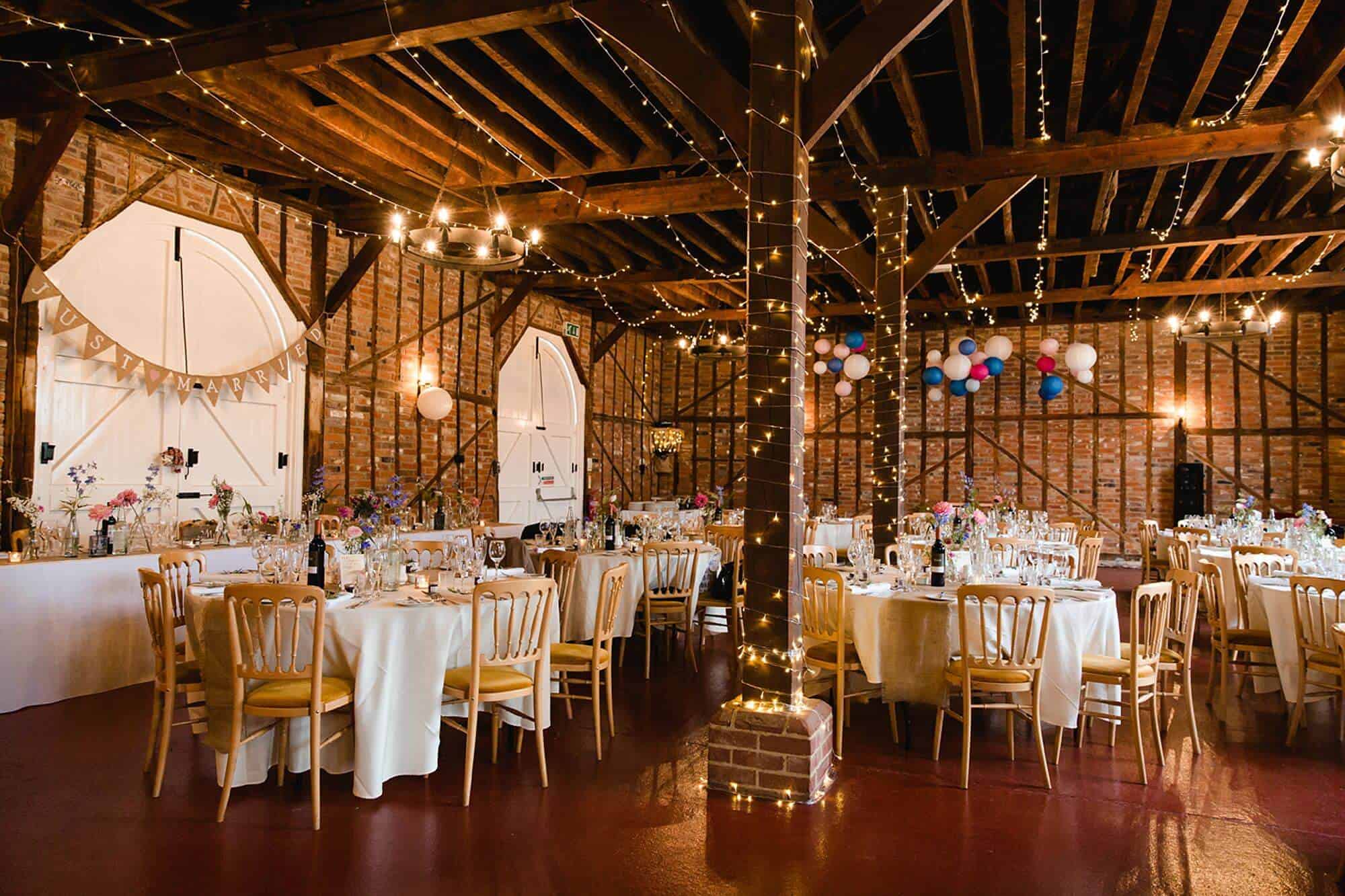 A wedding venue is an important part of the occasion. It has to represent your style. Going with a rustic, country living style, this barn-like hall should fulfill the dream. The wall is still in its original brick form.
Complete with wooden pillars and beams, the room is decorated with small tumblr lights, giving the space a right ambience.
Rustic Wedding in An Open Barn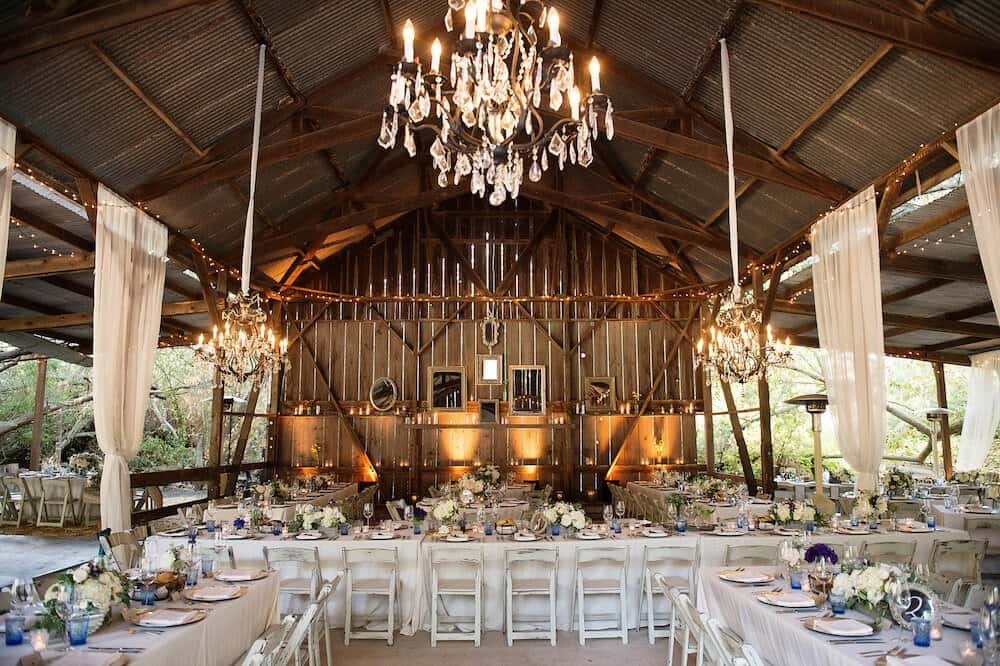 Barn is a good place to make the rustic wedding dreams come true. Probably not a real barn in which there are still chickens, goats and cows in there. The type of this barn is an open one.
As you can see, the right and the left are directly facing the refreshing green sceneries. A huge chandelier decorates the ceiling, becoming the centerpiece.
Meanwhile, on the beams, installed tumblr lights.
Indoor Barn Wedding Hall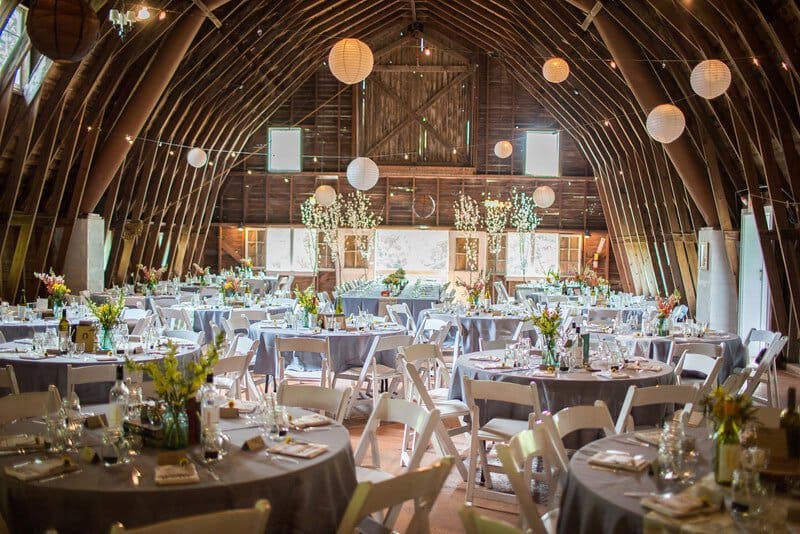 The open barn may give you some fresh air, but it can be a problem during the night. It's either cold air or mosquitoes.
If the wedding will go on until night, this indoor barn wedding venue is the best choice. The atmosphere is very intimate.
Moreover, the venue is full of recycled woods. Decorated with Chinese lantern, the wedding dinner feels awesome.
A Splash of Blue in the Ocean of Brown Woods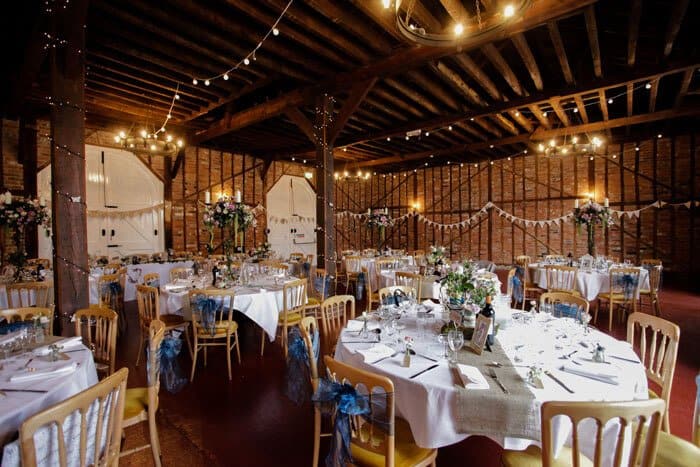 Since rustic design is very close to natural wood color–dark brown, it tends to be plain when it's too much.
To give a sense of refreshment, splash other lively colors there. This design uses white tablecloth to stand out and a splash of oceanic blue as chair ribbon.
Now the venue becomes more alive!
A Flowery Open Floor Plan Venue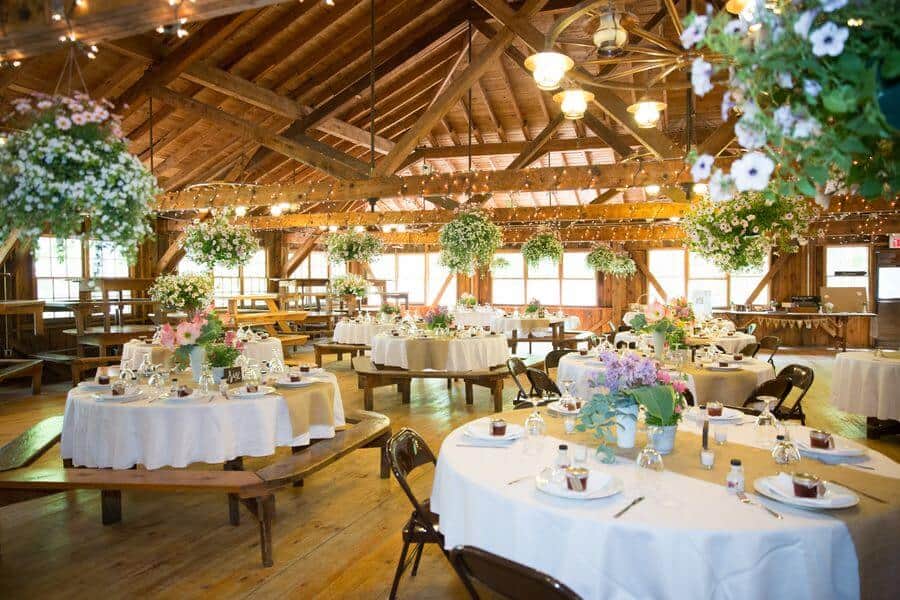 To make the room more alive, lighting also plays a necessary role. The chandelier is helped by the small tumblr lights vined over the beams.
Moreover, the dinner table is covered by white tablecloth with a stripe of light brown. The centerpiece is a purple babybreath in a long white vase.
Exposed Brick Wall Wedding Venue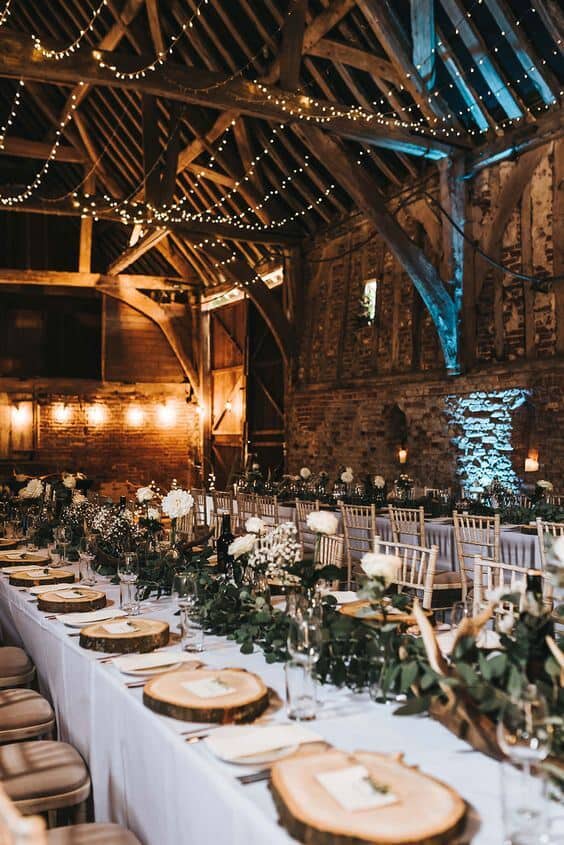 For a couple who seek for a medieval-like atmosphere, this is a great chance. The exposed brick wall brings you back to a century old farmhouse barn.
Moreover, the yellow-ish light gives the venue perfect warm ambience. On the table, a slice of a wooden log becomes a coaster. Some green leaves also decorate the middle of the table as a boundary.
Rustic Wedding Bar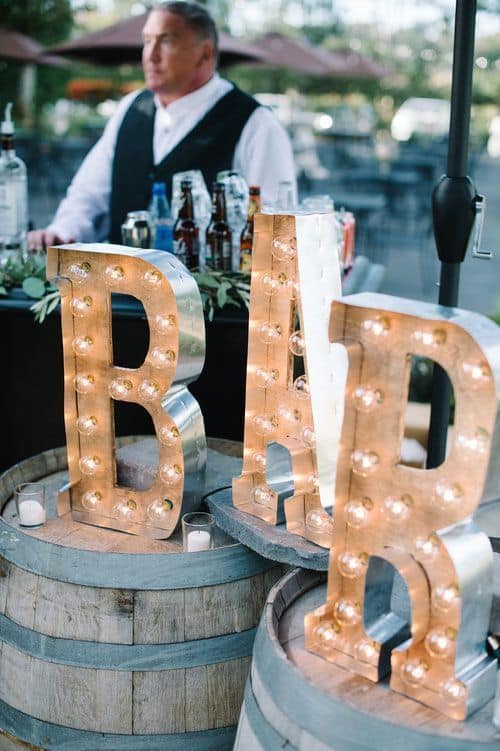 Bar is an essential for a wedding after party. How to create a rustic bar? Well, utilize old beer barrels as decoration.
Here, the barrels are used to place the B-A-R alphabet lamps. They are made of wood, too. Small bulbs are installed following the alphabet's shape.
That looks simple, but that certainly makes a statement.
Rustic Wedding Favor
Succulent Decoration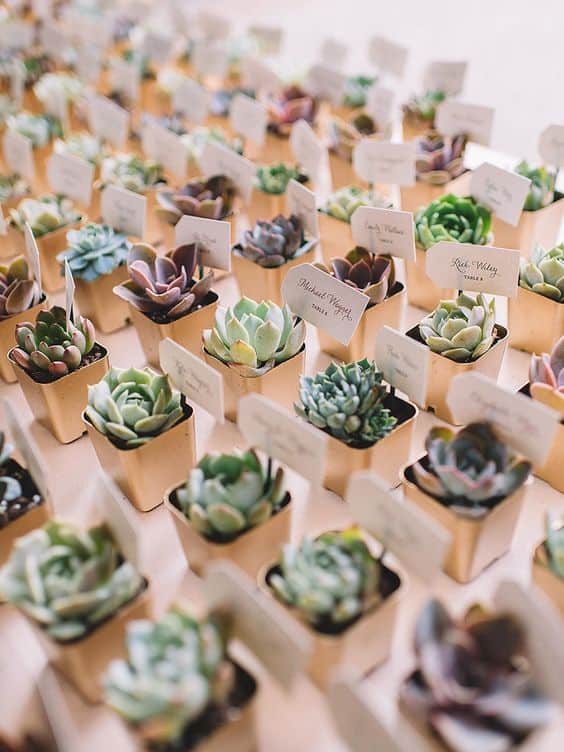 After the party is done, the guests are going home. Wait, they're empty handed!
Give them a memorable souvenir to carry home.
Many couples decide to give their guests something more practical, like a travelling pouch.
However, giving them a plant decoration is one of a kind, too. Moreover, if the plant is planted on a cute wooden pot like that. It certainly becomes a memorable piece of decoration!
Practical Snack Jar Wedding Souvenir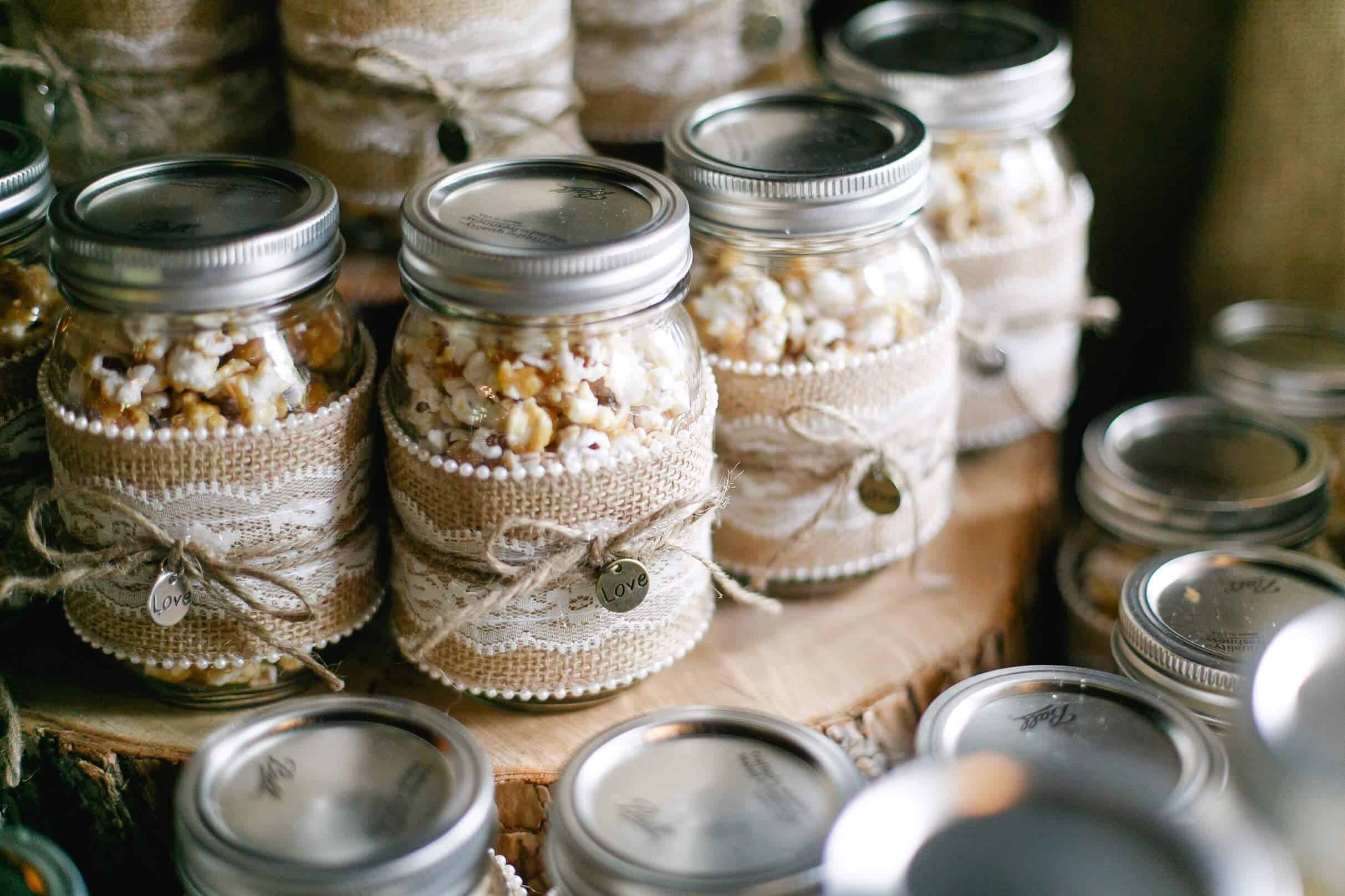 Another practical souvenir for your guests is a jar. It leaves you with so many options for the fillings.
Let's say you want to put easy to eat snacks, like popcorn. Later when it runs out, the guests can use the jar for anything,including liquid. Isn't a great idea?
Plant Seed for Wedding Souvenir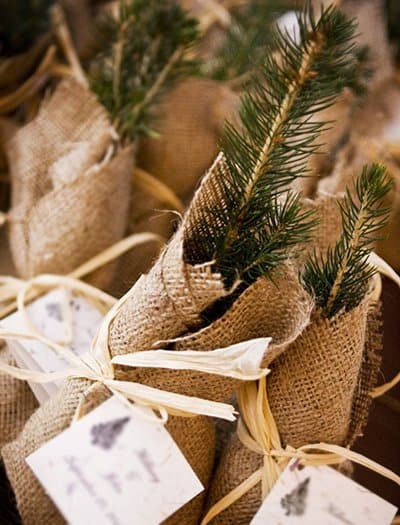 Wanna go anti-mainstream? Have you ever thought about giving your guests a plant seed? Well, here is an idea!
Since rustic theme is very close to nature, plant seed becomes possible. Covered the seed with weave and tie them neatly with a linen piece of fabric. Add a thank you letter would be nice!
Wedding Souvenir Take-Out!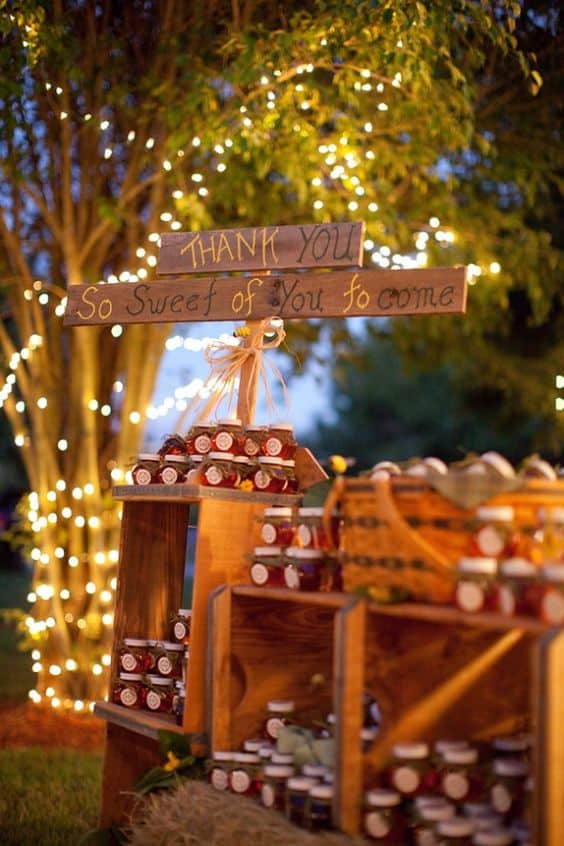 Rather than handing the souvenir in advance and risking forgetting who has received the items and who hasn't, let them take it on the way out. This is a creative idea which is also very efficient.
However, you need to make sure your guests take one for each person. Place the souvenir on a wooden display. Decorate the display with a little bit of hay to emphasize the country feeling.