Don Pedro Brooklyn is reader-supported. When you buy through links on our site, we may earn an affiliate commission. Learn More
10 Boho Nightstand Ideas
Nightstands are an essential part of every bedroom. They're useful for storing quick-access items that you may need right before bed or after waking up.
Bohemian style nightstands typically feature organic materials including wood, jute, and rattan. You'll also find plenty of woodcarvings and woven textiles when browsing for a bohemian side table.
However, finding the perfect nightstand can be tricky, especially when faced with seemingly endless options. Luckily, we've compiled a list of excellent boho side tables for you to choose from below:
Decorate with a Hand-Embossed Lotus Boho Bedside Table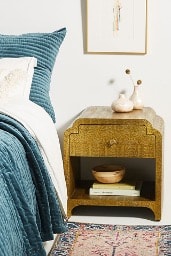 This side table contains a series of lotus flowers etched into its front drawer. Bohemian fashion throughout the ages has always welcomed new textures. It reserves a special soft spot for handcrafted products, making this nightstand an excellent option for your bohemian-style bedroom!
Plus, thanks to its subtle gold color, this nightstand can easily blend in with all the other boho-themed products within your space. You can also try placing some ceramic vases on the stand's tabletop to dress it up.
You Can't Go Wrong with a Patterned Boho Nightstand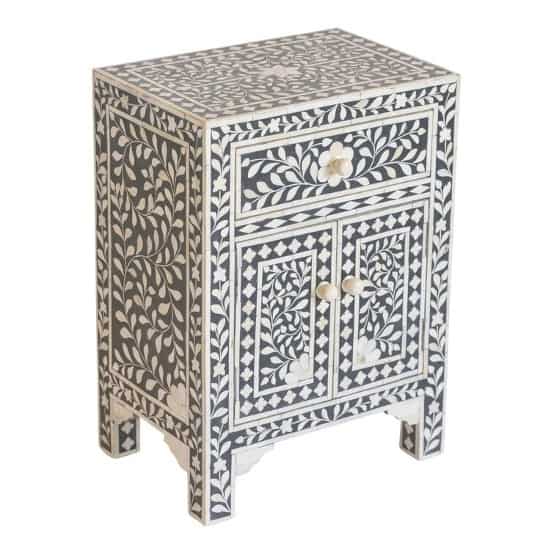 This lovely patterned nightstand is a bohemian classic! When browsing through boho-style shops and antique markets, you're bound to find many similar pieces.
In addition to a wide top shelf, this nightstand contains a double-doored storage cabinet. Thanks to it's covered design, you don't need to worry about your stored belongings garnering dust over time. This nightstand is also remarkably easy to clean and maintain, thanks to its smooth, lacquered finish.
Try a Hollow Wood Carved Nightstand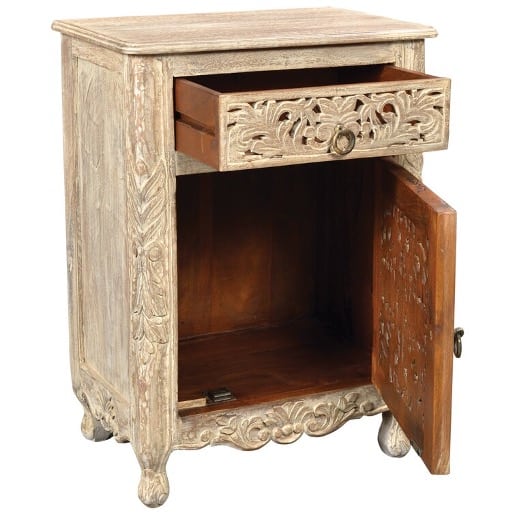 This ornate boho wood nightstand is equipped with a single top drawer and a bottom cabinet.
The lower cubby offers ample space to store your essentials. The additional drawer is perfect for stowing away sentimental bits and bobs.
Plus, you can use this night table's upper surface to stack your books and a reading lamp. It's the perfect piece of furniture for bibliophiles and those who need plenty of storage space!
This night table's light-colored wooden structure is an excellent fit for bohemian rooms, thanks to its simple palette.
Fancy Some White Wood Carvings?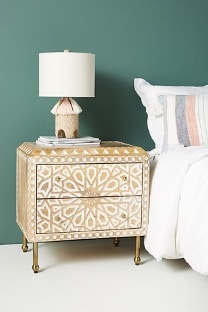 If the nightstand discussed previously isn't your style, but you're still interested in carved wood furniture, check out the one pictured here.
This particular table sports a set of two, spacious drawers and wide tabletop. Feel free to store important items within it and quick-access products at the top.
Thanks to its golden knobs and legs, this piece radiates an aura of grandeur while still maintaining an organic, bohemian vibe.
Select a Single-Cabinet Stand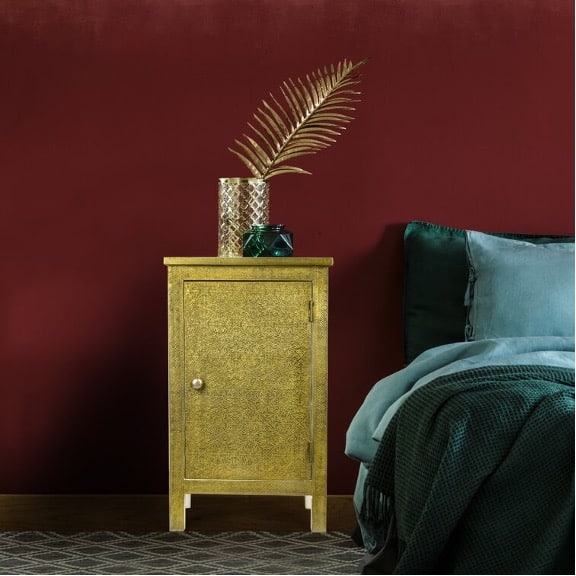 If large, wooden devices don't suit your space, why not opt for a colored nightstand instead?
This yellow-green bohemian bedside table is ideal for compact spaces.
So, if you're looking for a nightstand for your small bedroom, this is an excellent option worth considering. It contains a single cabinet and modest tabletop space. But don't be fooled by this device's sleek appearance – it can accommodate all your nightstand essentials with ease!
Change Things Up with a Rustic Modern Bohemian Nightstand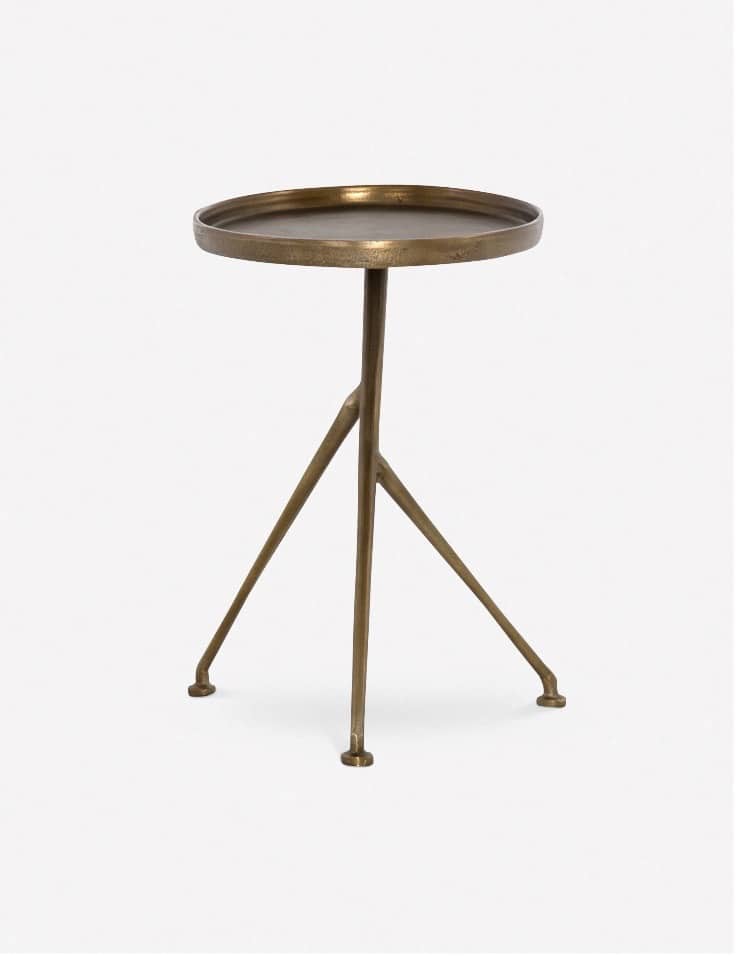 This stylish metal table is an excellent alternative to regular nightstands.
Thanks to its spacious top, this stool is perfect for storing nighttime essentials. It's also the perfect option for those interested in non-traditional, minimalist bohemian furniture. Plus, its dull gold coat gives it a gorgeous rustic charm that's hard to resist.
You can dress up this table by stringing fairy lights across the bottom. They'll look lovely glowing against its rustic metal finish!
Opt for Low, Roped Bohemian Nightstand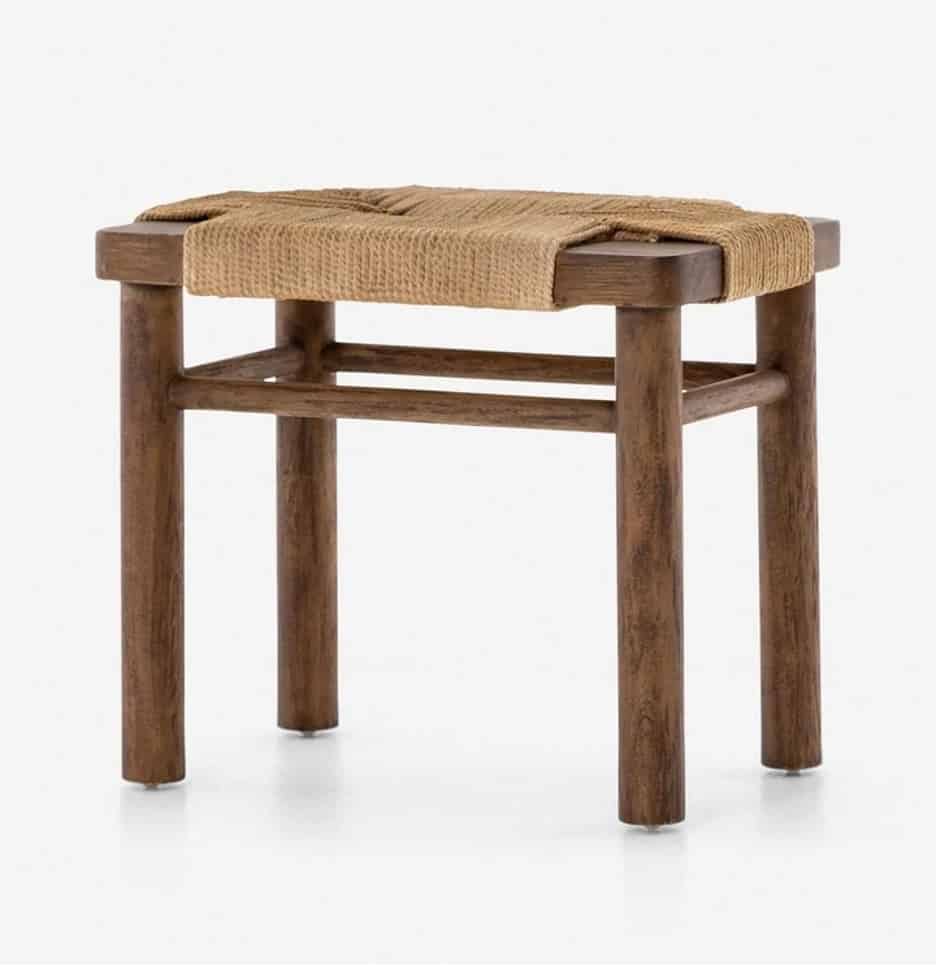 This fascinating bohemian bedside table features a thin rope weave atop a medium-brown wood base. It pays homage to bohemian design with its innovative use of organic materials like jute rope.
This table offers enough tabletop space for you to store your bedtime reading material, night lamp, and more. Its versatile brown base will help it comfortably blend into any home environment.
Place a Washed Wood Nightstand Near Your Bed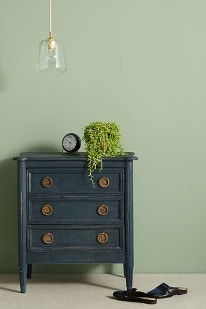 This splendid nightstand features a subtle distressed texture set upon a dark teal base. Its rounded golden handles add to the table's bohemian charm and give it an elegant appearance.
This night table is also reminiscent of Rococo furniture, thanks to its multi-drawer dressing-table style build. However, unlike Rococo's typical pastel pallet, this nightstand employs a more luxe color scheme that gives it an air of subtle grandeur.
Add Texture with a Colorful Wicker Cabinet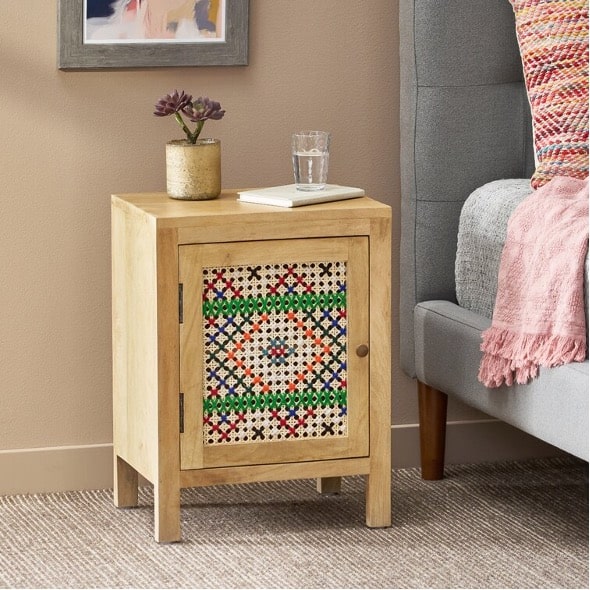 Wicker cabinets aren't an everyday occurrence. So, if you're searching for a unique piece of furniture that's bound to stand out amongst the rest, this nightstand could be the answer!
It features an interesting fusion of green, blue, red, and orange set upon a white base. The overall wicker design is set within the cabinet's door.
This strategic placement helps enhance the nightstand's look by giving it a strong bohemian appeal and adding a pop of color to its otherwise mundane appearance.
Elevate Your Style Game with a Hand Painted Wooden Nightstand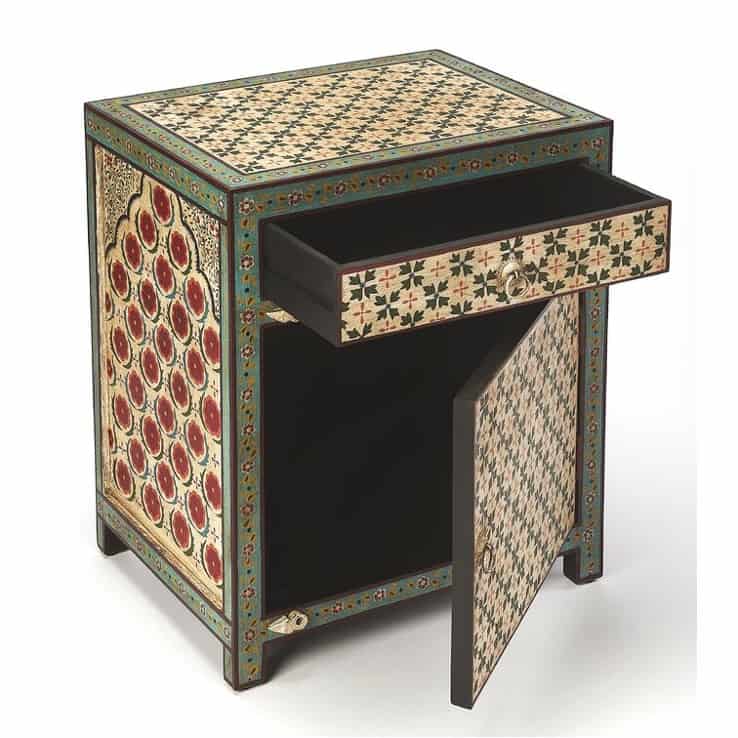 Floral patterned furniture has become a staple in bohemian and vintage interior design due to its undeniable popularity.
This nightstand features unique patterns, including a red floral print, teal borders, and a checkered white front and tabletop. The combination of these classic patterns makes this an exciting, versatile piece. You can comfortably pair it with most other boho-style furniture pieces, thanks to its diverse prints.
Final Thoughts
From reed weaves to rustic finishes, the collection featured above has it all!
Consider your priorities before finalizing your nightstand selection. For example, if you require ample storage space, opt for a large, wooden side table. But if you prefer minimalist furniture, consider setting up a boho-style stool, instead.