Don Pedro Brooklyn is reader-supported. When you buy through links on our site, we may earn an affiliate commission. Learn More
12 Modern Black and Grey Bedroom Ideas
A bedroom is one of the most important places in your household. It's a place where one can rest and refresh, so it's important that you make your room as comfortable and relaxing as you can.
Choosing a set of colors for your bedroom is the main factor when it comes to renewing your space. Combing black and grey will make your room peaceful and de-stressful and the rich palette will usher in originality and beauty. Here are some black and grey bedroom ideas that might inspire you.
Black Walls Will Make Your Space Elegant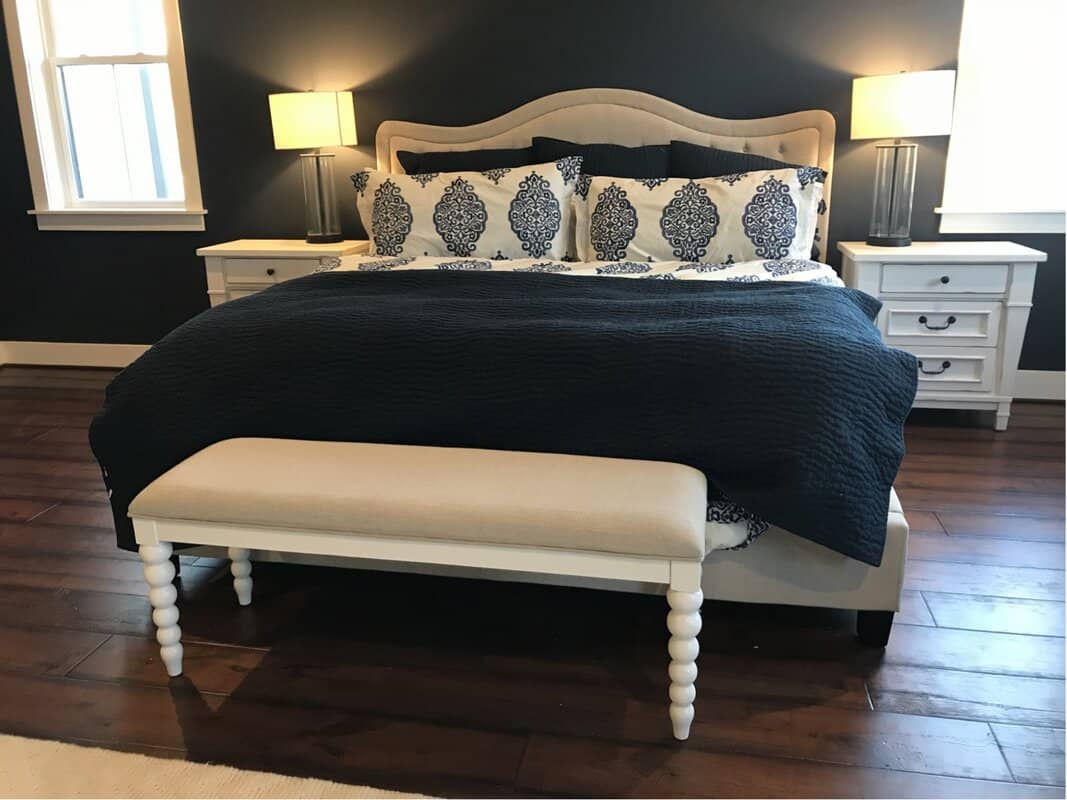 Having your walls painted black might seem a little bit bold and unusual, but it's nothing to sleep on. The deepness of the black color will make your bedroom elegant and dignified, and yet the same deep shade will give your space cozy and warm vibes.
The first thing anyone who steps into your room will see is the tall black walls, so it's important to bring some contrast to your space. A great way to achieve that is by choosing grey-colored bedding or placing a few white-colored nightstands.
Add A Dash Of Chic With Lush Black Furniture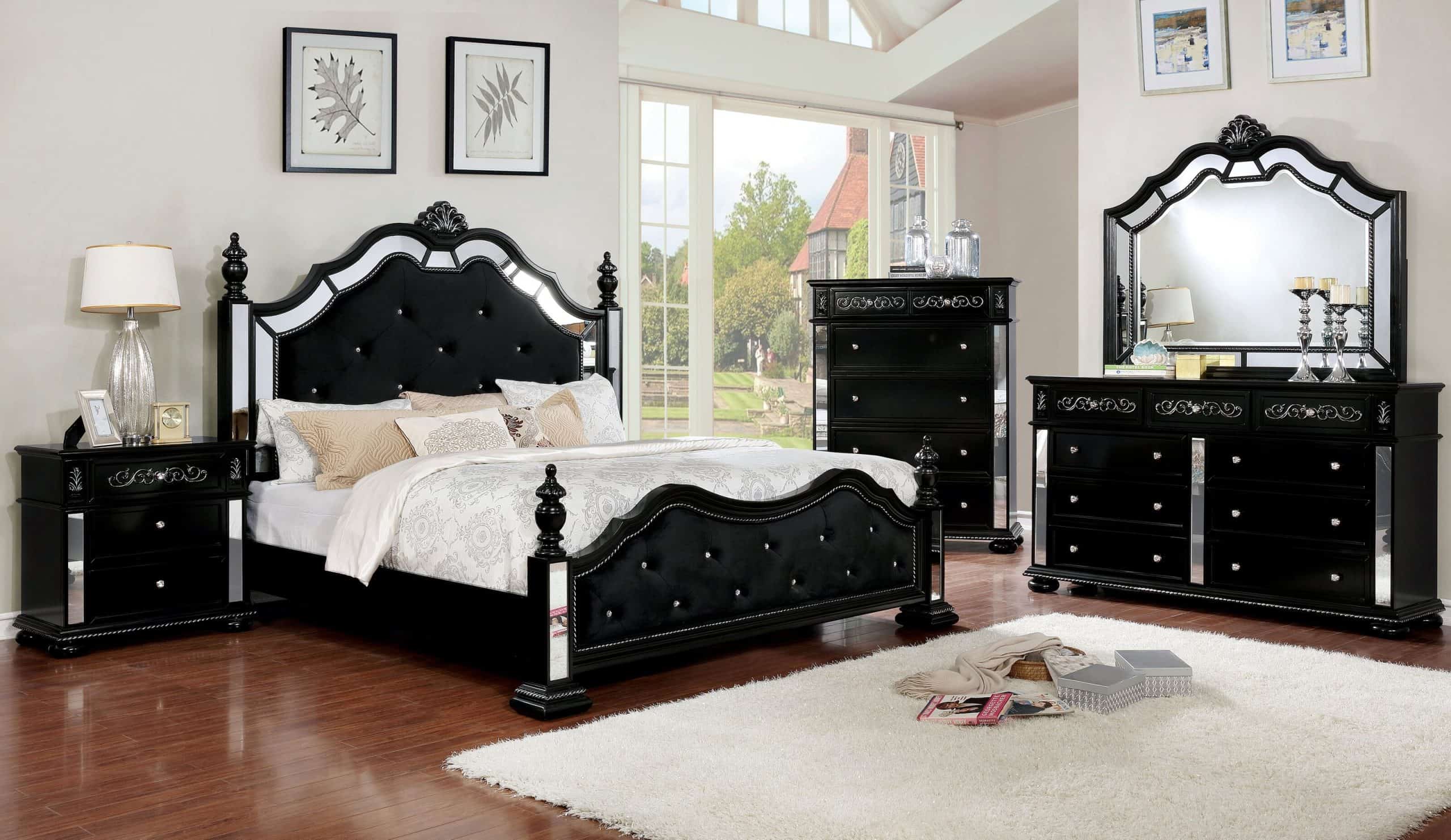 Nothing makes a statement like adding plush black furniture into your bedroom. Although not for everyone's taste, black and lavish textiles and furniture will give a chic vibe to your modern black and grey bedroom.
Grey walls will act as a perfect background for your new furniture. It won't take the spotlight of your room, meaning that the furniture will still be the main attraction. Moreover, the subtle grey will complement the black elements in your bedroom.
Spruce Up Black And Grey Bedrooms With Vibrant Accents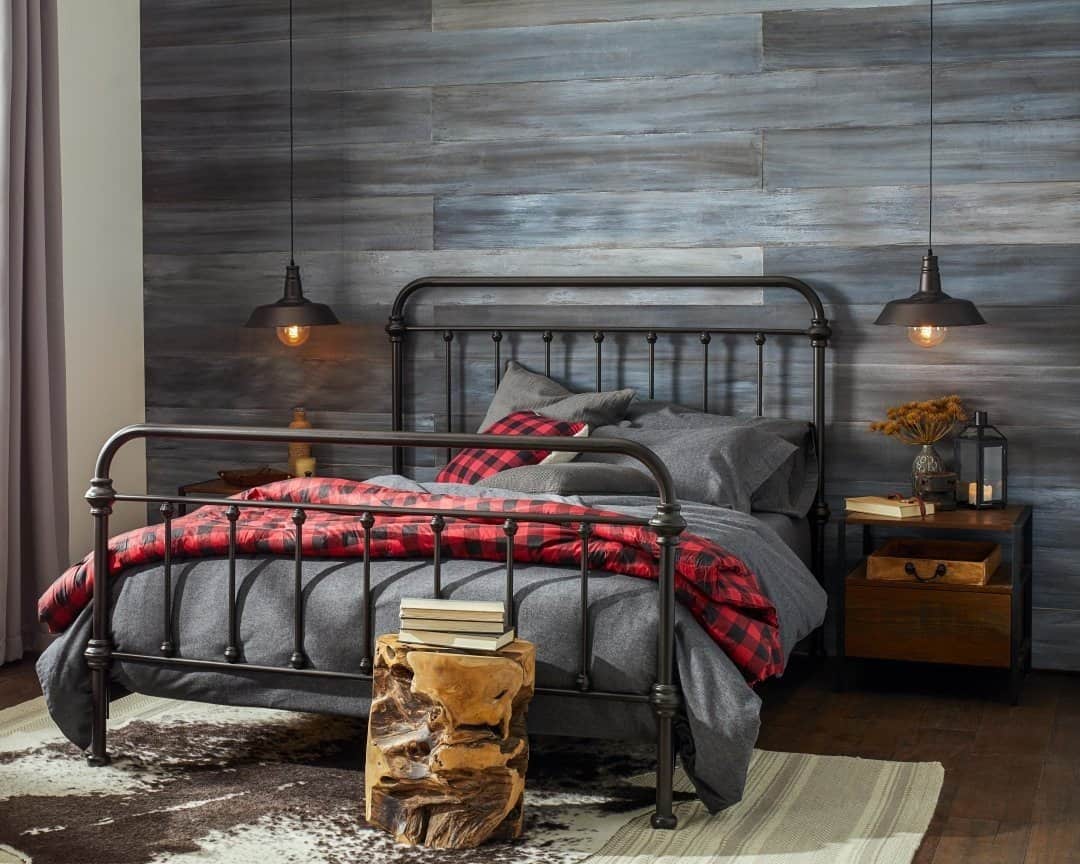 As we have said before, a black and grey palette will do wonders for the aesthetic of your bedroom. However, if you still think something might be missing, then maybe you should add a splash of a contrasting color.
Having a brightly colored cushion or a throw blanket on your bed will make the whole bedroom a lot more interesting and fun to look at. While the black and grey combination will still act as a good and welcoming background, the pop of color will act as a focal point and will round up your ensemble.
Mix And Match Shades of the Same Color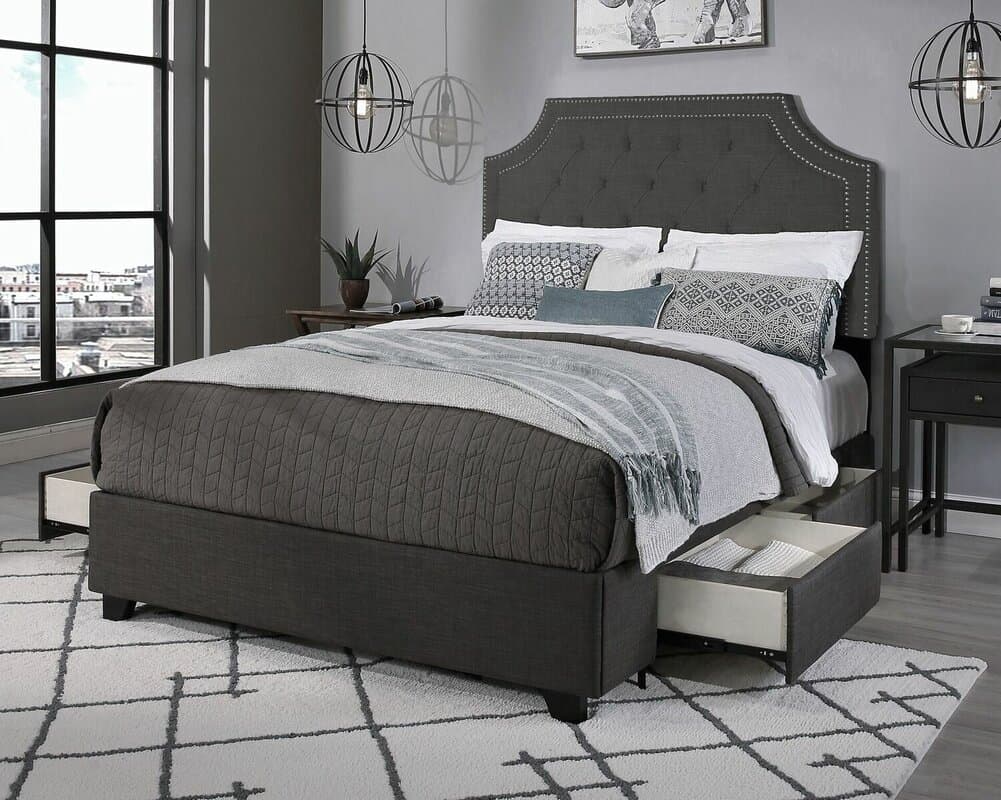 Another great way to make your bedroom lavish and visually pleasing is to have many shades of the same color. Don't worry about it being distracting or over-the-top. The slight color change will add a layer of deepness to your room.
The best place to have your array of shades is probably the bed. Having your bedding in many shades of grey will make it a focal point. You can have your sheets, blankets, throw blankets, or even the headboard all in different hues.
Set the Atmosphere With Patterned Sheets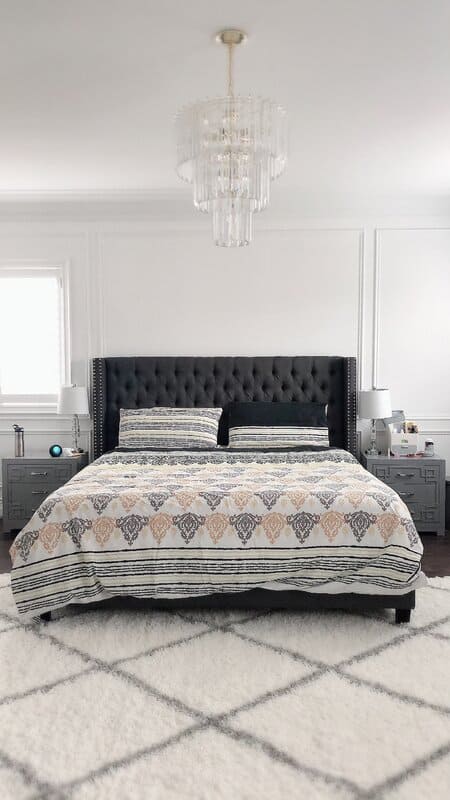 Using patterned sheets or bedding in your modern black and grey bedroom will usher in some homey and traditional vibes, making your bedroom even more welcoming and peaceful.
Apart from adding to the overall style of your room, patterned sheets will allow you to express yourself. You can go for elegant and pleasant grey patterns which will fit in nicely with the rest of the bedroom, or you can go for lively colors that will brighten up the mood of the room.
Create a Focal Point With Wall Art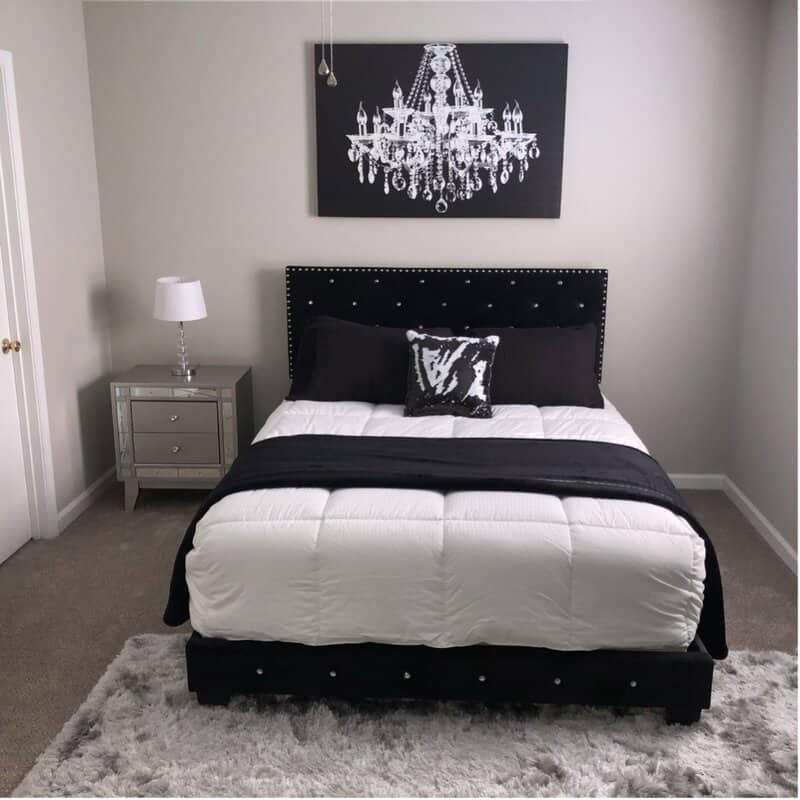 An easy way to create an expressive and captivating bedroom is by hanging up a wall art or two. It will hint at the owner's taste as well as his artistic side. You can choose many smaller paintings or photos, or you can create a central piece by going for a bigger art installation.
Having your wall art in black color will fit perfectly into a grey bedroom with black furniture. Scattering these black accents on four walls will create a sense of presence and harmony in your space.
Usher In Traditional Vibes With An Old-School Platform Bed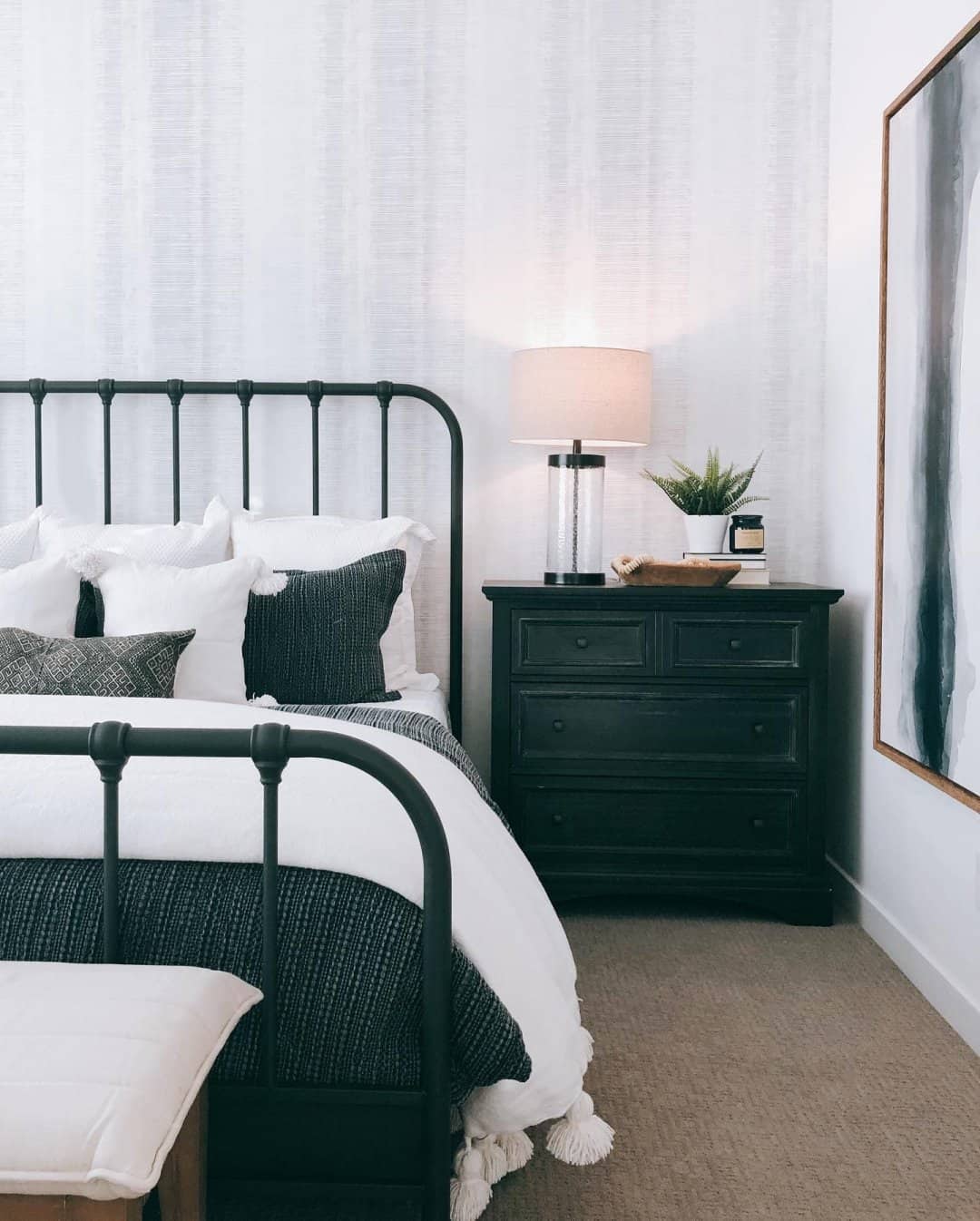 Enrich your bedroom with minimalistic and traditional vibes with a black platform bed. Simple, classic, and solid, this bed made out of sturdy metal will add a finishing touch to your bedroom's ensemble.
Apart from offering stability and comfort, this bed has under-bed storage which will create more space in your room. Connect this black bed with other black accents in your bedroom, like cabinets, nightstands, or wall art, and you will have a perfect and balanced bedroom.
Brown Color Is a Gentle Addition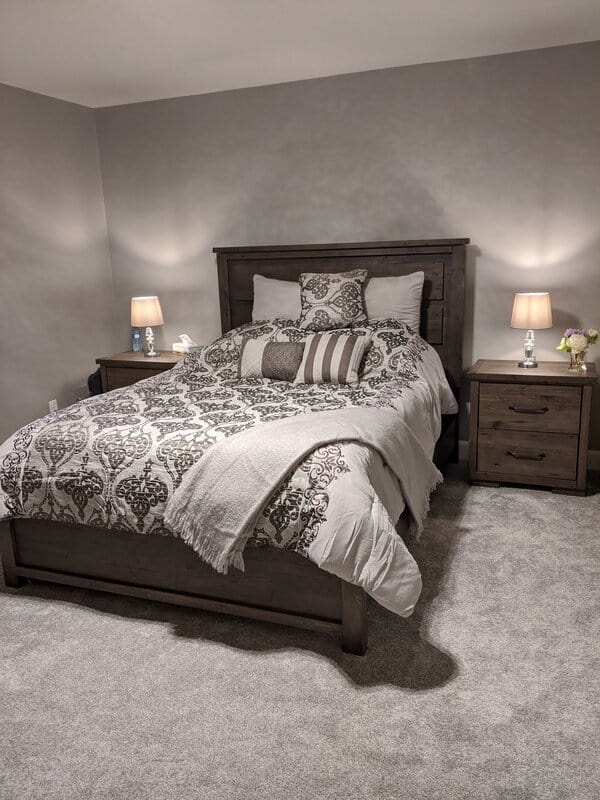 If you want to enrich your black and grey bedroom, but don't want to usher in any contrasting bright color, then you should check out shades of brown, especially coffee bean color. Brown won't clash with the other two primary colors, but it will add its take to the ambiance.
You can add a dose of brown to your room in accents, like having a brown pillow or a throw blanket. Another way is to have wood nightstands with a coffee bean color finish. Bonus points if your headboard is of the same color.
A Textured Rug Will Add Another Dimension to the Bedroom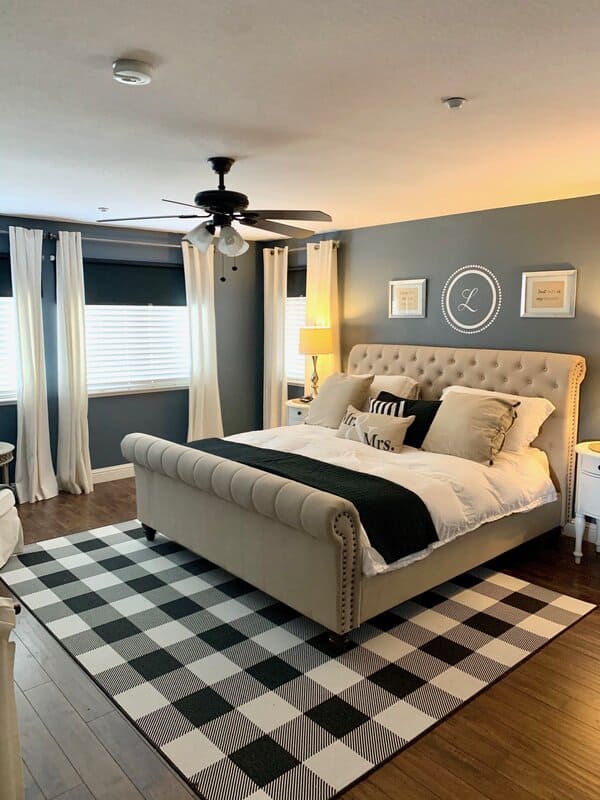 You can always jazz up your bedroom with a rug. You can go for your take on colors, which is encouraged, but if you want to stay true to your aesthetic, picking a black and grey textured or patterned rug is a safe choice.
These kinds of rugs will make sure that your bedroom is comfy and welcoming. Whether you go for thick or thin rugs, they will make the space warm, while the patterns and textures will create visual interest.
Pay Attention To the Ceiling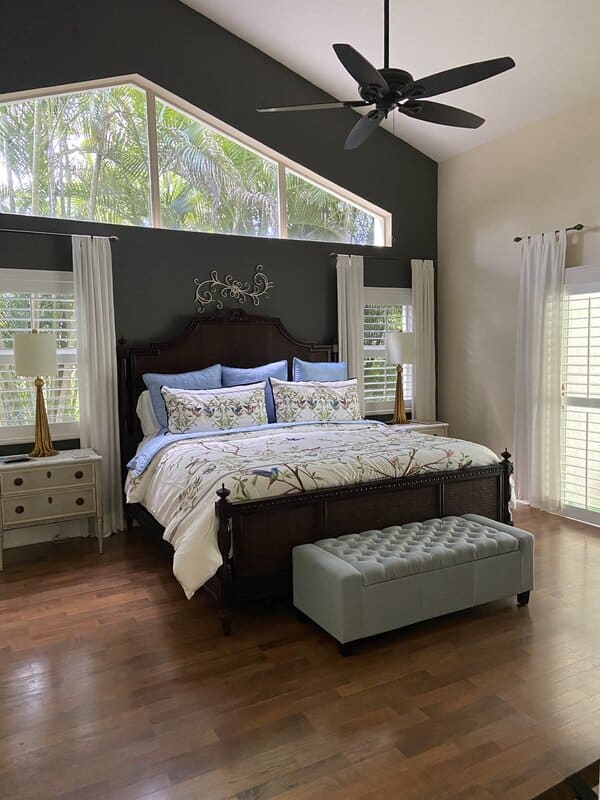 Many people focus solely on the bed and the furniture when decorating their bedroom and leave their ceiling barren or equipped with an unfitting lighting choice. This makes the room seem abruptly finished and awkward.
When designing the interior, it's important to take care of the ceiling. Having a subtle lamp or a chandelier is a great way to add lush details to your room, as well as keep it illuminated. Another great choice to treat your ceiling with is a blade fan (black if possible) that will fit neatly into your modern black and grey bedroom.
Mirror Is a Must-Have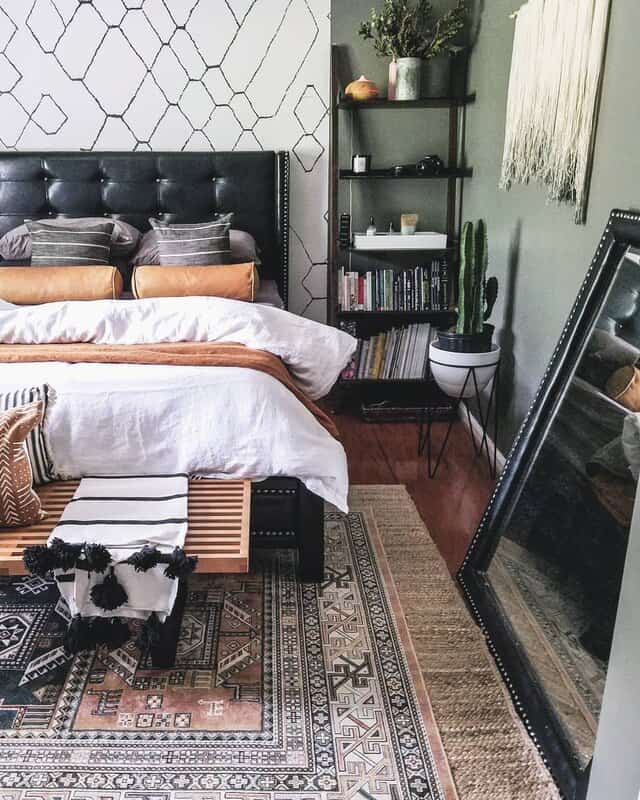 A bedroom, no matter the style, should always have a mirror around. It makes small and dim rooms seem spacious and illuminated. And above all that, mirrors make your bedroom eclectic and modern.
There are many types of mirrors, from oval and round to rectangle shapes, but there are also many places where you can put them. If you choose a black frame for your mirror, it will act as a touch of black in your room while also drawing attention to the centerpiece in your room.
Differently Colored Walls Create a Dynamic Space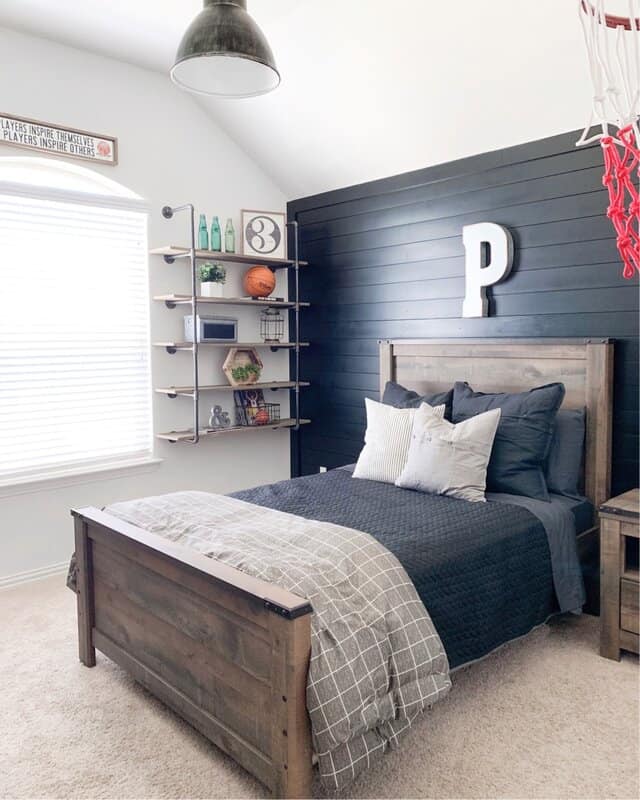 Another way to spruce up your black and grey bedroom and create some variety is by having contrasting walls. A full black wall will demand attention from the other grey or white walls, creating dynamics in your space.
If you want to amp up the black, you can add wall art or some other type of black-colored ornaments to your bedroom. Just be careful not to hang them on your black walls, lightly colored walls are there for it.
Summary
As we have said before, the bedroom is one of the most important places in your home. It's a place where you can rest and prepare for the everyday stressful life these modern times bring. So it's important that you make your oasis perfectly snug and comfortable.
The black and grey color combination is a safe and neutral choice that will guarantee the coziness and peace of your bedroom. It is also a fun palette that allows you to create your own unique and fun style. We hope we've inspired you with our black and grey bedroom ideas. Happy shopping!