Don Pedro Brooklyn is reader-supported. When you buy through links on our site, we may earn an affiliate commission. Learn More
Small Bedroom Ideas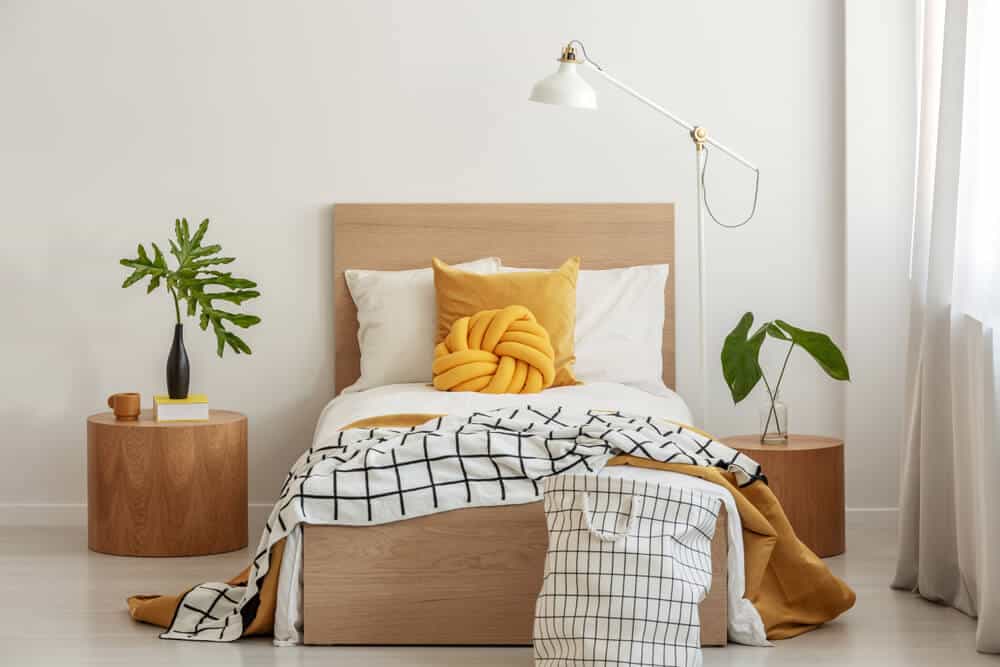 As the price of housing keeps increasing each year, getting smaller living spaces has become a common phenomenon, especially in big city areas.
In a crowded area, which offers smaller houses, comes with small bedrooms. Many of us thought that size would affect us severely.
However, there are many reasons why a small bedroom is a better choice.
For instance, it is easier to be organized; it provides that extra-cozy feeling; it is an environmental and financial-friendly space to manage.
Learn how these ideas maximize the room and transform it into an exceptional living space.
Bright Minimalist Bedroom with "Natural" Set Up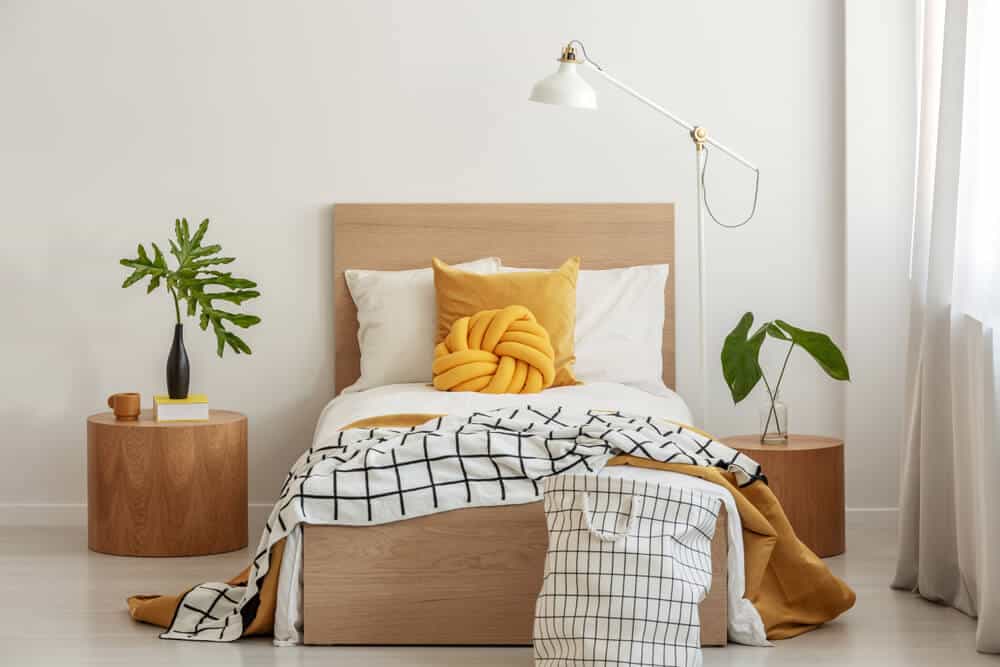 What a small bedroom doesn't have is a large wall.
To deceive the eyes into thinking that it is large enough, choose white to paint the wall and then leave it clean, without wall decoration, so it looks light and bright.
To support the brightness, you need to go soft by applying a warm natural tone of woody brown on some furniture such as bed frame and round bedside table.
However, to avoid looking plain, a checkered blanket truly pops up.
Minimalist Bedroom with A Murphy Bed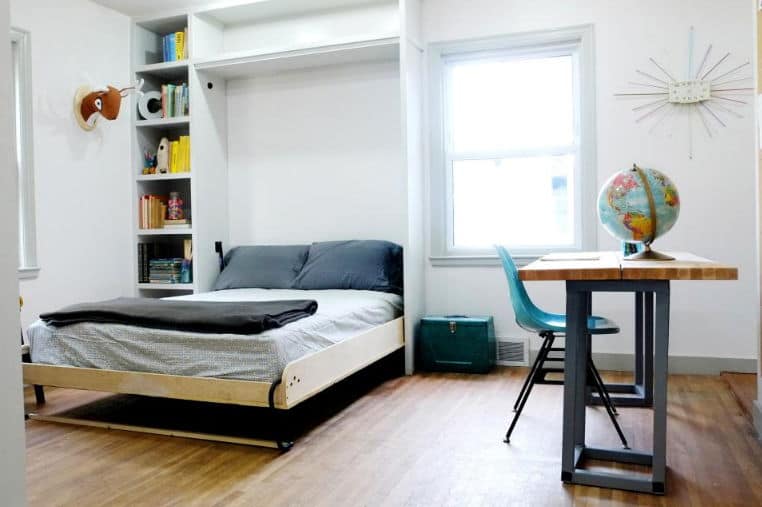 A Murphy bed, or commonly called a pull-down bed, is an innovative item that is suitable for a small bedroom.
It gives you a large free space for moving around when it is not used.
The bed is actually hinged inside the closet or cabinet; that is why, sometimes, people call it the closet bed.
Accompanying the Murphy bed with clean white background makes the room so open and airy.
Small "Aisle" Bedroom with Built-in Storage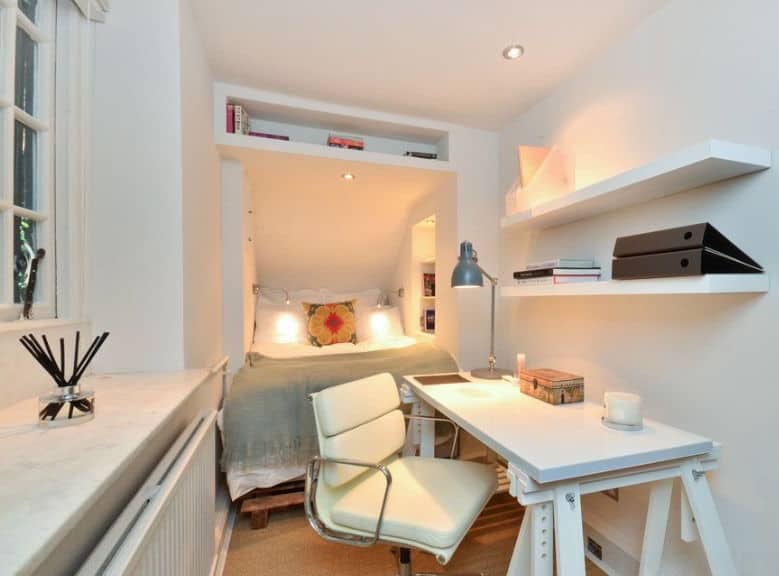 Transforming an "aisle" size space into a cozy bedroom requires smart planning.
This room shows a brilliant way to use all available space such as the floating shelves above the desk, storage above the bed, and built-in hidden storage at the bedside.
Since the room is small, white needs to be involved in making the room slightly bigger.
Baby Blue on White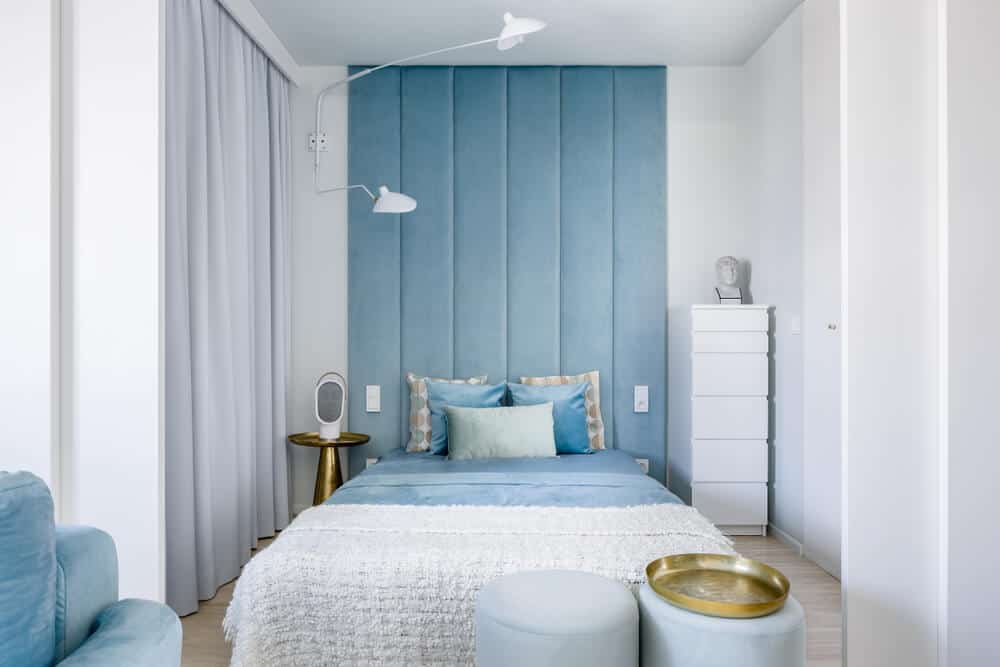 White is not always the only option to create a bigger look to a small bedroom. Pastel colors work splendidly too, for instance, baby blue color.
Traditionally, this color is used for welcoming a baby boy. Still, we can put that aside because it is actually for everybody.
The background of the room is white and clean, then baby color gives an accent on the main wall.
From afar, it looks like the headboard goes all the way to the ceiling. A pop of gold color here and there is good too.
Working on A Small Space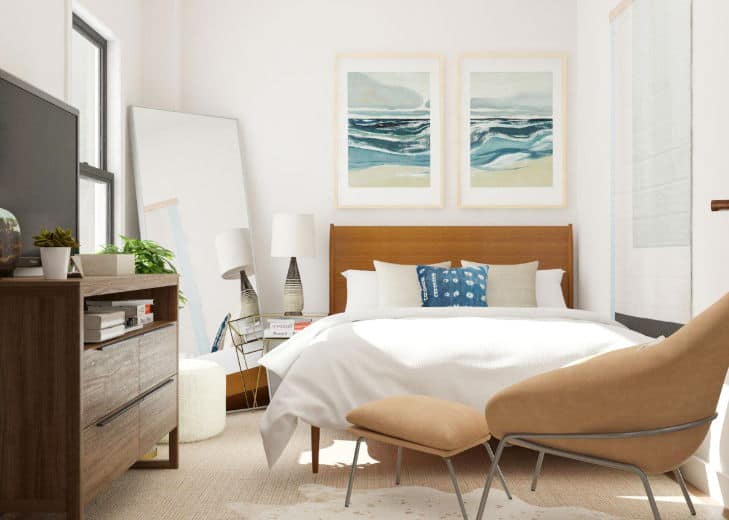 Avoid centering the bed; instead, put the bed against the corner. On the side, you will have a room for a metal wire bedside table.
On top of it, a lampshade table light is placed. Beside the table, you still have room to lean a full-body mirror against the wall.
For extra storage, employ an oak drawer with a top open shelf. To create a personality, hang some wall decorations such as paintings of your favorite scenery.
Doorway Curtain Instead of Doors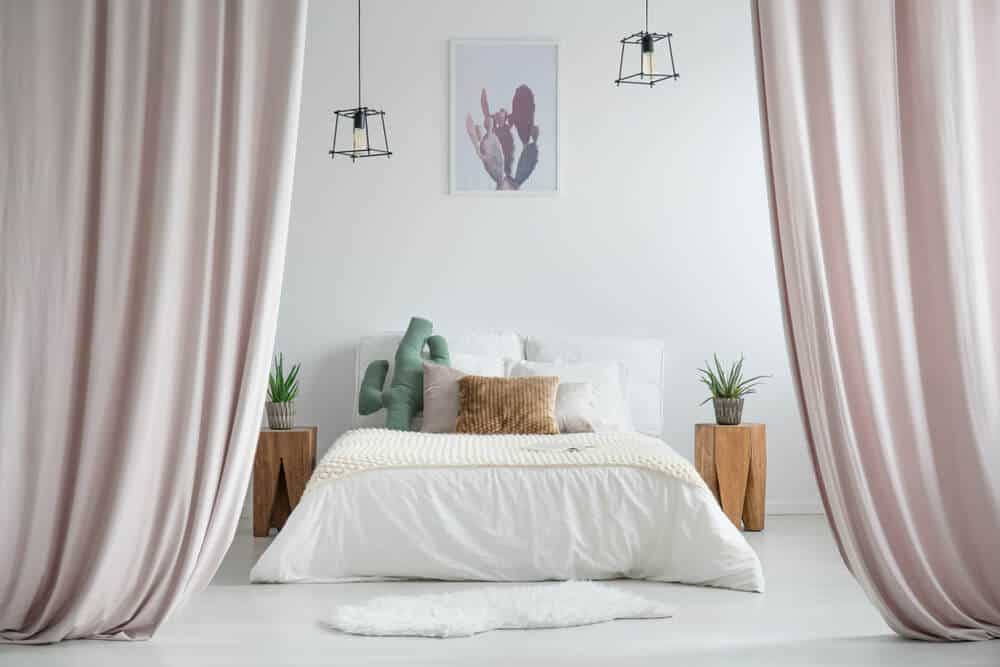 One of the solutions for a small space is to get rid of the doors and replace them with curtains.
Other than saving space, this idea allows you to enhance the room's visual interest.
When white is employed to color the background wall, you can go with lavender-pink. For light fixture choice, a retro pendant looks perfect. It goes well with large slabs bedside.
Purple Ethnic Bedroom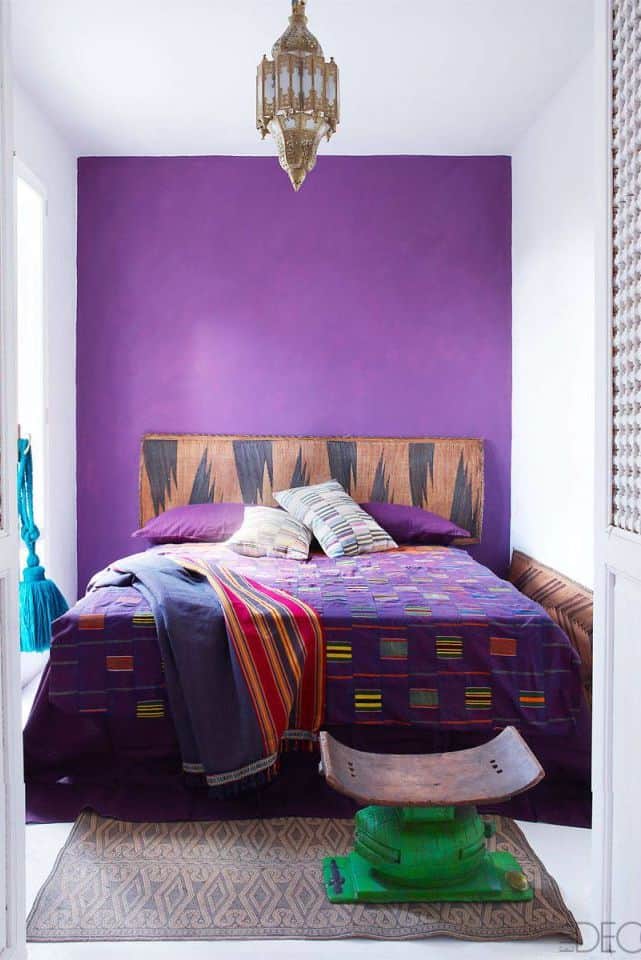 This minimalistic design includes a combination of purple and white. The main wall behind the bed is purple, which is then extended to the bedsheet and the carpet underneath.
Ahead of the purple carpet, there is a lovely ethnic carpet design.
On it, the owner puts a creative wooden foot stand.
From this room, we can't leave out the mini french empire chandelier. Its golden finish brightens up the entire space, giving a touch of elegance to the room.
Going Dark with Globe Style Lighting Fixture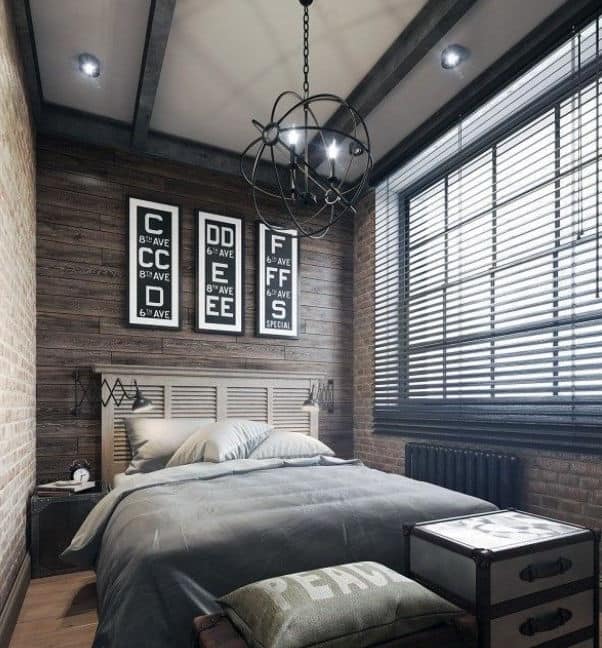 Creativity is unlimited, and so does the effort to maximize its function.
Many believe that a small bedroom should only be painted with neutral and bright colors.
However, this idea proves otherwise. The wall is covered in exposed-brick wallpaper, which gives out a rustic feeling.
To play along with it, a globe style chandelier is fixed.
The theme is well maintained by using a reclaimed door as a headboard, antique metal chest as a nightstand, and vintage trunks, which has been redesigned as a foot stand.
Light and Airy Small Bedroom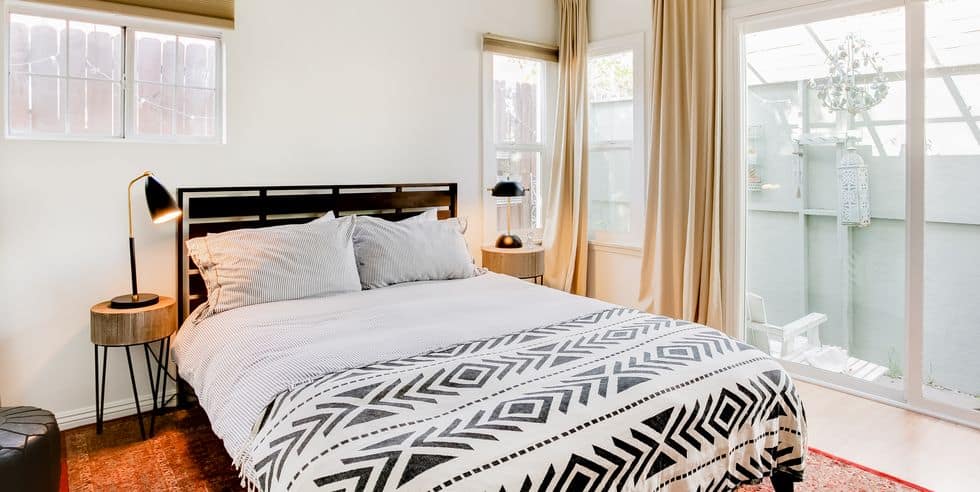 White is a prevalent color chosen by those who fancy a small bedroom.
Popular belief says that white paint can receive light better than dark colors so that the room feels more airy and open.
To tackle the "boring and plain" look, you can add some accents to emphasize your personal styles.
Things such as the tribal blanket, rustic industrial headboard, round slab side table with hairpin legs, and gold-colored drapes, are some of the accents you can try.
Efficient Loft in a Small Bedroom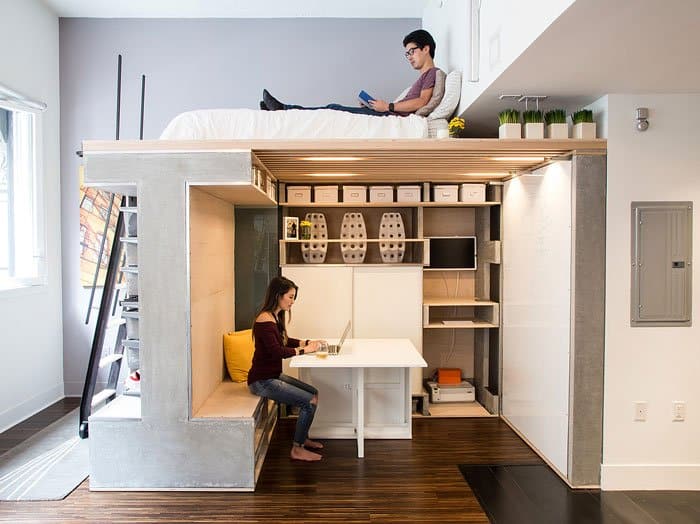 Speaking about transforming a small bedroom, this loft living idea allows you to maximize the room's function to more than sleeping.
The high ceiling provides a comfortable space for storage and seating area underneath the bed. If you are worried about rolling to the side of the bed, you can have some protective bars.
To make the room looks airy and open, white or slightly gray can be chosen to decorate the wall. To give a contrast, you can apply dark flooring.
Being Strategic with Minimalist Small Bedroom Design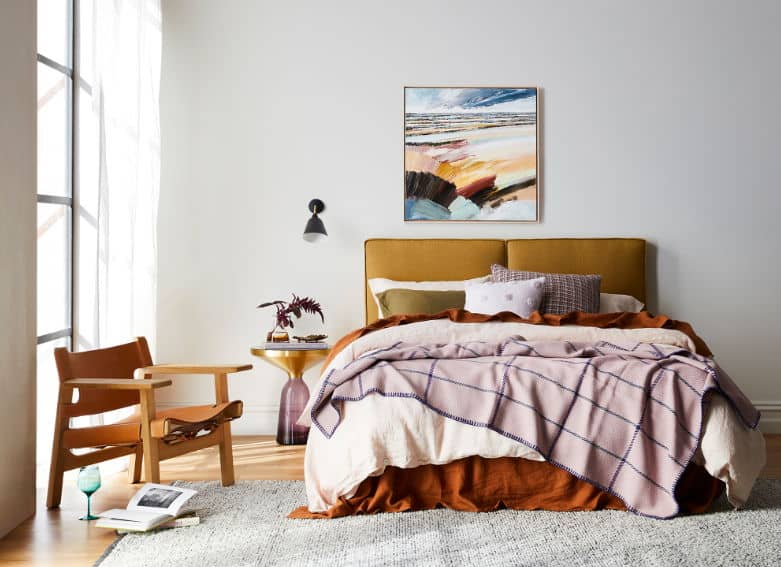 Too many things on surfaces in a small bedroom will cramp the space, and to get rid of those things is the key to an airy and open small bedroom.
You can also choose to mount some of them on the wall, such as the sconce near the headboard.
Then, provide a multi-function chair. The side chair can be used as a bedside table when you need to put some stuff like books.
Rustic Style Bedroom without Bed Frame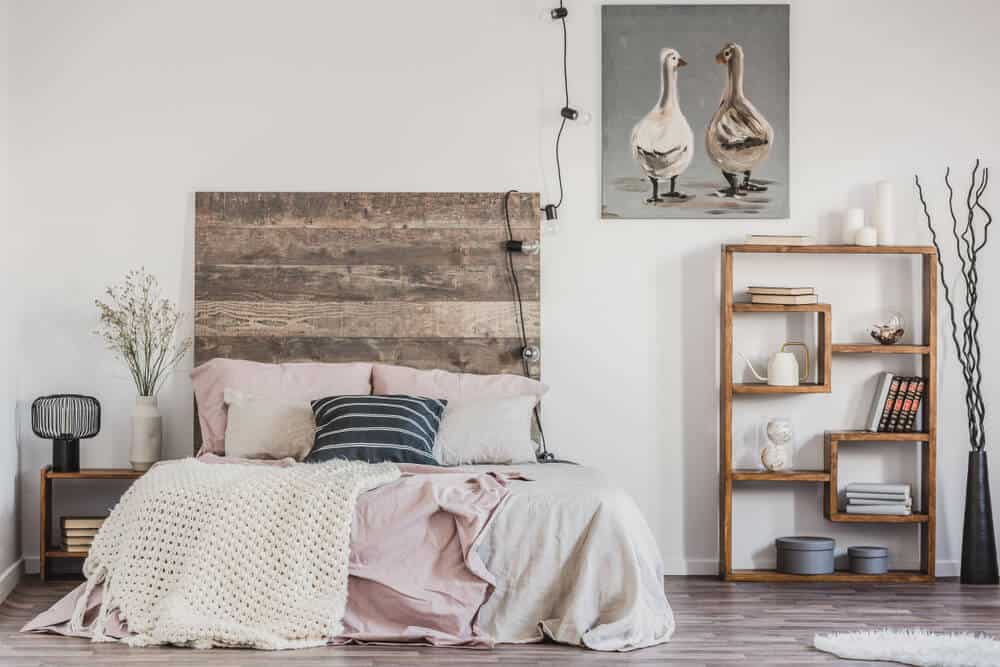 Maximizing a small bedroom requires some sacrifices; one of them is getting rid of the bed frame. A huge bed frame will take up a lot of space.
Also, many believe that having a larger space in a small bedroom means to put everything on the floor.
However, to make the stuff organized, you can incorporate customizable wood shelving.
Since the wood gives out rustic feeling, you need to carry it on to the bedside table, headboard, and the painting of ducks on the wall.
Bright Small Bedroom with Iron Bed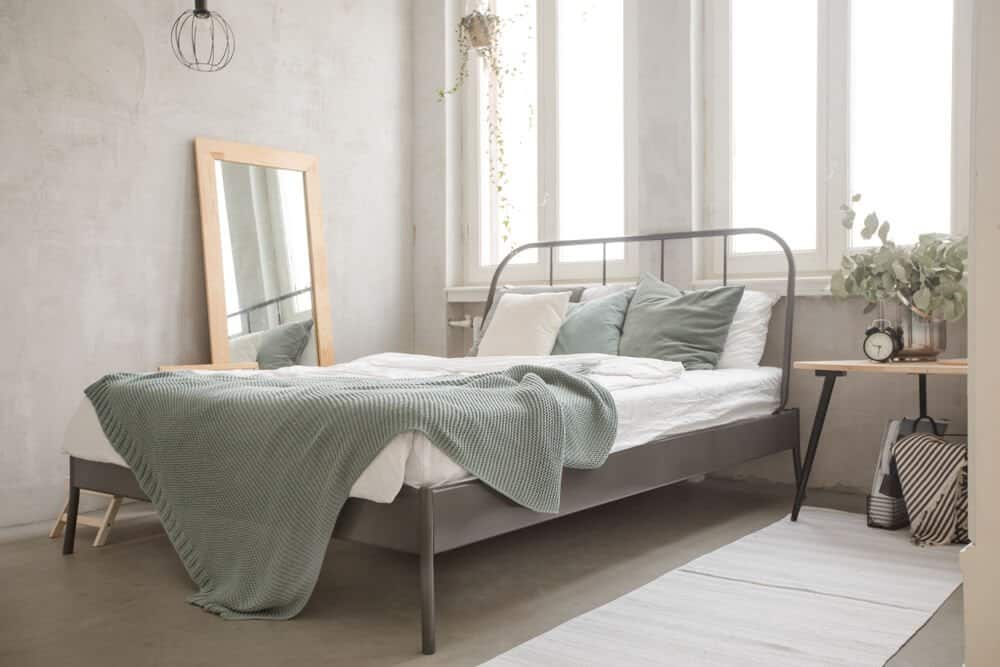 A small bedroom can be tricky to decorate unless you understand that looking too boxed in is something that you need to avoid.
To handle it, you can put the mirror on the floor and lean it against the wall.
Moreover, provide a simple minimalist bedside table to support bedroom accessories. Another way to manage "looking too boxed in" is to make it bright by applying neutral colors.
With big windows, all the light will come inside and brighten up the room.
Moreover, the traditional iron bed has become the centerpiece, and it looks light.
Storage beneath the Modern Style Bed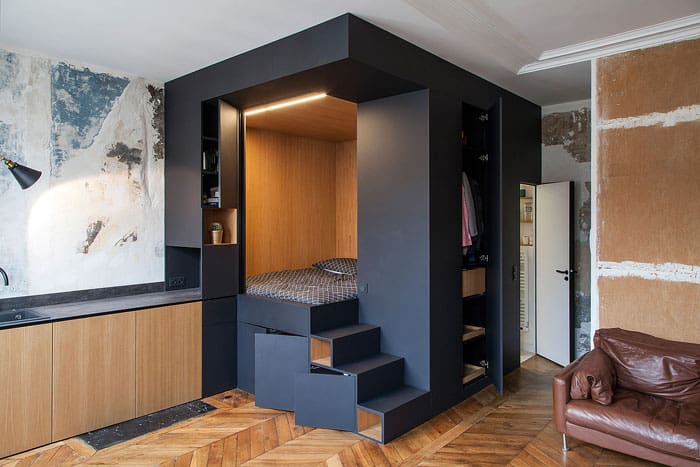 Even though it differs from popular belief, you shouldn't be afraid of dark colors. When it coexists with bright colors, the dark tone can be an eye-pleasing contrast and increase depth.
This idea allows you to concentrate the bed on one corner. To save up space, create storage space underneath the bed.
Small Monochrome Bedroom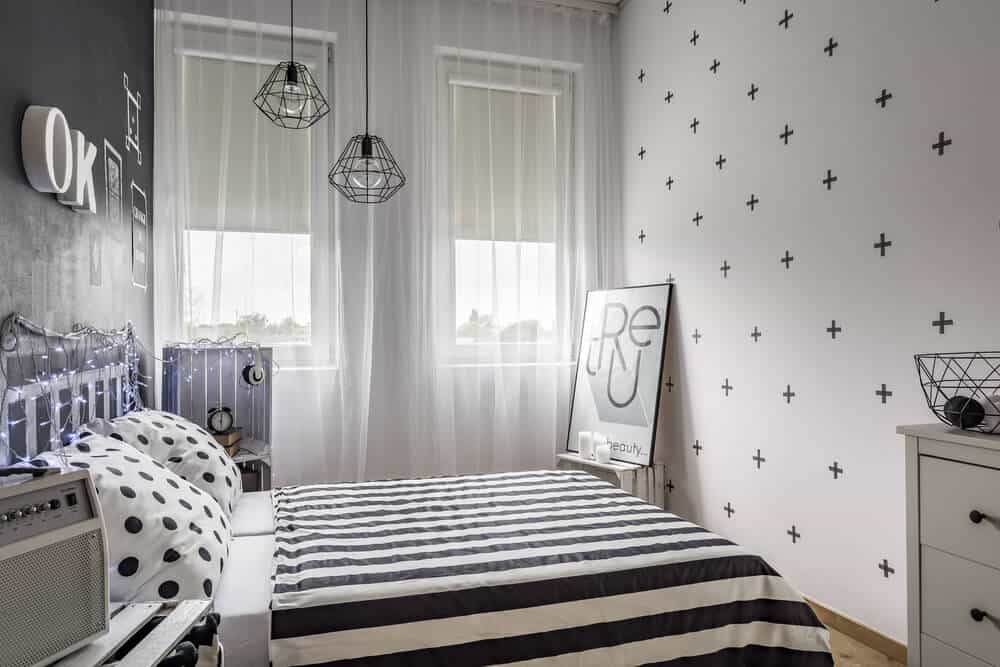 This small bedroom applies two colors which are black and white. There are two accent walls. The first one is on the main wall, which is painted black and given an "OK" decoration.
The other one is ahead of the bed, which is white with a plus accent. The two-color style is extended to the blanket, which applies vertical stripes and the pillows with polka dots.
Moreover, this room uses metal wire hanging lamps, which give out a retro feeling.
A Small Bedroom with Designer Look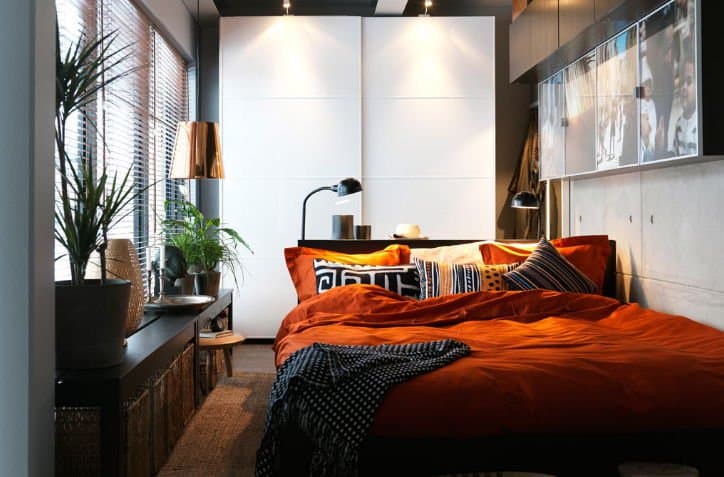 Centering the bed on the wall has been the go-to decor for a small bedroom. If you want something different, the bed can be tucked up against a corner, leaving a considerable space to move between the bed and the built-in closet.
Seeing that the room only provides a little area for table or surfaces for decoration, be resourceful, and use the available spot on the wall, such as the additional display box.
Chic Bedroom with Warm Tones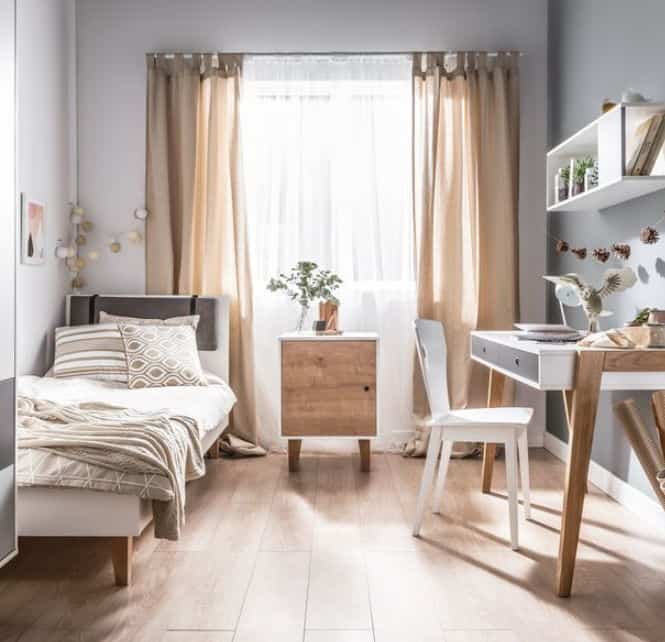 To avoid feeling cramped in a small bedroom, you need to downsize the furniture. This single type bed is replacing a queen bed that would have taken too much space.
Consistency also helps in lowering the "boxed in" feeling such as the choice of hardwood material on flooring, bed frame, bedside table, and study table feet.
Moreover, the tone in this room is warm and natural, leaving you with a relaxing and calming ambiance.
A Downsize Bed and a Floating Shelf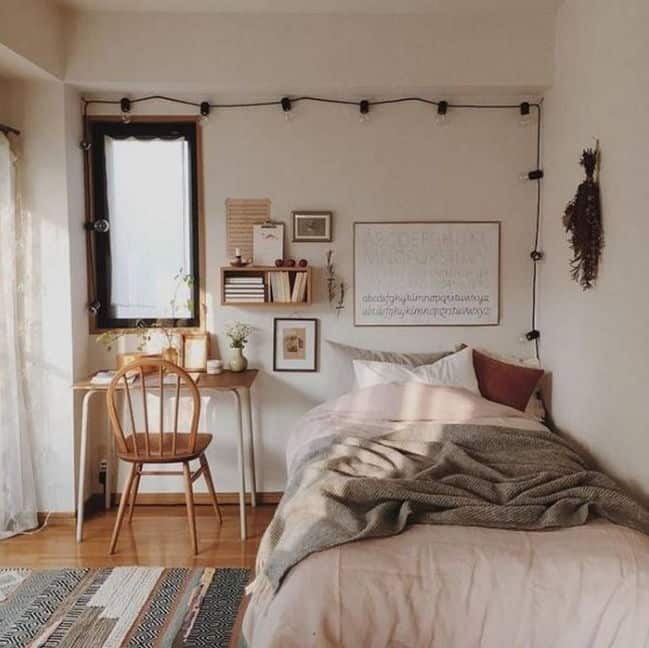 Downsizing the bed gives you more open space. Moreover, tucking the bed up to the corner leaves you to feel cozy and snuggly.
Then, using all the available surfaces on the wall to fix a floating shelf is an excellent way to store things.
Again, consistency on the hardwood used on flooring, chair, tabletop, and shelf will make you feel satisfied. For a floor accent, buy a carpet with various patterns on it.
Modern Minimalist Idea for a Small bedroom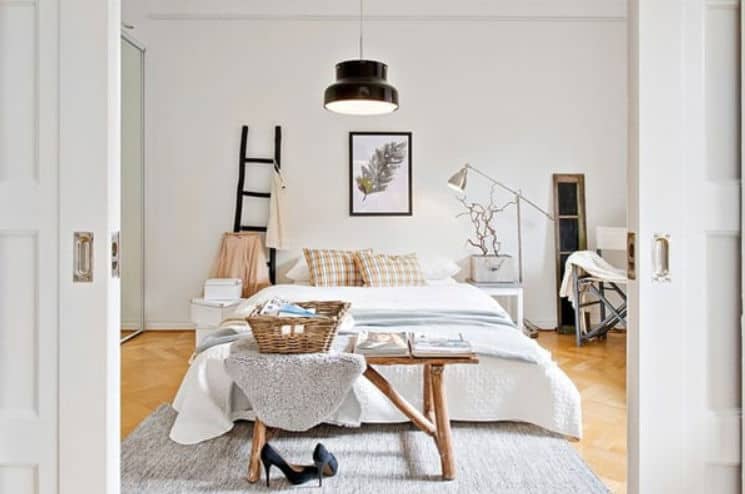 The hanging industrial pendant lamp is catching your attention. Then your eyesight is diverted to the rustic wooden table on the bed's end.
A rustic ladder is leaned against the wall; it is an ergonomic decoration that also functions as a towel hanger.
On the other side, there is a piece of an old casement window as an additional decoration.
Shades of White Bedroom with Coastal Theme Decor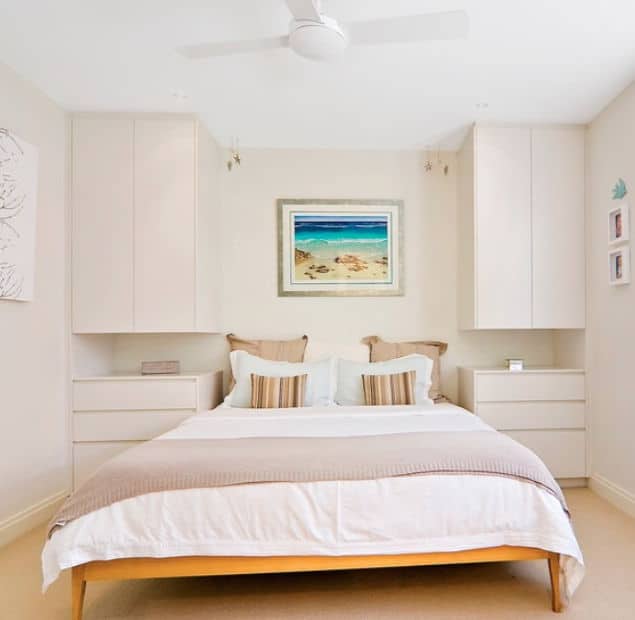 If you think clean white is too plain, you can pick the other shades of colors to achieve different feelings.
Let's say you are fond of coastal theme decoration, such as the seashore painting and framed shells wall art.
A collaboration of sand dunes and seashells color gives out a beach vacation feeling. Now, talking about the space, save more by centering the bed between the drawers and floating cabinets.
Quirky Small Bedroom with Storage under the Bed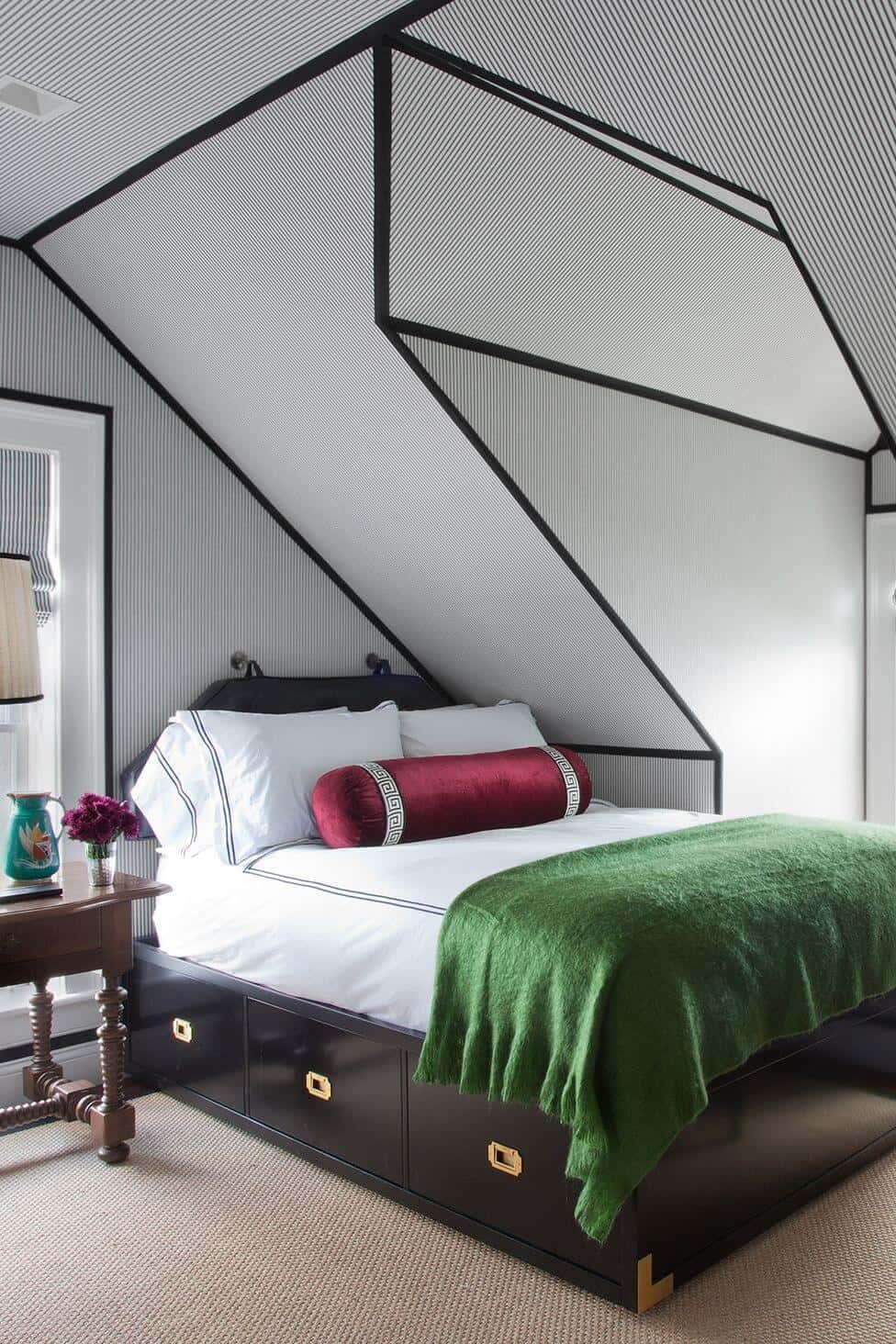 Looking different with customizing bedroom layout. This small bedroom idea is suitable for those who sleep in a loft-style bedroom.
With limited space to work on, you can be more creative by building under the bed storage.
However, we can't leave out the vintage rustic bedside table and the vertical line pattern lampshade on top of it.
Going Dark with "Bookshelves" Wallpaper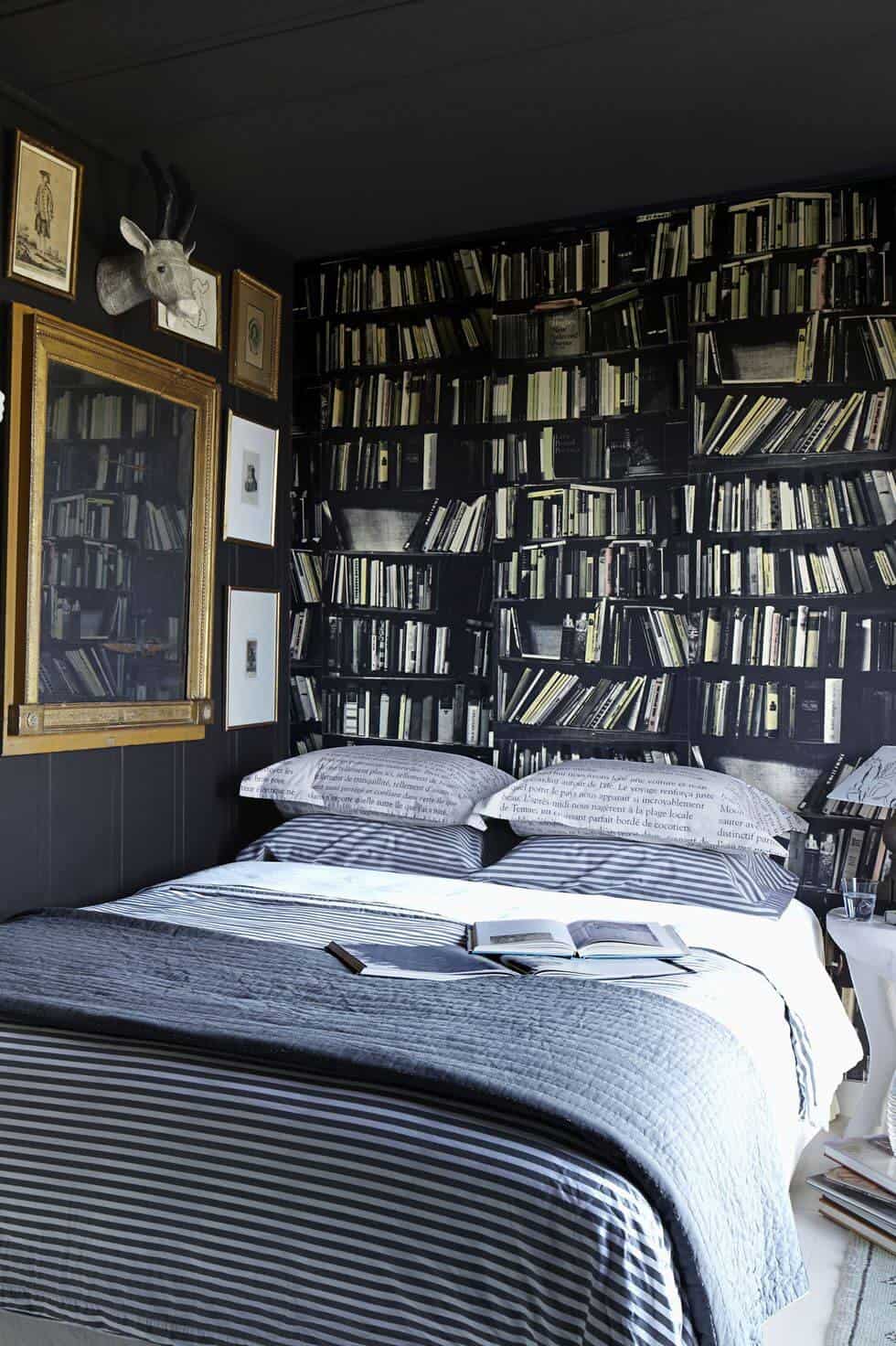 Applying dark colors to a small bedroom gives a deep character to it.
Release your inner geek by attaching this attractive bookshelves wallpaper on the main wall.
If that is not enough, extend the bookworm soul inside of you by using letter pillowcases.
Moreover, the gold frame is a brilliant pop up in such a dark color room.
Lavish Small "Aisle" Size Bedroom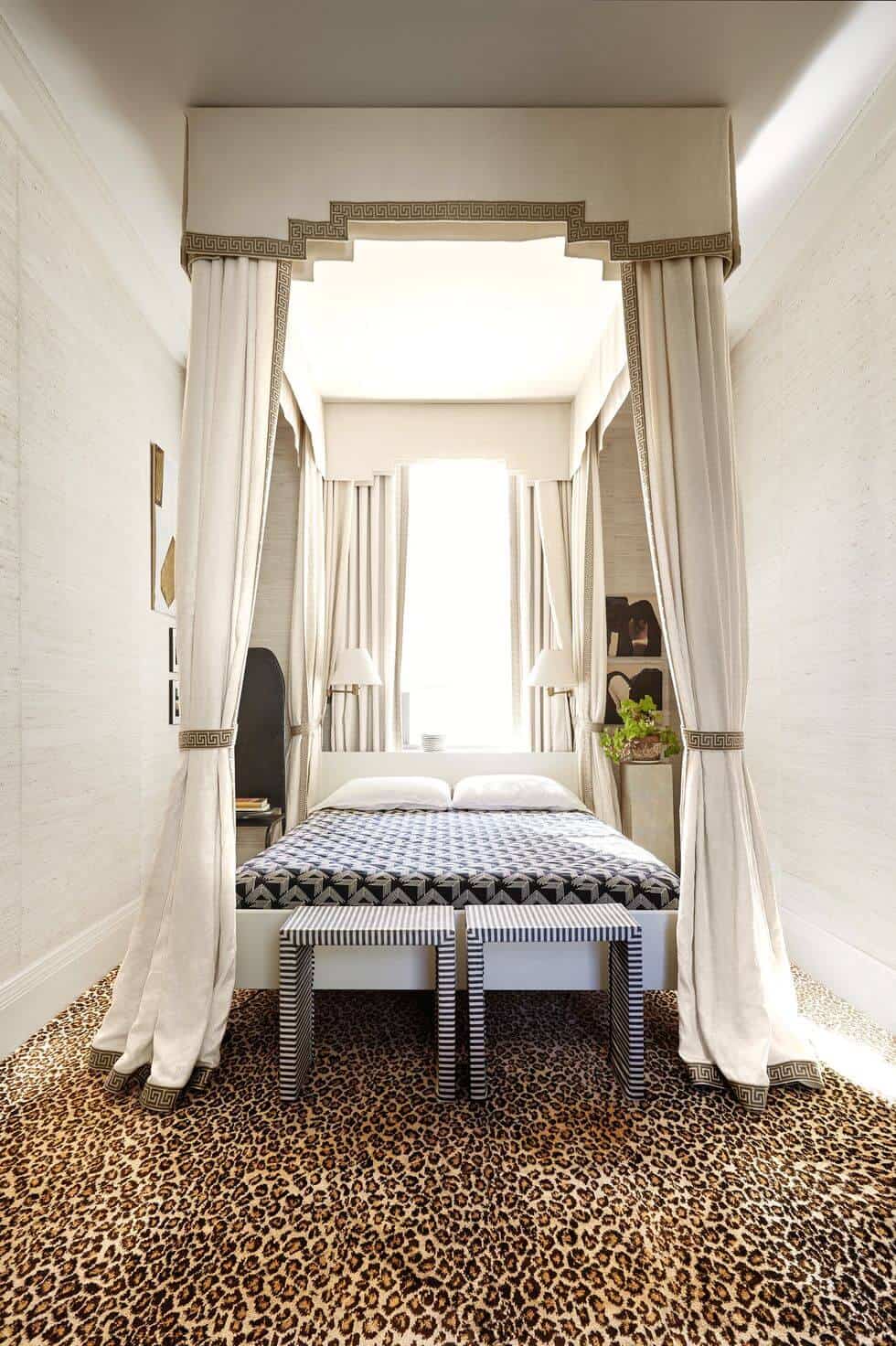 Are you wondering whether a small bedroom can achieve a lavish look? Well, this is your answer. This is a "one-way" bedroom.
The bed is positioned in front of the window, therefor a dazzling morning light won't bother you. Looking up, the bed is accompanied by a luxurious bed canopy.
The canopy is a set of long, falling drapes. The leopard carpet is used for covering the entire floor. The carpet's bold pattern emits a strong and independent character.
White on White Bedroom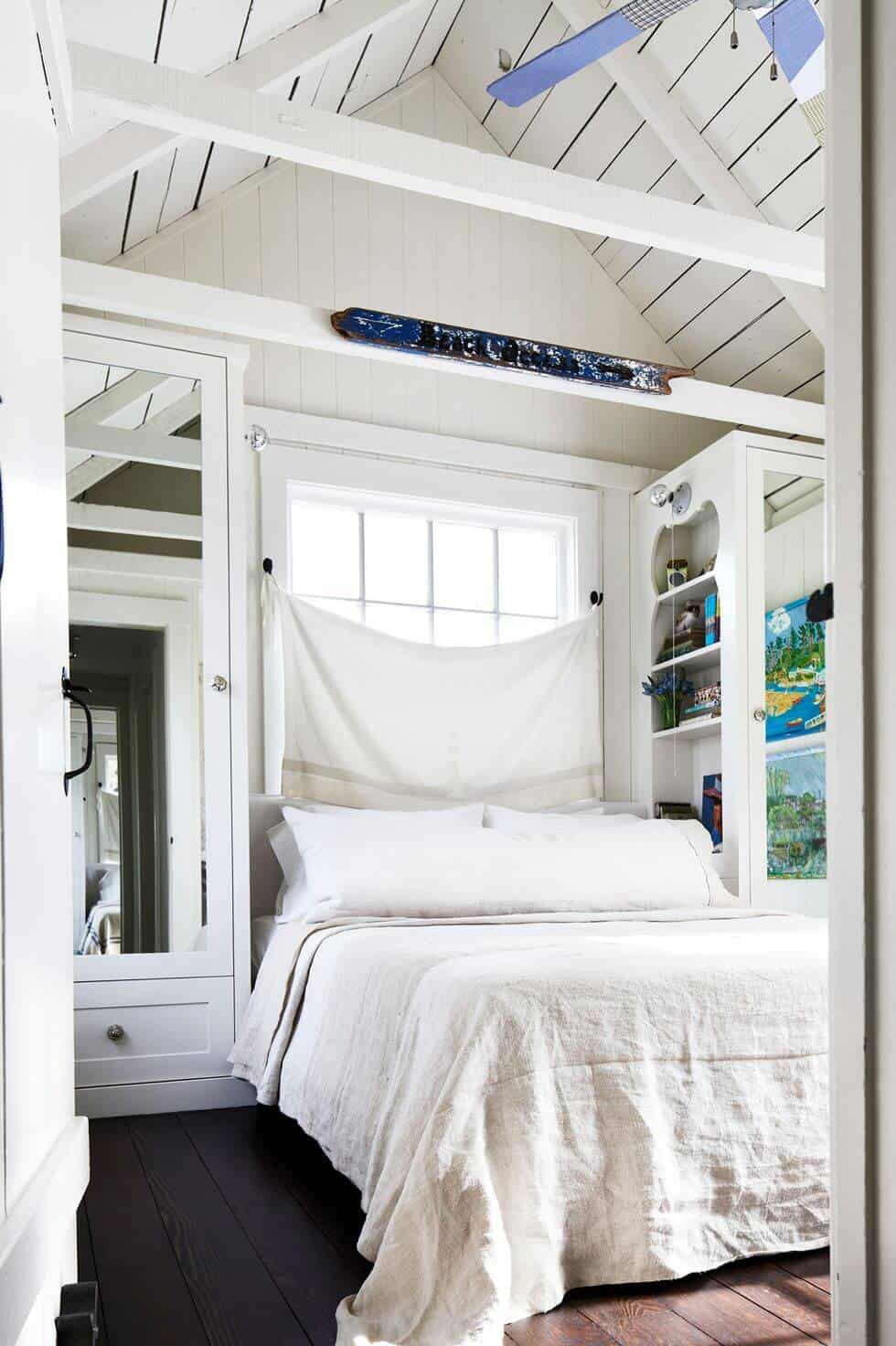 This small bedroom has a farmhouse feel because of its high ceiling and wooden beams.
Moreover, it looks super airy due to its white color. To give the room depth, dark hardwood flooring is employed.
This idea shows you how centering the bed between cabinets, and built-in drawers can be a great way to solve the space problem.
Another noticeable feature from this bedroom is the linen bed sheet, which shows that the designer tries to incorporate natural material into the work.
Exposed Brick Wall Accent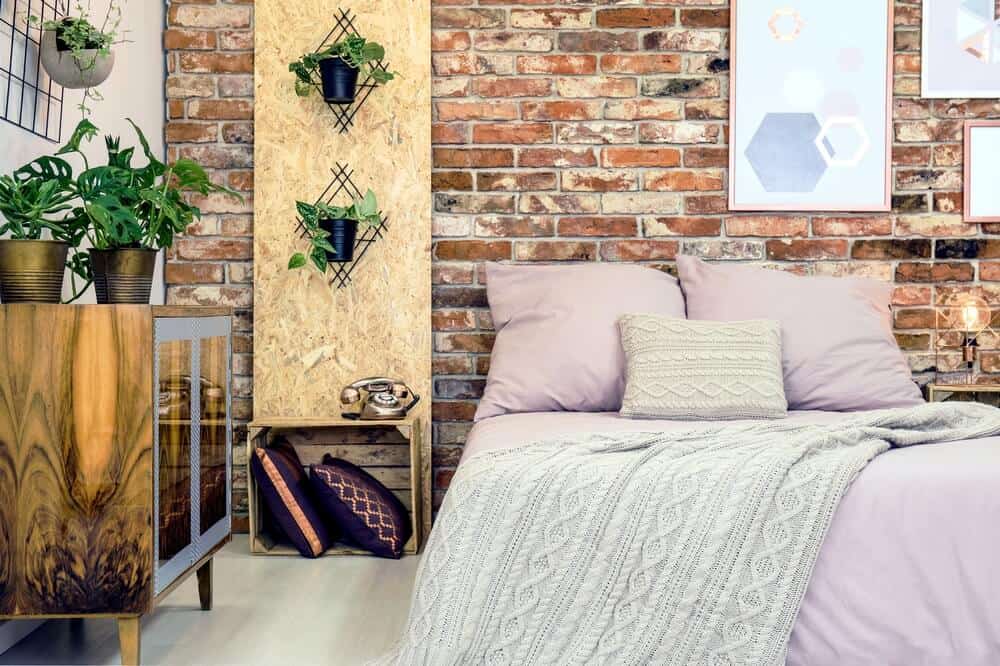 Wall accent enhances the style of the room when other colors or decorations seem too dull or boring.
The main wall has been transformed into an exciting and eye-catching section.
By emphasizing rustic feeling through the exposed brick accent, you can carry the theme on to other furniture such as the hanging plants with additional wooden box storage and the reclaimed wooden cabinet.
Wallpaper as an Accent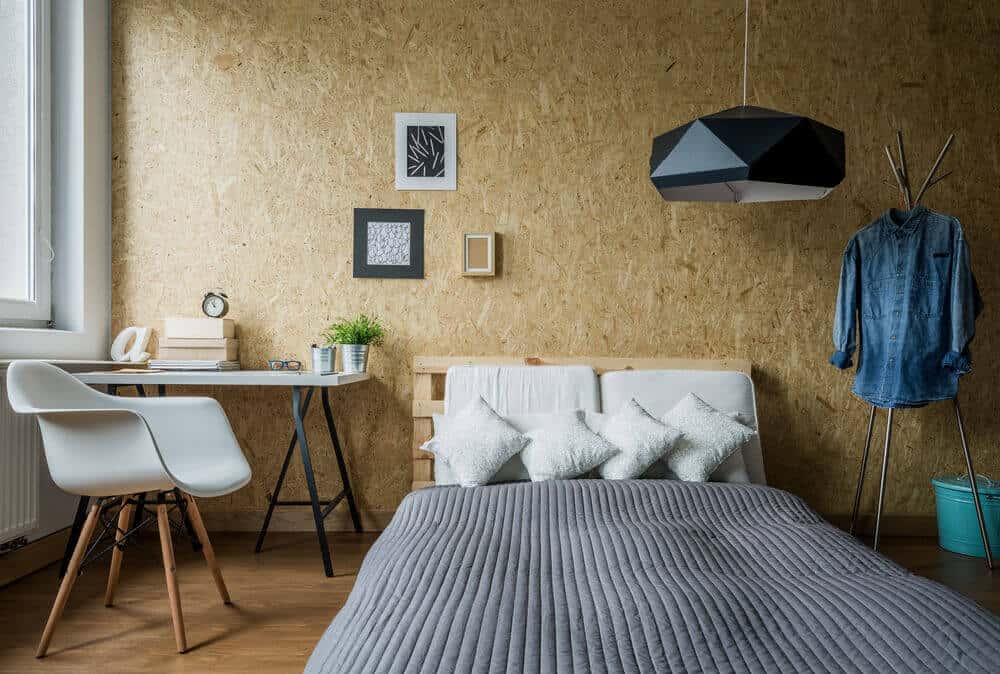 Omit ordinary by doing something different for your small bedroom.
If you try to get out of the box, you can apply this cream shade wallpaper to kind of disguise the downsized wooden headboard.
Talking about the types of wallpaper, there are paper, vinyl, and more. You can buy the most suitable for your need.
Anyhow, we can't pretend that we don't see that sleek modern hanging lamp. It truly gives a character to the room.
Moreover, the millennial coffee chair also strengthens the room's modern vibe.
Boho Chic Small Bedroom with Pine Wall Accent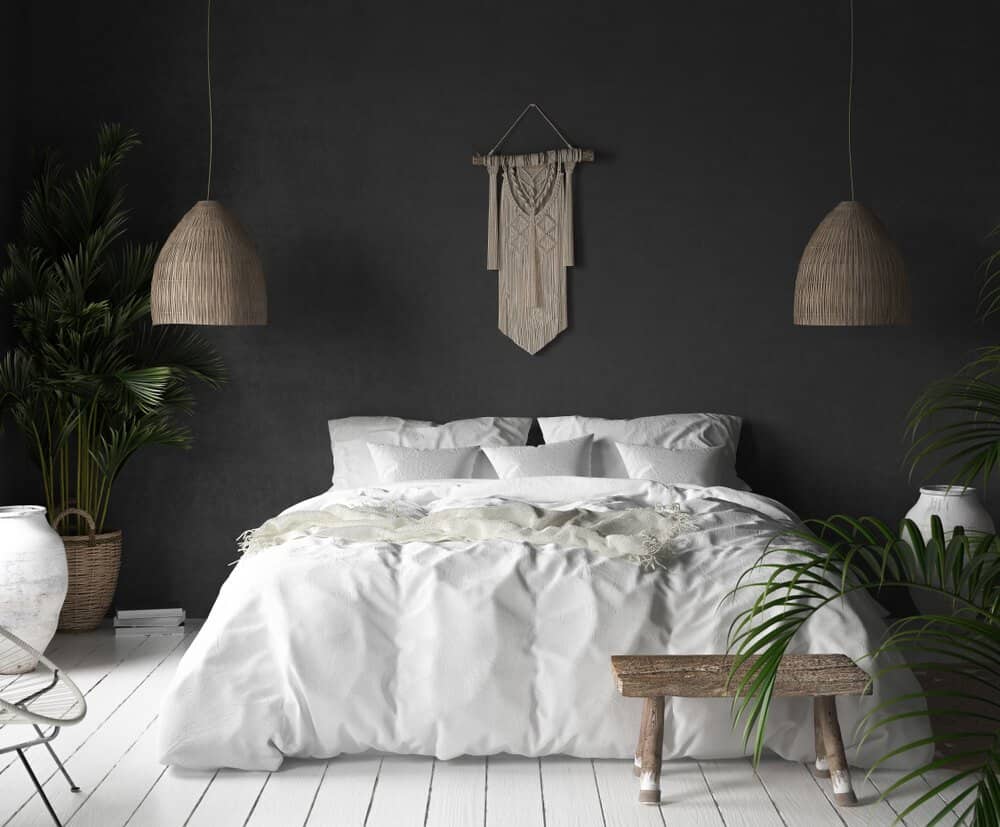 White color is chosen to complete this look. It is incorporated in several furniture shown on the picture, such as the bedding. White emphasizes the bed's cleanliness.
Somehow, it makes the bed looks extra comfy and snuggly too. The aspect of cleanliness is also shown by the white hardwood floor.
Moreover, to highlight the natural theme, this idea applies pine color on the main wall, so it becomes a breathtaking accent. To complete the look, drag some greeneries into the frame.
The Combination of White and Blue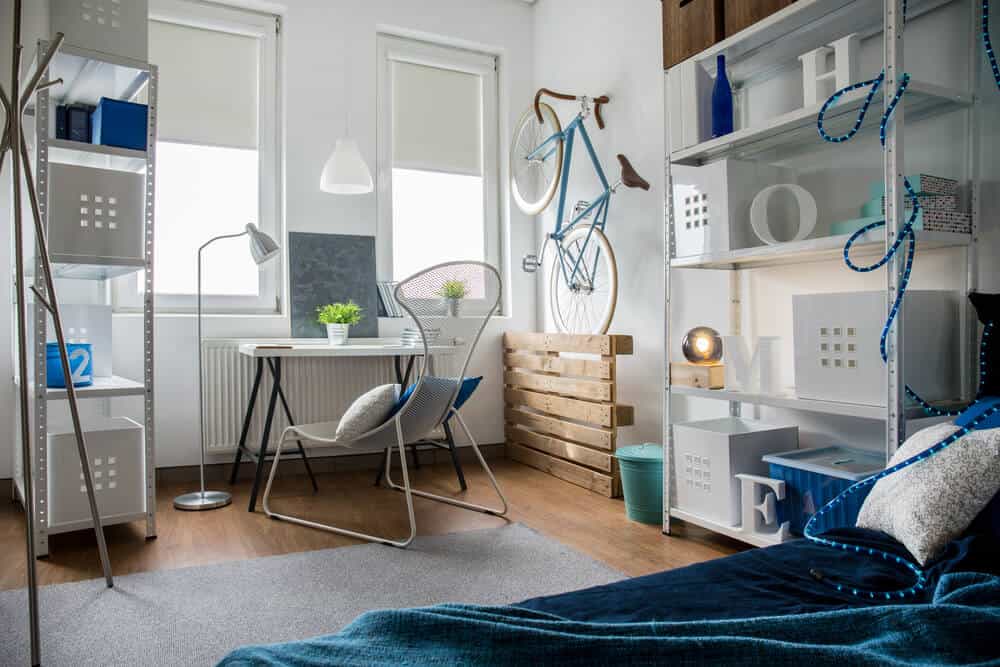 If you dislike the use of a single color for your small bedroom, you can try this one out.
Working together two different colors turns the bedroom into a lively space. The white is used for the background, which gives a clean base.
Then, the blue is utilized as a pop up on some surfaces such as one of the pillows, bedsheets, storage box, light decor, bike frame, and some cabinet decorations.
Urban Style Bedroom with a Touch of Gold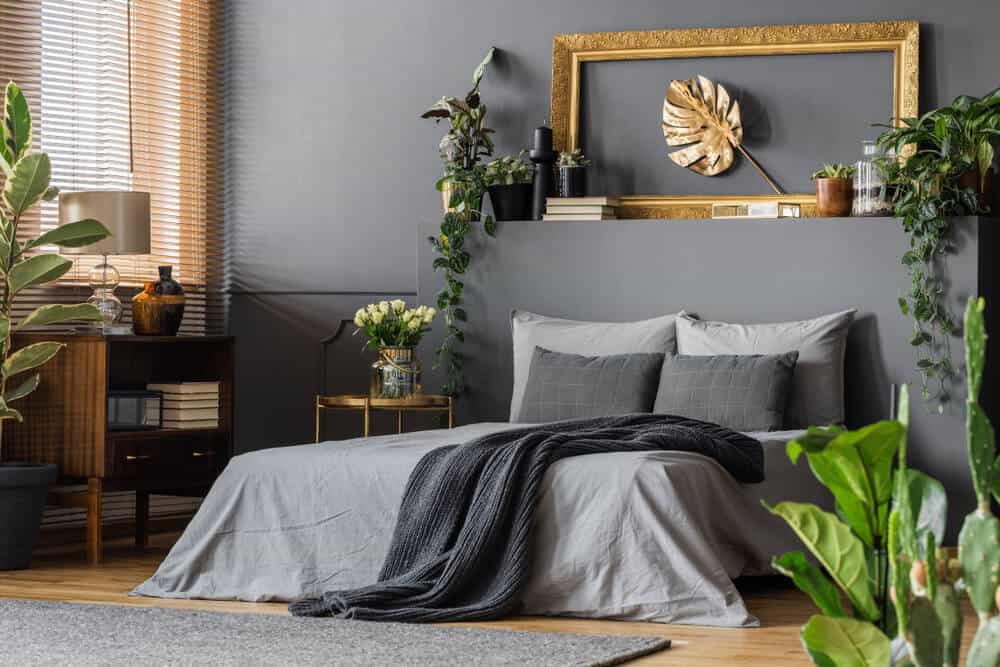 If you wonder whether we can combine nature and luxury, you need to see how well this idea brings them together.
The houseplants radiate that urban feeling. Meanwhile, the dark shade of grey and the touch of gold give out that modern, city living.
So the combination of the two styles really makes this room alive.
Floating Shelves on Customizable Wooden Headboard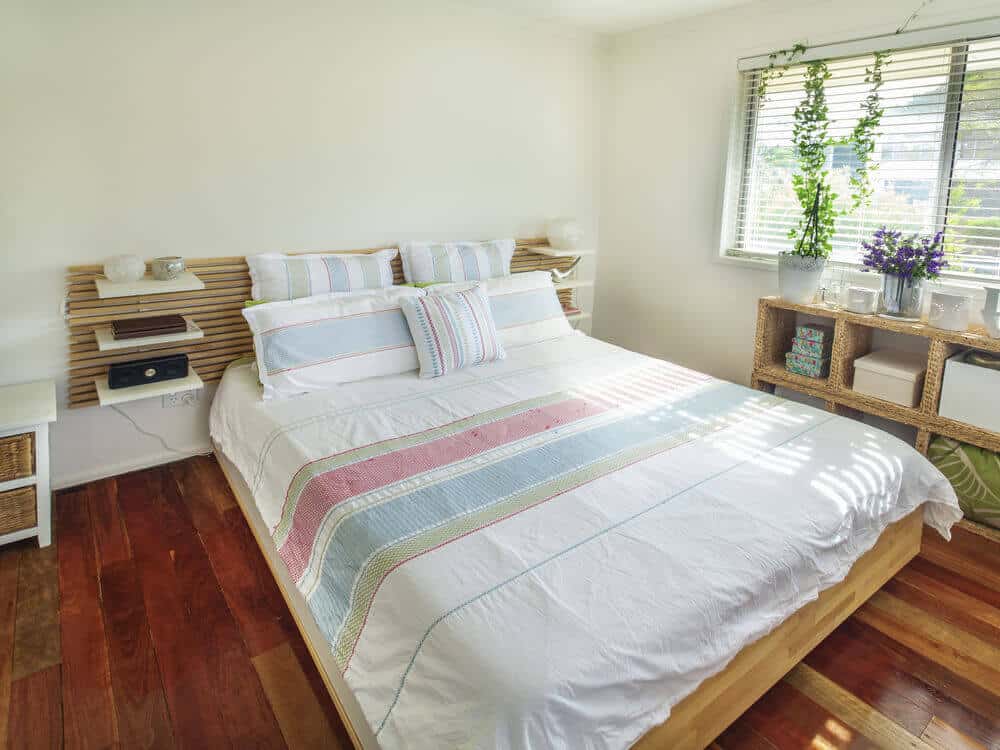 This small bedroom chooses white as its background color.
Then, the designer decides to mix it with warm tone wooden-based furniture such as the bed frame, open cabinets, bedside drawer, and the customizable headboard.
If you look at the unique headboard, it provides a three-stack floating shelf on each side, giving you more surfaces to arrange your stuff.
Intriguing Wall Art in a Two-Bed Small Bedroom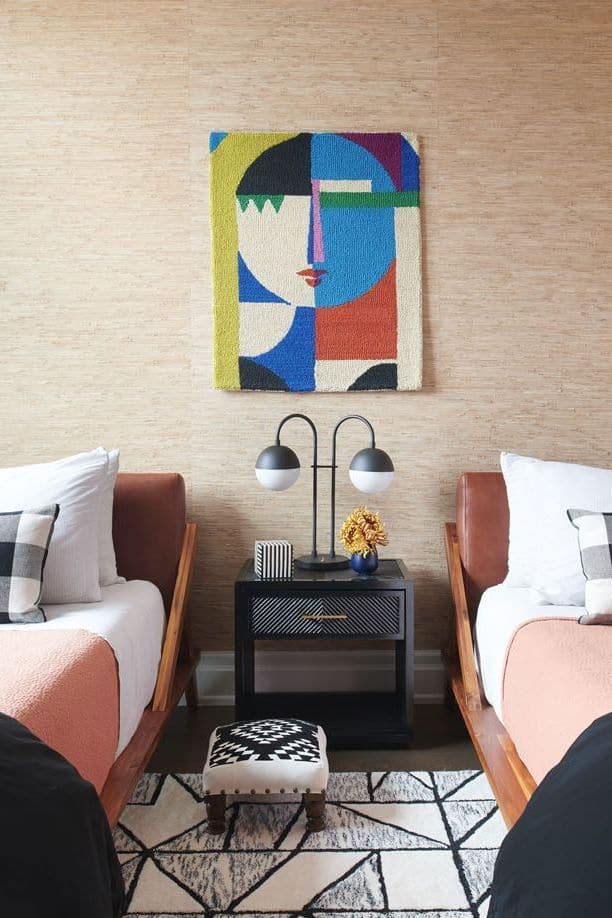 As soon as you step into this room, you will see the fantastic mural art on the wall. It is giving the room a high visual interest in the first place.
Then, looking down, you will be warmly welcomed by the tribal pattern carpet. This bedroom is suitable for you who have twin children.
The bedside table is placed in the center to divide the beds, giving each child his or her own space.
All in One Bedroom with Built-in Wall Storage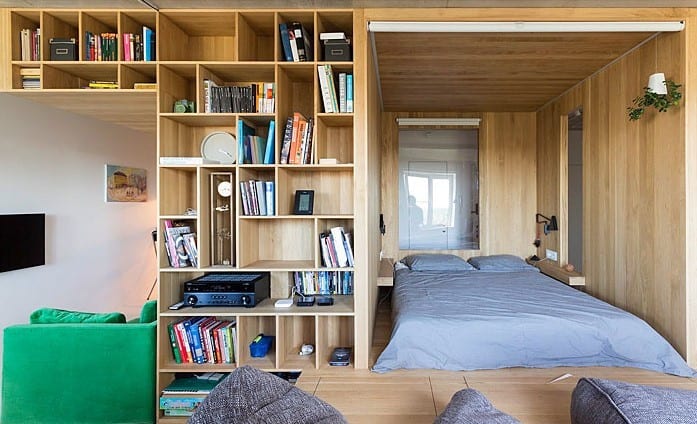 Living in a small and unorganized apartment seems to be an eerie scenario. So, organized your living space with this bedroom idea.
This one provides an all-in-one layout. The area is divided into two sections, one is the bed, and the other is the small living room.
In between, built-in storage is built as the divider. You can store books and other stuff to maximize the limited space.
Elegant Small Bedroom with A High Ceiling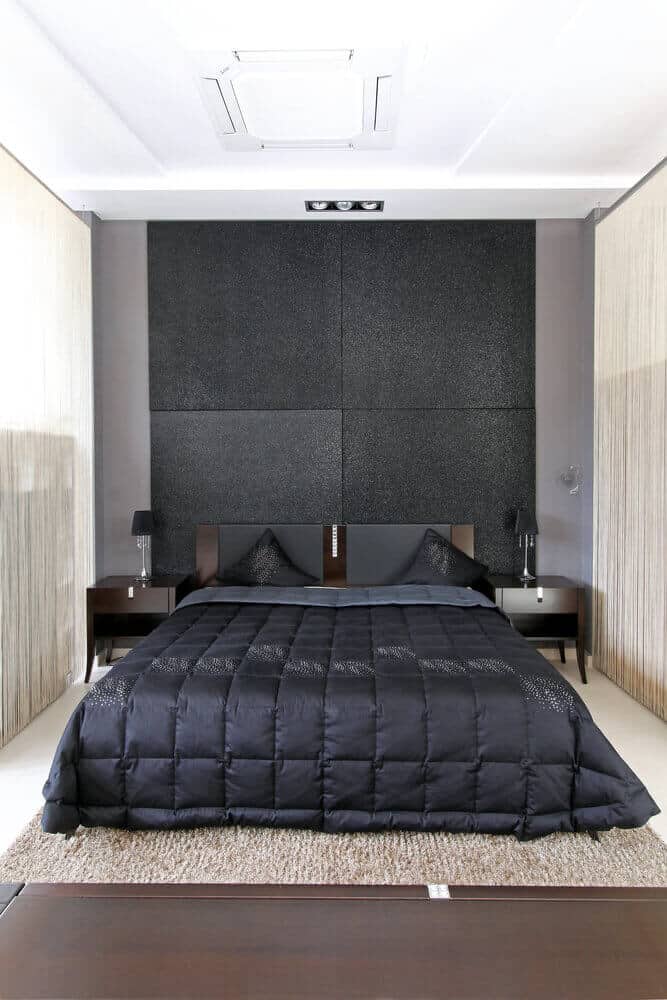 Whoever says that a small bedroom can't achieve elegance is wrong.
This bedroom has proven that even in a small space, high-class style can be incorporated as long as you know the precise colors, sleek black on neutral tones.
The black focuses on the center part of the room, which includes the main wall, the bed, and both bedside tables.
Surrounding the dark color, you can't just jump into white, which will be too bright compared to the black. Instead, you can apply a warmer shade color.
After taking a closer look at our small bedroom ideas. What do you have in mind? We surely hope you have found the one that you've been looking for!