Don Pedro Brooklyn is reader-supported. When you buy through links on our site, we may earn an affiliate commission. Learn More
25 Gray Couch Living Room Ideas
A gray couch is one of the most popular and versatile options to have in a living room. This color can particularly add a sense of timelessness, sophistication, and elegance to your space while aligning with a wide array of interior design styles. So, you must think twice before calling gray boring – because it really isn't!
However, a major concern is the particular shade of gray and material that suits your living room backdrop. A lighter gray couch tends to add a minimalist and modern vibe whereas a darker couch will throw a sense of contrast and depth to the living room. Don't worry – these fabulous gray couch living room ideas will undeniably help you make informed and creative decisions.
Choose an All-Gray Palette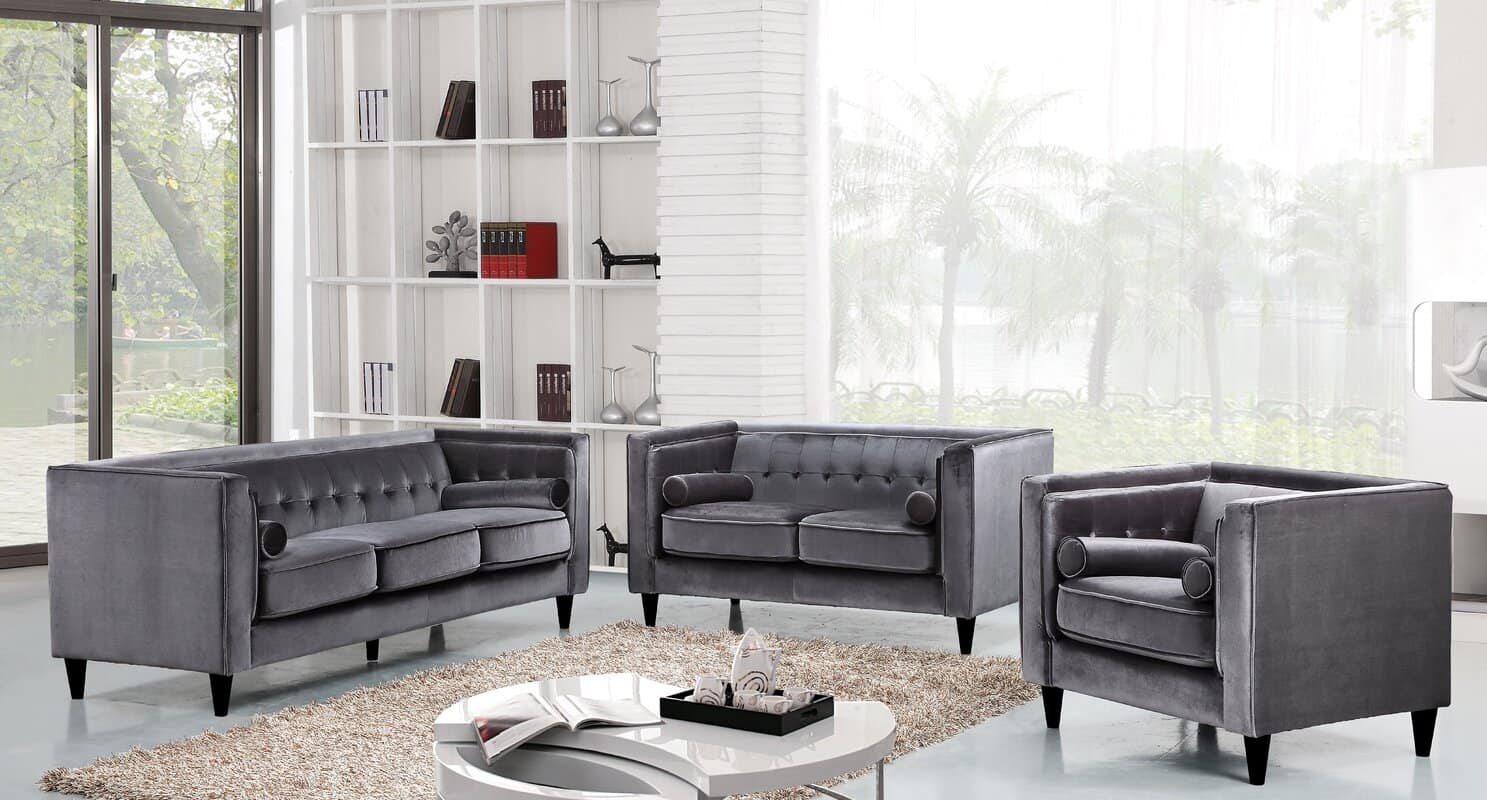 An all-gray palette in the living room will definitely play subtle and modern. Hence, if you don't prefer a ton of other hues in your living room, you might as well choose a focal gray couch in amalgamation with accent gray chairs to streamline the palette.
To create a sense of balance, choose shades of crisp white on your walls and coffee table to help the dark gray protrude out phenomenally!
Embrace the Mid-Century Modern Style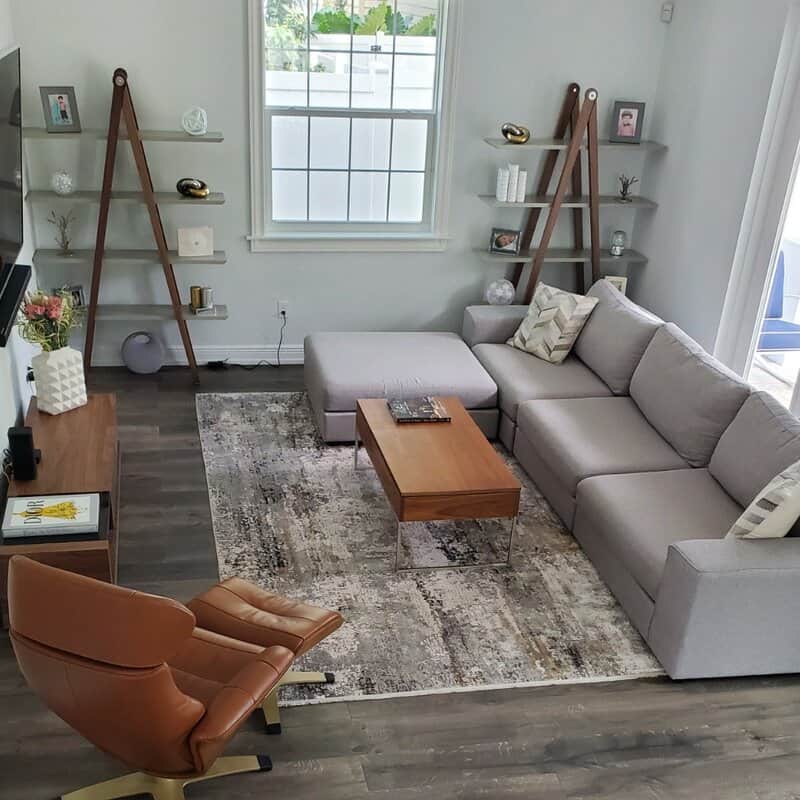 Fuse practicality with functionality in your living room with a perfect Mid-Century Modern backdrop. Yes! In such a case, try merging your medium-toned gray couch with walnut wood textures on the coffee table and adjacent furniture pieces to create a horizontal visual interest.
And don't forget, this classic palette will definitely play seamlessly with your dark hardwood floors, and off-white walls. Hence, if the renovation is not on your list – this perfect duo is something to look forward to!
Merge Mustards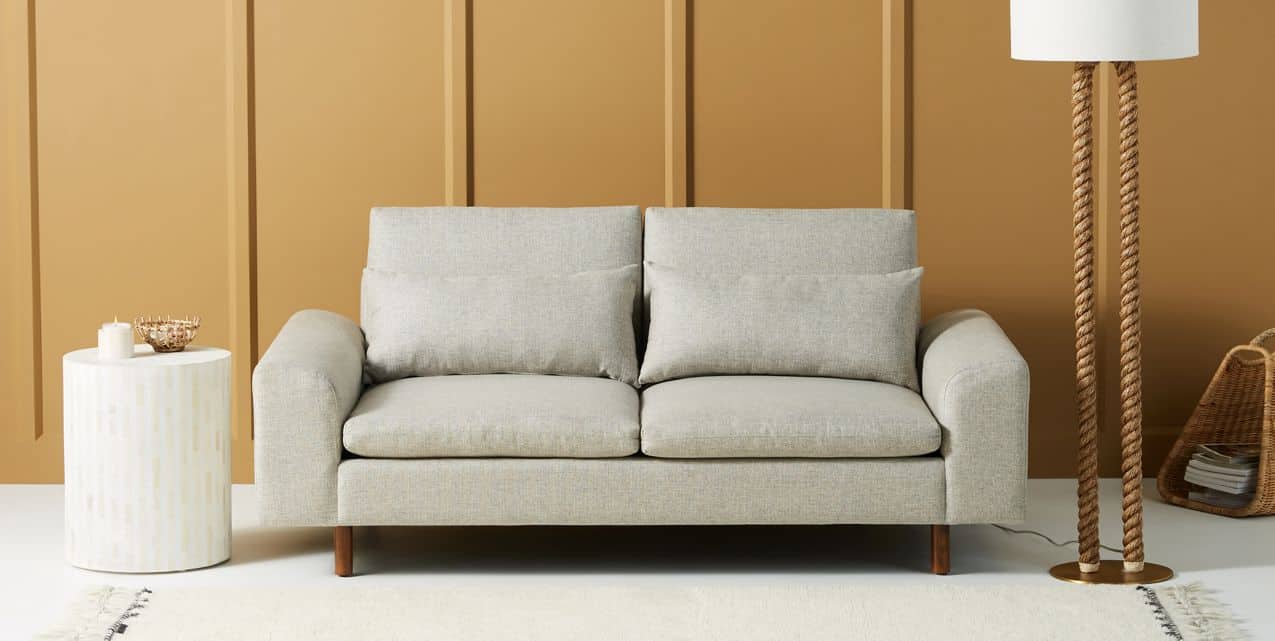 Wouldn't call the color of this couch a clean gray – but somehow, a mixture of gray and beige (or greige) that works wonderfully with mustard backdrops. So, if you truly love grays but don't want that crisp and cool undertone – you might as well choose a warm gray that feels equally modern and classy.
Furthermore, to add a warm tinge of hue in the room, you can add a contrast with mustards and a jute finish to complete the living room look.
Play with Patterns and Layers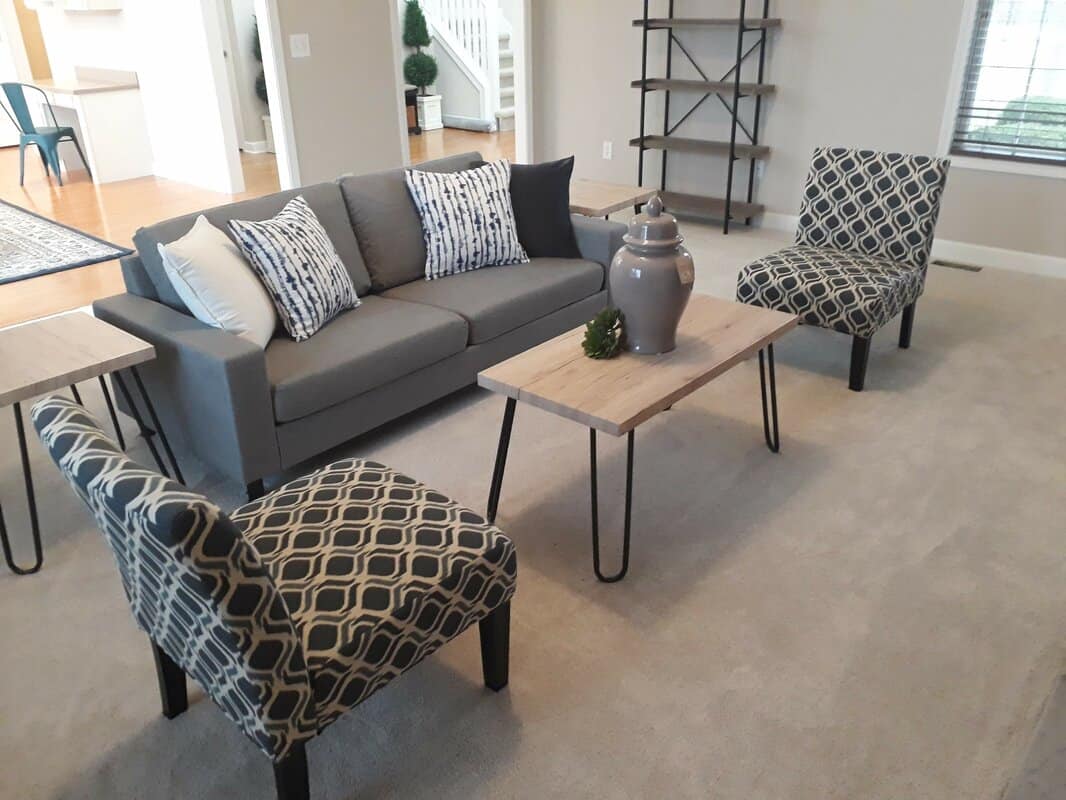 Don't let the too-much gray overwhelm you and your space! Well, it's time to break the monotony with a couple of intriguing patterns and layers on the furniture fabrics and upholstery. You can either choose to spread that out through your decorative accents like throw blankets and pillows or simply pick an accent chair!
This is also a great way to throw a sense of excitement and depth into your living room!
Gray Couch for Coastal Living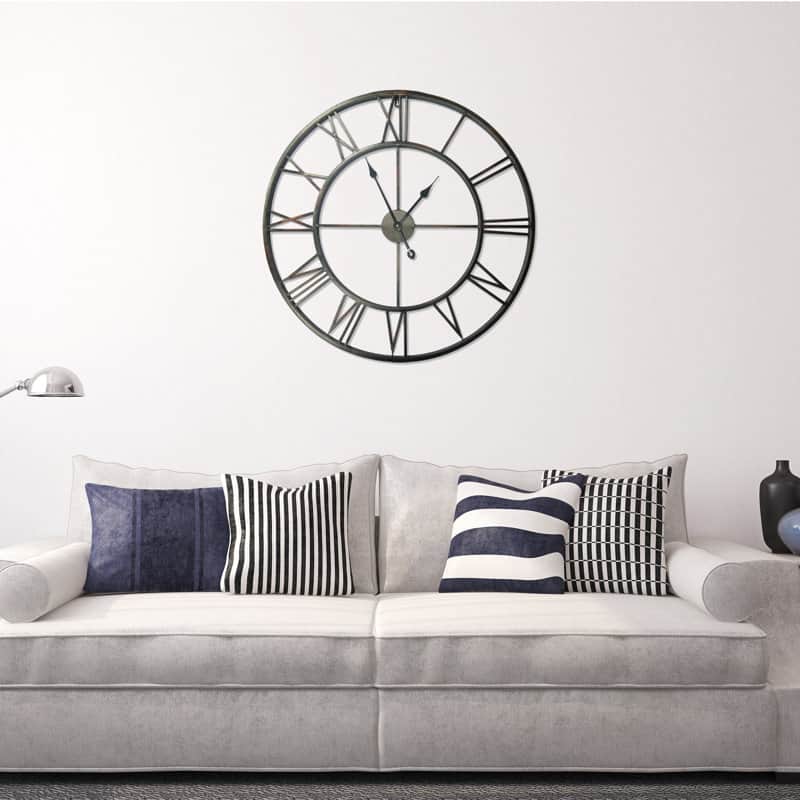 Whether it's the modern interior design style or minimalist, Scandinavian or Coastal – the light gray couch proves to be one solution for all. And when diving deeper into the Coastal style, it's definitely a given how light and airy will this couch feel.
With this light gray couch by the sand and waters of the ocean – you can add a couple of blue and white home decor accessories in the form of pillows and artwork to further invite a beachy vibe.
Gray and White Striped Sofa
There are no rules and restrictions involved when picking that gray couch for the living room. Yes, you can be as creative and unique as you want! So, why not think beyond a mere all-gray couch for something as exciting as a gray and white striped sofa.
It offers the best of both worlds – and can be used seamlessly with your cool or warm-toned color palette!
Play with Pops of Hues
A great way to make that dark gray couch feel homely and lively is by splashing an array of colors on it as well as the surroundings. Wouldn't this charcoal gray couch look totally lifeless and numb if not surrounded with interesting hues?
Well, this hue will perfectly pair with olive greens, mustards, baby blues, lighter grays, and endless whites. Lastly, adding a texture or two wouldn't be a bad option!
Feel the Monochromatic Vibe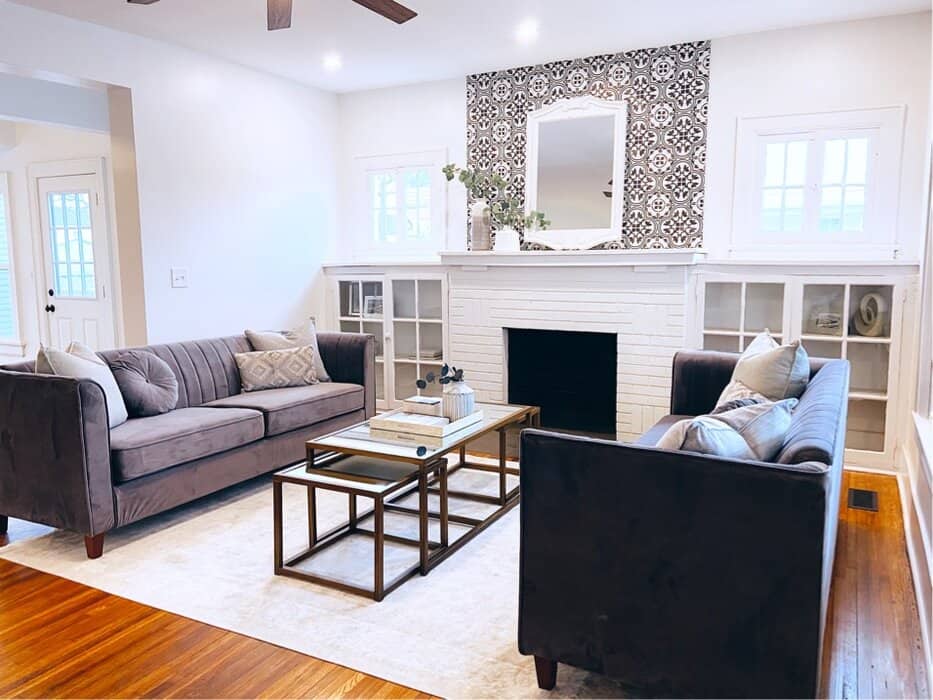 It's time to pick the various tones, tints, and shades of gray to add a monochromatic and minimalistic vibe. You can mix and merge the lighter grays to darker grays, tones of cool whites, and black on your furniture, walls, and decorative accents.
Secondly, with this combination, you can add materials such as glass and metals on your couch frame and coffee table to feel airy and light.
Create a Dark and Moody Atmosphere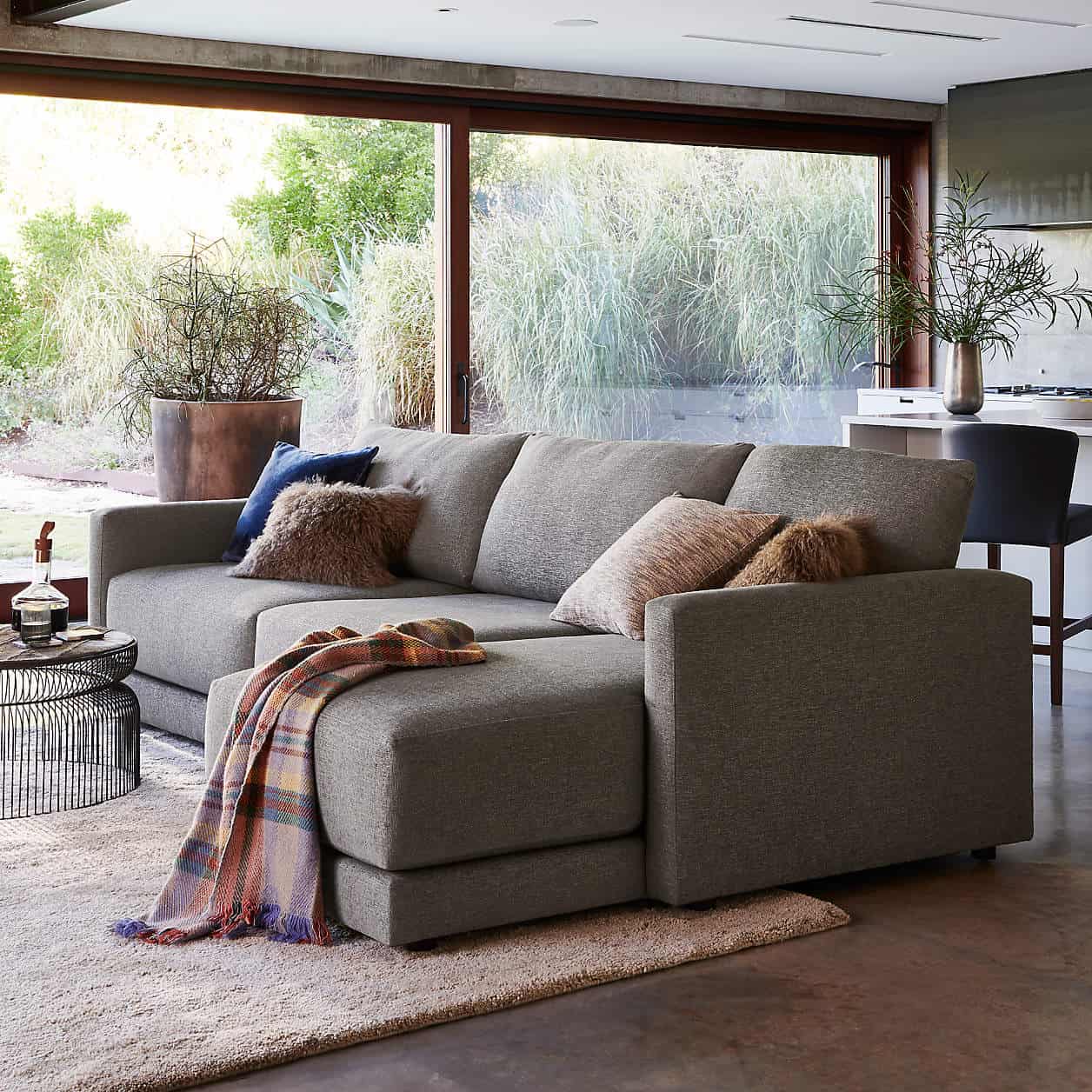 If you crave a bold, characteristic, and industrial look – this dreamy gray couch is something you must have an eye on. Striking a perfect balance between comfort and aesthetics, this clean-lined couch is all set to embark a focal interest in your living room.
It has comfortable back cushions and a greater depth to make the living room appear cozy, calm, and composed at all times.
Gray Couch + Accent Wall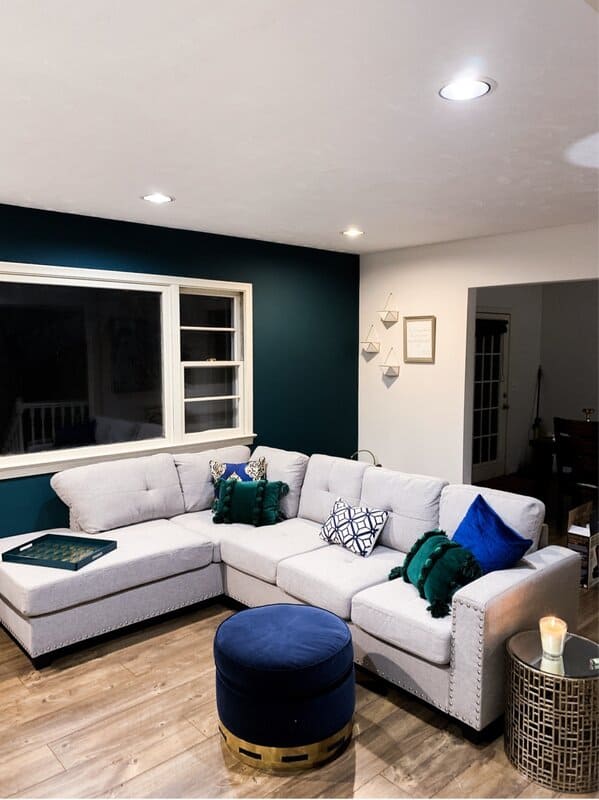 Think outside the box and pair that gray couch beautifully with an accent wall. This way, you have the opportunity to create a striking interest while creating an eye-catchy complementary color scheme in the living room.
You can further infuse that accent color on the throw pillows and ottomans to further complete your palette. Don't underestimate the beauty of an accent wall backdrop in front of your authentic gray couch!
Modern Farmhouse Touch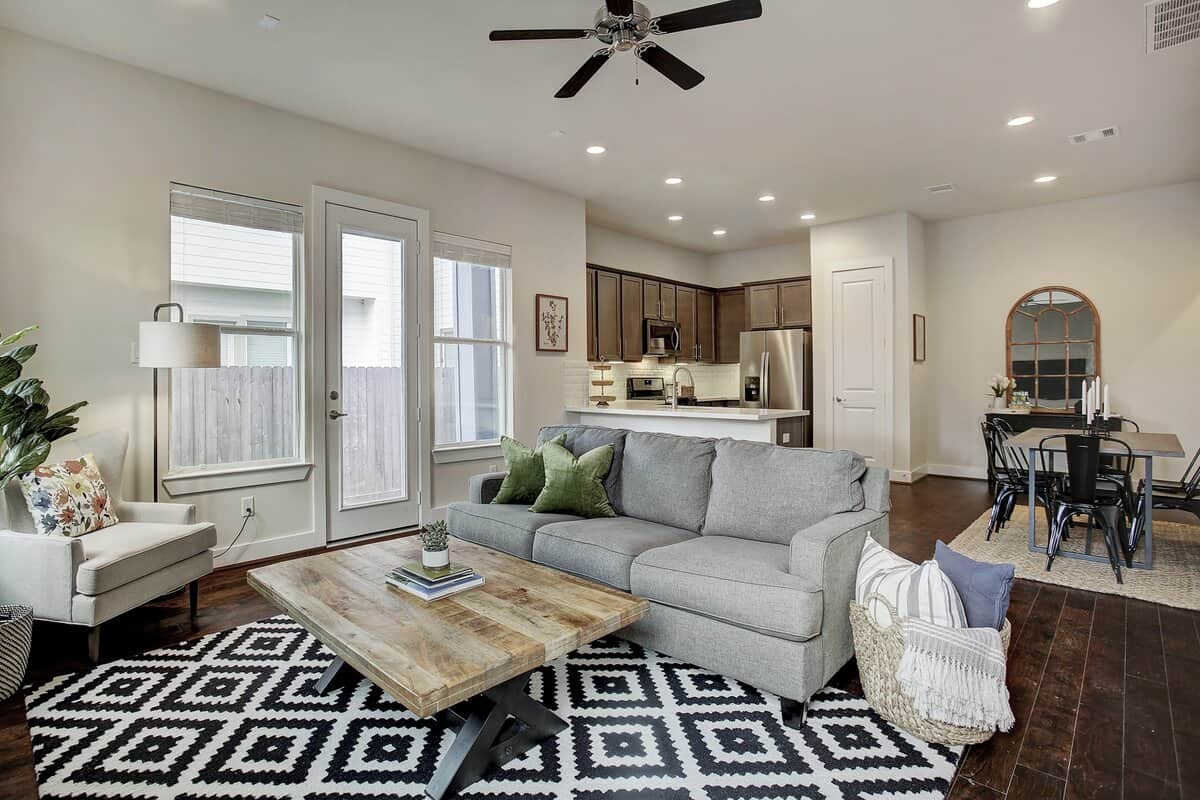 Your gray couch will play phenomenal with a modern farmhouse backdrop. Neither does it feel too modern nor rustic – hence, making a perfect soothing statement. It's preferable to choose a medium gray tone on the couch in amalgamation with black and white abstract shapes and rustic wooden textures.
Furthermore, you can introduce materials with deep textures like rattan, wicker, and cane for the baskets, lighting fixtures, and accent furniture.
Artsy Eclectic Backdrop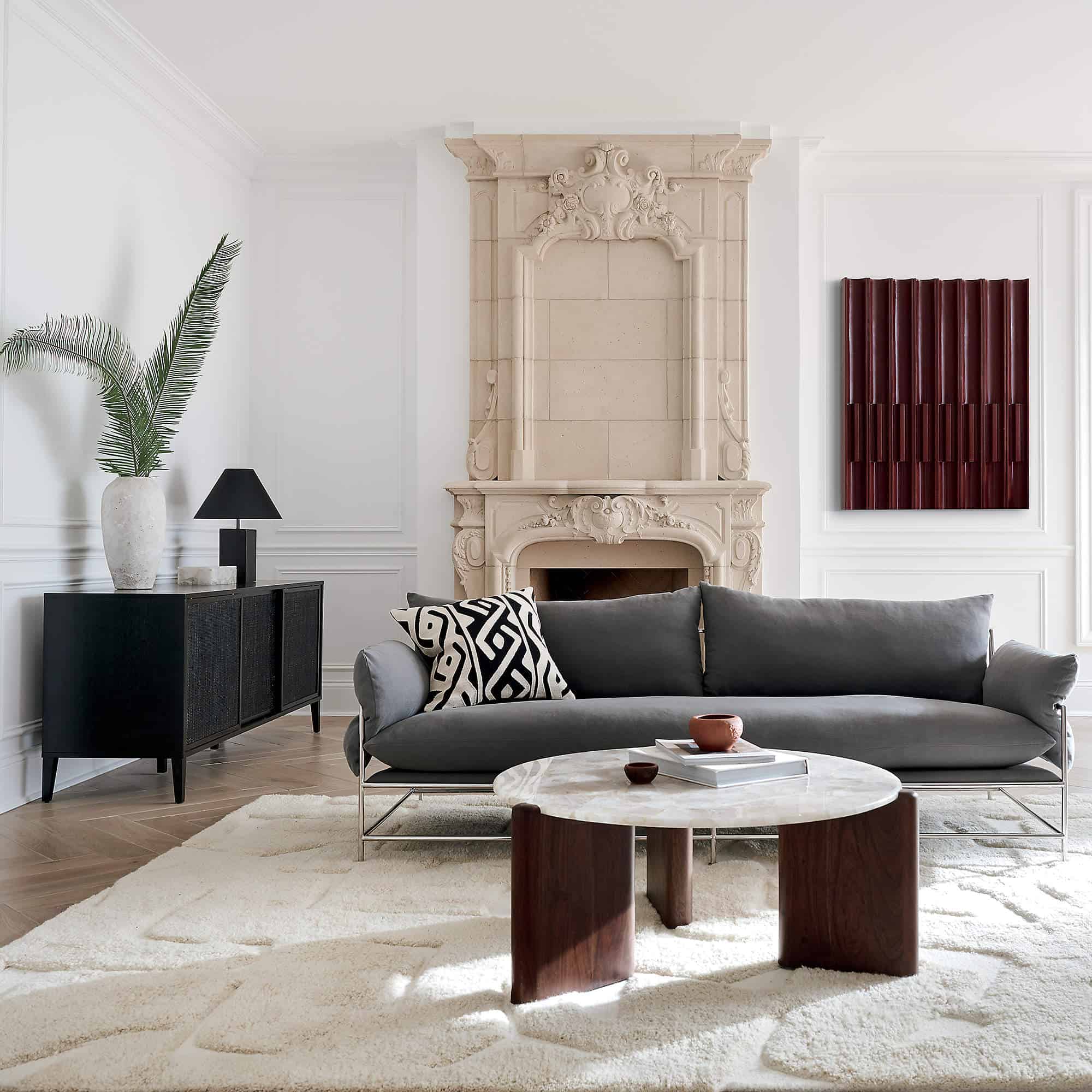 If you have a tasteful and artistic touch, this comfortable and industrial-style couch is bound to make a stunning backdrop. This modern and contemporary living room look is absolutely timeless and sophisticated – thus, exhibiting a perfect chic panorama.
With this beautiful couch on board, you're neither compromising on luxury, nor comfort, functionality, or aesthetics. Lastly, you must add quirky patterns on the pillows and vases to create a flabbergasting experience.
Enliven the Gray Pastels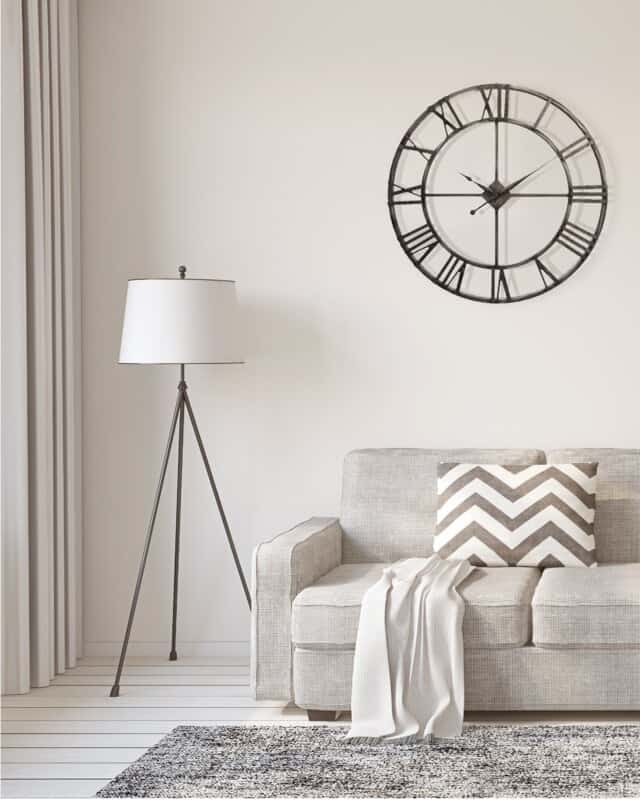 Especially for Minimalist and Scandinavian backdrops – this light, airy, and bright palette will undeniably enliven your living room. The soothing and subtle gray pastels will hover around your couch, walls, curtains, rug, and throws to create a monochromatic and cozy setup.
Secondly, you must induce matte black on the accents for the furniture frame, lighting fixture stands, and wall decor such as clock and artwork.
A Feminine Gray Palette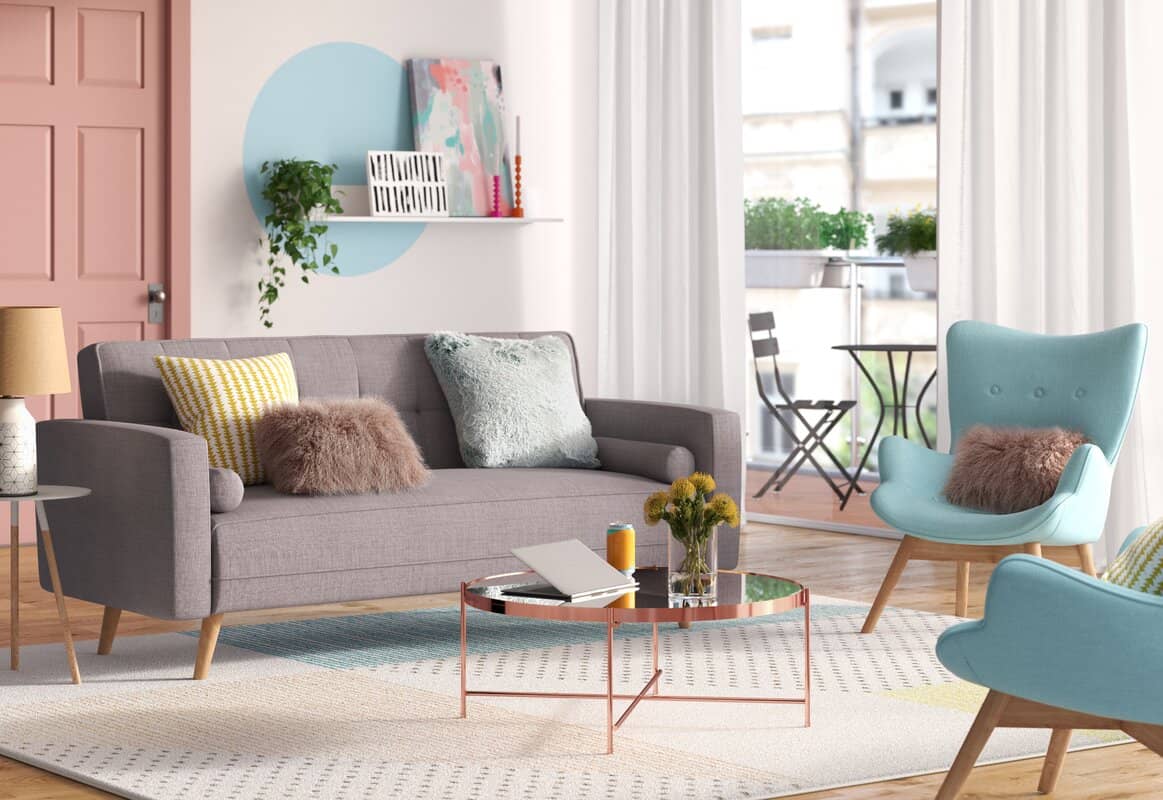 Do you know what's the best part about choosing a complementary scheme for gray (whether light or dark)? Well, you can easily pair it with any hues from the swatch – cool or warm. You name it and can have it!
In such a case, you can achieve a Scandinavian or Shabby Chic look by fusing tinges of soft pinks, blush, lemon yellows, and turquoise blues. Also, don't ignore the mauve fur pillow on your gray couch!
Feel Glam and Rich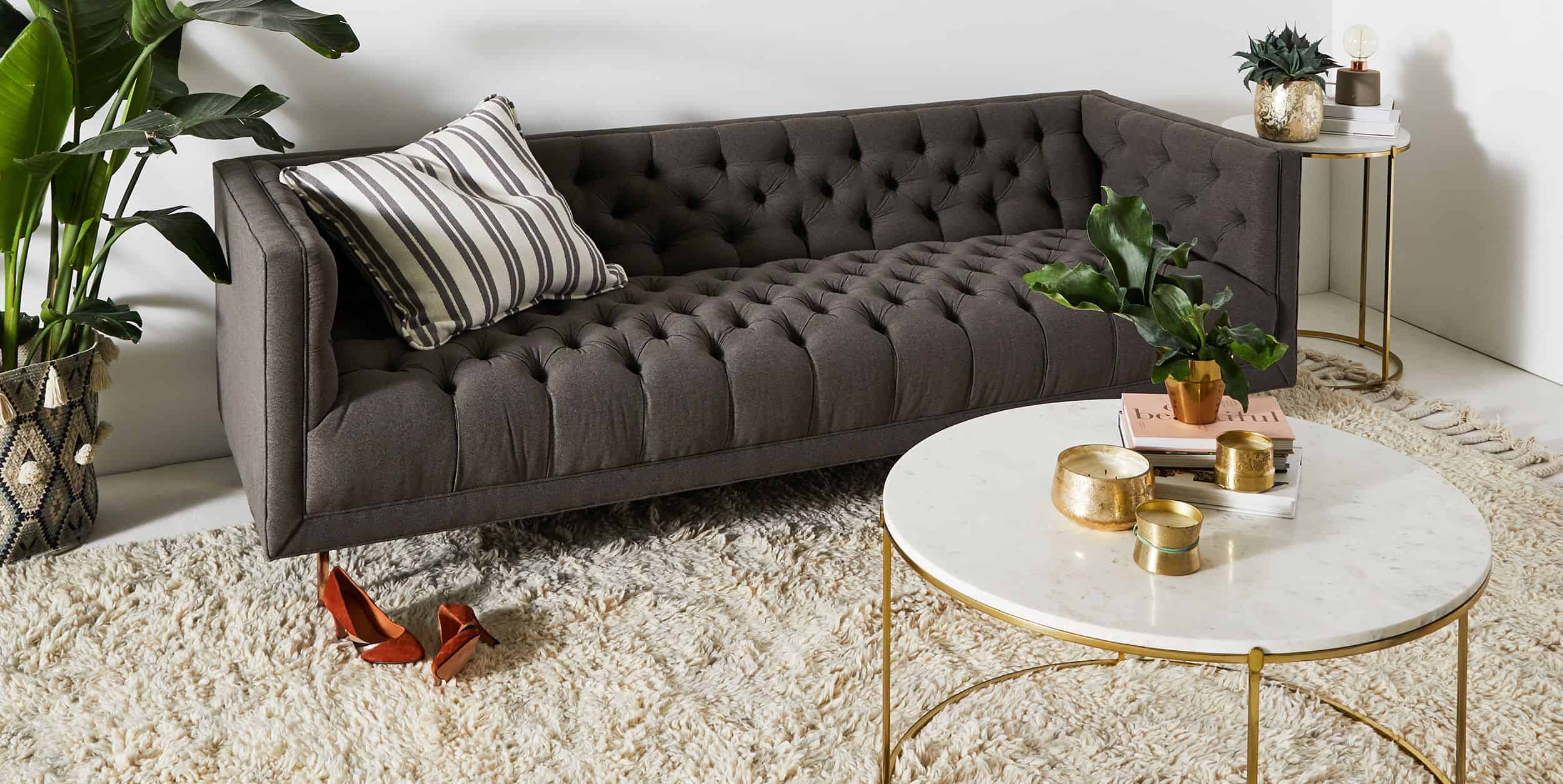 Your gray couch in suede or velvet material can totally feel rich, glam, and majestic. So, don't give it a second thought when you're craving an ultra-luxurious Hollywood glam style. Pair this dark gray couch with a cozy, shag rug and marble countertop with golden-tinted metal legs to feel splendor.
The tufting details on this chesterfield-style furniture piece add a sense of authenticity to the living room. Also, it perfectly acts as a focal statement!
Incorporate Warm Earthy Tones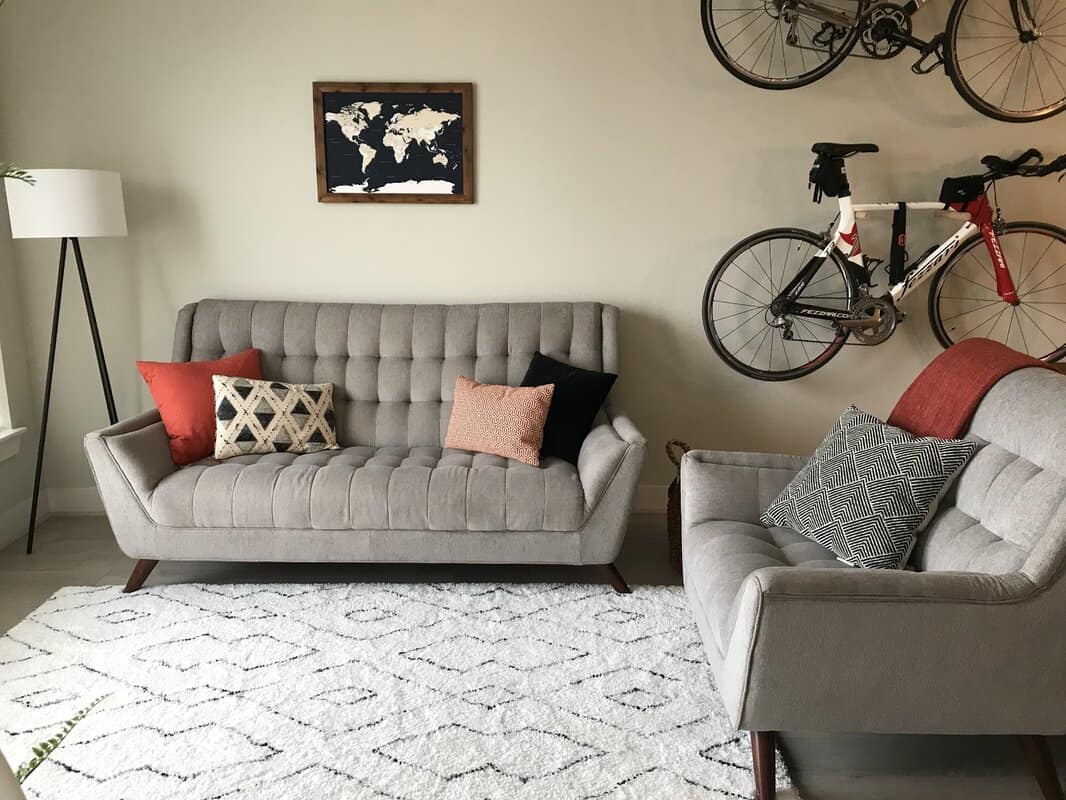 Incorporate warm and earthy hues like reds, burnt oranges, and yellows that play tremendously well with the grays. Creating a striking balance between the warm contrasts with cool grays, this is a stunning palette that you can look forward to.
Furthermore, try adding tinges of black and white on the artwork, throw pillows, and rug to seamlessly blend the two opposite schemes!
Incorporate Cool and Calm Tones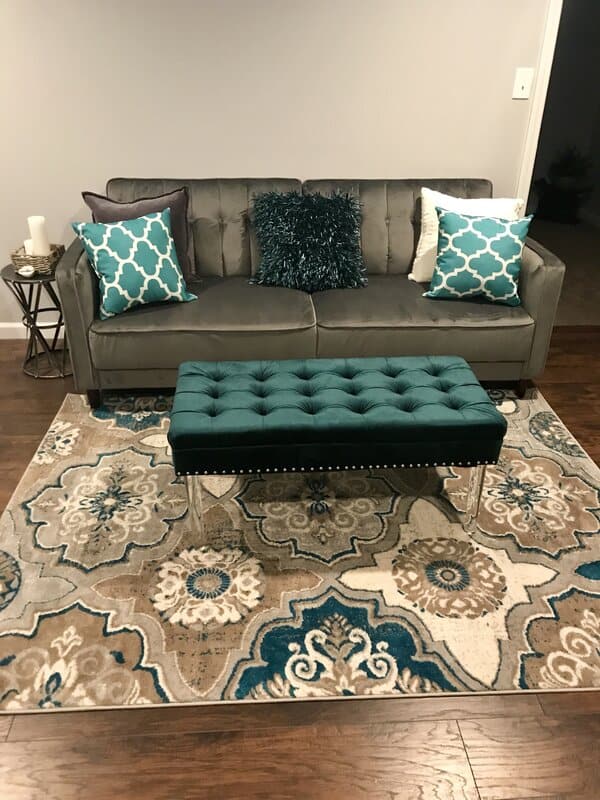 In contrast to the warm and earthy palette, this cool color palette showcasing a wide array of blues, teals, and greens play phenomenally with your cool gray couch. So, if you want your living room to display a wide range of cooler tones, this gray couch will play fabulous.
Remember to mix and merge the various tones of blues on your throw pillows, rug, and artwork.
Adore Modern Luxe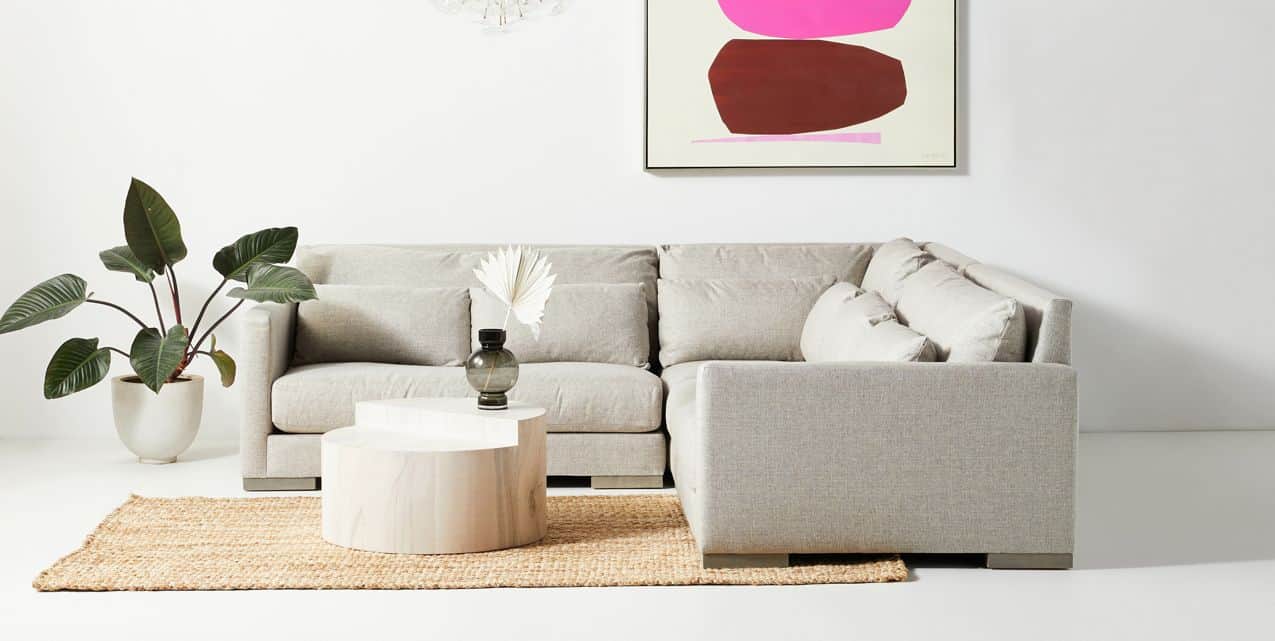 This L-shaped gray couch is an absolute product of simplicity, modernism, and comfort. So, for a relaxed and laid-back living room vibe, you must incorporate a light gray couch in amalgamation with a jute area rug and ample indoor plants and planters to go.
Choosing a contrasting piece of artwork at the couch backdrop will create an overall stunning effect. Voila! Isn't this something you've been dreaming of?
Play with Multiple Hues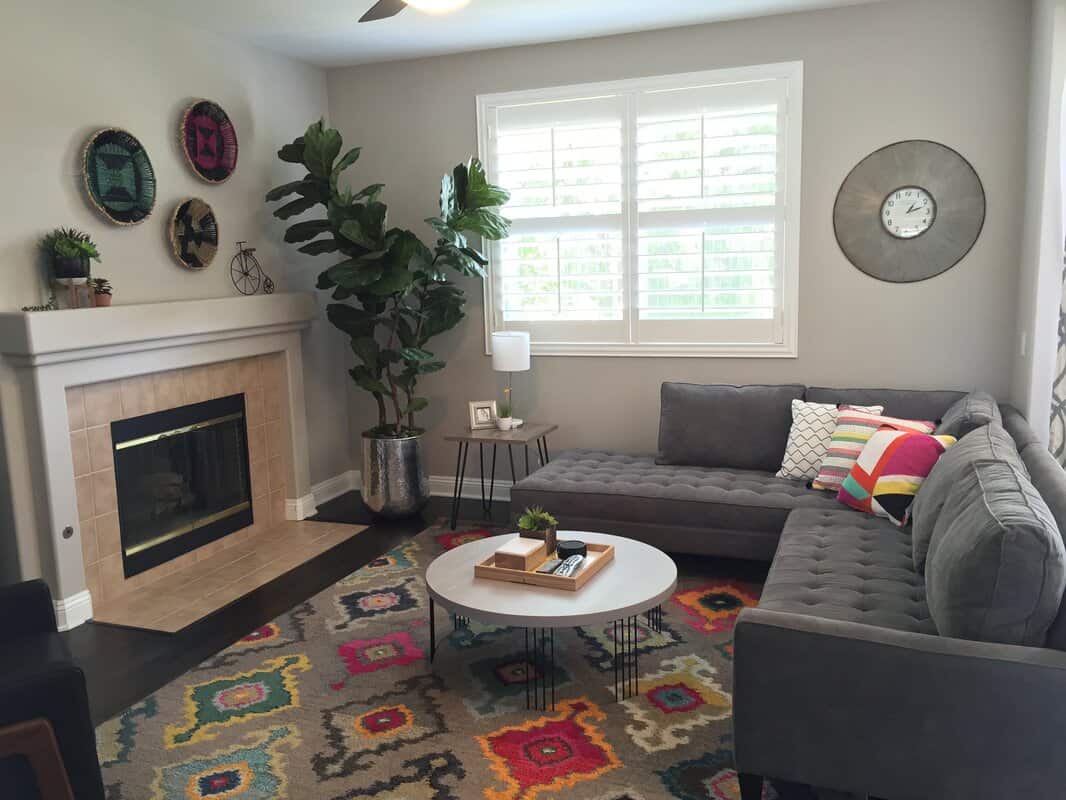 Apart from green and yellow, a combination that plays amazingly well with grays is a blend of multiple quirky colors. So, on your gray couch, add a couple of multi-hued throw pillows and a large multicolored area rug to go!
Secondly, don't ignore the little details on the wall decor as they also work seamlessly with your existing eye-catchy palette.
A Playful Combination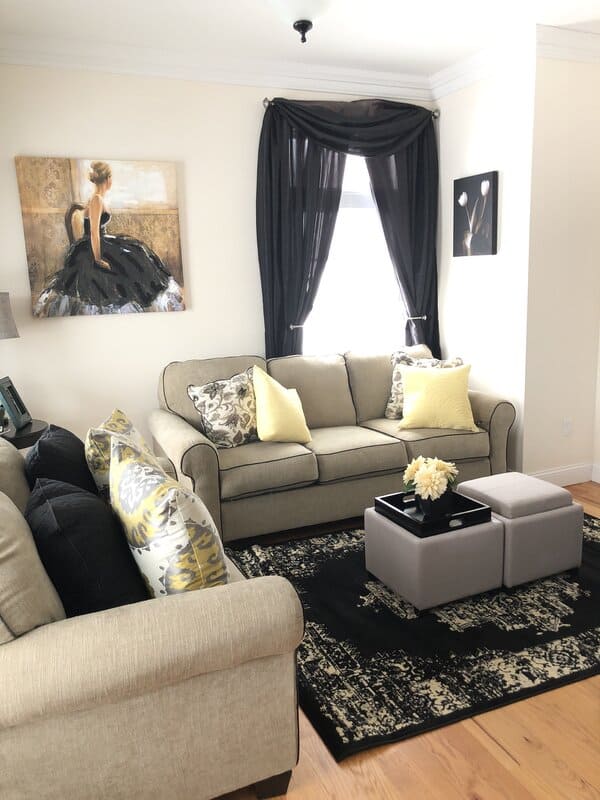 If an all-gray palette is too boring for you – incorporate a playful and friendly combination of yellow, black, and gray to create a cohesive palette. Place a large black rug on the floor and complement the same tinge of hue on the curtains, artwork, and throw pillows.
Secondly, ensure adding an accent of yellow and similar print in a little amount on your accent pillows!
Transitional Gray Couch Living Room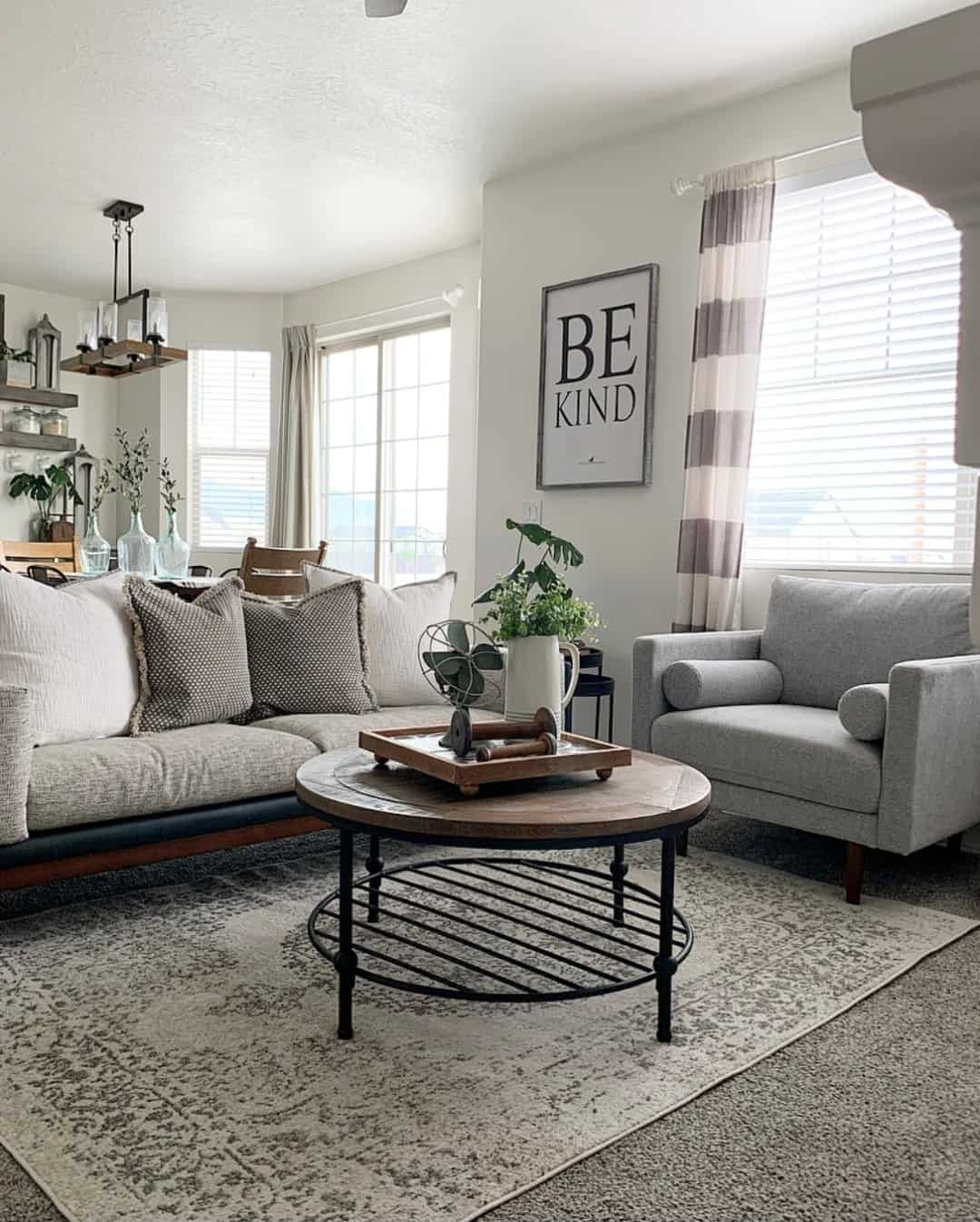 If you want to achieve a timeless and versatile look, this combination of gray and beige will play a perfect role. You can call it a result of monochromes but at a point, these shades of the same color tend to exhibit a contrasting look.
This combination is also a great recommendation for Modern Farmhouse, Modern, and Minimalist interior design styles. Believe me, you will never regret incorporating this palette!
Embrace an All-White Theme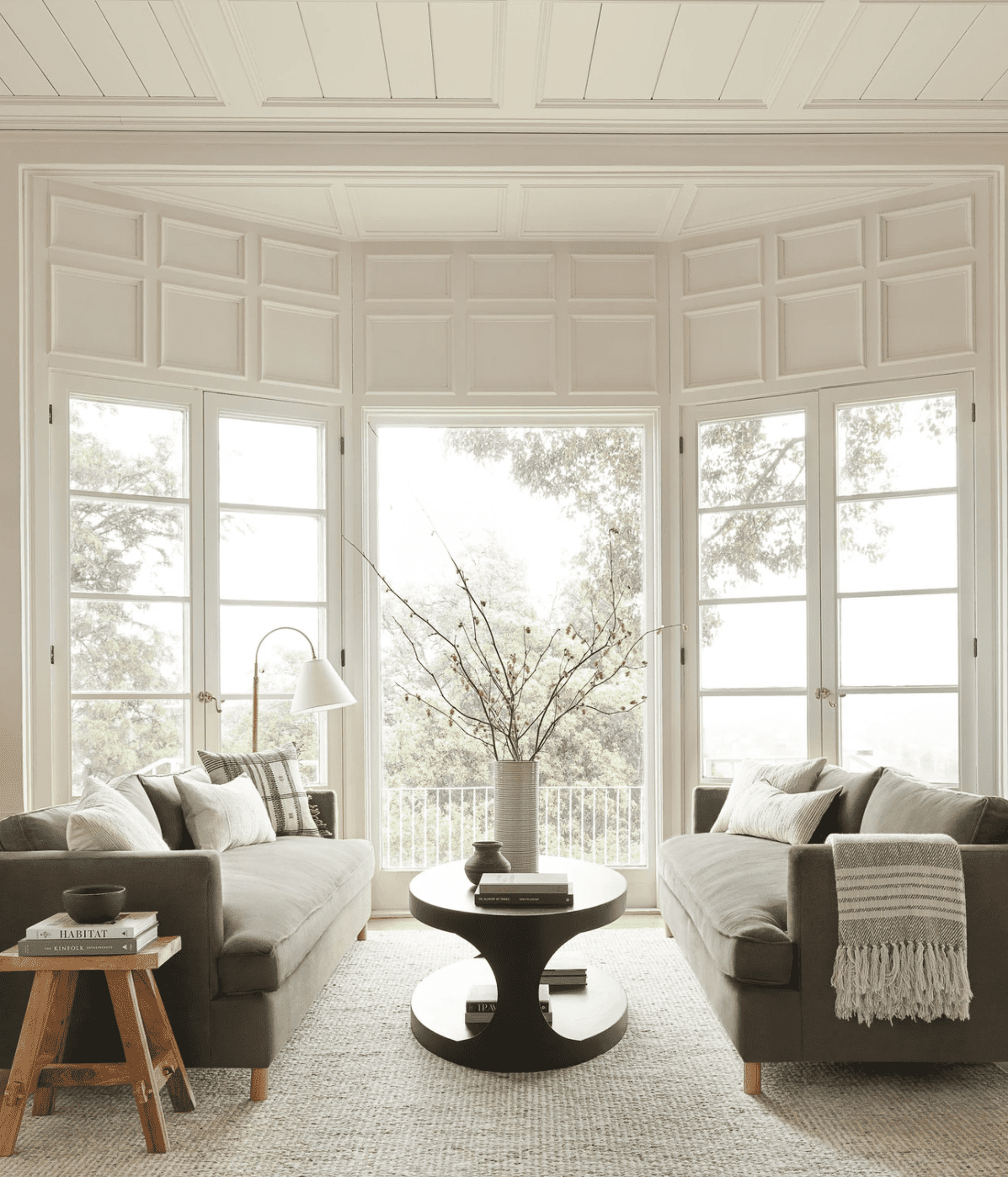 A dark-gray couch will beautifully play dominant in an all-white living room. Yes! And especially for smaller-sized living rooms, you can paint a coat of white on the walls and pair it with a dark gray couch to feel balanced and symmetrical.
Furthermore, ensure to add a shag rug, accent wooden textures, and dried flowers and leaves for an added sense of timeless beauty and elegance.
Add Neutral-Toned Accent Chairs
In amalgamation with your focal gray couch, you can add a contrasting warm white or beige accent chair that grabs the attention of the viewer. This combination is well-balanced – thus, can also be used to make a small living room appear larger!
Secondly, you must further complete your palette by introducing tinges of mustard, black, and white patterns through your decorative accents and wall motifs.
Install Backdrop Wallpaper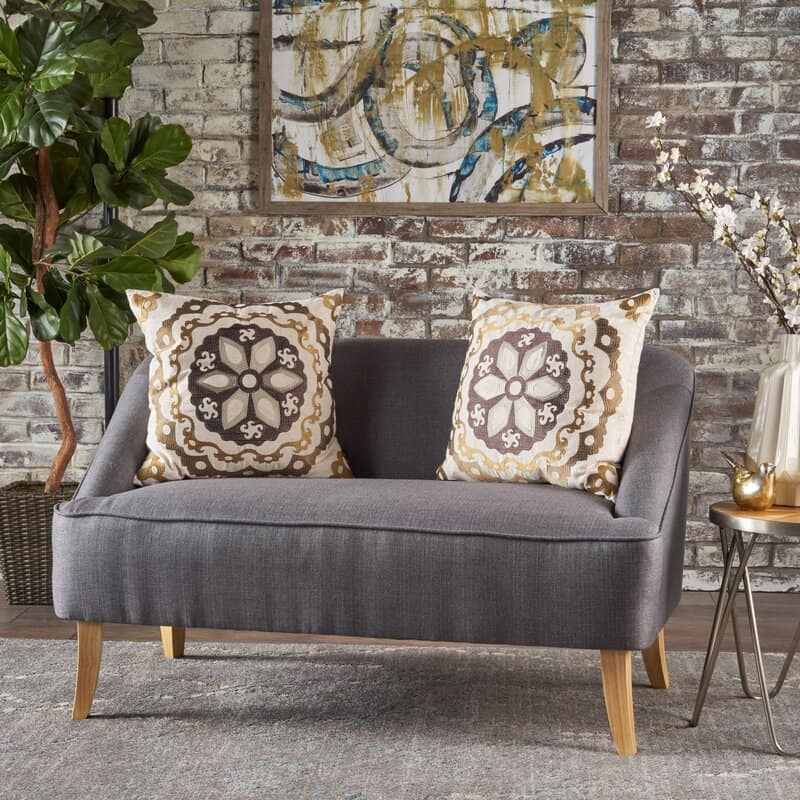 This gray couch living room idea must be incorporated for Eclectic and Hollywood Glam interior design styles. You can definitely take inspiration from this panorama if you're also a big fan of maximalism and everything trendy!
Furthermore, add a sense of visual interest with intriguing throw pillows that showcase a beautiful set of prints and patterns. Even let the artwork and wallpaper speak to your style and personality!
Add Leather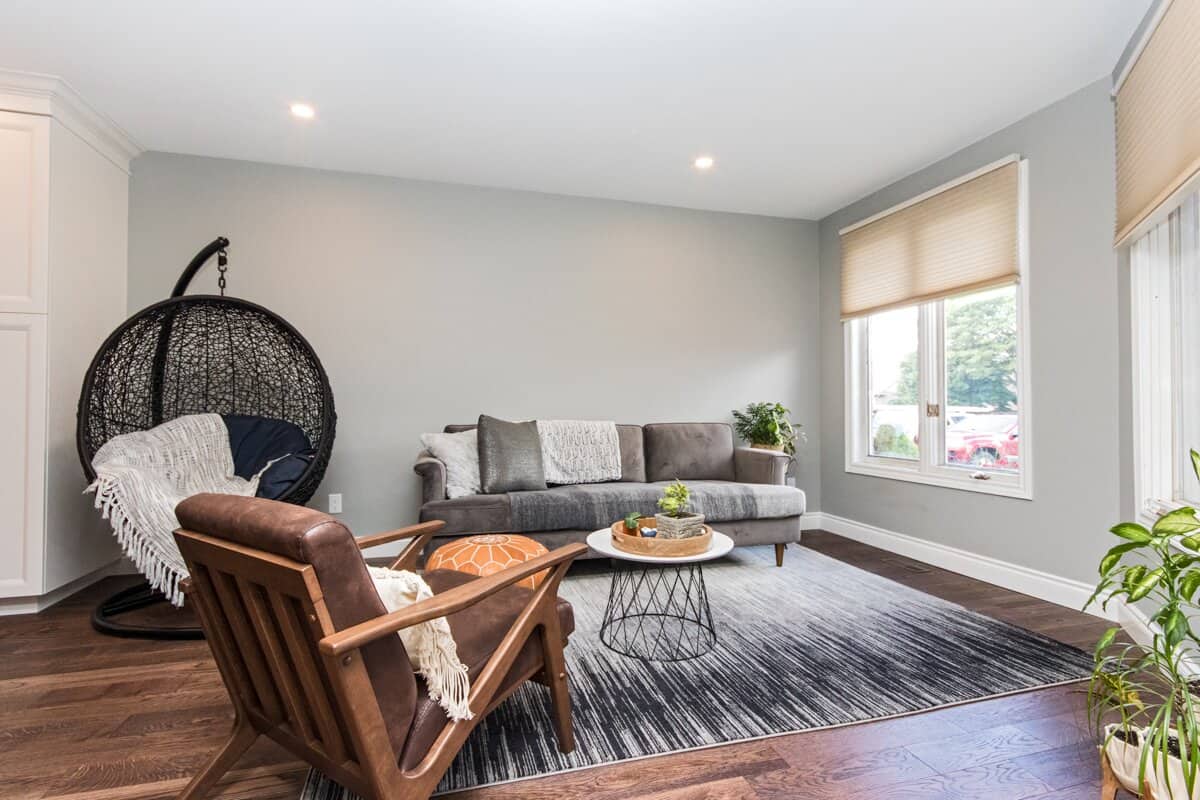 We have been discussing a wide array of interior design styles and schemes – but one major type that is still missing is the bachelor's pad. So, for all the men who crave a cave-like experience, it's important that you pair the gray couch with leather upholstered accent chairs to truly create a masculine and bold appearance.
Don't forget to add a couple of exposed metal frames around to complete the look!
Summing It Up
A gray couch is quite in demand – and now that you know why! This versatile piece of furniture has the potential to play one for all and make your life much easier. Of course, you don't have to go through the nitty-gritty of pairing and repairing color schemes every time you plan to refresh your living room.
So, now that we have discussed a wide range of gray couch living room ideas – are you looking to incorporate any? I would love to know your thoughts!